How to enjoy business travel
At times, traveling the States or the wider world can be a challenge. Getting from A to B can often involve standing in line for longer than you'd ideally want. It can involve trying to find space amongst the crowds. And it can involve jetting off to far-flung cities that sound glamorous in theory, were it not for the fact that you are there to work and not play. But these are merely challenges along the way, and the savvy traveler can ensure that every step of his or her journey is enjoyable – even fun. The following 9 steps could make a big difference.
1. Enjoy the airport
While it's true that airports can be busy, it's never been easier to find your own private space within them. Aside from boasting amenities including world-class shopping, restaurants, bars and spas, business facilities also make it easy to hit deadlines in relative peace and quiet.
To maximize your enjoyment, arrive in plenty of time, stroll the facilities at your leisure and visit your airline's lounge to unwind before your flight. Once inside, you may never want to leave.
2. Cut the lines
Nobody likes standing in line, particularly when traveling, but there are programs designed to make the whole process quicker, easier and less stressful. TSA Pre® and Global Entry are two such options designed to get you through the long lines without the wait. TSA is designed for domestic flights and Global Entry for international flights. Both have a fee and involve a small vetting procedure but are worth the effort.
You may also want to consider CLEAR, another program designed to get you through the screening process by using a fingerprint rather than a license or passport. It too has a fee associated with it and isn't as commonly used as TSA Pre and Global Entry, but it's well worth considering.
And of course, it's a good idea to try to get by with carry-on baggage if you can. Avoid checking baggage and you'll exit the airport more quickly upon arrival.
3. Make time
Even though you're away on business rather than vacation, it still sometimes pays to take the less-is-more approach. Nobody benefits if your business trips push you to the brink of exhaustion. It's far more beneficial to thin out your schedule and allow yourself time to prepare and recharge effectively between meetings.
With that in mind, if your boss is open to the idea, arrive a day earlier to allow yourself time to get settled, especially if you're crossing time zones. Also remind your boss that studies have found that "a disruption to the circadian rhythm you get through jet lag… has long-lasting effects when it builds over time." And long-lasting effects are never good.
4. Relax
Unless you're battling crazy deadlines, schedules or workloads, aim to relax as much as possible on your journey – or at least on the flight itself. Put away your smartphone and laptop and disconnect from your work for the duration of your journey. Recline the seat, watch an inflight movie, read a book and take the time to recharge so that you arrive refreshed and ready to hit the ground running.
5. Make more time
If at all possible, try to factor in some time away from your work to see the sights around you. This is particularly important if you've flown halfway around the world: if you're traveling the world, make time to actually see it, experience it and taste it. If you have time between meetings, explore. Once the day is over, head out to eat in the city, rather than just ordering room service and staring at the hotel's walls.
Try to appreciate where you are, or risk every place just blurring into one. And if you have the option, particularly in a long-haul location you may not plan on returning to, consider adding on a day or two at the end of your trip to see the place as a tourist, not as a businessman or woman. Try to make your business trip an experience you'll remember years down the line. Why? Because to not see the Rocky steps in Philly, the Trevi Fountain in Rome or the Brandenburg Gate in Berlin would be a missed opportunity you may one day regret.
6. Live like a local
If you do have time to explore the city, use a local guide to make sure you don't just wander aimlessly and miss all the essential sites and experiences. As before, scheduling some down time to see the outside world will help you experience more, recharge your batteries between meetings and avoid burning out. But a word of warning: if you are likely to be wandering the city, pack appropriately – footwear you can walk in should be high on your list of priorities.
7. Stay fit and healthy
It's easy to live a less healthy life when you're flying around on business, it's been found that business travelers are more likely to get sick than 'regular' travelers. Pack your exercise gear and use the hotel gym facilities or explore the area on foot. Studies link regular exercise to a variety of cognitive benefits, including improved concentration, sharper memory, prolonged mental stamina, enhanced creativity and lower stress.
What you eat also impacts on how you perform. Fast food and extended periods of inertia can become the norm – and over time make you feel sluggish. The solution is simple: try to plan ahead as much as possible, long before you actually get hungry, and stick to what you generally eat. Grabbing something – anything – quickly when hunger strikes usually leads to bad quick-fix food decisions, and risking a new exotic diet in a foreign land right before an important presentation could have terrible repercussions.
8. Call home regularly
The lifestyle of a regular business traveler may be glamorous in parts, but it can get lonely if you're away from a wife or husband and kids. This was a more acute problem back before they invented FaceTime and Skype. And while staring down the screen at your loved ones many miles away isn't quite the same as a hug, it's the next best thing, so use the tech we have to stay in regular touch. Because while it's a generalization to say that a happier traveler performs more effectively, it's also usually true.
9. Upgrade your experience
One of the great benefits of flying regularly is that the more you fly, the better the rewards. Flying regularly on United Airlines helps you achieve Premier status, which gives you bonus award miles, upgrade opportunities, priority travel services, fee waivers, discounts and much more. Take advantage and the more you fly, the more comfortable your whole journey becomes.
United Airlines now offers the new United PolarisSM business class option. Offering a new United Polaris lounge, personalized dining and bar service, relaxation areas and rest pods, plus world-class comfort onboard, every element of United Polaris is designed to maximize your enjoyment of business travel. Click here to find out more.
Calling all AvGeeks and travelers! Here's a fun way to take your next video call….from a United Polaris seat, the cockpit or cruising altitude. We're introducing United-themed backgrounds for use on Zoom, a video conferencing tool that many people are using to stay connected.
So for your next meeting or catch up with friends and family, download the app to either your computer or mobile device to get started. If you've already downloaded Zoom you can skip ahead to updating your background image (see instructions below).
Start here by downloading your favorite United image to your computer or mobile device. Just click "download" in the bottom left corner of the image.
Next go to your Zoom app (you'll need to download the app to access backgrounds) and click on the arrow to the right of your video camera icon in the bottom of the screen.
From here select, "choose virtual background" to upload your uniquely United photo.
When and where possible, we are working to repatriate travelers who are stranded abroad in the wake of the COVID-19 crisis. Our teams are working closely with government officials here in the U.S. as well as in other countries where flying has been restricted to gain the necessary approvals to operate service. In regions where government actions have barred international flying, we have coordinated with the the U.S. State Department and local government officials to re-instate some flights. Additionally, we have been operating several extra flights to countries in Central America and South America as we continue to play a role in connecting people and uniting the world.
We have operated more than 56 repatriation flights from Panama City, Guatemala City, Quito, Lima, San Pedro Sula, Tegucigalpa and Roatan, bringing nearly 8,000 people home. We will continue working with government officials to operate extra flights to Houston from Quito, San Pedro Sula, Tegucigalpa and from Lima to Washington Dulles and beginning April 5, we will begin operating multiple charter flights between Delhi and San Francisco. We continue to review more opportunities for flights between the United States and other countries to bring citizens home.
Video provided by the U.S. Embassy Ecuador of Americans returning home on United.

Additionally, our Customer Solutions and Recovery team is working with customers in the following markets to rebook them on flights back to the United States as capacity allows, either on our aircraft or on one of our airline partners' planes:

Quito, Ecuador
Managua, Nicaragua
Roatan, Honduras
San Pedro Sula, Honduras
Amsterdam
Brussels
Munich
Singapore
Tokyo-Haneda
Seoul, South Korea
Melbourne, Australia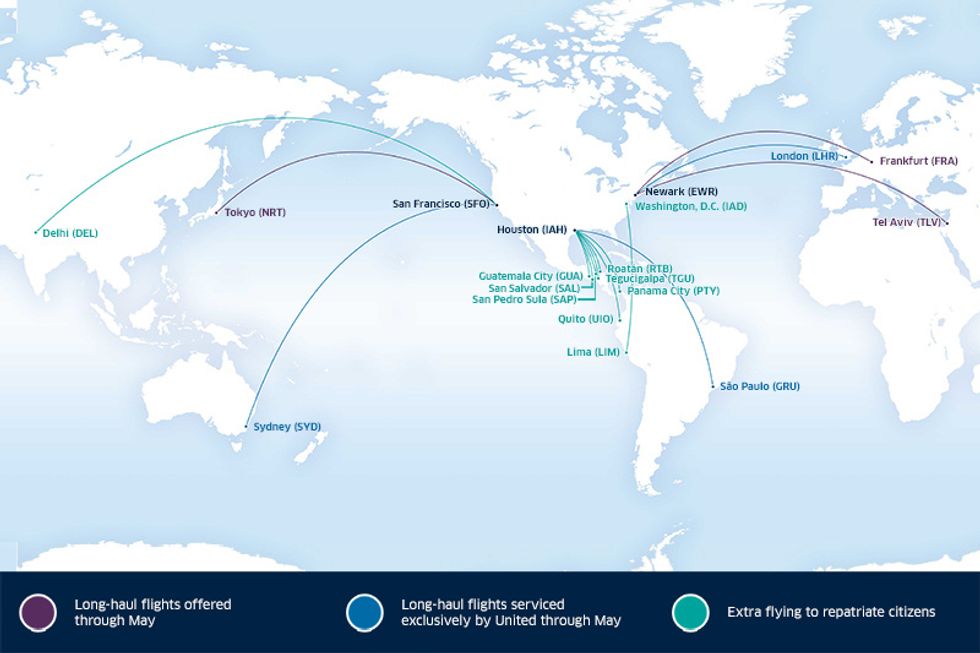 We also recently reinstated several international flights back into our schedule to support customers and essential businesses which depend on these routes. As a result, we will be the only airline to offer service between Newark/New York and London, San Francisco and Sydney, as well as Houston and São Paulo, Brazil.

In the midst of mobilizing our cargo operations, our teams at New York/Newark (EWR) and Jacksonville (JAX) stepped in to assist Roche Diagnostics with transporting a vital component for an instrument being used for COVID-19 testing.
The component was stuck at EWR en route to the Mayo Clinic in Florida after another airline's flights were cancelled. A Roche employee contacted us asking for help and, within a few hours, our teams had the piece loaded onto a Jacksonville-bound aircraft, with arrangements in place to deliver it to the Mayo Clinic.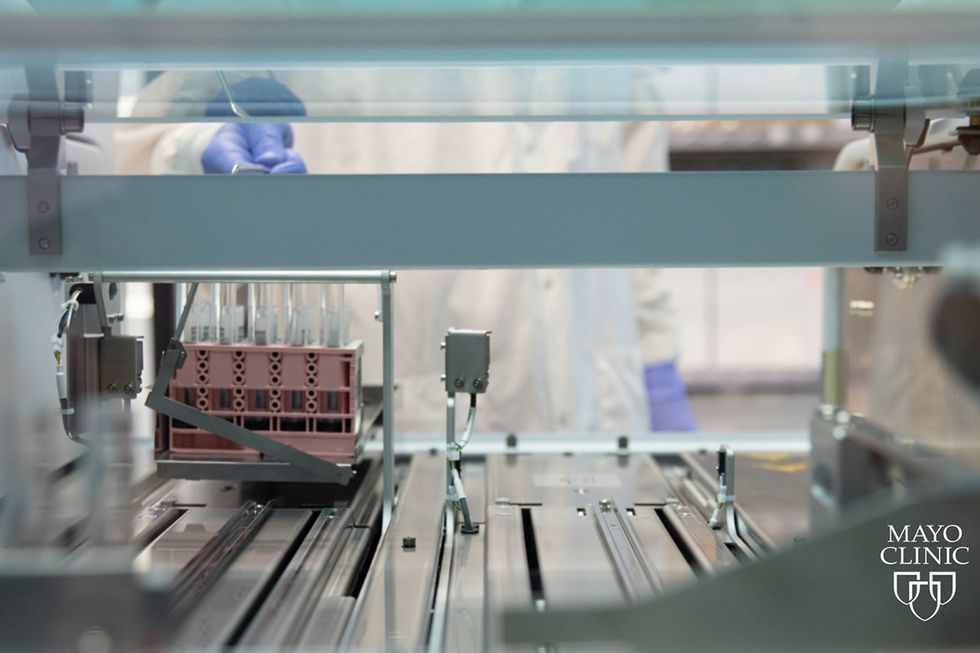 The item we shipped will allow the Mayo Clinic in Florida to process hundreds of COVID-19 tests per day. Mayo Clinic Laboratories has been on the front lines of increasing testing capacity to expedite caring for patients at this critical time and working to ease the burden being felt at test processing laboratories in a growing number of areas.

Together, we are facing an unprecedented challenge. United Together, we rise to meet that challenge.
Check out our newest destinations
United Airlines
united
We continue to work with government officials to bring Americans home. In addition to flights from Central & South America, we have charter flights planned from India. Learn more about our repatriation efforts in the wake of COVID-19 here:
uafly.co/3aExaOL
#UnitedTogether
United Airlines
united
When
@RocheDia
needed to ship a vital component of a COVID-19 testing unit from New Jersey to Florida, United Cargo jumped in to help. Read about how this part will allow
@MayoClinic
to process hundreds of tests per day for cases in the Southeastern U.S.
uafly.co/2UzOAGW
United Airlines
united
International schedule update: We know some people around the globe are displaced and still need to get home. We are reinstating some international flights over the next few days and will continue to fly six daily international flights through May.
uafly.co/3a5Dj6p
United Airlines
united
We have extended our change fee waiver to cover travel through May 31, 2020: - You can change or cancel your flight on
united.com
or through the app – a phone call is not required - For the latest on our commitment to your safety, visit
united.com/coronavirus
We Are United
weareunited
Shoutout to our operations team, who are working to properly park, maintain and store many aircraft in the
#BeingUnited
fleet. These aircraft are being housed across our seven hubs, maintenance facilities in CLE and MCO as well as at offsite facilities in New Mexico and Arizona.
We Are United
weareunited
Tomorrow, Oscar and Scott will host a companywide town hall to discuss the latest developments in managing the effects of the coronavirus (COVID-19). You can join the livestream event at 1:20 p.m. CT here:
uafly.co/39AV25m
We Are United
weareunited
Tomorrow, Oscar and Scott will host a companywide town hall to discuss the latest developments in managing the effects of the coronavirus (COVID-19). You can join the livestream event at 1:20 p.m. CT here:
uafly.co/39AV25m
.
Watch our most popular videos
Copyright © 2020 United Airlines, Inc.
All rights reserved.
Indicates an external site that may or may not meet accessibility guidelines.
Scroll to top
Scroll to top