Experiencing wilderness in Northern Patagonia
Each week we will profile one of our employee's adventures across the globe, featuring a new location for every employee's story. Follow along every week to learn more about their travel experiences.
---
By Business Processes Senior Analyst Jessica Yen
Recently, I was overcome by the desire to experience wild, remote places. With Patagonia at the top of my list, my best friend referred me to Chulengo Expeditions, founded by a friend whom she had met in business school, Nadine. Chulengo offers travels through newly protected wilderness areas in northern Patagonia -- anywhere from a six to more than 13 hour drive north of the more frequented Torres del Paine. It uses these remote parks as classrooms to discuss the future of land conservation in the 21st century. Remote and environmentally mindful? Consider me sold. This is where my four-day, three-night trek of Cerro Castillo in Chile's Aysen Region of northern Patagonia began.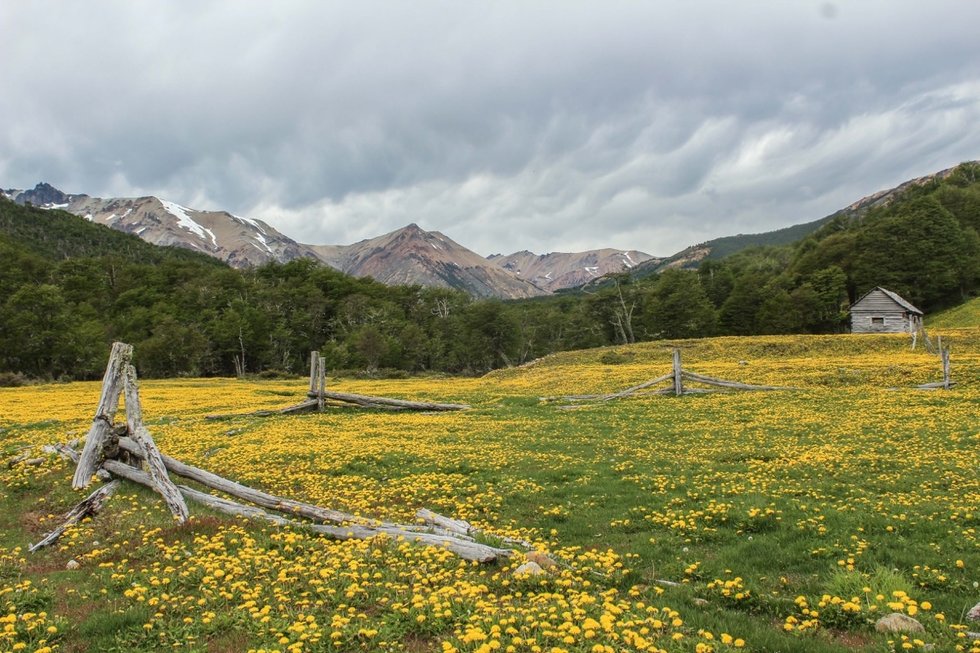 The beginning of the expedition took me six hours south of Coyhaique, the capital city of the Aysén Region, to Parque Patagonia. Founded as a private park by Kris and Doug Tompkins, former CEOs of Patagonia and The North Face, respectively, the two have worked tirelessly to restore damaged grasslands from unsustainable sheep ranching, with the end goal of gifting the land back to the Chilean government once rehabilitated. Here, Nadine, Brooks -- who has recently joined Chulengo as a co-founder -- and I trekked the Avilés Trail, an approximately 16 km loop. We began our journey through a valley, then up a 635 m ascent to a plateau, arriving at a footbridge over Río Avilés, all the while encountering guanacos (part of the llama and alpaca family). Once across the footbridge, we continued along the plateau and back down through the valley to campgrounds. This intermediate hike served as a warm-up for our much more advanced multi-day excursion to come.
The next day, we drove three hours north on the lone, dirt road highway of the region, Carretera Austral, to Villa Cerro Castillo, the town at the base of the mountain we would soon conquer. Along the way, we stopped for a couple of day hikes -- one along the confluence of the Baker and Chacabuco Rivers, and the other along the confluence of the Baker and Neff Rivers -- and to take in the beauty of Lago General Carrera. Once in town, Nadine and Brooks reviewed the adequacy of my gear, or lack thereof, and we settled in for the evening.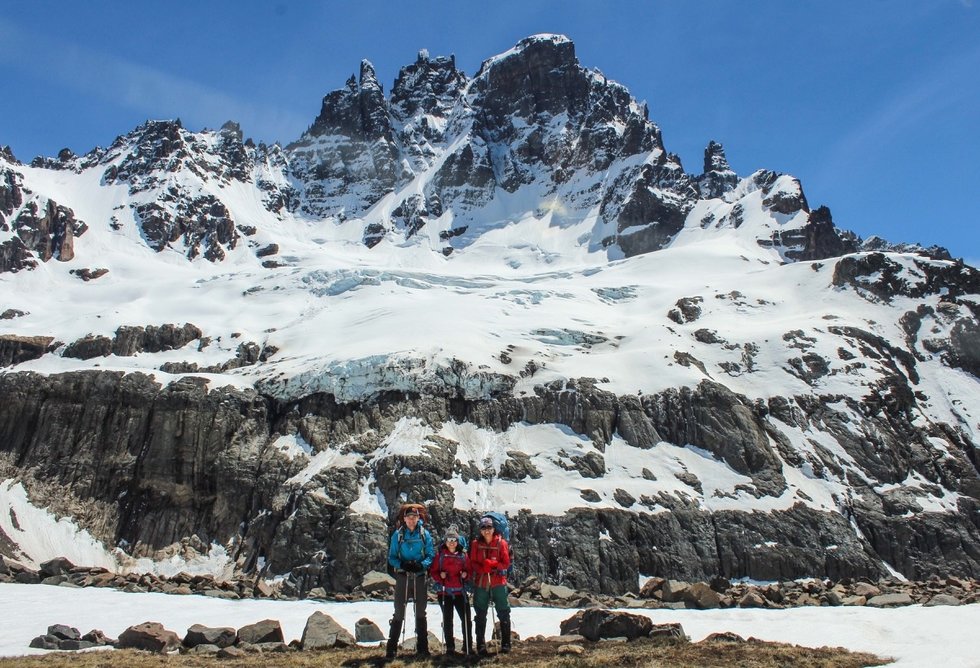 Finally, the morning of our multi-day journey had arrived. Day 1 took us on a 15 km, mostly flat walk through yellow wildflower fields, lounging cows and scenic views foreshadowing the subsequent day's ascents. The real work began on Day 2, as we traversed up and back down the 1,676 m snowy El Peñon pass, through a valley and up another ascent to arrive at camp, a total of 10 km. We spent the first few hours of Day 3 climbing up and around Laguna Cerro Castillo, at the base of the summit, and the remainder of the day beginning the journey back down toward Villa Cerro Castillo; total distance -- 9.5 km. On Day 4, we continued the final 11 km, making our way down the mountain, stumbling upon horses and orchids alongside the Río Ibáñez and back into town.
Throughout our four-day hike, my mind drifted to the thought of bewilderment with regard to the beauty that I was seeing firsthand. With the remarkable landscape in front of us, it was easy for Nadine, Brooks and I to facilitate discussions about land ethics and what wild places mean to us individually. One subject of note, the environmental impact of aviation, hit particularly close to home. Working in the airline industry, it comes as no surprise that I, along with many, have a deep-rooted wanderlust. Our conversation gave me pause, as I thought about the carbon footprint of all my adventures. In particular, I learned about carbon offsets, which are programs that allow travelers to purchase credits to offset their estimated carbon footprint, with proceeds donated to support projects designed to reduce greenhouse gases. In fact, United's CarbonChoice Offset Program offers customers the opportunity for such purchases. It was these meaningful conversations that truly paved the way for a most fulfilling experience.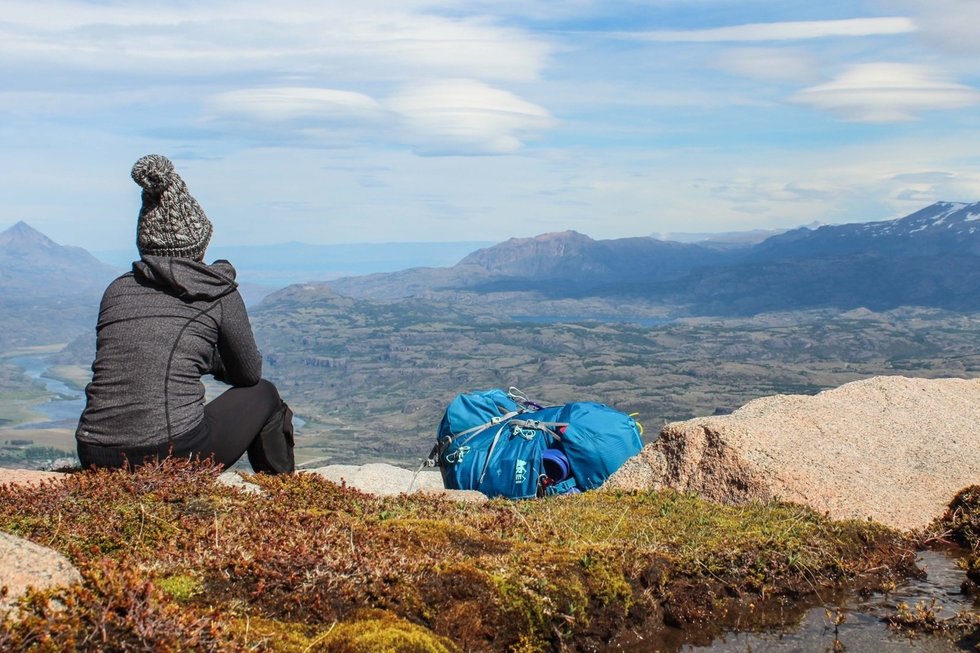 Post-trek, I have been bewildered by all that I accomplished on this trip. I have a more-than-healthy fear of heights and, coupled with this being my first multi-day, pack-bearing hike, there were more than a handful of moments of panic. Nadine and Brooks, both of whom are certified National Outdoor Leadership School (NOLS) instructors, never lost a stride in their steps; they taught me how to cross rivers, self-arrest and hike inclines and declines in snow, and they provided plenty of tips for hiking efficiently and effectively. With these tools, I quickly became more confident in my abilities as we progressed through the trek, and it was amazing to experience this growth alongside them. I left Cerro Castillo really taking to heart the following quote by Trevor Noah, "The highest rung of what's possible is far beyond the world you can see." I certainly bit off more than I could chew, but with a positive attitude and encouraging leaders, I accomplished far beyond what I could have imagined.
Now that I'm back home, I am forever grateful to this trip for a truly transformative experience, for teaching me invaluable outdoor skills and fostering conversations that inspire me to ground a respectful relationship with the rest of Earth.