Exploring the many wonders of India
A land of extraordinary beauty, history and diversity, India should be on every traveler's bucket list. With more than a million square miles to cover, one visit just wouldn't be enough. Often times, visitors to India try to cram too much into one trip. Seeing each city at a slower pace and experiencing the culture will be more rewarding than hurriedly checking off as many cities as possible. Here are five cities that should be at the top of your itinerary when visiting India for the first time.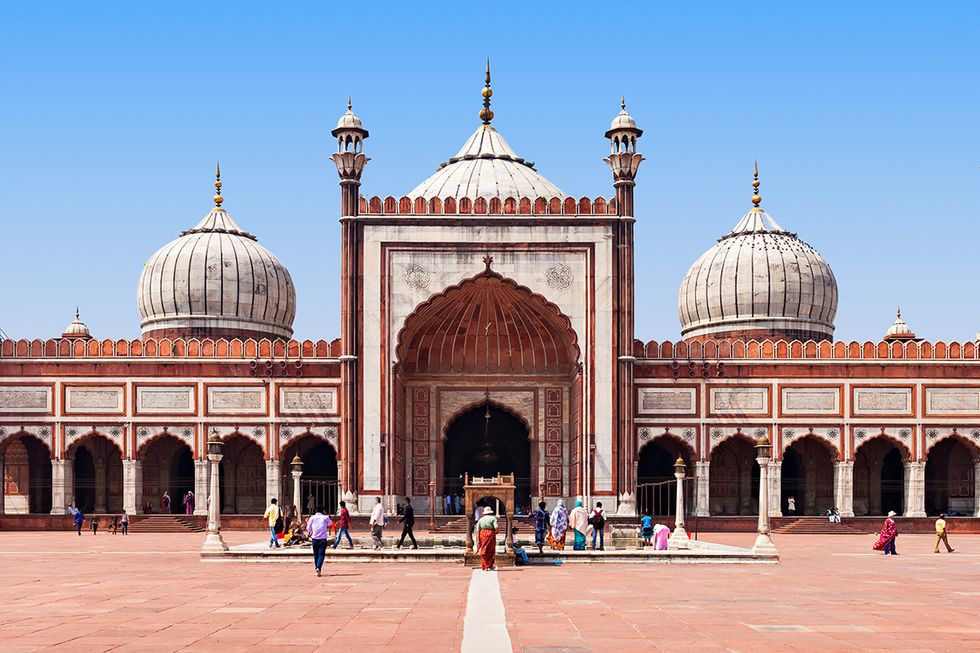 Delhi
The temptation for many international travelers is to land in Delhi and head straight to Agra to see the majestic Taj Mahal or to visit the many ancient fortresses in Jaipur. To overlook India's capital is a crime — the city is a historic heavyweight and symbol of the old and the new.
From a tourist's perspective, the city can be split between New and Old Delhi. The latter is a frenetic maze full of backstreet bazaars and home to the mighty Red Fort and the Jama Masjid, India's most imposing mosque. Founded in 1648, Old Delhi was built as a walled city within Delhi that was home to elegant mansions where nobles and members of the royal court lived. To the south, the British-built New Delhi is a district of wide, tree-lined boulevards, museums and the impressive Rajpath, a ceremonial boulevard whose name translates as 'King's Way.' Now, New Delhi serves as the capital of India with all three seats of India's government residing there.
An incredible array of markets, some of India's most delicious street food and a growing number of chic cafés and bars should convince you to prolong your stay, before you head off on your next adventure.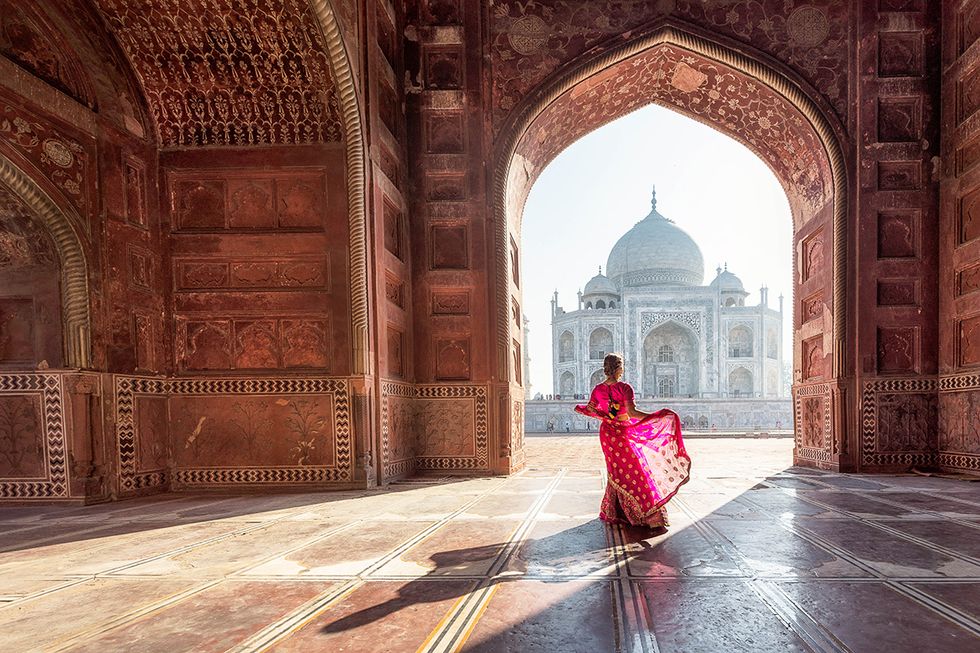 Agra
A four-hour drive or two-hour train ride south of Delhi, you'll come to Agra. More specifically, you'll come to Agra and India's monument to eternal love, the magnificent Taj Mahal. Completed in 1653, the Taj Mahal was commissioned by the Mughal emperor, Shah Jahan, as a symbol of love and final resting place for his wife, Mumtaz Mahal. Believe the hype: the ivory-white marble mausoleum is everything you imagined and reason alone to visit India — as eight million visitors do every year. Pro tip: visit as early as possible to give yourself a chance of capturing a photograph without anyone else in the frame.
As impressive as it is, the Taj Mahal is by no means Agra's only attraction. As India's capital under the Mughals, that empire also left behind a magnificent fort and a number of must-visit mausoleums and tombs. Most of the major monuments, including the Taj Mahal, are lined up along the banks of the Yamuna River, which runs down the city's eastern edge.
It's possible to visit on a day-trip from Delhi, but a fleeting visit won't do the city justice, so plan to spend a couple of days here. Most tourist itineraries include Agra as one part of India's classic 'Golden Triangle,' alongside Delhi to the north and Jaipur to the west.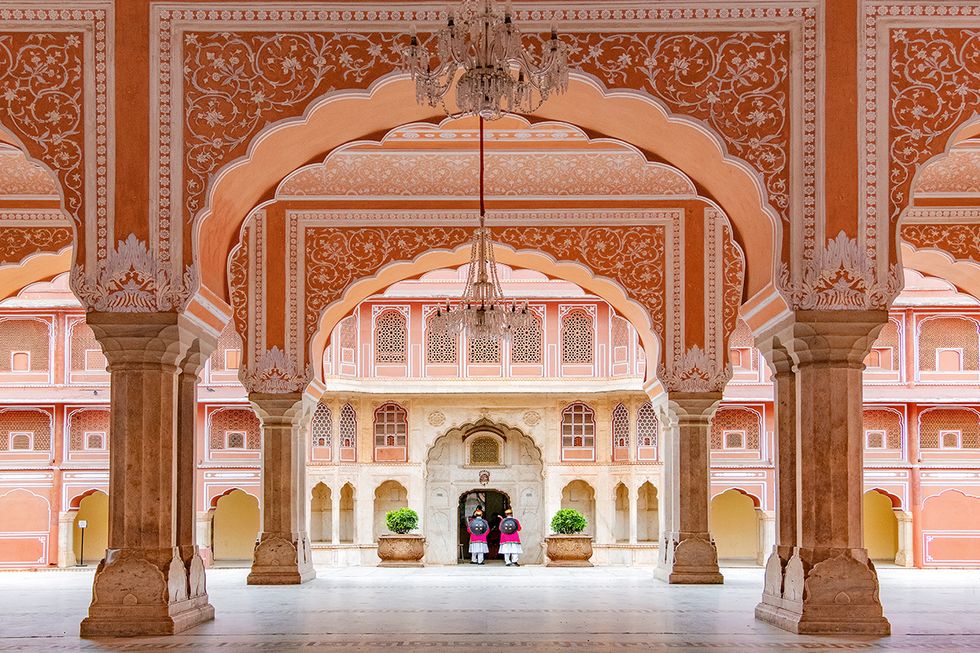 Jaipur
Rajasthan's capital is the doorway into India's most flamboyant state. Juxtaposing centuries-old institutions and bazaars with its modern charms, the 'Pink City' (named for the color of the buildings in its historic center) is a tumultuous but utterly intoxicating city that dizzies the head but enriches the soul. Head for the heart of the city for a trio of must-visit attractions: the opulent City Palace, still home to India's royal family, the 18th century Jantar Mantar observatory, and the honeycomb Hawa Mahal palace.
The jewel in the city's crown lies further out, however. The 400-year-old Amber Fort is a shimmering complex of palaces and fortifications 8 miles north on the Delhi Jaipur Highway. It's home to countless treasures, artworks and the dazzling Sheesh Mahal hall of mirrors.
No trip to Rajasthan is complete without traveling to Udaipur. If you have a few extra days, head southwest from Jaipur to Udaipur, or the "City of Lakes," known for its lavish royal residences and opulence. While you're there, stay at the magnificent Taj Lake Palace located on the island of Jag Niwas in Lake Pichola. It's recognized as one of the most romantic hotels in the world — you'll feel like you're staying in a palace where luxury abounds.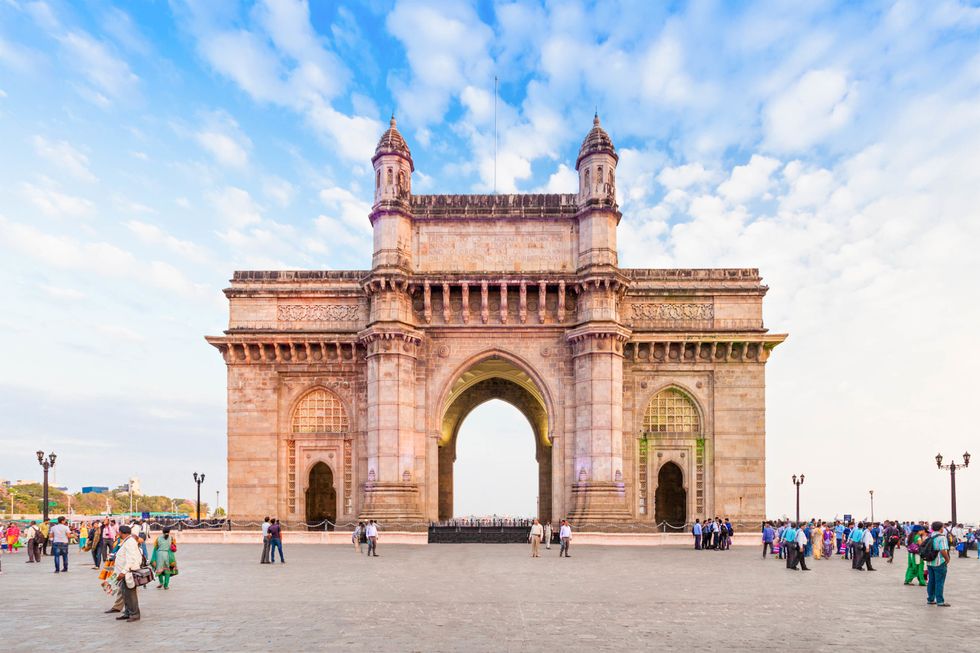 Mumbai
After exploring the classic Golden Triangle, add Mumbai (formerly known as Bombay) to your itinerary. India's most westernized city is packed onto a narrow spit of land curling out into the Arabian Sea. Mumbai is technically an island, connected to mainland India by a series of bridges and causeways. Expect heat, humidity and an almost overwhelming number of human beings — the Maharashtra capital draws comparisons with New York City, but there's far more hustle and bustle because this city never sleeps.
Relatively young, the city was transformed from a fishing settlement into a trading hub in the 17th century, then slowly turned into the megalopolis it is today. India's largest city and financial hub, glass and concrete superstructures dominate the skyline, particularly in the city's center and along the opulent waterfront, yet historic treasures are there to be uncovered. From the gothic Chhatrapati Shivaji Terminus to the city's most celebrated landmark, the Gateway of India, to Elephanta Caves, Mumbai has enough landmarks to sate your thirst and fill your phone with photos.
But to immerse yourself fully in the city and its people, consider taking a bike tour at dawn, or gazing in awe on a Bollywood studio tour.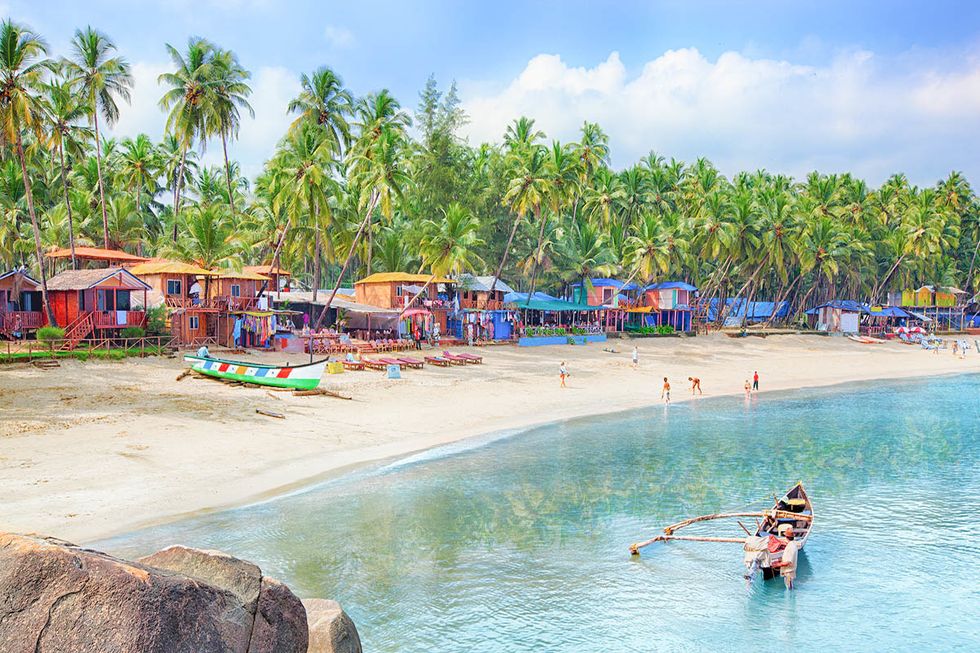 Goa

Tucked into the south-west coast of the sub-continent, India's smallest state is among its richest, in large part thanks to the tourists who flock here each year. With over 80 miles of coastline and a famously relaxed beach vibe, it's easy to understand why. While overcrowding has blighted the likes of Anjuna, Calangute and Vagator beaches, the alternatives further south still offer a taste of paradise.
For five-star resorts, long, empty beaches and the most obvious evidence of more than four centuries of Portuguese rule, head for Central Goa and the capital Panaji.
The north offers the best boutique properties, a beautiful crowd, India's most inventive food scene and a strong emphasis on yoga and wellness. Aim for the beaches of Mandrem, Ashvem and Arambol.
But, to escape the crowds as much as possible, head to the South Goa coast, from the Sal River to Canacona. There you'll find palm-fringed beaches, temples, coconut groves, fishing villages and an inner peace you never knew existed.
The basics
When to go
As a general rule, avoid the monsoon season and punishing heat from May to September and aim instead for the cooler and, dry season that runs from October to March.

The logistics
A vast country with huge distances to cover, where possible, take internal flights that will minimize your travel time. The largest distance of these five cities – from Delhi to Goa – takes 35 hours to drive, or around two-and-a-half hours to fly. Happily, all of the cities listed here can be reached through direct or connecting flights. If time isn't an issue, take a train at least part of the way. India's national rail network reaches every city listed above and is an experience not to be missed.
To first get over to India, United Airlines flies to both Delhi (DEL) and Mumbai (BOM) from New York/Newark (EWR). For further details and to book, visitunited.com or download our convenient United app.
We will continue building out our already expansive route network next year, adding flights to some attractive leisure destinations in the United States and the Caribbean.
Our hometown hub, Chicago O'Hare International Airport, will be the beneficiary of three of those new routes, which include Santa Barbara, California; Pasco, Washington; and Vail, Colorado. Rounding it out, United will add service from Denver to Nassau, Bahamas, and from Houston to Spokane, Washington. Tickets for all of these destinations are on sale now.
The Denver-Nassau route will begin on March 7, 2020, followed by Chicago-Santa Barbara, Chicago-Pasco, Chicago-Vail and Houston-Spokane on June 4. When that time comes, United will be the only airline offering nonstop service between Denver and Nassau and Chicago and Pasco.
All of these routes will open up a world of connection possibilities for customers living in each market. They'll also be scheduled to give flyers optimal arrival and departure time options. For instance, a passenger going from Chicago to Santa Barbara will have a flight option that departs O'Hare at 7:45 p.m. local time, arriving at Santa Barbara Airport at 10:30 p.m. That's ideal for business travelers.
"We want to offer customers the very best schedule, the best network and the most flight options in the industry," said Ankit Gupta, United's vice president of Domestic Network Planning.
The Boeing 737-800 aircraft will serve the Denver-Nassau route. Passengers going from Chicago to Santa Barbara and from Chicago to Vail will fly on the 737-700. United's 76-seat Embraer 175 aircraft, equipped with United First, Economy Plus and United Economy class seats, will operate on the Chicago-Pasco and Houston-Spokane routes.
You'll find flight times and additional details in the grid below. For more information and to book your tickets, visit
united.com
or download the United mobile app.
Depart

Arrive

Frequency

Duration

Chicago (ORD)

7:45 p.m.

Santa Barbara (SBA)

10:30 p.m.

Daily

Year-round

SBA

11:20 p.m.

ORD

5:20 a.m.

Daily

Year-round

ORD

8:00 p.m.

Pasco (PSC)

10:24 p.m.

Daily

Year-round

PSC

11:38 p.m.

ORD

5:20 a.m.

Daily

Year-round

ORD

4:00 p.m.

Vail/Eagle (EGE)

5:54 p.m.

Daily

Summer seasonal

(June 4 through September 6, 2020)

EGE

9:00 a.m.




ORD

12:45 p.m.

Daily

Summer seasonal

(June 4 through September 7, 2020)

Denver (DEN)

9:56 a.m.

Nassau (NAS)

4:00 p.m.

Once a week on Saturdays

Year-round

(with a break from mid-August through late-October)

NAS

11:37 a.m.

DEN

2:43 p.m.

Once a week on Saturdays

Year-round

(with a break from mid-August through late-October)

Houston (IAH)

9:32 p.m.

Spokane (GEG)

11:32 p.m.

Daily

Summer seasonal

(June 4 through August 17, 2020)

GEG

11:55 p.m.

IAH

6:17 a.m.

Daily

Summer seasonal

(June 4 through August 17, 2020)
Right now, around the world, brave members of America's armed forces are on duty, defending our freedom and upholding our values.
When not laser-focused on the mission at hand, they're looking forward to the day when their service to our nation is fulfilled and they can reunite with their families.
They are also imagining how they can use their hard-earned skills to build an exciting, rewarding and important career when they return home.
I want them to look no further than United Airlines.
That's why we are focused on recruiting, developing and championing veterans across our company, demonstrating to our returning women and men in uniform that United is the best possible place for them to put their training, knowledge, discipline and character to the noblest use.
They've developed their knowledge and skills in some of the worst of times. We hope they will use those skills to keep United performing at our best, all of the time.
That's why we are accelerating our efforts to onboard the best and the brightest, and substantially increasing our overall recruitment numbers each year.
We recently launched a new sponsorship program to support onboarding veterans into United and a new care package program to support deployed employees. It's one more reason why United continues to rank high - and rise higher - as a top workplace for veterans. In fact, we jumped 21 spots this year on Indeed.com's list of the top U.S workplaces for veterans. This is a testament to our increased recruiting efforts, as well as our efforts to create a culture where veterans feel valued and supported.
We use the special reach and resources of our global operations to partner with outstanding organizations. This is our way of stepping up and going the extra mile for all those who've stepped forward to answer our nation's call.
We do this year-round, and the month of November is no exception; however, it is exceptional, especially as we mark Veterans Day.
As we pay tribute to all Americans who have served in uniform and carried our flag into battle throughout our history, let's also keep our thoughts with the women and men who are serving around the world, now. They belong to a generation of post-9/11 veterans who've taken part in the longest sustained period of conflict in our history.

Never has so much been asked by so many of so few.... for so long. These heroes represent every color and creed. They are drawn from across the country and many immigrated to our shores.

They then freely choose to serve in the most distant and dangerous regions of the world, to protect democracy in its moments of maximum danger.
Wherever they serve - however they serve - whether they put on a uniform each day, or serve in ways which may never be fully known, these Americans wake up each morning willing to offer the "last full measure of devotion" on our behalf.
Every time they do so, they provide a stunning rebuke to the kinds of voices around the world who doubt freedom and democracy's ability to defend itself.
Unfortunately, we know there are those who seem to not understand – or say they do not - what it is that inspires a free people to step forward, willing to lay down their lives so that their country and fellow citizens might live.
But, we – who are both the wards and stewards of the democracy which has been preserved and handed down to us by veterans throughout our history – do understand.
We know that inciting fear and hatred of others is a source of weakness, not strength. And such divisive rhetoric can never inspire solidarity or sacrifice like love for others and love of country can.
It is this quality of devotion that we most honor in our veterans - those who have served, do serve and will serve.
On behalf of a grateful family of 96,000, thank you for your service.
Humbly,
Oscar
Each year around Veterans Day, Indeed, one of the world's largest job search engines, rates companies based on actual employee reviews to identify which ones offer the best opportunities and benefits for current and former U.S. military members. Our dramatic improvement in the rankings this year reflects a stronger commitment than ever before to actively recruiting, developing and nurturing veteran talent.
"We've spent a lot of time over the past 12 months looking for ways to better connect with our employees who served and attract new employees from the military ranks," said Global Catering Operations and Logistics Managing Director Ryan Melby, a U.S. Army veteran and the president of our United for Veterans business resource group.
"Our group is launching a mentorship program, for instance, where we'll assign existing employee-veterans to work with new hires who come to us from the armed forces. Having a friend and an ally like that, someone who can help you translate the skills you picked up in the military to what we do as a civilian company, is invaluable. That initiative is still in its infancy, but I'm really optimistic about what it can do for United and for our veteran population here."
Impressively, we were the only one of our industry peers to move up on the list, further evidence that we're on a good track as a company.
Scroll to top