7 family-friendly activities to celebrate fall
Ask someone to name their favorite thing about fall and you'll likely get a different answer depending on where they live. For many people, the mosaic of vibrantly colored leaves and foliage is what defines the months of September through mid-December. Others find the scent of autumnal spices like cinnamon, nutmeg and turmeric is what makes the fall so special. And for some, it's the cooler temperatures that make being outside even more enjoyable. Plus, fall is full of fun activities no matter where you are — from pumpkin patches and apple picking to watching football and enjoying a bowl of chili. All of these things, and more, make the fall so magical. To help you celebrate the season, here are seven fall-themed activities to try this year.
Go apple picking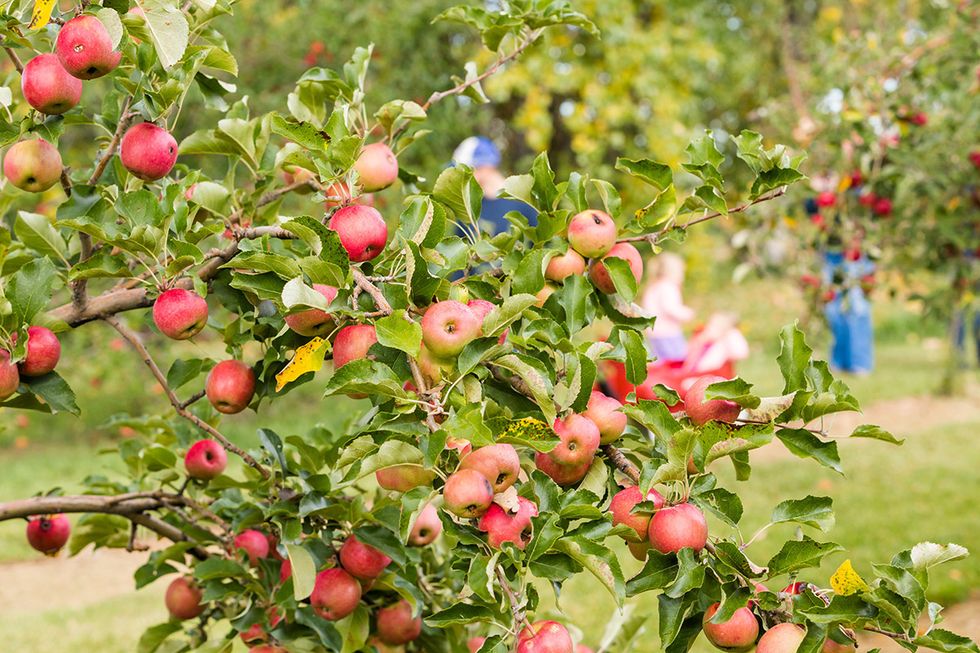 Apple picking combines outdoor fun with delicious and healthy snacks that can be used in a variety of ways, making it the perfect fall activity for adults and children of all ages. Though you'll find countless orchards around the country worth visiting this season, New England is widely considered a prime apple picking destination with over 120 varieties found in the region. It can be argued that the variety they are best known for is the McIntosh apple. This type of apple and many more can be found at Honey Pot Hill Orchards in the lovely town of Stow, Massachusetts, so be sure to stop in and take home a bushel that you pluck from the trees yourself. Picking times are from 9 a.m. until 6:00 p.m. daily, making it easy to schedule a trip.
Meanwhile in California, apple season runs until the end of November, giving you plenty of time to pick a few baskets of Red Delicious or Gala apples before winter. Riley's at Los Rios Rancho in the city of Yucaipa is one of the largest farms of its kind in Southern California and has been welcoming apple pickers to their 10,000-tree farm for more than 100 years.
Visit a pumpkin patch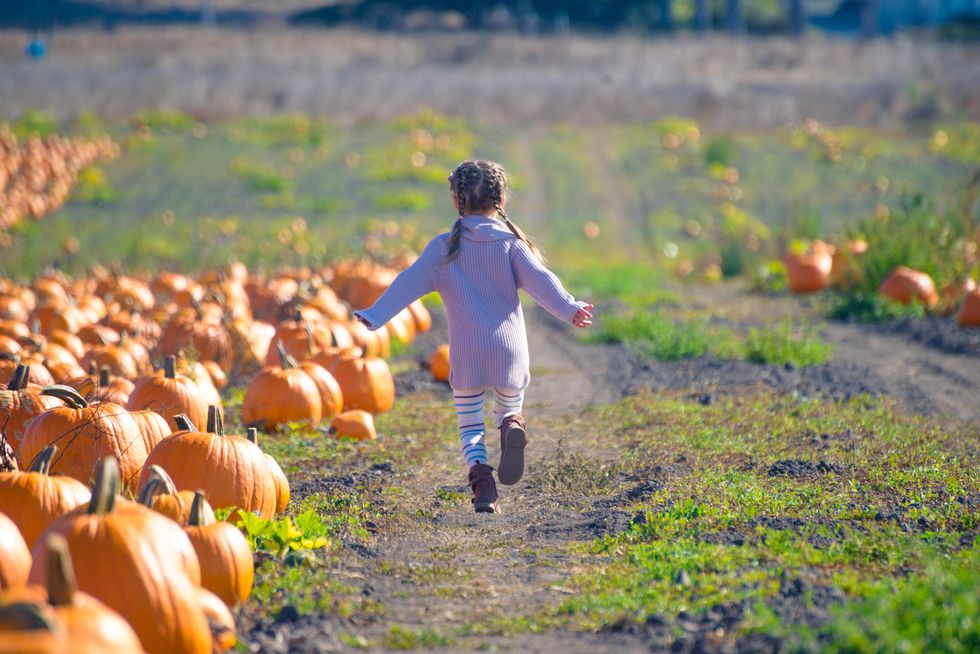 If there was a fall mascot, it would be a pumpkin, so to celebrate the true essence of the season, it's hard to beat a trip to a colorful pumpkin patch. A pumpkin patch is more than just a place to find the perfect candidate for this year's prize-winning jack-o'-lantern, it's a wonderful way to create cherished new memories with your children or friends. The Great Pumpkin Farm in Clarence, New York, is perfect for pumpkin picking, but also offers weekend activities throughout the fall, including scarecrow making lessons, cider brewing demonstrations, pumpkin pie eating contests, and live music and barbecues.
If you're traveling through the Midwest this season, hop aboard a vintage farm wagon at Polly's Pumpkin Patch in Chilton, Wisconsin, and make your way out into their scenic fields where you can pick as many pumpkins as you want. Other activities at Polly's include a livestock petting zoo, a 40-foot slide and a popular corn cannon that lets older kids launch corn cobs at targets for cash prizes.
Enjoy a harvest festival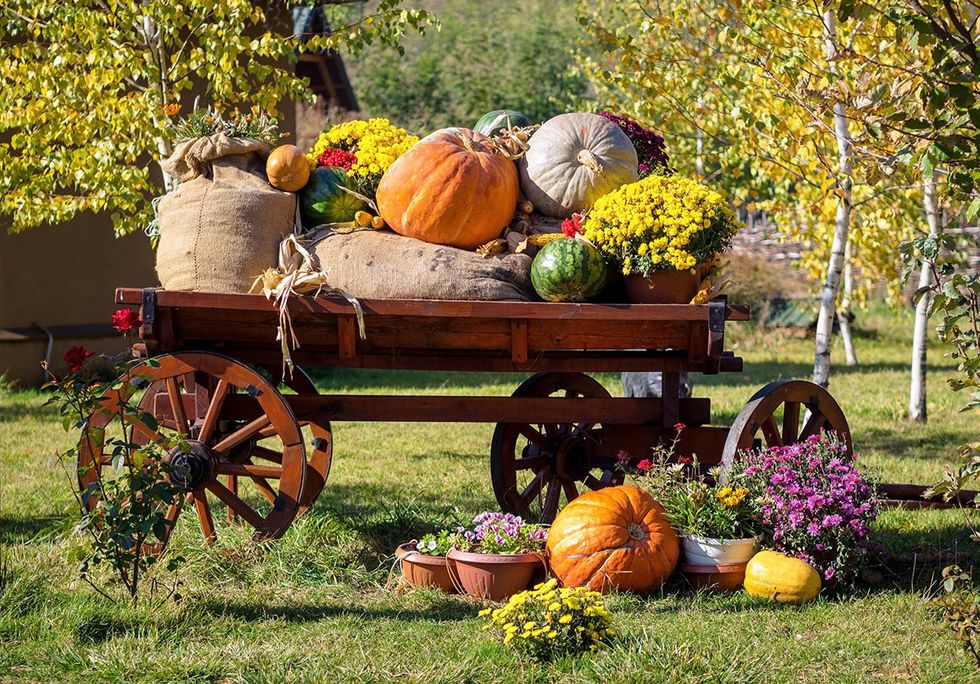 An annual tradition in America that dates back to 1613, harvest festivals are outdoor celebrations that coincide with the growing and reaping seasons we all enjoy. Filled with food, fun, music and dance, you haven't truly experienced the wonder of the fall season until you've participated in a local harvest fest. The good news is that there are plenty to choose from around the country this year. Two of the most popular are the Autumn at the Arboretum festival in Dallas, Texas, which runs until October 31, and the incredible North Carolina Pecan Harvest Festival in Whiteville, North Carolina, which ends on November 3. Both of these festivals have been drawing huge crowds for years.
For a harvest fest that's slightly spookier, head to Wisconsin where you'll find the classic Jack O' Lantern Days celebration in the cozy town of Fish Creek, and the Halloween-themed Zombie Days festival on the coast of Chequamegon Bay. Ghoulish activities include an undead musical show, a zombie pub crawl and a traditional harvest festival pumpkin parade. The scary fun lasts from October 26 through October 27.
Hit the trails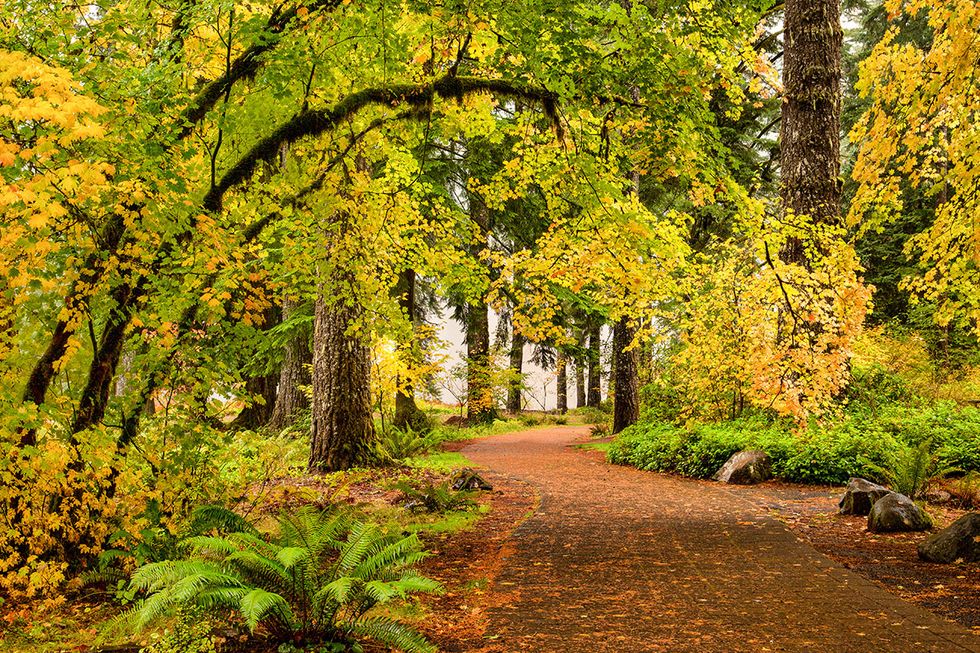 Hiking is more than just great exercise; it's an excellent way to bring the whole family together during the fall. And since the leaves are changing colors, it's also a great way to snap some incredible nature photos. So lace up your hiking boots, grab your kids and your camera, and find a trail that's right for you. If you're looking for suggestions, Sterling Point Trail in Vermont and Rome Point Trail in Rhode Island are impossible to beat when it comes to picturesque fall hiking.
On the opposite side of the country, the trails at Dry Creek Falls in Portland, Oregon, were voted one of the most photogenic hiking spots on the west coast by BuzzFeed, and it's easy to see why once you've been there. Covering a distance of just over 4 miles, this beautiful trail is perfect for all skill levels, making it a solid choice for families with kids.
Roll in the hay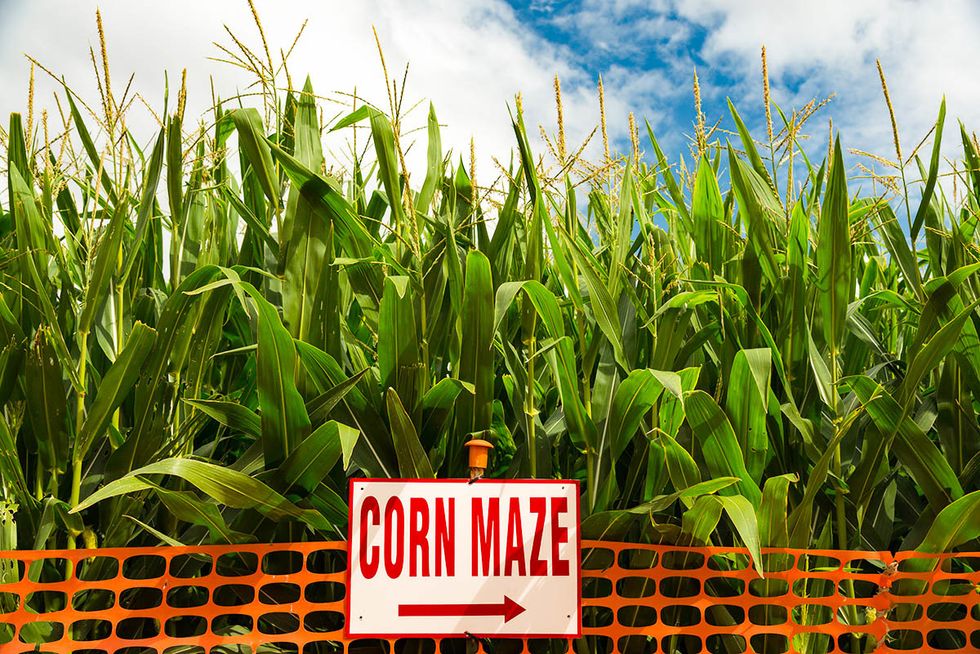 Hayrides and corn mazes are traditional fall activities that have never gone out of style, and for very good reason. There's just something wonderfully nostalgic about introducing a new generation of children to the simple pleasures of wandering through an overgrown corn maze, and with so many participating farms scattered across the country, there's a plethora of options to choose from. The Johnny Appleseed corn maze at Shady Brook Farm in Yardley, Pennsylvania, and the popular horse-drawn hayride at Papa's Pumpkin Patch in Bismarck, North Dakota, are two of the best.
In honor of Halloween, the massive haunted hayride at Fear Farm in Phoenix, Arizona, brings an assortment of ghosts, goblins and ghouls to life from early October until the first week in November. Filled with sinister special effects, creepy costumes and macabre makeup, this Hollywood-worthy hayride is recommended for adults and children over the age of 12. With five terrifying corn mazes to choose from, Fear Farm certainly lives up to its name!
Up, up and away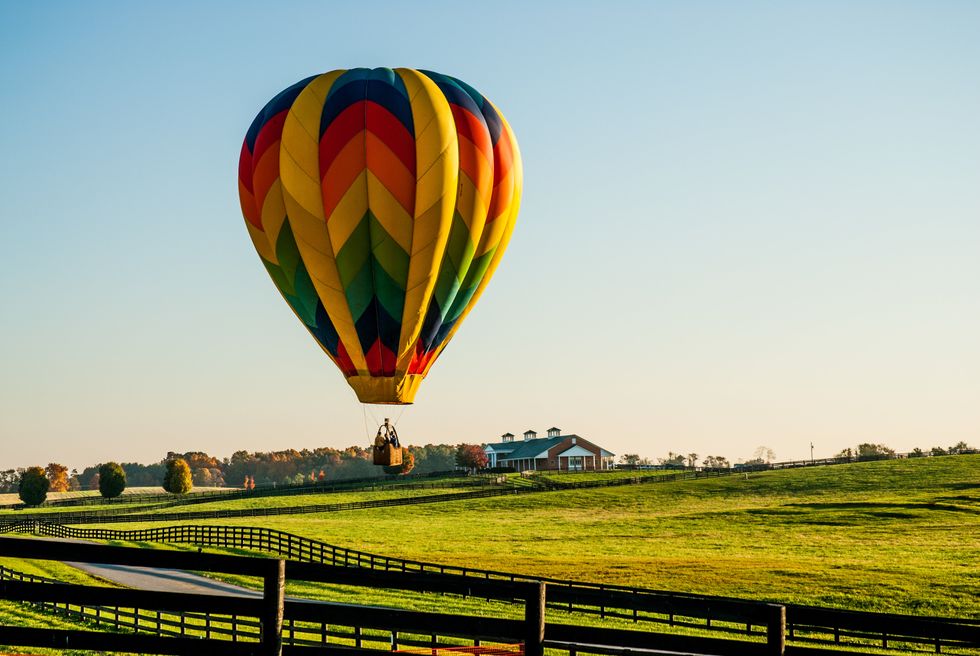 Hot air ballooning during the fall is a dazzling way to experience the season in all its natural splendor. After all, how else can you get a spectacular birds-eye view of the colorful trees as their leaves change from green to golden orange? Balloons Over Letchworth, located near New York's Letchworth State Park, offers astonishing views of the surrounding area, including majestic waterfalls and stunning forests. Best of all, they offer a variety of family tour packages, so you'll find just what you're looking for, regardless of the size of your group.
If you're visiting Southern California's wine region this fall, reserve a balloon ride with the fine folks at California Dreamin'. Their friendly FAA commercial licensed pilots will take you and your family on an unforgettable balloon voyage high above the vineyards of Temecula wine country.
Pitch a tent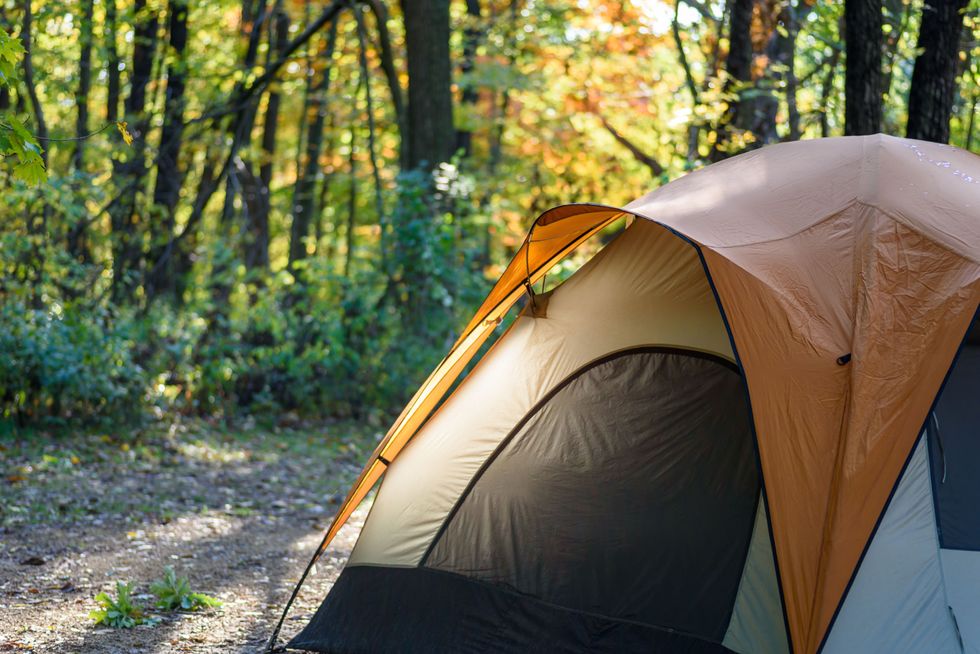 Though typically associated with summer, in many ways the fall is truly the best time of year to go camping. Thanks to the cooler weather, there are few — if any — insects to bother you and your family. Plus, there are less people claiming all the best spots, so you should have no problem picking a prime location to pitch your tent. And when it comes to toasting marshmallow for s'mores over an open campfire, everyone agrees that they simply taste better when eaten on a brisk autumn night.
For the ultimate fall camping trip, book a spot at Earth First Farms in southwest Michigan and set up your tent in an actual organic apple orchard. The 49-acre farm provides campers with complimentary firewood and plenty of fresh produce to pick.
Getting there
Regardless of where you plan to celebrate the fall, book your flight at united.com or by using the convenient United app, and share your story on social media with the #MyUnitedJourney hashtag.
In the midst of mobilizing our cargo operations, our teams at New York/Newark (EWR) and Jacksonville (JAX) stepped in to assist Roche Diagnostics with transporting a vital component for an instrument being used for COVID-19 testing.
The component was stuck at EWR en route to the Mayo Clinic in Florida after another airline's flights were cancelled. A Roche employee contacted us asking for help and, within a few hours, our teams had the piece loaded onto a Jacksonville-bound aircraft, with arrangements in place to deliver it to the Mayo Clinic.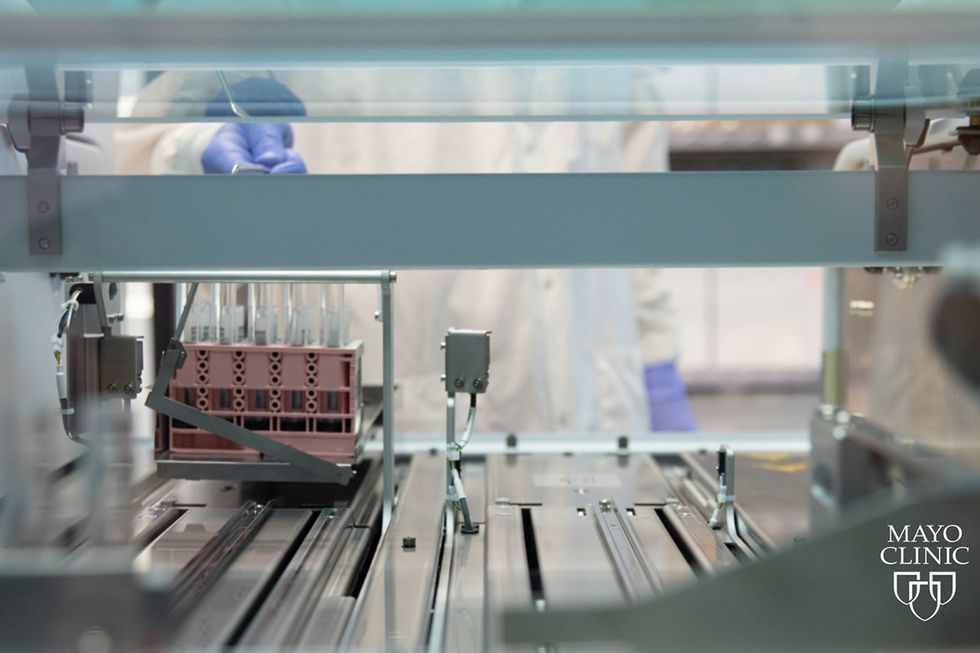 The item we shipped will allow the Mayo Clinic in Florida to process hundreds of COVID-19 tests per day. Mayo Clinic Laboratories has been on the front lines of increasing testing capacity to expedite caring for patients at this critical time and working to ease the burden being felt at test processing laboratories in a growing number of areas.

We are helping to keep military families connected by increasing the frequency of cargo
-only flights between the United States and military bases in
various parts of the world —
including Guam,
Kwajalein
,
and several countries in
Europe
.
Last week
we
began
operating
a minimum of 40 cargo-
only
flights
weekly —
using Boeing 777 and 787 aircraft to fly freight
and mail
to and from U.S. hubs and key international business
and military
locations.
We are going above and beyond to find creative ways to transport fresh food and produce, as well as basic essentials from the U.S. mainland to military and their families in Guam/Micronesia. On Saturday, March 28, we operated an exclusive cargo-only B777-300 charter to transport nearly 100,000 pounds of food essentials to Guam to support our troops.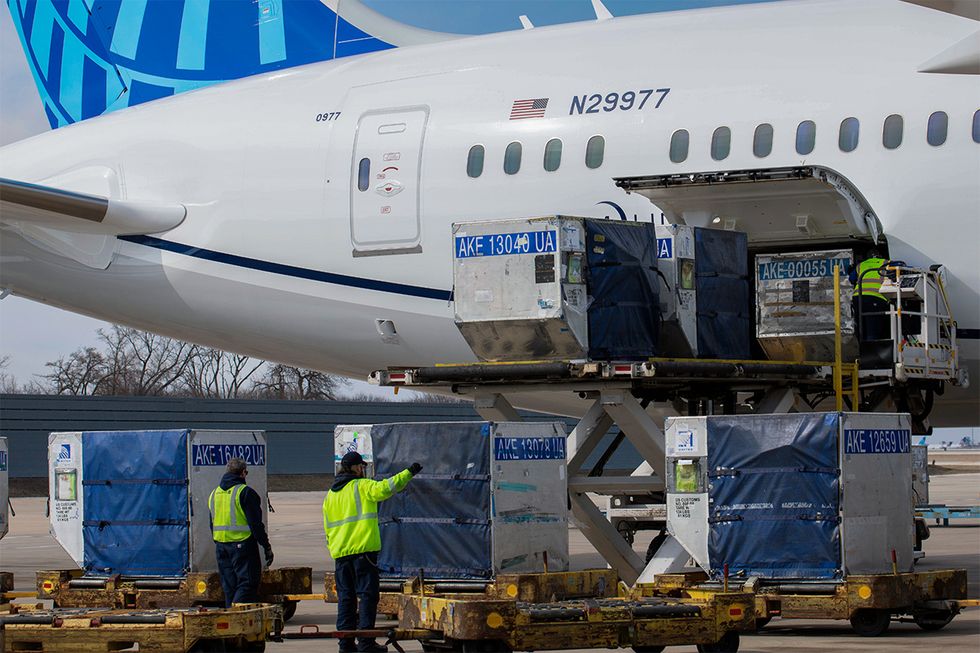 In addition, we move mail year-round all over the world. In response to COVID-19, and in support of the military members and their families overseas, we implemented a charter network, transporting military mail to Frankfurt, which is then transported all over Europe and the Middle East. Since March 20, we have flown 30,000+ pounds of military mail every day between Chicago O'Hare (ORD) and Frankfurt (FRA). On the return flight from Frankfurt to Chicago, we have carried an average of 35,000 pounds of mail to help families stay connected.

"Connecting products and mail to people around the world is the United Cargo mission," said United Cargo President Jan Krems. "Keeping our military families connected with the goods they need, and keeping them connected with loved ones to feel a sense of home, is of critical importance. As a company that has long supported our military families and veterans, our teams are proud to mobilize to lend a hand."
On average, we ship more than 1 billion pounds of cargo every year on behalf of domestic and international customers. For more information, visit unitedcargo.com.
To our customers,
I hope this note finds you and your loved ones healthy and well.
It is safe to say these past weeks have been among some of the most tumultuous and emotional that any of us can remember in our lifetimes. The impact of the coronavirus outbreak has been felt by individuals and families, companies and communities, across the United States and around the world.
The response to this crisis has been extraordinary; as much for what it has required from our society as for what it has revealed of us as a people.
Far from causing division and discord, this crisis and the social distancing it has required, has allowed us to witness something profound and moving about ourselves: our fond and deeply felt wish to be connected with one another.
The role of connector is one we're privileged to play in the moments that matter most in your life – weddings and graduations, birthdays and business trips, events large and small – and it's that responsibility that motivates us most to get back to our regular service, as soon as possible.
That is why it is so important our government acted on a comprehensive relief act to ensure our airline – and our industry – are ready and able to serve you again when this crisis abates.
I want to relay to you, in as deeply personal a way I can, the heartfelt appreciation of my 100,000 United team members and their families for this vital public assistance to keep America and United flying for you.
This support will save jobs in our business and many others. And it allows us time to make decisions about the future of our airline to ensure that we can offer you the service you deserve and have come to expect as our customers.
While consumer demand has fallen, we have seen the need for our service and capabilities shifted. And, we've adapted to help meet those needs.
Right now, aircraft flying the United livery and insignia, flown by our aviation professionals, have been repurposed to deliver vital medical supplies and goods to some of the places that need it most. We're also using several of our idle widebody aircraft to use as dedicated charter cargo flights, at least 40 times per week, to transfer freight to and from U.S. locations as well as to key international business locations. At the same time, we are working in concert with the U.S. State Department to bring stranded Americans who are trying to return home back to their loved ones.
While much remains uncertain right now, one thing is for sure: this crisis will pass. Our nation and communities will recover and United will return to service you, our customers. When that happens, we want you to fly United with even greater pride because of the actions we took on behalf of our customers, our employees and everyone we serve.
Stay safe and be well,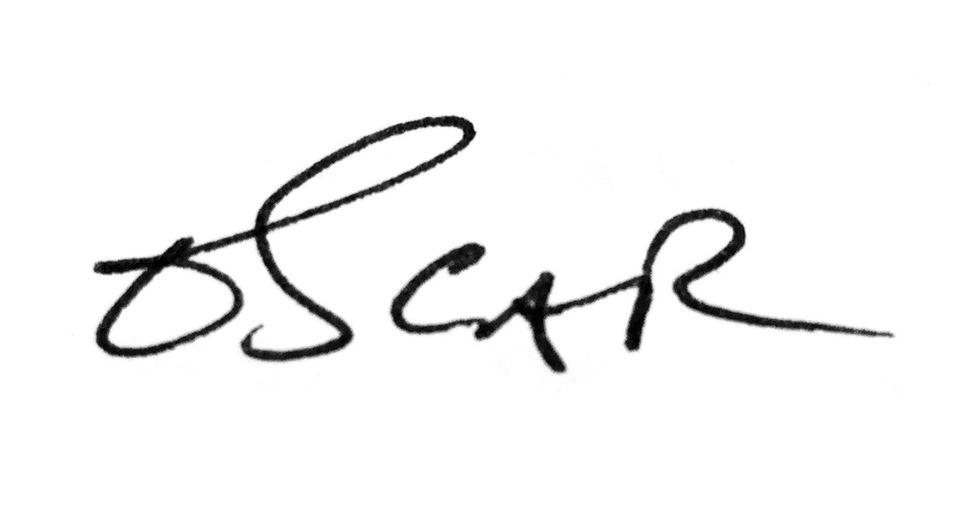 Oscar Munoz
CEO
Together, we are facing an unprecedented challenge. United Together, we rise to meet that challenge.
Check out our newest destinations
United Airlines
united
When
@RocheDia
needed to ship a vital component of a COVID-19 testing unit from New Jersey to Florida, United Cargo jumped in to help. Read about how this part will allow
@MayoClinic
to process hundreds of tests per day for cases in the Southeastern U.S.
uafly.co/2UzOAGW
United Airlines
united
International schedule update: We know some people around the globe are displaced and still need to get home. We are reinstating some international flights over the next few days and will continue to fly six daily international flights through May.
uafly.co/3a5Dj6p
United Airlines
united
We have extended our change fee waiver to cover travel through May 31, 2020: - You can change or cancel your flight on
united.com
or through the app – a phone call is not required - For the latest on our commitment to your safety, visit
united.com/coronavirus
United Airlines
united
Our site,
united.com/coronavirus
, is regularly updated with the latest on travel restrictions, rebooking instructions and health and safety information. Today's updates: - An expanded, more flexible international rebooking policy - Schedule changes for U.K. & Ireland
We Are United
weareunited
Shoutout to our operations team, who are working to properly park, maintain and store many aircraft in the
#BeingUnited
fleet. These aircraft are being housed across our seven hubs, maintenance facilities in CLE and MCO as well as at offsite facilities in New Mexico and Arizona.
We Are United
weareunited
Tomorrow, Oscar and Scott will host a companywide town hall to discuss the latest developments in managing the effects of the coronavirus (COVID-19). You can join the livestream event at 1:20 p.m. CT here:
uafly.co/39AV25m
We Are United
weareunited
Tomorrow, Oscar and Scott will host a companywide town hall to discuss the latest developments in managing the effects of the coronavirus (COVID-19). You can join the livestream event at 1:20 p.m. CT here:
uafly.co/39AV25m
.
Watch our most popular videos
Copyright © 2020 United Airlines, Inc.
All rights reserved.
Indicates an external site that may or may not meet accessibility guidelines.
Scroll to top
Scroll to top