7 family-friendly activities to celebrate fall
Ask someone to name their favorite thing about fall and you'll likely get a different answer depending on where they live. For many people, the mosaic of vibrantly colored leaves and foliage is what defines the months of September through mid-December. Others find the scent of autumnal spices like cinnamon, nutmeg and turmeric is what makes the fall so special. And for some, it's the cooler temperatures that make being outside even more enjoyable. Plus, fall is full of fun activities no matter where you are — from pumpkin patches and apple picking to watching football and enjoying a bowl of chili. All of these things, and more, make the fall so magical. To help you celebrate the season, here are seven fall-themed activities to try this year.
Go apple picking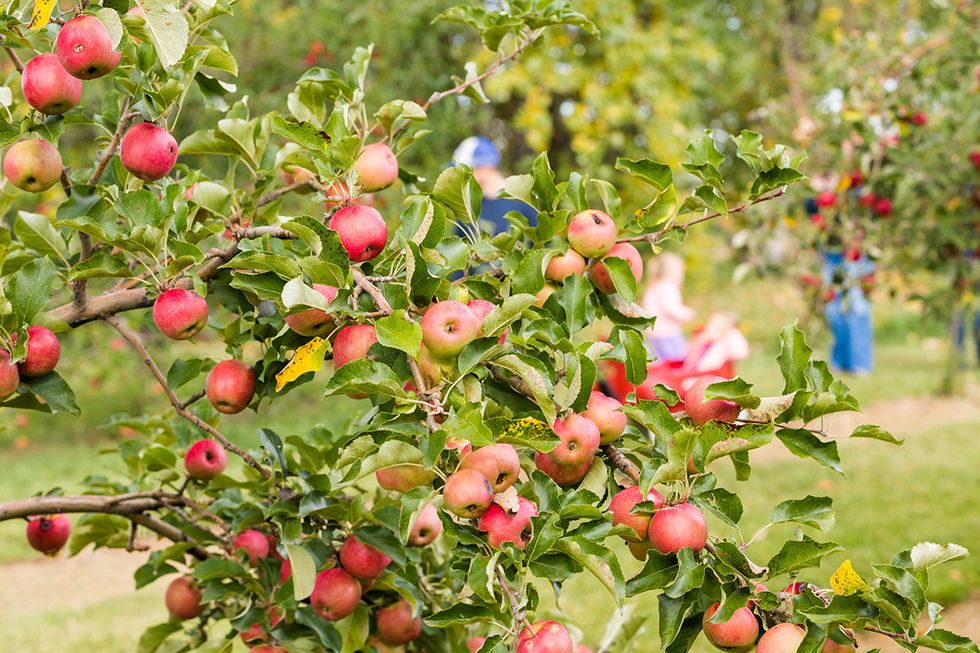 Apple picking combines outdoor fun with delicious and healthy snacks that can be used in a variety of ways, making it the perfect fall activity for adults and children of all ages. Though you'll find countless orchards around the country worth visiting this season, New England is widely considered a prime apple picking destination with over 120 varieties found in the region. It can be argued that the variety they are best known for is the McIntosh apple. This type of apple and many more can be found at Honey Pot Hill Orchards in the lovely town of Stow, Massachusetts, so be sure to stop in and take home a bushel that you pluck from the trees yourself. Picking times are from 9 a.m. until 6:00 p.m. daily, making it easy to schedule a trip.
Meanwhile in California, apple season runs until the end of November, giving you plenty of time to pick a few baskets of Red Delicious or Gala apples before winter. Riley's at Los Rios Rancho in the city of Yucaipa is one of the largest farms of its kind in Southern California and has been welcoming apple pickers to their 10,000-tree farm for more than 100 years.
Visit a pumpkin patch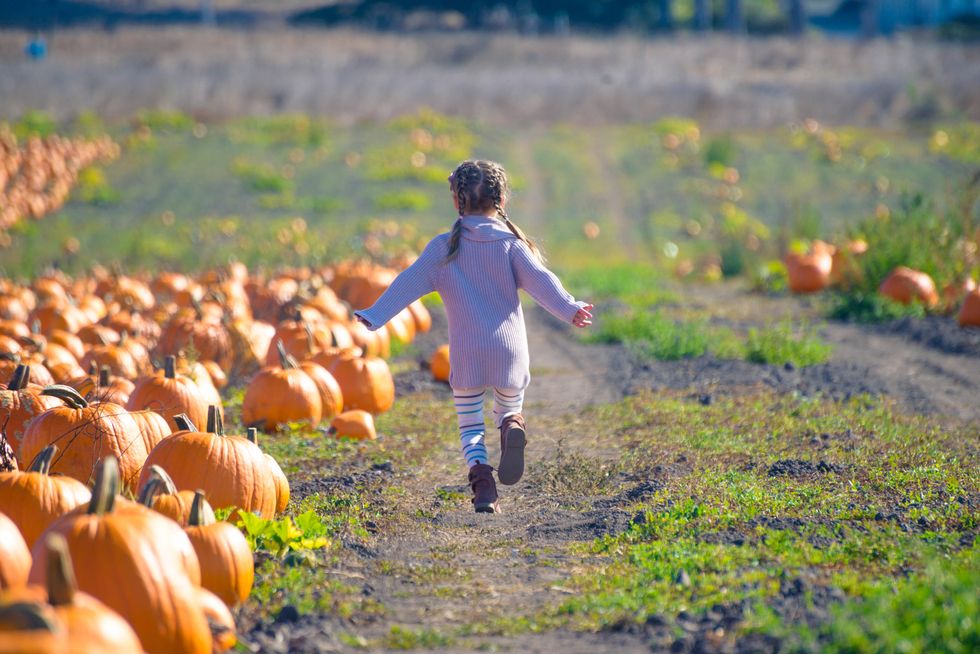 If there was a fall mascot, it would be a pumpkin, so to celebrate the true essence of the season, it's hard to beat a trip to a colorful pumpkin patch. A pumpkin patch is more than just a place to find the perfect candidate for this year's prize-winning jack-o'-lantern, it's a wonderful way to create cherished new memories with your children or friends. The Great Pumpkin Farm in Clarence, New York, is perfect for pumpkin picking, but also offers weekend activities throughout the fall, including scarecrow making lessons, cider brewing demonstrations, pumpkin pie eating contests, and live music and barbecues.
If you're traveling through the Midwest this season, hop aboard a vintage farm wagon at Polly's Pumpkin Patch in Chilton, Wisconsin, and make your way out into their scenic fields where you can pick as many pumpkins as you want. Other activities at Polly's include a livestock petting zoo, a 40-foot slide and a popular corn cannon that lets older kids launch corn cobs at targets for cash prizes.
Enjoy a harvest festival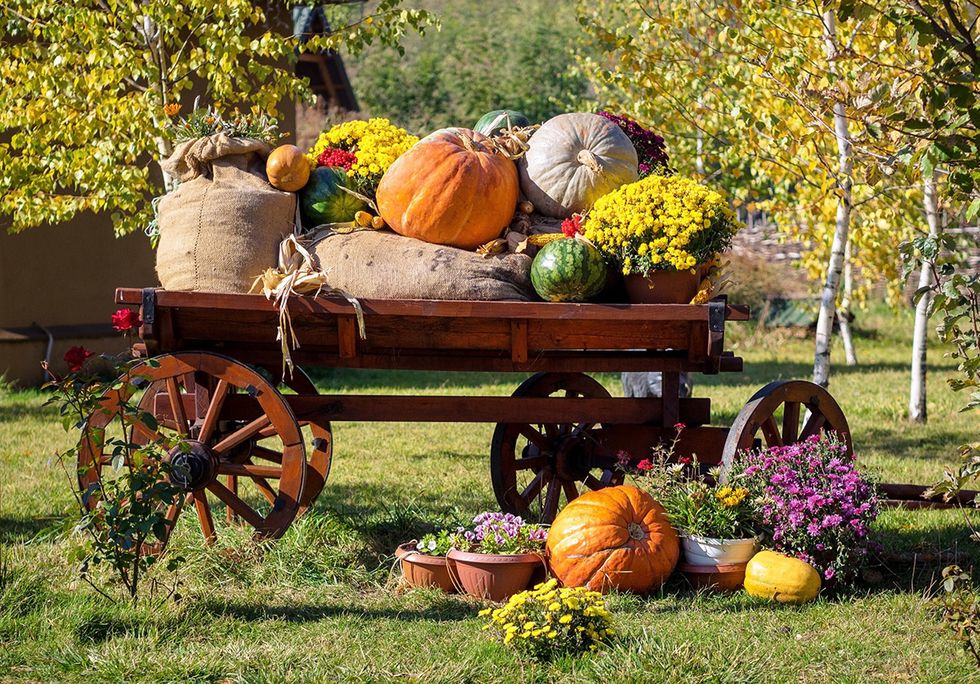 An annual tradition in America that dates back to 1613, harvest festivals are outdoor celebrations that coincide with the growing and reaping seasons we all enjoy. Filled with food, fun, music and dance, you haven't truly experienced the wonder of the fall season until you've participated in a local harvest fest. The good news is that there are plenty to choose from around the country this year. Two of the most popular are the Autumn at the Arboretum festival in Dallas, Texas, which runs until October 31, and the incredible North Carolina Pecan Harvest Festival in Whiteville, North Carolina, which ends on November 3. Both of these festivals have been drawing huge crowds for years.
For a harvest fest that's slightly spookier, head to Wisconsin where you'll find the classic Jack O' Lantern Days celebration in the cozy town of Fish Creek, and the Halloween-themed Zombie Days festival on the coast of Chequamegon Bay. Ghoulish activities include an undead musical show, a zombie pub crawl and a traditional harvest festival pumpkin parade. The scary fun lasts from October 26 through October 27.
Hit the trails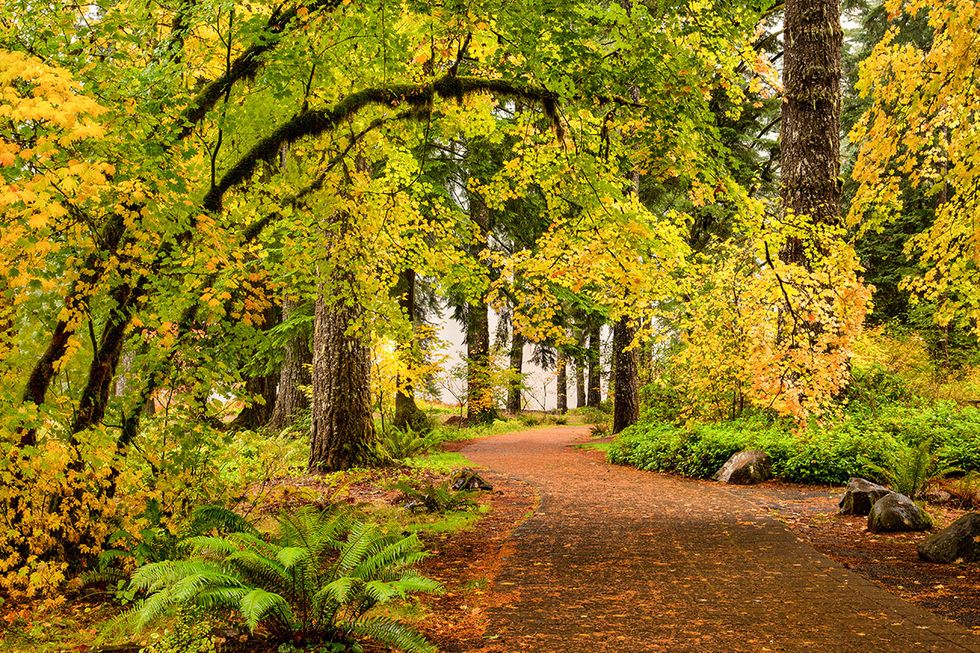 Hiking is more than just great exercise; it's an excellent way to bring the whole family together during the fall. And since the leaves are changing colors, it's also a great way to snap some incredible nature photos. So lace up your hiking boots, grab your kids and your camera, and find a trail that's right for you. If you're looking for suggestions, Sterling Point Trail in Vermont and Rome Point Trail in Rhode Island are impossible to beat when it comes to picturesque fall hiking.
On the opposite side of the country, the trails at Dry Creek Falls in Portland, Oregon, were voted one of the most photogenic hiking spots on the west coast by BuzzFeed, and it's easy to see why once you've been there. Covering a distance of just over 4 miles, this beautiful trail is perfect for all skill levels, making it a solid choice for families with kids.
Roll in the hay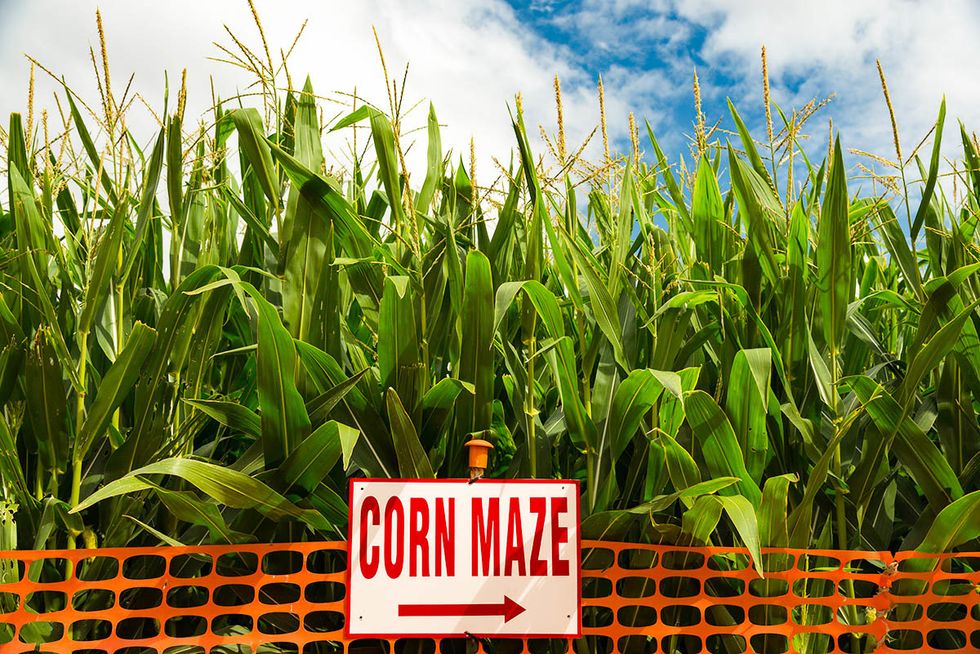 Hayrides and corn mazes are traditional fall activities that have never gone out of style, and for very good reason. There's just something wonderfully nostalgic about introducing a new generation of children to the simple pleasures of wandering through an overgrown corn maze, and with so many participating farms scattered across the country, there's a plethora of options to choose from. The Johnny Appleseed corn maze at Shady Brook Farm in Yardley, Pennsylvania, and the popular horse-drawn hayride at Papa's Pumpkin Patch in Bismarck, North Dakota, are two of the best.
In honor of Halloween, the massive haunted hayride at Fear Farm in Phoenix, Arizona, brings an assortment of ghosts, goblins and ghouls to life from early October until the first week in November. Filled with sinister special effects, creepy costumes and macabre makeup, this Hollywood-worthy hayride is recommended for adults and children over the age of 12. With five terrifying corn mazes to choose from, Fear Farm certainly lives up to its name!
Up, up and away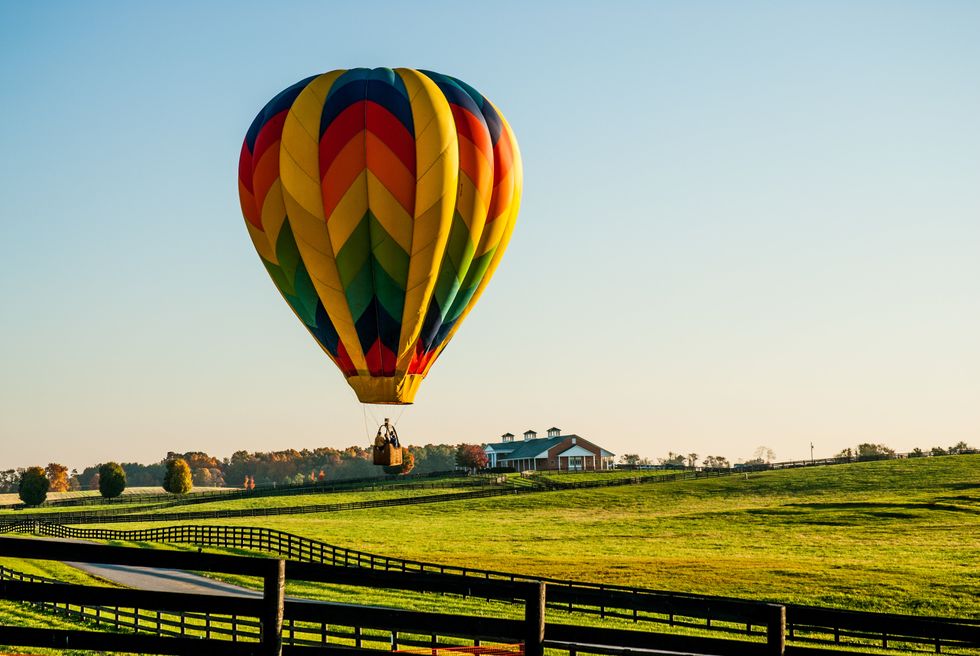 Hot air ballooning during the fall is a dazzling way to experience the season in all its natural splendor. After all, how else can you get a spectacular birds-eye view of the colorful trees as their leaves change from green to golden orange? Balloons Over Letchworth, located near New York's Letchworth State Park, offers astonishing views of the surrounding area, including majestic waterfalls and stunning forests. Best of all, they offer a variety of family tour packages, so you'll find just what you're looking for, regardless of the size of your group.
If you're visiting Southern California's wine region this fall, reserve a balloon ride with the fine folks at California Dreamin'. Their friendly FAA commercial licensed pilots will take you and your family on an unforgettable balloon voyage high above the vineyards of Temecula wine country.
Pitch a tent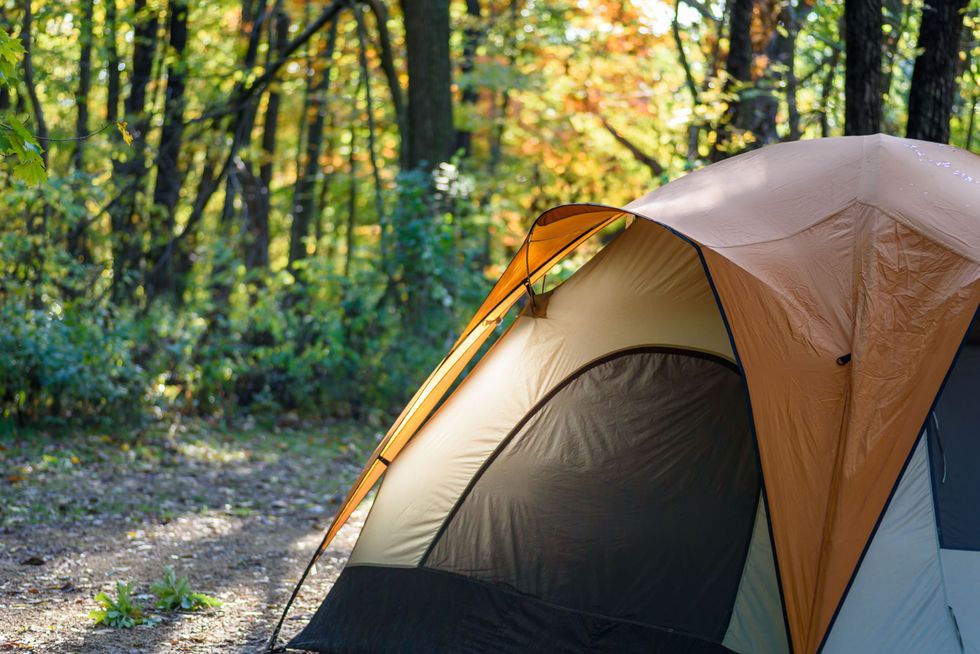 Though typically associated with summer, in many ways the fall is truly the best time of year to go camping. Thanks to the cooler weather, there are few — if any — insects to bother you and your family. Plus, there are less people claiming all the best spots, so you should have no problem picking a prime location to pitch your tent. And when it comes to toasting marshmallow for s'mores over an open campfire, everyone agrees that they simply taste better when eaten on a brisk autumn night.
For the ultimate fall camping trip, book a spot at Earth First Farms in southwest Michigan and set up your tent in an actual organic apple orchard. The 49-acre farm provides campers with complimentary firewood and plenty of fresh produce to pick.
Getting there
Regardless of where you plan to celebrate the fall, book your flight at united.com or by using the convenient United app, and share your story on social media with the #MyUnitedJourney hashtag.
Eric Rubens (@erubes1) is a MileagePlus member based in Southern California. He is a photographer/videographer who loves meeting new people and traveling the world.
When planning a vacation, one of the first steps is picking a theme. If you're in search of mountains, many look to the Rockies, Swiss Alps, or Dolomites. If a tropical vacation is desired, Hawaii, Mexico, or the Caribbean may be calling your name. There are so many beautiful destinations in this world, but is it possible for one of them to be blessed with incredible mountains, picturesque beaches, and some of the best wildlife viewing in the world?
Cape Town is one of the few places I've found that seems to have it all. With the iconic Table Mountain and Lion's Head rising out of the city, there are hikes leading up to majestic views down the African coastline. The beaches of Clifton and Camps Bay are some of the most incredible beaches on this planet. If wildlife peaks your interest, there's Boulder's Beach, home to one of the only land-based penguin colonies in the world. Did I mention the safari is a short trip away? Add in an exchange rate that is very favorable and you have all the makings of a trip you'll never forget.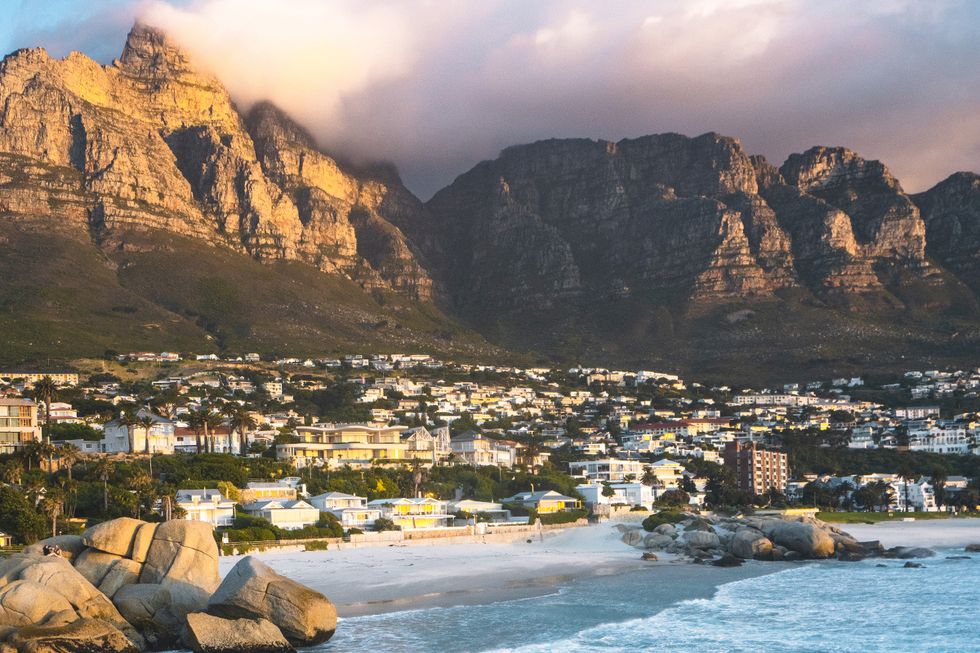 Camps Bay Beach
Planning a trip to Africa for the first time can be both intimidating and a bit challenging. I found very few of my friends or family had been, which made my voyage to South Africa even more exciting. Cape Town is home to a hip urban scene, a vibrant melting pot of culture, and jaw dropping landscapes that'll make you wonder why you didn't visit sooner. There's no city quite like it, and this list of top things to do will make sure you maximize your time in the Mother City. Several theories exist regarding the origin of Cape Town's nickname as "The Mother City." Some say it can be traced back to the beginning of the city's history as a trading hub in the 17th century, or its status as South Africa's first metropolis. But many locals have their own theories – one running joke is that it takes nine months to get anything done in the very laid back city.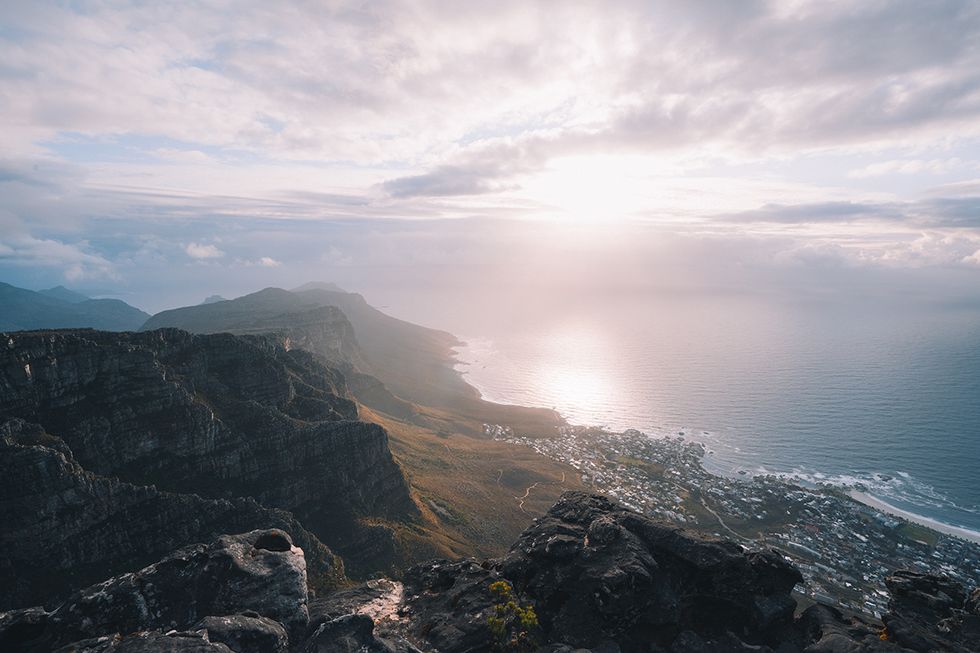 View from the top of Table Mountain
#1: Take a hike or tram up to the top of Table Mountain

This iconic mountain rising from the city is arguably home to Cape Town's best views. The 2 to 3-hour hike to the top makes for a fun activity if you're up for it. Otherwise, take in the view from the aerial cableway, complete with 360-degree rotating floor and running every 5 minutes from the base. Once up top, there's plenty of walking trails, souvenir shopping, and food and drinks. Table Mountain is known for the blanket of fog that rolls over the peak, so weather at the top can change quickly. Make sure to check the weather before heading up and bring a jacket, since the wind can be intense!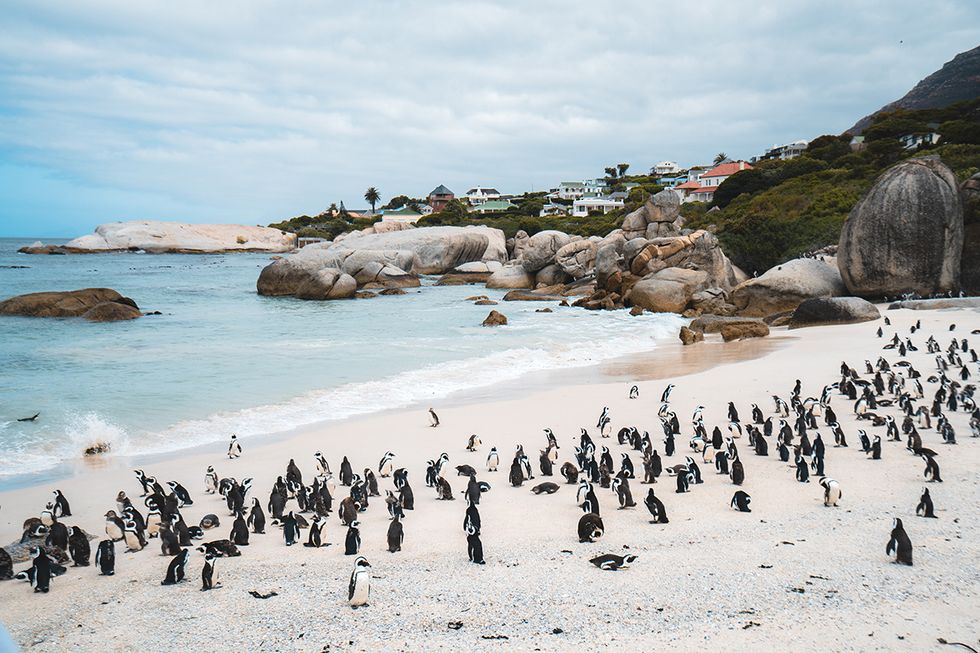 Penguins at Boulder Beach
#2: Visit the penguin colony at Boulder's Beach

Even though it's an hour or so drive from the city, visiting Boulder's Beach and its nearly 2,000 penguins is an unforgettable experience. Watching the penguins lounge on the beach and come in and out of the waves makes for some incredible pictures and a unique encounter. You can also swim in the nearby waters and will often come face to face with members of the colony.
#3: Wake up for a sunrise hike up Lion's Head

One of the most bucket list-worthy activities on a visit to Cape Town is catching sunrise atop Lion's Head. It's a challenging hike and not for those with a fear of heights, but you won't soon forget the view from the summit. If you're willing to scramble and make your way up the final ladders, 360-degree views of the city await, and the sunrise over the city is one for the ages.
#4: Explore the Cape Winelands and the beauty of Constantia
South Africa has some of the best vineyards in the world. Even though the towns of Franschooek and Stellenbosch get the majority of the press, nearby Constantia is home to the oldest wine estate in the country, Groot Constantia. Its proximity (just 15 minutes from the city center) makes it perfect for a day trip. The city sightseeing "Hop-On Hop-Off" bus tour has a purple line that connects through this region, so getting here is easy! If wine tasting isn't your thing, the Alphen Trail is a beautiful trek through the countryside and sure to put you in a relaxing mood.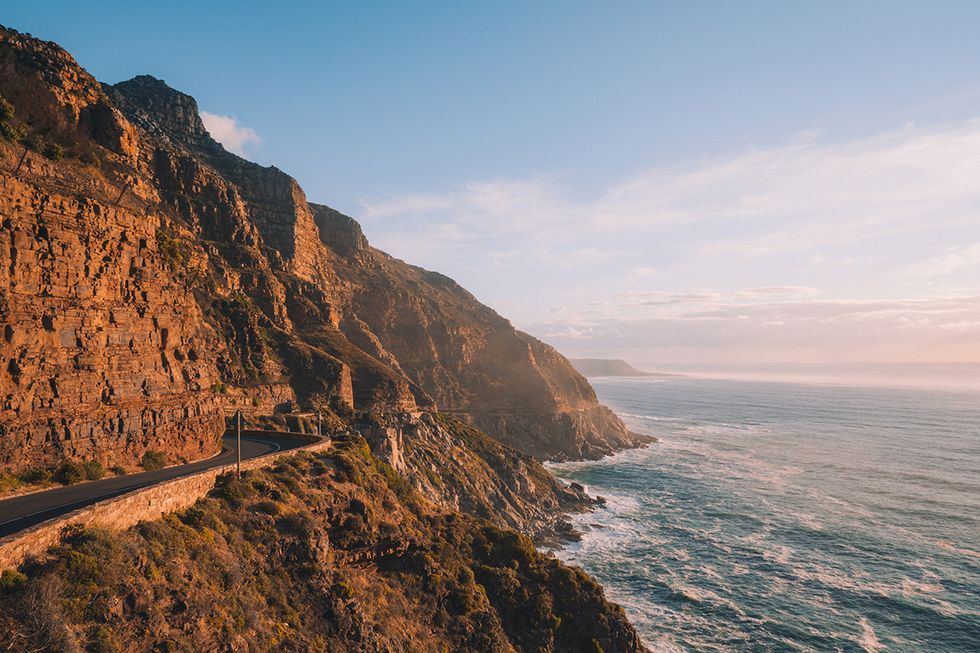 Chapman's Peak Drive
#5: Take a road trip down Chapman's Peak Drive

One of the most beautiful drives awaits just south of Cape Town. Carved into the cliffs and winding along the ocean, this road between Hout Bay and Noordhoek offers majestic views of the coastline. Just make sure to keep your eyes on the road since the sheer beauty can be distracting!
#6: View the diversity of flora throughout Kirstenbosch Gardens
The flora and fauna of South Africa is some of the most diverse in the world, and no place showcases it better than Kirstenbosch Botanical Gardens. Tucked along the slopes of Table Mountain and widely recognized as one of the most impressive gardens in the world, Kirstenbosch is home to over 7,000 species of plants. The newly completed Centenary Tree Canopy Walkway allows you to walk above the tree line. If you visit in summer, try to make one of the Sunday concerts in the gardens, which are a hit with locals and visitors.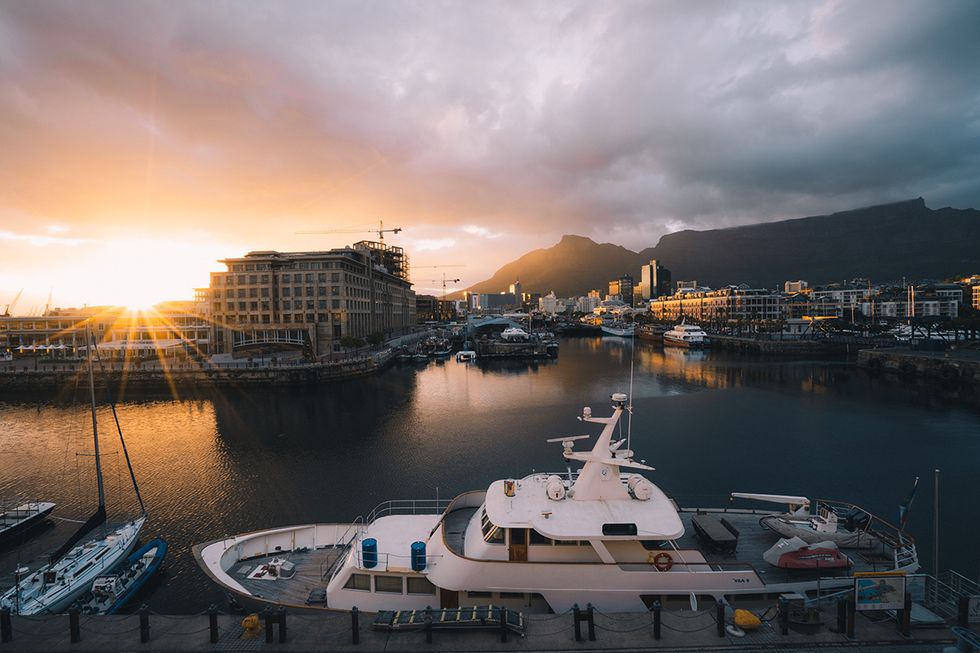 V & A Waterfront
#7: Shop your heart out along the Victoria & Alfred Waterfront

Known as one of the biggest tourism hubs of the city, the always bustling V&A Waterfront is home to many of Cape Town's finest restaurants, shopping, and the launching point of many tours. There are countless ways to spend your time here, but make sure to stop by the V&A food market, where over 40 vendors sell gourmet street food from around the world.
#8: Make your way to the Southern tip of Africa

If you're up for an adventure, take a trip to The Cape of Good Hope. You'll most likely encounter penguins, baboons, and who knows what else along the 1.5-hour drive. The weather can be very unpredictable, so make sure to check it before making the trip south. While there, visit the lighthouse and if you're hungry grab a bite at the appropriately named Two Oceans Restaurant.
#9 Take a tour of historical Robben Island
Even though the prison has been shut down since 1996, a visit to this UNESCO World Heritage Site is one of Cape Town's most popular tours. Tours take around 4 hours including a ferry ride to the island famous for housing Nelson Mandela for 18 of the 27 years he was imprisoned.
Insider tips:
-Use the "hop on hop off" bus for an easy guided tour of the city. The route takes you to many of the best spots throughout Cape Town and allows you to explore at your own pace. Buy tickets ahead of time to save on fare!
-Cape Town has some incredible boutique hotels and bed & breakfasts. My favorites are: Tintswalo Atlantic, 52 De Wet Luxury Boutique Hotel, and Derwent House Boutique Hotel.
-Make sure you don't carry too many valuables on you if you're walking around at night. Although beautiful and mostly safe, there is still a good amount of opportunistic crime throughout the city. Always pay attention to your surroundings.
You can purchase tickets now at united.com or on the United app for three weekly nonstop flights from New York/Newark to Cape Town beginning December 15.
Opinions expressed by the author are those of the author and do not necessarily reflect those of United.
Planning a Caribbean vacation around hurricane season isn't necessary if you head to Dutch-affiliated Curaçao. The southernmost of all Caribbean islands — just off Venezuela's coast — is rarely even grazed by hurricanes. It also has an ideal tropical climate with average winter highs in the 80s (and water temperatures to match) and only about one inch of rain a month.
Curaçao will be more accessible beginning December 7, 2019, when weekly nonstops begin from New York/Newark on United Airlines. The new seasonal service on 737-700 aircraft makes Curaçao the 21st Caribbean island destination for United, which already flies to the other two nearby "ABC islands" — Aruba and Bonaire. Why choose Curaçao? Because like the island's famous blue liqueur, it's colorful, exotic and appealing.
Settling in
Jet lag won't be an issue for Americans flying to Curaçao because it's in the same time zone as New York. Nor is it a long flight — about five hours nonstop from New York/Newark. Upon arrival you can take a taxi, rental car or hotel shuttle from Curaçao International Airport to your accommodations — a resort (reserve early), boutique inn, vacation house or B&B. Most are in Willemstad, a coastal city only five miles from the airport.
Forts above the port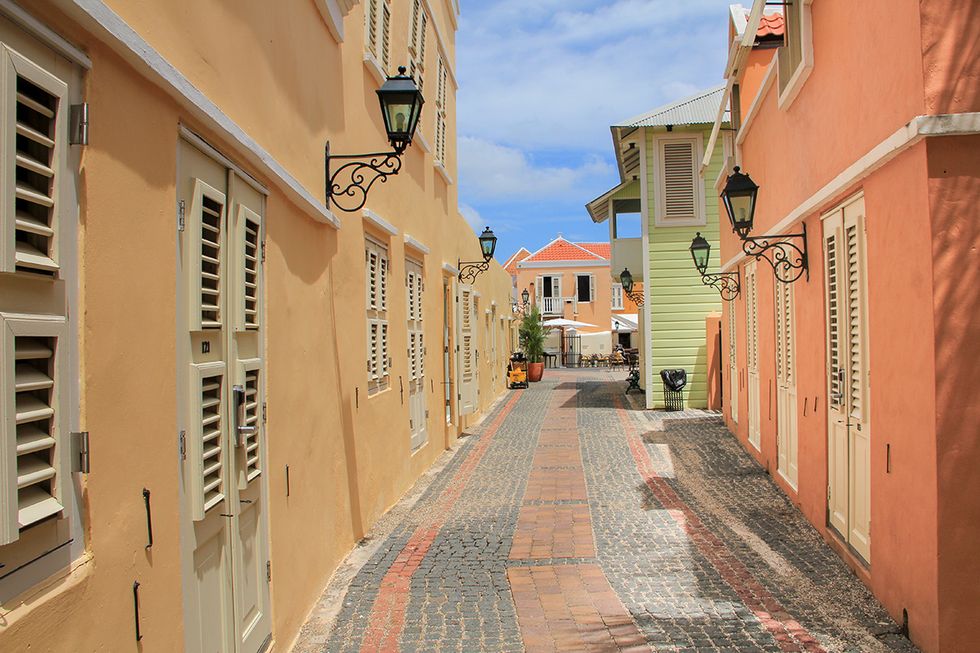 Straat Curaçao Getty Images/iStockphoto
The historic city center and harbor areas of Curaçao's only city of Willemstad are designated as a UNESCO Heritage Site, mostly for the 17th to 19th century Dutch colonial architecture of the houses and forts. The houses are painted a rainbow of bright colors in the Caribbean tradition, and the city is packed with forts — Fort Amsterdam (built in 1636), Fort Beekenburg (1703), Fort Nassau (1797) and Fort Waakzaamheid (1803). All four offer stellar views and are free to visitors.

On the waterfront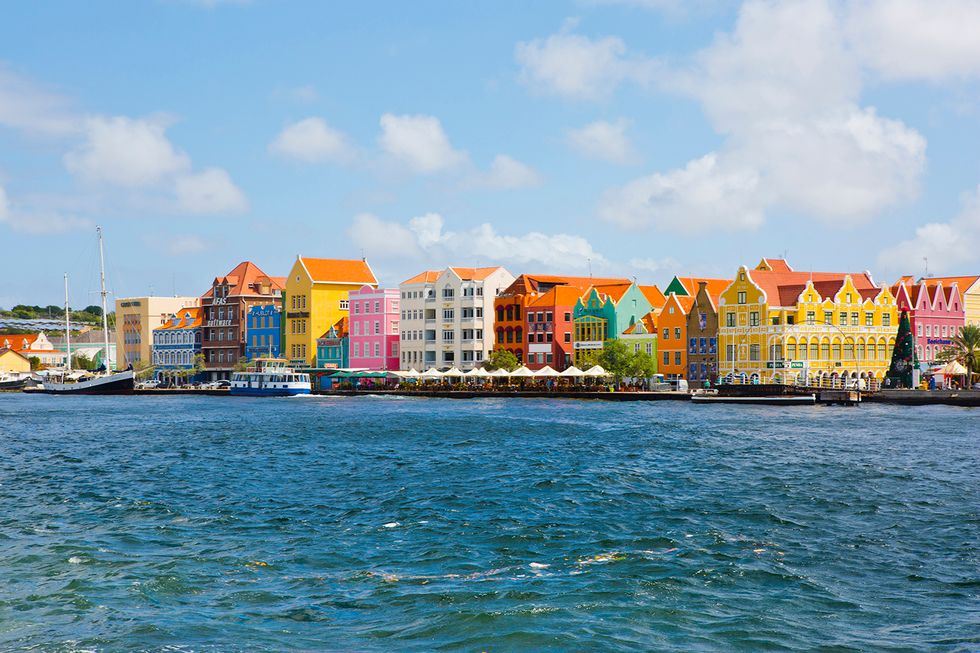 Curacao colorful houses Getty Images/iStockphoto
Along with forts, the harbor area is home to the oldest continuously operating synagogue (and museum) in the Western Hemisphere, an African art museum that tells the story of the slave trade through West African art and artifacts, and a maritime museum. These visits can be followed by a tour and tasting at the Curaçao Distillery, where you'll see how the peels of the native Laraha bitter oranges are turned into curaçao liqueur.

Snorkel from the sand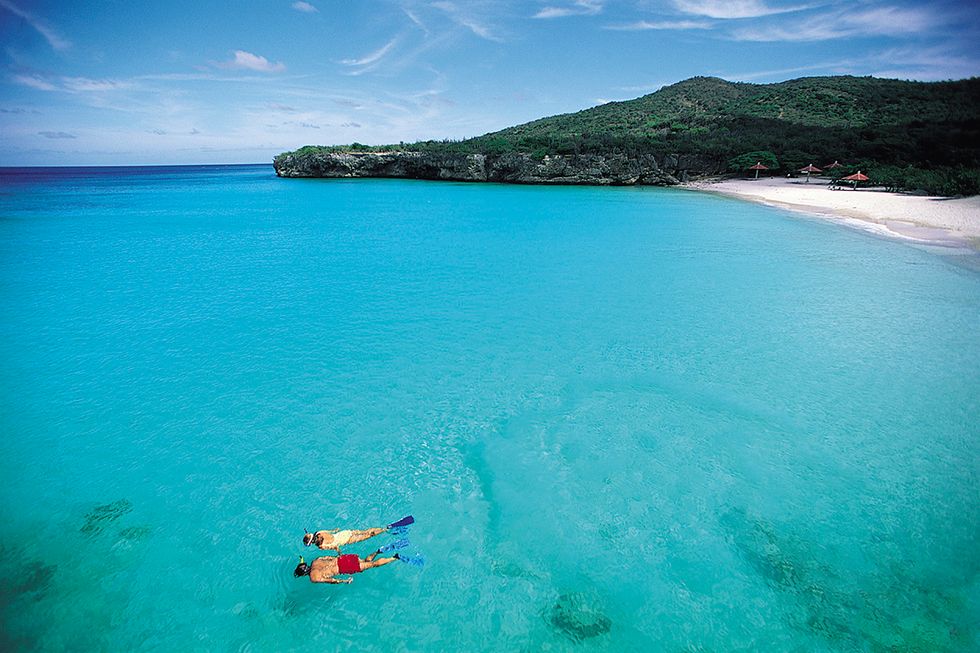 Two people snorkeling off coast of tropical island Getty Images
The chief allure of this 38-mile-long island is, of course, the ocean. Besides sunbathing at any of the dozens of powder-sand cove beaches, you can wade right in and snorkel in the turquoise, bathlike sea, usually around 80 degrees. Visibility is up to 100 feet, a snorkeler's dream. More adventurous types can snorkel or dive from day boats that head to prime diving sites like the Mushroom Forest (mushroom-shaped coral), Blue Cave and several shipwreck spots. There's also a nice aquarium on the shoreline where marine life is seen up close in their natural habitat —from land or aboard a minisub that dives 1,000 feet.

Ready, set…
Curaçao is a convenient tropical destination for Americans because U.S. dollars and credit cards are commonly accepted, English is widely spoken and no visa is required. But the local culture and cuisine are still exotic enough to be intriguing with local specialties like stewed iguana and cactus soup served in restaurants and from food carts in Willemstad.
If you go
Flight reservations from New York/Newark (EWR) to Curaçao (CUR) can be made at united.com on the United app. Use miles to reserve a hotel, rental car or both with MileagePlus®.
One of our most treasured events of the year is here – Fantasy Flights! Our Fantasy Flights bring holiday cheer to children in need by taking them on a special trip to the "North Pole." Each station creates a North Pole with care, in preparation for all the children who will soon be there…
Our participating stations this year are HNL (Honolulu), FRA (Frankfurt), CLE (Cleveland), DEN (Denver), IAD (Washington Dulles), LAX (Los Angeles), SFO (San Francisco), MCO (Orlando), ORD (Chicago O'Hare), GUM (Guam), EWR (New York/New Jersey), NRT (Tokyo-Narita), PHX (Phoenix), IAH (Houston), MCI (Kansas City) and SAT (San Antonio).
Please stay tuned for stories, photos and more from these magical events. #UAFantasyFlights
Scroll to top