Family friendly cities: Sun and sea in San Diego
Beaches, zoos, parks and festivals — San Diego is brimming with all of these classic summer activities and more. With a mild climate to boot, San Diego is the perfect destination for a family vacation.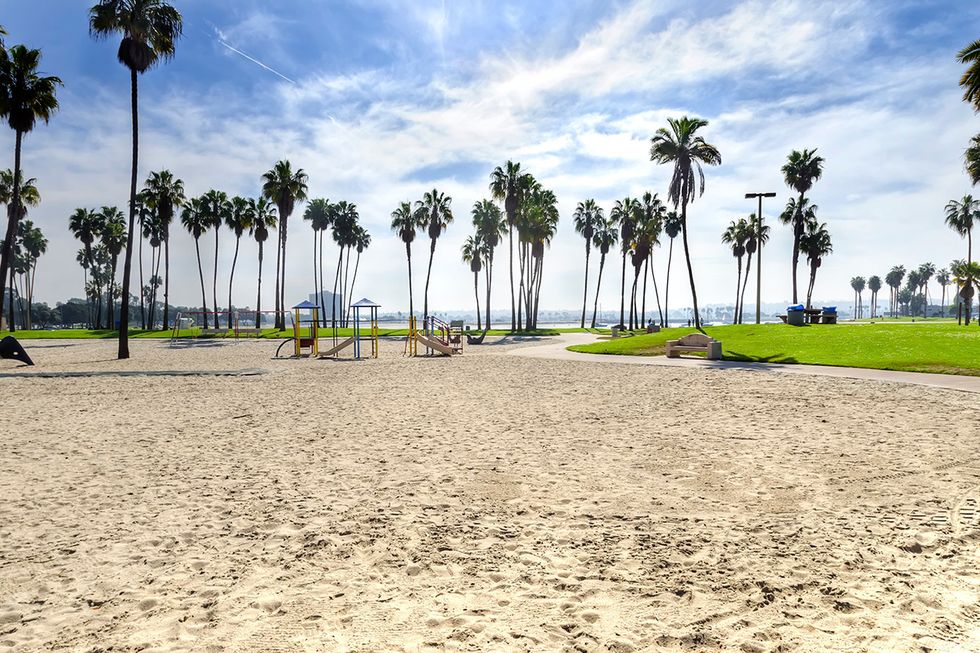 Beach play
"Life is a beach" is more than a T-shirt slogan in San Diego — it's a state of mind. Visitors can join locals to indulge in delights of the sand and sea at any of San Diego's dozens of beaches, or the dozens more in beach towns north of the city. San Diego's Mission Beach has the liveliest scene, mostly at Belmont Park, an old-fashioned amusement park with 12 classic rides, including the 1925 Giant Dipper wooden roller coaster. There's also an arcade, zip line and bustling boardwalk. Most of San Diego County's beaches are quieter, but still offer the elements that beach worshipers adore: castle-worthy sand, bodyboarding, surfing and beach volleyball.
Animal attractions
San Diego Zoo is one of the best zoos in the world and ranks first on many lists. Whether it's the collection of 660 species (from pygmy hippos to giant pandas), the Skyfari Aerial Tram or the 4D theaters, this is a zoo for all ages. San Diego Zoo Safari Park — a lesser-known but much larger venue — is 35 miles away and has many of its 300 species roaming in herds throughout large enclosures. They can be viewed on foot or from a tram, zip line or tethered helium balloon. Both of the zoos are worth a half-day visit, but there's too much to see to do them both in the same day. Entertainment-focused SeaWorld San Diego and education-oriented Birch Aquarium are their world-class marine life counterparts.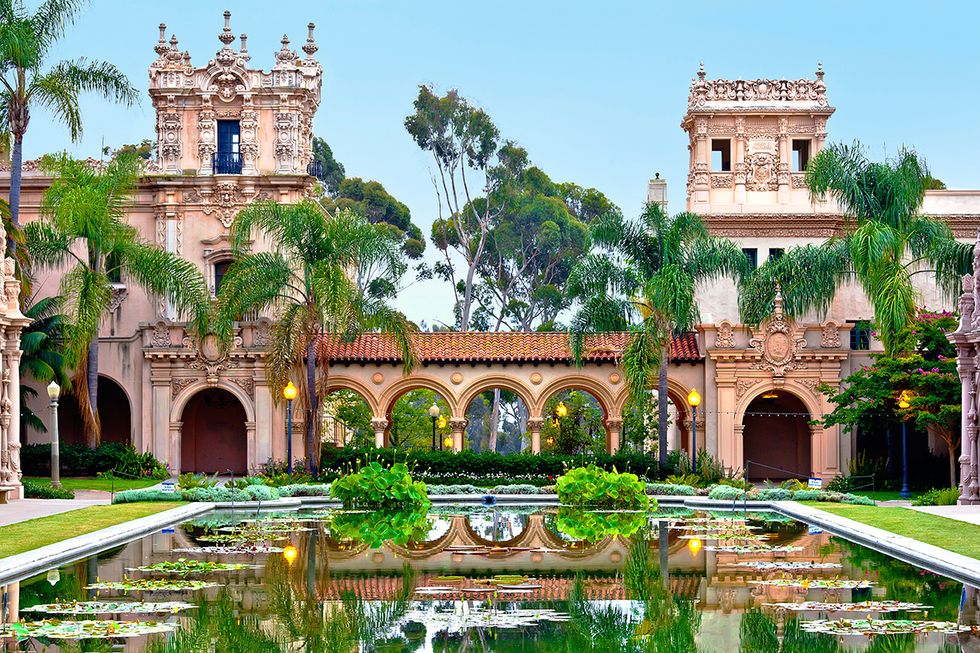 Balboa Park
San Diego Zoo is the main attraction in Balboa Park, but the park is also home to many of San Diego's family-friendly museums. America's largest model railroad museum features a 142-foot-long miniaturized railroad display; the San Diego Natural History Museum and Fleet Science Center are both geared toward kids drawn to hands-on science; and the San Diego Air & Space Museum boasts 67 aircraft, from a 1901 Wright Glider reproduction to the Apollo 9 Command Module. You can also find an antique children's mini-train, a 1910 carousel, five playgrounds and countless picnic spots in Balboa Park.
Fab family festivals
San Diego's two big family-friendly festivals this summer are both near the beach and both are free. The 39th Annual OB Street Fair at Ocean Beach (June 23) includes a Wonderland Fun Zone with rides for kids and music for all ages on five stages. The Sun & Sea Festival at Imperial Beach (July 15) offers a full schedule of Kids' Zone entertainment and activities, plus a pirate parade, kids' rides and separate sandcastle contests for kids (ages 5 to 12) and adults.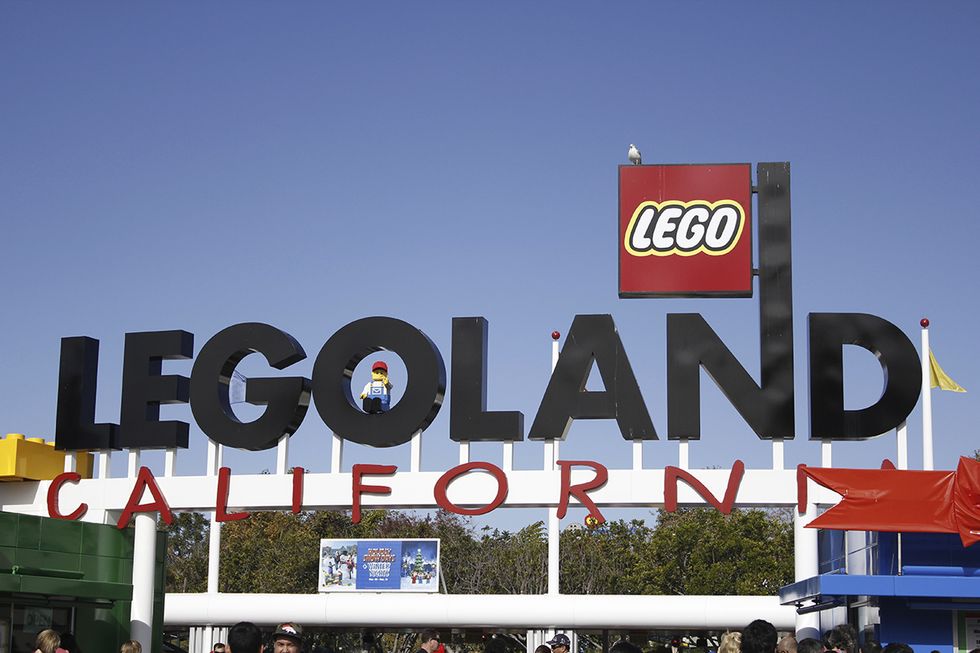 LEGOLAND California
Legos are small plastic pieces that kids love to snap together, but there's nothing small about the LEGOLAND California theme park or its popularity, with attendance topping two million per year. Dozens of Lego-themed, kid-friendly rides and shows — many of them interactive — are the main attraction, but you can also add to the fun by upgrading your ticket to access the Lego-themed aquarium and water park next door where kids can assemble their own Lego rafts. Admission prices are steep, but Lego-loving kids of a certain age will want to stay all day, and the memories will be priceless.
If you go

United Airlines offers numerous daily flights to San Diego International Airport from many cities. MileagePlus Rewards can help cover your hotel room and rental car once you arrive. Go to united.com or use the United app to plan your San Diego family getaway.

Eric Rubens (@erubes1) is a MileagePlus member based in Southern California. He is a photographer/videographer who loves meeting new people and traveling the world.
When planning a vacation, one of the first steps is picking a theme. If you're in search of mountains, many look to the Rockies, Swiss Alps, or Dolomites. If a tropical vacation is desired, Hawaii, Mexico, or the Caribbean may be calling your name. There are so many beautiful destinations in this world, but is it possible for one of them to be blessed with incredible mountains, picturesque beaches, and some of the best wildlife viewing in the world?
Cape Town is one of the few places I've found that seems to have it all. With the iconic Table Mountain and Lion's Head rising out of the city, there are hikes leading up to majestic views down the African coastline. The beaches of Clifton and Camps Bay are some of the most incredible beaches on this planet. If wildlife peaks your interest, there's Boulder's Beach, home to one of the only land-based penguin colonies in the world. Did I mention the safari is a short trip away? Add in an exchange rate that is very favorable and you have all the makings of a trip you'll never forget.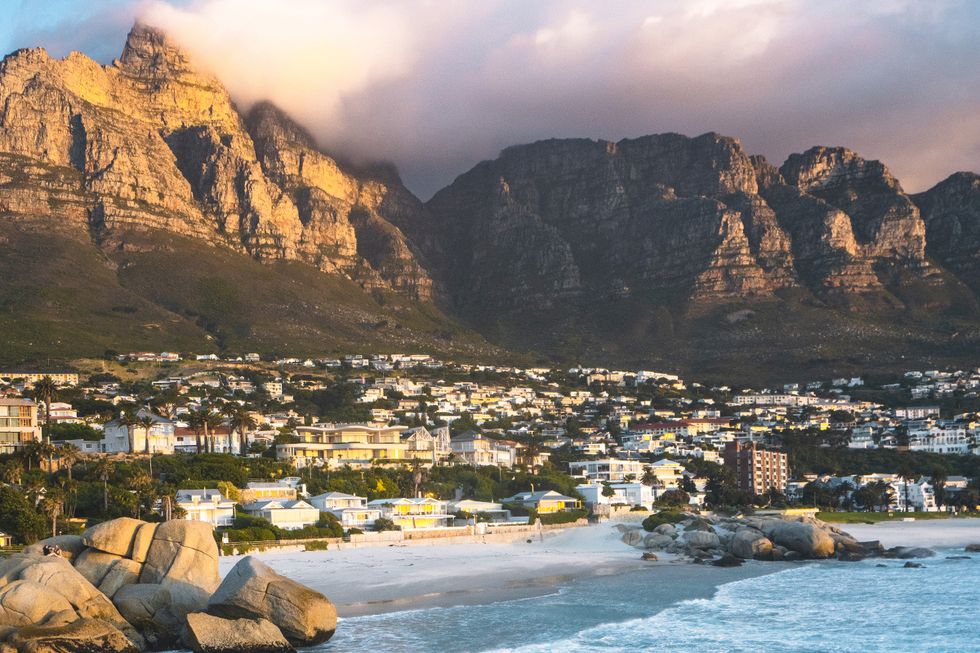 Camps Bay Beach
Planning a trip to Africa for the first time can be both intimidating and a bit challenging. I found very few of my friends or family had been, which made my voyage to South Africa even more exciting. Cape Town is home to a hip urban scene, a vibrant melting pot of culture, and jaw dropping landscapes that'll make you wonder why you didn't visit sooner. There's no city quite like it, and this list of top things to do will make sure you maximize your time in the Mother City. Several theories exist regarding the origin of Cape Town's nickname as "The Mother City." Some say it can be traced back to the beginning of the city's history as a trading hub in the 17th century, or its status as South Africa's first metropolis. But many locals have their own theories – one running joke is that it takes nine months to get anything done in the very laid back city.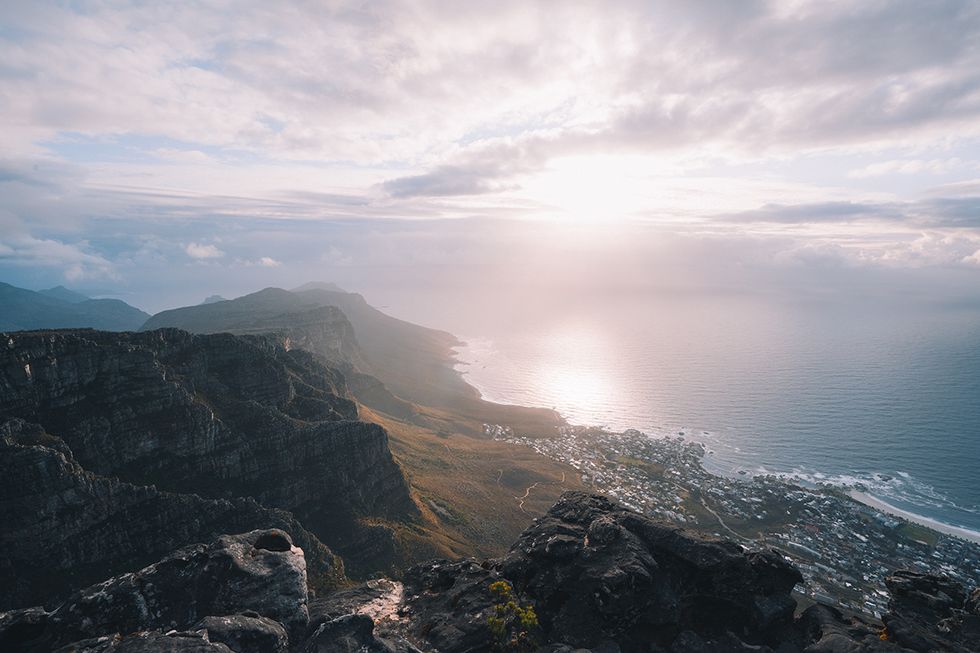 View from the top of Table Mountain
#1: Take a hike or tram up to the top of Table Mountain

This iconic mountain rising from the city is arguably home to Cape Town's best views. The 2 to 3-hour hike to the top makes for a fun activity if you're up for it. Otherwise, take in the view from the aerial cableway, complete with 360-degree rotating floor and running every 5 minutes from the base. Once up top, there's plenty of walking trails, souvenir shopping, and food and drinks. Table Mountain is known for the blanket of fog that rolls over the peak, so weather at the top can change quickly. Make sure to check the weather before heading up and bring a jacket, since the wind can be intense!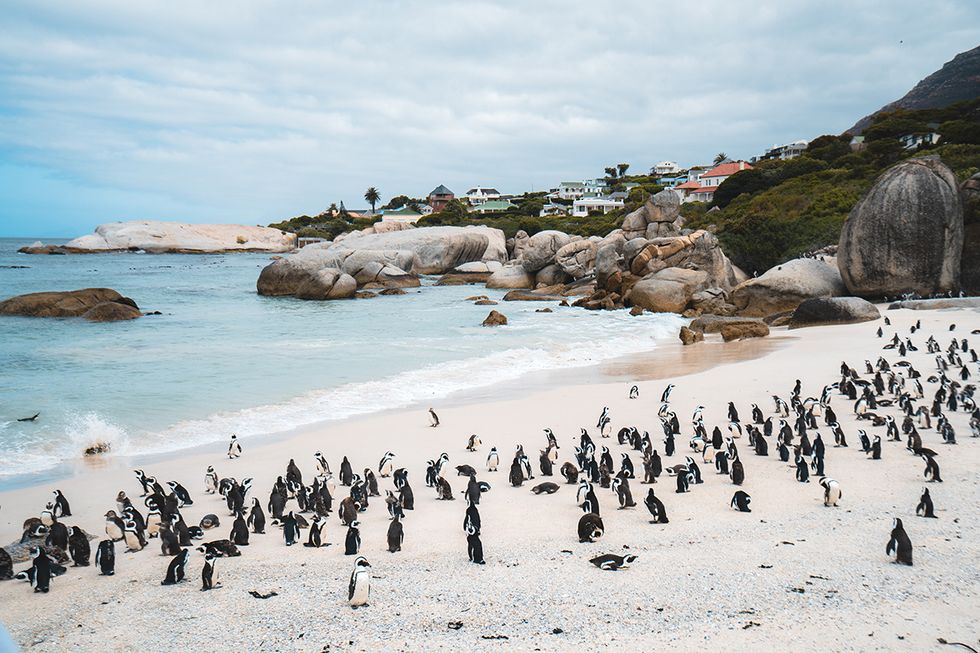 Penguins at Boulder Beach
#2: Visit the penguin colony at Boulder's Beach

Even though it's an hour or so drive from the city, visiting Boulder's Beach and its nearly 2,000 penguins is an unforgettable experience. Watching the penguins lounge on the beach and come in and out of the waves makes for some incredible pictures and a unique encounter. You can also swim in the nearby waters and will often come face to face with members of the colony.
#3: Wake up for a sunrise hike up Lion's Head

One of the most bucket list-worthy activities on a visit to Cape Town is catching sunrise atop Lion's Head. It's a challenging hike and not for those with a fear of heights, but you won't soon forget the view from the summit. If you're willing to scramble and make your way up the final ladders, 360-degree views of the city await, and the sunrise over the city is one for the ages.
#4: Explore the Cape Winelands and the beauty of Constantia
South Africa has some of the best vineyards in the world. Even though the towns of Franschooek and Stellenbosch get the majority of the press, nearby Constantia is home to the oldest wine estate in the country, Groot Constantia. Its proximity (just 15 minutes from the city center) makes it perfect for a day trip. The city sightseeing "Hop-On Hop-Off" bus tour has a purple line that connects through this region, so getting here is easy! If wine tasting isn't your thing, the Alphen Trail is a beautiful trek through the countryside and sure to put you in a relaxing mood.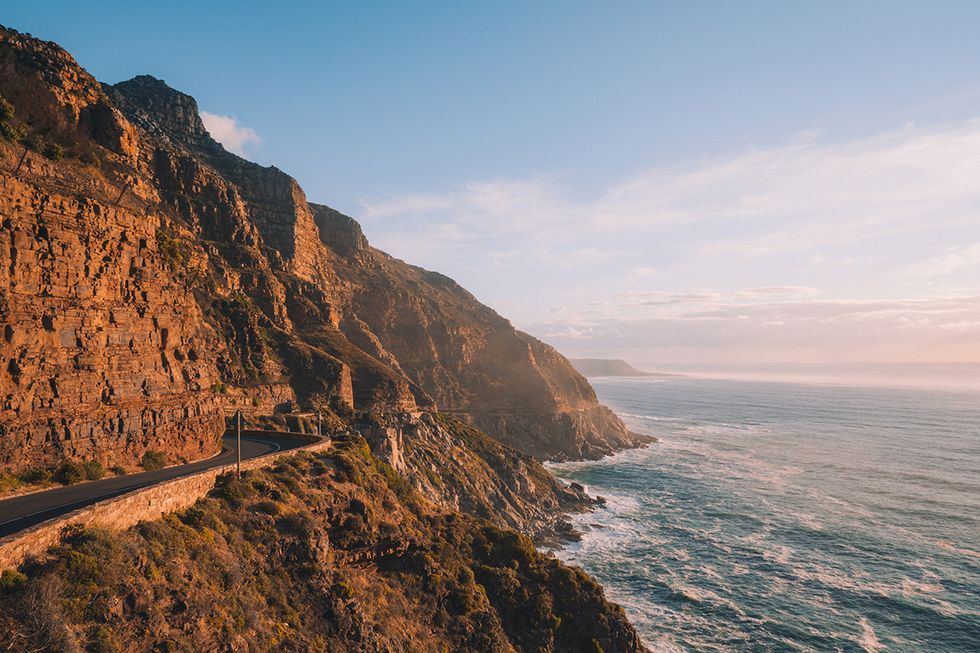 Chapman's Peak Drive
#5: Take a road trip down Chapman's Peak Drive

One of the most beautiful drives awaits just south of Cape Town. Carved into the cliffs and winding along the ocean, this road between Hout Bay and Noordhoek offers majestic views of the coastline. Just make sure to keep your eyes on the road since the sheer beauty can be distracting!
#6: View the diversity of flora throughout Kirstenbosch Gardens
The flora and fauna of South Africa is some of the most diverse in the world, and no place showcases it better than Kirstenbosch Botanical Gardens. Tucked along the slopes of Table Mountain and widely recognized as one of the most impressive gardens in the world, Kirstenbosch is home to over 7,000 species of plants. The newly completed Centenary Tree Canopy Walkway allows you to walk above the tree line. If you visit in summer, try to make one of the Sunday concerts in the gardens, which are a hit with locals and visitors.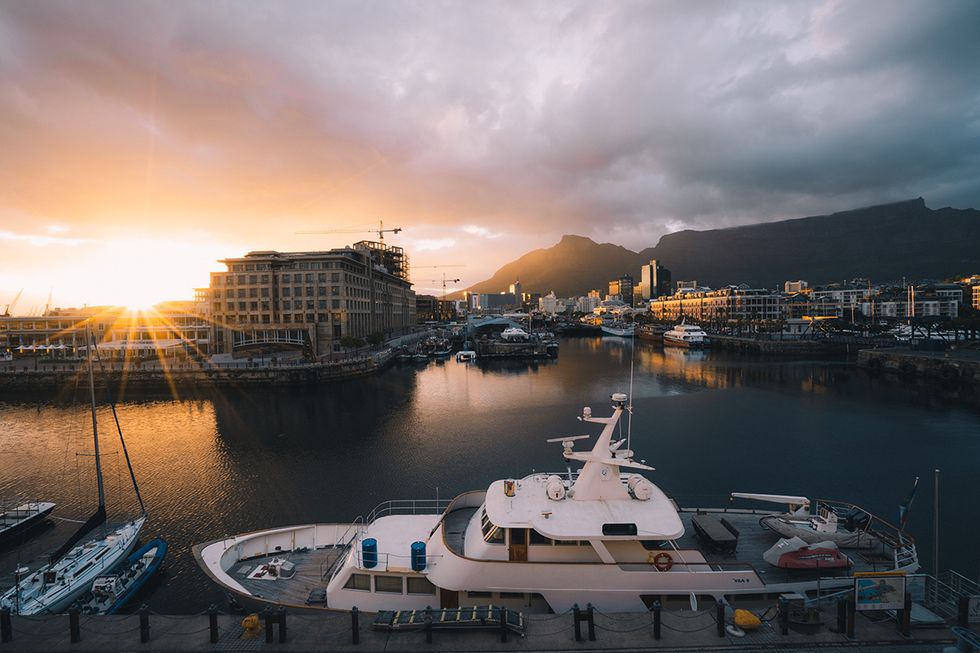 V & A Waterfront
#7: Shop your heart out along the Victoria & Alfred Waterfront

Known as one of the biggest tourism hubs of the city, the always bustling V&A Waterfront is home to many of Cape Town's finest restaurants, shopping, and the launching point of many tours. There are countless ways to spend your time here, but make sure to stop by the V&A food market, where over 40 vendors sell gourmet street food from around the world.
#8: Make your way to the Southern tip of Africa

If you're up for an adventure, take a trip to The Cape of Good Hope. You'll most likely encounter penguins, baboons, and who knows what else along the 1.5-hour drive. The weather can be very unpredictable, so make sure to check it before making the trip south. While there, visit the lighthouse and if you're hungry grab a bite at the appropriately named Two Oceans Restaurant.
#9 Take a tour of historical Robben Island
Even though the prison has been shut down since 1996, a visit to this UNESCO World Heritage Site is one of Cape Town's most popular tours. Tours take around 4 hours including a ferry ride to the island famous for housing Nelson Mandela for 18 of the 27 years he was imprisoned.
Insider tips:
-Use the "hop on hop off" bus for an easy guided tour of the city. The route takes you to many of the best spots throughout Cape Town and allows you to explore at your own pace. Buy tickets ahead of time to save on fare!
-Cape Town has some incredible boutique hotels and bed & breakfasts. My favorites are: Tintswalo Atlantic, 52 De Wet Luxury Boutique Hotel, and Derwent House Boutique Hotel.
-Make sure you don't carry too many valuables on you if you're walking around at night. Although beautiful and mostly safe, there is still a good amount of opportunistic crime throughout the city. Always pay attention to your surroundings.
You can purchase tickets now at united.com or on the United app for three weekly nonstop flights from New York/Newark to Cape Town beginning December 15.
Opinions expressed by the author are those of the author and do not necessarily reflect those of United.
Planning a Caribbean vacation around hurricane season isn't necessary if you head to Dutch-affiliated Curaçao. The southernmost of all Caribbean islands — just off Venezuela's coast — is rarely even grazed by hurricanes. It also has an ideal tropical climate with average winter highs in the 80s (and water temperatures to match) and only about one inch of rain a month.
Curaçao will be more accessible beginning December 7, 2019, when weekly nonstops begin from New York/Newark on United Airlines. The new seasonal service on 737-700 aircraft makes Curaçao the 21st Caribbean island destination for United, which already flies to the other two nearby "ABC islands" — Aruba and Bonaire. Why choose Curaçao? Because like the island's famous blue liqueur, it's colorful, exotic and appealing.
Settling in
Jet lag won't be an issue for Americans flying to Curaçao because it's in the same time zone as New York. Nor is it a long flight — about five hours nonstop from New York/Newark. Upon arrival you can take a taxi, rental car or hotel shuttle from Curaçao International Airport to your accommodations — a resort (reserve early), boutique inn, vacation house or B&B. Most are in Willemstad, a coastal city only five miles from the airport.
Forts above the port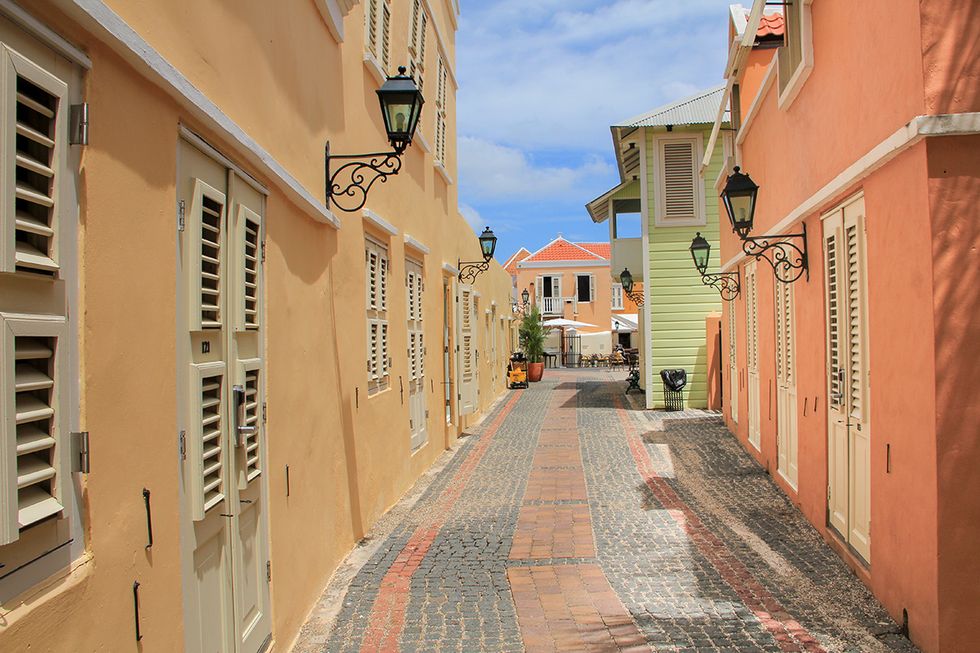 Straat Curaçao Getty Images/iStockphoto
The historic city center and harbor areas of Curaçao's only city of Willemstad are designated as a UNESCO Heritage Site, mostly for the 17th to 19th century Dutch colonial architecture of the houses and forts. The houses are painted a rainbow of bright colors in the Caribbean tradition, and the city is packed with forts — Fort Amsterdam (built in 1636), Fort Beekenburg (1703), Fort Nassau (1797) and Fort Waakzaamheid (1803). All four offer stellar views and are free to visitors.

On the waterfront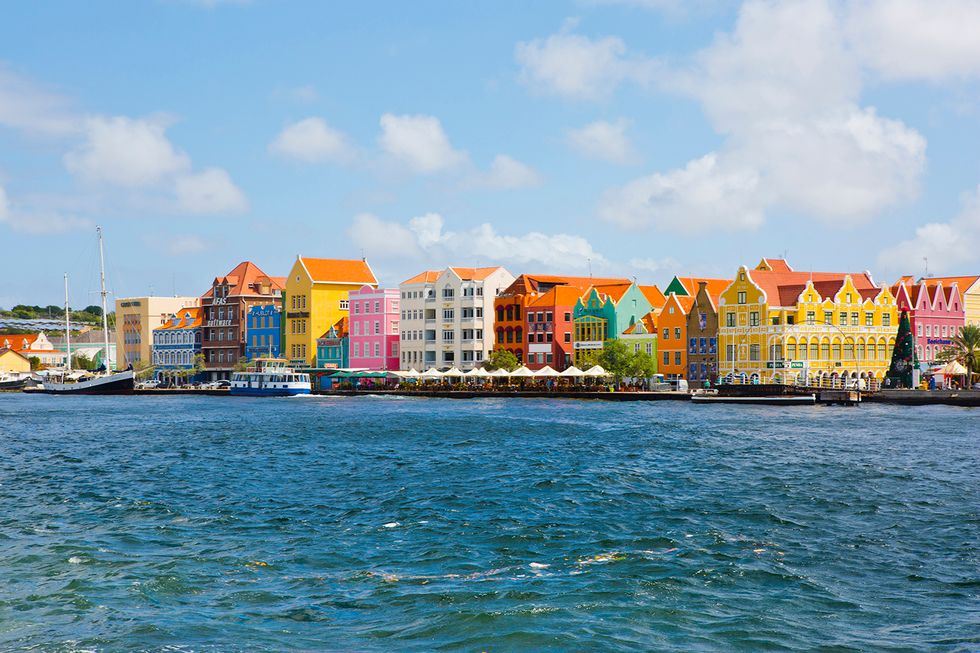 Curacao colorful houses Getty Images/iStockphoto
Along with forts, the harbor area is home to the oldest continuously operating synagogue (and museum) in the Western Hemisphere, an African art museum that tells the story of the slave trade through West African art and artifacts, and a maritime museum. These visits can be followed by a tour and tasting at the Curaçao Distillery, where you'll see how the peels of the native Laraha bitter oranges are turned into curaçao liqueur.

Snorkel from the sand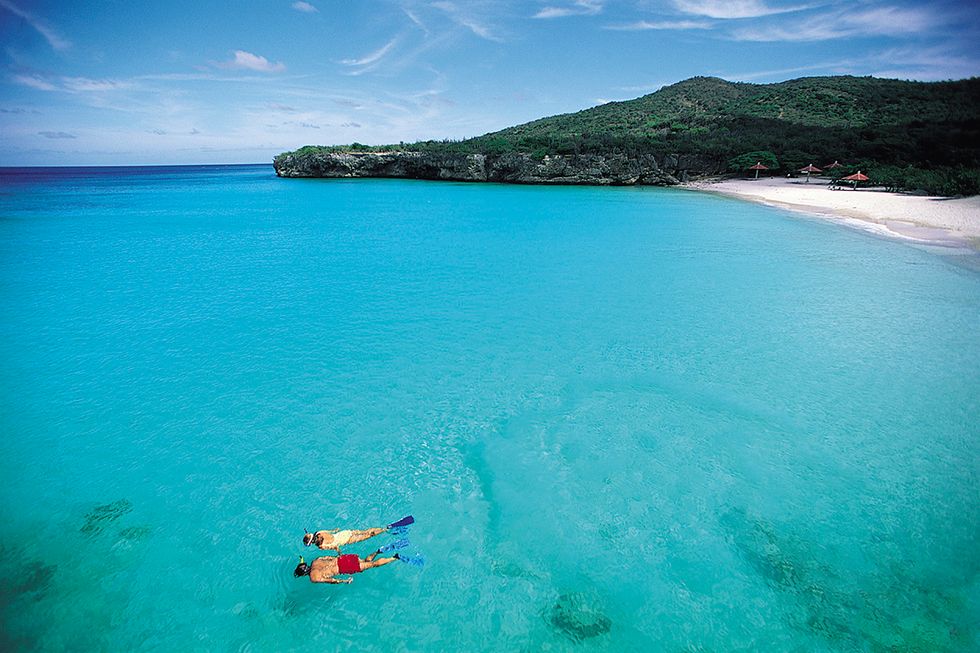 Two people snorkeling off coast of tropical island Getty Images
The chief allure of this 38-mile-long island is, of course, the ocean. Besides sunbathing at any of the dozens of powder-sand cove beaches, you can wade right in and snorkel in the turquoise, bathlike sea, usually around 80 degrees. Visibility is up to 100 feet, a snorkeler's dream. More adventurous types can snorkel or dive from day boats that head to prime diving sites like the Mushroom Forest (mushroom-shaped coral), Blue Cave and several shipwreck spots. There's also a nice aquarium on the shoreline where marine life is seen up close in their natural habitat —from land or aboard a minisub that dives 1,000 feet.

Ready, set…
Curaçao is a convenient tropical destination for Americans because U.S. dollars and credit cards are commonly accepted, English is widely spoken and no visa is required. But the local culture and cuisine are still exotic enough to be intriguing with local specialties like stewed iguana and cactus soup served in restaurants and from food carts in Willemstad.
If you go
Flight reservations from New York/Newark (EWR) to Curaçao (CUR) can be made at united.com on the United app. Use miles to reserve a hotel, rental car or both with MileagePlus®.
One of our most treasured events of the year is here – Fantasy Flights! Our Fantasy Flights bring holiday cheer to children in need by taking them on a special trip to the "North Pole." Each station creates a North Pole with care, in preparation for all the children who will soon be there…
Our participating stations this year are HNL (Honolulu), FRA (Frankfurt), CLE (Cleveland), DEN (Denver), IAD (Washington Dulles), LAX (Los Angeles), SFO (San Francisco), MCO (Orlando), ORD (Chicago O'Hare), GUM (Guam), EWR (New York/New Jersey), NRT (Tokyo-Narita), PHX (Phoenix), IAH (Houston), MCI (Kansas City) and SAT (San Antonio).
Please stay tuned for stories, photos and more from these magical events. #UAFantasyFlights
Scroll to top