For decades, Fantasy Flights have been an annual holiday tradition in several of United's markets. For one day each December, our employees transform airport gate areas into a winter wonderland to give children afflicted by illness, poverty and special needs the experience of a lifetime.
Fantasy Flights transport kids to an entirely new world within our stations, complete with singing and dancing, toys, crafts and Santa Claus himself. The children and their families have the opportunity to board an actual aircraft, and then are taxied or, in some cases, flown to another gate, where employees created the magic of the North Pole.
The process of bringing Fantasy Flights to life begins long before December and is made possible due entirely to volunteers, who coordinate the festivities at each airport. Employees and retirees bake cookies, decorate hangars and gates, raise money and even dress up in holiday themed costumes.
This year, our domestic operations in Phoenix, Cleveland, Los Angeles, San Antonio, Chicago, San Francisco, Houston, Washington D.C., Denver, Honolulu, London and Newark will each create a Fantasy Flight experience for local children to enjoy. And then there's one, perhaps less likely location for Kris Kringle's workshop: The South Pacific.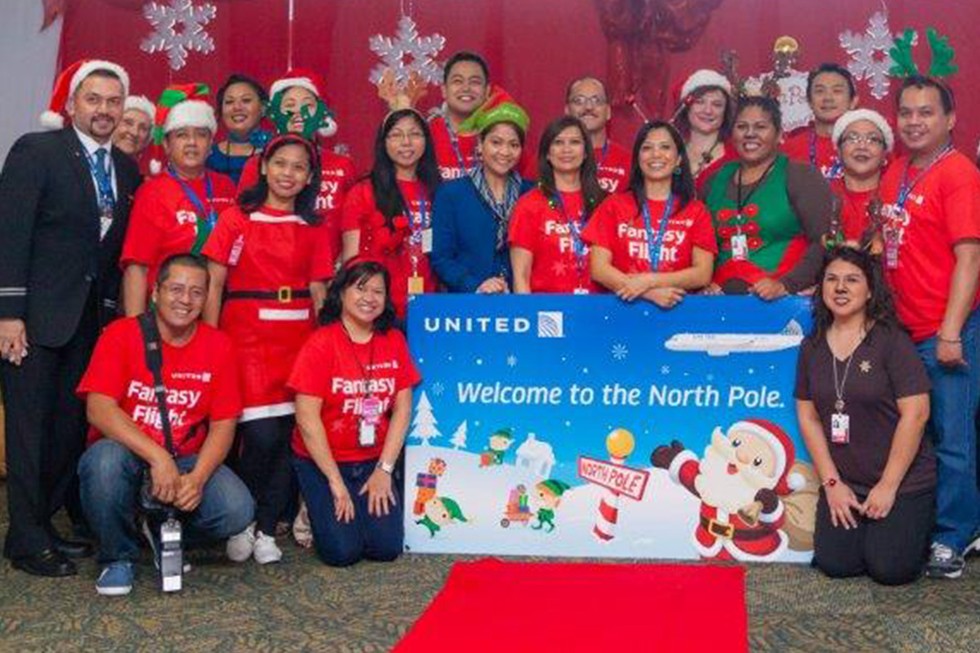 North Pole in the tropics
Since 2014 our station in Guam has held claim to the southernmost "North Pole-bound departure" in our system, treating youngsters to an unforgettable day. Guam Airport Operations Supervisors Tammy Castro and Jean Babauta have coordinated the event since its inception, with help from a wonderful team of volunteers from United.

"We first heard about Fantasy Flights in 2013," Tammy said. "Our former general manager Meg Parangalan said, 'The stations on the mainland are doing this, we should do one on Guam,' and that was the beginning of it. We held our first one the following year."
From there, the team was off and running, putting on a holiday fest that Guamanians could be proud of. There is a photo booth, a cookie decorating station, face painting, singers, food, candy and an appearance by Santa and Mrs. Claus ("our Santa has a real beard," Jean added with pride). Our employees also partnered with businesses to get donations of food and ornament-making kits so the children can craft their own decorations, a popular Fantasy Flight activity. And you know if Santa is around, then gifts are sure to follow.
Jean described Mr. Claus's unique delivery method: "After we land, everyone goes through the customs area, and when they get to the other side, there's a baggage carousel; on it are wrapped gifts for each one of the children, with big name tags. It's a lot of fun to watch them look for their box and open them up to see their presents inside."
The first year, the employees in Guam invited families from a low-income housing development. The second year they chose an organization dedicated to children with Down syndrome, and for last year's Fantasy Flight they worked with Parents Empowering Parents of Children with Disabilities, Inc. (PEP) and vision and hearing therapists at local schools to recruit participants.
Each Fantasy Flight is the result of months of preparation and countless hours of work on the part of United employees from all around the company, but that effort is rewarded tenfold the minute the children walk through the door and their faces light up.
Tammy and Jean each recounted their most vivid memories from the past couple of years. "The first year, I boarded the plane and flew with the group," Tammy said, "and I would say that probably 90 percent of the kids had never flown before. When we took off, they all started cheering, and that gave me goose bumps."
Jean expressed how important the Fantasy Flights are, not only for the children, but for their parents as well. "The parents feel acknowledged, and they are so appreciative and thankful for everything," she said. "It's nice to see all of that joy."
So, you might be thinking, what's the hardest part of recreating the North Pole in a place like Guam? "Making snow is always a challenge," Jean said, laughing, and Tammy agreed: "Last year we tried using a fog machine to give the illusion of snow," Tammy said, "but what a mess! Now we have two snow machines that shoot out artificial snow, and we always ask the airport authority to pump up the air conditioning on the day of the flight."
Snow or no snow, it's safe to say that the Fantasy Flights are a memory that the children of Guam will carry with them for life. And who's to say that Santa can't trade in his trademark coat and boots for board shorts and flip flops, at least for one day?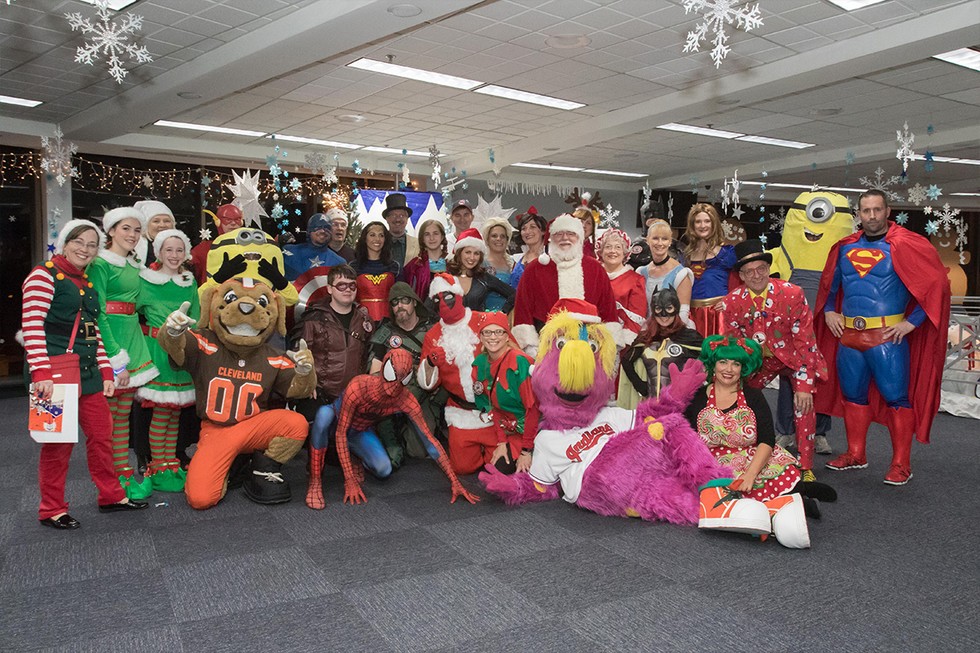 San Antonio Fantasy Flight jingles all the way
15 years later, Houston 737 Captain Vern Robinson still remembers the four-year-old girl in a dress. He was prepping to fly his first Fantasy Flight when the little girl with a smile as wide as a Boeing 747 approached him and said hi. "Seeing this cancer-stricken girl, roughly the same age as my kids who were sitting at home all healthy... that stuck with me and made me feel very fortunate," Vern said. Vern's been flying the San Antonio Fantasy Flight ever since, and he was there last weekend to fly this year's, which was San Antonio's 31st. This one took on a bit of a special meaning for him, as San Antonio partners with the American Cancer Society to fly kids with cancer to the "North Pole," and his wife has recently overcome cancer.
Fantasy Flight schedule:

December 1: Phoenix
December 2: Los Angeles, Houston, Chicago, San Antonio and San Francisco
December 5: Honolulu
December 7: Guam
December 9: Washington D.C. Dulles, Denver, Cleveland
December 12: London
December 13: Newark
Follow all of the activity on social media using
#UAFantasyFlights
Transforming Newark into the North Pole
Ever wonder how we set up Fantasy Flights? Watch as we transformed Newark Airport into the North Pole last year.
More from
Fantasy Flights