First person, far flung: Lima
"Good morning, sir," said the pleasant voice on the phone. "Your shoes have been shined, compliments of the hotel, and your breakfast buffet is now being served at our poolside restaurant on the roof."

Story by Andrew Altschul | Photography by Juan Carlos Paz del Rio | Rhapsody, May 2018
It is safe to say I never expected to be on the receiving end of such astonishing words, particularly not in Lima, Peru, a city I first visited 20 years ago as a shiftless, 20-something wannabe writer in flight from what Philip Roth calls the "American berserk." It was a Thursday morning in February, the height of Peruvian summer, and when I pulled back the curtains of my room at the Belmond Miraflores Park Hotel, I was overcome by a vision of palm trees, gentle breakers rolling in from the Pacific, majestic alluvial cliffs rinsed by fog. This vision had nothing to do with my memories of Lima, which tended toward the Dickensian: dingy hostels, bad plumbing, food-borne illness. Disoriented, I closed the curtains.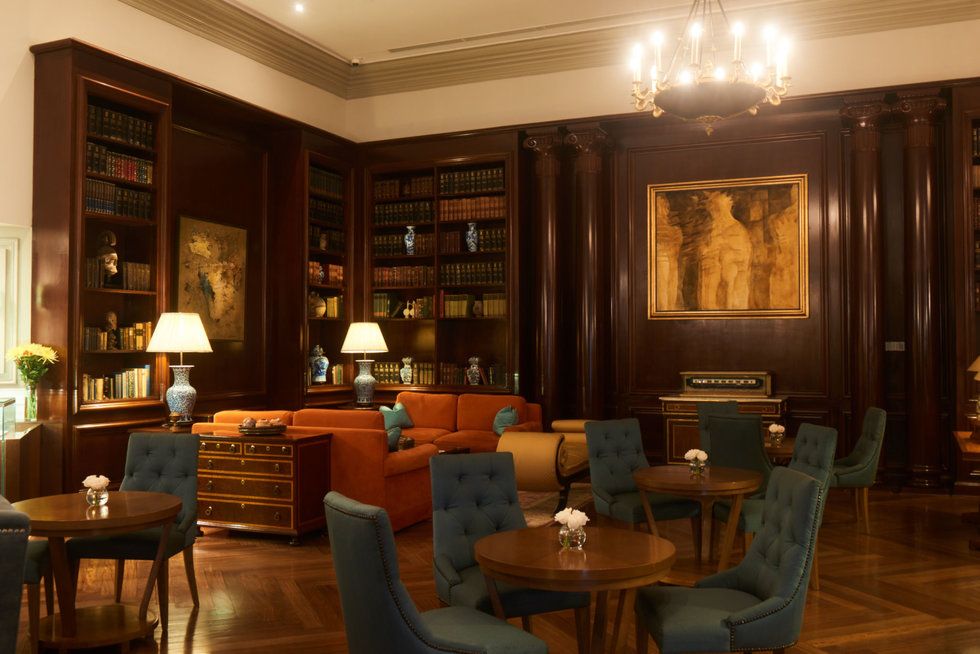 The Belmond Miraflores Park
But 15 minutes later, sitting on the 11th floor of the hotel, with a made-to-order omelet and a bowl of tropical fruit before me, I took in the north-scrolling coastline, surfers carving the Playa Redondo break, paragliders riding thermals high above the cliffs. I eyed the immaculate swimming pool and the entrance to the spa. The previous day's travel from Denver had been long, and I'd checked in after midnight; a day of swimming and reading, maybe a massage, sounded about right. But alas, there would be little time for leisure—I had a job to do. In a few hours, I was expected at one of the best restaurants in the world, the first of several I planned to visit over three days. As I basked in the warm, peppery smell of the ocean, my old memories dispersed like morning mist, ushering in an epiphany: Lima, a city I'd once avoided the way New Yorkers once avoided Port Authority, is magnificent.
It's hard to say which transformation shocks me most: Lima's or my own. In 1998, I was fresh out of grad school with a degree in creative writing and, consequently, fewer than zero job prospects. I'd just extracted myself, far too messily, from a relationship that was more serious than I was equipped to handle. Back home, my friends were getting married, buying houses, vacationing in Cabo, while I stayed up all night in a shared apartment, writing short stories no one wanted to publish. Life in the U.S. felt demoralizing and horrifying—it was the era of Ken Starr and Paula Jones, the winds of impeachment blowing ever stronger. I knew I wanted out; my existence, I sensed, was too narrow, too unfulfilling. And, as Paul Theroux wrote in "The Best Year of My Life," "When people ask you questions you can't answer … find new people."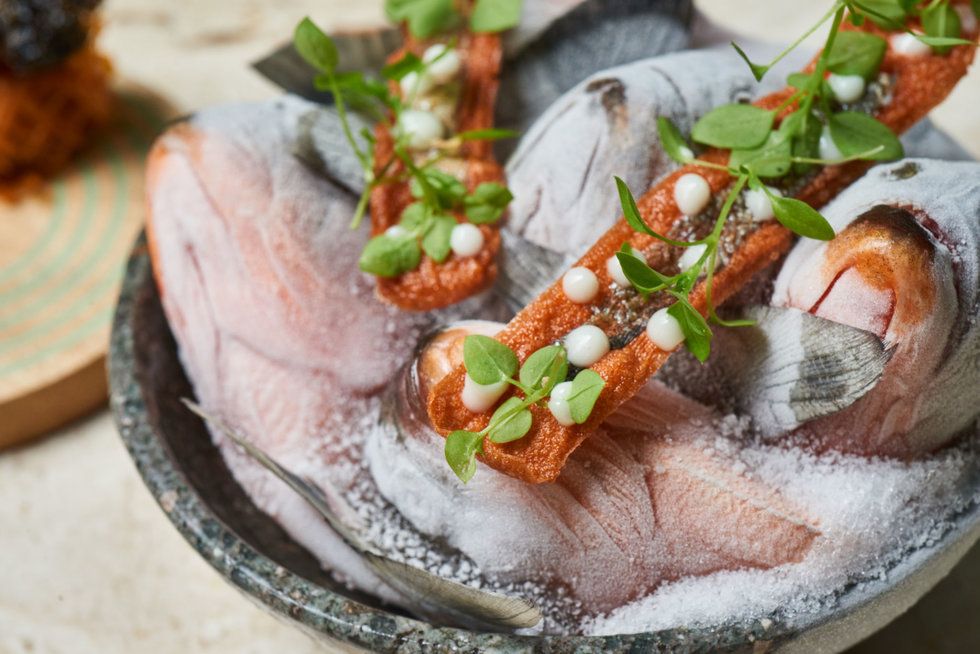 The Waters of Nanay (piranha with achiote and huampo bark) at Central
The people I found were Peruvian. Cusqueño, to be precise, the locals and expats in the ancient Inca capital, high up in the Andes, at the gateway to the Sacred Valley and Machu Picchu. Though I'd planned to spend just 10 days there, I was instantly enchanted—it felt, I told skeptical friends, like a place I'd lived in a previous life, somewhere I really belonged. I would spend most of the next two years in Cusco, scurrying to the Bolivian border every 90 days to renew my visa. I learned Spanish, traveled the country, began writing a novel, and, as they say, started over.
"We relaxed into a dozen-course tasting menu that stretched to nearly four hours, punctuated every few minutes by the staff cantando los platos."
But Lima, an hour's flight from Cusco, was a world apart. The U.S. State Department still warned about terrorist activity, and guidebooks cautioned against taking taxis, as scores of tourists had lately found themselves in back alleys with a driver's knife at their throat. Peru had stumbled out of its devastating decade-long "dirty war"—in which the government of Alberto Fujimori, scrambling to contain the vicious Shining Path insurgency, turned the country into a quasi-surveillance state of secret prisons and roving death squads—just six years earlier, in 1992. By the time it was over, nearly 70,000 Peruvians had died, and Lima was in shock, its colonial plazas deserted, its residents paralyzed by years of car bombs and kidnappings. Waves of refugees from the provinces had bloated the population to around 7 million, most settling in shantytowns on barren land to the north and south. When I arrived, the city still felt traumatized: As with San Francisco after the 1906 earthquake and fire or Detroit after decades of decline, a comeback seemed unimaginable.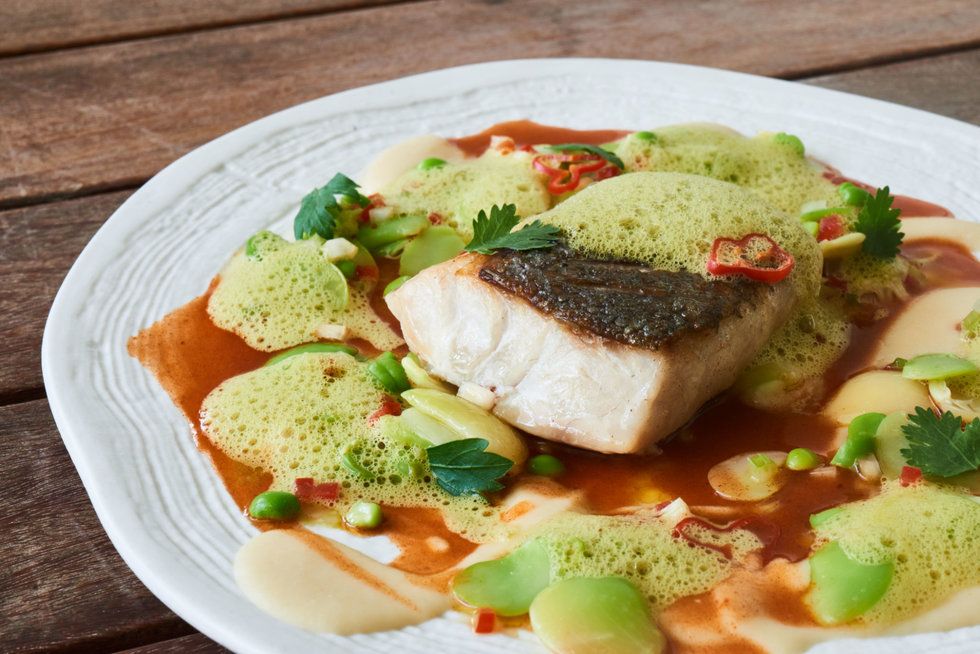 The catch of the day at Astrid y Gastón
But now, here I was, in a sport jacket and newly shined shoes, checking in for my dinner reservation at Astrid y Gastón, currently the No. 33 restaurant in the world, according to the World's 50 Best list. It's now a commonplace that Lima is the culinary capital of Latin America, and Astrid y Gastón, opened in 1994 by Le Cordon Bleu–trained husband and wife team Gastón Acurio and Astrid Gutsche, is where it all began. Originally a tiny French restaurant in Miraflores, A&G has since 2014 served nueva andina cuisine in the San Isidro district's Casa Moreyra, a grand colonial hacienda that once presided over 20,000 acres of farmland. The sweeping double-staired terrace, the soaring ceilings, the perfect cocktail—this was not the Lima I remembered. Twenty years ago, if I had to spend a night in the city, I got by on a plate of lomo saltado (sautéed beef, vegetables, and French fries) from a street cart and made sure to be inside before dark. Like most Peruvians, I knew nothing of the renaissance Acurio and Gutsche had launched and couldn't have afforded it in any case. Any story about how Lima and I have evolved starts here.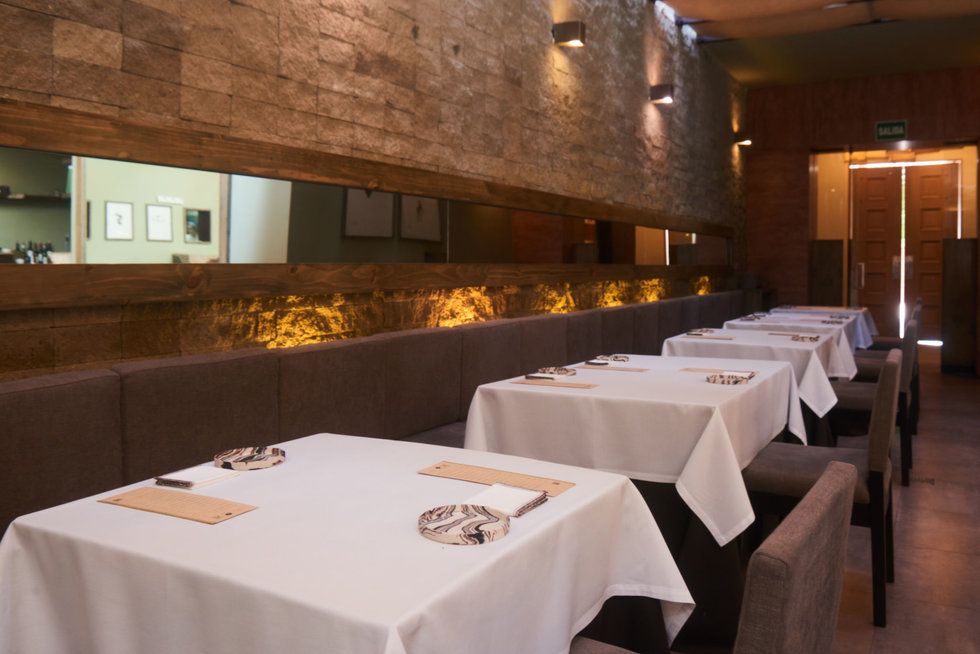 The space at Central
I was joined by my friend César, an education theorist at the University of the Pacific, and we relaxed into a dozen-course tasting menu of gustatory wonder that stretched to nearly four hours, punctuated every few minutes by the staff of the expansive open kitchen cantando los platos (singing the plates) as they came out: perfectly seared scallop served in a seashell with a green-apple congelado (a kind of dry sorbet); Peking-style cuy (guinea pig, a traditional Andean dish) with turnip and ginger, served on a purple-corn tortilla; a coconut-banana congelado bathed in masato (fermented yucca root) and garnished with salt pork. The dishes bordered on performance art. Even the bread basket—which included biscuits made from loche, a pre-Columbian squash, and bread from milled coca leaves—seemed designed, with every bite, to radically alter my view of Lima. Astrid herself came by to narrate the third dessert, carrot-paper cigars filled with chocolate mousse and sprinkled with nibs of dried olive, served on a ceramic plate that parodied the Last Supper. Each sculpted face represented someone closely involved with the restaurant, she explained—a beloved regular, a maître d'—though the face next to Gastón's was obviously not hers, as it was "too ugly."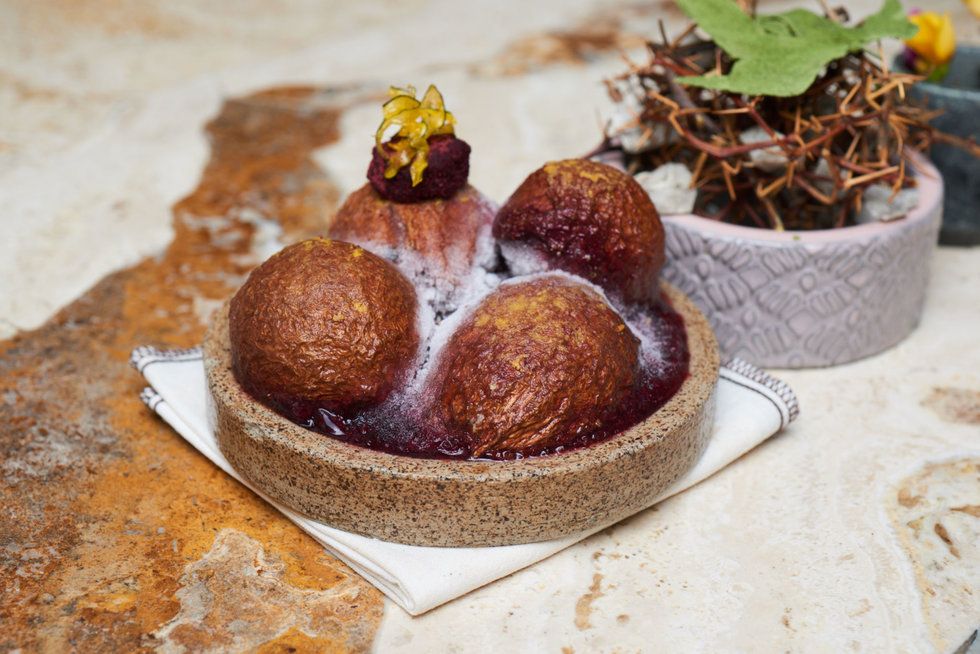 The Plantas del Desierto course at Central
The next morning, with some time, and calories, to kill, I set out for a summertime stroll through Miraflores. All along the malecón—a six-mile ribbon of greenspace that runs atop the cliffs—families were out picnicking, kids skateboarding, yogis saluting the sun, dogs rolling in the grass, ice cream vendors doing a brisk business. Moving inland, the narrow streets were quiet, shaded by pistachio and laurel trees. Pastel-colored Spanish casitas alternated with skinny concrete-and-glass condo towers, evidence of the city's ongoing construction boom, all leading to the idyllic Parque Kennedy at the district's heart.
Miraflores has always presented Lima's most charming face, but 20 years ago I would have thought twice about walking around with a computer bag slung over my shoulder, even in broad daylight. Back then the malecón was parched and desolate. At the height of the war, the Shining Path set off a truck bomb outside an apartment building on Calle Tarata, killing 25 residents. Although those days are gone, old habits die hard: Rooftops and property walls still sport razor wire, and more than a few homes have security booths at the front gate. But, in general, the district has relaxed into a stylish, semi-urban cool—Santa Monica meets the Upper West Side.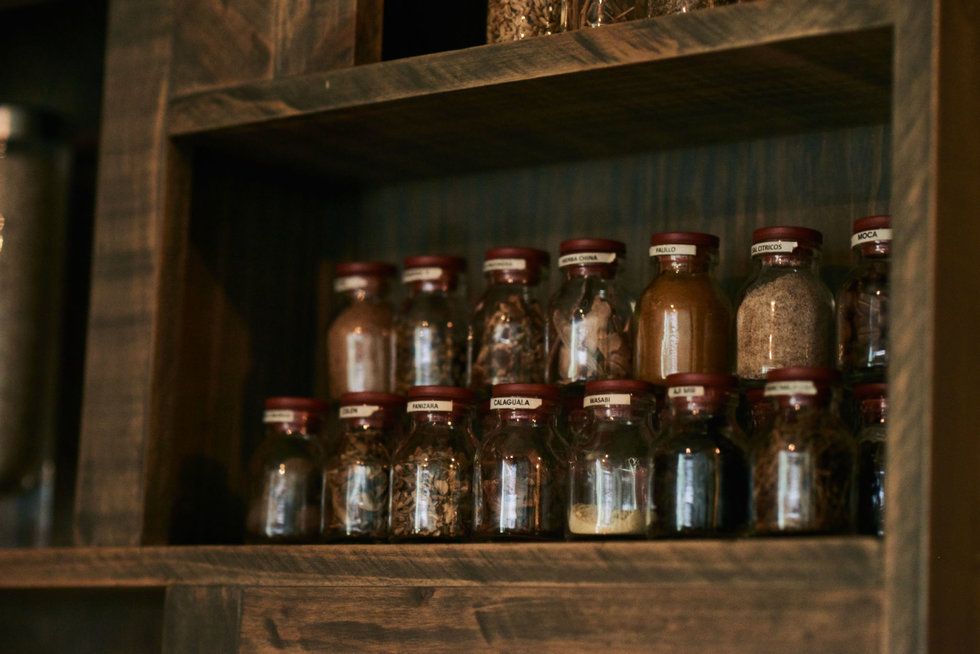 Peruivian spices
Here's another sentence I could never have imagined hearing: "Would you like another beer with your piranha?" This one was addressed to me before the ninth—or was it the 10th?— course of the 17-course menu that has made Virgilio Martinez's Central the No. 2 restaurant in Latin America and No. 5 in the world. (My answer was yes; Lima now has a burgeoning microbrewery scene.)
"All along the malecón, families were out picnicking, yogis saluting the sun, dogs rolling in the grass, ice cream vendors doing a brisk business."
If Astrid y Gastón is performance art, Central is the laboratory of a mad scientist—and if you venture to the second floor of its Miraflores townhouse, you can peek into that scientist's workshop, where herbs dry on clotheslines, cabinets are crammed with dusty specimen jars, and whiteboards are scrawled with crazy ideas. From the street, Central is hard to find, marked only by a small brass nameplate in the cobblestones and a dark-suited greeter at the door. When I arrived for lunch with my friend Patricia, a child psychologist, the atmosphere was subdued, foodies and tourists studying their menus with looks of perplexed delight: What on earth is an air potato? (dish No. 7.) How does one eat forest cotton? (dish No. 6.) Martinez's menu explores Peru's myriad ecosystems, each dish keyed to the elevation at which its ingredients are found. From an exquisite arrangement of octopus, crab, and squid (Sea Coral, 10 meters below sea level) to a chilled edible clay flavored with lemon curd and cushuro, a berry-like algae that grows in mountain lakes (Humid Green, 3,700 meters above sea level), we plumbed the depths and scaled the heights. We savored the unexpected flavors of giant Amazon snail and huampo bark resin. We ate dried alpaca heart. Your parents' Michelin star Central is not.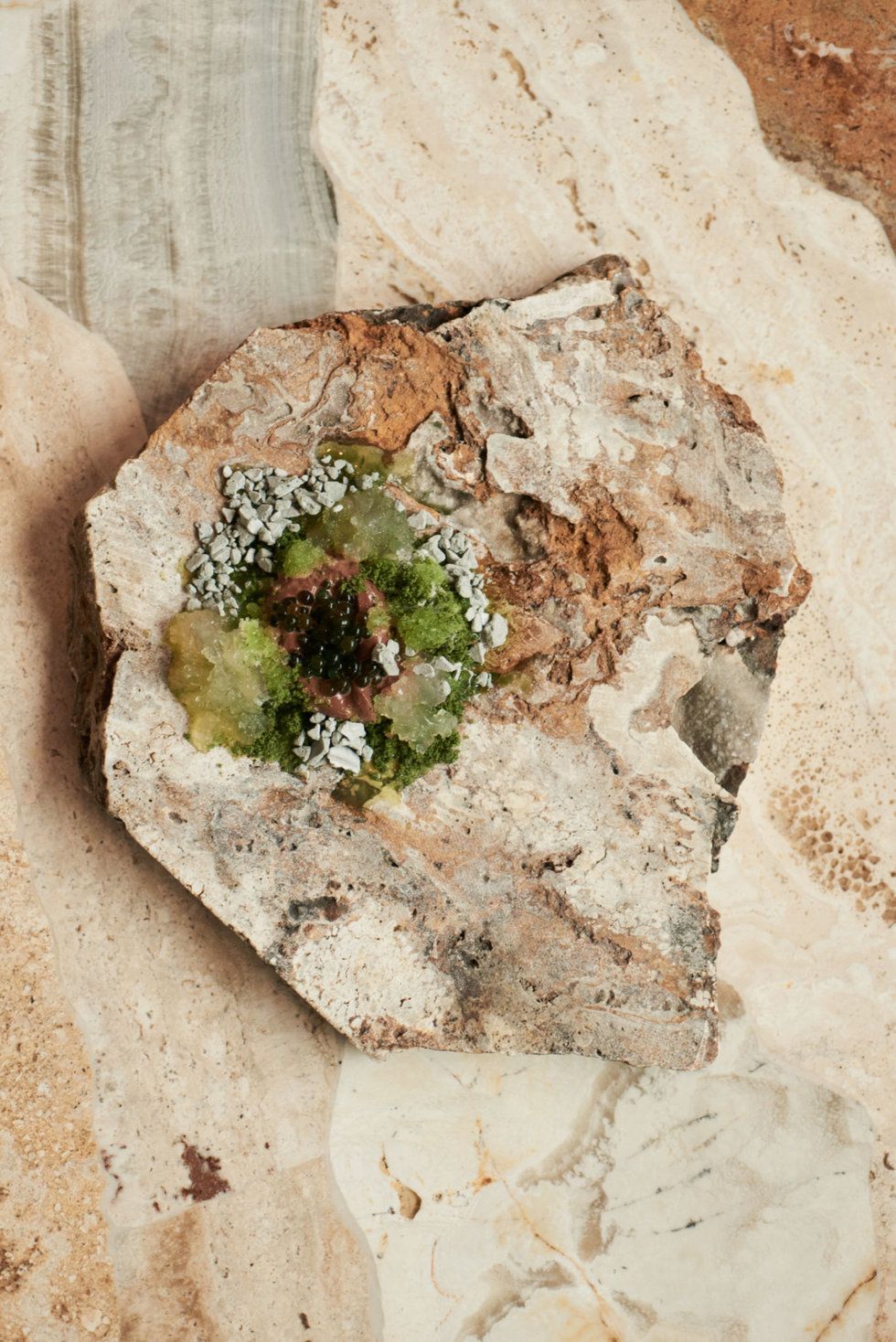 When I lived in Cusco, at 3,400 meters above sea level, I ate neither air potatoes nor algae. I subsisted on prix fixe menus that cost 6 soles (roughly $2) and might offer a tiny piece of boiled meat, white rice, and tea, or anticuchos: skewers of marinated cow heart with a roast potato stuck on the end, sold on every street corner for 2 soles. If I wanted to splurge, I'd blow 10 soles on a small oven-fired pizza (always a disappointment). Even if I'd had the money, I probably wouldn't have spent it on huampo bark. I wasn't in Cusco for the culinary experience; I was there to find myself, to become a writer. And in many ways it worked­—the stories I wrote during those years were some of the first I published; the novel I started won me a fellowship at Stanford. More importantly, my time in Peru gave me a broader perspective on the world outside the U.S. than most Americans ever gain. The people I met, the stories I heard—from those who survived the war, and about those who didn't—changed what I thought was worth writing about. At Central, as I sipped a digestif of mallow, capsicum, and mint (dish No. 17, Medicinals and Plant Dyes), I thought about the weird turns life takes—the starving artist is now a tenured professor—and how those years shaped me. I know they made me a better writer. I hope they made me a better person.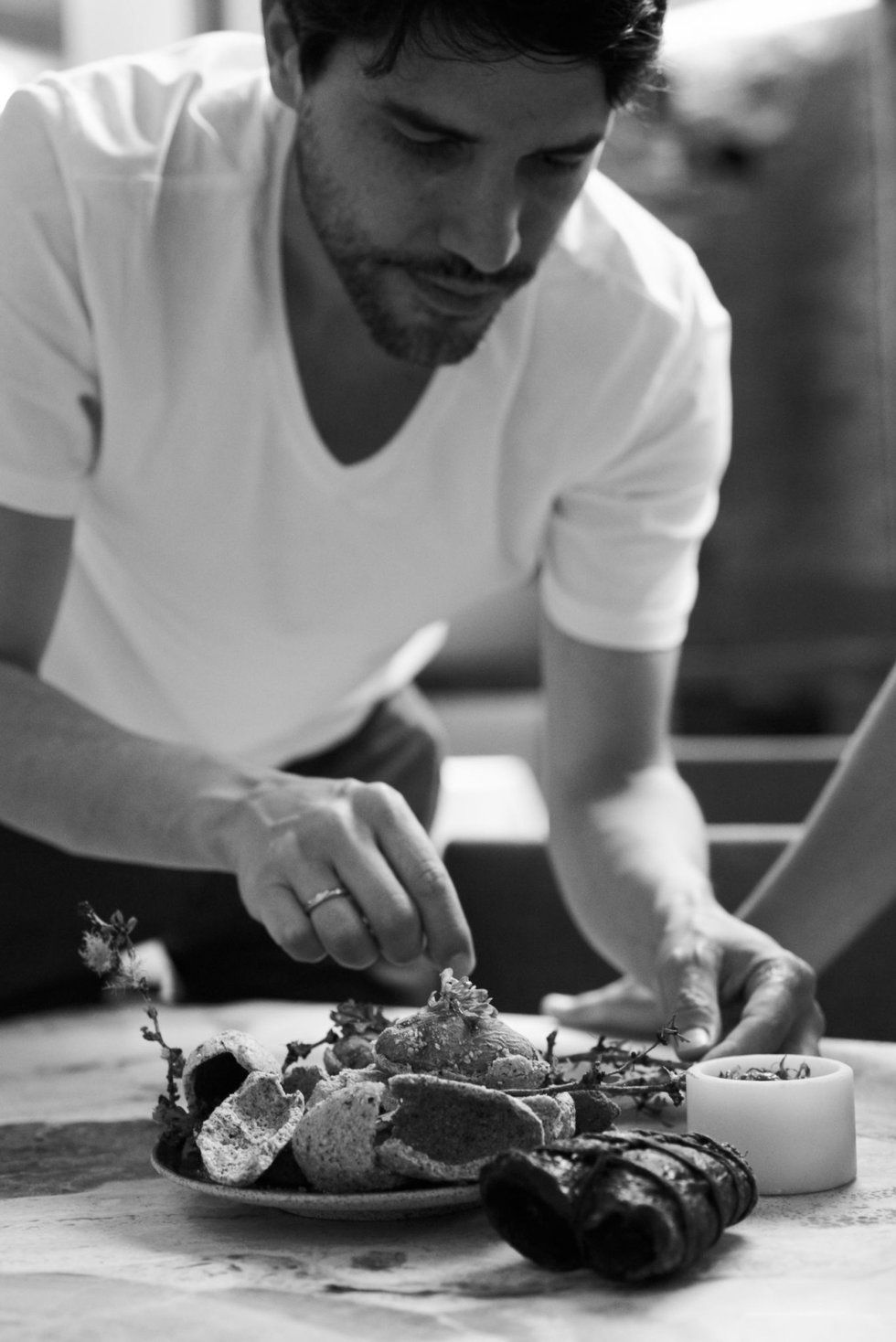 After two days of gastronomic wizardry, I was longing for something more familiar, more down to earth. There's no more quintessentially limeño meal than Saturday afternoon ceviche, so Patricia and I Ubered down to Chorrillos, a beach town a few minutes south of Miraflores. Once a summertime getaway for the city's ruling class, Chorrillos had by the end of the war slumped into depression and disrepair. I'd only been there once before, to catch a glimpse of the massive women's prison that looms over a busy avenue like a cheerless, razor-wired Costco—I was researching a new novel about the war, and, like many women jailed on terrorism charges in the 1990s, the novel's protagonist spent some unhappy times there. I've spent the past six years working on the book, which examines postwar Peru and the inequities and resentments that still fester. There aren't many fancy restaurants or five-star hotels in it. Like most of my characters, part of me still feels alien in such places.
But I felt right at home at Sonia, a laid-back joint just off the picturesque Malecón Grau. Fashioned like a seaside palapa, with lots of bamboo and football-team pennants, as well as poems about fishing life, adorning the walls, Sonia has been serving perfect, no-nonsense ceviche for almost 40 years. "Es tu huarique, es tu caleta," the menu proclaims: "It's your hangout, it's your hidden treasure." I was conspicuously the only tourist. The menu offers no fewer than 11 ceviches, and I went for the gold standard: lenguado, or flounder, which Sonia dubs the Ceviche of Champions, served with choclo (giant corn) and cold sweet potato to soothe the sinus-clearing burn of lemon juice and ají pepper. We shared a plate of choritos à la chorrillana (Chorrillos-style mussels) so fresh they might have been harvested that morning. As the day warmed up, we pushed back our chairs and sipped Cusqueña beers and listened to the live quartet playing traditional criollo songs. By the standards of Peru's celebrity chefs, the meal was basic and cheap, but in some ways, it felt like a more authentic Lima, a communal ritual still within (occasional) reach for most Peruvians. I would not have missed it for the world.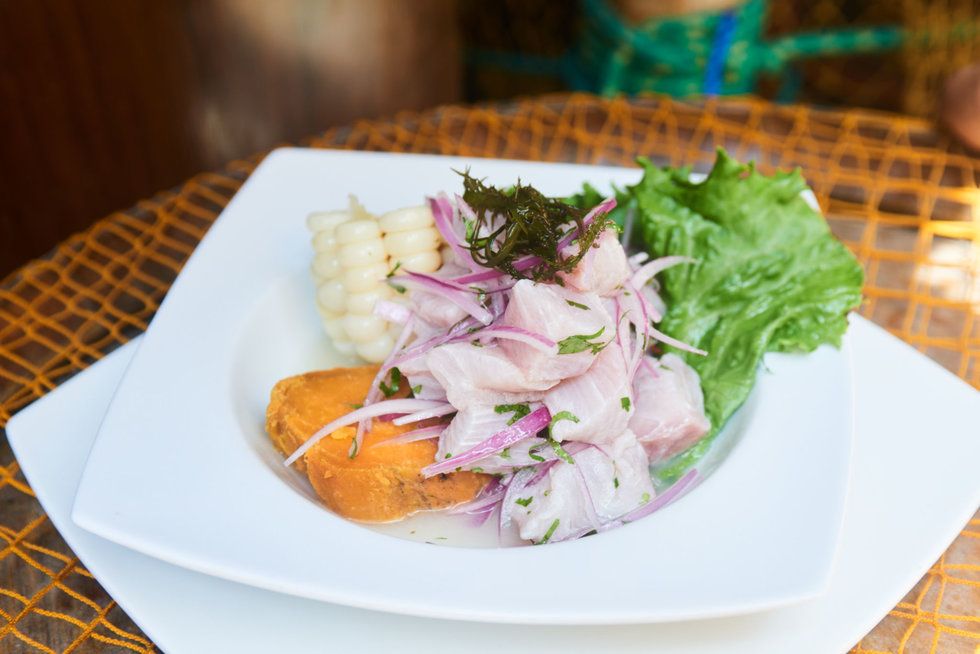 We were back at it that night, joined by Patricia's partner, the poet Jorge Frisancho, for a visit to chef Pedro Miguel Schiaffino's ámaZ, which specializes in ingredients and techniques from the Amazon jungle and was ranked No. 47 in Latin America last year. Though approaching gastronomic exhaustion, we couldn't stop ourselves from sampling the sapuchos (grilled plantain topped with soft cheese) or the giant snails in a turmeric-chorizo broth. Tucked into our comfortable booth, with a view of the busy street—where young professionals streamed into upscale restaurants—Jorge and I talked about the war years, when as a college student he'd had to navigate violent demonstrations and military occupations on his campus, and the years that followed, when the Fujimori government enriched itself and kept civil society in a state of paranoid lockdown. Patricia recounted her work in the campo, with children whose parents were killed or disappeared.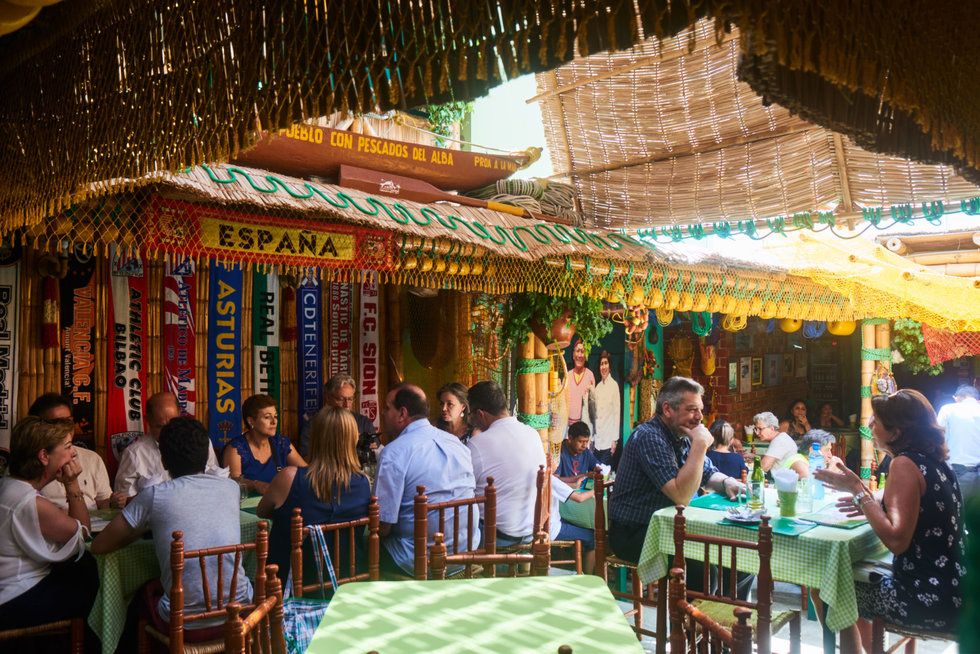 The main courses at ámaZ were succulent and memorable—freshwater prawns mixed with Amazonian fruits and boiled in a bamboo log over an open flame; braised duck in a stew of achiote, lime, and bitter chocolate—but I felt unexpectedly gloomy, the nostalgia that had crept up at Sonia confusing me as I picked at my snakefruit semifreddo. Despite the distinctive cuisine, we were far from the jungle; for all the progress of recent decades, the Amazon tribes and indigenous Andean communities enjoy few of the privileges of this new Peru. Lima—magnificent Lima—has recovered nicely, but outside the capital one might be forgiven for asking if the war was fought to secure the blessings of rooftop swimming pools and perfect pisco sours.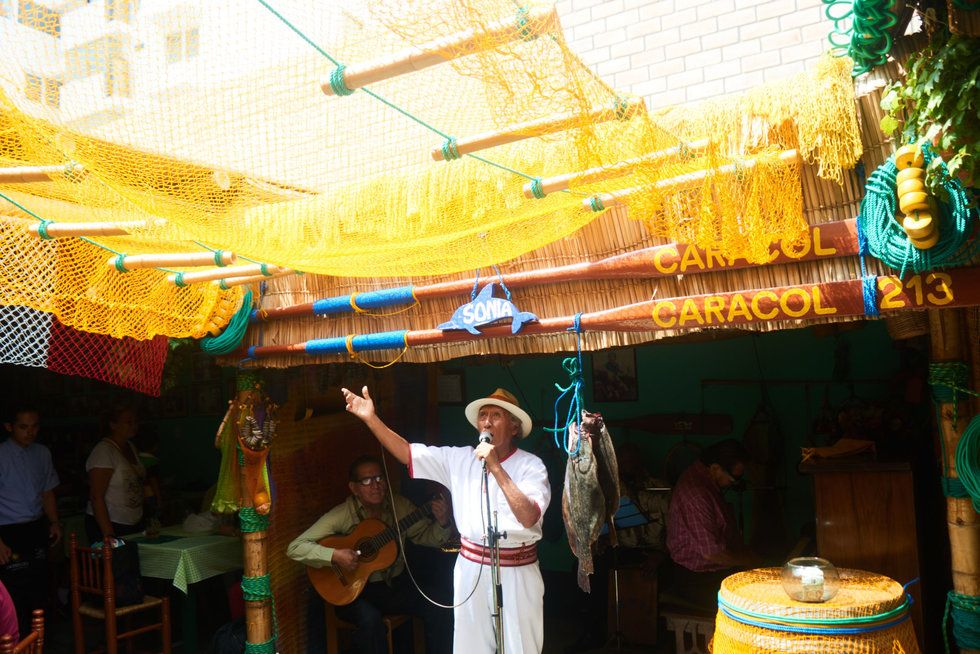 A poet hails the day's catch at Sonia
From my years living in Peru I remember only two specific meals. The first was in Cusco, on my 30th birthday, which I celebrated with a makeshift barbecue in the little garden outside my room. My friend Lili and I went to the outdoor market at dawn to buy a fresh cow heart—a massive, gleaming, bloody organ, 12 or 15 pounds at least. We sliced it into chunks and marinated them in garlic and ají, and then roasted them two by two on a charcoal grill the size of a MacBook. My friends and I snacked on anticuchos and drank Cusqueñas throughout the afternoon; when night came, we went dancing. It was the best birthday I ever had.
"It would take many years for me to fully appreciate all that Peru had given me."
The second was on the night I left the country for good, in the spring of 2000. On my layover in Lima, I remembered a restaurant I'd tried early in my time in Peru, when my father visited for a few days and declared his unwillingness to eat street food. We'd found a dignified old Argentine steakhouse on the malecón called El Rincón Gaucho, where we feasted on beef, lamb, chicken, and alpaca while watching the thrashing gray Pacific. Two years later, tired of bad pizza and subzero Andean nights, ready to return to my own country and pursue my writing career in earnest, I found my way back to El Rincón Gaucho (it had moved to the Barranco district, to make way for a new shopping mall) and ate slowly, trying to take stock of my time in Cusco, how I'd grown. But it would take many years for me to fully appreciate all that Peru had given me. I suppose I've been writing this novel as a way to give something back.
Now, after days of indulgence at some of the finest restaurants in the world, I was again preparing to leave Peru, not knowing when—or if—I'd return. With a red-eye leaving at midnight and classes to teach the next day, I set out on foot for El Rincón Gaucho. I thought it would make for a lovely symmetry, a fitting end to a story ostensibly about food but really about how Peru and I have both changed with the passage of time. It was a warm, clear night, and traffic was heavy along the Avenida Miguel Grau, a north-south thoroughfare that I once would never have dared to walk alone. All over Lima, construction cranes were silhouetted against the dusk; weekend revelers spilled out of cafés and zoomed past in taxis. It was Sunday night in a thriving, modern city. I checked the address on my iPad, eager for this rendezvous with my younger self. But El Rincón Gaucho—like so much of the old Lima, the good and the bad—was gone.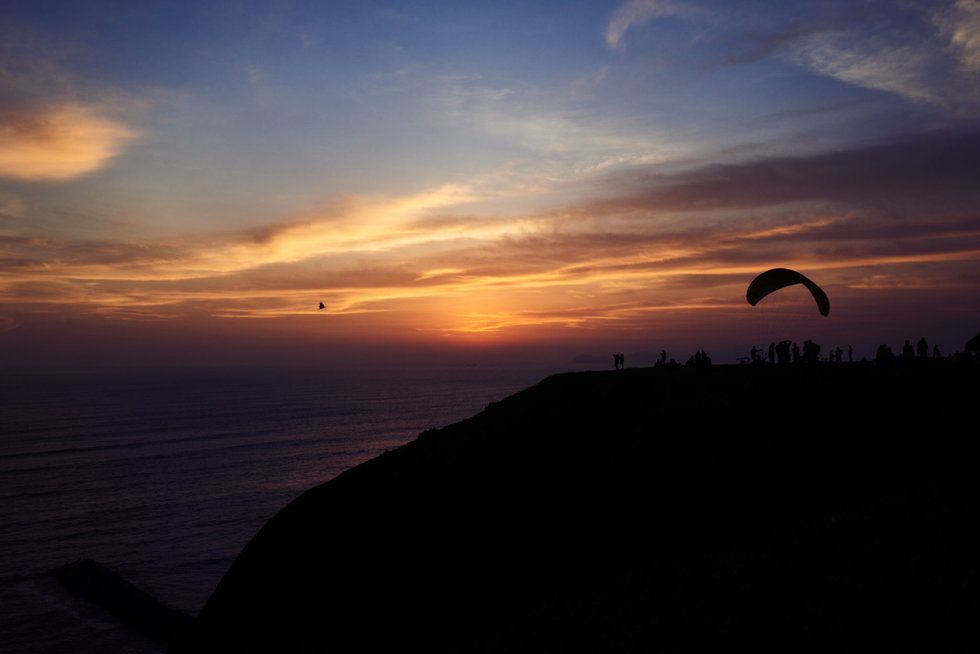 A paraglider on the malecón
Eric Rubens (@erubes1) is a MileagePlus member based in Southern California. He is a photographer/videographer who loves meeting new people and traveling the world.
When planning a vacation, one of the first steps is picking a theme. If you're in search of mountains, many look to the Rockies, Swiss Alps, or Dolomites. If a tropical vacation is desired, Hawaii, Mexico, or the Caribbean may be calling your name. There are so many beautiful destinations in this world, but is it possible for one of them to be blessed with incredible mountains, picturesque beaches, and some of the best wildlife viewing in the world?
Cape Town is one of the few places I've found that seems to have it all. With the iconic Table Mountain and Lion's Head rising out of the city, there are hikes leading up to majestic views down the African coastline. The beaches of Clifton and Camps Bay are some of the most incredible beaches on this planet. If wildlife peaks your interest, there's Boulder's Beach, home to one of the only land-based penguin colonies in the world. Did I mention the safari is a short trip away? Add in an exchange rate that is very favorable and you have all the makings of a trip you'll never forget.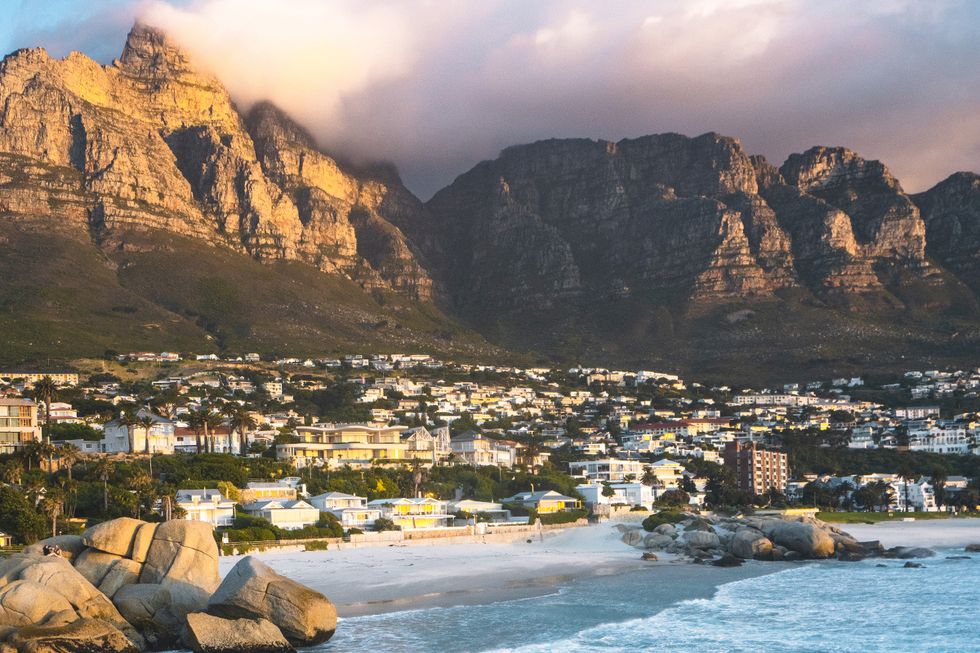 Camps Bay Beach
Planning a trip to Africa for the first time can be both intimidating and a bit challenging. I found very few of my friends or family had been, which made my voyage to South Africa even more exciting. Cape Town is home to a hip urban scene, a vibrant melting pot of culture, and jaw dropping landscapes that'll make you wonder why you didn't visit sooner. There's no city quite like it, and this list of top things to do will make sure you maximize your time in the Mother City. Several theories exist regarding the origin of Cape Town's nickname as "The Mother City." Some say it can be traced back to the beginning of the city's history as a trading hub in the 17th century, or its status as South Africa's first metropolis. But many locals have their own theories – one running joke is that it takes nine months to get anything done in the very laid back city.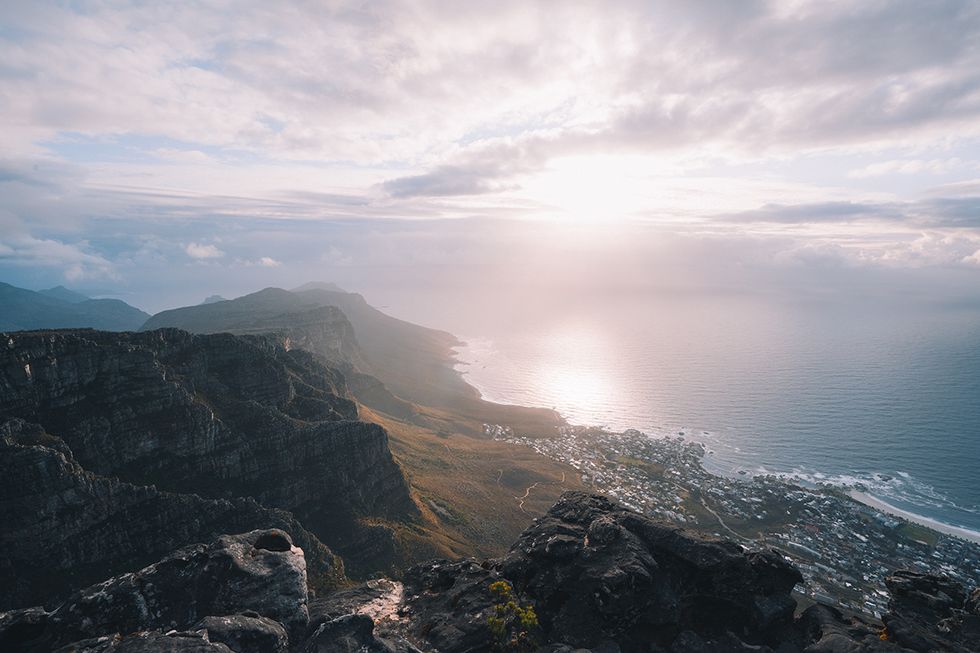 View from the top of Table Mountain
#1: Take a hike or tram up to the top of Table Mountain

This iconic mountain rising from the city is arguably home to Cape Town's best views. The 2 to 3-hour hike to the top makes for a fun activity if you're up for it. Otherwise, take in the view from the aerial cableway, complete with 360-degree rotating floor and running every 5 minutes from the base. Once up top, there's plenty of walking trails, souvenir shopping, and food and drinks. Table Mountain is known for the blanket of fog that rolls over the peak, so weather at the top can change quickly. Make sure to check the weather before heading up and bring a jacket, since the wind can be intense!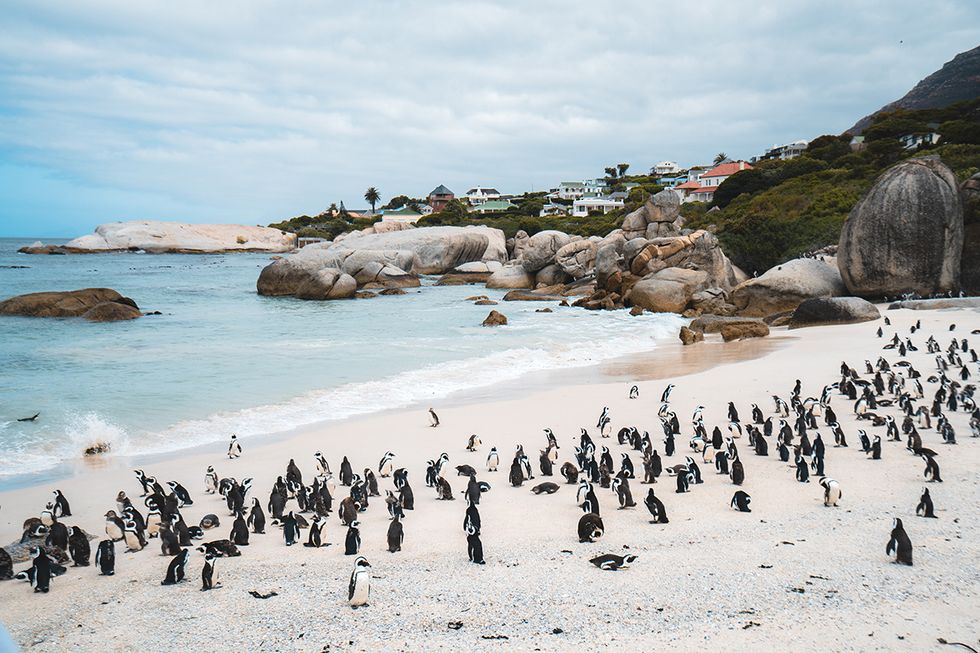 Penguins at Boulder Beach
#2: Visit the penguin colony at Boulder's Beach

Even though it's an hour or so drive from the city, visiting Boulder's Beach and its nearly 2,000 penguins is an unforgettable experience. Watching the penguins lounge on the beach and come in and out of the waves makes for some incredible pictures and a unique encounter. You can also swim in the nearby waters and will often come face to face with members of the colony.
#3: Wake up for a sunrise hike up Lion's Head

One of the most bucket list-worthy activities on a visit to Cape Town is catching sunrise atop Lion's Head. It's a challenging hike and not for those with a fear of heights, but you won't soon forget the view from the summit. If you're willing to scramble and make your way up the final ladders, 360-degree views of the city await, and the sunrise over the city is one for the ages.
#4: Explore the Cape Winelands and the beauty of Constantia
South Africa has some of the best vineyards in the world. Even though the towns of Franschooek and Stellenbosch get the majority of the press, nearby Constantia is home to the oldest wine estate in the country, Groot Constantia. Its proximity (just 15 minutes from the city center) makes it perfect for a day trip. The city sightseeing "Hop-On Hop-Off" bus tour has a purple line that connects through this region, so getting here is easy! If wine tasting isn't your thing, the Alphen Trail is a beautiful trek through the countryside and sure to put you in a relaxing mood.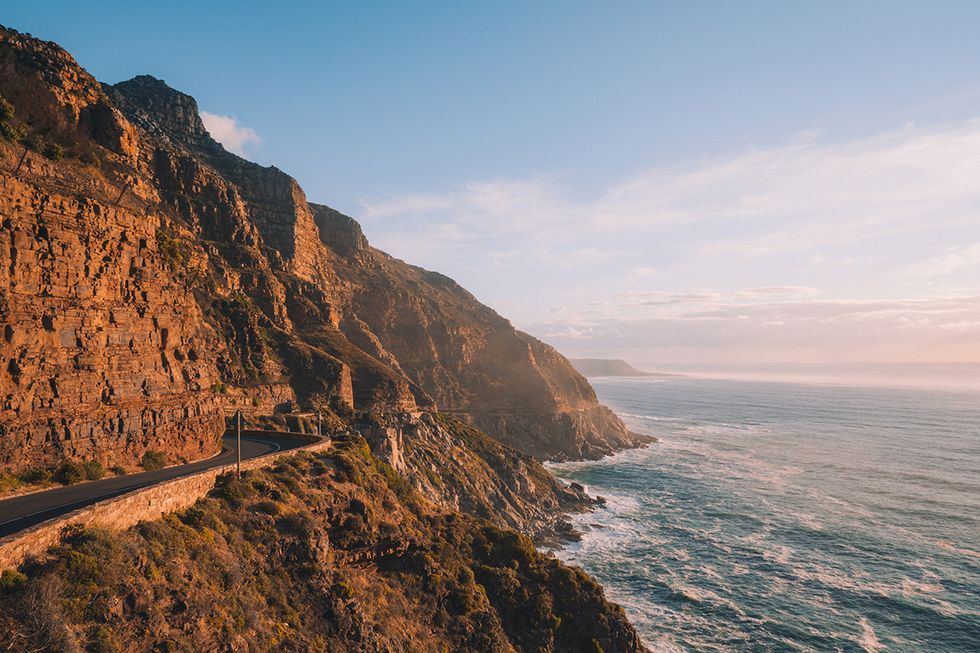 Chapman's Peak Drive
#5: Take a road trip down Chapman's Peak Drive

One of the most beautiful drives awaits just south of Cape Town. Carved into the cliffs and winding along the ocean, this road between Hout Bay and Noordhoek offers majestic views of the coastline. Just make sure to keep your eyes on the road since the sheer beauty can be distracting!
#6: View the diversity of flora throughout Kirstenbosch Gardens
The flora and fauna of South Africa is some of the most diverse in the world, and no place showcases it better than Kirstenbosch Botanical Gardens. Tucked along the slopes of Table Mountain and widely recognized as one of the most impressive gardens in the world, Kirstenbosch is home to over 7,000 species of plants. The newly completed Centenary Tree Canopy Walkway allows you to walk above the tree line. If you visit in summer, try to make one of the Sunday concerts in the gardens, which are a hit with locals and visitors.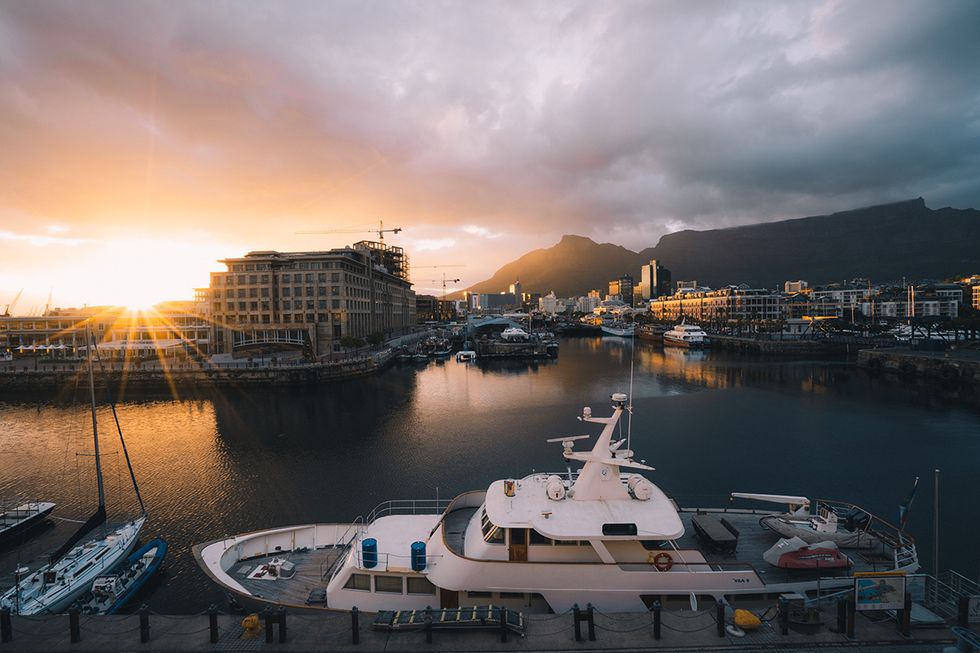 V & A Waterfront
#7: Shop your heart out along the Victoria & Alfred Waterfront

Known as one of the biggest tourism hubs of the city, the always bustling V&A Waterfront is home to many of Cape Town's finest restaurants, shopping, and the launching point of many tours. There are countless ways to spend your time here, but make sure to stop by the V&A food market, where over 40 vendors sell gourmet street food from around the world.
#8: Make your way to the Southern tip of Africa

If you're up for an adventure, take a trip to The Cape of Good Hope. You'll most likely encounter penguins, baboons, and who knows what else along the 1.5-hour drive. The weather can be very unpredictable, so make sure to check it before making the trip south. While there, visit the lighthouse and if you're hungry grab a bite at the appropriately named Two Oceans Restaurant.
#9 Take a tour of historical Robben Island
Even though the prison has been shut down since 1996, a visit to this UNESCO World Heritage Site is one of Cape Town's most popular tours. Tours take around 4 hours including a ferry ride to the island famous for housing Nelson Mandela for 18 of the 27 years he was imprisoned.
Insider tips:
-Use the "hop on hop off" bus for an easy guided tour of the city. The route takes you to many of the best spots throughout Cape Town and allows you to explore at your own pace. Buy tickets ahead of time to save on fare!
-Cape Town has some incredible boutique hotels and bed & breakfasts. My favorites are: Tintswalo Atlantic, 52 De Wet Luxury Boutique Hotel, and Derwent House Boutique Hotel.
-Make sure you don't carry too many valuables on you if you're walking around at night. Although beautiful and mostly safe, there is still a good amount of opportunistic crime throughout the city. Always pay attention to your surroundings.
You can purchase tickets now at united.com or on the United app for three weekly nonstop flights from New York/Newark to Cape Town beginning December 15.
Opinions expressed by the author are those of the author and do not necessarily reflect those of United.
Planning a Caribbean vacation around hurricane season isn't necessary if you head to Dutch-affiliated Curaçao. The southernmost of all Caribbean islands — just off Venezuela's coast — is rarely even grazed by hurricanes. It also has an ideal tropical climate with average winter highs in the 80s (and water temperatures to match) and only about one inch of rain a month.
Curaçao will be more accessible beginning December 7, 2019, when weekly nonstops begin from New York/Newark on United Airlines. The new seasonal service on 737-700 aircraft makes Curaçao the 21st Caribbean island destination for United, which already flies to the other two nearby "ABC islands" — Aruba and Bonaire. Why choose Curaçao? Because like the island's famous blue liqueur, it's colorful, exotic and appealing.
Settling in
Jet lag won't be an issue for Americans flying to Curaçao because it's in the same time zone as New York. Nor is it a long flight — about five hours nonstop from New York/Newark. Upon arrival you can take a taxi, rental car or hotel shuttle from Curaçao International Airport to your accommodations — a resort (reserve early), boutique inn, vacation house or B&B. Most are in Willemstad, a coastal city only five miles from the airport.
Forts above the port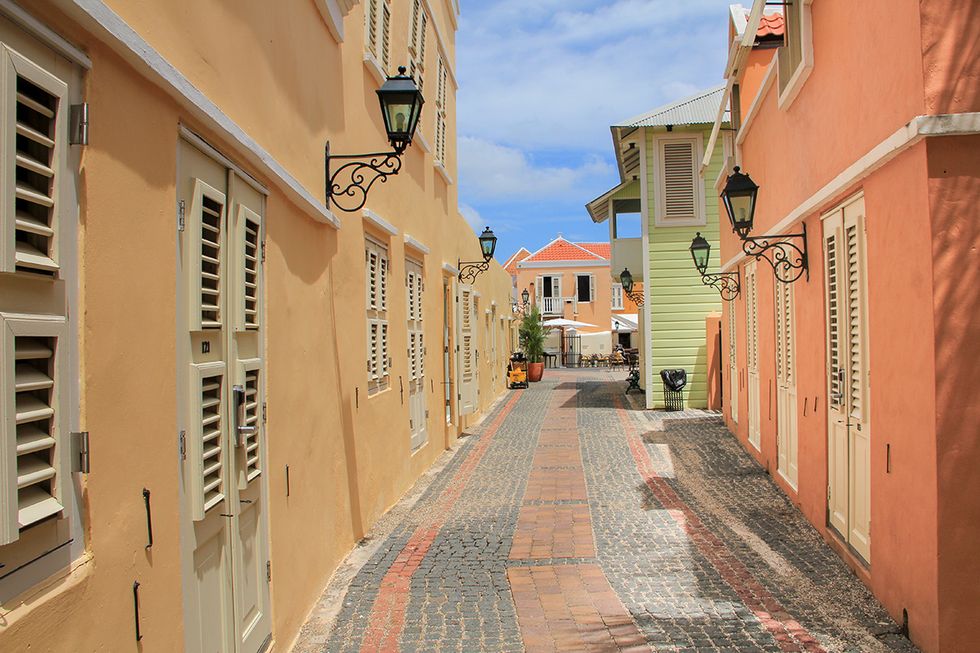 Straat Curaçao Getty Images/iStockphoto
The historic city center and harbor areas of Curaçao's only city of Willemstad are designated as a UNESCO Heritage Site, mostly for the 17th to 19th century Dutch colonial architecture of the houses and forts. The houses are painted a rainbow of bright colors in the Caribbean tradition, and the city is packed with forts — Fort Amsterdam (built in 1636), Fort Beekenburg (1703), Fort Nassau (1797) and Fort Waakzaamheid (1803). All four offer stellar views and are free to visitors.

On the waterfront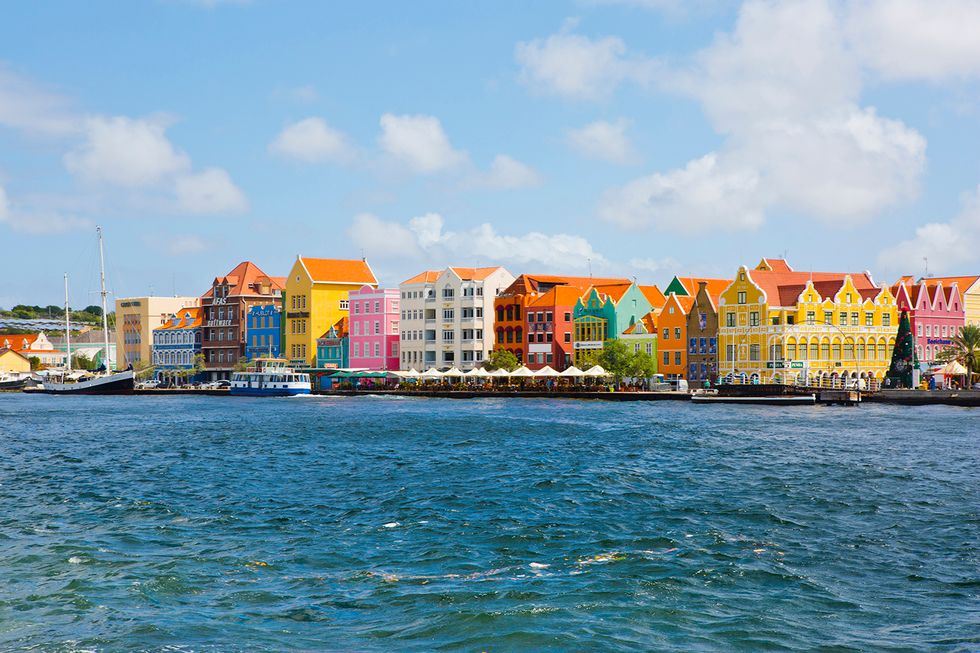 Curacao colorful houses Getty Images/iStockphoto
Along with forts, the harbor area is home to the oldest continuously operating synagogue (and museum) in the Western Hemisphere, an African art museum that tells the story of the slave trade through West African art and artifacts, and a maritime museum. These visits can be followed by a tour and tasting at the Curaçao Distillery, where you'll see how the peels of the native Laraha bitter oranges are turned into curaçao liqueur.

Snorkel from the sand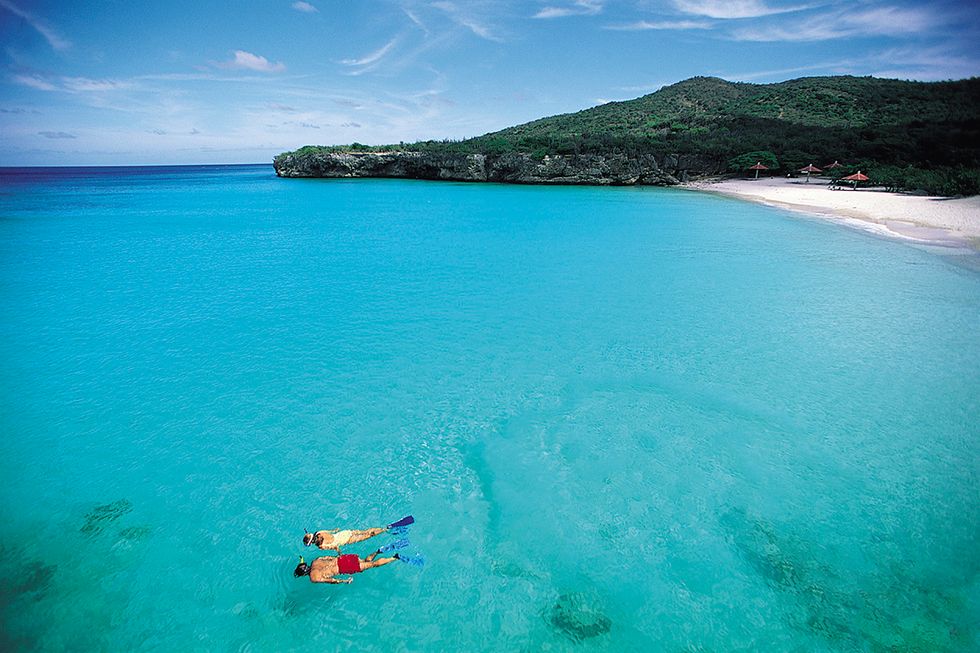 Two people snorkeling off coast of tropical island Getty Images
The chief allure of this 38-mile-long island is, of course, the ocean. Besides sunbathing at any of the dozens of powder-sand cove beaches, you can wade right in and snorkel in the turquoise, bathlike sea, usually around 80 degrees. Visibility is up to 100 feet, a snorkeler's dream. More adventurous types can snorkel or dive from day boats that head to prime diving sites like the Mushroom Forest (mushroom-shaped coral), Blue Cave and several shipwreck spots. There's also a nice aquarium on the shoreline where marine life is seen up close in their natural habitat —from land or aboard a minisub that dives 1,000 feet.

Ready, set…
Curaçao is a convenient tropical destination for Americans because U.S. dollars and credit cards are commonly accepted, English is widely spoken and no visa is required. But the local culture and cuisine are still exotic enough to be intriguing with local specialties like stewed iguana and cactus soup served in restaurants and from food carts in Willemstad.
If you go
Flight reservations from New York/Newark (EWR) to Curaçao (CUR) can be made at united.com on the United app. Use miles to reserve a hotel, rental car or both with MileagePlus®.
One of our most treasured events of the year is here – Fantasy Flights! Our Fantasy Flights bring holiday cheer to children in need by taking them on a special trip to the "North Pole." Each station creates a North Pole with care, in preparation for all the children who will soon be there…
Our participating stations this year are HNL (Honolulu), FRA (Frankfurt), CLE (Cleveland), DEN (Denver), IAD (Washington Dulles), LAX (Los Angeles), SFO (San Francisco), MCO (Orlando), ORD (Chicago O'Hare), GUM (Guam), EWR (New York/New Jersey), NRT (Tokyo-Narita), PHX (Phoenix), IAH (Houston), MCI (Kansas City) and SAT (San Antonio).
Please stay tuned for stories, photos and more from these magical events. #UAFantasyFlights
Scroll to top