Flight attendant's passion fuels mission to help refugees
United recognizes and rewards the passion of our employees through the Volunteer Impact Grant program, which has awarded hundreds of thousands of dollars to employees who are giving back to their communities. This story highlights Flight Attendant Kayra Martinez, one of the many grant recipients who are using those funds for the greater good of the people we serve.
Flight Attendant Kayra Martinez has made it her mission to help Syrian and Iraqi refugees who have arrived in Greece after fleeing their war-torn country, and she recently earned a grant to support her cause through our Volunteer Impact Grant program, which awards more than $100,000 annually to charitable organizations where employees volunteer.
Kayra's mission began over two years ago, after she volunteered to help refugees arriving in Frankfurt, Germany, where she is based. Her volunteer work in Germany eventually led her to Greece, where she visited the Nea Kavala camp in northern Greece in 2015. "When I got to Greece, I saw the tragic conditions in which refugees were living, and I realized I needed to do more," said Kayra. After that trip, Kayra founded the nonprofit Love Without Borders - For Refugees In Need, which has allowed her to provide housing, teach English and offer art sessions to thousands of refugees. "I have established a large network of friends and donors, which allows me to channel clothing, art supplies and other donations," Kayra explained.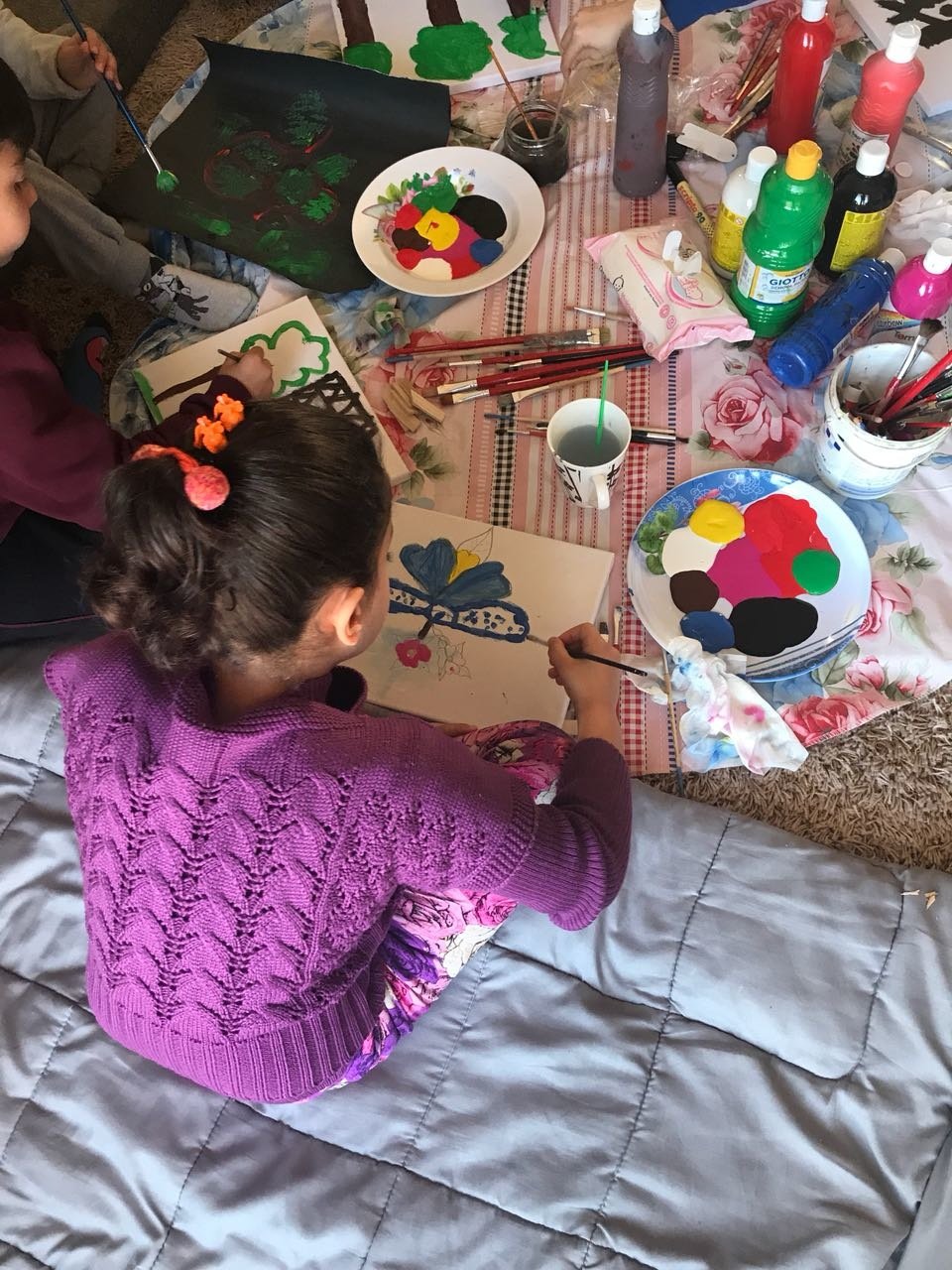 Last year, she realized some of the kids were using their art sessions to express the trauma they had suffered when fleeing their countries. They painted images of people breaking out of chains and small boats sailing on the ocean and even people falling in the water and children crying. To raise awareness about the issues these children are facing and also to raise funds to continue to help them, Kayra organized an art show to sell their art pieces. The first event was a success, and the proceeds went directly to the artists and their families.
Today, when Kayra isn't working, she travels to Greece and all around the world to display a traveling exhibit of the refugee children's art that has been welcomed in Boston and Montreal. The exhibit will be coming to the Simpson Center for the Humanities in Washington, D.C., on March 1.
"This initiative helps the children heal, because it allows them to express their feelings through art," said Kayra. "Many of the kids find hope through the art sessions, and eventually they start painting images depicting their hopes and dreams for the future."
Kayra hopes to continue to help refugee families and is proud to work for a company that supports employees who, just like her, are committed to making the world a better place and helping those who need it the most. "The grant that I earned for Love Without Borders through United's Volunteer Impact Grant is vital for the wellbeing of these families," added Kayra.
"I see first-hand how determined our employees are about giving back," said Community Affairs Senior Manager Bill Egan. "The Volunteer Impact Grant program was created solely to recognize employees, like Kayra, who provide volunteer service in their communities – and, since 2010 that has meant providing more than $750,000 to charities where our employees live, work and serve."