The foodie's guide to Asia
It's impossible to underestimate the enormous cultural significance of food throughout Asia. In many countries across the region, the very first thing you'll notice when you arrive is the complex aroma of commingled spices and the tempting scent of grilled meats and cooking fires wafting through the air. It's enough to make your mouth water, and that's before you've even left the airport. Whether you spend your vacation snacking on the delicious street food that's served on virtually every corner in Thailand, having lunch at a stylish tea and noodle house in Japan or enjoying a banquet at a historic dining palace in China, eating is truly the best way to immerse yourself in the city you're visiting. To give you an idea of what dishes you can't afford to miss, here's a regional guide to some of the top meals in Asia.
Bangkok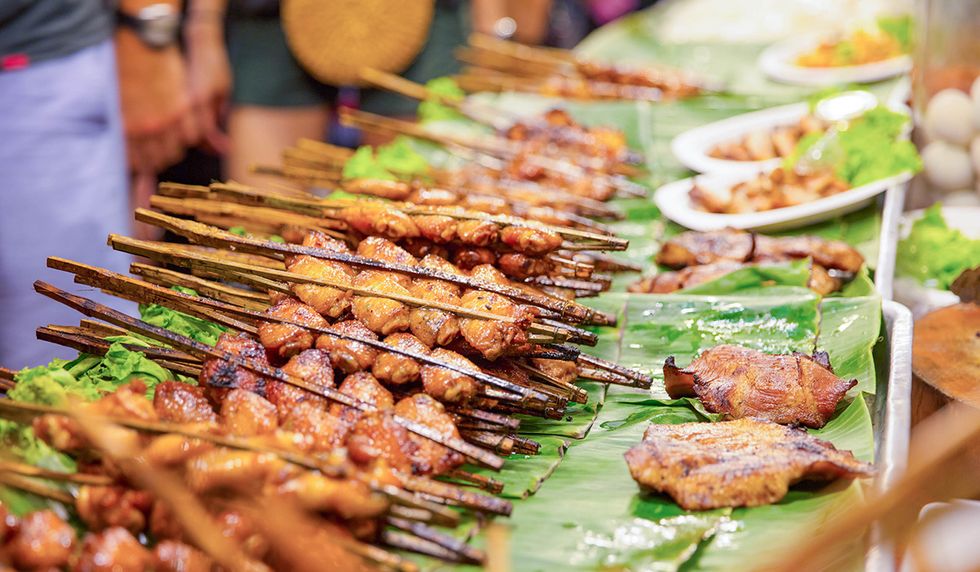 When you hear the word "yum" spoken in English, it's typically an exclamation of foodie pleasure. Curiously enough, it's also a Thai word that refers to the ideal combination of the five main flavors of Asian cuisine: salty, spicy, sour, savory and sweet. To enjoy the perfect balance of yum while in Bangkok, you'll need to order an authentic plate of pad thai and several skewers of grilled satay. Unlike in America where pad thai is usually eaten in sit-down restaurants, in Thailand it's a hugely popular street food, much like satay, that's often enjoyed while standing in front of a cart on the sidewalk. Between these two iconic dishes, you'll taste several of the core ingredients of Thai cooking, namely fish sauce, lime juice, sriracha, curry paste and Thai chilies.
Tokyo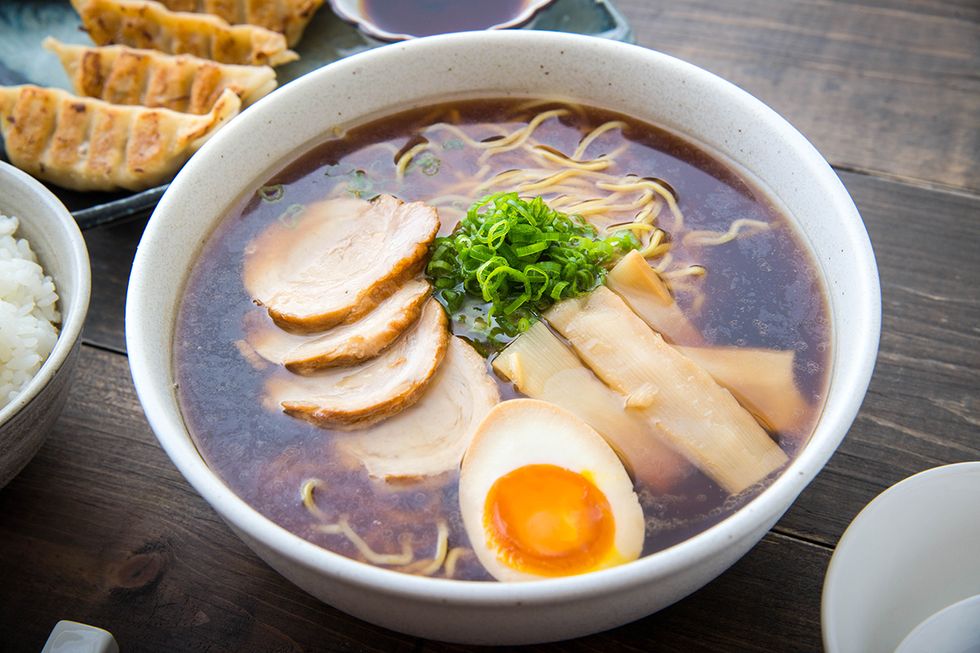 According to most chefs who specialize in Asian food, the central components of Japanese cooking include dashi (a traditional cooking stock), light and dark soy sauce, mirin, sake and miso. Used together in various combinations, these ingredients help form the basis of umami, a description of the savory taste that's become a familiar word around the world in the last decade or so. A great way to experience the essence of umami while in Tokyo is to spend some quality time with a large bowl of ramen. Ramen is at the center of any conversation that deals with Japanese cuisine and is an essential comfort food that's served everywhere — from award-winning restaurants to tiny neighborhood noodle shops. For a luscious bowl of ramen that you'll never forget, make reservations at the Michelin-starred Tsuta Ramen and prepare to launch your taste buds into orbit. But don't fill up on noodles too quickly, because you'll want to save room for an order of okonomiyaki, the savory egg and cabbage pancake that's been called Japan's version of soul food.
Hong Kong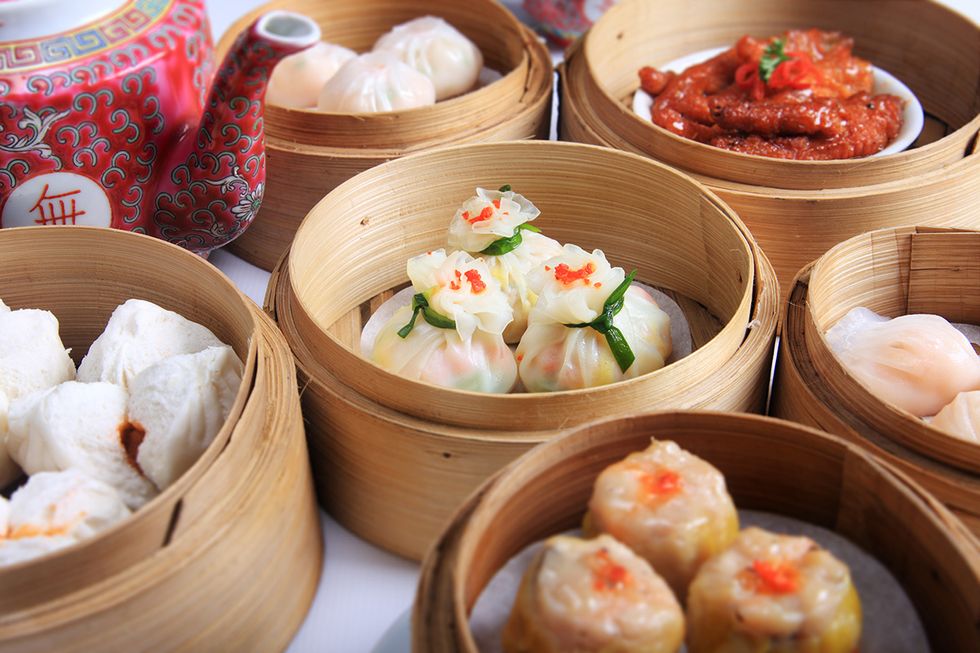 Although authentic Chinese food incorporates a vast variety of ingredients to achieve maximum deliciousness, the fundamental flavors typically rely on elements like oyster sauce, fresh ginger, chili garlic sauce, rice vinegar and hoisin sauce. Each of these flavors can be found somewhere in Hong Kong's quintessential meal: dim sum. Commonly enjoyed in bite-size portions served in steamer baskets or from rolling carts, dim sum is a tradition that dates back to the teahouses of ancient China. Today, the most popular dim sum items include all manner of dumplings, rolls, buns, cakes, meatballs, tarts, spare ribs and puddings. Since taking colorful food photos is an intrinsic part of any modern vacation, plan to eat at Hong Kong's Yum Cha, an acclaimed restaurant that serves Instagram-worthy dim sum treats. Later on, make your way to Yung Kee restaurant for another essential Hong Kong specialty: roast goose. Since 1942, the chefs at this massive four-floor dining palace have been cooking some of the best fowl in the world.
Hanoi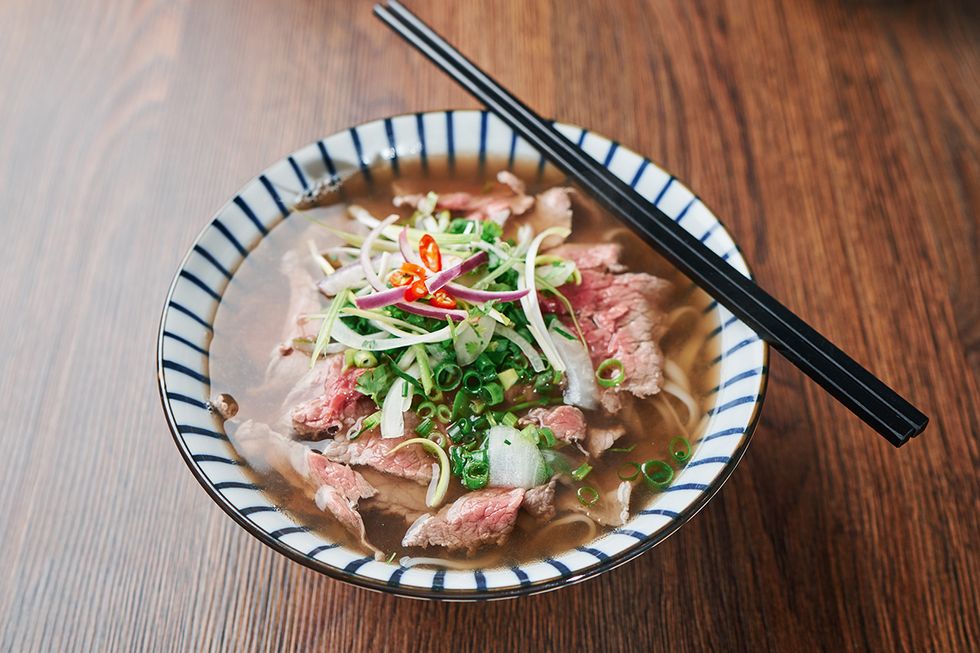 Along with tropical fruits — like papaya, mango, rambutan and durian — and a wide assortment of rice served in various styles, the primary building blocks of Vietnamese cuisine include fish sauce, hoisin sauce and fresh herbs like mint, cilantro, lemongrass and basil. If you'd like to savor several of these intensely flavorful elements on your trip to Hanoi, order a bowl of beef pho with a side of fried spring rolls. The pho's aromatic broth and gently braised meat pairs perfectly with the crunchy rice skin of the rolls, making this an unbeatable combination. You'll find a superb version of it available at Quán Ăn Ngon. For a tasty lunch on the go, grab a duck pâté and egg sandwich from one of the many bánh mì vendors in Hanoi's Old Quarter.
Seoul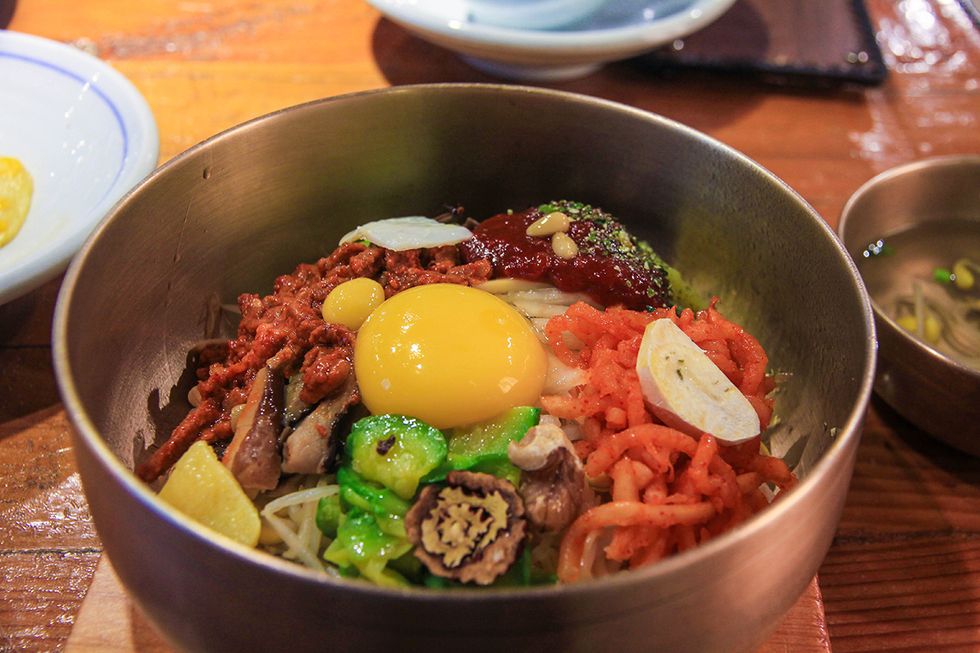 If you're planning a trip to the capitol city of South Korea, it's virtually guaranteed that you're already well acquainted with ingredients like soy sauce, garlic and sesame oil. Gochujang, on the other hand, might not be in your daily food repertoire just yet, but it will be after your visit. A zingy red chili paste made with chili powder, glutinous rice and fermented soybeans — among other things — gochujang's sweet and spicy flavor makes it an excellent condiment to use when you order an enticing combination of barbecued meats that are cooked directly at your table in restaurants throughout Seoul. The second dish that you have to try while traveling in Korea is bibimbap. Served in a heaping bowl, bibimbap typically consists of rice topped with local veggies and loaded with bits of egg and meat slices. Each establishment puts their own unique spin on it, and the bibimbap served at Jeonju Jungang Hoekwan is among the tastiest.
Singapore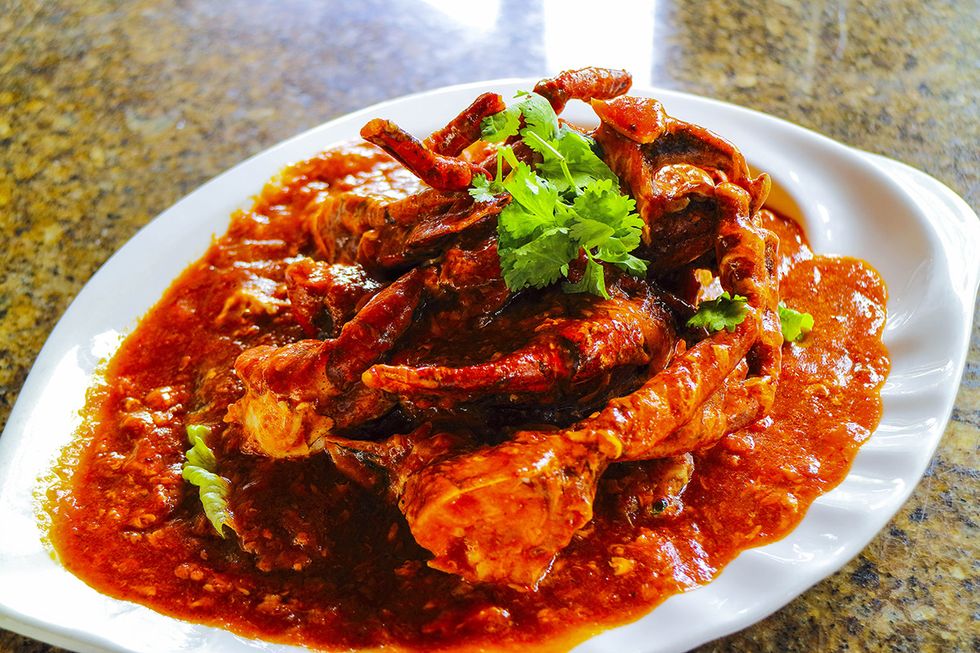 When you find yourself hungry in Singapore, scan the nearest menu and ask for a bowl of laksa and an invigorating seafood dish called chili and garlic crab. Laksa is a comforting noodle soup that's frequently served with chicken, shrimp or fish. Depending on your preference, the base of the soup can be made with either rich curry coconut milk or sour tamarind broth. Laksa occasionally comes with rice rather than noodles, but either way you can't go wrong. If you're averse to intensely hot spices, don't let the name of this dish dissuade you. The tomato-based sauce helps cut down on the heat of the chilies, making this a surprisingly mild treat rather than a spicy one.
Shanghai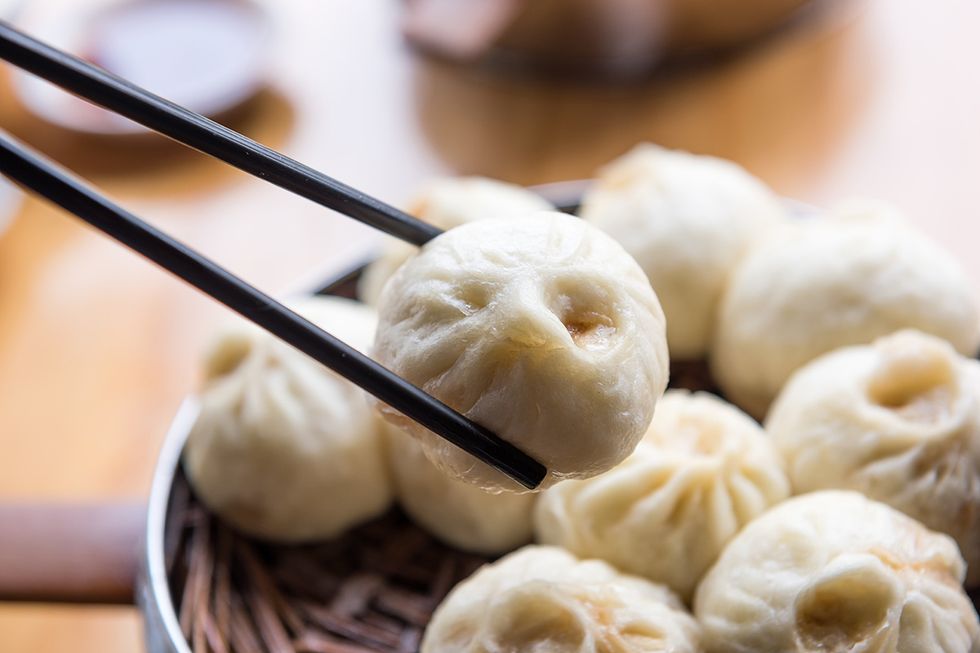 When eating in Shanghai, always keep in mind the four S's: soup dumpling and sweet & sour spareribs. Xiaolongbao — or soup dumplings — are adorable steamed buns that fit perfectly in your mouth and pop with incredibly flavorful broth when you bite down on them. Keep plenty of napkins handy though because they have a tendency to be a bit messy. Save room for other dumplings found throughout the city filled with pork, shrimp, minced crab, veggies or any number of other items. Sweet and sour spareribs with black bean vinegar sauce — a Shanghai specialty — are another wonderful dish to try while exploring the restaurants across China's central coast. When braised to perfection, there's simply nothing better on the menu.
Getting there
Regardless of where you decide to eat in Asia, you can plan your fantastic food tour by visiting united.com, or by using the handy United app to book your tickets.
We will continue building out our already expansive route network next year, adding flights to some attractive leisure destinations in the United States and the Caribbean.
Our hometown hub, Chicago O'Hare International Airport, will be the beneficiary of three of those new routes, which include Santa Barbara, California; Pasco, Washington; and Vail, Colorado. Rounding it out, United will add service from Denver to Nassau, Bahamas, and from Houston to Spokane, Washington. Tickets for all of these destinations are on sale now.
The Denver-Nassau route will begin on March 7, 2020, followed by Chicago-Santa Barbara, Chicago-Pasco, Chicago-Vail and Houston-Spokane on June 4. When that time comes, United will be the only airline offering nonstop service between Denver and Nassau and Chicago and Pasco.
All of these routes will open up a world of connection possibilities for customers living in each market. They'll also be scheduled to give flyers optimal arrival and departure time options. For instance, a passenger going from Chicago to Santa Barbara will have a flight option that departs O'Hare at 7:45 p.m. local time, arriving at Santa Barbara Airport at 10:30 p.m. That's ideal for business travelers.
"We want to offer customers the very best schedule, the best network and the most flight options in the industry," said Ankit Gupta, United's vice president of Domestic Network Planning.
The Boeing 737-800 aircraft will serve the Denver-Nassau route. Passengers going from Chicago to Santa Barbara and from Chicago to Vail will fly on the 737-700. United's 76-seat Embraer 175 aircraft, equipped with United First, Economy Plus and United Economy class seats, will operate on the Chicago-Pasco and Houston-Spokane routes.
You'll find flight times and additional details in the grid below. For more information and to book your tickets, visit
united.com
or download the United mobile app.
Depart

Arrive

Frequency

Duration

Chicago (ORD)

7:45 p.m.

Santa Barbara (SBA)

10:30 p.m.

Daily

Year-round

SBA

11:20 p.m.

ORD

5:20 a.m.

Daily

Year-round

ORD

8:00 p.m.

Pasco (PSC)

10:24 p.m.

Daily

Year-round

PSC

11:38 p.m.

ORD

5:20 a.m.

Daily

Year-round

ORD

4:00 p.m.

Vail/Eagle (EGE)

5:54 p.m.

Daily

Summer seasonal

(June 4 through September 6, 2020)

EGE

9:00 a.m.




ORD

12:45 p.m.

Daily

Summer seasonal

(June 4 through September 7, 2020)

Denver (DEN)

9:56 a.m.

Nassau (NAS)

4:00 p.m.

Once a week on Saturdays

Year-round

(with a break from mid-August through late-October)

NAS

11:37 a.m.

DEN

2:43 p.m.

Once a week on Saturdays

Year-round

(with a break from mid-August through late-October)

Houston (IAH)

9:32 p.m.

Spokane (GEG)

11:32 p.m.

Daily

Summer seasonal

(June 4 through August 17, 2020)

GEG

11:55 p.m.

IAH

6:17 a.m.

Daily

Summer seasonal

(June 4 through August 17, 2020)
Right now, around the world, brave members of America's armed forces are on duty, defending our freedom and upholding our values.
When not laser-focused on the mission at hand, they're looking forward to the day when their service to our nation is fulfilled and they can reunite with their families.
They are also imagining how they can use their hard-earned skills to build an exciting, rewarding and important career when they return home.
I want them to look no further than United Airlines.
That's why we are focused on recruiting, developing and championing veterans across our company, demonstrating to our returning women and men in uniform that United is the best possible place for them to put their training, knowledge, discipline and character to the noblest use.
They've developed their knowledge and skills in some of the worst of times. We hope they will use those skills to keep United performing at our best, all of the time.
That's why we are accelerating our efforts to onboard the best and the brightest, and substantially increasing our overall recruitment numbers each year.
We recently launched a new sponsorship program to support onboarding veterans into United and a new care package program to support deployed employees. It's one more reason why United continues to rank high - and rise higher - as a top workplace for veterans. In fact, we jumped 21 spots this year on Indeed.com's list of the top U.S workplaces for veterans. This is a testament to our increased recruiting efforts, as well as our efforts to create a culture where veterans feel valued and supported.
We use the special reach and resources of our global operations to partner with outstanding organizations. This is our way of stepping up and going the extra mile for all those who've stepped forward to answer our nation's call.
We do this year-round, and the month of November is no exception; however, it is exceptional, especially as we mark Veterans Day.
As we pay tribute to all Americans who have served in uniform and carried our flag into battle throughout our history, let's also keep our thoughts with the women and men who are serving around the world, now. They belong to a generation of post-9/11 veterans who've taken part in the longest sustained period of conflict in our history.

Never has so much been asked by so many of so few.... for so long. These heroes represent every color and creed. They are drawn from across the country and many immigrated to our shores.

They then freely choose to serve in the most distant and dangerous regions of the world, to protect democracy in its moments of maximum danger.
Wherever they serve - however they serve - whether they put on a uniform each day, or serve in ways which may never be fully known, these Americans wake up each morning willing to offer the "last full measure of devotion" on our behalf.
Every time they do so, they provide a stunning rebuke to the kinds of voices around the world who doubt freedom and democracy's ability to defend itself.
Unfortunately, we know there are those who seem to not understand – or say they do not - what it is that inspires a free people to step forward, willing to lay down their lives so that their country and fellow citizens might live.
But, we – who are both the wards and stewards of the democracy which has been preserved and handed down to us by veterans throughout our history – do understand.
We know that inciting fear and hatred of others is a source of weakness, not strength. And such divisive rhetoric can never inspire solidarity or sacrifice like love for others and love of country can.
It is this quality of devotion that we most honor in our veterans - those who have served, do serve and will serve.
On behalf of a grateful family of 96,000, thank you for your service.
Humbly,
Oscar
Each year around Veterans Day, Indeed, one of the world's largest job search engines, rates companies based on actual employee reviews to identify which ones offer the best opportunities and benefits for current and former U.S. military members. Our dramatic improvement in the rankings this year reflects a stronger commitment than ever before to actively recruiting, developing and nurturing veteran talent.
"We've spent a lot of time over the past 12 months looking for ways to better connect with our employees who served and attract new employees from the military ranks," said Global Catering Operations and Logistics Managing Director Ryan Melby, a U.S. Army veteran and the president of our United for Veterans business resource group.
"Our group is launching a mentorship program, for instance, where we'll assign existing employee-veterans to work with new hires who come to us from the armed forces. Having a friend and an ally like that, someone who can help you translate the skills you picked up in the military to what we do as a civilian company, is invaluable. That initiative is still in its infancy, but I'm really optimistic about what it can do for United and for our veteran population here."
Impressively, we were the only one of our industry peers to move up on the list, further evidence that we're on a good track as a company.
Scroll to top