The 2019 Hemispheres hotel top 20
Story by Nicolas DeRenzo | Hemispheres May 2019
Our annual compendium of the best new hotels in the world takes us from from Rio to ryokan, Savannah to surf club. No matter where you're going, in these pages, you'll find a place where you'll want to stay.
Hotel Amparo San Miguel de Allende, Mexico
For Social Media Influencers
Just in time for its designation as the 2019 American Capital of Culture, San Miguel de Allende—which is practically an artists' colony unto itself—welcomed this five-room hideaway in the 300-year-old former mayor's residence. Thanks to co-owner Mariana Barran Goodall, who grew up in Monterrey, Mexico, and runs Houston-based Hibiscus Linens, every tiny detail here is ready for its close-up. It won't take long for you to fill up your Instagram grid with shots of gold room keys, hand-stitched napkins, custom bathroom tiles made by local artisans, and even the coasters.
WE LOVE the flower-filled courtyard, a great place to take a selfie or sit with an espresso from the on-site café, which sources Mexican beans from Buna roasters. From $250, hotelamparo.com
Eastwind Hotel & Bar Windham, New York
For Hip Hikers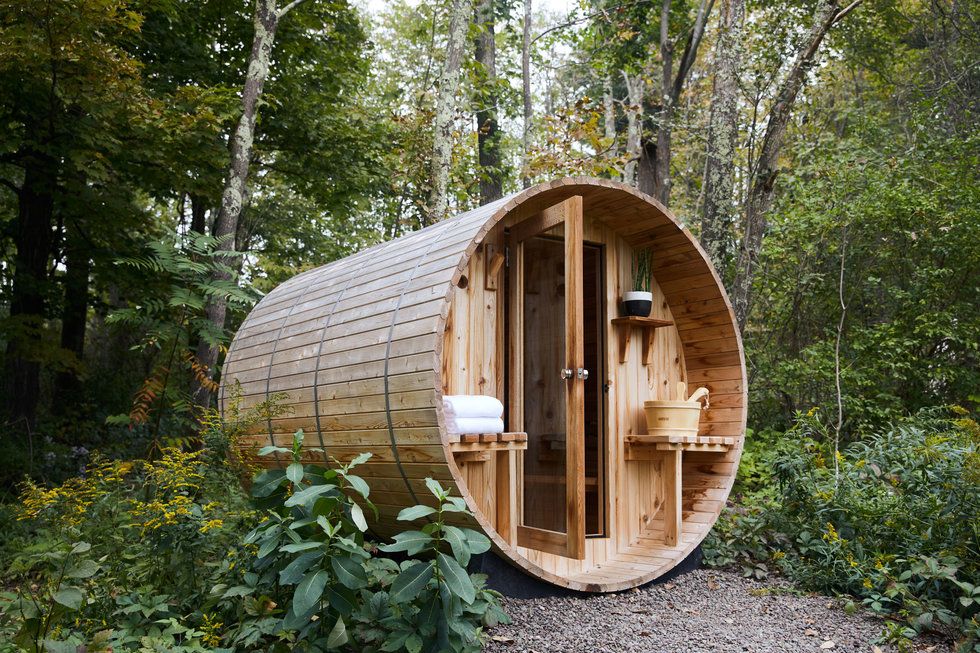 For many vacationers, the Catskills conjure images of 1950s summer camp resorts and Dirty Dancing. The Eastwind provides a sleek, Scandinavian-style counterpoint to those Borscht Belt spots of old. Opened last June on the site of a 1920s bunkhouse about 150 miles north of New York City, the 19-room retreat is a perfect jumping-off point for hiking, fly-fishing, and snowshoeing excursions. If you're feeling creative, write a few jokes—these are the stomping grounds of Joan Rivers and Henny Youngman, after all—on a vintage typewriter in one of the writer's studio suites. Or take a load off under a Faribault Woolen Mills plaid throw in one of the spartan-chic A-frame Lushna cabins.
WE LOVE the barrel sauna, which is even more amazing when you have to run through the snow to get there. From $219, eastwindny.com
Six Senses Maxwell Singapore
For Environmentalists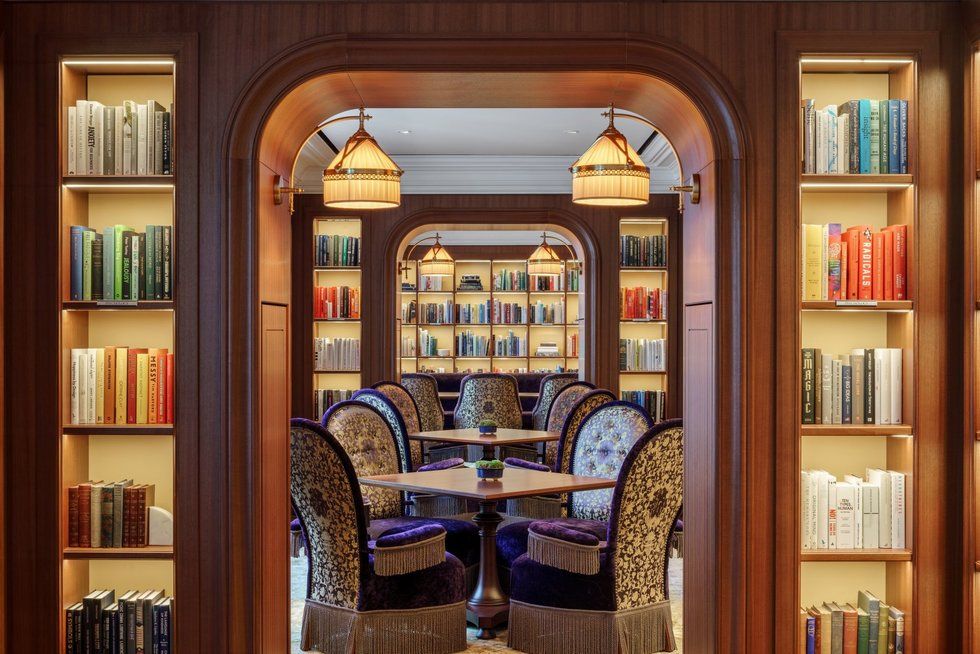 The second of two Six Senses urban resorts to open in the Lion City last year doesn't immediately scream "eco-friendly." The posh 138-room property across from the Maxwell Food Centre occupies a 1929 Art Deco heritage building and exudes Old World opulence with fixtures such as brocade headboards, silk lampshades, and damask velvet chairs. However, befitting its home in Asia's greenest city, the hotel is also home to a series of sustainable touches: reusable glass water bottles, biodegradable cornstarch toothbrushes, locally sourced minibar items, and a restaurant that serves responsibly caught fish.
WE LOVE the traditional ice cream tricycle, from which guests can order free organic ice cream sandwiches (in flavors like durian, red bean, and sweet corn) on soft, colorful bread, kept cold by a solar-powered refrigerator. From $240, sixsenses.com
The Middle House Shanghai
For Fashionistas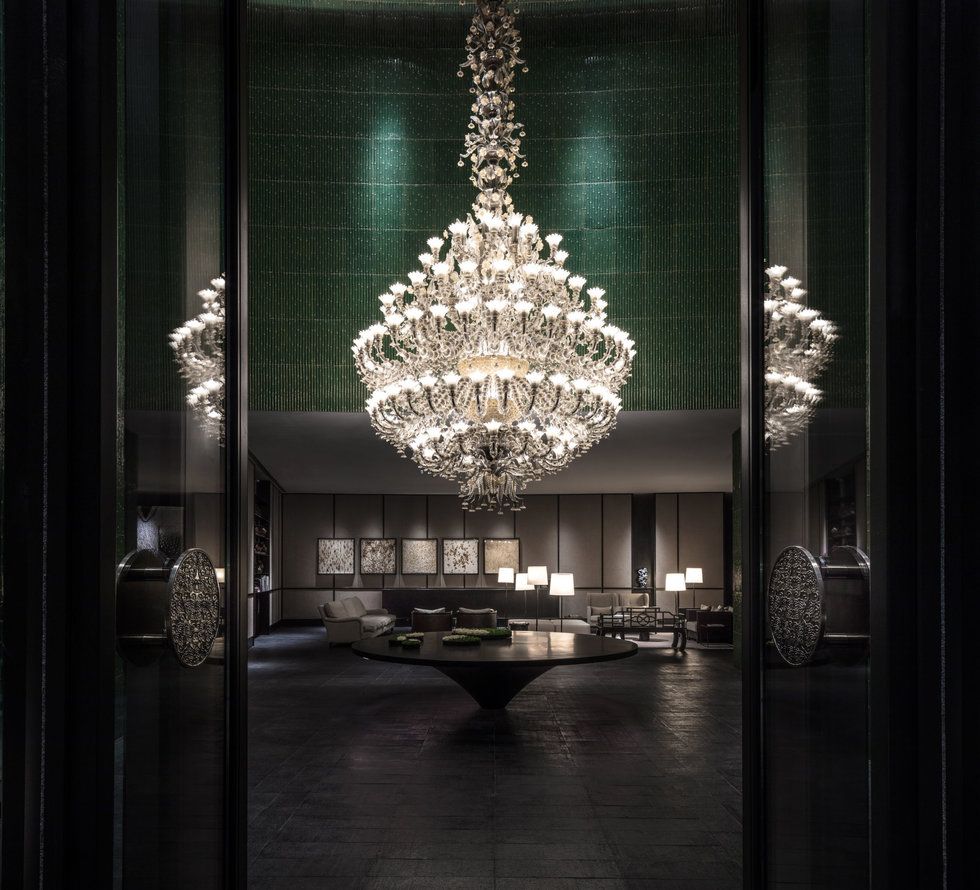 Set just off Shanghai's main shopping street, West Nanjing Road, the newest member of Swire Hotels' House Collective is a polished den of understated glamour, courtesy of Milan-based interior designer Piero Lissoni. The entryway is as heart-stoppingly dramatic as any couture runway show: A 3,760-piece Venetian glass chandelier hangs surrounded by emerald-green, bamboo-patterned tiles. The 111-room hotel, which opened last spring, boasts a nearly 700-work art collection—over half of which is Chinese—loosely inspired by the curatorial theme "I Dream of China."
WE LOVE Caroline Cheng's lobby installation, Prosperity, a black robe covered with 12,000 tiny butterfly figurines crafted in China's porcelain-making capital, Jingdezhen. From $268, themiddlehousehotel.com
Palihotel Seattle Seattle
For Stylish Seafarers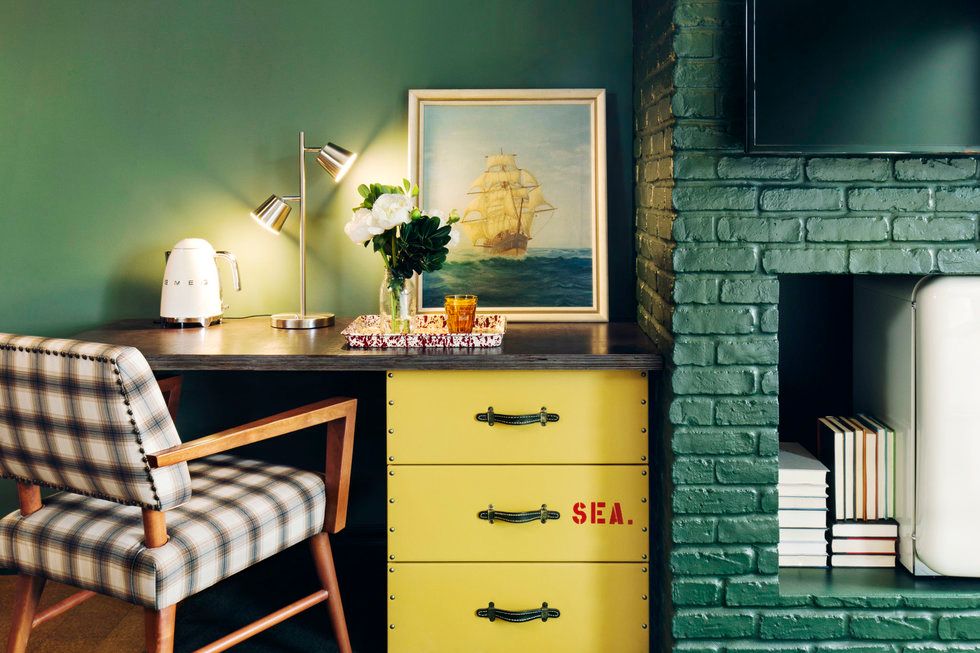 Guests arriving at the check-in desk at the first Palisociety hotel outside of Los Angeles are greeted by a portrait of a raincoat-clad, pipe-smoking sailor—a perfect introduction to the subtly nautical vibe that permeates Seattle's newest hotel, which opened in November one block from the bustling Pike Place Market. The prime location means the seafood (sweet-and-spicy salmon jerky, littleneck clams, local oysters) at the on-site restaurant, The Hart and the Hunter, is always as fresh and invigorating as the Puget Sound views from the landmark 1895 building's upper floors.
WE LOVE The Hart and the Hunter's briny Elliott Bay Gibson, which includes oyster-shell-infused gin, Maldon sea salt, bay leaf olive oil, and a pickled onion. From $175, palisociety.com
Perry Lane Hotel Savannah, Georgia
For Aspiring Southern Belles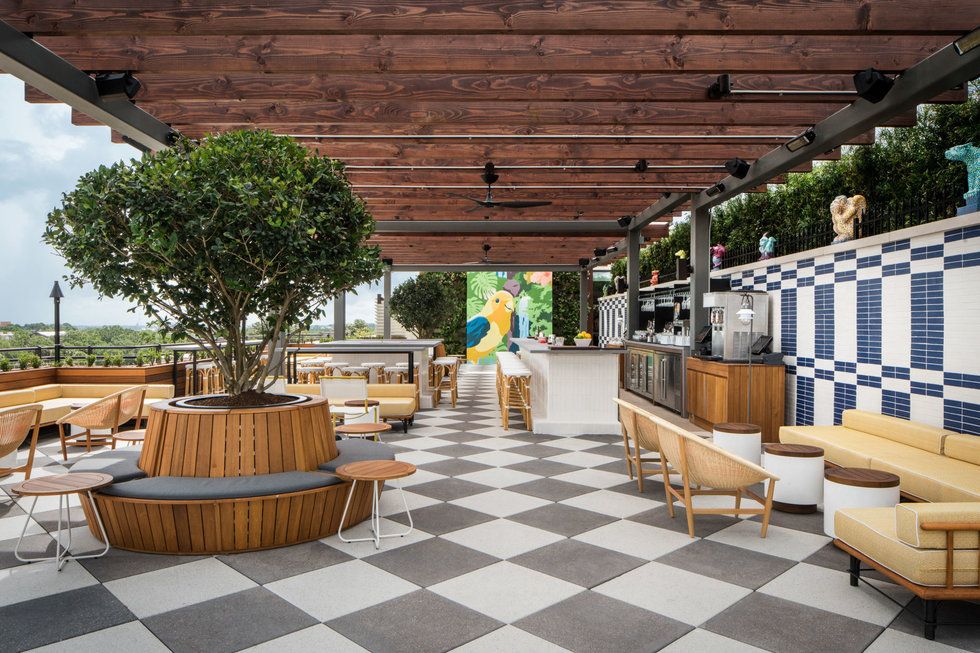 Few American cities are better preserved than Savannah, with its centuries-old squares and statues and hanging Spanish moss. Last June, the city's Historic District got a rare new addition, the 167-room Perry Lane Hotel. The Luxury Collection property pays such deep homage to the Hostess City of the South that— aside from a loaner jazz guitar from local luthier Benedetto and an art collection that includes works by 81 artists with ties to the Savannah College of Art and Design—it invented a fictional grande dame named Adelaide Harcourt to help define its aesthetic. (Look for her portrait above the lobby fireplace.)
WE LOVE the polka-dotted Gargoyle Artillery statues at the rooftop bar, Peregrin; you'll keep turning away from the views of the Historic District to consider their Gothic-psychedelic visages. From $187, perrylanehotel.com
Hôtel de Berri Paris

For Art Connoisseurs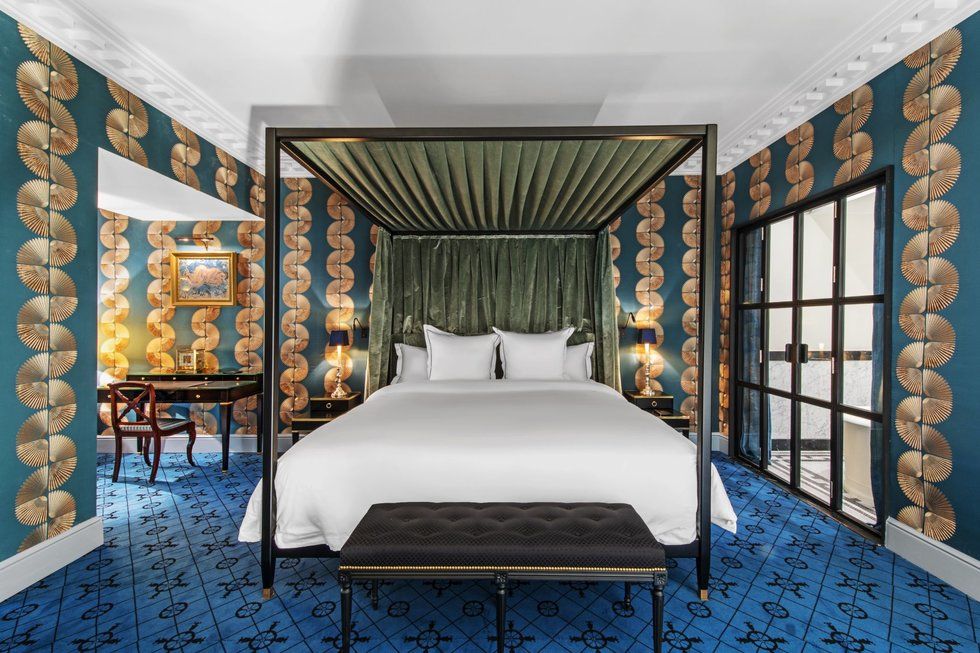 The City of Light isn't short on artful luxury accommodations, but how many Parisian palaces look like they were born in a Rodin fever dream? The lobby at this Luxury Collection property, which opened last May just steps from the Champs-Élysées, is scattered with sculpted figures and busts, many of them reproductions from the Louvre's molding workshop. Designer Philippe Renaud gave each of the 40 rooms and 35 suites a unique color scheme and art theme; one might have red-and-yellow-striped walls hung with simple figurative line drawings, while another's matte olive-green walls boast Cubist paintings. No matter the decor, reserve a room with a view of the lush garden.
WE LOVE the Bemelmans Bar–meets–Ralph Steadman mural of Parisian street scenes that wraps around the Michelin-recommended Italian restaurant Le Schiap (named for couturier Elsa Schiaparelli, who once lived at this address). From $445, marriott.com
The Ramble Hotel Denver
For Barflies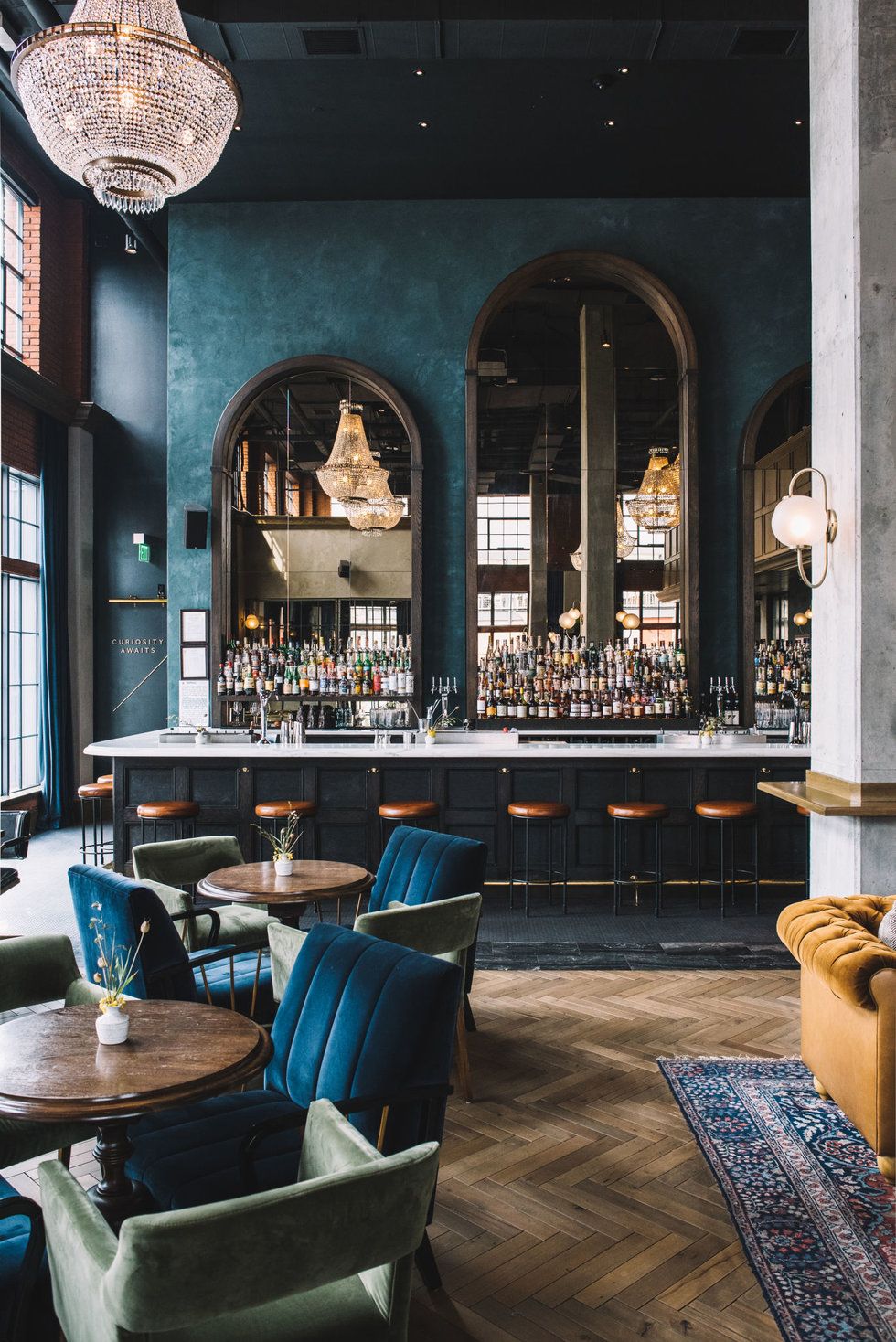 Most travelers are happy if their hotel has one great bar; at this new 50-room boutique property, there are four, all of them run by the team behind New York's award-winning cocktail den Death & Co. By night, the grand lobby's sunny café transforms into a swanky lounge with velvet curtains and spangly chandeliers. Hidden upstairs is Suite 6A, an intimate 21-seat bar. A ballroom/venue/theater, Vauxhall, is aimed directly at the surrounding River North Art District's culturati. Finally, outside, under the glow of artist Scott Young's neon Wish You Were Her(e) sign, The Garden serves up patio classics such as Aperol spritzes and mojitos.
WE LOVE that the bartenders are so willing to chat about their favorite unsung ingredients, like a French fortified wine called Pineau des Charentes that's featured in the Black Poodle alongside Irish whiskey, amaro, aloe, and sparkling mineral water. From $209, theramblehotel.com
Skylark Negril Beach Resort Negril, Jamaica
For Boho Beach Bums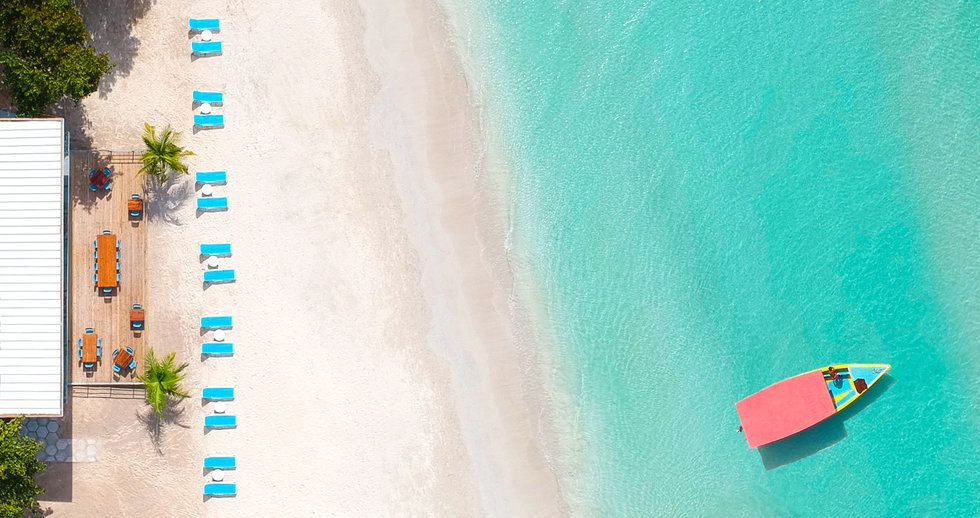 In Jamaican slang, to skylark is to goof off, mess around, or make mischief. Ironically, that's an activity that the designers at the impeccable Skylark Negril Beach Resort seem not to have pursued. The sister property to the nearby Rockhouse Hotel opened in June on Seven Mile Beach and pairs modernist touches—geometric breeze-block, whitewashed concrete—with pops of color from retro travel posters and throw pillows emblazoned with a print of the island's favorite fruit, bright-red ackee.
WE LOVE the outpost of NYC restaurant Miss Lily's, which serves up Caribbean rums and jerk favorites smoked over pimento wood to a soundtrack of reggae and dancehall hits. From $95, skylarknegril.com


The Hoxton, Williamsburg Brooklyn
For Digital Nomads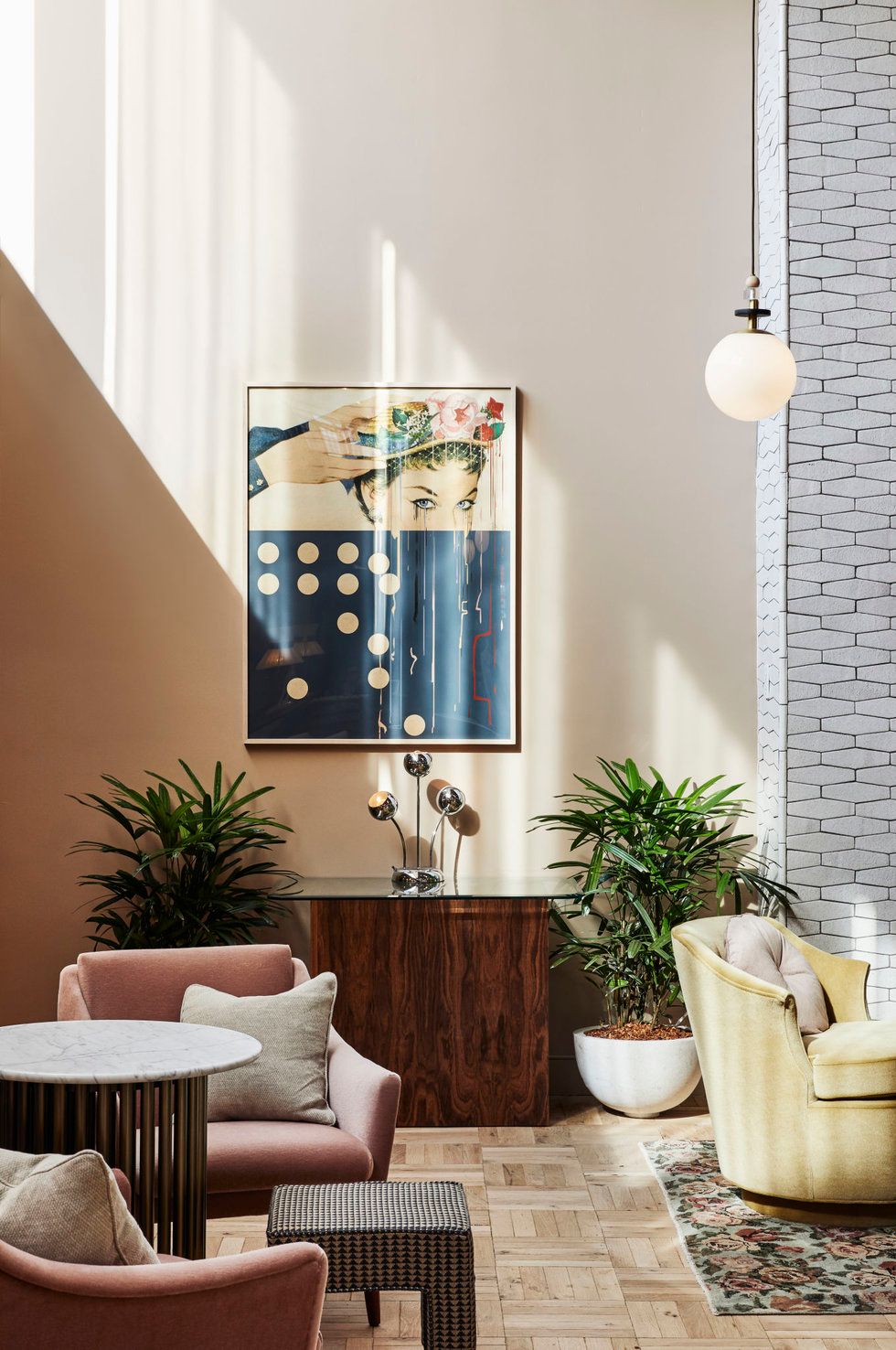 The London-based Hoxton chain brought its trademark combination of high design and low rates to the States last fall, with the debut of this 175-room outpost—a perfect spot for freelancers and creative types who aren't chained to a cubicle (i.e., Brooklynites). You and your laptop will feel at home in your cheerily appointed room, which features a smart wall-mounted desk and a retro Roberts Radio. If you're more productive surrounded by others, head down to the beehive-busy sunken lobby, which is done up in eclectic, sherbet-hued furniture.
WE LOVE procrastinating by perusing the Best of Brooklyn line of locally made products—such as Pintrill pizza slice pins, Brins strawberry vanilla jam, and Sesame Letterpress notecards—for sale in the lobby. From $159, thehoxton.com
Woodlark Hotel Portland, Oregon
For Plant Lovers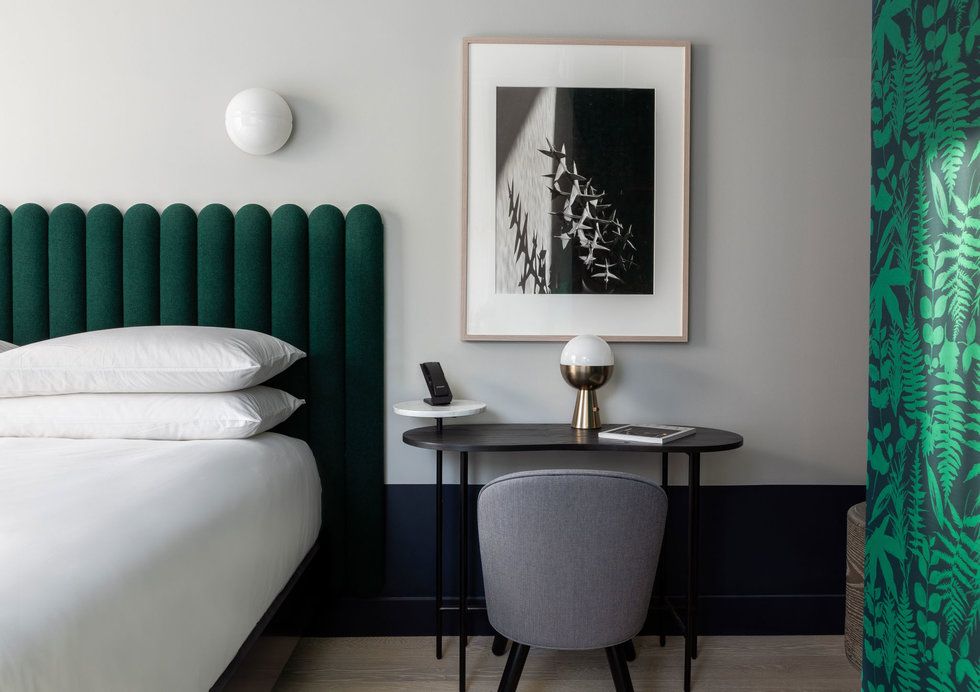 It's fitting that the latest hip lodging in a town known as the Rose City would be aimed at green thumbs. Opened in December in side-by-side landmark buildings downtown, the 150-room Woodlark Hotel is decorated with moody black-and-white botanical photos by Imogen Cunningham, while the conservatory-like foyer teems with a greenhouse's worth of potted trees. In this pattern-obsessed city—remember the famous PDX airport carpet?—the guest rooms' custom wallpaper, featuring the sort of native Pacific Northwest flora you'd find in nearby Forest Park, is sure to become iconic.
WE LOVE the artfully composed bouquets for sale at the lobby outpost of Colibri, an elegant flower shop co-owned by James Beard Award–winning chef Naomi Pomeroy. From $125, woodlarkhotel.com
Janeiro Rio de Janeiro
For Sun Seekers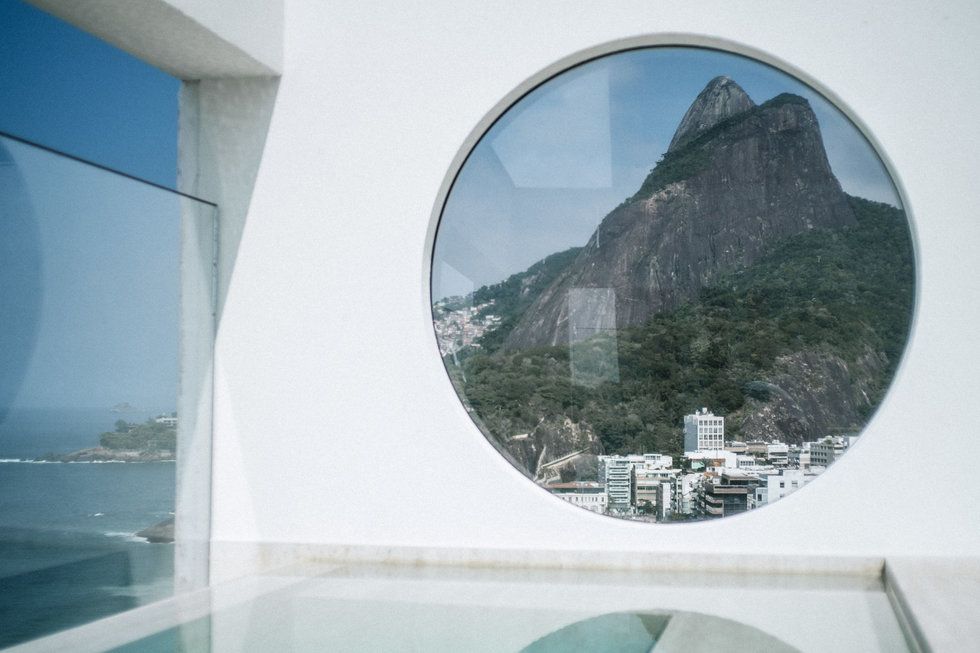 This 53-room hotel in beachside Leblon was opened last fall by fashion designer and Osklen founder Oskar Metsavaht, but its stark, sun-bleached, minimalist aesthetic owes a great deal to another Brazilian Oscar: architect Oscar Niemeyer, the Rio-born genius best known for New York City's UN headquarters and Brasília's space-age government buildings. In a city beloved for the ostentatious vibrancy of Carnaval, the Janeiro's sandy earth tones, blond freijo wood, travertine limestone, and sculptural rattan pieces offer an oasis of calm.
WE LOVE the 18th-floor infinity pool, which overlooks the white cliffs of the Cagarras Islands and the Morro Dois Irmãos (Two Brothers Hill). From $288, janeirohotel.rio
United Places Botanic Gardens Melbourne, Australia
For Homebodies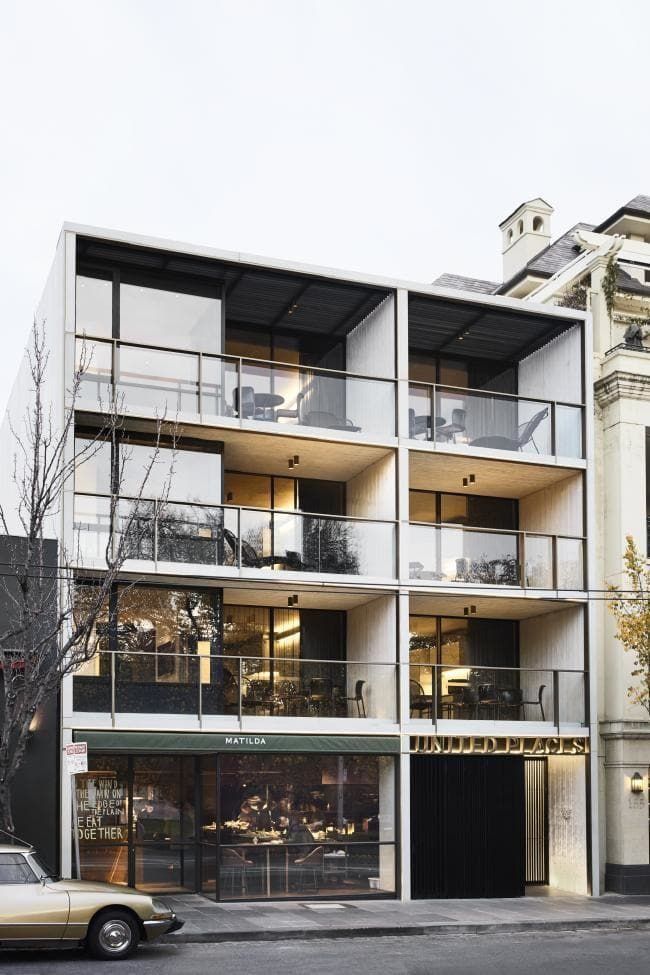 Many new hotels tout their live-like-a-local bona fides, but few feel as much like a posh apartment block as this 12-suite bolthole, which opened last June in Melbourne's gallery-filled South Yarra neighborhood. If location is everything, you can't do much better than a property overlooking the Royal Botanic Gardens Victoria, while suites include all the trappings of a dream flat: rain showers with Le Labo products, oak parquet floors, sleek furnishings from Patricia Urquiola and Grant Featherston, and a bar cart stocked with Tasmania's award-winning Sullivans Cove whiskey. Best of all, each suite comes with personalized concierge service.
WE LOVE the in-room breakfasts from the team downstairs at Matilda 159, an open-fire restaurant serving such creative dishes as sea bream tartare and spanner crab with prawn butter. From $461, unitedplaces.com.au
Shinola Hotel Detroit
For American Artisans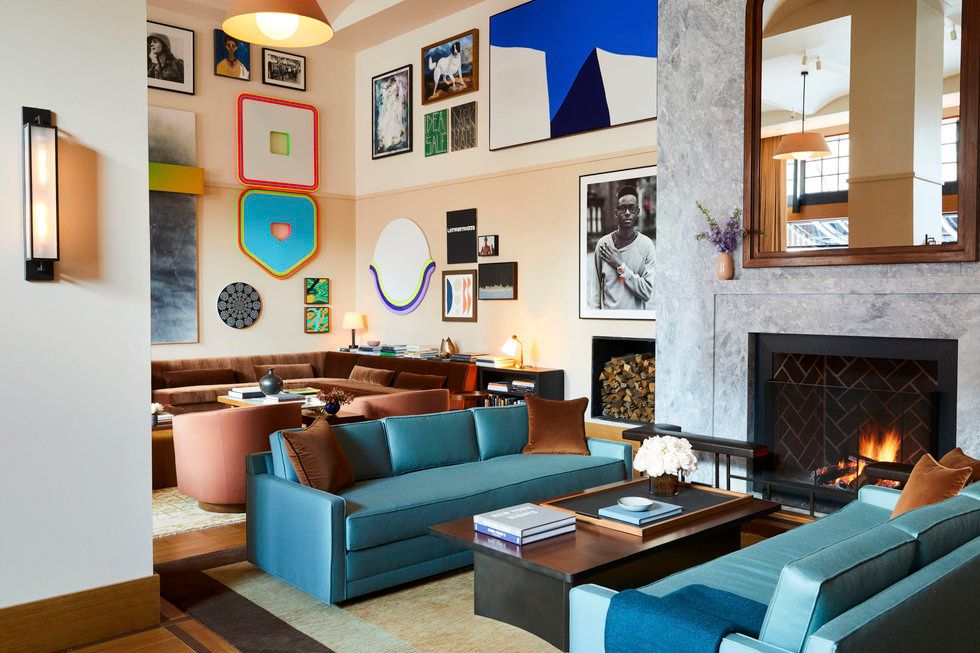 A lot is riding on the shoulders of Shinola, the Detroit-based watchmaker that has become synonymous with the Rust Belt's renaissance. In January, the company got into the hotel game with a 129-room space that sprawls across three new buildings and two downtown landmarks—the former Singer Sewing Machine shop and the T.B. Rayl Co. hardware store. Throughout the property, you'll find products made exclusively for the hotel, such as scented candles with notes of cherry blossom, leather, and smoke, and Shinola-branded cola in the Michigan-centric minibar.
WE LOVE the in-room Runwell desk clocks, scaled-up versions of the first watch the company ever produced. From $255, shinolahotel.com
Belmond Cadogan Hotel London
For Bookworms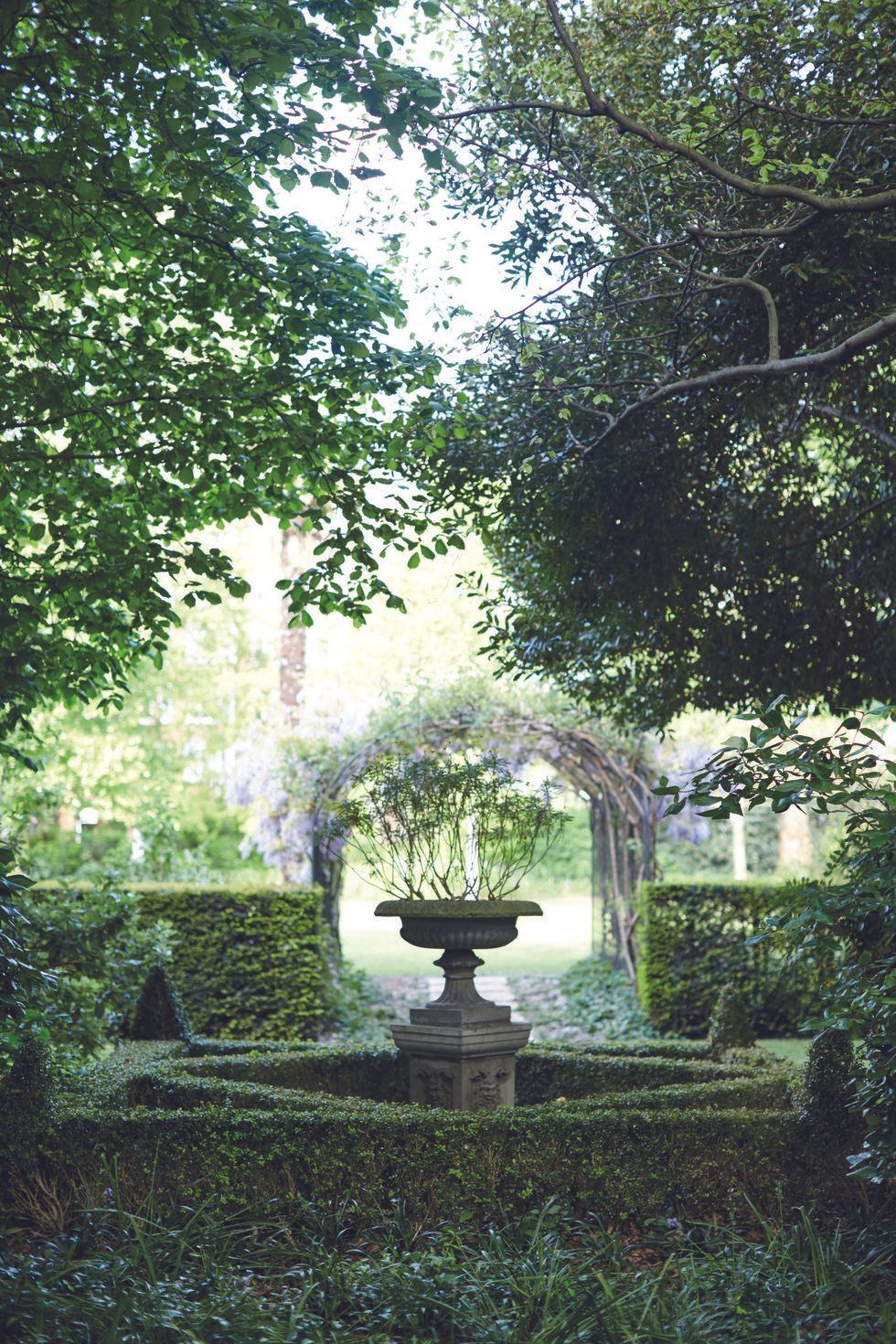 You'll be inspired to put pen to paper at this reimagined Chelsea property, which opened in February after a flawless $48 million renovation of the 1887 Cadogan Hotel. Oscar Wilde's former pied-à-terre is now part of the Royal Suite, in-room libraries are curated by family-owned John Sandoe Books, and an installation of 600 bronze-cast hardbacks encases the lobby elevator bank. Guests of the 54 rooms and suites are granted a key to Cadogan Place Gardens across the street, where they can sit under a mulberry tree with a notebook and sketch their own picture of Dorian Gray. Need inspiration? One taste of the decadent chicken butter at chef Adam Handling's eponymous restaurant will do the trick.
WE LOVE that reading in the bath is encouraged: The deep Victoria + Albert soaking tubs feature a bamboo bathtub tray complete with a book stand—and a holder for your Champagne flute. From $620, belmond.com
Eaton DC Washington, D.C.
For Social Activists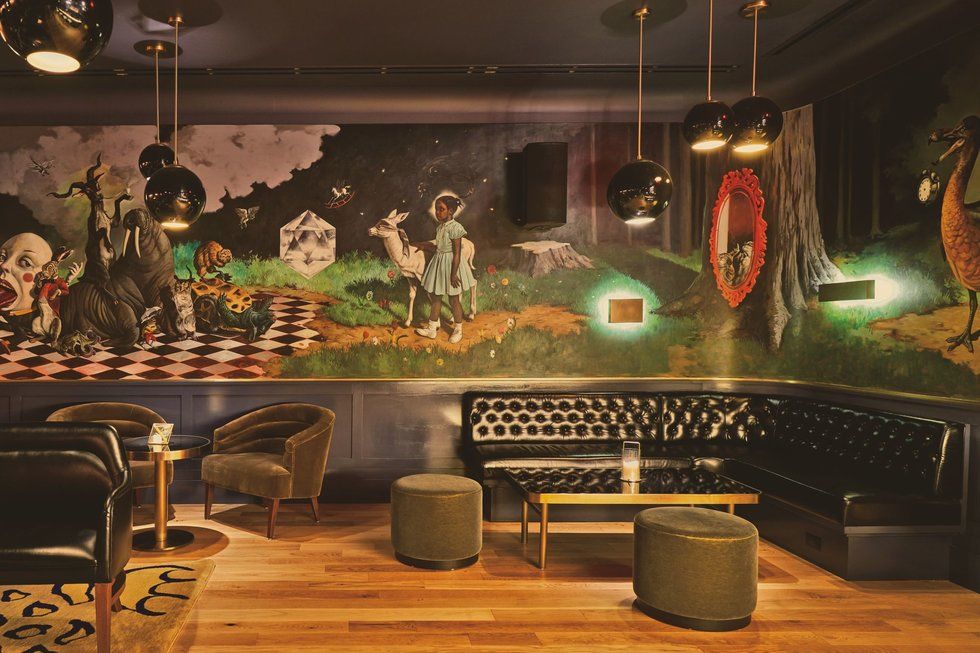 K Street may be synonymous with D.C. lobbyists, but, as of last September, it's also home to a new hub for budding activists. Katherine Lo—the daughter of the Langham hotel group's chairman—designed her 209-room Eaton DC to inspire the next RBG or AOC at every turn. Tune in to the house radio station, grab a book from the Radical Library (which features works by Roxane Gay and Langston Hughes), or brainstorm with fellow progressives over turmeric lattes at the Kintsugi café. You can even call down to the front desk for a nightstand copy of the UN Universal Declaration of Human Rights.
WE LOVE Erik Thor Sandberg's Wonderland-themed lobby mural, Allegory, which replaces Alice with civil rights icon Ruby Bridges, the first black child to desegregate an all-white elementary school. From $199, eatonworkshop.com
Noah Surf House Santa Cruz, Portugal
For Surfers
You'll want to learn the Portuguese word for "to chill" (relaxar) before you set foot in this surf-bum paradise, which opened on the Silver Coast, 50 minutes from Lisbon, last July. Its 21 rooms are divided between a central surfhouse that features hostel-style bunk accommodations and 13 boxy bungalows that dot the hilly dunes. There's an inescapably '70s SoCal vibe here, from the beanbag chairs and rope swings to a skate park and an organic garden filled with a small brood of hens.
WE LOVE the upcycled decor, which incorporates traffic signs, old boats, octopus traps, and fishing nets. From $182, noahsurfhouseportugal.com
KAI Sengokuhara Kanagawa, Japan
For Zen Seekers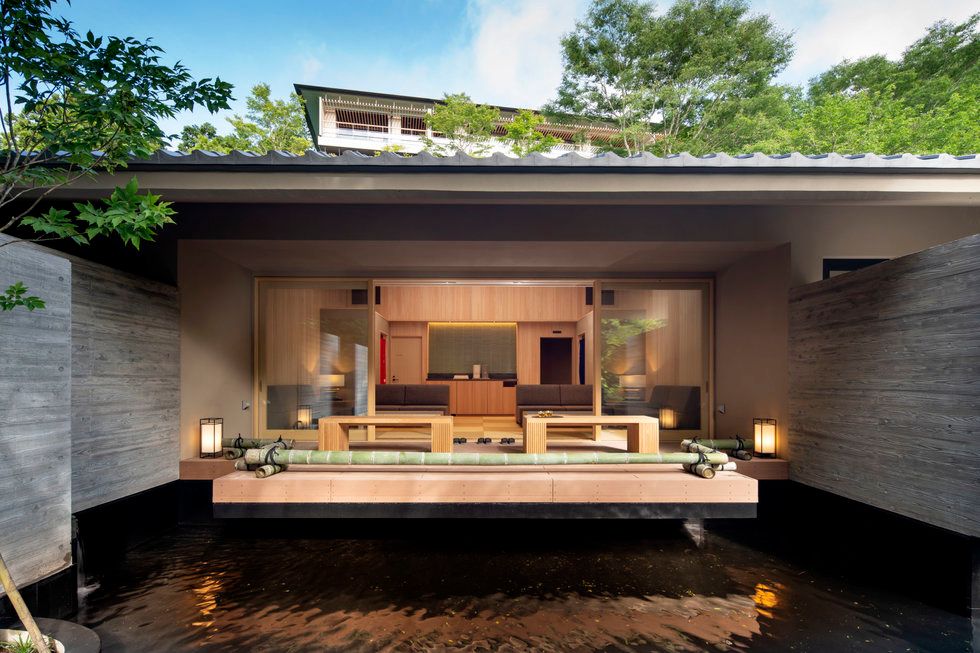 It's impossible not to relax at Japan's newest onsen (hot spring) resort, which opened last July in Fuji-Hakone-Izu National Park, two hours by train from Tokyo. The art-themed ryokan invites you to slip into a yukata (cotton robe) and then do absolutely nothing—except soak in the milky, mineral-rich water piped from the Owakudani volcanic valley into a communal bathhouse and private guest room soaking tubs. Equally invigorating are 24-year-old chef Akari Sash's inspired kaiseki dinners; with dishes like abalone grilled over nearly 400-degree stones, she'll have you forgetting all about Western-style spa meals.
WE LOVE the tenugui (cotton towel) decorating workshop, which feels like a sophisticated answer to the adult coloring book trend. From $332 per person, including breakfasts and dinners, kai-ryokan.jp
The Carpenter Hotel Austin, Texas
For Foodies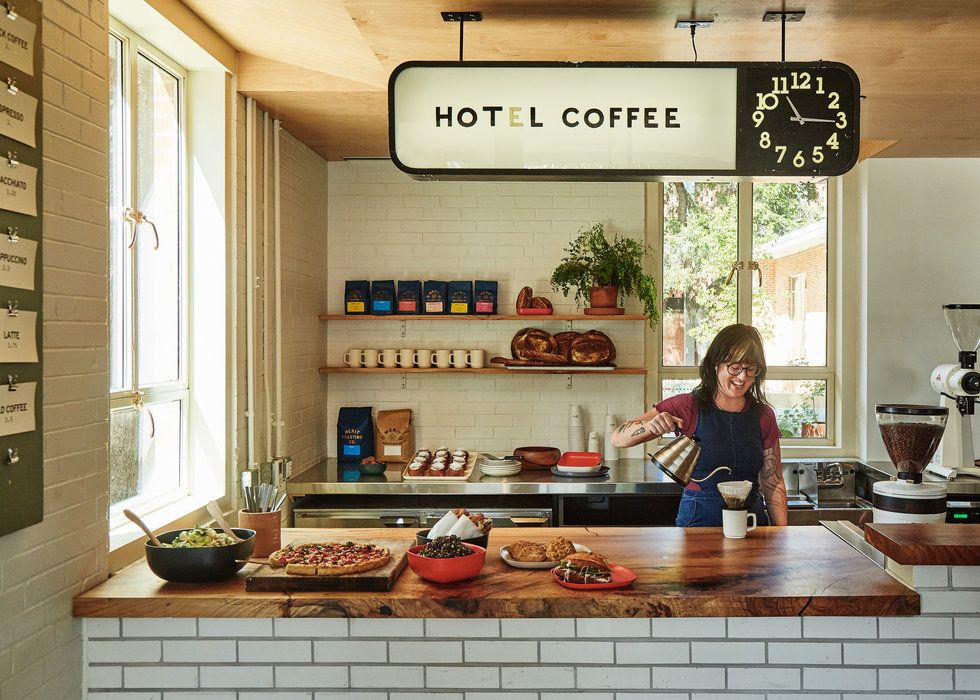 You'll wish you could sign up for a meal plan at this millennially minded hotel, just steps from Zilker Park. Food-world power couple Christina Skogly Knowlton and Andrew Knowlton (the host of Netflix's The Final Table) are behind the offerings at Hot L Coffee and Carpenters Hall, a restaurant located in, yes, a former union hall. Start with huckleberry butter–topped waffles, snack poolside on the best chocolate chip cookies ever, then sip a pear brandy–based Kind Eyes cocktail before a dinner of big-as-your-head chicken schnitzel. The 93 rooms are just as delectable, with custom-designed striped cotton blankets, blue-and-terracotta-tiled bathrooms, and thoughtful, vintage-inspired over-bed lights.
WE LOVE that each room has a terrace, outfitted simply with two folding chairs—the perfect place to sip a surprisingly inexpensive minibar Lone Star at the end of the evening.From $175, carpenterhotel.com
7Pines Resort Ibiza Ibiza, Spain
For Swanky Swimmers
Forget Ibiza's party-hearty reputation: At 7Pines, on the Mediterranean island's quieter west coast, relaxation is key. Guests at the 186-suite property from The Leading Hotels of the World don't need to pack much more than a bathing suit (and a dinner-appropriate outfit or two) because they'll want to spend all day snapping mermaid-inspired Instagram shots along the infinity pool's glass wall. Need a change of scenery? A five-minute walk down a stone staircase leads to secluded Cala Codolar beach, where all the sunbathers look like they stepped out of an Antonioni film. Finish the day with a massage at the Pure Seven Spa, which, of course, has its own pool.
WE LOVE that no matter where you dine—on modern Asian cuisine at The View, prawn tartare at the Cone Club, or piña coladas at the Pershing Yacht Terrace—the Balearic Sea is always in sight. From $448, 7pines.com
Photo Credits: Marcus Jolly (Hotel Amparos); Jordan Layon (Eastwind Hotel); © E Leong (The Middle House);Eric Laignet/Paris Images (Hotel de Berri); Adam Szafranski (The Ramble Hotel) Nicole Franzen (Shinola Hotel); Courtesy of Belmond Cadogen Hotel (Belmond Cadogen Hotel); Adrian Gaut (Eaton DC); Noah Surf House Portugal (Noah Surf House); Akifumi Yamabe (KAI Sengokuhara); Alex Lau (Carpenter Hotel); Tomas Alonso Salvador (7Pines)
To our customers,
I hope this note finds you and your loved ones healthy and well.
It is safe to say these past weeks have been among some of the most tumultuous and emotional that any of us can remember in our lifetimes. The impact of the coronavirus outbreak has been felt by individuals and families, companies and communities, across the United States and around the world.
The response to this crisis has been extraordinary; as much for what it has required from our society as for what it has revealed of us as a people.
Far from causing division and discord, this crisis and the social distancing it has required, has allowed us to witness something profound and moving about ourselves: our fond and deeply felt wish to be connected with one another.
The role of connector is one we're privileged to play in the moments that matter most in your life – weddings and graduations, birthdays and business trips, events large and small – and it's that responsibility that motivates us most to get back to our regular service, as soon as possible.
That is why it is so important our government acted on a comprehensive relief act to ensure our airline – and our industry – are ready and able to serve you again when this crisis abates.
I want to relay to you, in as deeply personal a way I can, the heartfelt appreciation of my 100,000 United team members and their families for this vital public assistance to keep America and United flying for you.
This support will save jobs in our business and many others. And it allows us time to make decisions about the future of our airline to ensure that we can offer you the service you deserve and have come to expect as our customers.
While consumer demand has fallen, we have seen the need for our service and capabilities shifted. And, we've adapted to help meet those needs.
Right now, aircraft flying the United livery and insignia, flown by our aviation professionals, have been repurposed to deliver vital medical supplies and goods to some of the places that need it most. We're also using several of our idle widebody aircraft to use as dedicated charter cargo flights, at least 40 times per week, to transfer freight to and from U.S. locations as well as to key international business locations. At the same time, we are working in concert with the U.S. State Department to bring stranded Americans who are trying to return home back to their loved ones.
While much remains uncertain right now, one thing is for sure: this crisis will pass. Our nation and communities will recover and United will return to service you, our customers. When that happens, we want you to fly United with even greater pride because of the actions we took on behalf of our customers, our employees and everyone we serve.
Stay safe and be well,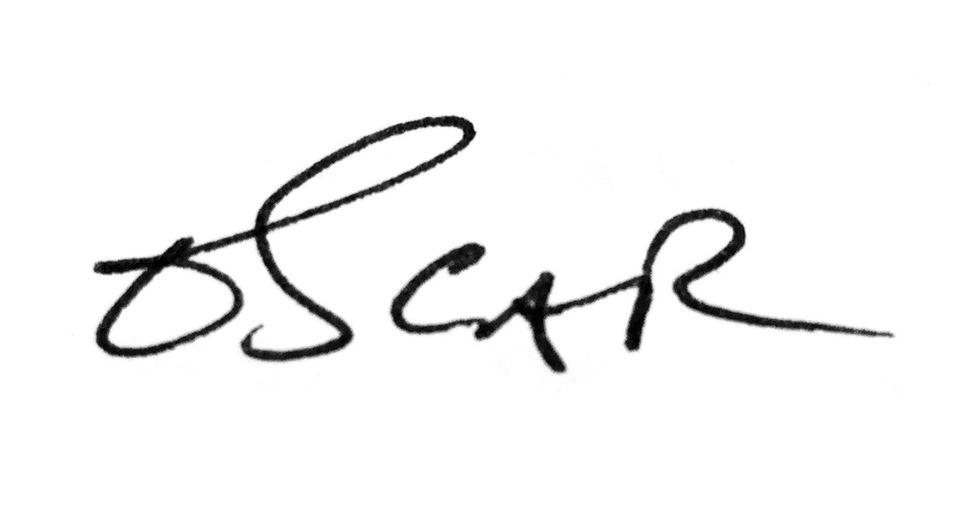 Oscar Munoz
CEO
When and where possible, we are working to repatriate travelers who are stranded abroad in the wake of the COVID-19 crisis. Our teams are working closely with government officials here in the U.S. as well as in other countries where flying has been restricted to gain the necessary approvals to operate service. In regions where government actions have barred international flying, we have coordinated with the the U.S. State Department and local government officials to re-instate some flights. Additionally, we have been operating several extra flights to countries in Central America and South America as we continue to play a role in connecting people and uniting the world.
This week, we are operating 21 flights from Panama City, Quito, Lima, San Pedro Sula, Tegucigalpa and Roatan, to bring nearly 2,500 Americans home. We will continue working with government officials to operate extra flights to Houston from Quito, San Pedro Sula, Tegucigalpa and from Lima to Washington Dulles. We continue to review more opportunities for flights between the United States and other countries to bring citizens home.
Video provided by the U.S. Embassy Ecuador of Americans returning home on United.

Additionally, our Customer Solutions and Recovery team is working with customers in the following markets to rebook them on flights back to the United States as capacity allows, either on our aircraft or on one of our airline partners' planes:

Quito, Ecuador
Managua, Nicaragua
Roatan, Honduras
San Pedro Sula, Honduras
Amsterdam
Brussels
Munich
Singapore
Tokyo-Haneda
Seoul, South Korea
Melbourne, Australia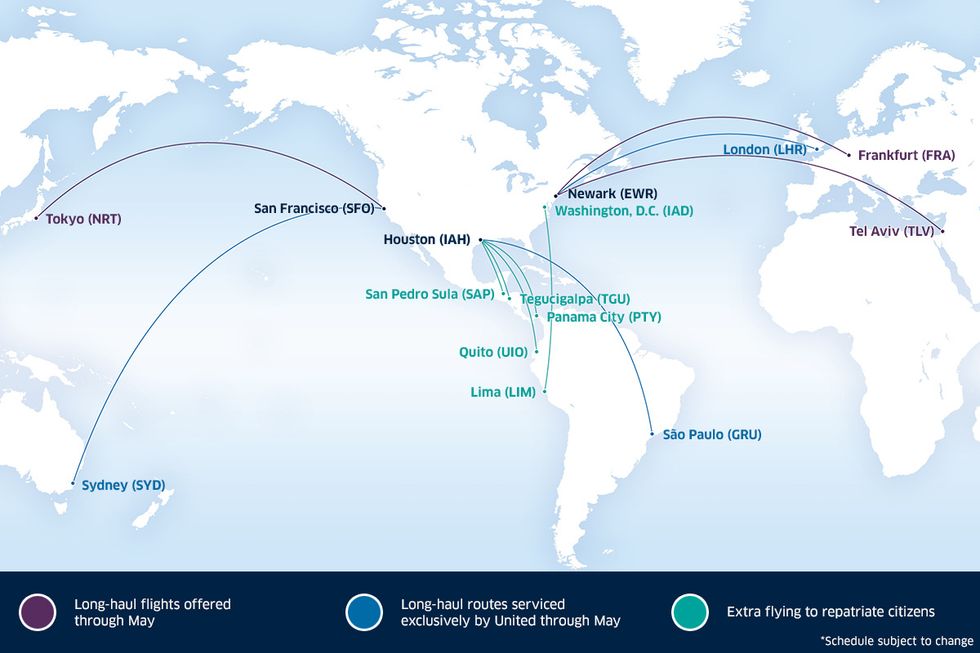 We also recently reinstated several international flights back into our schedule to support customers and essential businesses which depend on these routes. As a result, we will be the only airline to offer service between Newark/New York and London, San Francisco and Sydney, as well as Houston and São Paulo, Brazil.
While travel demand and government restrictions continue to impact our schedule, we know some people around the globe are displaced and still need to get home. While our international schedule will be reduced by about 90% in April, we will continue flying six daily operations to and from the following destinations — covering Asia, Australia, Latin America, the Middle East and Europe — in an effort to get customers where they need to be. This remains a fluid situation, but United continues to play a role in connecting people and uniting the world, especially in these challenging times. Learn more about what we're doing to keep customers and employees safe.
Flights continuing from now through May schedule:
New York/Newark – Frankfurt (Flights 960/961)
New York/Newark – London (Flights 16/17)
New York/Newark – Tel Aviv (Flights 90/91)
Houston – Sao Paulo (Flights 62/63)
San Francisco – Tokyo-Narita (Flights 837/838)
San Francisco – Sydney (Flights 863/870)
In addition to the above, we will continue to operate the following flights to help displaced customers who still need to get home. In destinations where government actions have barred us from flying, we are actively looking for ways to bring customers who have been impacted by travel restrictions back to the United States. This includes working with the U.S. State Department and the local governments to gain permission to operate service.
Atlantic
The following flights will continue through March 28 westbound:

New York/Newark – Amsterdam (Flights 70/71)
New York/Newark – Munich (Flights 30/31)
New York/Newark – Brussels (Flights 999/998)
New York/Newark – Cape Town (Flights 1122/1123)
Washington-Dulles – London (Flights 918/919)
San Francisco – Frankfurt (Flights 58/59)
The final westbound departures on all other Atlantic routes will take place on March 25.
Pacific
We will continue to fly San Francisco-Seoul (Flights 893/892) through March 29 and San Francisco-Tahiti (Flights 115/114) through March 28.
Our final eastbound departures on all other Pacific routes will take place on March 25.
We will maintain some Guam flights as well as a portion of our Island Hopper service.
Hawaii's governor issued a mandatory 14-day self-quarantine order for all travelers arriving or returning to Hawaii. Travelers must complete a Hawaii Department of Agriculture form that will be distributed on board their flight which will also include the requirements for the 14-day quarantine, as well as the penalties. You must show a government issued ID upon arrival along with your form. You can find more information on the governor's website.
Latin America/South America
We will continue to fly Newark/New York – Sao Paulo (Flights 149/148) through March 27 outbound.
The last southbound departures on most other routes will take place March 24.
Mexico
We will reduce our Mexico operation over the next five days. After March 24, we will maintain a small number of daytime flights to certain destinations in Mexico — more to come in the next few days.
Canada
We will suspend all flying to Canada effective April 1.
In destinations where government actions have barred us from flying, we are actively looking for ways to bring customers who have been impacted by travel restrictions back to the United States. This includes working with the U.S. State Department and the local governments to gain permission to operate service.
The revised international schedule will be viewable on united.com on Sunday, March 22. We will continue to update our customers with information as it's available.
If you're scheduled to travel through May 31, 2020, and would like to change your plans, there is no fee to do so, regardless of when you purchased your ticket or where you're traveling. Please visit united.com for more information, or reference our step-by-step guide on how to change your flight, cancel and rebook later.
For any customer, including residents from other countries, whose international travel is disrupted by more than six hours because of schedule changes resulting from government restrictions, they will retain a travel credit equal to the value of their ticket. That credit can be used towards any flight, to any destination, for 12 months from the time of purchase. If the customer chooses not to use the credit, they will receive a cash refund at the end of that 12-month period.We continue to aggressively manage the impact of the coronavirus (COVID-19) outbreak on our employees, our customers and our business. Due to government mandates or restrictions in place prohibiting travel, we are reducing our international schedule by 95% for April. The revised international schedule will be viewable on united.com on Sunday, March 22.
Domestic schedule
We're also making changes to our domestic schedule. While we don't plan to suspend service to any single U.S. city now — with the exception of Mammoth Lakes and Stockton, CA — we are closely monitoring demand as well as changes in state and local curfews and government restrictions across the U.S. and will adjust our schedule accordingly throughout the month.
Additionally, today we announced a further reduction in our domestic schedule — the changes will result in a 52% overall domestic reduction from a previous 42%, and our overall capacity will now be down 68% overall.
Hub city
Route suspensions
Remaining service
Denver
Arcata/Eureka
Amarillo
Kona
Kauai Island
SFO
IAH
SFO
SFO
New York/Newark
Akron/Canton
Grand Rapids
Hilton Head
Honolulu
Milwaukee
Madison
Omaha
Portland, Oregon
Providence
Seattle
Salt Lake City
Sacramento
Knoxville
Fayetteville

ORD
ORD, DEN
IAD
ORD, IAH, DEN, SFO, LAX
ORD, IAH, DEN
ORD, DEN
ORD, IAH, DEN
ORD, IAH, DEN, SFO
IAD, ORD
IAD, ORD, IAH, DEN, SFO, LAX
ORD, IAH, DEN, SFO, LAX
ORD, IAH, DEN, SFO, LAX
IAD, ORD, IAH, DEN, SFO, LAX
ORD, IAH, DEN
Washington-Dulles
Grand Rapids
Portland, Oregon
Sacramento
ORD, DEN
ORD, IAH, DEN, SFO, LAX
ORD, IAH, DEN, SFO, LAX
Houston
Hartford
Boise
Grand Rapids
Lexington
Ontario, California
Palm Springs
San Jose, California
Akron/Canton
Reno

IAD, ORD, DEN
ORD, DEN, SFO, LAX
ORD
ORD, DEN
IAD, ORD
DEN, SFO
DEN, SFO, LAX
DEN, SFO
DEN
Los Angeles
Arcata/Eureka
Austin
Boston
Baltimore
Bozeman
Cleveland
Kona
Kauai Island
Orlando
Madison
Kahului
Redding
Reno
San Antonio
St George

SFO
EWR, IAD, ORD, IAH, DEN, SFO
EWR, IAD, ORD, IAH, DEN, SFO
ORD, IAH, DEN
DEN
EWR, IAD, ORD, IAH, DEN, SFO
SFO
SFO
EWR, IAD, ORD, IAH, DEN, SFO
ORD, DEN
DEN, SFO
SFO
DEN, SFO
EWR, IAD, ORD, IAH, DEN
DEN

Chicago
Asheville
Bismarck/Mandan
Bozeman
Kearney
Panama City
Eugene
Fresno
Spokane
Hilton Head
Wilmington
Jackson
Kahului
Palm Springs
Reno
San Jose
Valparaiso
IAD
DEN
DEN
DEN
IAH
DEN, SFO, LAX
DEN, SFO, LAX
DEN, SFO
IAD
IAD
IAH
DEN, SFO
DEN, SFO, LAX
DEN, SFO
DEN
IAH
San Francisco
Atlanta
Nashville
Baltimore
Bozeman
Columbus
Detroit
Fort Lauderdale
Indianapolis
Kansas City
Madison
New Orleans
Omaha
Philadelphia
Pittsburgh
Raleigh/Durham
San Antonio
St Louis
Tampa
Fayetteville
EWR, IAD, ORD, IAH, DEN
EWR, IAD, ORD, IAH, DEN
ORD, IAH, DEN
DEN
EWR, IAD, ORD, IAH, DEN
EWR, IAD, ORD, IAH, DEN
EWR, IAD, ORD, IAH, DEN
EWR, IAD, ORD, IAH, DEN
EWR, IAD, ORD, IAH, DEN
ORD, DEN
EWR, IAD, ORD, IAH, DEN
ORD, IAH, DEN
ORD, IAH, DEN
ORD, IAH, DEN
EWR, IAD, ORD, IAH, DEN
EWR, IAD, ORD, IAH, DEN
EWR, IAD, ORD, IAH, DEN
EWR, IAD, ORD, IAH, DEN
ORD, IAH, DEN
Together, we are facing an unprecedented challenge. United Together, we rise to meet that challenge.
Check out our newest destinations
United Airlines
united
International schedule update: We know some people around the globe are displaced and still need to get home. We are reinstating some international flights over the next few days and will continue to fly six daily international flights through May.
uafly.co/3a5Dj6p
United Airlines
united
We have extended our change fee waiver to cover travel through May 31, 2020: - You can change or cancel your flight on
united.com
or through the app – a phone call is not required - For the latest on our commitment to your safety, visit
united.com/coronavirus
United Airlines
united
Our site,
united.com/coronavirus
, is regularly updated with the latest on travel restrictions, rebooking instructions and health and safety information. Today's updates: - An expanded, more flexible international rebooking policy - Schedule changes for U.K. & Ireland
United Airlines
united
If you're scheduled to travel March 10 - April 30, 2020 and would like to change your plans, there is no fee to do so, regardless of when you purchased your ticket or where you're traveling. Learn more:
uafly.co/2IpMCBX
We Are United
weareunited
Tomorrow, Oscar and Scott will host a companywide town hall to discuss the latest developments in managing the effects of the coronavirus (COVID-19). You can join the livestream event at 1:20 p.m. CT here:
uafly.co/39AV25m
We Are United
weareunited
Tomorrow, Oscar and Scott will host a companywide town hall to discuss the latest developments in managing the effects of the coronavirus (COVID-19). You can join the livestream event at 1:20 p.m. CT here:
uafly.co/39AV25m
.
Watch our most popular videos
Copyright © 2020 United Airlines, Inc.
All rights reserved.
Indicates an external site that may or may not meet accessibility guidelines.
Scroll to top
Scroll to top