Her Art Here contest: Official Rules
United is taking the following steps to address concerns regarding the limited license:

United shall not exercise the license granted in the Official Rules for any designs that are not designated as Finalists
With respect to Finalist entries, United shall only exercise the license granted in Official Rules for the limited purpose of displaying Finalist designs on the Contest website for Voting Phase of the Contest
United shall only exercise the full scope of the license granted in the Official Rules with respect to the two winning Contest designs
United makes no claims to ownership' of submissions
UNITED AIRLINES "HER ART HERE" CONTEST OFFICIAL RULES
Updated 3/12/19
NO PURCHASE OR PAYMENT NECESSARY TO ENTER OR WIN. A PURCHASE OR PAYMENT WILL NOT INCREASE YOUR CHANCES OF WINNING. OPEN ONLY TO LEGAL RESIDENTS OF THE 50 UNITED STATES AND THE DISTRICT OF COLUMBIA who identify as a woman, including cisgender women, transgender women, woman-aligned and non-binary people, 18 YEARS OF AGE OR OLDER OR AGE OF MAJORITY AT THE TIME OF ENTRY. VOID WHERE PROHIBITED. The United Airlines "Her Art Here" Contest ("Contest").
CONTEST PERIOD: The United Airlines "Her Art Here" Contest ("Contest") consists of two (2) Regional Contests; a California Regional Contest and a New York/New Jersey Regional Contest (each a "Regional Contest"). California and New York/New Jersey shall be respectively referred to as the "Regions." Entry period starts on February 26, 2019 at 9:00:01 AM Central Time ("CT") and ends on March 24, 2019 at 11:59:59 PM CT ("Submission Phase"); and is followed by a preliminary judging phase ("Round One Judging Phase"), which begins March 25, 2019 at 12:00:01 AM CT and ends April 2, 2019 at 11:59:59 PM CT; a second-round judging phase ("Round 2 Judging Phase"), which begins April 3, 2019 at 12:00:01 AM CT and ends April 9, 2019 at 11:59:59 PM CT; a voting phase ("Voting Phase") which begins April 10, 2019 at 12:00:01 AM CT and ends April 19, 2019 at 11:59:59 PM CT; and a winner determination phase ("Winner Determination Phase") which begins April 20, 2019 at 12:00:01 a.m. and ends May 2, 2019 (collectively the "Contest Period"). Administrator's computer is the official time keeping device for this Contest.
ELIGIBILITY:
This Contest is offered to legal residents of the 50 United States and the District of Columbia who (i) are at least 18 years of age or older or age of majority in their state of residency; (ii) identify as a hobbyist, amateur, aspiring or professional artist at the time of entry and (iii) identify as a woman, including cisgender women, transgender women, woman-aligned and non-binary people. Employees, officers, directors and agents of United Airlines, Inc. ("Sponsor"), Rebel Mouse ("Administrator"), any of their subsidiaries; affiliates; media partners; printers; advertising and promotion agencies; their respective parent, subsidiary and affiliated companies ("Contest Entities"); and those individuals' immediate family members (including spouse, mother, father, sister, brother and children and spouse of any of the foregoing) and those living in the same household of each (people who have shared the same residence at least three months over a period of one year prior to the start of the Contest Period) are not eligible to participate or win. VOID WHERE PROHIBITED BY LAW.
HOW TO ENTER THE SUBMISSION PHASE: During the Submission Phase, an eligible entrant must visit united.com/HerArtHere ("Website") and enter their valid email address and the information requested on the entry form, which may include, without limitation: first and complete last name (no initials), valid email address, phone number, street address (no P.O. Boxes will be allowed), city, state, ZIP code, select the correct region (California or New York/New Jersey) ("Region") checkbox for their submission; include a short personal biographic statement (optional) and Mileage Plus® account number (optional) ("Personal Information"), and read and agree to the Official Rules. In addition, each entrant must create and submit, using their smartphone or smart device, a video that reflects (a) why they want their design on a United Airlines Boeing 757, (b) their connection to their selected Region, (c) what inspires them, and (d) why female representation in the creative arts matters ("Video"). Video cannot exceed two minutes in length or 10 MB in file size and must be in one of the following file formats: .MOV, .MPEG, .WMV or .MP4. All entrants must also submit a Region-related design for a United Airlines Boeing 757 aircraft that reflects their point of view as an artist, connection to Sponsor's mission of "Connecting People. Uniting the world.", and represents Sponsor's story in their selected Region ("Design"). The Design must be created using the downloadable 2D template available for download on the Website and must comply with the Contest Design Guidelines also available for download on the Website. Design cannot exceed 10MB and must be in one of the following formats: .JPEG or .PNG. Entrant may follow on-screen prompts on the Website ("Submission Prompts") to review and download the Contest Design Guidelines, download the 2D Design template and upload their Video and Design. Entrants will also be instructed by the Submission Prompts to include an accessible link to their online digital portfolio containing at least three (3) examples of their original work or, in the event entrant does not have a digital online portfolio, she may upload a .jPEG or .PNG file containing three (3) examples of her work with total combined file sizes not to exceed 10MB ("Portfolio"). The Personal Information, Video, Design and Portfolio shall be collectively referred to as the "Submission," and each eligible Submission shall be one Contest entry. All Submissions must comply with the Content Guidelines below. Sharing or posting of the Submission on social media, including on Instagram, Facebook or Twitter, will not improve your chances of winning. Limit of one Submission per person per Contest during Contest Submission Period. An entrant who attempts to submit more entries than the stated limit using multiple email addresses, identities or by any other means may be subject to disqualification from the Contest, at Sponsor's discretion. The Contest Entities are not responsible for lost, late, stolen, damaged, incomplete, invalid, un-intelligible, garbled, delayed or misdirected Submissions. All such Submissions shall be disqualified.
By entering the Contest, entrant warrants and represents that your Submission complies with the Submission Content Guidelines and agrees to be bound by these Official Rules. Violation of the Submission Content Guidelines or failure to comply with these Official Rules may result in disqualification, as determined in Sponsor's sole discretion.
SUBMISSION CONTENT GUIDELINES
The Submission must comply with the following guidelines:
•Comply with these Official Rules;
•Video must be .MOV, .MPEG, .WMV or .MP4 format;
•Video must be no more than two minutes long;
•Video file size must not exceed 10MB;
•Design must comply with Contest Design Guidelines including United Airlines brand guidelines set forth at https://hub.united.com/her-art-here-submission/;
•Digital, hand-drawn or a combination will be accepted;
•Design must be submitted in .JPEG or .PNG formats;
•Design must not exceed 10MB;
•Video, Design and Portfolio must be the original solo creation of the entrant;
•All descriptive content shall be in English;
•All content must be the exclusive property of the entrant.
The Submission Video and Design must NOT:
Have been previously displayed, published, submitted, licensed, distributed, selected or otherwise used in any context other than the Contest;
Be copied in whole or in part from any other third-party work;
Contain content that:

Disparages any person, Sponsor and/or any of its affiliates' products, competitors or any of the entities affiliated with sponsoring, promoting or administering this Contest, or other person or entities;
Violates or infringes upon the copyrights, trademarks or privacy, property, publicity or other intellectual property rights of any person or entity;
Depicts the names or likenesses of anyone other than entrant;
Depicts or references content, music, public art or identifiable proprietary architecture, images or works not created by entrant;
Appears to intentionally duplicate any other Submissions;
Is inappropriate, profane, indecent, hateful, lewd, pornographic, sexually explicit, obscene, tortuous, defamatory, slanderous, libelous, harassing or otherwise inconsistent with Sponsor's brand or image, as determined in Sponsor's sole discretion;
Promotes bigotry, racism, sexism, hatred or harm against any group or individual or promotes discrimination based on race, sex, religion, nationality, disability, sexual orientation, identity or age;
Contains any personally identifiable information, such as personal names or email addresses;
Promotes alcohol, Schedule 1 drugs, tobacco firearms/weapons (or the use of any of the foregoing);
Promotes any activities that may appear unsafe or dangerous;
Is unlawful, in violation of, or contrary to the laws or regulations in any jurisdiction where Submission is created or transmitted;
Communicates messages or images inconsistent with the positive images and/or good will with which Sponsor wish to be associated.
Without in any way limiting, expanding or amending the terms and conditions residing on any Contest-related website, including the Website, which terms and conditions shall remain in full force and effect, if Sponsor is duly notified that any element of an entrant's Submission infringes upon the rights of another person and/or receives a valid request to remove the subject Submission from any Contest-related website, Sponsor reserves the right to disqualify the Submission and any corresponding prize may be forfeited.
Each person who enters this Contest represents and warrants that their Submission does not contain any computer virus (as applicable), is otherwise uncorrupted, as of the date of submission, is not the subject of any actual or threatened litigation or claim. Each entrant hereby agrees to indemnify and hold the Contest Entities harmless from and against any and all third-party claims, actions or proceedings of any kind and from any and all damages, liabilities, costs and expenses relating to or arising out of any breach or alleged breach of any of the warranties, representations or agreements of entrant hereunder.
By entering the Contest, entrant grants Sponsor a three (3) year limited, worldwide, royalty-free, irrevocable, license and right to publish, use, publicly perform and display the Design portion of the Submission in its entirety and/or cropped to accommodate size, shape or space restrictions, in any and all media, worldwide, without consideration or compensation to the entrant, for commercial, promotional or marketing purposes in connection with, related to or arising from the Contest, Sponsor's Her Art Here campaign, and/or other similar Sponsor Contests and campaigns, without compensation to entrant and without right of notice, review, or approval of any such use of the Design.
JUDGING AND VOTING: Round One: During the Round One Judging Phase, eligible Submissions will be judged by a panel selected by Sponsor, which may include Sponsor representatives and/or selected subject area experts or professionals ("Contest Judges"). The Contest Judges will determine whether each Submission successfully reflects the Sponsor's vision for Brand Alignment, assigning either a "yes" or a "no" to each Submission. Each submission that receives a "yes" rating for Brand Alignment will proceed to the Round Two Judging Phase ("Round Two Judging Phase") and shall be deemed a semi-finalists ("Semi-Finalists"). By allowing your submission to be considered in the Round Two Judging Phase, all Semi-Finalists agree that they shall not commit any act or do anything which might reasonably be considered: (i) to be immoral, deceptive, scandalous or obscene; or (ii) to injure, tarnish, damage or otherwise negatively affect the reputation and goodwill associated with the Sponsor. All Semi-Finalists must submit to a comprehensive background check. Refusal to submit to a background check, or Sponsor's receipt of information in connection with the background check that Sponsor deems inconsistent with the positive images and/or good will with which Sponsor wish to be associated, shall be grounds for disqualification. Round Two: During the Round Two Judging Phase, Semi-Finalist entries will be judged by a different panel of Contest Judges using the judging criteria below and each Submission will receive a corresponding score ("Round Two Score"). The Contest Judges will score the Submissions according to the following weighted judging criteria: (i) Relevance to Sponsor's mission "Connecting people. Uniting the world." and relevance to Sponsor's connection to the applicable Region: up to 250 points; (iii) Creativity /ingenuity: up to 250 points and (iii) Brand Alignment: up to 500 points ("Round Two Judging Criteria"). Sponsor shall use the Round Two Score to select three (3) finalists ("Finalists"). The Submissions with the top three highest Semi-Final Scores shall be designated the Finalists. In the event of any Round Two Score ties, the Submission with the highest score in the Brand Alignment category will prevail. In the event there are still any ties, the tied Submissions will be judged again by a second panel of Contest Judges and the Submission with the highest overall score will prevail. Voting: During the Voting Phase, Finalist Submissions will be posted on the Website for public voting. Website visitors may vote for their favorite Finalist entry, one vote per day, during the Voting Phase. Points will be assigned to each Finalist based on the number of votes received (each a "Voting Score"). The Combined Score will be tabulated based on the Round Two score (2/3) and Voting Score (1/3).
Administrator's, Judges' and Sponsor's decisions shall be final and binding in all matters pertaining to the judging, voting and selection of the potential Semi-Finalists, Finalists and winners.
WINNER DETERMINATION: The Finalist Submission that receives the highest Combined Score will be the potential Grand Prize Winner. The two (2) Finalists Submissions that receive the second and third highest Combined Score will be the Finalist Prize winners. In the event of any ties, the Submission with the highest combined score in Brand Alignment category for Round Two will prevail. In the event there are still any ties, the tied Submissions will be judged again by a different panel of Contest Judges using the Judging Criteria and the Submission with the highest overall score will prevail. If any Finalist is found to be ineligible or does not comply with these Official Rules, she will be disqualified and the Submission with the next highest score will be named the potential Grand Prize or Finalists Prize Winner. In no event will there be more than one Grand Prize winner and two (2) Finalist Prize winners in the Contest. All applicable federal, state, and local laws and regulations apply. Participation constitutes entrant's full and unconditional agreement to these Official Rules and Sponsor's decisions and interpretations, which are final and binding in all matters related to the Contest. In the event a potential winner wins a prize in both Regional Contests at sole discretions of the Sponsor will determine which Regional Contest the prize will be awarded and other prize will be awarded to an alternate in the corresponding Regional Contest.
PRIZES (3) per Region: There is one Grand Prize and two (2) Finalist Prizes per Region. Limit one prize per person.
Grand Prize (1): Grand Prize Winner will receive the following prize package: A trip for winner and guest to attend a video shoot and gallery event in Summer of 2019 (date, time and location to be determined at the sole discretion of the Sponsor) ("Gallery Event") including 3-day/2-night standard double occupancy hotel accommodations; roundtrip coach-class air transportation for two from a major U.S. gateway nearest winner's home to destination where the Gallery Event is to be held (if winner lives within 100 miles of destination, then a $250 gift card [gift card brand to be determined at the sole discretion of the Sponsor] will be awarded in lieu of the air transportation) ("Trip Prize"); $10,000 cash awarded in the form of a check to winner only; the opportunity to have her Design painted on a United Airlines Boeing 757, timeline and date to be determined at the sole discretion of the Sponsor)(winner only); 100,000 United MileagePlus award miles (winner only) (winner will be required to enroll in the United's Membership Reward program and all terms and conditions apply) ("United MileagePlus Prize"); opportunity to create and/or supply three (3) pieces of original, Sponsor-approved art works ("Works") for display at a gallery event in June 2019 (winner only) (date, time and location at the sole discretion of the Sponsor) ("Gallery Display Prize"); opportunity to display Works in Sponsor's selected proprietary clubs and/or lounges for a period of time during 2019, as determined in Sponsor's sole discretion (winner only)("Club/Lounge Display Prize"). The Approximate Retail Value ("ARV") is: Up to $17,400.
Finalists Prizes (2): Finalist Prize Winners will receive the following prize: United MileagePlus Prize; Trip Prize; Gallery Display Prize; Club/Lounge Display Prize and $1,000 awarded in the form of a gift card to winner only, gift card terms and conditions apply. The ARV is: Up to $8,400.
Only the stated number of prizes will be available in the Contest. In the event a potential winner wins a prize in both Regional Contests, at its sole discretion, the Sponsor will determine the Regional Contest the prize will be awarded and other prize will be awarded to an alternate in the corresponding Regional Contest. In no event will more than the stated number of prizes be awarded. If, for any reason, more Prize notifications are sent (or more claims are received) than the number of prizes offered, as set forth in these Official Rules, Sponsor reserves the right to award the intended number of prizes by re-judging according to the Judging Criteria. No prize substitution or exchange will be allowed, except by Sponsor, who reserves the right to substitute the prize or any prize element with a prize or prize element of equal or greater value in case of unavailability.
Actual value depends on date/time/point of departure, and any difference between the stated ARV and actual value will not be awarded. Winner is solely responsible for all costs and expenses associated with prize acceptance and use not specified herein as being provided, including, without limitation, checked baggage fees, additional ground transportation, food and beverage, gratuities, incidental hotel expenses and other expenses not listed in these Official Rules. All travel arrangements for the Trip Prize must be made with Sponsor or Sponsor's agent. Trip Prize subject to availability and must be completed on dates approved by Sponsor or prize will be forfeited. Some restrictions and blackout dates may apply. No cancellation of reservation or transfer of reservation to another date after reservation has been made. Air travel will not qualify for United MileagePlus award miles. Winners are solely responsible for obtaining valid U.S. passports (if required) and any other required travel documents, including, but not limited to, acceptable photo identification. Failure to do so will result in forfeiture of prize, and an alternate winner may be selected, time permitting. Tickets are subject to terms and conditions set forth thereon. Seat locations will be determined by Sponsor in their sole discretion. All prize details are at Sponsor's sole discretion. Each winner is responsible for any applicable fees, federal, state and local taxes, if any, and any other unspecified expenses associated with acceptance or use of prize. Winner will be issued an IRS 1099 MISC tax form (or its equivalent) for the ARV of the prize awarded. Winner will also be required to provide Sponsor a valid Social Security number and W-9 form for tax purposes. Prize is not transferable or redeemable for cash and may not be sold, bartered or auctioned. Prize may not be substituted except that Sponsor in its discretion may substitute a prize, or portion thereof, with a prize or portion of equal or greater value as determined by Sponsor in its sole discretion if it deems necessary. Any such changes will be announced by Sponsor. Any portion of the prize not used by winner is forfeit and no cash substitute will be offered or permitted.
HOW TO CLAIM THE PRIZE: Within 24 hours after the end of the Winner Determination Phase, the potential winner will be notified via email and/or telephone using the Personal Information disclosed at the time of entry. Before being declared a verified winner, the potential winner must complete, sign and return all of the following documents at Sponsor's request: notarized Affidavit of Eligibility/Liability & Publicity Release, Exclusive Copyright License Agreement, Confidentiality Agreement, Travel companion Form, Form W-9 and a tax acknowledgement ("Affidavit") (collectively "Prize Claim Forms") within three (3) business days from the date it is emailed to the potential winners by the Administrator. By submitting Prize Claim Forms, Finalist prize winners agree to create and/or supply three (3) pieces of original, Sponsor-approved art works ("Works") to be displayed in Sponsor's selected proprietary clubs and/or lounges for any period of time during 2019, as determined in Sponsor's sole discretion.
Potential winner is subject to verification of eligibility and compliance with these Official Rules. Failure to provide all required information within the stated time period may result in forfeiture of winner's right to claim the prize, and may result in the prize being awarded to an alternate winner, if time permits. The Contest Entities shall not be held responsible for any delays in awarding the prize for any reason. If the potential winner is found to be ineligible, is not in compliance with these Official Rules, declines to accept the prize, or any winner notification is returned as undeliverable or the potential winner fails to respond to a winner notification within the timeframe specified in such winner notification, or if a potential winner does not answer the initial notification, the prize may be forfeited. If the prize is forfeited for any reason, an alternate potential winner may be selected based on the Judging Criteria from all remaining non-winning Semi-Finalist and Finalist Submissions received during the Submission Phase. If the prize is unclaimed, unredeemed or any portion thereof returned as undeliverable, it will be forfeited. Prize is not transferable and includes only the items specifically listed as part of the prize. Any portion of the prize not accepted by winner will be forfeited. The winner shall be solely responsible for payment of any and all applicable federal, state and local taxes for the prize won. Approximate retail value is as of the time these Official Rules were printed and the value of the prize may fluctuate. The winner is not entitled to any difference between the ARV and the actual value of the prize at the time the prize is awarded. All other costs and expenses not expressly set forth herein shall be solely the winner's responsibility. The prize will only be awarded to a verified winner. If, after a good-faith attempt, Sponsor is unable to award or deliver the prize, the prize will not be re-awarded. If any event or experience portion of a prize, including, but not limited to, the Gallery Event, is cancelled or postponed for reasons outside Sponsor's control, including Force Majeure (defined below), the corresponding portion of the prize will not be awarded and no cash substitute or alternate prize component will be offered or permitted except as determined in Sponsor's sole discretion. THE WINNER WILL BE ISSUED A FORM 1099 FOR TAX PURPOSES IN THE AMOUNT OF THE ACTUAL RETAIL VALUE OF THE PRIZE AND MUST SUBMIT HIS/HER SOCIAL SECURITY NUMBER, AS REQUIRED BY LAW. ALL FEDERAL, STATE AND LOCAL TAXES IMPOSED ON THE ACCEPTANCE OF THE PRIZE ARE SOLELY THE RESPONSIBILITY OF THE WINNER.
LIMITATION OF LIABILITY: By participating in this Contest, entrants agree that the Contest Entities and each of their respective affiliates, subsidiaries, representatives, consultants, contractors, legal counsel, advertising, public relations, promotional, fulfillment and marketing agencies, website providers and each their respective officers, directors, stockholders, employees, representatives, designees and agents ("Released Parties") are not responsible for: (i) lost, late, incomplete, stolen, misdirected, postage due or undeliverable e-mail notifications, telephone calls, or postal mail; (ii) any computer, telephone, satellite, cable, network, electronic or Internet hardware or software malfunctions, failures, connections, or availability; (iii) garbled, corrupt or jumbled transmissions, service provider/Internet/website/UseNet accessibility, availability or traffic congestion; (iv) any technical, mechanical, printing or typographical or other error; (v) the incorrect or inaccurate capture of Submission information or the failure to capture, or loss of, any such information; (vi) any error, omission, interruption, deletion, defect, delay in operation or transmission, communications line failure, technical error, theft or destruction or unauthorized access to the Contest; (vii) any injury or damage, whether personal or property (including any injury related to dancing or creating the entry), to entrants or to any person's computer related to or resulting from participating in the Contest and/or accepting or using the Prize; and (viii) entries that are late, forged, lost, misplaced, misdirected, tampered with, incomplete, deleted, damaged, garbled or otherwise not in compliance with the Official Rules. Further, the Contest Entities are not responsible for any undelivered telephone calls, messages or emails, including without limitation, emails that are not received because of an entrant's privacy or spam filter settings that may divert any winner notification or other Contest related email to a spam or junk folder. By entering the Contest, each entrant agrees: (i) to be bound by these Official Rules, including Submission requirements; (ii) to waive any rights to claim ambiguity with respect to these Official Rules; (iii) to waive all of his/her rights to bring any claim, action or proceeding against any of the Released Parties in connection with the Contest; and (iv) to forever and irrevocably agree to release and hold harmless each of the Released Parties from any and all claims, lawsuits, judgments, causes of action, proceedings, demands, fines, penalties, liability, costs and expenses (including, without limitation, reasonable attorneys' fees) that may arise in connection with: (a) the Contest, including, but not limited to, any Contest-related activity or element thereof, and the entrant's entries, participation or inability to participate in the Contest; (b) the violation of any third-party privacy, personal, publicity or proprietary rights; (c) acceptance, attendance at, receipt, travel related to, participation in, delivery of, possession, defects in, use, non-use, misuse, inability to use, loss, damage, destruction, negligence or willful misconduct in connection with the use of the Prize (or any component thereof); (d) any change in the prizing (or any components thereof); (e) human error; (f) any wrongful, negligent, or unauthorized act or omission on the part of any of the Released Parties; (g) lost, late, stolen, misdirected, damaged or destroyed prizing (or any element thereof); or (h) the negligence or willful misconduct by entrant. If, for any reason, the Contest is not capable of running as planned, or the integrity and or feasibility of the Contest is severely undermined by any event beyond the control of Sponsor, including but not limited to inclement weather, fire, flood, epidemic, earthquake, explosion, labor dispute or strike, act of God or public enemy, satellite or equipment failure, riot or civil disturbance, war (declared or undeclared), terrorist threat or activity, or any federal, state or local government law, order, or regulation, order of any court or jurisdiction, infection by computer virus, unauthorized intervention, technical failures or other cause not reasonably within the control of Sponsor (each a "Force Majeure" event or occurrence), Sponsor reserves the right, at its sole discretion, to abbreviate, cancel, terminate, modify or suspend the Contest and/or proceed with the Contest, including the selection of winners in a manner it deems fair and reasonable, including the selection of winners from among eligible entries received prior to such cancellation, termination, modification or suspension without any further obligation provided a sufficient number of eligible entries are received. If Sponsor, in its discretion, elects to alter this Contest as a result of a Force Majeure event, a notice will be posted at the Website. WITHOUT LIMITING THE FOREGOING, EVERYTHING REGARDING THIS CONTEST, INCLUDING THE PRIZE, IS PROVIDED "AS IS" WITHOUT WARRANTY OF ANY KIND, EITHER EXPRESS OR IMPLIED, INCLUDING BUT NOT LIMITED TO, THE IMPLIED WARRANTIES OF MERCHANTABILITY, FITNESS FOR A PARTICULAR PURPOSE OR NON-INFRINGEMENT.
DISPUTES: As a condition of entering, participants agree (a) under no circumstances will entrant be permitted to obtain awards for, and participant hereby waives all rights to claim punitive, incidental, consequential, or any other damages, other than for actual out-of-pocket expenses; (b) all causes of action arising out of or related to this Contest, or any prize awarded, shall be resolved individually, without resort to any form of class action, and exclusively by the appropriate court in the state of Illinois, to which participant submits to personal jurisdiction; and (c) any and all claims, judgments and award shall be limited to actual out-of-pocket costs incurred, excluding attorneys' fees and court costs. In the event there is a discrepancy or inconsistency between disclosures and other statements contained in any Sponsor materials and the terms and conditions of these Official Rules, these Official Rules shall prevail, govern and control.
PRIVACY POLICY: Personally identifiable information submitted in connection with this Contest will be treated in accordance with these Official Rules and Sponsor's privacy policy (as may be amended from time to time), currently available at https://www.united.com/ual/en/us/fly/privacy.html; provided that, in the event of any conflict between these Official Rules and such Privacy Policy, the terms and conditions of the Official Rules will prevail.
PUBLICITY RIGHTS: Except for residents of Tennessee and where prohibited by law, by accepting the Prize, the winner agrees to allow Sponsor and Sponsor's designee the perpetual right to use his/her name, biographical information, photos, likeness and performance, voice recording, video images and all related footage, and statements for Contest, trade, commercial, advertising and publicity purposes, at any time or times, in all media now known or hereafter discovered worldwide, including but not limited to television, radio, and Internet, without notice, review or approval and without additional compensation for three (3) years from the date of winner determination.
RELEASE: By participating in the Contest, each entrant releases and agrees to indemnify and hold harmless Contest Entities, from and against any and all costs, claims, damages, or any other injury, whether due to negligence or otherwise, to person(s) or property (including, without limitation, death or violation of any personal rights, such as violation of right of publicity/privacy, libel, or slander), due in whole or in part, directly or indirectly, to participation in the Contest, creation or use of an entry, acceptance or usage of the Prize, or arising out of participation in any Contest or Prize related activity, whether hosted by Sponsor or a third party.
GENERAL: This Contest is subject to all applicable federal, state and local laws. Winning the prize is contingent upon fulfilling all requirements set forth herein. Any attempted form of participation in this Contest other than as described herein is void and will result in disqualification, and if such person is selected as a potential winner, revocation of his/her prize. Sponsor reserves the right to disqualify any individual found, in its sole opinion, to be tampering with the operation of the Contest, to be acting in violation of these Official Rules or to be acting in an unsportsmanlike manner or with the intent to disrupt the normal operation of the Contest. Any use of robotic, automatic, macro, programmed, third-party or like methods to participate in the Contest will void any attempted participation effected by such methods and the disqualification of the individual utilizing the same. CAUTION AND WARNING: ANY ATTEMPT TO DELIBERATELY DAMAGE ANY WEBSITE OR TO UNDERMINE THE LEGITIMATE OPERATION OF THIS CONTEST IS A VIOLATION OF CRIMINAL AND CIVIL LAWS. SHOULD SUCH AN ATTEMPT BE MADE, THE SPONSOR RESERVES THE RIGHT TO SEEK DAMAGES OR OTHER REMEDIES FROM ANY SUCH PERSON(S) RESPONSIBLE FOR THE ATTEMPT TO THE FULLEST EXTENT PERMITTED BY LAW. In the event of a dispute as to the identity of an entrant, the entry will be declared made by the primary account holder of the email account associated with the email account used to enter the Contest. Potential winners may be required to show proof of being the primary account holder. The "primary account holder" is the natural person listed as the primary owner of the email address by an email service provided. Sponsor is not responsible for any change of email address, mailing address and/or telephone number. If any provision of these Official Rules or any word, phrase, clause, sentence or other portion thereof should be held unenforceable or invalid for any reason, then that provision or portion thereof shall be modified or deleted in such manner as to render the remaining provisions of these Official Rules valid and enforceable. The invalidity or unenforceability of any provision of these Official Rules or any Prize documents will not affect the validity or enforceability of any other provision. Sponsor's failure to enforce any term of these Official Rules shall not constitute a waiver of that provision and such provision shall remain in full force and effect. All entries and/or materials submitted will not be returned. In the event of any conflict with any Contest details contained in these Official Rules and the Contest details contained in any Contest promotional materials (including, but not limited to, point of sale, television and print advertising, or any other promotional media), the details of the Contest as set forth in these Official Rules shall prevail. In the event of any conflict between the Official Rules and the Website terms and conditions, the terms and conditions of the Official Rules will prevail.
WINNERS LIST: For the name of the Contest prize winners, send a self-addressed, stamped, #10 envelope to: UNITED AIRLINES "HER ART HERE" CONTEST Winners List; C/O Momentum, Attn: Compliance Dept., 1831 Chestnut St., 7th Floor, St. Louis, MO 63103-2242. Winners List will be sent when the Contest Period is over and all properly claimed prizes have been awarded. Requests for Winners List must be received by June 30, 2019.
SPONSOR: United Airlines, Inc., 233 S. Wacker Drive, Chicago, IL 60606.
From near paralyzation to 7-minute miles
Twelve years ago, Dylan Batz couldn't walk or talk. A seizure when he was in the eighth grade robbed him of those motor skills and hospitalized him for two months.
His mom, Denver-based United 737 Captain Suzanne Batz, didn't know if he'd ever walk again.
No one could've predicted what happened next.
Dylan got out of the hospital, eventually re-learning how to walk and talk. Through Special Olympics, he became an avid runner. He hasn't stopped since, having run three marathons and, this past weekend, completing the United Airlines NYC Half Marathon in 1:40. Watch his inspirational story above.
Discover Hilton Head Island
Voted America's favorite island for a reason, Hilton Head has everything you need for the ultimate escape from the real world. Enjoy easy days on one of the many beaches, at one of the world-class golf courses and tennis courts, learning about the rich history or simply adapting to the leisure-paced lifestyle of the locals. The Lowcountry region in South Carolina has something for everyone.
Welcome to Hilton Head.
The basics
The best time to visit and getting around the city
Thanks to its location, it's hard to choose a bad time to visit Hilton Head. Though if you visit in April-May or September-October, you'll notice fewer crowds and temperatures averaging in the mid-70s and 80s. In the spring, the water sport rentals will have just opened for the season, from parasailing to kayaking. If you visit in April, you may be able to catch the RBC Heritage PGA golf tournament. Hilton Head doesn't have your typical fall weather, making it a great time to visit. Summer weather lingers so you can still swim. Because the leaf colors don't change, you can enjoy instead an array of fall colors in the sunset each night.
The only drawback of visiting during the late summer and fall months is hurricane season. Hurricanes and tropical storms rarely hit the island, but they tend to be close enough that the island experiences some rain. If you're visiting around this time, be sure to pack a raincoat.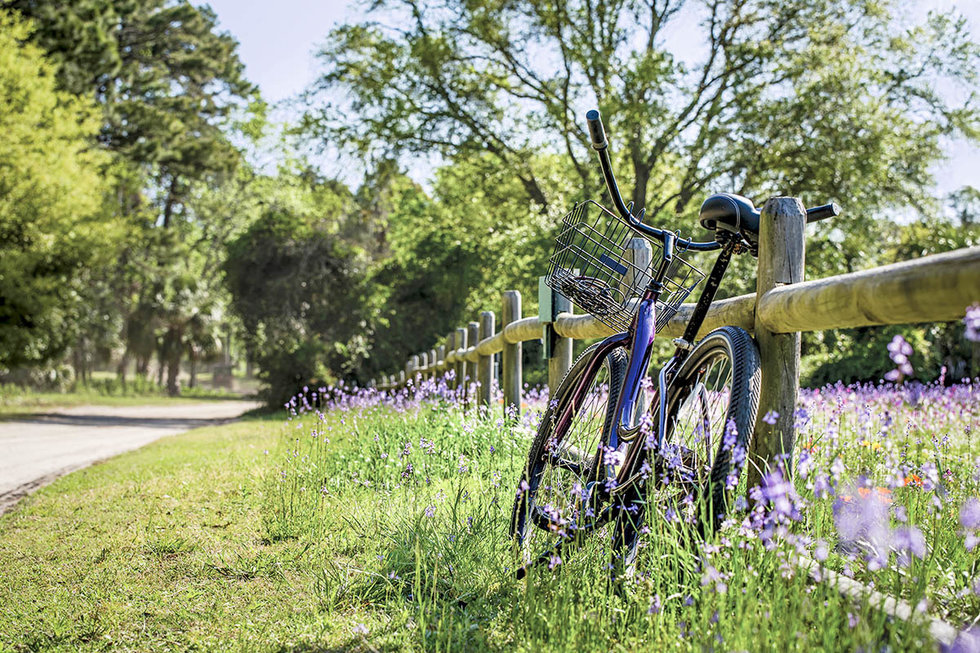 Getting around the city:
The island may be small, but it's still scattered enough that you'll want to bike or drive while exploring the town. There's little to no public transportation. Thanks to its renewed emphasis on environmental tourism, you're sure to notice plenty of bikers and the new bike paths that trace the island. You can rent a bike for around $30 a week. Another option is renting a car. Most attractions are spread out, so having your own car will offer you the most convenience.
Experiences
The town's main attractions are the pristine beaches, golf, with 24 world-class golf courses, and the vibrant history — with the environment at the center of everything.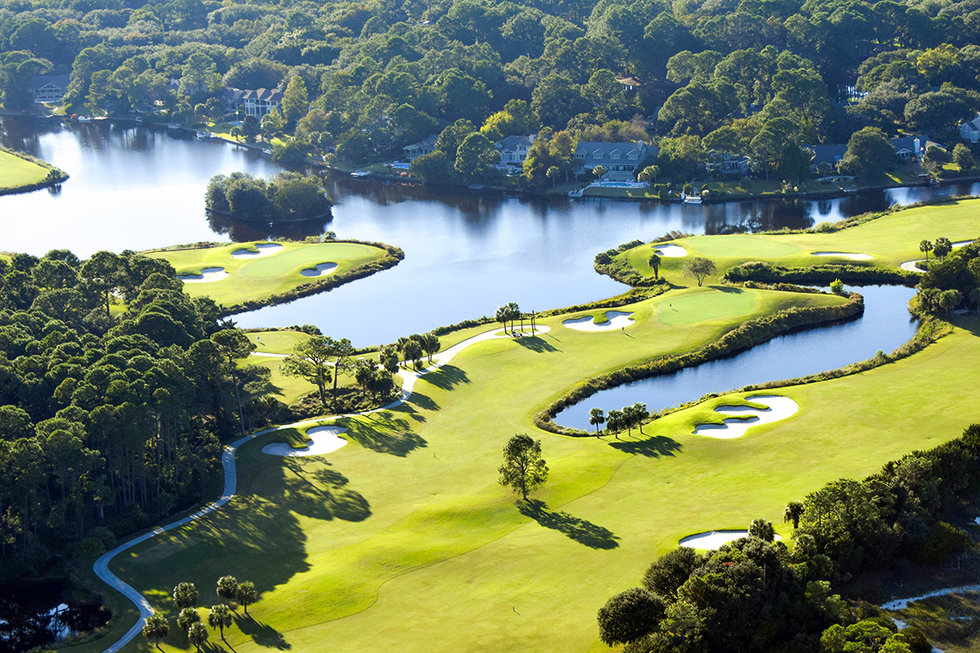 Twelve miles of beaches makes Hilton Head an ideal destination for anyone looking to relax in the sand. One of the most popular beaches is Coligny Beach Park, due to its location and the multiple beach bars that line the water. If you're looking for beaches that are a little less touristy and more secluded, make your way over to Adler Lane or Burkes Beach.
This island is a golfer's paradise, which is why many flock to here to tee off and test out their skills on one of the many championship courses. If golf isn't your sport, perfect your backhand at one of the 350 tennis courts on the island instead.
If you're looking to do a little more than relax on the beach or play a round of golf, spend the day in the charming Harbour Town. Visit the 90-foot red-and-white striped lighthouse that offers incredible views of the water and town from the top. And if you have the time, head over to the marina and embark on a dolphin viewing tour.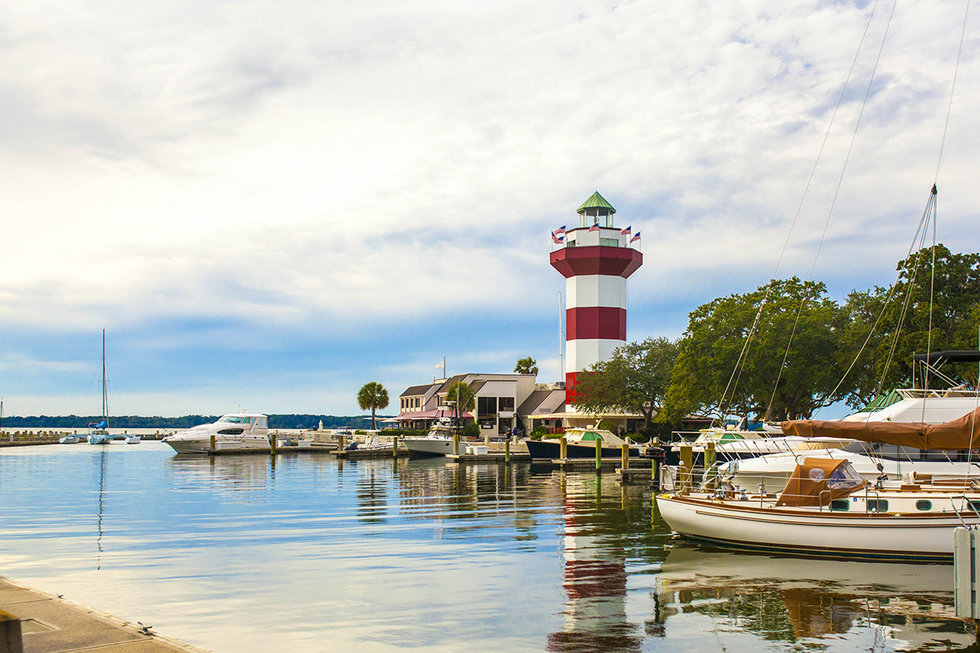 Learn more about the South Carolina's Lowcountry at the Coastal Discovery Museum. Here you'll gain an understanding of the region's history and interesting ecology. Wander through the butterfly enclosure, take a tour to learn about the marine life or visit the wild horses of the island left by Spaniards many centuries ago. Those who also love to explore and experience wildlife first hand should visit Pinckney Island National Wildlife Refuge, about a half mile from Hilton Head.
Food & drinks
Being on the water, it makes sense that seafood is a staple item for restaurants in this town. From high end dining to local favorites, you'll have plenty of restaurants to choose from. If you're looking to enjoy a nice dinner on the water at sunset, check out Old Oyster Factory, Hudson's Seafood House on the Docks and ELA's. With a contemporary feel, live music and a chic bar, this award-winning restaurant in Shelter Cove Harbour is perfect for a casual dinner or a romantic evening out. No table disappoints at Hudson's because they all offer incredible views of Port Royal Sound. By employing one of the only two remaining fishing fleets on Hilton Head, you're guaranteed fresh seafood truly brought from sea to table. Many of these restaurants on the water can book up quickly so be sure to make reservations in advance.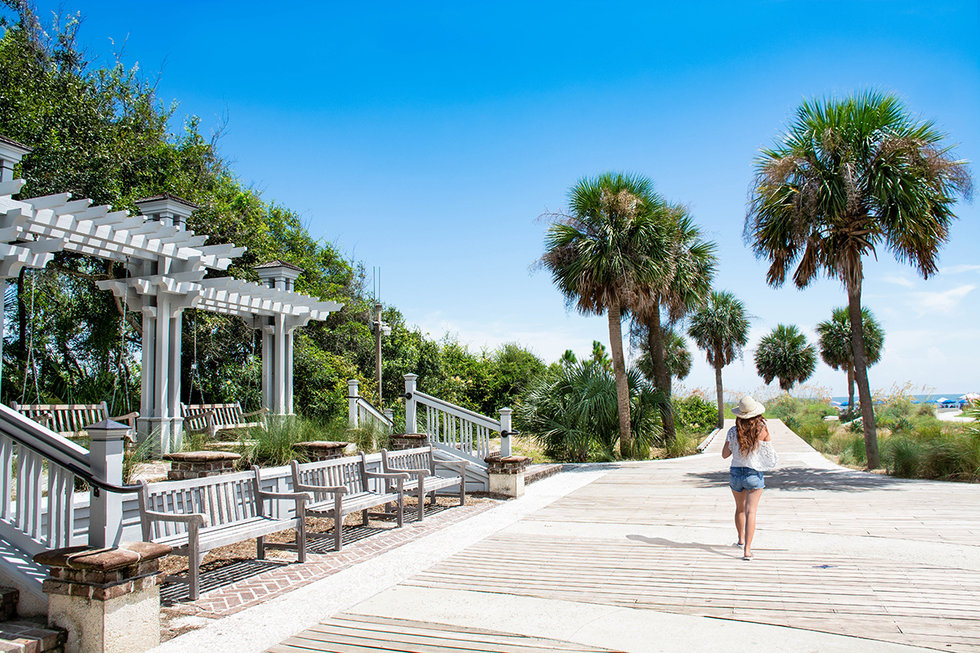 Don't forget to try some of the local favorite dining spots either. If you're looking for Lowcountry-inspired cuisine and incredible seafood, head over to Skull Creek Boathouse, an open air restaurant with an extensive wine and cocktail menu – perfect for a long, relaxing dinner. You'll enjoy an exquisite view and an even better dining experience. The Salty Dog Café is a must when it comes to the Hilton Head food scene. Here you'll have an authentic dining experience with fresh seafood and a family-friendly atmosphere.
Getting there
Book a flight from multiple U.S. cities to Hilton Head Island Airport (HHH), which is right on the island and only approximately 5 miles from all of the Island resorts. To book your trip visit united.com or download the United app.
The latest updates for New York/New Jersey
Hard to believe spring is around the corner, and if you're like me that means starting to think about our family travel plans. Highlighted below are a few ways we are working hard to help make your journeys faster, easier and better in the months ahead.
Improving your experience at our airports
We're excited to move into the new Terminal B at LaGuardia later this year. This is a world-class state-of-the-art facility with fabulous local dining and shopping options such as District Market, Kingside, Shake Shack and FAO Schwarz. Our United Club℠ location will also now be located after security to help you comfortably settle in before your flight.

At Newark Airport, United and our partner, the Port Authority, are working together to improve your experience by adding more pods for nursing mothers; new, larger restrooms; and this summer, an expanded TSA checkpoint that shows expected wait times.
Growing our network and fleet

This summer, we are introducing new seasonal nonstop flights to Naples and Prague and offering the return of great destinations such as Nantucket, Massachusetts, and Rapid City, South Dakota, for an easy trip to the Badlands and Mt. Rushmore.

Additionally, through April, we'll continue to fly nonstop from Newark to Palm Springs. And on March 30, we'll begin flying our brand-new Boeing 787-10 Dreamliner to Dublin, Frankfurt and Tel Aviv, with Barcelona, Brussels and Paris routes to follow this summer.
Investing in our community
United has been serving the New York/New Jersey area for almost 100 years and giving back to our community continues to be a steadfast commitment from the United family. We are proud to announce new partnerships including the Intrepid Sea, Air & Space Museum in Manhattan, the Trevor Project, and the Aviation High School in Queens. This year we'll also continue cheer on runners as the official sponsor of the New York Half Marathon on Sunday, March 17, and are proud to have representatives from Special Olympics running alongside of United employees.
Newark is also featured as the Three Perfect Days destination in the latest issue of Hemispheres, so you can learn about great restaurants and cultural institutions that don't even require a flight to visit.
Thank you for choosing United

In Greater New York, we know you have many choices of carriers to fly, so from our family to yours — thank you. We appreciate your loyalty and welcome your feedback. Hearing from you is important to us, so please continue to send your thoughts and ideas to me at JillKaplan@united.com.

Arizona's outdoors in the spring
This may be the best time of year to visit Arizona — and not just for relaxing by the pool. Smart travelers flock to the state in May, June and July for hotel rates that are often lower than the peak-season rates paid by winter "snowbirds" from northern states. But resort bargains and swimming-pool temperatures aren't the only reasons to visit Arizona at this time. There are also plenty of outdoor opportunities to enjoy, as long as you choose the right activities, locations and time of day to get out.
Desert Dawn peak climbs
Residents of Phoenix and Tucson who like to get outdoors in late spring and early summer know they can best enjoy short hikes by rising early. The busiest time on the trails is before 8 a.m. The most popular hiking paths in Phoenix and Scottsdale climb iconic mid-city peaks, which span from the desert floor up to panoramic views at the top. The hikes up Camelback, Piestewa and Pinnacle Peaks are all wonderful, well-marked and popular — each taking less than two hours roundtrip. In Tucson, the best short hikes are in Sabino Canyon and Saguaro National Park on the outer rim of the city.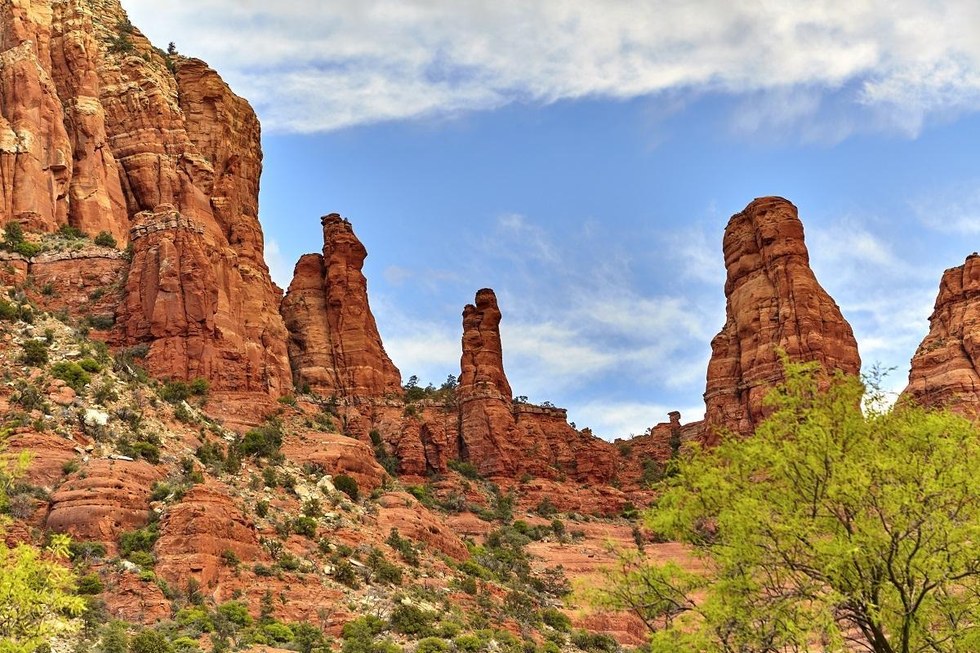 Hikes in the mountains

Phoenix and Tucson visitors who aren't early risers or who don't want to settle for short hikes can drive to spots where the temperatures and mountain vistas are similar to those in Colorado. Only a two-hour drive from Phoenix, you can head to Sedona, with an altitude of about 4,300 feet, or Flagstaff, with an altitude of about 6,900 feet, where the higher elevations mean much lower temperatures. Sedona has some of the world's most dramatic day hikes among its stunning red-rock formations, while Flagstaff offers mountain hikes that soar up to 12,600 feet, such as Humphries Peak Summit Trail. From Tucson, the usual triple-digit temps drop to the 60s during the twisting, 90-minute drive up 9,157-foot Mt. Lemmon. Trails through the sub-alpine forest await hikers at the summit.
Paddle the Verde River
Another good way to beat the Arizona heat is to get splashed by cool water — but not just in your resort pool. You can also take a dip in the Verde River in an inflatable kayak. Verde Adventures hosts guided trips down the river through the end of summer. You'll paddle through narrow limestone canyons and float past hardwood forests on the shallow river, which has plenty of tame rapids that are just adventurous enough to please both the thrill-seekers and the mild-adventurers. You can choose between a kid-friendly two-hour tubing trip or half-day inflatable kayak trip, or enjoy the Water to Wine Tour with an adult companion, which ends with a tasting at Alcantara Vineyards. You'll be driven the short distance to the river from Cottonwood or Clarkdale, both less than a two-hour drive from Phoenix.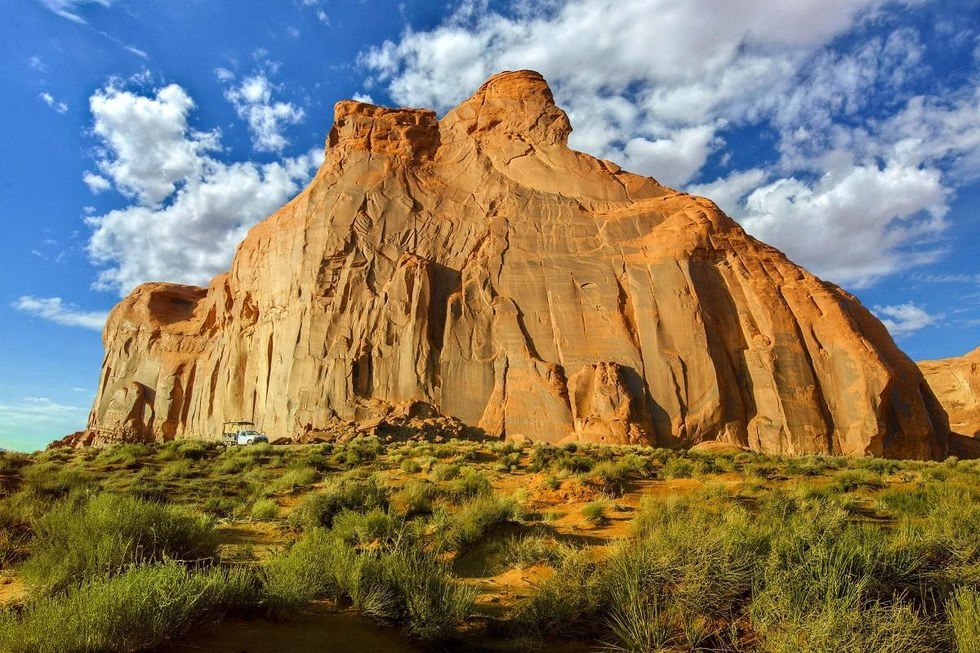 Jump in a Jeep

Following along the dusty dirt roads that rim the edges of Phoenix, Scottsdale, Tucson and Sedona, the Jeep tour is a classic option for visitors to Arizona. The 4x4 Jeep probably won't be air-conditioned, but the wind and Arizona's rich red earth will be in your hair. Less adventurous options include tours in enclosed Hummers or vans. After bumping along scenic back roads for miles, many Jeep tours offer a "cowboy cookout" at a pretty spot in the desert or mountains before you return to civilization. From Phoenix, Scottsdale or Tucson, most Jeep tours venture into the Sonoran Desert, while Sedona Jeep tours bring you up close to its renowned red-rock formations.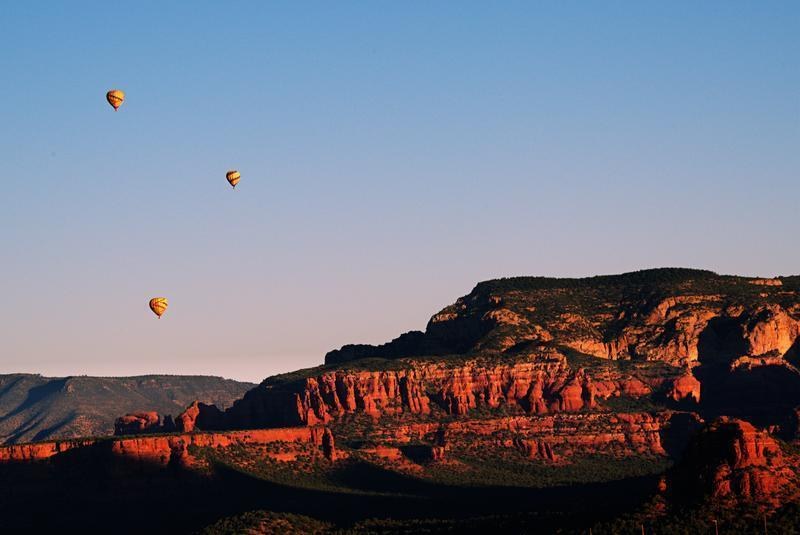 Up, up & away

Arizona's dry air makes it one of America's prime locations for hot air balloon rides. Colorful balloons lift off in the cool temperatures and low winds of sunrise from all over greater Phoenix, Scottsdale, Tucson and Sedona, often providing a champagne breakfast afterward. Some also offer sunset flights; one Phoenix company serves hors d'oeuvres from a gourmet restaurant after evening landings. Prevailing winds dictate whether you'll fly up to a mile high or close enough to the ground to spot desert wildlife, but regardless, it's a memorable bucket-list thrill.
If you go
United Airlines offers many daily flights to Phoenix and Tucson. Visit united.com or use the United app to plan your Arizona outdoor adventure getaway.
We follow the FAA's order to ground all Boeing 737 Max aircraft
Nothing is more important to us than the safety of our customers and employees. As we have said since Sunday, we have been in close contact with investigators as well as Boeing to share data and fully cooperate with regulatory authorities. We will comply with the FAA's order and will ground our 14 Boeing 737 MAX aircraft. We will remain in close contact with authorities as their investigation continues.
Since Sunday, we have been working diligently on contingency plans to prepare our fleet to minimize the impact to customers. Our Boeing 737 MAX aircraft account for roughly 40 flights a day and through a combination of spare aircraft and rebooking customers, we do not anticipate a significant operational impact as a result of this order. We will continue to work with our customers to help minimize any disruption to their travel plans.

We extend lease agreement at iconic Willis Tower in Chicago
Today, we announced that we will keep our current headquarters at the iconic Willis Tower in our hometown of Chicago while making investments to transform our current workspace and experience. Our new agreement extends our existing lease by five additional years to March 31, 2033.

Remaining at Willis Tower will allow us to completely reimagine the workspace from the bottom up. Over the coming months and years, we will redesign our workspace to allow employees to better collaborate, use the latest technology and interact with each other — all with the end goal of providing unmatched service to our front-line employees and customers. And today's announcement is part of our overall effort to improve workspaces and facilities across the system.As we begin the work to reimagine Willis Tower for our employees, a majority of the funding to transform the building is being made by the building's owner, The Blackstone Group. In addition, they are investing more than $500 million in the building for all tenants, which will transform it from the inside out that will deliver exciting new dining, fitness and retail options.
"As one of the city's largest private employers and its hometown airline, we are excited to deepen our roots here in Chicago while making the investments needed to reimagine the headquarters for our employees," said United Chief Executive Officer Oscar Munoz. "The investments we are making will help our employees provide unparalleled service to their front-line colleagues and to our customers as we continue to improve and realize our airline's full potential."
And as one of the most ideally situated buildings in the city, with easy access to all Chicago Transit Authority train lines and Union and Ogilvie Stations, as well as nearby bus stops, Willis Tower already provides distinct advantages and will remain attractive to future job seekers throughout the metropolitan region.
Weekend inspiration: Palm Springs
After a combined 60-plus years of living in cities with snowstorms and cold weather, this winter we decided it was time to pack away the parkas in exchange for a month of sun in Palm Springs.
And it was heaven. 70-degree days filled with morning swims, long walks without a jacket and joyful dogs running around the backyard. Working on murals throughout the valley in perfect drawing conditions was paradise for us, considering we were typically working in freezing weather with pale skin, chapped lips and cracking knuckles. We found our new January normal.
Our month in paradise consisted of many highlights, so if you're in town for a few days, here are some of our favorite spots.
Friday night
If you're looking to rent a place in Palm Springs, we recommend Relax Palm Spring on Airbnb. They have more than 60 rentals in the Coachella Valley area, and we loved the house we stayed in. Every single thing we needed was available on-site or just a phone call away with this professional vacation rental group.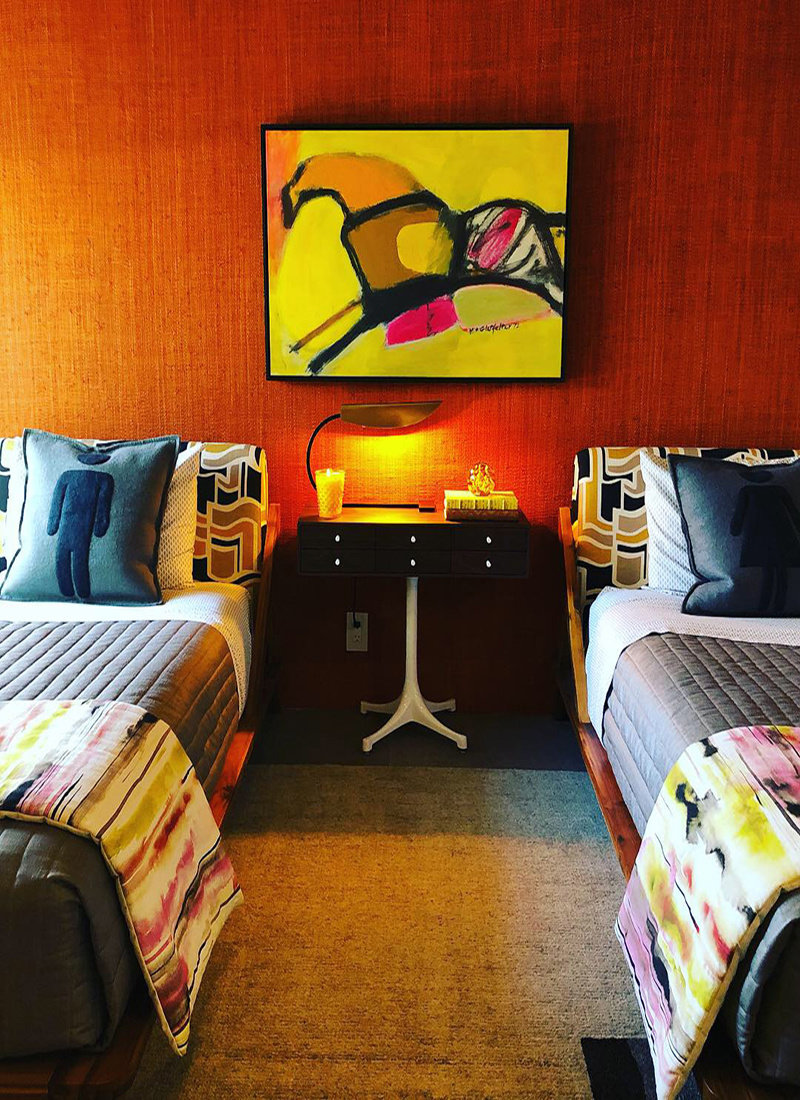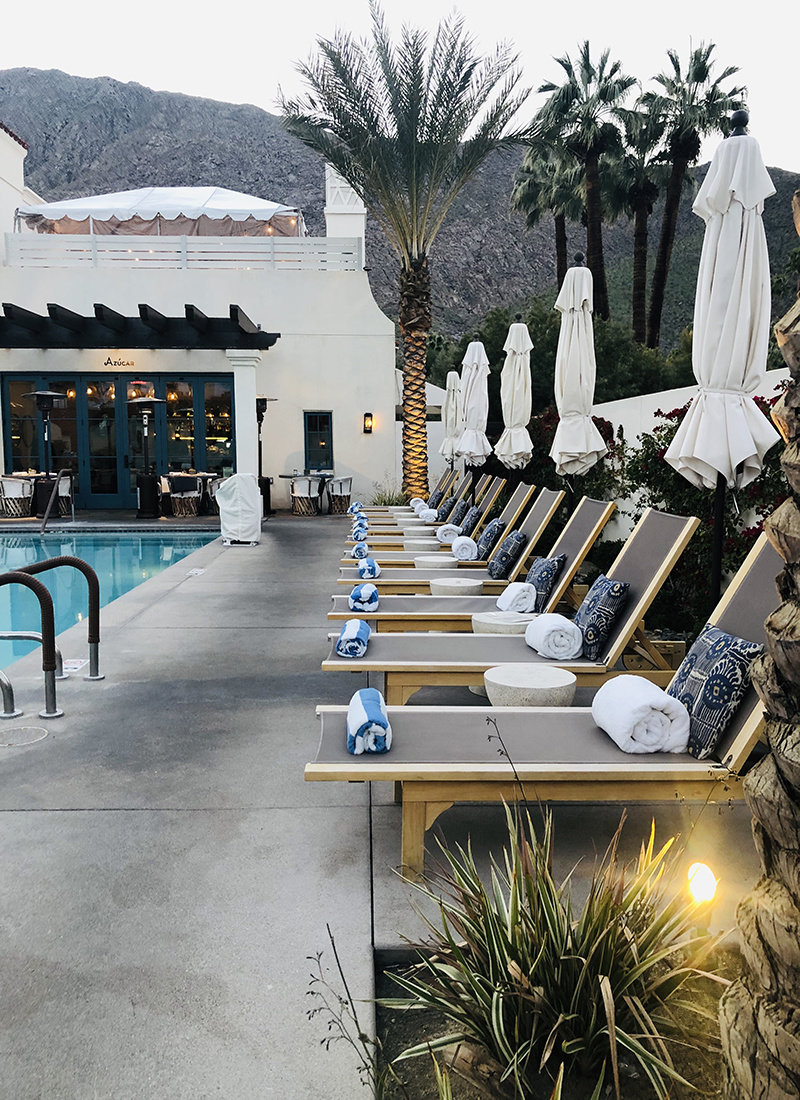 If you're looking to go the hotel route, we highly recommend The Colony Palms Hotel. This Spanish Colonial-style hotel features high-end casitas and a sweet hotel pool with stunning mountain views. La Serena Villas has a similar small-town feel with a wonderful restaurant attached. Further outside of the downtown area, Parker Palm Springs is a stylish and creatively fulfilling place to stay and play.
No matter where you stay, we recommend Azúcar for dinner (at La Serena Hotel). Make sure you get the watermelon appetizer, refreshing with bursts of sweet balsamic beads trickled over the top. You'll feel like a kid at the pool in summer all over again.
Saturday
Get up early and head to Palm Desert. Make your way over to Wilma & Frieda at The Gardens on El Paseo for one of the best breakfasts you'll find in the valley. The pastries are all excellent and homemade. The dishes are creative with items like "churro waffles" and "banana caramel French toast."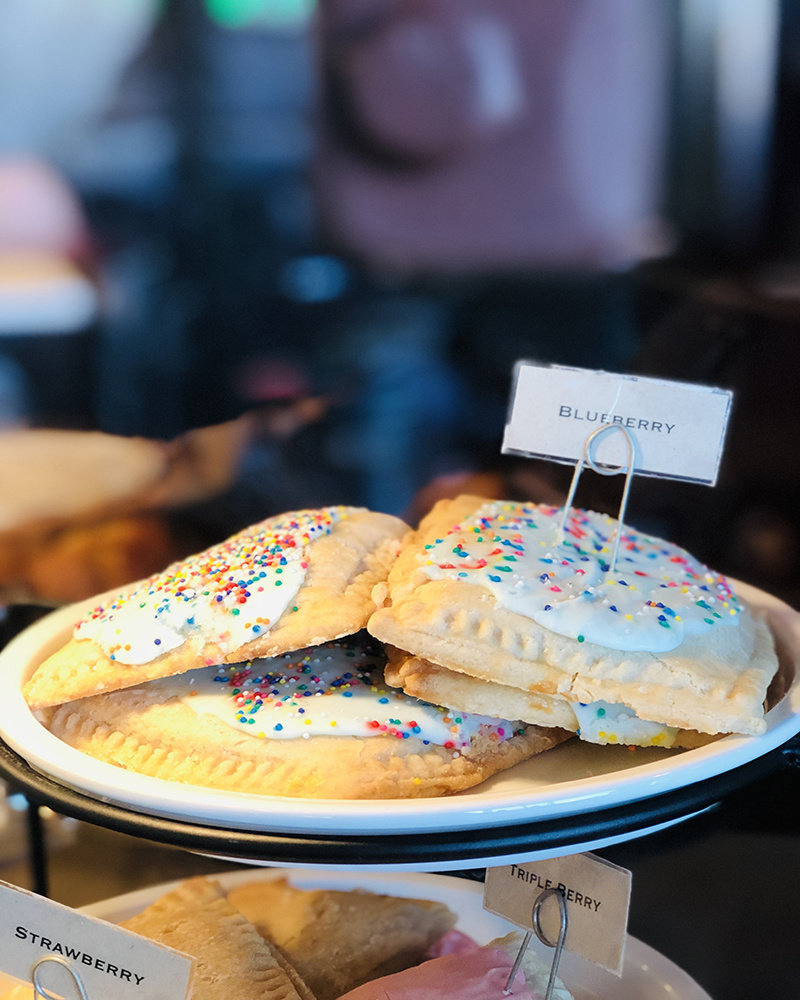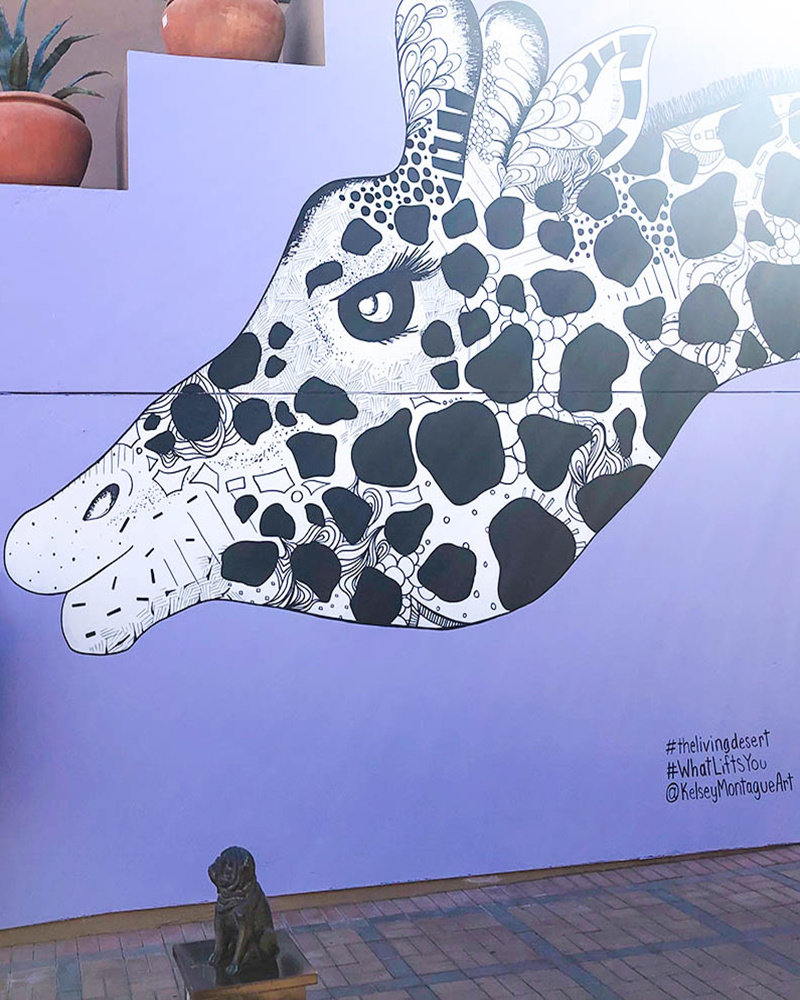 After breakfast, stop by Kelsey's giraffe mural at the Gardens on El Paseo (directions found here) to give her giraffe a kiss. Then drive up the highway to The Living Desert.
The Living Desert Zoo & Gardens is an incredibly well-designed zoo that takes advantage of the stunning desert scenery with every animal exhibit.
On your way back, stop for a sweet treat at the café at Shields Date Gardens for one of their legendary date shakes. Wander through the 1950's feeling diner and gift shop and into the 17-acre date garden. These shakes are a Palm Springs staple and worth every delicious calorie.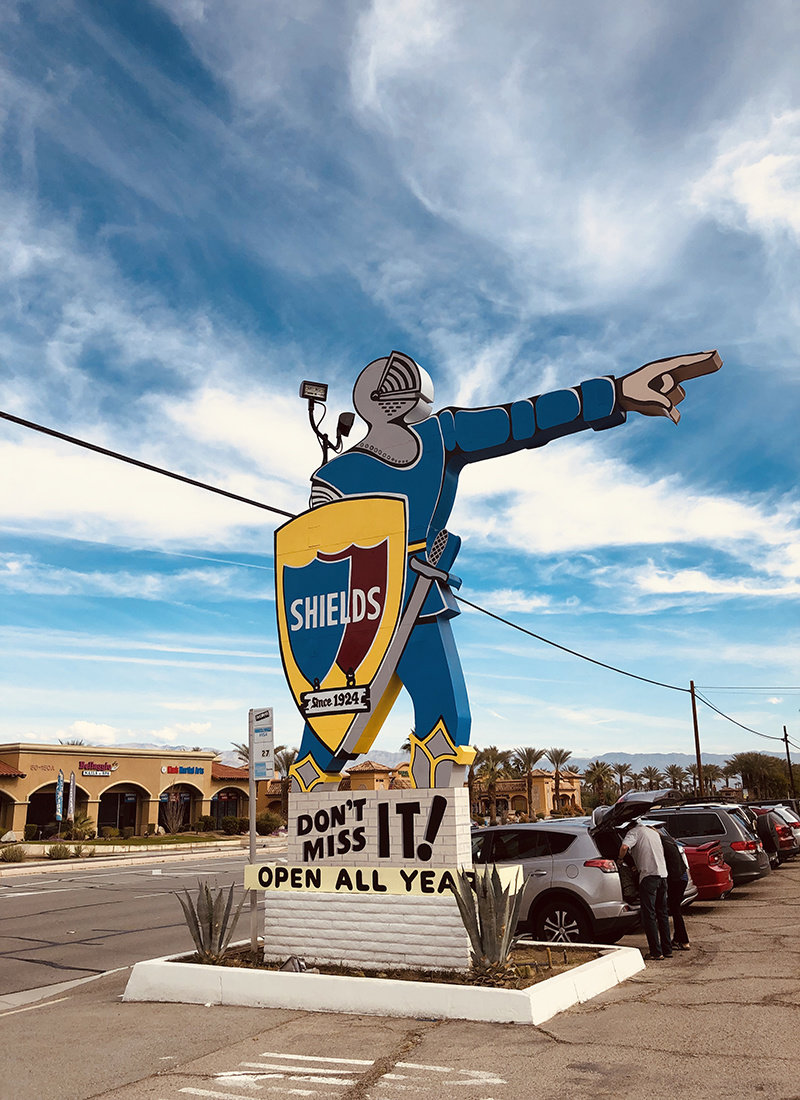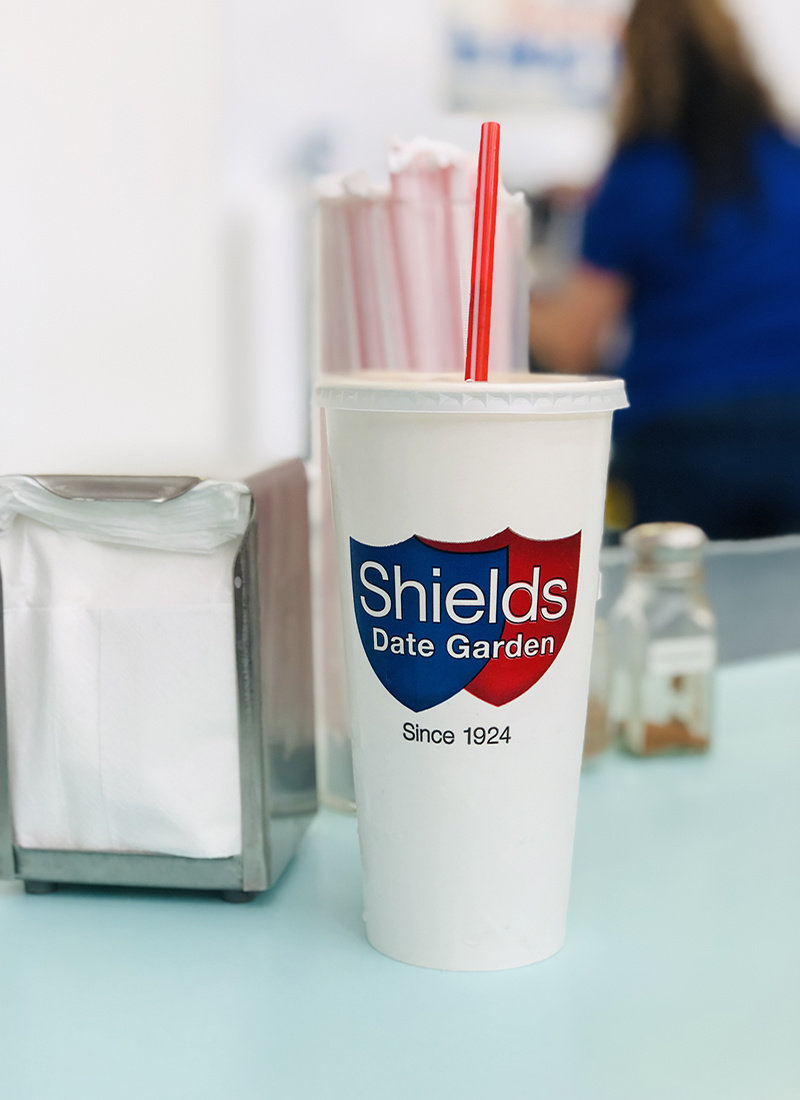 For lunch, wander around the hotel lobby at Parker Palm Springs to admire their excellent interior design decisions before heading into Norma's restaurant for an al fresco lunch.
If you have time, spend the afternoon at Joshua Tree National Park. The blend of Mojave and Colorado deserts results in a unique and stunning landscape. Begin your tour/hike at one of the visitor centers. From here, you can go on a relaxed half-day tour with a guide or head out on one of the 12 self-guiding nature trails.
Spend sunset here or head back downtown to enjoy the sunset at The Colony Palms Hotel's Restaurant, The Purple Palm, with a quality craft cocktail. After sunset, make your way to the popular Italian restaurant Birba for dinner. Birba boasts excellent pizzas with a wide variety of interesting toppings. Be sure to make reservations beforehand.
Sunday
Spend the day exploring Palm Springs. Go to Cheeky's for breakfast, but make sure to get there early, as a line forms before the doors even open. Their world-famous bacon flight is a must – it's unique and so tasty.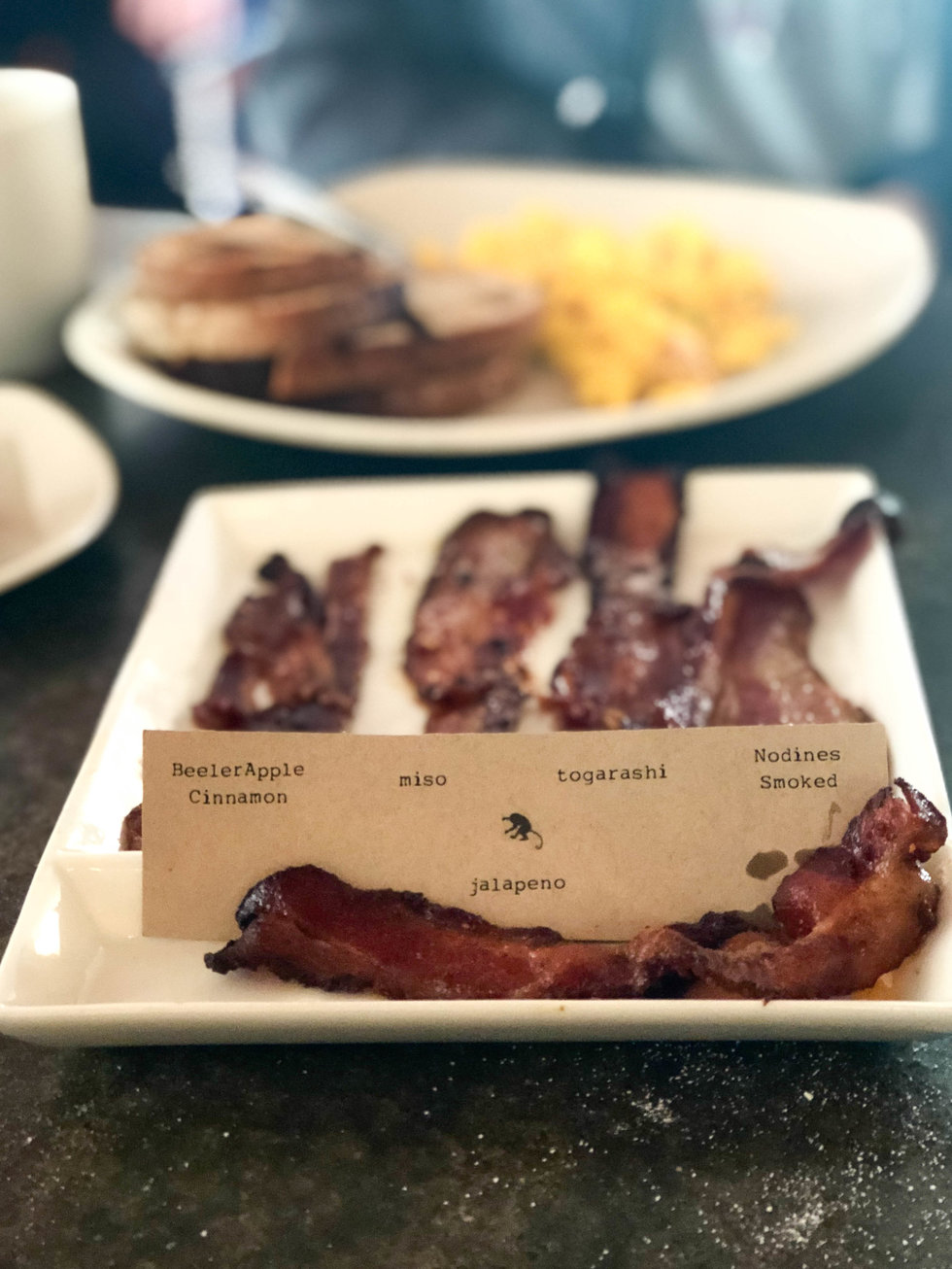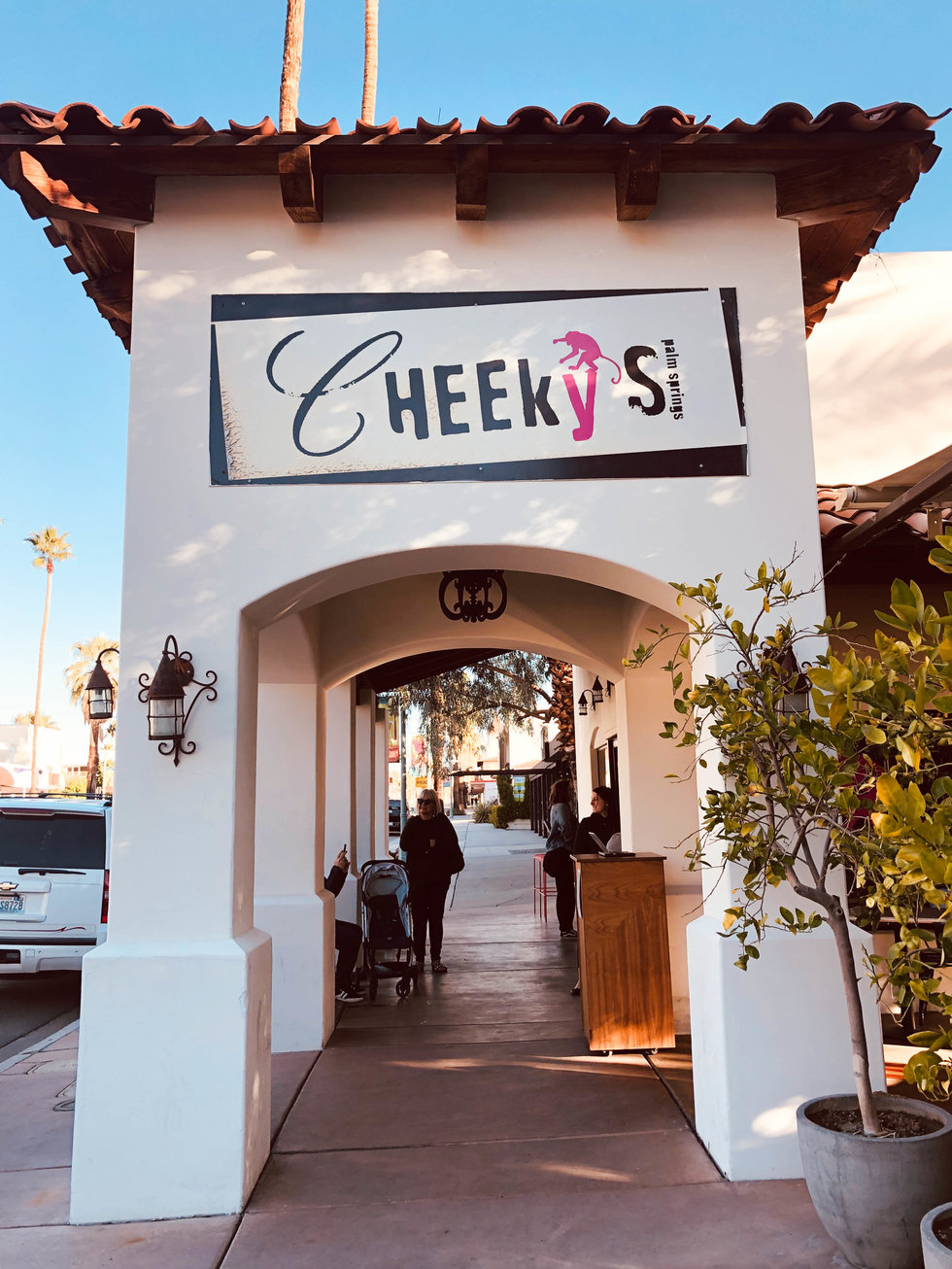 Palm Springs boasts an unbelievable amount of art experiences. Experiential art, art museums and mid-century Modern Design galore. If you can, try to visit Palm Springs during their Modernism week in February. Be sure to get tickets to their house events and tour some of the most breathtakingly beautifully designed houses. And if you're lucky, Desert X might be around during the same time and hunting for art installations throughout the valley, which would be quite the sight.
If a large art fair isn't happening while you're in Palm Springs, we highly recommend heading to the City of Coachella. Their downtown boasts some incredible murals and Kelsey was honored to join the ranks recently. Kelsey completed a pair of "What Lifts You" wings that are colorful and an ode to the Hispanic roots of the community on the side of City Hall.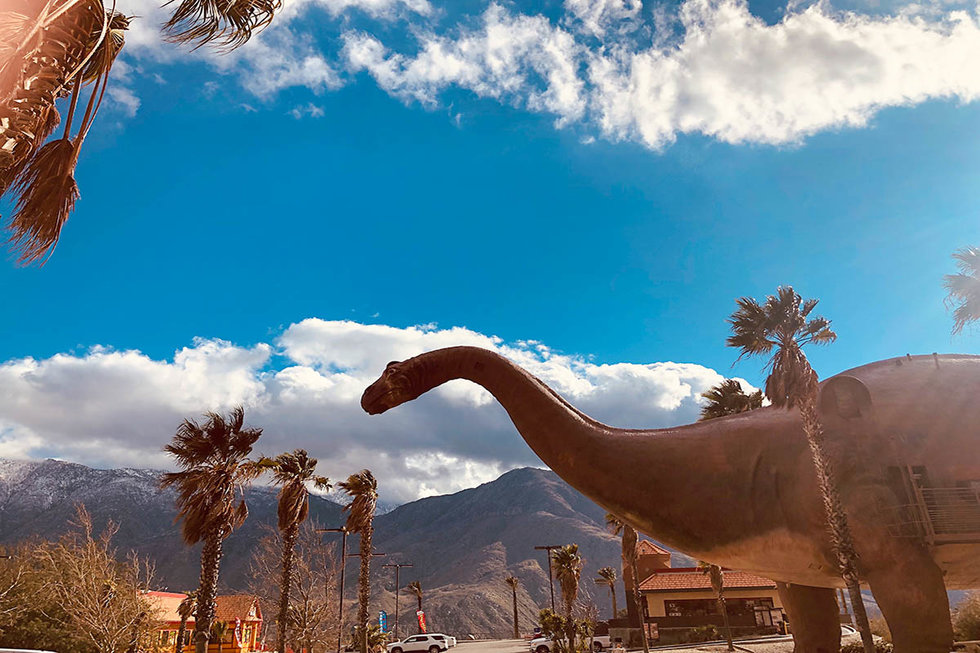 A trip to Palm Springs isn't complete without a picture with the Cabazon Dinosaurs. Made famous through their feature in movies like National Lampoon's Vacation and The Wizard – it's an Instagram-worthy stop.
For lunch, head back to downtown Palm Springs and enjoy a healthy meal at the charming restaurant Farm. Tucked into an interior courtyard, this restaurant feels like you've stepped into the French countryside. It's healthy, clean food even tastes like the South of France with their traditionally French dishes.
Walk off your lunch by exploring the boutiques in Downtown Palm Springs. These mid-century modern shops are not to be missed: A La Mod, Modernway, Vintage Oasis and The Frippery.
Complete your weekend with dinner at the chic Workshop Kitchen + Bar. Their wine cellar is massive and their waiters expertly trained. Trust them to find a new and different flavor for you – something you'll remember long after your weekend in Palm Springs.
Ode to a flight pioneer
With all she's seen and done over a century on this earth, some of Betty Stockard's fondest memories are of the years she spent slipping its surly bonds.
Seventy-seven birthdays have passed since she took to the skies for United as one of the first non-nurse flight attendants in our history, but you wouldn't know it talking with her today as she prepares to celebrate her 100th birthday. Betty's recollections of that time, when she was a 23-year-old searching for excitement and a life to call her own, are crystal clear, her stories conjuring a vivid, gorgeous image of the golden era of aviation.
Born near Kalispell, Montana, on May 16, 1919 as Elizabeth Jean Riley, becoming an aviation pioneer was the furthest thing from Betty's mind growing up. As she recalled, her only brushes with flight back then occurred when the occasional small airplane would appear in the sky above the family homestead. But following the attack on Pearl Harbor in December 1941, Betty, like most Americans, wanted to contribute to the war effort. She packed her bags, moved to Seattle and took an administrative job at the Boeing plant where thousands of bombers would soon roll off the assembly lines.
She had been there for about two months when she saw an item in the Seattle Times announcing United was looking for a new crop of flight attendants. For years, airlines had only hired nurses into those roles, but with more and more of them now needed in combat zones, that was no longer the case. Despite having never stepped foot on an airplane, Betty applied.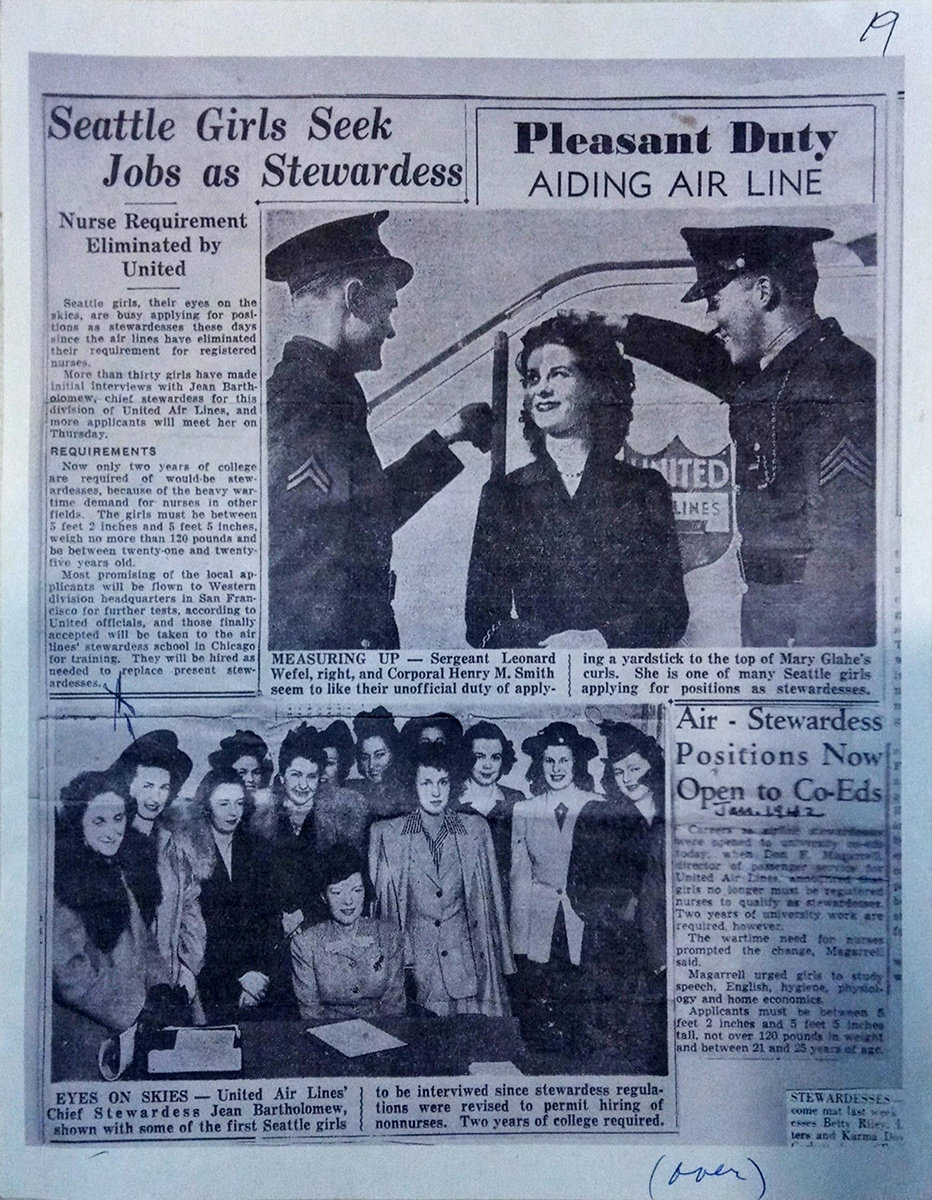 What followed was a whirlwind. After meeting with United personnel managers in Seattle, she took her first-ever flight for a second round of interviews in San Francisco. Two weeks later she received a telegram instructing her to report to Chicago, where she joined 24 other women from across the country for six weeks of intense training, heavy on first aid and safety.
"The instructors told us not to smile much because it was a serious job," remembered Betty. "They wanted us to maintain a professional attitude.
"But the stuff about not smiling didn't last long once I was on an airplane myself."
As Betty put it, being a stewardess in those days was nearly on par with being a movie star, and she often rubbed shoulders with celebrities and dignitaries, like First Lady Eleanor Roosevelt and silver screen idol Clark Gable, on her trips up and down the West Coast. But it wasn't all glitz and glamour and grins.
Flight attendants in the mid-1940s were just as busy serving their country as they were serving their customers. United flew many military men during World War II, and flight crews were responsible for looking after them. And, at least in Betty's case, those wartime duties included a little intrigue as well.
In the summer of 1945, after checking in for a flight from San Francisco to Seattle, her dispatcher told her that two men from the U.S. Army were waiting for her in the next room. They handed Betty a small, brown package and instructed her to pin it inside her jacket until she arrived in Seattle, where another Army representative would meet her. In the meantime, they warned, she was not to open the parcel or tell anyone she had it.
The aircraft landed in Seattle just after 2 a.m. and taxied to a dark corner of the airfield. There, a military man came on board, took the package, and promptly departed, leaving Betty to wonder what she had just been part of.
Secret missions aside, Betty was smitten with life in the air. She'll still tell you it was the best job in the world. Soon, though, she found herself equally smitten with a handsome former fighter pilot by the name of Ray Stockard, whom she met during a flight in 1946.
Ray was traversing the country interviewing for jobs with commercial airlines, and the two hit it off immediately, beginning a courtship shortly after. Betty adored Ray, but it was a bittersweet romance, for she knew if she got married she'd be trading one love for another since, at that time, stewardesses had to be single.
Alas, the heart wants what it wants, and Betty and Ray, who by that time was flying for Pan American, set a wedding date. Originally, they were to wed in May of 1947, but that spring, United announced it would begin service to Honolulu that summer. Betty talked Ray into briefly postponing the nuptials so that she could enjoy her last months as a flight attendant on the Hawaiian route.
"I hated giving up flying, but I knew I was making the right move," she said. "I was looking forward to the next chapter."
Fortunately, marrying a pilot meant she didn't have to walk away from the industry altogether. In the years that followed, she, Ray and their four children – Joe, Denise, Ed and Dick – traveled the world together. And while they did most of that flying on Pan Am, Betty never lost her soft spot for United, the airline where it all started. She still flies United, in fact, and still enjoys meeting flight attendants on her journeys, though she rarely, if ever, tells them about her past, preferring instead to ask them questions about themselves.
When you are lucky enough to get her talking about herself, though, she doesn't disappoint. Betty's stories are riveting, and she's been known to dispense a kernel of wisdom or two if pressed. So, what's the best advice she gives after 100 years of a rich, full life? Value education and relationships above all else, travel as much as possible, and be fearless in your pursuits.
"It's been such a good life," she said. "I couldn't have asked for a more interesting career. I still carry with me the memories of the people I met on airplanes and the places I went. If there's a lesson there, it's that you should get out and do things and not be afraid to try. By doing that, I've had one of the best lives ever."
We want to put women's art in the sky
Enter the #HerArtHere contest for a chance to design and paint a United plane.
Learn more
We're listening
Check out our newest destinations
United Airlines
united
A decade ago, Captain Suzanne B.'s son Dylan couldn't walk or talk after a seizure robbed him of his motor skills.
@SpecialOlympics
got Dylan back on his feet and he hasn't stopped since, having run three marathons and recently completing the
#UnitedNYCHalf
in 1:40.
United Airlines
united
If you're traveling through San Francisco on 3/20, we've issued a travel waiver in advance of inclement weather. You can change your flight at no cost on our mobile app, by direct messaging us here or calling Reservations at 1-800-864-8331. Waiver:
uafly.co/Z04CmP
United Airlines
united
3.14159 x 21.96 = about the number of days until we fly you direct to this pizza pie on our new New York/Newark - Naples route. 🍕🤤
#Math
#PiDay
United Airlines
united
We've issued a travel waiver for Chicago in advance of inclement weather. Our Reservations team is currently experiencing high volume. If you're traveling 3/14, you can change your flight at no cost on our mobile app or
united.com
. Waiver:
uafly.co/Z04CmP
We Are United
weareunited
Members from SFO's uIMPACT chapter spent yesterday with middle school girls from Oakland at the Warriors practice facility participating in "Girls Take Flight." At the event, the girls did everything from speed networking with female leaders to perfecting a cross-over dribble!
We Are United
weareunited
United was a major sponsor of the 30th Annual International Women in Aviation Conference that took place last week. Our team hosted initiatives for young women interested in the flight and technical operations fields and presented six scholarships to deserving female students.
We Are United
weareunited
We're not the only ones who love our new seatback IFE! After all of their hard work developing the new system, the Inflight Entertainment and Connectivity team has been recognized as a finalist for both the Crystal Cabin and Onboard Hospitality Awards in Hamburg.
Watch our most popular videos
Watch the new Big Metal Bird: Veterans
Neighbors, coworkers, parents, protectors, heroes. All of these labels and more encompass the men and women whose devotion to our country serves as the truest embodiment of the American spirit. We're talking about Veterans. Join host Phil Torres as he heads to our nation's capital to learn more about these heroes and to explore just how many United employees are veterans on this Big Metal Bird.
Copyright © 2019 United Airlines, Inc.
All rights reserved.
Indicates an external site that may or may not meet accessibility guidelines.
Scroll to top
Scroll to top