Honoring United employees who have served
Updated December 22, 2016
Beginning with Veterans Day on November 11, we are dedicating an entire month to honoring employees who have served in all branches of the military in appreciation for their sacrifice to our country and their service to United. Please follow along with us each Monday as some of our veteran co-workers share their stories about their service.
One conversation changed First Officer Stayce Harris's life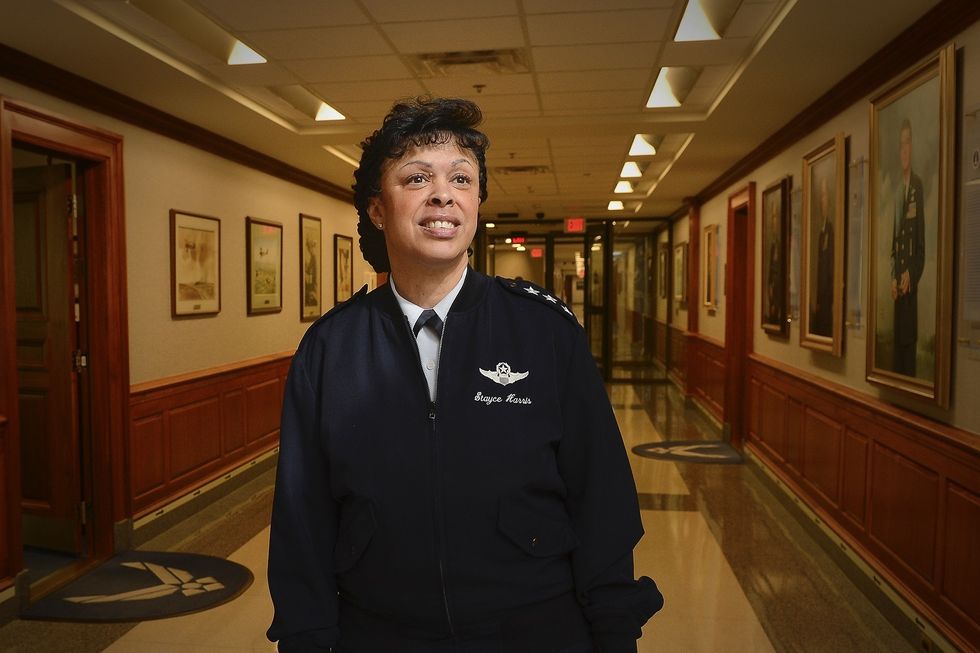 Andy Morataya
When Stayce Harris started college at the University of Southern California on an Air Force ROTC engineering scholarship, she wasn't initially planning to become a pilot. But one conversation with an ROTC instructor changed the course of her career.

"I'd honestly never considered being a pilot, I just wanted to be like my dad and serve in the Air Force," said Stayce. "My instructor suggested I compete for the pilot scholarship, and I thought, why not? Why be the passenger when you can be the pilot?"
After completing pilot training, Stayce flew C-141 cargo planes. "It was basically the airline of the military," she explained. Stayce had assignments across the country from California to Washington, D.C. After leaving active duty, Stayce joined United as a Boeing 727 flight engineer based in LAX (She is now a Boeing 747 first officer based at SFO). She wanted to continue serving her country, so she joined the U.S. Air Force Reserve, where she got to realize another one of her passions: leadership.
"I just had a passion for taking care of airmen," she said. One of Stayce's most memorable positions was as Commander of the 729th Airlift Squadron at March Air Reserve Base, outside Los Angeles, where she was stationed on Sept. 11, 2001.
"Although all civilian aircraft were grounded, military aircraft were still flying," she said. "The C-141s from my squadron were flying firefighters and their supplies to New York to assist with recovery."
Throughout her career, she has had assignments at the Pentagon, U.S. Africa Command, Air Mobility Command and as commander of the 22nd Air Force. This diverse background led her to her current position. Stayce is now on military leave from United and back on active duty, serving as the Assistant Vice Chief of Staff of the Air Force, where she holds the rank of lieutenant general.
"I have a unique opportunity in this role. I was recalled to active duty, which is the first time a reservist has been chosen to do this for this specific role, so I want to do a really great job serving all the airmen of our Air Force."
As a female pilot and service member, Stayce has not allowed herself to be held back by stereotypes or biases.
"The beauty of flying is that the plane doesn't know whether you're male or female. It doesn't care – the plane wants to fly and I want to fly it. And as long as I know in my heart that I'm doing my best for the Air Force and taking care of the airmen in fulfilling my role, at the end of the day, I'm good. People will accept you or not, and that's for them to decide."
She has some advice for veterans making the transition to civilian life: "Veterans offer valuable operational, leadership and life experiences along with the core values of integrity, discipline, responsibility and respect. These are key strengths that every business needs. It is very competitive though – whether you're a pilot, or an engineer or an administrator. It takes preparation, homework and perseverance to translate your work experience to a civilian employer. United understands and values the skill sets of our veterans and has been especially supportive of me and of all our veterans; it makes me very proud."
After a career that has taken her all over the country, you might think Stayce would rather stay home than travel. Not so.
"I still just adore traveling, even after 34 years of flying. Until recently, I would always travel someplace I'd never been for my birthday, from Romania to South Africa, to Brunei. My favorites are Sydney, Australia, and Cape Town, South Africa."
Stayce plans to return to United when she has finished her position. Of all the aircraft she's flown – including C-141s, C-130s, KC-135s, Boeing 757s, 767s and 777s – her favorite is the 747.
"I just love that aircraft; it's a majestic airplane to fly."
Ooh Rah: Tech Ops' Don Larson carries on Marine past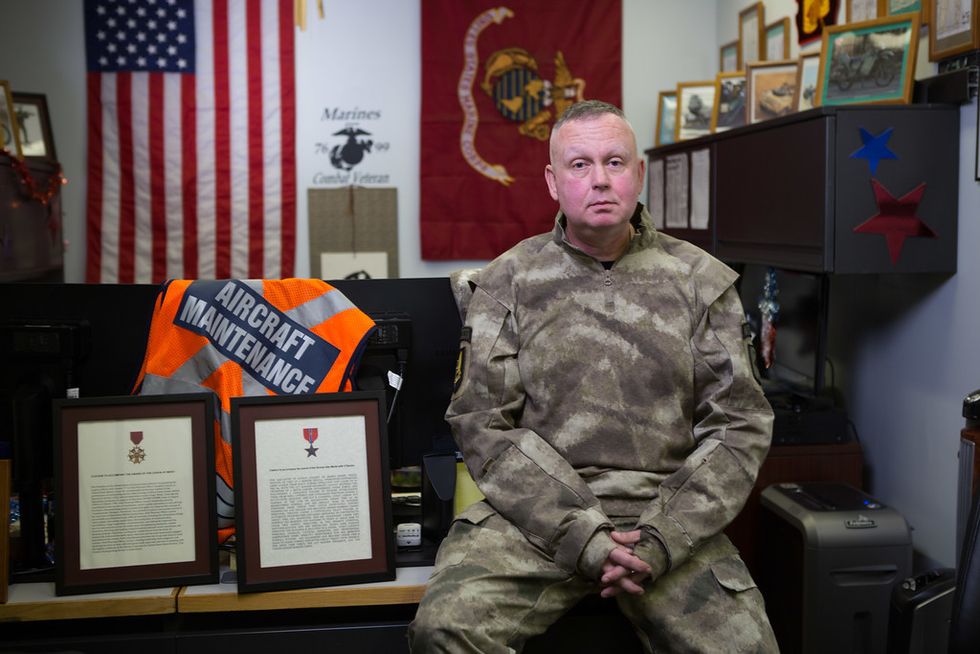 On the fifth floor of the Tech Ops Maintenance Service Center at O'Hare International Airport, above the ratcheting sound of planes getting tune-ups, is an office of which Uncle Sam would be proud.

A platoon of G.I. Joe-esque figurines stand guard atop file cabinets and shelves, U.S. and Marine Corps flags decorate the back wall, pictures of military vehicles and missions past line the side walls, mementos of service time and military citations of the Bronze Star medal and Legion of Merit with the combat distinguishing "V" devise for valor are proudly displayed on the desk, and a grenade-shaped coffee mug and meal ready to eat decorate a table.
Welcome to Don Larson's office.
Don retired from the Marines in 2000 as a Chief Warrant Officer – a highly skilled position of leadership and responsibility – after 24 years of service that spanned more than 30 countries, all seven continents, a dozen separate combat operations and security duty for President Ronald Reagan. He and his wife moved 13 times during those years, and he missed 17 Christmases at home. You'd think he'd have taken a break for a bit after that, but no – 25 days after his retirement, he had his first day on the job with United. Don works as a line maintenance administration manager.
"If it's not turning a wrench or fixing an airplane, then we handle it," says Don, who handles administrative duties for ORD Tech Ops employees.
The impact of Don's military past is just as evident in his work as it is on his walls. Lessons learned on how to most effectively work with others, and building and managing relationships while fighting in Iraq, Kosovo, Somalia and other war-torn locales have helped him in his current role. Don and the others who work on the fifth floor have a team motto: mission always, people first.
"In the military, you have to deal with people of different ages from different places," Don says. "This helps, because in any job, you have to know your people and look out for their well-being."
The job helps him maintain his own wellness, as he suffers from Post-Traumatic Stress, multiple traumatic brain injuries and surviving cancer. To stave off head and neurological pain, he keeps the lights relatively dimmed in his office, and sometimes, if sleep is hard to come by, he'll come to the office in the middle of the night to start working, which helps occupy his mind.
"He is a remarkable individual to work with, and he never misses a beat with his work," ORD and DEN Maintenance Hub Managing Director James Montgomery said. "He ensures every member of his team learns everyone else's role, so that anyone can cover for anyone else if needed. The flexibility that creates is awesome, and they all love working with him."
Don learned during his service that humor can be a coping mechanism, so he likes to make people laugh at work.
He misses the 24/7 camaraderie of the military, but says, "The job has to get done – anything less is not an option."
Recently, his wife of 37 years asked him when he, 57, plans to retire. No sniper's scope can find that target date.
"As long as I add value through the work I'm doing and make a difference in the lives of the people I'm working with," Don said, "I'm going to continue."
From ORD to Afghanistan and back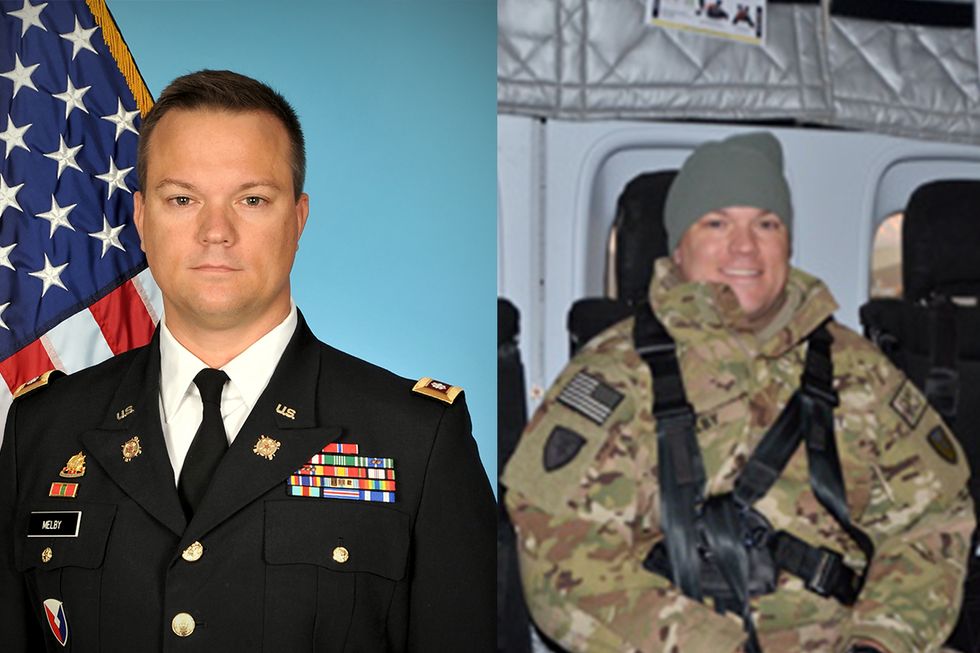 Ryan Melby may be best known at United by the title he holds at the Chicago Corporate Support Center: director of airport operations ramp planning and airport services. What you may not be as familiar with is the title that he carries when he's away from the office – battalion commander as a lieutenant colonel in the Army Reserve.

Ryan, a former active duty solider and current Army reservist, joined United in 2005 through a military leadership recruiting program as a ramp supervisor, and has since worked his way up through the ranks of the company. Today, among other things, he oversees our below-the-wing policies and procedures, station openings and Airport Operations contract strategy.
"The Army taught me a lot about leadership, but I feel my experiences at United have helped me evolve as a leader," I learned as much working at O'Hare as I did in the military."
Ryan was first commissioned as a lieutenant through the ROTC program at the Marion Military Institute in Marion, Alabama. He finished college at Embry – Riddle with a focus in aeronautics before going onto active duty. He left the active service and became a reservist in 2001 so that he could pursue a civilian career as a pilot. But when the September 11th attacks occurred, he was called back into service.
"I was a captain responsible for preparing reserve units for deployment," Ryan said. "I was also part of an exercise in Germany that worked through the plans and 'war gamed' the Iraq invasion."
Over the next ten years, he served in the Army Reserves and worked in a variety of roles at United while he and his wife started a family. Then, in 2011, he received some surprising news: With only a month's notice, Ryan was deployed to Bagram, Afghanistan.
"I had three small children at home – my daughter was only three months old at that time – so it was a real tough experience leaving them, but that was the commitment that I made."
His deployment coincided with the ongoing U.S. troop withdrawal, and Ryan's unit was responsible for managing the logistics of sending vehicles and equipment back to the U.S. After the year-long deployment he returned home to open arms. "United was really understanding throughout my time in Afghanistan, and welcomed me back to my old position. I appreciated all of the support my co-workers provided while I was away."
It's those kinds of experiences that Ryan relies on in his leadership position at United. "In the Army, you're taught to always finish the mission no matter how difficult it is. If you have a can-do attitude, you really can accomplish anything."
'Semper Paratus,' at sea and at United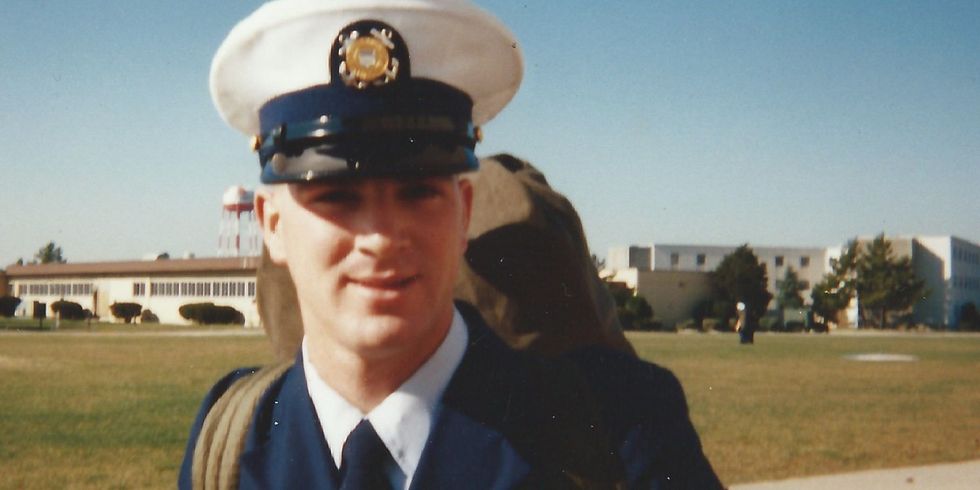 Network Operations Principal Engineer James Taylor proudly served in the United States Coast Guard for four years, an experience that he still leans on today in his role helping to keep our IT operations running smoothly.

James enlisted right out of high school as an eighteen-year-old. His lifelong love of boats and the open water initially attracted him to the Coast Guard, coupled with the fact that, as he says, "Back then we were in peacetime, but the Coast Guard was still busy – they were doing search and rescues and drug traffic interventions. It seemed exciting."
After completing basic training in Cape May, New Jersey, James found himself stationed in an unlikely place for a Coast Guard Seaman: Keokuk, Iowa. During his time there, his team patrolled the Mississippi River down to St. Louis, maintaining buoys and keeping the water cleared for barges.
Looking for a new challenge, he attended Coast Guard "A" school (advanced school) and became a radarman, transferring to the U.S. Coast Guard Cutter (USCGC) Mellon, a high-endurance cutter based in Seattle. The Mellon's crew was tasked with patrolling the Pacific Ocean for months at a time, from Alaska down to Guatemala.
"We had two objectives, depending on which way we went out of Seattle," James said. "Going right (north) meant sailing to Alaska and handling fishery patrols; going left (south) meant looking for boats trafficking drugs."
Those missions at sea provided James with memories that he still appreciates to this day. "Of course I remember the month we spent training in Hawaii," he said, laughing, "and I'll never forget seeing porpoises and sea turtles in the Strait of Seward near Alaska and volcanoes erupting in the Aleutian Islands."
But it's not just the memories of the people and places that James carries with him; his time in the service made a much larger impact on him as a U.S. citizen and as an employee of United.
"Being in the military gives you a deeper pride for the U.S., and it instills in you a devotion to duty, respect for others and respect for authority," he said. "It also prepares you always to be ready for anything – and that's part of my job today. If our IT systems go down, it can lead to flight delays, so I'm always thinking about a back-up plan. The Coast Guard's motto is Semper Paratus – Always Ready – and that's what I live by."
To our customers,
I hope this note finds you and your loved ones healthy and well.
It is safe to say these past weeks have been among some of the most tumultuous and emotional that any of us can remember in our lifetimes. The impact of the coronavirus outbreak has been felt by individuals and families, companies and communities, across the United States and around the world.
The response to this crisis has been extraordinary; as much for what it has required from our society as for what it has revealed of us as a people.
Far from causing division and discord, this crisis and the social distancing it has required, has allowed us to witness something profound and moving about ourselves: our fond and deeply felt wish to be connected with one another.
The role of connector is one we're privileged to play in the moments that matter most in your life – weddings and graduations, birthdays and business trips, events large and small – and it's that responsibility that motivates us most to get back to our regular service, as soon as possible.
That is why it is so important our government acted on a comprehensive relief act to ensure our airline – and our industry – are ready and able to serve you again when this crisis abates.
I want to relay to you, in as deeply personal a way I can, the heartfelt appreciation of my 100,000 United team members and their families for this vital public assistance to keep America and United flying for you.
This support will save jobs in our business and many others. And it allows us time to make decisions about the future of our airline to ensure that we can offer you the service you deserve and have come to expect as our customers.
While consumer demand has fallen, we have seen the need for our service and capabilities shifted. And, we've adapted to help meet those needs.
Right now, aircraft flying the United livery and insignia, flown by our aviation professionals, have been repurposed to deliver vital medical supplies and goods to some of the places that need it most. We're also using several of our idle widebody aircraft to use as dedicated charter cargo flights, at least 40 times per week, to transfer freight to and from U.S. locations as well as to key international business locations. At the same time, we are working in concert with the U.S. State Department to bring stranded Americans who are trying to return home back to their loved ones.
While much remains uncertain right now, one thing is for sure: this crisis will pass. Our nation and communities will recover and United will return to service you, our customers. When that happens, we want you to fly United with even greater pride because of the actions we took on behalf of our customers, our employees and everyone we serve.
Stay safe and be well,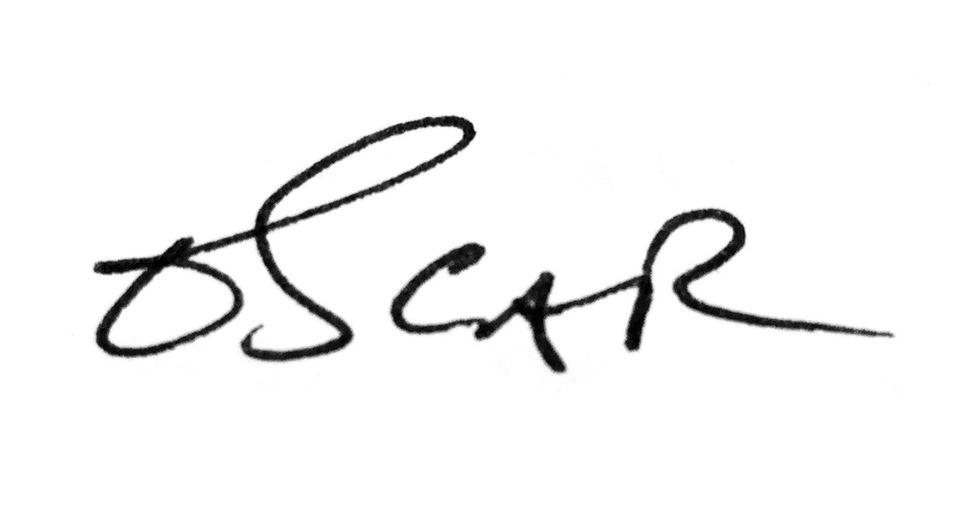 Oscar Munoz
CEO
When and where possible, we are working to repatriate travelers who are stranded abroad in the wake of the COVID-19 crisis. Our teams are working closely with government officials here in the U.S. as well as in other countries where flying has been restricted to gain the necessary approvals to operate service. In regions where government actions have barred international flying, we have coordinated with the the U.S. State Department and local government officials to re-instate some flights. Additionally, we have been operating several extra flights to countries in Central America and South America as we continue to play a role in connecting people and uniting the world.
This week, we are operating 21 flights from Panama City, Quito, Lima, San Pedro Sula, Tegucigalpa and Roatan, to bring nearly 2,500 Americans home. We will continue working with government officials to operate extra flights to Houston from Quito, San Pedro Sula, Tegucigalpa and from Lima to Washington Dulles. We continue to review more opportunities for flights between the United States and other countries to bring citizens home.
Video provided by the U.S. Embassy Ecuador of Americans returning home on United.

Additionally, our Customer Solutions and Recovery team is working with customers in the following markets to rebook them on flights back to the United States as capacity allows, either on our aircraft or on one of our airline partners' planes:

Quito, Ecuador
Managua, Nicaragua
Roatan, Honduras
San Pedro Sula, Honduras
Amsterdam
Brussels
Munich
Singapore
Tokyo-Haneda
Seoul, South Korea
Melbourne, Australia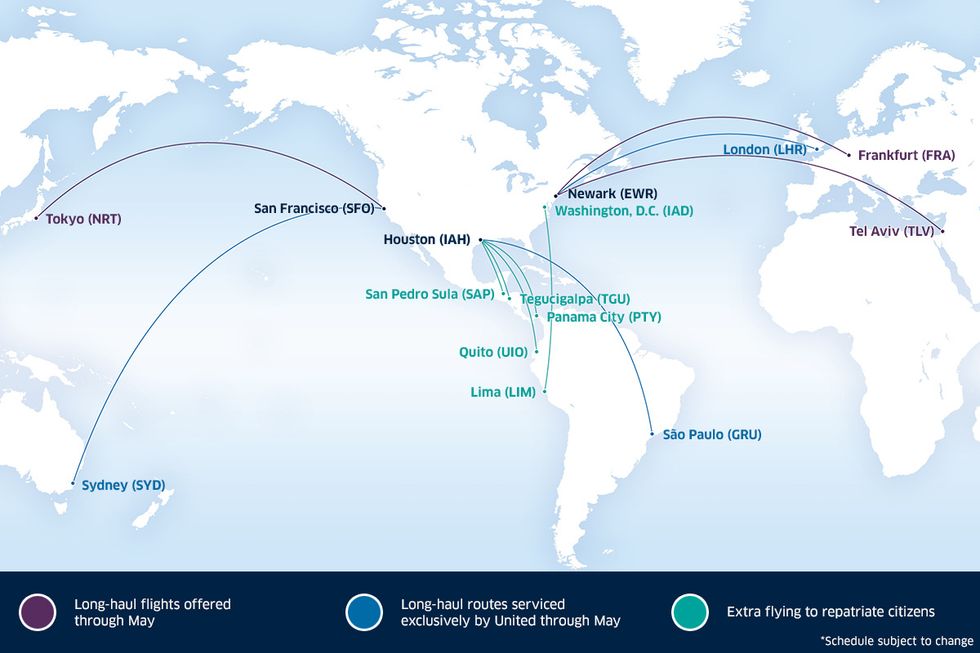 We also recently reinstated several international flights back into our schedule to support customers and essential businesses which depend on these routes. As a result, we will be the only airline to offer service between Newark/New York and London, San Francisco and Sydney, as well as Houston and São Paulo, Brazil.
While travel demand and government restrictions continue to impact our schedule, we know some people around the globe are displaced and still need to get home. While our international schedule will be reduced by about 90% in April, we will continue flying six daily operations to and from the following destinations — covering Asia, Australia, Latin America, the Middle East and Europe — in an effort to get customers where they need to be. This remains a fluid situation, but United continues to play a role in connecting people and uniting the world, especially in these challenging times. Learn more about what we're doing to keep customers and employees safe.
Flights continuing from now through May schedule:
New York/Newark – Frankfurt (Flights 960/961)
New York/Newark – London (Flights 16/17)
New York/Newark – Tel Aviv (Flights 90/91)
Houston – Sao Paulo (Flights 62/63)
San Francisco – Tokyo-Narita (Flights 837/838)
San Francisco – Sydney (Flights 863/870)
In addition to the above, we will continue to operate the following flights to help displaced customers who still need to get home. In destinations where government actions have barred us from flying, we are actively looking for ways to bring customers who have been impacted by travel restrictions back to the United States. This includes working with the U.S. State Department and the local governments to gain permission to operate service.
Atlantic
The following flights will continue through March 28 westbound:

New York/Newark – Amsterdam (Flights 70/71)
New York/Newark – Munich (Flights 30/31)
New York/Newark – Brussels (Flights 999/998)
New York/Newark – Cape Town (Flights 1122/1123)
Washington-Dulles – London (Flights 918/919)
San Francisco – Frankfurt (Flights 58/59)
The final westbound departures on all other Atlantic routes will take place on March 25.
Pacific
We will continue to fly San Francisco-Seoul (Flights 893/892) through March 29 and San Francisco-Tahiti (Flights 115/114) through March 28.
Our final eastbound departures on all other Pacific routes will take place on March 25.
We will maintain some Guam flights as well as a portion of our Island Hopper service.
Hawaii's governor issued a mandatory 14-day self-quarantine order for all travelers arriving or returning to Hawaii. Travelers must complete a Hawaii Department of Agriculture form that will be distributed on board their flight which will also include the requirements for the 14-day quarantine, as well as the penalties. You must show a government issued ID upon arrival along with your form. You can find more information on the governor's website.
Latin America/South America
We will continue to fly Newark/New York – Sao Paulo (Flights 149/148) through March 27 outbound.
The last southbound departures on most other routes will take place March 24.
Mexico
We will reduce our Mexico operation over the next five days. After March 24, we will maintain a small number of daytime flights to certain destinations in Mexico — more to come in the next few days.
Canada
We will suspend all flying to Canada effective April 1.
In destinations where government actions have barred us from flying, we are actively looking for ways to bring customers who have been impacted by travel restrictions back to the United States. This includes working with the U.S. State Department and the local governments to gain permission to operate service.
The revised international schedule will be viewable on united.com on Sunday, March 22. We will continue to update our customers with information as it's available.
If you're scheduled to travel through May 31, 2020, and would like to change your plans, there is no fee to do so, regardless of when you purchased your ticket or where you're traveling. Please visit united.com for more information, or reference our step-by-step guide on how to change your flight, cancel and rebook later.
For any customer, including residents from other countries, whose international travel is disrupted by more than six hours because of schedule changes resulting from government restrictions, they will retain a travel credit equal to the value of their ticket. That credit can be used towards any flight, to any destination, for 12 months from the time of purchase. If the customer chooses not to use the credit, they will receive a cash refund at the end of that 12-month period.We continue to aggressively manage the impact of the coronavirus (COVID-19) outbreak on our employees, our customers and our business. Due to government mandates or restrictions in place prohibiting travel, we are reducing our international schedule by 95% for April. The revised international schedule will be viewable on united.com on Sunday, March 22.
Domestic schedule
We're also making changes to our domestic schedule. While we don't plan to suspend service to any single U.S. city now — with the exception of Mammoth Lakes and Stockton, CA — we are closely monitoring demand as well as changes in state and local curfews and government restrictions across the U.S. and will adjust our schedule accordingly throughout the month.
Additionally, today we announced a further reduction in our domestic schedule — the changes will result in a 52% overall domestic reduction from a previous 42%, and our overall capacity will now be down 68% overall.
Hub city
Route suspensions
Remaining service
Denver
Arcata/Eureka
Amarillo
Kona
Kauai Island
SFO
IAH
SFO
SFO
New York/Newark
Akron/Canton
Grand Rapids
Hilton Head
Honolulu
Milwaukee
Madison
Omaha
Portland, Oregon
Providence
Seattle
Salt Lake City
Sacramento
Knoxville
Fayetteville

ORD
ORD, DEN
IAD
ORD, IAH, DEN, SFO, LAX
ORD, IAH, DEN
ORD, DEN
ORD, IAH, DEN
ORD, IAH, DEN, SFO
IAD, ORD
IAD, ORD, IAH, DEN, SFO, LAX
ORD, IAH, DEN, SFO, LAX
ORD, IAH, DEN, SFO, LAX
IAD, ORD, IAH, DEN, SFO, LAX
ORD, IAH, DEN
Washington-Dulles
Grand Rapids
Portland, Oregon
Sacramento
ORD, DEN
ORD, IAH, DEN, SFO, LAX
ORD, IAH, DEN, SFO, LAX
Houston
Hartford
Boise
Grand Rapids
Lexington
Ontario, California
Palm Springs
San Jose, California
Akron/Canton
Reno

IAD, ORD, DEN
ORD, DEN, SFO, LAX
ORD
ORD, DEN
IAD, ORD
DEN, SFO
DEN, SFO, LAX
DEN, SFO
DEN
Los Angeles
Arcata/Eureka
Austin
Boston
Baltimore
Bozeman
Cleveland
Kona
Kauai Island
Orlando
Madison
Kahului
Redding
Reno
San Antonio
St George

SFO
EWR, IAD, ORD, IAH, DEN, SFO
EWR, IAD, ORD, IAH, DEN, SFO
ORD, IAH, DEN
DEN
EWR, IAD, ORD, IAH, DEN, SFO
SFO
SFO
EWR, IAD, ORD, IAH, DEN, SFO
ORD, DEN
DEN, SFO
SFO
DEN, SFO
EWR, IAD, ORD, IAH, DEN
DEN

Chicago
Asheville
Bismarck/Mandan
Bozeman
Kearney
Panama City
Eugene
Fresno
Spokane
Hilton Head
Wilmington
Jackson
Kahului
Palm Springs
Reno
San Jose
Valparaiso
IAD
DEN
DEN
DEN
IAH
DEN, SFO, LAX
DEN, SFO, LAX
DEN, SFO
IAD
IAD
IAH
DEN, SFO
DEN, SFO, LAX
DEN, SFO
DEN
IAH
San Francisco
Atlanta
Nashville
Baltimore
Bozeman
Columbus
Detroit
Fort Lauderdale
Indianapolis
Kansas City
Madison
New Orleans
Omaha
Philadelphia
Pittsburgh
Raleigh/Durham
San Antonio
St Louis
Tampa
Fayetteville
EWR, IAD, ORD, IAH, DEN
EWR, IAD, ORD, IAH, DEN
ORD, IAH, DEN
DEN
EWR, IAD, ORD, IAH, DEN
EWR, IAD, ORD, IAH, DEN
EWR, IAD, ORD, IAH, DEN
EWR, IAD, ORD, IAH, DEN
EWR, IAD, ORD, IAH, DEN
ORD, DEN
EWR, IAD, ORD, IAH, DEN
ORD, IAH, DEN
ORD, IAH, DEN
ORD, IAH, DEN
EWR, IAD, ORD, IAH, DEN
EWR, IAD, ORD, IAH, DEN
EWR, IAD, ORD, IAH, DEN
EWR, IAD, ORD, IAH, DEN
ORD, IAH, DEN
Together, we are facing an unprecedented challenge. United Together, we rise to meet that challenge.
Check out our newest destinations
United Airlines
united
International schedule update: We know some people around the globe are displaced and still need to get home. We are reinstating some international flights over the next few days and will continue to fly six daily international flights through May.
uafly.co/3a5Dj6p
United Airlines
united
We have extended our change fee waiver to cover travel through May 31, 2020: - You can change or cancel your flight on
united.com
or through the app – a phone call is not required - For the latest on our commitment to your safety, visit
united.com/coronavirus
United Airlines
united
Our site,
united.com/coronavirus
, is regularly updated with the latest on travel restrictions, rebooking instructions and health and safety information. Today's updates: - An expanded, more flexible international rebooking policy - Schedule changes for U.K. & Ireland
United Airlines
united
If you're scheduled to travel March 10 - April 30, 2020 and would like to change your plans, there is no fee to do so, regardless of when you purchased your ticket or where you're traveling. Learn more:
uafly.co/2IpMCBX
We Are United
weareunited
Tomorrow, Oscar and Scott will host a companywide town hall to discuss the latest developments in managing the effects of the coronavirus (COVID-19). You can join the livestream event at 1:20 p.m. CT here:
uafly.co/39AV25m
We Are United
weareunited
Tomorrow, Oscar and Scott will host a companywide town hall to discuss the latest developments in managing the effects of the coronavirus (COVID-19). You can join the livestream event at 1:20 p.m. CT here:
uafly.co/39AV25m
.
Watch our most popular videos
Copyright © 2020 United Airlines, Inc.
All rights reserved.
Indicates an external site that may or may not meet accessibility guidelines.
Scroll to top
Scroll to top