Honoring United employees who have served
Updated December 22, 2016
Beginning with Veterans Day on November 11, we are dedicating an entire month to honoring employees who have served in all branches of the military in appreciation for their sacrifice to our country and their service to United. Please follow along with us each Monday as some of our veteran co-workers share their stories about their service.
One conversation changed First Officer Stayce Harris's life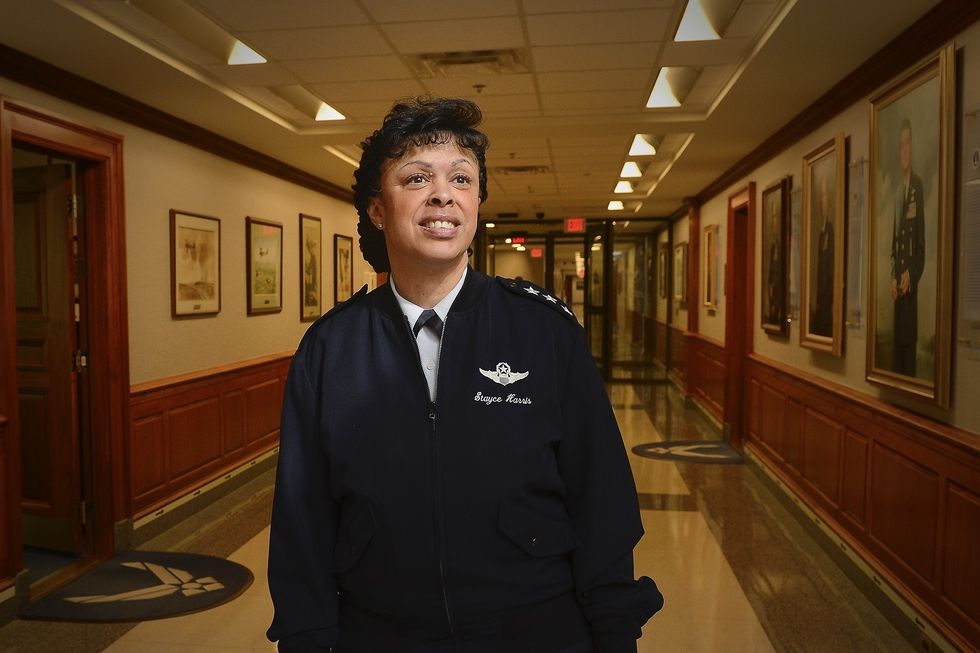 Andy Morataya
When Stayce Harris started college at the University of Southern California on an Air Force ROTC engineering scholarship, she wasn't initially planning to become a pilot. But one conversation with an ROTC instructor changed the course of her career.

"I'd honestly never considered being a pilot, I just wanted to be like my dad and serve in the Air Force," said Stayce. "My instructor suggested I compete for the pilot scholarship, and I thought, why not? Why be the passenger when you can be the pilot?"
After completing pilot training, Stayce flew C-141 cargo planes. "It was basically the airline of the military," she explained. Stayce had assignments across the country from California to Washington, D.C. After leaving active duty, Stayce joined United as a Boeing 727 flight engineer based in LAX (She is now a Boeing 747 first officer based at SFO). She wanted to continue serving her country, so she joined the U.S. Air Force Reserve, where she got to realize another one of her passions: leadership.
"I just had a passion for taking care of airmen," she said. One of Stayce's most memorable positions was as Commander of the 729th Airlift Squadron at March Air Reserve Base, outside Los Angeles, where she was stationed on Sept. 11, 2001.
"Although all civilian aircraft were grounded, military aircraft were still flying," she said. "The C-141s from my squadron were flying firefighters and their supplies to New York to assist with recovery."
Throughout her career, she has had assignments at the Pentagon, U.S. Africa Command, Air Mobility Command and as commander of the 22nd Air Force. This diverse background led her to her current position. Stayce is now on military leave from United and back on active duty, serving as the Assistant Vice Chief of Staff of the Air Force, where she holds the rank of lieutenant general.
"I have a unique opportunity in this role. I was recalled to active duty, which is the first time a reservist has been chosen to do this for this specific role, so I want to do a really great job serving all the airmen of our Air Force."
As a female pilot and service member, Stayce has not allowed herself to be held back by stereotypes or biases.
"The beauty of flying is that the plane doesn't know whether you're male or female. It doesn't care – the plane wants to fly and I want to fly it. And as long as I know in my heart that I'm doing my best for the Air Force and taking care of the airmen in fulfilling my role, at the end of the day, I'm good. People will accept you or not, and that's for them to decide."
She has some advice for veterans making the transition to civilian life: "Veterans offer valuable operational, leadership and life experiences along with the core values of integrity, discipline, responsibility and respect. These are key strengths that every business needs. It is very competitive though – whether you're a pilot, or an engineer or an administrator. It takes preparation, homework and perseverance to translate your work experience to a civilian employer. United understands and values the skill sets of our veterans and has been especially supportive of me and of all our veterans; it makes me very proud."
After a career that has taken her all over the country, you might think Stayce would rather stay home than travel. Not so.
"I still just adore traveling, even after 34 years of flying. Until recently, I would always travel someplace I'd never been for my birthday, from Romania to South Africa, to Brunei. My favorites are Sydney, Australia, and Cape Town, South Africa."
Stayce plans to return to United when she has finished her position. Of all the aircraft she's flown – including C-141s, C-130s, KC-135s, Boeing 757s, 767s and 777s – her favorite is the 747.
"I just love that aircraft; it's a majestic airplane to fly."
Ooh Rah: Tech Ops' Don Larson carries on Marine past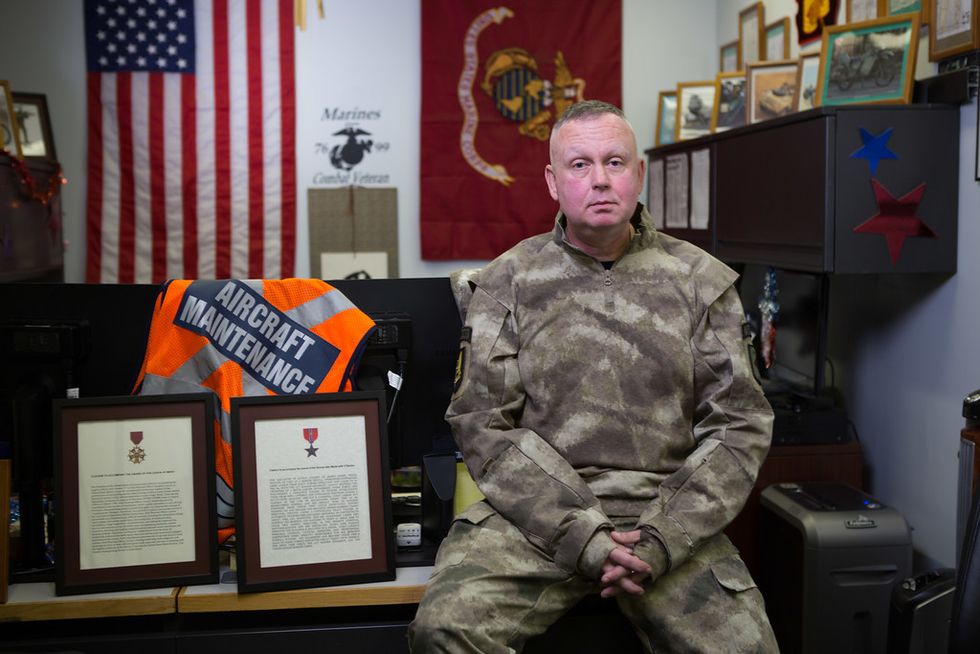 On the fifth floor of the Tech Ops Maintenance Service Center at O'Hare International Airport, above the ratcheting sound of planes getting tune-ups, is an office of which Uncle Sam would be proud.

A platoon of G.I. Joe-esque figurines stand guard atop file cabinets and shelves, U.S. and Marine Corps flags decorate the back wall, pictures of military vehicles and missions past line the side walls, mementos of service time and military citations of the Bronze Star medal and Legion of Merit with the combat distinguishing "V" devise for valor are proudly displayed on the desk, and a grenade-shaped coffee mug and meal ready to eat decorate a table.
Welcome to Don Larson's office.
Don retired from the Marines in 2000 as a Chief Warrant Officer – a highly skilled position of leadership and responsibility – after 24 years of service that spanned more than 30 countries, all seven continents, a dozen separate combat operations and security duty for President Ronald Reagan. He and his wife moved 13 times during those years, and he missed 17 Christmases at home. You'd think he'd have taken a break for a bit after that, but no – 25 days after his retirement, he had his first day on the job with United. Don works as a line maintenance administration manager.
"If it's not turning a wrench or fixing an airplane, then we handle it," says Don, who handles administrative duties for ORD Tech Ops employees.
The impact of Don's military past is just as evident in his work as it is on his walls. Lessons learned on how to most effectively work with others, and building and managing relationships while fighting in Iraq, Kosovo, Somalia and other war-torn locales have helped him in his current role. Don and the others who work on the fifth floor have a team motto: mission always, people first.
"In the military, you have to deal with people of different ages from different places," Don says. "This helps, because in any job, you have to know your people and look out for their well-being."
The job helps him maintain his own wellness, as he suffers from Post-Traumatic Stress, multiple traumatic brain injuries and surviving cancer. To stave off head and neurological pain, he keeps the lights relatively dimmed in his office, and sometimes, if sleep is hard to come by, he'll come to the office in the middle of the night to start working, which helps occupy his mind.
"He is a remarkable individual to work with, and he never misses a beat with his work," ORD and DEN Maintenance Hub Managing Director James Montgomery said. "He ensures every member of his team learns everyone else's role, so that anyone can cover for anyone else if needed. The flexibility that creates is awesome, and they all love working with him."
Don learned during his service that humor can be a coping mechanism, so he likes to make people laugh at work.
He misses the 24/7 camaraderie of the military, but says, "The job has to get done – anything less is not an option."
Recently, his wife of 37 years asked him when he, 57, plans to retire. No sniper's scope can find that target date.
"As long as I add value through the work I'm doing and make a difference in the lives of the people I'm working with," Don said, "I'm going to continue."
From ORD to Afghanistan and back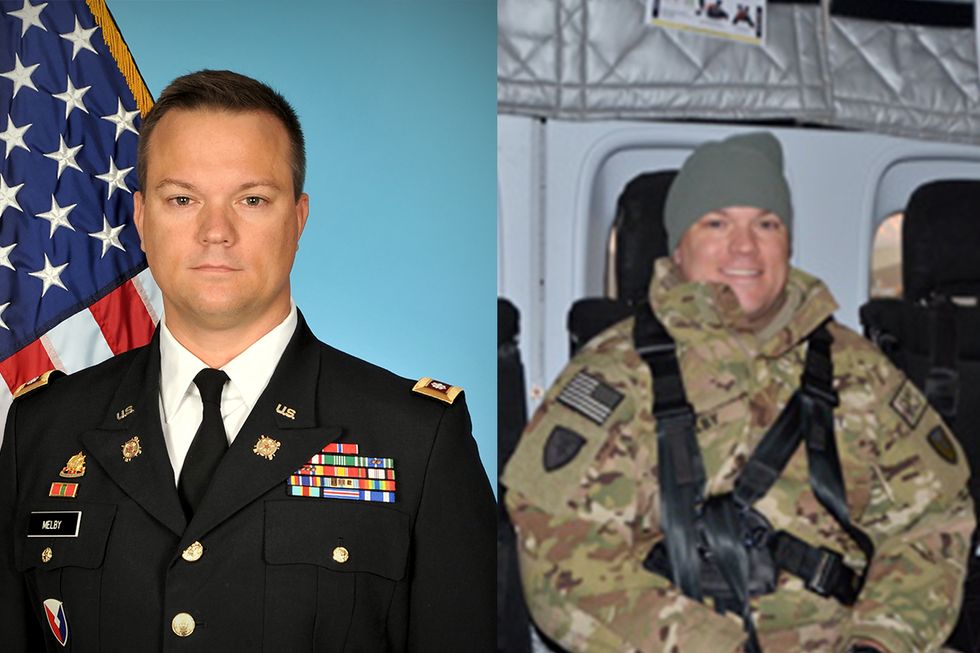 Ryan Melby may be best known at United by the title he holds at the Chicago Corporate Support Center: director of airport operations ramp planning and airport services. What you may not be as familiar with is the title that he carries when he's away from the office – battalion commander as a lieutenant colonel in the Army Reserve.

Ryan, a former active duty solider and current Army reservist, joined United in 2005 through a military leadership recruiting program as a ramp supervisor, and has since worked his way up through the ranks of the company. Today, among other things, he oversees our below-the-wing policies and procedures, station openings and Airport Operations contract strategy.
"The Army taught me a lot about leadership, but I feel my experiences at United have helped me evolve as a leader," I learned as much working at O'Hare as I did in the military."
Ryan was first commissioned as a lieutenant through the ROTC program at the Marion Military Institute in Marion, Alabama. He finished college at Embry – Riddle with a focus in aeronautics before going onto active duty. He left the active service and became a reservist in 2001 so that he could pursue a civilian career as a pilot. But when the September 11th attacks occurred, he was called back into service.
"I was a captain responsible for preparing reserve units for deployment," Ryan said. "I was also part of an exercise in Germany that worked through the plans and 'war gamed' the Iraq invasion."
Over the next ten years, he served in the Army Reserves and worked in a variety of roles at United while he and his wife started a family. Then, in 2011, he received some surprising news: With only a month's notice, Ryan was deployed to Bagram, Afghanistan.
"I had three small children at home – my daughter was only three months old at that time – so it was a real tough experience leaving them, but that was the commitment that I made."
His deployment coincided with the ongoing U.S. troop withdrawal, and Ryan's unit was responsible for managing the logistics of sending vehicles and equipment back to the U.S. After the year-long deployment he returned home to open arms. "United was really understanding throughout my time in Afghanistan, and welcomed me back to my old position. I appreciated all of the support my co-workers provided while I was away."
It's those kinds of experiences that Ryan relies on in his leadership position at United. "In the Army, you're taught to always finish the mission no matter how difficult it is. If you have a can-do attitude, you really can accomplish anything."
'Semper Paratus,' at sea and at United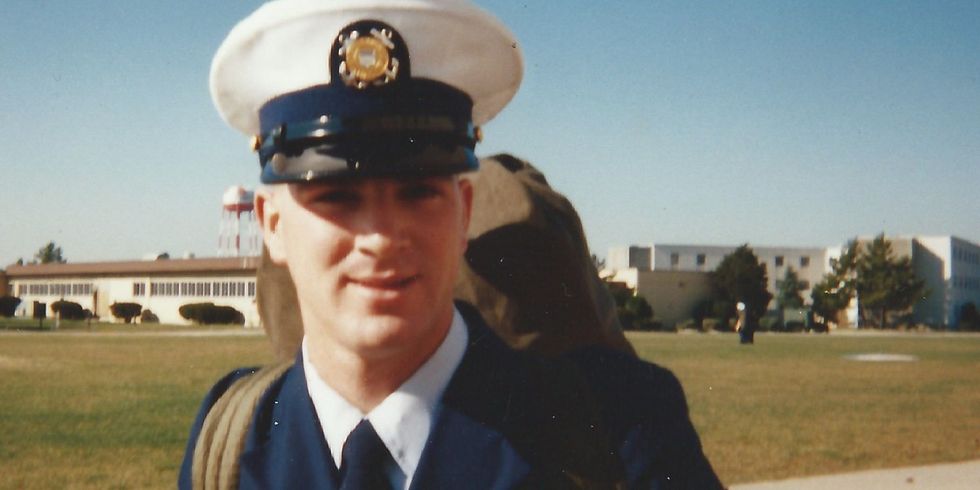 Network Operations Principal Engineer James Taylor proudly served in the United States Coast Guard for four years, an experience that he still leans on today in his role helping to keep our IT operations running smoothly.

James enlisted right out of high school as an eighteen-year-old. His lifelong love of boats and the open water initially attracted him to the Coast Guard, coupled with the fact that, as he says, "Back then we were in peacetime, but the Coast Guard was still busy – they were doing search and rescues and drug traffic interventions. It seemed exciting."
After completing basic training in Cape May, New Jersey, James found himself stationed in an unlikely place for a Coast Guard Seaman: Keokuk, Iowa. During his time there, his team patrolled the Mississippi River down to St. Louis, maintaining buoys and keeping the water cleared for barges.
Looking for a new challenge, he attended Coast Guard "A" school (advanced school) and became a radarman, transferring to the U.S. Coast Guard Cutter (USCGC) Mellon, a high-endurance cutter based in Seattle. The Mellon's crew was tasked with patrolling the Pacific Ocean for months at a time, from Alaska down to Guatemala.
"We had two objectives, depending on which way we went out of Seattle," James said. "Going right (north) meant sailing to Alaska and handling fishery patrols; going left (south) meant looking for boats trafficking drugs."
Those missions at sea provided James with memories that he still appreciates to this day. "Of course I remember the month we spent training in Hawaii," he said, laughing, "and I'll never forget seeing porpoises and sea turtles in the Strait of Seward near Alaska and volcanoes erupting in the Aleutian Islands."
But it's not just the memories of the people and places that James carries with him; his time in the service made a much larger impact on him as a U.S. citizen and as an employee of United.
"Being in the military gives you a deeper pride for the U.S., and it instills in you a devotion to duty, respect for others and respect for authority," he said. "It also prepares you always to be ready for anything – and that's part of my job today. If our IT systems go down, it can lead to flight delays, so I'm always thinking about a back-up plan. The Coast Guard's motto is Semper Paratus – Always Ready – and that's what I live by."
Right now, around the world, brave members of America's armed forces are on duty, defending our freedom and upholding our values.
When not laser-focused on the mission at hand, they're looking forward to the day when their service to our nation is fulfilled and they can reunite with their families.
They are also imagining how they can use their hard-earned skills to build an exciting, rewarding and important career when they return home.
I want them to look no further than United Airlines.
That's why we are focused on recruiting, developing and championing veterans across our company, demonstrating to our returning women and men in uniform that United is the best possible place for them to put their training, knowledge, discipline and character to the noblest use.
They've developed their knowledge and skills in some of the worst of times. We hope they will use those skills to keep United performing at our best, all of the time.
That's why we are accelerating our efforts to onboard the best and the brightest, and substantially increasing our overall recruitment numbers each year.
We recently launched a new sponsorship program to support onboarding veterans into United and a new care package program to support deployed employees. It's one more reason why United continues to rank high - and rise higher - as a top workplace for veterans. In fact, we jumped 21 spots this year on Indeed.com's list of the top U.S workplaces for veterans. This is a testament to our increased recruiting efforts, as well as our efforts to create a culture where veterans feel valued and supported.
We use the special reach and resources of our global operations to partner with outstanding organizations. This is our way of stepping up and going the extra mile for all those who've stepped forward to answer our nation's call.
We do this year-round, and the month of November is no exception; however, it is exceptional, especially as we mark Veterans Day.
As we pay tribute to all Americans who have served in uniform and carried our flag into battle throughout our history, let's also keep our thoughts with the women and men who are serving around the world, now. They belong to a generation of post-9/11 veterans who've taken part in the longest sustained period of conflict in our history.

Never has so much been asked by so many of so few.... for so long. These heroes represent every color and creed. They are drawn from across the country and many immigrated to our shores.

They then freely choose to serve in the most distant and dangerous regions of the world, to protect democracy in its moments of maximum danger.
Wherever they serve - however they serve - whether they put on a uniform each day, or serve in ways which may never be fully known, these Americans wake up each morning willing to offer the "last full measure of devotion" on our behalf.
Every time they do so, they provide a stunning rebuke to the kinds of voices around the world who doubt freedom and democracy's ability to defend itself.
Unfortunately, we know there are those who seem to not understand – or say they do not - what it is that inspires a free people to step forward, willing to lay down their lives so that their country and fellow citizens might live.
But, we – who are both the wards and stewards of the democracy which has been preserved and handed down to us by veterans throughout our history – do understand.
We know that inciting fear and hatred of others is a source of weakness, not strength. And such divisive rhetoric can never inspire solidarity or sacrifice like love for others and love of country can.
It is this quality of devotion that we most honor in our veterans - those who have served, do serve and will serve.
On behalf of a grateful family of 96,000, thank you for your service.
Humbly,
Oscar
Each year around Veterans Day, Indeed, one of the world's largest job search engines, rates companies based on actual employee reviews to identify which ones offer the best opportunities and benefits for current and former U.S. military members. Our dramatic improvement in the rankings this year reflects a stronger commitment than ever before to actively recruiting, developing and nurturing veteran talent.
"We've spent a lot of time over the past 12 months looking for ways to better connect with our employees who served and attract new employees from the military ranks," said Global Catering Operations and Logistics Managing Director Ryan Melby, a U.S. Army veteran and the president of our United for Veterans business resource group.
"Our group is launching a mentorship program, for instance, where we'll assign existing employee-veterans to work with new hires who come to us from the armed forces. Having a friend and an ally like that, someone who can help you translate the skills you picked up in the military to what we do as a civilian company, is invaluable. That initiative is still in its infancy, but I'm really optimistic about what it can do for United and for our veteran population here."
Impressively, we were the only one of our industry peers to move up on the list, further evidence that we're on a good track as a company.
The question of where David Ferrari was had haunted retired U.S. Army Sergeant Major Vincent Salceto for the better part of 66 years.
Rarely did a week go by that Salceto didn't think about his old friend. Often, he relived their last moments together in a recurring nightmare. In it, it's once again 1953 and Salceto and Ferrari are patrolling a valley in what is now North Korea. Suddenly, explosions shatter the silence and flares light up the night sky.
Crouching under a barrage of bullets, Salceto, the squad's leader, drags two of his men to safety, then he sees Ferrari lying face down on the ground. He runs out to help him, but he's too late. And that's when he always wakes up.
Italian Americans from opposite coasts – Salceto from Philadelphia, Ferrari from San Francisco – the two became close, almost like brothers, after being assigned to the same unit during the Korean War. When Ferrari died, it hit Salceto hard.
"After that, I never let anyone get close to me like I did with Dave," he says. "I couldn't; I didn't want to go through that again."
When the war ended, Salceto wanted to tell Ferrari's family how brave their son and brother had been in battle. Most of all, he wanted to salute his friend at his gravesite and give him a proper farewell.
For decades, though, Salceto had no luck finding his final resting place or locating any of his relatives. Then, in June of this year, he uncovered a clue that led him to the Italian Cemetary in Colma, California, where Ferrari is buried.
Within days, Salceto, who lives in Franklinville, New Jersey, was packed and sitting aboard United Flight 731 from Philadelphia to San Francisco with his wife, Amy, and daughter, Donna Decker, on his way to Colma. For such a meaningful trip, he even wore his Army dress uniform.
That's how San Francisco-based flight attendant Noreen Baldwin spotted him as he walked down the jet bridge to get on the plane.
"I saw him and said to the other crew members, 'Oh my goodness, look at this guy,'" she says. "I knew there had to be a story."
The two struck up a conversation and Salceto told Baldwin why he was traveling. She got emotional listening to him talk and made a point of fussing over him, making sure he and his family had everything they needed.
About halfway through the flight, Baldwin had an idea. She and her fellow crew members would write messages of encouragement to Salceto and invite his fellow passengers to do the same.
"We did it discreetly," says Baldwin. "I asked the customers if they saw the man in uniform, which most had, and asked them if they wanted to write a few words for him on a cocktail napkin. A lot of people did; families did it together, parents got their kids to write something. After the first few rows, I was so choked up that I could barely talk."
When Baldwin surprised Salceto with dozens of hand-written notes, he, too, was speechless. He laid the stack on his lap and read each one. At the same time, the pilots made an announcement about the veteran over the loud speaker, after which the customers on board burst into applause.
"It seems contrived, and I hate using the word organic, but that's what it was; it just happened," Baldwin says. "Mr. Salceto was so loveable and humble, and what he was doing was so incredible, it felt like the right thing to do. And you could tell he was touched."
On June 27, Salceto finally stood before Ferrari's grave and said that long-awaited goodbye. As a trumpeter played "Taps," he unpinned a medal from his jacket and laid it reverently on the headstone.
"I had gotten a Bronze Star for my actions [the night Ferrari died] with a 'V' for valor, and that was the medal I put on Dave's grave," says Salceto, pausing to fight back tears. "I thought he was more deserving of it than I was."
For the first time in years, Salceto felt at peace. His mission was accomplished.
Scroll to top