Lots of sweat, lots of on-time departures: Summer on the ramp
It's 10:30 in the morning and the temperature gauge already reads 89 degrees. The Texan summer sun beams down from above. Heat waves emanate from the ground. Sweat glistens atop Ron Davis's shiny, bald head.

This isn't bad at all, Davis says. "I played high school football. Two-a-day practices? Those were hot. Some of the really hot days out here? Those feel more like three-a-day practices. We got it easy today."
A few gates down, employees revel in the "relief" that this weather feels like compared to the prior week.
"This is nothing," quips Tom Saavedra.
"A few clouds up there and a bit of a breeze – it's our lucky day," Leroy Taylor chimes in, a wide smile on his face.
Air temperature nearing 90 degrees. Tarmac temperature eclipsing 100 degrees most everywhere you step. 10:30 in the morning. And this is "easy". Welcome to life as a United ramp service employee at Houston's George Bush International Airport (IAH) in the summer.
United isoperating more than 500 flights out of Houston each day this summer, and thanks in part to the hard work of our ramp service employees, more flights have left Houston on time this summer than any prior summer.
How? Hydration and nutrition have played huge roles.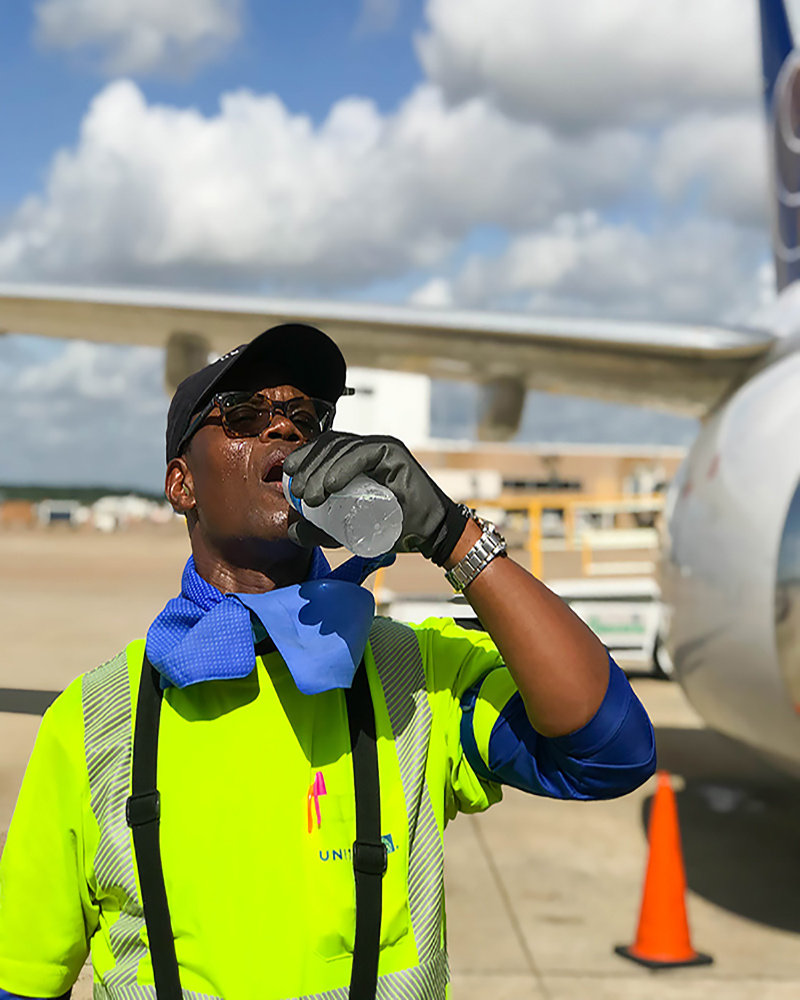 Posters with hydration reminders adorn the walls of ramp break rooms and hallways. It's the first topic of every meeting. Regular reminders are sent out over the group's radio system.
Employees have a flight schedule to keep, but as leaders, we have to provide them with the tools to do their job, says Gary Snead, a United supervisor based at IAH. "That includes keeping them fit to work in the summer heat."
And provide they do. Here are the resources deployed in an average summer month on the ramp in Houston:
Over 10,000 bags of ice, totaling more than 100,000 pounds of ice.
313, 5-gallon water coolers refilled at least four times per day.
An athletic trainer on site.
One day a month, the IAH ramp holds a fruit & hydration day, where supervisors distribute over 1,000 pieces of fruit to our sun-soaked employees.
1,000+ cooling towels distributed.
10 misting tents
The increased focus on hydration has helped increase productivity, and it's also resulted in a record-low number of heat-related illnesses among employees.
You take care of the employees, Snead says, "and the employees will take care of your operation."
That's proved true around the world, as we have flown more customers this summer than ever before, all while topping our competition in on-time departures in recent months. Our 13,000+ ramp service employees have played a huge role in that.
Summer heat? It's been beat.
Adventures in ancient Beijing
Each week we will profile one of our employee's adventures across the globe, featuring a new location for every employee's story. Follow along every week to learn more about their travel experiences.
By Houston-based Quality Control Aircraft Inspector Rey Sacueza
As I thought back to my world history class in high school, a lesson about ancient China made me fascinated and intrigued with the country's mysterious and charming appeal. What really sparked my interest in this lesson was the Great Wall of China. That day I wished that someday I could walk and climb the stairs of this magnificent and amazing structure, built by human hands. 40 years later, this wish became a reality when my wife and I boarded a United flight bound for Beijing. Our time there was unforgettable – the experience was once in a lifetime for both of us.
Arriving in a country without knowing, speaking and understanding the signs/symbols and language made me feel very uncomfortable and out of my element at first. Even though we don't speak nor understand the language, to get to our hotel we managed to communicate with our taxi driver through sign language, the ultimate universal language of the world. Translation apps downloaded on our phones were also very helpful.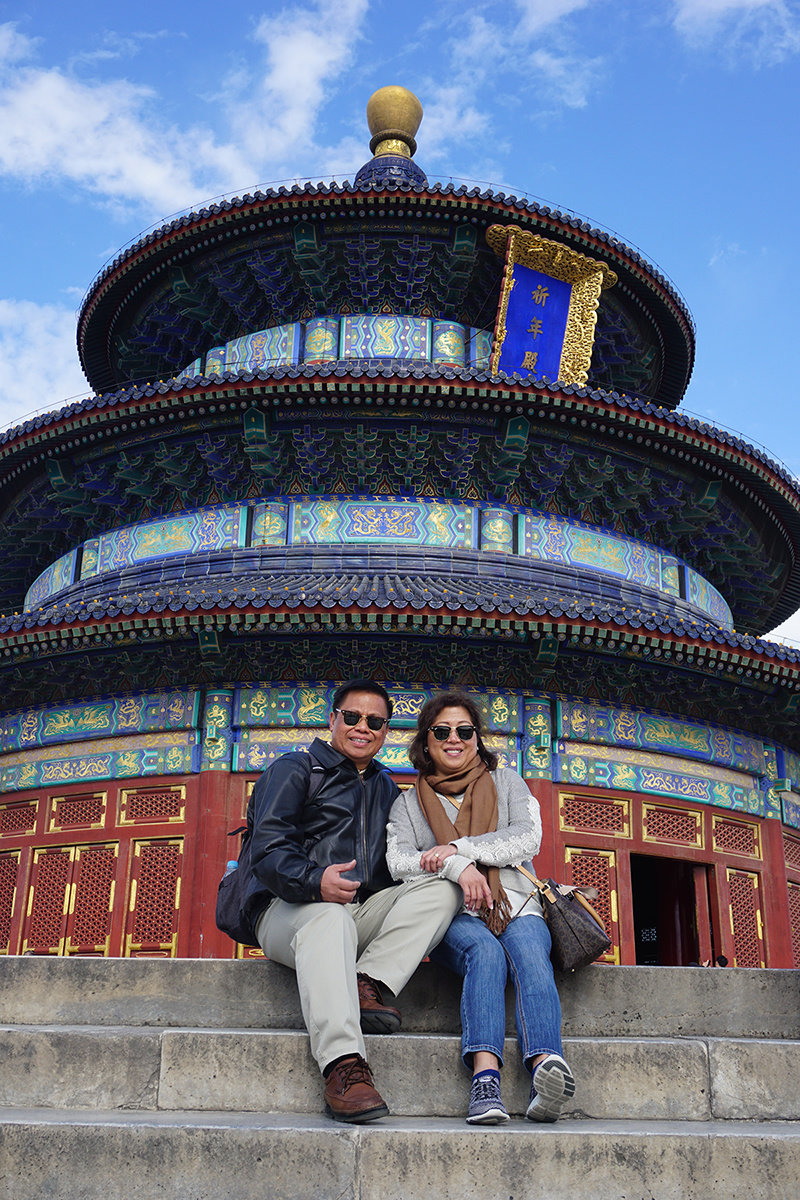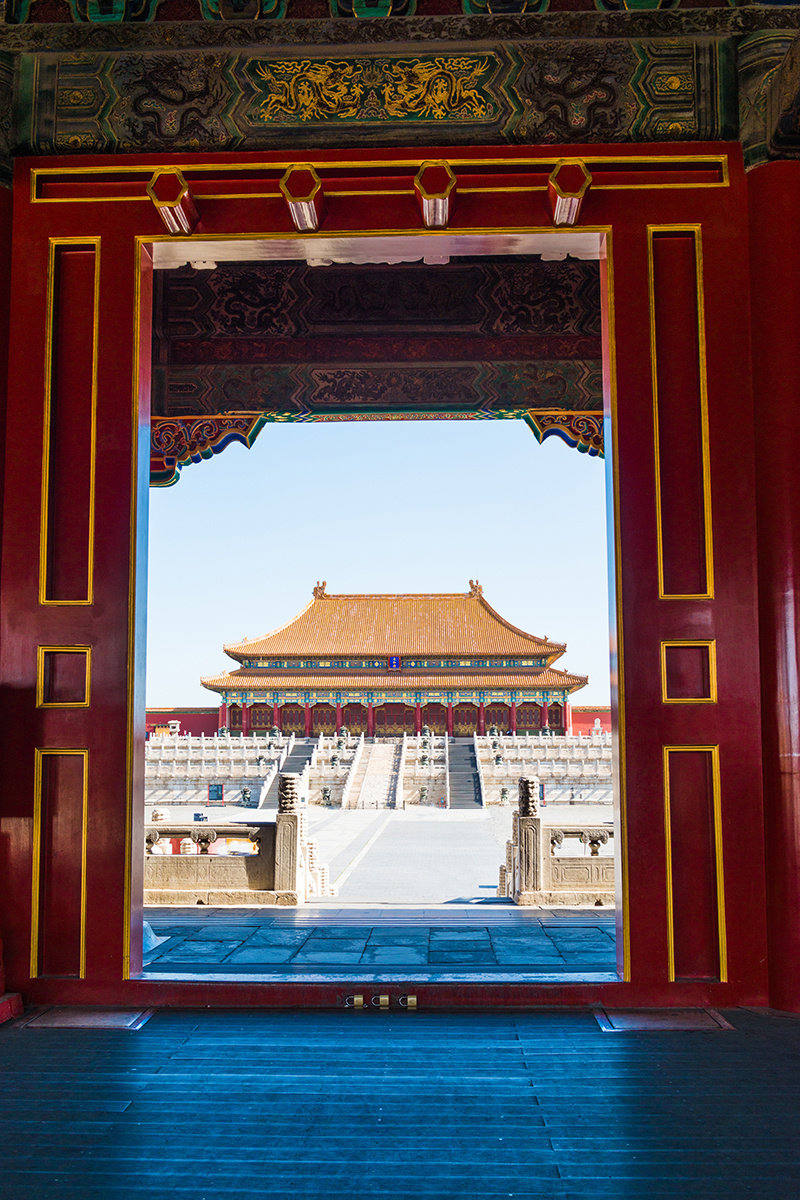 The next day, after a good night's sleep and with a full stomach following breakfast, we were ready and excited for the day of adventure. Our tour guide picked us up at our. hotel and guided us through the sights of Beijing. We experienced a bird's eye view of the Forbidden City from the highest peak of Jingshan Park, a spectacular, postcard worthy view. Seeing the cute, world-famous Giant Panda at the Beijing zoo chowing down on bamboo was also an experience to remember. We also explored the 2008 Olympic stadium called the "Birds Nest" and the aquatic center. We rode a rickshaw through the hutongs of the oldest neighborhood of the city and then into the Yonghe (Lama) temple with interesting works of art. At night, we attended a show at Red Theater featuring "Legend of Kung Fu," which was performed by China's leading performing artists, top kung fu practitioners, acrobats and dancers using precision artistry and skills. It was an amazing show not to be missed while in Beijing.
Continuing our adventures the next day, we were guided through a full day of experiences, full of seeing even more major sites Beijing has to offer. We explored the ancient and mysterious Forbidden City, strolled around the legendary Tiananmen Square, absorbed the majestic charm of the Summer Palace/Temple of Heaven and the sacred grounds and tombs of the Ming dynasty. After a long day of exploring, we headed to Quanjude Roast Duck Restaurant on Wangfujing Street, where you can eat the world-famous Beijing (Peking) duck. Here, a chef will carve the duck right in front of you and present it to you at your table - a mouthwatering dining experience and another must while in Beijing.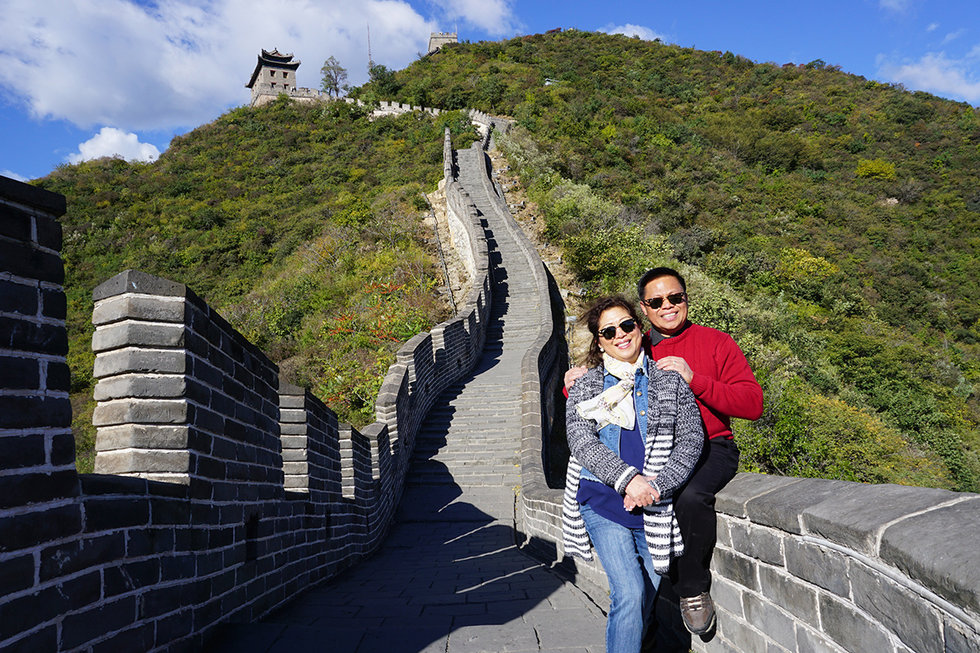 On our last day, we saved the best for last. As they say, "No trip to Beijing would be complete without going to the Wall." At last, my ultimate dream and the inspiration that brought us to Beijing: We were at the Great Wall of China. We walked, climbed and took many pictures of one of the most iconic wonders and largest historical sites in the world. It's also one of the greatest feats of engineering and architecture in the world. No wonder it's a UNESCO World Heritage site and one of the New Seven Wonders of the World!
Beijing is one of the most amazing cities in the world with countless once-in-a-lifetime experiences that are definitely worth the trip.
United and Special Olympics
Taking inclusion to new heights
Our shared purpose is to connect people and unite the world — and no organization better embodies that principle than Special Olympics.
Learn more
Find United in New York's Penn Station
In July 2015, through an effort to showcase our dedication to the New York/New Jersey area, we opened a branded experiential space in New York's Penn Station. The space was created to allow our customers the opportunity to engage with employees, as well as to help provide information on new routes, promotions, sponsorships and amenities. During the work week, a few of our Customer Service Representatives are available as additional resources for customers to help with upcoming travel plans, booking future travel or just simply to provide travel inspiration.
Since opening, there have been a number of events and promotions such as teaming up with TSA for a TSA Pre✓® enrollment event and offering Global Entry interviews to make the process even more convenient for you. Events and promotions take place throughout the year so be sure to stop the next time you're traveling through Penn Station.
Our United space at Penn Station is located near the main concourse and Amtrak waiting area. There are Customer Service Representatives available at the space Monday through Friday from 9:00AM to 5:00PM, as well as promotions and events taking place live Monday through Friday from 7:30AM to 9:30AM and from 4:00PM to 6:00PM; schedule pending holidays and government observances.
Eating through Asia, Excursionist Perk style
The best part about travel, according to Marc Marrone?
"Being able to taste and try the different cuisines," Marrone says, "because even if you don't speak the language of whatever country or culture you happen to be in, you can express a lot via food."
Spoken like a true, world class chef. Marrone, the Corporate Executive Chef for TAO Group Las Vegas, Hollywood and Singapore, recently got to immerse himself in Southeast Asian culture – and cuisine – on a week-long foodie dream come true of a trip, thanks to United's new San Francisco-Singapore route.
Marrone experienced just how spectacularly grand and modern Singapore is – the towering Marina Bay Sands Hotel, the luminescent stalks of Supertree Grove and the curved roof of the Esplanade Concert Hall all amazed him. And few cities interweave modernity and greenery quite like Singapore, a fact he had great appreciation for. Look no further than the Gardens by the Bay, a 250-acre nature park featuring intricately designed, flora-infused structures.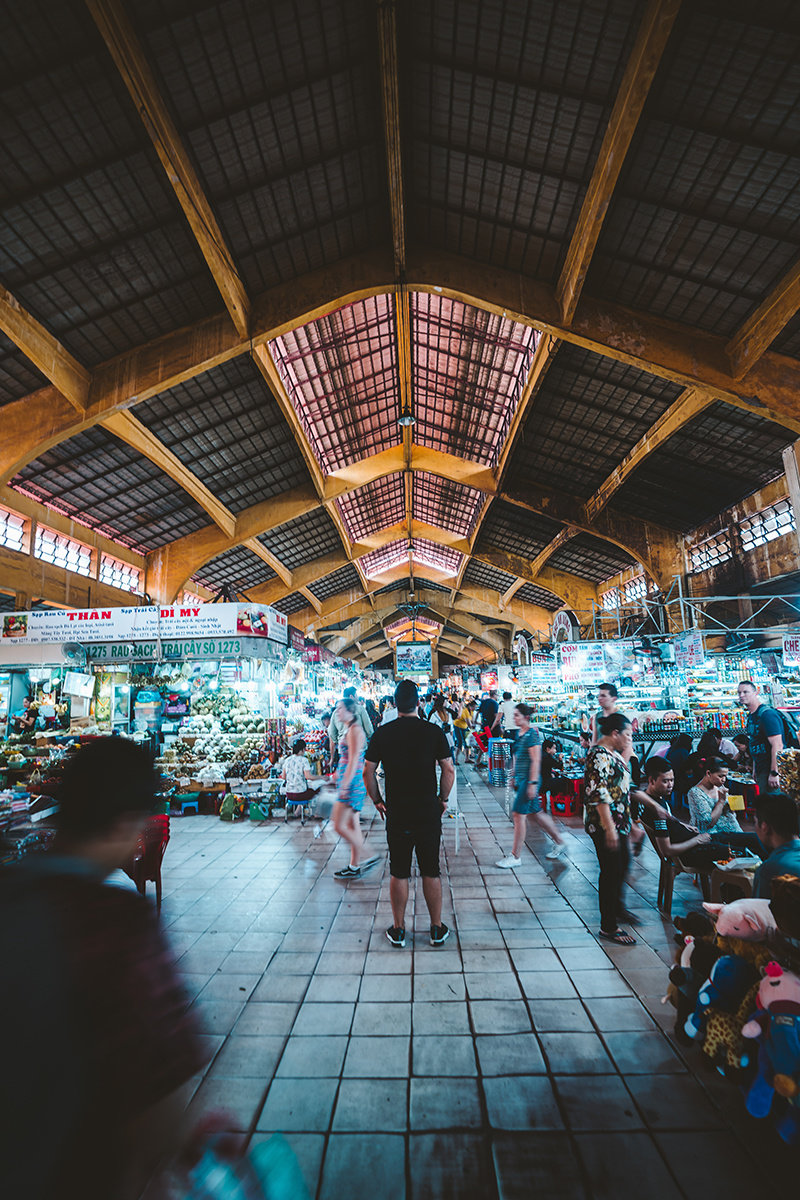 But beneath all of those stop-and-stare attractions lied what resonated most with Marrone: the food. From hawker stalls and wet (food) markets to Michelin-starred fine dining establishments, Singapore boasts meal options that cater to every mood.
Sharing in those food experiences with others who hadn't yet been to Singapore was his favorite part.
"You know, to see someone's face when they get to try something for the first time --that you've already had -- is an incredible experience, to be able to share that with somebody," Marrone says. "But then on top of that, experiencing some things on my own for the first time with everybody was really a crazy and amazing experience. We got to eat some amazing food and got to try some amazing things, and see some really cool parts of the city."
Additionally, Singapore is a great launching pad to the rest of Southeast Asia — as Marrone experienced, thanks to United's Excursionist Perk. Who wouldn't want two trips for the price of one?
The Excursionist Perk is meant to give a free one-way segment to travelers on round-trip award itineraries between two different regions, as defined by the United award chart. By invoking the Excursionist Perk, travelers can get a segment for no additional miles within the region they're visiting as long as it's a different region than where they're starting. All they have to pay are the taxed and fees associated with the new segment. For example, Newark-London-Vienna-Newark would cost the same amount of miles as Newark-London-Newark.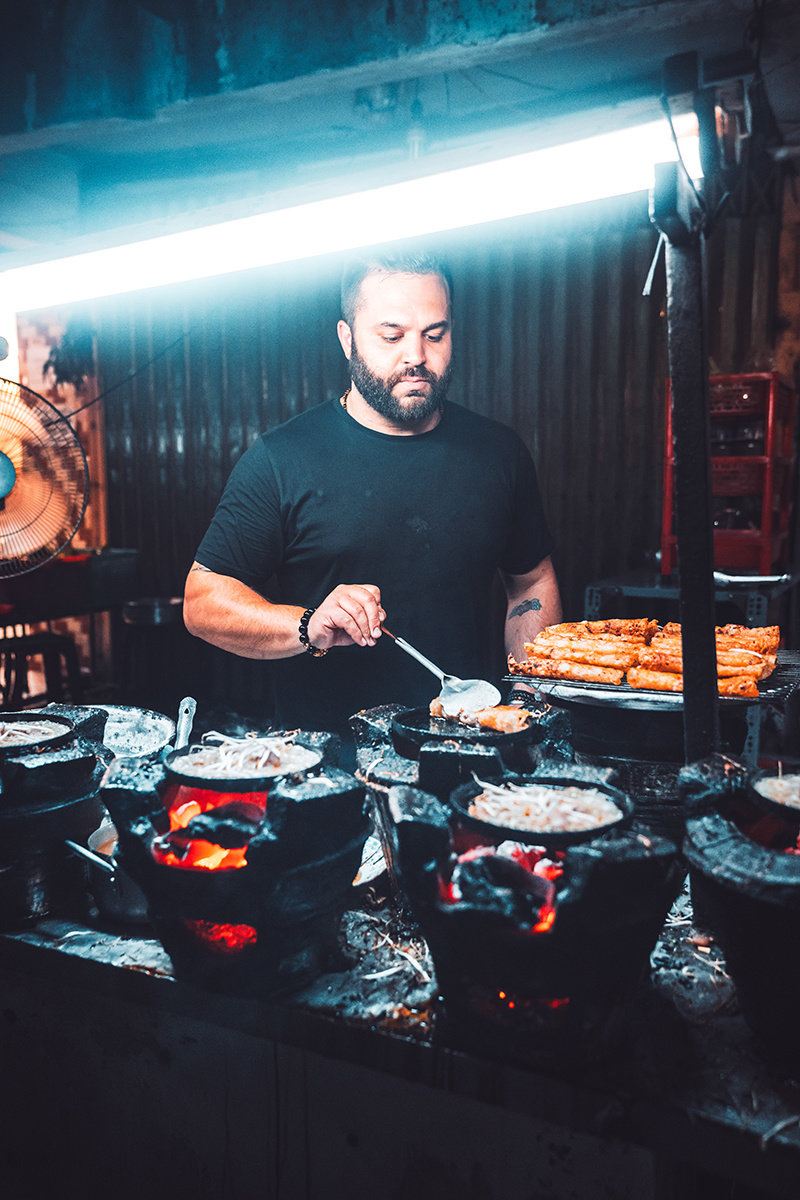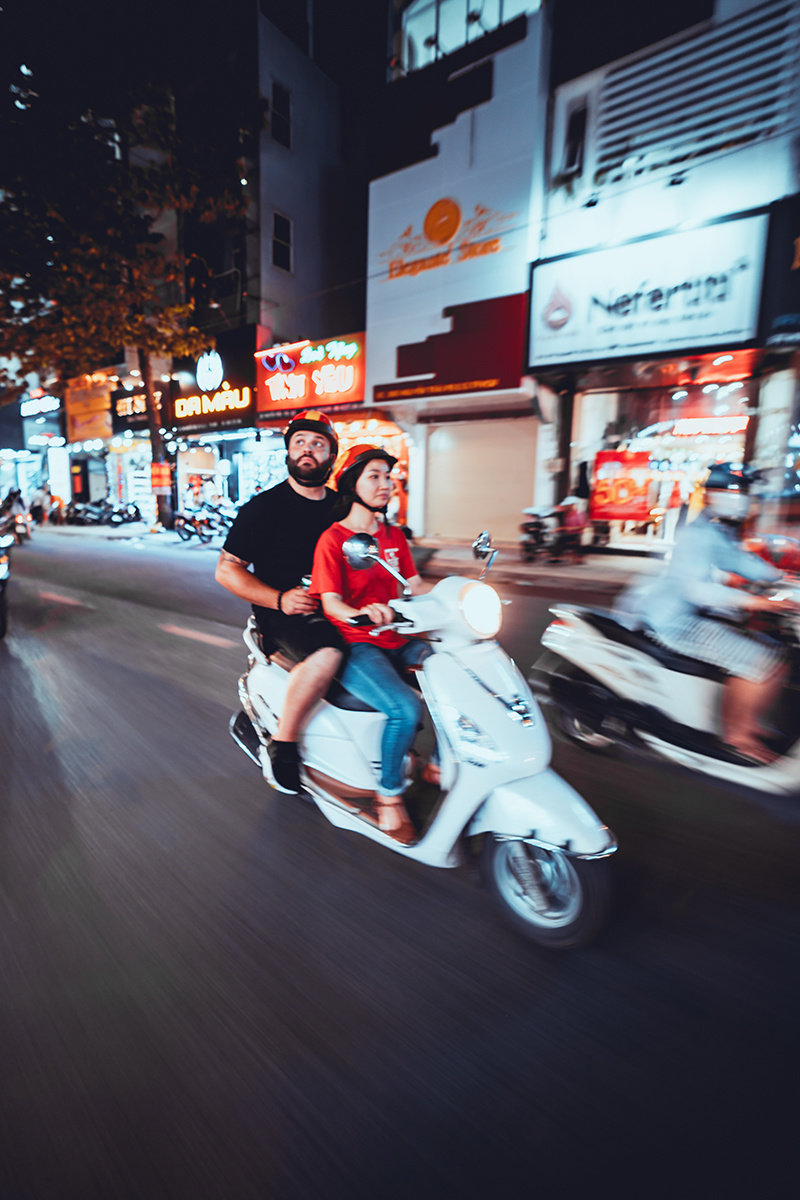 Marrone used the Excursionist Perk to add a day in Vietnam to his itinerary on his Singapore trip.
"I got to cook on the side of the street and eat some of the best food right off the grill on the sidewalk," Marrone said. "Little did I know how much of an impact the 26 hours we spent there would have on me."
To Marrone, Vietnam stands out more than any other destination he's been to.
"From the minute we got off the plane to then we got back on the plane, it was a full immersive cultural experience between all the different foods, we got to experience how we travel around Vietnam, and really got to spend a true day in the life of what it's like to be in Vietnam."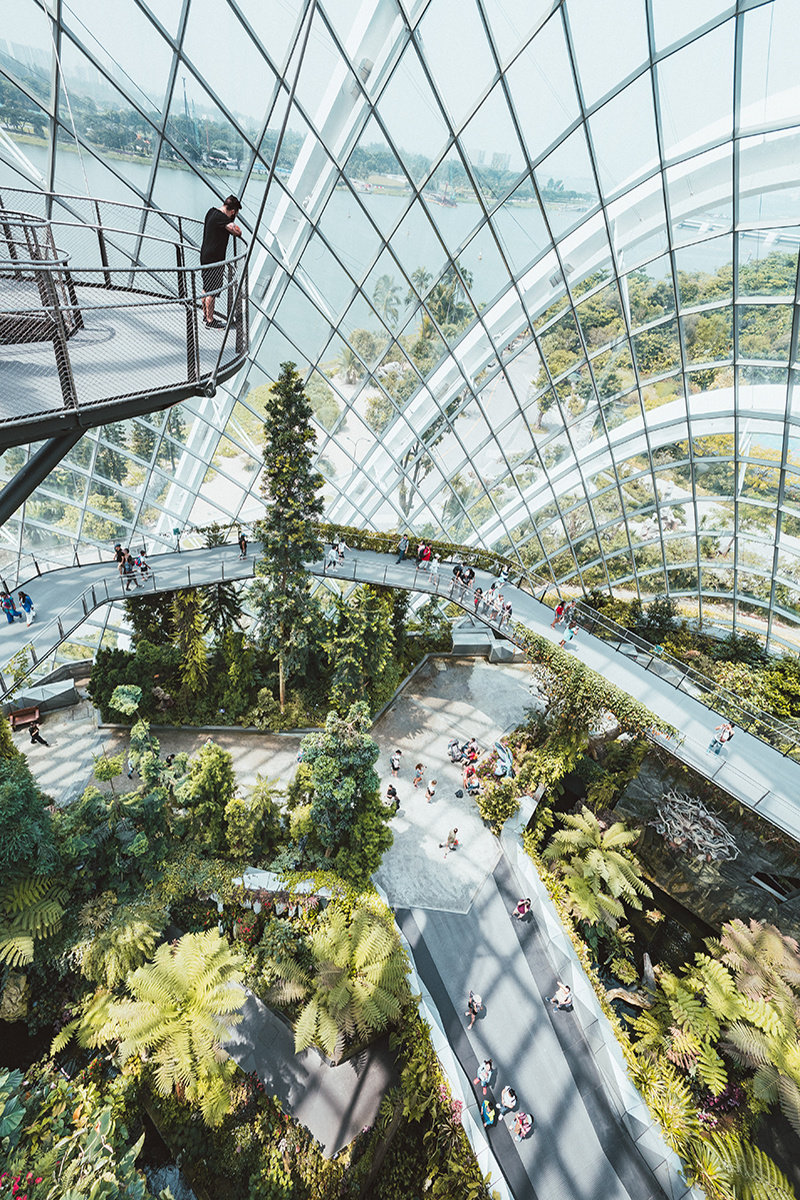 5 tips & tricks we learned
Eat at a hawker center more than once They're everywhere and Singapore is home to the cheapest Michelin-starred meal in the world (Liao Fan Hong Kong Soya Sauce Chicken Rice & Noodle).
The airport is a destination in and of itself The world's best airport for many years complete with a butterfly garden and rooftop pool. English is an official language of the country so no language barriers and it's a hub for Asian destinations so you're only a few hours from Bangkok, Ho Chi Minh City and many more.
Download Grab Singapore doesn't have Uber or Lyft so the Grab app is a must-have for getting around town.
There's more than one infinity pool in town While the iconic Marina Bay Sands has its very popular roof top infinity pool, you can also find one at the JW Marriott Hotel Singapore South.
You can still hit the beach in Singapore Singapore is home to Sentosa, a man-made island that features a beach that is over a mile long. You can also hit one of the two golf courses, 14 hotels and even Resorts World Sentosa, featuring the theme park Universal Studios Singapore and a casino.
The many faces of our United family
United is a second home to almost 90,000 people across the world. These employees work tirelessly day-in and day-out to help us run a safe, caring, dependable and efficient airline. We asked a few long-time employees from around our network about what they do, why they were drawn to careers in the airline and what they love about their jobs. Here's what they had to say.
Rosa Fernandes
Rosa has been a customer service representative at New York/Newark (EWR) for 31 years.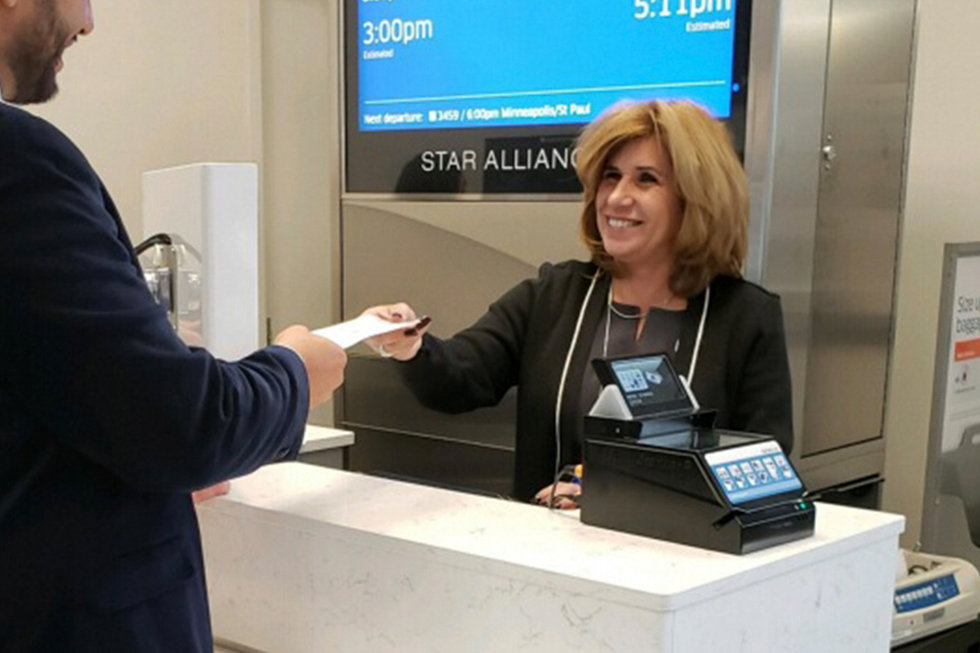 Rosa helps a United customer.
"Since I can remember, I've loved airplanes. I first traveled on an airplane back in 1978 when I came from Portugal. I was lucky enough that they put my family and me in first class on a 747 from Lisbon to America. I had a window seat … my face was glued to the window."
Joe Bunker
Joe is a Boeing 777 first officer based at Chicago O'Hare (ORD) for 24 years.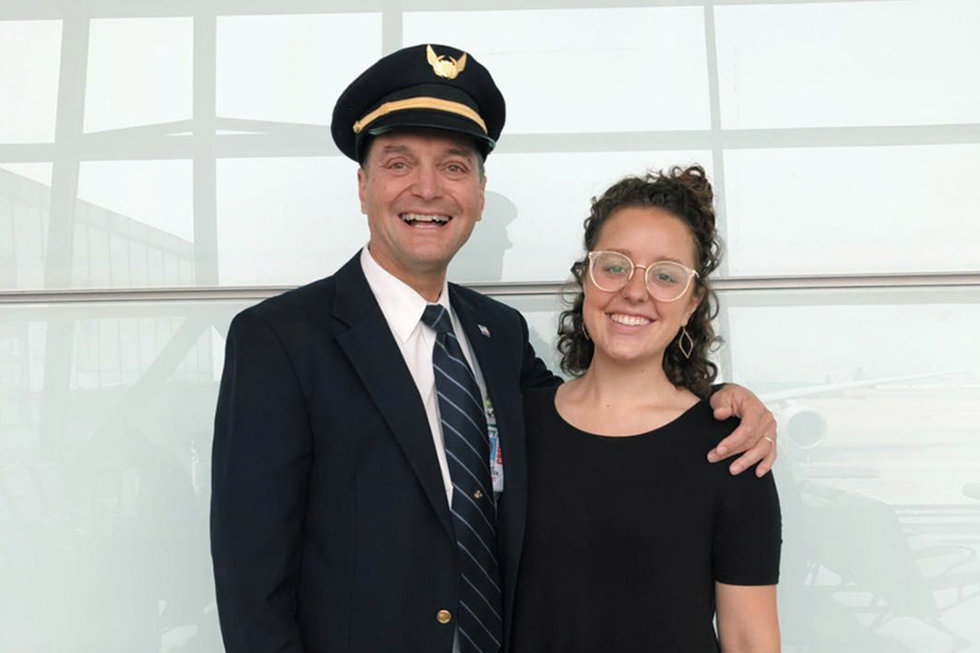 Joe pictured with his daughter, Callie.
"I enjoy speaking with our passengers, even if it is just saying 'thank you and goodbye' at the end of a flight. During irregular operations, it is rewarding to explain how and why the weather event (or maintenance problem) is affecting our operation."
Jim Hott
Jim is lead ramp service employee at Houston (IAH), and has been with United 35 years.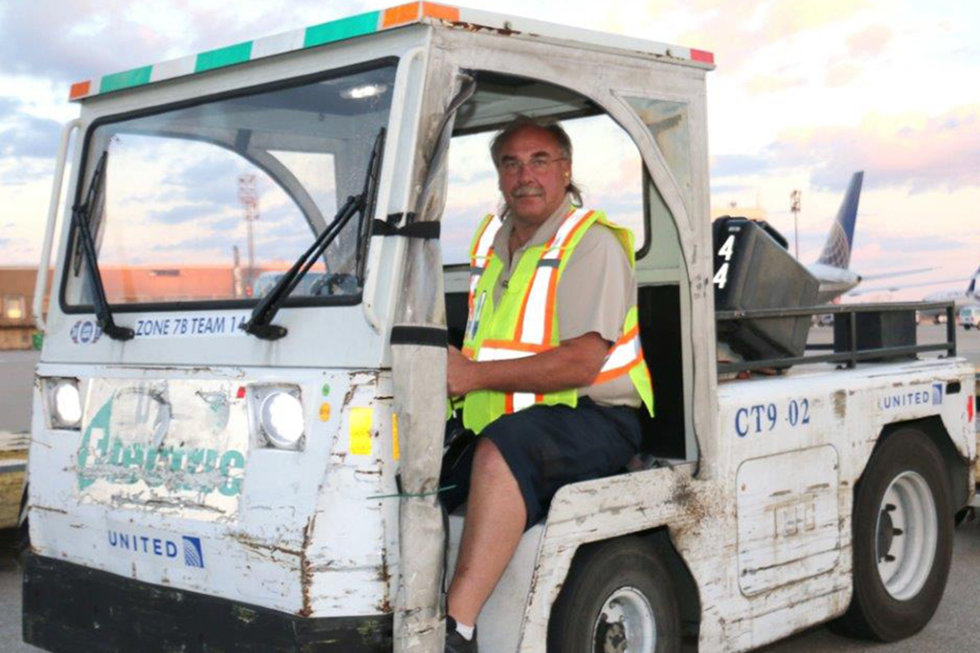 Jim pictured on a United ramp.
"In a nutshell, I am responsible for the safe loading and unloading of aircraft I have been assigned to service. This encompasses making sure all personnel are safe in doing so. This not only includes United coworkers, but vendors such as aircraft fueling personnel, aircraft cleaners, etc."
Marilyn Adkins
Marilyn is a senior production controller in Technical Operations at San Francisco (SFO), and has been with United 29 years.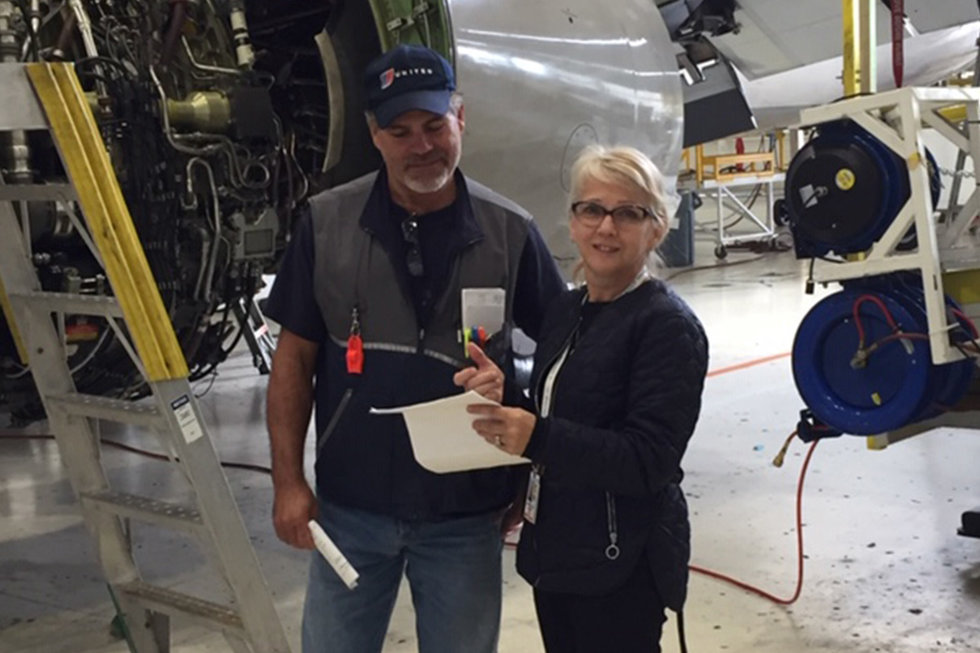 Marilyn pictured with another United employee.


"I dreamed of working for an airline from the time I was 12. I wanted to work as part of an in-flight team, however my small stature didn't meet the early requirements of this group. I started working in the kitchens then … went to school to get my airframe and powerplant licenses which allow you to work on the aircraft. After a brief period as a mechanic, I entered management within Tech Ops."
M.J. Flaherty
M.J. is an operations manager in the Network Operations Center [NOC] in Chicago and has been with United 40 years.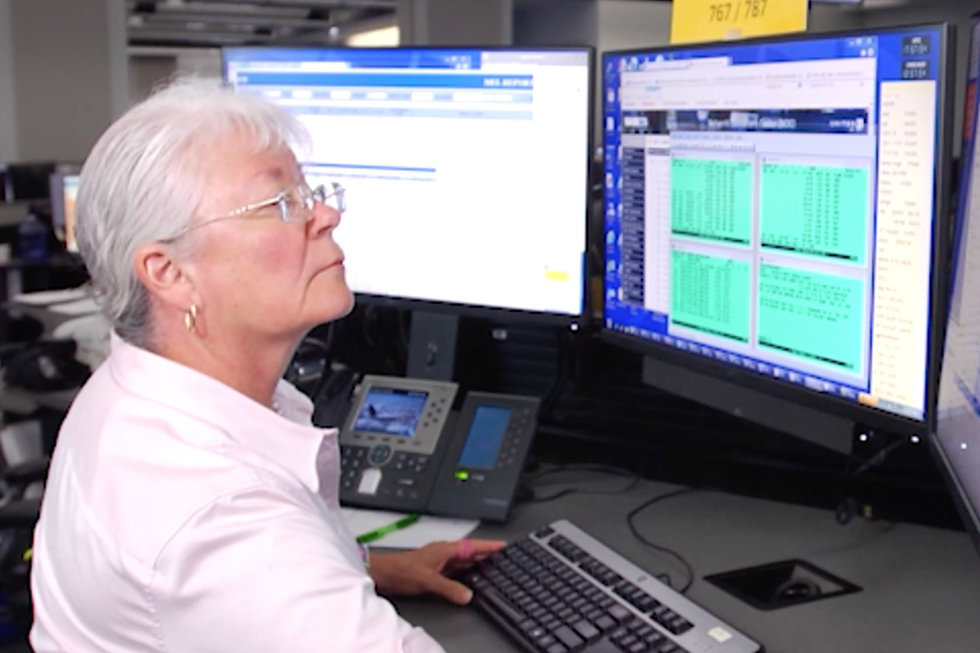 M.J. pictured in the United NOC
"When I go home at the end of the day, I think about all of the people that successfully got to where they wanted to go. … I think people don't fully understand how many people are involved in getting a flight out, not only on time, but safely to the destination."
James Simons
James is the base chief pilot at Washington Dulles (IAD) and has been with United 29 years.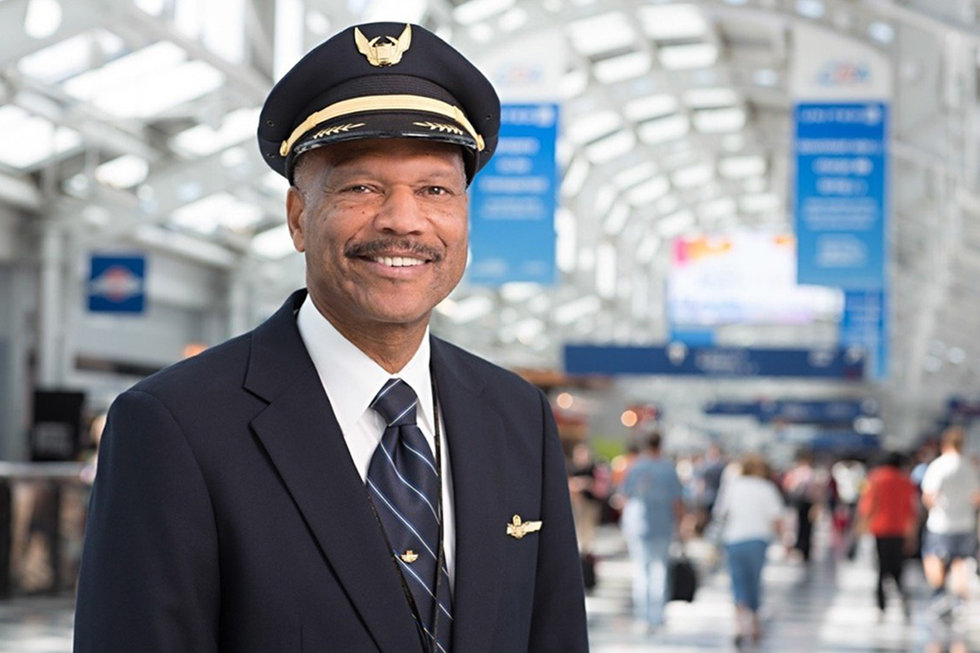 James pictured at Chicago's O'Hare Airport
"The best day on the job was when I first became a captain … I was the final authority on all things that affected the almost 160 people that were on board that flight. They were concerned with their upcoming business meetings, vacation plans or just visiting relatives, and they trusted me and my crew to get them to their destination safely and on time."
The gift of a lifetime
The last thing Newark-based Flight Attendant Jair Ripoll wanted to do was ask for help on social media. It just didn't seem right to him, airing his personal pain like that for everyone to see. But on a layover last fall, his friends and colleagues, Newark-based Flight Attendants Frank Luff and Colleen McClelland, urged him — pleaded, actually — to post news of his condition to Facebook in the hope of a miracle.
Ten years ago, Jair was diagnosed with a hereditary kidney disease. He was told at that time he would need a transplant as the disease progressed, but he had been unable to find a friend or family member who could donate one of their kidneys. Jair registered on the organ waiting list in Florida, where his family lives, praying that his name would be called before it was too late. With each passing year, the situation became more desperate.
At work, Jair kept the severity of his condition to himself. Flying was his safe place. The time he spent in the sky provided him a welcomed break from the fears surrounding his health. Frank and Colleen were shocked when he confided in them how sick he was.
"Colleen said, 'You never know how many angels are out there,'" Jair said, recalling how she encouraged him to tell his story on Facebook where his friends and fellow employees could read it and, hopefully, a potential donor would emerge. Jair was reticent, but Colleen and Frank convinced him by taking his phone and writing the post for him. Less than a minute after they published it, a message alert flashed across Jair's phone's screen. Someone had already replied.
"Steven was the first person to respond," Jair said. "I saw it and showed it to Colleen and Frank, and we all started crying."
Jair had flown with fellow Flight Attendant Steven Lepine many times and considered him a friend, but he never expected that Steven would be the first person to offer him the chance at a healthy life.
"I knew Jair had been sick, but I didn't know the extent of it," Steven said. "I felt like he was putting so much on the line with that Facebook post, and I just wanted to help him."
When Jair returned home to New Jersey, the two met for lunch and talked about what the transplant process entailed, including the battery of tests that Steven would need to undergo to make sure his kidney would be a good match for Jair.
"My family — my mother, especially — was worried," Steven said. "She knew the risks, but she also knew that once I decide something, I don't go back."
Things were going well until last October, when Jair's health took a sudden turn during a trip to Barcelona. When he got home, he barely had the strength to move. His friend, Flight Attendant Stephanie Torres, rushed him to the hospital in North Bergen, New Jersey, where doctors discovered that Jair had deadly levels of toxins in his body. They immediately put him on dialysis while Steven continued his tests. Finally, at the beginning of November, they got the call from the doctors at Saint Barnabas Medical Center in Livingston, New Jersey, where the transplant was to take place: Steven was fully cleared. The procedure was scheduled for December 6.
At 6 a.m. on the day of the surgery, Jair and Steven met in the pre-operation room. Joining them were Steven's mother, his close friend and fellow Flight Attendant Jon Little, and Jair's mother and brother, setting up the first meeting of the families. Though there was a language barrier — Jair's mother only speaks Spanish, Steven's only English — the emotions that filled the space needed no translation. "Steven's mom said to me, 'Now you become my son as well,'" Jair said.
A few hours later, they emerged from the operating room. The transplant had been a success, though the recovery process would be long. Steven returned to work in January and Jair should be cleared to fly again this month. The two talk almost daily, checking in on one another and offering encouragement.
"Jair is my blood brother now," said Steven. "We'll always have this connection."
Jon Little, who stayed by Steven's bedside during the operation, has remained in awe of his friend. "He's a very giving soul," Jon said of Steven. "He's an amazing person, but this took him to a whole new level. He's so modest, he says it's not a big deal, but this is probably one of the most incredible things I've ever seen."
Steven does indeed downplay what he did, and in talking with him you get a sense of the selfless determination that compelled him toward such an incredible act.
"I look at it as helping out another person," he said. "I'm not looking for recognition or anything like that. I never dreamed that I would do something like this, but the moment presented itself and the need was there, and I felt like I had to step up to the plate."
But for Jair, it was more than that. Much more. Because of Steven's gift, his life is forever changed and he struggles with how to adequately express his gratitude. "I don't even have the words, or know how to thank him for something like this," Jair said.
"The reason we want this story told is because we want it to be an example to other people at the airline," he continued. "The people you work with really do become your family. If someone has a problem, I hope our story will help them find the courage to come forward and ask for help. It's like Colleen told me: You never know who your angels are."
Join us in our wildfire relief efforts in California
Today, we reaffirmed our commitment to California and to lifting up communities in need by announcing $150,000 in direct donations to the Ventura County Community Foundation and the North Valley Community Foundation for their efforts in areas affected by the ongoing California wildfires. We also launched a Crowdrise campaign to award up to five million bonus miles for individuals who make donations of $50 or more. All funds will go toward efforts to support affected communities in California. We also continue to work with the Governor's Office of Emergency Services and both community foundations with offers to fly first responders who need to get in or around California.
"United is deeply connected to the affected communities and with a profound sense of both sadness and duty during this difficult time, we are proud to offer our assistance," said Janet Lamkin, United's president for California. "We will continue to engage our generous customers, employees and MileagePlus members and work with local leadership to support all those affected by these devastating fires."
Donations to the Crowdrise campaign supports three relief partners:
American Red Cross
Ventura County Community Foundation
North Valley Community Foundation
Today's announcement builds on our continued commitment to California and recent campaigns to aid in response to wildfires and other disasters. Over the last 12 months, we have raised and donated more than $900,000 to help communities affected by the wildfires.
We are also offering a travel waiver for customers ticketed on flights to, from or through Los Angeles International Airport (LAX), Hollywood Burbank Airport (BUR) and San Francisco International Airport (SFO). Customers may reschedule their itineraries for travel through November 25 with a one-time date or time change, and we will waive the change fees and any difference in fare for flights booked in the same cabin and same arrival/destination airports.
An unforgettable first: Rhett receives his flight certificate
Like most parents traveling with a baby for the first time, Kristin and Tyler Hildebrand felt a mix of excitement and nerves as they boarded the aircraft with their infant son, Rhett, during a recent family vacation to Cancun, Mexico. As they settled into their seats and made Rhett comfortable for his big adventure, Chicago-based Flight Attendant Paolo Vento stopped by to say hello.
In talking with Vento, the Hildebrands mentioned it was their first time flying together as a family. Hearing that, Paolo's eyes widened. To him, a first flight is as memorable an experience as a child's first step or first word (not to mention a badge of honor for anxious moms and dads) and deserves the same sort of celebration.
"I asked Kristin if she kept a scrapbook and she said yes, so I asked her if she'd like a first flight certificate for Rhett," he said. "She was so excited."
It's a practice that Vento began a few years ago after a family asked him to take their picture to commemorate their daughter's first trip. He asked the parents if they would like a certificate, and it grew from there. Since then, Vento estimates he's given out 40 or 50 of them, making each one at home and mailing them out on his own time and his own dime. The certificates are inscribed with the child's name, the flight's date, the origin and destination, and a short message that reads, in part, "Thank you for entrusting us with this milestone journey through the 'Friendly Skies.'"
"You only have one first flight, and it's nice to have these kinds of things to remember it with," said Vento. "What if that boy or girl grows up to become a pilot? Now they'll have a certificate to show the first time they were on an airplane. It goes back to doing these little acts that show we care."
Mrs. Hildreband took a photograph of Rhett with his certificate and posted it to Instagram, which drew oohs and aahs from other moms. She even sent Vento a nice note and shared it with his supervisor.
"Thank you so much for your kindness and thoughtfulness to take the time to do this. We will treasure this forever," she wrote. "Getting your package made my day. The world needs more people like you."
Things like this come naturally to Vento, who has brought plenty of smiles to the faces of customers over his 24 years at United thanks to his exceptional brand of service.
"If you feel like doing something nice for the customers, just do it, especially if it's authentic," he said. "It's something they'll never forget, and that's what they'll think about when they think of United."
Lifting up immigrant families in California
From mental-health evaluations to language and legal assistance, we are committed to addressing the most pressing needs of the thousands of immigrants that call California home. Earlier this year, we announced a $1 million grant to the San Francisco Legal & Education Network (SFILEN), a nonprofit that advocates for full access to social services and direct legal services to immigrant families regardless of their immigration status.
"United cares deeply about investing in communities we serve," said Janet Lamkin, president, California, for United. "We have been a part of the San Francisco community for 90 years, and we are proud to help SFILEN in its important work with the immigrant community."
Through a four-year partnership, the grant will allow the organization to provide 50 mental-health evaluations each year and 240 hours of language interpretation through SFILEN's hotline, legal consultations and clinics. Additionally, this grant will help SFILEN to hire two full-time staff members to a team that provides critical services to thousands of immigrants every year.
"SFILEN is very grateful for the partnership with United Airlines, and we are very excited about what we can accomplish together," said Marisela Esparza, director of immigrant rights for SFILEN.
This grant is one of eight that we have awarded in the key cities we serve, representing our commitment to invest in and lift up the communities where many of our customers and employees live and work. Each grant is a part of a total of $8 million to help address critical needs in Chicago; Houston; Washington, D.C.; Denver; New York/New Jersey; Los Angeles; and the San Francisco area.
Join United in helping California wildfire relief efforts and earn miles
Donate now
We're listening
Check out our newest destinations
United Airlines
united
To the 🌕 and back... and then to London. Thrilled to fly Apollo 15 Command Module Pilot, Col. Al Worden and the flag that flew to the moon and back in 1971.
United Airlines
united
To the 🌕 and back... and then to London. Thrilled to fly Apollo 15 Command Module Pilot, Col. Al Worden and the flag that flew to the moon and back in 1971
We Are United
weareunited
Last week EQUAL celebrated the launch of their first international chapter! We're thrilled to see you grow and foster diversity & inclusion around the 🌍.
#BeingUnited
We Are United
weareunited
EWR & LHR teammates had a hand in history this week by flying Apollo 15 Command Module Pilot, Col. Al Worden & the flag that flew to the 🌕 and back in 1971.
Watch our most popular videos
Watch the new Big Metal Bird: Charters
From players and personnel to thousands of pounds of equipment, it takes not only a game plan, but a team to get the San Francisco 49ers to their next game and back all within 24 hours. This process is a little thing in the airline business we call chartering. Learn more about how our Charter team gets professional sports teams to their away games and back on the newest episode of Big Metal Bird.
Image of United & Special Olympics: Taking inclusion to new heights
United & Special Olympics: Taking inclusion to new heights
Learn more
United & Special Olympics: Taking inclusion to new heights
On March 8, 2018, we announced a new global relationship with Special Olympics, an organization we've partnered with for many years focusing on supporting the spirit of inclusion with our employees through local communities and through our Charity Miles Program. United's increased sponsorship includes support for major Special Olympics events, including the Special Olympics 50th Anniversary celebrations in Chicago, site of the very first International Special Olympics Summer Games in 1968, and the 2018 Special Olympics USA Games in Seattle.
In addition, United will engage with local Programs in our key markets around the world. Special Olympics embodies our shared purpose to connect people and unite the world. With more than 5 million athletes and 1 million coaches and volunteers in 172 countries, our employees and customers will join forces with Special Olympics to achieve our shared vision of inclusion. Together, we hope to end discrimination against people with intellectual disabilities.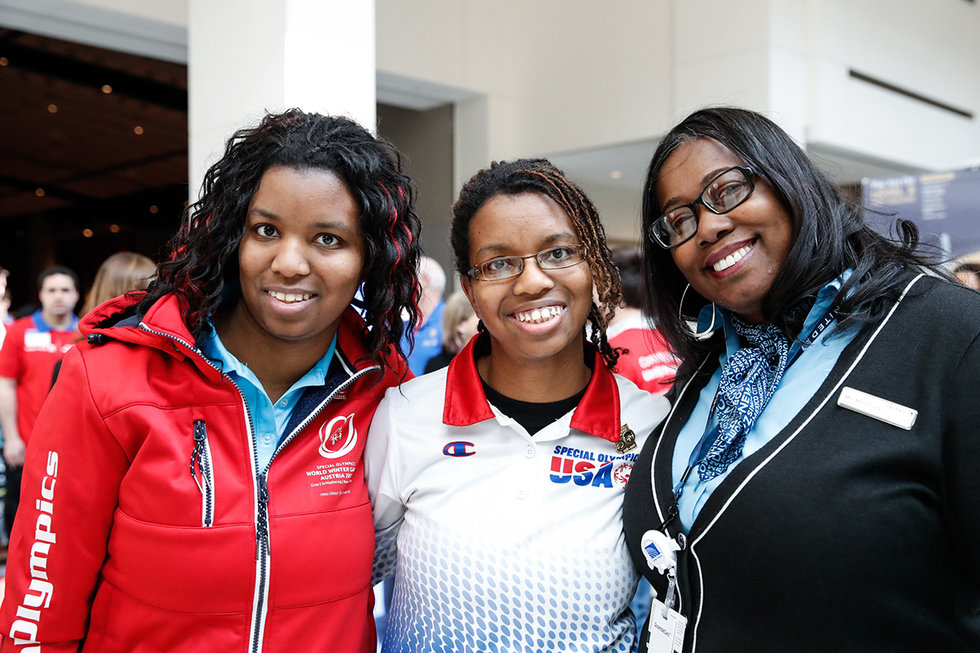 Our relationship with Special Olympics represents a continued effort to break down barriers and further build on the organization's remarkable legacy by engaging our customers and employees around the world. Working together, we created new training that specifically reflects insights from Special Olympics, including training scenarios with real-life situations that individuals with intellectual disabilities face when traveling. By the end of 2018, more than 60,000 United frontline employees will have participated in the new training modules that reflect Special Olympics insights as United takes steps to deliver a world full of inclusion.

Check back this summer for coverage from Special Olympics 50th Anniversary celebrations in Chicago and 2018 Special Olympics USA Games in Seattle.
Image of United's female technicians making history
United's female technicians making history
Learn more
United's female technicians making history
"Many years ago at an air show, I saw a T-shirt that said 'Chicks fly,'" said Orlando-based Aircraft Maintenance Supervisor and Chix Fix team coach Laura Spolar. "And I told my husband, 'Chicks can fly, but chicks can also fix!' A lot of people don't know that women are aircraft mechanics."
Laura didn't know it at the time, but that conversation would serve as the inspiration for the team name of our history-making, all-female team of technicians that competed in the
2018 Aerospace Maintenance Competition (AMC). Of 69 teams at this year's AMC, only three were made up entirely of women, and Chix Fix was the only one representing a commercial airline.
"It's so important for us to show young girls and women that this is a career option for them," said Airframe Overhaul and Repair Managing Director Bonnie Turner, the Chix Fix team captain.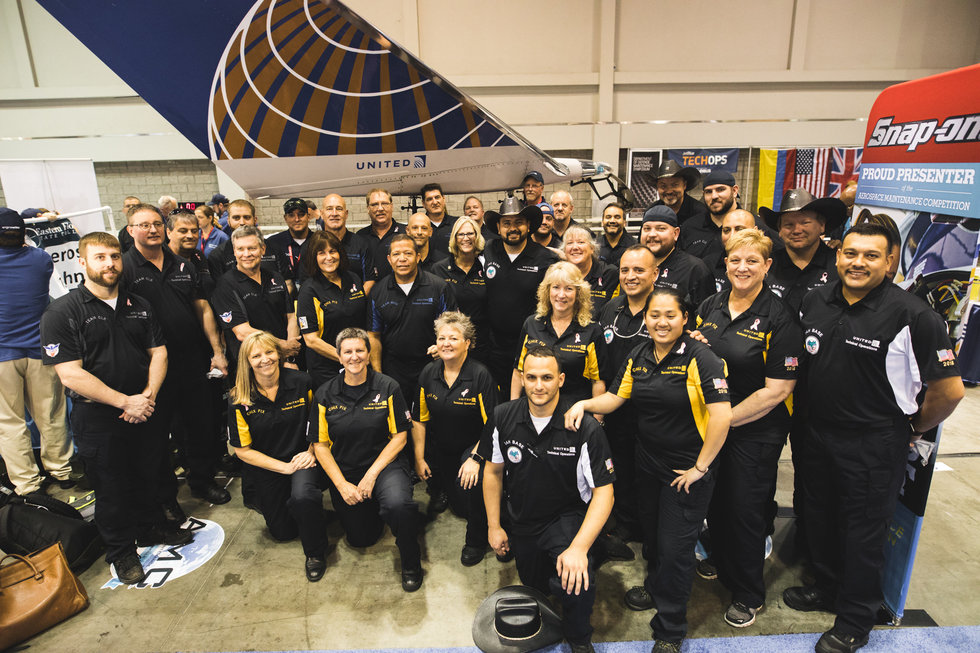 Chix Fix is made up of technicians from five stations. As a group, they only practiced together three times before the competition, but they bonded instantly.
"I feel like I've known these women my whole career," said Denver-based Line Technician Janelle Bendt. "It's been a lot of fun getting to know them and learning from them."
"As a team we just communicate really well; we all respect each other," said San Francisco-based Base Technician Katrina Oyer. "The biggest thing I've taken away from this experience is confidence. Working with these ladies is an eye opener. We really can do anything."
Watch the video above to learn more about Chix Fix and their journey to the AMC.
Copyright © 2018 United Airlines, Inc.
All rights reserved.
Indicates an external site that may or may not meet accessibility guidelines.
Scroll to top
Scroll to top