Illy's master baristas (and chemists) discover the right inflight brew
Find out what type of coffee you are in our quiz below.
The name illy, United's new coffee partner, evokes certain images when you hear it. Perhaps you think of a storefront coffee shop on a cobblestone street in a picturesque Italian village. Sidewalk tables with illy's iconic cups — pristine white with a thick, circular handle — sitting atop saucers. Maybe you imagine the dark brown hues of perfectly roasted and brewed coffee, or the caramelized color of steamed milk in a delicious cappuccino.
What you probably don't think of, however, are lab coats and chemists. You see, there's much more to a great cup of coffee than just beans and water — there's science behind taste.
A compound flavor palate
Ernesto Illy, son of illy's founder Francesco Illy, studied as a chemist at the University of Bologna in the 1940s before joining his father's company. When he took the helm in 1956, Ernesto relied on his background in chemistry in his efforts to create the world's best espresso. Ernesto's understanding of the science of taste even led him to help establish the Association Scientifique Internationale pour le Café, an international organization which uses applied scientific practices to develop better tasting coffee.
"Our pedigree is very much based in science, going all the way back to our founder and continuing with our present-day Chairman and President, Andrea Illy, who is Ernesto's son," said illy's Director of Corporate Communications for North America Adam Paige. "The factory employs chemical engineers; pictures of molecules hang on the walls in our New York office. Our scientific heritage carries over into our research and development, our technical teams and our innovation."
There are many flavor notes that contribute to your perception of coffee's taste — bitterness, acidity, sweetness, chocolate, caramel, toast, floral, fruit and a multitude of others are all present. We are born with four primary tastes: sweetness, saltiness, sourness and bitterness. In every cup of coffee and every bite of food, those four work together with our sense of smell to detect flavors. Composed of nine distinct Arabica beans of the highest order from four continents, the illy blend is expertly calibrated to consistently showcase a flavor profile that is balanced and smooth, never bitter.
Taste in the air
But at 35,000 feet, the environment is obviously quite different than on land. "Onboard the aircraft, you're experiencing 8,000 feet of air pressure. This reduces your perception of sweetness and saltiness," illy's Master Barista Giorgio Milos said. "The humidity is also lower (between 5 and 15 percent), so your olfactory system is not working as it normally would. Smell plays a big part in your perception of flavor. These are things that we have to consider when brewing in-flight coffee."
Consider that we lose up to 30 percent of our perception of these flavors at cruising altitude, and you start to understand the challenge of making coffee that customers will enjoy.
To offset those pressure and humidity changes, the Research and Development team at illy spent months studying and testing control factors such as grind size and amount of ground coffee to ensure that we serve a quality cup on United flights.
"When we partnered with United, I thought to myself, 'Finally, I can drink good coffee on a plane!'" Giorgio said. And he's a man who knows good coffee: Giorgio has been a barista with illy for 21 years, and his connection goes back even further. "I'm actually second-generation. My mother worked at illy in Italy for 35 years. Coincidentally, my father was in the milk business. I guess I was destined to do what I do."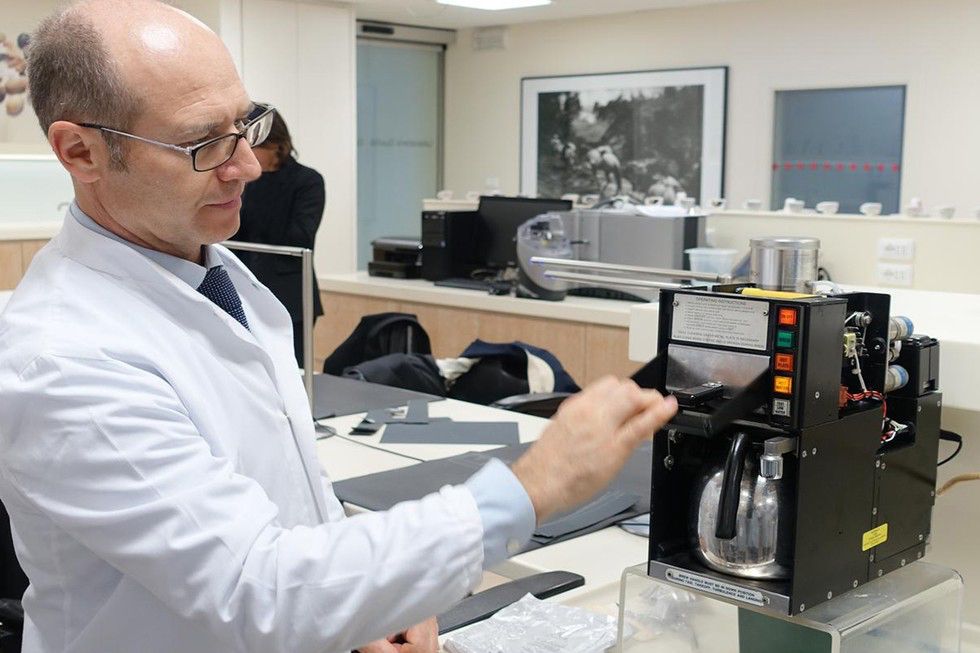 Above and beyond testing
Not only did illy test United's coffee on the ground to optimize flavor, they went above and beyond – literally. Illy conducted inflight tests to observe the way that altitude and the brewing process onboard the aircraft affected the coffee. Led by Mark Romano, illy's Vice President of Education, Quality and Sustainability, teams spent time in our galleys tracking brewing mechanics, water temperature and hardness, brew times and optimal holding and serving temperatures – anything that could potentially influence the taste of the coffee midflight.
After they finished the inflight testing, illy had BA Aerospace, the manufacturer that makes aircraft coffee brewers, send a machine to their factory in Italy so that they could continue to search for brewing processes that achieve optimal quality.
"We knew that the brewing machines in the aircraft have a three- to four-minute brew time, so we worked to make sure that our coffee delivered quality within those consistent parameters," Adam said.
Discoveries, decisions
Illy's Research and Development team discovered that grinding the beans to a stone shape, with ridges as opposed to a flat surface, allowed for maximum water saturation and surface area coverage, leading to a more flavorful brew from our onboard machines.
During in-flight tests with customers, illy and United received great feedback on its darker "Scuro" roast bean. Medium roast beans have a very balanced taste and subtle flavor profile, but darker roasts have a bolder flavor and more noticeable chocolate notes. Since our taste senses are dulled in the air, dark roast beans make up for that lack of flavor perception so that customers aren't left feeling like they've been served a weak cup of coffee.
"Our teams conducted tests in the air with different planes, pillow packs, quantities of coffee and grinds, and the dark roast consistently achieved the best flavor balance," said Mark. "Even with the variables, time and time again our team and United's customers selected that roast as the best during taste tests."
United's Senior Manager of Product Strategy and Implementation Jeff Pelch said, "The quality of illy coffee and the work they've done to maximize the flavor of their product in the air is symbolic of where we're going as a company."
Indeed, our decision to partner with illy is a small but significant step towards putting our customers first in every way. Much like with fine wine and craft beer, customers are savvier than ever about their food and beverage choices. We're pleased to offer them a superb option, and one that will lead to a more enjoyable flying experience. Illy coffee will be onboard United flights starting July 1, 2016.
Think you know what kind of coffee you are? Take the quiz below to find out.
As a member in the tourism, travel and transportation industries, United offers a unique perspective into the economic and operational effects rippling across the U.S. To advocate United's efforts, and in anticipation of a bright future, New York/New Jersey President Jill Kaplan and California President Janet Lamkin have both been named to their states' respective governor's COVID-19 response task force committees.
Appointed by New Jersey Governor Phil Murphy, Jill joins the New Jersey Restart and Recovery Advisory Council ­— a group of business and municipal leaders tasked with planning to restart the state's economy.
"Serving on Governor Murphy's Restart & Advisory Council uniquely positions us in the epicenter of helping to restart state's economy by providing innovative ideas, sharing best practices and creative thinking to help ensure the rebuilding of New Jersey's economic vitality alongside notable business leaders," said Jill. "I'm honored to represent United Airlines and the transportation industry as a core building block to expediting the state's recovery."
United is the sixth largest company in the state and one of the largest essential businesses continuing to operate through this crisis, and as or advocate, Jill will share some of our best practices and lessons we're learning with the nine different committees through the customer and employee lens.
On the opposite coast, California Governor Gavin Newsom last month appointed Janet to his Task Force on Business and Jobs Recovery. Joining Janet at the table are former California governors, legislative leaders and CEOs and executives from numerous businesses with large stakes in the state, such as Apple and Disney. In addition to Janet's position on the task force, Janet is also serving on the Long-Term Jobs Recovery sub-committee and will advocate for industries suffering long-term ramifications of COVID-19 such as tourism, travel and entertainment.
"Being appointed to Governor Newsom's Task Force on Business and Jobs Recovery ensures that United is part of the important conversation and part of the plan to help California pave the way toward a fast, safe recovery of jobs," said Janet. "It is an honor to represent the only transportation business on the task force, and I look forward to working alongside a group of very distinguished leaders and focusing on innovative ways to rebuild the economy for our 40 million residents. This work will build on our partnership with the Governor to provide free flights for medical volunteers and having our employees call to check in on isolated older adults as part of the Social Bridging Project."
Pre-COVID, we transported 38 million passengers to, from and within California each year, and directly and indirectly supported tens of thousands of jobs, so the health and well-being of the industry is vital to the prosperity of the state.
As the only airline represented among each of these groups, Jill and Janet are working hard to ensure that our voices, as a company and industry, are heard, valued and utilized as a new chapter dawns on the horizon.
Hello. I'm Scott Kirby, the new CEO of United Airlines. I'm a proud Air Force Academy graduate and have spent my entire career in and around aviation, including the last four years as President of United.
While I had planned for my first communication with you to be about the meaningful investments we were making to the travel experience and our continued growth across the U.S. and expansion to exciting new destinations around the world, today, the situation rendered to us by the COVID-19 pandemic leads me to a different type of message.
First, I graciously and humbly thank you for your business. Now, more than ever, our customers' loyalty is so deeply appreciated by every member of the United family.
As essential workers, the men and women of our airline have been hard at work over the past two months to transport vital medical supplies and critical goods to places that need them most, to provide free travel to healthcare professionals and to help thousands of individuals repatriate to their home countries.
Safety has always been our top priority, and right now in the midst of an unprecedented crisis, it's our singular customer focus. We recognize that COVID-19 has brought cleanliness and hygiene standards to the front of your mind when making travel decisions. We're not leaving a single stone unturned in our pursuit to protect our customers and employees.
We are installing plexiglass in lobby and gate areas, we're using the same equipment used to clean hospitals to disinfect the interiors of our aircraft, all crew and customers on board are required to wear face mask coverings and we're taking the temperature of our employees before they start work.
But at United, we're not stopping there. We're teaming up with experts from Clorox and the Cleveland Clinic to set a new standard for cleanliness and healthy flying that we are calling United CleanPlus℠.
Clorox is working closely with us to improve how we disinfect common surfaces and provide our customers with amenities that support a healthy and safe environment.
Physicians and scientists at the Cleveland Clinic, will advise us on new technologies and approaches, assist in training development and create a rigorous quality assurance program. And, as scientists learn more about how to fight COVID-19, Cleveland Clinic experts will help us use those discoveries to quickly implement new ways to keep our customers safe.
While we may not know when this pandemic will subside, what we do know is that travel is so deeply woven into the fabric of our global culture. We all desire to visit family, dance at a friend's wedding, hug parents…and see the wonders of this beautiful world. No matter how sharp the picture quality – or how strong the WiFi signal – there's simply no substitute for being there – in person – to collaborate, celebrate, explore. We are confident that travel will return. And when it does, United Airlines will be ready to serve you again in the friendly skies.
Thank you. Be well. And I look forward to seeing you on board.

We remain passionate about connecting the world safely
United CleanPlus SM is our commitment to putting health and safety at the forefront of your journey, with the goal of delivering an industry-leading standard of cleanliness. We're teaming up with Clorox to redefine our cleaning and disinfection procedures, and over the coming months, we'll roll out Clorox products across our U.S. airports, starting in select locations, to help support a healthy and safe environment throughout your travel experience.
At the airport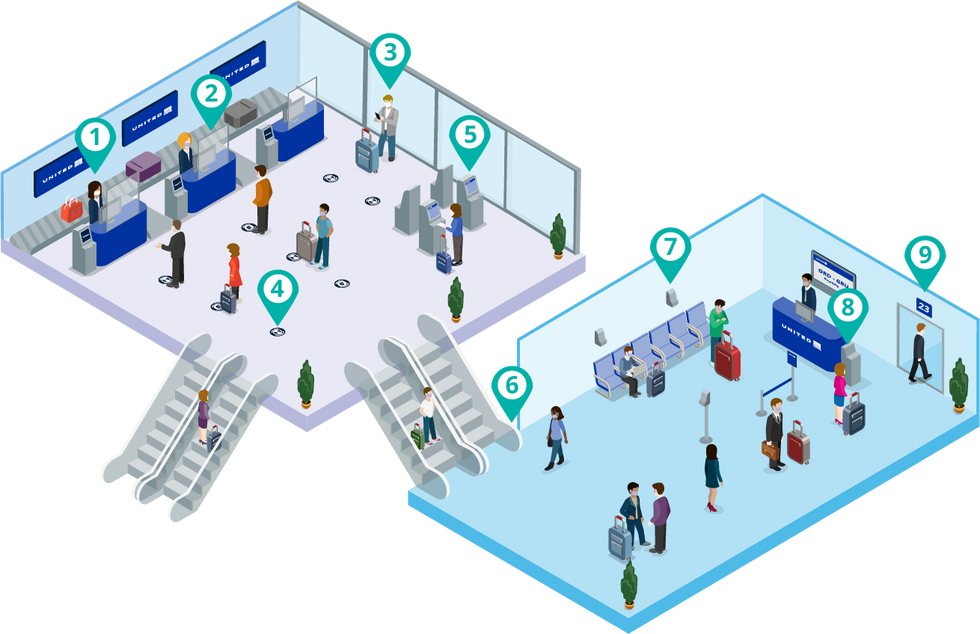 At check-in:

Implementing temperature checks for employees and flight attendants working at hub airports
Installing sneeze guards at check-in and

gate podiums

Encouraging use of the United app for contactless travel assistance and more
Promoting social distancing with floor decals to help customers stand 6 feet apart
Introducing touchless check-in for customers with bags

At the gate:
Disinfecting high-touch areas such as door handles, handrails, elevator buttons, telephones and computers
Providing hand sanitizer and
disinfectant wipes
Allowing customers to self-scan

boarding passes

Boarding fewer customers at a time and, after

pre-boarding

, boarding from the back of the plane to the front to promote social distancing
On our aircraft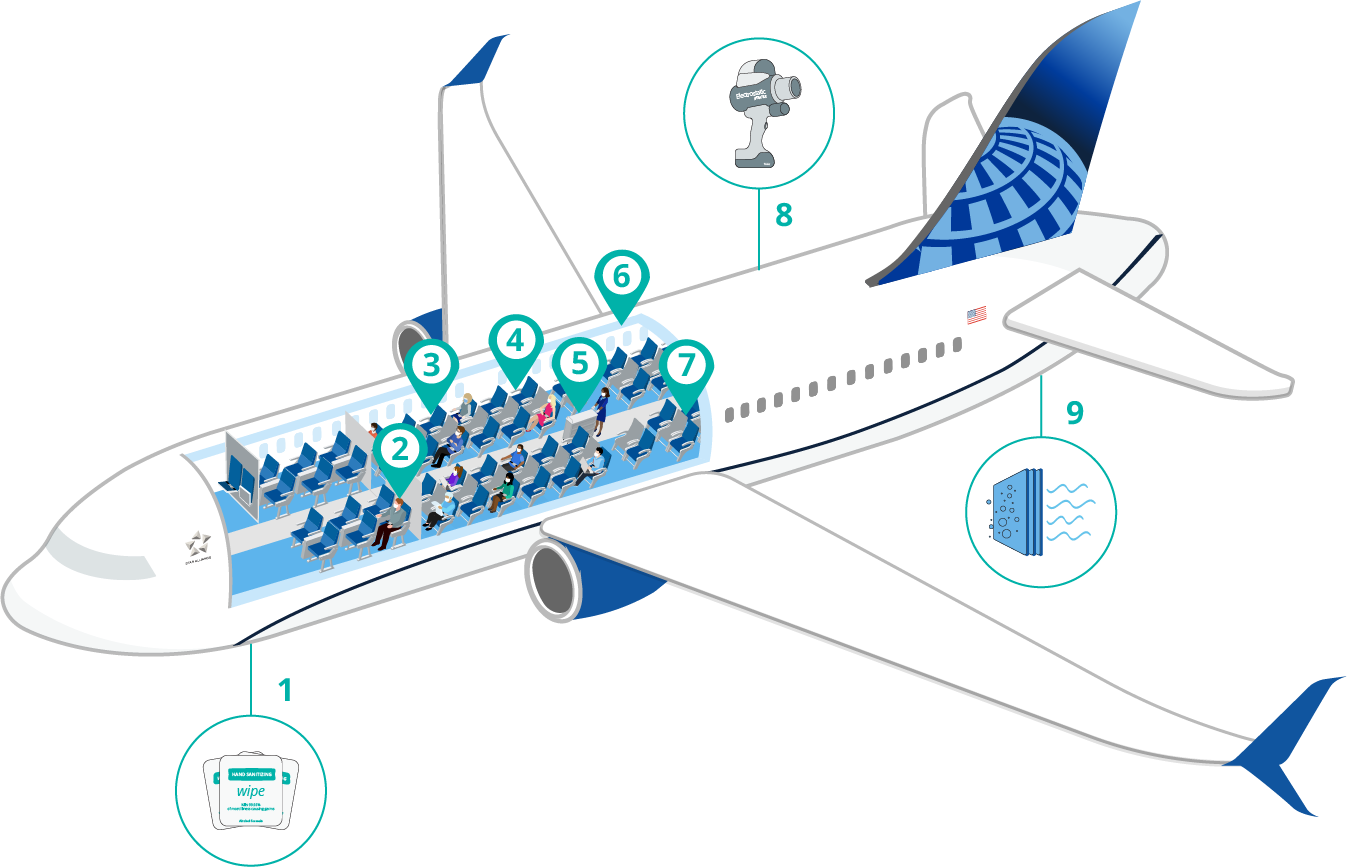 Providing individual hand sanitizer wipes

for customers

Requiring all customers and employees to wear a face covering and providing disposable face coverings for customers who need them
Temporarily removing onboard items like pillows, blankets and inflight magazines
Disinfecting high-touch areas, like tray tables and armrests, before boarding
Reducing contact between flight attendants and customers during snack and beverage service
Ensuring aircraft cleaning standards meet or exceed CDC guidelines
Applying social distancing to seating procedures when possible, including:

Limiting middle seat selection
Moving customers seated closely together
De-planing in groups of five rows at a time to reduce crowding

Using electrostatic spraying to disinfect aircraft, to be completed on all flights by mid-June
Using state-of-the-art, hospital-grade, high-efficiency (HEPA) filters to circulate air and remove up to 99.7% of airborne particles

We're working closely with the experts at Cleveland Clinic to advise us on enhancing our cleaning and disinfection protocols for the safety of our employees and customers. Visit Cleveland Clinic's website to learn more about COVID-19.
Together, we are facing an unprecedented challenge. United Together, we rise to meet that challenge.
Learn more
United Airlines
united
To allow for additional flexibility, flights booked now through June 30 can be changed for free over the next 12 months. All existing travel can be changed without fees as well. See waiver for details:
uafly.co/2M9vgLC
We Are United
weareunited
#AMTDay
is in honor of Charles Taylor, Wright Brothers' mechanic. The highest honor an aviation maintenance technician can receive is his namesake award. Congratulations, Garrick C. (HNL), Phil D., Bud G. and Benny G. (all SFO) who've received it in the past year.
#BeingUnited
We Are United
weareunited
United regional presidents Jill Kaplan and Janet Lamkin will join their states' respective governor's committees tasked with planning to restart the state's economy. Learn more about how they plan to help pave the way toward a fast, safe recovery of jobs.
uafly.co/2zjPrDI
We Are United
weareunited
Oscar, thank you for listening and learning as you traveled the system the past five years. We will carry the New Spirit of United with us as we respond and recover from this historic challenge --
#UnitedTogether
as we care for each other and serve our customers. 💙
#BeingUnited
Watch our most popular videos
Flying UCSF Medical Workers to New York
This is why we fly.
20 UCSF Health workers, who voluntarily set aside their own lives to help save lives, are on their way to New York City.
We are humbled by your selfless sacrifice.
Thank you.
#UnitedTogether #UCSFHeroes
A happy, Hollywood ending
This is the story of Jason and Shantel. You see, Jason and Shantel love each other very much. They also love traveling and they love the classic Adam Sandler film, The Wedding Singer.
It all began when Jason reached out to United's social media team, hoping for assistance with his upcoming plan to propose. Some phone calls and one borrowed guitar later, the stage was set for Jason. Put all that together, mix in some helpful United employees and, voila, you have a truly memorable marriage proposal. Congratulations to this fun-loving and happy couple, and here's to many more years of making beautiful music together.
A big thank you to Chicago-based flight attendants Donna W., Marie M., Karen J. and Mark K. for making this proposal come to life.
Copyright © 2020 United Airlines, Inc.
All rights reserved.
Indicates an external site that may or may not meet accessibility guidelines.
Scroll to top
Scroll to top