Illy's master baristas (and chemists) discover the right inflight brew
Find out what type of coffee you are in our quiz below.
The name illy, United's new coffee partner, evokes certain images when you hear it. Perhaps you think of a storefront coffee shop on a cobblestone street in a picturesque Italian village. Sidewalk tables with illy's iconic cups — pristine white with a thick, circular handle — sitting atop saucers. Maybe you imagine the dark brown hues of perfectly roasted and brewed coffee, or the caramelized color of steamed milk in a delicious cappuccino.
What you probably don't think of, however, are lab coats and chemists. You see, there's much more to a great cup of coffee than just beans and water — there's science behind taste.
A compound flavor palate
Ernesto Illy, son of illy's founder Francesco Illy, studied as a chemist at the University of Bologna in the 1940s before joining his father's company. When he took the helm in 1956, Ernesto relied on his background in chemistry in his efforts to create the world's best espresso. Ernesto's understanding of the science of taste even led him to help establish the Association Scientifique Internationale pour le Café, an international organization which uses applied scientific practices to develop better tasting coffee.
"Our pedigree is very much based in science, going all the way back to our founder and continuing with our present-day Chairman and President, Andrea Illy, who is Ernesto's son," said illy's Director of Corporate Communications for North America Adam Paige. "The factory employs chemical engineers; pictures of molecules hang on the walls in our New York office. Our scientific heritage carries over into our research and development, our technical teams and our innovation."
There are many flavor notes that contribute to your perception of coffee's taste — bitterness, acidity, sweetness, chocolate, caramel, toast, floral, fruit and a multitude of others are all present. We are born with four primary tastes: sweetness, saltiness, sourness and bitterness. In every cup of coffee and every bite of food, those four work together with our sense of smell to detect flavors. Composed of nine distinct Arabica beans of the highest order from four continents, the illy blend is expertly calibrated to consistently showcase a flavor profile that is balanced and smooth, never bitter.
Taste in the air
But at 35,000 feet, the environment is obviously quite different than on land. "Onboard the aircraft, you're experiencing 8,000 feet of air pressure. This reduces your perception of sweetness and saltiness," illy's Master Barista Giorgio Milos said. "The humidity is also lower (between 5 and 15 percent), so your olfactory system is not working as it normally would. Smell plays a big part in your perception of flavor. These are things that we have to consider when brewing in-flight coffee."
Consider that we lose up to 30 percent of our perception of these flavors at cruising altitude, and you start to understand the challenge of making coffee that customers will enjoy.
To offset those pressure and humidity changes, the Research and Development team at illy spent months studying and testing control factors such as grind size and amount of ground coffee to ensure that we serve a quality cup on United flights.
"When we partnered with United, I thought to myself, 'Finally, I can drink good coffee on a plane!'" Giorgio said. And he's a man who knows good coffee: Giorgio has been a barista with illy for 21 years, and his connection goes back even further. "I'm actually second-generation. My mother worked at illy in Italy for 35 years. Coincidentally, my father was in the milk business. I guess I was destined to do what I do."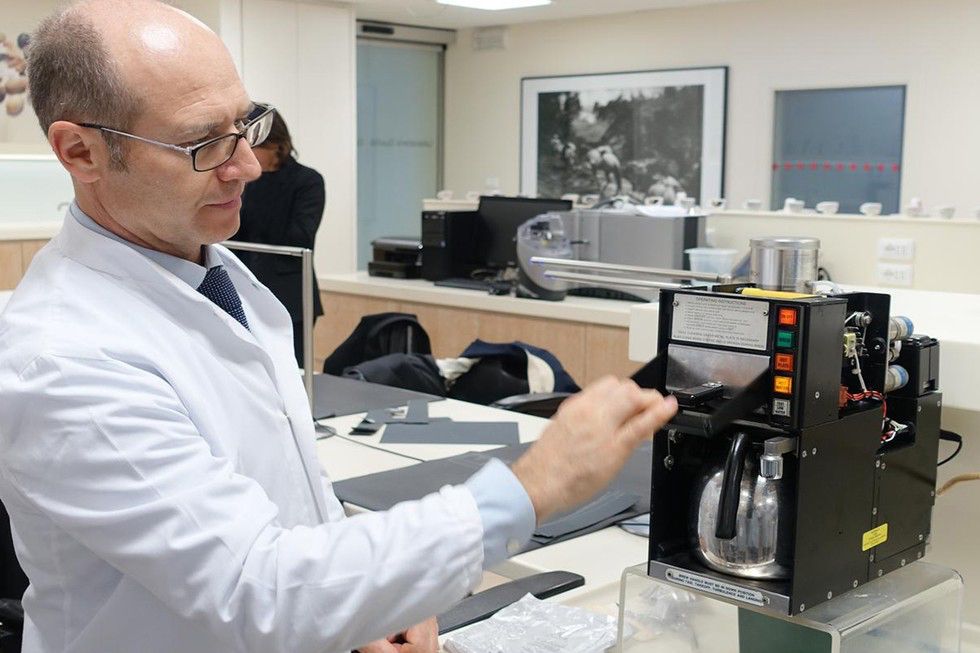 Above and beyond testing
Not only did illy test United's coffee on the ground to optimize flavor, they went above and beyond – literally. Illy conducted inflight tests to observe the way that altitude and the brewing process onboard the aircraft affected the coffee. Led by Mark Romano, illy's Vice President of Education, Quality and Sustainability, teams spent time in our galleys tracking brewing mechanics, water temperature and hardness, brew times and optimal holding and serving temperatures – anything that could potentially influence the taste of the coffee midflight.
After they finished the inflight testing, illy had BA Aerospace, the manufacturer that makes aircraft coffee brewers, send a machine to their factory in Italy so that they could continue to search for brewing processes that achieve optimal quality.
"We knew that the brewing machines in the aircraft have a three- to four-minute brew time, so we worked to make sure that our coffee delivered quality within those consistent parameters," Adam said.
Discoveries, decisions
Illy's Research and Development team discovered that grinding the beans to a stone shape, with ridges as opposed to a flat surface, allowed for maximum water saturation and surface area coverage, leading to a more flavorful brew from our onboard machines.
During in-flight tests with customers, illy and United received great feedback on its darker "Scuro" roast bean. Medium roast beans have a very balanced taste and subtle flavor profile, but darker roasts have a bolder flavor and more noticeable chocolate notes. Since our taste senses are dulled in the air, dark roast beans make up for that lack of flavor perception so that customers aren't left feeling like they've been served a weak cup of coffee.
"Our teams conducted tests in the air with different planes, pillow packs, quantities of coffee and grinds, and the dark roast consistently achieved the best flavor balance," said Mark. "Even with the variables, time and time again our team and United's customers selected that roast as the best during taste tests."
United's Senior Manager of Product Strategy and Implementation Jeff Pelch said, "The quality of illy coffee and the work they've done to maximize the flavor of their product in the air is symbolic of where we're going as a company."
Indeed, our decision to partner with illy is a small but significant step towards putting our customers first in every way. Much like with fine wine and craft beer, customers are savvier than ever about their food and beverage choices. We're pleased to offer them a superb option, and one that will lead to a more enjoyable flying experience. Illy coffee will be onboard United flights starting July 1, 2016.
Think you know what kind of coffee you are? Take the quiz below to find out.
On March 19, 2020, United operated its first flight carrying cargo without passengers on board. While the passenger cabin was empty, its cargo hold was completely full, carrying more than 29,000 pounds of commodities from Chicago O'Hare International Airport (ORD) to Frankfurt Airport (FRA).
A year later, United Cargo has operated more than 11,000 cargo-only flights carrying more than 570 million pounds of freight. To support the COVID-19 pandemic recovery efforts, United Cargo has also transported more than 113 million pounds of medical and pharmaceutical products on both cargo-only and passenger flights as well as approximately 10 million COVID-19 vaccines, providing global communities access to the items they have needed most.
"At the beginning of the pandemic, we knew we were uniquely positioned to utilize our widebody aircraft and our network to keep commodities moving, so we quickly mobilized various departments throughout the airline to launch a cargo-only network of flights that would keep commodities moving," said United Cargo President Jan Krems. "Thanks to those efforts, United Cargo has delivered millions of items to countries all around the world. We would not have been successful without the steadfast support of our employees, industry partners and our customers."
Since last March, United Cargo has transported almost 850 million pounds of freight on cargo-only and passenger flights. The airline will continue to monitor market trends adjust its cargo-only flight schedules to help ensure we are meeting our customer's evolving shipping needs.
Whether you haven't flown with us for a while or just need a quick refresher before your spring trip, read this list of tips to know before your flight and arrive at the airport travel-ready:
1. Download the United app for contactless bag check, travel assistance and more
Before your flight, download the United app to view your flight status, check in, sign up for flight notifications, locate departure gates, access our free personal device entertainment when available and more. We've also updated our app with new features that can make your trip a little safer, including contactless bag check.
Don't forget to use Agent on Demand for help with any and all questions you may have before your flight. This new capability is available at all our U.S. hub airports and allows you to use your own mobile device to contact a customer service agent via phone, video or chat to help with day-of-travel questions while you're at the airport. Learn more about Agent on Demand here.
2. Check out the Travel-Ready Center
Our Travel-Ready Center makes it easy to get a personalized overview of everything you need to do in preparation for your flight. Just enter your confirmation number or MileagePlus® number and you'll find detailed information on all the documents, tests and more that you'll need for your trip.
3. Read and sign the Ready-to-Fly checklist
Before completing check-in, all United travelers will need to read our Ready-to-Fly checklist and confirm that they understand and agree to our policies. These include:
Acknowledging that you haven't had any symptoms of COVID-19 in the last 14 days
Agreeing that you will not fly if you have tested positive for COVID-19 within the last 21 days
Confirming that you will follow all policies regarding face masks, social distancing and other health and safety measures we've adopted
4. Arrive early; avoid the stress
Airports can be busy, especially during peak travel periods like spring break season. The TSA advises arriving at the airport two hours before your flight for domestic travel and three hours for international travel in anticipation of long security lines. This can help ease the stress when navigating busy check-in areas, security lines and crowded boarding gates.
5. Get familiar with CleanPlus
United CleanPlus℠ is our commitment to delivering industry-leading cleanliness as we put health and safety at the forefront of your experience. We've teamed up with Clorox to redefine our cleaning and disinfection procedures and Cleveland Clinic to advise us on enhancing our cleaning and disinfection protocols, like:
Disinfecting high-touch areas on board and in the terminal
Using electrostatic spraying, Ultraviolet C lighting wands and more advanced measures to clean aircraft cabins before boarding
Redesigning our mobile app to allow for touchless check-in and contactless payment, along with enhanced travel assistance features
Implementing high-efficiency (HEPA) filters on our aircraft that completely recirculate cabin air every 2-3 minutes and remove 99.97% of airborne particles, including viruses and bacteria
Studies show COVID-19 exposure risk is minimal when air filtration systems and masks are in use, so you can rest assured that the steps we've taken to keep you safe truly make a difference.
6. Wear your mask
Federal law requires all travelers to wear a face mask in the airport, including customer service counters, airport lounges, gates and baggage claim, and on board during their entire flight. Make sure you review the requirements for face masks, including what an acceptable face mask looks like.
7. Get ready for a safer boarding process
To make boarding even safer, we now have travelers board their aircraft from back to front. At the gate, just listen for your row number to be called – we'll ask a few rows at a time to board, starting with the last row of the plane. This helps everyone maintain a safe distance from each other during boarding without slowing things down. As you step onto the plane, flight attendants will hand each passenger a sanitizing towelette, which you can use to wipe down your seat to ensure it's extra clean.
8. Pack smart
Before packing your bags, check to see what exactly you can carry on and what you should plan to check. You can also copy your confirmation number into our Baggage Calculator tool to learn about the bag allowance included with your reservation, as well as the cost of checking any additional bags.
9. Check your flight status, important notices and weather
Check the United app regularly for the latest updates on weather conditions, flight status, gate numbers and seat assignments. You can also visit our Important Notices page to find essential information and updates about travel waivers, international travel, TSA and security, airports and United Club locations.
10. Relax and enjoy your flight
Once you're on board, it's time to sit back and enjoy your flight. Our flight attendants will be happy to help you with anything else you need.
This week, we were honored to become the first U.S. airline to join the UNICEF Humanitarian Airfreight Initiative to combat the COVID-19 pandemic by transporting the vaccine and other critically needed supplies to underserved areas of the globe.
"We are committed to helping the global community in any way we can, and we all must work together to do our part to bring this health and humanitarian crisis to an end," said Director of Cargo Specialty Products Manu Jacobs.
We will leverage our expertise to transport these critical pharmaceutical and healthcare shipments around the world safely, efficiently and expediently. We are proud to partner with the United Nations to support this global effort and provide equitable access to COVID-19 vaccines.
Scroll to top