Illy's master baristas (and chemists) discover the right inflight brew
Find out what type of coffee you are in our quiz below.
The name illy, United's new coffee partner, evokes certain images when you hear it. Perhaps you think of a storefront coffee shop on a cobblestone street in a picturesque Italian village. Sidewalk tables with illy's iconic cups — pristine white with a thick, circular handle — sitting atop saucers. Maybe you imagine the dark brown hues of perfectly roasted and brewed coffee, or the caramelized color of steamed milk in a delicious cappuccino.
What you probably don't think of, however, are lab coats and chemists. You see, there's much more to a great cup of coffee than just beans and water — there's science behind taste.
A compound flavor palate
Ernesto Illy, son of illy's founder Francesco Illy, studied as a chemist at the University of Bologna in the 1940s before joining his father's company. When he took the helm in 1956, Ernesto relied on his background in chemistry in his efforts to create the world's best espresso. Ernesto's understanding of the science of taste even led him to help establish the Association Scientifique Internationale pour le Café, an international organization which uses applied scientific practices to develop better tasting coffee.
"Our pedigree is very much based in science, going all the way back to our founder and continuing with our present-day Chairman and President, Andrea Illy, who is Ernesto's son," said illy's Director of Corporate Communications for North America Adam Paige. "The factory employs chemical engineers; pictures of molecules hang on the walls in our New York office. Our scientific heritage carries over into our research and development, our technical teams and our innovation."
There are many flavor notes that contribute to your perception of coffee's taste — bitterness, acidity, sweetness, chocolate, caramel, toast, floral, fruit and a multitude of others are all present. We are born with four primary tastes: sweetness, saltiness, sourness and bitterness. In every cup of coffee and every bite of food, those four work together with our sense of smell to detect flavors. Composed of nine distinct Arabica beans of the highest order from four continents, the illy blend is expertly calibrated to consistently showcase a flavor profile that is balanced and smooth, never bitter.
Taste in the air
But at 35,000 feet, the environment is obviously quite different than on land. "Onboard the aircraft, you're experiencing 8,000 feet of air pressure. This reduces your perception of sweetness and saltiness," illy's Master Barista Giorgio Milos said. "The humidity is also lower (between 5 and 15 percent), so your olfactory system is not working as it normally would. Smell plays a big part in your perception of flavor. These are things that we have to consider when brewing in-flight coffee."
Consider that we lose up to 30 percent of our perception of these flavors at cruising altitude, and you start to understand the challenge of making coffee that customers will enjoy.
To offset those pressure and humidity changes, the Research and Development team at illy spent months studying and testing control factors such as grind size and amount of ground coffee to ensure that we serve a quality cup on United flights.
"When we partnered with United, I thought to myself, 'Finally, I can drink good coffee on a plane!'" Giorgio said. And he's a man who knows good coffee: Giorgio has been a barista with illy for 21 years, and his connection goes back even further. "I'm actually second-generation. My mother worked at illy in Italy for 35 years. Coincidentally, my father was in the milk business. I guess I was destined to do what I do."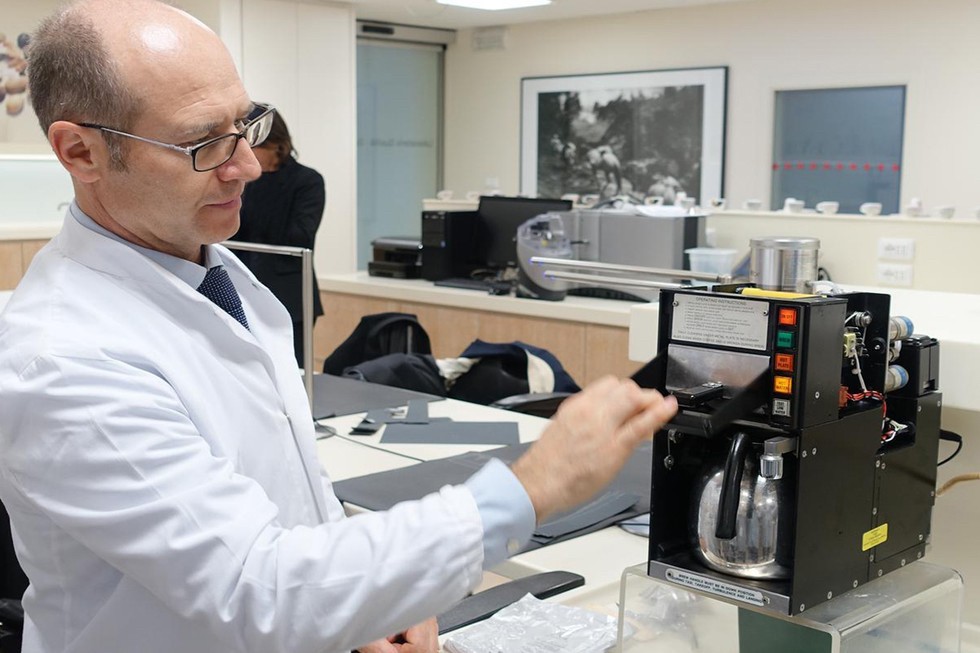 Above and beyond testing
Not only did illy test United's coffee on the ground to optimize flavor, they went above and beyond – literally. Illy conducted inflight tests to observe the way that altitude and the brewing process onboard the aircraft affected the coffee. Led by Mark Romano, illy's Vice President of Education, Quality and Sustainability, teams spent time in our galleys tracking brewing mechanics, water temperature and hardness, brew times and optimal holding and serving temperatures – anything that could potentially influence the taste of the coffee midflight.
After they finished the inflight testing, illy had BA Aerospace, the manufacturer that makes aircraft coffee brewers, send a machine to their factory in Italy so that they could continue to search for brewing processes that achieve optimal quality.
"We knew that the brewing machines in the aircraft have a three- to four-minute brew time, so we worked to make sure that our coffee delivered quality within those consistent parameters," Adam said.
Discoveries, decisions
Illy's Research and Development team discovered that grinding the beans to a stone shape, with ridges as opposed to a flat surface, allowed for maximum water saturation and surface area coverage, leading to a more flavorful brew from our onboard machines.
During in-flight tests with customers, illy and United received great feedback on its darker "Scuro" roast bean. Medium roast beans have a very balanced taste and subtle flavor profile, but darker roasts have a bolder flavor and more noticeable chocolate notes. Since our taste senses are dulled in the air, dark roast beans make up for that lack of flavor perception so that customers aren't left feeling like they've been served a weak cup of coffee.
"Our teams conducted tests in the air with different planes, pillow packs, quantities of coffee and grinds, and the dark roast consistently achieved the best flavor balance," said Mark. "Even with the variables, time and time again our team and United's customers selected that roast as the best during taste tests."
United's Senior Manager of Product Strategy and Implementation Jeff Pelch said, "The quality of illy coffee and the work they've done to maximize the flavor of their product in the air is symbolic of where we're going as a company."
Indeed, our decision to partner with illy is a small but significant step towards putting our customers first in every way. Much like with fine wine and craft beer, customers are savvier than ever about their food and beverage choices. We're pleased to offer them a superb option, and one that will lead to a more enjoyable flying experience. Illy coffee will be onboard United flights starting July 1, 2016.
Think you know what kind of coffee you are? Take the quiz below to find out.