The most important resources for LGBTQ travelers
By Meredith Heil
This story was originally published on AFAR| May 8, 2019
From an interactive website that tracks global LGBTQ-related laws to a travel-oriented app that facilitates meetups abroad, these are the trip-planning tools that LGBTQ travelers should know about.
As a queer travel writer, I'm constantly thinking about LGBTQ culture and tourism on an international scope. I've learned that whether it's tracking down the best gay bars in Berlin or making sure it's safe to hold hands while walking the streets of an unfamiliar city, the LGBTQ community's travel planning needs aren't always met by picking up a one-size-fits-all guidebook.
Thankfully, the internet is rife with travel advice that provides lesbian, gay, bisexual and transgender adventurers with the information needed to design the trip of a lifetime. From navigating foreign laws to booking a gay-friendly resort, this trusty list of travel resources has you covered.
LGBTQ-specific travel news and safety basics
U.S. State Department A section of this government-run online resource offers basic pointers for LGBTQ travelers such as travel document checklists, general safety tips, and information about travel insurance and various U.S. embassy locations.
Equaldex Launched in 2014, this interactive map-anchored website keeps a running tab on LGBTQ rights-related laws around the world via a global network of user contributions.
National Center for Transgender Equality This Washington, D.C.-based advocacy organization addresses information relevant to gender-nonconforming and transgender travelers. It features a particularly comprehensive guide to airport security that addresses concerns related to potentially intrusive TSA screening procedures.
OutRight Action International Formerly known as the International Gay and Lesbian Human Rights Commission, this nonprofit publishes news, studies, and reports on LGBTQ issues around the world that can help travelers stay informed about safety in various destinations.
Erasing 76 Crimes Journalist and LGBTQ advocate Colin Stewart heads up this news-oriented blog that spotlights global developments related to LGBTQ rights spanning countries across the Middle East, Asia, Africa, Europe, Oceania and the Americas.
GoAbroad's LGBTQ Study Abroad Guide For queer students interested in studying abroad, this PDF provides a wealth of information, including tips for coming out to a host family, LGBTQ-specific scholarships and a list of queer-friendly study abroad programs.
LGBTQ-friendly accommodations and services
The International LGBTQ+ Travel Association This website acts as a one-stop-shop for all things related to LGBTQ travel planning. It brings together a massive network of queer-approved hotels, transportation providers, tourism boards, travel agencies, tour operators, event promoters and local media in over 80 countries worldwide; it also maintains recommendation-based travel and business blogs.
Purple Roofs An LGBTQ mainstay since the late '90s, this booking website showcases small, family-owned bed-and-breakfasts, hotels, vacation rentals, inns, and tour companies worldwide. It also hosts a variety of related travel resources, including event listings and a dedicated LGBTQ travel blog.
World Rainbow Hotels This modern travel directory combines a curated list of stylish, queer-friendly hotels in countries where attitudes toward gay, lesbian, bisexual, and trans travelers are for the most part accepting. The website also features an image-driven blog full of travel inspiration, global news, events and other articles.
Travel Gay and Travel Gay AsiaThese twin booking sites serve a predominantly gay male audience, pointing international travelers to city guides with relevant information about bars, clubs, saunas, shops, beaches, and events, as well as queer-friendly hotels across the globe.
GayCities A similarly gay male–focused online travel guide, this web resource recommends gay-friendly bars, clubs, restaurants, hotels, shops, gyms and more in 238 different cities from Cape Town to Mexico City.
In addition to explicitly LGBTQ outlets, you can now find pages dedicated to LGBTQ consumers on mainstream online travel booking sites like Expedia and Orbitz. Queer-oriented promotions and packages are also often offered by big-name hotels such as Marriott and Kimpton.
LGBTQ-specialized tour operators and agencies
LGBTQ-friendly tour operators for organized trips (both group and private)
For LGBTQ travelers who'd rather leave trip planning to the experts, award-winning tour operators such as Outstanding Travel, Zoom Vacations, Out Adventures, Toto Tours, Detours Traveland Concierge Travel all offer a diverse array of international group and private trips. International tour operator R Family Vacations also designs and leads LGBTQ family-friendly trips (plus a few new adults-only options) on land and at sea for public groups and individuals. The queer-run wilderness education organization, The Venture Out Project, operates LGBTQ-specific backpacking trips in the United States for teens, adults and families.
LGBTQ-friendly cruises
Inclusive travel company Vacaya hosts curated LGBTQ getaways on chartered cruise ships, as well as to all-LGBTQ international resorts. The popular lesbian travel brand Olivia Cruises has been running entertainment-filled cruise, resort, adventure, and riverboat group trips exclusively for queer female-identified travelers since 1990. And cruise company Source Events, which caters predominantly to gay men and their families, organizes both all-gay charters and private LGBTQ groups aboard larger cruise ships (as well as personalized cruise journeys and on-land group itineraries).
LGBTQ-friendly travel and networking apps
From joining queer-specific networking groups, to checking for upcoming LGBTQ events in different cities, to starting important conversations about shared experiences through hashtags such as #travelingwhiletrans, LGBTQ travelers have long relied on social media platforms like Facebook, Instagram and Twitter when planning for domestic and international trips. More recently, meetup apps have created new opportunities for connection between LGBTQ travelers.
Apps (available on iOS and Android)
Meetup This stalwart community-building platform is a great tool for connecting with fellow LGBTQ folks and getting to know local queer scenes on the road. The "LGBTQ Meetups" section points app users toward various happy hours, professional networking events, book clubs, and hiking groups, as well as playgroups for LGBTQ parents.
SCRUFF Venture Gay dating app SCRUFF recently launched a travel-oriented edition aimed at making it easier to connect with LGBTQ people "before and while you travel." By clicking into one of the app's 500-plus destinations, users can view members marked as "visiting now" or "visiting soon" in each given location. The app also provides travel tips from city "Ambassadors" (members who volunteer to give advice and recommendations to visitors), plus updates about
LGBTQ issue–related travel advisories.
Refuge Restrooms This important resource for trans, intersex, and gender-nonconforming individuals maps out safe restrooms in various countries around the world, which users can search for based on proximity to a location.
LGBTQ-focused travel magazines and blogs

Magazines
Out Magazine's online outpost Out Traveler covers everything from luxury LGBTQ-friendly hotels and nightlife hot spots to the latest must-have gadgets for jet-setters. Passport Magazine, available in both digital and print formats, touches upon a wealth of topics related to LGBTQ travel, with sections devoted to food and drink, hotel reviews, product roundups, and events. Also worth checking out is Connextions Magazine, which compiles long-form hotel reviews, human interest stories, destination guides and other global lifestyle content relevant to LGBTQ travelers. (The print and digital publication also has a Spanish edition.)
Although not their main focus, many widely circulated LGBTQ lifestyle outlets like theAdvocate, Curve, Autostraddle, Diva, and Chill also feature travel-related news, commentary, city guides, hotel reviews, profiles and more.
Blogs
Touted as "a lifestyle blog for men and other stylish travelers," the popular blog Travels of Adam hosts op-eds and personal essays, LGBTQ travel tips and hacks, and restaurant, bar, and hotel reviews in destinations from Egypt to England. Married couple Auston and David head up another gay male–focused travel blog called Two Bad Tourists, which features navigating international gay-friendly destinations, festivals and events.
On the queer female travel blog Dopes on the Road, you can expect to find a wide range of content, from travel diaries and safety tips to pop culture commentary. Beautiful photo galleries, travel journals, LGBTQ profiles and interviews, travel tips and destination guides dominate Once Upon a Journey, a helpful travel blog from lesbian couple Roxanne Weijer and Maartje Hensen.
We know people are taking a second look at their travel plans right now. If you're scheduled to travel March 10 – May 31, 2020 and would like to change your plans, there is no fee to do so, regardless of when you purchased your ticket or where you're traveling. This is in addition to our previous waiver, which waives all change fees – domestic and international – for tickets purchased March 3 – April 30, 2020. This is available for any of United's published nonrefundable fares. If you decide to cancel your flight, you can retain the value of your ticket to be applied to a new ticket without a fee. These electronic travel certificates are now valid for 24 months from the date they were issued. This includes all currently valid electronic certificates and all new ones issued on or after April 1, 2020. You might not see this policy change reflected everywhere right away – we appreciate your patience as we work to make that happen.
Eligible travelers on domestic flights and international tickets can request a refund on united.com or may call our contact centers if their flights have been severely adjusted or service to their destination suspended either due to government mandates or United schedule reductions related to COVID-19.
Certain tickets cannot be changed on united.com or the mobile app, including tickets booked through another airline (if the ticket receipt does not begin with 016). Please contact the original ticketing airline for changes.
Follow the steps below to stay up to date, change or cancel your flight.

Change your current flight:
On the united.com homepage, select "My Trips" and enter your flight information to retrieve your flight.
Select "Change flight" and then "Edit" to make the following changes:

Date of travel or destination
Add a flight
Remove a flight

Select "Continue" and choose a new flight option
Continue through booking to confirm your new flight
Note: The change fee will display as waived, but any difference in fare may apply.
Cancel your flight and rebook later:
On the united.com homepage, select "My Trips" and enter your reservation information to retrieve your flight
Select "Cancel flight"
Confirm flight cancellation
If you have future flight credit, when you return to the reservation, select "Use Future Flight Credit" to shop for new flights and apply the credit towards a new flight.
Canceling or changing an award flight:
When you select "Cancel flight," you will have the option to cancel your award reservation and redeposit the miles or to cancel your award reservation and use those miles for another trip in the future.
*We're currently experiencing heavy traffic to united.com. If you experience an error while trying to change or cancel your flight, please try again later.
Click through the slideshow below for more detailed instructions:
​Start on the United homepage: ​
User can select 'My Trips' on the homepage widget to find and retrieve their reservation.
When and where possible, we are working to repatriate travelers who are stranded abroad in the wake of the COVID-19 crisis. Our teams are working closely with government officials here in the U.S. as well as in other countries where flying has been restricted to gain the necessary approvals to operate service. In regions where government actions have barred international flying, we have coordinated with the the U.S. State Department and local government officials to re-instate some flights. Additionally, we have been operating several extra flights to countries in Central America and South America as we continue to play a role in connecting people and uniting the world.
We have operated more than 68 repatriation flights from Panama City, Guatemala City, Quito, Lima, San Pedro Sula, Tegucigalpa and Roatan, bringing nearly 9,200 people home. We will continue working with government officials to operate extra flights to Houston from Quito, San Pedro Sula, Tegucigalpa and from Lima to Washington Dulles and beginning April 5, we will begin operating multiple charter flights between Delhi and San Francisco. We continue to review more opportunities for flights between the United States and other countries to bring citizens home.
Video provided by the U.S. Embassy Ecuador of Americans returning home on United.

Additionally, our Customer Solutions and Recovery team is working with customers in the following markets to rebook them on flights back to the United States as capacity allows, either on our aircraft or on one of our airline partners' planes:

Quito, Ecuador
Managua, Nicaragua
Roatan, Honduras
San Pedro Sula, Honduras
Amsterdam
Brussels
Munich
Singapore
Tokyo-Haneda
Seoul, South Korea
Melbourne, Australia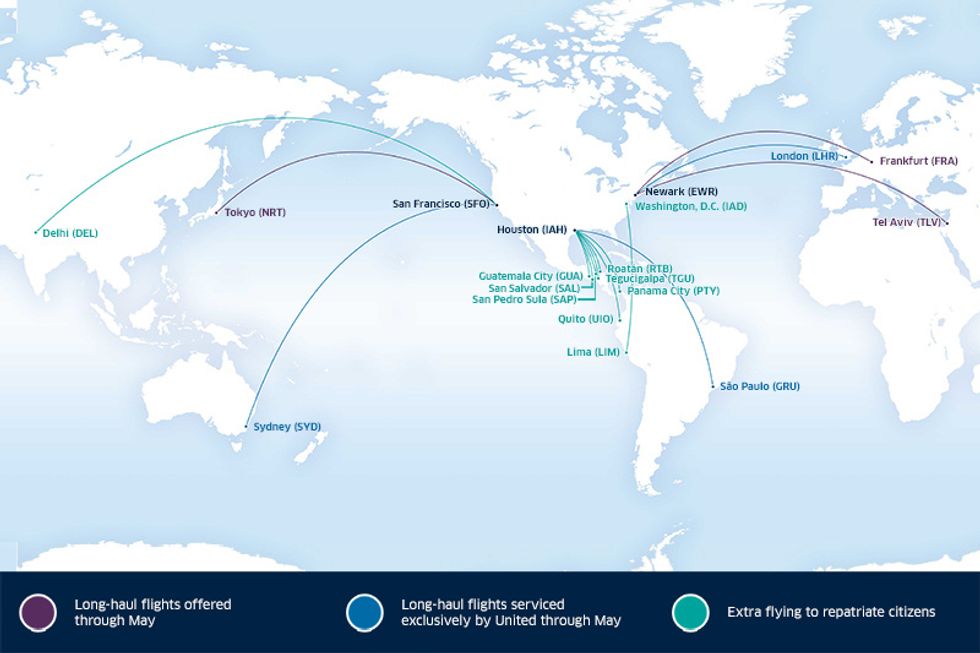 We also recently reinstated several international flights back into our schedule to support customers and essential businesses which depend on these routes. As a result, we will be the only airline to offer service between Newark/New York and London, San Francisco and Sydney, as well as Houston and São Paulo, Brazil.

Calling all AvGeeks and travelers! Here's a fun way to take your next video call….from a United Polaris® seat, the cockpit or cruising altitude. We're introducing United-themed backgrounds for use on Zoom, a video conferencing tool that many people are using to stay connected.
So for your next meeting or catch up with friends and family, download the app to either your computer or mobile device to get started. If you've already downloaded Zoom you can skip ahead to updating your background image (see instructions below).
Start here by downloading your favorite United image to your computer or mobile device. Just click "download" in the bottom left corner of the image.
Next go to your Zoom app (you'll need to download the app to access backgrounds) and click on the arrow to the right of your video camera icon in the bottom of the screen.
From here select, "choose virtual background" to upload your uniquely United photo.
Together, we are facing an unprecedented challenge. United Together, we rise to meet that challenge.
Check out our newest destinations
United Airlines
united
We continue to work with government officials to bring Americans home. In addition to flights from Central & South America, we have charter flights planned from India. Learn more about our repatriation efforts in the wake of COVID-19 here:
uafly.co/3aExaOL
#UnitedTogether
United Airlines
united
When
@RocheDia
needed to ship a vital component of a COVID-19 testing unit from New Jersey to Florida, United Cargo jumped in to help. Read about how this part will allow
@MayoClinic
to process hundreds of tests per day for cases in the Southeastern U.S.
uafly.co/2UzOAGW
United Airlines
united
International schedule update: We know some people around the globe are displaced and still need to get home. We are reinstating some international flights over the next few days and will continue to fly six daily international flights through May.
uafly.co/3a5Dj6p
United Airlines
united
We have extended our change fee waiver to cover travel through May 31, 2020: - You can change or cancel your flight on
united.com
or through the app – a phone call is not required - For the latest on our commitment to your safety, visit
united.com/coronavirus
We Are United
weareunited
Shoutout to our operations team, who are working to properly park, maintain and store many aircraft in the
#BeingUnited
fleet. These aircraft are being housed across our seven hubs, maintenance facilities in CLE and MCO as well as at offsite facilities in New Mexico and Arizona.
We Are United
weareunited
Tomorrow, Oscar and Scott will host a companywide town hall to discuss the latest developments in managing the effects of the coronavirus (COVID-19). You can join the livestream event at 1:20 p.m. CT here:
uafly.co/39AV25m
We Are United
weareunited
Tomorrow, Oscar and Scott will host a companywide town hall to discuss the latest developments in managing the effects of the coronavirus (COVID-19). You can join the livestream event at 1:20 p.m. CT here:
uafly.co/39AV25m
.
Watch our most popular videos
Copyright © 2020 United Airlines, Inc.
All rights reserved.
Indicates an external site that may or may not meet accessibility guidelines.
Scroll to top
Scroll to top