March is Women's History Month, and all month long United is celebrating the contributions and accomplishments of women from across the airline.
Since 1990, Women in Aviation International has been encouraging women of all ages to think about a career in aviation. Below is the story of Radha Bruckner, a United pilot, who chased her dream from India.
How a little girl in India became a pilot

When 17-year-old Radha Bruckner went to the beach, she looked up to the skies, not out at the waves crashing ashore. "My mom and I would sit on the rocks along the beach. I was in my first year of college in Mumbai, India," Radha recalls. Never mind the water and the sunsets, Radha's eyes would be fixed on the airplanes dotting the sky.
"I'd ask my mom if my dream would ever take flight," Radha says, "and she always said that if I worked hard and stayed focused, I could do anything I set my mind to, no matter how impossible the odds."
Radha's parents assumed their young daughter was just going through a phase. They thought that there was no way a girl from India — raised in a family that didn't even have a car — would have an interest in becoming a pilot. Female pilots were rare back then. Even rarer were the places in India where she could get the proper schooling. "People told me this isn't a career path for young women, and I cried every time I heard this," Radha says. "But my parents were never among the naysayers." Time went on, and a girl whose dream of flight began on her first flight — at age four to New York City due to her father's job — persisted.
"I still remember parts of that long flight on board a Boeing 747 from New Delhi," Radha says. "I remember asking my parents and the flight attendants endless questions about the airplane." She started to believe she could one day fly a plane in her first year of high school. Her father brought home a magazine from the Indian embassy, where he then worked, in Frankfurt, Germany. Featured on the cover? Nivedita Bhasin, who'd just become the youngest female pilot in world civil aviation history to command a commercial jet. "In that moment, my dream of becoming an airline pilot became real and attainable," Radha says.
She grabbed the magazine and went up to the green-roof of the building her family lived in near Frankfurt Airport. It was there she spent countless hours in her teens. Much like she'd do on the beach in Mumbai, she looked not outward at the cityscape, but upward at the planes coming and going. Four years later, she was on one of those planes, bound for the United States.
After logging 900 flight hours, Radha drove a car for the first time. "Not many people can say that," Radha jokes. Not too many girls from India can say they've become commercial airline pilots, either, but Radha can. With the help of her parents, Radha left her college in Mumbai, and, at age 18, was living on her own in America, earning her flight instructor rating in Illinois.
"My dad was visiting Chicago on a business trip, and I had the honor of flying him in a Cessna 172 XP," Radha says proudly. "I still remember the wide grin on my dad's face as he clung onto the armrest for dear life." The planes Radha flies now are a bit bigger and can fit a few more passengers. Radha is a Newark-based Boeing 767/757 first officer for United. She realized her lifelong dream of joining a major commercial airline in 2014 and has flown the friendly skies ever since. "It is a privilege to live your dream," Radha says. "Sadly, my parents did not live to see me attain my goal, but I know in my heart that, if it wasn't for their unconditional love, unwavering faith and numerous sacrifices, this little girl from India would have never reached for the stars. "I hope to inspire little girls and boys from around the world to do the same."
"Adversity builds character," Radha's dad used to always tell her. "And he knew much about adversity, being the only one in his little village in south India to put himself through high school, ultimately earning a Masters Degree in economics with honors," Radha says.
She recently passed along similar messages during a trip back to Mumbai, where she spoke to students at a school for underprivileged youth.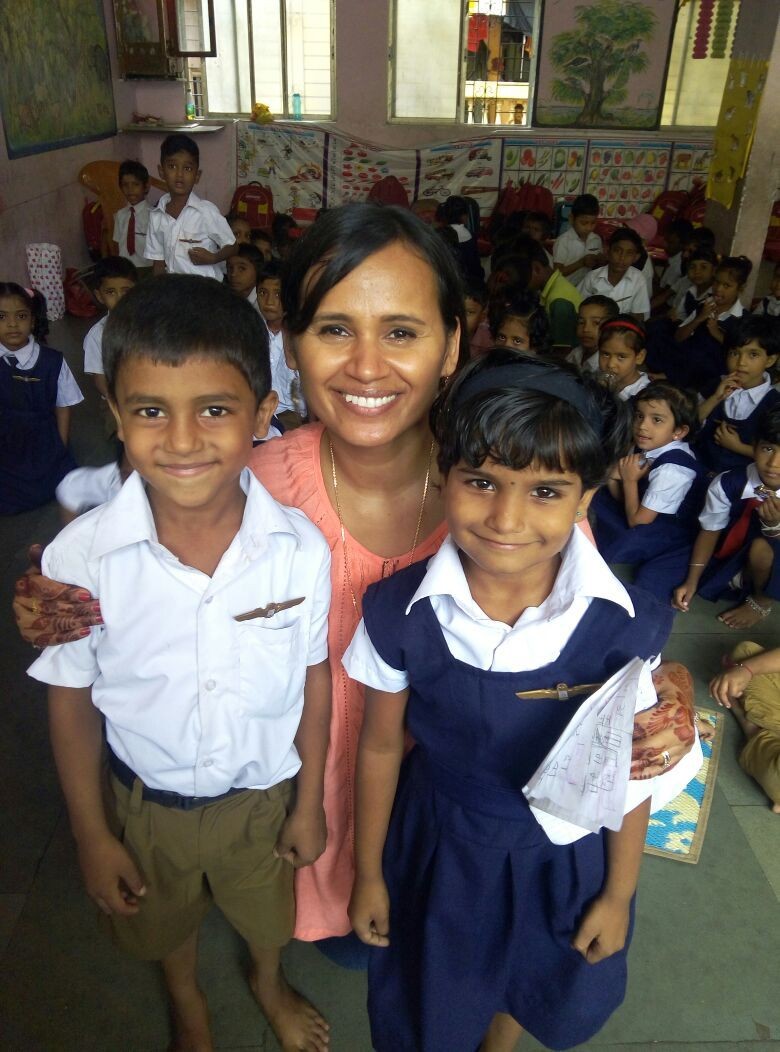 "Today was the most memorable and humbling experience of my life," Radha said. "I am so thankful for the opportunity to speak to these beautiful children about my love for flying and to give them wings as souvenirs. I was so moved by their attention, curiosity and questions. I hope they take to heart the message I wanted to share with them — 'you can do anything you set your mind to if you work hard and stay focused.'" She had one request of the children before leaving for the next destination on her two-week trip: Frankfurt, and her favorite green-roofed building. "I asked them to look at the wings I passed out whenever they needed the reminder that anything is possible," Radha said.