Short runways, quick turns & smiles: Island Hopper serves as 'lifeline'
There are two ways to get from Honolulu to Guam or vice versa on United — the direct and efficient way or the fun, super-scenic way. A seven-plus-hour nonstop on a Boeing 777 or a four- or five-stop marathon on a Boeing 737 that takes essentially a full day in either direction. For many people living in the Micronesia region of the Western Pacific, the Island Hopper is a lifeline and/or the only reasonable way to get from island to island, and has been a community fixture for nearly half a century.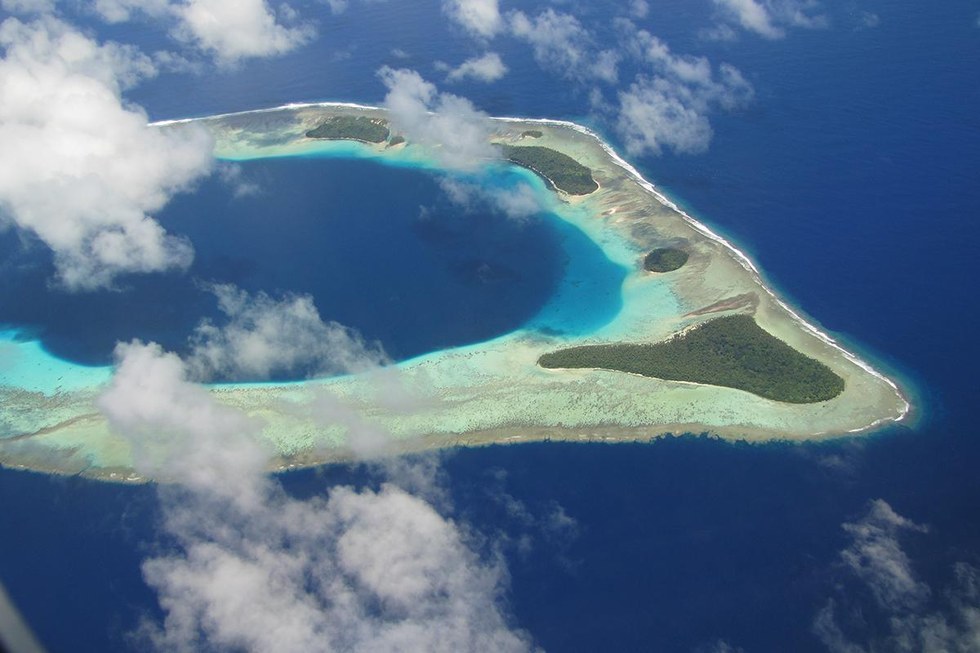 Approaching the island of Pohnpei — population of 34,000 — is one of the four states in the Federated States of Micronesia
For aviation aficionados, it's a "bucket list" trip because of its uniqueness and often spectacular scenery — even when many of those tourists complete the trip without ever leaving any of the modest airports along the route. For United flight crews and technicians, the route can be a coveted one in part because of the deep relationships that have built up between our employees and the frequent Hoppers.
Three times a week, Flight 155 departs Guam in the morning, then makes a series of roughly one-hour flights to: Chuuk, Pohnpei, Kosrae (twice a week only), Kwajalein and Majuro, getting to that scenic atoll just after sunset. From there, the plane continues as a five-hour red-eye to Honolulu, then departs the next morning as Flight 154 to do the route in reverse, getting back to Guam just as the sun sets.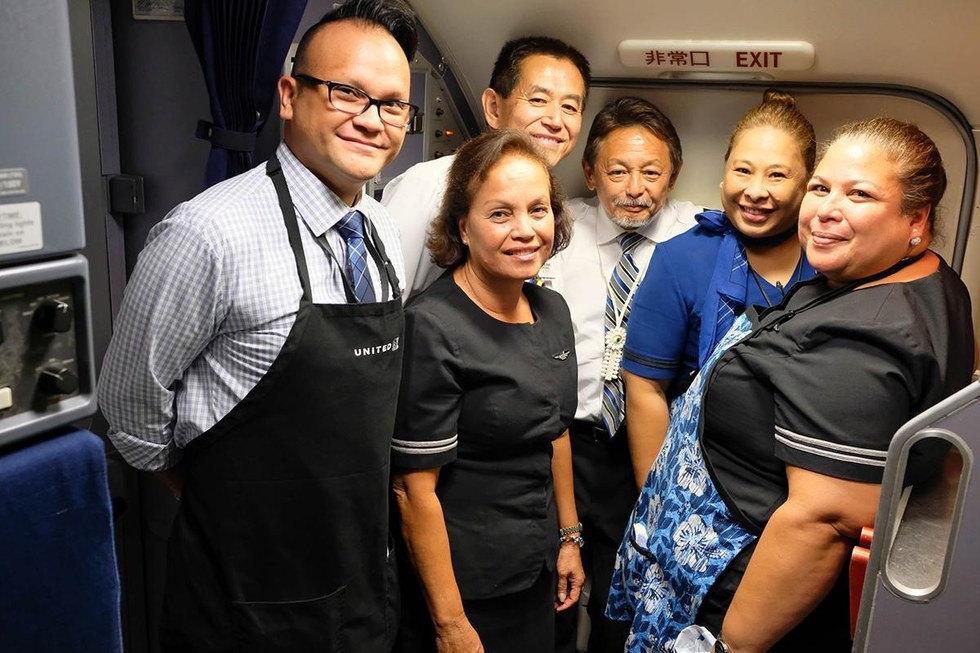 The crew aboard Flight 155
Except for the Majaro-Honolulu segment, we have a specially trained mechanic, or Field Technical Representative, and a supply of spare parts, on each segment in case something needs to be fixed on any of the islands. Otherwise, customers and crew must wait for a rescue aircraft to be dispatched from Guam — and on some of the islands — as there really isn't much in the way of overnight accommodations.
"It's not unheard of for some of our employees to offer stranded passengers a bed for the night," said Art Day, regional director for the Island Hopper stations and a member of our Micronesia-based staff for 40 years. Fortunately, such instances are rare, thanks to the dedication of the Field Technical Representatives, but also to the special care given to the Island Hopper aircraft by our major maintenance operations in both Guam and Honolulu. Reliability is critical when flying into airports only a few times a week especially without the options we generally associate with most United destinations. "In this part of the world, the Island Hopper is anything but an ordinary flight," Art said. "We are the lifeline to the communities we serve, a large part of their economies are dependent on our service.
Service is essential to these islands
Our employees on the islands know how important our service is to their friends and neighbors. "The Island Hopper means almost everything to us here in the islands," said Chuuk General Manager Anthony Mori. "From taking us to Guam or Honolulu for medical emergencies, to visiting family and friends, to bringing the rest of the world closer to our islands. For Chuuk, especially, the flights are absolutely necessary for our tourism industry. Chuuk Lagoon is one of the world's best scuba diving destinations, but without the Island Hopper, tourism in Chuuk would not succeed."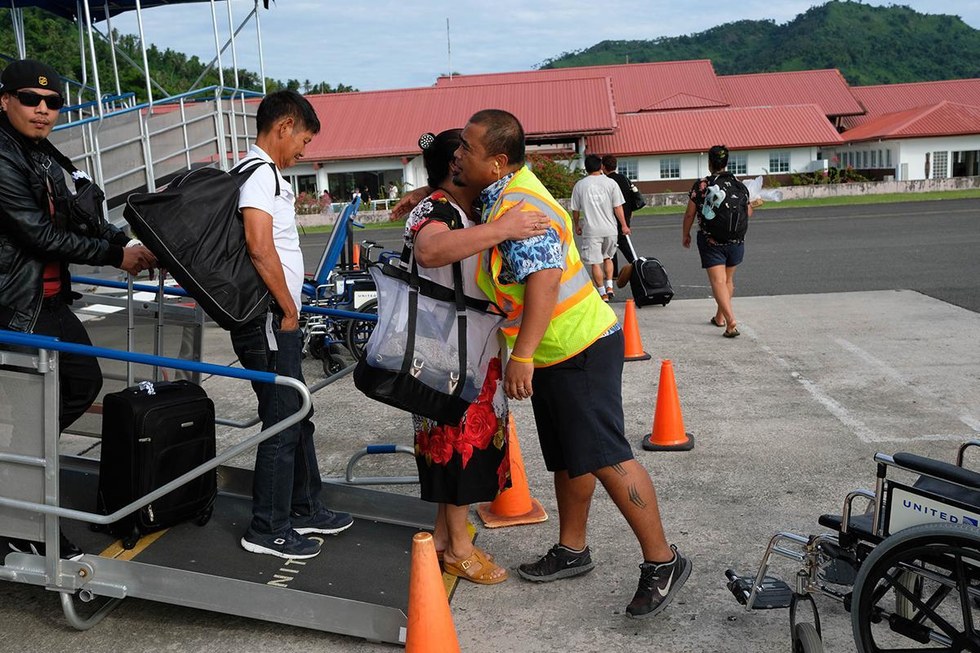 A United employee greets a customer arriving in Chuuk on Flight 154
"I think I know all the local customers, those who get on or get off at Majuro," said Majuro Customer Service Agent Beatras Bani. "I think at some point, everyone who lives here has taken the Island Hopper at least a few times." Kwajalein General Manager Terrance Dominique noted that the service "has a huge impact both with the local Marshallese and those who are stationed at the U.S. Army installation on Kwajalein island."
Like other Island Hopper station leaders, Terrance notes that ground positions with United are highly coveted, so United tends to attract the best applicants and retention is high. "Employees here are very proud to work United flights," Terrance said. "People tell me all the time, the employees we have along the Island Hopper are the friendliest, warmest in our entire system," Art said. "I have to agree as being friendly is a core part of their island culture." The flip side is that our employees are well-known in these small communities, "So in some ways they're never really off-duty," Art said.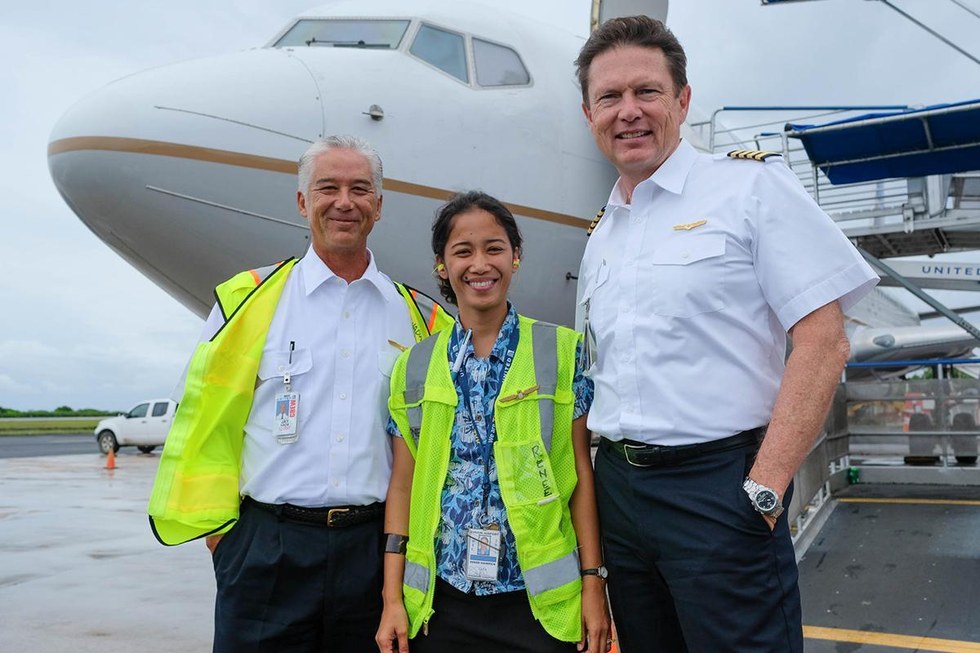 The United employees you'll meet along the Island Hopper are among the hardest working yet warmest, friendliest you'll ever encounter
Route breeds loyalty among crews
Some pilots and flight attendants routinely bid into the Island Hopper flights as often as possible, and as a result have developed close relationships with many customers, and with our ground staff and residents of the islands and atolls. International Service Manager Glenn Shibao said he has a special bond with the crews and customers after decades of service on the route. "Ever since the beginning, these flights have been special to this region, and they still are, even after I've worked thousands of them. They can be tiring to take all the way through, but most customers are only on for one or two segments in either direction. Except for people who want to experience the Island Hopper, we don't get that many customers who take it all the way through on purpose. When we do, by the end of the line, we usually know them pretty well."
Capt. Pierre Frenay said when he first relocated to Guam to take on the position of Chief Pilot, "They sent me here from Honolulu via the Island Hopper. I don't know if that was intentional but in terms of me loving this flight, that first experience did it for me and I fly it every now and then just for the sheer fun of it, and because it's a great break from the administrative work I have to do in Guam. "It's not for everyone," Pierre acknowledged. "The Island Hopper being so remote presents a number of challenges with air traffic control, performance, medical transport, and communications throughout the trip — it's a different environment, that's for sure."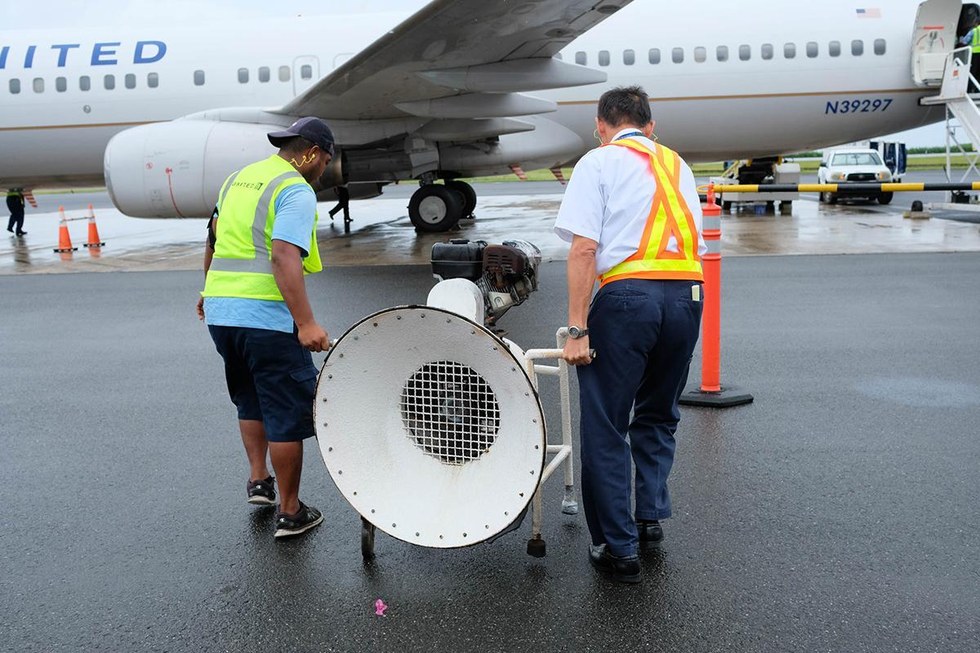 At Chuuk and other stops with short runways that require hard braking on landing, we often need to cool off the brakes to ensure safe operation
Two pairs of pilots work each Island Hopper flight. Two work the Guam-Majuro segments while the others rest, and they change places for the Majuro-Honolulu nonstop. Five flight attendants also work each flight, with two days off in Honolulu before returning. Even with a crew duty time exemption from the FAA, the crews have little margin of error and even minor delays en route can add up to a point where they would be timed out, and we'd have to bring in a fresh crew from Honolulu or Guam. "Luckily, that rarely happens, in part because our teams on the ground all along the route do such a great job of turning the flights quickly," Pierre said.
The precision and speed of the United ground crews and vendors during the stops — all an hour or less of ground time — is something to behold, as they are dealing with a complicated algorithm of people and cargo getting on or coming off at each stop. Cargo, especially, needs to be loaded in a precise manner to maintain proper aircraft weight balance and to minimize the time it takes to work the physical puzzle at the next stop and the stops after that.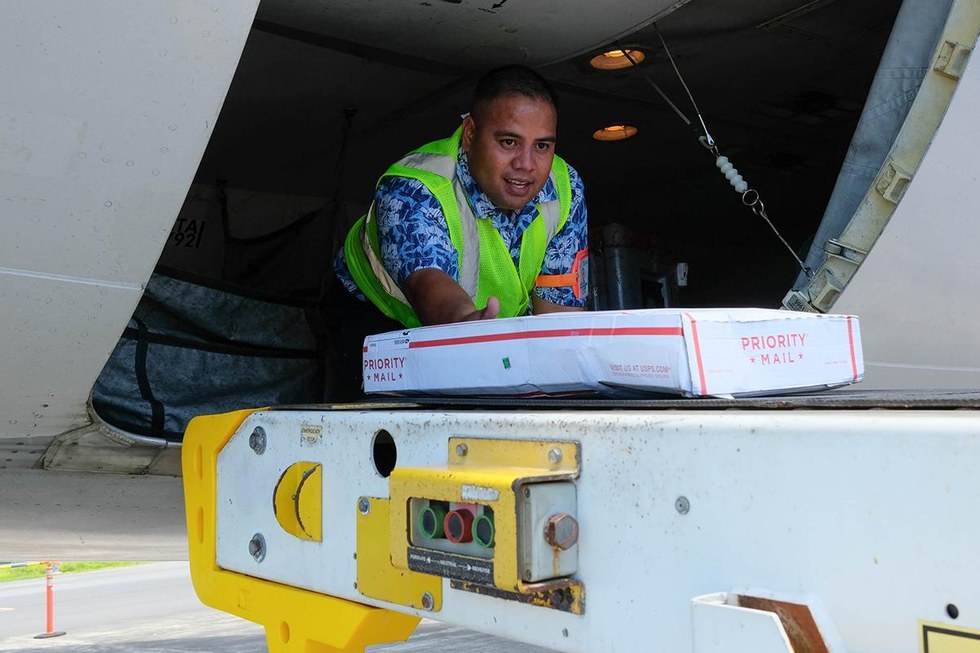 Mail is one of many things the islanders count on the United Island Hopper to deliver
"It's really an art, how our teams, who are pretty much all part-time, rearrange the contents of the aircraft over the course of the flights," Art noted. "And while they have that great attitude and are having a good time, they're working as hard and as efficiently as any ramp crew you'll see at the big mainland airports."