The faces of Lisbon
Story by Ben Ehrenreich |Photography by Kerry Murray |Rhapsody September 2016

It is hard to imagine a more unlikely environment for Alexandre Farto, better known as Vhils, than the steep and densely wooded hills above Sintra, about half an hour's drive northwest from Lisbon. Farto is as quintessentially urban as any artist can be. He lives in cities—he keeps a studio in Hong Kong as well as in his native Lisbon—talks about cities, thinks about cities, uses their detritus and their crumbling walls as both his paint and his canvas. He has worked in London, Shanghai, Rio, Los Angeles, Miami, Moscow, Rome, and first and last in Lisbon, where he grew up and still lives on the gritty south bank of the Tagus River. But Sintra is another world, greener than green, the tree trunks coated in ivy and moss, the verdancy broken only by sprays of purple foxgloves and an occasional glimpse, when the low clouds part, of the bright red and yellow 19th-century Palace of Pena, towering above us like a gaudy joke.

Baby-faced, with an intensity to his eyes that belies the softness of his features, Farto stands beneath a neat stack of toppled tree trunks that is easily twice his height. The roughly sawn-off ends of the logs present an almost even surface, which Farto is brushing with a brownish stain. Dressed in a black wool jacket and a hoodie, he looks a bit like a Franciscan monk. While one of his assistants powers up a generator, three others scramble over the tree trunks, painting the exposed wood. Farto plugs in a grinder and carves a few experimental divots, comparing the color of the wood to the stained surface surrounding it. The stippling will soon spread from one log to the next. Slowly, a giant face will take shape, and then another, their eyes open and impassive, staring out at whoever happens to hike by, silently demanding a response. For a while at least: The logs, which fell in a storm, will eventually be taken away as the forest's managers find other uses for them. "So the image," Farto says, "will decompose."
He's smiling when he says it. I ask whether he likes that idea.
"For sure," he replies, nodding. The piece, after all, is "about the ephemerality of everything, the idea that nothing lasts forever."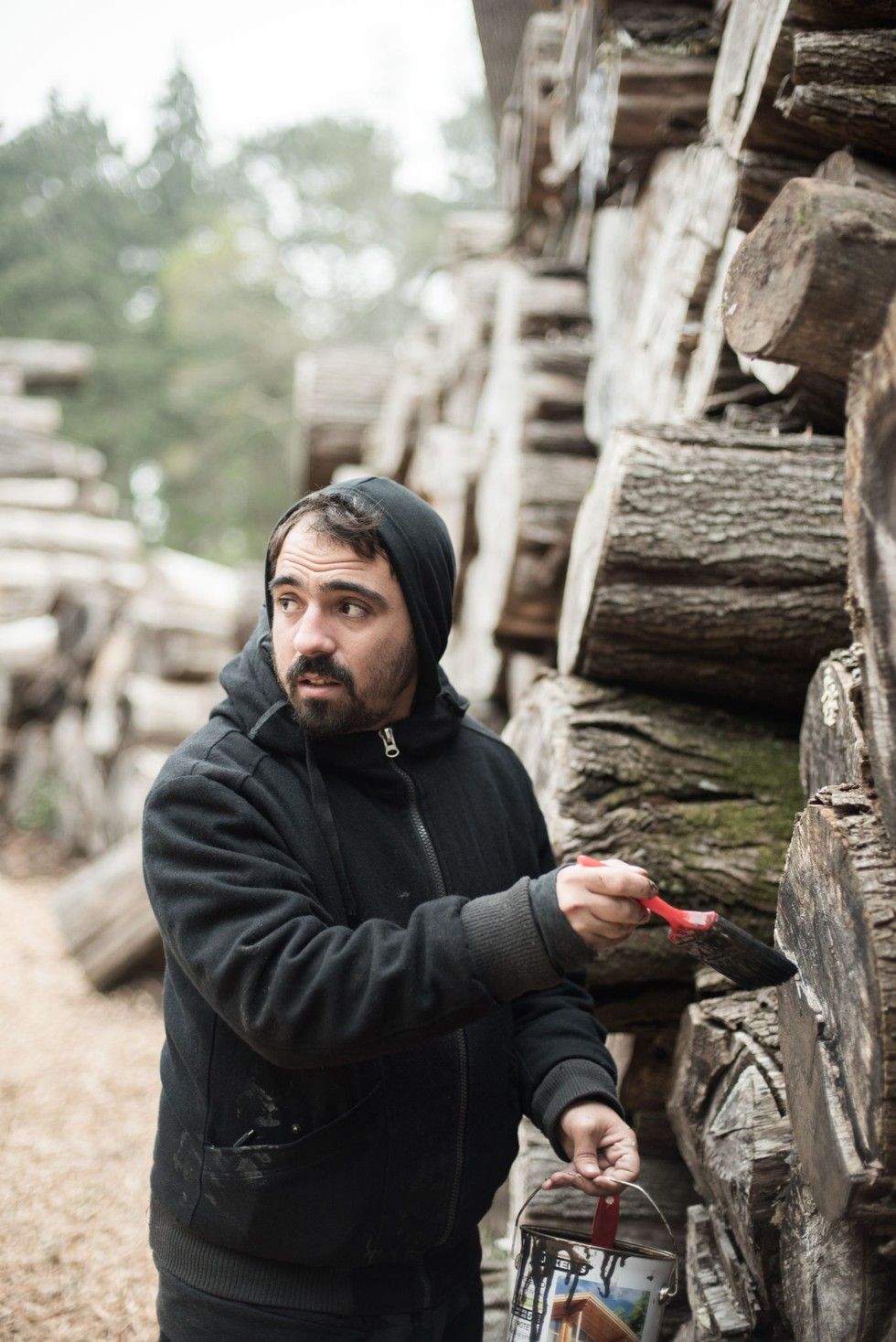 The aritst stains logs in the woods near Sintra
t's an idea that can be hard to escape in Lisbon, a city that at the height of its wealth and global power was nearly shaken from the face of the Earth. The great earthquake of 1755 was so catastrophic that it almost shattered the Enlightenment faith in the benevolent rationality of the cosmos. ("If this is the best of all possible worlds," worried Voltaire's Candide, "what are the others?") The last century alone saw Portugal shift from hereditary monarchy to dictatorship to democracy, and you can still find traces of these transformations on the art that covers Lisbon's walls.

"The city, Farto came to understand, was a living thing, 'an organism,' as he puts it."
There's a lot of it. With its narrow, winding streets, its hills and staircases and hidden parks, Farto's hometown is an easy one to love. "The city was created for you to get lost in," he says, approvingly. There's plenty to look at while you wander. The sidewalks are adorned with geometric patterns crafted out of stones. The old ceramic tiles—azulejos, they're called—that ornament the facades of so many of the city's buildings depict saints, Christ, and the Virgin, enlisting images of divinity to ward off fresh disasters. Newer murals, enormous and brightly colored, snake over abandoned buildings in the center of town and cover the sides of apartment towers on the outskirts. Some are overtly political, referencing the social movements that emerged after the Carnation Revolution and the fall of Portugal's dictatorship in 1974, as well as the independence campaigns of the country's former colonies. Others are more whimsical: a winged yellow cat with a giant, toothy smile floats at the base of a building on a quiet residential street; a woman walks a dog while a duck looks on; hungry mouths race around the base of concrete rubbish bins.
Farto has had a hand in guiding the city's recent public-art renaissance. Underdogs, the gallery he co-founded in 2013, pairs artists from around the world with city-sanctioned walls. His own contributions—"interventions," he calls them—are difficult to miss.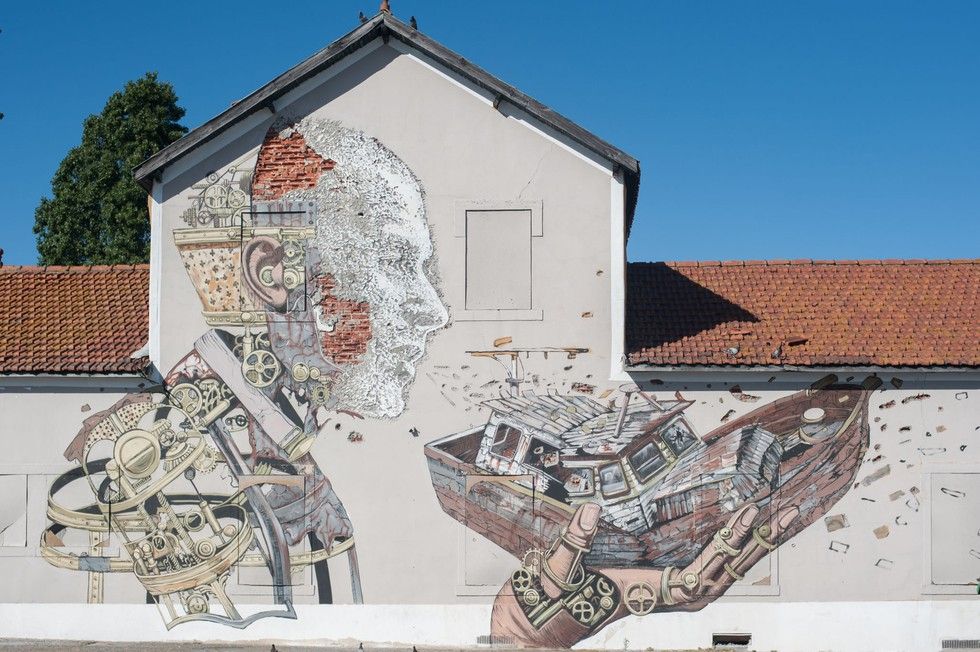 A collaborative piece by Vhils and Italian muralist Pixel Pancho
A mosaicked portrait of the beloved fado singer Amália Rodrigues, crafted with the same stones that decorate the city's sidewalks, emerges on the wall of a park in the leafy neighborhood of Alfama. A giant, careworn face stares out from the side of an empty building just beneath the 25 de Abril bridge. (Once named for the dictator António de Oliveira Salazar, the bridge was renamed for the date of the revolution that overthrew Salazar's successor.) Its sad, clear eyes confront you as you walk or drive beneath it, as if demanding that you account for your existence. Only when you get closer do you realize that the image is not painted but chiseled into the skin of the building, the different layers of exposed plaster and brick providing the tones for Farto's palette. The geometric patterns that Farto carved around it recall the designs of azulejos: One building calls out to the others, a city to its past.

A relationship with the city's walls runs in Farto's blood. During the revolution, his father plastered Lisbon with wheat-pasted "street journals" to spread news that the censors wouldn't print. Farto was 13 when he started painting the walls of the train yards and abandoned factories of his neighborhood—not faces then, just the five-letter tag VHILS, which he chose, he says, because it was easy to paint and didn't spell anything in any language that he knew of. Hip-hop came late to Portugal, and the graffiti that came with it was a revelation to kids like Farto, a way to make the mute walls of the city speak. He remembers watching the peeling, sun-faded remnants of the old post-revolutionary murals give way to shiny advertisements. He and his friends painted over the billboards and watched as new ads covered up their tags. The city, Farto came to understand, was a living thing, "an organism," as he puts it. Even freshly plastered and whitewashed into blankness, its walls were pregnant with history. "I started asking," Farto says, "'Why am I adding to this?'"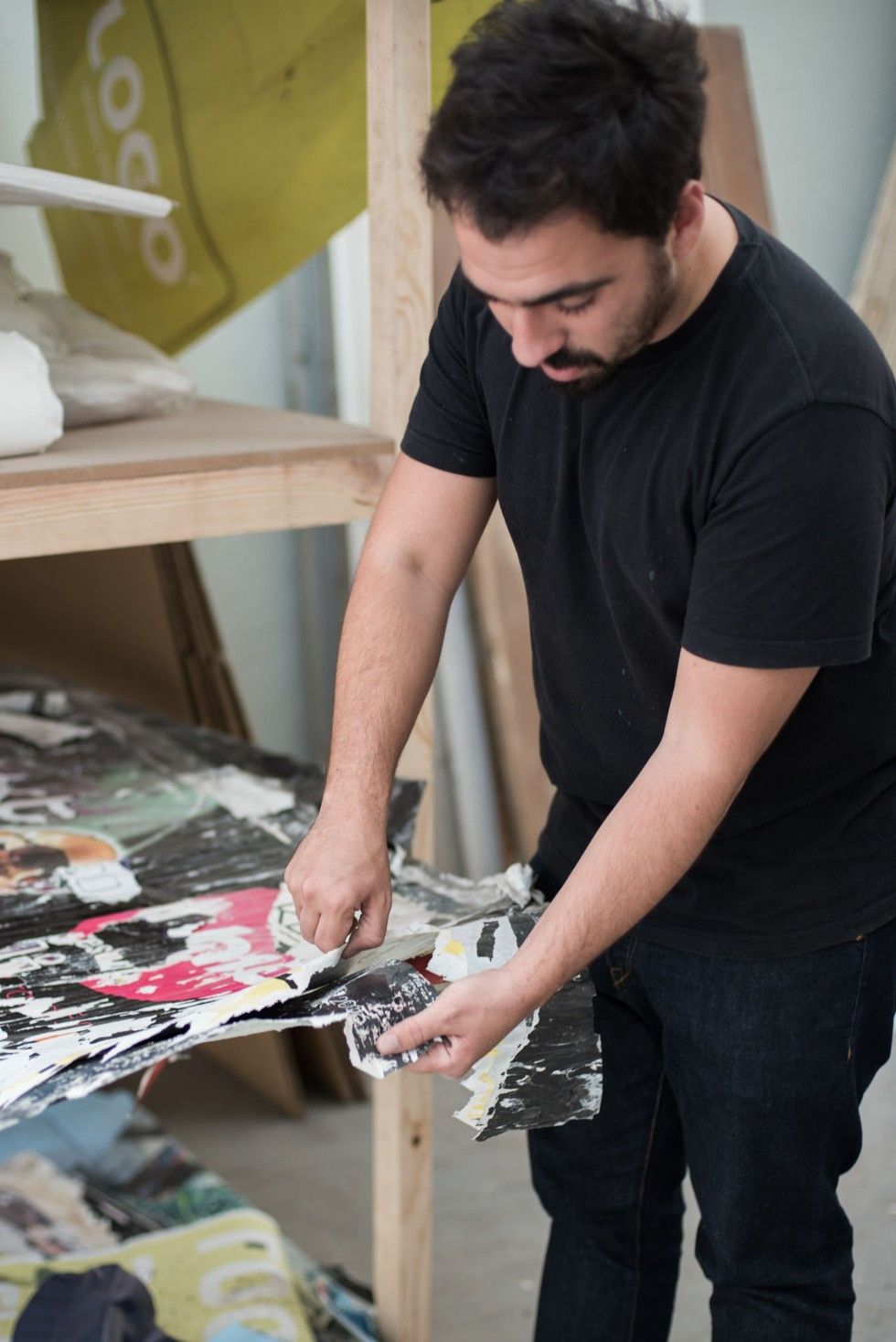 Vhils at work in his Barreiro studio
In 2004, while still in his teens, he decided to take an opposite approach. He started slicing strategically into billboards with razors, using the images he uncovered beneath, the layers of ads pasted over ads, to create entirely new images. "It was almost an archaeological process," he says. The next year, for the first time, he began carving into a wall with drills and chisels, using the colors he unearthed to sculpt a face. "It's always this idea, to destroy in order to create, to make what is invisible visible." That first piece is gone now, but one of the last conventional murals he painted before shifting techniques survives just across the street, around the block from Underdogs, in the trendy, formerly industrial district of Braço de Prata. It's a black-and-white cityscape: skyscrapers, street lamps, traffic lights and pylons in ominous, lifeless silhouette. "I started to zoom in," Farto says, "and the people came through."

"It's about the ephemerality of everything, the idea that nothing lasts forever."
By 2008, Farto was studying art in London, and Banksy, probably the most famous living artist to come out of the graffiti scene, invited him to take part in a street-art festival in a tunnel beneath the city. He carved a face into the tunnel's wall, this one staring impassively at the Banksy mural beside it. Banksy's agent took him on, and Farto, by now better known as Vhils, was quickly propelled into art-world celebrity. Soon he was working everywhere from Norway to Colombia. Museums were buying his work. He rented a studio—in the neighborhood of Barreiro, not far from where he grew up—that's the size of a small airplane hangar. (Appropriately, it once housed a recycling plant.) His staff of 10 keeps offices there, amid the stacks of old lumber and billboards that Farto and his assistants salvage from demolition sites around town.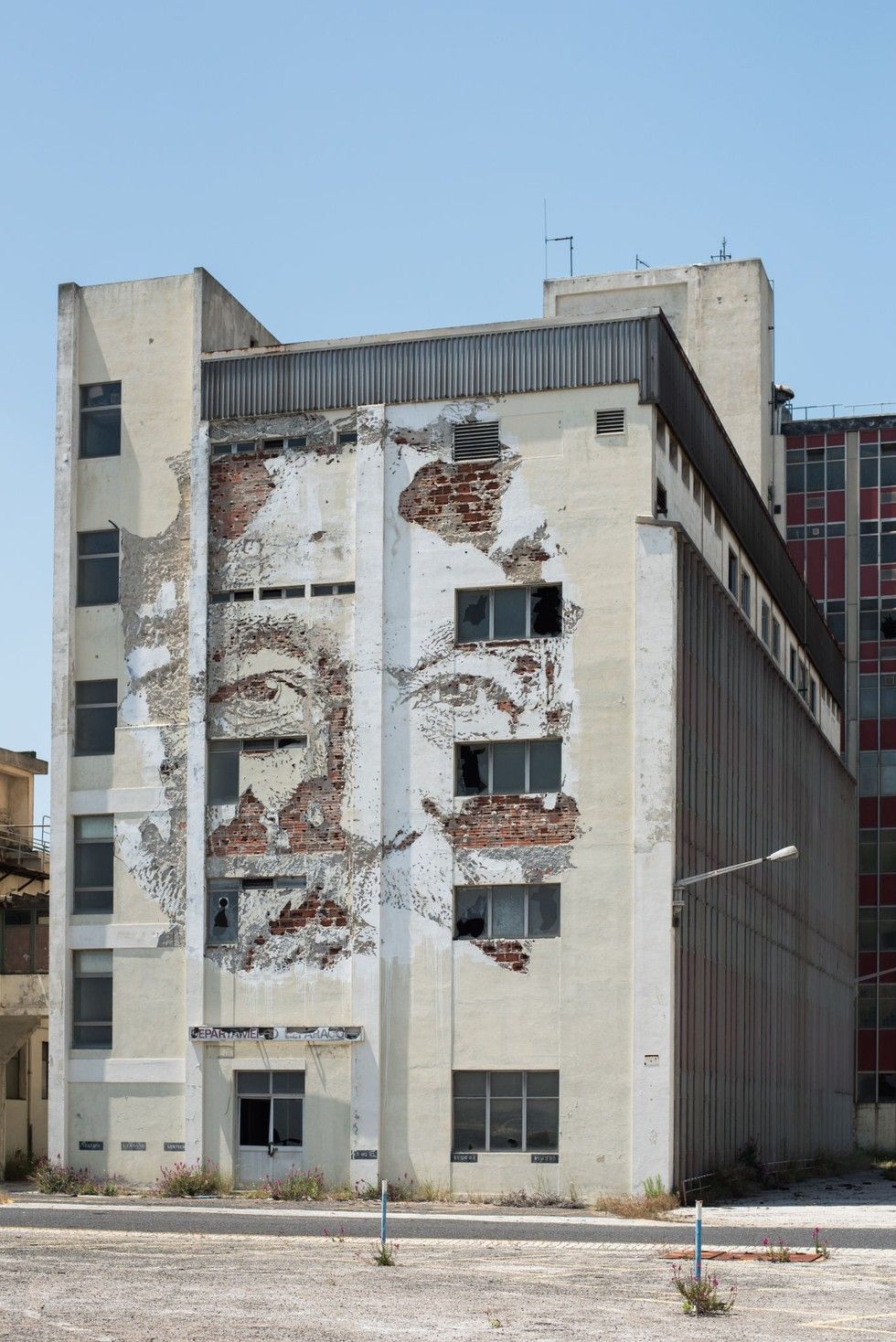 A Vhils mural on a wall in one of Lisbon's abandoned shipyards
When his renown at home became too much, Farto started spending time in Hong Kong. Neon-lit and intensely efficient, it's the opposite of Lisbon, he notes with a laugh. But Lisbon always draws him back. The faces he's carved stare out from walls all over town, a part of the living city. There are four of them in Braço de Prata, not far from his gallery and across the street from his last surviving painted mural. There's one in an alley in the ancient, picturesque neighborhood of Alfama; another on a long, art-bedecked wall in the old warehouse district of Alcântara; another covering a five-story building in an abandoned shipyard on the far side of the river. Their expressions all feature those wide-open eyes, those silent, demanding stares.

Often, he first encounters his subjects in the streets. "Sometimes I never see them again," Farto says. Their anonymity is part of the point: not to pay tribute to an individual, he says, but to force people to pause "and see themselves."
Many of Farto's murals have already been destroyed. He not only knows that all of them will, at some point, be painted or plastered over, demolished to make way for something new—he accepts it gladly. "Nothing lasts forever," he says again, and smiles. "I like that."
When the pandemic began, United Cargo knew it would be critical to utilize its fleet, network and industry-leading pharmaceutical handling processes to transport a COVID-19 vaccine when the time came.
Connecting vaccines to the world: United responds to mass distribution effort
December 22, 2020
On November 27, United Airlines became the first commercial airline to safely deliver the first batch of Pfizer and BioNTech's COVID-19 vaccine into the U.S. thanks to a coordinated effort between United's cargo, safety, technical operations, flight operations, regulatory and legal teams.
Now as the entire shipping and logistics industry bands together to widely distribute vaccines, United is leveraging all of its flights, including cargo-only and those carrying passengers, to transport millions of vaccines to destinations throughout our network, including Honolulu, Guam and Saipan – the first of any carrier to do so.
"United's cargo service has helped safely deliver many essential goods during this pandemic, but there is no shipment that gives me more personal pride than helping bring this life-saving vaccine to our communities," said Jan Krems, United Cargo President. "While we still face a long road ahead the promise of a widely distributed vaccine gives us hope that we are one step closer to putting this pandemic behind us and moving forward together toward a brighter future."
And United is shipping more than just vaccines to help during the pandemic in keeping the lines of commerce flowing and goods getting to where they need to be. Since mid-March, United has operated 9,000 cargo-only flights carrying more than 435 million pounds of cargo. By using a combination of cargo-only flights and passenger flights, United Cargo has also transported 80 million pounds of medical supplies this year.
In coordination with our shipping and logistics partners, United will continue to distribute COVID-19 treatments to destinations throughout its network. The real heroes are the scientists who created these life-saving vaccines and the frontline workers who are not only administering them, but also helping care for and tend to those suffering from this virus. United is proud to do its part in helping to get this precious cargo to the people and communities who need them, and looks forward to doing our part in the months ahead.
United Cargo responds to COVID-19 challenges, prepares for what's next

September 30, 2020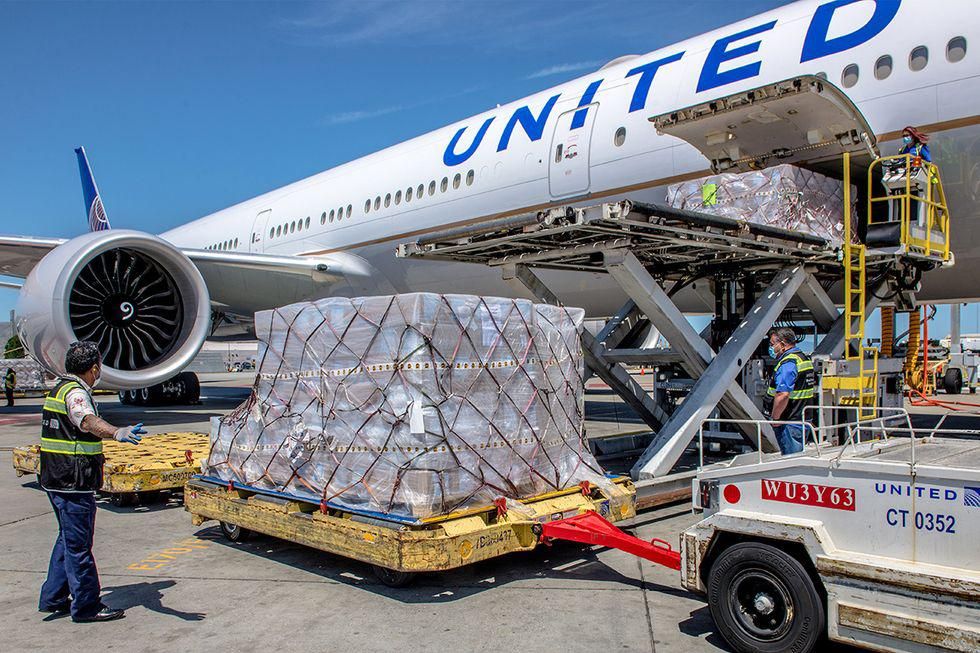 Even before the COVID-19 pandemic, United Cargo has supported a variety of customers within the healthcare industry for over 10 years. Three key solutions – TempControl, LifeGuard and QuickPak – protect the integrity of vital shipments such as precision medicine, pharmaceuticals, biologics, medical equipment and vaccines. By utilizing processes like temperature monitoring, thermodynamic management, and priority boarding and handling, United Cargo gives customers the peace of mind that their shipments will be protected throughout their journey.

With the global demand for tailored pharmaceutical solutions at an all-time high, we've made investments to help ensure we provide the most reliable air cargo options for cold chain shipping. In April this year, we became the first U.S. carrier to lease temperature-controlled shipping containers manufactured by DoKaSch Temperature Solutions. We continue to partner with state-of-the-art container providers to ensure we have options that meet our customers' ever-changing needs.
"Providing safe air cargo transport for essential shipments has been a top priority since the pandemic began. While the entire air cargo industry has had its challenges, I'm proud of how United Cargo has adapted and thrived despite a significant reduction in network capacity and supply," said United Cargo President Jan Krems. "We remain committed to helping our customers make it through the pandemic, as well as to doing everything we can to be prepared for the COVID-19 vaccine distribution when the time comes."
Our entire team continues to prioritize moving critical shipments as part of our commitment to supporting the global supply chain. We've assembled a COVID readiness task team to ensure we have the right people in place and are preparing our airports as we get ready for the industry-wide effort that comes next.
In cooperation with our partners all over the world, United Cargo has helped transport nearly 145 million pounds of medical supplies to aid in the fight against COVID-19, using a combination of cargo-only flights and passenger flig­hts. To date, United Cargo has operated more than 6,300 cargo-only flights and has transported more than 213 million pounds of cargo worldwide.
United Cargo responds to global needs, celebrates 5000th cargo-only flight

August 18, 2020
By Jan Krems, President, United Cargo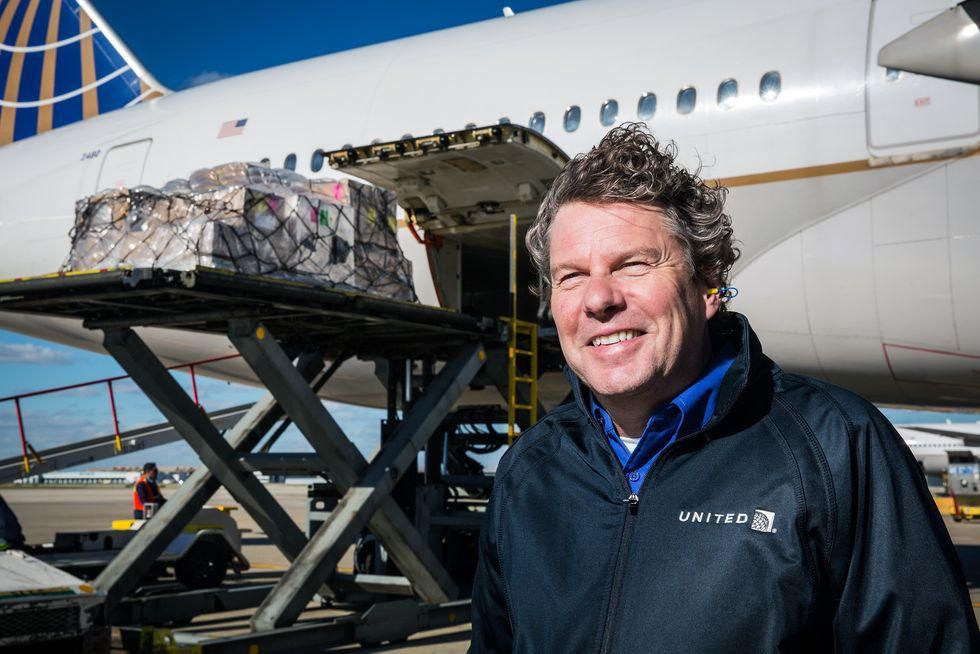 In mid-March, United took steps to manage the historic impact of COVID-19 and began flying a portion of our Boeing 777 and 787 fleets as dedicated cargo-only flights to transport air freight to and from U.S. hubs and key international business locations. More than ever, providing reliable cargo transportation was vitally important and I'm proud say our United Cargo team stepped up to support our customers.

Although we're facing the most challenging environment our industry has ever experienced, I'm very excited to celebrate a major milestone. Since March 19, United has operated over 5,000 cargo-only flights transporting nearly 170 million pounds of cargo on these flights alone. With an increased need to keep the global supply chain moving, and an even more urgent need for medical supplies, we knew we had to utilize our network capabilities and personnel to move vital shipments, such as medical kits, personal protective equipment (PPE), pharmaceuticals and medical equipment between U.S. hubs and key international destinations.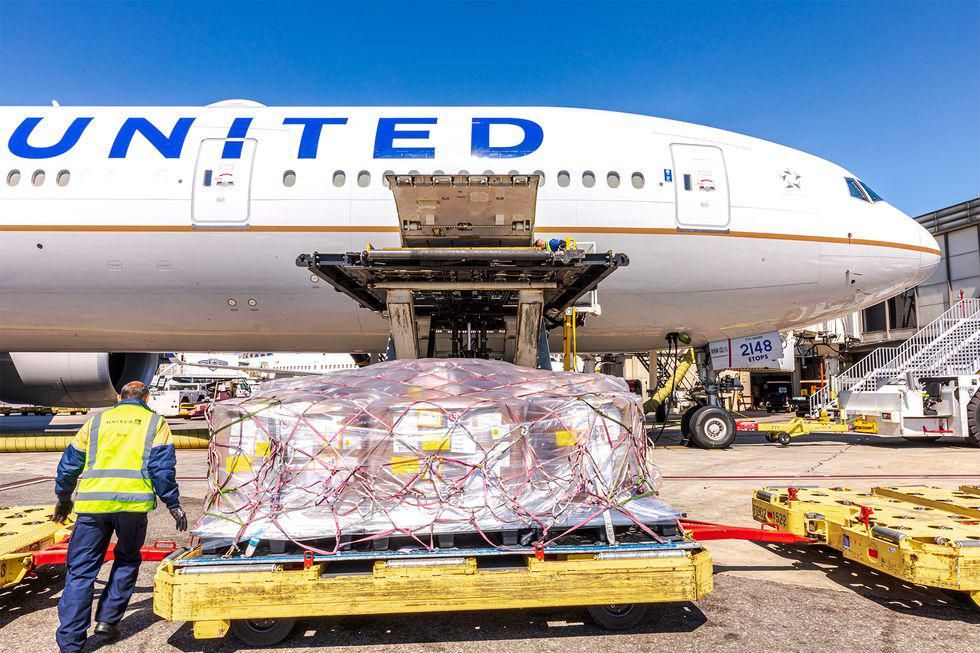 In cooperation with freight forwarders and partners all over the world, United Cargo helped transport more than 107 million pounds of medical supplies to aid in the fight against COVID-19 using a combination of cargo-only flights as well as passenger flights.

To keep military families connected, we increased the frequency of cargo-only flights between the U.S. and military bases in various parts of the world — including bases located in Guam, Kwajalein and several countries in Europe. We know how critically important it is for these families to stay connected, and I'm honored that we were able to utilize our network and our aircraft to fly nearly 3 million pounds of military supplies.
In collaboration with food-logistics company Commodity Forwarders Inc. (CFI), our cargo teams moved nearly 190,000 pounds of fresh produce to Guam for the U.S. Department of Agriculture's Coronavirus Farm Assistance Program. This new program was created to provide critical support to consumers impacted by the coronavirus pandemic.
United has played a critical role in keeping global supply chains stable during the pandemic as we deliver urgently needed goods around the world. These past few months have created challenges that I have never seen in my 30-plus years of experience working within the air cargo and freight forwarding industry. However, I'm proud of our teams for staying focused on our mission to provide high-quality service and to keep our customers connected with the goods they need most.
United Cargo and logistics partners keep critical medical shipments moving
July 02, 2020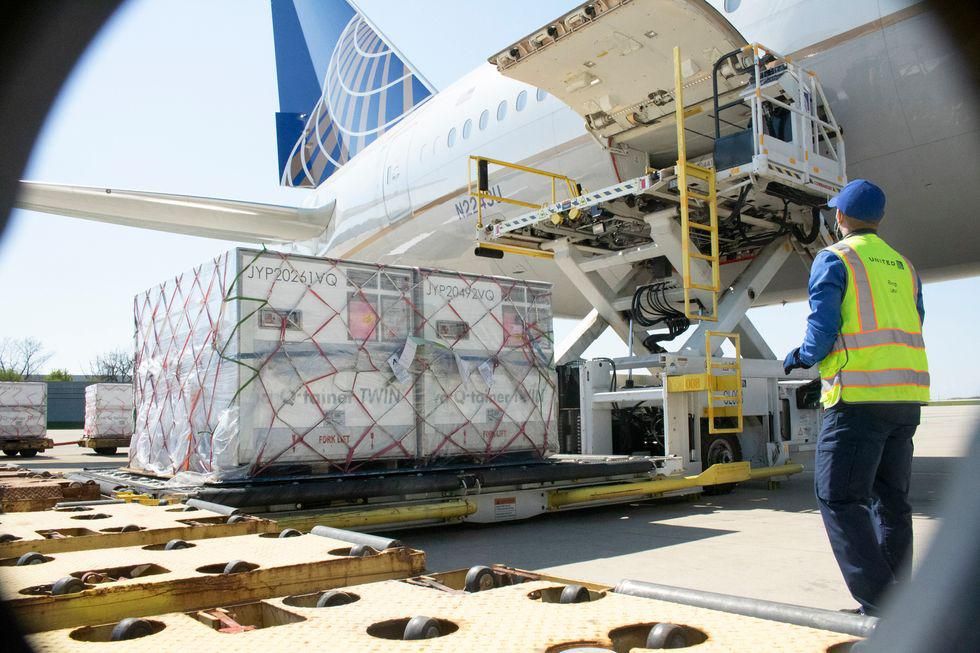 By working together and strengthening partnerships during these unprecedented times, our global community has overcome challenges and created solutions to keep the global supply chain moving. As COVID-19 continues to disrupt the shipping landscape, United and our industry partners have increasingly demonstrated our commitment to the mission of delivering critical medical supplies across the world.

United Cargo has partnered with DSV Air and Sea, a leading global logistics company, to transport important pharmaceutical materials to places all over the world. One of the items most critical during the current crisis is blood plasma.
Plasma is a fragile product that requires very careful handling. Frozen blood plasma must be kept at a very low, stable temperature of negative 20 degrees Celsius or less – no easy task considering it must be transported between trucks, warehouses and airplanes, all while moving through the climates of different countries. Fortunately, along with our well-developed operational procedures and oversight, temperature-controlled shipping containers from partners like va-Q-tec can help protect these sensitive blood plasma shipments from temperature changes.
A single TWINx shipping container from va-Q-tec can accommodate over 1,750 pounds of temperature-sensitive cargo. Every week, DSV delivers 20 TWINx containers, each one filled to capacity with human blood plasma, for loading onto a Boeing 787-9 for transport. The joint effort to move thousands of pounds of blood plasma demonstrates that despite the distance, challenges in moving temperature-sensitive cargo and COVID-19 obstacles, we continue to find creative solutions with the help of our strong partnerships.
United Cargo is proud to keep the commercial air bridges open between the U.S. and the rest of the world. Since March 19, we have operated over 3,200 cargo-only flights between six U.S. hubs and over 20 cities in Asia, Australia, Europe, South America, India, the Caribbean and the Middle East.
United further expands cargo-only operations to key international markets
June 9, 2020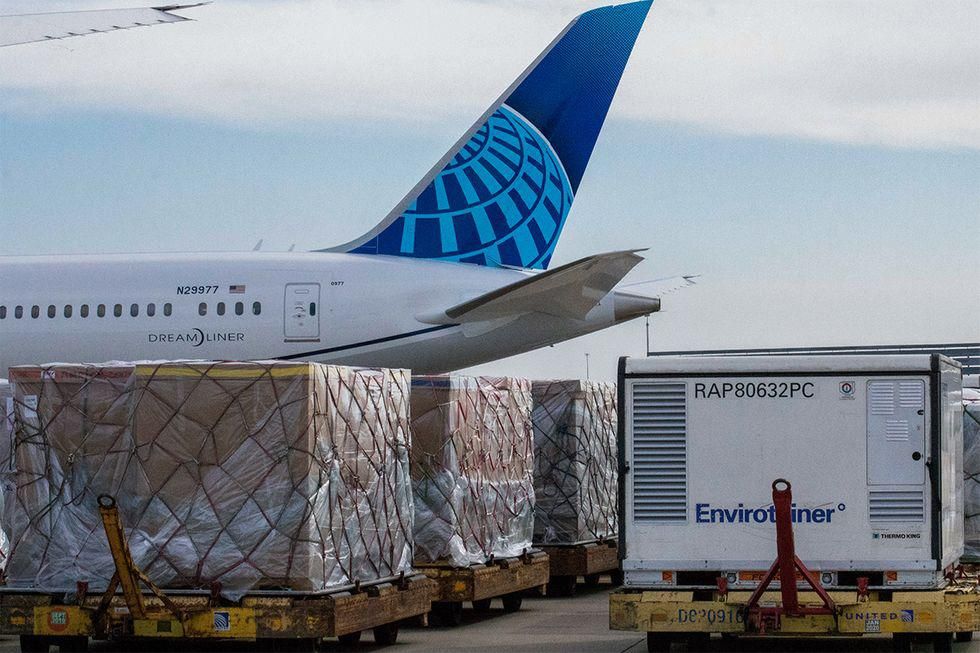 United has played a vital role in helping keep the global supply chains stable during the COVID-19 pandemic so urgently needed goods can get to the places that need them most.

In addition to current service from the U.S. to Asia, Australia, Europe, India, Latin America and the Middle East, we are proud to now offer cargo-only flights to key international markets including Dublin, Paris, Rome, Santiago and Zurich. These new routes will connect our freight customers and further extend our air cargo network throughout the world – for example connecting major pharmaceutical hubs in Europe and perishable markets in Latin America.
"Air cargo continues to be more important than ever," says United Cargo President Jan Krems. "This network expansion helps our customers continue to facilitate trade and contribute to global economic development and recovery. I'm proud of our team for mobilizing our cargo-only flights program that enables the shipment of critical goods that will support global economies."
Since we began our program March 19, we have completed more than 2,400 cargo-only flights, transporting over 77 million pounds of cargo. We have over 1,100 cargo-only flights scheduled for the month of June, operating between six U.S. hubs and over 20 cities all over the world.
United's first flight carrying cargo in-cabin takes off
May 13, 2020

United continues to keep supply chains moving and to meet the demand for critical shipments around the globe. Recently, United received approval from the Federal Aviation Administration (FAA) to carry cargo in approved storage areas in the passenger cabin.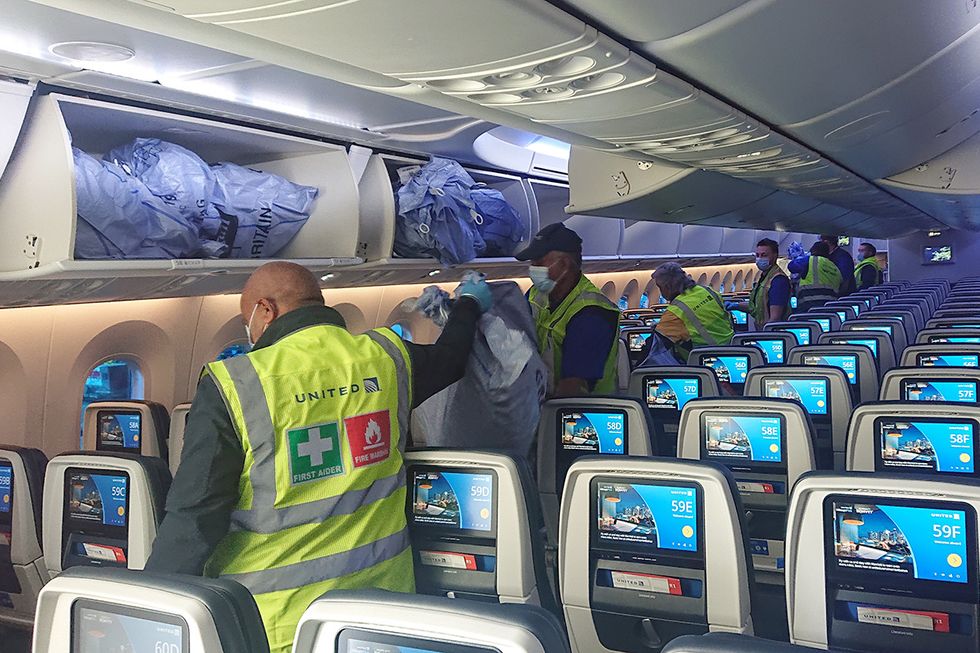 Our inaugural cargo-in-cabin flight flew from London (LHR) to Chicago (ORD) carrying over 4,200 pounds of mail in the passenger cabin, plus a full payload of freight in the belly of the aircraft. Initially, cargo-in-cabin shipments will be loaded on the 777 and 787 aircraft operating our cargo-only flights. We will continue to evaluate additional opportunities to use this space to meet the growing cargo demand.
"We send our sincere thanks to the FAA for working with our team to enable the transport of more critical goods on United's cargo-only flights," said Jan Krems, President of United Cargo. "By loading existing cabin storage areas with cargo and mail, we can move even more critical medical equipment, PPE, and other vital shipments the world needs to manage through the pandemic."

United's cargo-only network continues to expand in order to help bring vital shipments to the people that need it most. We're now offering service between six of our U.S. hubs and 18 airports worldwide: CTU, HKG, ICN, MEL, PEK, PVG, SIN, SYD and TPE in the Asia-Pacific; AMS, BOM, BRU, DUB, FRA, LHR, TLV and ZRH in EMEIA; and SJU in the Caribbean.
Since the start of its cargo-only flights program March 19, United has operated over 1,300 cargo-only flights transporting over 44 million pounds of cargo.
For more information, visit unitedcargo.com.
United expands cargo-only flights to additional global destinations
April 16, 2020
Getting vital goods, especially medical relief supplies, into the hands of the businesses and people who need them has never been more critically important. To meet the overwhelming demand, United began operating cargo-only flights on March 19. Since we began using Boeing 777 and 787 aircraft from United's passenger fleet for this purpose, we have operated over 400 flights carrying more than 6 million kilos of cargo.
"With the global community in need, we are doing everything we can to keep supply chains moving worldwide and support the battle against COVID-19," said United Cargo President Jan Krems. "We're proud to play an active role in connecting vital medical supplies like test kits and personal protective equipment with healthcare professionals around the world."
We are now operating more than 150 cargo-only flights per week between six of our U.S. hubs and 13 cities worldwide: CTU, HKG, PEK, PVG, SYD and TPE in the Asia Pacific; AMS, BRU, DUB, FRA and LHR in Europe; SJU in the Caribbean and TLV in the Middle East. We expect to add new cities soon and will continue to expand our cargo-only flights program.
Hub
Cargo-only flights operating through May
Chicago (ORD)
ORD - AMS (Amsterdam)
ORD - FRA (Frankfurt)
ORD - HKG (Hong Kong)
ORD - LHR (London)
ORD - NRT (Tokyo Narita) - PEK (Beijing)

Houston (IAH)
IAH - AMS (Amsterdam)
IAD - FRA (Frankfurt)
Los Angeles (LAX)
LAX - HKG (Hong Kong)
LAX - LHR (London Heathrow)
LAX - NRT (Tokyo Narita) - PVG (Shanghai)
LAX - SYD (Sydney)
New York/Newark (EWR)
EWR - AMS (Amsterdam)
EWR - FRA (Frankfurt)
EWR - LHR (London)
San Francisco (SFO)
SFO - AMS (Amsterdam)
SFO - NRT (Tokyo Narita) - PEK (Beijing)
SFO - NRT (Tokyo Narita) - PVG (Shanghai)
SFO - NRT (Tokyo Narita) - TPE (Taipei)
SFO - TLV (Tel Aviv)
SFO - SYD (Sydney)
Washington, D.C. (IAD)
IAD - BRU (Brussels)
IAD - DUB (Dublin)
IAD - FRA (Frankfurt)
IAD - NRT (Tokyo Narita) - PEK (Beijing)
IAD - SJU (San Juan)
Flight details are subject to change, for the most up-to-date schedules, please visit https://ual.unitedcargo.com/covid-updates.
Cargo-only flights support U.S. military and their families
March 30, 2020
We are helping to keep military families connected by increasing the frequency of cargo-only flights between the United States and military bases in various parts of the world — including Guam, Kwajalein, and several countries in Europe. Last week we began operating a minimum of 40 cargo-only flights weekly — using Boeing 777 and 787 aircraft to fly freight and mail to and from U.S. hubs and key international business and military locations.
We are going above and beyond to find creative ways to transport fresh food and produce, as well as basic essentials from the U.S. mainland to military and their families in Guam/Micronesia. On Saturday, March 28, we operated an exclusive cargo-only B777-300 charter to transport nearly 100,000 pounds of food essentials to Guam to support our troops.
In addition, we move mail year-round all over the world. In response to COVID-19, and in support of the military members and their families overseas, we implemented a charter network, transporting military mail to Frankfurt, which is then transported all over Europe and the Middle East. Since March 20, we have flown 30,000+ pounds of military mail every day between Chicago O'Hare (ORD) and Frankfurt (FRA). On the return flight from Frankfurt to Chicago, we have carried an average of 35,000 pounds of mail to help families stay connected.

"Keeping our military families connected with the goods they need, and keeping them connected with loved ones to feel a sense of home, is of critical importance. As a company that has long supported our military families and veterans, our teams are proud to mobilize to lend a hand." — United Cargo President Jan Krems.
Our cargo-only flights support customers, keep planes moving

March 22, 2020
We have begun flying a portion of our Boeing 777 and 787 fleet as dedicated cargo charter aircraft to transfer freight to and from U.S. hubs and key international business locations. The first of these freight-only flights departed on March 19 from Chicago O'Hare International Airport (ORD) to Frankfurt International Airport (FRA) with the cargo hold completely full, with more than 29,000 lbs. of goods.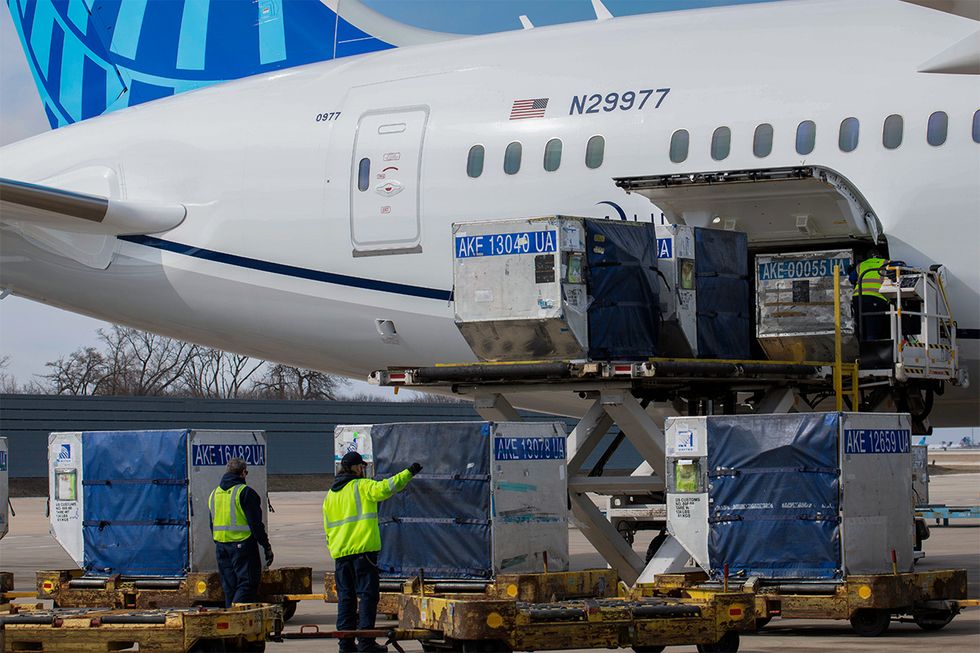 Getting critical goods into the hands of the businesses and people who need them most is extremely important right now. To support customers, employees and the global economy, we will initially operate a schedule of 40 cargo charters each week targeting international destinations and will continue to seek additional opportunities.

With coronavirus (COVID-19) creating an increased need to keep the global supply chain moving, we are utilizing our network capabilities and personnel to get vital shipments, such as medical supplies, to areas that need them most.
"Connecting products to people around the world is the United Cargo mission," said United Cargo President Jan Krems. "That role has never been more crucial than during the current crisis. Our team is working around the clock to provide innovative solutions for our customers and support the global community."
On average, we ship more than 1 billion pounds of cargo every year on behalf of domestic and international customers. For more information, visit unitedcargo.com.
Airline and its customers use crowdsourcing platform - Miles on a Mission - to donate more than 11 million miles for charities like the Thurgood Marshall College Fund, College to Congress and Compass to Care
CHICAGO, Dec. 1, 2020 /PRNewswire/ -- United is inviting MileagePlus members to give back on Giving Tuesday and throughout the holiday season by donating miles to nearly 40 non-profits through United Airlines' crowdsourcing platform, Miles on a Mission. Non-profits like Thurgood Marshall College Fund, College to Congress and Compass to Care are attempting to raise a total of more than 11 million miles to be used for travel for life-saving health care, continued education, humanitarian aid and more. United will match the first 125,000 miles raised for each of these organizations to help ensure they meet their goals.
"This year has posed unprecedented challenges for us all and has been especially devastating to some of the most vulnerable members within the communities we serve," said Suzi Cabo, managing director of global community engagement, United Airlines. "The need for charitable giving has not stopped during the pandemic, and neither has United. This Giving Tuesday marks an opportunity for us to all come together for the greater good and we are proud to provide a platform to support organizations with upcoming travel needs that will enable them to continue supporting the communities they serve."
The launch of these campaigns is part of United's ongoing Miles on a Mission program, which began in October 2019 and has raised more than 92 million miles to-date. Past campaigns have helped organizations travel children for life-saving medical treatment and unite parents with newly adopted children from foreign countries. Participating non-profits have 28-days to reach their mile raising goals through the platform.
The organizations that are raising miles in this campaign include:
College to Congress: The organization provides support including travel for disadvantaged college students who otherwise could not afford to intern in Washington, D.C.
Thurgood Marshall College Fund: This is the only national organization representing America's 47 publicly-supported Historically Black Colleges and Universities (HBCUs), and the nearly 300,000 students that attend them each year. The miles raised will cover the travel expenses to and from campus for students unable to afford them.
My Block, My Hood, My City: This organization provides underprivileged youth with an awareness of the world and opportunities beyond their neighborhood. Miles will be used to fund educational trips for Chicago youths to help them gain a greater understanding of the world outside of their comfort zones.
Compass to Care: The non-profit ensures all children, whose parents have a financial need, can access life-saving cancer treatment. Compass to Care is raising miles to fund travel to get children from their homes to hospitals for cancer treatment.
Luke's Wings: This organization is dedicated to the support of service members who have been wounded in battle. Raised miles will be used to purchase plane tickets for families to visit wounded soldiers recovering in Army medical centers.
Rainbow Railroad USA: The organization's mission is to help persecuted LGBTQI+ individuals around the world travel to safety as they seek a haven from persecution. Miles will support the organization's core Emergency Travel Support program.
This year, United's legal partner Kirkland & Ellis will also be donating $50,000 to My Block, My Hood, My City and the Thurgood Marshall College Fund. Other organizations launching campaigns on the platform include: Sisters of the Skies, Inc., Up2Us Sports, Airline Ambassadors International, Austin Smiles, AWS Foundation, Crazy Horse Memorial, FLYTE, Higher Orbits, Lily's Hope Foundation, Miles4Migrants, Support Utila Inc. and Watts of Love. MileagePlus members can also donate to United's 20 other existing partner charities including, Airlink, American Red Cross, Make-A-Wish, Shriners Hospitals; Clean the World, Special Olympics and more. To learn more or donate to these organizations, please visit donate.mileageplus.com.
Visit www.united.com/everyactioncounts to learn more about our pledge to put our people and planes to work for the greater good.
About United
United's shared purpose is "Connecting People. Uniting the World." For more information, visit united.com, follow @United on Twitter and Instagram or connect on Facebook. The common stock of United's parent, United Airlines Holdings, Inc., is traded on the Nasdaq under the symbol "UAL".

SOURCE United Airlines
For further information: United Airlines Worldwide Media Relations, +1-872-825-8640, media.relations@united.com

In October 2019, we launched a first-of-its-kind airline miles donation platform, Miles on a Mission. In the inaugural year, MileagePlus members donated over 70 million miles, with United matching over 20 million miles, to 51 organizations. These miles have allowed for these organizations to do important, life-changing, life-saving work in the communities we serve around the globe.
Whether it's visiting friends and relatives, traveling for work or simply exploring a new corner of the world, we all have a reason as to why we fly. No matter the reason you fly, the miles you earn and donate help our Miles on a Mission partners soar. Take a look at how some of our partner organizations have put our MileagePlus Members' donations to work.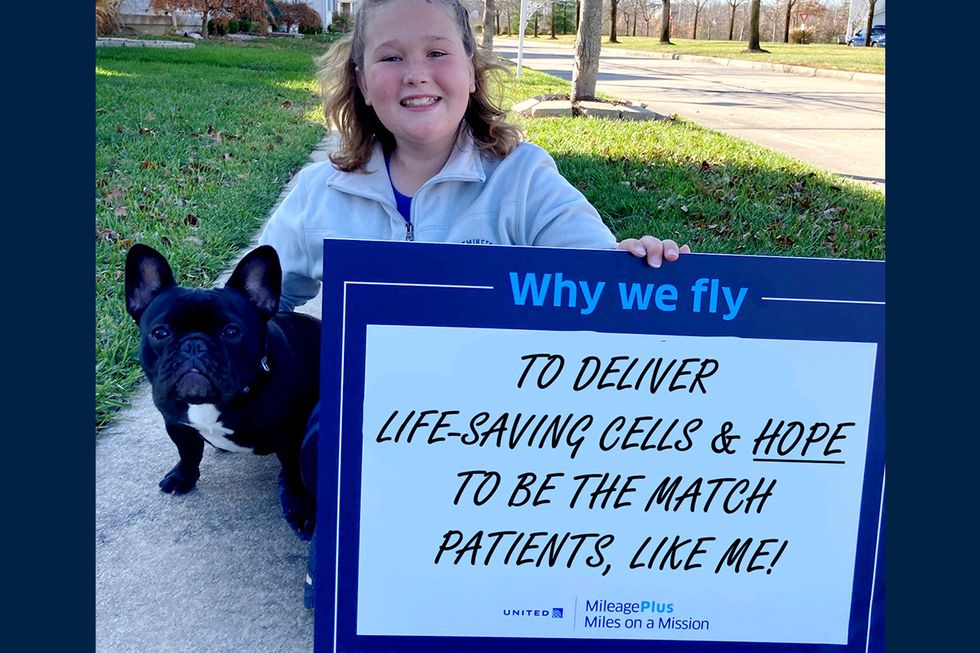 "To deliver life-saving cells and hope to Be the Match patients, like me!"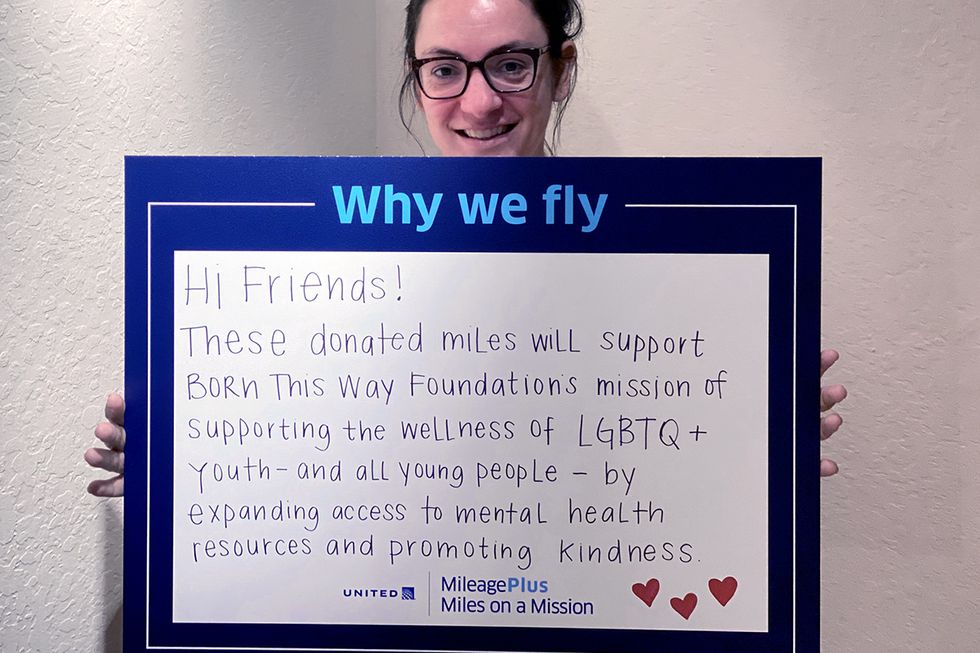 "These donated miles will support Born This Way Foundation's mission of supporting the wellness of LGBTQ+ youth — and all young people — by expanding access to mental health resources and promoting kindness."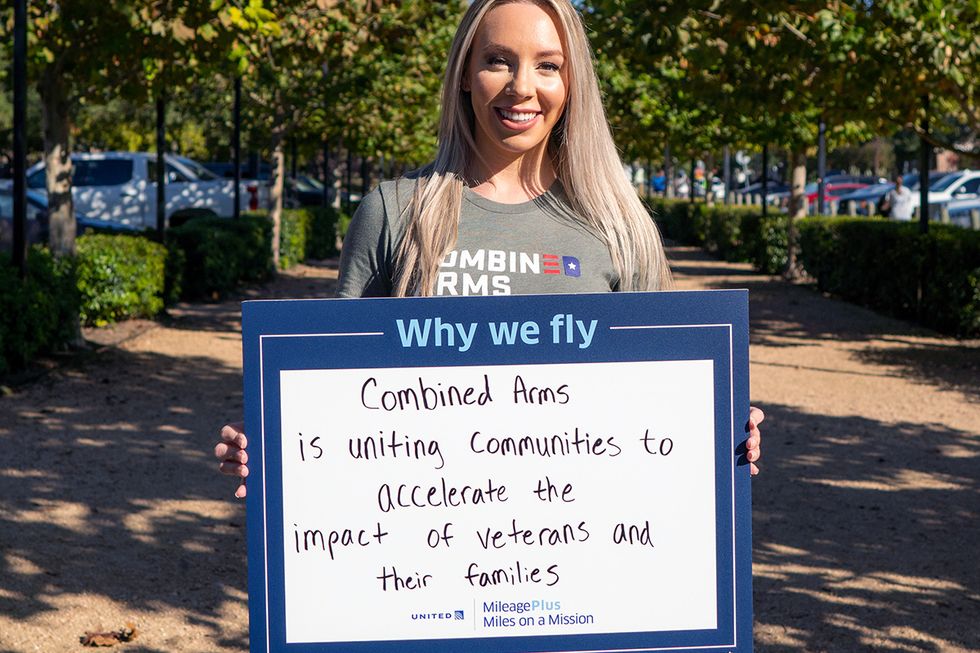 "Combined Arms is uniting communities to accelerate the impact of veterans and their families."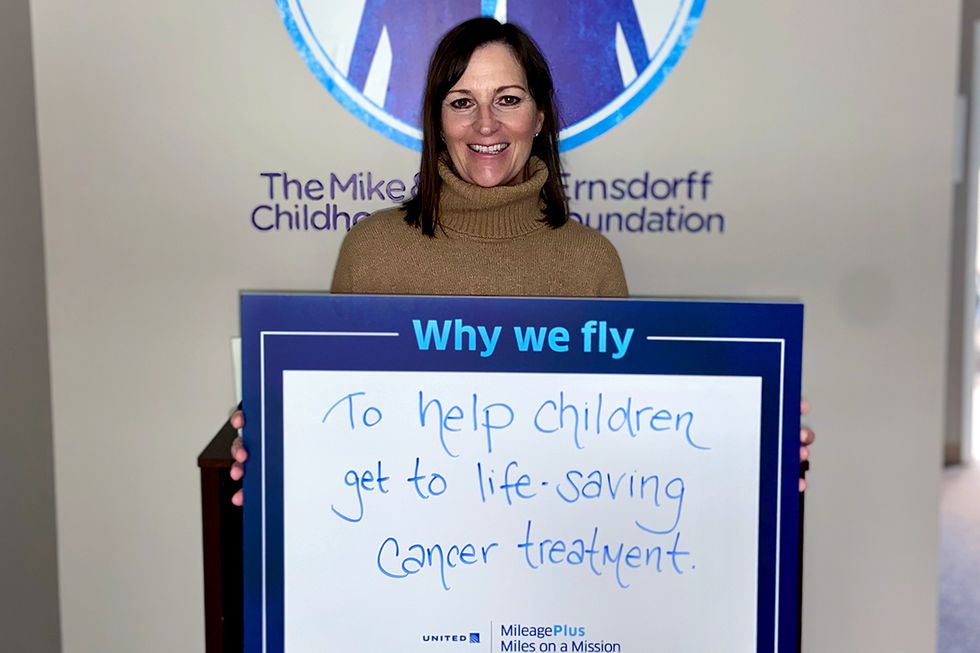 "To help children get to life-saving cancer treatment"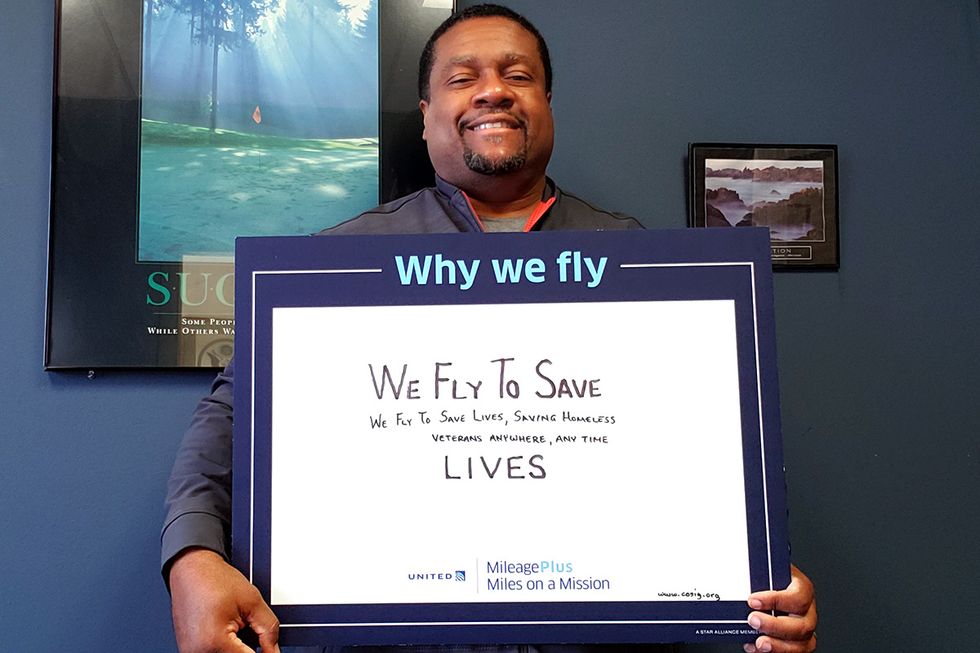 "We fly to save. We fly to save lives, saving homeless veterans anywhere, any time."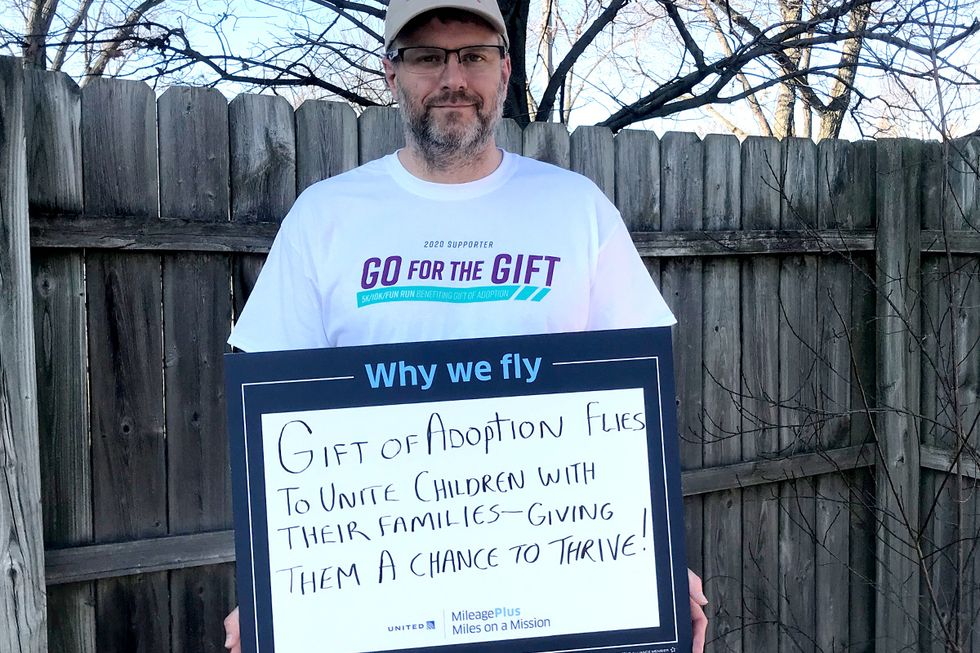 "Gift of Adoption flies to unite children with their families — giving them a chance to thrive!"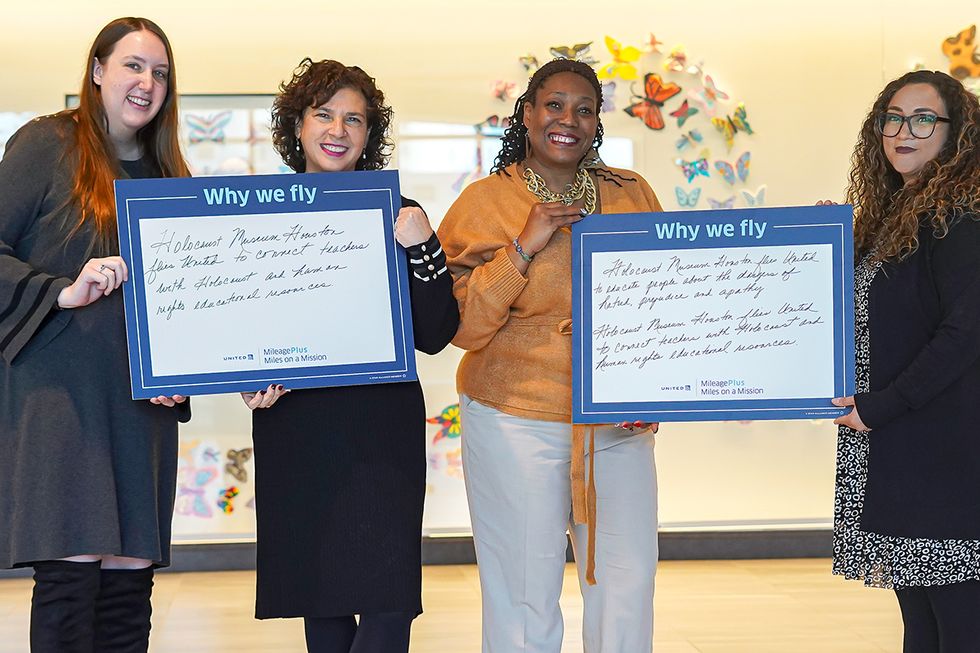 "Holocaust Museum Houston flies United to educate people about the dangers of hatred, prejudice and apathy. Holocaust Museum Houston flies United to connect teachers with Holocaust and human rights educational resources."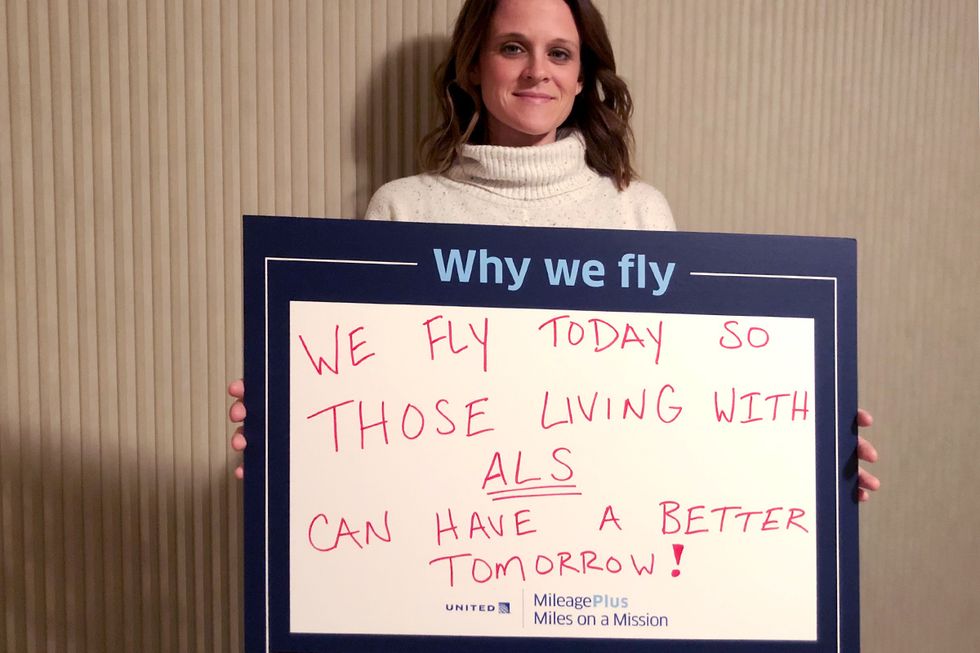 "We fly today so those living with ALS can have a better tomorrow."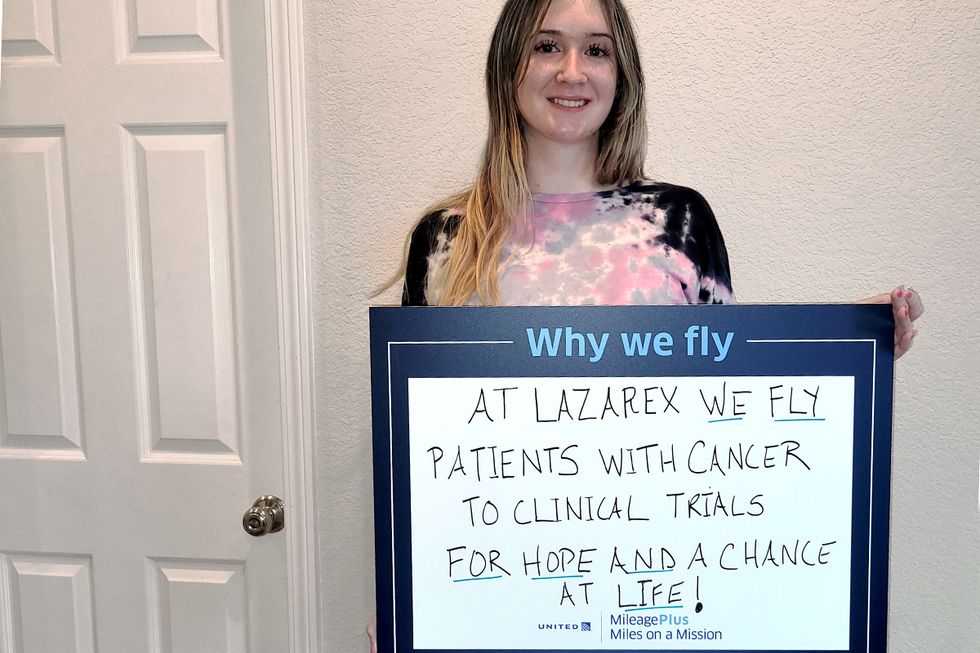 "At Lazarex we fly patients with cancer to clinical trials for hope and a chance at life!"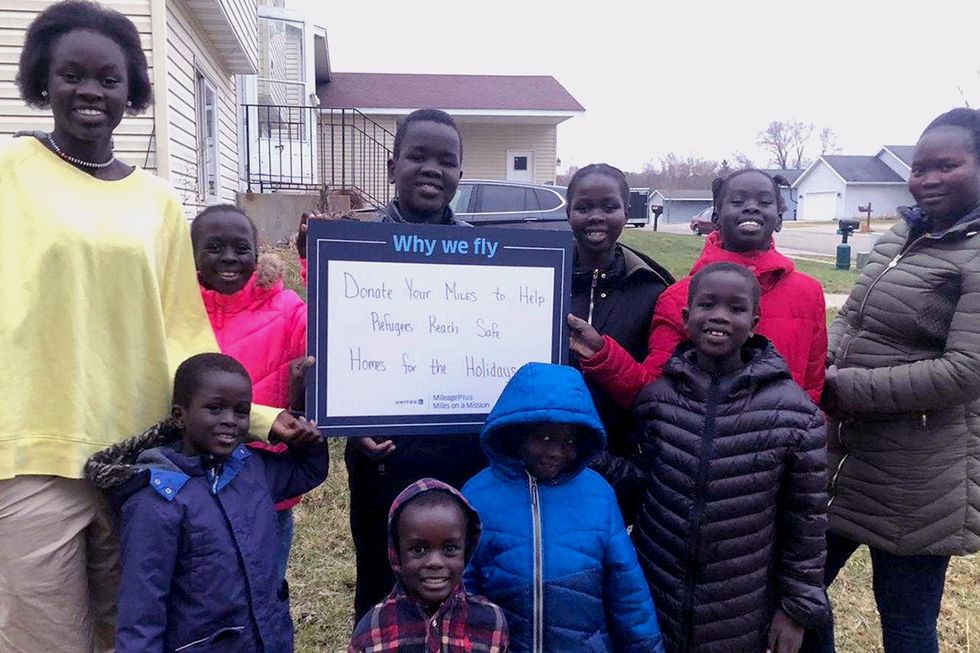 "Donate your miles to help refugees reach safe homes for the holidays."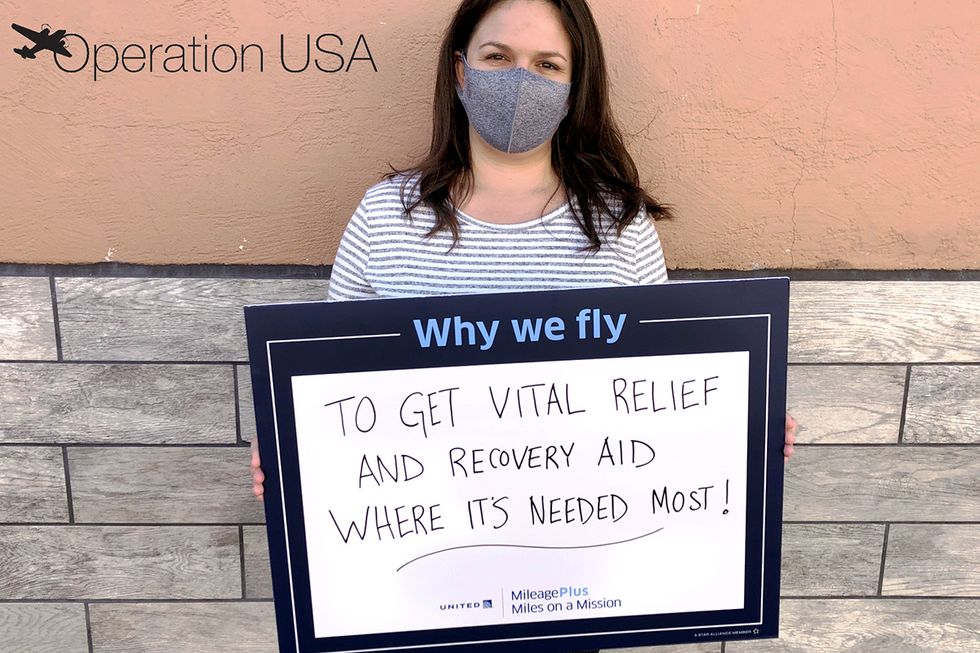 "To get vital relief and recovery aid where it's needed most!"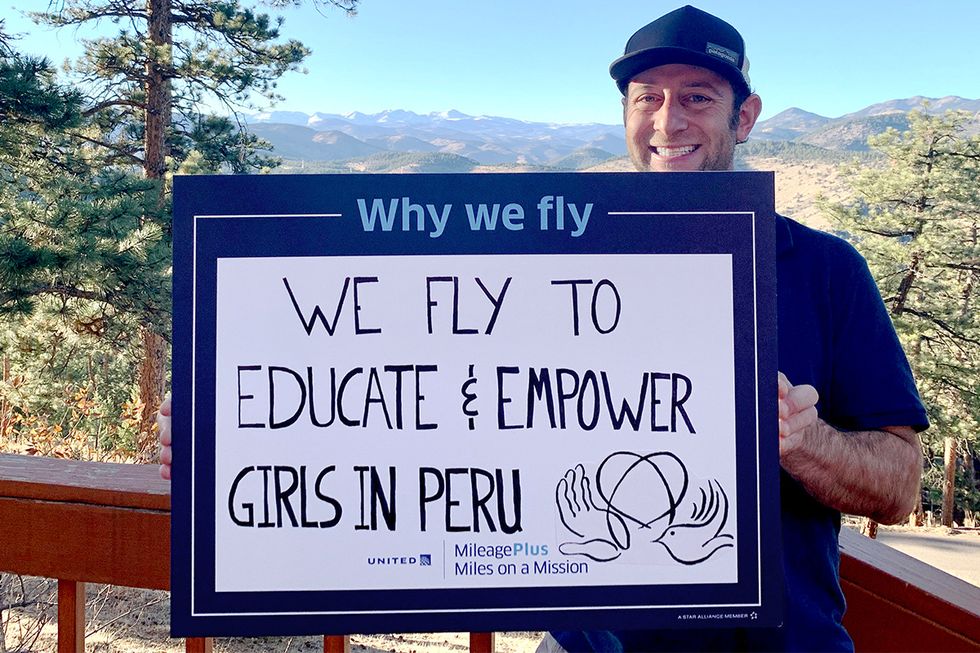 "We fly to educate and empower girls in Peru."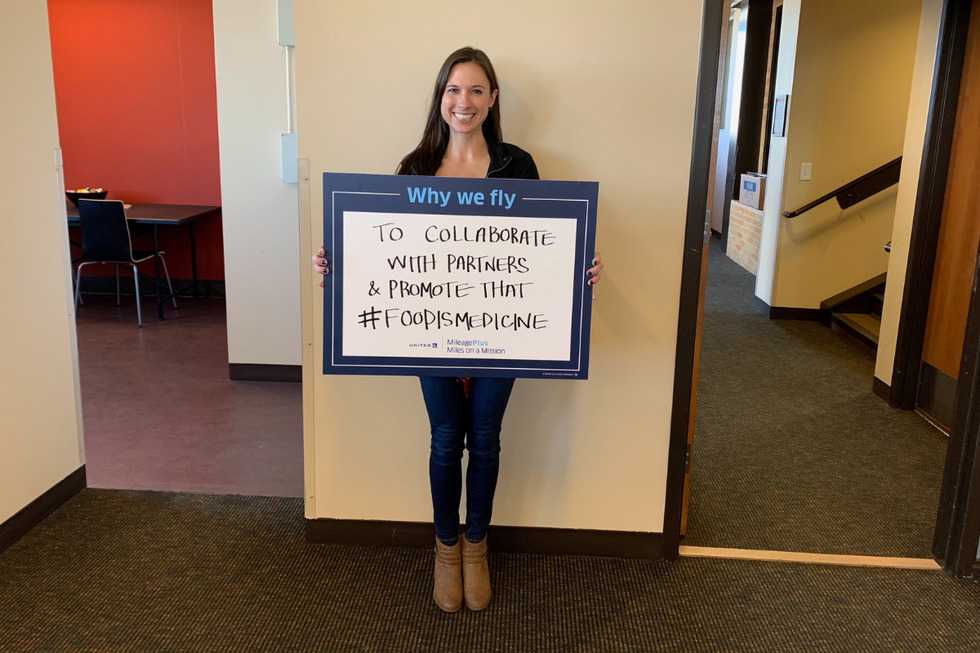 "To collaborate with partners & promote that #FoodIsMedicine"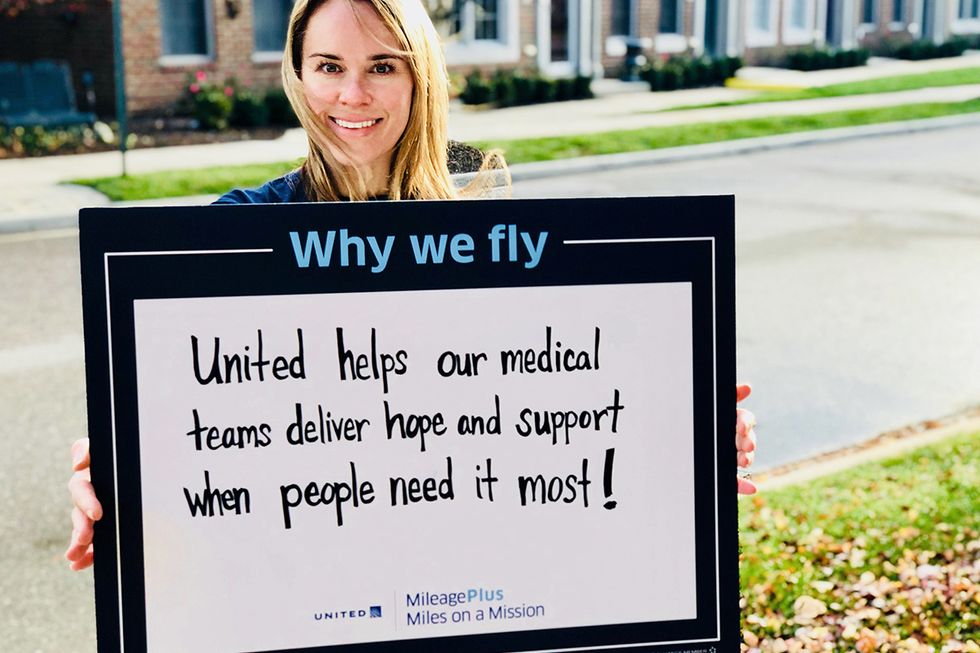 "United helps our medical teams deliver hope and support when people need it most!"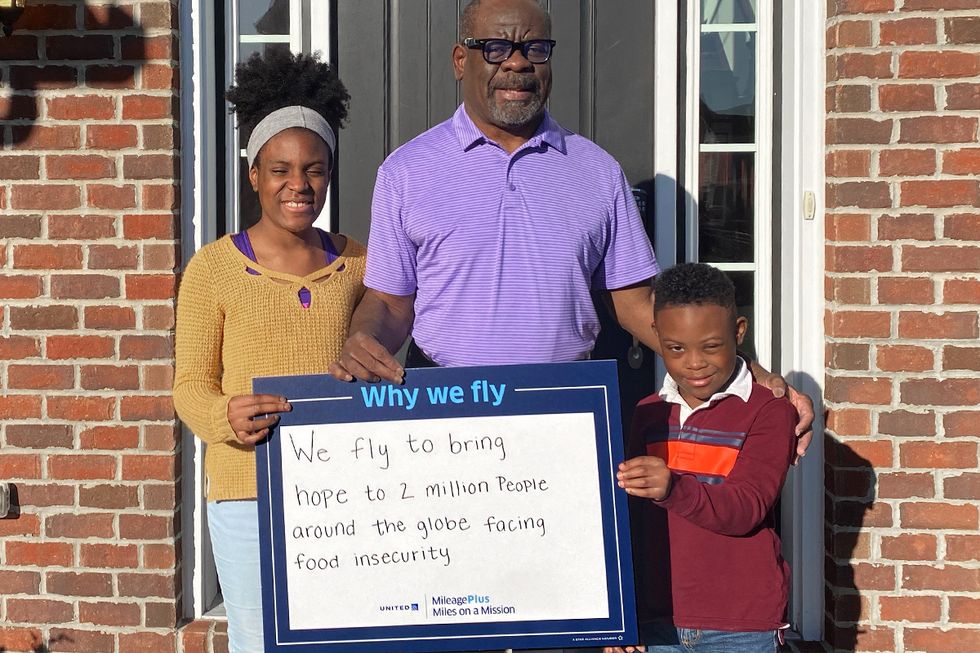 "We fly to bring hope to 2 million people around the globe facing food insecurity."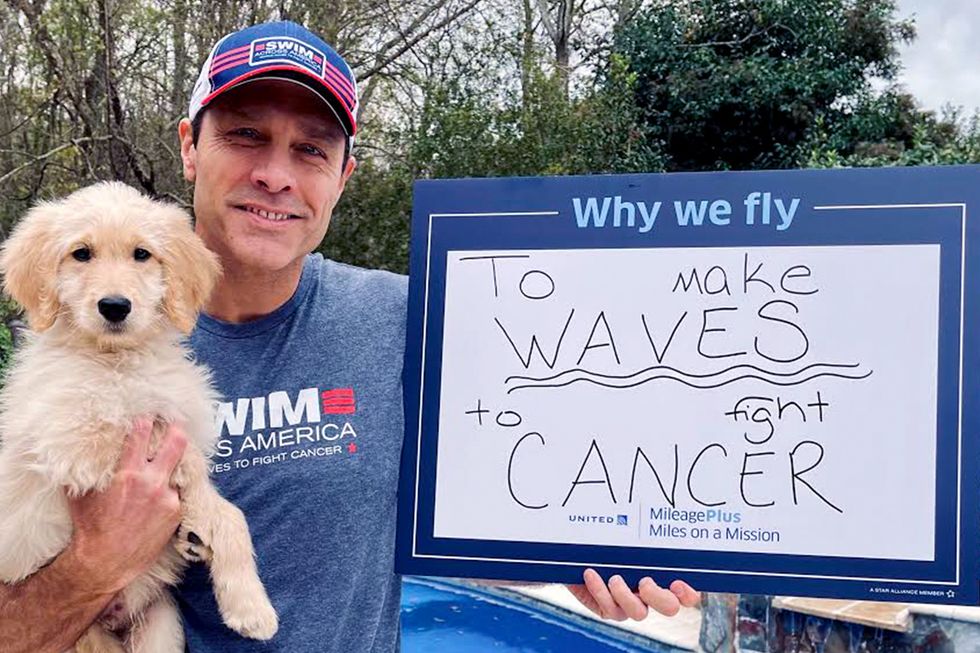 "To make waves to fight cancer."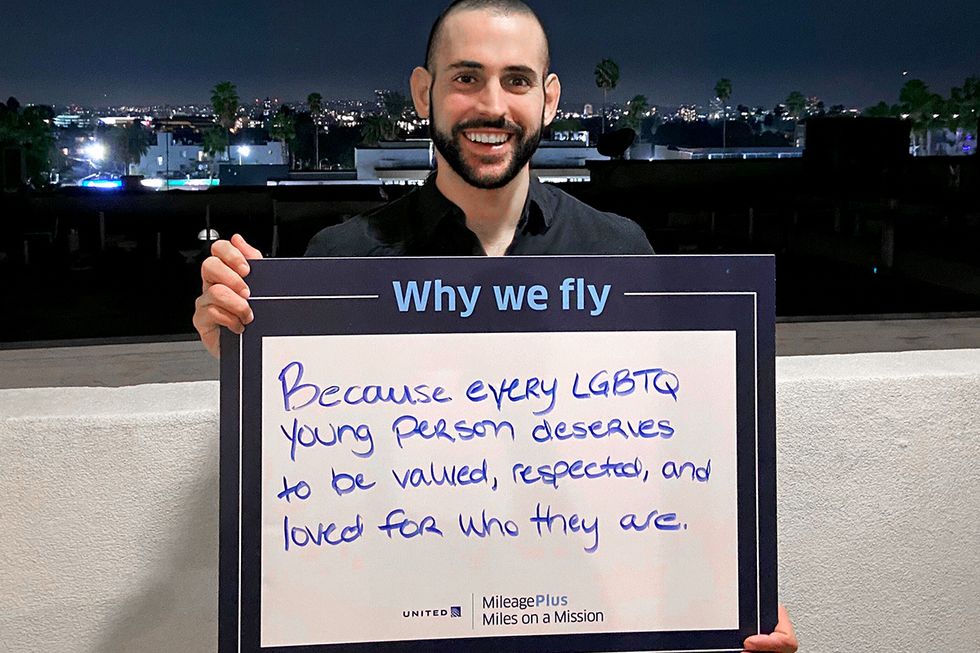 "Because every LGBTQ young person deserves to be valued, respected and loved for who they are."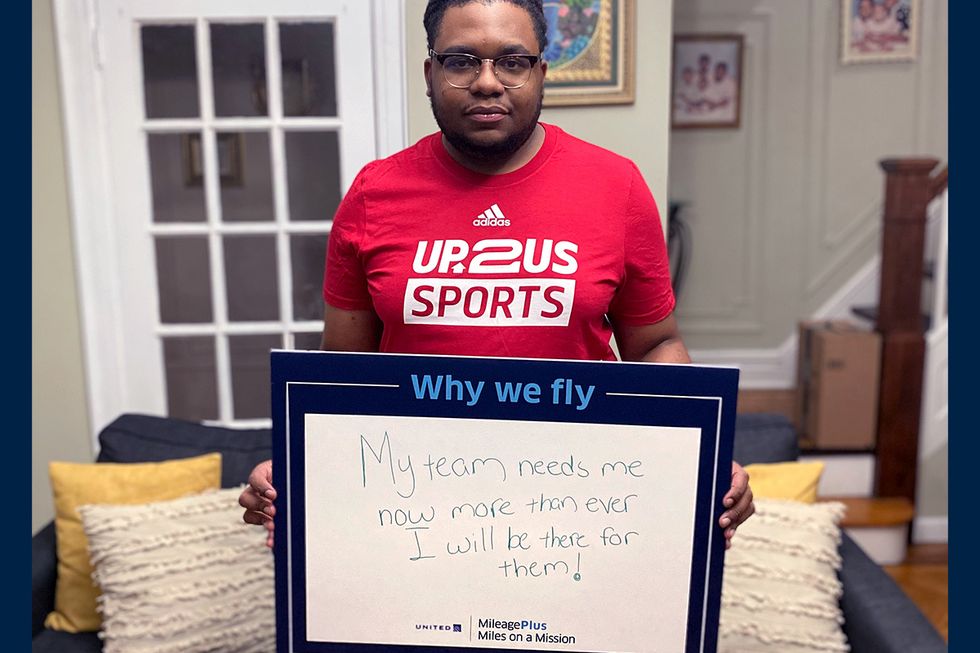 "My team needs me now more than ever. I will be there for them!"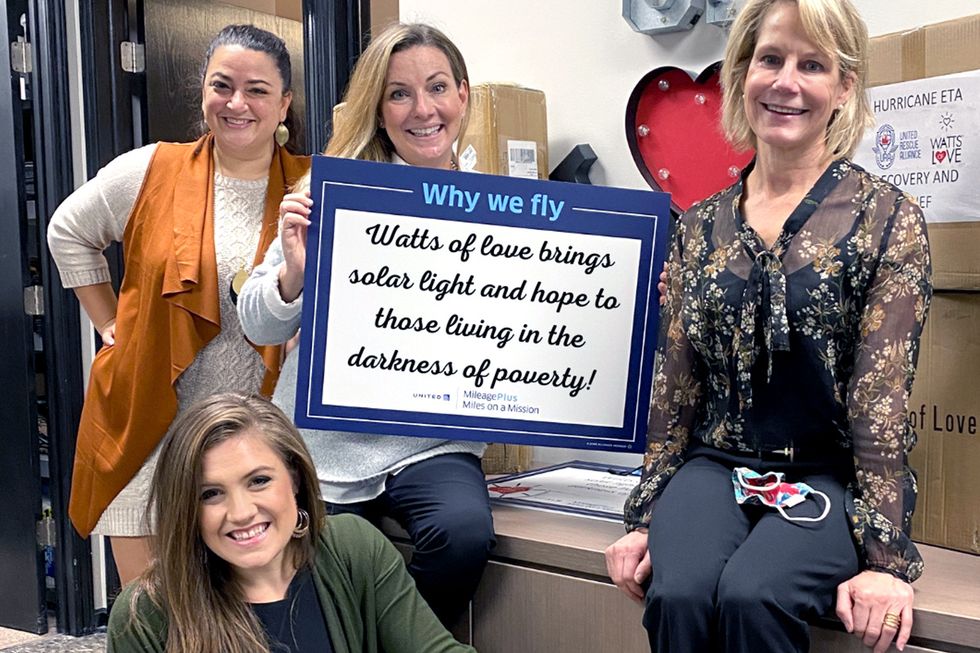 "Watts of Love brings solar light and hope to those living in the darkness of poverty!"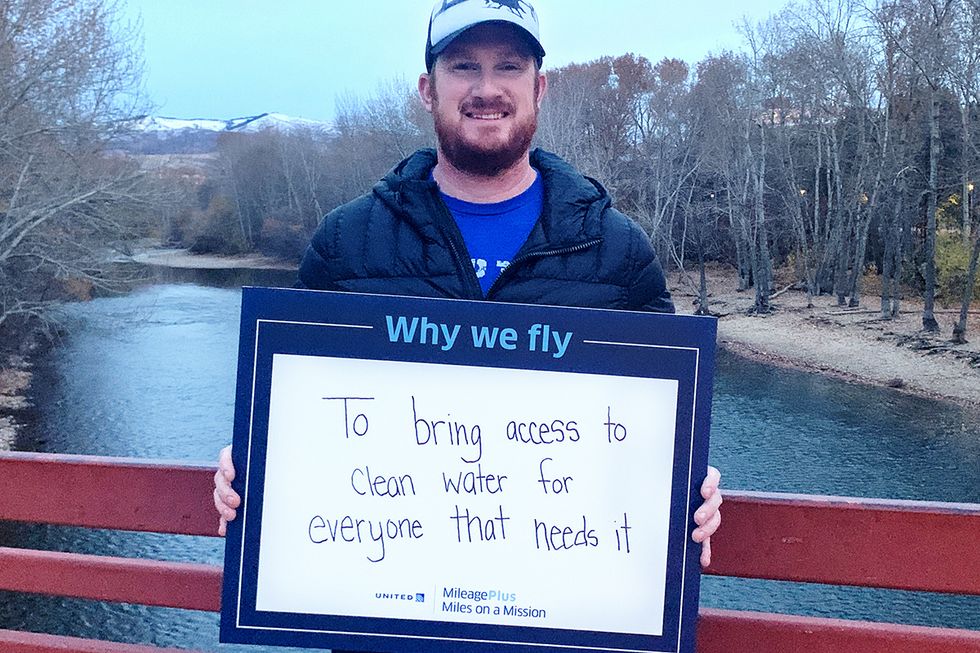 "To bring access to clean water for everyone that needs it."
Scroll to top