The faces of Lisbon
Story by Ben Ehrenreich |Photography by Kerry Murray |Rhapsody September 2016

It is hard to imagine a more unlikely environment for Alexandre Farto, better known as Vhils, than the steep and densely wooded hills above Sintra, about half an hour's drive northwest from Lisbon. Farto is as quintessentially urban as any artist can be. He lives in cities—he keeps a studio in Hong Kong as well as in his native Lisbon—talks about cities, thinks about cities, uses their detritus and their crumbling walls as both his paint and his canvas. He has worked in London, Shanghai, Rio, Los Angeles, Miami, Moscow, Rome, and first and last in Lisbon, where he grew up and still lives on the gritty south bank of the Tagus River. But Sintra is another world, greener than green, the tree trunks coated in ivy and moss, the verdancy broken only by sprays of purple foxgloves and an occasional glimpse, when the low clouds part, of the bright red and yellow 19th-century Palace of Pena, towering above us like a gaudy joke.

Baby-faced, with an intensity to his eyes that belies the softness of his features, Farto stands beneath a neat stack of toppled tree trunks that is easily twice his height. The roughly sawn-off ends of the logs present an almost even surface, which Farto is brushing with a brownish stain. Dressed in a black wool jacket and a hoodie, he looks a bit like a Franciscan monk. While one of his assistants powers up a generator, three others scramble over the tree trunks, painting the exposed wood. Farto plugs in a grinder and carves a few experimental divots, comparing the color of the wood to the stained surface surrounding it. The stippling will soon spread from one log to the next. Slowly, a giant face will take shape, and then another, their eyes open and impassive, staring out at whoever happens to hike by, silently demanding a response. For a while at least: The logs, which fell in a storm, will eventually be taken away as the forest's managers find other uses for them. "So the image," Farto says, "will decompose."
He's smiling when he says it. I ask whether he likes that idea.
"For sure," he replies, nodding. The piece, after all, is "about the ephemerality of everything, the idea that nothing lasts forever."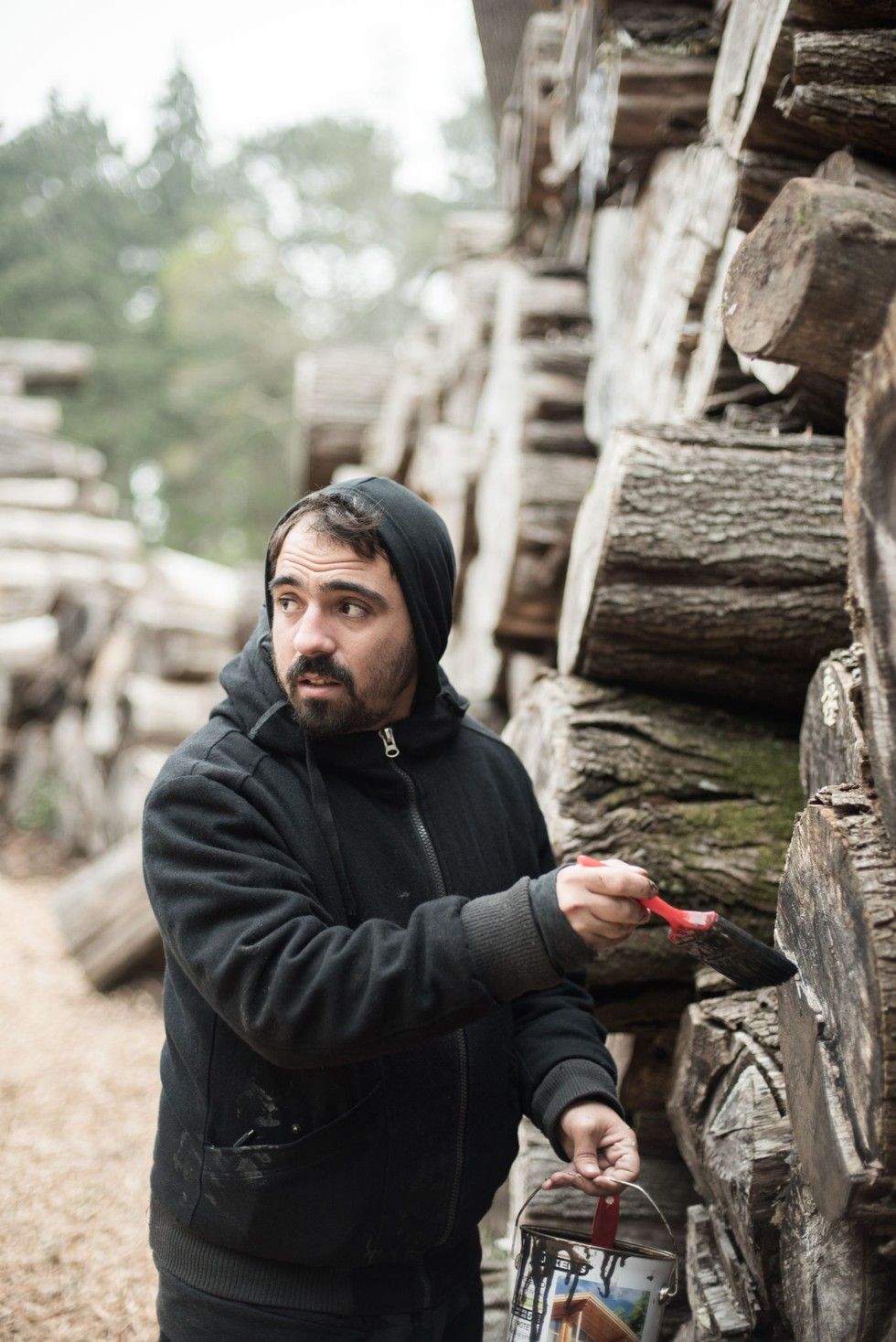 The aritst stains logs in the woods near Sintra
t's an idea that can be hard to escape in Lisbon, a city that at the height of its wealth and global power was nearly shaken from the face of the Earth. The great earthquake of 1755 was so catastrophic that it almost shattered the Enlightenment faith in the benevolent rationality of the cosmos. ("If this is the best of all possible worlds," worried Voltaire's Candide, "what are the others?") The last century alone saw Portugal shift from hereditary monarchy to dictatorship to democracy, and you can still find traces of these transformations on the art that covers Lisbon's walls.

"The city, Farto came to understand, was a living thing, 'an organism,' as he puts it."
There's a lot of it. With its narrow, winding streets, its hills and staircases and hidden parks, Farto's hometown is an easy one to love. "The city was created for you to get lost in," he says, approvingly. There's plenty to look at while you wander. The sidewalks are adorned with geometric patterns crafted out of stones. The old ceramic tiles—azulejos, they're called—that ornament the facades of so many of the city's buildings depict saints, Christ, and the Virgin, enlisting images of divinity to ward off fresh disasters. Newer murals, enormous and brightly colored, snake over abandoned buildings in the center of town and cover the sides of apartment towers on the outskirts. Some are overtly political, referencing the social movements that emerged after the Carnation Revolution and the fall of Portugal's dictatorship in 1974, as well as the independence campaigns of the country's former colonies. Others are more whimsical: a winged yellow cat with a giant, toothy smile floats at the base of a building on a quiet residential street; a woman walks a dog while a duck looks on; hungry mouths race around the base of concrete rubbish bins.
Farto has had a hand in guiding the city's recent public-art renaissance. Underdogs, the gallery he co-founded in 2013, pairs artists from around the world with city-sanctioned walls. His own contributions—"interventions," he calls them—are difficult to miss.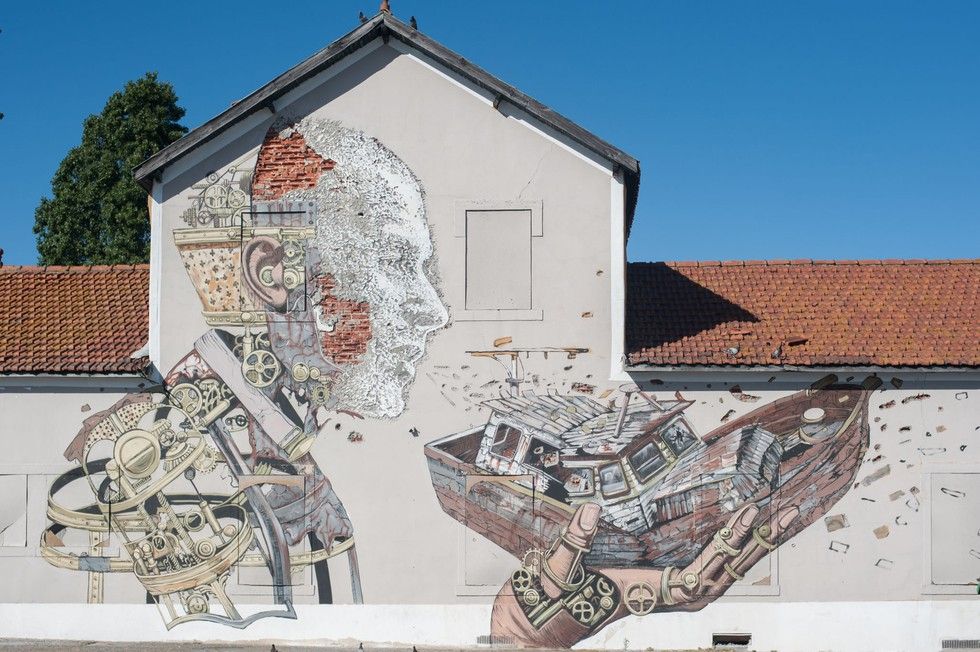 A collaborative piece by Vhils and Italian muralist Pixel Pancho
A mosaicked portrait of the beloved fado singer Amália Rodrigues, crafted with the same stones that decorate the city's sidewalks, emerges on the wall of a park in the leafy neighborhood of Alfama. A giant, careworn face stares out from the side of an empty building just beneath the 25 de Abril bridge. (Once named for the dictator António de Oliveira Salazar, the bridge was renamed for the date of the revolution that overthrew Salazar's successor.) Its sad, clear eyes confront you as you walk or drive beneath it, as if demanding that you account for your existence. Only when you get closer do you realize that the image is not painted but chiseled into the skin of the building, the different layers of exposed plaster and brick providing the tones for Farto's palette. The geometric patterns that Farto carved around it recall the designs of azulejos: One building calls out to the others, a city to its past.

A relationship with the city's walls runs in Farto's blood. During the revolution, his father plastered Lisbon with wheat-pasted "street journals" to spread news that the censors wouldn't print. Farto was 13 when he started painting the walls of the train yards and abandoned factories of his neighborhood—not faces then, just the five-letter tag VHILS, which he chose, he says, because it was easy to paint and didn't spell anything in any language that he knew of. Hip-hop came late to Portugal, and the graffiti that came with it was a revelation to kids like Farto, a way to make the mute walls of the city speak. He remembers watching the peeling, sun-faded remnants of the old post-revolutionary murals give way to shiny advertisements. He and his friends painted over the billboards and watched as new ads covered up their tags. The city, Farto came to understand, was a living thing, "an organism," as he puts it. Even freshly plastered and whitewashed into blankness, its walls were pregnant with history. "I started asking," Farto says, "'Why am I adding to this?'"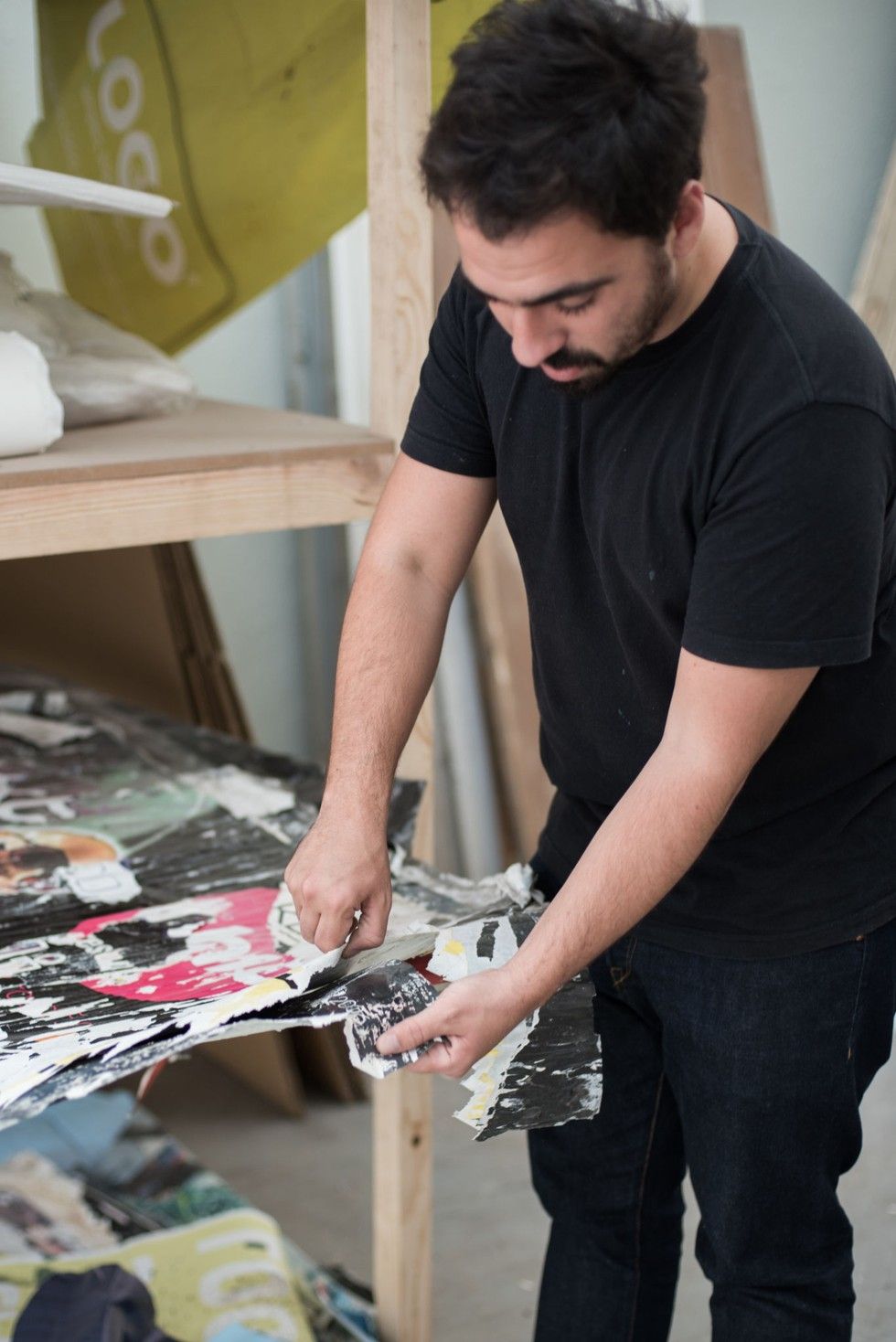 Vhils at work in his Barreiro studio
In 2004, while still in his teens, he decided to take an opposite approach. He started slicing strategically into billboards with razors, using the images he uncovered beneath, the layers of ads pasted over ads, to create entirely new images. "It was almost an archaeological process," he says. The next year, for the first time, he began carving into a wall with drills and chisels, using the colors he unearthed to sculpt a face. "It's always this idea, to destroy in order to create, to make what is invisible visible." That first piece is gone now, but one of the last conventional murals he painted before shifting techniques survives just across the street, around the block from Underdogs, in the trendy, formerly industrial district of Braço de Prata. It's a black-and-white cityscape: skyscrapers, street lamps, traffic lights and pylons in ominous, lifeless silhouette. "I started to zoom in," Farto says, "and the people came through."

"It's about the ephemerality of everything, the idea that nothing lasts forever."
By 2008, Farto was studying art in London, and Banksy, probably the most famous living artist to come out of the graffiti scene, invited him to take part in a street-art festival in a tunnel beneath the city. He carved a face into the tunnel's wall, this one staring impassively at the Banksy mural beside it. Banksy's agent took him on, and Farto, by now better known as Vhils, was quickly propelled into art-world celebrity. Soon he was working everywhere from Norway to Colombia. Museums were buying his work. He rented a studio—in the neighborhood of Barreiro, not far from where he grew up—that's the size of a small airplane hangar. (Appropriately, it once housed a recycling plant.) His staff of 10 keeps offices there, amid the stacks of old lumber and billboards that Farto and his assistants salvage from demolition sites around town.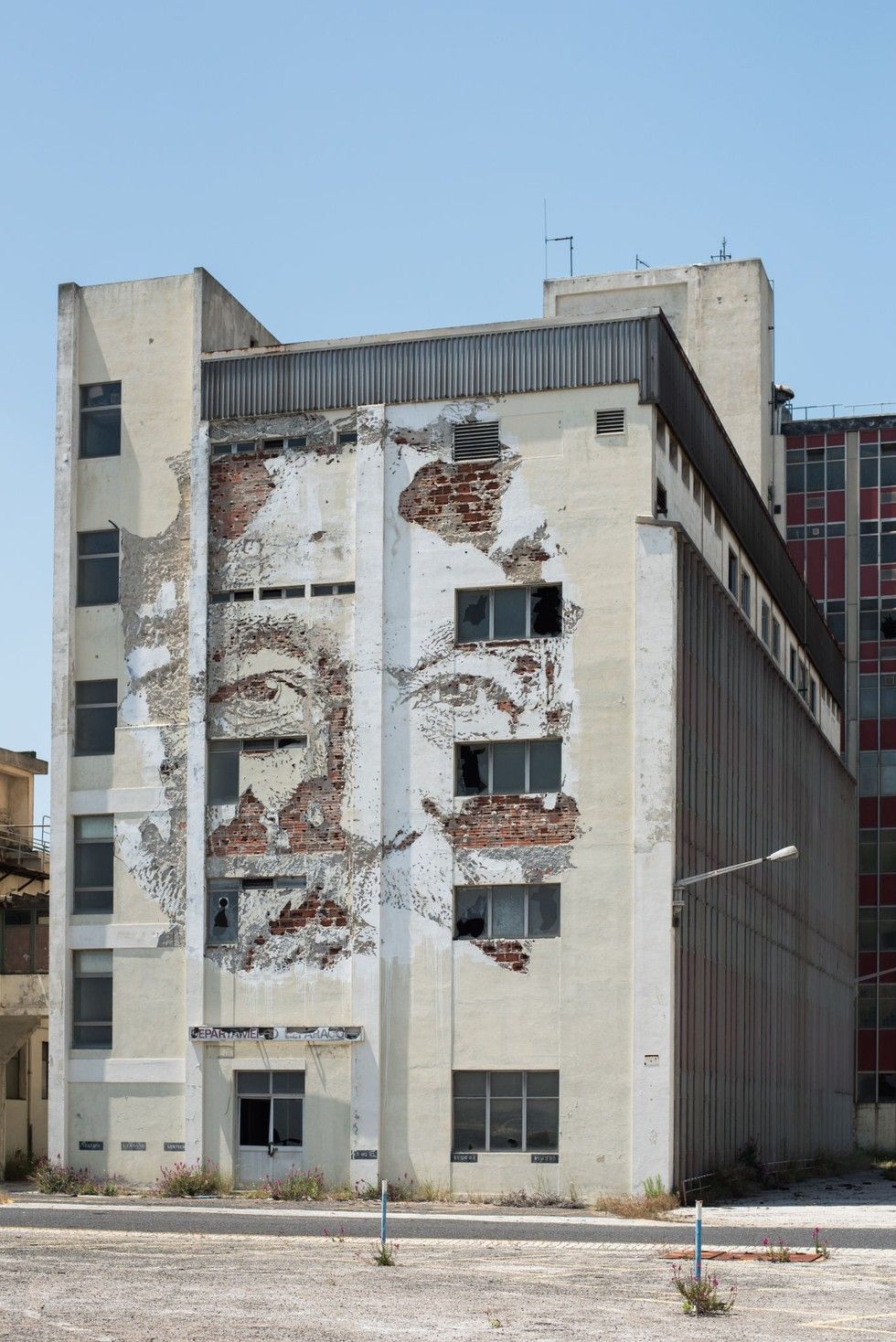 A Vhils mural on a wall in one of Lisbon's abandoned shipyards
When his renown at home became too much, Farto started spending time in Hong Kong. Neon-lit and intensely efficient, it's the opposite of Lisbon, he notes with a laugh. But Lisbon always draws him back. The faces he's carved stare out from walls all over town, a part of the living city. There are four of them in Braço de Prata, not far from his gallery and across the street from his last surviving painted mural. There's one in an alley in the ancient, picturesque neighborhood of Alfama; another on a long, art-bedecked wall in the old warehouse district of Alcântara; another covering a five-story building in an abandoned shipyard on the far side of the river. Their expressions all feature those wide-open eyes, those silent, demanding stares.

Often, he first encounters his subjects in the streets. "Sometimes I never see them again," Farto says. Their anonymity is part of the point: not to pay tribute to an individual, he says, but to force people to pause "and see themselves."
Many of Farto's murals have already been destroyed. He not only knows that all of them will, at some point, be painted or plastered over, demolished to make way for something new—he accepts it gladly. "Nothing lasts forever," he says again, and smiles. "I like that."
When and where possible, we are working to repatriate travelers who are stranded abroad in the wake of the COVID-19 crisis. Our teams are working closely with government officials here in the U.S. as well as in other countries where flying has been restricted to gain the necessary approvals to operate service. In regions where government actions have barred international flying, we have coordinated with the the U.S. State Department and local government officials to re-instate some flights. Additionally, we have been operating several extra flights to countries in Central America and South America as we continue to play a role in connecting people and uniting the world.
We have operated more than 85 repatriation flights from Panama City, Guatemala City, Quito, Lima, San Pedro Sula, Tegucigalpa and Roatan, bringing nearly 12,000 people home. We will continue working with government officials to operate extra flights to Houston from Quito, San Pedro Sula, Tegucigalpa and from Lima to Washington Dulles and beginning April 5, we will begin operating multiple charter flights between Delhi and San Francisco. We continue to review more opportunities for flights between the United States and other countries to bring citizens home.
Video provided by the U.S. Embassy Ecuador of Americans returning home on United.

Additionally, our Customer Solutions and Recovery team is working with customers in the following markets to rebook them on flights back to the United States as capacity allows, either on our aircraft or on one of our airline partners' planes:

Quito, Ecuador
Managua, Nicaragua
Roatan, Honduras
San Pedro Sula, Honduras
Amsterdam
Brussels
Munich
Singapore
Tokyo-Haneda
Seoul, South Korea
Melbourne, Australia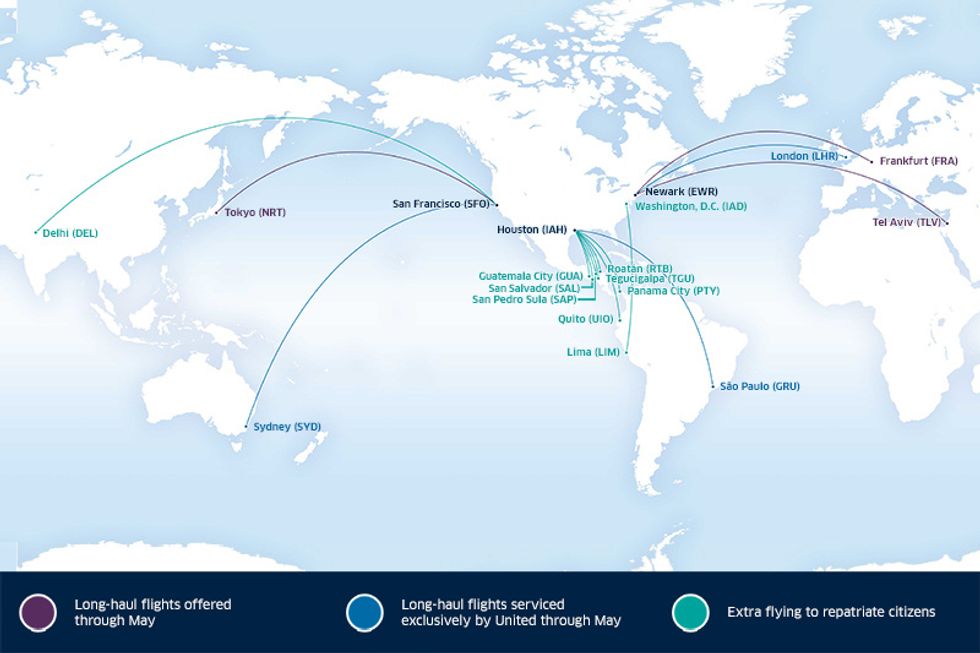 We also recently reinstated several international flights back into our schedule to support customers and essential businesses which depend on these routes. As a result, we will be the only airline to offer service between Newark/New York and London, San Francisco and Sydney, as well as Houston and São Paulo, Brazil.

Throughout these unprecedented times, we remain committed to doing what is right and fair for all of our MileagePlus® members and are pleased to share the steps we are taking to reciprocate the trust and loyalty that you have placed in United. These steps include not only Premier status updates, but also an extension of current memberships and subscriptions. The updates will happen automatically over the next few weeks — there's nothing you need to do.

The big news: If you have current 2020 Premier status, it will be extended to January 31, 2022. At a minimum, you will enjoy the same published status next year that you have today, up to and including Premier 1K®.
For the 2021 status year, United is reducing thresholds for Premier qualification by 50% for each status level, to make reaching an even higher tier easier. You'll still need a minimum of four flight segments on United or United Express®.
| | | | |
| --- | --- | --- | --- |
| 2021 status | Earn Premier qualifying flights | and PQP | … or meet a higher PQP goal |
| Silver | 6 | 2,000 | 2,500 |
| Gold | 12 | 4,000 | 5,000 |
| Platinum | 18 | 6,000 | 7,500 |
| 1K | 26 | 9,000 | 12,000 |
We're also doubling PQP for United Explorer cards and quadrupling PQP for the United Club cards.
At the same time that we're decreasing the published program's PQP requirements, via a promotion from May 1 – December 31, 2020, we're doubling (for United Explorer cards) or quadrupling (for United Club cards) the maximum number of PQP that Cardmembers can earn from card spending during 2020 to help achieve a higher level of status than you already have. More details to come later.
1K® and Platinum members, we're increasing your ability to upgrade by extending PlusPoints expiration dates by six months and expanding Skip Waitlist.
This means a six-month extension of any PlusPoints set to expire on or before January 31, 2021.
Last year we introduced Skip Waitlist on select flights as a benefit to 1K members, giving you more opportunities to confirm an upgrade request at the time of booking. This benefit will now be available for the rest of 2020 in a significantly expanded selection of long-haul international regions and will have expanded availability in 2021 as well.
We're extending all annual membership and subscription benefits by six months.
We want to make sure your benefits are still there when you're ready to start flying again. That's why we're extending purchased United Club℠ memberships purchased directly from United and purchased subscriptions for Economy Plus®, United Wi-Fi℠ and checked bags by six months. You should see this reflected in your MileagePlus account soon.
All electronic travel certificates now have 24 months to be used.
If your travel plans have been disrupted, and you have an electronic travel certificate from us for the value of your ticket, you now have two years from the date it was issued to book a new flight, as well as up to an additional 11 months to travel. This includes all currently valid and all new electronic travel certificates issued on or after April 1, 2020.
We have removed some redeposit fees for the rest of the year.
We are currently waiving all award redeposit fees for travel through end of May 2020.
We are now also waiving all redeposit fees for award ticket cancellations made more than 30 days before departure for the remainder of 2020.
Finally, we'll be making it easier to earn status in 2021 for the 2022 program year. We recognize that getting back to travel will occur at a different pace for different members. Keep an eye out for changes we will make to help you earn status in 2021 for 2022, as we'll share details later this year.
Over the years, you have placed your trust and loyalty in United, and we are honored to do the same for you. We are all in this together.
Status extension to January 31, 2022, applies to all members that met the published criteria of the MileagePlus program in 2019, status match associated with the United/Marriott Bonvoy partnership and status offered as part of a Sales nomination. Status granted from other programs and policies may not apply.
To help with the uncertainty around future travel — be it summer vacations, conferences, events and more — customers now have until April 30 to make changes to, or cancel, any travel they have booked through the end of the year without fees. This is in addition to existing waivers already in place which allow customers to change or cancel plans for travel through May 31.If you decide to cancel your flight, you can retain the value of your ticket to be applied to a new ticket without a fee. These electronic travel certificates are now valid for 24 months from the date they were issued. This includes all currently valid electronic certificates and all new ones issued on or after April 1, 2020. You might not see this policy change reflected everywhere right away – we appreciate your patience as we work to make that happen.
Eligible travelers on domestic flights and international tickets can request a refund on united.com or may call our contact centers if their flights have been severely adjusted or service to their destination suspended either due to government mandates or United schedule reductions related to COVID-19.
Certain tickets cannot be changed on united.com or the mobile app, including tickets booked through another airline (if the ticket receipt does not begin with 016). Please contact the original ticketing airline for changes.
Follow the steps below to stay up to date, change or cancel your flight.

Change your current flight:
On the united.com homepage, select "My Trips" and enter your flight information to retrieve your flight.
Select "Change flight" and then "Edit" to make the following changes:

Date of travel or destination
Add a flight
Remove a flight

Select "Continue" and choose a new flight option
Continue through booking to confirm your new flight
Note: The change fee will display as waived, but any difference in fare may apply.
Cancel your flight and rebook later:
On the united.com homepage, select "My Trips" and enter your reservation information to retrieve your flight
Select "Cancel flight"
Confirm flight cancellation
If you have future flight credit, when you return to the reservation, select "Use Future Flight Credit" to shop for new flights and apply the credit towards a new flight.
Canceling or changing an award flight:
When you select "Cancel flight," you will have the option to cancel your award reservation and redeposit the miles or to cancel your award reservation and use those miles for another trip in the future.
*We're currently experiencing heavy traffic to united.com. If you experience an error while trying to change or cancel your flight, please try again later.
Click through the slideshow below for more detailed instructions:
​Start on the United homepage: ​
User can select 'My Trips' on the homepage widget to find and retrieve their reservation.
Together, we are facing an unprecedented challenge. United Together, we rise to meet that challenge.
Check out our newest destinations
United Airlines
united
To help with uncertainty around future travel – summer vacations, conferences & more – customers have until 4/30 to make changes to, or cancel, any travel they have booked through the end of the year without fees. This is in addition to existing waivers:
uafly.co/2vmnkSk
United Airlines
united
This is what a charter flight, carrying 100% medical equipment, looks like. We've been flying millions of units of personal protective equipment (PPE) from China to help get supplies to frontline responders across the country.
#WorldHealthDay
#UnitedTogether
United Airlines
united
For 200 Australian citizens who have been stuck on cruise ships for the past few weeks, our flight crew was a welcome sight. We operated a special charter flight from SFO - MEL on Sunday night, reuniting these travelers with their home and their families.
#UnitedTogether
👏💙
United Airlines
united
We're extending current MileagePlus Premier status levels to January 31, 2022 and lowering thresholds for status to help you reach an even higher tier. Learn more about the other steps we're taking, like extending PlusPoints, to thank you for your loyalty:
uafly.co/2xVfvnm
United Airlines
united
If your travel plans have been disrupted, and you have an electronic travel certificate for the value of your ticket, you now have two years from the date it was issued to book a new flight + up to an additional 11 months to travel. Learn more:
uafly.co/2RbdgDq
We Are United
weareunited
Shoutout to our operations team, who are working to properly park, maintain and store many aircraft in the
#BeingUnited
fleet. These aircraft are being housed across our seven hubs, maintenance facilities in CLE and MCO as well as at offsite facilities in New Mexico and Arizona.
We Are United
weareunited
Tomorrow, Oscar and Scott will host a companywide town hall to discuss the latest developments in managing the effects of the coronavirus (COVID-19). You can join the livestream event at 1:20 p.m. CT here:
uafly.co/39AV25m
Watch our most popular videos
A happy, Hollywood ending
This is the story of Jason and Shantel. You see, Jason and Shantel love each other very much. They also love traveling and they love the classic Adam Sandler film, The Wedding Singer.
It all began when Jason reached out to United's social media team, hoping for assistance with his upcoming plan to propose. Some phone calls and one borrowed guitar later, the stage was set for Jason. Put all that together, mix in some helpful United employees and, voila, you have a truly memorable marriage proposal. Congratulations to this fun-loving and happy couple, and here's to many more years of making beautiful music together.
A big thank you to Chicago-based flight attendants Donna W., Marie M., Karen J. and Mark K. for making this proposal come to life.
Copyright © 2020 United Airlines, Inc.
All rights reserved.
Indicates an external site that may or may not meet accessibility guidelines.
Scroll to top
Scroll to top