The faces of Lisbon
Story by Ben Ehrenreich |Photography by Kerry Murray |Rhapsody September 2016

It is hard to imagine a more unlikely environment for Alexandre Farto, better known as Vhils, than the steep and densely wooded hills above Sintra, about half an hour's drive northwest from Lisbon. Farto is as quintessentially urban as any artist can be. He lives in cities—he keeps a studio in Hong Kong as well as in his native Lisbon—talks about cities, thinks about cities, uses their detritus and their crumbling walls as both his paint and his canvas. He has worked in London, Shanghai, Rio, Los Angeles, Miami, Moscow, Rome, and first and last in Lisbon, where he grew up and still lives on the gritty south bank of the Tagus River. But Sintra is another world, greener than green, the tree trunks coated in ivy and moss, the verdancy broken only by sprays of purple foxgloves and an occasional glimpse, when the low clouds part, of the bright red and yellow 19th-century Palace of Pena, towering above us like a gaudy joke.

Baby-faced, with an intensity to his eyes that belies the softness of his features, Farto stands beneath a neat stack of toppled tree trunks that is easily twice his height. The roughly sawn-off ends of the logs present an almost even surface, which Farto is brushing with a brownish stain. Dressed in a black wool jacket and a hoodie, he looks a bit like a Franciscan monk. While one of his assistants powers up a generator, three others scramble over the tree trunks, painting the exposed wood. Farto plugs in a grinder and carves a few experimental divots, comparing the color of the wood to the stained surface surrounding it. The stippling will soon spread from one log to the next. Slowly, a giant face will take shape, and then another, their eyes open and impassive, staring out at whoever happens to hike by, silently demanding a response. For a while at least: The logs, which fell in a storm, will eventually be taken away as the forest's managers find other uses for them. "So the image," Farto says, "will decompose."
He's smiling when he says it. I ask whether he likes that idea.
"For sure," he replies, nodding. The piece, after all, is "about the ephemerality of everything, the idea that nothing lasts forever."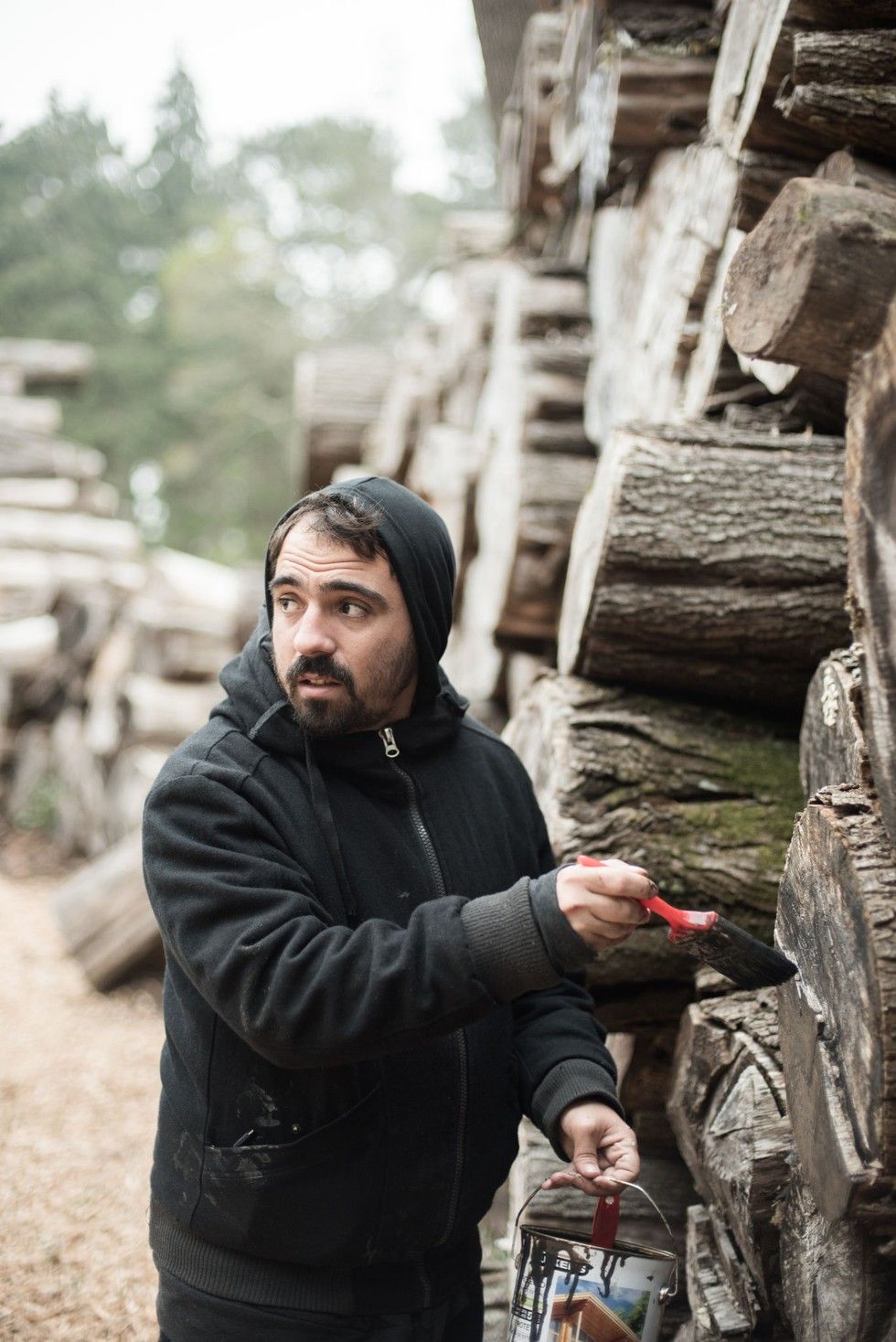 The aritst stains logs in the woods near Sintra
t's an idea that can be hard to escape in Lisbon, a city that at the height of its wealth and global power was nearly shaken from the face of the Earth. The great earthquake of 1755 was so catastrophic that it almost shattered the Enlightenment faith in the benevolent rationality of the cosmos. ("If this is the best of all possible worlds," worried Voltaire's Candide, "what are the others?") The last century alone saw Portugal shift from hereditary monarchy to dictatorship to democracy, and you can still find traces of these transformations on the art that covers Lisbon's walls.

"The city, Farto came to understand, was a living thing, 'an organism,' as he puts it."
There's a lot of it. With its narrow, winding streets, its hills and staircases and hidden parks, Farto's hometown is an easy one to love. "The city was created for you to get lost in," he says, approvingly. There's plenty to look at while you wander. The sidewalks are adorned with geometric patterns crafted out of stones. The old ceramic tiles—azulejos, they're called—that ornament the facades of so many of the city's buildings depict saints, Christ, and the Virgin, enlisting images of divinity to ward off fresh disasters. Newer murals, enormous and brightly colored, snake over abandoned buildings in the center of town and cover the sides of apartment towers on the outskirts. Some are overtly political, referencing the social movements that emerged after the Carnation Revolution and the fall of Portugal's dictatorship in 1974, as well as the independence campaigns of the country's former colonies. Others are more whimsical: a winged yellow cat with a giant, toothy smile floats at the base of a building on a quiet residential street; a woman walks a dog while a duck looks on; hungry mouths race around the base of concrete rubbish bins.
Farto has had a hand in guiding the city's recent public-art renaissance. Underdogs, the gallery he co-founded in 2013, pairs artists from around the world with city-sanctioned walls. His own contributions—"interventions," he calls them—are difficult to miss.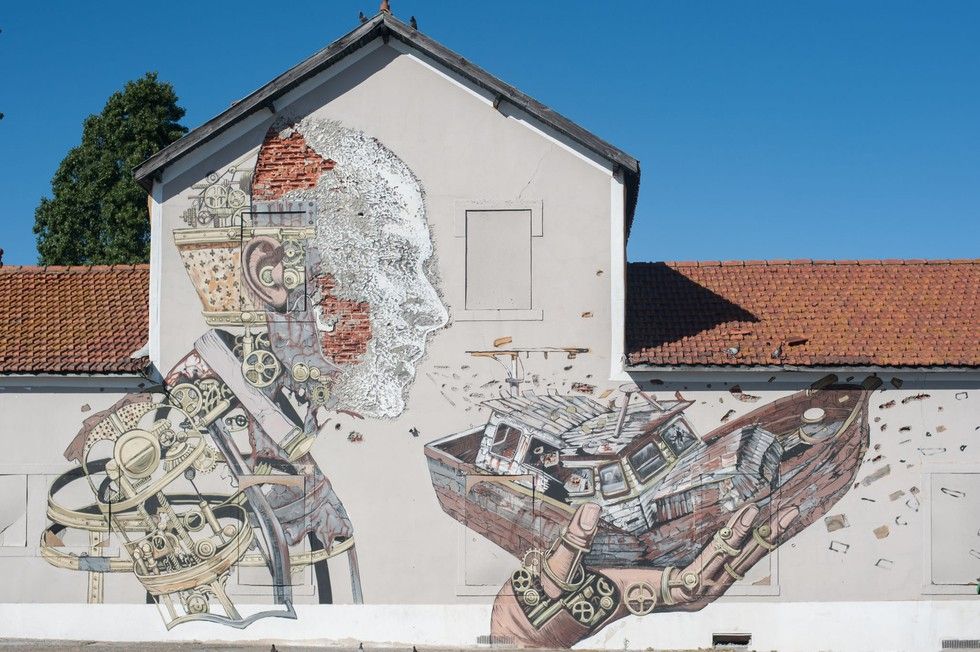 A collaborative piece by Vhils and Italian muralist Pixel Pancho
A mosaicked portrait of the beloved fado singer Amália Rodrigues, crafted with the same stones that decorate the city's sidewalks, emerges on the wall of a park in the leafy neighborhood of Alfama. A giant, careworn face stares out from the side of an empty building just beneath the 25 de Abril bridge. (Once named for the dictator António de Oliveira Salazar, the bridge was renamed for the date of the revolution that overthrew Salazar's successor.) Its sad, clear eyes confront you as you walk or drive beneath it, as if demanding that you account for your existence. Only when you get closer do you realize that the image is not painted but chiseled into the skin of the building, the different layers of exposed plaster and brick providing the tones for Farto's palette. The geometric patterns that Farto carved around it recall the designs of azulejos: One building calls out to the others, a city to its past.

A relationship with the city's walls runs in Farto's blood. During the revolution, his father plastered Lisbon with wheat-pasted "street journals" to spread news that the censors wouldn't print. Farto was 13 when he started painting the walls of the train yards and abandoned factories of his neighborhood—not faces then, just the five-letter tag VHILS, which he chose, he says, because it was easy to paint and didn't spell anything in any language that he knew of. Hip-hop came late to Portugal, and the graffiti that came with it was a revelation to kids like Farto, a way to make the mute walls of the city speak. He remembers watching the peeling, sun-faded remnants of the old post-revolutionary murals give way to shiny advertisements. He and his friends painted over the billboards and watched as new ads covered up their tags. The city, Farto came to understand, was a living thing, "an organism," as he puts it. Even freshly plastered and whitewashed into blankness, its walls were pregnant with history. "I started asking," Farto says, "'Why am I adding to this?'"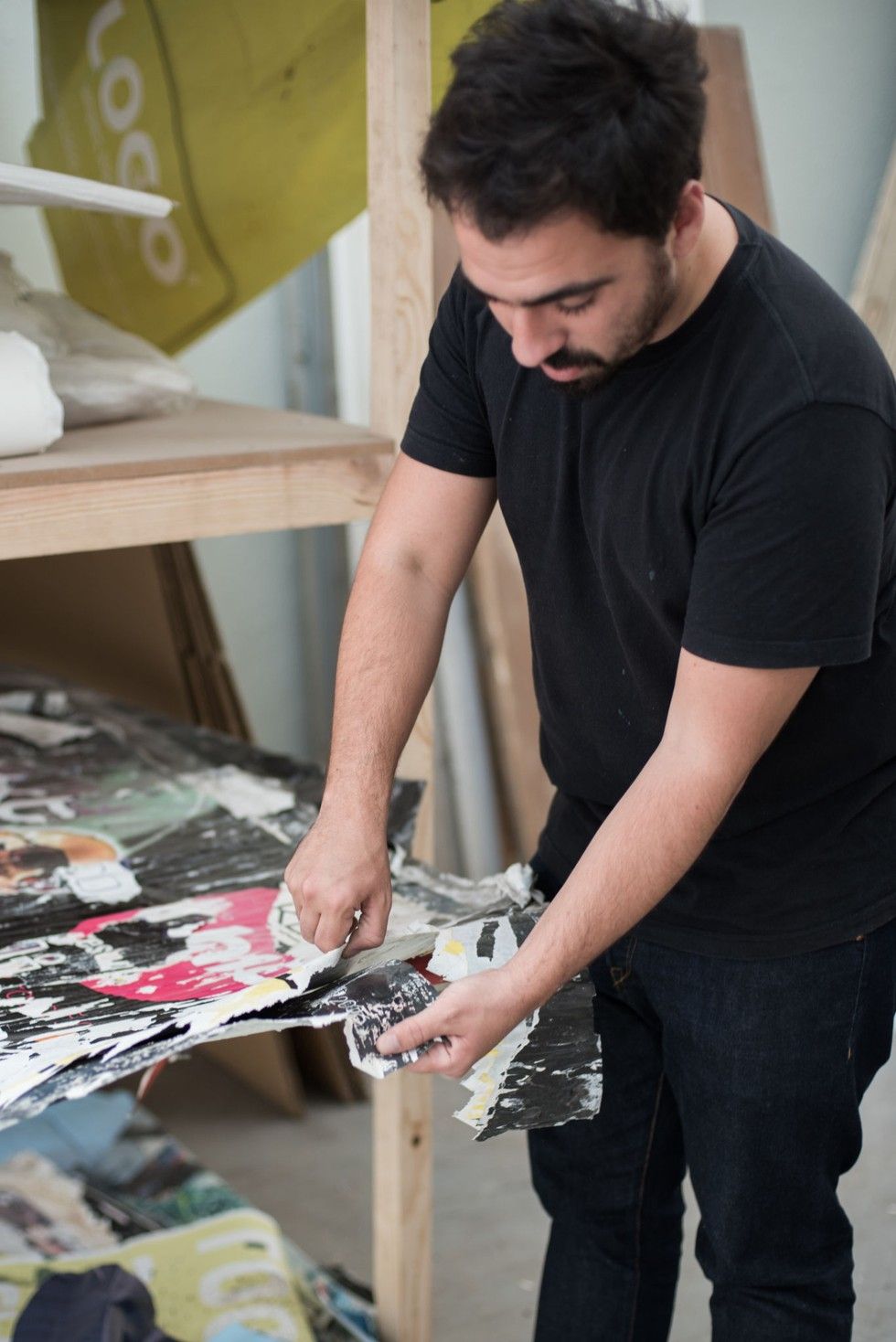 Vhils at work in his Barreiro studio
In 2004, while still in his teens, he decided to take an opposite approach. He started slicing strategically into billboards with razors, using the images he uncovered beneath, the layers of ads pasted over ads, to create entirely new images. "It was almost an archaeological process," he says. The next year, for the first time, he began carving into a wall with drills and chisels, using the colors he unearthed to sculpt a face. "It's always this idea, to destroy in order to create, to make what is invisible visible." That first piece is gone now, but one of the last conventional murals he painted before shifting techniques survives just across the street, around the block from Underdogs, in the trendy, formerly industrial district of Braço de Prata. It's a black-and-white cityscape: skyscrapers, street lamps, traffic lights and pylons in ominous, lifeless silhouette. "I started to zoom in," Farto says, "and the people came through."

"It's about the ephemerality of everything, the idea that nothing lasts forever."
By 2008, Farto was studying art in London, and Banksy, probably the most famous living artist to come out of the graffiti scene, invited him to take part in a street-art festival in a tunnel beneath the city. He carved a face into the tunnel's wall, this one staring impassively at the Banksy mural beside it. Banksy's agent took him on, and Farto, by now better known as Vhils, was quickly propelled into art-world celebrity. Soon he was working everywhere from Norway to Colombia. Museums were buying his work. He rented a studio—in the neighborhood of Barreiro, not far from where he grew up—that's the size of a small airplane hangar. (Appropriately, it once housed a recycling plant.) His staff of 10 keeps offices there, amid the stacks of old lumber and billboards that Farto and his assistants salvage from demolition sites around town.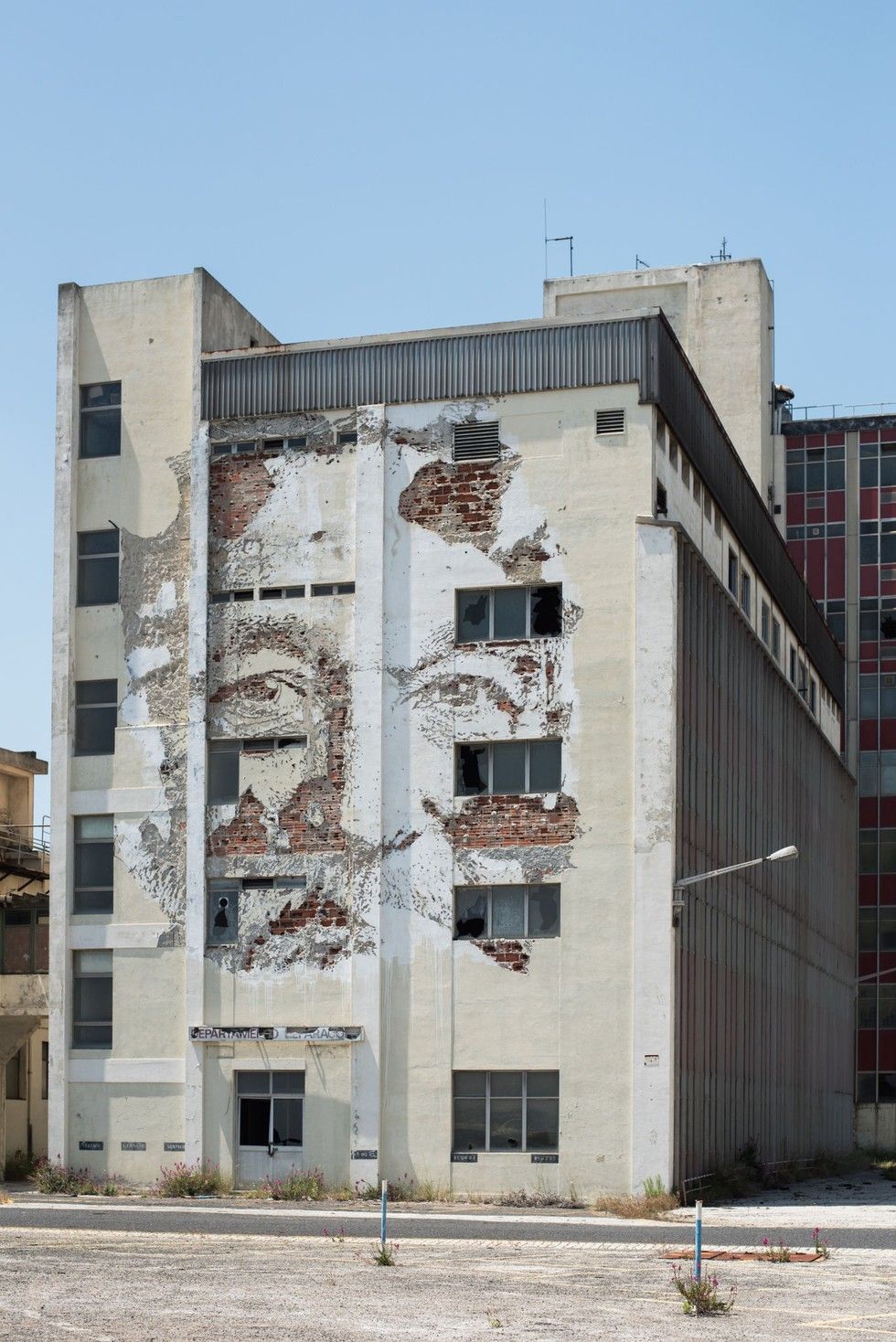 A Vhils mural on a wall in one of Lisbon's abandoned shipyards
When his renown at home became too much, Farto started spending time in Hong Kong. Neon-lit and intensely efficient, it's the opposite of Lisbon, he notes with a laugh. But Lisbon always draws him back. The faces he's carved stare out from walls all over town, a part of the living city. There are four of them in Braço de Prata, not far from his gallery and across the street from his last surviving painted mural. There's one in an alley in the ancient, picturesque neighborhood of Alfama; another on a long, art-bedecked wall in the old warehouse district of Alcântara; another covering a five-story building in an abandoned shipyard on the far side of the river. Their expressions all feature those wide-open eyes, those silent, demanding stares.

Often, he first encounters his subjects in the streets. "Sometimes I never see them again," Farto says. Their anonymity is part of the point: not to pay tribute to an individual, he says, but to force people to pause "and see themselves."
Many of Farto's murals have already been destroyed. He not only knows that all of them will, at some point, be painted or plastered over, demolished to make way for something new—he accepts it gladly. "Nothing lasts forever," he says again, and smiles. "I like that."
Right now, around the world, brave members of America's armed forces are on duty, defending our freedom and upholding our values.
When not laser-focused on the mission at hand, they're looking forward to the day when their service to our nation is fulfilled and they can reunite with their families.
They are also imagining how they can use their hard-earned skills to build an exciting, rewarding and important career when they return home.
I want them to look no further than United Airlines.
That's why we are focused on recruiting, developing and championing veterans across our company, demonstrating to our returning women and men in uniform that United is the best possible place for them to put their training, knowledge, discipline and character to the noblest use.
They've developed their knowledge and skills in some of the worst of times. We hope they will use those skills to keep United performing at our best, all of the time.
That's why we are accelerating our efforts to onboard the best and the brightest, and substantially increasing our overall recruitment numbers each year.
We recently launched a new sponsorship program to support onboarding veterans into United and a new care package program to support deployed employees. It's one more reason why United continues to rank high - and rise higher - as a top workplace for veterans. In fact, we jumped 21 spots this year on Indeed.com's list of the top U.S workplaces for veterans. This is a testament to our increased recruiting efforts, as well as our efforts to create a culture where veterans feel valued and supported.
We use the special reach and resources of our global operations to partner with outstanding organizations. This is our way of stepping up and going the extra mile for all those who've stepped forward to answer our nation's call.
We do this year-round, and the month of November is no exception; however, it is exceptional, especially as we mark Veterans Day.
As we pay tribute to all Americans who have served in uniform and carried our flag into battle throughout our history, let's also keep our thoughts with the women and men who are serving around the world, now. They belong to a generation of post-9/11 veterans who've taken part in the longest sustained period of conflict in our history.

Never has so much been asked by so many of so few.... for so long. These heroes represent every color and creed. They are drawn from across the country and many immigrated to our shores.

They then freely choose to serve in the most distant and dangerous regions of the world, to protect democracy in its moments of maximum danger.
Wherever they serve - however they serve - whether they put on a uniform each day, or serve in ways which may never be fully known, these Americans wake up each morning willing to offer the "last full measure of devotion" on our behalf.
Every time they do so, they provide a stunning rebuke to the kinds of voices around the world who doubt freedom and democracy's ability to defend itself.
Unfortunately, we know there are those who seem to not understand – or say they do not - what it is that inspires a free people to step forward, willing to lay down their lives so that their country and fellow citizens might live.
But, we – who are both the wards and stewards of the democracy which has been preserved and handed down to us by veterans throughout our history – do understand.
We know that inciting fear and hatred of others is a source of weakness, not strength. And such divisive rhetoric can never inspire solidarity or sacrifice like love for others and love of country can.
It is this quality of devotion that we most honor in our veterans - those who have served, do serve and will serve.
On behalf of a grateful family of 96,000, thank you for your service.
Humbly,
Oscar
Each year around Veterans Day, Indeed, one of the world's largest job search engines, rates companies based on actual employee reviews to identify which ones offer the best opportunities and benefits for current and former U.S. military members. Our dramatic improvement in the rankings this year reflects a stronger commitment than ever before to actively recruiting, developing and nurturing veteran talent.
"We've spent a lot of time over the past 12 months looking for ways to better connect with our employees who served and attract new employees from the military ranks," said Global Catering Operations and Logistics Managing Director Ryan Melby, a U.S. Army veteran and the president of our United for Veterans business resource group.
"Our group is launching a mentorship program, for instance, where we'll assign existing employee-veterans to work with new hires who come to us from the armed forces. Having a friend and an ally like that, someone who can help you translate the skills you picked up in the military to what we do as a civilian company, is invaluable. That initiative is still in its infancy, but I'm really optimistic about what it can do for United and for our veteran population here."
Impressively, we were the only one of our industry peers to move up on the list, further evidence that we're on a good track as a company.
The question of where David Ferrari was had haunted retired U.S. Army Sergeant Major Vincent Salceto for the better part of 66 years.
Rarely did a week go by that Salceto didn't think about his old friend. Often, he relived their last moments together in a recurring nightmare. In it, it's once again 1953 and Salceto and Ferrari are patrolling a valley in what is now North Korea. Suddenly, explosions shatter the silence and flares light up the night sky.
Crouching under a barrage of bullets, Salceto, the squad's leader, drags two of his men to safety, then he sees Ferrari lying face down on the ground. He runs out to help him, but he's too late. And that's when he always wakes up.
Italian Americans from opposite coasts – Salceto from Philadelphia, Ferrari from San Francisco – the two became close, almost like brothers, after being assigned to the same unit during the Korean War. When Ferrari died, it hit Salceto hard.
"After that, I never let anyone get close to me like I did with Dave," he says. "I couldn't; I didn't want to go through that again."
When the war ended, Salceto wanted to tell Ferrari's family how brave their son and brother had been in battle. Most of all, he wanted to salute his friend at his gravesite and give him a proper farewell.
For decades, though, Salceto had no luck finding his final resting place or locating any of his relatives. Then, in June of this year, he uncovered a clue that led him to the Italian Cemetary in Colma, California, where Ferrari is buried.
Within days, Salceto, who lives in Franklinville, New Jersey, was packed and sitting aboard United Flight 731 from Philadelphia to San Francisco with his wife, Amy, and daughter, Donna Decker, on his way to Colma. For such a meaningful trip, he even wore his Army dress uniform.
That's how San Francisco-based flight attendant Noreen Baldwin spotted him as he walked down the jet bridge to get on the plane.
"I saw him and said to the other crew members, 'Oh my goodness, look at this guy,'" she says. "I knew there had to be a story."
The two struck up a conversation and Salceto told Baldwin why he was traveling. She got emotional listening to him talk and made a point of fussing over him, making sure he and his family had everything they needed.
About halfway through the flight, Baldwin had an idea. She and her fellow crew members would write messages of encouragement to Salceto and invite his fellow passengers to do the same.
"We did it discreetly," says Baldwin. "I asked the customers if they saw the man in uniform, which most had, and asked them if they wanted to write a few words for him on a cocktail napkin. A lot of people did; families did it together, parents got their kids to write something. After the first few rows, I was so choked up that I could barely talk."
When Baldwin surprised Salceto with dozens of hand-written notes, he, too, was speechless. He laid the stack on his lap and read each one. At the same time, the pilots made an announcement about the veteran over the loud speaker, after which the customers on board burst into applause.
"It seems contrived, and I hate using the word organic, but that's what it was; it just happened," Baldwin says. "Mr. Salceto was so loveable and humble, and what he was doing was so incredible, it felt like the right thing to do. And you could tell he was touched."
On June 27, Salceto finally stood before Ferrari's grave and said that long-awaited goodbye. As a trumpeter played "Taps," he unpinned a medal from his jacket and laid it reverently on the headstone.
"I had gotten a Bronze Star for my actions [the night Ferrari died] with a 'V' for valor, and that was the medal I put on Dave's grave," says Salceto, pausing to fight back tears. "I thought he was more deserving of it than I was."
For the first time in years, Salceto felt at peace. His mission was accomplished.
Scroll to top