Louisville's new Southern Cuisine
Story by Ellen Carpenter | Photography by Scott Suchman | Hemispheres July 2019
To misquote Joni Mitchell: You don't know what you've got till you've gone. At least, that's how I feel about Kentucky.
Growing up there in the '80s and '90s, I scoffed at so-called "Kentucky food," like country ham and spoon bread. Sure, biscuits and gravy was good, and Derby-Pie (walnuts, people! Not pecans!) was tradition, but did it compare to the Ethiopian food I tried on vacation in Washington, D.C., when I was 10? Or the tiramisu I devoured in New York at 13?
I moved to New York at 22, sure I had hit the culinary jackpot. And I had. But a few years later, my mom moved from my hometown of Murray to "the big city"—Louisville—and told me that she had hit the culinary jackpot. Every time I went back to visit, she took me to a new restaurant and all but taunted "told you so" when I cleaned my plate. On my last couple of trips, what wowed me the most was how many of these restaurants were taking typical Kentucky ingredients or dishes and reinventing and elevating them in ways that no one dared when I was a kid. I realized I had to go back and investigate further (aka stuff my face).
And so here I find myself, in Louisville, a week before the Derby, pink dogwoods lining the wide streets, phlox overfilling window boxes. "You can't beat spring in Kentucky," says my mom, who, I should note, is a Londoner by way of Canada who has now lived in the Bluegrass State for 43 years. And I'm ready to eat.
Couvillion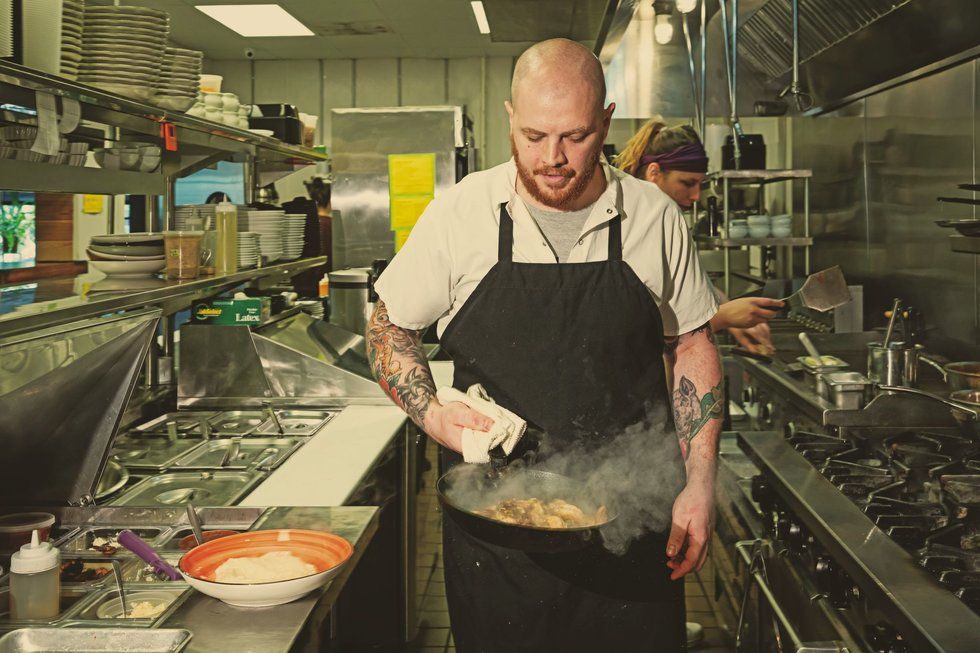 Paul Skulas
First stop: Couvillion, a "Kentucky-Cajun" spot in Germantown that LEO Weekly, the local alt-weekly, named the city's best new restaurant of 2018. The chef, Paul Skulas, a friendly, bearded Midwesterner whose arms are blanketed with colorful tattoos, meets me before dinner service in the spacious barroom, which is decorated with old cast-iron skillets and local voodoo-inspired art. After five years in the Marine Corps, Skulas went to culinary school and cooked at a Creole fine-dining spot in Mississippi before moving to Louisville in 2012 and working at a handful of "meat and potatoes" restaurants. He opened Couvillion in April 2018, seeing a gap in the market for a Cajun spot—but, he notes, "not a cheesy, Bourbon Street concept." Instead he wanted to emulate how the Acadians would have cooked when they first arrived in Louisiana in the 1700s. "I thought about what consists of the Cajun vibe and those people taking in their surroundings and the way their mothers or families cooked, and putting a spin on those traditions," he says. "Being in Kentucky, it only makes sense for me to put spins on those same traditions the way they would if they were here."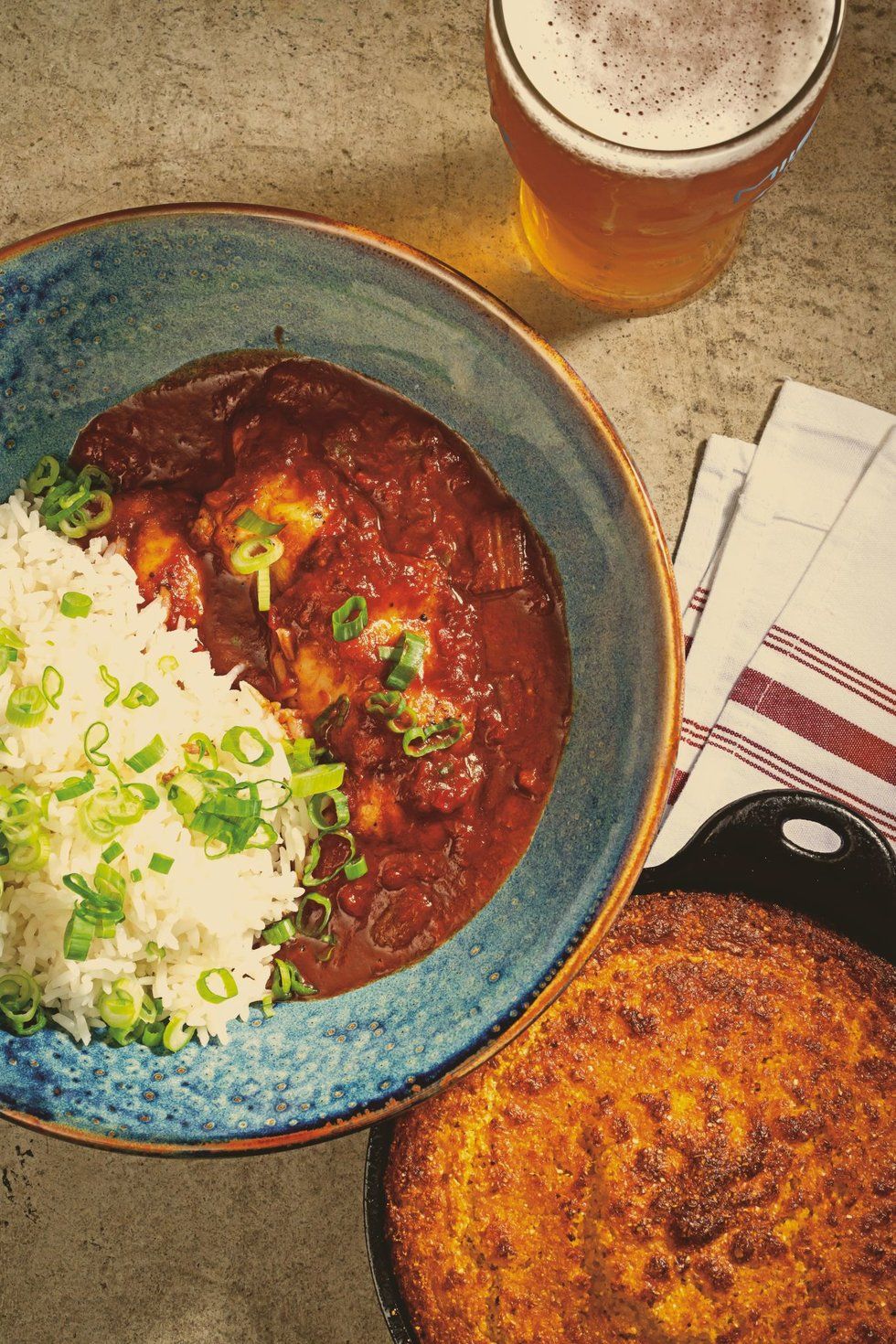 Couvillion's eponymous catfish dish and smoked corn bread
For Skulas, that means adding country ham to the gumbo—"I put country ham in as many things as I can!"—and serving up pinto soup beans, an Appalachian standard, instead of red beans and rice. "That's the classic-heritage Kentucky thing," Skulas says. "Country ham and soup beans. You have to have that on a menu—that's Kentucky." He also swaps in catfish from Lake Barkley (right near my hometown) for his restaurant's eponymous couvillion, which itself is a play on the French dish court-bouillon and is generally made with redfish in New Orleans.

Of course, I have to try it all. I start with the smoked corn bread—the most popular dish on the menu, Skulas tells me—which is made with cold-smoked cornmeal from local organic grain supplier Louismill. The country ham lends the gumbo a smokiness that beautifully cuts through the roux, and the catfish holds its own in the rich and tomatoey couvillion. I also try the duck creole with ricotta dumplings, Skulas's Cajun take on chicken and dumplings, because, well, how could I not? I leave with a newfound respect for local Kentucky ingredients—and enough take-out boxes to feed my mom for a week.
"Being in Kentucky, it only makes sense for me to put spins on those traditions"
Boujie Biscuit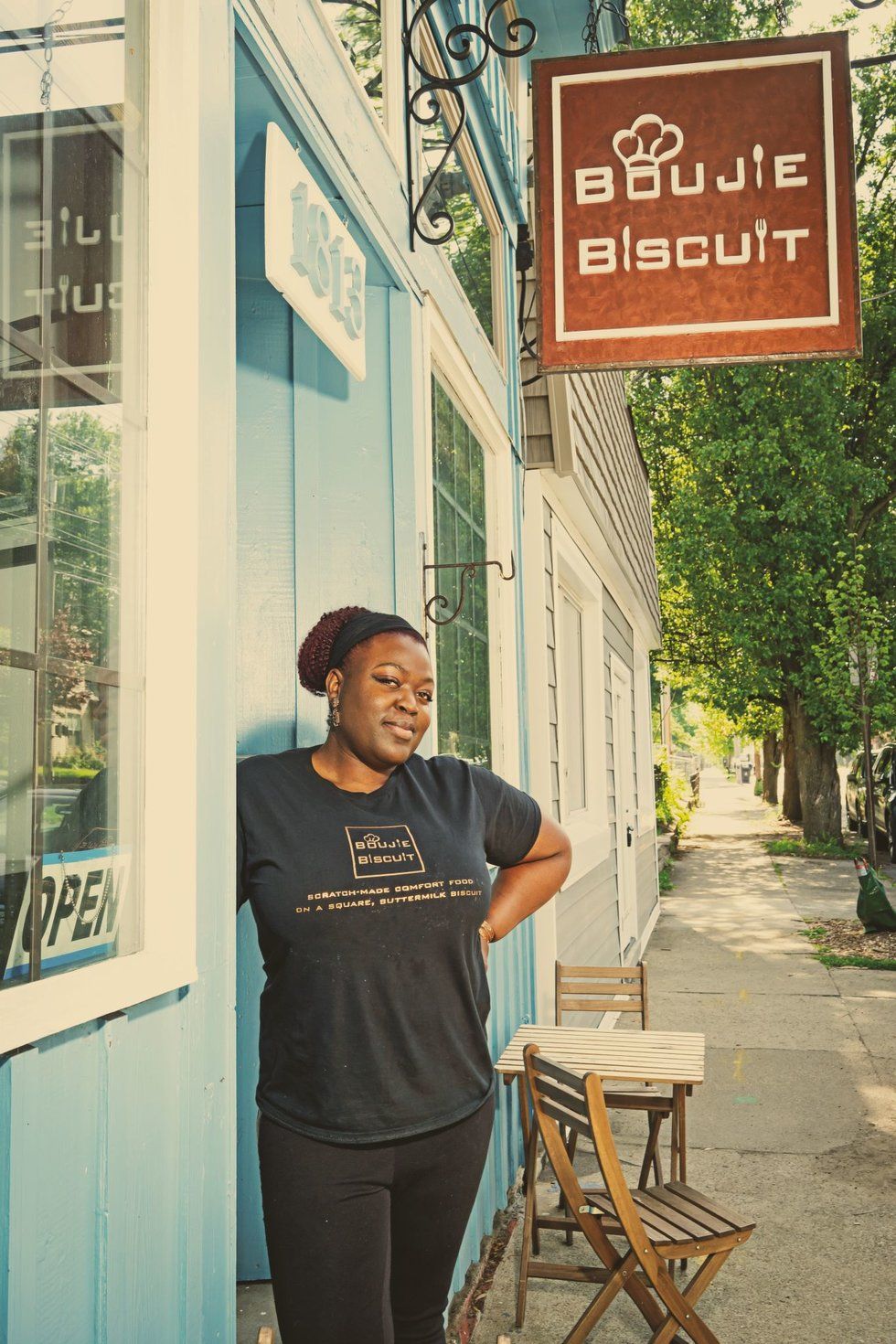 Cyndi Joyner
I somehow wake up hungry the next day, and I know exactly where to go: Boujie Biscuit, a new spot on Frankfort Avenue. Here, Brooklyn transplant Cyndi Joyner takes that heavenly Southern staple, the buttermilk biscuit, and piles it high with any combo of savory or sweet toppings you can imagine. "I decided to use the biscuit as a vehicle to introduce people to other foods from around the world," says Joyner, whose bracelets match the copper-colored font on her Boujie Biscuit T-shirt. She credits her creative palate to her melting-pot Brooklyn childhood, Southern grandparents, and time living in Prague and traveling around Europe. Her Euro Biscuit is topped with the Hungarian stew lecsó, and she's debating adding a chicken tikka masala biscuit and an African peanut stew biscuit to the ever-growing menu. "If you can throw it on something that people are already familiar with just to give it a little twist, then it doesn't look so foreign," she says, leading me over to a couch at the front of the laid-back space. "I kind of feel like I'm being sneaky in a way! Some people think they may not be adventurous, but the spices that I use are not necessarily found at Kroger."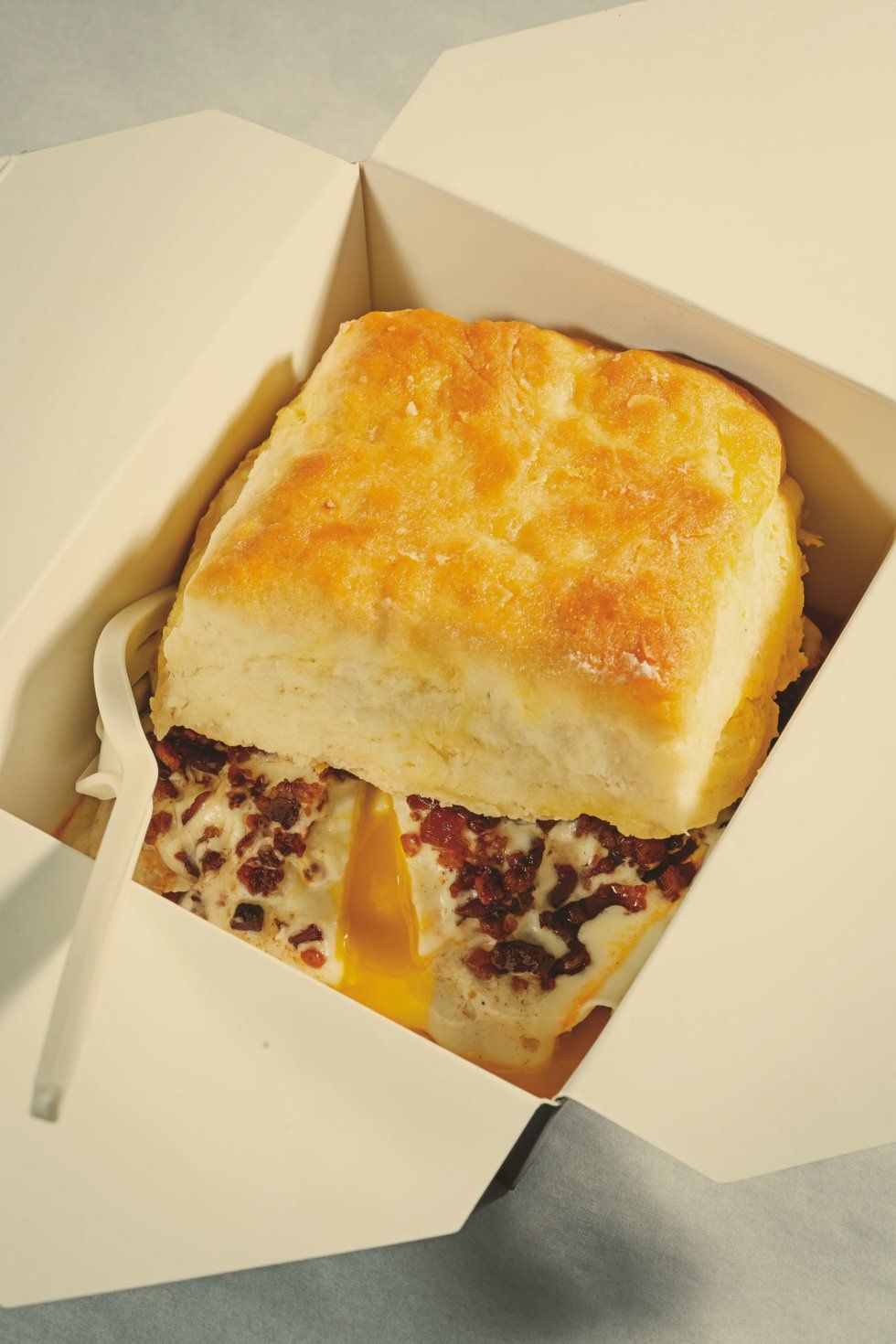 A breakfast biscuit at Boujie Biscuit
"I use the biscuit as a vehicle to introduce people to other foods from around the world."
I can't help myself and go straight Southern, choosing The Gravy Train on Fire, which consists of "cluckin' hot" chicken chunks and sausage gravy heaped over a flaky biscuit about the size of my head. Joyner laughs when I prove incapable of finishing our interview because I can't stop eating. "This is the part where I walk away while you take a huge bite," she says, grinning. After helping a slew of hungry customers, including two women celebrating Administrative Professionals Day ("So the whole office is getting Boujie Biscuit!" shouts one woman as she does a little dance of joy), Joyner rejoins me on the couch. She tells me she chose to open up in Louisville after visiting and liking the city's "funky" vibe. "People aren't afraid to experiment," she says. "I think this place fits right in."
Seviche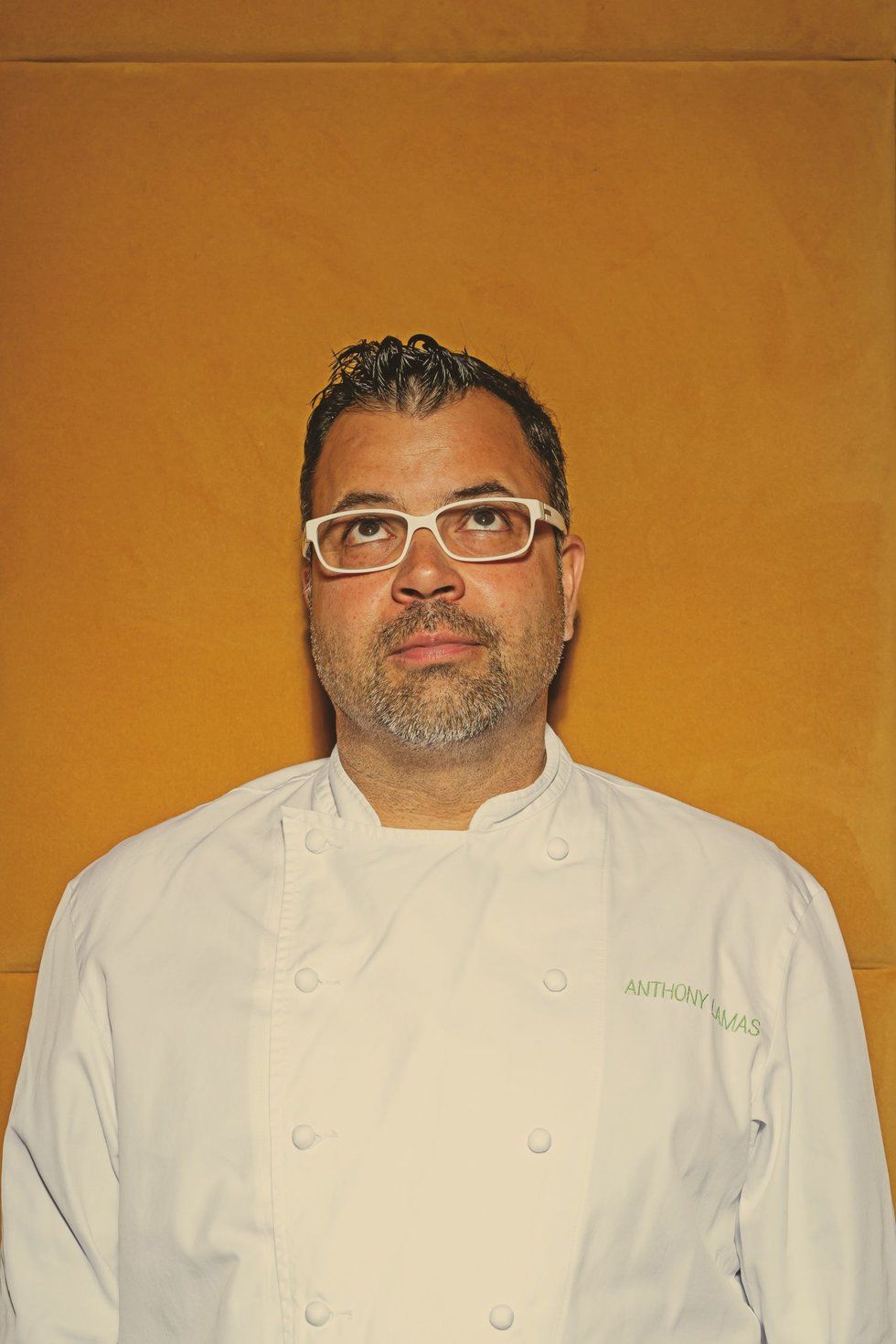 Anthony Lamas
After a long walk along the waterfront to burn off the sausage gravy (it pains me that I was too full to finish that biscuit), I meet up with Anthony Lamas, a mainstay of the Louisville food scene. He opened his restaurant, Seviche, in the Highlands in 2005 and has been winning accolades for his creativity and flair ever since. Seviche's tagline—"Inspired by heritage. Influenced by locality."—couldn't be more accurate or, for Lamas, more natural. He was raised in California by a Puerto Rican dad and a Mexican mom and cooked at a resort in San Diego before making the move to Louisville in 1994. "I didn't know about Southern things, like country ham, sorghum, or grits. " he tells me, sitting on a leather couch in the restaurant's event space. "But I just started to adapt my flavor profiles to them. It was a natural marriage, because we do use a lot of the same ingredients, just in different ways. You know: corn bread, corn tortillas; grits, pozole. So I fell in love with what was here."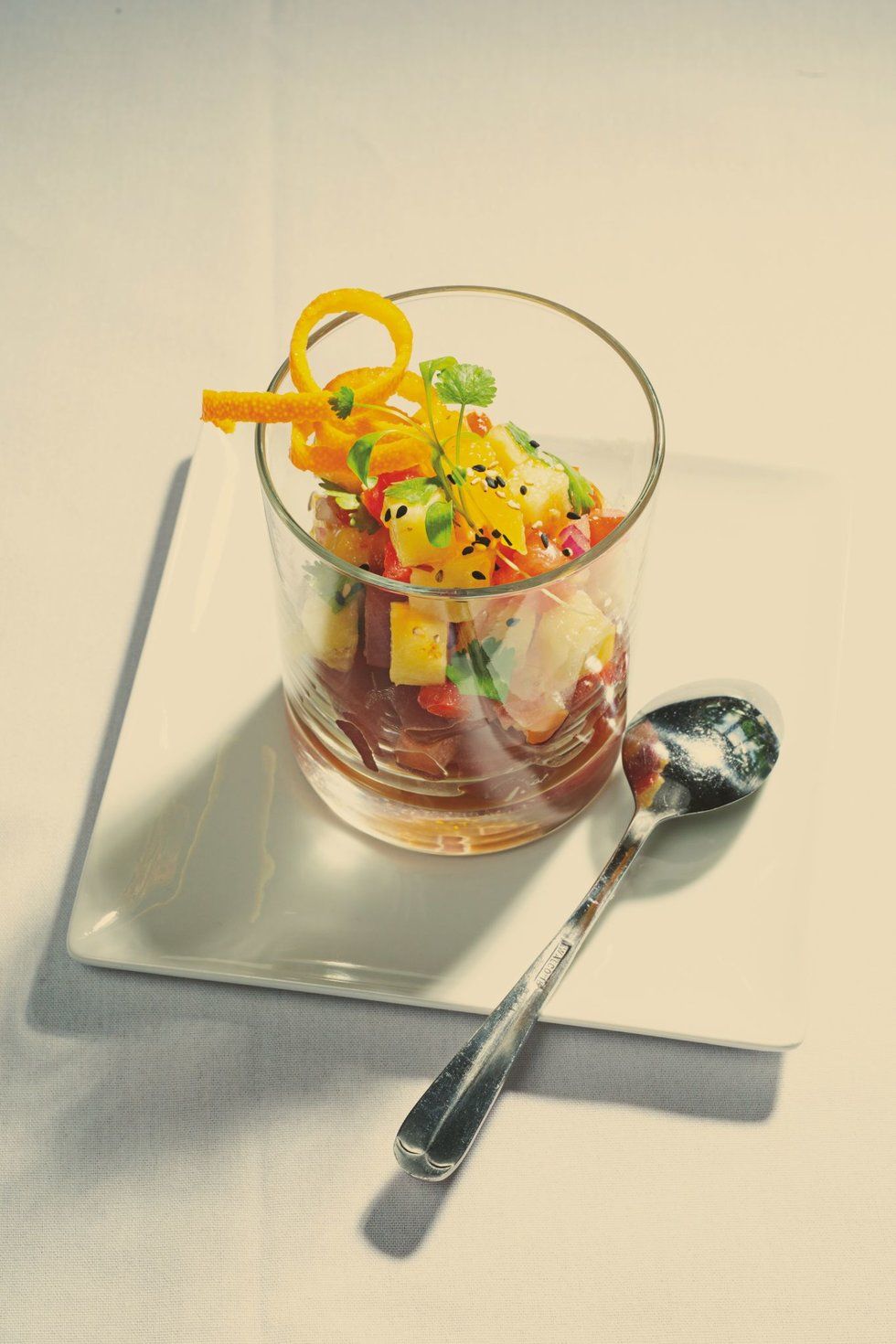 The Tuna Old Fashioned at Seviche
His menu pairs grits with roasted poblanos and manchego cheese; tuna ceviche is marinated in bourbon and Bluegrass Soy Sauce (from local company Bourbon Barrel Foods); and empanadas are filled with Kentucky bison. When Lamas tried pawpaws (a custardy, mango-like fruit) from a neighbor's tree for the first time, he realized they'd be great in flan. But whatever you do, don't call his food fusion. "I don't like that word," he says, grimacing and adjusting his white frame glasses. "I call it confusion. It's bad. People are always like, 'Are you Latin fusion?' No, no, no, no. I'm a Latino chef in Kentucky, and my restaurant's influenced by that. My food changed because Kentucky changed me, because it introduced me to so many things that I didn't know. For a chef, that's exciting, right?"
What I eat that night is beyond exciting. The Kentucky Hot Brown empanadas, filled with chunks of turkey and served with a jalapeño Mornay sauce and pico de gallo, make me rethink the quintessential Louisville dish, a broiled open-face sandwich created at the Brown Hotel in 1926. Even my cocktail, the Best Boy, is a cultural mash-up, pairing bourbon with Aztec chocolate bitters. ("If you don't like it," my waiter, Benjamin, tells me, "I'll finish it for you." Nice try, Ben.) The Tuna Old Fashioned ceviche comes in an old-fashioned glass, naturally, and explodes with flavor. My main is a special that night: a sous vide beef tenderloin topped with ramp butter and served over mashed red potatoes. A chipotle country ham demi-glace seals the deal. I somehow refrain from licking my plate. When I leave (OK, after also eating the flan with chili-spiced peanut brittle), I'm reminded of something Lamas told me earlier: "I always say what 'mi casa es su casa' is to Latinos, 'Southern hospitality' is to the South."
"My food changed because Kentucky changed me."
V-Grits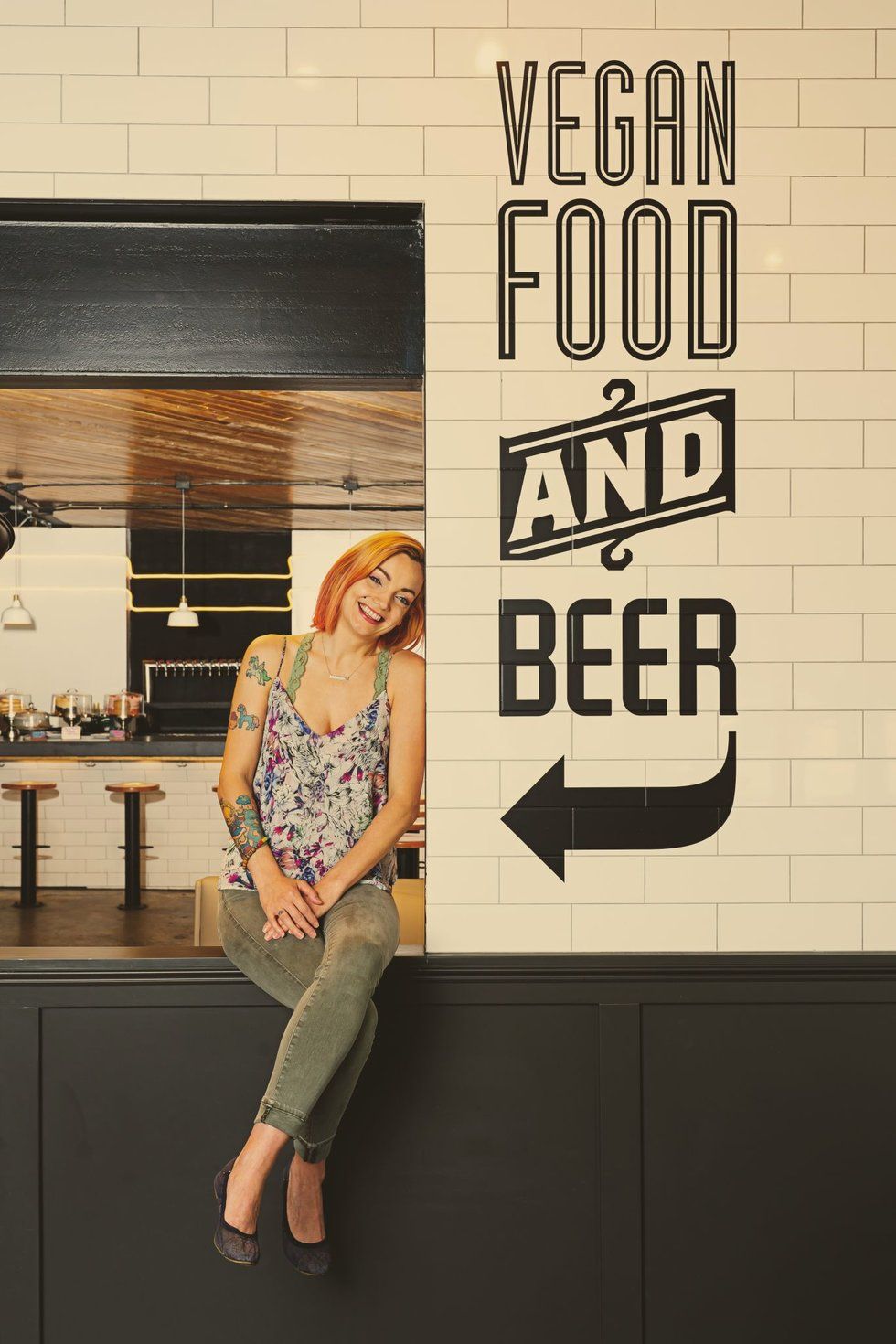 Kristina J. Addington
For lunch the next day, I try something even more foreign to Kentuckians: vegan food. Last October, not far from Seviche, Kristina J. Addington opened V-Grits with the aim of serving vegan versions of her favorite Kentucky classics. She grew up in nearby Shelby County, where her mom would make Hot Browns weekly. "All of our food had meat in it—even bacon in the green beans," she says, sitting at a two-top in the bright, airy space, rainbow earrings complementing her Rainbow Brite tattoo and orange-dyed hair. Thirteen years ago, she became vegan, and after five years working for PETA, she started wholesaling her homemade vegan baked goods to natural food stores in Louisville. She won an episode of Food Network's Cutthroat Kitchen in 2014 and, with her earnings, started a food truck. Last year she partnered with False Idol Brewery to open a brick-and-mortar location.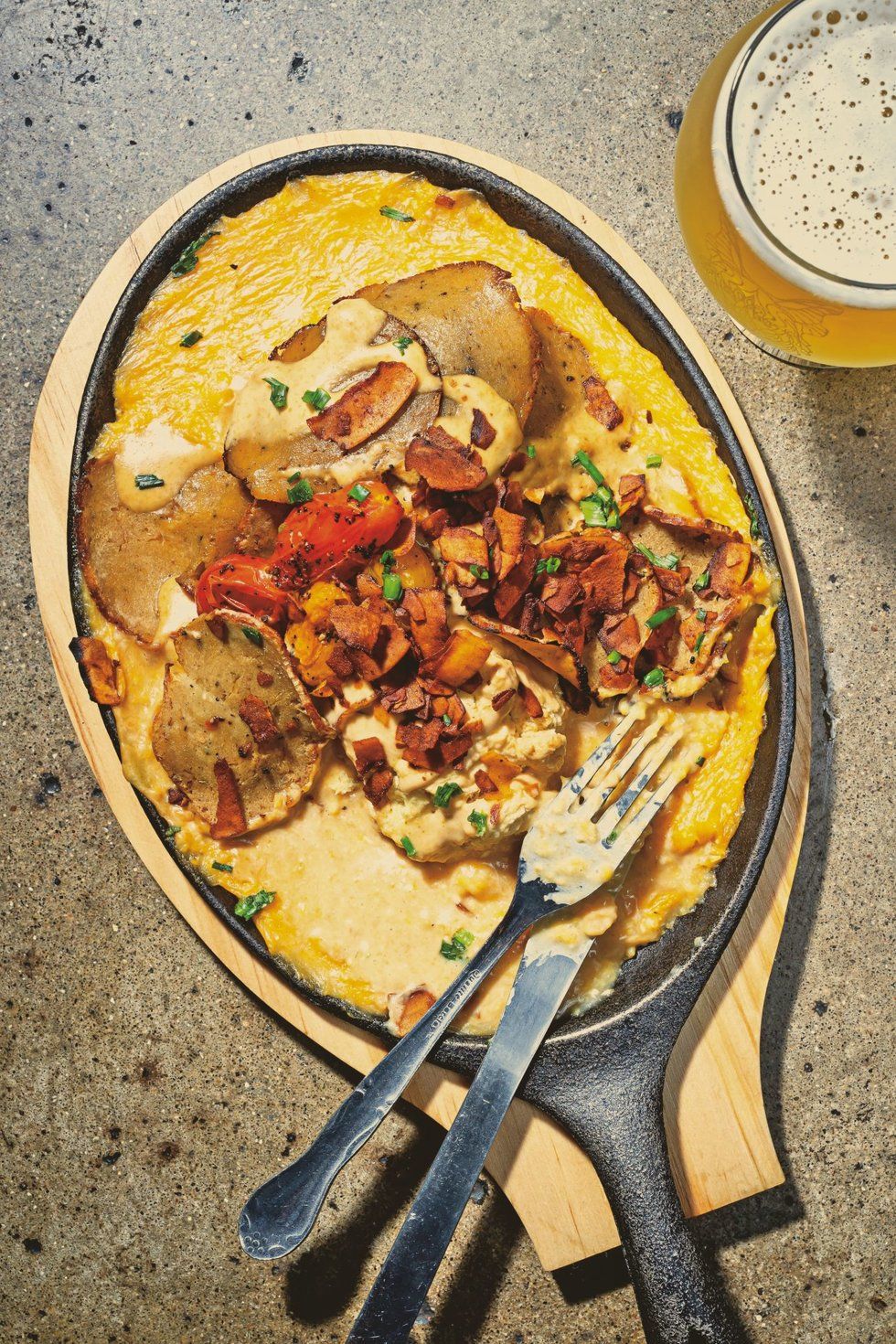 The Vegan Hot Brown at V-Grits
I ask whether she was worried about finding an audience here, and she shakes her head. "Southern food was what I grew up on, and I knew that was the easiest way I was going to win people over," she says. "I think fresh, healthy food is very important, but people around here are used to stick-to-your-ribs comfort food, so that's why we specialize in that." More than half of her restaurant's customers aren't vegan, she says; they just like the food: five kinds of loaded mac 'n' cheese, chicken-fried mushroom wings, a breakfast skillet with grits, hash browns, and baked beans…
Knowing that Addington used to have a weekly Hot Brown habit, I have to try her vegan take. It's served in a cast-iron skillet with vegan cheese grits, a housemade biscuit, vegan turkey, "gouda" béchamel made with coconut milk, and "bacon" bits made with seasoned and roasted coconut shreds. It's decadent and utterly comforting. My glass of False Idol's kombucha provides the perfect zing.
"For me, growing up with the typical Southern family, food is what brings you together," Addington says. "Regardless of what you're eating, it's that feeling of security and comfort. You eat good mac 'n' cheese and you think of being at your grandmother's house when you're five and her making that. Comfort food gives you that sentimental memory of being with your family around the dinner table."
"Southern food is what I grew up on, and I knew that was the easiest way I was going to win people over"
610 Magnolia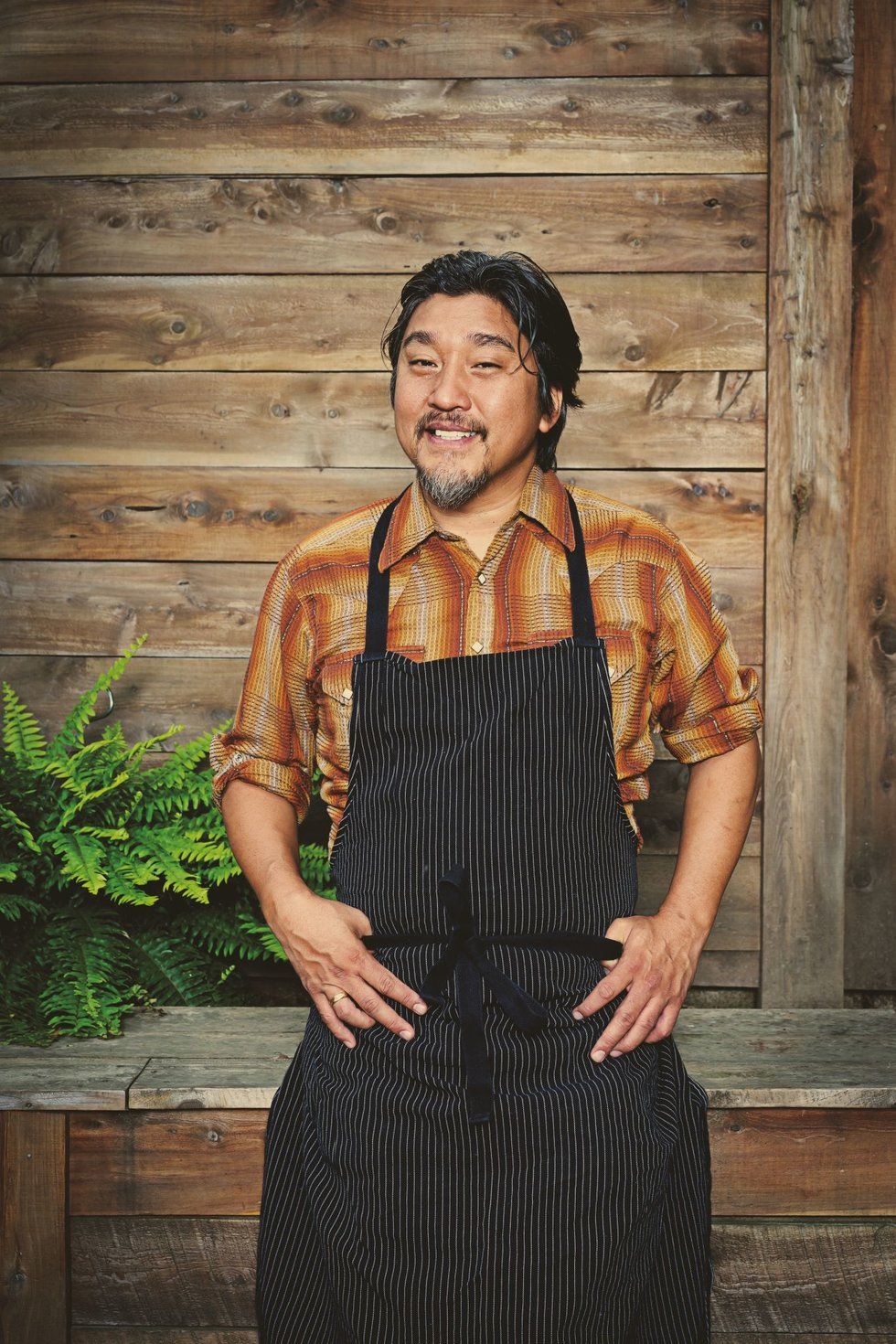 Edward Lee
On that note, I ask my mom to join me for my last meal out—at Old Louisville's 610 Magnolia, probably the local restaurant with the highest national profile. Chef Edward Lee was nominated for an Emmy in 2014 for his role in PBS's The Mind of a Chef, and this spring his second book, Buttermilk Graffiti, won the James Beard Foundation Award for writing.
In the book, Lee, a Korean-American who grew up in Brooklyn, challenges the idea of authentic Southern cooking. "I always ask myself, What South are you talking about?" he writes. "Pre-colonial South? Plantation South? Post-colonial? Post–Civil Rights movement? Paula Deen's South? The immigrant South? All are part of the complicated history of the South. None can claim a true authenticity."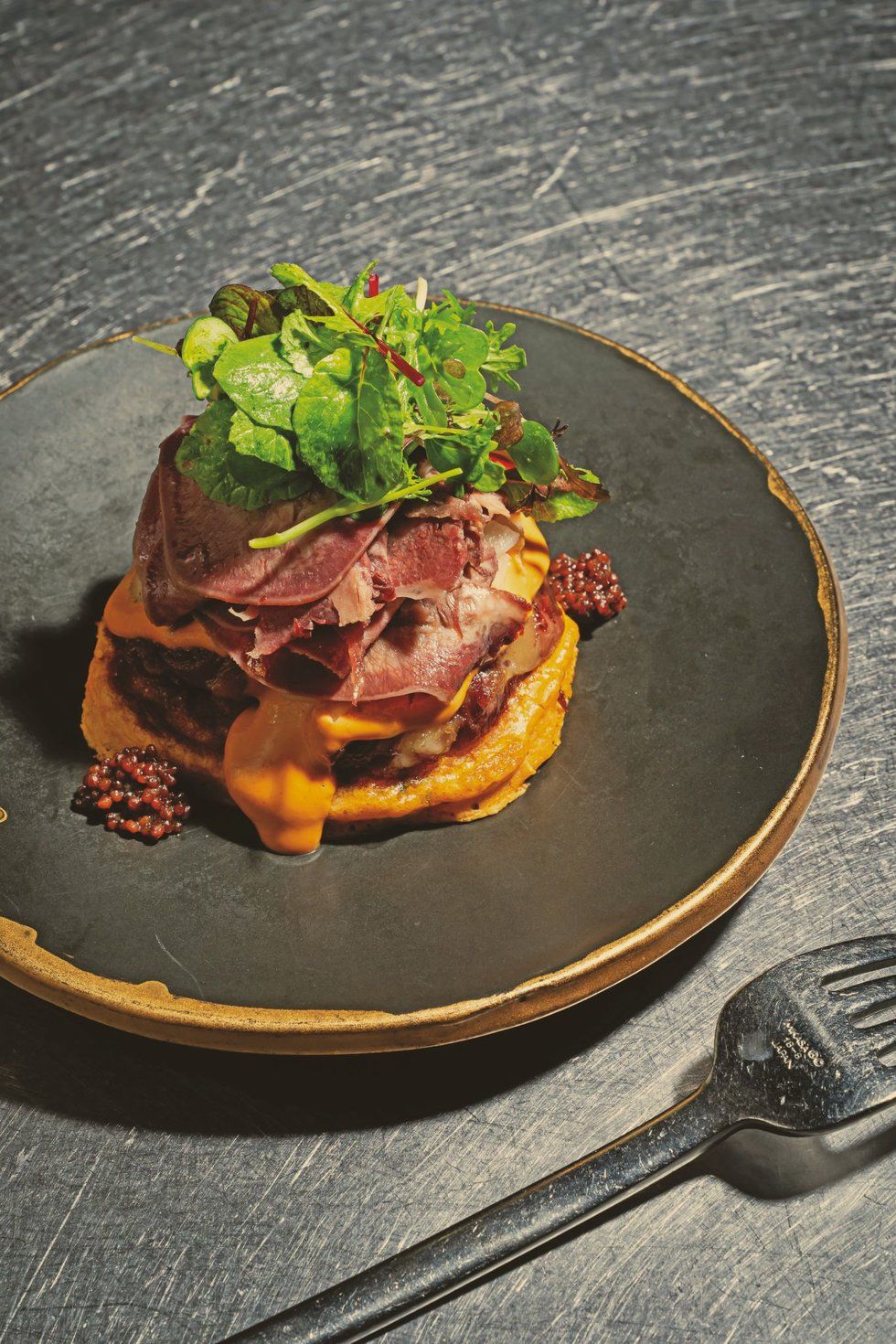 Way beef tongue two ways with daikon pancake, sauerkraut kimchi, and gochujang at 610 Magnolia
That's something Lee learned when he moved to Louisville in 2002. He started cooking at 610 Magnolia (taking it over in 2003), at first making regional foods out of necessity, "because I couldn't get tamarind and I couldn't get lemongrass," he tells me. But then bits of his family's Korean cooking traditions started seeping into his dishes. "If you love Korean food but you happen to live in the South, sooner or later you're going to mix the two," he says. "It's inevitable. Because you're like, Oh, I wanna make this pork dish, but I don't have what I really want. Well, what's around me?" He had collard greens for the first time and realized they would be great for kimchi; he started doing a Southern-style dim sum special that ended up being the impetus for his second restaurant, MilkWood. Meanwhile, he notes, "more immigrants moved in, and now there's more of an international presence. So it works both ways: The immigrant food becomes more Kentuckyfied in a way, and the Kentucky food becomes more global in a way. With local food and global food, it's not a line in the sand. That's the place that's most exciting for me: where things crossover, overlap, and mix."
My four-course tasting menu does just that. There's miso-chicken-liver mousse with benne seed crackers; beef tongue with a daikon pancake and sauerkraut kimchi; delicately cooked halibut with buttermilk, navy beans, ramps, and bok choy. Dessert, the Bourbon Aficionado, ends up being the showstopper. Our waiter removes the slate tile covering the serving dish and bourbon-barrel smoke rolls out, immediately transporting me to a campfire at my childhood friend's property by Kentucky Lake. My mom has the exact same thought, and we laugh as we dig in, scooping up bites of banana cake, freeze-dried corn, butterscotch, brown-butter ice cream, and Pappy Van Winkle maple syrup—"everything you find in bourbon," our waiter notes. We each sip a cocktail made of Michter's rye and ruby port, savoring our last bites and our time together. "Go ahead and say it," I tell Mom, shaking my head. "Told you so!" she sing-songs, and then adds, "Does this mean you'll come visit more often?"
"With local food and global food, it's not a line in the sand"
Thinking back on everything I've eaten over the last three days—and knowing how much more there is to try—the answer is obviously yes. As Lee writes in Buttermilk Graffiti, "In order for any cuisine to evolve it has to be passed on to people who have not lived the authentic life from which it germinated." And, as I've learned, in order to appreciate the cuisine and ingredients you grew up with, maybe you have to go away for a while and come back with an open mind—and an empty stomach.
The Lee Initiative
Edward Lee and Lindsey Ofcacek were brainstorming a mentorship program for their two-year-old LEE (Let's Empower Employment) Initiative when the #MeToo moment hit the restaurant world, at the end of 2017. "We were like, This is terrible, but for every bad chef there are 100 good ones," says Ofcacek, the executive director of the Initiative and the wine director for 610 Magnolia. "We wanted to find a way for young women in the industry to go and work with great chefs."
Last year, they launched the Women Chefs Initiative, a six-month program that pairs five budding female chefs from Kentucky, Cincinnati, and Southern Indiana with female-led restaurant groups across the country. The program culminates with a dinner at the James Beard House in New York, where the women cook their own food alongside Lee. "That partnership is invaluable, because every young chef dreams of cooking at the Beard House," says Ofcacek, adding that it was emotional for the first class of women last summer: "At the end, they were all weeping." This year's mentors include Nina Compton, the chef-owner of Compère Lapin in New Orleans, and Mindy Segal, the pastry chef behind Chicago's Mindy's Hot Chocolate. Lee notes that last year's class is also invested in this year's mentees: "Now they're mentoring the five chefs that are in it this year," he says. "Can you imagine after five years? That's 25 chefs. That's an entire community. That can make change."
leeinitiative.org
We will continue building out our already expansive route network next year, adding flights to some attractive leisure destinations in the United States and the Caribbean.
Our hometown hub, Chicago O'Hare International Airport, will be the beneficiary of three of those new routes, which include Santa Barbara, California; Pasco, Washington; and Vail, Colorado. Rounding it out, United will add service from Denver to Nassau, Bahamas, and from Houston to Spokane, Washington. Tickets for all of these destinations are on sale now.
The Denver-Nassau route will begin on March 7, 2020, followed by Chicago-Santa Barbara, Chicago-Pasco, Chicago-Vail and Houston-Spokane on June 4. When that time comes, United will be the only airline offering nonstop service between Denver and Nassau and Chicago and Pasco.
All of these routes will open up a world of connection possibilities for customers living in each market. They'll also be scheduled to give flyers optimal arrival and departure time options. For instance, a passenger going from Chicago to Santa Barbara will have a flight option that departs O'Hare at 7:45 p.m. local time, arriving at Santa Barbara Airport at 10:30 p.m. That's ideal for business travelers.
"We want to offer customers the very best schedule, the best network and the most flight options in the industry," said Ankit Gupta, United's vice president of Domestic Network Planning.
The Boeing 737-800 aircraft will serve the Denver-Nassau route. Passengers going from Chicago to Santa Barbara and from Chicago to Vail will fly on the 737-700. United's 76-seat Embraer 175 aircraft, equipped with United First, Economy Plus and United Economy class seats, will operate on the Chicago-Pasco and Houston-Spokane routes.
You'll find flight times and additional details in the grid below. For more information and to book your tickets, visit
united.com
or download the United mobile app.
Depart

Arrive

Frequency

Duration

Chicago (ORD)

7:45 p.m.

Santa Barbara (SBA)

10:30 p.m.

Daily

Year-round

SBA

11:20 p.m.

ORD

5:20 a.m.

Daily

Year-round

ORD

8:00 p.m.

Pasco (PSC)

10:24 p.m.

Daily

Year-round

PSC

11:38 p.m.

ORD

5:20 a.m.

Daily

Year-round

ORD

4:00 p.m.

Vail/Eagle (EGE)

5:54 p.m.

Daily

Summer seasonal

(June 4 through September 6, 2020)

EGE

9:00 a.m.




ORD

12:45 p.m.

Daily

Summer seasonal

(June 4 through September 7, 2020)

Denver (DEN)

9:56 a.m.

Nassau (NAS)

4:00 p.m.

Once a week on Saturdays

Year-round

(with a break from mid-August through late-October)

NAS

11:37 a.m.

DEN

2:43 p.m.

Once a week on Saturdays

Year-round

(with a break from mid-August through late-October)

Houston (IAH)

9:32 p.m.

Spokane (GEG)

11:32 p.m.

Daily

Summer seasonal

(June 4 through August 17, 2020)

GEG

11:55 p.m.

IAH

6:17 a.m.

Daily

Summer seasonal

(June 4 through August 17, 2020)
Right now, around the world, brave members of America's armed forces are on duty, defending our freedom and upholding our values.
When not laser-focused on the mission at hand, they're looking forward to the day when their service to our nation is fulfilled and they can reunite with their families.
They are also imagining how they can use their hard-earned skills to build an exciting, rewarding and important career when they return home.
I want them to look no further than United Airlines.
That's why we are focused on recruiting, developing and championing veterans across our company, demonstrating to our returning women and men in uniform that United is the best possible place for them to put their training, knowledge, discipline and character to the noblest use.
They've developed their knowledge and skills in some of the worst of times. We hope they will use those skills to keep United performing at our best, all of the time.
That's why we are accelerating our efforts to onboard the best and the brightest, and substantially increasing our overall recruitment numbers each year.
We recently launched a new sponsorship program to support onboarding veterans into United and a new care package program to support deployed employees. It's one more reason why United continues to rank high - and rise higher - as a top workplace for veterans. In fact, we jumped 21 spots this year on Indeed.com's list of the top U.S workplaces for veterans. This is a testament to our increased recruiting efforts, as well as our efforts to create a culture where veterans feel valued and supported.
We use the special reach and resources of our global operations to partner with outstanding organizations. This is our way of stepping up and going the extra mile for all those who've stepped forward to answer our nation's call.
We do this year-round, and the month of November is no exception; however, it is exceptional, especially as we mark Veterans Day.
As we pay tribute to all Americans who have served in uniform and carried our flag into battle throughout our history, let's also keep our thoughts with the women and men who are serving around the world, now. They belong to a generation of post-9/11 veterans who've taken part in the longest sustained period of conflict in our history.

Never has so much been asked by so many of so few.... for so long. These heroes represent every color and creed. They are drawn from across the country and many immigrated to our shores.

They then freely choose to serve in the most distant and dangerous regions of the world, to protect democracy in its moments of maximum danger.
Wherever they serve - however they serve - whether they put on a uniform each day, or serve in ways which may never be fully known, these Americans wake up each morning willing to offer the "last full measure of devotion" on our behalf.
Every time they do so, they provide a stunning rebuke to the kinds of voices around the world who doubt freedom and democracy's ability to defend itself.
Unfortunately, we know there are those who seem to not understand – or say they do not - what it is that inspires a free people to step forward, willing to lay down their lives so that their country and fellow citizens might live.
But, we – who are both the wards and stewards of the democracy which has been preserved and handed down to us by veterans throughout our history – do understand.
We know that inciting fear and hatred of others is a source of weakness, not strength. And such divisive rhetoric can never inspire solidarity or sacrifice like love for others and love of country can.
It is this quality of devotion that we most honor in our veterans - those who have served, do serve and will serve.
On behalf of a grateful family of 96,000, thank you for your service.
Humbly,
Oscar
Each year around Veterans Day, Indeed, one of the world's largest job search engines, rates companies based on actual employee reviews to identify which ones offer the best opportunities and benefits for current and former U.S. military members. Our dramatic improvement in the rankings this year reflects a stronger commitment than ever before to actively recruiting, developing and nurturing veteran talent.
"We've spent a lot of time over the past 12 months looking for ways to better connect with our employees who served and attract new employees from the military ranks," said Global Catering Operations and Logistics Managing Director Ryan Melby, a U.S. Army veteran and the president of our United for Veterans business resource group.
"Our group is launching a mentorship program, for instance, where we'll assign existing employee-veterans to work with new hires who come to us from the armed forces. Having a friend and an ally like that, someone who can help you translate the skills you picked up in the military to what we do as a civilian company, is invaluable. That initiative is still in its infancy, but I'm really optimistic about what it can do for United and for our veteran population here."
Impressively, we were the only one of our industry peers to move up on the list, further evidence that we're on a good track as a company.
Scroll to top