Louisville's new Southern Cuisine
Story by Ellen Carpenter | Photography by Scott Suchman | Hemispheres July 2019
To misquote Joni Mitchell: You don't know what you've got till you've gone. At least, that's how I feel about Kentucky.
Growing up there in the '80s and '90s, I scoffed at so-called "Kentucky food," like country ham and spoon bread. Sure, biscuits and gravy was good, and Derby-Pie (walnuts, people! Not pecans!) was tradition, but did it compare to the Ethiopian food I tried on vacation in Washington, D.C., when I was 10? Or the tiramisu I devoured in New York at 13?
I moved to New York at 22, sure I had hit the culinary jackpot. And I had. But a few years later, my mom moved from my hometown of Murray to "the big city"—Louisville—and told me that she had hit the culinary jackpot. Every time I went back to visit, she took me to a new restaurant and all but taunted "told you so" when I cleaned my plate. On my last couple of trips, what wowed me the most was how many of these restaurants were taking typical Kentucky ingredients or dishes and reinventing and elevating them in ways that no one dared when I was a kid. I realized I had to go back and investigate further (aka stuff my face).
And so here I find myself, in Louisville, a week before the Derby, pink dogwoods lining the wide streets, phlox overfilling window boxes. "You can't beat spring in Kentucky," says my mom, who, I should note, is a Londoner by way of Canada who has now lived in the Bluegrass State for 43 years. And I'm ready to eat.
Couvillion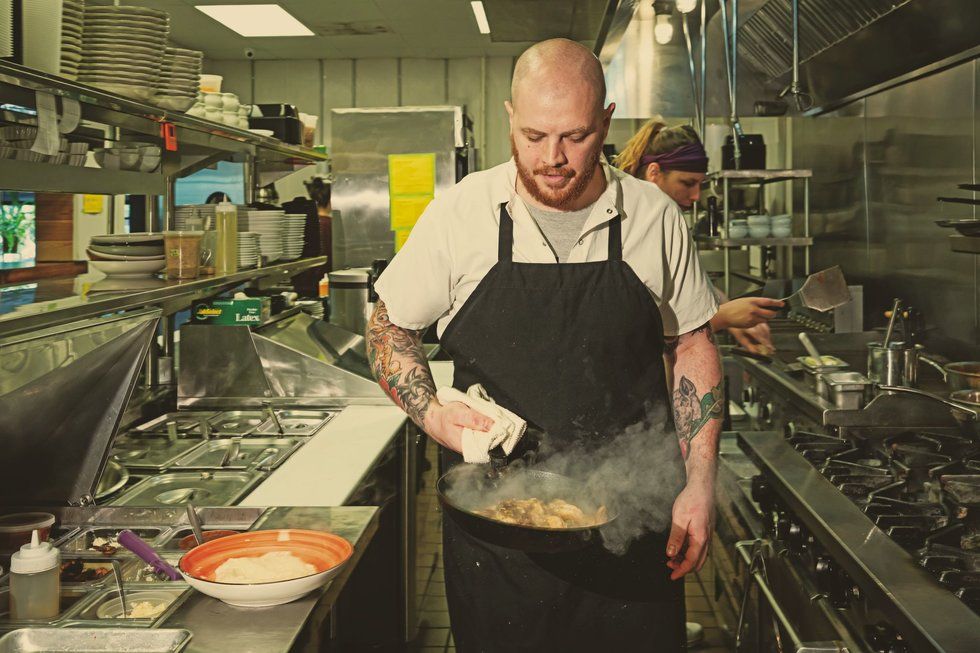 Paul Skulas
First stop: Couvillion, a "Kentucky-Cajun" spot in Germantown that LEO Weekly, the local alt-weekly, named the city's best new restaurant of 2018. The chef, Paul Skulas, a friendly, bearded Midwesterner whose arms are blanketed with colorful tattoos, meets me before dinner service in the spacious barroom, which is decorated with old cast-iron skillets and local voodoo-inspired art. After five years in the Marine Corps, Skulas went to culinary school and cooked at a Creole fine-dining spot in Mississippi before moving to Louisville in 2012 and working at a handful of "meat and potatoes" restaurants. He opened Couvillion in April 2018, seeing a gap in the market for a Cajun spot—but, he notes, "not a cheesy, Bourbon Street concept." Instead he wanted to emulate how the Acadians would have cooked when they first arrived in Louisiana in the 1700s. "I thought about what consists of the Cajun vibe and those people taking in their surroundings and the way their mothers or families cooked, and putting a spin on those traditions," he says. "Being in Kentucky, it only makes sense for me to put spins on those same traditions the way they would if they were here."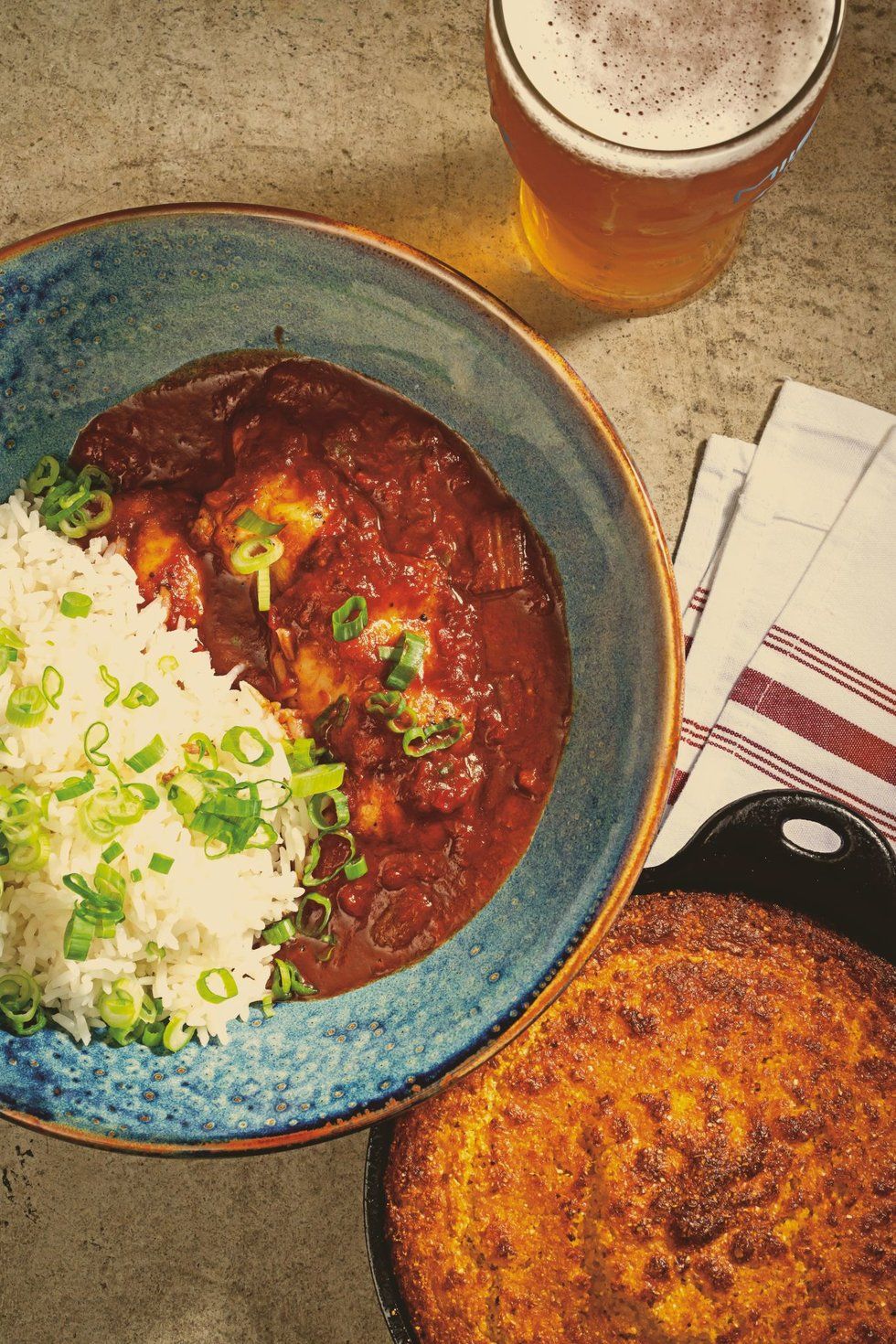 Couvillion's eponymous catfish dish and smoked corn bread
For Skulas, that means adding country ham to the gumbo—"I put country ham in as many things as I can!"—and serving up pinto soup beans, an Appalachian standard, instead of red beans and rice. "That's the classic-heritage Kentucky thing," Skulas says. "Country ham and soup beans. You have to have that on a menu—that's Kentucky." He also swaps in catfish from Lake Barkley (right near my hometown) for his restaurant's eponymous couvillion, which itself is a play on the French dish court-bouillon and is generally made with redfish in New Orleans.

Of course, I have to try it all. I start with the smoked corn bread—the most popular dish on the menu, Skulas tells me—which is made with cold-smoked cornmeal from local organic grain supplier Louismill. The country ham lends the gumbo a smokiness that beautifully cuts through the roux, and the catfish holds its own in the rich and tomatoey couvillion. I also try the duck creole with ricotta dumplings, Skulas's Cajun take on chicken and dumplings, because, well, how could I not? I leave with a newfound respect for local Kentucky ingredients—and enough take-out boxes to feed my mom for a week.
"Being in Kentucky, it only makes sense for me to put spins on those traditions"
Boujie Biscuit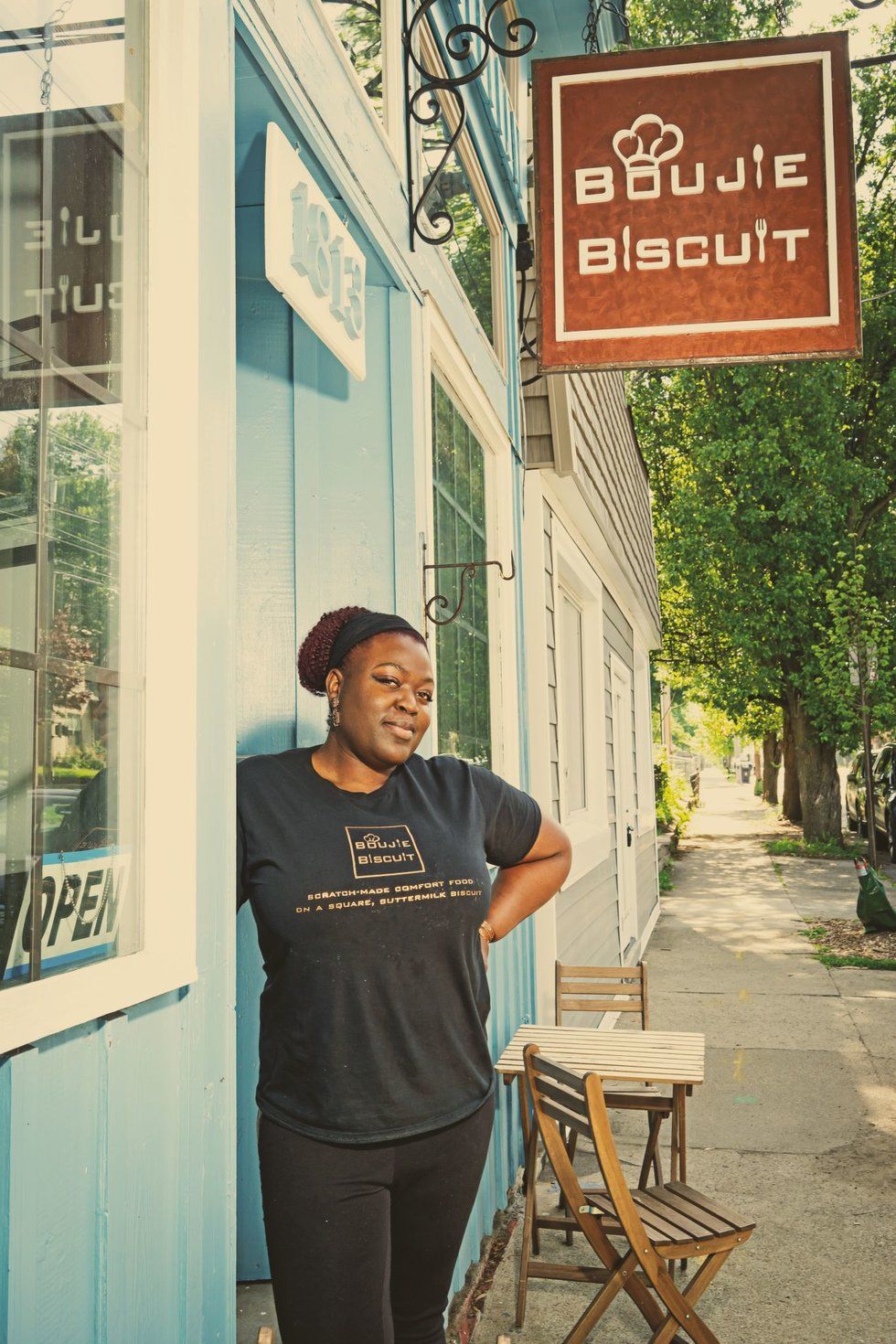 Cyndi Joyner
I somehow wake up hungry the next day, and I know exactly where to go: Boujie Biscuit, a new spot on Frankfort Avenue. Here, Brooklyn transplant Cyndi Joyner takes that heavenly Southern staple, the buttermilk biscuit, and piles it high with any combo of savory or sweet toppings you can imagine. "I decided to use the biscuit as a vehicle to introduce people to other foods from around the world," says Joyner, whose bracelets match the copper-colored font on her Boujie Biscuit T-shirt. She credits her creative palate to her melting-pot Brooklyn childhood, Southern grandparents, and time living in Prague and traveling around Europe. Her Euro Biscuit is topped with the Hungarian stew lecsó, and she's debating adding a chicken tikka masala biscuit and an African peanut stew biscuit to the ever-growing menu. "If you can throw it on something that people are already familiar with just to give it a little twist, then it doesn't look so foreign," she says, leading me over to a couch at the front of the laid-back space. "I kind of feel like I'm being sneaky in a way! Some people think they may not be adventurous, but the spices that I use are not necessarily found at Kroger."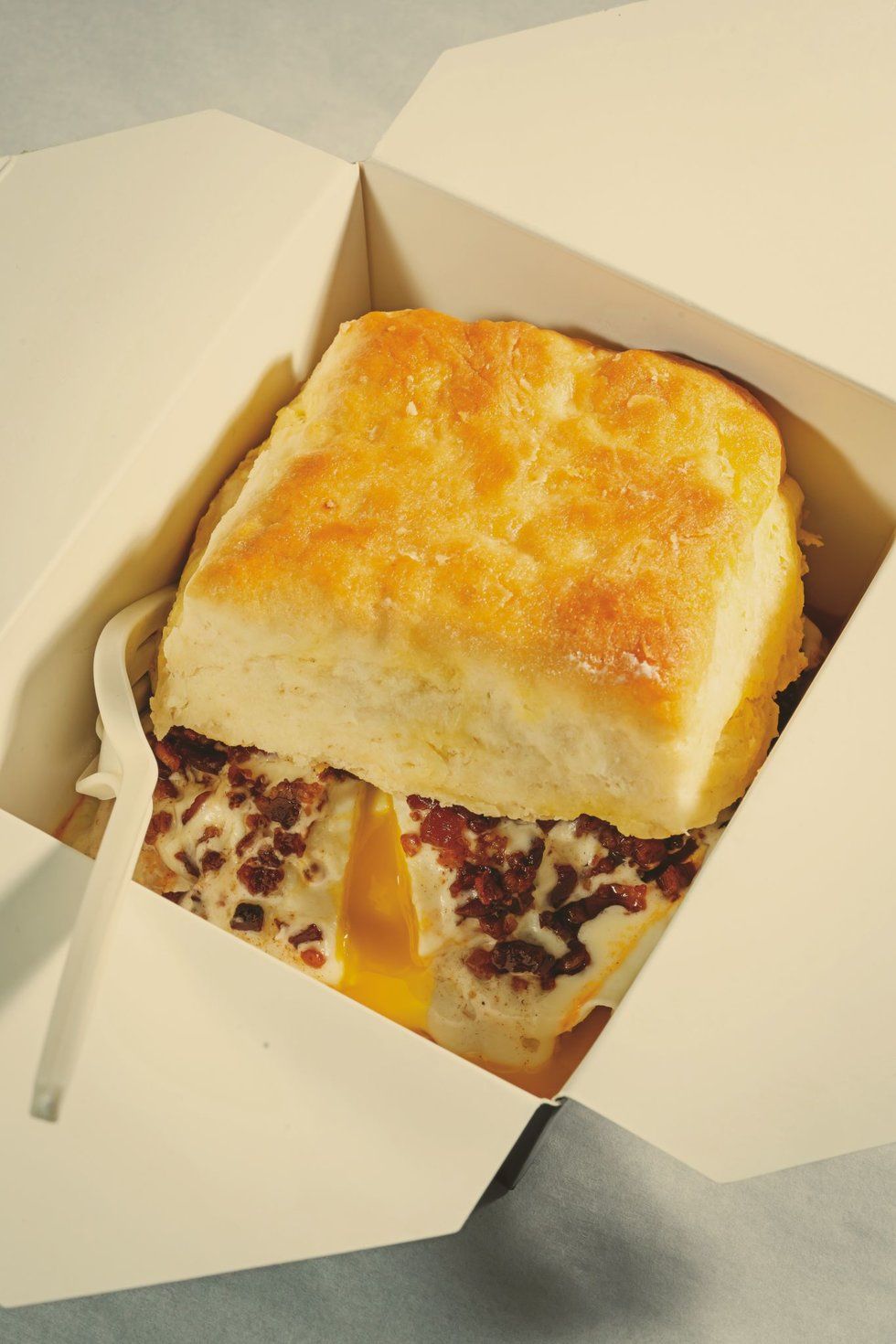 A breakfast biscuit at Boujie Biscuit
"I use the biscuit as a vehicle to introduce people to other foods from around the world."
I can't help myself and go straight Southern, choosing The Gravy Train on Fire, which consists of "cluckin' hot" chicken chunks and sausage gravy heaped over a flaky biscuit about the size of my head. Joyner laughs when I prove incapable of finishing our interview because I can't stop eating. "This is the part where I walk away while you take a huge bite," she says, grinning. After helping a slew of hungry customers, including two women celebrating Administrative Professionals Day ("So the whole office is getting Boujie Biscuit!" shouts one woman as she does a little dance of joy), Joyner rejoins me on the couch. She tells me she chose to open up in Louisville after visiting and liking the city's "funky" vibe. "People aren't afraid to experiment," she says. "I think this place fits right in."
Seviche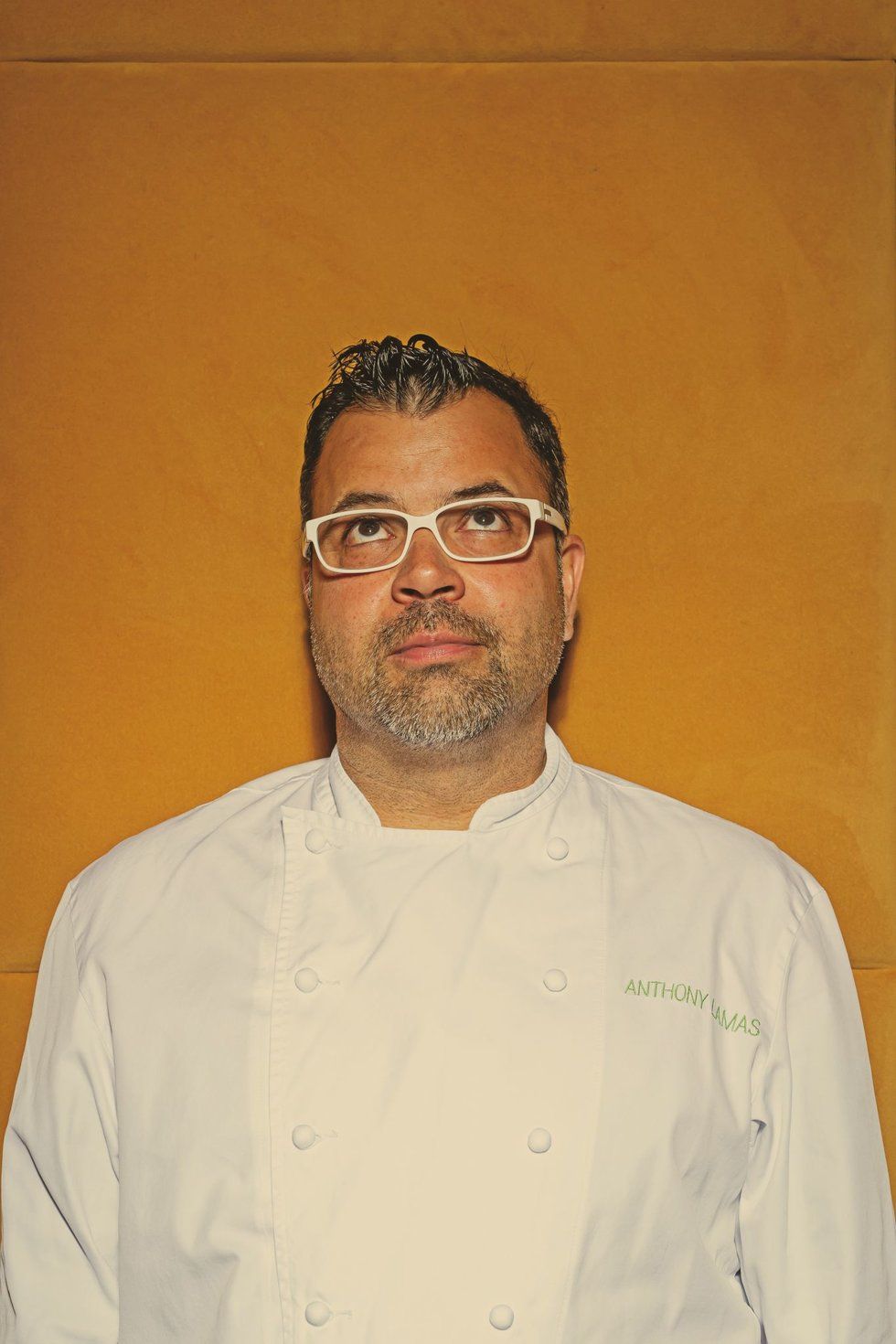 Anthony Lamas
After a long walk along the waterfront to burn off the sausage gravy (it pains me that I was too full to finish that biscuit), I meet up with Anthony Lamas, a mainstay of the Louisville food scene. He opened his restaurant, Seviche, in the Highlands in 2005 and has been winning accolades for his creativity and flair ever since. Seviche's tagline—"Inspired by heritage. Influenced by locality."—couldn't be more accurate or, for Lamas, more natural. He was raised in California by a Puerto Rican dad and a Mexican mom and cooked at a resort in San Diego before making the move to Louisville in 1994. "I didn't know about Southern things, like country ham, sorghum, or grits. " he tells me, sitting on a leather couch in the restaurant's event space. "But I just started to adapt my flavor profiles to them. It was a natural marriage, because we do use a lot of the same ingredients, just in different ways. You know: corn bread, corn tortillas; grits, pozole. So I fell in love with what was here."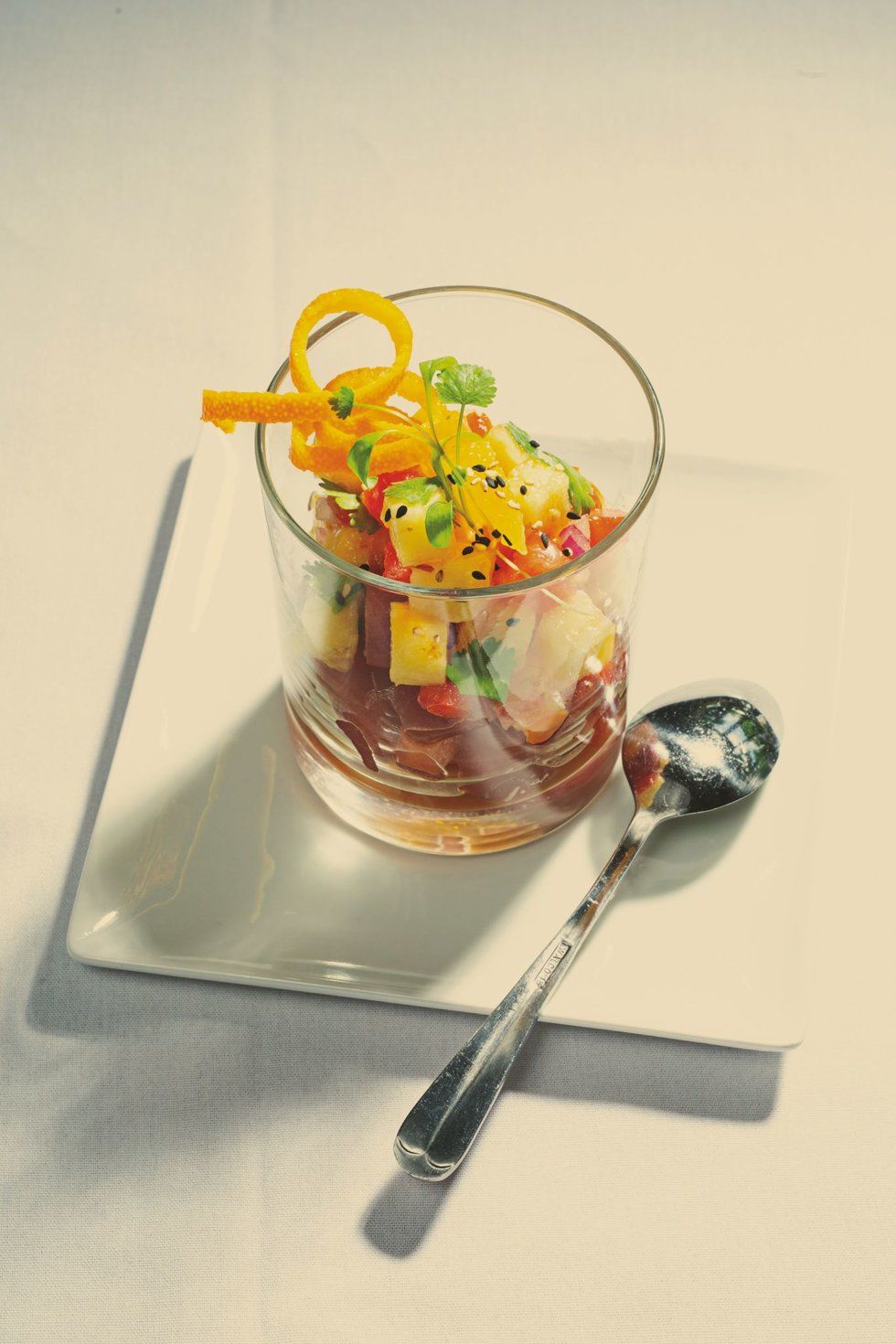 The Tuna Old Fashioned at Seviche
His menu pairs grits with roasted poblanos and manchego cheese; tuna ceviche is marinated in bourbon and Bluegrass Soy Sauce (from local company Bourbon Barrel Foods); and empanadas are filled with Kentucky bison. When Lamas tried pawpaws (a custardy, mango-like fruit) from a neighbor's tree for the first time, he realized they'd be great in flan. But whatever you do, don't call his food fusion. "I don't like that word," he says, grimacing and adjusting his white frame glasses. "I call it confusion. It's bad. People are always like, 'Are you Latin fusion?' No, no, no, no. I'm a Latino chef in Kentucky, and my restaurant's influenced by that. My food changed because Kentucky changed me, because it introduced me to so many things that I didn't know. For a chef, that's exciting, right?"
What I eat that night is beyond exciting. The Kentucky Hot Brown empanadas, filled with chunks of turkey and served with a jalapeño Mornay sauce and pico de gallo, make me rethink the quintessential Louisville dish, a broiled open-face sandwich created at the Brown Hotel in 1926. Even my cocktail, the Best Boy, is a cultural mash-up, pairing bourbon with Aztec chocolate bitters. ("If you don't like it," my waiter, Benjamin, tells me, "I'll finish it for you." Nice try, Ben.) The Tuna Old Fashioned ceviche comes in an old-fashioned glass, naturally, and explodes with flavor. My main is a special that night: a sous vide beef tenderloin topped with ramp butter and served over mashed red potatoes. A chipotle country ham demi-glace seals the deal. I somehow refrain from licking my plate. When I leave (OK, after also eating the flan with chili-spiced peanut brittle), I'm reminded of something Lamas told me earlier: "I always say what 'mi casa es su casa' is to Latinos, 'Southern hospitality' is to the South."
"My food changed because Kentucky changed me."
V-Grits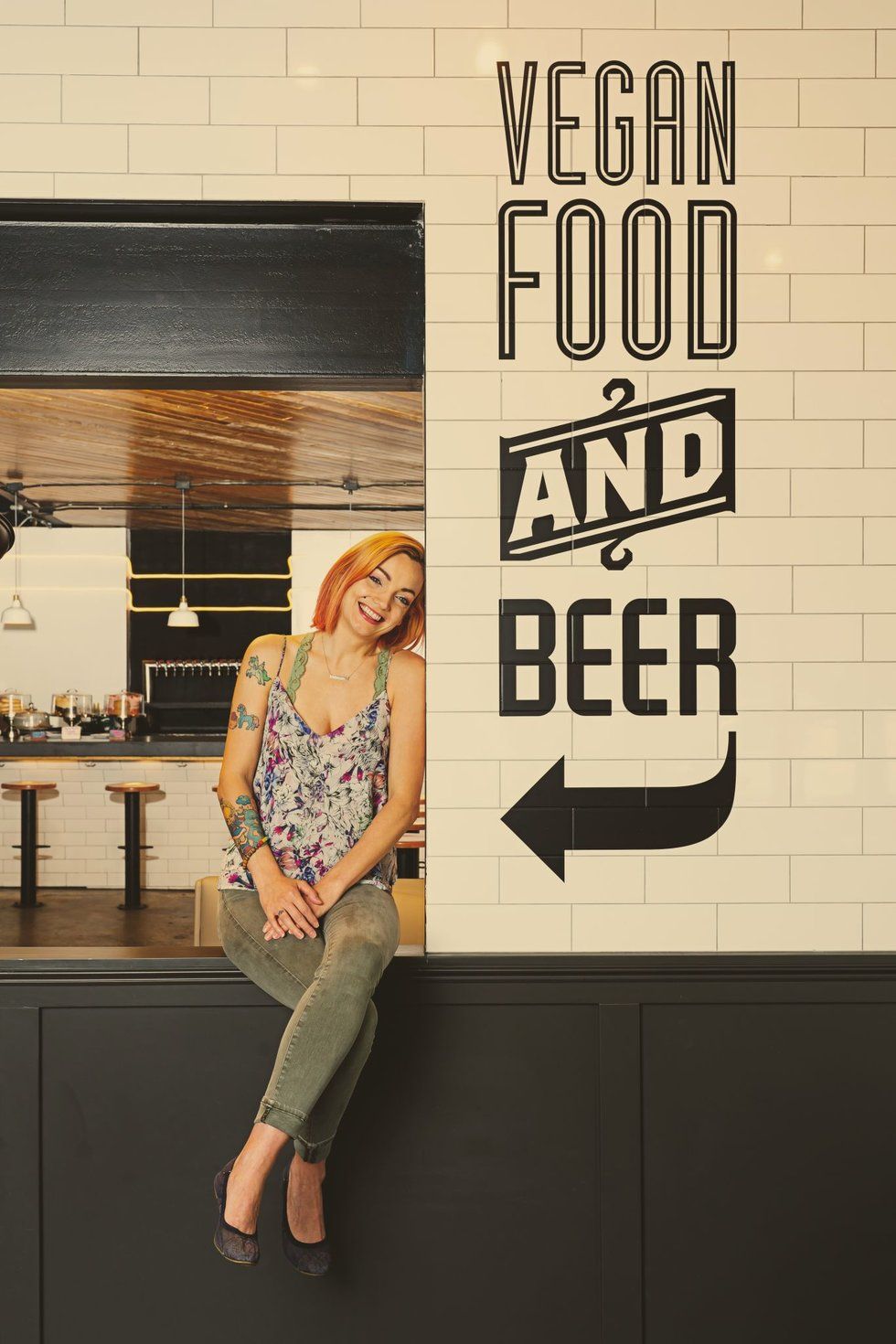 Kristina J. Addington
For lunch the next day, I try something even more foreign to Kentuckians: vegan food. Last October, not far from Seviche, Kristina J. Addington opened V-Grits with the aim of serving vegan versions of her favorite Kentucky classics. She grew up in nearby Shelby County, where her mom would make Hot Browns weekly. "All of our food had meat in it—even bacon in the green beans," she says, sitting at a two-top in the bright, airy space, rainbow earrings complementing her Rainbow Brite tattoo and orange-dyed hair. Thirteen years ago, she became vegan, and after five years working for PETA, she started wholesaling her homemade vegan baked goods to natural food stores in Louisville. She won an episode of Food Network's Cutthroat Kitchen in 2014 and, with her earnings, started a food truck. Last year she partnered with False Idol Brewery to open a brick-and-mortar location.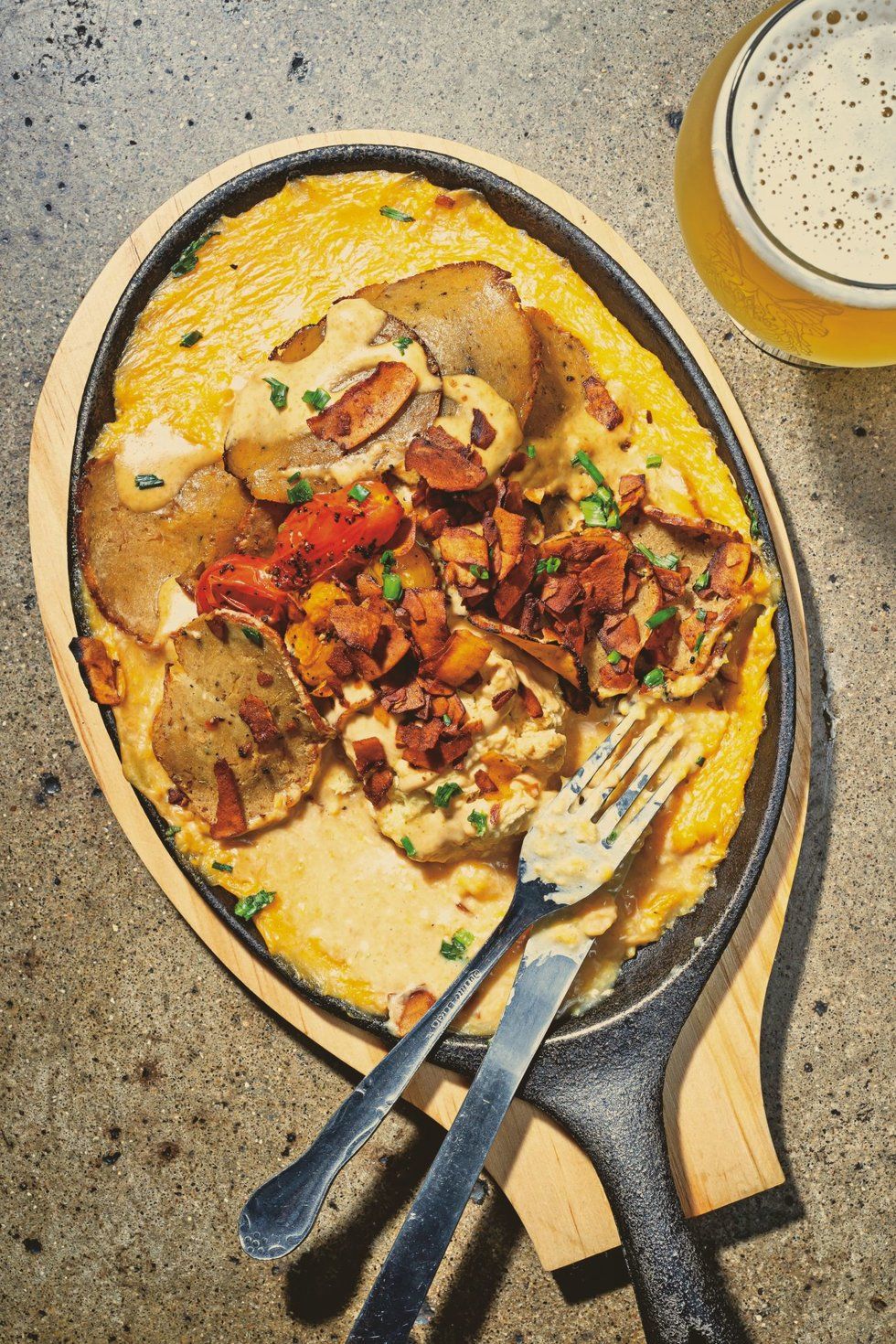 The Vegan Hot Brown at V-Grits
I ask whether she was worried about finding an audience here, and she shakes her head. "Southern food was what I grew up on, and I knew that was the easiest way I was going to win people over," she says. "I think fresh, healthy food is very important, but people around here are used to stick-to-your-ribs comfort food, so that's why we specialize in that." More than half of her restaurant's customers aren't vegan, she says; they just like the food: five kinds of loaded mac 'n' cheese, chicken-fried mushroom wings, a breakfast skillet with grits, hash browns, and baked beans…
Knowing that Addington used to have a weekly Hot Brown habit, I have to try her vegan take. It's served in a cast-iron skillet with vegan cheese grits, a housemade biscuit, vegan turkey, "gouda" béchamel made with coconut milk, and "bacon" bits made with seasoned and roasted coconut shreds. It's decadent and utterly comforting. My glass of False Idol's kombucha provides the perfect zing.
"For me, growing up with the typical Southern family, food is what brings you together," Addington says. "Regardless of what you're eating, it's that feeling of security and comfort. You eat good mac 'n' cheese and you think of being at your grandmother's house when you're five and her making that. Comfort food gives you that sentimental memory of being with your family around the dinner table."
"Southern food is what I grew up on, and I knew that was the easiest way I was going to win people over"
610 Magnolia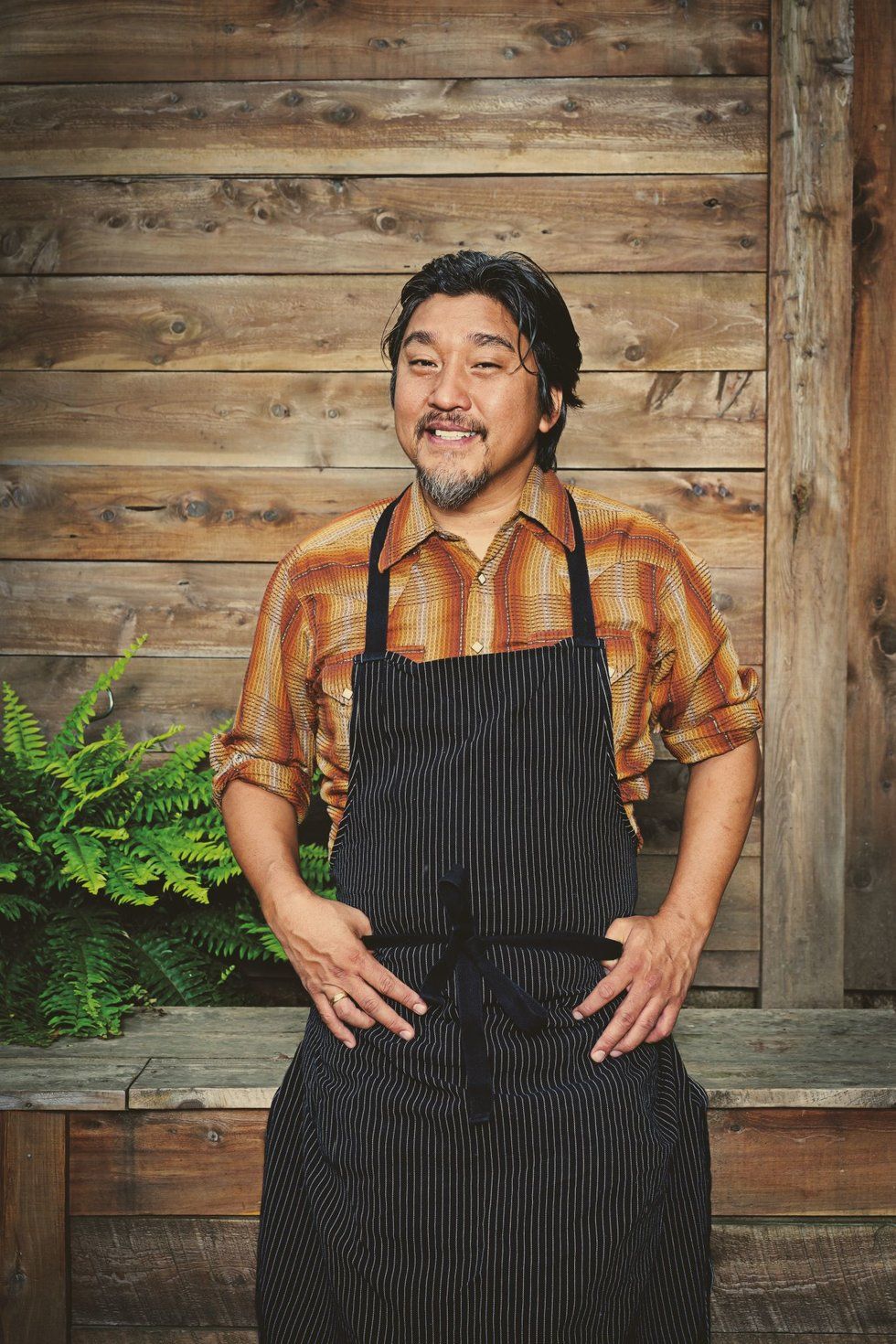 Edward Lee
On that note, I ask my mom to join me for my last meal out—at Old Louisville's 610 Magnolia, probably the local restaurant with the highest national profile. Chef Edward Lee was nominated for an Emmy in 2014 for his role in PBS's The Mind of a Chef, and this spring his second book, Buttermilk Graffiti, won the James Beard Foundation Award for writing.
In the book, Lee, a Korean-American who grew up in Brooklyn, challenges the idea of authentic Southern cooking. "I always ask myself, What South are you talking about?" he writes. "Pre-colonial South? Plantation South? Post-colonial? Post–Civil Rights movement? Paula Deen's South? The immigrant South? All are part of the complicated history of the South. None can claim a true authenticity."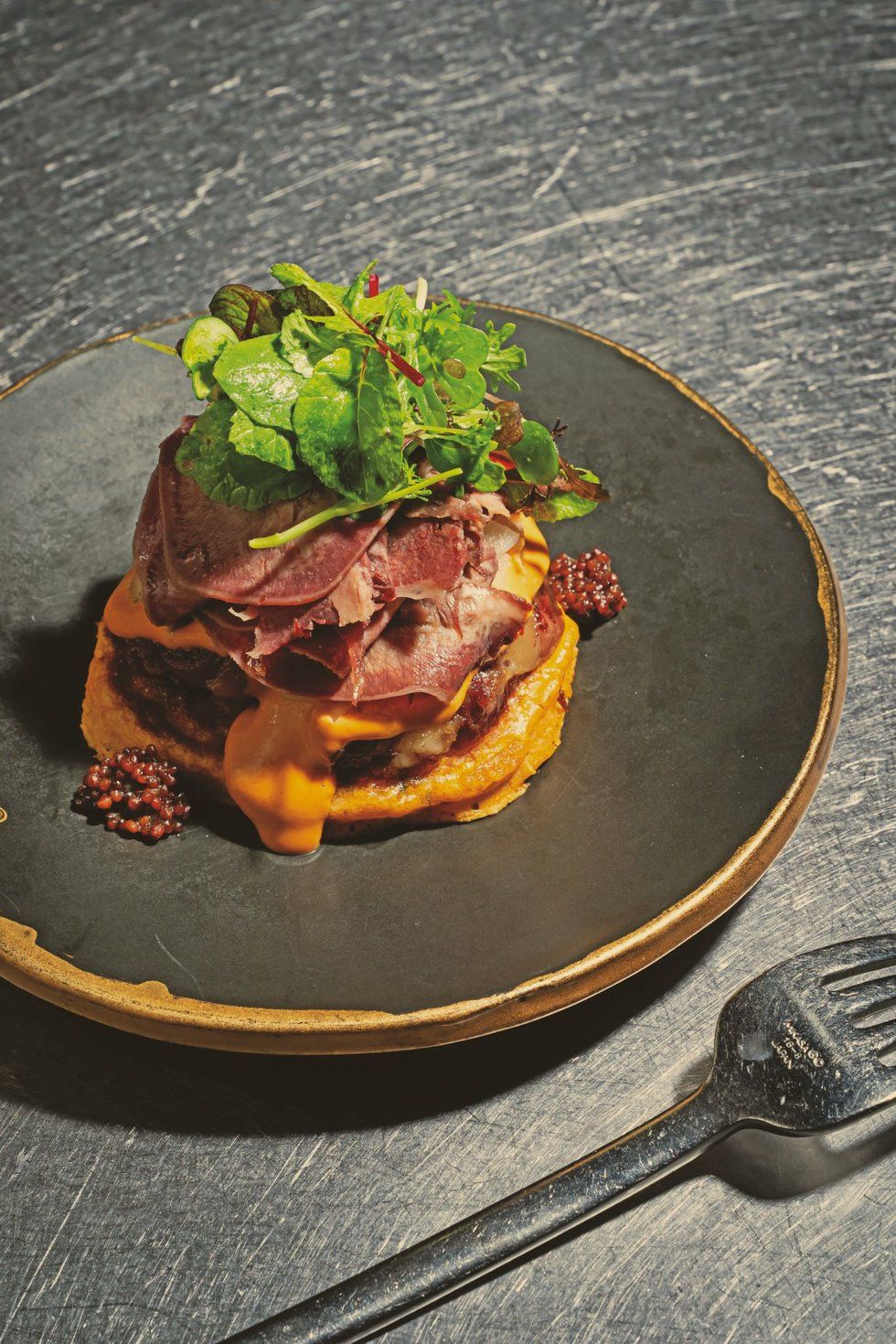 Way beef tongue two ways with daikon pancake, sauerkraut kimchi, and gochujang at 610 Magnolia
That's something Lee learned when he moved to Louisville in 2002. He started cooking at 610 Magnolia (taking it over in 2003), at first making regional foods out of necessity, "because I couldn't get tamarind and I couldn't get lemongrass," he tells me. But then bits of his family's Korean cooking traditions started seeping into his dishes. "If you love Korean food but you happen to live in the South, sooner or later you're going to mix the two," he says. "It's inevitable. Because you're like, Oh, I wanna make this pork dish, but I don't have what I really want. Well, what's around me?" He had collard greens for the first time and realized they would be great for kimchi; he started doing a Southern-style dim sum special that ended up being the impetus for his second restaurant, MilkWood. Meanwhile, he notes, "more immigrants moved in, and now there's more of an international presence. So it works both ways: The immigrant food becomes more Kentuckyfied in a way, and the Kentucky food becomes more global in a way. With local food and global food, it's not a line in the sand. That's the place that's most exciting for me: where things crossover, overlap, and mix."
My four-course tasting menu does just that. There's miso-chicken-liver mousse with benne seed crackers; beef tongue with a daikon pancake and sauerkraut kimchi; delicately cooked halibut with buttermilk, navy beans, ramps, and bok choy. Dessert, the Bourbon Aficionado, ends up being the showstopper. Our waiter removes the slate tile covering the serving dish and bourbon-barrel smoke rolls out, immediately transporting me to a campfire at my childhood friend's property by Kentucky Lake. My mom has the exact same thought, and we laugh as we dig in, scooping up bites of banana cake, freeze-dried corn, butterscotch, brown-butter ice cream, and Pappy Van Winkle maple syrup—"everything you find in bourbon," our waiter notes. We each sip a cocktail made of Michter's rye and ruby port, savoring our last bites and our time together. "Go ahead and say it," I tell Mom, shaking my head. "Told you so!" she sing-songs, and then adds, "Does this mean you'll come visit more often?"
"With local food and global food, it's not a line in the sand"
Thinking back on everything I've eaten over the last three days—and knowing how much more there is to try—the answer is obviously yes. As Lee writes in Buttermilk Graffiti, "In order for any cuisine to evolve it has to be passed on to people who have not lived the authentic life from which it germinated." And, as I've learned, in order to appreciate the cuisine and ingredients you grew up with, maybe you have to go away for a while and come back with an open mind—and an empty stomach.
The Lee Initiative
Edward Lee and Lindsey Ofcacek were brainstorming a mentorship program for their two-year-old LEE (Let's Empower Employment) Initiative when the #MeToo moment hit the restaurant world, at the end of 2017. "We were like, This is terrible, but for every bad chef there are 100 good ones," says Ofcacek, the executive director of the Initiative and the wine director for 610 Magnolia. "We wanted to find a way for young women in the industry to go and work with great chefs."
Last year, they launched the Women Chefs Initiative, a six-month program that pairs five budding female chefs from Kentucky, Cincinnati, and Southern Indiana with female-led restaurant groups across the country. The program culminates with a dinner at the James Beard House in New York, where the women cook their own food alongside Lee. "That partnership is invaluable, because every young chef dreams of cooking at the Beard House," says Ofcacek, adding that it was emotional for the first class of women last summer: "At the end, they were all weeping." This year's mentors include Nina Compton, the chef-owner of Compère Lapin in New Orleans, and Mindy Segal, the pastry chef behind Chicago's Mindy's Hot Chocolate. Lee notes that last year's class is also invested in this year's mentees: "Now they're mentoring the five chefs that are in it this year," he says. "Can you imagine after five years? That's 25 chefs. That's an entire community. That can make change."
leeinitiative.org
Canada's largest city spreads out along the northwestern shore of Lake Ontario, and it's a dynamic, multicultural and inclusive experience like almost no other place on earth. Not only is Toronto a thriving living city,it's also become one of the world's truly must-visit destinations. Regularly ranked as one of the greatest places to live, Toronto is the cultural center of the country and home to the biggest events, the most pro sports and the greatest concentration of theaters and restaurants.
Recent decades have seen regular multi-million-dollar upgrades to the city's public spaces, with a slew of great museums, iconic architecture and the redevelopment of the now glittering lakefront adding to the city's appeal.

Add in an ever-growing number of world-class hotels, upbeat nightlife that runs from dusk until dawn and a vibrant and diverse culinary scene influenced by the eclectic makeup of the city's people. Bright and bustling, cosmopolitan and cultured, unpredictable and energetic, Toronto has become one of the greatest cities on earth.
What you see and where you go will depend on the length of your stay. A week is good, longer is better. But even a long weekend will give you a taste of 'The Six' — one of the city's many nicknames, reworked recently as 'The 6ix' by one of its most famous sons, Drake.

However long you stay, you can't hope to see it all. So, consider what follows a starting point for your first visit…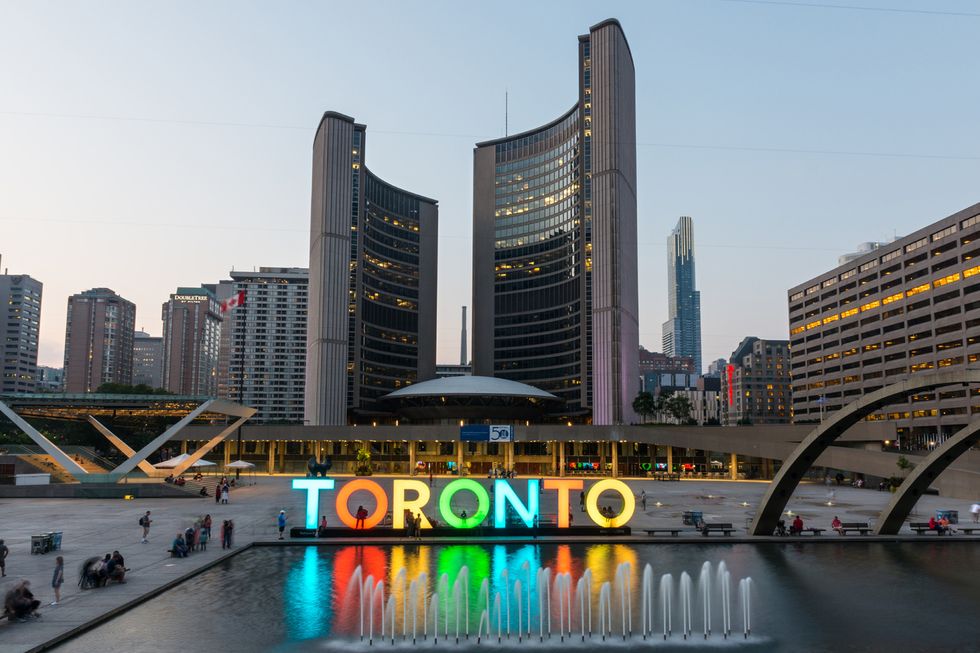 City Hall, Toronto
The checklist sites

No visit to The Six can be considered complete without ticking off several of Toronto's true heavyweight sights. All of the following are in or within easy reach of the city's compact, walk-able and very vibrant center.
The CN Tower is unmissable in every sense, a vast freestanding spire that looks down upon the city and takes its place as one of the 'Seven Wonders of the Modern World'. Head up for the city's best 360-degree views, or get your heart racing on the EdgeWalk — a journey around the circumference of the tower's main pod, 116 stories high and tethered by a harness.

Back on solid ground, Ripley's Aquarium is almost right next door to the CN Tower and is home to 16,000 aquatic animals and the Dangerous Lagoon. A moving sidewalk that whisks you through a long tunnel surrounded by sharks and stingrays is guaranteed to make your heart race all over again.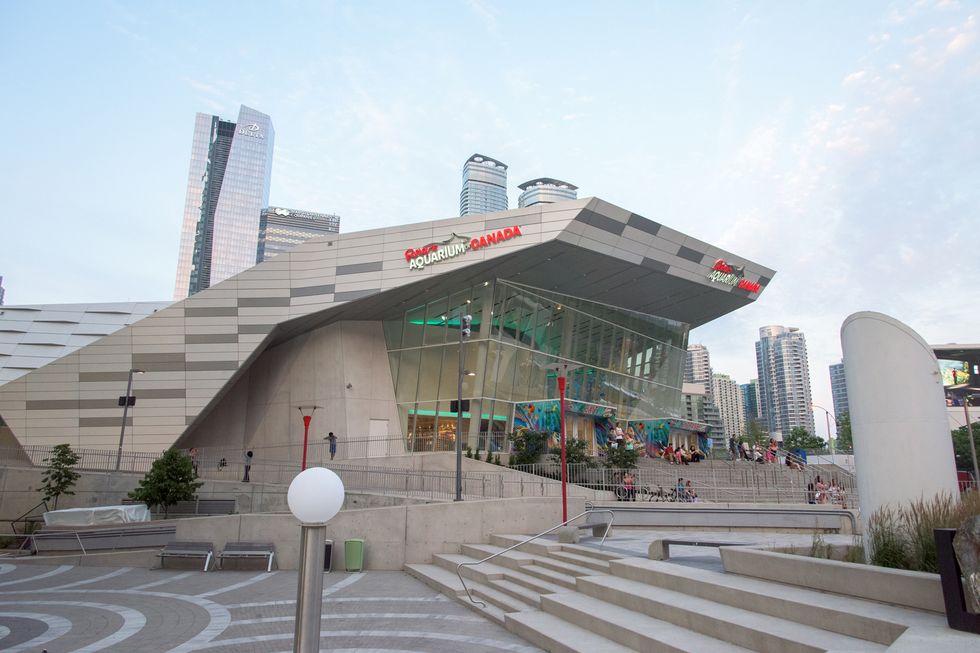 Ripleys Aquarium
Also close to the CN Tower is the Rogers Center, home to Canada's only baseball team, the Toronto Blue Jays. Visit on game day for the full experience, or take the stadium tour to go behind the scenes and through closed doors.

In a city of so many museums and galleries, the Royal Ontario Museum stands out. Not just because it's home to a world-class collection of 13 million artworks, cultural objects and natural history specimens, but as much because it hosts exciting Friday night events that include dance, drink and top DJs.

Two other must ticks include the Art Gallery of Ontario, which houses 95,000 works of art and is free for visitors under 25, and the Hockey Hall of Fame, which taps into Canada's national obsession in stunning depth.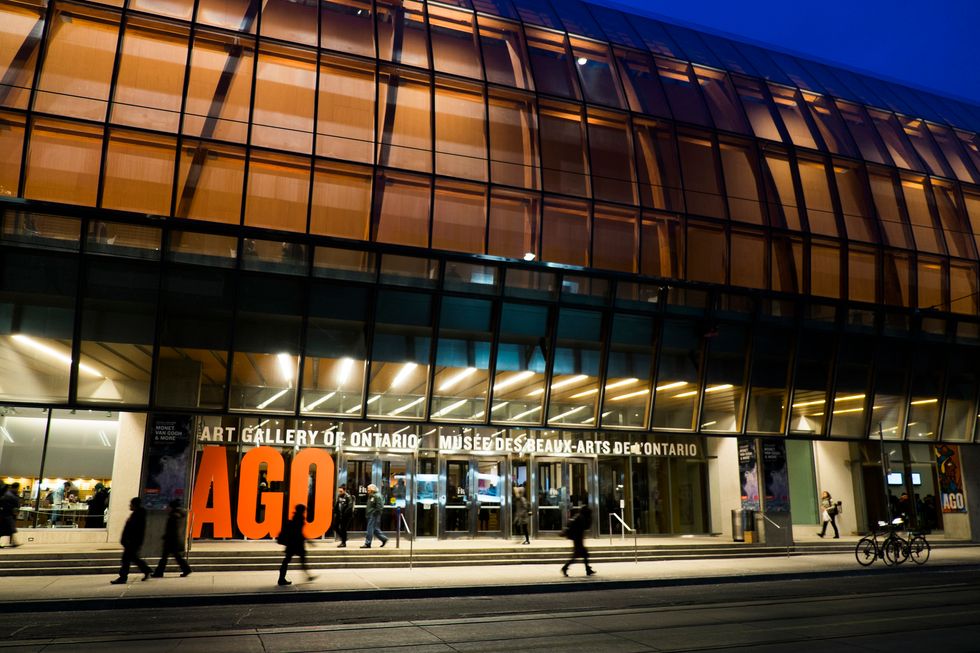 Art Gallery of Ontario
Casa Loma is a must-visit Gothic castle in the heart of the city. North America's only castle is filled with artworks and treasures from Canada and beyond, but its big pull is the network of hidden tunnels to explore as they stretch out beneath the city.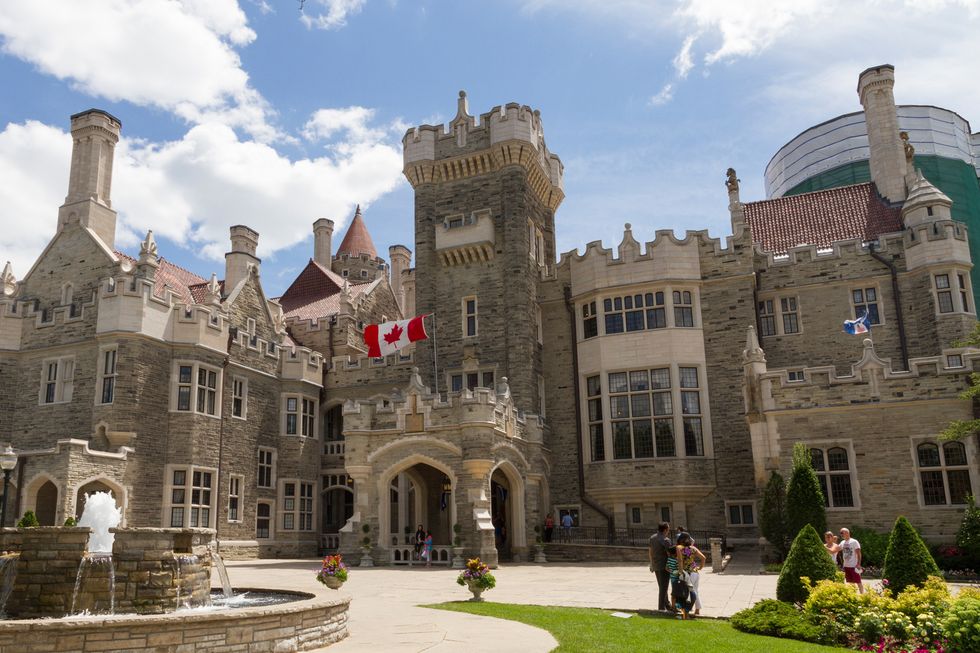 Casa Loma
Toronto's multi-cultural makeup is visible all across the city but reflected best in its remarkable culinary scene (see Where to eat and drink). The city's 'fresh and local' mantra is perfectly showcased at St. Lawrence Market, one of the world's greatest food experiences. Pay it a visit and grab a peameal bacon sandwich — a Canadian staple invented in Toronto and now considered the city's signature dish.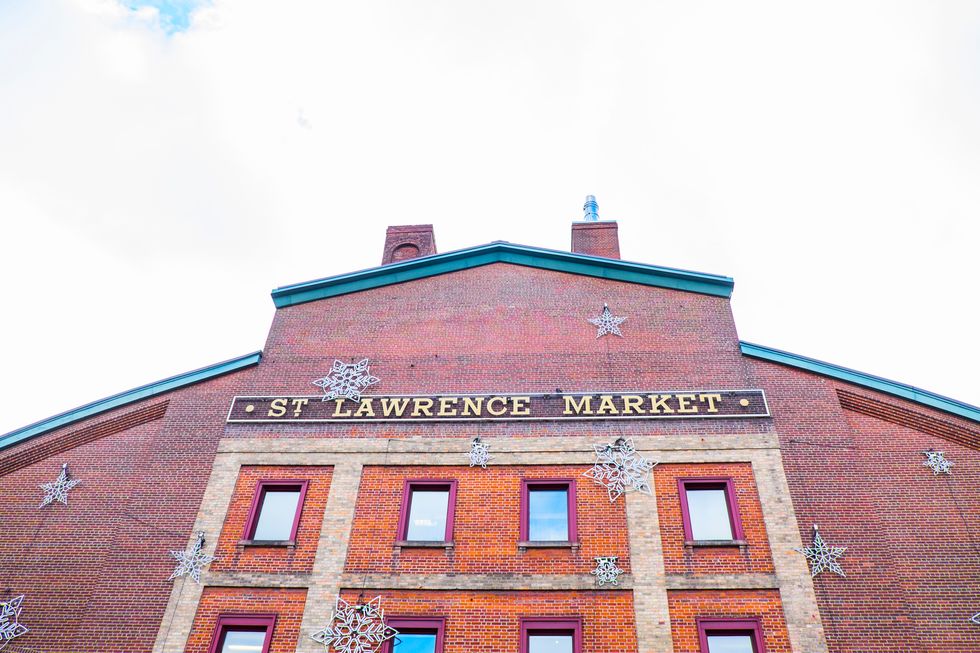 St. Lawrence Market
Afterwards, walk off the calories by wandering the historic cobblestone and car-free Distillery District. Once a vast whiskey distillery and an important spot during prohibition, historians mention that even Al Capone would visit the Distillery to load alcohol destined for the States[9] . This iconic landmark now distils creativity within the 19th century buildings now home to hip restaurants, bars, independent boutique stores, galleries and theaters. Visit in December for the Toronto Christmas Market.

Finally, don't even think about returning home without having had a picture taken with your head poking through an 'O' of the multicolored, 3D Toronto sign at City Hall — the most Insta-worthy location in a city of so many. You'll need to head there early in the morning to avoid the crowds.

If you stay long enough, take a ferry and hop across to Toronto Islands, a chain of 15 small islands in Lake Ontario just south of the mainland. They're home to beaches, a theme park and a breathtaking view of the city's skyline and will very happily fill a full day of your stay.
The bucket list
You absolutely cannot leave Toronto without having witnessed the power of the Niagara Falls and its hypnotic mist up close. Trying to visit the Falls from the States is a trip on its own, but it's almost non-optional when you're less than two hours away in Toronto. Take the trip, buy the T-shirt and tick off one of the world's must-see sights.
Explore like a local
Away from the sleek, gleaming towers of downtown lie many of Toronto's less obvious but no less essential attractions. West Queen West is Toronto's hippest neighborhood and artistic heart, a one-mile strip of very chic galleries, stores, restaurants and boutique hotels. Kensington Market is a fantastically chaotic neighborhood and perhaps the best example of the city's famous multiculturalism. It's not a market as the name implies, but a collection of independent shops, vintage boutiques, art spaces, cafés, bars and restaurants from every corner of the globe.
The Bata Shoe Museum is one of the city's quirkiest collections, an unexpectedly fascinating exhibit that retraces the 4,500-year history of footwear. And as you wander the city, you can't fail to notice that Toronto's walls are alive with graffiti. Take a free 90-minute walking tour through the back alleys of Queen Street West and down Graffiti Alley to gain a better understanding of the city's street art scene. If you visit during the sunnier months, escape the hustle by heading just east of the center to High Park, the green heart of the city where forests, walking trails, picnic spots and even a zoo await you. Ideal to unwind after a long day of urban adventures.
The essentials
When to go With the sun shining, May through October is a great time to visit, but the city is alive through all four seasons. The Spring and Autumn months are ideal as the humidity and visitor numbers are lighter, while Toronto comes alive through the colder months through a wide array of winter celebrations. One of the most spectacular is the Aurora Winter Festival, a six-week celebration that sees the Ontario Place, West Island transformed into four mystical worlds. Whichever season you choose, plan to stay for at least five nights to get a true flavor of the city.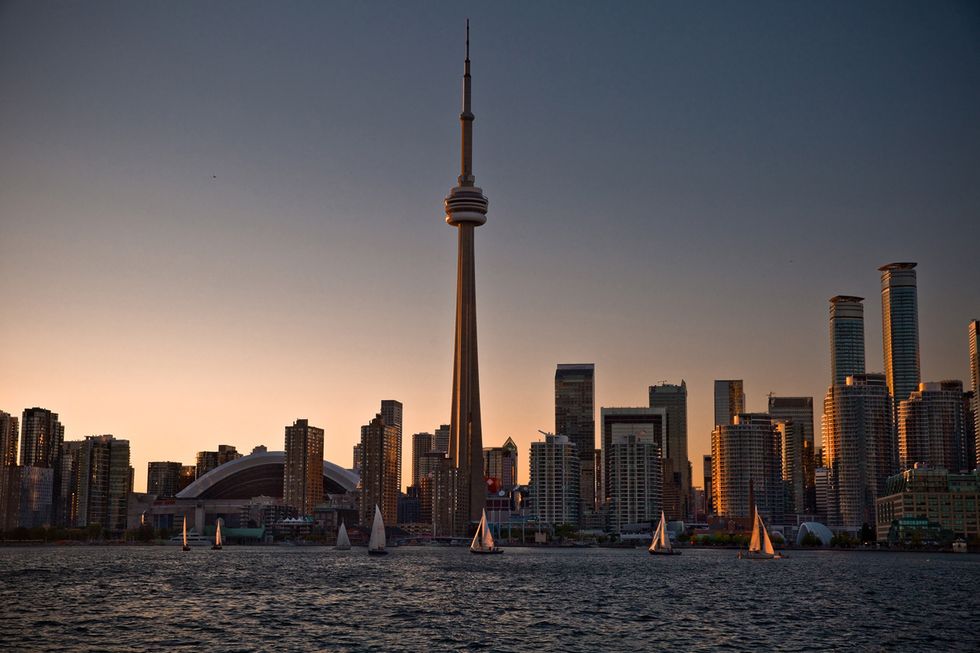 Toronto skyline view
Where to stay To be at the heart of most of the attractions you'll want to see, aim for downtown. One of the best options is the Marriott City Center, not only because it's located right next to the CN Tower but also because it's attached to the iconic Rogers Center where the Toronto Blue Jays play and countless concerts and popular events are held.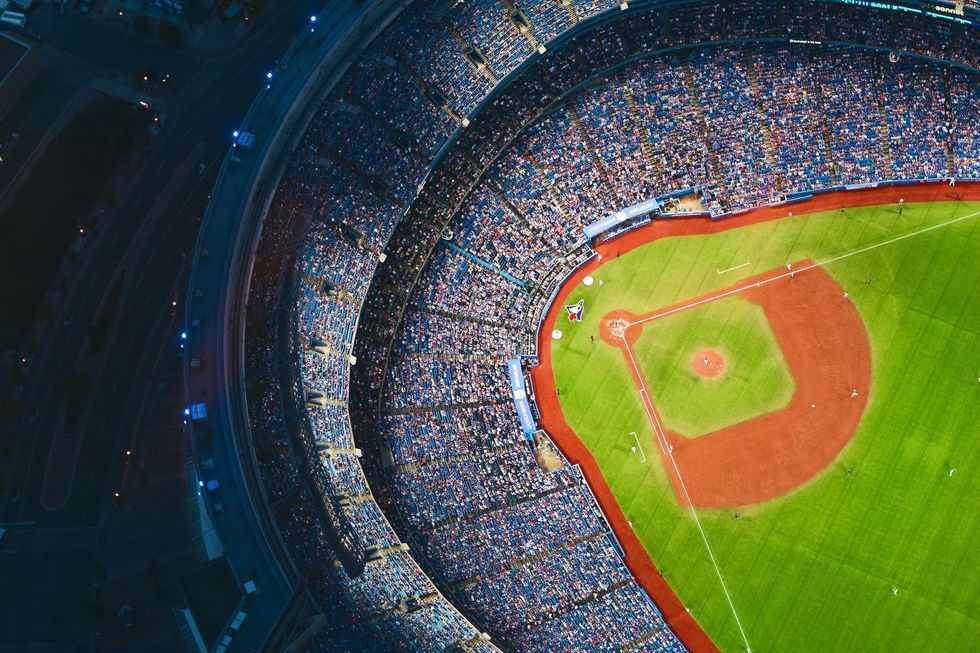 Toronto Blue Jay stadium
Opt for a Stadium room and you'll look out onto the field. If you want to experience Toronto's non-stop nightlife, the Entertainment District is the place to be. If you're looking for a luxury experience, discover Canada's first St. Regis hotel in the heart of downtown.

Where to eat and drink Nowhere is Toronto's incredible diversity more evident than in its food scene — taste Toronto and you're tasting the world. The city is brimming with restaurants and cafés serving everything from high-end fine dining to comfort food from an informal neighborhood joint — plus every option imaginable in between.

For fine dining, consider Alo, Canis and Edulis. Book a table at Canoe, Lavelle, The One Eighty or 360 at the CN Tower and you're guaranteeing a view as spectacular as the food. Or experience the city's remarkable fusion food at DaiLo (French-Cantonese), El Catrin (Mexican-French) and the unexpected mashup of Rasta Pasta (Jamaican-Italian).
The above suggestions don't even scratch the surface of a food scene to rival any city on earth, with options to suit every taste and any budget.
How to get around Toronto is perfect to explore on foot or via a growing network of cycle routes. For a quicker journey, buy a Presto card to use the TTC, Toronto's subway, streetcar and bus system.

How to get there Fly into Toronto Pearson International Airport (YYZ) with United and you're around 15 miles west of the city center. The most comfortable route in is via the Union Pearson Express, which runs every 15 minutes and gets you downtown in 25 minutes ($13).The TTC is a cheaper option at under $5, but it can take an hour and a half and involves a number of transfers, while a taxi will take around 30 minutes and cost $45.
United flies to Toronto from numerous U.S. cities including our Hub city locations. Book your trip via united.com or by downloading the United app.



Following the devastating wildfires in Australia and powerful earthquakes that shook Puerto Rico last week, we're taking action to make a global impact through our international partnerships as well as nonprofit organizations Afya Foundation and ADRA (Adventist Development and Relief Agency).
Helping Puerto Rico recover from earthquakes
Last week, Puerto Rico was hit with a 5.2 magnitude earthquake, following a 6.4 magnitude earthquake it experienced just days before. The island has been experiencing hundreds of smaller quakes during the past few weeks.
These earthquakes destroyed crucial infrastructure and left 4,000 people sleeping outside or in shelters after losing their homes. We've donated $50,000 to our partner charity organization Airlink and through them, we've helped transport disaster relief experts and medical supplies for residents, as well as tents and blankets for those who have lost their homes. Funding will go towards organizations within Airlink's partner network, which includes Habitat for Humanity, Mercy Corps and Americares, to help with relief efforts and long-term recovery.
Australian wildfire relief efforts

Our efforts to help Australia have inspired others to make their own positive impact. In addition to teaming up with Ellen DeGeneres to donate $250,000 and launching a fundraising campaign with GlobalGiving to benefit those impacted by the devastating wildfires in the country known for its open spaces and wildlife, our cargo team is helping to send more than 600 pounds of medical supplies to treat injured animals in the region.
Helping us send these supplies is the Afya Foundation, a New York-based nonprofit that seeks to improve global health by collecting surplus medical supplies and delivering them to parts of the world where they are most needed. Through Airlink, the Afya Foundation will send more than $18,000 worth of materials that will be used to treat animals injured in the Australian fires.
These medical supplies will fly to Melbourne (MEL) and delivered to The Rescue Collective. This Australian organization is currently focused on treating the massive population of wildlife, such as koalas, kangaroos, and birds, that have had their habitats destroyed by the recent wildfires. The supplies being sent include wound dressings, gloves, catheters, syringes and other items that are unused but would otherwise be disposed of.
By working together, we can continue to make a global impact and help those affected by natural disasters to rebuild and restore their lives
Australia needs our help as wildfires continue to devastate the continent that's beloved by locals and travelers alike. In times like these, the world gets a little smaller and we all have a responsibility to do what we can.
On Monday, The Ellen DeGeneres Show announced a campaign to raise $5 million to aid in relief efforts. When we heard about Ellen's effort, we immediately reached out to see how we could help.
Today, we're committing $250,000 toward Ellen's campaign so we can offer support now and help with rebuilding. For more on The Ellen DeGeneres Show efforts and to donate yourself, you can visit www.gofundme.com/f/ellenaustraliafund
We're also matching donations made to the Australian Wildfire Relief Fund, created by GlobalGiving's Disaster Recovery Network. This fund will support immediate relief efforts for people impacted by the fires in the form of emergency supplies like food, water and medicine. Funds will also go toward long-term recovery assistance, helping residents recover and rebuild. United will match up to $50,000 USD in donations, and MileagePlus® members who donate $50 or more will receive up to 1,000 award miles from United. Donate to GlobalGiving.
Please note: Donations made toward GlobalGiving's fund are only eligible for the MileagePlus miles match.
In addition to helping with fundraising, we're staying in touch with our employees and customers in Australia. Together, we'll help keep Australia a beautiful place to live and visit in the years to come.
Scroll to top