Louisville's new Southern Cuisine
Story by Ellen Carpenter | Photography by Scott Suchman | Hemispheres July 2019
To misquote Joni Mitchell: You don't know what you've got till you've gone. At least, that's how I feel about Kentucky.
Growing up there in the '80s and '90s, I scoffed at so-called "Kentucky food," like country ham and spoon bread. Sure, biscuits and gravy was good, and Derby-Pie (walnuts, people! Not pecans!) was tradition, but did it compare to the Ethiopian food I tried on vacation in Washington, D.C., when I was 10? Or the tiramisu I devoured in New York at 13?
I moved to New York at 22, sure I had hit the culinary jackpot. And I had. But a few years later, my mom moved from my hometown of Murray to "the big city"—Louisville—and told me that she had hit the culinary jackpot. Every time I went back to visit, she took me to a new restaurant and all but taunted "told you so" when I cleaned my plate. On my last couple of trips, what wowed me the most was how many of these restaurants were taking typical Kentucky ingredients or dishes and reinventing and elevating them in ways that no one dared when I was a kid. I realized I had to go back and investigate further (aka stuff my face).
And so here I find myself, in Louisville, a week before the Derby, pink dogwoods lining the wide streets, phlox overfilling window boxes. "You can't beat spring in Kentucky," says my mom, who, I should note, is a Londoner by way of Canada who has now lived in the Bluegrass State for 43 years. And I'm ready to eat.
Couvillion
Paul Skulas
First stop: Couvillion, a "Kentucky-Cajun" spot in Germantown that LEO Weekly, the local alt-weekly, named the city's best new restaurant of 2018. The chef, Paul Skulas, a friendly, bearded Midwesterner whose arms are blanketed with colorful tattoos, meets me before dinner service in the spacious barroom, which is decorated with old cast-iron skillets and local voodoo-inspired art. After five years in the Marine Corps, Skulas went to culinary school and cooked at a Creole fine-dining spot in Mississippi before moving to Louisville in 2012 and working at a handful of "meat and potatoes" restaurants. He opened Couvillion in April 2018, seeing a gap in the market for a Cajun spot—but, he notes, "not a cheesy, Bourbon Street concept." Instead he wanted to emulate how the Acadians would have cooked when they first arrived in Louisiana in the 1700s. "I thought about what consists of the Cajun vibe and those people taking in their surroundings and the way their mothers or families cooked, and putting a spin on those traditions," he says. "Being in Kentucky, it only makes sense for me to put spins on those same traditions the way they would if they were here."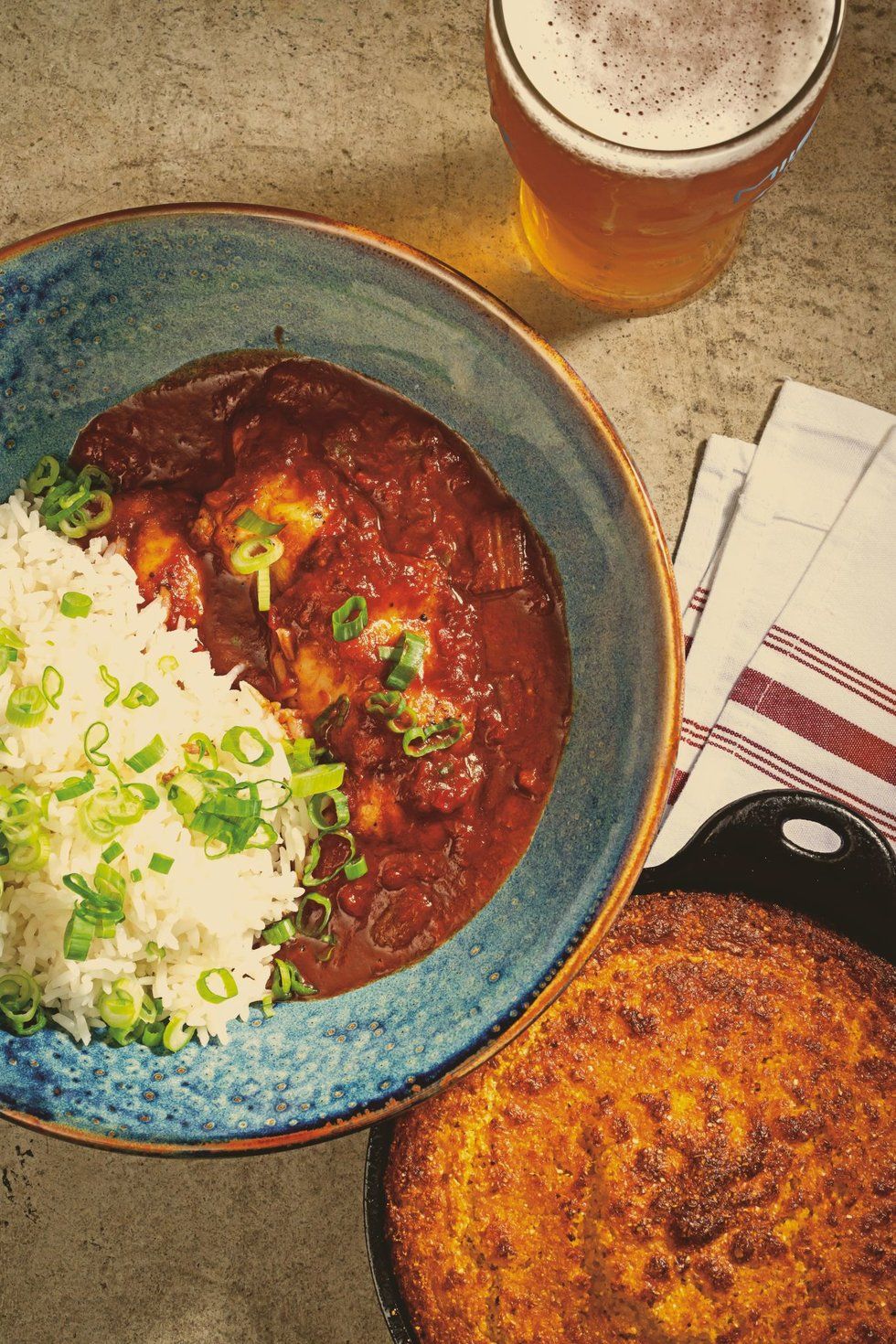 Couvillion's eponymous catfish dish and smoked corn bread
For Skulas, that means adding country ham to the gumbo—"I put country ham in as many things as I can!"—and serving up pinto soup beans, an Appalachian standard, instead of red beans and rice. "That's the classic-heritage Kentucky thing," Skulas says. "Country ham and soup beans. You have to have that on a menu—that's Kentucky." He also swaps in catfish from Lake Barkley (right near my hometown) for his restaurant's eponymous couvillion, which itself is a play on the French dish court-bouillon and is generally made with redfish in New Orleans.

Of course, I have to try it all. I start with the smoked corn bread—the most popular dish on the menu, Skulas tells me—which is made with cold-smoked cornmeal from local organic grain supplier Louismill. The country ham lends the gumbo a smokiness that beautifully cuts through the roux, and the catfish holds its own in the rich and tomatoey couvillion. I also try the duck creole with ricotta dumplings, Skulas's Cajun take on chicken and dumplings, because, well, how could I not? I leave with a newfound respect for local Kentucky ingredients—and enough take-out boxes to feed my mom for a week.
"Being in Kentucky, it only makes sense for me to put spins on those traditions"
Boujie Biscuit
Cyndi Joyner
I somehow wake up hungry the next day, and I know exactly where to go: Boujie Biscuit, a new spot on Frankfort Avenue. Here, Brooklyn transplant Cyndi Joyner takes that heavenly Southern staple, the buttermilk biscuit, and piles it high with any combo of savory or sweet toppings you can imagine. "I decided to use the biscuit as a vehicle to introduce people to other foods from around the world," says Joyner, whose bracelets match the copper-colored font on her Boujie Biscuit T-shirt. She credits her creative palate to her melting-pot Brooklyn childhood, Southern grandparents, and time living in Prague and traveling around Europe. Her Euro Biscuit is topped with the Hungarian stew lecsó, and she's debating adding a chicken tikka masala biscuit and an African peanut stew biscuit to the ever-growing menu. "If you can throw it on something that people are already familiar with just to give it a little twist, then it doesn't look so foreign," she says, leading me over to a couch at the front of the laid-back space. "I kind of feel like I'm being sneaky in a way! Some people think they may not be adventurous, but the spices that I use are not necessarily found at Kroger."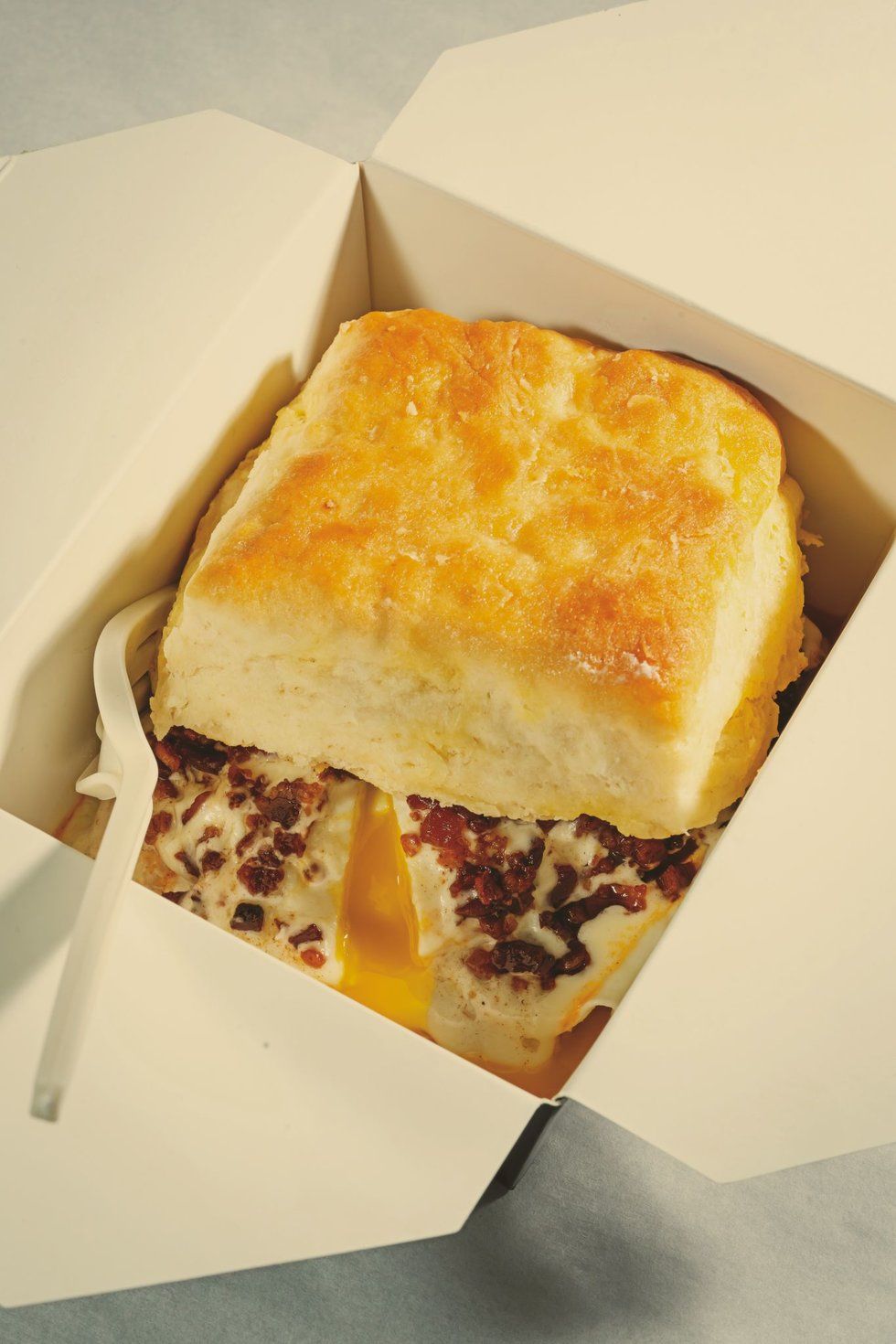 A breakfast biscuit at Boujie Biscuit
"I use the biscuit as a vehicle to introduce people to other foods from around the world."
I can't help myself and go straight Southern, choosing The Gravy Train on Fire, which consists of "cluckin' hot" chicken chunks and sausage gravy heaped over a flaky biscuit about the size of my head. Joyner laughs when I prove incapable of finishing our interview because I can't stop eating. "This is the part where I walk away while you take a huge bite," she says, grinning. After helping a slew of hungry customers, including two women celebrating Administrative Professionals Day ("So the whole office is getting Boujie Biscuit!" shouts one woman as she does a little dance of joy), Joyner rejoins me on the couch. She tells me she chose to open up in Louisville after visiting and liking the city's "funky" vibe. "People aren't afraid to experiment," she says. "I think this place fits right in."
Seviche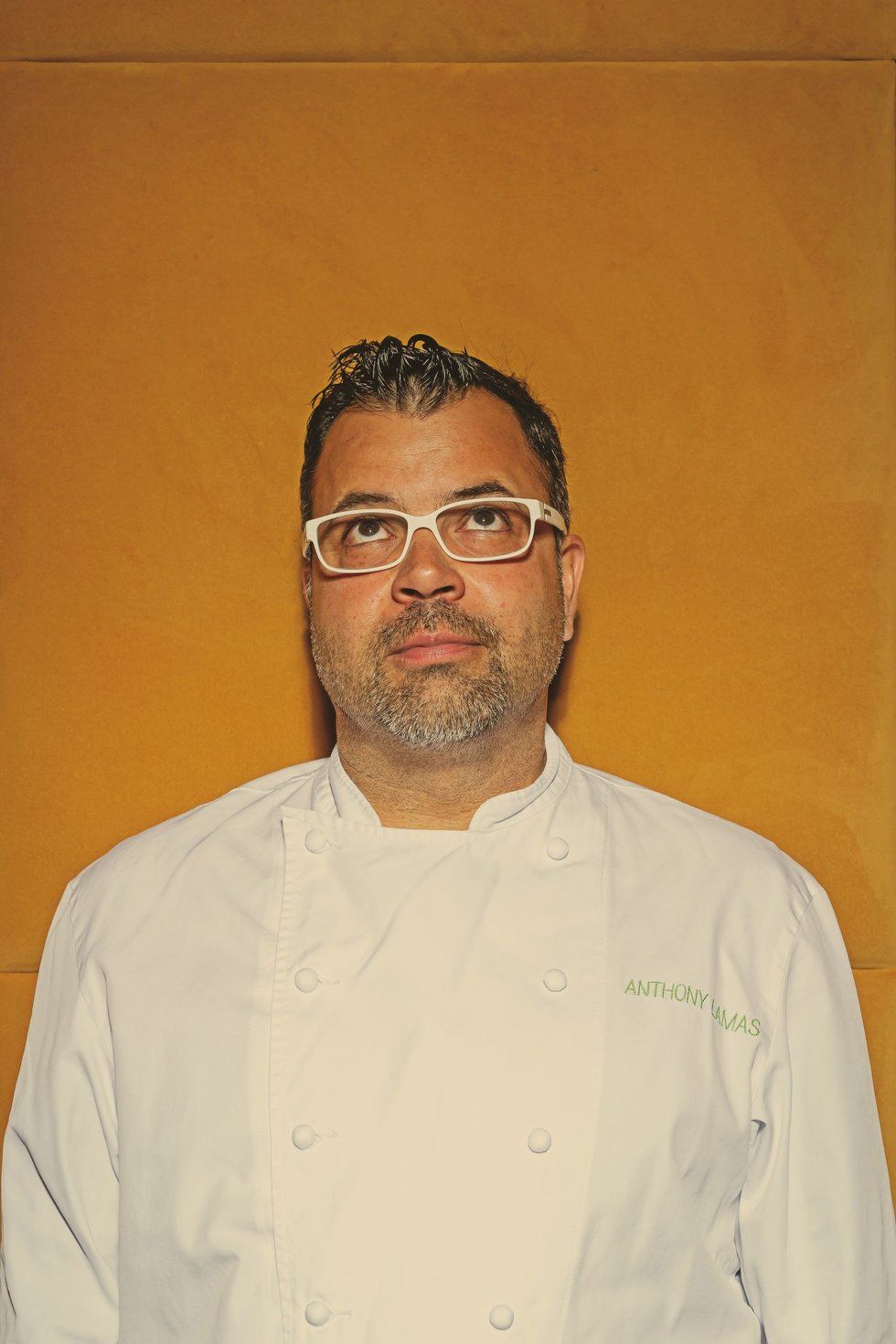 Anthony Lamas
After a long walk along the waterfront to burn off the sausage gravy (it pains me that I was too full to finish that biscuit), I meet up with Anthony Lamas, a mainstay of the Louisville food scene. He opened his restaurant, Seviche, in the Highlands in 2005 and has been winning accolades for his creativity and flair ever since. Seviche's tagline—"Inspired by heritage. Influenced by locality."—couldn't be more accurate or, for Lamas, more natural. He was raised in California by a Puerto Rican dad and a Mexican mom and cooked at a resort in San Diego before making the move to Louisville in 1994. "I didn't know about Southern things, like country ham, sorghum, or grits. " he tells me, sitting on a leather couch in the restaurant's event space. "But I just started to adapt my flavor profiles to them. It was a natural marriage, because we do use a lot of the same ingredients, just in different ways. You know: corn bread, corn tortillas; grits, pozole. So I fell in love with what was here."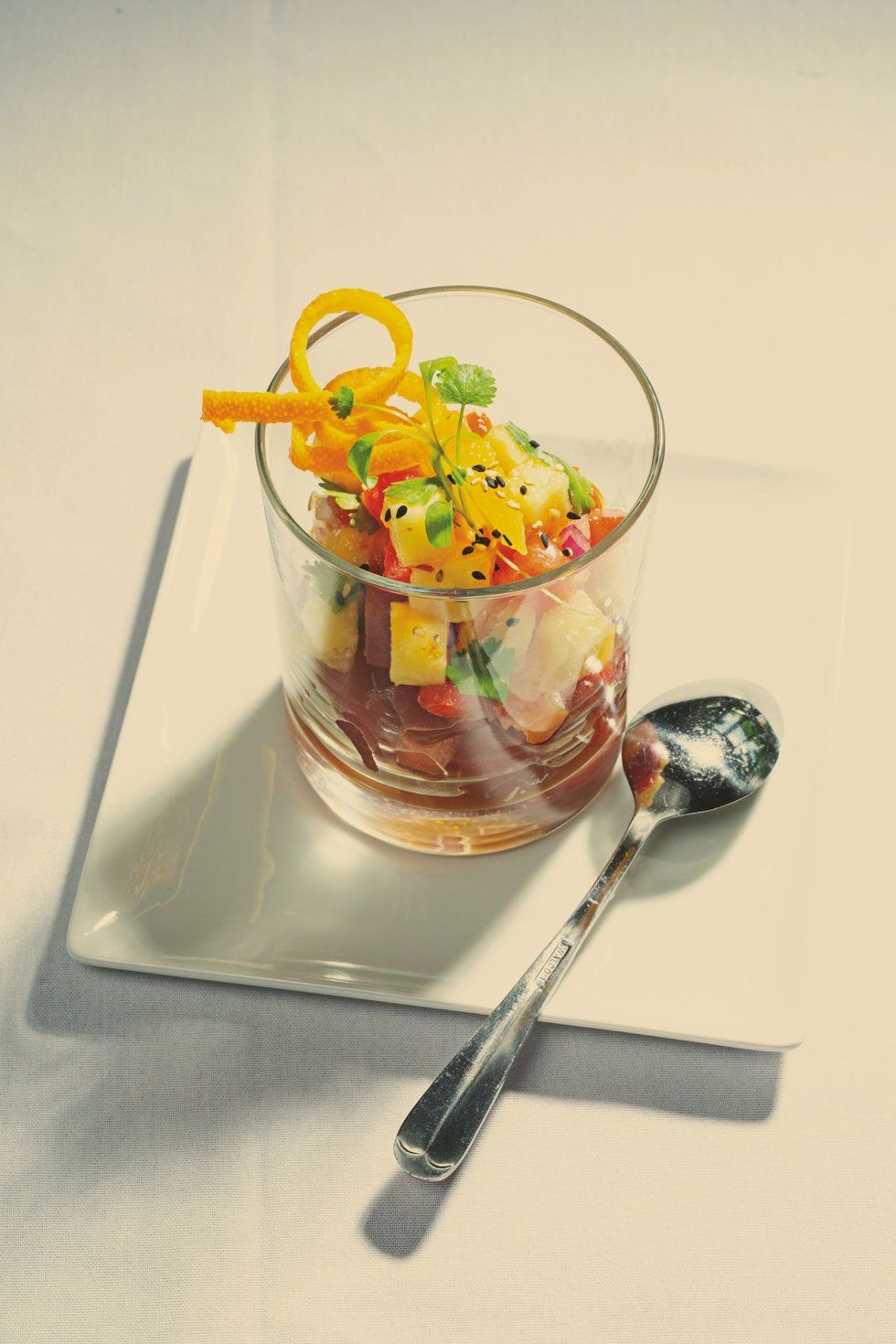 The Tuna Old Fashioned at Seviche
His menu pairs grits with roasted poblanos and manchego cheese; tuna ceviche is marinated in bourbon and Bluegrass Soy Sauce (from local company Bourbon Barrel Foods); and empanadas are filled with Kentucky bison. When Lamas tried pawpaws (a custardy, mango-like fruit) from a neighbor's tree for the first time, he realized they'd be great in flan. But whatever you do, don't call his food fusion. "I don't like that word," he says, grimacing and adjusting his white frame glasses. "I call it confusion. It's bad. People are always like, 'Are you Latin fusion?' No, no, no, no. I'm a Latino chef in Kentucky, and my restaurant's influenced by that. My food changed because Kentucky changed me, because it introduced me to so many things that I didn't know. For a chef, that's exciting, right?"
What I eat that night is beyond exciting. The Kentucky Hot Brown empanadas, filled with chunks of turkey and served with a jalapeño Mornay sauce and pico de gallo, make me rethink the quintessential Louisville dish, a broiled open-face sandwich created at the Brown Hotel in 1926. Even my cocktail, the Best Boy, is a cultural mash-up, pairing bourbon with Aztec chocolate bitters. ("If you don't like it," my waiter, Benjamin, tells me, "I'll finish it for you." Nice try, Ben.) The Tuna Old Fashioned ceviche comes in an old-fashioned glass, naturally, and explodes with flavor. My main is a special that night: a sous vide beef tenderloin topped with ramp butter and served over mashed red potatoes. A chipotle country ham demi-glace seals the deal. I somehow refrain from licking my plate. When I leave (OK, after also eating the flan with chili-spiced peanut brittle), I'm reminded of something Lamas told me earlier: "I always say what 'mi casa es su casa' is to Latinos, 'Southern hospitality' is to the South."
"My food changed because Kentucky changed me."
V-Grits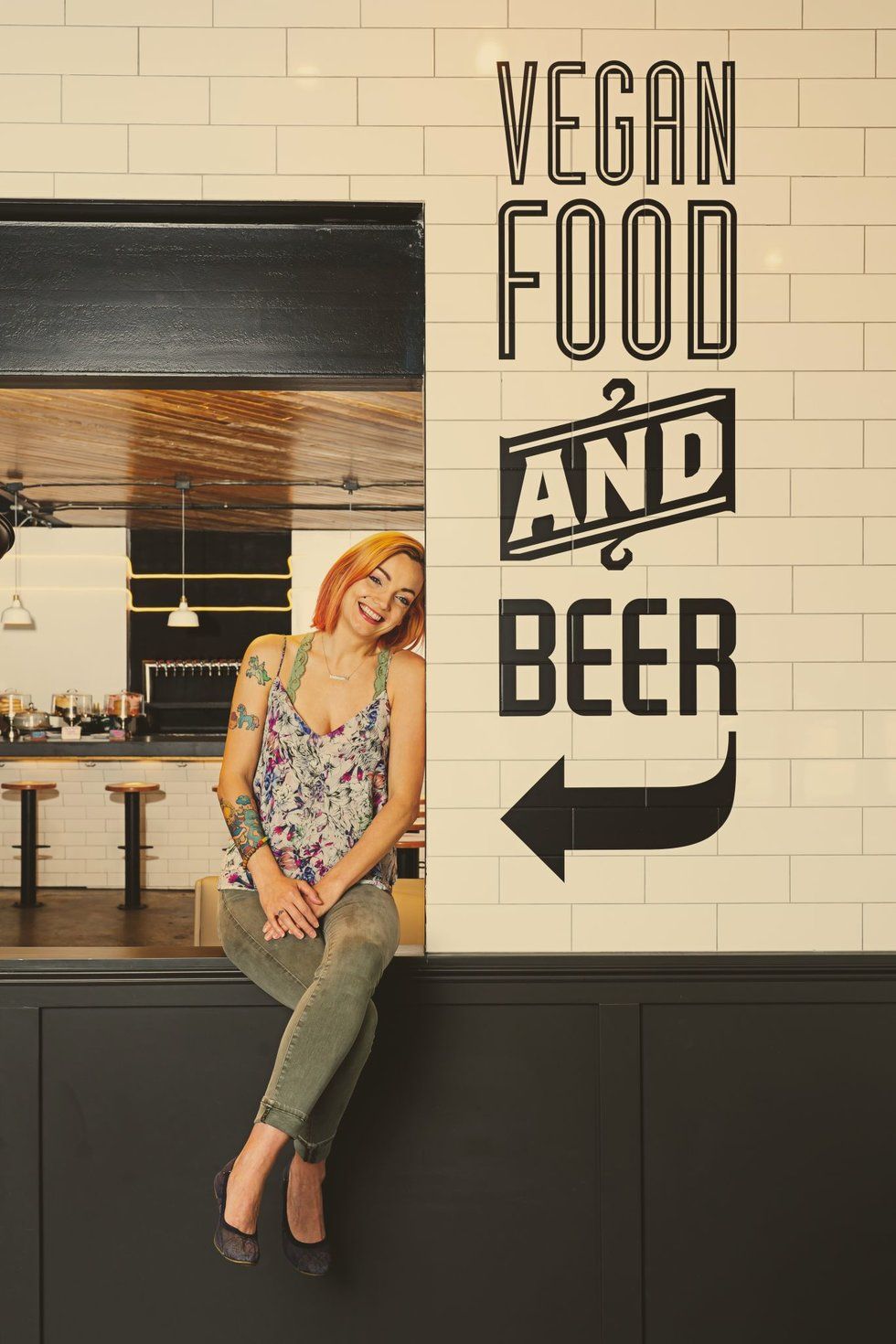 Kristina J. Addington
For lunch the next day, I try something even more foreign to Kentuckians: vegan food. Last October, not far from Seviche, Kristina J. Addington opened V-Grits with the aim of serving vegan versions of her favorite Kentucky classics. She grew up in nearby Shelby County, where her mom would make Hot Browns weekly. "All of our food had meat in it—even bacon in the green beans," she says, sitting at a two-top in the bright, airy space, rainbow earrings complementing her Rainbow Brite tattoo and orange-dyed hair. Thirteen years ago, she became vegan, and after five years working for PETA, she started wholesaling her homemade vegan baked goods to natural food stores in Louisville. She won an episode of Food Network's Cutthroat Kitchen in 2014 and, with her earnings, started a food truck. Last year she partnered with False Idol Brewery to open a brick-and-mortar location.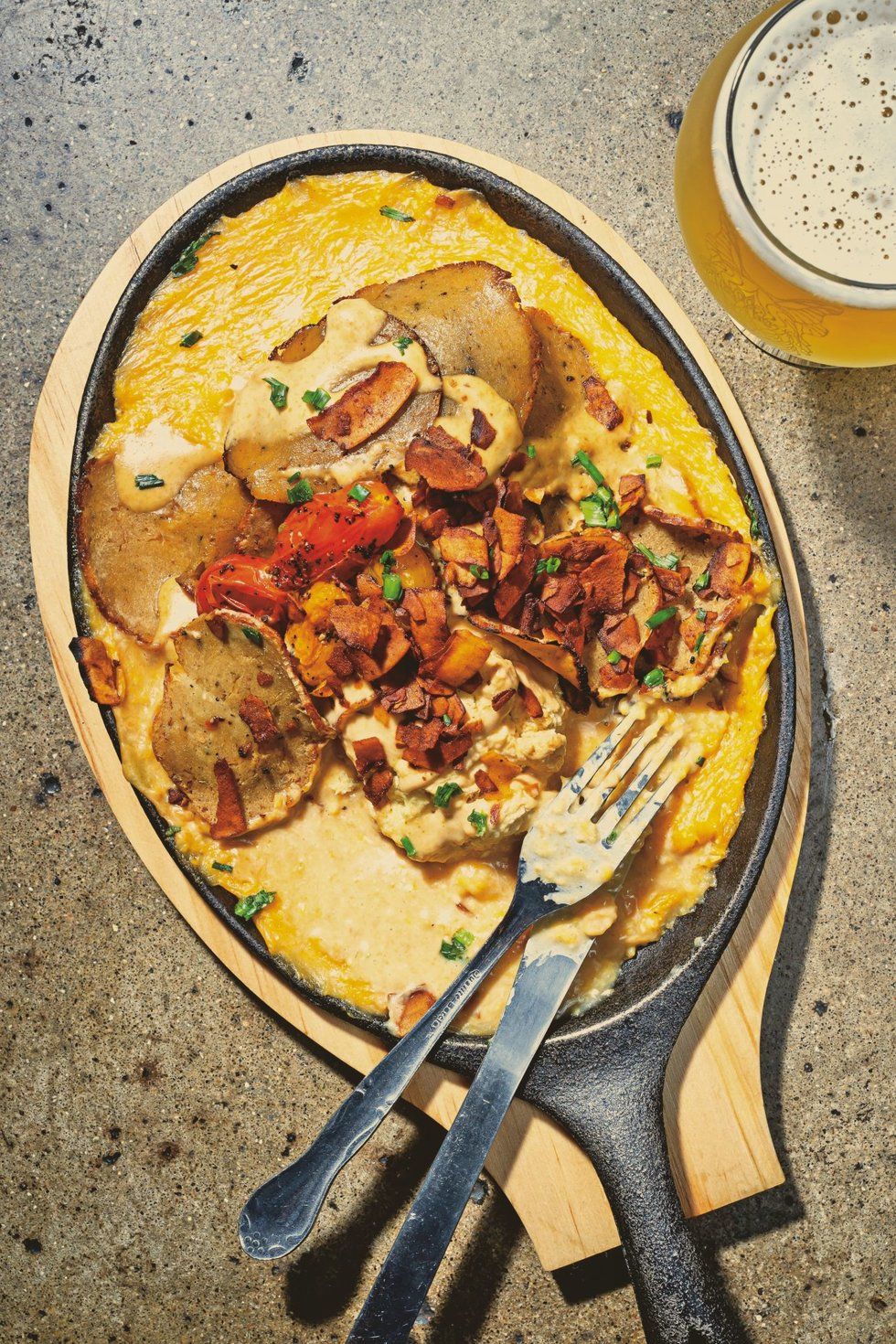 The Vegan Hot Brown at V-Grits
I ask whether she was worried about finding an audience here, and she shakes her head. "Southern food was what I grew up on, and I knew that was the easiest way I was going to win people over," she says. "I think fresh, healthy food is very important, but people around here are used to stick-to-your-ribs comfort food, so that's why we specialize in that." More than half of her restaurant's customers aren't vegan, she says; they just like the food: five kinds of loaded mac 'n' cheese, chicken-fried mushroom wings, a breakfast skillet with grits, hash browns, and baked beans…
Knowing that Addington used to have a weekly Hot Brown habit, I have to try her vegan take. It's served in a cast-iron skillet with vegan cheese grits, a housemade biscuit, vegan turkey, "gouda" béchamel made with coconut milk, and "bacon" bits made with seasoned and roasted coconut shreds. It's decadent and utterly comforting. My glass of False Idol's kombucha provides the perfect zing.
"For me, growing up with the typical Southern family, food is what brings you together," Addington says. "Regardless of what you're eating, it's that feeling of security and comfort. You eat good mac 'n' cheese and you think of being at your grandmother's house when you're five and her making that. Comfort food gives you that sentimental memory of being with your family around the dinner table."
"Southern food is what I grew up on, and I knew that was the easiest way I was going to win people over"
610 Magnolia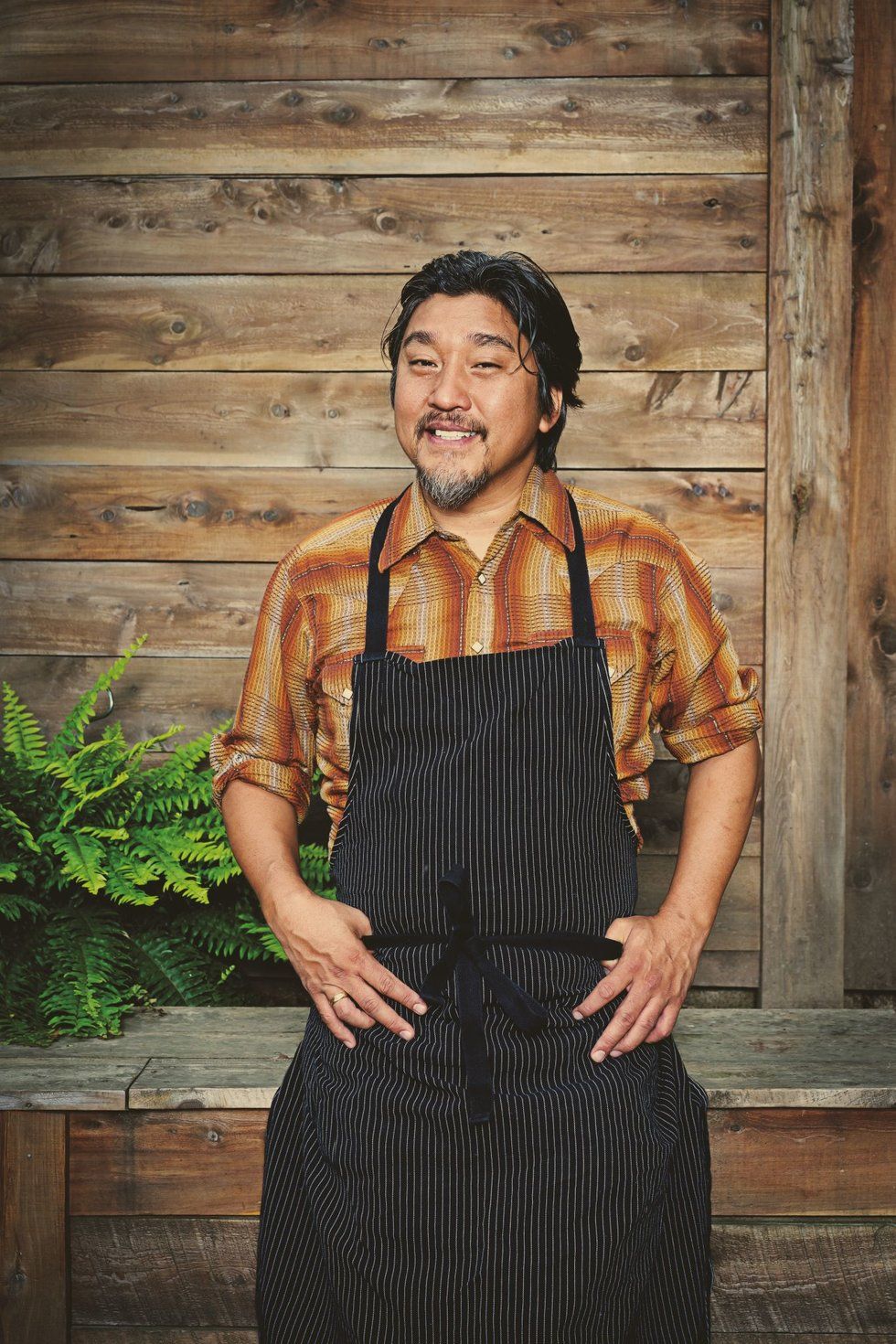 Edward Lee
On that note, I ask my mom to join me for my last meal out—at Old Louisville's 610 Magnolia, probably the local restaurant with the highest national profile. Chef Edward Lee was nominated for an Emmy in 2014 for his role in PBS's The Mind of a Chef, and this spring his second book, Buttermilk Graffiti, won the James Beard Foundation Award for writing.
In the book, Lee, a Korean-American who grew up in Brooklyn, challenges the idea of authentic Southern cooking. "I always ask myself, What South are you talking about?" he writes. "Pre-colonial South? Plantation South? Post-colonial? Post–Civil Rights movement? Paula Deen's South? The immigrant South? All are part of the complicated history of the South. None can claim a true authenticity."
Way beef tongue two ways with daikon pancake, sauerkraut kimchi, and gochujang at 610 Magnolia
That's something Lee learned when he moved to Louisville in 2002. He started cooking at 610 Magnolia (taking it over in 2003), at first making regional foods out of necessity, "because I couldn't get tamarind and I couldn't get lemongrass," he tells me. But then bits of his family's Korean cooking traditions started seeping into his dishes. "If you love Korean food but you happen to live in the South, sooner or later you're going to mix the two," he says. "It's inevitable. Because you're like, Oh, I wanna make this pork dish, but I don't have what I really want. Well, what's around me?" He had collard greens for the first time and realized they would be great for kimchi; he started doing a Southern-style dim sum special that ended up being the impetus for his second restaurant, MilkWood. Meanwhile, he notes, "more immigrants moved in, and now there's more of an international presence. So it works both ways: The immigrant food becomes more Kentuckyfied in a way, and the Kentucky food becomes more global in a way. With local food and global food, it's not a line in the sand. That's the place that's most exciting for me: where things crossover, overlap, and mix."
My four-course tasting menu does just that. There's miso-chicken-liver mousse with benne seed crackers; beef tongue with a daikon pancake and sauerkraut kimchi; delicately cooked halibut with buttermilk, navy beans, ramps, and bok choy. Dessert, the Bourbon Aficionado, ends up being the showstopper. Our waiter removes the slate tile covering the serving dish and bourbon-barrel smoke rolls out, immediately transporting me to a campfire at my childhood friend's property by Kentucky Lake. My mom has the exact same thought, and we laugh as we dig in, scooping up bites of banana cake, freeze-dried corn, butterscotch, brown-butter ice cream, and Pappy Van Winkle maple syrup—"everything you find in bourbon," our waiter notes. We each sip a cocktail made of Michter's rye and ruby port, savoring our last bites and our time together. "Go ahead and say it," I tell Mom, shaking my head. "Told you so!" she sing-songs, and then adds, "Does this mean you'll come visit more often?"
"With local food and global food, it's not a line in the sand"
Thinking back on everything I've eaten over the last three days—and knowing how much more there is to try—the answer is obviously yes. As Lee writes in Buttermilk Graffiti, "In order for any cuisine to evolve it has to be passed on to people who have not lived the authentic life from which it germinated." And, as I've learned, in order to appreciate the cuisine and ingredients you grew up with, maybe you have to go away for a while and come back with an open mind—and an empty stomach.
The Lee Initiative
Edward Lee and Lindsey Ofcacek were brainstorming a mentorship program for their two-year-old LEE (Let's Empower Employment) Initiative when the #MeToo moment hit the restaurant world, at the end of 2017. "We were like, This is terrible, but for every bad chef there are 100 good ones," says Ofcacek, the executive director of the Initiative and the wine director for 610 Magnolia. "We wanted to find a way for young women in the industry to go and work with great chefs."
Last year, they launched the Women Chefs Initiative, a six-month program that pairs five budding female chefs from Kentucky, Cincinnati, and Southern Indiana with female-led restaurant groups across the country. The program culminates with a dinner at the James Beard House in New York, where the women cook their own food alongside Lee. "That partnership is invaluable, because every young chef dreams of cooking at the Beard House," says Ofcacek, adding that it was emotional for the first class of women last summer: "At the end, they were all weeping." This year's mentors include Nina Compton, the chef-owner of Compère Lapin in New Orleans, and Mindy Segal, the pastry chef behind Chicago's Mindy's Hot Chocolate. Lee notes that last year's class is also invested in this year's mentees: "Now they're mentoring the five chefs that are in it this year," he says. "Can you imagine after five years? That's 25 chefs. That's an entire community. That can make change."
leeinitiative.org
Today, we remember the colleagues, customers and every single victim of the terrorist attacks of Sept. 11, 2001.
I know each of us in the United family marks this difficult moment in our own way. Still, we all share a common commitment to honor how our brothers and sisters left us and also celebrate what they gave to us during their lives. We remember their professionalism and heroism. We cherish their camaraderie and friendship. We carry with us the examples they set forth, especially in the heroism and bravery displayed by so many on that terrible day. Above all, we understand a simple truth: While thousands of our fellow human beings lost their lives in New York City, Arlington and Shanksville, the attacks of September 11th were aimed at all people of peace and good will, everywhere. They were attacks on the values that make life worth living, as well as the shared purpose that make us proud of what we do as members of the United family: connecting people and uniting the world.
We may live in times scarred by discord and disagreement, and we know there are those around the world who seek to divide us against one another. But, on this day – above all – we come together, as one. We affirm our core belief that far, far more unites us as citizens and fellow human beings than can ever divide us.
Let us embody that belief as we go about serving our customers and one another – on this day and every day – as we continue to help building a world that's more united. Let that be our memorial to the sisters and brothers we lost, eighteen Septembers ago.
Humbly,
Oscar
A team of search and rescue experts from Empact Northwest departed Newark International Airport (EWR) this morning for Nassau (NSA), the capital of the Bahamas to help meet the pressing need for search and rescue services identified by Bahamian Prime Minister Hubert Minnis in the aftermath of Hurricane Dorian. The Empact Northwest team worked with Airlink, a rapid-response humanitarian relief organization that connects airlines with non-governmental organizations (NGOs), that respond quickly and efficiently in the wake of major disasters.
"We can't thank United enough for allowing us to jump out of the gate right away to aid people devastated by this storm," said Airlink Strategic Advisor Emily Sperling. "Search and rescue, medical care, temporary shelter, food and access to potable water are among the most immediate and pressing needs identified in the region. United's assistance is critical in ensuring that groups like Empact Northwest join others, including Mercy Corps, ADRA, and Heart to Heart International in fulfilling those most basic needs."
Airlink notes that our assistance enables two types of first responders to arrive quickly: those with specialized response capabilities like search and rescue, as well as assessment teams, who identify the most pressing needs and establish partnerships quickly to distribute supplies more efficiently once they are on the ground in country. Our partnership is felt long after the initial outreach after a disaster, too, according to Ms. Sperling. "After Irma and Maria hit the Caribbean in 2017, we received requests to transport relief workers a year or two later, to provide training and rebuilding assistance to help these communities develop future resilience," she said. The partnership also helps move responders into place to assist U.S. East Coast communities in the path of this tremendous storm.
You can join us in our disaster relief efforts by donating to our Crowdrise fundraising page here.

Story by Justin Goldman | Photography by Tanveer Badal | Hemispheres September 2019
No one comes to Los Angeles without having at least a little foreknowledge. If you're a film geek (like me), you know where the heist crew had breakfast in Reservoir Dogs and which building was Nakatomi Plaza in Die Hard. If you're a music geek (like me) you can name the clubs Guns N' Roses welcomed to the jungle and the streets Dr. Dre went rollin' in his '64. If you're from New York or San Francisco (like me), you probably hate LA on principle—for the smog, the Lakers fans, the fame-seeking ethos of Hollywood. And yet, no matter how much you think you know the City of Angels, there's always something more to learn, something real to find. LA County, after all, comprises more than 4,000 square miles and 10 million people (including the largest Mexican and Asian immigrant communities in the U.S.), with a GDP of $700 billion. It's impossible to make an LA guide for everyone, but if you (like me) are a fan of Chinatown and Charles Bukowski, beaches and bowling alleys, Michelin stars and micheladas, here's one for you.
Day 1
Beaches and speakeasies on the Westside
I'm in Los Angeles, so of course I'm eating breakfast by the pool. More specifically, I'm in the lovely atrium at FIG, the poolside restaurant at the Fairmont Miramar Hotel in Santa Monica. In the water, a couple of kids are splashing around in unicorn floaties. On the wall above, Muscle Beach's best-known lifter, Arnold Schwarzenegger, flexes in a mural. On my plate is a scramble chock-full of fresh produce—tomatoes, asparagus, peppers, spinach—from Santa Monica's famed farmers market.
The pool may be Hockney-worthy, but these flip-flops were made for walking. Five minutes down Ocean Avenue, I cross a bridge over the Pacific Coast Highway and onto the Santa Monica Pier, passing the Route 66 sign, caricature artists, funnel cake stands, and carnival rides on my way to the end of the pier, where fishermen toss their lines in the water and tourists snap photos of a sea lion barking for scraps. The sharp salt smell of the ocean beckons, so I backtrack to the sand, where I roll up my jeans and watch the surf slide over my feet. I lose my thoughts in the rhythm of the waves, until a big one crashes in. Reverie over.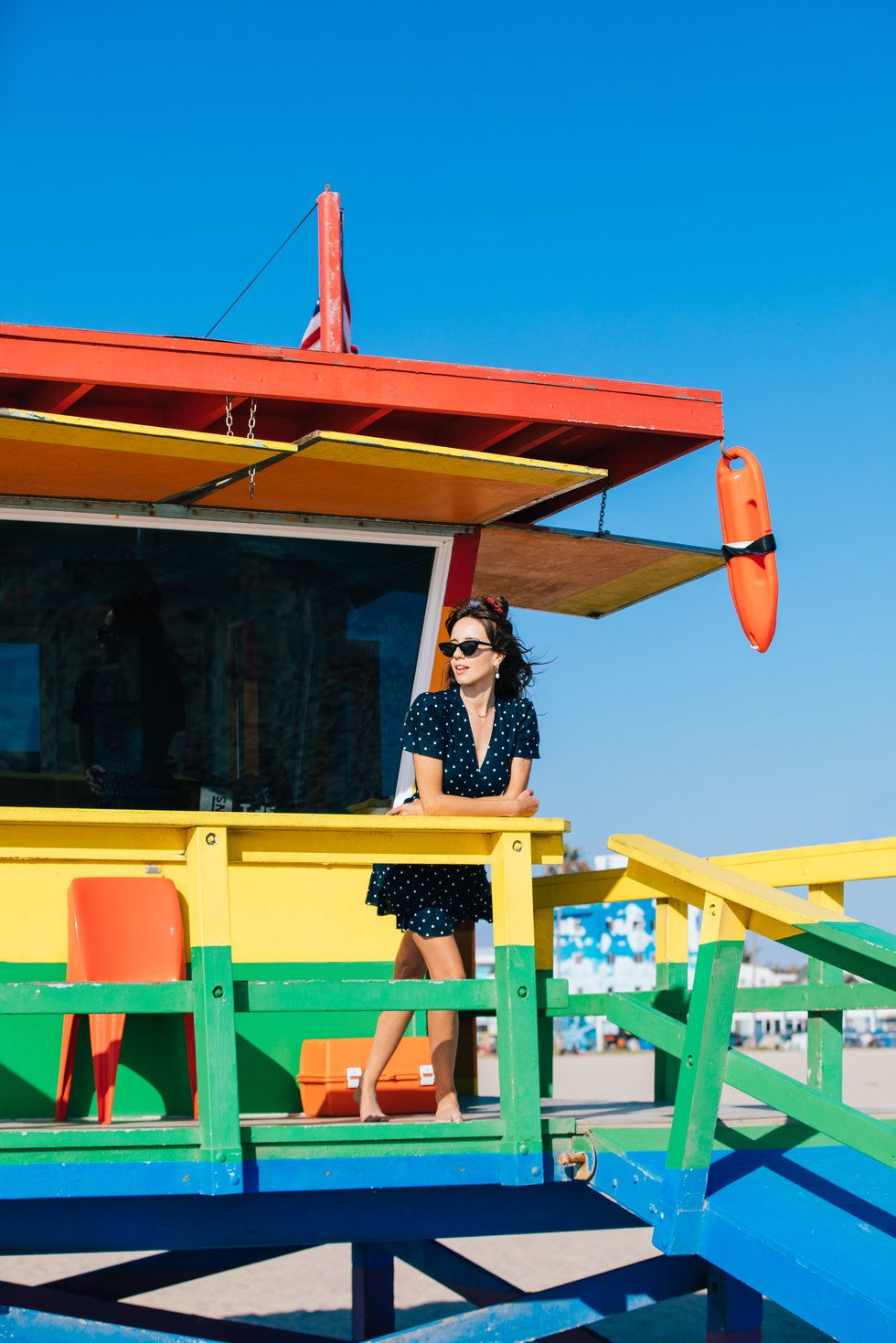 A prideful lifeguard tower on Venice Beach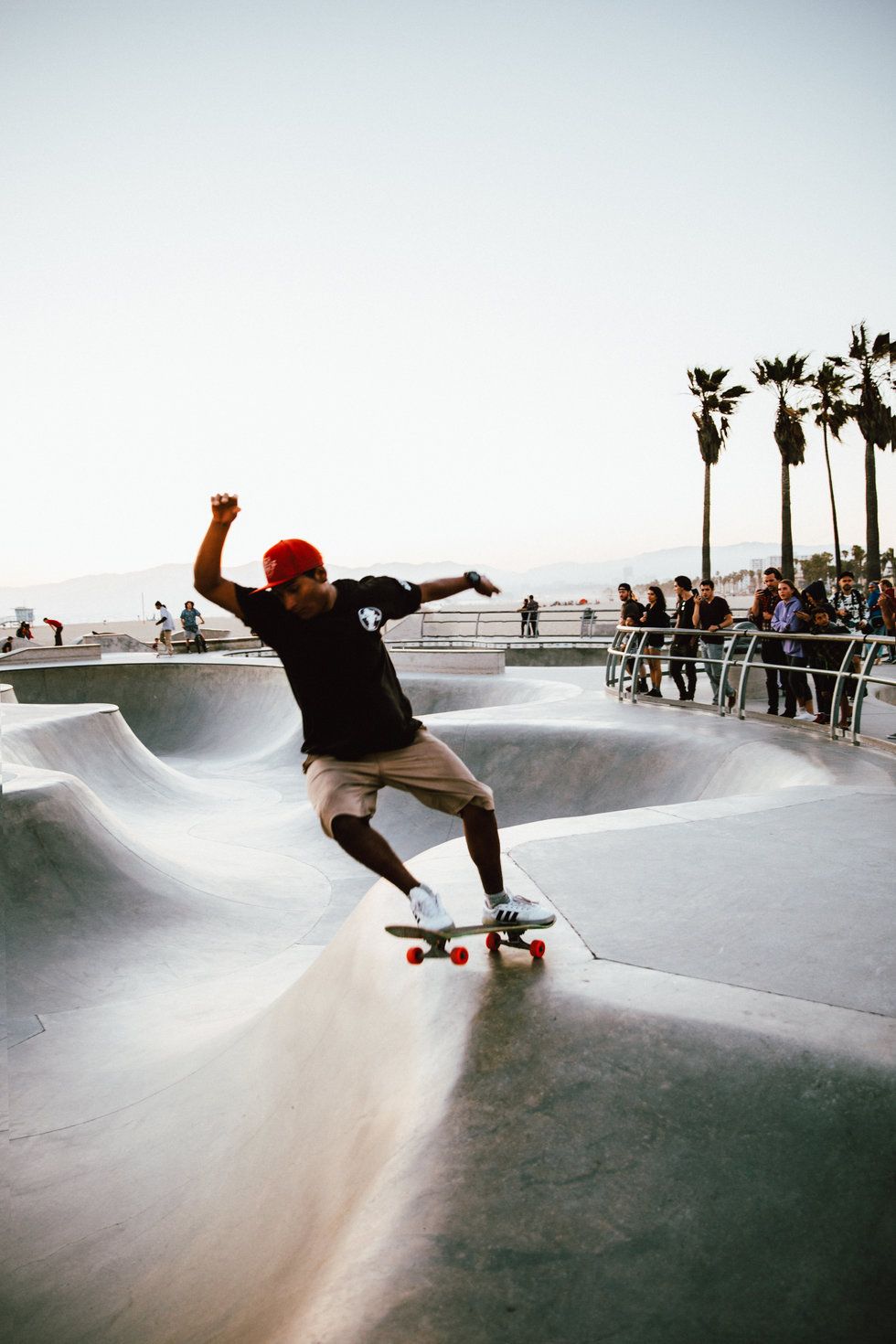 Going wheels-up at the Venice Skatepark
I watch the surf slide over my feet, losing my thoughts in the rhythm of the waves, until a big one crashes in.
I keep flippin' and floppin' my way south toward Venice Beach, the epicenter of Southern California's grungy, punky beach culture. Snatches of the Doors leak from surf shops and sunglass stands on the very strip where Jim Morrison and Ray Manzarek formed the band. Are you a lucky little lady in the City of Light? Or just another lost angel… I kill a few minutes watching skaters ollie along the undulating walls of the Venice Skatepark, and then I exit the beach, going a few blocks inland to the Venice Canals. Developer Abbot Kinney built these narrow waterways in 1905 to evoke some other Venice, and while I don't see any gondoliers, the homes lining the canals make for a fun self-guided architecture tour, veering from glass-walled Modernist structures to mosaic-tiled hippie bungalows.
A few more blocks up Venice Boulevard, I reach the town's main drag, Abbot Kinney Boulevard. I'm having lunch at Gjelina, which for more than a decade has offered the sort of farm-fresh cuisine and casual-yet-sceney vibe that the rest of the world thinks is LA. I sit at a distressed-wood table and chow down on California king salmon tataki; grilled peaches with burrata, prosciutto, and chicory greens; and a perfectly cooked black bass with olives and heirloom tomatoes. If this is what people associate with LA, I can see why everyone wants to move here.
My feet are flip-flopped out, so it's a good thing my college buddy Matt, who lives in Hermosa Beach, has loaned me his car—a cobalt Chevy Volt we call the Blue Dragon—to help me navigate this unending city. Fortunately, you don't need to be a Targaryen to ride this dragon, so after retrieving the car from the Fairmont valet, I fly up the 405 to the J. Paul Getty Museum, which stands on a hill above the most heavily trafficked freeway in the U.S. I park and take the tram up, then meander through the Robert Irwin–designed Central Garden, following a trickling waterfall to a reflecting pool and an X-Files-esque azalea labyrinth. The scene is so transporting that it's easy to pass a couple of hours without even entering the galleries. Oops.

No time for regrets, though. The afternoon has begun to wane, so I drive back to the Fairmont and take a seat on my balcony to watch the curtain fall on another day in America. Once night has settled and the lights have come up on the pier, I walk over to the Third Street Promenade, an outdoor mallwhere fairy lights twinkle and purple jacarandas bloom above shoppers and buskers singing Justin Timberlake. At the food court, I go up an escalator and tap a code into a black door marked "private." When it opens, I enter Dialogue, an 18-seat tasting-menu hideaway that was one of just 24 restaurants in LA to receive a Michelin star this June. As he passes me the gorgeous plates (21 of them!), chef Dave Beran explains how the Roots' album …And Then You Shoot Your Cousin inspired his menu.
"I reached out to Questlove, and he told me they wrote that album over the course of the last year of their manager's life," Beran says. "It's essentially their progression emotionally. You had to experience that album the way they intended it, and that led us to the idea of writing a tasting menu that had to be experienced the way we intended. Just as the seasons look forward and backward, the dishes do as well. Every dish has something in it from the last one and something to look forward to in the next. Your snapper had a ginger mist on it, which went into the ginger-rhubarb foam, which leads to a rhubarb chip with matcha and lilac pudding, followed by a cucumber-lilac soda. None of our dishes are intended to be complete thoughts as much as completing each other's thoughts." Food for thought, indeed.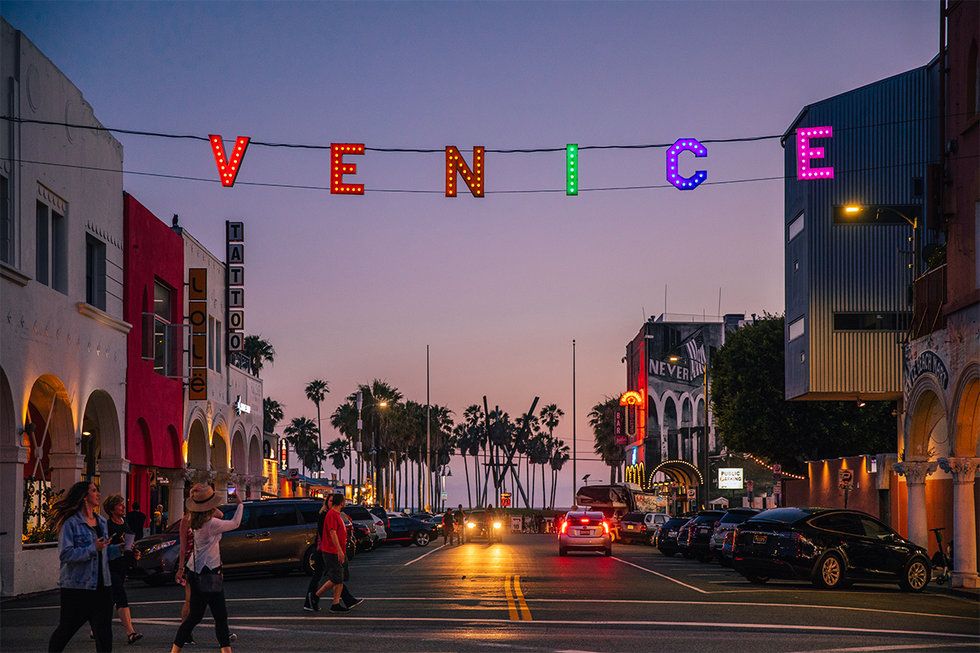 The landmark Venice Sign at sunset
After dinner, I'm buying Matt a drink as a thanks for lending me the Blue Dragon. I take a cab to Abbot Kinney and meet him at the restaurant Scopa Italian Roots, where we tell the maître d' we have a reservation at Old Lightning. He promptly confiscates our phones and leads us around to the side of the building, through an unmarked door, and into LA's premier bourbon bar. The glass case along the wall taunts us with shelf after shelf of nigh-impossible-to-find vintage bottles. Matt leers covetously at a collection of limited-edition Willett, while I pine for the Pappy. I tell the bartender, Jesús, that I love the wheated flavor profile of the Van Winkles but can't shell out $3,000 for a flight. He brings me a more affordable sampler: a delectably corn-sweet Old Taylor 6-year from 1980; an Old Fitzgerald made by a legendary Kentucky warehouse manager who stole from his stores to create his own sought-after blends; and a 101-proof Evan Williams 12-year that's normally available only in the Bluegrass State. "I hope you didn't drive," Matt deadpans, although I think he's just trying to confiscate my Old Fitzgerald. Not a chance, pal.
Day 2
Artful architecture and swinging nightlife in DTLA
Los Angeles may have an underrated metro system, but the city's true essence is found where the Blue Dragon and I now sit: in bumper-to-bumper traffic on the 10. I pull up my rush-hour playlist, and Guy Clark sings, If I can just get off of this LA freeway, without getting killed or caught…
Eventually, I reach the center of the city, which the Spanish founded in 1781 as El Pueblo de Nuestra Señora la Reina de los Ángeles but has in recent years been rebranded simply as DTLA. I'm starting the morning with a bite at Grand Central Market, a 1917 building that's home to all sorts of hip food stalls. I stop at the G&B Coffee counter and get an almond macadamia latte to sip while I wriggle to the Clark Street Bread stand, where I order avocado toast. It tastes like California.
On the other side of the market, I spot one of LA's signature architectural sights, the Bradbury Building. The interior of this National Historic Landmark, which was built in 1893 and features five floors of ornate iron railings and elevator shafts climbing toward an expansive skylight, looks both stunningly vintage and eerily futuristic. It's little wonder Ridley Scott chose it as the setting for the climactic scene of Blade Runner.
I exit through the side door and gawp at the Pope of Broadway, a soaring mural of Anthony Quinn on the former Victor Clothing Company building across the way, before continuing on through DTLA. This area was once so rundown that it wasn't much of a leap for Scott to imagine that by 2019 it would look like a post-apocalyptic dystopia, but over the last decade it has become the reenergized hub of the city, thanks to places like The Last Bookstore. This temple to the written word is probably best known for its second-floor book tunnel, which tourists and wannabe influencers line up to snap selfies in. I ask a clerk what he thinks is the definitive LA novel, and he points me to John Fante's Ask the Dust, which local literary god Charles Bukowski called "a wild and enormous miracle."
It's a good thing I picked up the reading material, because I'm going to have a wait at my next stop. One of the wonderful, contradictory things about this wonderful, contradictory city is that some of its best restaurants are in run-of-the-mill strip malls. One of these is Sushi Gen, in DTLA's Little Tokyo, where a long line has formed before the doors even open. I take my spot and read for a few minutes—Los Angeles, come to me the way I came to you, my feet over your streets … you sad flower in the sand—before I'm seated at the sushi bar, where a chef slings slices of Tsukiji Market–quality fish (buttery tuna, briney sea bream, sweet shrimp, creamy uni) at me until I wave my napkin in the air like a white flag.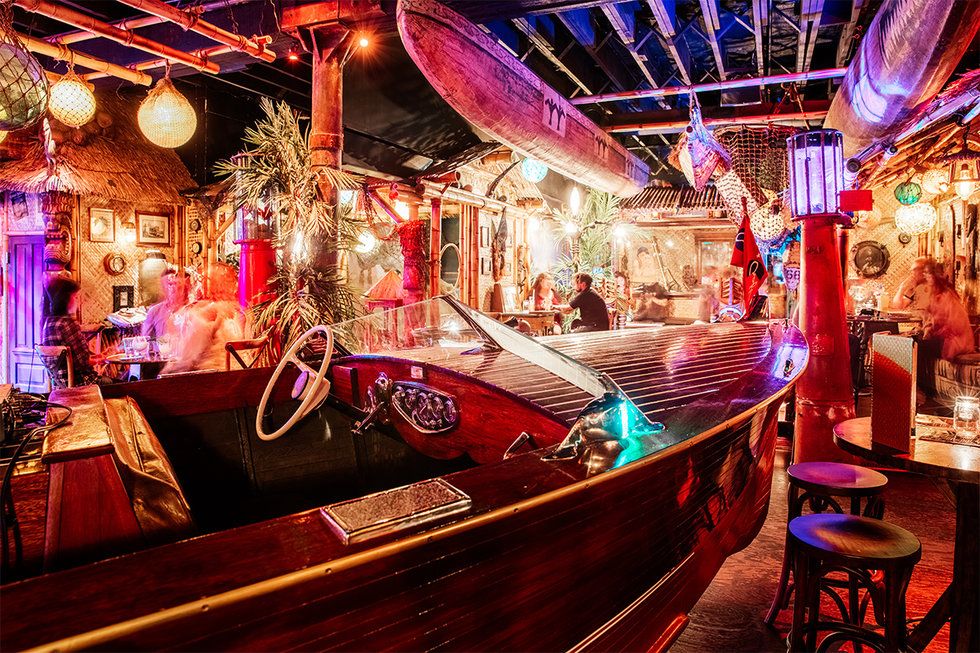 The Pacific Seas bar at Clifton's
The afternoon sun is beating down and bouncing up off the pavement, so I elect to walk off my meal indoors, at The Broad Museum. The four-year-old building, which entrepreneur Eli Broad and his wife, Edythe, created to house their 2,000-piece collection, stands like a square of honeycomb next to the flamboyantly curvaceous Walt Disney Concert Hall next door—a contrast that associate curator Sarah Loyer tells me was very much intentional.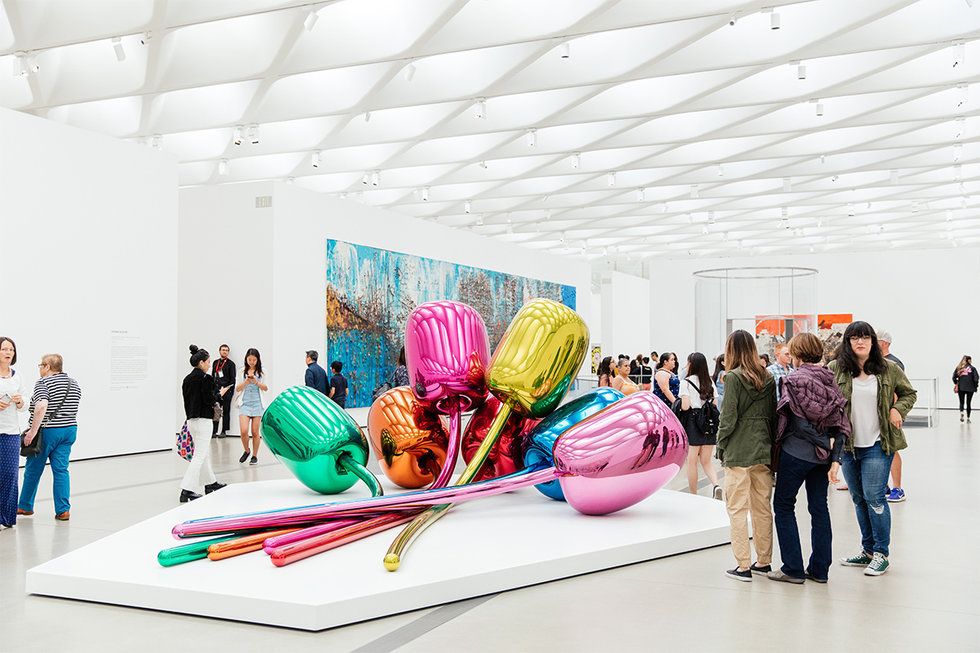 Jeff Koon's "Tulips" at the Broad Museum
"Where the Disney Concert Hall reflects light, our building draws light in," she explains. "The ceiling has 318 individual skylights that light the collection gallery. At peak sun hours we have all natural light." We ride the escalator up to the third-floor gallery, an acre of column-free space where pieces by Jeff Koons, Takashi Murakami, Yayoi Kusama, and Kara Walker are on display. I'm particularly struck by Deep Blue, an expansive mixed-media canvas by Los Angeles artist Mark Bradford. "It's inspired by the 1965 Watts Rebellion," Loyer notes. "You can see the map of the city grid, and the different dots and colors represent historic losses from that event."
We ride the Broad's escalator up to an acre of column-free space to see pieces by Jeff Koons and Yayoi Kusama
I thank Loyer for enlightening me and then zip over to the recently restored Hotel Figueroa, which features works from a new artist—often a Southern California woman—every quarter. I valet the Blue Dragon and take a few minutes to peruse Topanga-based painter Sophie Kipner's blind-contour portraits before stretching out on a poolside lounge chair with a Bohemia beer. When I mention to the waitress that something about the pool seems odd, she tells me it's shaped like a coffin. That seems like a bad omen for tonight…
But hey, if I gotta go, there are worse places to have my last meal than Nightshade, Top Chef winner Mei Lin's much-hyped new restaurant in the up-and-coming Arts District. A taxi drops me at a converted warehouse space that's an Instagrammer's dream—blond wood, white brick, mint and emerald green upholstery, and hanging plants—surpassed only by the presentation of the dishes: Hokkaido scallops in a coconut vinaigrette, chicharrón chunks with a bright green coconut and trout roe dipping sauce, prawn toast that tastes like Vietnamese spring rolls, Szechuan hot quail served atop Japanese milk bread (à la Nashville hot chicken). If the atmosphere is heavenly, that last plate is hellish; my eyes start burning upon its arrival, and it takes an extra glass of grüner to cool my mouth after its departure.
Let's keep turning up the heat! Clifton's is a DTLA institution, a Depression-era cafeteria that fed 10,000 people a day, eventually fell into disrepair, and was ultimately reborn as a four-story nightlife bazaar following a 2015 renovation. I climb past the giant trunk of an (admittedly fake) redwood tree to the top-floor Pacific Seas tiki bar, where I sit in a wicker chair under a mermaid statue and sip a Scorpion Bowl (rum, gin, cognac, orgeat, and god knows what else) that is, yes, set on fire by my waitress. Before I get stung, I descend one floor to the Brookdale Ballroom, where dancers in Gatsby-esque getups swing to a New Orleans jazz band. A woman sashays by me in a peacock-feather outfit, but she's gone before I can ask her if this is real or if I've been consumed by the flames of Szechuan pepper and Polynesian mixology.
Day 3
Hollywood history and Eastside eats
It was all real, and I'm paying for it now. Good thing I know the perfect place for a clean-living kind of breakfast. Sqirl is on the edge of East Hollywood, in an area that's still dotted with 99-cent stores, but the line of part-time models waiting outside betrays its hip quotient. I make my way to the counter, order an Horchoffee (vegan horchata shaken with a double espresso) and a Crispy Disco (brown rice with mint, cilantro, cucumber, scallion, avocado, fried egg, and sausage), and grab a seat at the sideboard. The restaurant's sprightly owner, Jessica Koslow, brings over my food and gives me a playful punch on the knee as she takes the stool next to mine.
"It was a lot of pressure to be this funky place and be like, 'Here's what's happening in Los Angeles,'" the Long Beach native says, recalling the rapturous reviews she received after opening in 2012. However, she does take pride in being an evangelist for SoCal cooking. "There are so many different pockets of LA that [its cuisine] is hard to describe, but if you want a neighborhood restaurant for LA, you're here."
The Angel of Breakfast gives me a hug and waves me back to my food. After devouring the Crispy Disco, I head to The Hollywood Roosevelt hotel. Upon checking in, I rendezvous with Tours by Locals guide Jasmine Jia, who takes me on a winding drive through Griffith Park to the Griffith Observatory. The triple-domed Greek Revival building is one of LA's most recognizable—it can be seen in Rebel Without a Cause and La La Land—but Jia tells me it almost didn't get built. The city turned down funding from tycoon Griffith J. Griffith in 1912 because he had infamously shot his wife (who survived) a decade earlier. "There was a sensational trial," Jia says. Griffith re-donated the money when he died in 1919, and the Observatory was completed by the WPA in 1935. Today it's both an interactive astronomy museum and a spot from which you can see the Pacific Ocean, DTLA, Dodger Stadium, and the Hollywood sign.
The soup bowl–size chalices of salty, limey beer are garnished with shrimp, and the straws are even crusted with tamarind candy.
Now, the question every tourist in LA inevitably faces: Should I take a picture with the sign? As we drive over, Jia tells me it was erected as a real estate advertisement in 1923, when it originally read "Hollywoodland." "The land was sold, and the sign should have been taken down," she says, "but it became associated with the movie industry and LA and became a landmark." It was later shortened to Hollywood—better to fit the photo Jia snaps of me from the vista point in Lake Hollywood Park below.
Jia drops me back at the Blue Dragon, and I head to a far less touristed part of the city. Another college buddy of mine, Rob, was born and raised in Cypress Park, his parents among the tens of thousands of Mexican immigrants who settled on the east side of the Los Angeles River, and I've asked him to show me a couple of off-the-radar spots. I cross the concrete riverbed into Boyle Heights and meet him at El Tepeyac Café, an institution that serves old-school Mexican food. Rob points me toward the gargantuan chile verde–slathered Original Hollenbeck burrito, which is stuffed with rice and beans and guacamole and pork and comfort. Next, we zip over to La Chupería, in neighboring Lincoln Heights, where the bartender brings us two micheladas, soup bowl–size chalices of salty, limey beer (a Modelo bottle floats mouth-down in each cup) rimmed with chili sauce and garnished with cucumber, celery, and shrimp. The straws are even crusted with tamarind candy. As we slurp our drinks and watch a replay of the previous night's Dodgers game on the TV, I ask Rob what places like this mean to LA, and if he's worried about them disappearing as the city changes.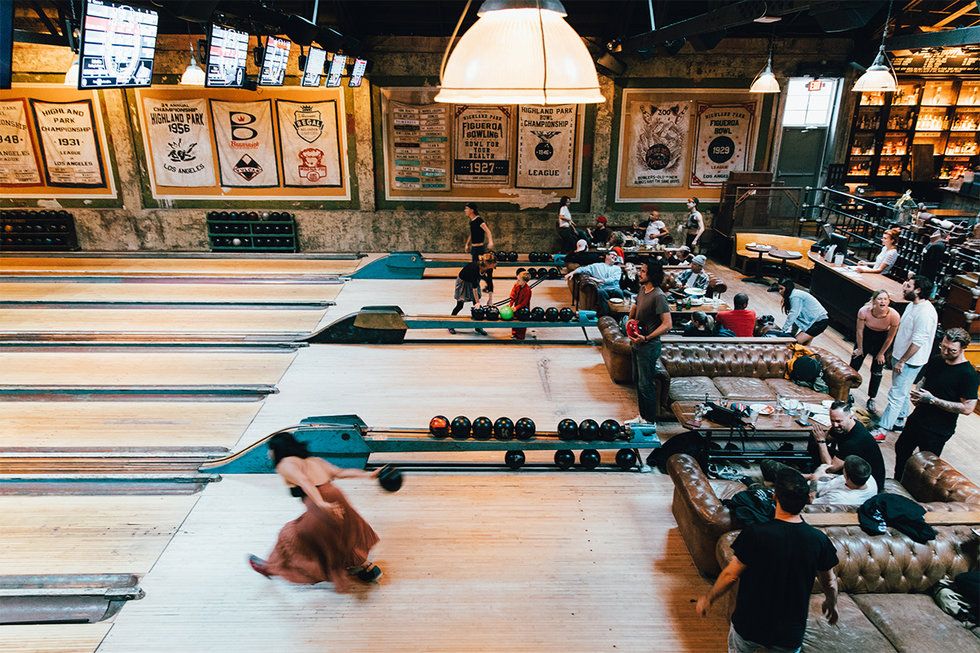 The busy lanes at Highland Park Bowl
"Gentrification brings restaurants and nightlife to areas that were overlooked, but now you have these immigrant-run mom-and-pop businesses, which have contributed so much to LA's cultural identity, operating under the threat of extinction," he tells me. "Without culture, LA risks losing its home too."
I thank the homie for the knowledge, and we split up with plans to meet later. I really need to stretch my legs, so I head to Echo Park. A popular walking path circles the lake where Jack Nicholson's J.J. Gittes snapped compromising photos of Hollis Mulwray in Chinatown, but today it's strangely calm: just a couple of teenagers lazily peddling swan boats and a few kids quacking at the ducks near the shore.
Feeling a little lighter, I get back in the car and cruise up Sunset Boulevard, shopping my way through LA's hippest 'hood, Silver Lake. I browse kid-centric bios of Prince and Bowie at MRKT, whip-stitched watchbands at Dean, and vintage rock 'n' roll tees at Sick City Records. Past the junction with Hollywood Boulevard, I make a pilgrimage to the swirling mural that appeared on the cover of Elliott Smith's Figure 8 album. The storefront has changed tenants several times—it's now a well-regarded Filipino restaurant—but most of the artwork remains, serving as a shrine where fans of the deceased songwriter still leave remembrances.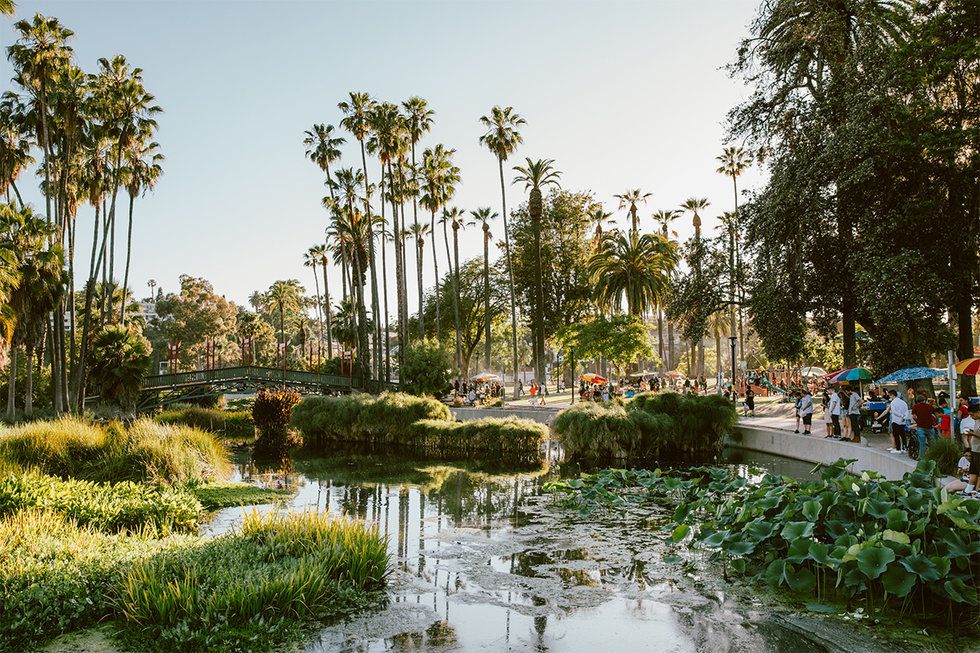 Echo Park Lake
We order frozen White Russians and 'Dead Flowers' comes on. I'm pretty sure we're in a Big Lebowski dream sequence.
Nostalgia makes me hungry. Dinner is at Majordomo, superstar chef David Chang's first California restaurant. I'm joined by Rob and Matt (who has come to reclaim the Blue Dragon) at a table beneath a skylit warehouse ceiling, and we go in on silky tofu topped with uni and avocado, dungeness crab mafaldine pasta, and a pot of boneless chuck short rib onto which our waiter slices a hunk of raclette. "Has anyone ever asked you to carve it straight into their mouth?" Matt asks. "All the time," the waiter replies.
We continue the impromptu reunion at another one of Rob's favorite spots, Highland Park Bowl. A diverse young crowd rolls strikes inside the 92-year-old bowling alley, LA's oldest, which is decorated with league championship banners from decades gone by. We order a round of frozen White Russians, a cocktail the bar calls The Dude Abides, and as we lace up our shoes, the Rolling Stones' "Dead Flowers" comes on. I'm pretty sure we're in a Big Lebowski dream sequence, but I don't see any purple jumpsuits, and the only thing that's nihilistic is the score of our game.
I hug my friends goodbye and hail a ride back to the Roosevelt, where I slip into a robe and look out the window of my suite. Hollywood Boulevard is asleep; the only stars sparkling are the ones embedded in the sidewalk. Good night, stars. Good night, moon. Good night, Los Angeles. I'll see you soon.
Scroll to top