United teams up with the Los Angeles Memorial Coliseum
Today, we have announced a naming rights agreement with the University of Southern California to help sustain and renovate the Los Angeles Memorial Coliseum, one of the sports world's most beloved historical landmarks and home of the USC Trojans. Through the 16-year agreement, the venue will officially become the United Airlines Memorial Coliseum beginning in August 2019.

The agreement will support a $270 million project to restore and preserve the Coliseum and upgrade its facilities for fans, athletes and the community, which will also help in generating thousands of jobs. The renovation will honor the stadium's rich architectural history and preserve its status as a registered historic landmark, while adding modern amenities that will improve the visitor experience.
"The university has a time-honored commitment to the Coliseum, serving as its longest enduring tenant. USC is honored to be the caretaker of this Los Angeles treasure," said USC President C. L. Max Nikias. "Together with United, we can ensure the Coliseum's future as a world-class venue and true community asset."
"United has been a part of the Los Angeles community for more than 80 years. Sponsoring the Memorial Coliseum, an athletic and architectural icon, as well as USC, an intellectual and cultural beacon, reaffirms our broader commitment to serving the people, communities and business of this region," said Janet Lamkin, President, California for United Airlines. "These investments to renovate and improve the stadium, as well as to sponsor the USC Trojans as they pursue excellence on and off the field, reinforce our overall investment in this vital market, while enhancing United's brand presence outside of the airport in one of the nation's largest cities."
The Coliseum will be rechristened in 2019 just after the renovation is completed. As part of the renovation, the iconic peristyle will be restored, honoring its original design. Improvements made possible in part by our naming rights agreement include additional aisles, handrails, wider seats, more legroom, cup holders, updated Wi-Fi, concession expansion and improvements, along with updated electrical, mechanical and plumbing systems. Audio and video systems also are being upgraded.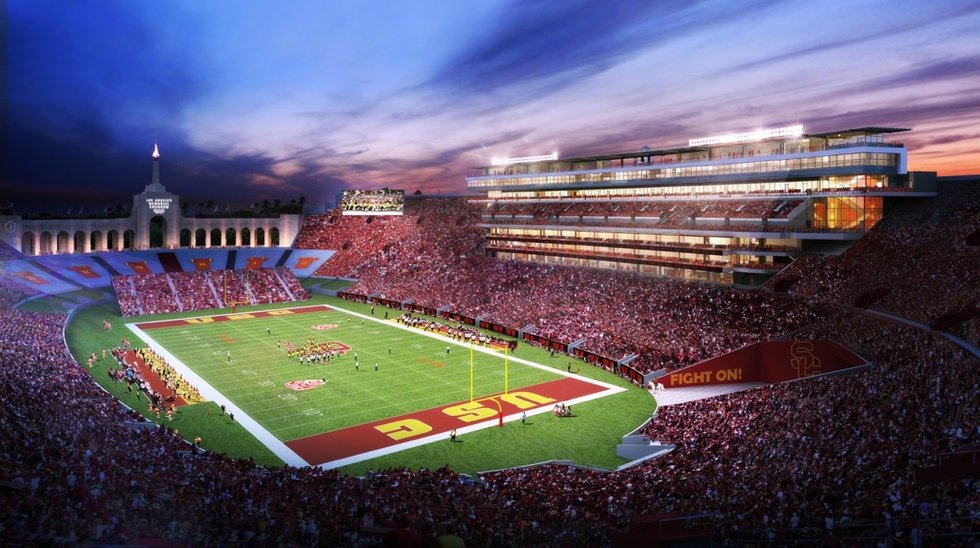 "Over almost a century, the Coliseum has endured as one of the world's greatest sports and entertainment venues, a civic monument, and architectural icon in the heart of Los Angeles," Supervisor Mark Ridley-Thomas, a member of the Coliseum Commission, said. "Through this restoration project, USC continues to demonstrate its responsible stewardship of the stadium. With support from United Airlines, USC is ushering in a modern era for this historic landmark and preserving its legacy for generations to come."
All upgrades will improve the visitor and fan experience at the Coliseum, which is currently home to the Los Angeles Rams (through 2019), and a well-known venue for major concerts, international soccer matches and community events. Trojans and Rams home football games will continue during construction.
This stadium is also the only venue in the world to have hosted two Olympiads, two Super Bowls and a World Series, the iconic Coliseum will be home to both opening and closing ceremonies, as well as athletic events (track and field) for the 2028 Olympics.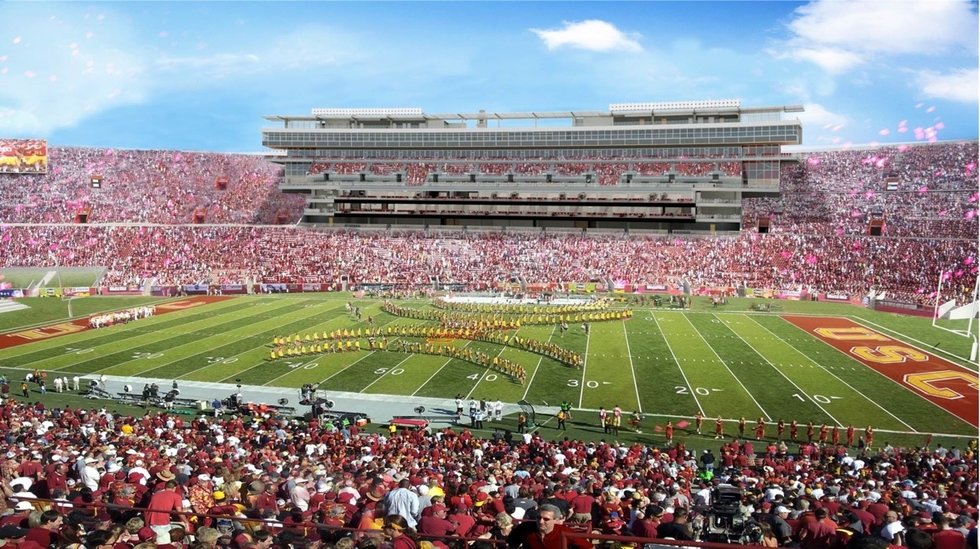 Additionally, a new Scholarship Club Tower will feature suites, loge boxes, club seats and a lounge. These amenities will provide donors with the opportunity to further endorse the Coliseum restoration, as well as support the Trojan Athletic Fund, which will raise the balance of the funds needed to complete the restoration and upgrade. We also will become the official airline of USC Athletics as part of the agreement.
"Our shared purpose as an airline is to connect people and help unite the world. From now on, the United Airlines Memorial Coliseum will be a symbol of that mission," Lamkin said. "We are committed to continuing to extend and elevate our long-standing tradition of service to Los Angeles and fulfilling our role to make sure that the communities and businesses in the innovation capital thrive."
"United Airlines and the Coliseum both have rich histories, with foundings nearly a century ago," Nikias said. "Both have brought people from around the world together, and now we come together to create a great fan experience."

The Coliseum has served as the USC Trojans' home field since it opened in 1923. Since then, the Coliseum has welcomed over 118 million visitors at more than 4,500 events. Originally commissioned as a memorial to honor Los Angeles World War I veterans, it was later rededicated in 1968, the 50th anniversary of the Armistice, to include all who served in the U.S. Armed Forces during World War I. The Coliseum was declared a state and national historic landmark in 1984.
We have served the Los Angeles market for more than 80 years and has recently made an investment to elevate the customer experience in its terminals at LAX. United proudly supports organizations and programs in these local communities where its customers and colleagues live and work to help make a difference and inspire future leaders.
"The generosity of our donors — both large and small — will preserve this venue for generations to come and make it a truly world-class facility," said USC Athletic Director Lynn Swann. "When construction is complete, our home field will be the best it's ever been, for our players, our students and our Trojan fans, and that's thanks to the contributions from founders and alumni and partners like United Airlines."
For more information on our naming rights agreement with the University of Southern California, visit United Newsroom. And to see a recap of the LAX airport event yesterday, watch the Facebook Live video below.