Fun, festive and fierce: Our first Drag Queen brunch in Chicago
It was fun. It was festive. It was fierce… It was our first-ever MileagePlus® Exclusives Drag Queen Brunch in Chicago. As the sold-out crowd of over 200 entered The River Kitchen and Bar in Chicago's Lakeview neighborhood on Sunday, cloud balloons hung from the ceiling, feather boas covered chairs, Lizzo and other pop music blasted from the speakers, rainbow lights shined bright and Drag Queens were on-hand to welcome everyone to what would be an epic event celebrating Pride Month and being proud of our commitment to becoming the most inclusive airline in the world.
To attend the event, participants donated their miles to our charity partner, The Trevor Project, a nonprofit that provides intervention and suicide prevention services for LGBTQ youth.
"This year, we wanted to take Pride Month a step further by bringing an experience that recognizes and embraces the different communities our customers and employees are part of while supporting a great cause and organization," said Luc Bondar, Vice President of Loyalty and President of MileagePlus. "The brunch created an inclusive environment to come together as a United family. To our Drag Queen performers and volunteers, thank you for allowing us to be part of your story and empowering others through your courage to be who you are."
As attendees took to their seats, sipping on mimosas and tasting entrees with names like, "Fierce Toast", "Snatch My Wig Wings" and more, they cheered, clapped and sang as the Drag Queens performed numbers that had them dancing around the restaurant, jumping on tables and even swinging from the rafters on the ceiling.
"It was very entertaining," said Kevin Mercer, a MileagePlus customer and event attendee. "I'm happy to participate in such a wonderful opportunity to help an organization like The Trevor Project. I want to do what I can to help others and make their situation better."
At the end, the Drag Queens walked the runway in travel and aviation inspired costumes. Bondar was joined by three of our employee volunteers who also are Drag Queens, "Koko Nutwata" (Newark Liberty International Airport Flight Attendant Nicholas Villeneuve), "Traci E" (George Bush Intercontinental Airport Flight Attendant David Revils) and "Valerie BeDanza" (Newark Liberty International Airport Flight Attendant Hassan Salazar) to determine who had the best costume. The winner won a trip for two to anywhere domestically.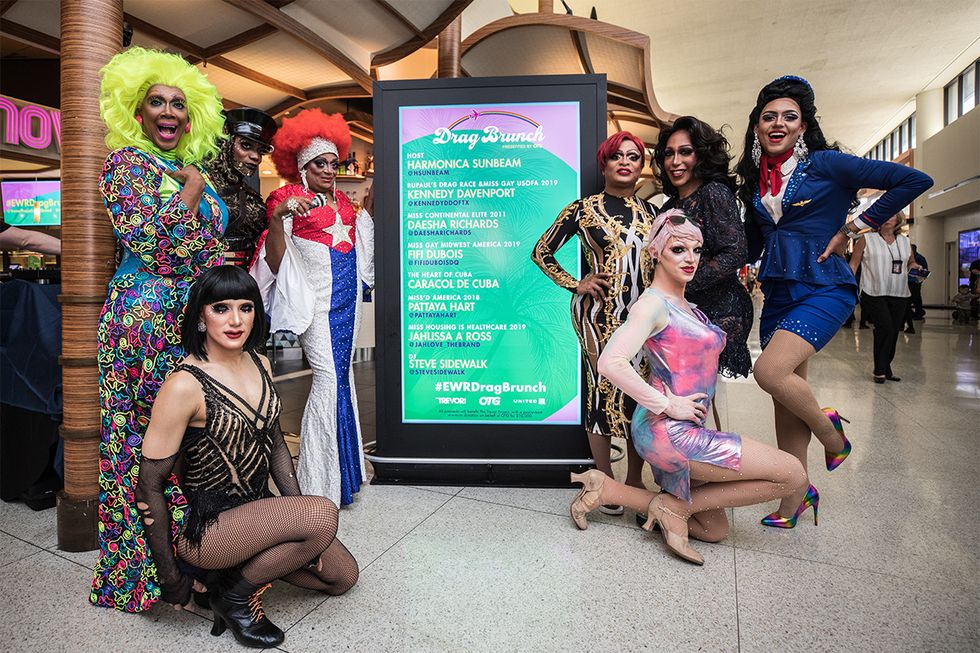 "This is what Pride is about," said Hassan. "It was so exciting seeing everyone at the brunch having fun. I've been so overwhelmed with the love, support and acceptance I've received from United. This Pride Month has been so special to me as I continue to grow as a Drag Queen and be who I am."

Chicago's Drag Queen Brunch comes the weekend after we hosted the first-ever airport Drag Queen Brunch at Newark in partnership with the Trevor Project and OTG Management.
"As a company, embracing the LGBTQ+ community is a priority so that our customers and employees feel welcomed," said Jill Kaplan, United's president for New York and New Jersey. "We were extremely proud to host the inaugural drag brunch in partnership with OTG at Newark Airport in celebration of pride, but equally as enthusiastic to support organizations like The Trevor Project who provide assistance for LGBTQ youth."
The Drag Queens, which included "Valerie" and Kennedy Davenport, star of RuPaul's Drag Race, danced down a makeshift runway at Newark's Terminal C, revving up the crowd of onlookers with their moves and songs as those at the brunch enjoyed delicacies from places like Mélange Bakery and sipped on "Taste the Rainbow" cocktails.

Over a million miles have been redeemed through eight MileagePlus Exclusives Pride experiences offered to members this year. MileagePlus will be donating all the miles redeemed to The Trevor Project. The brunch at Newark raised over $10,000 for The Trevor Project.
"It's fun enjoying each other and knowing that we have come far," said Hassan. "We're continuing to grow and accept one another and at the end of the day, that's all that matters. Drag or not, we're all the same."
Load more
Scroll to top