Finding our heart in Peru
Sisters and United MileagePlus® Premier® 1k members, Kelsey and Courtney Montague, are constantly traveling to create street art pieces for communities around the world. This year they teamed up with us to travel to Peru to explore the beautiful country, and to create a custom mural for a very special group of young women participating in the Peruvian Hearts program. Peruvian Hearts, now part of our Miles on a Mission program, works to support female leaders with access to education, counseling and peer support
Finding tranquility at Machu Picchu
As we hiked up the ancient steps of Machu Picchu, we were surrounded by Incan merchants, servants and townsfolk climbing the stairs to start their day. As foreigners not used to hiking at 7,9000 feet, the locals sprinted by us as we struggled up the steep steps, with the lush rainforest behind us and ancient city just beyond. But even with burning legs and straining lungs, it's likely anyone's breath would be taken away (as ours was) once they reached the clearing above this sprawling city in the clouds. All thoughts of the slightly tortuous route we took to this dazzling ancient city were forgotten the second we laid eyes on this UNESCO World Heritage site.
Along with my sister Kelsey, our Dad and our friend Clay felt the power and mystery when we all arrived at the vantage point over the city of Machu Picchu. The day before we had traveled all day from Denver flying in United's stunning United Polaris®. We slept fully flat on two excellent flights, curled up on down pillows and wrapped in Saks Fifth Avenue comforters. We slept soundly after feasting on steak and chocolate sundaes and spent a layover chatting with bartender, Steven, as he made us cosmos at the United Polaris lounge in Houston. It was wonderful, but the best part? Arriving in Peru so rested and relaxed we were able to completely savor this moment at Machu Picchu. A moment only made sweeter when our Dad turned to us and thanked us for taking him on the trip of a lifetime and giving him the opportunity to see a place he never thought he'd get to visit.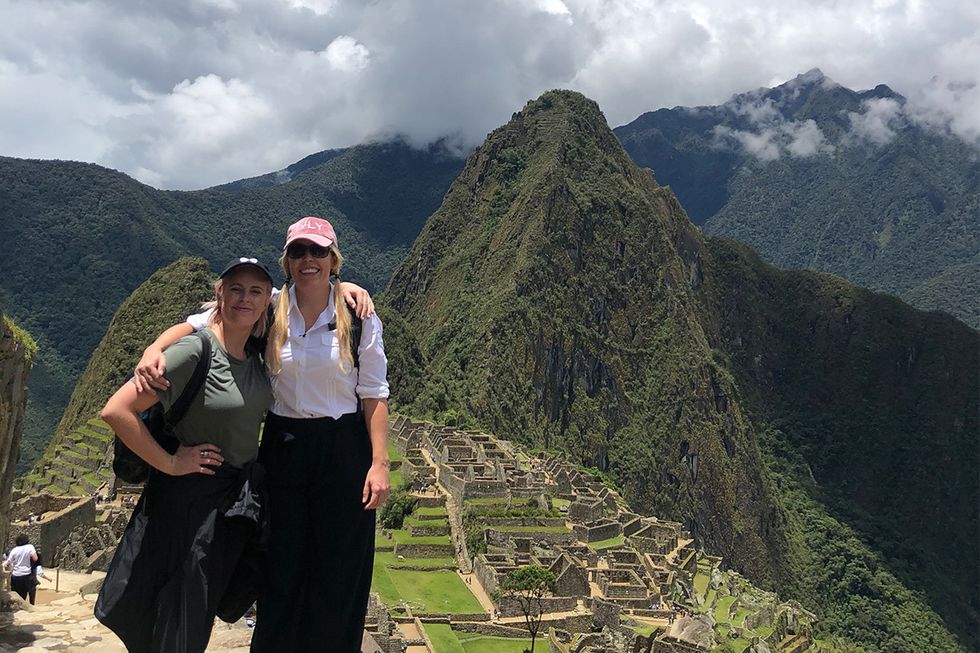 We explore the ruins with the wide eyes of children, enjoying every view and savoring every piece of information from our guide. Llamas 'own' the ruins and gently nudge tourists aside as they scamper between buildings to their favorite pasture. The terraces on the outskirts of the town were used to prevent soil erosion and to farm maize and beans. Condors soar above our heads, their keen eyes hunting for chinchillas tucked into the terrace rock walls.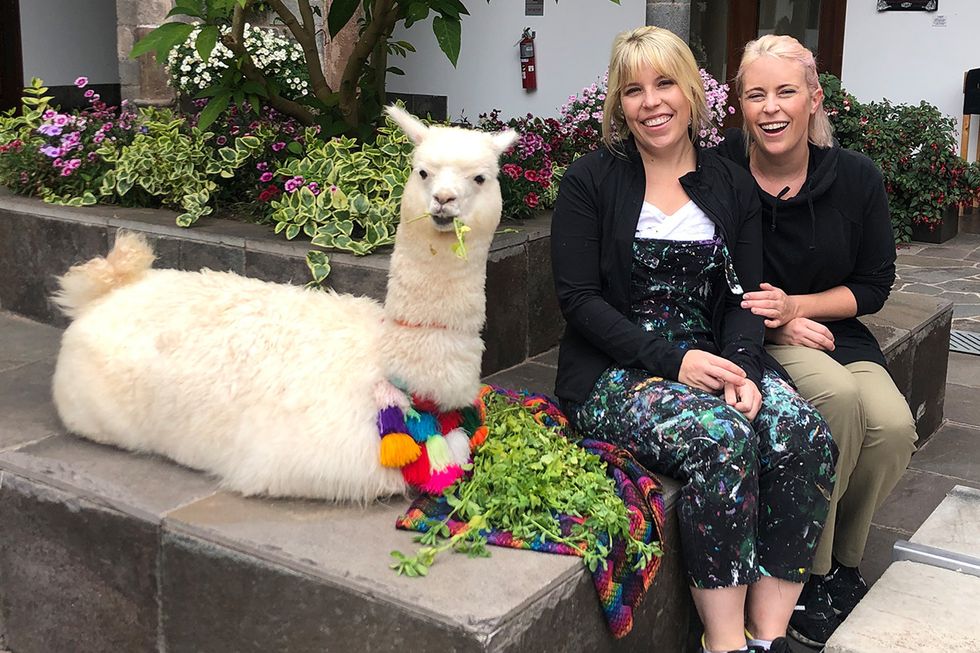 Incan community members that lived or worked in Machu Picchu must have felt the same way we felt the first time they came across this thriving metropolis, situated on top of a mountain. Incan urban planners neatly organized centers for astrological studies, religious ceremonies, sports, commerce and farming. The buildings were built from granite and limestone, likely from a quarry located on the same mountaintop. Some buildings were so finely constructed scientists still don't quite know how the Incans did it.

At the end of the tour we come to the sacred rock — a perfect, flat replica of the Yanantin mountain behind it. Some mystical members of society believe that touching the rock transmits tremendous power. I won't lie that I quietly let my fingers graze the stone as a I walked by. Did I feel a sudden power rush? No. But did I leave Machu Picchu filled with a sense of wonder and a reaffirmed belief that anything is possible? Yes.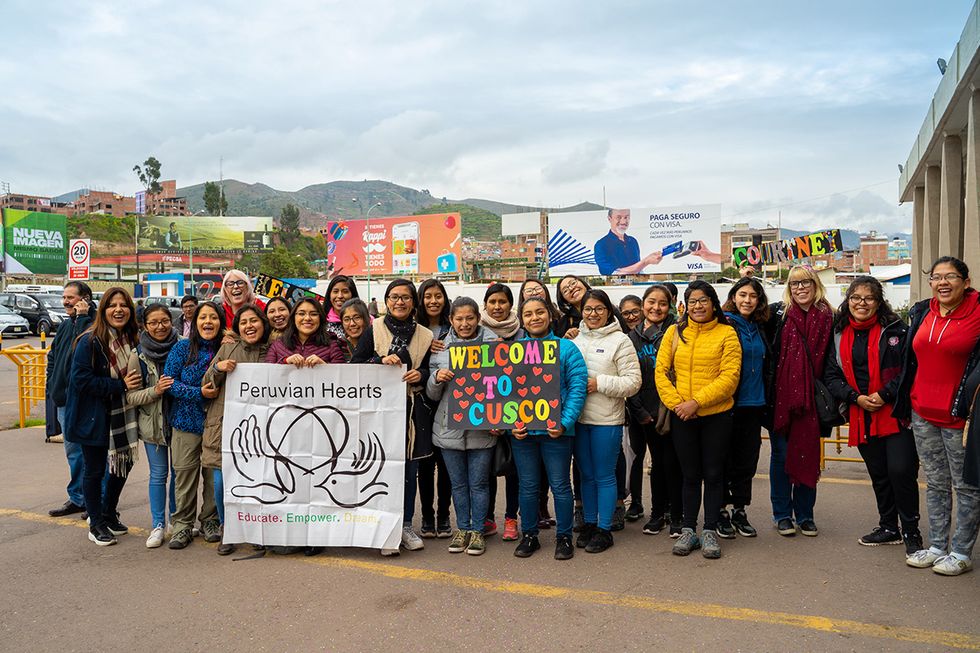 Partnering with Peruvian Hearts

The next morning, we awoke ready to tackle the most meaningful part of our trip to Peru — working with Peruvian Hearts.
Peruvian Hearts works to support women by giving them access to education, counseling and peer support. They are currently working with 32 talented, bright young women who they have hand-picked from secondary institutions across Cusco. They focus on supporting brilliant engineers, psychologists, teachers, scientists and doctors. These are the future female leaders that will change their communities, their country and the world for the better.
When we arrive to meet these scholars, they cheer, and each young woman gives Kelsey and me a hug. Overwhelmed, we both begin to cry. We are so grateful for our job as a traveling street art team, but we are on the road so much we are often very lonely. We can't remember the last time we received so many hugs or saw so many bright smiles.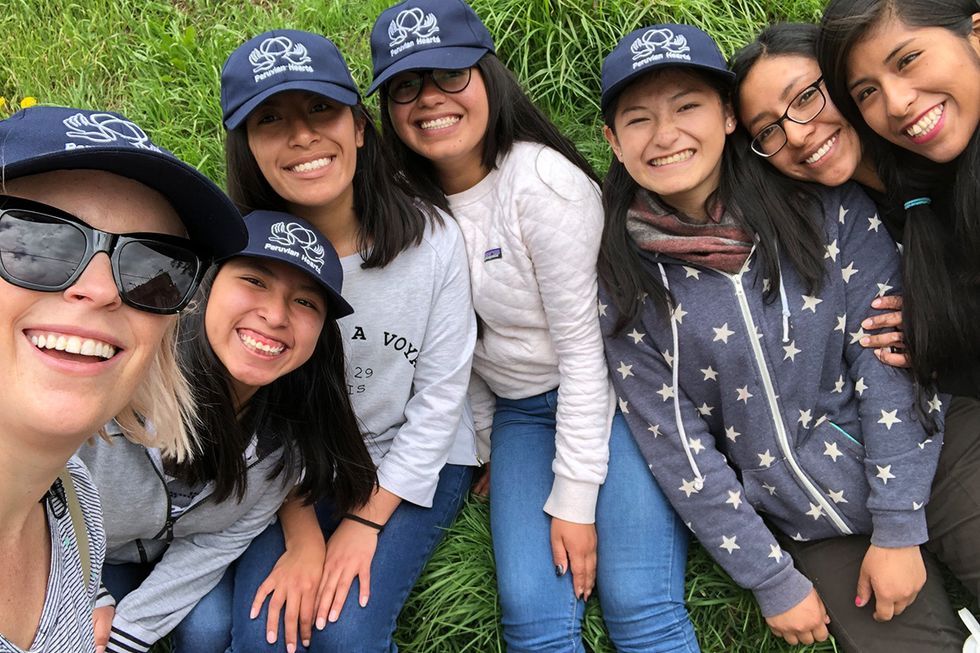 When we arrive to the Peruvian Hearts headquarters a number of the young women tell us how they found Peruvian Hearts. Aldi, a brilliant engineer in training, was asked to join this special organization because she was first in her class in secondary school. She grew up in tough financial circumstances — her mother is ill and unable to work, and her father works in construction. As the only person in her family who has attended university, she is the primary hope of her family. Tears stream down her face as she describes how tough it has been for her family to survive. So many of these young women tell similar stories and carry the weight of their entire family's future squarely and proudly on their shoulders.

These stories reaffirm the reason Kelsey and I decided to join forces with United — we hope to make that weight on their shoulders a little lighter. As we worked on the mock-up for the mural to commemorate Peruvian Hearts, United decided to help in another way by including Peruvian Hearts in their new Miles on a Mission program. A first of its kind program, United MileagePlus members can now donate their miles to nonprofits they care about. Miles that will help young women like Aldi attend conferences in the United States or study abroad in Mexico.
Other women will be able to travel more freely between their studies in Lima and their families in Cusco. The young scholars were so excited to now be part of the United family and to have access to the connections a major airline can bring.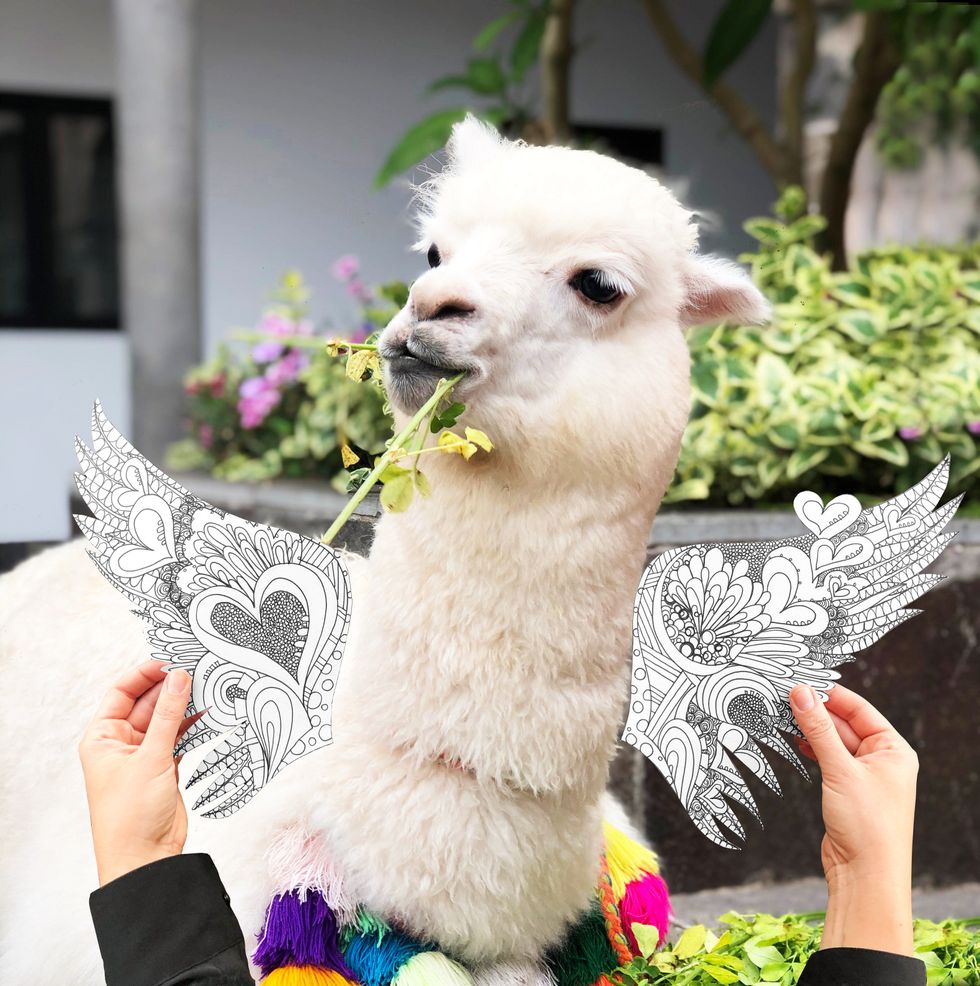 After an ideation period Kelsey decided to create a large-scale heart flock mural with 32 hearts on one side to represent the young women in the program and 32 hearts on the other side to represent those to come. Over two days we painted the piece and filled it with items that represent Peru (a llama, a condor, Peru's national flower and butterflies), Peruvian Hearts (pencils, books, and a shooting star) and a United airplane. As we worked on the piece the ladies sang, danced and told us their dreams. Dreams to travel, learn new languages, start meaningful careers and change their communities for the better.

When we finished the piece — two massive streams of hearts that appear to be coming from the person standing in the middle of the mural — the girls came to thank us. With cheers, hugs and kisses they explained how proud they were that this mural was for them and how it would continue to lift them up as they work hard to improve their circumstances.
At the end of this project Kelsey and I felt so blessed to be connected to such a wonderful group of women. At that moment we realized that is what art and travel should be about. Art and travel should connect us to each other as humans and to something deeper within ourselves — a desire to lift each other up.
Visit United's
Miles on a Mission program
to support Peruvian Hearts .
In the midst of mobilizing our cargo operations, our teams at New York/Newark (EWR) and Jacksonville (JAX) stepped in to assist Roche Diagnostics with transporting a vital component for an instrument being used for COVID-19 testing.
The component was stuck at EWR en route to the Mayo Clinic in Florida after another airline's flights were cancelled. A Roche employee contacted us asking for help and, within a few hours, our teams had the piece loaded onto a Jacksonville-bound aircraft, with arrangements in place to deliver it to the Mayo Clinic.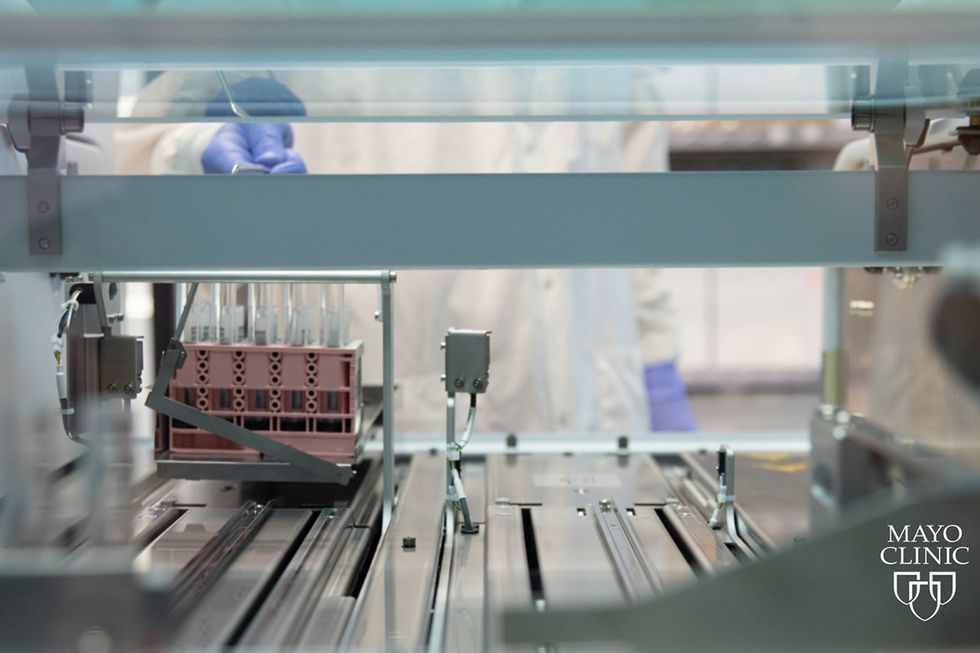 The item we shipped will allow the Mayo Clinic in Florida to process hundreds of COVID-19 tests per day. Mayo Clinic Laboratories has been on the front lines of increasing testing capacity to expedite caring for patients at this critical time and working to ease the burden being felt at test processing laboratories in a growing number of areas.

We are helping to keep military families connected by increasing the frequency of cargo
-only flights between the United States and military bases in
various parts of the world —
including Guam,
Kwajalein
,
and several countries in
Europe
.
Last week
we
began
operating
a minimum of 40 cargo-
only
flights
weekly —
using Boeing 777 and 787 aircraft to fly freight
and mail
to and from U.S. hubs and key international business
and military
locations.
We are going above and beyond to find creative ways to transport fresh food and produce, as well as basic essentials from the U.S. mainland to military and their families in Guam/Micronesia. On Saturday, March 28, we operated an exclusive cargo-only B777-300 charter to transport nearly 100,000 pounds of food essentials to Guam to support our troops.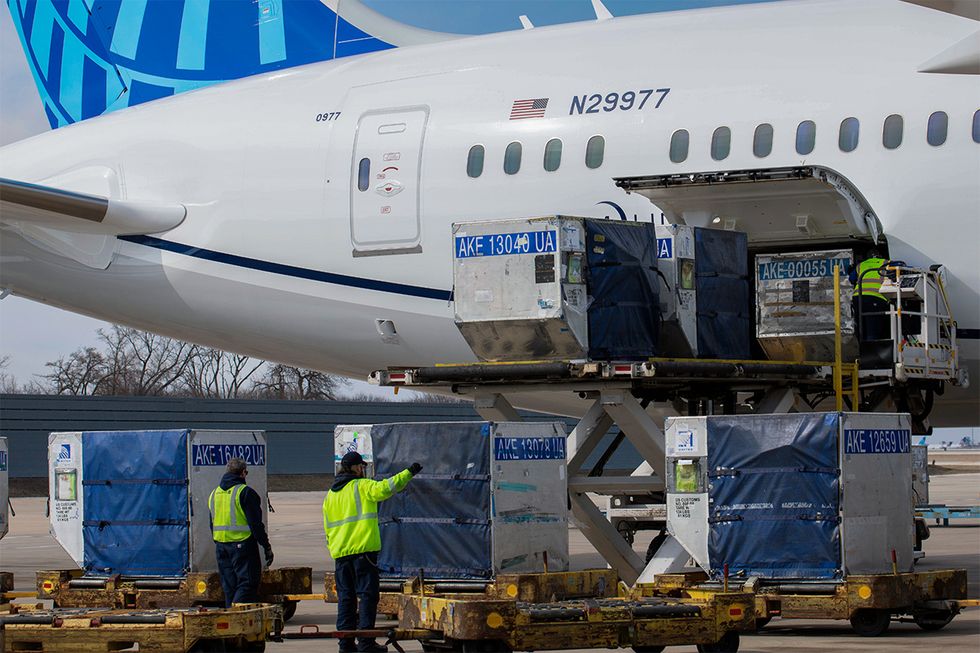 In addition, we move mail year-round all over the world. In response to COVID-19, and in support of the military members and their families overseas, we implemented a charter network, transporting military mail to Frankfurt, which is then transported all over Europe and the Middle East. Since March 20, we have flown 30,000+ pounds of military mail every day between Chicago O'Hare (ORD) and Frankfurt (FRA). On the return flight from Frankfurt to Chicago, we have carried an average of 35,000 pounds of mail to help families stay connected.

"Connecting products and mail to people around the world is the United Cargo mission," said United Cargo President Jan Krems. "Keeping our military families connected with the goods they need, and keeping them connected with loved ones to feel a sense of home, is of critical importance. As a company that has long supported our military families and veterans, our teams are proud to mobilize to lend a hand."
On average, we ship more than 1 billion pounds of cargo every year on behalf of domestic and international customers. For more information, visit unitedcargo.com.
To our customers,
I hope this note finds you and your loved ones healthy and well.
It is safe to say these past weeks have been among some of the most tumultuous and emotional that any of us can remember in our lifetimes. The impact of the coronavirus outbreak has been felt by individuals and families, companies and communities, across the United States and around the world.
The response to this crisis has been extraordinary; as much for what it has required from our society as for what it has revealed of us as a people.
Far from causing division and discord, this crisis and the social distancing it has required, has allowed us to witness something profound and moving about ourselves: our fond and deeply felt wish to be connected with one another.
The role of connector is one we're privileged to play in the moments that matter most in your life – weddings and graduations, birthdays and business trips, events large and small – and it's that responsibility that motivates us most to get back to our regular service, as soon as possible.
That is why it is so important our government acted on a comprehensive relief act to ensure our airline – and our industry – are ready and able to serve you again when this crisis abates.
I want to relay to you, in as deeply personal a way I can, the heartfelt appreciation of my 100,000 United team members and their families for this vital public assistance to keep America and United flying for you.
This support will save jobs in our business and many others. And it allows us time to make decisions about the future of our airline to ensure that we can offer you the service you deserve and have come to expect as our customers.
While consumer demand has fallen, we have seen the need for our service and capabilities shifted. And, we've adapted to help meet those needs.
Right now, aircraft flying the United livery and insignia, flown by our aviation professionals, have been repurposed to deliver vital medical supplies and goods to some of the places that need it most. We're also using several of our idle widebody aircraft to use as dedicated charter cargo flights, at least 40 times per week, to transfer freight to and from U.S. locations as well as to key international business locations. At the same time, we are working in concert with the U.S. State Department to bring stranded Americans who are trying to return home back to their loved ones.
While much remains uncertain right now, one thing is for sure: this crisis will pass. Our nation and communities will recover and United will return to service you, our customers. When that happens, we want you to fly United with even greater pride because of the actions we took on behalf of our customers, our employees and everyone we serve.
Stay safe and be well,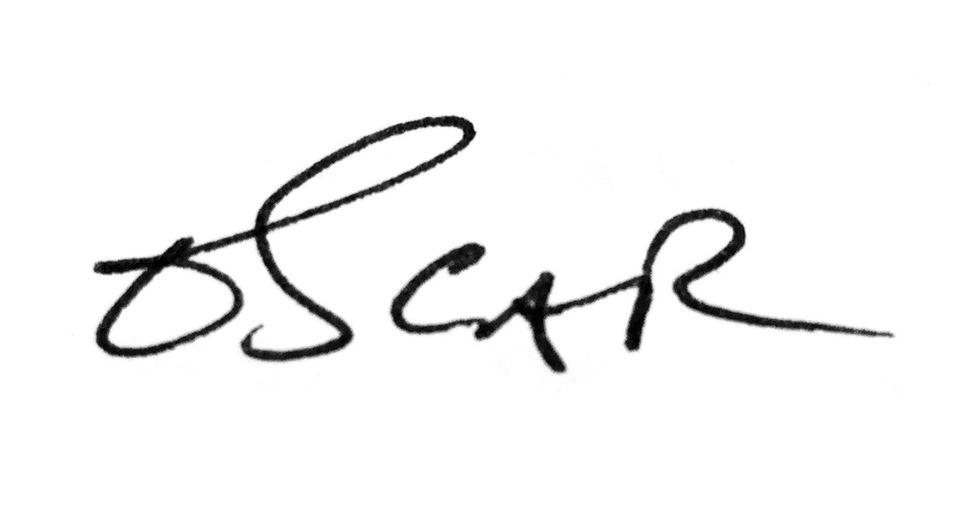 Oscar Munoz
CEO
Together, we are facing an unprecedented challenge. United Together, we rise to meet that challenge.
Check out our newest destinations
United Airlines
united
When
@RocheDia
needed to ship a vital component of a COVID-19 testing unit from New Jersey to Florida, United Cargo jumped in to help. Read about how this part will allow
@MayoClinic
to process hundreds of tests per day for cases in the Southeastern U.S.
uafly.co/2UzOAGW
United Airlines
united
International schedule update: We know some people around the globe are displaced and still need to get home. We are reinstating some international flights over the next few days and will continue to fly six daily international flights through May.
uafly.co/3a5Dj6p
United Airlines
united
We have extended our change fee waiver to cover travel through May 31, 2020: - You can change or cancel your flight on
united.com
or through the app – a phone call is not required - For the latest on our commitment to your safety, visit
united.com/coronavirus
United Airlines
united
Our site,
united.com/coronavirus
, is regularly updated with the latest on travel restrictions, rebooking instructions and health and safety information. Today's updates: - An expanded, more flexible international rebooking policy - Schedule changes for U.K. & Ireland
We Are United
weareunited
Shoutout to our operations team, who are working to properly park, maintain and store many aircraft in the
#BeingUnited
fleet. These aircraft are being housed across our seven hubs, maintenance facilities in CLE and MCO as well as at offsite facilities in New Mexico and Arizona.
We Are United
weareunited
Tomorrow, Oscar and Scott will host a companywide town hall to discuss the latest developments in managing the effects of the coronavirus (COVID-19). You can join the livestream event at 1:20 p.m. CT here:
uafly.co/39AV25m
We Are United
weareunited
Tomorrow, Oscar and Scott will host a companywide town hall to discuss the latest developments in managing the effects of the coronavirus (COVID-19). You can join the livestream event at 1:20 p.m. CT here:
uafly.co/39AV25m
.
Watch our most popular videos
Copyright © 2020 United Airlines, Inc.
All rights reserved.
Indicates an external site that may or may not meet accessibility guidelines.
Scroll to top
Scroll to top