15 of the most iconic beaches in the world
A lot of beaches are beautiful, beloved, even sublime. But these beaches are something more — distinct, unforgettable, legendary. In a word: iconic. From famous urban strands that bustle with activity to natural coastal wonders that dominate bucket lists, these 15 shorelines have that certain je ne sais quoi. See if you recognize them all.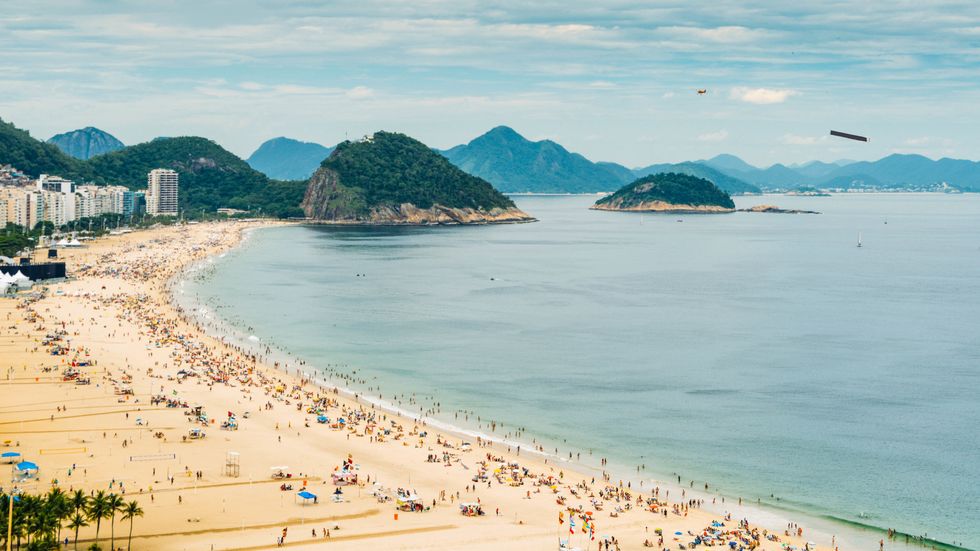 Copacabana, Rio de Janeiro, Brazil
At Copacabana Beach, the people watching may be even more riveting than the scenery. Spy cariocas (native Rio residents) socializing, playing volleyball and sipping coconut water, all in requisite Brazilian swimwear. Celebs from Fred Astaire to Madonna have graced the circa-1923 Belmond Copacabana Palace hotel, set along Atlantica Avenue, with its wavy black-and-white mosaic design. Travel over Dec. 31 to witness the biggest party on the planet — the city's New Year's Eve celebration that draws more than 2 million people.
Santa Monica Beach, California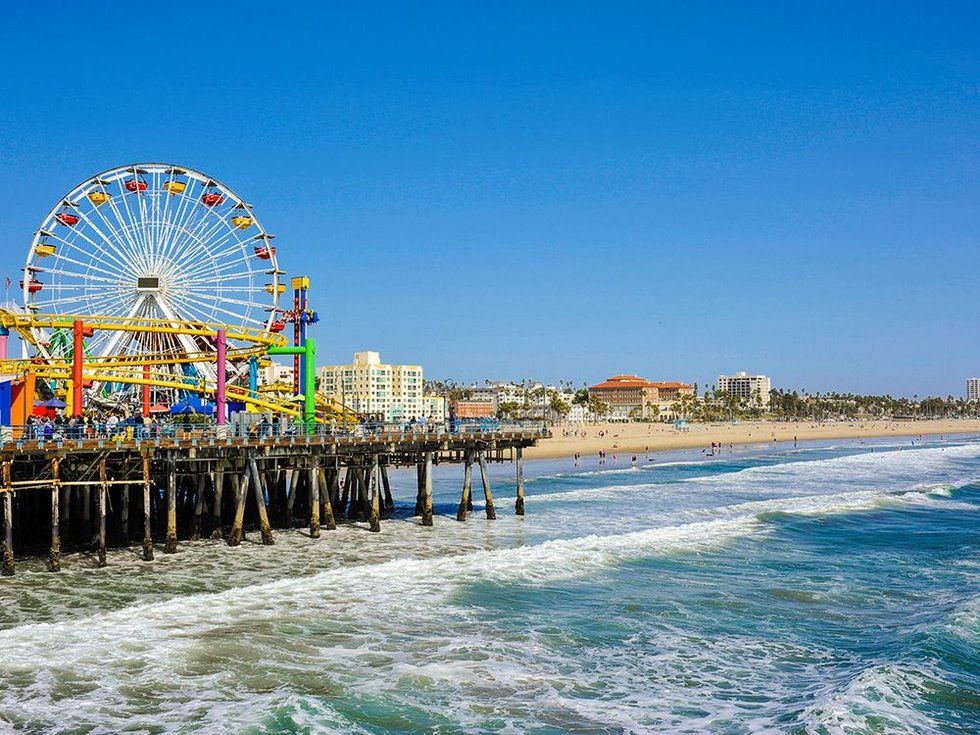 Santa Monica Beach, California /Shutterstock
Spanning 3.5 miles, Santa Monica Beach is where nostalgia meets California living. Along Ocean Front Walk, fitness enthusiasts take advantage of retro workout equipment, while the Marvin Braude Bike Trail hums with tanned skateboarders, rollerbladers and cyclists. Most recognizable is the circa-1909 pier, with its street performers, artists, historic carousel and solar-powered Ferris wheel. Book a room at Shutters on the Beach to be in the heart of the action.
South Beach, Miami, Florida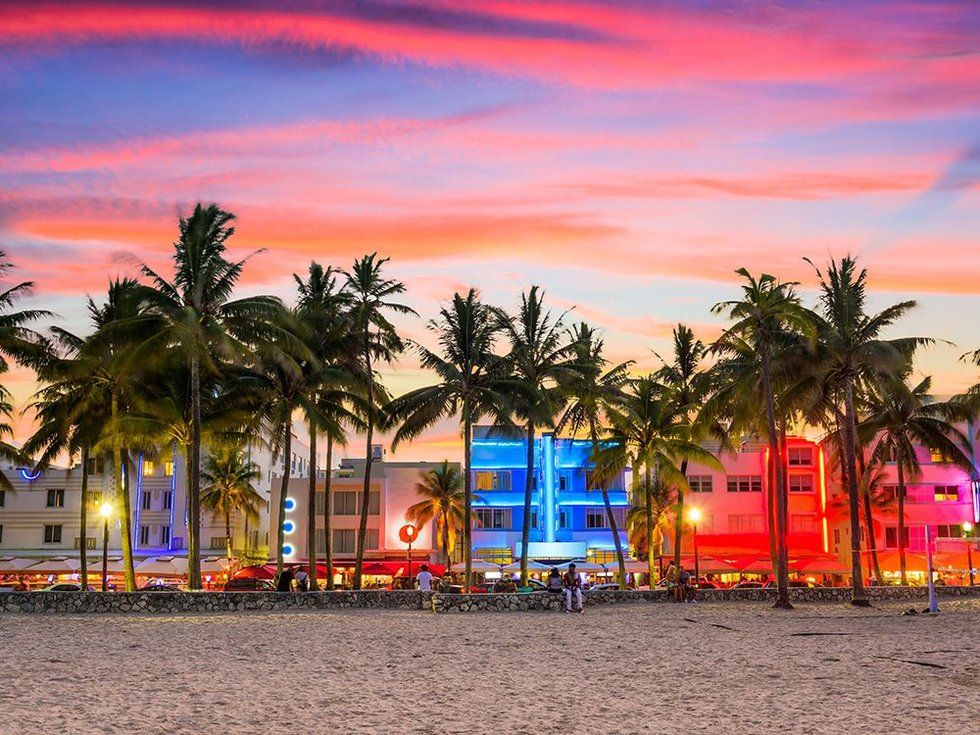 South Beach, Miami, Florida /Shutterstock
Glamorous hotels, clubs and restaurants converge in South Beach, but the American Riviera is most famous for its Art Deco vibe and 2 miles of white sand. Rack up Instagram likes by the 35 bright and funky lifeguard towers, and rent a DecoBike to explore the Art Deco Historic District's 800 landmarks built from 1923 to 1943. Called the grand dame of art deco design, The Raleigh hotel has been a hot spot since 1940.
Renaissance Island, Aruba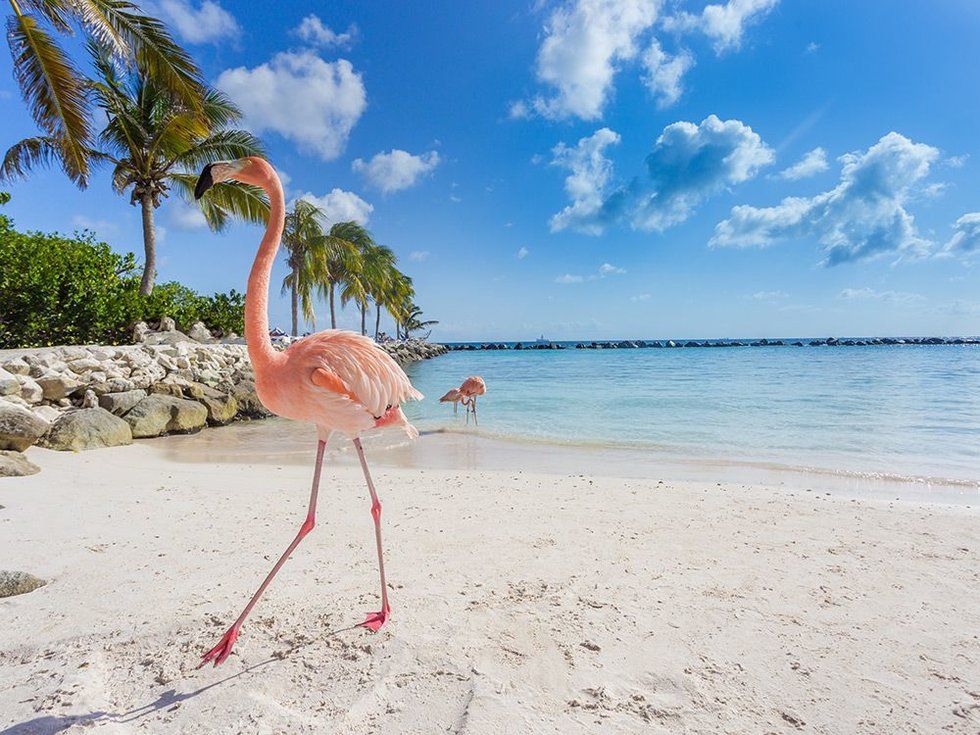 Renaissance Island, Aruba /Shutterstock
The Renaissance Aruba Resort & Casino's manmade private island is the only place in Aruba to take a selfie with a flamboyance of flamingos, who are happy to oblige in return for kibble from a vending machine (bring quarters). The island is open only to resort guests, though a limited number of day passes are sold each morning. Flamingo Beach is adults-only, but kids can spy sunbathing iguanas on Ren Island's family-friendly beach.
Waikiki, Honolulu, Hawaii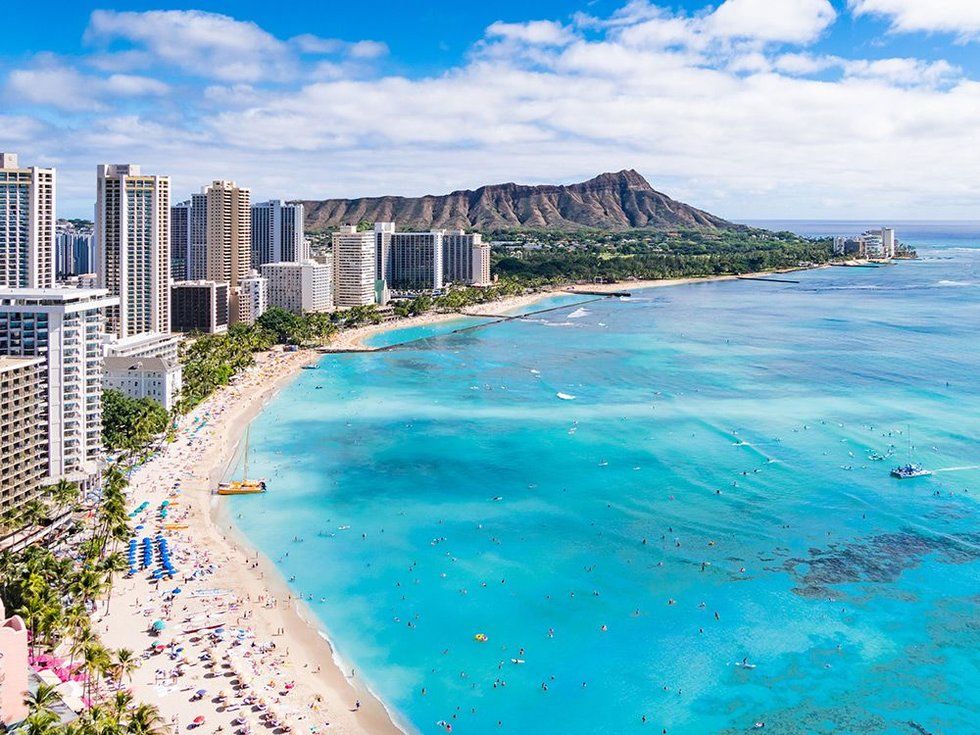 Waikiki, Honolulu, HawaiiShutterstock
In 1901, the Moana Surfrider resort opened on the south shore of Oahu, and Waikiki's status as a prime vacation spot was cemented. More than a century later, a multimillion-dollar refurbishment transformed Kuhio Beach and the Waikiki Beach Walk, an alfresco promenade that buzzes with live music, nightlife, restaurants and shops. Sample Hawaiian poke on almost every corner, hang 10 where Duke Kahanamoku surfed, and climb 300,000-year-old Diamond Head crater.
Navagio Beach, Zakynthos, Greece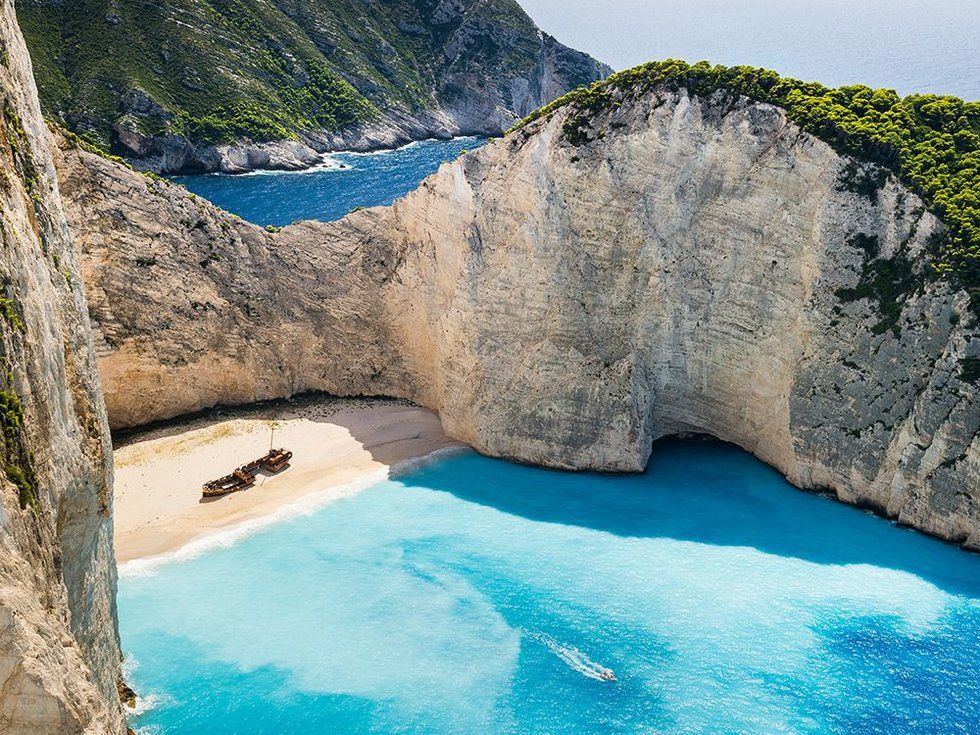 Navagio Beach, Zakynthos, Greece /Shutterstock
You've seen this photogenic bay on travel ads — now discover where it is: Navagio Beach, on the Ionian Isle of Zakynthos. Enclosed by limestone cliffs, the cove is also known as Shipwreck Beach thanks to the rusting vessel of the Panayiotis, which washed ashore here in 1982. Get the obligatory lofty photo from the viewpoint near the Anafonitria monastery. Potamitis Boat Trips offers tours to the beach, as well as windmill accommodations in the Skinari area.
Whitehaven Beach, Whitsunday Island, Australia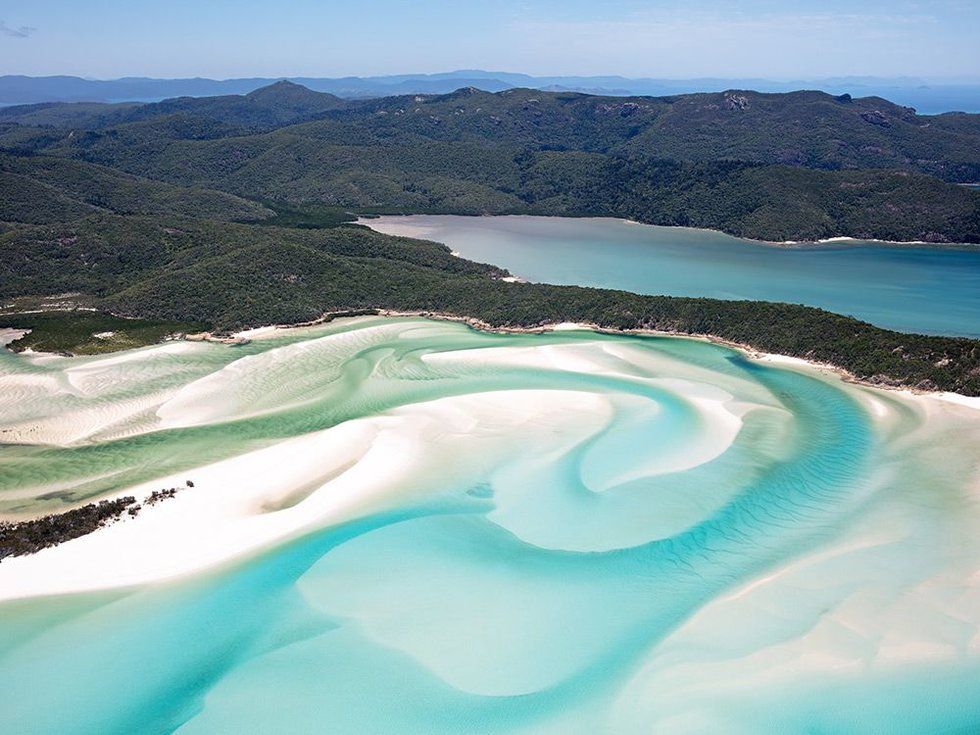 Whitehaven Beach, Whitsunday Island, Australia /Shutterstock
Preserved within Whitsunday Islands National Park on the Great Barrier Reef, Whitehaven Beach stretches for more than four miles. Its most recognizable section, Hill Inlet, dazzles observers with its multi-tinted turquoise water and bleach-white silica sand that shifts and swirls with the tides. Get a stellar view from the lookout at Tongue Point, or gawk from a helicopter with Hamilton Island Air. Nearby, Hamilton Island is home to several resorts, from luxury (Qualia) to value (Palm Terrace Hotel).
Maya Bay, Phi Phi Islands, Thailand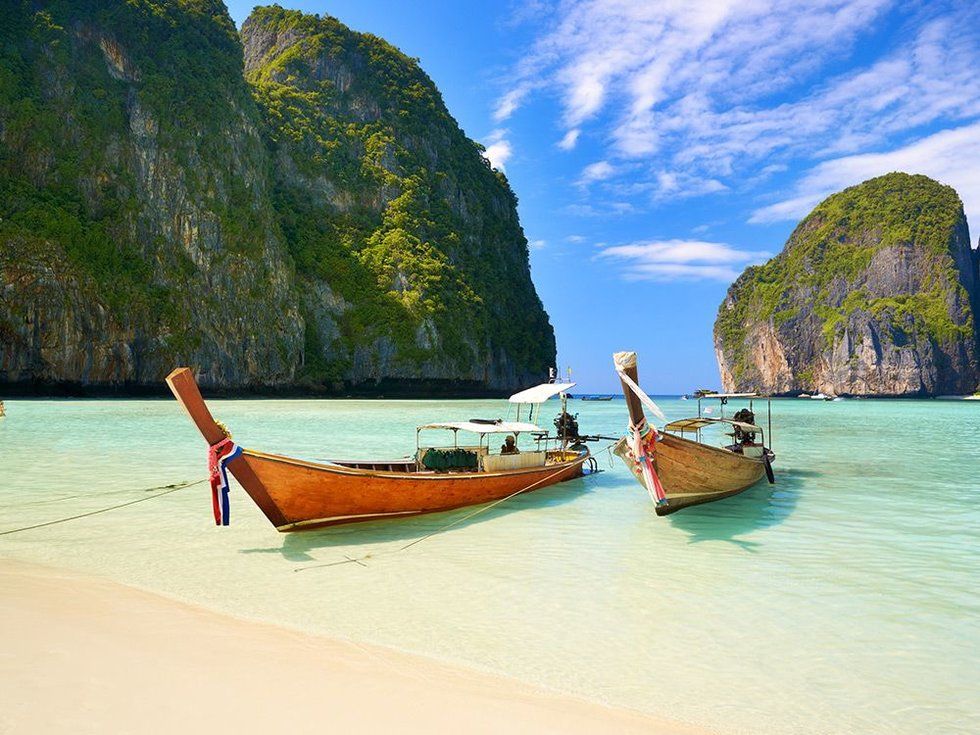 Maya Bay, Phi Phi Islands, Thailand /Shutterstock
Blasted onto the travel map after the release of the film, The Beach, in 2000, Maya Bay sees more tourists than it can literally handle. Thailand's Department of National Parks, Wildlife and Plant Conservation closed the beach for four months in 2018 for reef recovery, and when it reopens in September, visitors will be capped at 2,000 a day. Those who make the cut can ogle the famous sugar sand and 300-foot cliffs in person. The neighboring island of Phi Phi Don holds the Phi Phi Islands' only accommodations, including Zeavola's rustic-chic suites.
Trunk Bay, St. John, U.S. Virgin Islands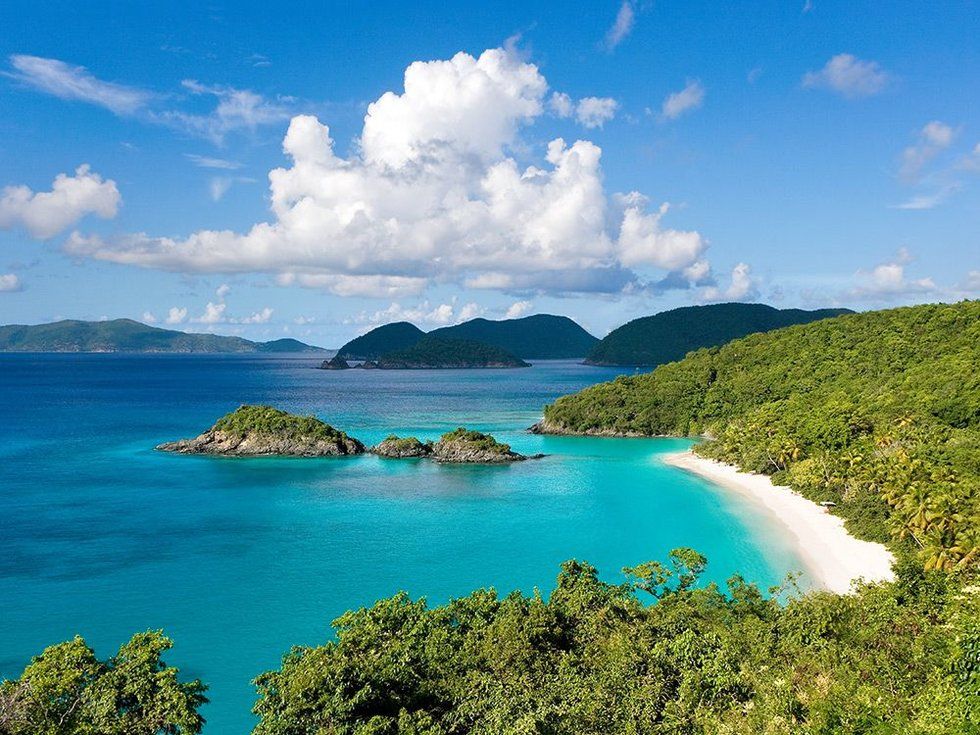 Trunk Bay, St. John, U.S. Virgin Islands /Shutterstock
Donated to the U.S. National Park Service by Laurence S. Rockefeller in 1956, Trunk Bay remains blissfully hotel-free. Visitors do, however, share the pristine beach with cruise passengers and schools of tropical fish, viewed along the 225-yard underwater snorkeling trail. Get the classic shot of Trunk Bay from the scenic overlook on North Shore Road. The island's two large full-service resorts remain closed after Hurricane Irma, so find a private vacation rental, or book a room at Gallows Point Resort.
The Baths, British Virgin Islands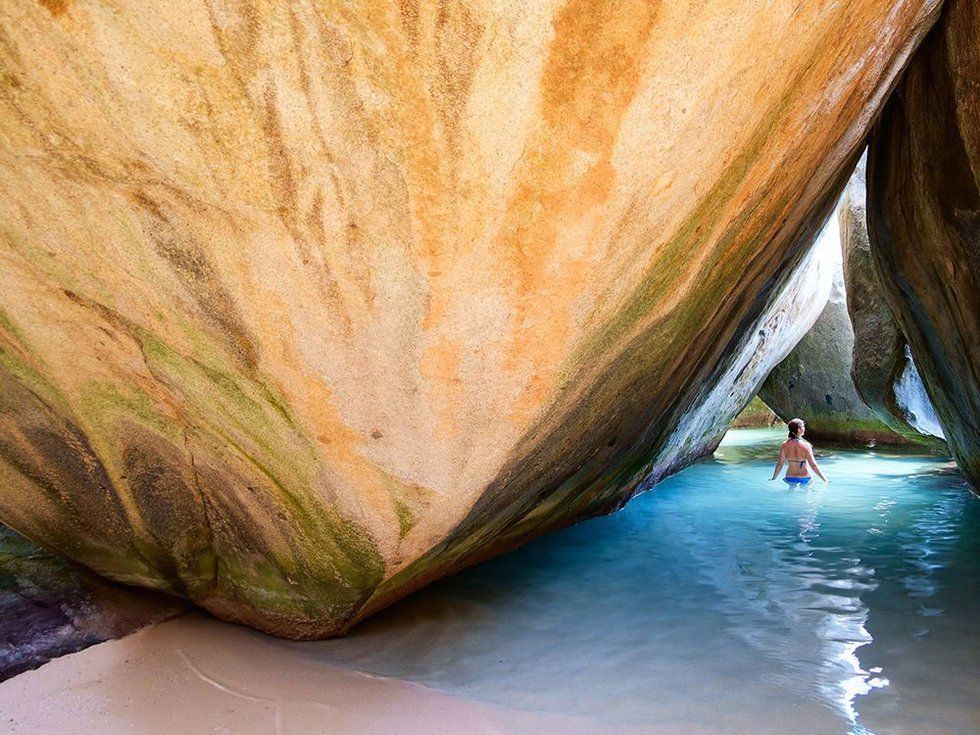 The Baths, British Virgin Islands /Shutterstock
It's practically impossible to take a bad photo at the Baths, a series of large granite boulders that decorate the southern shore of Virgin Gorda. Volcanic in origin, the famous rock formations create a magical trail of sheltered grottoes, pools and tunnels along the beach. The island was badly hit by Hurricane Irma in 2017, but the luxury resort community of Oil Nut Bay is open and accepting reservations.
Anse Source d'Argent, Seychelles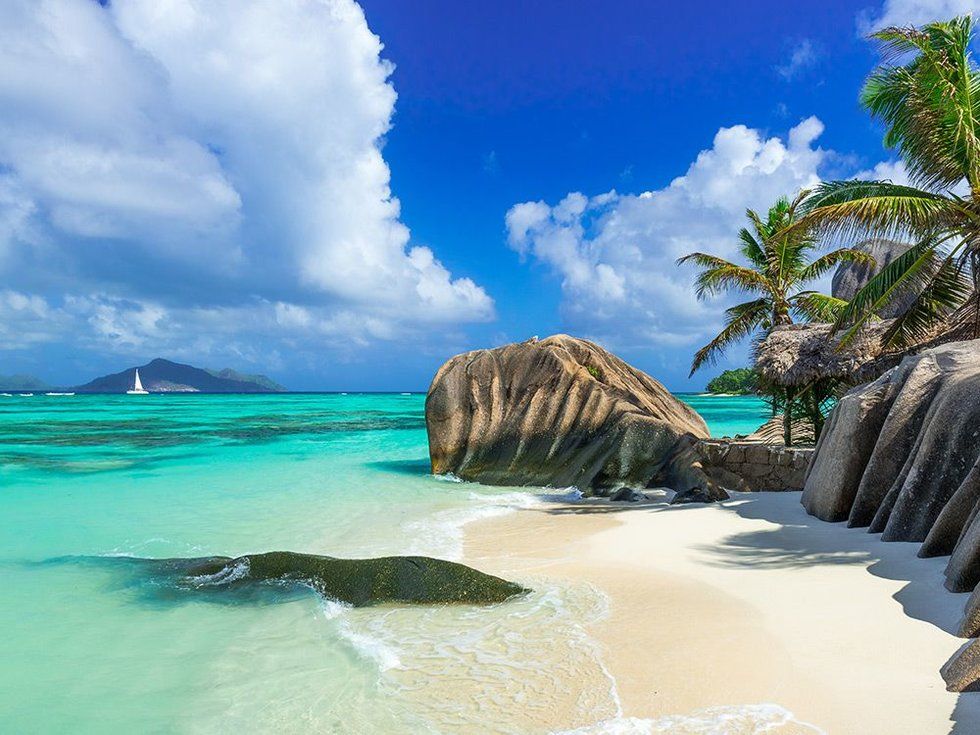 Anse Source d'Argent, Seychelles /Shutterstock
Once believed to be the Garden of Eden, the Seychelles are about as close as it gets to heaven on Earth. And with no airport, no resort chains, and bicycles in place of cars, the island of La Digue is particularly idyllic. Its best beach, Anse Source d'Argent, is the quintessential place to marvel at the destination's elephantine granite boulders. Reserve a budget guesthouse, or splurge on a luxury hideaway such as Le Domaine de l'Orangeraie Resort & Spa.
Tulum, Mexican Caribbean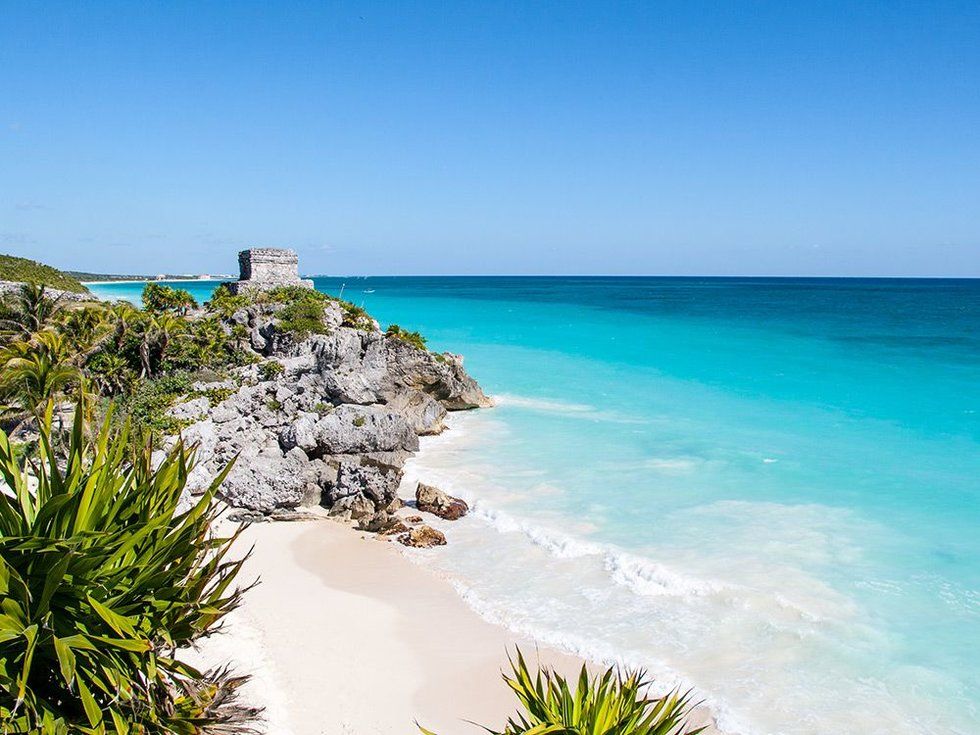 Tulum, Mexican Caribbean /Shutterstock
Not many tropical beaches can claim to have archeological ruins on their shores. A significant trading and religious center from the 11th to the 16th century, Tulum's famous Maya site is a major draw for tourists. After exploring the crumbling temples and other structures, cool off in the Caribbean Sea 40 feet below. Dreams Tulum Resort & Spa, just 10 minutes away, books tours directly through the hotel.
Spiaggia Grande, Positano, Italy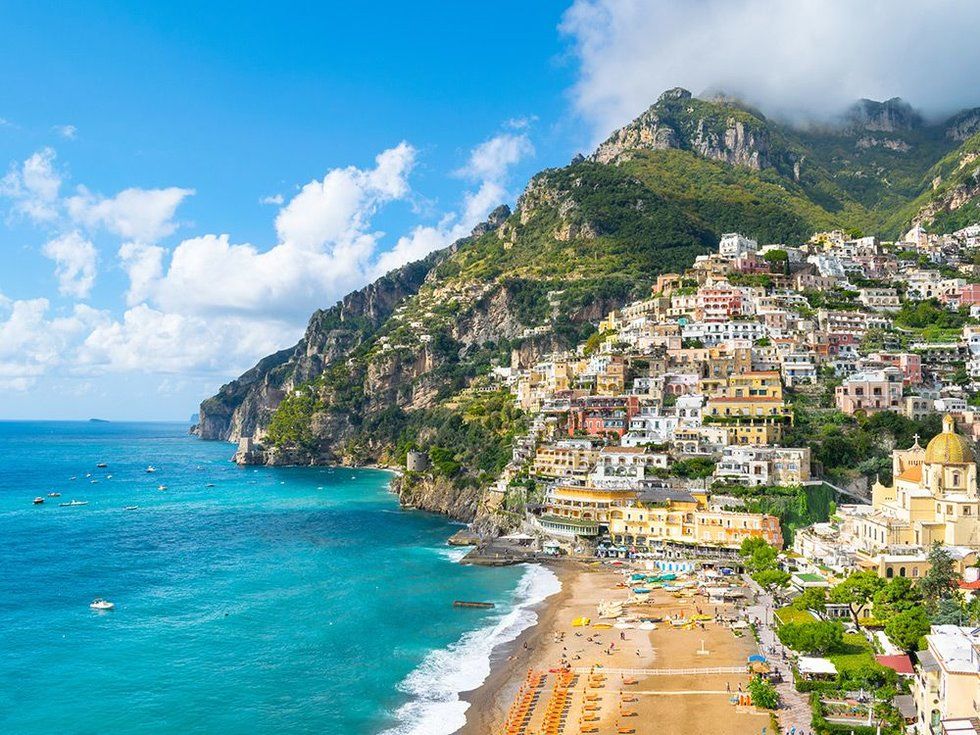 Spiaggia Grande, Positano, Italy /Shutterstock
With its spectacular backdrop of pastel-colored buildings climbing up the hillside, it's no wonder Positano, on the Amalfi Coast, is a magnet for celebrities like Gwyneth Paltrow and Denzel Washington. Nestled at the base is Spiaggia Grande, Positano's main beach, neatly lined with colorful umbrellas (which are available for rent). Soak in views of the bay from Le Sirenuse hotel, the poshest address in town.
Bondi Beach, Sydney, Australia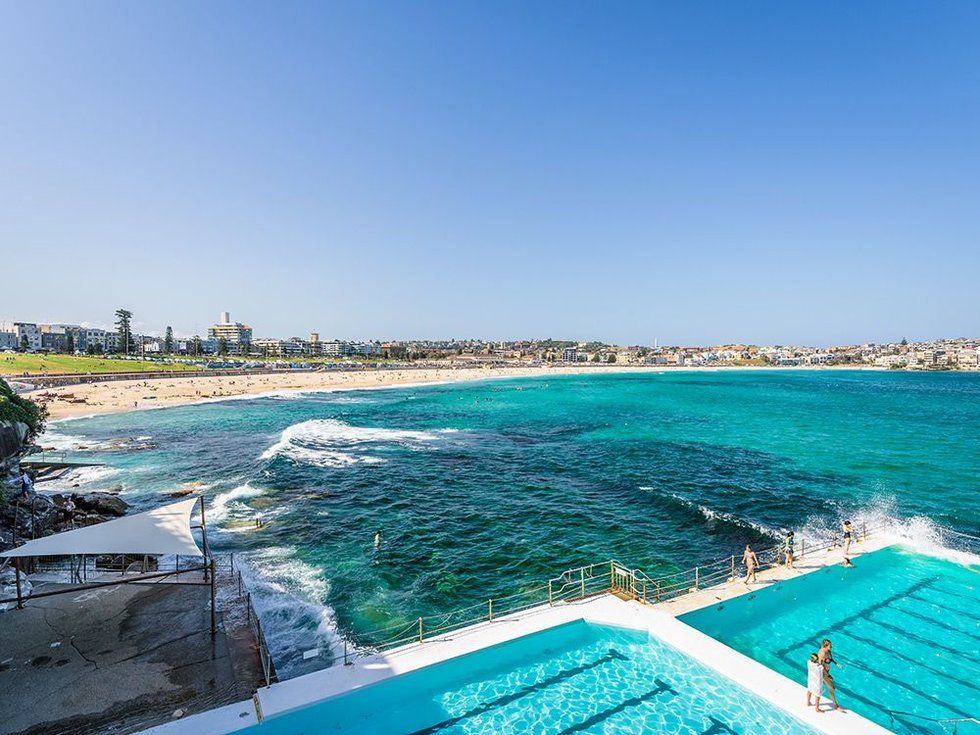 Bondi Beach, Sydney, Australia /Shutterstock
Thirty minutes from Sydney, laid-back Bondi Beach has something for everyone. Stroll the scenic Bondi to Coogee Coastal Walk. Eat like a hipster in a local restaurant along the Campbell Parade. Take a surf lesson. Browse the Saturday farmers market. Or swim in the famous Bondi Icebergs Pool, Australia's oldest swimming club. Retire to QT Bondi Beach, a luxury boutique hotel set just behind the Bondi Pavilion.
Bathsheba Beach, Barbados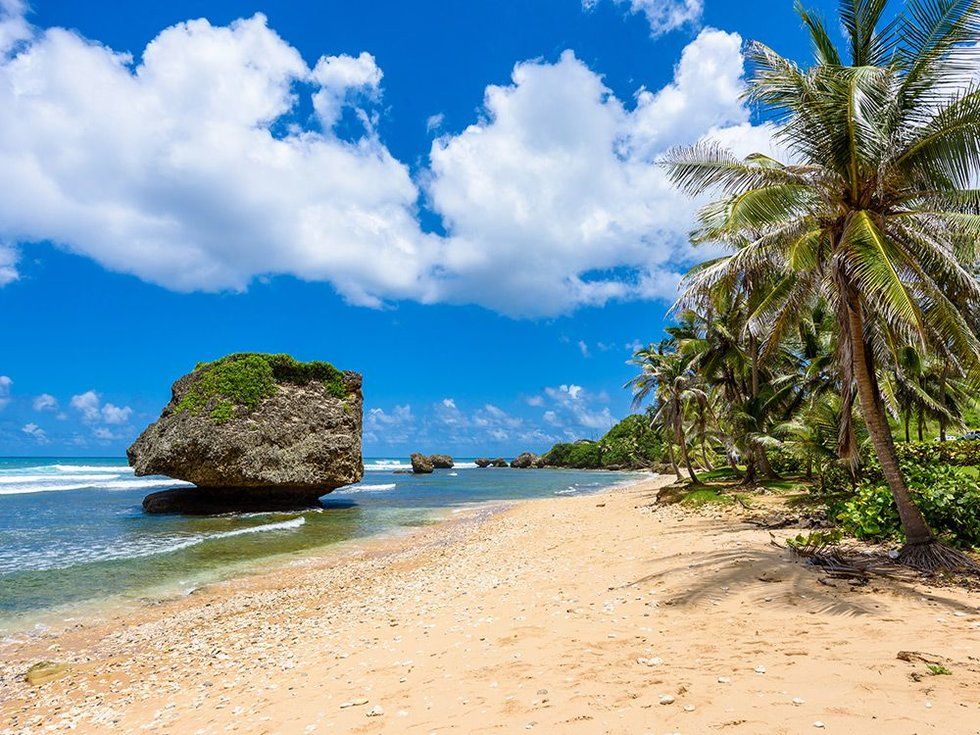 Bathsheba Beach, Barbados /Shutterstock
The Atlantic Ocean's erosive power is on full display at Bathsheba Beach, on Barbados' rugged east coast. Here, Mushroom Rock and other sea-sculpted coral formations rise dramatically from the frothy breakers, great for surfing (but not swimming). Sleep right next door at the family-owned Atlantis Inn, in operation since the 19th century.
This article was written by Erika Hueneke from Islands and was legally licensed through the NewsCred publisher network. Please direct all licensing questions to legal@newscred.com.
Right now, around the world, brave members of America's armed forces are on duty, defending our freedom and upholding our values.
When not laser-focused on the mission at hand, they're looking forward to the day when their service to our nation is fulfilled and they can reunite with their families.
They are also imagining how they can use their hard-earned skills to build an exciting, rewarding and important career when they return home.
I want them to look no further than United Airlines.
That's why we are focused on recruiting, developing and championing veterans across our company, demonstrating to our returning women and men in uniform that United is the best possible place for them to put their training, knowledge, discipline and character to the noblest use.
They've developed their knowledge and skills in some of the worst of times. We hope they will use those skills to keep United performing at our best, all of the time.
That's why we are accelerating our efforts to onboard the best and the brightest, and substantially increasing our overall recruitment numbers each year.
We recently launched a new sponsorship program to support onboarding veterans into United and a new care package program to support deployed employees. It's one more reason why United continues to rank high - and rise higher - as a top workplace for veterans. In fact, we jumped 21 spots this year on Indeed.com's list of the top U.S workplaces for veterans. This is a testament to our increased recruiting efforts, as well as our efforts to create a culture where veterans feel valued and supported.
We use the special reach and resources of our global operations to partner with outstanding organizations. This is our way of stepping up and going the extra mile for all those who've stepped forward to answer our nation's call.
We do this year-round, and the month of November is no exception; however, it is exceptional, especially as we mark Veterans Day.
As we pay tribute to all Americans who have served in uniform and carried our flag into battle throughout our history, let's also keep our thoughts with the women and men who are serving around the world, now. They belong to a generation of post-9/11 veterans who've taken part in the longest sustained period of conflict in our history.

Never has so much been asked by so many of so few.... for so long. These heroes represent every color and creed. They are drawn from across the country and many immigrated to our shores.

They then freely choose to serve in the most distant and dangerous regions of the world, to protect democracy in its moments of maximum danger.
Wherever they serve - however they serve - whether they put on a uniform each day, or serve in ways which may never be fully known, these Americans wake up each morning willing to offer the "last full measure of devotion" on our behalf.
Every time they do so, they provide a stunning rebuke to the kinds of voices around the world who doubt freedom and democracy's ability to defend itself.
Unfortunately, we know there are those who seem to not understand – or say they do not - what it is that inspires a free people to step forward, willing to lay down their lives so that their country and fellow citizens might live.
But, we – who are both the wards and stewards of the democracy which has been preserved and handed down to us by veterans throughout our history – do understand.
We know that inciting fear and hatred of others is a source of weakness, not strength. And such divisive rhetoric can never inspire solidarity or sacrifice like love for others and love of country can.
It is this quality of devotion that we most honor in our veterans - those who have served, do serve and will serve.
On behalf of a grateful family of 96,000, thank you for your service.
Humbly,
Oscar
Each year around Veterans Day, Indeed, one of the world's largest job search engines, rates companies based on actual employee reviews to identify which ones offer the best opportunities and benefits for current and former U.S. military members. Our dramatic improvement in the rankings this year reflects a stronger commitment than ever before to actively recruiting, developing and nurturing veteran talent.
"We've spent a lot of time over the past 12 months looking for ways to better connect with our employees who served and attract new employees from the military ranks," said Global Catering Operations and Logistics Managing Director Ryan Melby, a U.S. Army veteran and the president of our United for Veterans business resource group.
"Our group is launching a mentorship program, for instance, where we'll assign existing employee-veterans to work with new hires who come to us from the armed forces. Having a friend and an ally like that, someone who can help you translate the skills you picked up in the military to what we do as a civilian company, is invaluable. That initiative is still in its infancy, but I'm really optimistic about what it can do for United and for our veteran population here."
Impressively, we were the only one of our industry peers to move up on the list, further evidence that we're on a good track as a company.
The question of where David Ferrari was had haunted retired U.S. Army Sergeant Major Vincent Salceto for the better part of 66 years.
Rarely did a week go by that Salceto didn't think about his old friend. Often, he relived their last moments together in a recurring nightmare. In it, it's once again 1953 and Salceto and Ferrari are patrolling a valley in what is now North Korea. Suddenly, explosions shatter the silence and flares light up the night sky.
Crouching under a barrage of bullets, Salceto, the squad's leader, drags two of his men to safety, then he sees Ferrari lying face down on the ground. He runs out to help him, but he's too late. And that's when he always wakes up.
Italian Americans from opposite coasts – Salceto from Philadelphia, Ferrari from San Francisco – the two became close, almost like brothers, after being assigned to the same unit during the Korean War. When Ferrari died, it hit Salceto hard.
"After that, I never let anyone get close to me like I did with Dave," he says. "I couldn't; I didn't want to go through that again."
When the war ended, Salceto wanted to tell Ferrari's family how brave their son and brother had been in battle. Most of all, he wanted to salute his friend at his gravesite and give him a proper farewell.
For decades, though, Salceto had no luck finding his final resting place or locating any of his relatives. Then, in June of this year, he uncovered a clue that led him to the Italian Cemetary in Colma, California, where Ferrari is buried.
Within days, Salceto, who lives in Franklinville, New Jersey, was packed and sitting aboard United Flight 731 from Philadelphia to San Francisco with his wife, Amy, and daughter, Donna Decker, on his way to Colma. For such a meaningful trip, he even wore his Army dress uniform.
That's how San Francisco-based flight attendant Noreen Baldwin spotted him as he walked down the jet bridge to get on the plane.
"I saw him and said to the other crew members, 'Oh my goodness, look at this guy,'" she says. "I knew there had to be a story."
The two struck up a conversation and Salceto told Baldwin why he was traveling. She got emotional listening to him talk and made a point of fussing over him, making sure he and his family had everything they needed.
About halfway through the flight, Baldwin had an idea. She and her fellow crew members would write messages of encouragement to Salceto and invite his fellow passengers to do the same.
"We did it discreetly," says Baldwin. "I asked the customers if they saw the man in uniform, which most had, and asked them if they wanted to write a few words for him on a cocktail napkin. A lot of people did; families did it together, parents got their kids to write something. After the first few rows, I was so choked up that I could barely talk."
When Baldwin surprised Salceto with dozens of hand-written notes, he, too, was speechless. He laid the stack on his lap and read each one. At the same time, the pilots made an announcement about the veteran over the loud speaker, after which the customers on board burst into applause.
"It seems contrived, and I hate using the word organic, but that's what it was; it just happened," Baldwin says. "Mr. Salceto was so loveable and humble, and what he was doing was so incredible, it felt like the right thing to do. And you could tell he was touched."
On June 27, Salceto finally stood before Ferrari's grave and said that long-awaited goodbye. As a trumpeter played "Taps," he unpinned a medal from his jacket and laid it reverently on the headstone.
"I had gotten a Bronze Star for my actions [the night Ferrari died] with a 'V' for valor, and that was the medal I put on Dave's grave," says Salceto, pausing to fight back tears. "I thought he was more deserving of it than I was."
For the first time in years, Salceto felt at peace. His mission was accomplished.
Scroll to top