A better reason to get to the airport early
We know that traveling can be stressful, and our goal is to make your journey on United an enjoyable one. The atmosphere at the airport, both prior to boarding your flight and upon arrival at your destination, plays a big part in setting the tone of your trip. The amenities, comfort and design of the terminal can have as much of an impact on your experience as the in-flight product or service.
That's one of the missions of the United Airlines Corporate Real Estate team: to turn what was once a merely functional space into one that reflects our passengers' desire for comfort and indulgence. And one of the people leading that effort is Corporate Real Estate Senior Manager Carolyn Harris.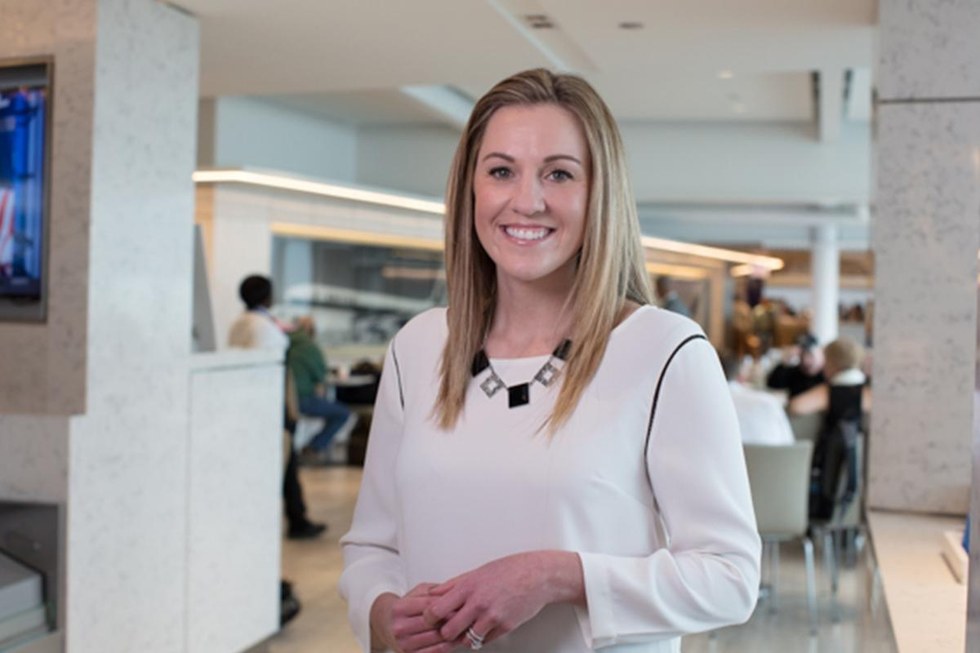 United Corporate Real Estate Senior Manager, Carolyn Harris
Harris oversees United's concessions at Newark Liberty International Airport and Houston's George Bush Intercontinental Airport. If you've passed through either of them recently then you undoubtedly noticed her handiwork, particularly when it comes to eating and drinking.
By partnering with the hospitality company OTG in both Newark and Houston, Harris and the Corporate Real Estate team have managed to turn ordinary airline terminals into gastronomical meccas.
"Unlike at other airports, United manages concessions in Houston and Newark, so we're able to be more creative in those places," Harris says. "We offer first class dining and shopping options at reasonable prices, and we look for interesting ways to capture the essence of the city in everything we do by partnering with small and local businesses."
United's Newark Terminal C, for example, features dozens of specialty dining options imagined by a bevy of regional chefs, including Chefs Alain Ducasse (whose restaurant at the Dorchester hotel in London was awarded three Michelin stars), Alex Stupak, Mario Carbone, Alex Guarnaschelli and Dale Talde.
Likewise, the newly-opened Terminal C North in Houston boasts a collection of eateries from some of the Bayou City's most renowned culinary giants. There is Chef Roland Laurenzo's Vida Tacqueria, Chef John Nguyen's Vietnamese-Cajun fusion restaurant Bam Bam and a Houston-centric tavern called Ember created by the James Beard Award-winning Chef Chris Shepherd, among others.
Along with an array of delectable menu items, the OTG restaurants are also leading the way in terms of technology. "Customers order their meals using iPads in the dining areas, on which they can also scan their boarding passes to receive flight status updates while they eat so you sit back, relax and enjoy your meal without worrying about missing your flight," says Harris. "They are able to pay using United MileagePlus miles and even get food and retail items on demand by ordering via the iPads and have it delivered to them in the gate area. It's really cutting-edge stuff."
In her role as project manager, Harris works closely with OTG's design teams to bring United's terminals to life, and her team gets final say when it comes to the layouts.
"One of the things that I love most about this job is seeing a project go from proposal to finished product. It's really exciting to see it from the beginning, when it's just an artist's rendering on paper, all the way to the end, when you're actually able to watch the customers enjoy it."
Harris is especially proud of the work that went into the new Terminal C North in Houston. The 265,000-square-foot, $277 million facility is one of the jewels in United's network.
"People are going to look forward to flying in and out of Houston when they see it," she says. "There are floor-to-ceiling windows where you can watch the planes take off and land, lots of space for relaxing before a flight - it's a very functional, enjoyable place. And you might not expect to find some of the best restaurants in the city at the airport, but that's exactly what we have there," she says. "It's so rewarding to be able to help create these terminals that are destinations unto themselves."
Watch the latest episode of Big Metal Bird here.