No translation necessary
The white and yellow dots spread out farther than the eye can see, seemingly even beyond imagination. These lights, millions of them comprising Tokyo at night, helped make the Park Hyatt's New York Bar famous. After all, the bar and its view, 52 stories up, were an instrumental part of Sofia Coppola's 2003 paean to love and jet lag, Lost in Translation.
That movie turned this bar into a mecca for film fans, and in a way it provided the reason for my maiden voyage to the Land of the Rising Sun, as well. Only I'm not here as a cinephile. I've crossed 13 time zones to drink Japanese whiskey—a phenomenon I was awoken to by Bill Murray's Oscar-nominated performance. You know the one: "For relaxing times, make it Suntory time."
"My love for brown spirits and my lifelong fascination with Japan were inevitable bedfellows."
When I first saw Lost in Translation, 15 years ago, my reaction to that line was probably exactly what Coppola intended: Japanese whiskey? Bill's really selling out… As a recent college graduate whose budget couldn't handle much beyond the occasional bottle of Maker's Mark, I had no idea how wrong I was. In fact, Suntory, the maker of the now famed Yamazaki, Hakushu, and Hibiki whiskeys, was just launching itself into the global consciousness. In 2003, the Yamazaki 12-year won a gold medal at the International Spirits Challenge, and from 2010 on, Suntory whiskeys raked in golds, with the company winning Distiller of the Year four times. In 2014, Whisky Bible author Jim Murray called the 2013 Yamazaki Single Malt Sherry Cask the best whiskey in the world. Bottles from Suntory and its main competitor, Nikka, became nigh unavailable in the U.S. (The cheapest bottle of that 2013 Yamazaki Sherry Cask I can find online is $3,500.)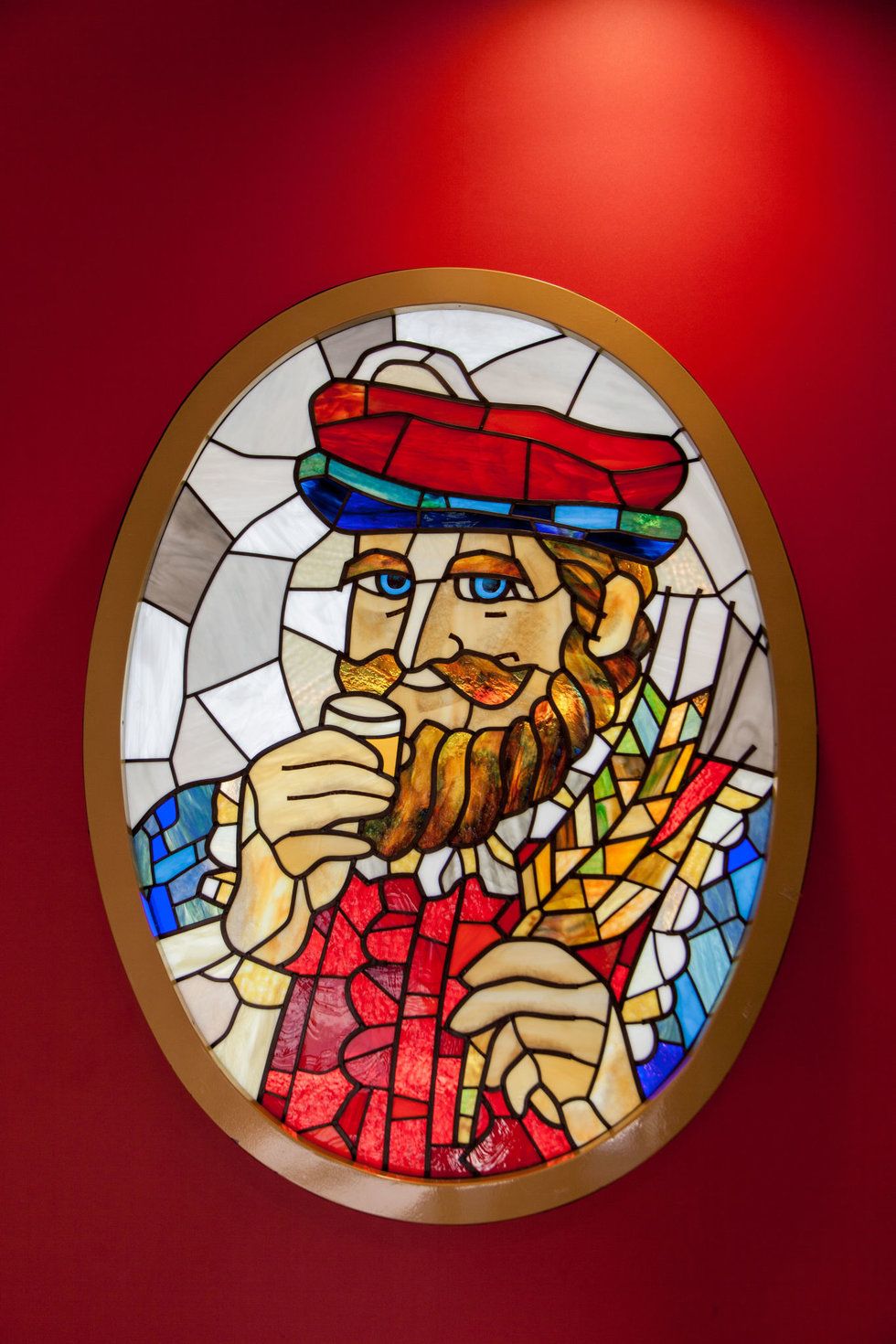 A vintage Nikka Whiskey logo
During the years that Japan's distillers were rising like the sun over the Pacific, I was busy fostering a determinedly American predilection for bourbon. While I systematically worked through the ever-shifting catalog at my excellent neighborhood bar—The Page in San Francisco—Pappy Van Winkle was going from a $15 pour I'd order when I was feeling mildly indulgent to a symbol of the cruelty of supply and demand. I visited Kentucky on several occasions, tasting my way down the Bourbon Trail, from Clermont (the home of Jim Beam, which Suntory bought in 2014) to Loretto (my beloved red wax–topped Maker's) to Lawrenceburg (Four Roses, William Faulkner's favorite, which another Japanese company, Kirin, bought in 2001) to Frankfort (Buffalo Trace, where Pappy is made, along with another of my regulars, Eagle Rare). And when I crossed the pond to Ireland, my two must-visits were James Joyce's house (as a thank-you for "The Dead") and the Jameson distillery (as a thank-you for the many, many shots I've taken after Giants playoff victories).

My love for brown spirits and my lifelong fascination with Japan—which I owe to my Kurosawa-worshipping father—were inevitable bedfellows. So, finally, this spring, I decided to make my way across hemispheres to learn exactly what makes Japanese whiskey so good—and to drink as much of it as possible.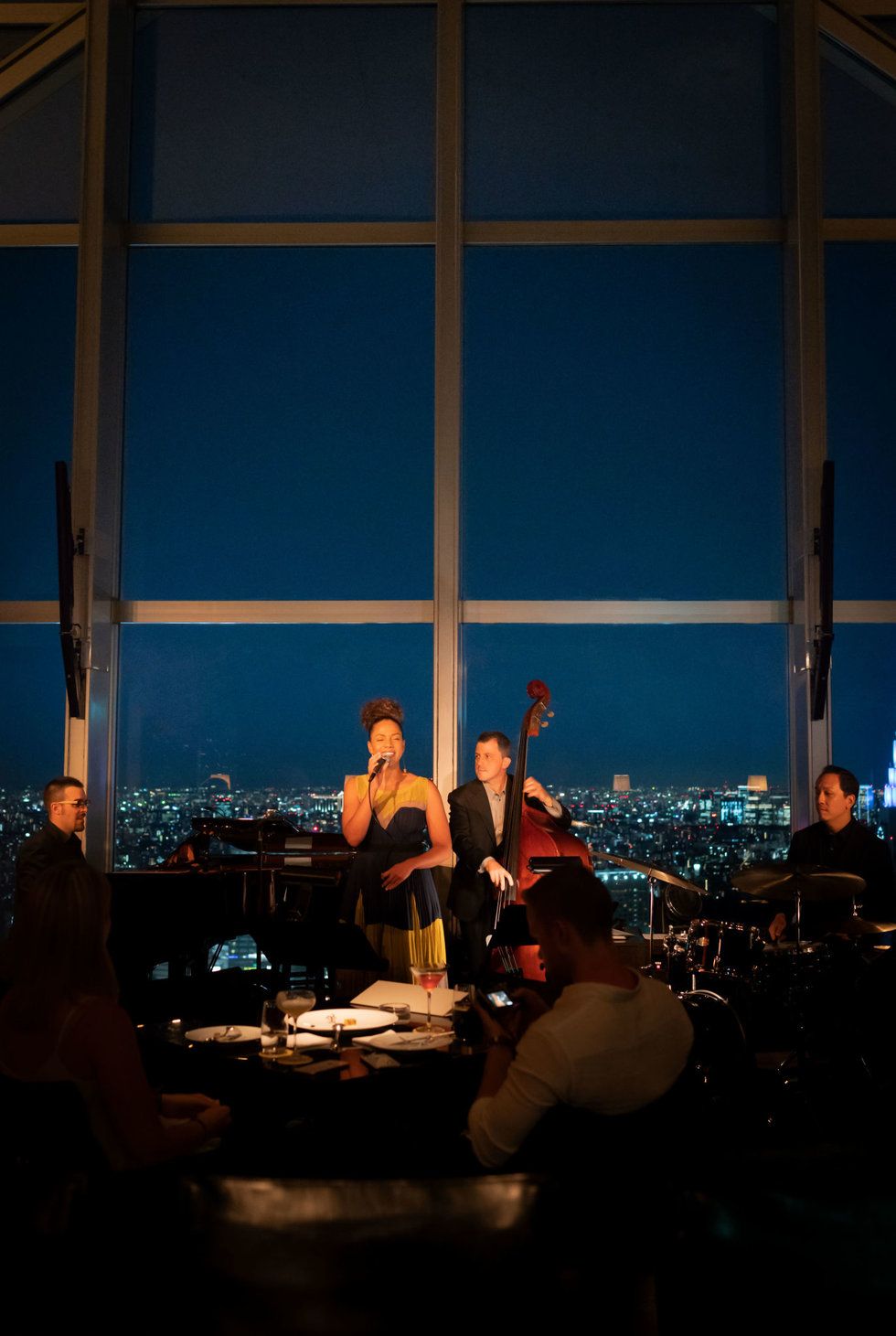 A jazz band at the New York Bar in Tokyo
Naturally, I've started at the New York Bar. I'm seated at a long communal table, listening to a jazz singer do the Eagles' "Desperado" (it was Simon & Garfunkel's "Scarborough Fair" in Lost in Translation) as the manager, Moritz Kam, sets four single malts in front of me: a Yamazaki and a Hakushu from Suntory, a Yoichi and a Miyagikyo from Nikka. "What is notable about Japanese craftsmanship is the aim for perfection," he tells me, before offering a lament I'll hear often this week: "Even in Japan, you are not able to find some of the vintage whiskeys."
My first glass contains one of the most coveted whiskeys in the world: the Yamazaki 18. It's smooth, oaky, a little sweet, with a profile somewhat reminiscent of a Macallan. The Yoichi and Miyagikyo are peatier, smokier, while the Hakushu pushes those characteristics even further, leaving a lush layer of oil on my tongue. While each stands out from the others in subtle ways, I can't help but think they're siblings who started in the same home but took different paths to success.
Scotland is, of course, where all of the world's whiskeys can trace their roots. But the fathers of Japanese whiskey, Shinjiro Torii and Masataka Taketsuru, hewed closer to the original than anyone else (even spelling the word à la the Scots, without the "e"). The story begins in 1899, when Torii opened an imported-wine shop in Osaka. A few years later, he produced a popular sweet port wine and funneled the profits into building a distillery just outside Kyoto.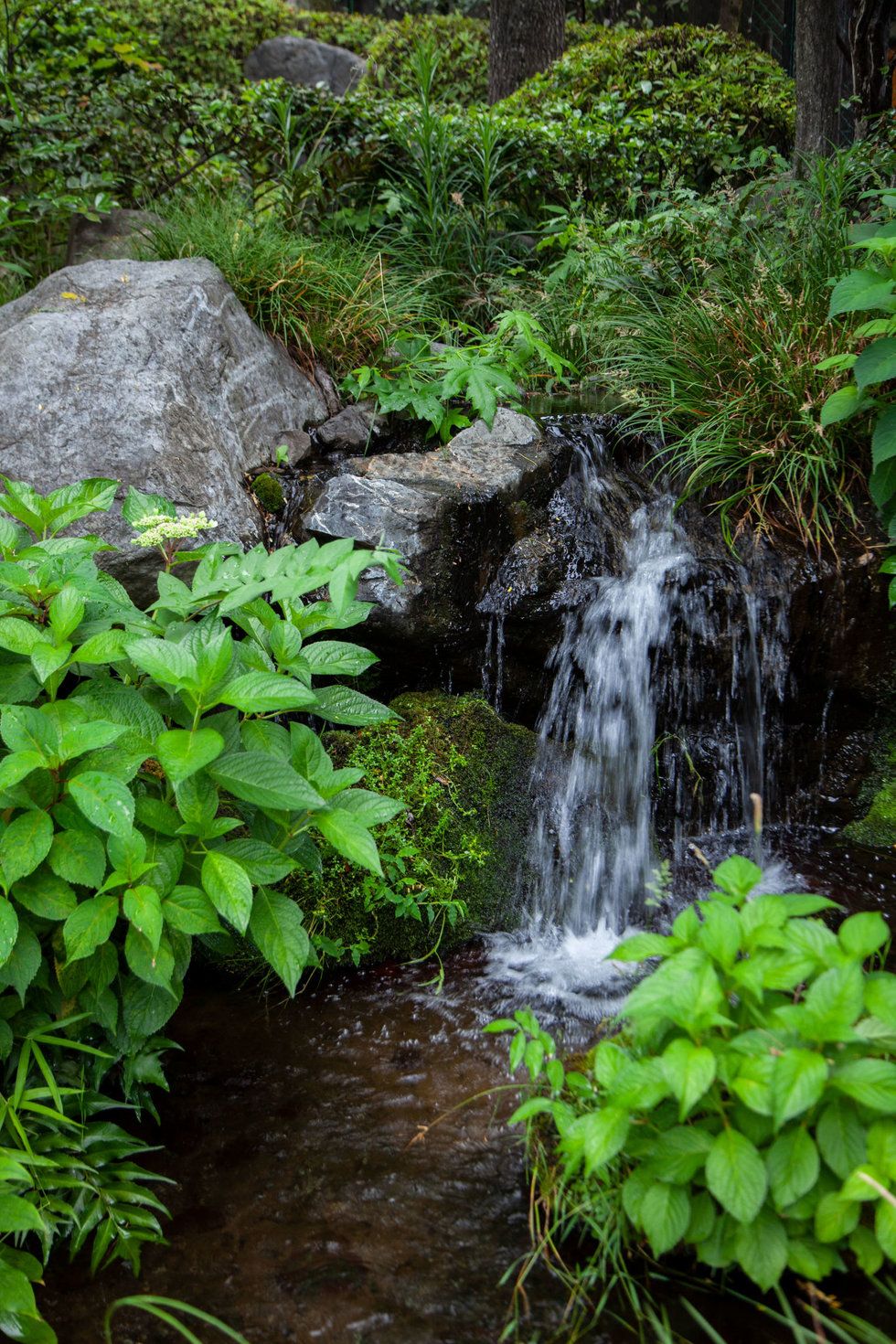 High-quality water feeds a pond at the Yamazaki Distillery
I learn all this from plaques inside that very distillery. I've taken the Shinkansen bullet train two and a half hours from Tokyo to the ancient imperial capital to visit Yamazaki, the birthplace of Japanese whiskey. At the entryway, I'm greeted by a tour guide, who explains that Torii built the distillery here in 1923 to take advantage of the local water and climate. "Yamazaki water has been famous for its pristine quality since ancient history," she says, "and the damp and misty and humid environment is very suitable for aging whiskey in casks."
We continue inside, past the mash tuns and fermentation tanks, where malt, much of it imported from Scotland, is turned into the spirit's base, wort. We follow the pipeline of fermented liquid to a long hall where two rows of copper pot stills of varying shapes and sizes (each of which imparts a different flavor) distill the wort down to new-made whiskey—what we in the States call moonshine. As we walk, my guide breaks down Suntory's history. "Shinjiro's dream was to make a whiskey that would suit the taste of the Japanese," she says, "because when he started the business, he imitated Scotch whiskey, and Japanese were like, Oh, this is too peaty—we don't like this."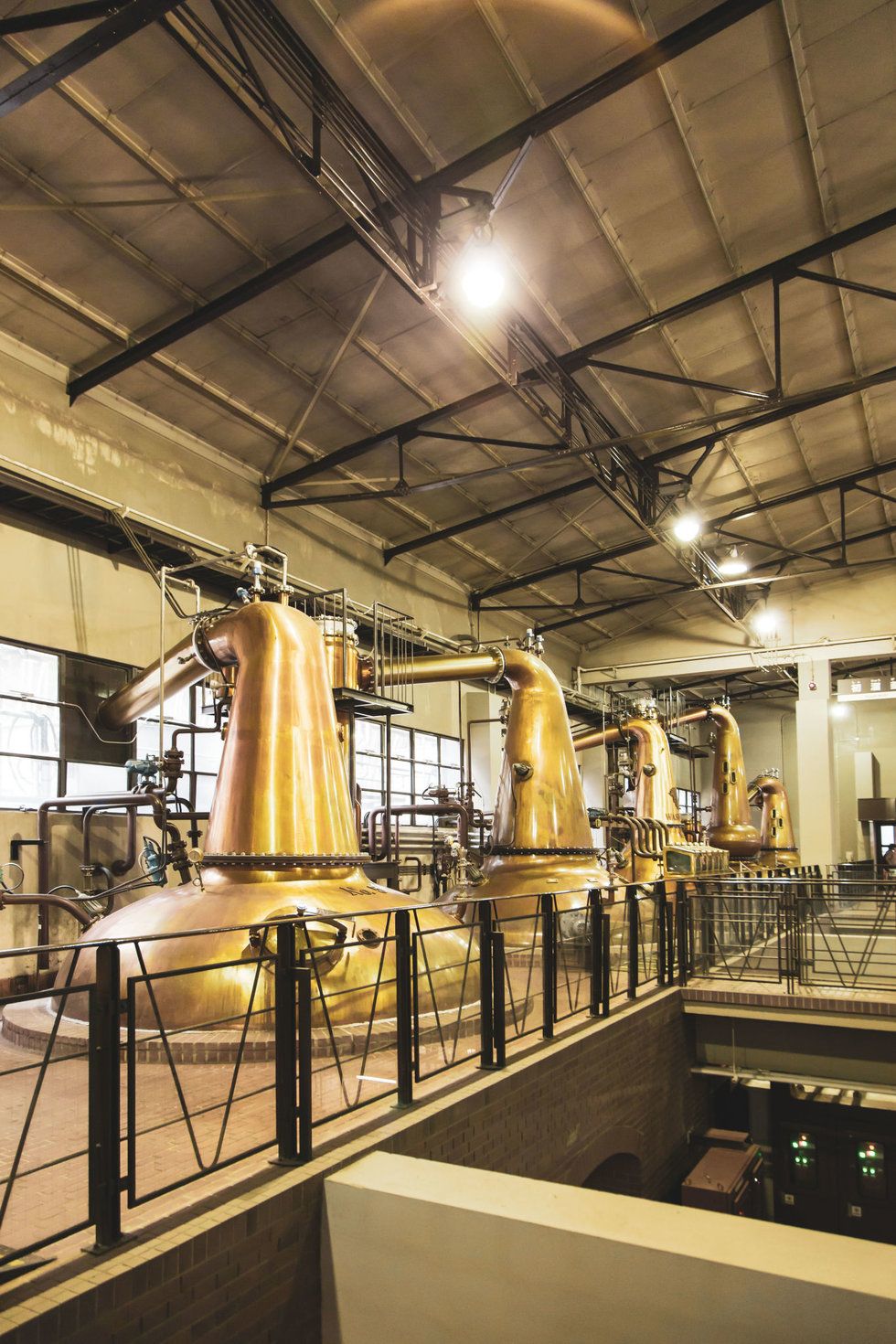 Copper pot stills at the Yamazaki Distillery
That first whiskey, 1929's Suntory Shirofuda ("white label"), may not have been a world-beater, but in 1937 the company put out a second one, Kakubin, which sold well throughout Japan. In the 1960s, highball bars began popping up, specializing in what has become Japan's signature cocktail—a diluted, highly carbonated whiskey soda. Highballs continued to grow in popularity into the 1980s, and in 1984 Keizo Saji, Torii's son and successor as Suntory president, put out the first Yamazaki single malt. The high-end Hibiki blended whiskeys (which contain both malt and corn liquor) followed in 1989. In 1994 came the Hakushu single malts, which are made at a gorgeous distillery in the Japanese Alps and are now nearly as prized as Yamazakis.
Our next stop on the tour is the aging warehouse. Yamazaki uses several types of cask: American white oak, Spanish sherry casks, French wine casks, and mizunara, an oak that grows on the northern island of Hokkaido. Whiskeys are aged in the different casks for years—sometimes as much as three decades—and then the blenders combine them. A common misconception is that single-malt whiskey comes from single casks; actually, expressions from various casks are blended to make a more complex final product.
At the end of the tour, I meet Shinji Fukuyo, Suntory's chief blender and the creator of the gold medal–winning Hibiki Japanese Harmony. Fukuyo got into the business while in college because one of his professors noted that he "seemed to like whiskey"; he worked at Hakushu and then at Morrison Bowmore in Scotland before coming to Yamazaki. As we stand next to a floor-to-ceiling window, looking out on a hillside bamboo grove, the bespectacled 57-year-old takes me through the tasting process for his brainchild.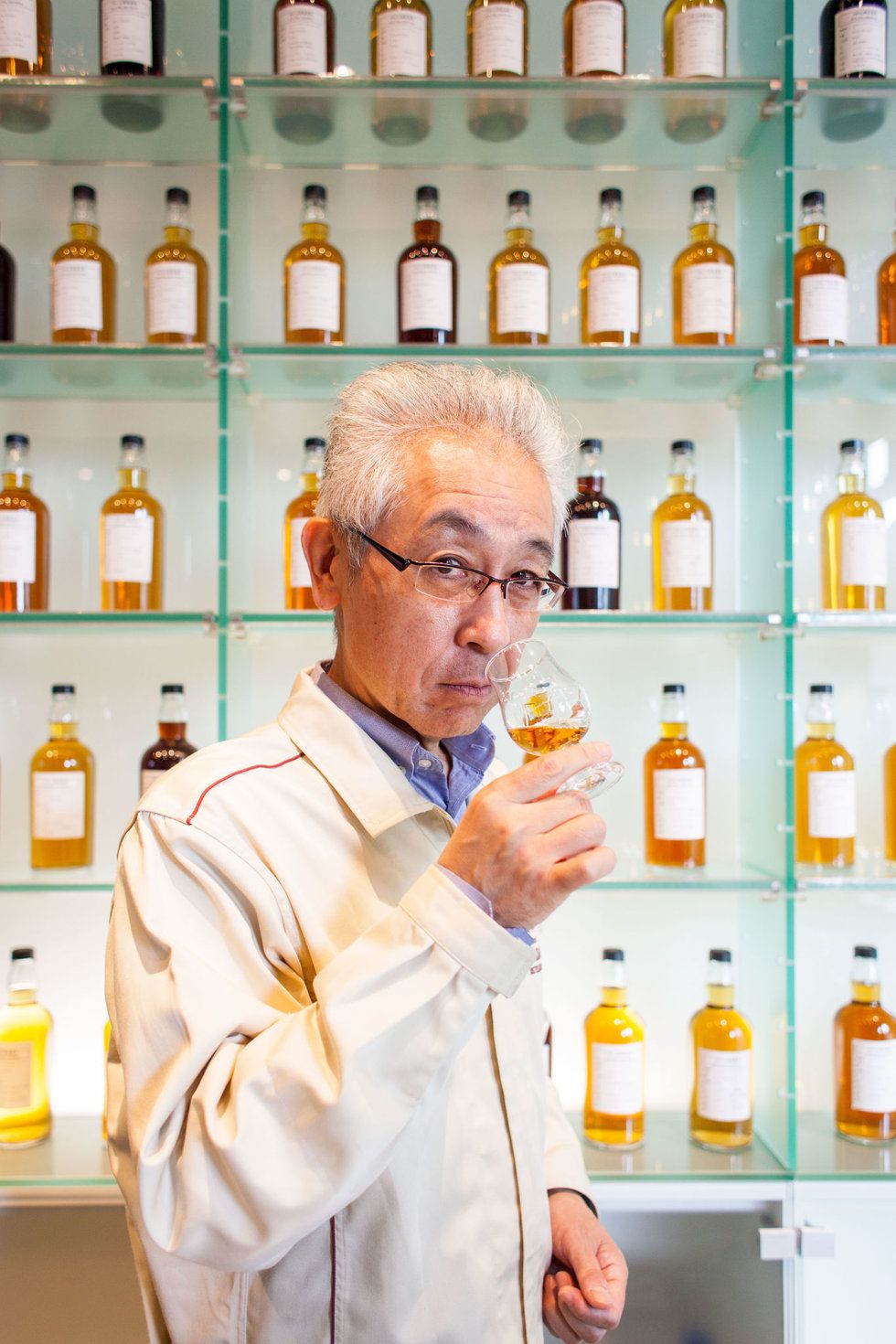 Suntory Chief blender Shinji Fukuyo
He lines up 10 slim bottles ranging in color from pale flax to deep amber. Two are grain whiskeys, two are Hakushu malts, six are Yamazaki malts. (Two of the latter are aged in sherry casks.) He offers notes as we sip and spit in the same fashion as Suntory's blenders. The sherry cask whiskeys taste "like dried fruits." The grain whiskeys are "similar to bourbon—calm, sweet, easy to drink." A heavily peated Yamazaki is medicinal, "like you were in a hospital." A mizunara-aged Yamazaki has a "very elegant, spicy top note, an important aftertaste for Japanese Harmony." Finally, a whiskey aged in French oak wine casks is "the best sweet—mild, like a strawberry." I'm jealous when I discover that Suntory's blenders taste 200 to 300 whiskeys a day in search of the ideal combination of these flavors. The proportions are always changing, because each vintage—indeed, each cask—can taste different from the last.
As the country's whiskey has grown more popular overseas, Fukuyo says Japanese people have increasingly come to treasure it. "We have drunk whiskey for a long time, but now we've got a lot of awards, and foreigners can come to Yamazaki, so Japanese people ourselves are starting to get proud of Japanese whiskey.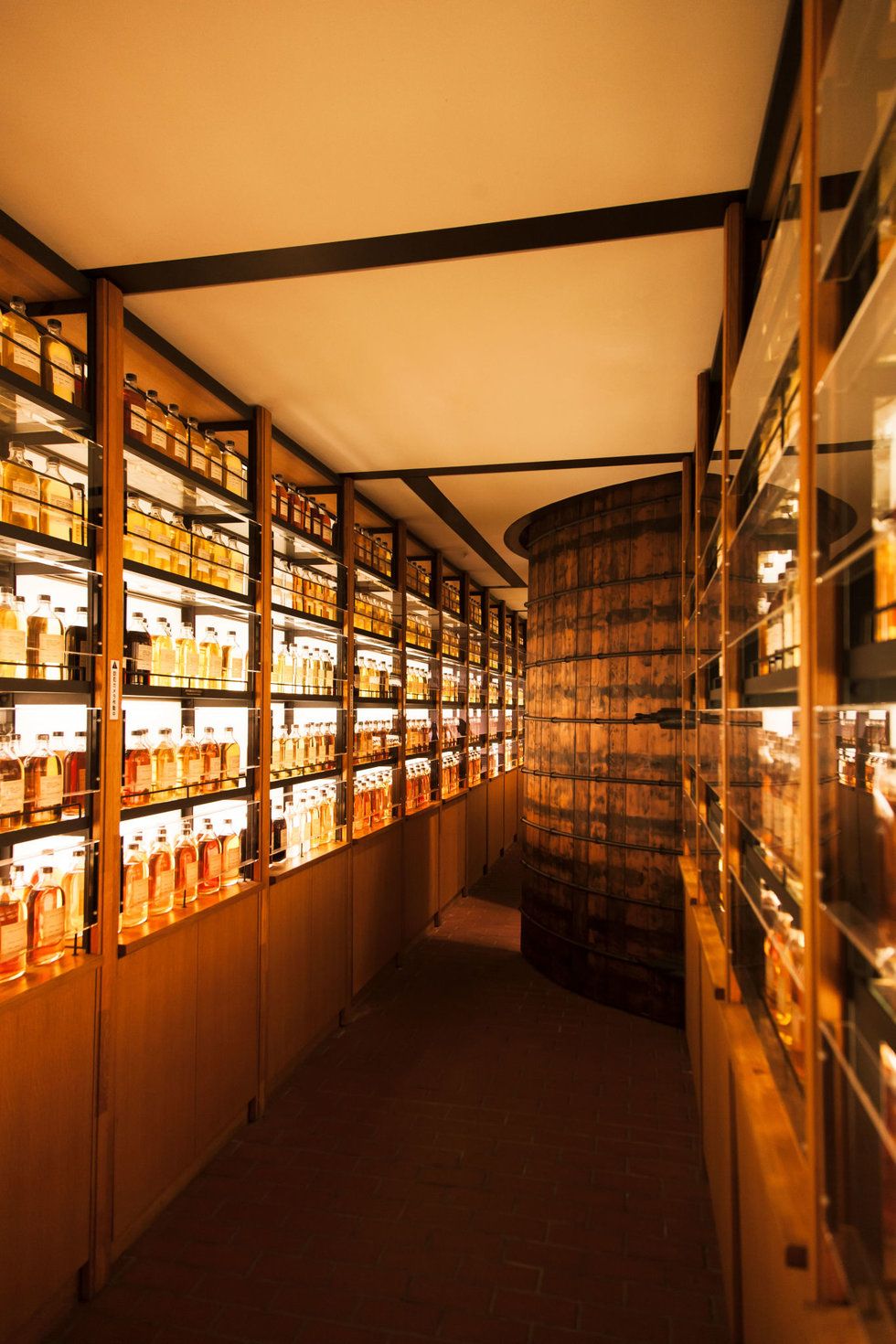 The Yamazaki Whiskey Museum
After profusely thanking Fukuyo, I head downstairs to the Yamazaki Whisky Museum, where hundreds of bottles from across the whiskey color spectrum are lined up on backlit shelves. There's also a tasting counter, where I order a Yamazaki 18, a Hibiki 21, and a special Yamazaki aged in a type of cask called a puncheon. As I bring them over to an empty barrel-top table, an elderly Japanese man in a rather Scottish getup—argyle sweater vest and newsboy hat—comes over. He speaks a bit of English, and he tells me his name is Genji and he used to work as a tour guide here. (He's retired but still carries his old business card.) "I come here every day," he tells me, to have a drink and chat with tourists. He points out his favorite whiskey on the menu, the puncheon cask, and when I motion toward that very dram in my flight, he smiles broadly. I have one of the bartenders snap a photo of us, and I promise Genji I'll come back to Yamazaki soon.
I've flown halfway around the world to drink Japanese whiskey, and now I'm going a little farther. After a night perusing the eight-page whiskey menu at Bar Cordon Noir—a smoky, jazzy place just around the corner from Kyoto's bar-lined Pontocho Alley—I find myself touching down in Sapporo, Hokkaido's largest city. Here, I meet Emiko Kaji, who's giving me a tour of the Yoichi Distillery, the original home of Japan's other major whiskey maker, Nikka.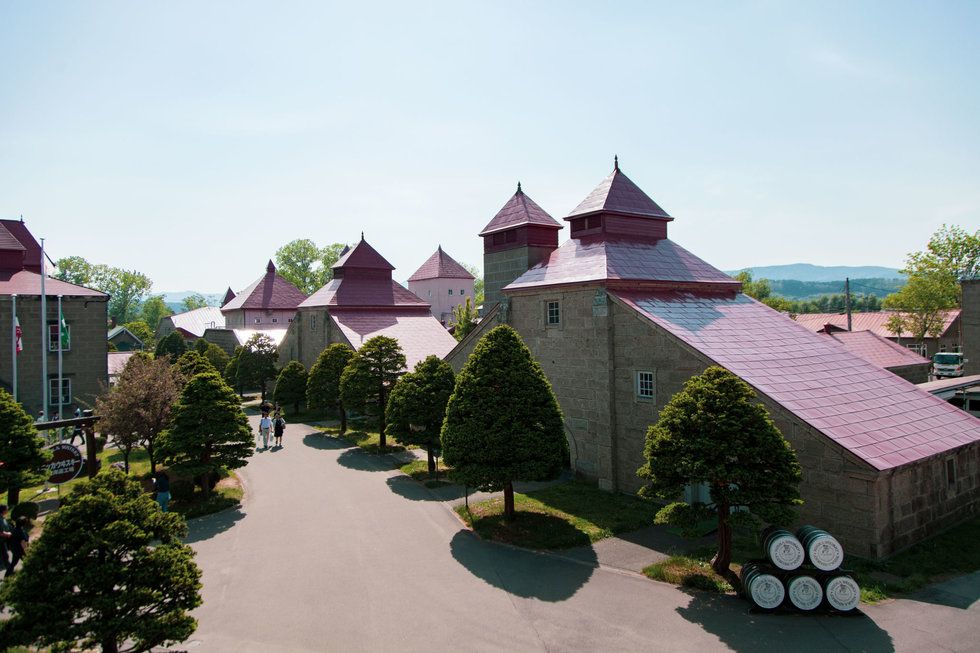 The Yoichi Distillery
It's the last week of April, and while Kyoto was warm and humid, here the skies are gray, with daytime temperatures dipping into the 40s. (While cherry blossom season has come and gone in Kyoto and Tokyo, the sakura have yet to bloom in Sapporo.) That's not to say it isn't beautiful; the train ride from Sapporo to Yoichi—broken up by a phenomenal sushi lunch at Masazushi in the small city of Otaru—skirts the rocky coast of the Sea of Japan, with snow-blanketed mountains rising all around.
There's a reason Masataka Taketsuru chose to open his distillery here. The Nikka founder, who was born into a Hiroshima sake-brewing family, had moved to Scotland in 1918 to study chemistry (i.e., distilling). There, he met a Scottish woman, Rita Cowan, who he married and brought back to Japan—an international romance that was the basis for Massan, a hit TV series that aired on NHK, Japan's national broadcaster, in 2014 and 2015. Taketsuru began working at the Yamazaki Distillery in 1923, but he had a fundamental difference in philosophy from Shinjiro Torii. While the Suntory founder wanted to produce a whiskey for the Japanese palate, his counterpart was determined to make authentic Scotch whiskey.
So, in 1934, Taketsuru decamped for Hokkaido, where the cold climate, rocky seashore, oak forests, natural reserves of grain, and peat bogs all reminded him of his wife's homeland. As I walk two blocks through a biting rain from the Yoichi train station to the distillery, I feel as if I'm at a crossroads where Japan and Scotland meet. The facility's exterior looks like a stone-walled Scottish castle—but with Eastern-style pitched red roofs.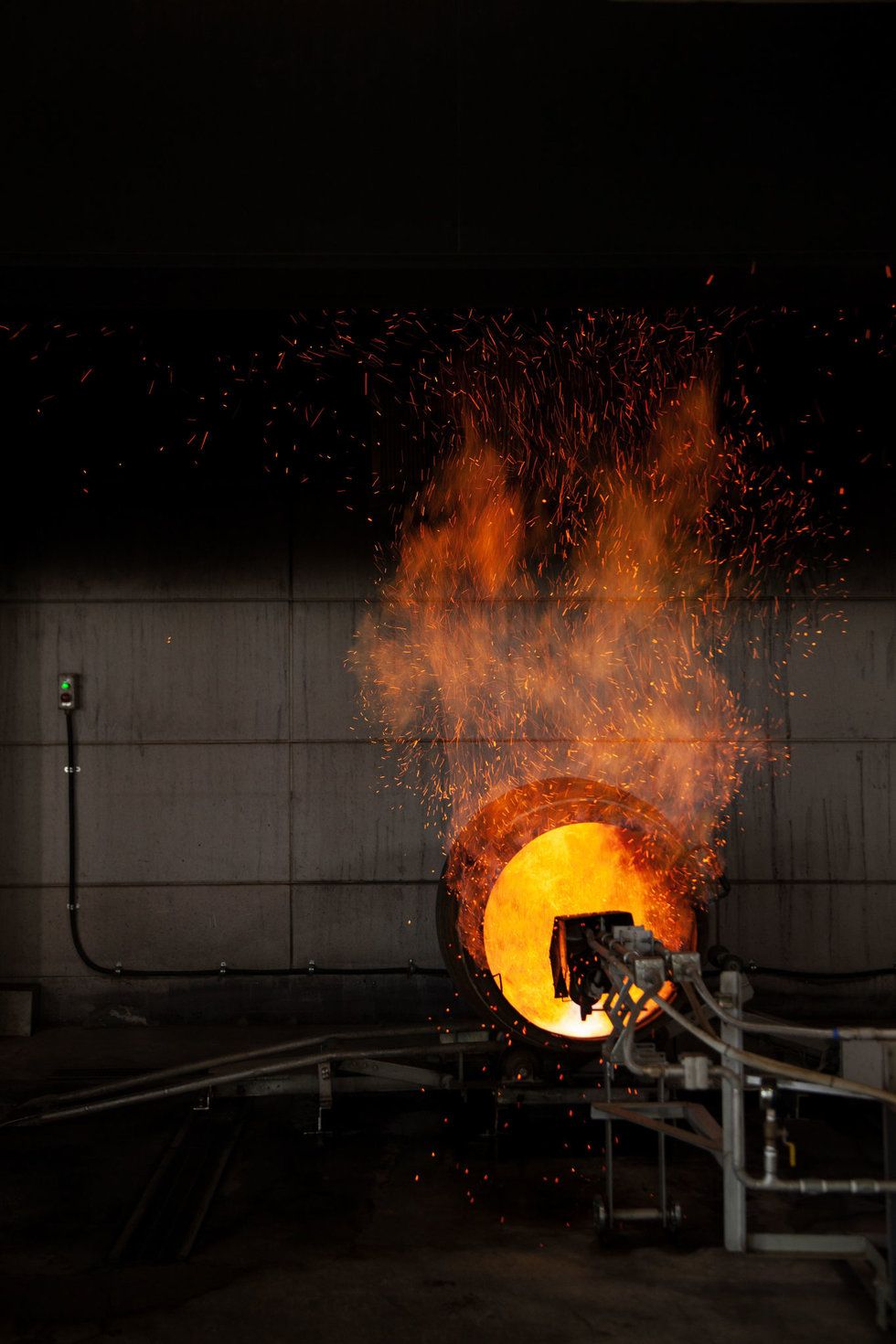 Charring a barrels in the cooperage at the Yoichi Distillery
At Yoichi, I get to see some of the more industrial aspects of production. This is the last distillery in the world that heats its stills with coal, and in the stillhouse I watch as a safety-suited employee shovels coal into the furnace below one of
the six two-story-tall copper pots. "It's like a kettle on a direct fire, so it's very difficult to control the flame," Kaji says. "Our craftsmen have to look after the flame every seven or eight minutes from morning through evening. It's a tough job, but we stick to the coal fire because it makes a distinct flavor."
From here, we walk across the campus to the cooperage. In a space the size of a racquetball court, I watch as a cooper, Hiroaki Nishizawa, hammers the steel rings off a freshly charred cask. He sprays water into it, motions me close, and waves his hands over the top of the barrel, wafting a heavenly vanilla, banana-ester smell into my face. I'm woozy. Then he rolls another barrel onto a steel rack in front of an industrial torch. When he flips the switch, the barrel begins to slowly rotate, and when the torch turns on, a firestorm ensues, bursting into and out of and around the barrel in a hypnotic hail of sparks. After about five minutes, he flips the switch off. I ask Nishizawa, who has been a cooper for eight years (he shoveled coal prior to that), how he knows when to stop.
"When the torch turns on, a firestorm ensues, bursting into and out of and around the barrel in a hypnotic hail of sparks."
"There's no clear written manual," he replies. "I learned from my senior. Now we use a machine, but before that everything was done manually, so it was very difficult to do it right."
While the demonstration is spellbinding, I'm beginning to wonder when I can get a drink. As if in anticipation of that question, Kaji waves me toward the tasting bar, which is lined with tartan-patterned place mats. I want something I won't be able to get in the States, and the bartender brings three limited-edition single malts, each named after its flavor profile: Sherry & Sweet, Woody & Vanillic, and Peaty & Salty. The first is dark amber in color, and as I'm about to say that it reminds me of Macallan (which is also aged in sherry casks), bagpipe music comes on the stereo. The second has a strong bourbon character, thanks to American oak casks. The third is very peaty and salty (truth in advertising!), heavily influenced by the sea, surely the closest to what Taketsuru was going for. I posit that it's like three different musicians playing the same piece of music, and Kaji nods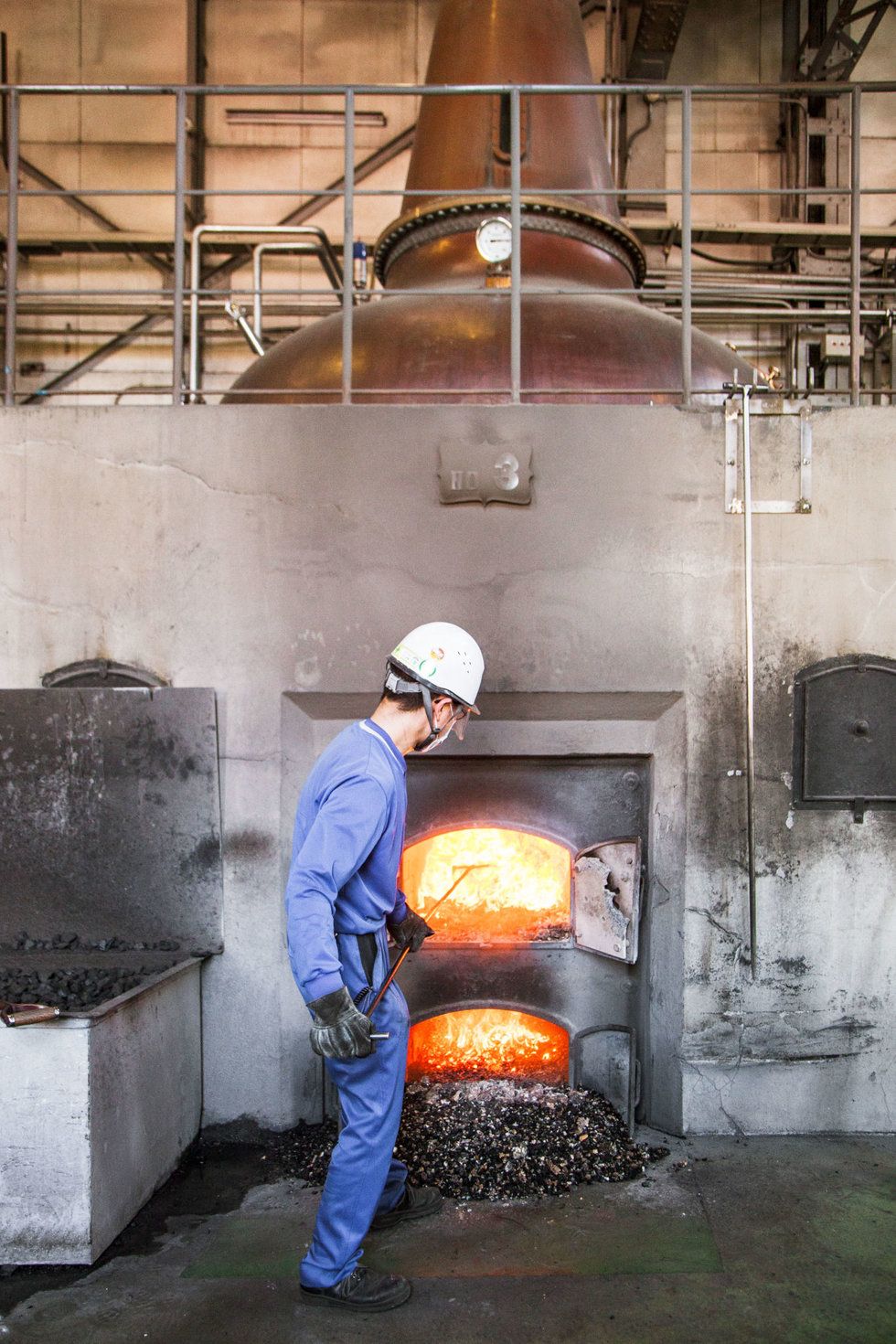 A worker shovels coal into a fire to heat a still at the Yoichi Distillery
For my last sample, I try a limited-edition Nikka Coffey Grain, a higher-proof variation on the distillery's best-seller in the U.S. This one has an even stronger bourbon characteristic than the Woody & Vanillic, as it's made from corn. It's interesting, I say to Kaji, that one of the best-selling products from the Japanese distillery most closely associated with traditional Scotch-style whiskey isn't really a Scotch-style whiskey. I wonder, is it an advantage for Japanese distillers that they don't have as long a history as the Scots and the Kentuckians? That there's more freedom, less of a demand that they adhere to tradition?
"Yes, we have a lot of freedom to be more flexible and to experiment," she replies. "We don't need to stick to tradition. [But] we firmly believe that innovation starts from tradition."
Visiting Japan's most hallowed distilleries is a great way to learn about what makes the liquor here so good, but there's only one way to really get at the heart of a place's drinking culture: visit its bars. So, upon my return to Tokyo, I head for Shot Bar Zoetrope. Hidden on the third floor of an unassuming building on a quiet side street in the otherwise neon-blasted neighborhood of Shinjuku, this might be the single best place in the world to drink Japanese whiskey.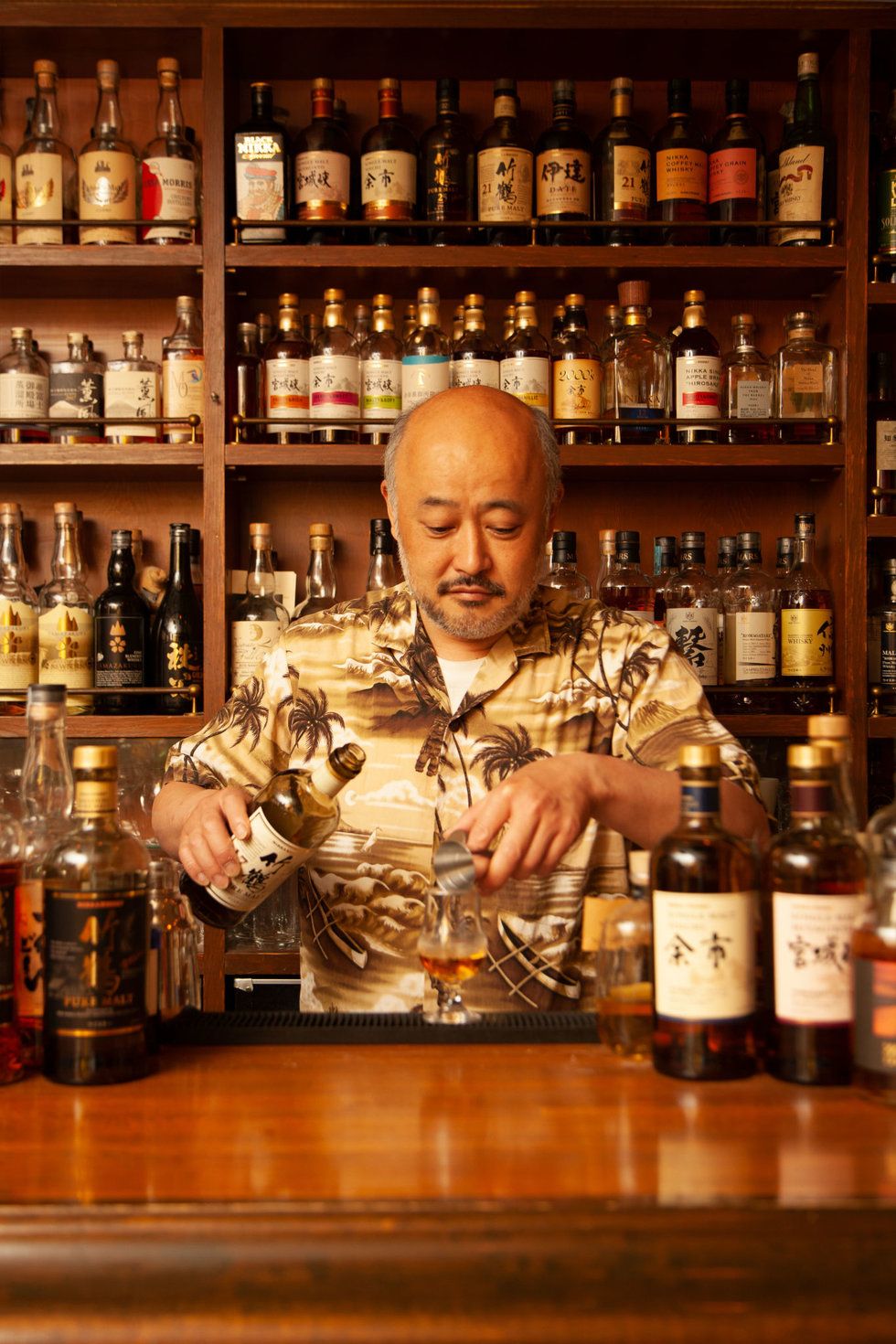 Atsushi Horigami pours a dram at Tokyo's Zoetrope Shot Bar
The bar is tiny—about the size of a New York City studio apartment, with a half-dozen or so stools at the bar, plus a couple of tables. When I walk in early in the evening, an old black-and-white Hollywood film is playing silently on the far wall, and there are only two people inside. One of them is Atsushi Horigami, who opened Zoetrope 12 years ago. He looks a bit like a middle-aged Pat Morita in a Hawaiian shirt, and he's standing in front of an astonishing wall of whiskeys that contains difficult-to-find bottles from all over Japan. Why, I ask him, did he fashion this tiny portal to heaven on earth?
"I like whiskey," he says. "Basically, I am a geek. Before I opened this bar, I visited so many other whiskey bars, but always the bartenders didn't know about Japanese whiskey."
Horigami estimates about 70 percent of his customers are foreigners, and right on cue three more Americans walk in. As he's seating them, I start chatting with the other guy at the bar, who's named Steel. He's in his mid-20s, with long hair and a blackout arm tattoo, and it turns out he's a bartender at Minneapolis's acclaimed Esker Grove restaurant. Much like me, he's come to do a drinking tour of Japan. So, what does he think of the whiskey?
"Hopefully, it'll be the next big thing in America," he says. "It's some of the best whiskey I've ever had, especially for cocktails. Once people try it, they're not too deterred by how expensive it is—they usually want to stay on it. People come in and ask about it all the time. They're like, 'Ah, Japanese whiskey,' and I'm like, 'Man, I only have Toki'"—an export-only Suntory whiskey made largely for highballs.
It's not a problem that's going away anytime soon. While Japanese companies are working on newer products, like Toki, Hibiki Japanese Harmony, and Nikka Whisky From the Barrel (which Nikka began exporting to the U.S. this spring), the aging process required for vintage whiskeys makes it impossible to ramp up supply in a timely fashion. For that exact reason, earlier this year Suntory discontinued the very bottle Murray is shilling for in Lost in Translation: Hibiki 17.
But, as I sit at the bar at Zoetrope, talking with my new friends and sipping whiskeys from Fuji Gotemba and Mars Shinshu—two smaller distilleries whose products are also (surprise!) exceedingly difficult to find abroad—I try not to focus on the privations that my fellow Japanese whiskey lovers and I will face in the years to come. Instead, I take heart in the good news: that a shared love of whiskey has helped connect me and these two bartenders from opposite ends of the planet. We don't need a translator. As Murray tells Scarlett Johansson: "The whiskey works."
To our customers,
I hope this note finds you and your loved ones healthy and well.
It is safe to say these past weeks have been among some of the most tumultuous and emotional that any of us can remember in our lifetimes. The impact of the coronavirus outbreak has been felt by individuals and families, companies and communities, across the United States and around the world.
The response to this crisis has been extraordinary; as much for what it has required from our society as for what it has revealed of us as a people.
Far from causing division and discord, this crisis and the social distancing it has required, has allowed us to witness something profound and moving about ourselves: our fond and deeply felt wish to be connected with one another.
The role of connector is one we're privileged to play in the moments that matter most in your life – weddings and graduations, birthdays and business trips, events large and small – and it's that responsibility that motivates us most to get back to our regular service, as soon as possible.
That is why it is so important our government acted on a comprehensive relief act to ensure our airline – and our industry – are ready and able to serve you again when this crisis abates.
I want to relay to you, in as deeply personal a way I can, the heartfelt appreciation of my 100,000 United team members and their families for this vital public assistance to keep America and United flying for you.
This support will save jobs in our business and many others. And it allows us time to make decisions about the future of our airline to ensure that we can offer you the service you deserve and have come to expect as our customers.
While consumer demand has fallen, we have seen the need for our service and capabilities shifted. And, we've adapted to help meet those needs.
Right now, aircraft flying the United livery and insignia, flown by our aviation professionals, have been repurposed to deliver vital medical supplies and goods to some of the places that need it most. We're also using several of our idle widebody aircraft to use as dedicated charter cargo flights, at least 40 times per week, to transfer freight to and from U.S. locations as well as to key international business locations. At the same time, we are working in concert with the U.S. State Department to bring stranded Americans who are trying to return home back to their loved ones.
While much remains uncertain right now, one thing is for sure: this crisis will pass. Our nation and communities will recover and United will return to service you, our customers. When that happens, we want you to fly United with even greater pride because of the actions we took on behalf of our customers, our employees and everyone we serve.
Stay safe and be well,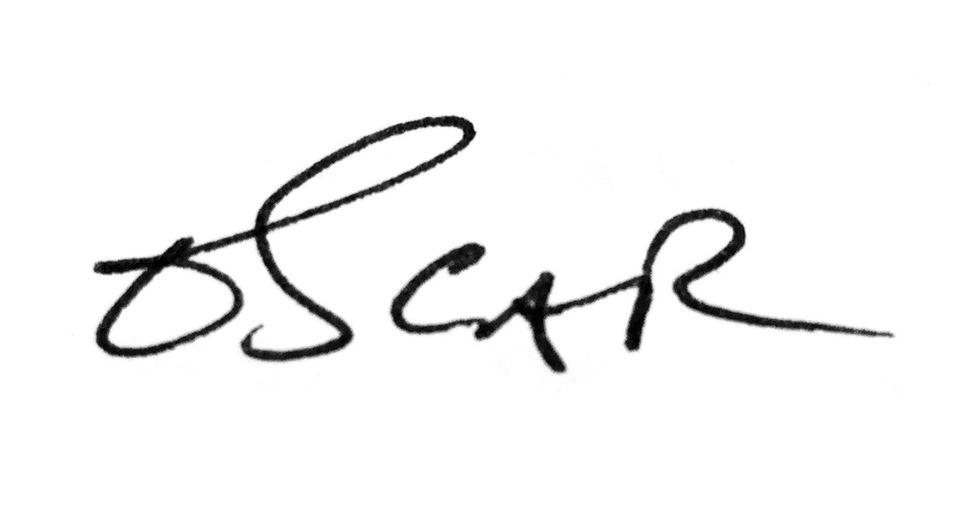 Oscar Munoz
CEO
When and where possible, we are working to repatriate travelers who are stranded abroad in the wake of the COVID-19 crisis. Our teams are working closely with government officials here in the U.S. as well as in other countries where flying has been restricted to gain the necessary approvals to operate service. In regions where government actions have barred international flying, we have coordinated with the the U.S. State Department and local government officials to re-instate some flights. Additionally, we have been operating several extra flights to countries in Central America and South America as we continue to play a role in connecting people and uniting the world.
This week, we are operating 21 flights from Panama City, Quito, Lima, San Pedro Sula, Tegucigalpa and Roatan, to bring nearly 2,500 Americans home. We will continue working with government officials to operate extra flights to Houston from Quito, San Pedro Sula, Tegucigalpa and from Lima to Washington Dulles. We continue to review more opportunities for flights between the United States and other countries to bring citizens home.
Video provided by the U.S. Embassy Ecuador of Americans returning home on United.

Additionally, our Customer Solutions and Recovery team is working with customers in the following markets to rebook them on flights back to the United States as capacity allows, either on our aircraft or on one of our airline partners' planes:

Quito, Ecuador
Managua, Nicaragua
Roatan, Honduras
San Pedro Sula, Honduras
Amsterdam
Brussels
Munich
Singapore
Tokyo-Haneda
Seoul, South Korea
Melbourne, Australia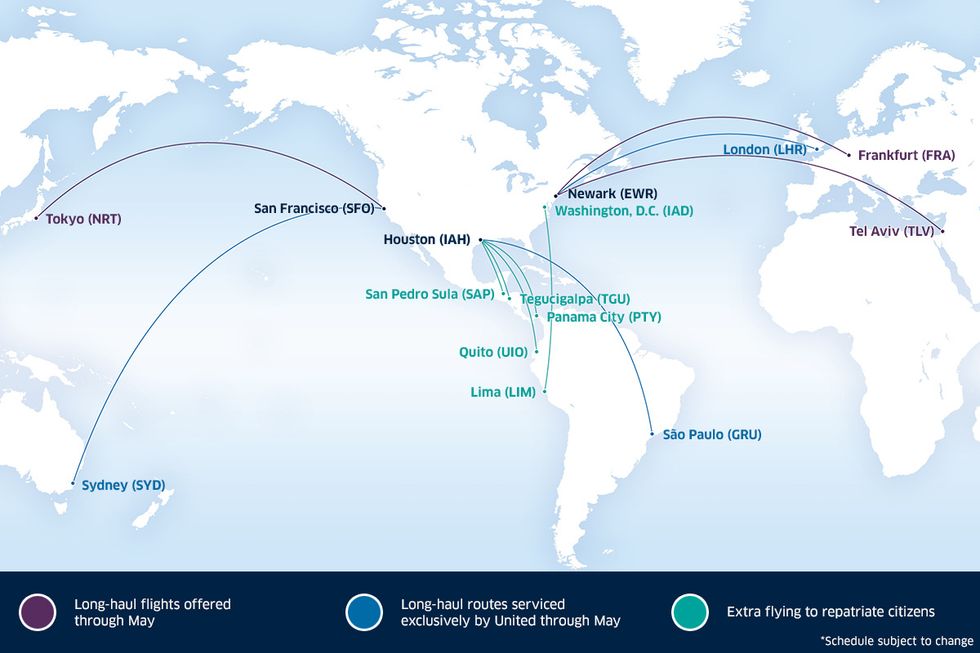 We also recently reinstated several international flights back into our schedule to support customers and essential businesses which depend on these routes. As a result, we will be the only airline to offer service between Newark/New York and London, San Francisco and Sydney, as well as Houston and São Paulo, Brazil.
While travel demand and government restrictions continue to impact our schedule, we know some people around the globe are displaced and still need to get home. While our international schedule will be reduced by about 90% in April, we will continue flying six daily operations to and from the following destinations — covering Asia, Australia, Latin America, the Middle East and Europe — in an effort to get customers where they need to be. This remains a fluid situation, but United continues to play a role in connecting people and uniting the world, especially in these challenging times. Learn more about what we're doing to keep customers and employees safe.
Flights continuing from now through May schedule:
New York/Newark – Frankfurt (Flights 960/961)
New York/Newark – London (Flights 16/17)
New York/Newark – Tel Aviv (Flights 90/91)
Houston – Sao Paulo (Flights 62/63)
San Francisco – Tokyo-Narita (Flights 837/838)
San Francisco – Sydney (Flights 863/870)
In addition to the above, we will continue to operate the following flights to help displaced customers who still need to get home. In destinations where government actions have barred us from flying, we are actively looking for ways to bring customers who have been impacted by travel restrictions back to the United States. This includes working with the U.S. State Department and the local governments to gain permission to operate service.
Atlantic
The following flights will continue through March 28 westbound:

New York/Newark – Amsterdam (Flights 70/71)
New York/Newark – Munich (Flights 30/31)
New York/Newark – Brussels (Flights 999/998)
New York/Newark – Cape Town (Flights 1122/1123)
Washington-Dulles – London (Flights 918/919)
San Francisco – Frankfurt (Flights 58/59)
The final westbound departures on all other Atlantic routes will take place on March 25.
Pacific
We will continue to fly San Francisco-Seoul (Flights 893/892) through March 29 and San Francisco-Tahiti (Flights 115/114) through March 28.
Our final eastbound departures on all other Pacific routes will take place on March 25.
We will maintain some Guam flights as well as a portion of our Island Hopper service.
Hawaii's governor issued a mandatory 14-day self-quarantine order for all travelers arriving or returning to Hawaii. Travelers must complete a Hawaii Department of Agriculture form that will be distributed on board their flight which will also include the requirements for the 14-day quarantine, as well as the penalties. You must show a government issued ID upon arrival along with your form. You can find more information on the governor's website.
Latin America/South America
We will continue to fly Newark/New York – Sao Paulo (Flights 149/148) through March 27 outbound.
The last southbound departures on most other routes will take place March 24.
Mexico
We will reduce our Mexico operation over the next five days. After March 24, we will maintain a small number of daytime flights to certain destinations in Mexico — more to come in the next few days.
Canada
We will suspend all flying to Canada effective April 1.
In destinations where government actions have barred us from flying, we are actively looking for ways to bring customers who have been impacted by travel restrictions back to the United States. This includes working with the U.S. State Department and the local governments to gain permission to operate service.
The revised international schedule will be viewable on united.com on Sunday, March 22. We will continue to update our customers with information as it's available.
If you're scheduled to travel through May 31, 2020, and would like to change your plans, there is no fee to do so, regardless of when you purchased your ticket or where you're traveling. Please visit united.com for more information, or reference our step-by-step guide on how to change your flight, cancel and rebook later.
For any customer, including residents from other countries, whose international travel is disrupted by more than six hours because of schedule changes resulting from government restrictions, they will retain a travel credit equal to the value of their ticket. That credit can be used towards any flight, to any destination, for 12 months from the time of purchase. If the customer chooses not to use the credit, they will receive a cash refund at the end of that 12-month period.We continue to aggressively manage the impact of the coronavirus (COVID-19) outbreak on our employees, our customers and our business. Due to government mandates or restrictions in place prohibiting travel, we are reducing our international schedule by 95% for April. The revised international schedule will be viewable on united.com on Sunday, March 22.
Domestic schedule
We're also making changes to our domestic schedule. While we don't plan to suspend service to any single U.S. city now — with the exception of Mammoth Lakes and Stockton, CA — we are closely monitoring demand as well as changes in state and local curfews and government restrictions across the U.S. and will adjust our schedule accordingly throughout the month.
Additionally, today we announced a further reduction in our domestic schedule — the changes will result in a 52% overall domestic reduction from a previous 42%, and our overall capacity will now be down 68% overall.
Hub city
Route suspensions
Remaining service
Denver
Arcata/Eureka
Amarillo
Kona
Kauai Island
SFO
IAH
SFO
SFO
New York/Newark
Akron/Canton
Grand Rapids
Hilton Head
Honolulu
Milwaukee
Madison
Omaha
Portland, Oregon
Providence
Seattle
Salt Lake City
Sacramento
Knoxville
Fayetteville

ORD
ORD, DEN
IAD
ORD, IAH, DEN, SFO, LAX
ORD, IAH, DEN
ORD, DEN
ORD, IAH, DEN
ORD, IAH, DEN, SFO
IAD, ORD
IAD, ORD, IAH, DEN, SFO, LAX
ORD, IAH, DEN, SFO, LAX
ORD, IAH, DEN, SFO, LAX
IAD, ORD, IAH, DEN, SFO, LAX
ORD, IAH, DEN
Washington-Dulles
Grand Rapids
Portland, Oregon
Sacramento
ORD, DEN
ORD, IAH, DEN, SFO, LAX
ORD, IAH, DEN, SFO, LAX
Houston
Hartford
Boise
Grand Rapids
Lexington
Ontario, California
Palm Springs
San Jose, California
Akron/Canton
Reno

IAD, ORD, DEN
ORD, DEN, SFO, LAX
ORD
ORD, DEN
IAD, ORD
DEN, SFO
DEN, SFO, LAX
DEN, SFO
DEN
Los Angeles
Arcata/Eureka
Austin
Boston
Baltimore
Bozeman
Cleveland
Kona
Kauai Island
Orlando
Madison
Kahului
Redding
Reno
San Antonio
St George

SFO
EWR, IAD, ORD, IAH, DEN, SFO
EWR, IAD, ORD, IAH, DEN, SFO
ORD, IAH, DEN
DEN
EWR, IAD, ORD, IAH, DEN, SFO
SFO
SFO
EWR, IAD, ORD, IAH, DEN, SFO
ORD, DEN
DEN, SFO
SFO
DEN, SFO
EWR, IAD, ORD, IAH, DEN
DEN

Chicago
Asheville
Bismarck/Mandan
Bozeman
Kearney
Panama City
Eugene
Fresno
Spokane
Hilton Head
Wilmington
Jackson
Kahului
Palm Springs
Reno
San Jose
Valparaiso
IAD
DEN
DEN
DEN
IAH
DEN, SFO, LAX
DEN, SFO, LAX
DEN, SFO
IAD
IAD
IAH
DEN, SFO
DEN, SFO, LAX
DEN, SFO
DEN
IAH
San Francisco
Atlanta
Nashville
Baltimore
Bozeman
Columbus
Detroit
Fort Lauderdale
Indianapolis
Kansas City
Madison
New Orleans
Omaha
Philadelphia
Pittsburgh
Raleigh/Durham
San Antonio
St Louis
Tampa
Fayetteville
EWR, IAD, ORD, IAH, DEN
EWR, IAD, ORD, IAH, DEN
ORD, IAH, DEN
DEN
EWR, IAD, ORD, IAH, DEN
EWR, IAD, ORD, IAH, DEN
EWR, IAD, ORD, IAH, DEN
EWR, IAD, ORD, IAH, DEN
EWR, IAD, ORD, IAH, DEN
ORD, DEN
EWR, IAD, ORD, IAH, DEN
ORD, IAH, DEN
ORD, IAH, DEN
ORD, IAH, DEN
EWR, IAD, ORD, IAH, DEN
EWR, IAD, ORD, IAH, DEN
EWR, IAD, ORD, IAH, DEN
EWR, IAD, ORD, IAH, DEN
ORD, IAH, DEN
Together, we are facing an unprecedented challenge. United Together, we rise to meet that challenge.
Check out our newest destinations
United Airlines
united
International schedule update: We know some people around the globe are displaced and still need to get home. We are reinstating some international flights over the next few days and will continue to fly six daily international flights through May.
uafly.co/3a5Dj6p
United Airlines
united
We have extended our change fee waiver to cover travel through May 31, 2020: - You can change or cancel your flight on
united.com
or through the app – a phone call is not required - For the latest on our commitment to your safety, visit
united.com/coronavirus
United Airlines
united
Our site,
united.com/coronavirus
, is regularly updated with the latest on travel restrictions, rebooking instructions and health and safety information. Today's updates: - An expanded, more flexible international rebooking policy - Schedule changes for U.K. & Ireland
United Airlines
united
If you're scheduled to travel March 10 - April 30, 2020 and would like to change your plans, there is no fee to do so, regardless of when you purchased your ticket or where you're traveling. Learn more:
uafly.co/2IpMCBX
We Are United
weareunited
Tomorrow, Oscar and Scott will host a companywide town hall to discuss the latest developments in managing the effects of the coronavirus (COVID-19). You can join the livestream event at 1:20 p.m. CT here:
uafly.co/39AV25m
We Are United
weareunited
Tomorrow, Oscar and Scott will host a companywide town hall to discuss the latest developments in managing the effects of the coronavirus (COVID-19). You can join the livestream event at 1:20 p.m. CT here:
uafly.co/39AV25m
.
Watch our most popular videos
Copyright © 2020 United Airlines, Inc.
All rights reserved.
Indicates an external site that may or may not meet accessibility guidelines.
Scroll to top
Scroll to top