7 Fall road trips within two hours of NYC
NYC is undoubtedly lovely this time of year, but something about the autumnal air makes us want to get out of town. And whether you're in the market for a bucolic retreat, a quaint hamlet or even just a (different) bustling city, these not-so-far-flung destinations are more than worthy of digging out that driver's license.

RELATED: 5 Cheap Flights to Sate Your Fall Wanderlust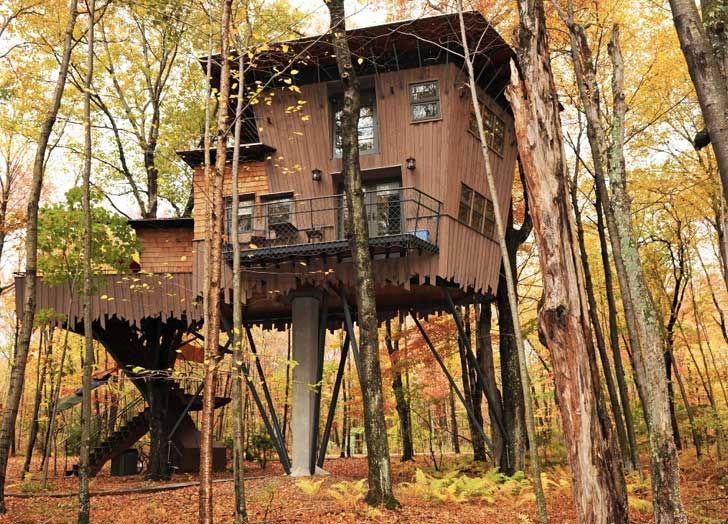 Winvian
Litchfield Hills, Connecticut
Litchfield is known for some of the best antique shopping in Connecticut, so if scouring estate sales, curated barns-turned-stores and flea markets for vintage gems is your jam, this getaway is right up your alley.
Stay: Book a stay at Winvian Farm, which boasts 18 luxury cottages each with its own unique spin—like a whimsical-chic tree house, a refurbished helicopter and a nautical lighthouse.
Do: Don't feel like going far? The resort offers horseback riding, cooking classes, bikes for guests and a luxurious spa, along with snowshoeing and cross-country skiing come the winter months. If you're feeling ambitious, you're just a quick ten-minute drive from hot-air ballooning.
Eat: Sample the "seed-to-table" tasting menu at Winvian's onsite restaurant, or head to the West Street Grill for bistro-style eats (the Parmesan aioli peasant bread is a must) and alfresco seating.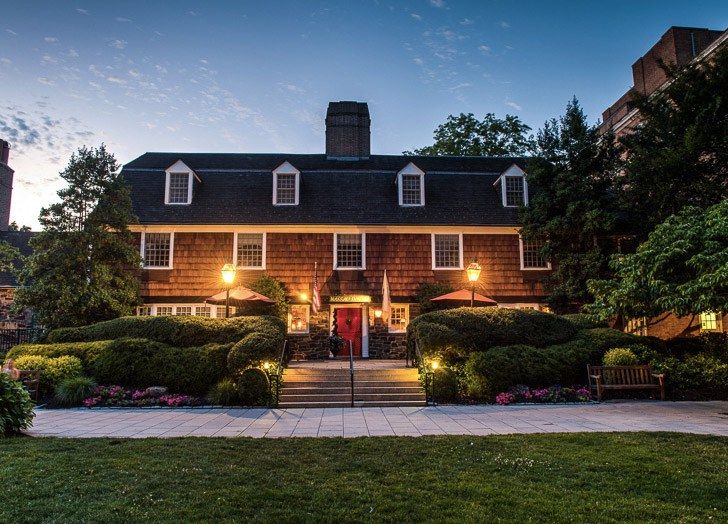 Nassau Inn
Princeton, New Jersey
Though you could spend an entire day touring the campus of Princeton University—full of Gothic architecture that looks increasingly spooky as Halloween rolls around—the Ivy League college is not the only thing of note in this charming town.
Stay: If you want to be within walking distance of all the action, look no further than Princeton's Palmer Square and the The Nassau Inn, a historic landmark hotel where Thomas Paine and Paul Revere hung out.
Do: Princeton has a pedestrian-friendly shopping district full of clothing stores, home décor outposts and a few old-school bookstores with killer names, like Labyrinth Books and The Cloak & Dagger, which is dedicated to mystery books. And drama buffs should be sure to catch a show at the venerated McCarter Theatre Center.
Eat: You could easily spend the better part of your weekend eating your way through town, from the casual and aptly-named PJ's Pancake House to the elegant Peacock Inn, which is housed in an adorable Victorian-era home and doubles as a boutique hotel. Whatever you do, do not skip out of town without trying the unique ice cream creations at The Bent Spoon, a local favorite.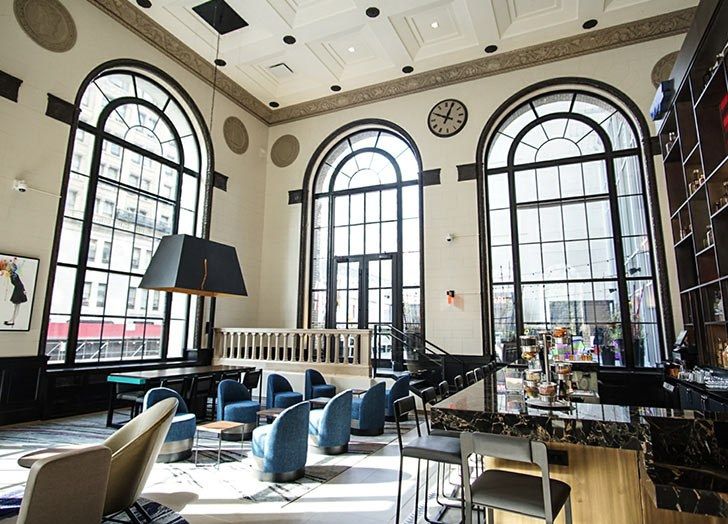 Aloft Hotel
Philadelphia, Pennsylvania
Sure, the Liberty Bell and Independence Hall are worth seeing if you've never been, but you'll also want to leave enough time for incredible food and a creepy prison tour.
Stay: Aloft Philadelphia Downtown blends the city's rich history with contemporary vibes. The 179 guest rooms took over the former Liberty Title & Trust Building, built in 1925.
Do: Take a relaxing stroll through Philly's famed Rittenhouse Square: It's a great place to take in the fall colors as you admire the beautiful homes built around it, some of which date back to the early 19th century. The iconic LOVE Park, reopening in late fall 2017, is a must if only for the Instagram opportunity. And those inclined to the macabre need to make a stop at Eastern State Penitentiary, the historic prison where Al Capone was once incarcerated.
Eat: Even the snobbiest New Yorkers won't be disappointed in Philly's thriving dining scene, where chef Jose Garces is king, with his Amada, Tinto and Volver outposts. Or grab a table at the buzzy Vetri for Italian, El Vez for Mexican, Blue Duck for a little bit of everything—and its brand new sister restaurant, The Ugly Duckling, for burgers and sandwiches.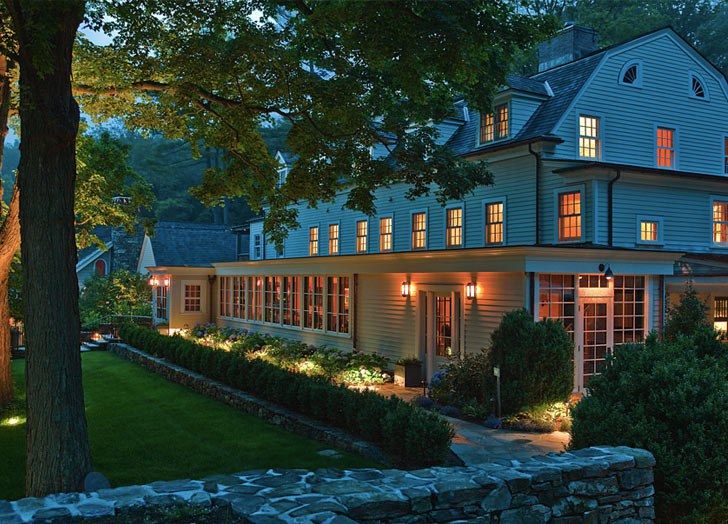 Bedford Post Inn
Bedford, New York
No wonder Blake Lively and Ryan Reynolds chose to settle down in this quaint Westchester town—it's close to the city while still maintaining plenty of rural charm.
Stay: Check into the Bedford Post Inn, an eight-room property (with romantic fireplaces in most rooms) that features two award-winning restaurants and a yoga studio.
Do: Spend a nature day at Ward Pound Ridge Reservation; Outhouse Orchards for Halloween-esque corn mazes, spooky hayrides and pumpkin picking; and Rainbeau Ridge for playing with animals and savoring local cheeses.
Eat: The Bedford Post's onsite eateries mean you don't have to venture far: Try The Barn for country classics and a killer brunch, or Baldanza for handmade pastas and wood-fired fare.
Additional reporting by Kelli Acciardo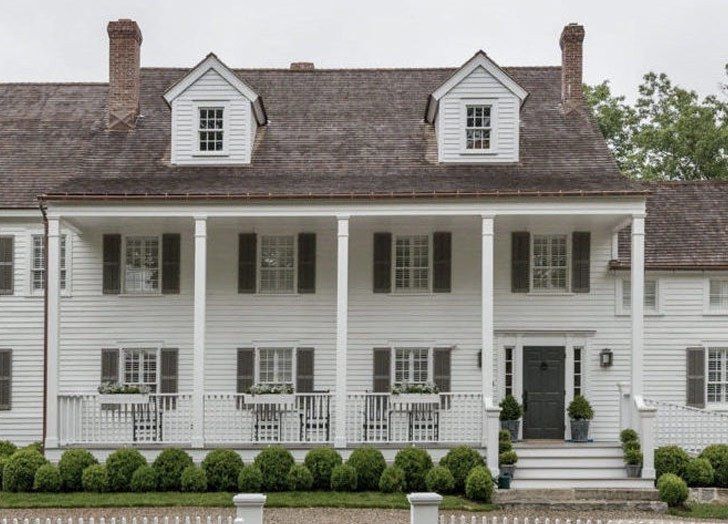 Graybarns Inn
New Canaan, Connecticut
This idyllic town is an hour and a half from Manhattan and offers everything one might need or want for a long weekend: historic landmarks, fall foliage sightings, adorable B&Bs and upscale boîtes (that you don't have to wait hours to get into).
Stay: Reserve a room at Graybarns Inn, a recently renovated rustic-meets-cozy refuge that overlooks the Silvermine River and Guthrie Pond.
Do: Between The Glass House, Grace Farms and Waveny Park, the area's a dream for anyone who loves architecture and landscape design.
Eat: The seasonal salads and outrageously good burger at Elm Restaurant will have you making return trips on Metro-North just for the food.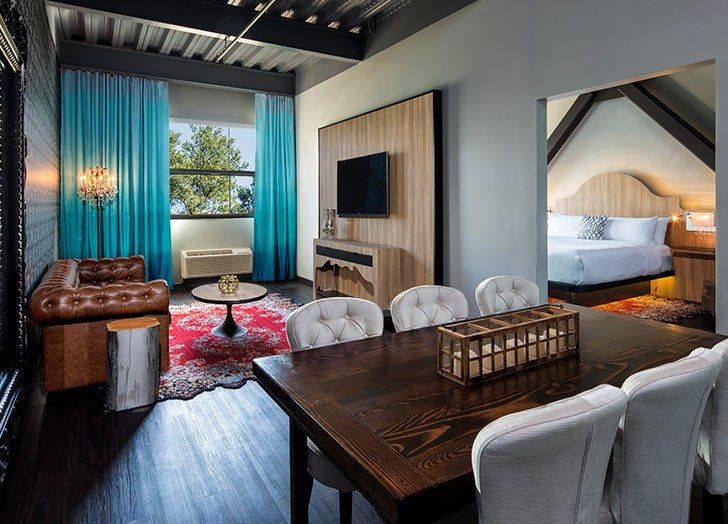 The Time Nyack
Nyack, NY & The Hudson Valley
Nyack is a great home base if you're looking to explore points north in the Hudson Valley—or you just need the closest possible jaunt outside NYC.
Stay: Check in to The Time Nyack to enjoy the hotel's trendy, luxe loft-style rooms, many of which come equipped with an Amazon Alexa so you can order more towels without having to call the front desk. The hotel also boasts a buzzy local food and nightlife scene, which centers around contemporary steakhouse BV's Grill and a secret pocket lobby bar.
Do: Just across the river you'll find the Lyndhurst Mansion in Tarrytown, a Gothic Revival mansion with a noteworthy history, and the historic village of Sleepy Hollow, which—naturally—ramps up the spooky spirit every October.
Eat: Head to Communal Kitchen for locally sourced bites and great wine, or find authentic homestyle Filipino eats at Karenderya.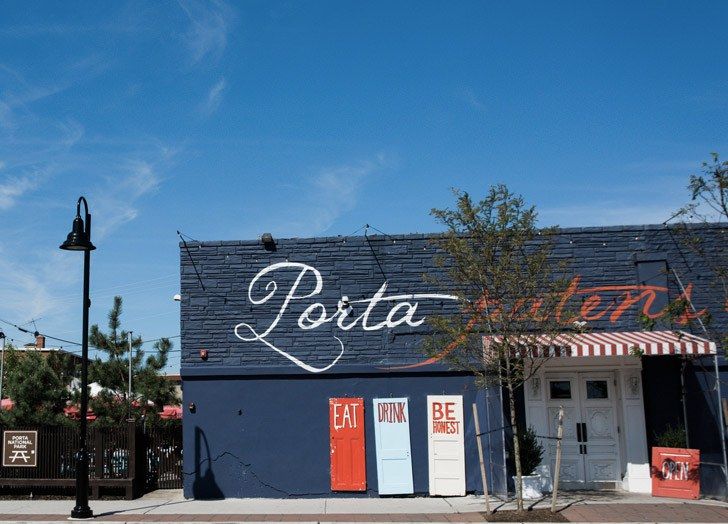 Porta
Asbury Park, NJ
Asbury Park may be on your radar as a summertime spot, but this funky resort town—and its somewhat gritty past—is having a major resurgence, making it a great year-round destination.
Stay: You'll want to hang your hat at The Asbury, which was converted from a former Salvation Army building into a hip beachside hotel, and has beautifully designed rooms and cool lounge spaces throughout. It's also a great place to enjoy one last alfresco cocktail before the weather gets too cold, at Salvation, the rooftop garden bar.
Do: Catch a show at the legendary dive, The Stone Pony where Springstein and Bon Jovi played. Or get acquainted with Asbury's lively LGBTQ scene with a drag show at Paradise, located at the Empress Hotel.
Eat: Grab lunch at Porta, a wood-fired pizza joint and beer garden (though be forewarned, it turns into a Jersey Shore dance club at night).
RELATED: 7 Artsy Day Trips Every Culture-Loving New Yorker Needs to Take
This article was from PureWow and was legally licensed through the NewsCred publisher network. Please direct all licensing questions to legal@newscred.com.
Our Marketing Inflight Entertainment and Connectivity team and Bridge, our Business Resource Group (BRG) for people with all abilities, partnered together to test and provide feedback on our award-winning seatback inflight entertainment (IFE) system.
Aptly named "Entertainment for all," our new seatback IFE system offers the an extensive suite of accessibility features, allowing for unassisted use by people of all visual, hearing, mobility and language abilities.
"It's nice to know that I can get on a plane and pick my favorite entertainment to enjoy, just like every customer," said Accessibility Senior Analyst and Developer and Bridge Chief of Staff Ray C., who is blind.
"As a deaf employee, the closed captioning availability on board our aircraft is something I value greatly," added Information Technology Analyst Greg O. "The new IFE further cements United's visibility within the deaf community and elsewhere. It makes me proud to be an employee."
Accessibility features of the new IFE include a text-to-speech option, explore by touch, customizable text size, screen magnification, color correction and inversion modes, and alternative navigation options for those unable to swipe or use a handset. For hearing-impaired and non-English-speaking passengers, customization options provide the ability for customers to be served content and receive inflight notifications based on their preferences and settings —with closed captions, with subtitles or in the language of their choice from the 15 languages supported. Our "Entertainment for all" system won the Crystal Cabin Award in 2019, and recently, the Dr. Margaret Pfanstiehl Research and Development Award for Audio Description by the American Council of the Blind.
"This really showed the benefits of partnering with BRGs in helping us improve products and services for our customers and employees," said Inflight Entertainment and Connectivity Senior Manager Corinne S. "Even though we have been recognized with awards for our IFE accessibility features, we are not resting on our laurels but continuing to work towards improving the inflight entertainment experience for all of our customers to ensure entertainment is available for all."
If your travels have taken you through Chicago O'Hare International Airport anytime since October 2019, you may have had a friendly, caring and jovial exchange with Daniel Smrokowski. Daniel is one of four Service Ambassadors thanks to our ongoing partnership with Special Olympics. This inaugural ambassador program aims to provide Special Olympic athletes employment opportunities within our operation, affording them a unique and meaningful career.
Since 2018, our partnership with Special Olympics has become one of United's most cherished relationships, going beyond the events we take part in and volunteer with. While the plane pull competitions, polar plunges, duck derbies and Special Olympics World Games and other events around the world are a big part of our involvement, the heart of this partnership lies with the athletes and individuals supported by Special Olympics. To advocate for their inclusion in every setting is one of our biggest honors, and we take great pride in the role we play in the organization's inclusion revolution.
Aiding in the success of Special Olympics' mission to create continuing opportunities for individuals with intellectual disabilities, throughout the two-year partnership, United has volunteered over 10,500 hours and donated over $1.2 million in travel to the organization. The impact of this partnership is felt at every level, both at Special Olympics and within our own ranks.
"The Inclusion Revolution campaign, led by our athletes, aims to end discrimination against people with intellectual disabilities. United Airlines has joined in our fight for inclusion, empowering our athletes with the skills needed to succeed and opportunities to contribute their abilities as leaders," said Special Olympics International Chairman Tim Shriver. "United Airlines believes that people with intellectual disabilities should be perceived as they really are: independent, world-class athletes, students, employees, neighbors, travelers, and leaders who contribute to make this world a better place."
Our Service Ambassador program is just one of the many ways Special Olympics has impacted not only our employees, but also our customers. "I see every day how our Service Ambassadors connect with our customers the moment they walk into the airport lobby," said Senior Customer Service Supervisor Steve Suchorabski. "They provide a warm, welcoming smile ad assist in any way they can. To see these young adults hold positions that a society once told them they couldn't is truly the most heartwarming part of my job," Steve continued.
"The opportunity to be a part of the United family means everything to me," Daniel said. "I feel so much pride showing up to work in a Special Olympics/United co-branded uniform, working among such a loving and supportive community. The relationship between these two organizations is truly helping to shape my future while letting me use my gifts of communicating and helping others. Hopefully, I can spend my entire career at United," Daniel added.
In honor of Special Olympics' Global Week of Inclusion in July, we're asking our employees, customers and partners to sign a pledge to #ChooseToInclude at jointherevolution.org/pledge.
And be sure to check out Daniel's podcast The Special Chronicles.

In collaboration with food-logistics company Commodity Forwarders Inc. (CFI), United moved nearly 190,000 pounds of fresh produce to Guam for the U.S. Department of Agriculture's Coronavirus Farm Assistance Program. This new program was created to provide critical support to consumers impacted by the COVID-19 global pandemic.
A variety of fresh fruits were transported from Los Angeles (LAX) to Guam (GUM) on United's newly introduced, non-stop cargo-only flight – a route added to meet cargo demand during the COVID-19 crisis. The fresh food was repacked in 10-pound cases in Los Angeles, prepared for departure at CFI's LAX location, and flown to GUM by the United team. Through this beneficial partnership between United and CFI, the perishable goods were kept cool during every step of the process and distributed as part of the food bank program in Guam.
"Everyone on our team has worked relentlessly during the pandemic to get critical goods to where they are needed most. Establishing a comprehensive network of cargo-only flights have allowed us to keep the supply chain moving even while passenger flight capacity has been reduced," said Regional Senior Manager of Cargo Sales, Marco Vezjak. "Knowing that we are able to help during these difficult times – in this case the Guam community – is our biggest reward and greatest motivation to keep moving forward."
United is proud to play a role in maintaining the global food supply chain and helping people access the supplies they need. Since March 19, United has operated over 4,000 cargo-only flights, moving over 130 million pounds of cargo.

Together, we are facing an unprecedented challenge. United Together, we rise to meet that challenge.
Learn more
United Airlines
united
A travel waiver is in effect for the East Coast due to Tropical Storm Isaias. If you're traveling 8/4 - 8/5, you can change your flight at no cost on our mobile app, by direct messaging us here or calling 1-800-864-8331. Waiver:
uafly.co/Z04CmP
United Airlines
united
We've issued a travel waiver for Charleston, Wilmington and Norfolk due to Hurricane Isaias. If you're traveling 8/3 - 8/4, you can change your flight at no cost on our mobile app, by direct messaging us or calling 1-800-864-8331. Waiver:
uafly.co/Z04CmP
United Airlines
united
Flights booked now through August 31 can be changed for free over the next 12 months to allow for additional flexibility. All existing travel can be changed without fees as well. See waiver for details:
uafly.co/2M9vgLC
United Airlines
united
Flights booked now through August 31 can be changed for free over the next 12 months to allow for additional flexibility. All existing travel can be changed without fees as well. See waiver for details:
uafly.co/2M9vgLC
United Airlines
united
Questions about what to expect next time you fly? Text "Clean" to FLYUA (35982) to learn how we're making every step of the travel journey safer for you.
United Airlines
united
Our High Efficiency Particulate Air (HEPA) filters recirculate the cabin air every 2-3 minutes helping make an aircraft a cleaner environment than restaurants, grocery stores and even some hospitals. Learn more ➡️
uafly.co/ReadyToFly
We Are United
weareunited
We've rolled out "Easy Chat" as the Flight Info app on Link devices at DCA, IAD, LAX, ORD and DEN with EWR, IAH and SFO coming this summer. This program offers increased connectivity and transparency between the
#BeingUnited
frontline to keep flights moving and on-time.
We Are United
weareunited
Our digital servicing team has developed an automated assistant to make it easier for our customers to learn about what to expect the next time they fly. Text "Clean" to FLYUA (35982) to give it a try!
We Are United
weareunited
Three-year-old Luna Mei was all smiles on her flight home after 212 days in a San Francisco hospital, thanks to her SFO-based FAs (and undercover angels 👼) Pamela R., Sharon S., Sonja B. and Stacey G. The quartet kept spirits high by singing songs, clapping and playing games.
We Are United
weareunited
So long paper boarding passes, standby and upgrade travel are going touchless! If you've signed up for day-of-travel notifications, you'll now receive a text or email when your seat is assigned.
We Are United
weareunited
Our inaugural flight to Chicago from Toyko Haneda coincided with the annual Japanese celebration known as "Tanabata" or "Star Festival." The
#BeingUnited
team at HND placed their wishes on bamboo trees before the flight departed for ORD.
Watch our most popular videos
Flying UCSF Medical Workers to New York
This is why we fly.
20 UCSF Health workers, who voluntarily set aside their own lives to help save lives, are on their way to New York City.
We are humbled by your selfless sacrifice.
Thank you.
#UnitedTogether #UCSFHeroes
A happy, Hollywood ending
This is the story of Jason and Shantel. You see, Jason and Shantel love each other very much. They also love traveling and they love the classic Adam Sandler film, The Wedding Singer.
It all began when Jason reached out to United's social media team, hoping for assistance with his upcoming plan to propose. Some phone calls and one borrowed guitar later, the stage was set for Jason. Put all that together, mix in some helpful United employees and, voila, you have a truly memorable marriage proposal. Congratulations to this fun-loving and happy couple, and here's to many more years of making beautiful music together.
A big thank you to Chicago-based flight attendants Donna W., Marie M., Karen J. and Mark K. for making this proposal come to life.
Copyright © 2020 United Airlines, Inc.
All rights reserved.
Indicates an external site that may or may not meet accessibility guidelines.
Scroll to top
Scroll to top