Ode to a flight pioneer
With all she's seen and done over a century on this earth, some of Betty Stockard's fondest memories are of the years she spent slipping its surly bonds.
Seventy-seven birthdays have passed since she took to the skies for United as one of the first non-nurse flight attendants in our history, but you wouldn't know it talking with her today as she prepares to celebrate her 100th birthday. Betty's recollections of that time, when she was a 23-year-old searching for excitement and a life to call her own, are crystal clear, her stories conjuring a vivid, gorgeous image of the golden era of aviation.
Born near Kalispell, Montana, on May 16, 1919 as Elizabeth Jean Riley, becoming an aviation pioneer was the furthest thing from Betty's mind growing up. As she recalled, her only brushes with flight back then occurred when the occasional small airplane would appear in the sky above the family homestead. But following the attack on Pearl Harbor in December 1941, Betty, like most Americans, wanted to contribute to the war effort. She packed her bags, moved to Seattle and took an administrative job at the Boeing plant where thousands of bombers would soon roll off the assembly lines.
She had been there for about two months when she saw an item in the Seattle Times announcing United was looking for a new crop of flight attendants. For years, airlines had only hired nurses into those roles, but with more and more of them now needed in combat zones, that was no longer the case. Despite having never stepped foot on an airplane, Betty applied.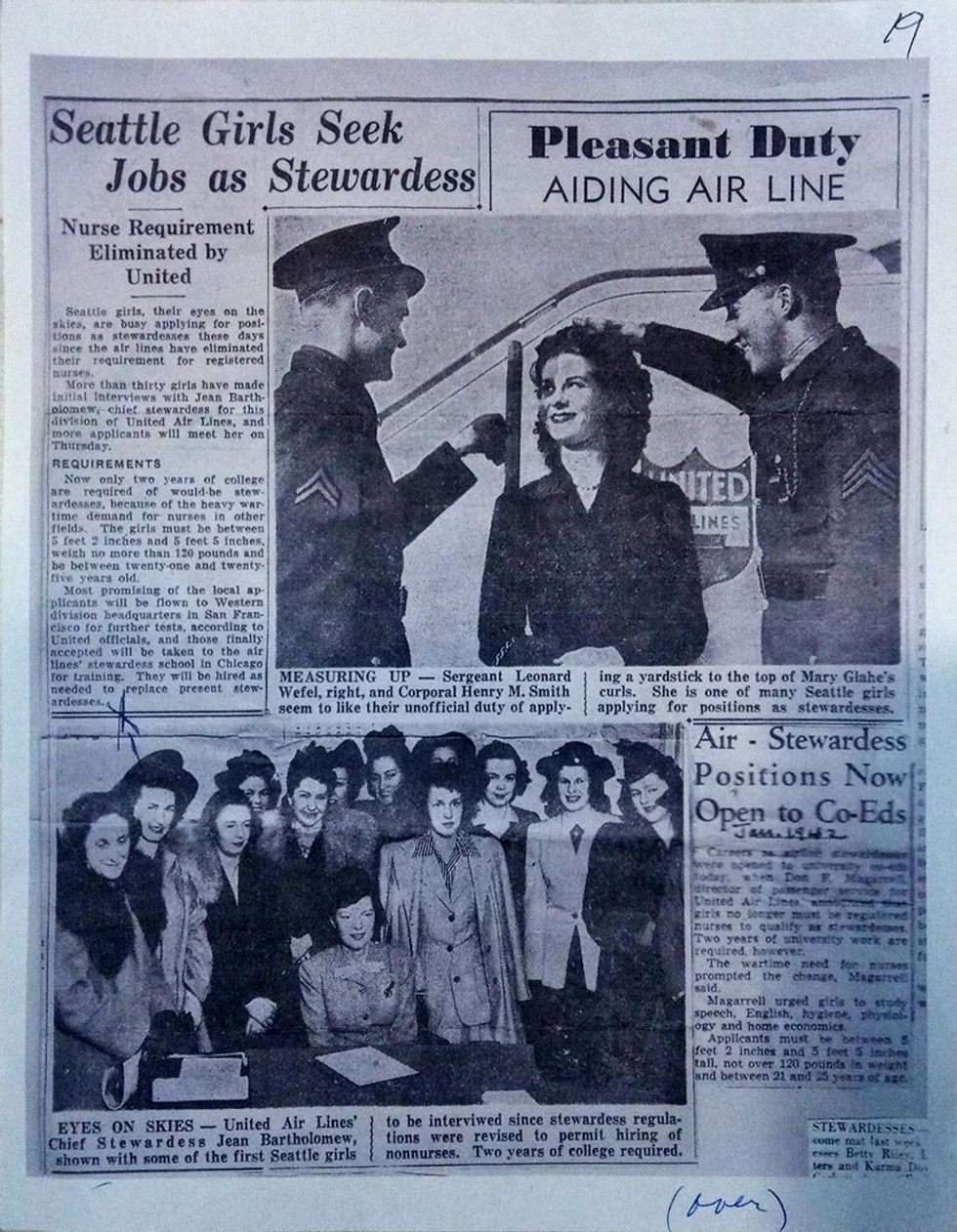 What followed was a whirlwind. After meeting with United personnel managers in Seattle, she took her first-ever flight for a second round of interviews in San Francisco. Two weeks later she received a telegram instructing her to report to Chicago, where she joined 24 other women from across the country for six weeks of intense training, heavy on first aid and safety.
"The instructors told us not to smile much because it was a serious job," remembered Betty. "They wanted us to maintain a professional attitude.
"But the stuff about not smiling didn't last long once I was on an airplane myself."
As Betty put it, being a stewardess in those days was nearly on par with being a movie star, and she often rubbed shoulders with celebrities and dignitaries, like First Lady Eleanor Roosevelt and silver screen idol Clark Gable, on her trips up and down the West Coast. But it wasn't all glitz and glamour and grins.
Flight attendants in the mid-1940s were just as busy serving their country as they were serving their customers. United flew many military men during World War II, and flight crews were responsible for looking after them. And, at least in Betty's case, those wartime duties included a little intrigue as well.
In the summer of 1945, after checking in for a flight from San Francisco to Seattle, her dispatcher told her that two men from the U.S. Army were waiting for her in the next room. They handed Betty a small, brown package and instructed her to pin it inside her jacket until she arrived in Seattle, where another Army representative would meet her. In the meantime, they warned, she was not to open the parcel or tell anyone she had it.
The aircraft landed in Seattle just after 2 a.m. and taxied to a dark corner of the airfield. There, a military man came on board, took the package, and promptly departed, leaving Betty to wonder what she had just been part of.
Secret missions aside, Betty was smitten with life in the air. She'll still tell you it was the best job in the world. Soon, though, she found herself equally smitten with a handsome former fighter pilot by the name of Ray Stockard, whom she met during a flight in 1946.
Ray was traversing the country interviewing for jobs with commercial airlines, and the two hit it off immediately, beginning a courtship shortly after. Betty adored Ray, but it was a bittersweet romance, for she knew if she got married she'd be trading one love for another since, at that time, stewardesses had to be single.
Alas, the heart wants what it wants, and Betty and Ray, who by that time was flying for Pan American, set a wedding date. Originally, they were to wed in May of 1947, but that spring, United announced it would begin service to Honolulu that summer. Betty talked Ray into briefly postponing the nuptials so that she could enjoy her last months as a flight attendant on the Hawaiian route.
"I hated giving up flying, but I knew I was making the right move," she said. "I was looking forward to the next chapter."
Fortunately, marrying a pilot meant she didn't have to walk away from the industry altogether. In the years that followed, she, Ray and their four children – Joe, Denise, Ed and Dick – traveled the world together. And while they did most of that flying on Pan Am, Betty never lost her soft spot for United, the airline where it all started. She still flies United, in fact, and still enjoys meeting flight attendants on her journeys, though she rarely, if ever, tells them about her past, preferring instead to ask them questions about themselves.
When you are lucky enough to get her talking about herself, though, she doesn't disappoint. Betty's stories are riveting, and she's been known to dispense a kernel of wisdom or two if pressed. So, what's the best advice she gives after 100 years of a rich, full life? Value education and relationships above all else, travel as much as possible, and be fearless in your pursuits.
"It's been such a good life," she said. "I couldn't have asked for a more interesting career. I still carry with me the memories of the people I met on airplanes and the places I went. If there's a lesson there, it's that you should get out and do things and not be afraid to try. By doing that, I've had one of the best lives ever."
We know people are taking a second look at their travel plans right now. If you're scheduled to travel March 10 – May 31, 2020 and would like to change your plans, there is no fee to do so, regardless of when you purchased your ticket or where you're traveling. This is in addition to our previous waiver, which waives all change fees – domestic and international – for tickets purchased March 3 – April 30, 2020. This is available for any of United's published nonrefundable fares. If you decide to cancel your flight, you can retain the value of your ticket to be applied to a new ticket without a fee. These electronic travel certificates are now valid for 24 months from the date they were issued. This includes all currently valid electronic certificates and all new ones issued on or after April 1, 2020. You might not see this policy change reflected everywhere right away – we appreciate your patience as we work to make that happen.
Eligible travelers on domestic flights and international tickets can request a refund on united.com or may call our contact centers if their flights have been severely adjusted or service to their destination suspended either due to government mandates or United schedule reductions related to COVID-19.
Certain tickets cannot be changed on united.com or the mobile app, including tickets booked through another airline (if the ticket receipt does not begin with 016). Please contact the original ticketing airline for changes.
Follow the steps below to stay up to date, change or cancel your flight.

Change your current flight:
On the united.com homepage, select "My Trips" and enter your flight information to retrieve your flight.
Select "Change flight" and then "Edit" to make the following changes:

Date of travel or destination
Add a flight
Remove a flight

Select "Continue" and choose a new flight option
Continue through booking to confirm your new flight
Note: The change fee will display as waived, but any difference in fare may apply.
Cancel your flight and rebook later:
On the united.com homepage, select "My Trips" and enter your reservation information to retrieve your flight
Select "Cancel flight"
Confirm flight cancellation
If you have future flight credit, when you return to the reservation, select "Use Future Flight Credit" to shop for new flights and apply the credit towards a new flight.
Canceling or changing an award flight:
When you select "Cancel flight," you will have the option to cancel your award reservation and redeposit the miles or to cancel your award reservation and use those miles for another trip in the future.
*We're currently experiencing heavy traffic to united.com. If you experience an error while trying to change or cancel your flight, please try again later.
Click through the slideshow below for more detailed instructions:
​Start on the United homepage: ​
User can select 'My Trips' on the homepage widget to find and retrieve their reservation.
When and where possible, we are working to repatriate travelers who are stranded abroad in the wake of the COVID-19 crisis. Our teams are working closely with government officials here in the U.S. as well as in other countries where flying has been restricted to gain the necessary approvals to operate service. In regions where government actions have barred international flying, we have coordinated with the the U.S. State Department and local government officials to re-instate some flights. Additionally, we have been operating several extra flights to countries in Central America and South America as we continue to play a role in connecting people and uniting the world.
We have operated more than 68 repatriation flights from Panama City, Guatemala City, Quito, Lima, San Pedro Sula, Tegucigalpa and Roatan, bringing nearly 9,200 people home. We will continue working with government officials to operate extra flights to Houston from Quito, San Pedro Sula, Tegucigalpa and from Lima to Washington Dulles and beginning April 5, we will begin operating multiple charter flights between Delhi and San Francisco. We continue to review more opportunities for flights between the United States and other countries to bring citizens home.
Video provided by the U.S. Embassy Ecuador of Americans returning home on United.

Additionally, our Customer Solutions and Recovery team is working with customers in the following markets to rebook them on flights back to the United States as capacity allows, either on our aircraft or on one of our airline partners' planes:

Quito, Ecuador
Managua, Nicaragua
Roatan, Honduras
San Pedro Sula, Honduras
Amsterdam
Brussels
Munich
Singapore
Tokyo-Haneda
Seoul, South Korea
Melbourne, Australia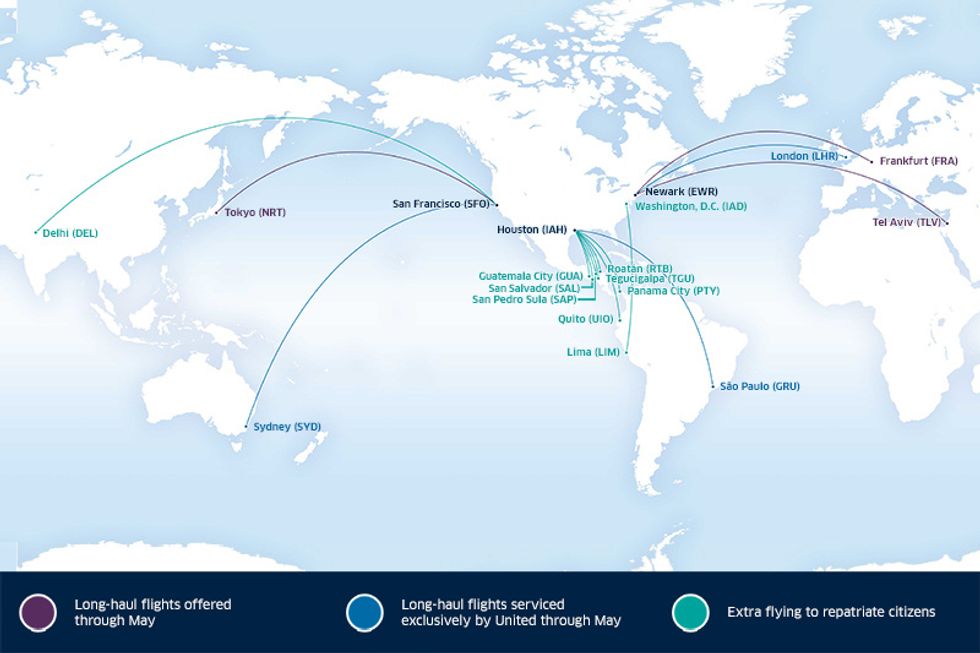 We also recently reinstated several international flights back into our schedule to support customers and essential businesses which depend on these routes. As a result, we will be the only airline to offer service between Newark/New York and London, San Francisco and Sydney, as well as Houston and São Paulo, Brazil.

Calling all AvGeeks and travelers! Here's a fun way to take your next video call….from a United Polaris® seat, the cockpit or cruising altitude. We're introducing United-themed backgrounds for use on Zoom, a video conferencing tool that many people are using to stay connected.
So for your next meeting or catch up with friends and family, download the app to either your computer or mobile device to get started. If you've already downloaded Zoom you can skip ahead to updating your background image (see instructions below).
Start here by downloading your favorite United image to your computer or mobile device. Just click "download" in the bottom left corner of the image.
Next go to your Zoom app (you'll need to download the app to access backgrounds) and click on the arrow to the right of your video camera icon in the bottom of the screen.
From here select, "choose virtual background" to upload your uniquely United photo.
Together, we are facing an unprecedented challenge. United Together, we rise to meet that challenge.
Check out our newest destinations
United Airlines
united
We continue to work with government officials to bring Americans home. In addition to flights from Central & South America, we have charter flights planned from India. Learn more about our repatriation efforts in the wake of COVID-19 here:
uafly.co/3aExaOL
#UnitedTogether
United Airlines
united
When
@RocheDia
needed to ship a vital component of a COVID-19 testing unit from New Jersey to Florida, United Cargo jumped in to help. Read about how this part will allow
@MayoClinic
to process hundreds of tests per day for cases in the Southeastern U.S.
uafly.co/2UzOAGW
United Airlines
united
International schedule update: We know some people around the globe are displaced and still need to get home. We are reinstating some international flights over the next few days and will continue to fly six daily international flights through May.
uafly.co/3a5Dj6p
United Airlines
united
We have extended our change fee waiver to cover travel through May 31, 2020: - You can change or cancel your flight on
united.com
or through the app – a phone call is not required - For the latest on our commitment to your safety, visit
united.com/coronavirus
We Are United
weareunited
Shoutout to our operations team, who are working to properly park, maintain and store many aircraft in the
#BeingUnited
fleet. These aircraft are being housed across our seven hubs, maintenance facilities in CLE and MCO as well as at offsite facilities in New Mexico and Arizona.
We Are United
weareunited
Tomorrow, Oscar and Scott will host a companywide town hall to discuss the latest developments in managing the effects of the coronavirus (COVID-19). You can join the livestream event at 1:20 p.m. CT here:
uafly.co/39AV25m
We Are United
weareunited
Tomorrow, Oscar and Scott will host a companywide town hall to discuss the latest developments in managing the effects of the coronavirus (COVID-19). You can join the livestream event at 1:20 p.m. CT here:
uafly.co/39AV25m
.
Watch our most popular videos
Copyright © 2020 United Airlines, Inc.
All rights reserved.
Indicates an external site that may or may not meet accessibility guidelines.
Scroll to top
Scroll to top