Chicago O'Hare is modernizing and expanding
After over a year of negotiations, we, along with other airlines, have reached an agreement with the City of Chicago to dramatically expand O'Hare International Airport (ORD). This expansion will help bring O'Hare into the 21st century with the latest amenities, which will provide a better experience for our customers and employees.
"As Chicago's hometown airline, we are looking forward to continuing our investment in O'Hare and building our largest hub into the world-class airport this world-class city deserves," said CEO Oscar Munoz. "The improvements in our new agreement will help ensure we provide a superior travel experience for the more than 36 million United customers who fly through O'Hare each year."
The $6 billion capital project will generate more terminal space and growth opportunities for our airline and others. The project will be funded through terminal rental fees charged to us and other airlines using O'Hare, as well as rents from concessionaires.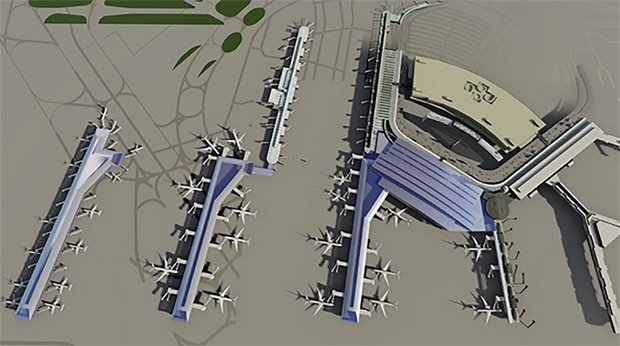 The improvements will add 25 percent more gates, and, as part of the agreement, we will be able to compete to expand our number of gates. Construction will begin next year, and is scheduled to end by 2026. The total space at O'Hare's terminals will go from 5.5 million square feet to 8.9 million square feet.
Additionally, the new plan will add two satellite concourses that will be built to the south and southwest of Terminal 1, and connected to the main terminals via tunnels with moving walkways. Terminal 2 will be demolished and replaced by an expanded "Global Terminal" with Customs and Border Protection (CBP) facilities. Once opened, our international flights will arrive in this terminal rather than Terminal 5, which will allow customers faster and more convenient access to connecting flights.
The gates we currently operate from in Terminal 2 will be transferred to the two satellite concourses of the new layout. Our employee lounges and break rooms in Terminal 2 will also be relocated. We will be working with city officials to determine where our new facilities will be located within the new buildings.
We will also be adding new club spaces. The United Clubs team will be working over the coming months to determine the location, number and size of clubs in the new facilities.
As the project moves forward, we will work with the city of Chicago, the Transportation Security Administration (TSA) and CBP to provide proper staffing levels associated with the expansion.