On this flight, I thee wed...
Around the airline, we see our share of proof that romance is very much alive and well. Inflight proposals, couples jetting off on their honeymoons and love blossoming between randomly paired seatmates all happen often enough to restore one's faith, should it ever be shaken, in the power of love. But here's something you probably haven't seen: An actual honest-to-goodness onboard wedding.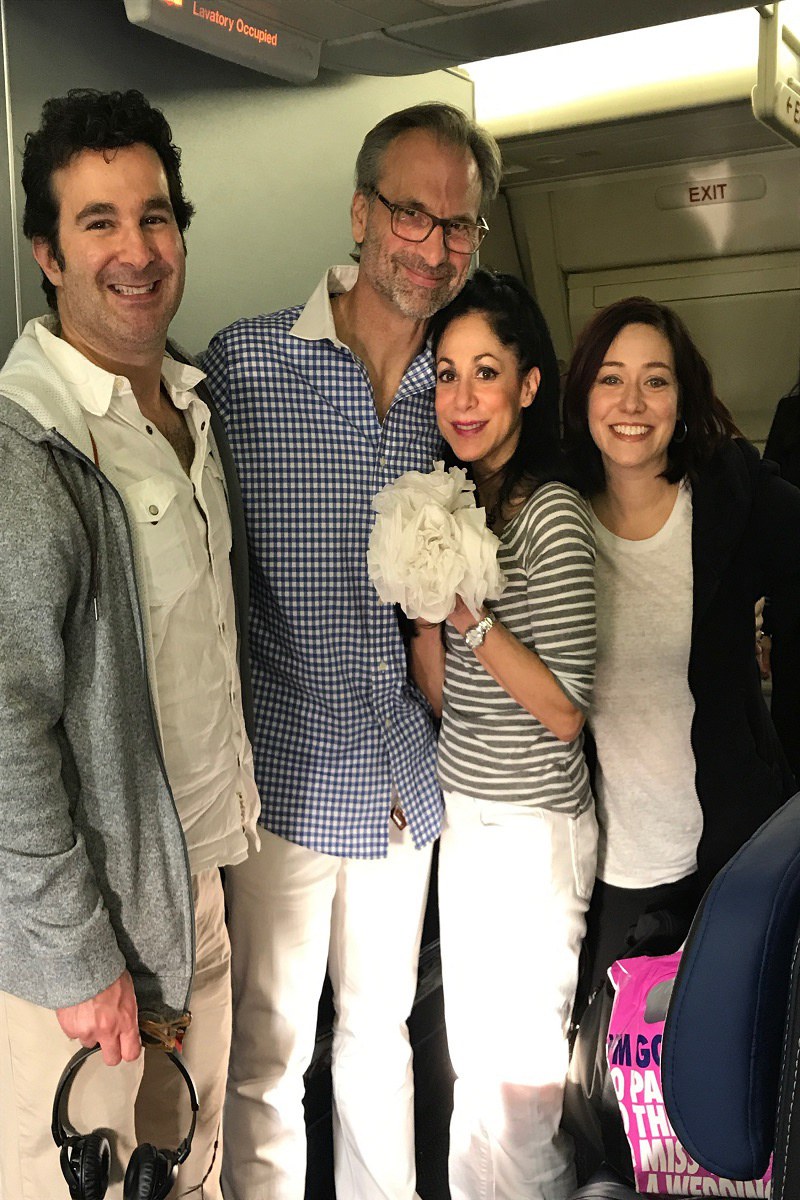 Customer Olana DiGirolamo, a writer and film director, couldn't have scripted the story any better herself. While boarding a Newark-bound flight at Los Angeles International Airport a few years ago, she locked eyes with fellow passenger Mark Alioto, and an instant connection was made. Jump cut to this past summer, the two had plans to be married in Los Angeles, with Olana's brother, Arland DiGirolamo, officiating.
But two weeks before the wedding date, Olana and Arland received crushing news: Their mother, who lives in Northern New Jersey, had been rushed to the hospital with a life-threatening condition. Olana and Arland dropped everything and took the first available red-eye from Los Angeles to be with her.
"During our mother's hospitalization, we remained hopeful the wedding might still go on if she could attend," wrote Arland in a letter to Oscar. "Ultimately, the wedding had to be canceled, despite our mother's miraculous recovery, because it was impossible for her to fly at that time."
Amid the feeling of relief over their mother's improved condition, there was still a sense of sadness about cancelling the wedding. In spite of the fact that she wouldn't be able to attend, Olana and Arland's mother was adamant that they still go through with the nuptials on the original date, July 8. The only problem was, by that time, it was already July 7.
Mark, along with Arland's wife, Alana, had traveled to Newark to be with the family, so everyone was present. As the officiant, Arland racked his brain trying to figure out a way to pull off a wedding with only a day's notice. Then inspiration struck.
"Because Olana and Mark originally met at Los Angeles Airport flying to New Jersey, we all thought it would be incredibly symbolic to try and have the wedding on the plane going from New Jersey back to L.A.," Arland wrote. "flying forward toward the limitless possibilities and adventures in front of them as they start their lives together."
After purchasing four tickets together on one of our flights to Los Angeles, Arland connected with Customer Care Manager Nancy Castro and Customer Care Representative Kaui Ching. It was the first time either had been called upon to plan a mid-air wedding.
"Kaui is amazing," wrote Arland. "She's everything you want someone in customer service to be – thoughtful, caring, smart, understanding, diligent – and she became immediately invested, wanting to assist in any way possible."
Kaui worked with Newark-based Airport Operations Customer Service Manager Carlos Rivas to coordinate everything on the departure side. Carlos arranged for Olana, Mark, Arland and Alana to board the flight early and guaranteed first class meal service for the bride and groom. When they arrived at the gate, Carlos escorted them all to their seats. From there, the flight crew took over as de-facto bridesmaids and groomsman.
Los Angeles-based Flight Attendants Katie Latini, Sean Blue, Rosie Silverman and Jennifer Metcalfe each had an important part to play. Katie oversaw logistics while Sean and Rosie served champagne, food and sweets. At the same time, Jennifer crafted a bouquet out of tissue paper for Olana to hold.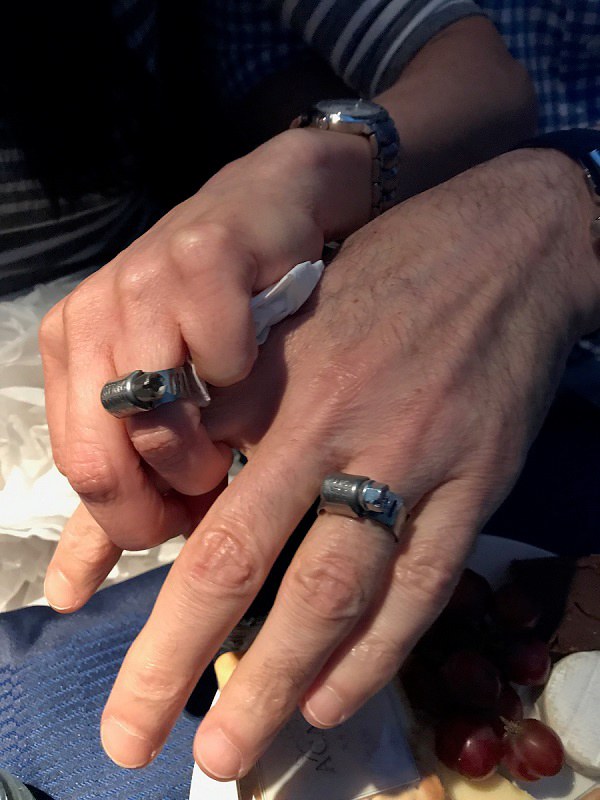 There was a cardboard cake-topper courtesy of Alana and, as stand-ins for the wedding rings, metal pipe fittings that Arland had picked up at a hardware store before they left. Arland led the couple through their vows, after which the other customers showered them with congratulations. Before they were even west of the Rockies, Mark and Olana were officially newlyweds.
"Everything materialized so beautifully and so quickly, and we owe it all to each and every one of these exceptional United [employees]," Arland said in his letter. "From their hearts, they all just quietly and expertly came together to make a singular and beautiful lifetime memory for our entire family, especially Olana and Mark!"