On this flight, I thee wed...
Around the airline, we see our share of proof that romance is very much alive and well. Inflight proposals, couples jetting off on their honeymoons and love blossoming between randomly paired seatmates all happen often enough to restore one's faith, should it ever be shaken, in the power of love. But here's something you probably haven't seen: An actual honest-to-goodness onboard wedding.
Customer Olana DiGirolamo, a writer and film director, couldn't have scripted the story any better herself. While boarding a Newark-bound flight at Los Angeles International Airport a few years ago, she locked eyes with fellow passenger Mark Alioto, and an instant connection was made. Jump cut to this past summer, the two had plans to be married in Los Angeles, with Olana's brother, Arland DiGirolamo, officiating.
But two weeks before the wedding date, Olana and Arland received crushing news: Their mother, who lives in Northern New Jersey, had been rushed to the hospital with a life-threatening condition. Olana and Arland dropped everything and took the first available red-eye from Los Angeles to be with her.
"During our mother's hospitalization, we remained hopeful the wedding might still go on if she could attend," wrote Arland in a letter to Oscar. "Ultimately, the wedding had to be canceled, despite our mother's miraculous recovery, because it was impossible for her to fly at that time."
Amid the feeling of relief over their mother's improved condition, there was still a sense of sadness about cancelling the wedding. In spite of the fact that she wouldn't be able to attend, Olana and Arland's mother was adamant that they still go through with the nuptials on the original date, July 8. The only problem was, by that time, it was already July 7.
Mark, along with Arland's wife, Alana, had traveled to Newark to be with the family, so everyone was present. As the officiant, Arland racked his brain trying to figure out a way to pull off a wedding with only a day's notice. Then inspiration struck.
"Because Olana and Mark originally met at Los Angeles Airport flying to New Jersey, we all thought it would be incredibly symbolic to try and have the wedding on the plane going from New Jersey back to L.A.," Arland wrote. "flying forward toward the limitless possibilities and adventures in front of them as they start their lives together."
After purchasing four tickets together on one of our flights to Los Angeles, Arland connected with Customer Care Manager Nancy Castro and Customer Care Representative Kaui Ching. It was the first time either had been called upon to plan a mid-air wedding.
"Kaui is amazing," wrote Arland. "She's everything you want someone in customer service to be – thoughtful, caring, smart, understanding, diligent – and she became immediately invested, wanting to assist in any way possible."
Kaui worked with Newark-based Airport Operations Customer Service Manager Carlos Rivas to coordinate everything on the departure side. Carlos arranged for Olana, Mark, Arland and Alana to board the flight early and guaranteed first class meal service for the bride and groom. When they arrived at the gate, Carlos escorted them all to their seats. From there, the flight crew took over as de-facto bridesmaids and groomsman.
Los Angeles-based Flight Attendants Katie Latini, Sean Blue, Rosie Silverman and Jennifer Metcalfe each had an important part to play. Katie oversaw logistics while Sean and Rosie served champagne, food and sweets. At the same time, Jennifer crafted a bouquet out of tissue paper for Olana to hold.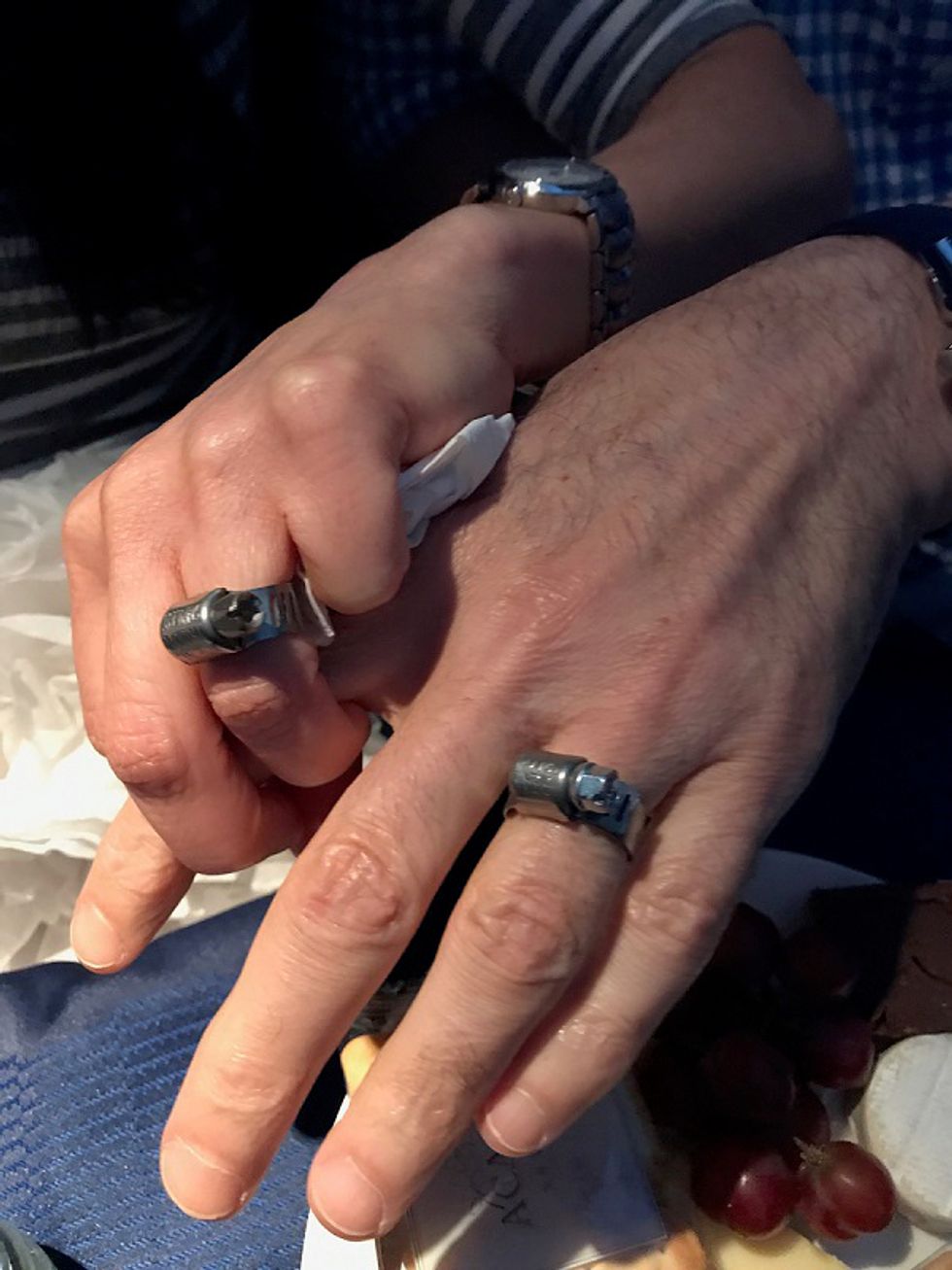 There was a cardboard cake-topper courtesy of Alana and, as stand-ins for the wedding rings, metal pipe fittings that Arland had picked up at a hardware store before they left. Arland led the couple through their vows, after which the other customers showered them with congratulations. Before they were even west of the Rockies, Mark and Olana were officially newlyweds.
"Everything materialized so beautifully and so quickly, and we owe it all to each and every one of these exceptional United [employees]," Arland said in his letter. "From their hearts, they all just quietly and expertly came together to make a singular and beautiful lifetime memory for our entire family, especially Olana and Mark!"
From Sept. 15 through Oct. 15, the U.S. celebrates Hispanic Heritage Month, a chance to pay tribute to the history, culture and contributions that generations of Latinxs have paved to enrich U.S. history. It is also a reminder to celebrate our differences and spark difficult, yet important, conversations.
To kick off the month, UNITE, our multicultural business resource group for employees, did just that by hosting a panel discussion about the immigrant experience and what it means to be an immigrant in the U.S.
United Litigation and Managing Counsel Elizabeth Lopez, who is a pro bono immigration attorney, moderated the panel, and was joined by Ashley Huebner, Associate Director of Legal Services at the National Immigrant Justice Center (NIJC) and Magdalena Gonzalez, Program Manager, Leadership Development Programs at Hispanic Alliance for Career Enhancement. The three women shared their insights and personal stories, while addressing some misconceptions and highlighting the contributions of immigrants to our company and country.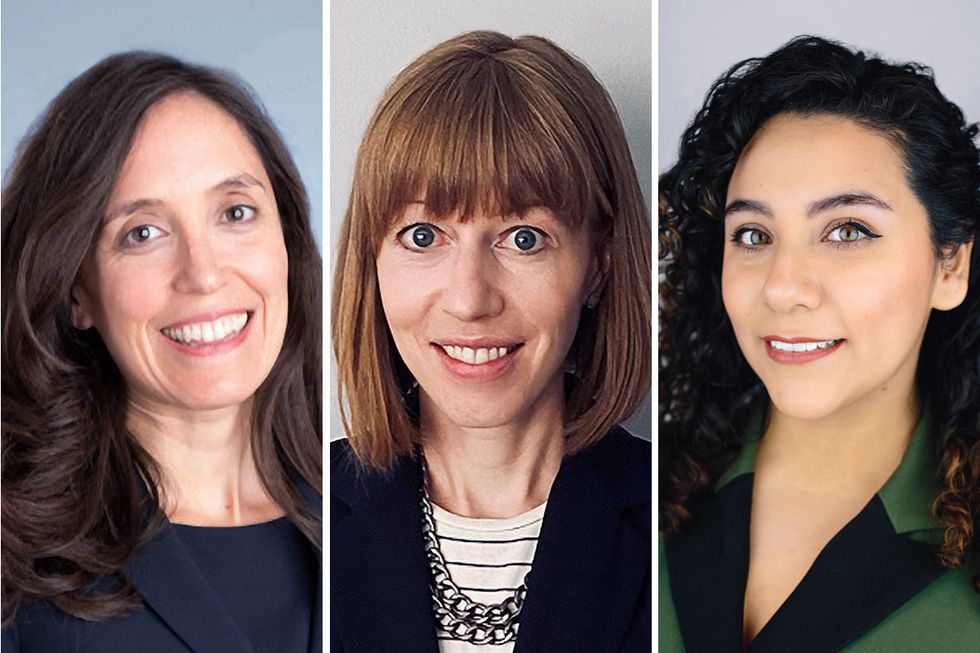 From left to right, Elizabeth Lopez, Ashely Huebner and Magdalena Gonzalez
"I started to notice that there were things I was scared of doing, that I needed to be cautious," said Magdalena while sharing her personal experience as a DACA (Deferred Action for Childhood Arrivals) recipient. "My friends, who a majority of them are citizens, did not need to worry about that. As I was able to see that, I realized that, 'oh, there's so many things that revolve around not just being a DACA recipient but revolve around being a person with an undocumented status here in the United States.'"

United maintains a close relationship with the NIJC. In May of 2019, United co-hosted an asylum clinic put on by the legal services organization, where several attorneys and legal professionals were trained on representing asylum-seeking applicants. At the end of the clinic, members of our legal department were assigned an asylum case through the NIJC.
Litigation Managing Counsel Elizabeth Lopez, Commercial Transactions Counsel Tiffany Jaspers, Global Compliance and Ethics Counsel Nancy Jacobson and Employment Litigation Senior Manager Dorothy Karpierz were partnered with attorneys from the law firm of McDermott Will & Emery to take on an immigration case of a mother of three from Honduras. Recently, after a years-long court battle, the legal team was victorious, changing the life of the woman and her family.
United is committed to connecting people and uniting the world. Whether you're an immigrant, a child of immigrants or simply want to learn more about the immigrant experience in the U.S., discussions like these, related to this hot-button issue, are important to have in order to understand the human lives behind it.
Your voice matters. Voting is one of the most influential civic activities we can engage in as Americans. At United, our mission is to connect people and unite the world — and one of the most important ways to do that is to engage in the democratic process. That's why we've long provided our employees with resources to help them get registered to vote.

This year, we're taking our support a step further as the official airline of the Commission on Presidential Debates (CPD). Since the start of the pandemic, we've overhauled our cleaning measures through a program we call United CleanPlusSM , and the CPD has placed their trust in United to fly Commission production staff to each of the four debates, starting with the first one on September 29, hosted by Cleveland Clinic and Case Western Reserve University.
Today, on National Voter Registration Day, we also want to make sure our customers have access to information about how to participate in the 2020 Election. Over the past several months, you've heard a lot from us about how the COVID-19 pandemic has changed air travel. We've learned that with some planning and extra effort, it's still possible — and safe. That's true of voting, too.
No matter which party you support or how you're planning to vote, we know our democracy will be stronger if you make your voice heard and make a plan to vote.
Best,
Brett J. Hart
President
United Airlines
Since its launch 20 years ago, Year Up, one of our critical needs grant recipients, has helped more than 10,000 young adults gain access to corporate business and technical experience at large companies like United while offering the invaluable perspectives they bring with them.
On Wednesday, the nonprofit inducted United into its Opportunity Hall of Fame – a selection that occurs once every five years.
Year Up's mission is to help close the opportunity divide by providing urban young adults with the skills, experience and support that will empower them to reach their potential through professional careers and higher education. Since 2018, our partnership has allowed talented student learners the opportunity to gain corporate business experience and technical skill training at the airline while bringing their unique perspectives to our United family and culture. One of those students is Emily Lopez, who graduated from the Year Up program in January 2019 and was hired to be part of the United family as an analyst in Revenue Management.
"I moved from Venezuela to the United States in July 2016 and being a young immigrant with no resources can be difficult to pursue a career in a new country," said Emily.
After learning about Year Up and ultimately being accepted into the program, Emily landed an internship with United, an opportunity she is very grateful for.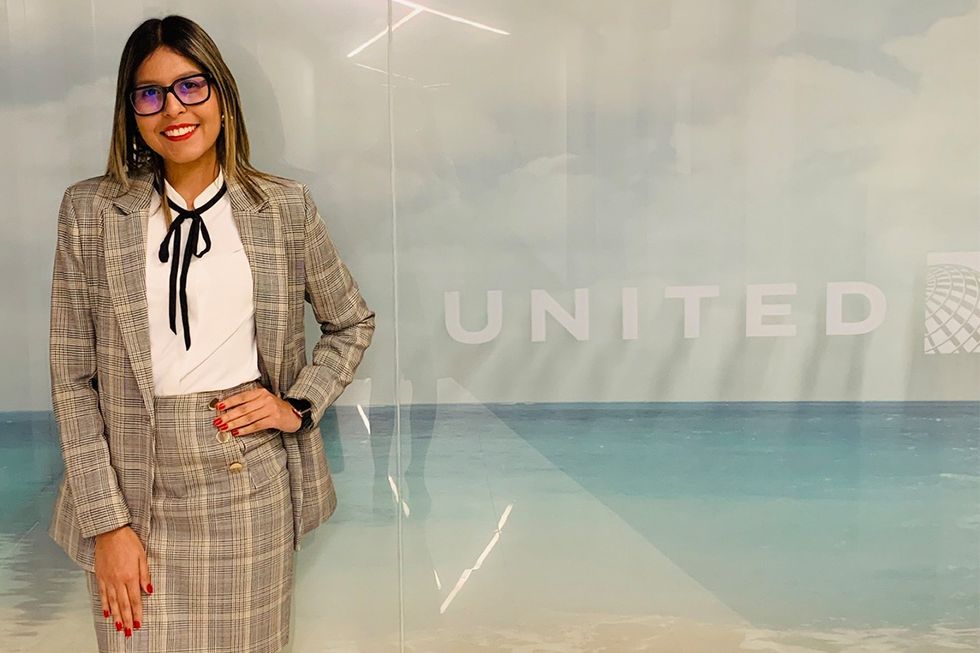 Emily Lopez - Analyst, Pricing & Revenue Management
"Feedback from my mentors, coaches and managers was key during my internship phase and helped me convert my internship at United to a full-time position. I am grateful for the opportunity United has provided me and my Year Up Alumni colleagues to keep building a professional career within the company. I am so excited to continue building a professional career with the company and to see United being inducted to Year Up's Hall of Fame. Let's continue closing the opportunity divide!" said Emily.
Although the coronavirus pandemic has made this year's partnership a bit more difficult, we continue to do our part to support the Year Up student learners. Last month, we surprised 145 graduates of this year's Year Up Chicago program with roundtrip tickets to pursue career and networking opportunities within the United States.
"I've been personally honored and inspired to be an advocate for Year Up since I joined United," said CEO Scott Kirby. "This program gives young people from challenged backgrounds an opportunity to get their foot in the door as interns at United. This year's graduates are entering a challenging job landscape, but we have one thing that can help: a route network that provides easy access to major business markets across the United States."
Scroll to top