Percolating peace through illy's Colombian coffee farms
This story appears in the September issue of Hemispheres
Our van lurched and rocked back and forth as we ascended farther and farther into the remote hills of western Colombia. On either side of the narrow washboard road, dense jungle stretched for miles. People sitting outside a cluster of small homes smiled at us in disbelief as we passed. They were accustomed to seeing motorbikes and horses -- not big, top-heavy touring vans -- that far up the mountain, in an area that was too dangerous for visitors just a few years ago.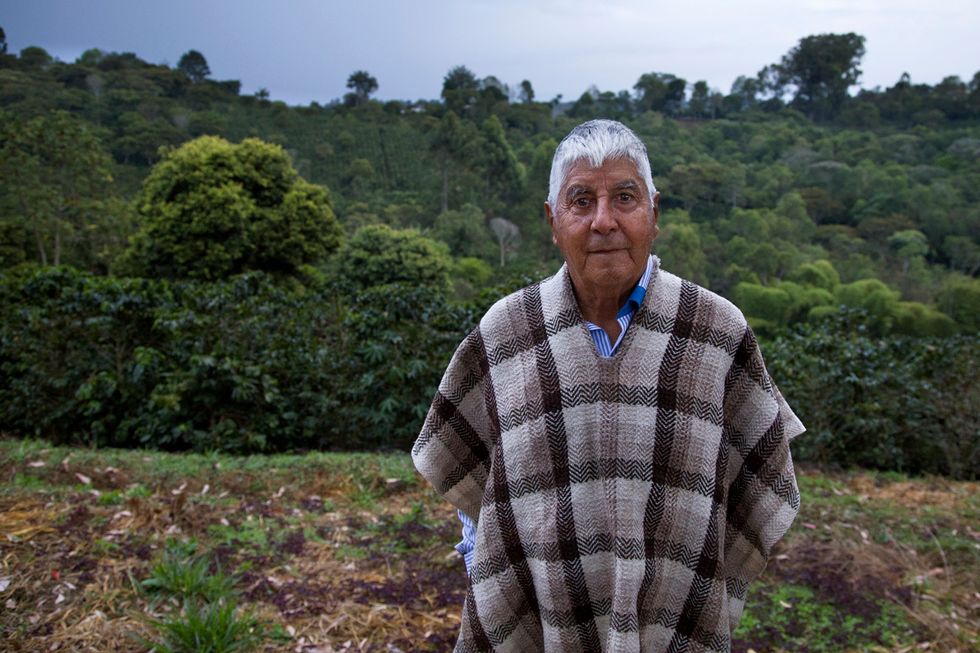 After nearly an hour of driving, we stopped at a promontory overlooking a humid, mist-covered valley and walked down to a cottage tucked away among plantain and papaya trees. We took a seat on the patio and waited for the arrival of Fernando, an ex-commander in the Fuerzas Armadas Revolucionarias de Colombia (FARC), the Marxist paramilitary organization that waged war against the Colombian government for more than fifty years. In his past life, he wouldn't have dreamed of talking to outsiders like us. But now he's part of a different kind of revolution, one in which coffee is at the center -- specifically, the illy coffee that United serves its customers every day, to the tune of more than 72 million cups a year.
When United announced its partnership with the Italian coffee giant this time last year, the news was met with excitement from the airline's customers and employees who had voiced their distaste for the previous brew. But there was more to the selection of illy than just great coffee.
For years, illy has had the reputation as a company that prioritizes people over profits. And while illy sources coffee from 25 countries across the globe, Colombia's Cauca departamento is a particularly interesting example of a place where that philosophy is making a difference.
Roughly a decade ago, Fernando negotiated a difficult and dangerous exit from the FARC. He was one of the fortunate ones; many of his comrades weren't allowed to walk away. Fernando's second in command was killed while attempting to leave the organization. Threats aside, there was also the looming question of how he would earn a living away from the only job he had known since he was a very young boy.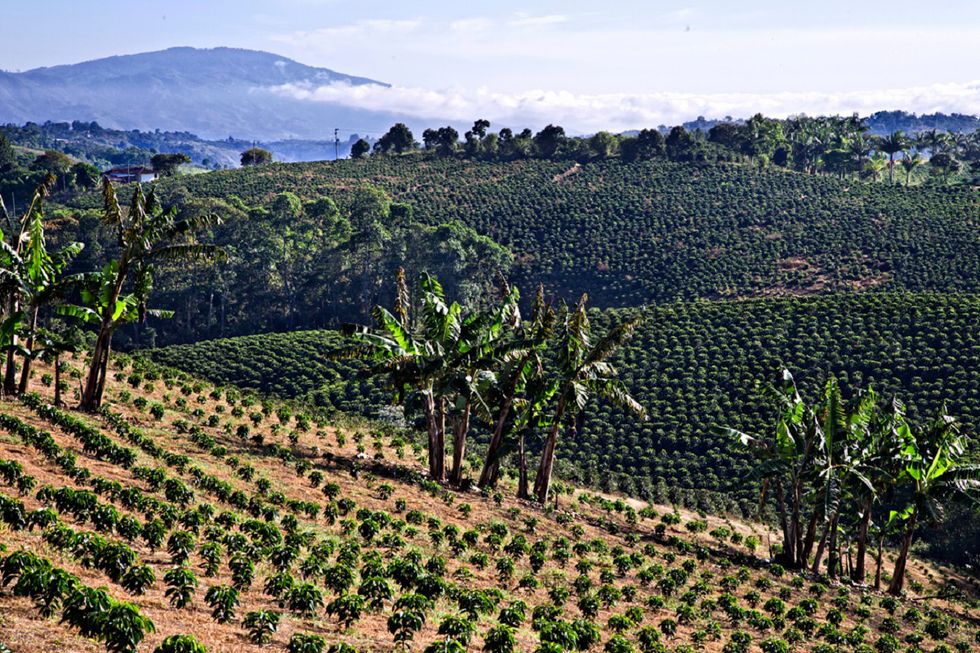 "When I was with the group, I began looking at the mountains and at the coffee growing on them, and it gave me the idea to change my life," he said. With backing from illy, he's been able to do just that, leading a farming cooperative made up of former guerillas who combine to produce more than 50,000 kilos of high-quality Arabica coffee each year, coffee that ends up at the illy roasting facility in Trieste, Italy, and, ultimately as a key component of the dark roast blend on board United's aircraft. But, as I had seen over the previous days in Colombia, Fernando's story was just one of many that illustrate the impact that United's choice of coffee has on the people who make up the front end of the supply chain.
On the first day of my week-long visit, I arrived in Cali, Colombia's third-largest city and the capital of Cauca, where I met Carlos Lopez and Oscar Lasso. Lopez is the director of ASCAFE (Colombian Small Coffee Growers Association), a cooperative in Cauca, and Lasso operates a tourism company based there. The two would act as guides for me and a group of foreign journalists as we visited small family farms where much of illy's Colombian coffee is grown. During the ride from the airport, Lasso and I passed the time by talking about the well-publicized troubles that have plagued his homeland for years, particularly narcotics.
To illustrate a point, he stretched his arms from his knees to his forehead. "Before, you could sell a bag of coffee this big for $10, and a one-pound bag of marijuana for $200. It was an easy choice for many people."
Among the goals of illy's business practices is to make that decision a harder one. An uncertain future in agriculture, due in part to falling coffee prices, forced many rural Colombians to cash in with illegal crops. Others took to the jungles to fight for the FARC, preferring an AK-47 and a steady paycheck to poverty. But with the guidance of local cooperatives like ASCAFE and the Colombian Coffee Growers Federation (FNC), a national growers' advocacy organization, illy is committed to building economic, social and environmental sustainability by paying above fair value for beans that meet illy's high standards, supporting independent family farms, teaching eco-friendly growing methods and helping to weave together the fabric of a nation torn by half a century of war.
A fourth generation coffee grower, Lopez founded ASCAFE in 2004 and has worked diligently with companies like illy to, as he said, "To put producers in a better position to earn a better rate by changing the way that coffee is grown and sold." By forming the cooperative with his neighbors, Lopez found that they could have an influential voice and establish standardized growing practices to achieve the highest-quality yields, an area in which illy's expertise has been particularly valuable thanks to guidance from the company's agronomist. "One of our main goals is to recruit the brands to come to Colombia and bring their knowledge," said Lopez. "We don't want to just sell coffee, we want to build relationships with the people who buy from us."
One of the keys to changing the outlook for Colombia's coffee growers is laying that foundation at an early age. La Venta, one of Cauca's tiny farming villages, is a place where options for young people are limited. Roughly three out of a hundred will have the chance to attend university. Some might elect to move to a city like Cali to look for work. Others, like many of their parents, might be forced to find more illicit means of earning a living.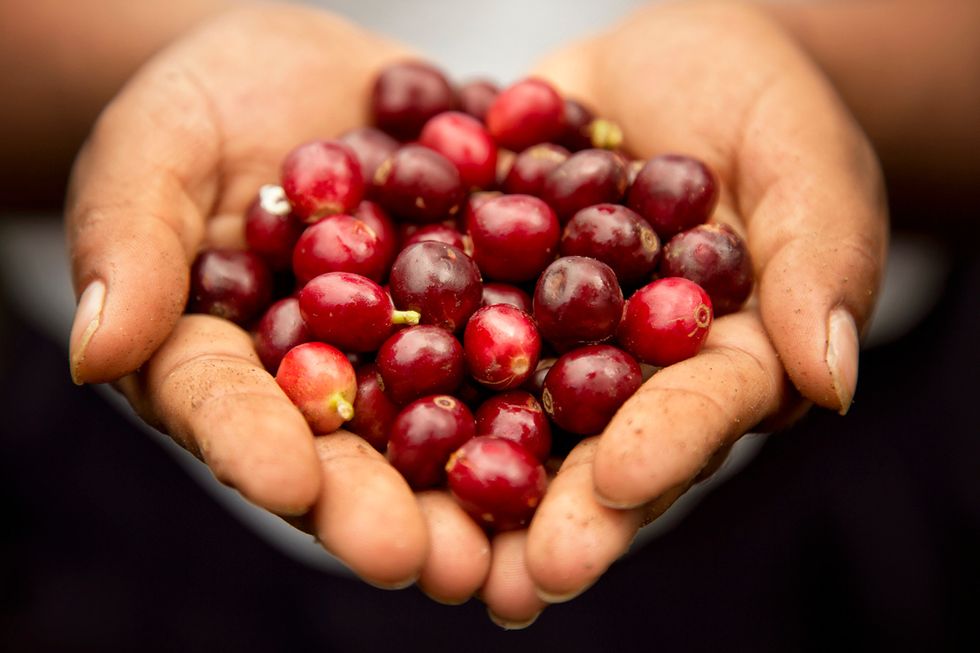 Today, however, there are 55 schools in rural areas such as this that have adopted the so-called "Escuela y Café" curriculum, where students age 12 to 18 learn modern coffee production methods with assistance from illy, the FNC and ASCAFE. At La Venta's Efrain Orozco school, the children are mastering the art of growing thanks to a holistic approach. Each of their subjects -- Spanish, social studies, mathematics and natural sciences -- is tailored in such a way to teach them everything that a successful coffee farmer needs to know. In addition to their classroom work, they spend a portion of their days outdoors learning the different stages of cultivation, from planting the beans to harvesting them to preparing them for shipment to the end buyers. It's the kind of education that can enable them to bypass mere subsistence farming and build a viable, profitable business.
And as we witnessed with Fernando, illy is using its educational and purchasing power to do more than battle financial inequality; it is doing its part to further the cause of peace in war-torn Colombia. At a technological park we visited, 120 former FARC and other paramilitary commandos are learning to become independent coffee producers, growing beans that will eventually be sold to illy.
When we arrived, 30 of the ex-guerillas were in the middle of a three month long immersive introduction to coffee as a means of re-entering society. The park's open-air campus consisted of dormitories, classrooms and a microbiology lab where the men and women are studying the finer points of agronomy.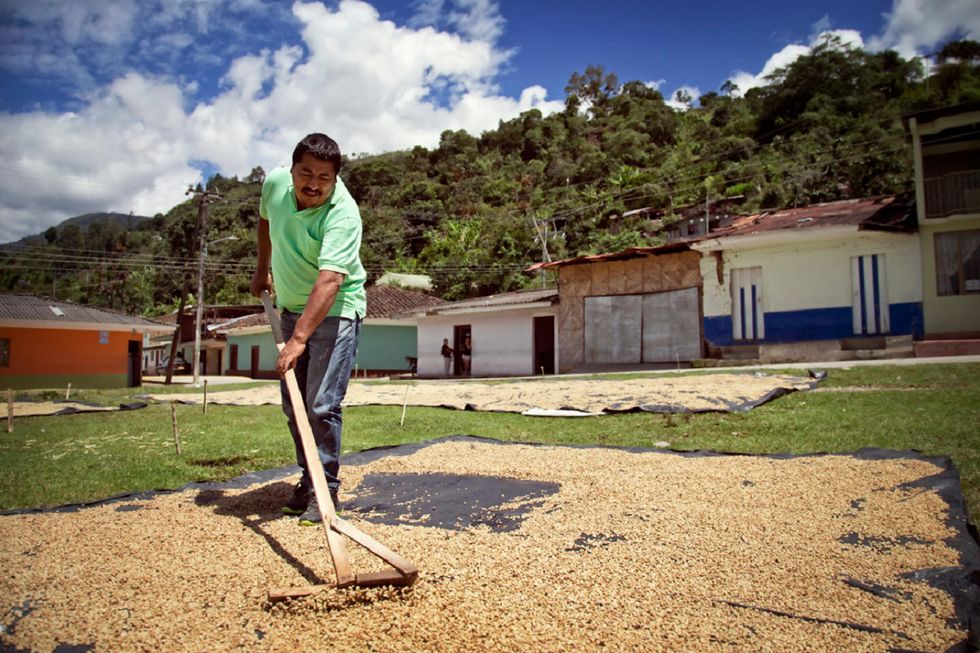 Several of the participants were barely a year or two removed from being teenagers. Each of them was in the midst of a critical moment in his or her life, living under constant threat of violent retaliation for abandoning their brigades. While they felt a sense of purpose and security at the learning center, there was still uneasiness.
One of the men spoke to me on the condition of anonymity because of safety concerns. At age 23, he had spent 13-years as part of the FARC and had run away only 14 months prior.
When I asked him why he had joined up with the guerillas, his answer was the same as most of those whom we encountered: "Economico," he said with a shrug. He was soft spoken and shy, never looking me in the eyes as he talked. "My father left my mother and me and we needed money, so I had to do something to help. But after I saw the suffering, I regretted it. Now, I want a family, I want pride in my life and I want to have a future."
Each of them shared a similar desire to move on from the bloodshed of which they had been a part. Though physical and psychological scars are evident, they all expressed gratitude for the opportunity to live in peace. In many ways, they reminded me of the school children at Efrain Orozco, proud of their new skillsets and anxious to demonstrate what they had learned. They led us on a tour of the campus, showing us the processes for separating, sorting, washing and drying the coffee beans, and guided us through a quality test, with one of the men teaching us the proper way to use a glass pour-over brewer to sample the product. When I sipped from the mug he handed me, it was some of the best coffee I had ever tasted.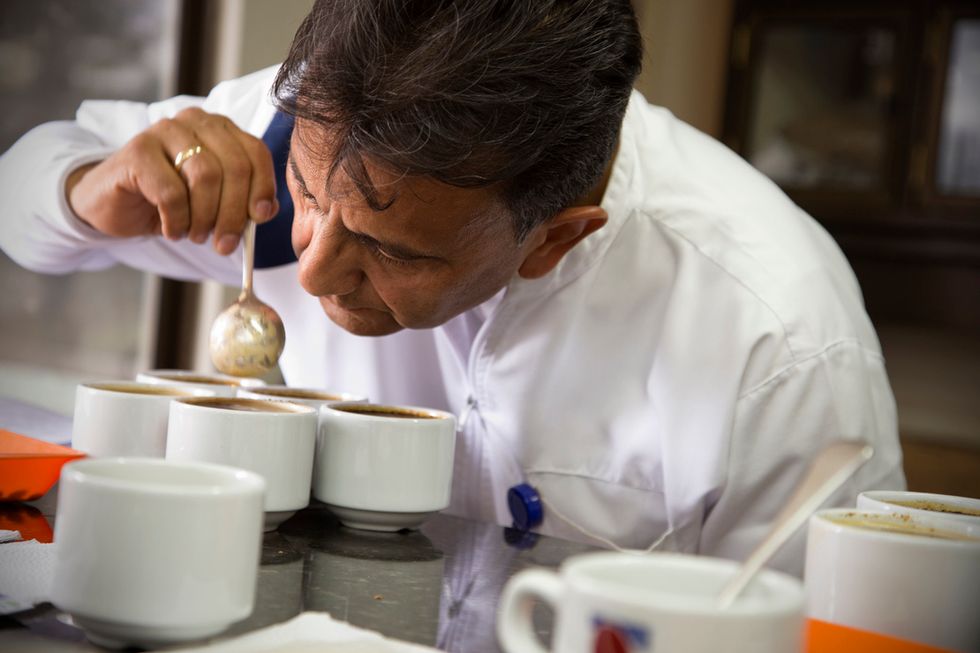 After departing the technology park we headed to a nearby farm where we met several victims of FARC land mines who had come together to create their own coffee growing association. The group's director was formerly a rancher who was seriously injured while tending to his cattle. Another member, a man named Wilmer, had been a coca farmer. It was while walking home after deciding to leave the drug trade behind that he lost part of his leg. At one point, as a woman named Naomi talked of her nephew who was killed, Lasso became too overcome with emotion to translate for us, excusing himself. Finally, a guitarist stood up and played for us a haunting rendition of "Sobreviviendo" – Surviving.
…While someone
Proposes death on this earth
And makes weapons for war
I will tread these fields surviving
All against the danger, surviving
Sad and wandering men, surviving…
At the end of the week, we traveled to Medellín to attend the first-ever World Coffee Producers Forum. Growers from major coffee-producing countries in Latin America, Africa and Asia descended upon the city to hear luminaries including former President Bill Clinton, current Colombian President Juan Manuel Santos, Columbia University economist Jeffrey Sachs and illycaffè CEO Andrea Illy discuss the issues facing the coffee industry, such as climate change, stagnating prices and a volatile commodities market.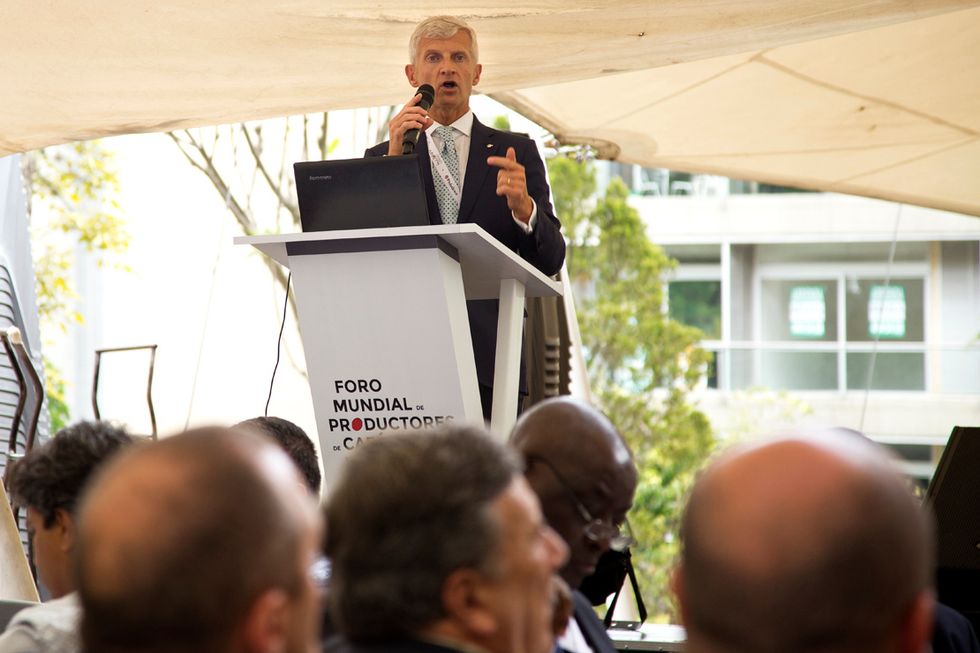 "It would have been inconceivable to have a meeting like this in this place even a few years ago," President Clinton said, while speaking about how economic development through fair trade agriculture has helped countries like Colombia overcome their violent pasts. For years, Medellín and its namesake cartel led by Pablo Escobar represented the worst of Colombia. Those memories still make it one of the most beautiful places most foreigners wouldn't dream of visiting.
After dinner on my last night in Medellín, I caught a cab back to the hotel. Winding through the city in silence, my driver suddenly arched an eyebrow and looked at me through the rearview mirror as though he had a secret to tell. "Want to see Pablo Escobar's house?" he asked. We passed rows of nondescript mid-rise apartment buildings and storefronts, then turned into a short cul-de-sac that dead-ended into one of the former drug lord's compounds.
It was more bunker than home, all concrete walls and concertina wire. The fortress that a wealthy and dangerous man constructed for himself, now sitting in shambles on a darkened street.
Escobar died nearly 25 years ago, and with him, a low hum of fear that hovered over Colombia. In the weeks prior to my visit, more than 7,000 FARC guerillas had handed over their weapons to the government as part of a new disarmament deal, choosing a path of peaceful political dissent to armed conflict. It would seem the country is waking up from a long, grim nightmare. After talking with people there, I walked away feeling optimistic. During one of our conversations earlier in the week, Lasso confided that he felt the same way. After living abroad for 12 years, he was back, anxious to see stability taking root.
If it's morning in Colombia, then coffee is helping to provide much-needed clarity. As President Clinton said during a panel discussion at the forum, "When given the chance, most people will do the right thing. But they'll also do whatever it takes to feed their children." By paying farmers a decent wage and protecting growing areas from environmental decimation, United's partners at illy are offering Colombians a fourth alternative to hardship, drugs and violence. So, as you relax and enjoy your flight, have a cup of illy. You'll be doing your part to drink to a better future.
Eric Rubens (@erubes1) is a MileagePlus member based in Southern California. He is a photographer/videographer who loves meeting new people and traveling the world.
When planning a vacation, one of the first steps is picking a theme. If you're in search of mountains, many look to the Rockies, Swiss Alps, or Dolomites. If a tropical vacation is desired, Hawaii, Mexico, or the Caribbean may be calling your name. There are so many beautiful destinations in this world, but is it possible for one of them to be blessed with incredible mountains, picturesque beaches, and some of the best wildlife viewing in the world?
Cape Town is one of the few places I've found that seems to have it all. With the iconic Table Mountain and Lion's Head rising out of the city, there are hikes leading up to majestic views down the African coastline. The beaches of Clifton and Camps Bay are some of the most incredible beaches on this planet. If wildlife peaks your interest, there's Boulder's Beach, home to one of the only land-based penguin colonies in the world. Did I mention the safari is a short trip away? Add in an exchange rate that is very favorable and you have all the makings of a trip you'll never forget.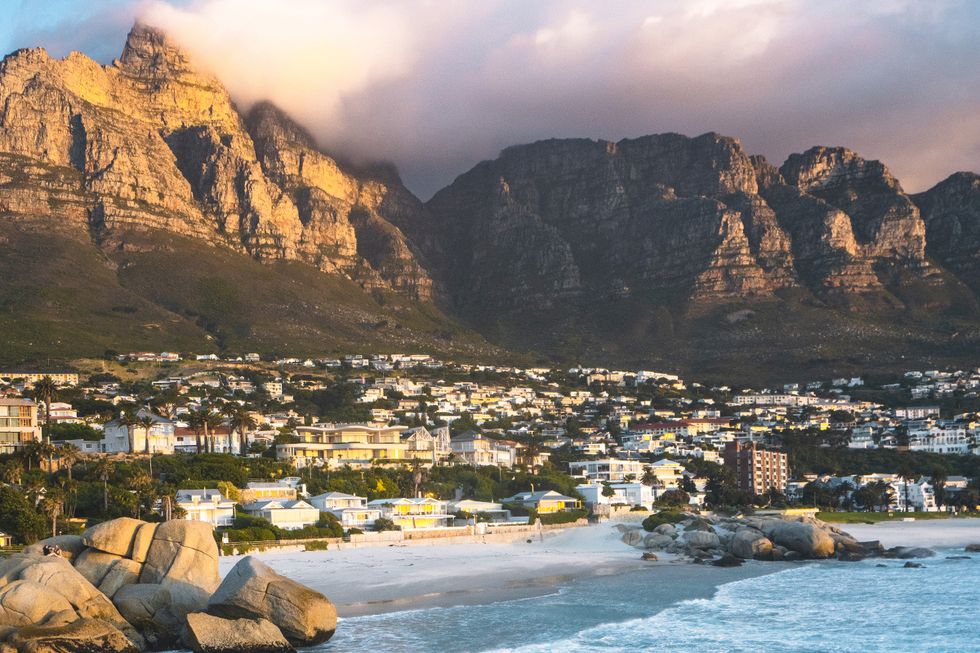 Camps Bay Beach
Planning a trip to Africa for the first time can be both intimidating and a bit challenging. I found very few of my friends or family had been, which made my voyage to South Africa even more exciting. Cape Town is home to a hip urban scene, a vibrant melting pot of culture, and jaw dropping landscapes that'll make you wonder why you didn't visit sooner. There's no city quite like it, and this list of top things to do will make sure you maximize your time in the Mother City. Several theories exist regarding the origin of Cape Town's nickname as "The Mother City." Some say it can be traced back to the beginning of the city's history as a trading hub in the 17th century, or its status as South Africa's first metropolis. But many locals have their own theories – one running joke is that it takes nine months to get anything done in the very laid back city.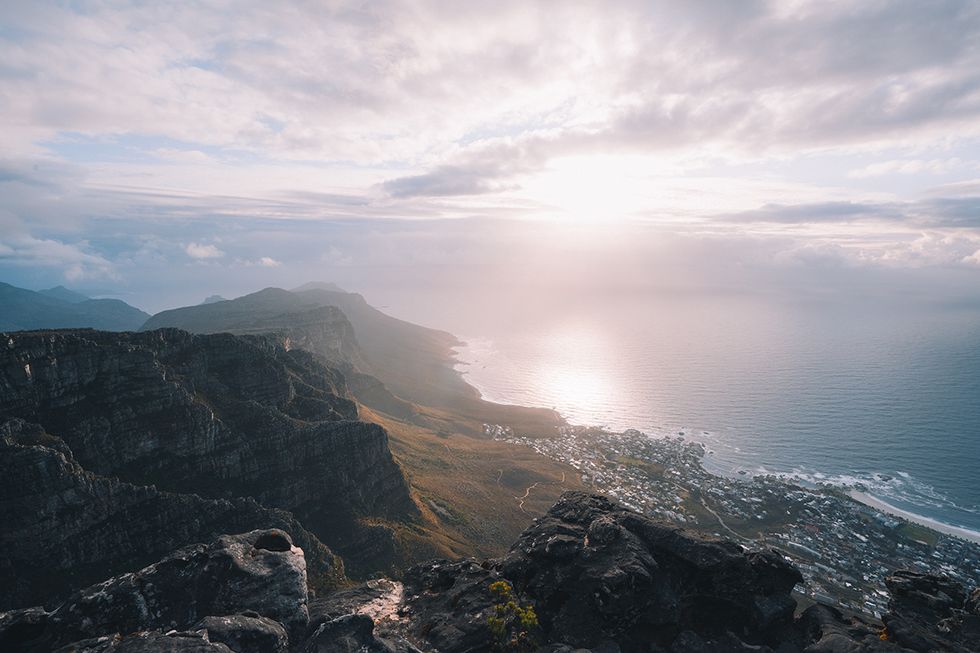 View from the top of Table Mountain
#1: Take a hike or tram up to the top of Table Mountain

This iconic mountain rising from the city is arguably home to Cape Town's best views. The 2 to 3-hour hike to the top makes for a fun activity if you're up for it. Otherwise, take in the view from the aerial cableway, complete with 360-degree rotating floor and running every 5 minutes from the base. Once up top, there's plenty of walking trails, souvenir shopping, and food and drinks. Table Mountain is known for the blanket of fog that rolls over the peak, so weather at the top can change quickly. Make sure to check the weather before heading up and bring a jacket, since the wind can be intense!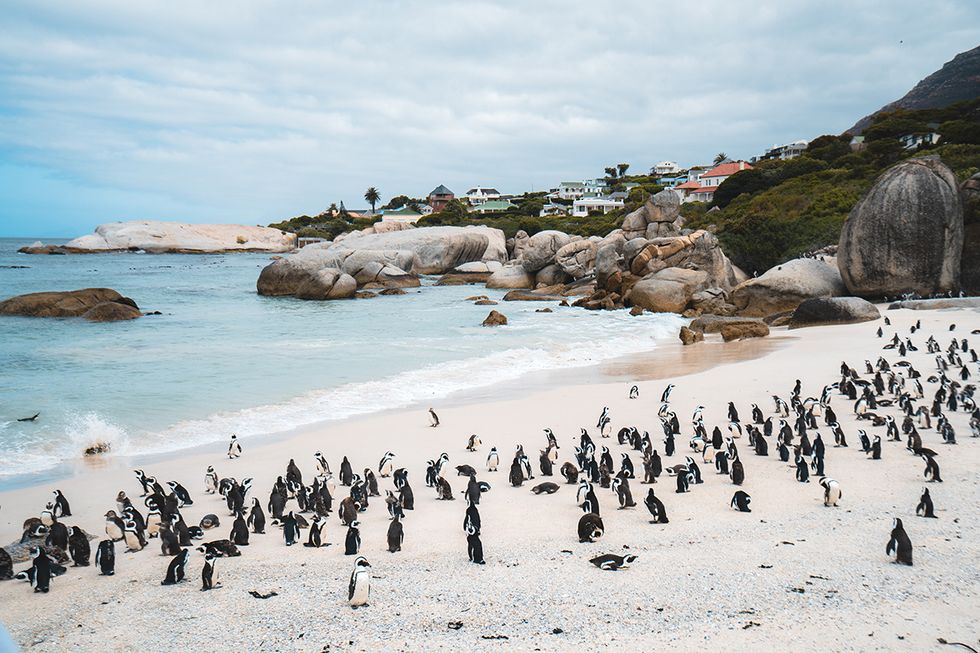 Penguins at Boulder Beach
#2: Visit the penguin colony at Boulder's Beach

Even though it's an hour or so drive from the city, visiting Boulder's Beach and its nearly 2,000 penguins is an unforgettable experience. Watching the penguins lounge on the beach and come in and out of the waves makes for some incredible pictures and a unique encounter. You can also swim in the nearby waters and will often come face to face with members of the colony.
#3: Wake up for a sunrise hike up Lion's Head

One of the most bucket list-worthy activities on a visit to Cape Town is catching sunrise atop Lion's Head. It's a challenging hike and not for those with a fear of heights, but you won't soon forget the view from the summit. If you're willing to scramble and make your way up the final ladders, 360-degree views of the city await, and the sunrise over the city is one for the ages.
#4: Explore the Cape Winelands and the beauty of Constantia
South Africa has some of the best vineyards in the world. Even though the towns of Franschooek and Stellenbosch get the majority of the press, nearby Constantia is home to the oldest wine estate in the country, Groot Constantia. Its proximity (just 15 minutes from the city center) makes it perfect for a day trip. The city sightseeing "Hop-On Hop-Off" bus tour has a purple line that connects through this region, so getting here is easy! If wine tasting isn't your thing, the Alphen Trail is a beautiful trek through the countryside and sure to put you in a relaxing mood.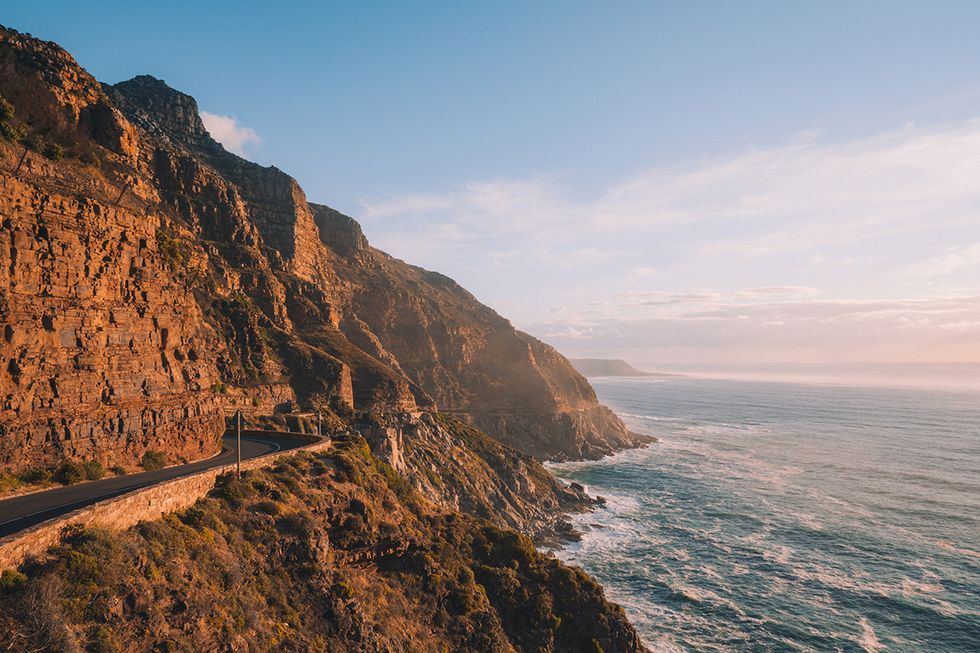 Chapman's Peak Drive
#5: Take a road trip down Chapman's Peak Drive

One of the most beautiful drives awaits just south of Cape Town. Carved into the cliffs and winding along the ocean, this road between Hout Bay and Noordhoek offers majestic views of the coastline. Just make sure to keep your eyes on the road since the sheer beauty can be distracting!
#6: View the diversity of flora throughout Kirstenbosch Gardens
The flora and fauna of South Africa is some of the most diverse in the world, and no place showcases it better than Kirstenbosch Botanical Gardens. Tucked along the slopes of Table Mountain and widely recognized as one of the most impressive gardens in the world, Kirstenbosch is home to over 7,000 species of plants. The newly completed Centenary Tree Canopy Walkway allows you to walk above the tree line. If you visit in summer, try to make one of the Sunday concerts in the gardens, which are a hit with locals and visitors.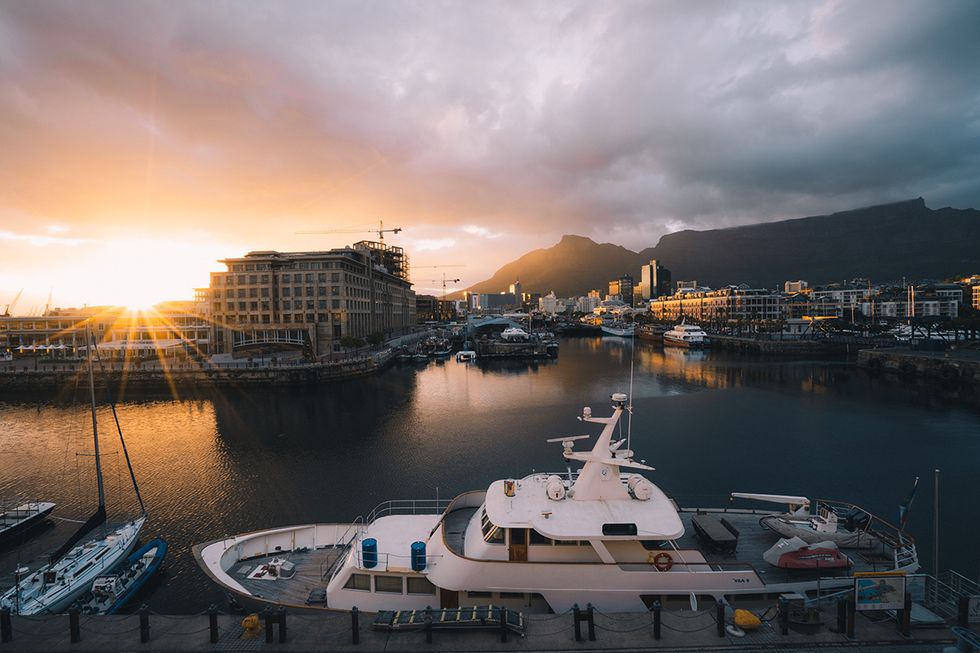 V & A Waterfront
#7: Shop your heart out along the Victoria & Alfred Waterfront

Known as one of the biggest tourism hubs of the city, the always bustling V&A Waterfront is home to many of Cape Town's finest restaurants, shopping, and the launching point of many tours. There are countless ways to spend your time here, but make sure to stop by the V&A food market, where over 40 vendors sell gourmet street food from around the world.
#8: Make your way to the Southern tip of Africa

If you're up for an adventure, take a trip to The Cape of Good Hope. You'll most likely encounter penguins, baboons, and who knows what else along the 1.5-hour drive. The weather can be very unpredictable, so make sure to check it before making the trip south. While there, visit the lighthouse and if you're hungry grab a bite at the appropriately named Two Oceans Restaurant.
#9 Take a tour of historical Robben Island
Even though the prison has been shut down since 1996, a visit to this UNESCO World Heritage Site is one of Cape Town's most popular tours. Tours take around 4 hours including a ferry ride to the island famous for housing Nelson Mandela for 18 of the 27 years he was imprisoned.
Insider tips:
-Use the "hop on hop off" bus for an easy guided tour of the city. The route takes you to many of the best spots throughout Cape Town and allows you to explore at your own pace. Buy tickets ahead of time to save on fare!
-Cape Town has some incredible boutique hotels and bed & breakfasts. My favorites are: Tintswalo Atlantic, 52 De Wet Luxury Boutique Hotel, and Derwent House Boutique Hotel.
-Make sure you don't carry too many valuables on you if you're walking around at night. Although beautiful and mostly safe, there is still a good amount of opportunistic crime throughout the city. Always pay attention to your surroundings.
You can purchase tickets now at united.com or on the United app for three weekly nonstop flights from New York/Newark to Cape Town beginning December 15.
Opinions expressed by the author are those of the author and do not necessarily reflect those of United.
Planning a Caribbean vacation around hurricane season isn't necessary if you head to Dutch-affiliated Curaçao. The southernmost of all Caribbean islands — just off Venezuela's coast — is rarely even grazed by hurricanes. It also has an ideal tropical climate with average winter highs in the 80s (and water temperatures to match) and only about one inch of rain a month.
Curaçao will be more accessible beginning December 7, 2019, when weekly nonstops begin from New York/Newark on United Airlines. The new seasonal service on 737-700 aircraft makes Curaçao the 21st Caribbean island destination for United, which already flies to the other two nearby "ABC islands" — Aruba and Bonaire. Why choose Curaçao? Because like the island's famous blue liqueur, it's colorful, exotic and appealing.
Settling in
Jet lag won't be an issue for Americans flying to Curaçao because it's in the same time zone as New York. Nor is it a long flight — about five hours nonstop from New York/Newark. Upon arrival you can take a taxi, rental car or hotel shuttle from Curaçao International Airport to your accommodations — a resort (reserve early), boutique inn, vacation house or B&B. Most are in Willemstad, a coastal city only five miles from the airport.
Forts above the port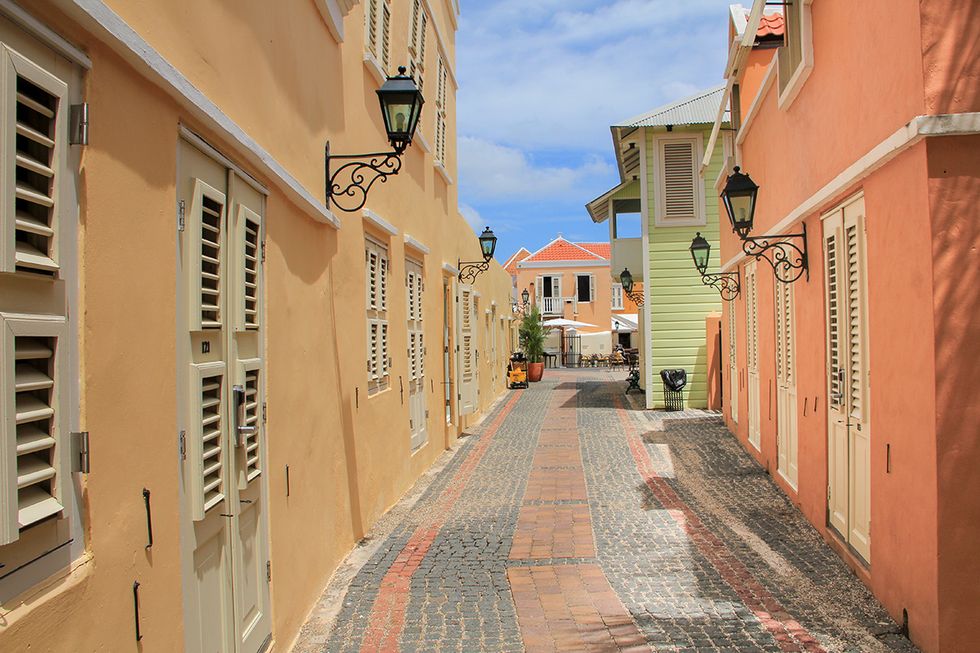 Straat Curaçao Getty Images/iStockphoto
The historic city center and harbor areas of Curaçao's only city of Willemstad are designated as a UNESCO Heritage Site, mostly for the 17th to 19th century Dutch colonial architecture of the houses and forts. The houses are painted a rainbow of bright colors in the Caribbean tradition, and the city is packed with forts — Fort Amsterdam (built in 1636), Fort Beekenburg (1703), Fort Nassau (1797) and Fort Waakzaamheid (1803). All four offer stellar views and are free to visitors.

On the waterfront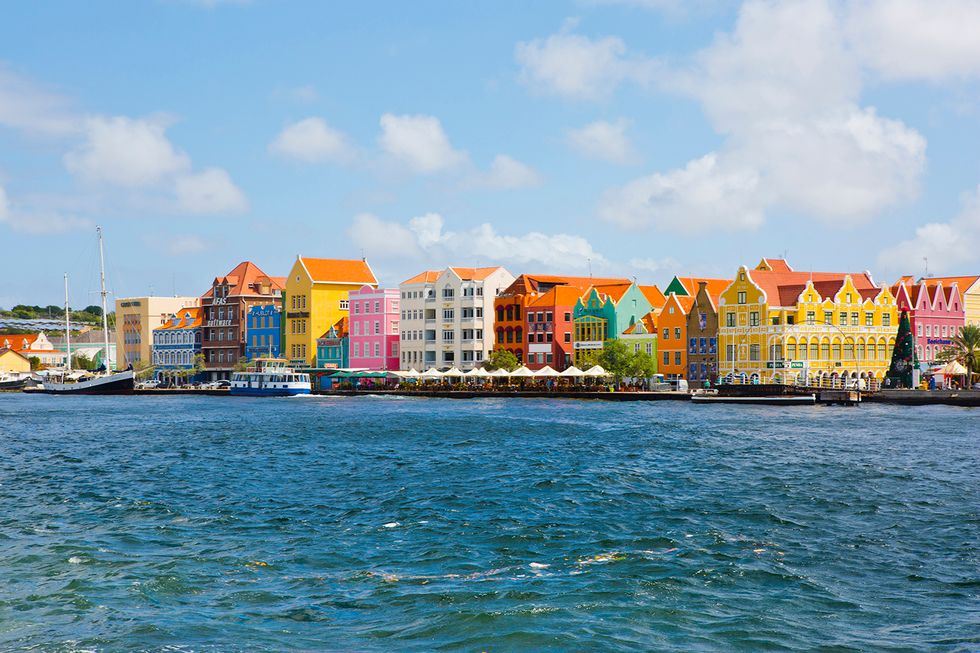 Curacao colorful houses Getty Images/iStockphoto
Along with forts, the harbor area is home to the oldest continuously operating synagogue (and museum) in the Western Hemisphere, an African art museum that tells the story of the slave trade through West African art and artifacts, and a maritime museum. These visits can be followed by a tour and tasting at the Curaçao Distillery, where you'll see how the peels of the native Laraha bitter oranges are turned into curaçao liqueur.

Snorkel from the sand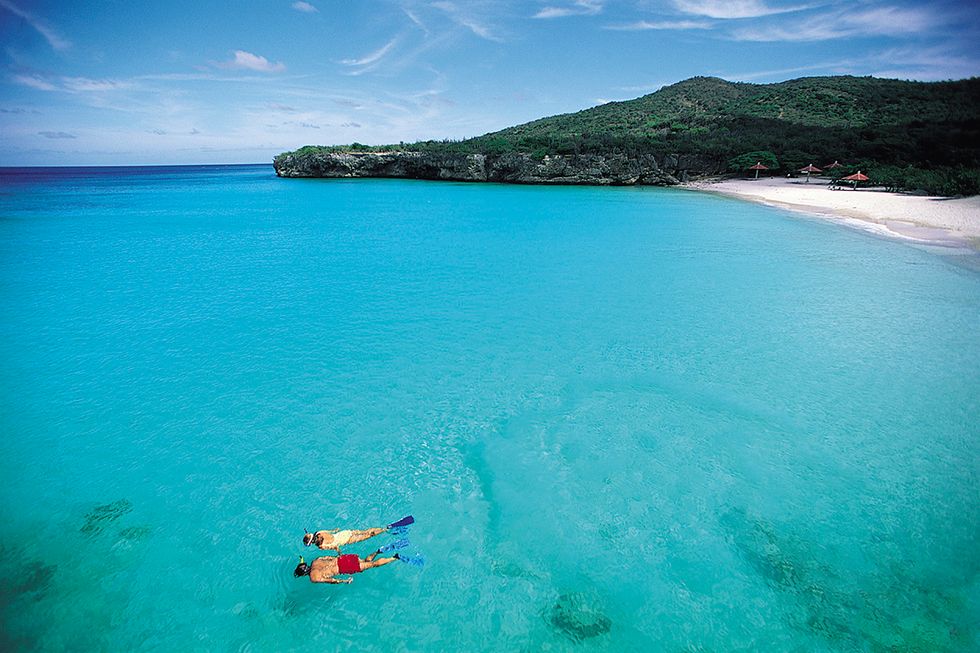 Two people snorkeling off coast of tropical island Getty Images
The chief allure of this 38-mile-long island is, of course, the ocean. Besides sunbathing at any of the dozens of powder-sand cove beaches, you can wade right in and snorkel in the turquoise, bathlike sea, usually around 80 degrees. Visibility is up to 100 feet, a snorkeler's dream. More adventurous types can snorkel or dive from day boats that head to prime diving sites like the Mushroom Forest (mushroom-shaped coral), Blue Cave and several shipwreck spots. There's also a nice aquarium on the shoreline where marine life is seen up close in their natural habitat —from land or aboard a minisub that dives 1,000 feet.

Ready, set…
Curaçao is a convenient tropical destination for Americans because U.S. dollars and credit cards are commonly accepted, English is widely spoken and no visa is required. But the local culture and cuisine are still exotic enough to be intriguing with local specialties like stewed iguana and cactus soup served in restaurants and from food carts in Willemstad.
If you go
Flight reservations from New York/Newark (EWR) to Curaçao (CUR) can be made at united.com on the United app. Use miles to reserve a hotel, rental car or both with MileagePlus®.
One of our most treasured events of the year is here – Fantasy Flights! Our Fantasy Flights bring holiday cheer to children in need by taking them on a special trip to the "North Pole." Each station creates a North Pole with care, in preparation for all the children who will soon be there…
Our participating stations this year are HNL (Honolulu), FRA (Frankfurt), CLE (Cleveland), DEN (Denver), IAD (Washington Dulles), LAX (Los Angeles), SFO (San Francisco), MCO (Orlando), ORD (Chicago O'Hare), GUM (Guam), EWR (New York/New Jersey), NRT (Tokyo-Narita), PHX (Phoenix), IAH (Houston), MCI (Kansas City) and SAT (San Antonio).
Please stay tuned for stories, photos and more from these magical events. #UAFantasyFlights
Scroll to top