Percolating peace through illy's Colombian coffee farms
This story appears in the September issue of Hemispheres
Our van lurched and rocked back and forth as we ascended farther and farther into the remote hills of western Colombia. On either side of the narrow washboard road, dense jungle stretched for miles. People sitting outside a cluster of small homes smiled at us in disbelief as we passed. They were accustomed to seeing motorbikes and horses -- not big, top-heavy touring vans -- that far up the mountain, in an area that was too dangerous for visitors just a few years ago.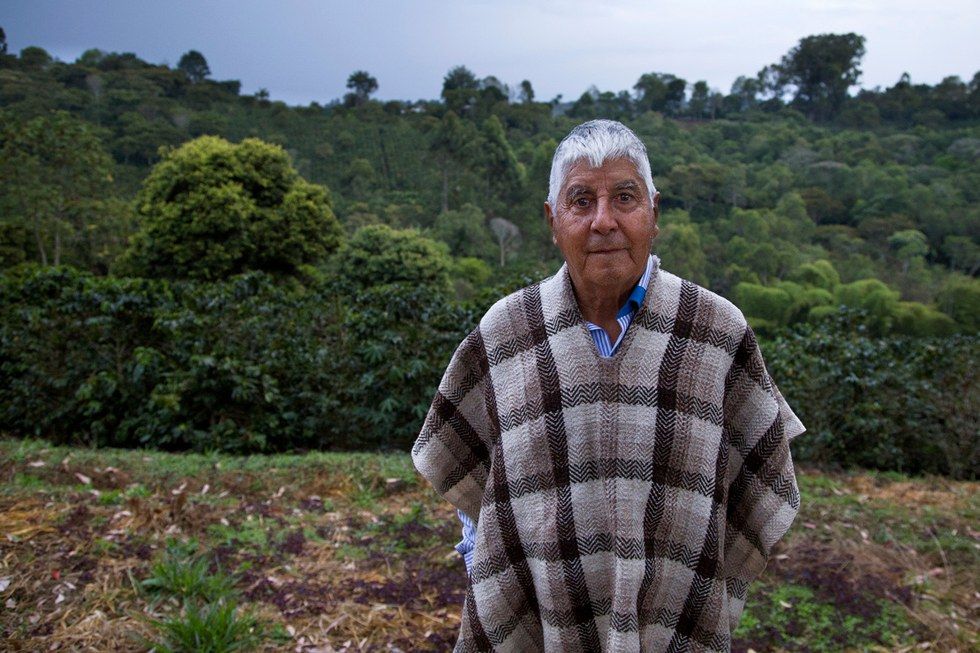 After nearly an hour of driving, we stopped at a promontory overlooking a humid, mist-covered valley and walked down to a cottage tucked away among plantain and papaya trees. We took a seat on the patio and waited for the arrival of Fernando, an ex-commander in the Fuerzas Armadas Revolucionarias de Colombia (FARC), the Marxist paramilitary organization that waged war against the Colombian government for more than fifty years. In his past life, he wouldn't have dreamed of talking to outsiders like us. But now he's part of a different kind of revolution, one in which coffee is at the center -- specifically, the illy coffee that United serves its customers every day, to the tune of more than 72 million cups a year.
When United announced its partnership with the Italian coffee giant this time last year, the news was met with excitement from the airline's customers and employees who had voiced their distaste for the previous brew. But there was more to the selection of illy than just great coffee.
For years, illy has had the reputation as a company that prioritizes people over profits. And while illy sources coffee from 25 countries across the globe, Colombia's Cauca departamento is a particularly interesting example of a place where that philosophy is making a difference.
Roughly a decade ago, Fernando negotiated a difficult and dangerous exit from the FARC. He was one of the fortunate ones; many of his comrades weren't allowed to walk away. Fernando's second in command was killed while attempting to leave the organization. Threats aside, there was also the looming question of how he would earn a living away from the only job he had known since he was a very young boy.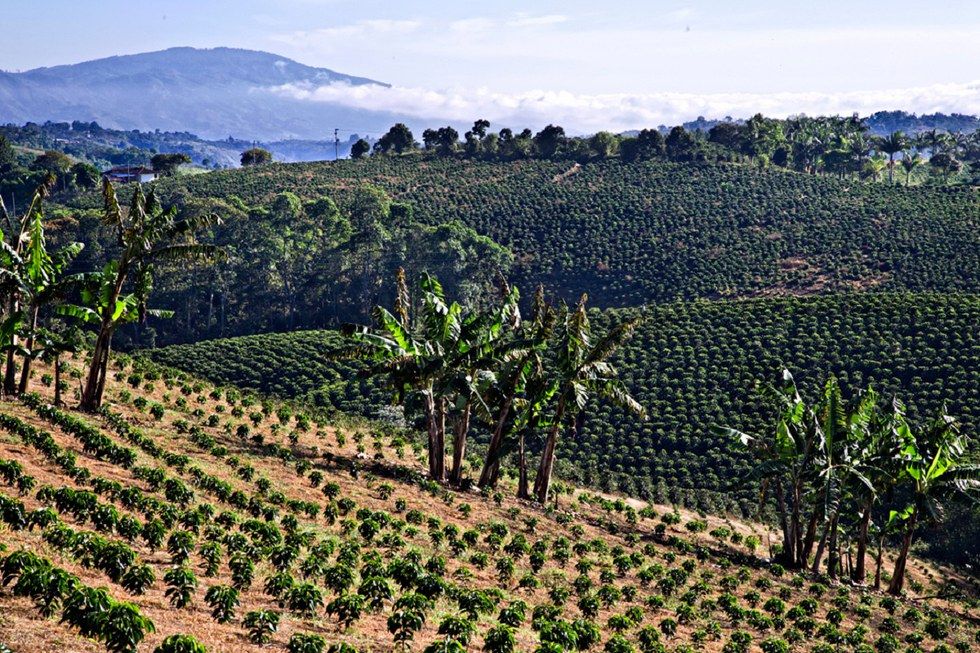 "When I was with the group, I began looking at the mountains and at the coffee growing on them, and it gave me the idea to change my life," he said. With backing from illy, he's been able to do just that, leading a farming cooperative made up of former guerillas who combine to produce more than 50,000 kilos of high-quality Arabica coffee each year, coffee that ends up at the illy roasting facility in Trieste, Italy, and, ultimately as a key component of the dark roast blend on board United's aircraft. But, as I had seen over the previous days in Colombia, Fernando's story was just one of many that illustrate the impact that United's choice of coffee has on the people who make up the front end of the supply chain.
On the first day of my week-long visit, I arrived in Cali, Colombia's third-largest city and the capital of Cauca, where I met Carlos Lopez and Oscar Lasso. Lopez is the director of ASCAFE (Colombian Small Coffee Growers Association), a cooperative in Cauca, and Lasso operates a tourism company based there. The two would act as guides for me and a group of foreign journalists as we visited small family farms where much of illy's Colombian coffee is grown. During the ride from the airport, Lasso and I passed the time by talking about the well-publicized troubles that have plagued his homeland for years, particularly narcotics.
To illustrate a point, he stretched his arms from his knees to his forehead. "Before, you could sell a bag of coffee this big for $10, and a one-pound bag of marijuana for $200. It was an easy choice for many people."
Among the goals of illy's business practices is to make that decision a harder one. An uncertain future in agriculture, due in part to falling coffee prices, forced many rural Colombians to cash in with illegal crops. Others took to the jungles to fight for the FARC, preferring an AK-47 and a steady paycheck to poverty. But with the guidance of local cooperatives like ASCAFE and the Colombian Coffee Growers Federation (FNC), a national growers' advocacy organization, illy is committed to building economic, social and environmental sustainability by paying above fair value for beans that meet illy's high standards, supporting independent family farms, teaching eco-friendly growing methods and helping to weave together the fabric of a nation torn by half a century of war.
A fourth generation coffee grower, Lopez founded ASCAFE in 2004 and has worked diligently with companies like illy to, as he said, "To put producers in a better position to earn a better rate by changing the way that coffee is grown and sold." By forming the cooperative with his neighbors, Lopez found that they could have an influential voice and establish standardized growing practices to achieve the highest-quality yields, an area in which illy's expertise has been particularly valuable thanks to guidance from the company's agronomist. "One of our main goals is to recruit the brands to come to Colombia and bring their knowledge," said Lopez. "We don't want to just sell coffee, we want to build relationships with the people who buy from us."
One of the keys to changing the outlook for Colombia's coffee growers is laying that foundation at an early age. La Venta, one of Cauca's tiny farming villages, is a place where options for young people are limited. Roughly three out of a hundred will have the chance to attend university. Some might elect to move to a city like Cali to look for work. Others, like many of their parents, might be forced to find more illicit means of earning a living.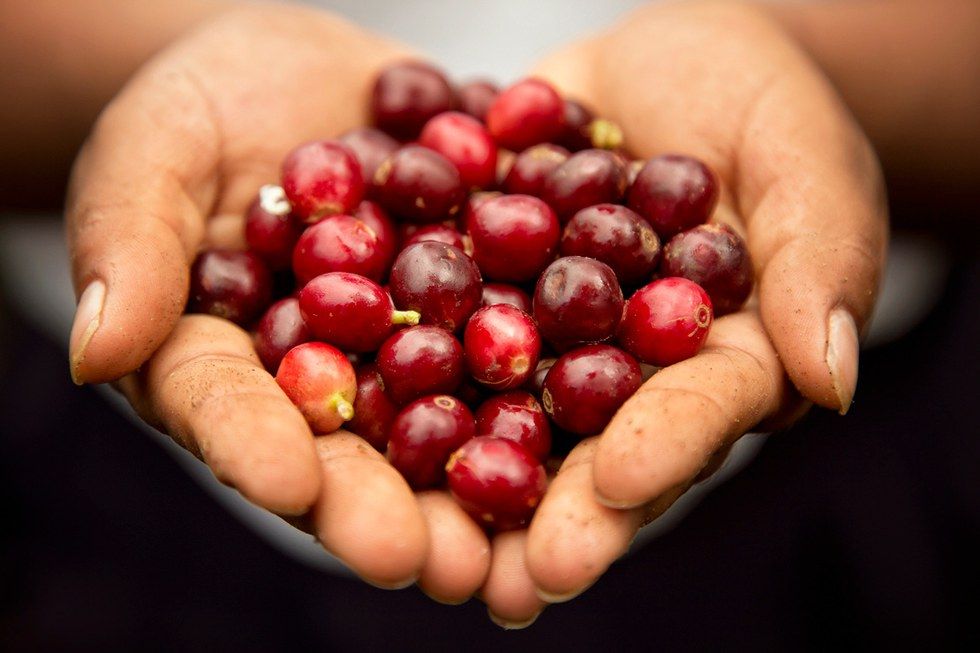 Today, however, there are 55 schools in rural areas such as this that have adopted the so-called "Escuela y Café" curriculum, where students age 12 to 18 learn modern coffee production methods with assistance from illy, the FNC and ASCAFE. At La Venta's Efrain Orozco school, the children are mastering the art of growing thanks to a holistic approach. Each of their subjects -- Spanish, social studies, mathematics and natural sciences -- is tailored in such a way to teach them everything that a successful coffee farmer needs to know. In addition to their classroom work, they spend a portion of their days outdoors learning the different stages of cultivation, from planting the beans to harvesting them to preparing them for shipment to the end buyers. It's the kind of education that can enable them to bypass mere subsistence farming and build a viable, profitable business.
And as we witnessed with Fernando, illy is using its educational and purchasing power to do more than battle financial inequality; it is doing its part to further the cause of peace in war-torn Colombia. At a technological park we visited, 120 former FARC and other paramilitary commandos are learning to become independent coffee producers, growing beans that will eventually be sold to illy.
When we arrived, 30 of the ex-guerillas were in the middle of a three month long immersive introduction to coffee as a means of re-entering society. The park's open-air campus consisted of dormitories, classrooms and a microbiology lab where the men and women are studying the finer points of agronomy.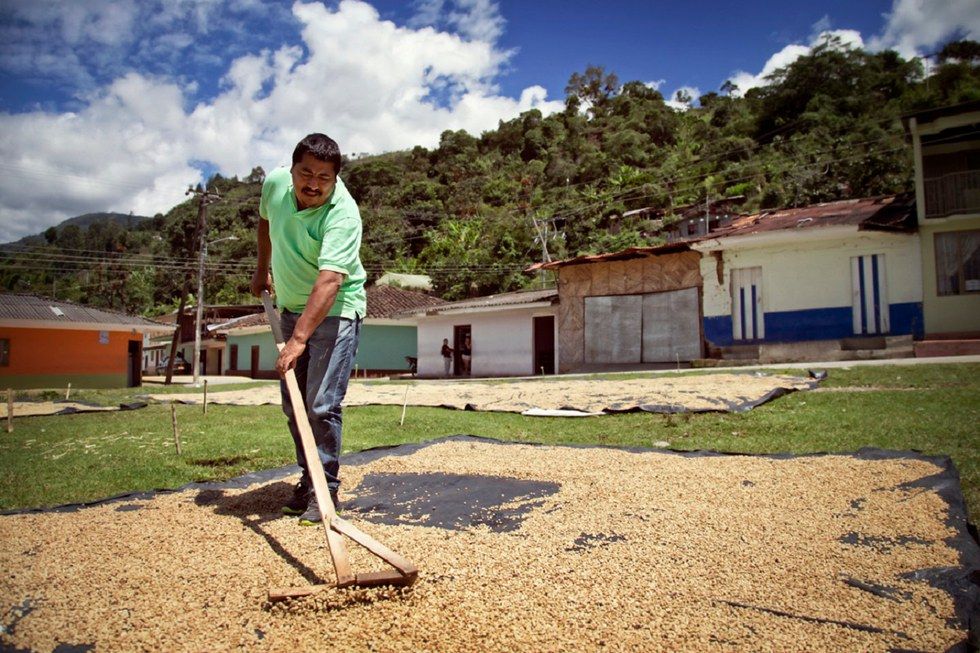 Several of the participants were barely a year or two removed from being teenagers. Each of them was in the midst of a critical moment in his or her life, living under constant threat of violent retaliation for abandoning their brigades. While they felt a sense of purpose and security at the learning center, there was still uneasiness.
One of the men spoke to me on the condition of anonymity because of safety concerns. At age 23, he had spent 13-years as part of the FARC and had run away only 14 months prior.
When I asked him why he had joined up with the guerillas, his answer was the same as most of those whom we encountered: "Economico," he said with a shrug. He was soft spoken and shy, never looking me in the eyes as he talked. "My father left my mother and me and we needed money, so I had to do something to help. But after I saw the suffering, I regretted it. Now, I want a family, I want pride in my life and I want to have a future."
Each of them shared a similar desire to move on from the bloodshed of which they had been a part. Though physical and psychological scars are evident, they all expressed gratitude for the opportunity to live in peace. In many ways, they reminded me of the school children at Efrain Orozco, proud of their new skillsets and anxious to demonstrate what they had learned. They led us on a tour of the campus, showing us the processes for separating, sorting, washing and drying the coffee beans, and guided us through a quality test, with one of the men teaching us the proper way to use a glass pour-over brewer to sample the product. When I sipped from the mug he handed me, it was some of the best coffee I had ever tasted.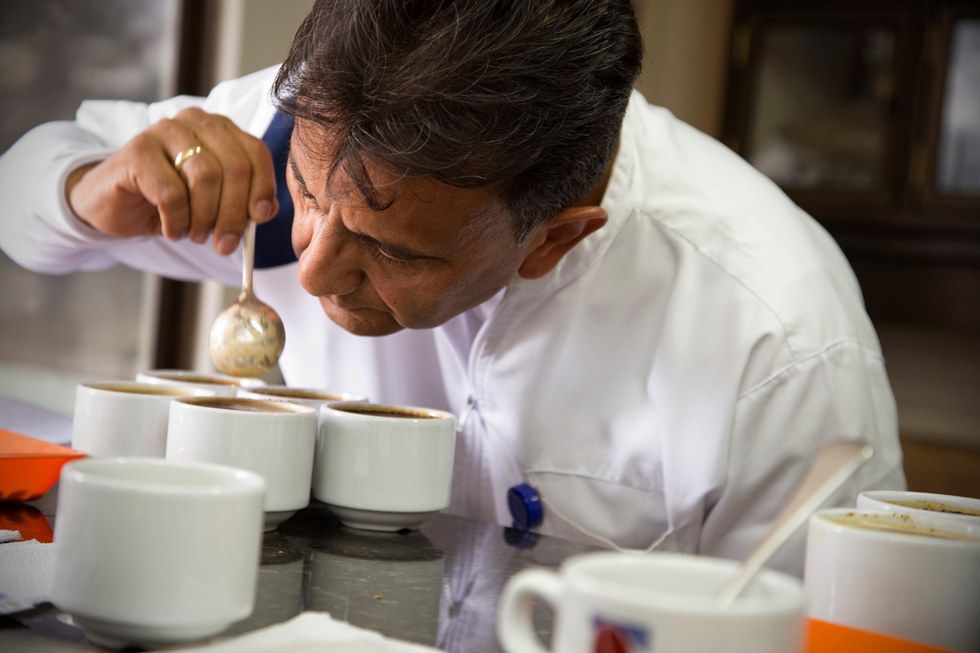 After departing the technology park we headed to a nearby farm where we met several victims of FARC land mines who had come together to create their own coffee growing association. The group's director was formerly a rancher who was seriously injured while tending to his cattle. Another member, a man named Wilmer, had been a coca farmer. It was while walking home after deciding to leave the drug trade behind that he lost part of his leg. At one point, as a woman named Naomi talked of her nephew who was killed, Lasso became too overcome with emotion to translate for us, excusing himself. Finally, a guitarist stood up and played for us a haunting rendition of "Sobreviviendo" – Surviving.
…While someone
Proposes death on this earth
And makes weapons for war
I will tread these fields surviving
All against the danger, surviving
Sad and wandering men, surviving…
At the end of the week, we traveled to Medellín to attend the first-ever World Coffee Producers Forum. Growers from major coffee-producing countries in Latin America, Africa and Asia descended upon the city to hear luminaries including former President Bill Clinton, current Colombian President Juan Manuel Santos, Columbia University economist Jeffrey Sachs and illycaffè CEO Andrea Illy discuss the issues facing the coffee industry, such as climate change, stagnating prices and a volatile commodities market.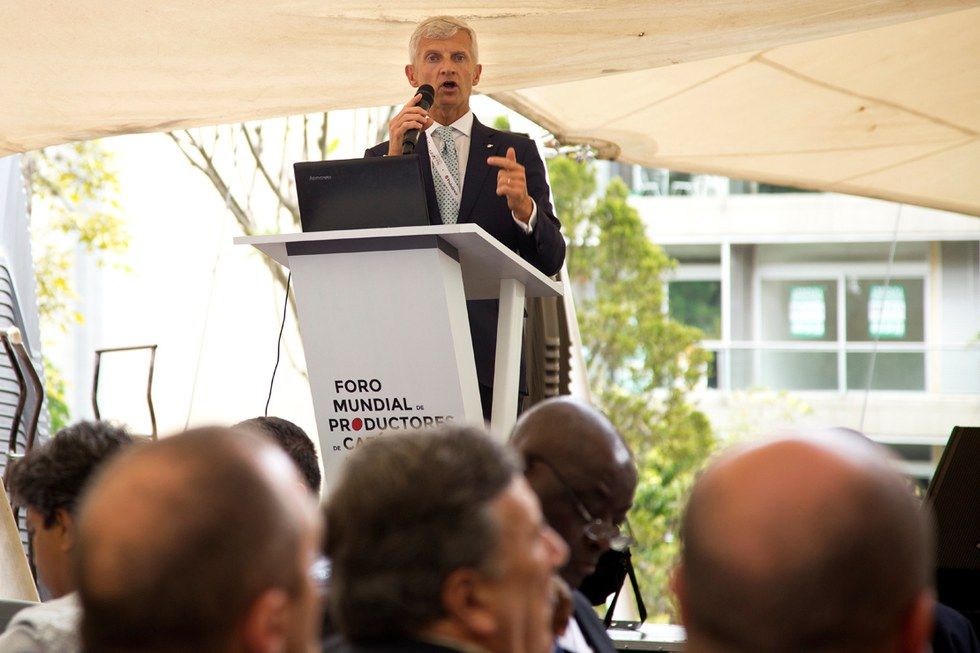 "It would have been inconceivable to have a meeting like this in this place even a few years ago," President Clinton said, while speaking about how economic development through fair trade agriculture has helped countries like Colombia overcome their violent pasts. For years, Medellín and its namesake cartel led by Pablo Escobar represented the worst of Colombia. Those memories still make it one of the most beautiful places most foreigners wouldn't dream of visiting.
After dinner on my last night in Medellín, I caught a cab back to the hotel. Winding through the city in silence, my driver suddenly arched an eyebrow and looked at me through the rearview mirror as though he had a secret to tell. "Want to see Pablo Escobar's house?" he asked. We passed rows of nondescript mid-rise apartment buildings and storefronts, then turned into a short cul-de-sac that dead-ended into one of the former drug lord's compounds.
It was more bunker than home, all concrete walls and concertina wire. The fortress that a wealthy and dangerous man constructed for himself, now sitting in shambles on a darkened street.
Escobar died nearly 25 years ago, and with him, a low hum of fear that hovered over Colombia. In the weeks prior to my visit, more than 7,000 FARC guerillas had handed over their weapons to the government as part of a new disarmament deal, choosing a path of peaceful political dissent to armed conflict. It would seem the country is waking up from a long, grim nightmare. After talking with people there, I walked away feeling optimistic. During one of our conversations earlier in the week, Lasso confided that he felt the same way. After living abroad for 12 years, he was back, anxious to see stability taking root.
If it's morning in Colombia, then coffee is helping to provide much-needed clarity. As President Clinton said during a panel discussion at the forum, "When given the chance, most people will do the right thing. But they'll also do whatever it takes to feed their children." By paying farmers a decent wage and protecting growing areas from environmental decimation, United's partners at illy are offering Colombians a fourth alternative to hardship, drugs and violence. So, as you relax and enjoy your flight, have a cup of illy. You'll be doing your part to drink to a better future.
Family friendly cities: Summer fun in Seattle
A newly renovated Space Needle, fantastic flight museums and nearby national parks are among the attractions that families visiting Seattle can enjoy on a summer or holiday getaway. Summer is also a good time to visit for the comfortably mild weather — typically in the seventies — and weeks-long Seafair celebration.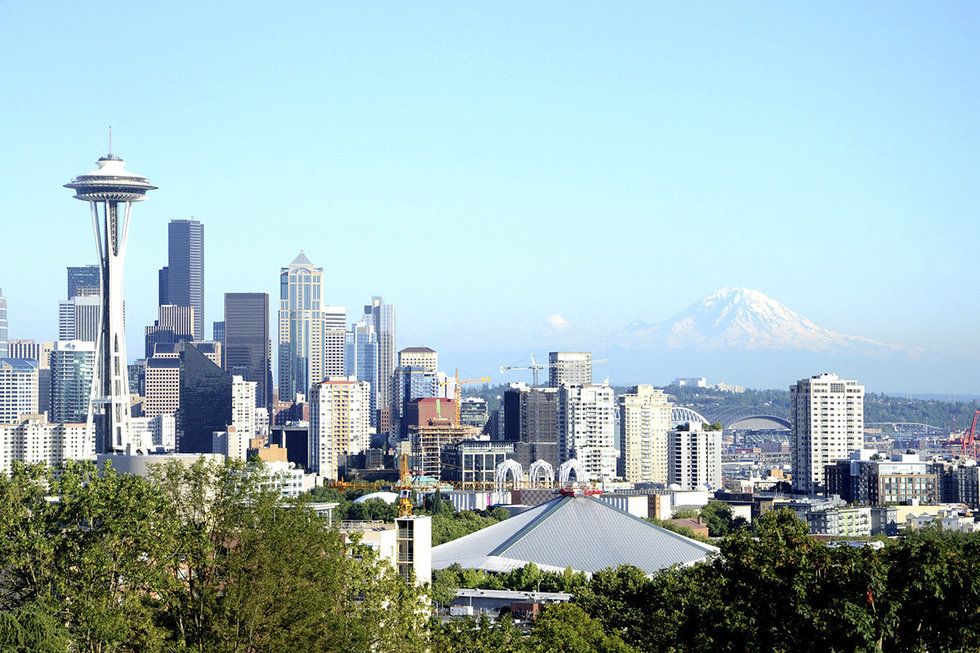 Needle of glass
The 605-foot-tall Space Needle has been a leading "point" of interest in Seattle since it sprouted as the futuristic icon of the 1962 World's Fair. The view from atop the landmark tower's elevator ride is now better than ever, with nearly 200 tons of glass added to upper, lower and outer observation levels that permit an unobstructed view in all directions. One floor below is the world's first and only glass rotating observation deck and lounge, with the glass floor revealing a unique downward view of the Needle.
Seattle Center
Riding the Space Needle elevator is only one of many options at Seattle Center, the city's art, museum and entertainment hub. After arriving from downtown on the Seattle Monorail ($1.25-$2.50 per person), you can let the kids indulge their imagination at the Seattle Children's Museum; enjoy sci-fi and pop-music interactive exhibits at the Museum of Pop Culture; or take in the stimulating shows at the planetarium, Laser Dome theater or IMAX theaters at the Pacific Science Center. Not enough? Chihuly Garden and Glass displays homegrown glass artist Dale Chihuly's dazzling creations, and the Artists at Play playground beckons with a 50-foot tube slide and 30-foot climbing tower.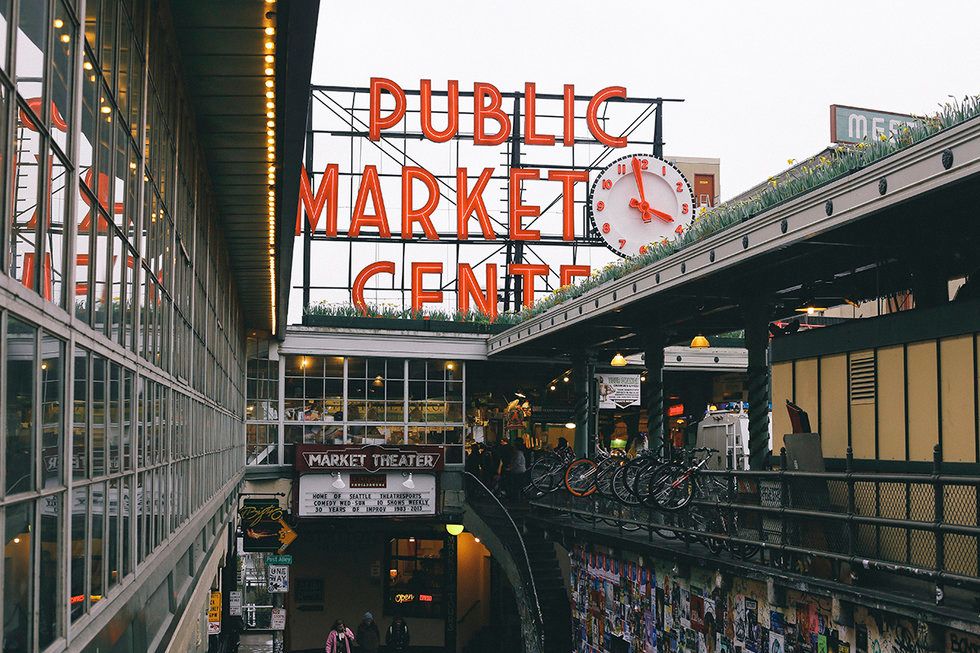 Pike Place Market

Seattle visitors eager to enjoy an authentic experience where the only price of admission is an appetite for food and fun have to fit in a visit to Pike Place Market. At Seattle's most visited venue, newly expanded in 2017, everyone in the family will smile while watching fishmongers toss salmon through the air as street entertainers perform nearby. Food, beverage and craft purveyors sell their wares at more than 500 shops and stalls at the century-old farmers market that overlooks Puget Sound.
Flight of fancy
A 3D theater, flight simulators and the Kids' Flight Zone are indoor highlights of Seattle's Museum of Flight. Just outside is an unrivaled collection of major commercial jets, including the only Concorde on the West Coast, the first Air Force One jet and the first Boeing 747 and 787 Dreamliner. Boeing jets-to-be can be seen north of Seattle at the Future of Flight Aviation Center, the only place in North America where you can watch commercial jets being assembled on a Boeing factory tour.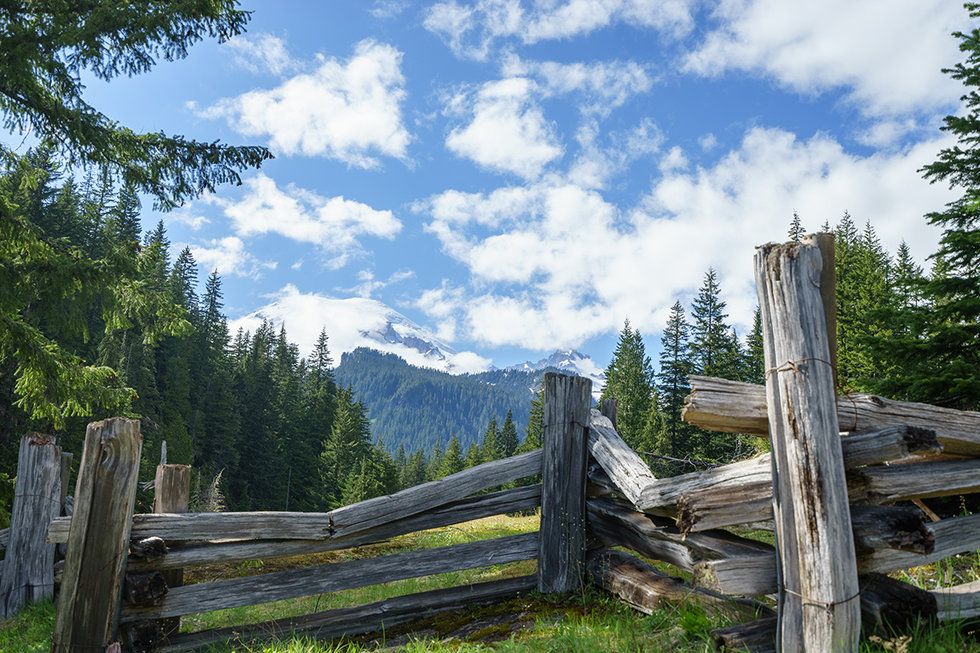 Mountains, islands and lakes
Visitors renting a car can reach Mt. Rainier National Park, or be on board a ferry bound for the San Juan Islands (where there's a national historic park), in less than two hours. Both are breathtaking family destinations. But there are also many outdoor summer recreational activities available right in Seattle, a city surrounded by water on three sides and home to several lakes. Seattle's zoo is in Woodland Park on Green Lake, where you can rent all sorts of boats. There are also kayak and paddleboard rentals at Lake Union, and great tide pools to explore at Discovery Park on Puget Sound.
Summer celebrations
Seafair is a series of Seattle events that span most of the summer. Surely the loudest is the Seafair Summer 4th festival and fireworks show. Also on the Seafair calendar are big food events, cultural festivals and air-and-boat festivals. Nearly all are free.
If you go
United Airlines offers numerous flights to Seattle-Tacoma International Airport from several U.S. cities. MileagePlus Rewards can help cover your hotel room and rental car once you arrive. Go to united.com or use the United app to plan your Pacific Northwest family vacation.

How to spend 12 days in Italy
Home to so many of the world's great works of art, so much of its most historic monuments and such glorious gastronomy, it's little wonder millions of tourists flock to Italy each year.
What's also great about Italy is that it's quick and easy to drive between its key cities. To experience everything the country has to offer would take a lifetime, but give yourself 12 days and you can easily experience five of the country's most iconic cities. Because United flies to and from most of the cities mentioned, it's easy to shorten or extend the trip to suit your time. But here's what we'd suggest for the ultimate 12-day Italian road trip.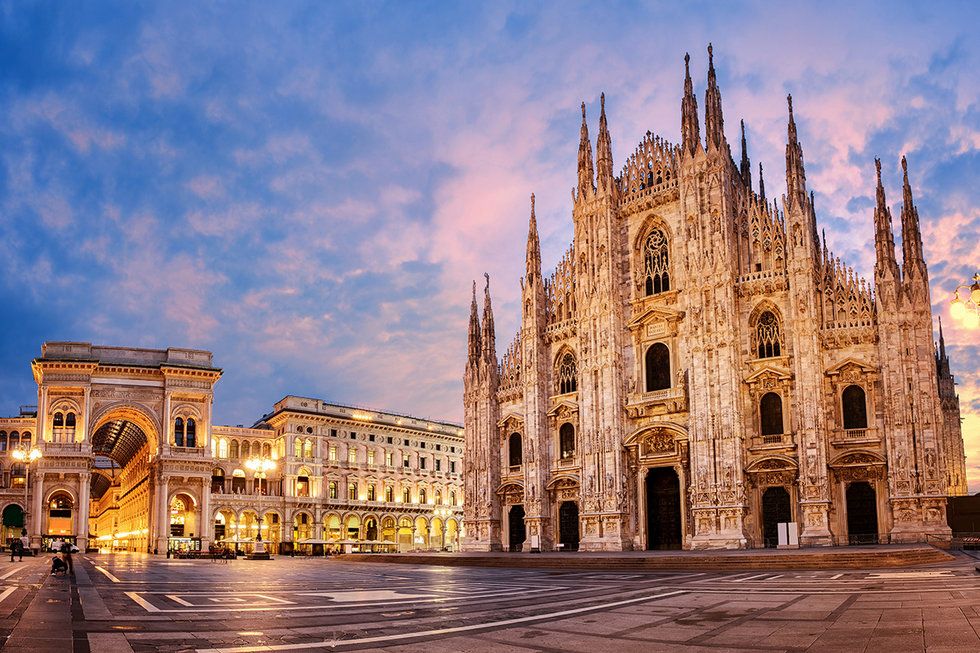 2 days in Milan
Touch down in one of the few Italian cities that doesn't appear to be frozen in time. Milan is a more cosmopolitan and cutting-edge affair, befitting the city's status as the capital of finance and fashion. That isn't to say it lacks history — the grand marble Duomo, the masterpiece-packed Pinacoteca di Brera and the Basilica di Santa Maria delle Grazie will sate your historic hunger, the latter housing Milan's most famous mural, Leonardo Da Vinci's The Last Supper.
But this is a city fixed more on the future than the past, one where its history stands side by side with sleek, modern skyscrapers, vibrant bars and cutting-edge hotels. As a result, you can expect a more frenetic pace of life than you'll find further south.
The must eat Risotto alla Milanese con ossobuco — the classic Milanese saffron risotto with braised veal shank is elevated to a silky, smooth masterpiece at Ratanà in Isola.
The must stay Bulgari Milan ($) — a luxurious hotel in the tranquil artists' quarter. Also consider: NYX Milan ($); The Yard Milano ($).
The next leg Milan to Venice is an easy 173 miles, about a three-hour drive. Take the train and it's around two hours 25 minutes from Milano Centrale to Venezia Santa Lucia.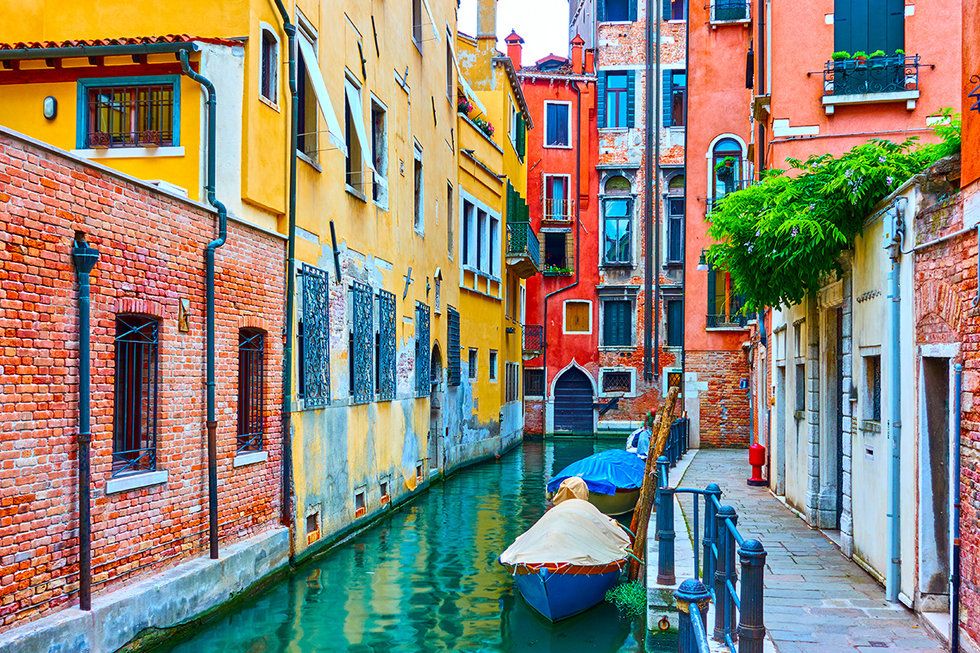 3 days in Venice
Venice is La Serenissima — Italy's Most Serene Republic — a city of your imagination and a place beyond your wildest dreams. A treasure trove of glorious art and extraordinary architecture, of 150 canals and almost 400 bridges, you know the city from the photographs, movies and paintings made famous the world over. As you explore Piazza San Marco or take a tour through history down the Grand Canal, so much here seems reassuringly familiar. Yet nothing can prepare you for the for the reality of stepping out from the station to the site of a glittering canal and the dome of San Simeon Piccolo, with Venice's canals and lanes twisting out before you. At that moment, expect your heart to skip a beat as the reality and romance of La Serenissima hit home.
The must eat Fritto Misto — taking full advantage of Venice's lagoon location, this mix of fried fish usually includes squid, shrimp and moeche, a soft-shell crab available only in autumn and spring.
The must stay Aman Venice ($) — 24 luxury suites in a stunning 16th-century Grand Canal palace. Also consider: La Calcina ($); Palazzo Morosini degli Spezieri ($).
The next leg — Venice to Florence is 160 miles and about two hours and 40 minutes away by car. By train, Venezia Santa Lucia to Firenze Santa Maria Novella takes two hours and five minutes.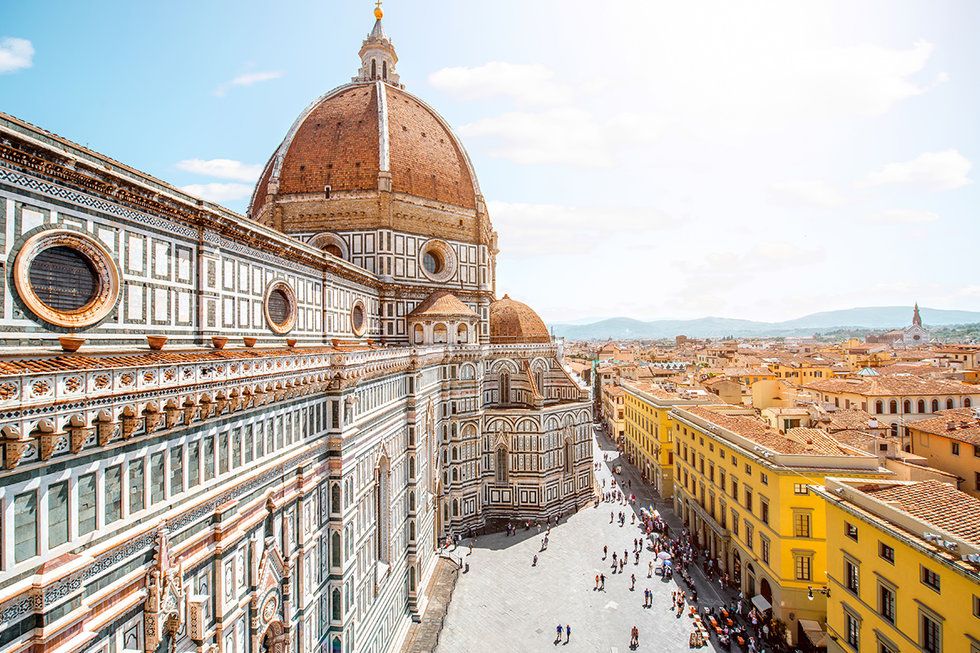 2 days in Florence

The search for la dolce vita will lead you to Florence, the heart of Tuscany, the cradle of the Renaissance and the most beautiful of all the Italian cities. For art enthusiasts, the city has no equal. Its galleries and museums home to so many of the world's finest examples of Renaissance art, much of it housed at the breathtaking Galleria degli Uffizi. The pink, white and green marble facade of the iconic Duomo, or cathedral, is worth the trip alone — without even stepping foot inside its adjoining museum. But, with so many quirky boutiques, trendy cafés, restaurants and bars, not to mention the beautiful Tuscan countryside close by, there is so much more to the city than its glorious history. Indeed, a single visit will never do it justice.
The must eat Bistecca alla Fiorentina — the city's culinary calling card is a vast slab of T-bone steak rubbed with olive oil, chargrilled, seasoned and served al sangue — bloody.

The must stay Portrait Firenze ($) — central hotel offering luxury and astonishing views. Also consider: BBH Firenze ($); AdAstra ($).
The next leg Florence to Rome is 168 miles away, or three hours by car. If traveling by train, Firenze Santa Maria Novella to Roma Termini takes about 90 minutes.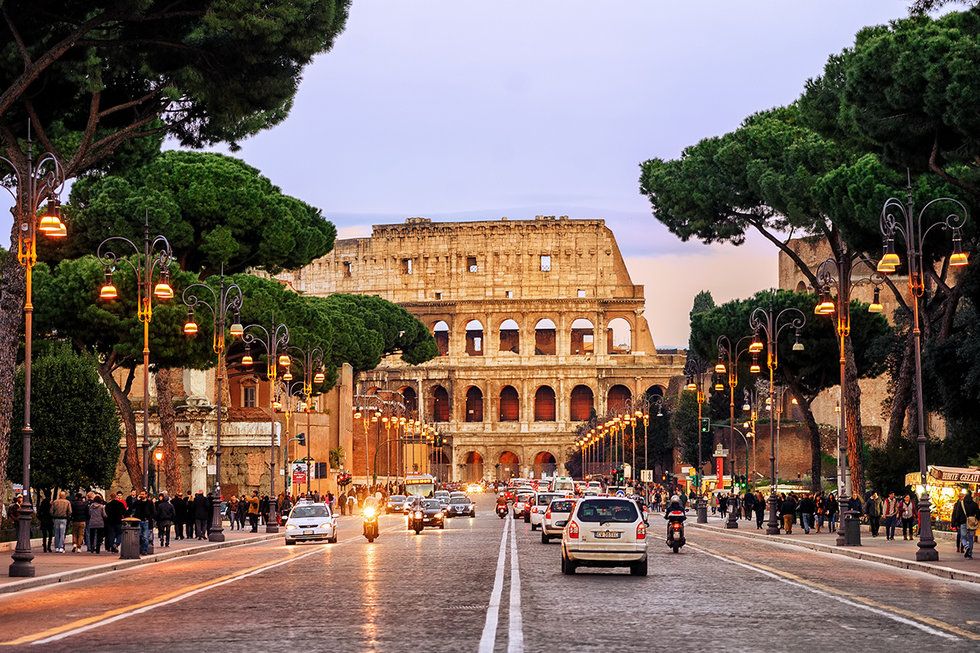 3 days in Rome

In existence for more than three millennia, no other city does history quite like Rome, from its classical ruins and places of worship, to the Renaissance palazzo and the Baroque fountains. You can't leave without having seen the Colosseum, the Pantheon, St Peter's Basilica, the Palatino and the artistic treasures of the Vatican museums. There's also the Roman Forum, the Spanish Steps, the Museo e Galleria Borghese and far too many others to squeeze in a single visit, so throw a coin in the Trevi Fountain to guarantee you return.
For all its history, Rome's past blends effortlessly with the present, through the chic boutique stores, the neighborhood trattorias and the vibrant street life that lingers long into the night. The whole city is a stage — and you have a walk-on role.
The must eat Cacio e pepe — one of Rome's most iconic pasta dishes is also one of its simplest: hand-rolled tonnarelli pasta topped with salty pecorino cheese and black pepper, stirred with pasta water to create a smooth, spicy, simple and sumptuous sauce.
The must stay Hotel Eden ($) — magnificently renovated icon hotel, located beside the Spanish steps. Also consider: Nerva Boutique Hotel ($); Hotel Martis Palace ($).
The next leg The drive from Rome to Naples is 140 miles and a little over two hours south. Taking a train from Roma Termini to Napoli Centrale in one hour and 10 minutes.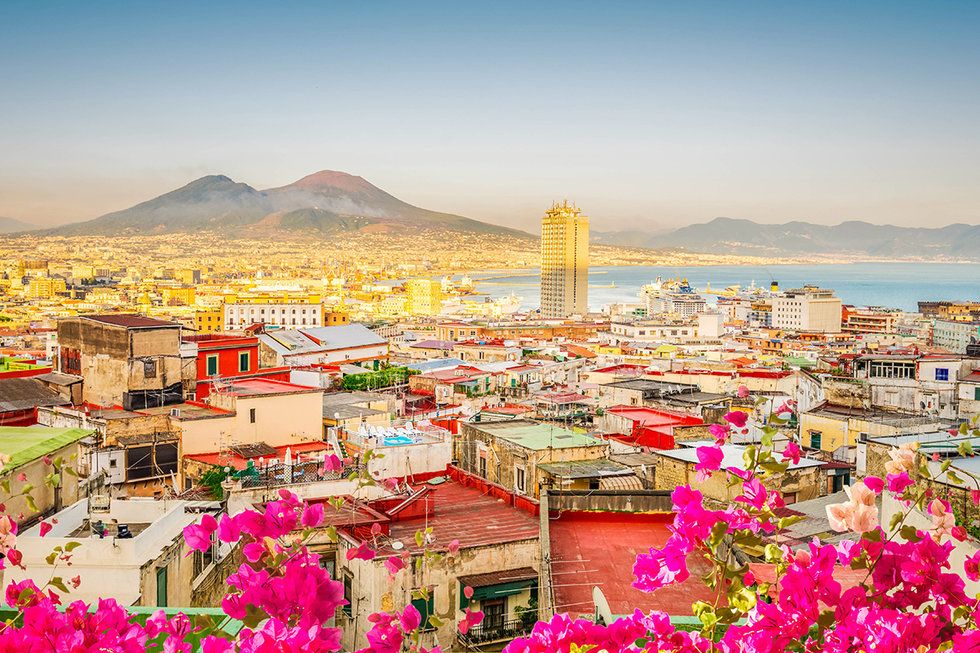 2 days in Naples
For the first-time visitor, the sights and noise of Naples can overwhelm the senses. But at its heart lies a charm and vibrancy that has to be experienced at least once in your life. In the city itself you'll unearth a UNESCO-recognized historic core, vast Romanesque piazzas, world-class museums, castles and a labyrinth of ancient lanes hidden beneath the neighborhood washing.
Just a short journey further on lies the ruined city at Pompeii and Mount Vesuvius, the brooding volcano that looks down on the city and the Bay of Naples.
The must eat Pizza — in the city of its birth, it's hard to find bad pizza. L'Antica Pizzeria da Michele is Naples' original pizzeria, where the options have always been and will always be a Margherita or a Marinara. Chow down on a slice of history.

The must stay Grand Hotel Vesuvio ($) — an understated icon overlooking the Castel dell'Ovo. Also consider: Micalò ($); Hotel Excelsior ($).
The next leg If you have the time, explore the jaw-droppingly beautiful Amalfi Coast or the Bay of Naples' three nearby islands of Capri, Procida and Ischia, the latter made famous by Elena Ferrante's My Brilliant Friend. If your time has run out, fly home or on from Naples International Airport.
United now flies from New York/Newark (EWR) to Naples (NAP), in addition to Rome (FCO), Venice (VCE) and Milan (MXP). To explore further, you can also fly to Ancona, Bari, Bologna, Genoa, Florence, Pisa, Trieste, Turin and Verona with our Star Alliance™ member partner airlines. Book your Italian adventure at united.com or use the United mobile app.
10 essential tips for the solo traveler
Are you a solo traveler? The sort of person who wants to head out into the world and experience whatever you like, wherever you like, whenever you like? You're not alone.
Research shows a spike in bookings for solo travelers across almost all age groups in recent years — from baby boomers to millennials. More and more of us want the freedom to travel on our own terms, and more and more of us are turning those dreams into reality.
If you're a first-time solo traveler, you'll feel liberated, but before you head out on your first solo journey, here are 10 things you should know.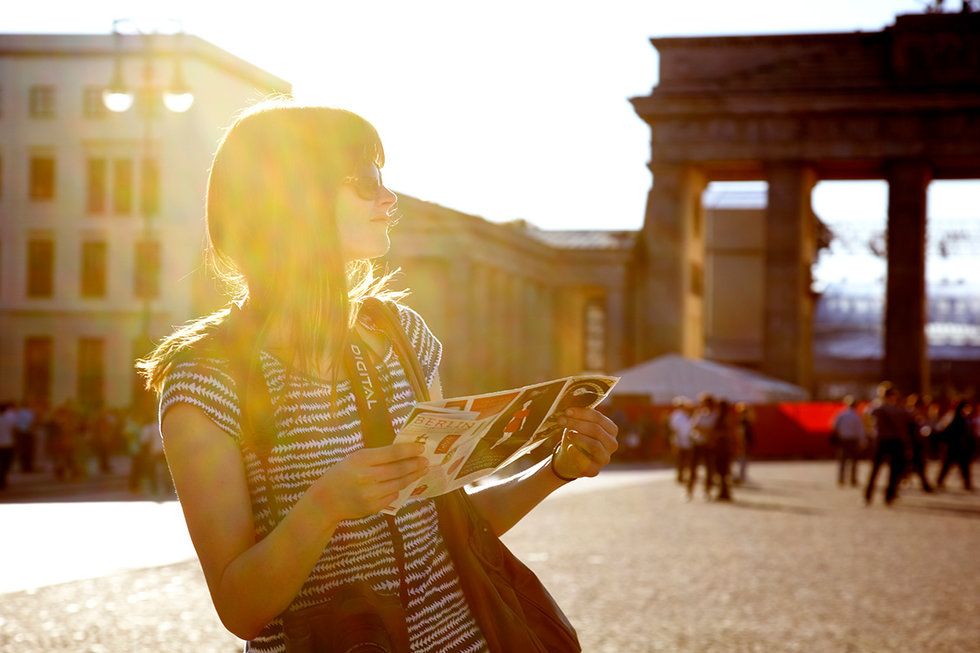 1. You'll come back a better person
Of the many benefits of solo travel is that you'll come back a more confident, independent person, regardless of how confident you were when you set out. When you travel in a group, or even just a pair, you're free to fall back on others and let them decide for you. But when you're traveling solo, every decision is ultimately up to you. And with each decision you make, you'll grow as a person.
2. You need to tell people where you're going
While solo travel isn't unsafe, you won't have anyone to watch your back, or your bags. Give yourself, your friends and your family peace of mind by leaving a copy of your itinerary that includes your flight times, accommodations and anything that helps them keep track of your whereabouts. Then, make another list with international emergency lines, U.S. embassy numbers, toll-free and international numbers for your credit card company, travel insurance documents and anything you might need in an emergency. And before you travel, register your trip with the U.S. State Department's STEP program, so that the local embassy or consulate can assist you if they need to.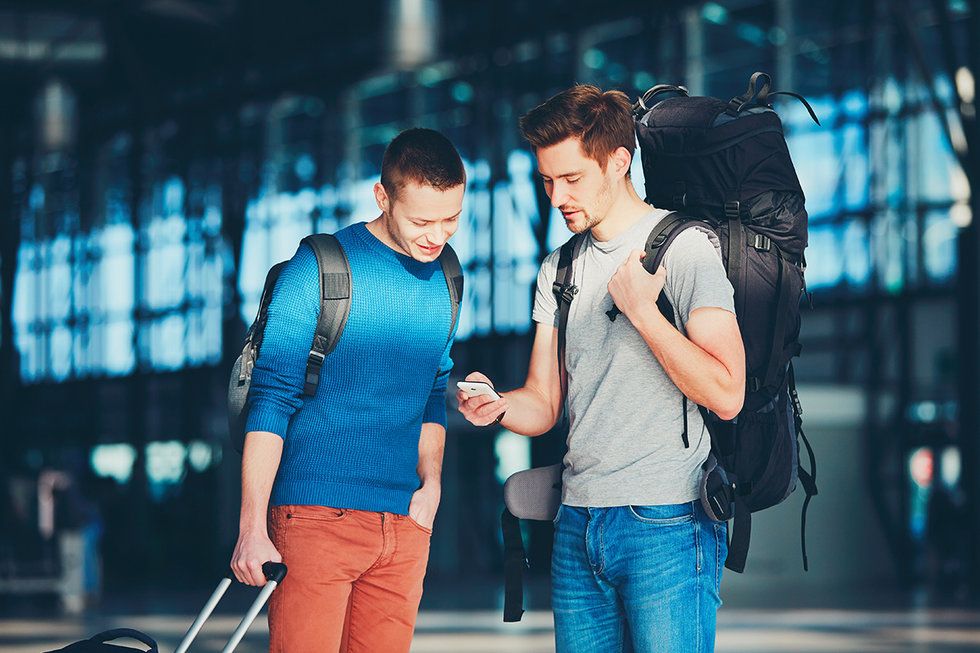 3. You don't have to go solo all the way
It's very easy to make friends on a solo vacation, should you choose to. Stay in lodges or hostels rather than hotels and you'll share space with like-minded travelers but be prepared: you probably won't have peace and quiet like you would in a hotel room). If you're up for meeting other solo travelers, choose small group or escorted travel, particularly to destinations that are off-the-beaten-path. Expedition cruises and safaris are two other popular options if you're looking for more social experiences.
4. Buddying up can be good for your budget
Two words send shivers down the spines of solo travelers: single supplement. Since hotels charge by the room — not by the number of people using the room — you'll likely be charged the same rate as two people sharing a room if you book alone. . Try to reserve a single room well in advance, but if you can't do that, check any single supplement charges before you book. You can also ask about a roommate option where you sign up to share a room with another solo traveler, saving money and making a friend.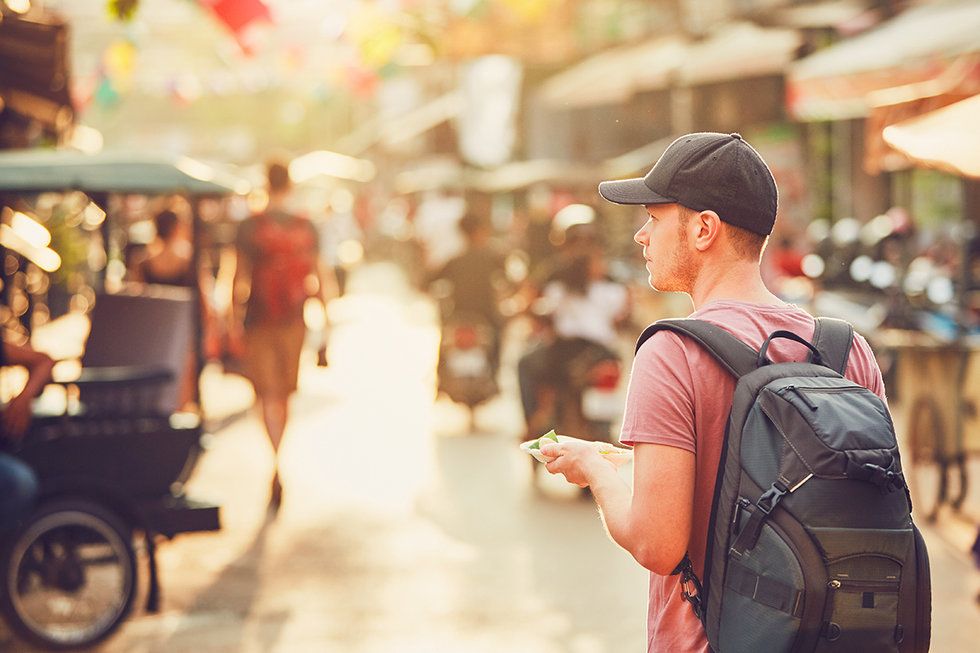 5. Choose your destination wisely
The world is your oyster but be careful not to bite off more than you can chew. A shorter trip somewhere close to home will give you a good idea of how solo travel works. From there you can work up to bigger adventures. London, Tokyo, Sydney, Melbourne and Bangkok all rank very highlywith solo travelers from the U.S. And there are plenty of great U.S. destinations, like New York, Seattle, San Diego and Washington, D.C., and lots of great options on a smaller scale, like Austin, Texas; Charleston, South Carolina; Asheville, North Carolina; and Boulder, Colorado. Most of those are big, vibrant, bustling cities with enough to keep you entertained around the clock, and each gives you the chance to meet other travelers or explore on your own.
6. You're free to make it up as you go
Solo trips mean every decision you make is up to you and only affects only you. Want to ride a mule deep into the Grand Canyon? You can. Want to spend three days in the Louvre? That's your call. Want to sleep in until midday? Go for it.
Perhaps the greatest benefit of traveling alone is that you can do what you want whenever you want, and you can change your plans at any time. The freedom to make it up as you go is rare in everyday life and it won't last forever, so embrace it while you can.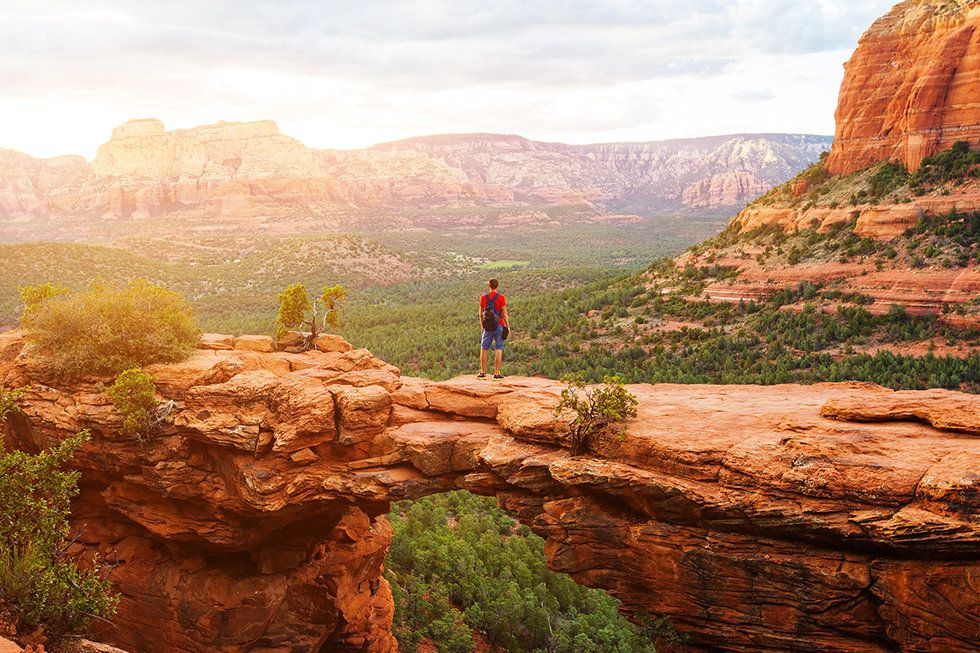 7. You may encounter and defeat a new phobia
Solomangarephobia is the fear of eating alone in public. The dreaded table for one can be the most difficult and awkward part of solo travel, but it doesn't have to be. Seek out a casual cafe rather than a fancy restaurant. Then find a seat at the bar, on a terrace or in a booth, bring a book or your diary and chat to the restaurant staff. And from time to time, you can avoid the awkwardness completely by ordering room service and eating dinner on your bed.
8. You'll learn more by talking to the locals
Travel guide books and apps are great for gaining a better understanding of a place, but they're never as effective as speaking to the locals. An all-night salsa dancing joint in Havana, a secretive speakeasy in Brooklyn, the hands-down best street food in all of Bangkok — nobody knows the local scene like a local. Smile, attempt to say hello in their language, ask questions and you'll end up with a far better experience — and maybe even a friend for life.
9. You'll need a secret stash of cash
Running out of money a long way from home is never fun, but it's even more of a problem if you're all by yourself. To guard against an unexpected emergency, take a $100 bill and tuck it under the sole of your shoe. You might not need it, but if you do, that little piece of paper might just get you out of a scrape.
10. And you'll need to act appropriately
When you're traveling on your own, a little caution goes a long way. Research which neighborhoods are and aren't safe to roam, particularly alone and after dark. If you get lost, avoid standing around poring over maps like an obvious out-of-towner. If you drink, don't drink too much that you can't easily find your way back home. And as cynical as it might sound, keep an open mind but trust no one. The world is a big and beautiful place, but trust your common sense.
Solotravelerworld.com is an excellent resource to find out more.
And wherever you choose to travel, begin your solo trip by booking your flights via united.com or the United mobile app.
New York City celebrates Stonewall 50
Story by Matthew Wexler | Illustration by Made Up | Hemispheres June 2019
This month, New York City celebrates the 50th anniversary of the Stonewall riots—which sparked the modern LGBTQ rights movement—and hosts the first WorldPride event to be held in the U.S. Here, five artists and activists who are participating in the festivities share what Pride means to them.
Melissa Etheridge
Singer-Songwriter
"I grew up in Kansas, and it was the late '70s when I started hearing rumblings of the gay liberation movement. I remember looking at my mom's copy of Life magazine and seeing a photo of women sitting next to each other in a bar. I exploded inside. The LGBTQ community reaches across every ethnicity and every country on earth. WorldPride is a celebration of love and something we still have to fight for. It reminds me of where we were 50 years ago, when we said, 'We're not going to hate ourselves anymore.' It's my honor to create art that reflects what we're going through—the worries, hopes, and dreams of our times."
The Grammy-and Oscar-winning singer-songwriter will headline the WorldPride Closing Ceremony in Times Square (June 30)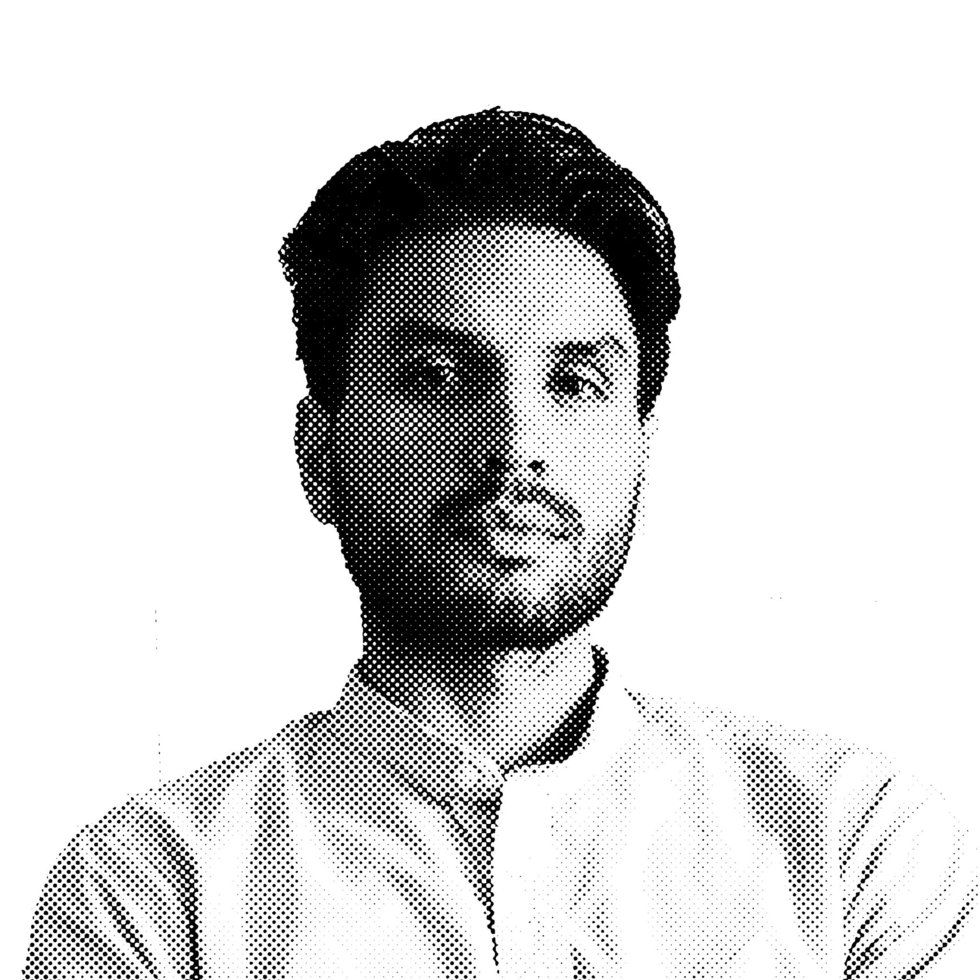 Camilo Godoy
Artist
"There's a long history of presenting queerness and eroticism through photography, showing bodies in ways that are beautiful, poetic, and disruptive. Part of my recent project Amigxs appears in the
[current] Brooklyn Museum exhibit and explores the intersection of desire and activism in public space. I think of mentors—artists like Félix González-Torres and David Wojnarowicz—who died because of political inaction during the AIDS crisis. I'm thrilled this exhibit can be a place for people to learn about communities not at the center of our collective narrative."
The Colombian-born artist's work appears in the Brooklyn Museum's Nobody Promised You Tomorrow: Art 50 Years After Stonewall (through December 8)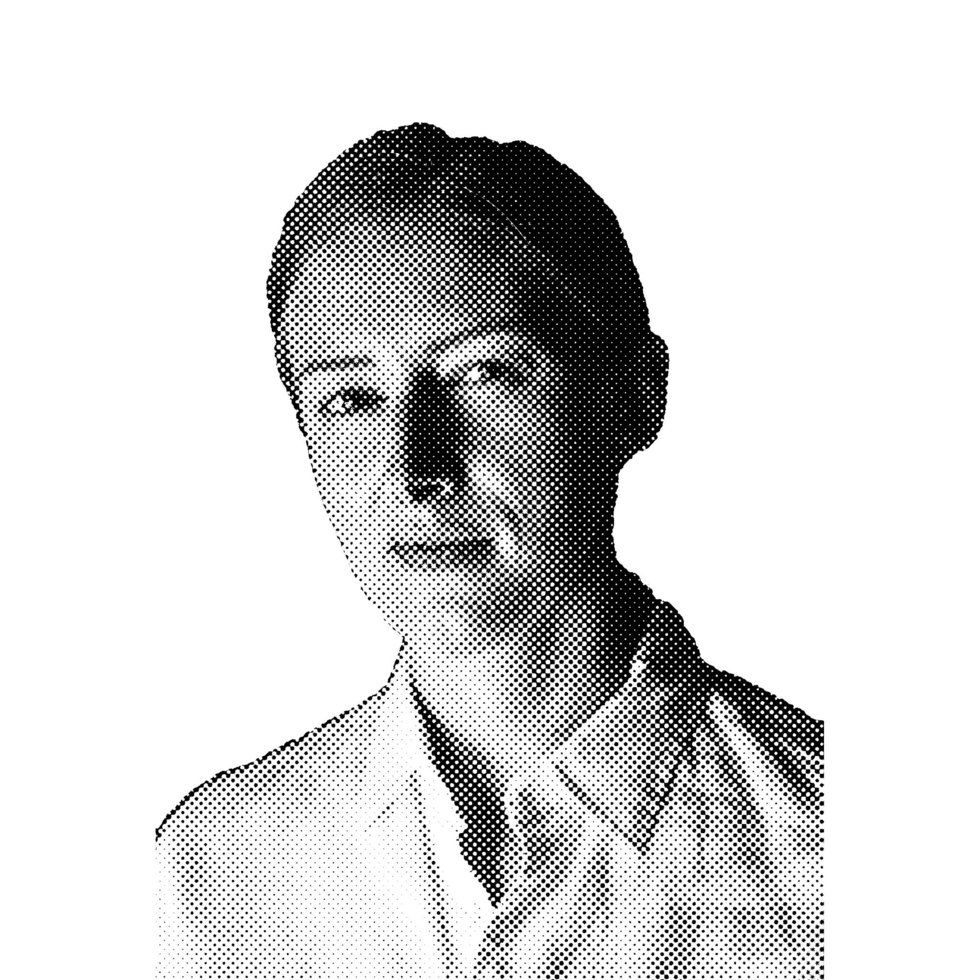 Liz Bouk
Opera Singer
"A lot led up to the moment in 2017 when I looked in the mirror and said, 'Oh my gosh, I'm a man.' After walking in my first Pride March last year with my family, I grabbed a bunch of books about Stonewall to understand how the current transgender movement fits into history. People like Sylvia Rivera, Lou Sullivan, and Marsha P. Johnson
were fearless and gave themselves permission to live their truths. In New York City Opera's Stonewall, I'll be portraying a transgender character created specifically for a transgender singer. I hope people leave celebrating the progress we've made and also feel moved to advocate for change and acceptance of all LGBTQ people."
The mezzo-soprano appears in Stonewall at New York City Opera (June 21–28)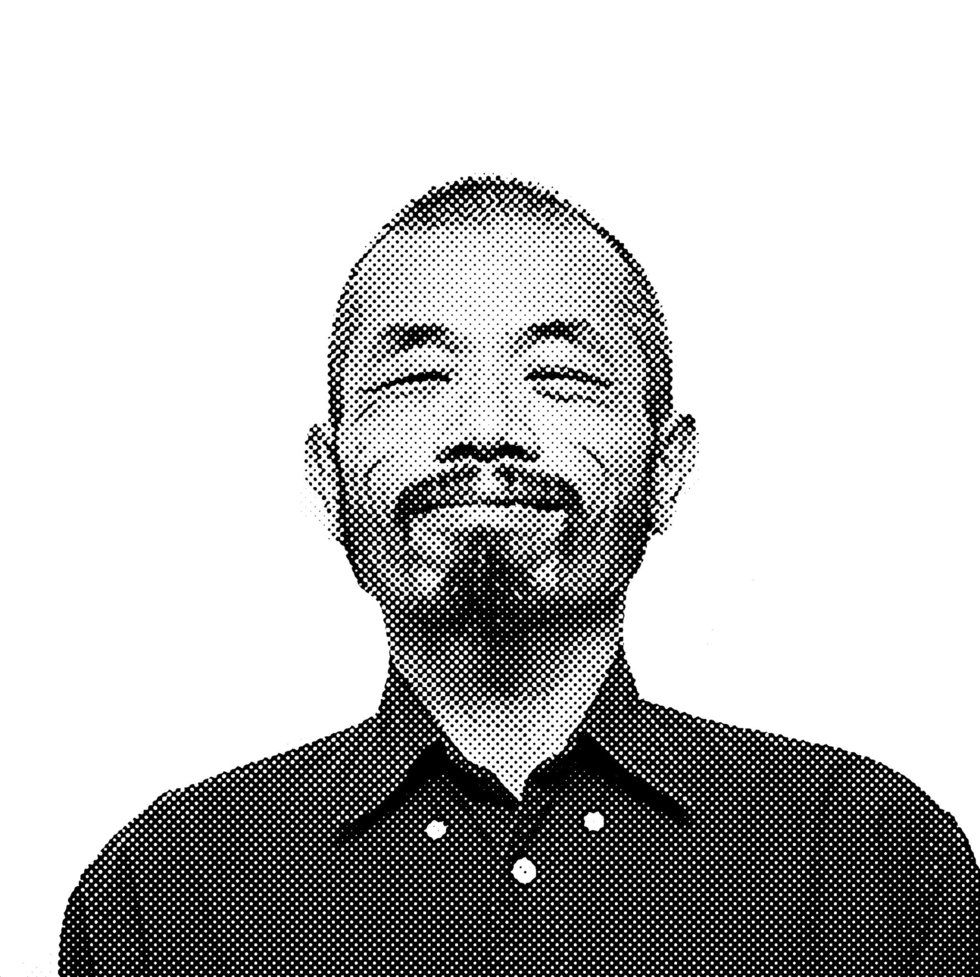 Tommy Hom
Stonewall 50 Director
"I was born and raised in New York City and attended my first Pride event in 1985. My friends brought me to the Village, and I wound up in the middle of the crowd among so many diverse people, thinking, 'I'm not the only one.' I've discovered through my lifetime that we're constantly coming out as we evolve as individuals and as a community. Stonewall is a pivotal point in our history, and this commemoration takes it back to the streets. We should never forget that dancing under starlight or holding hands in public was once an act of rebellion. It's a rallying call, because we're not finished with the fight for equality."
The Stonewall 50 director spearheads a rally at the site of the original uprising, Christopher Street and Waverly Place (June 28)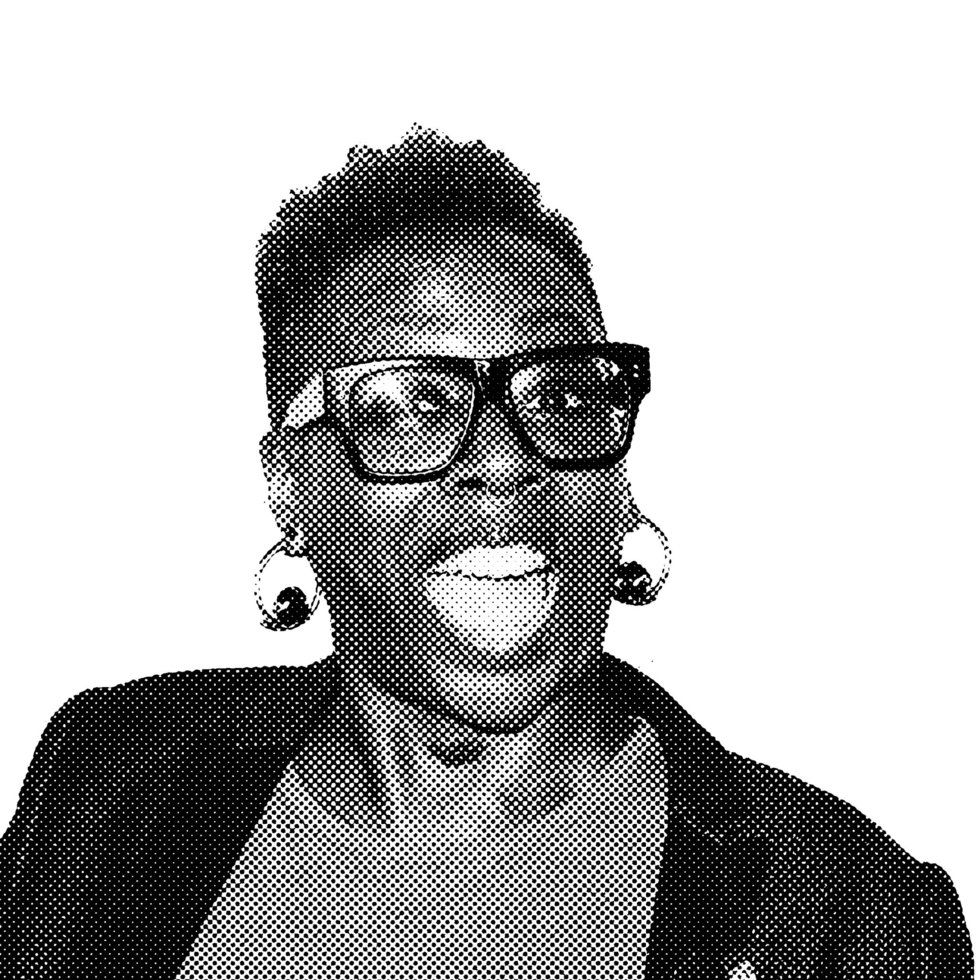 Gina Yashere
Comedian
"I've never seen myself as an activist—I'm a straight-up entertainer. I fell into comedy by accident when I wrote a skit for a charity talent show, and people were pissing themselves laughing. I thought, 'Oh, this is comedy!' I talk about myself and my life experiences, and so I'm political just by virtue of who I am: a black, female, gay immigrant. I discovered and came to admire people like Wanda Sykes and Whoopi Goldberg, black women making it in the industry against the odds. Let's suspend the doctrine of what we've been fed. See people as people. At the end of the day, we're all just walking hunks of meat."
The British comedian will appear at Levity & Justice for All, a comedy benefit for Project LPAC, at PlayStation Theater (June 25)
Photo Credits: Rob Kim/Wireimage (Etheridge); Courtesy of the artist (Godoy); Sarah Shatz (Bouk); Courtesy of Tommy Hom (Hom); Gabriel Olsen/FilmMagic (Yashere)
Denver's airport in full bloom
With our summer schedule in effect, we set a new record at Denver International Airport today by offering more than 500 daily departures from our Rocky Mountain hub for the first time ever. Since January 1, 2018, we've added 32 new domestic and international routes out of Denver, creating more than 2,600 additional connection opportunities for our customers there. The 500-plus-daily-flights milestone is a result of those efforts, which are all part of our strategy to significantly grow our presence in our mid-continent hubs.
"Denver's record growth symbolizes the investments we're making in our people and our company, both in Denver and throughout our network," said President Scott Kirby. "As we focus on strengthening our mid-continent hubs, our record schedule allows us to provide our customers with a better travel experience by offering more connections and more destinations."
Along with being the airport's largest airline, we are also one of the region's biggest employers and economic drivers. The city is home to our brand-new, state-of-the-art flight training center, the largest single-site flight training center in the world, and we've increased our employee headcount in the area by 970 in recent years. This growth is all about giving our Denver customers unrivaled choice and convenience when it comes to destinations and flight times. Along with that, thanks to our new Denver flight banks, we have increased the number of morning flights available to business customers traveling from Denver to the East and West Coasts, while improving connectivity to Midwest and mountain region destinations.
For more on our Denver operation, see the infographic below.

Denver celebrates record-breaking flight schedule

United in Denver is operating more than 500 daily departures this summer† – the largest schedule in our history.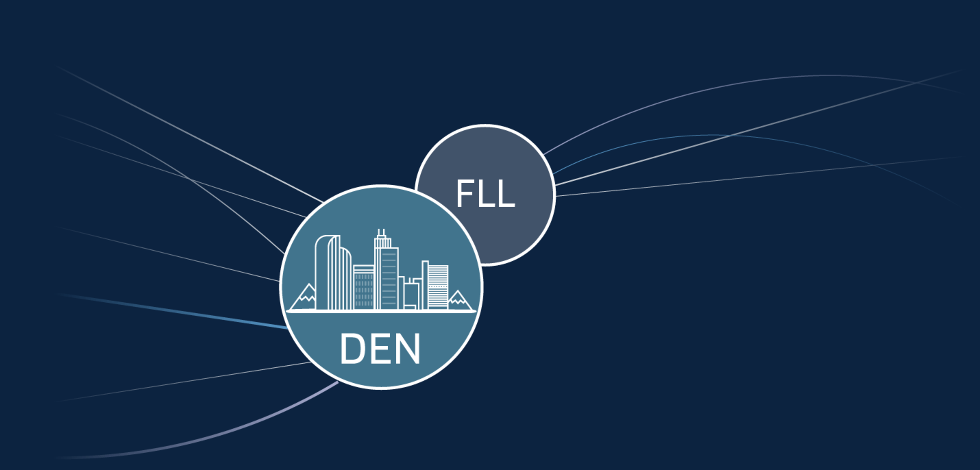 DEN – FLL is the 500th daily flight out of DEN
The historic milestone is a testament to United's commitment to Denver and our overall growth strategy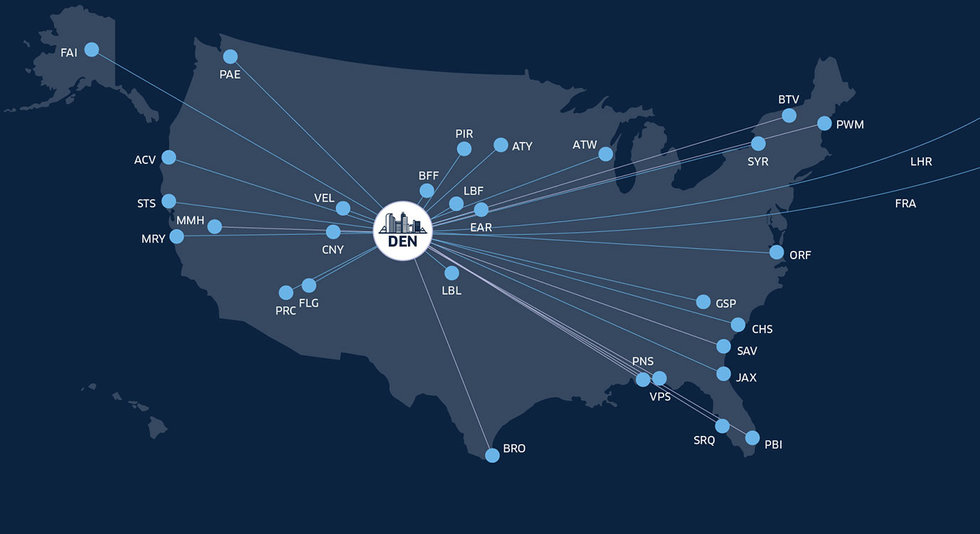 32 domestic and international routes have been added out of DEN*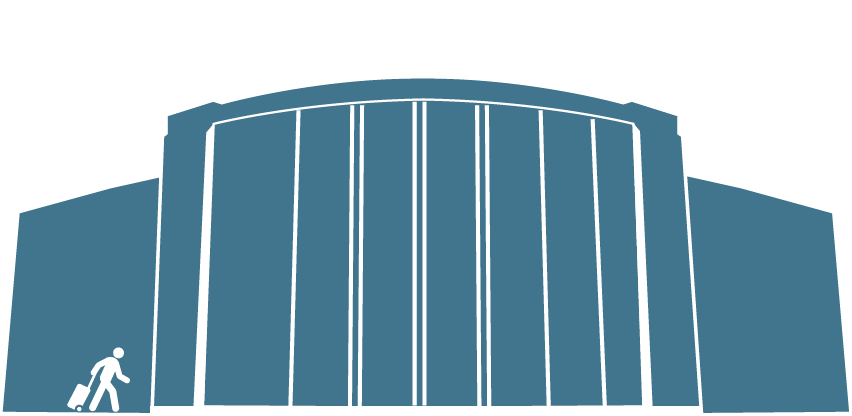 Unveiled world's largest single site flight training center *
United's employees are the foundation of our success
Everyone is key to continuing to provide our customers with excellent service while we grow to provide them access to the places they want to go.
970 employees hired in Denver*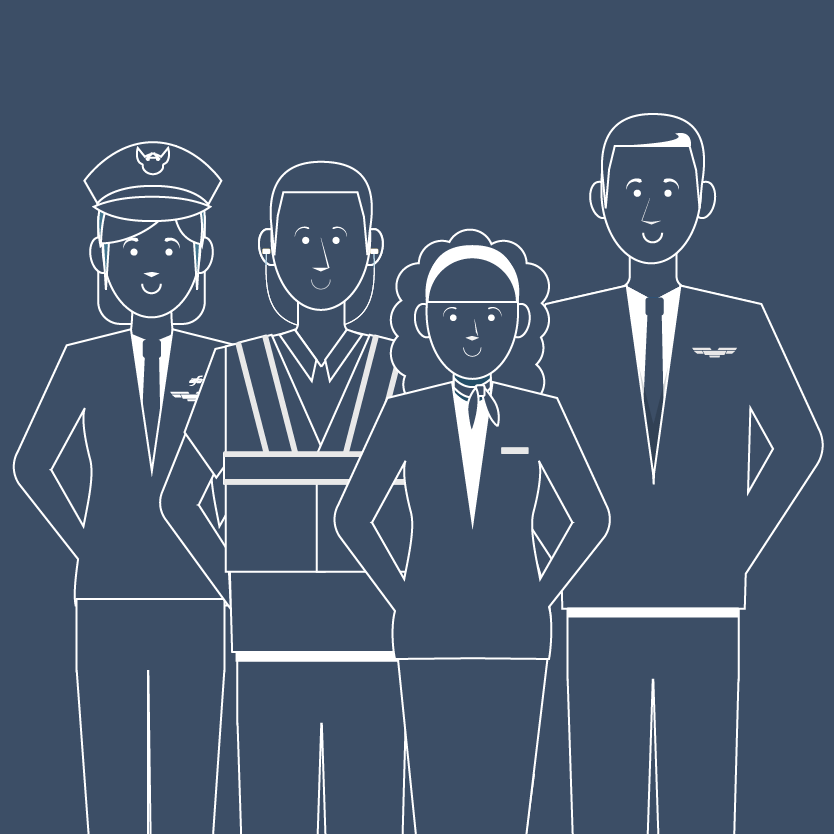 Denver is proof that the growth strategy we rolled out in 2018 is working
2,600 new connection opportunities for our customers flying through DEN since last year

† three days per week
* since Jan. 1 2018
Flying our heroes for the 75th anniversary of D-Day
Over the past several days, on flights out of Washington D.C., Houston, Chicago, San Francisco, Los Angeles, Denver and others, we had the distinct honor and privilege of welcoming more than two dozen World War II veterans en route to Holland and France, back to the places where many of them fought 75 years ago during the Allied D-Day landings and associated battles.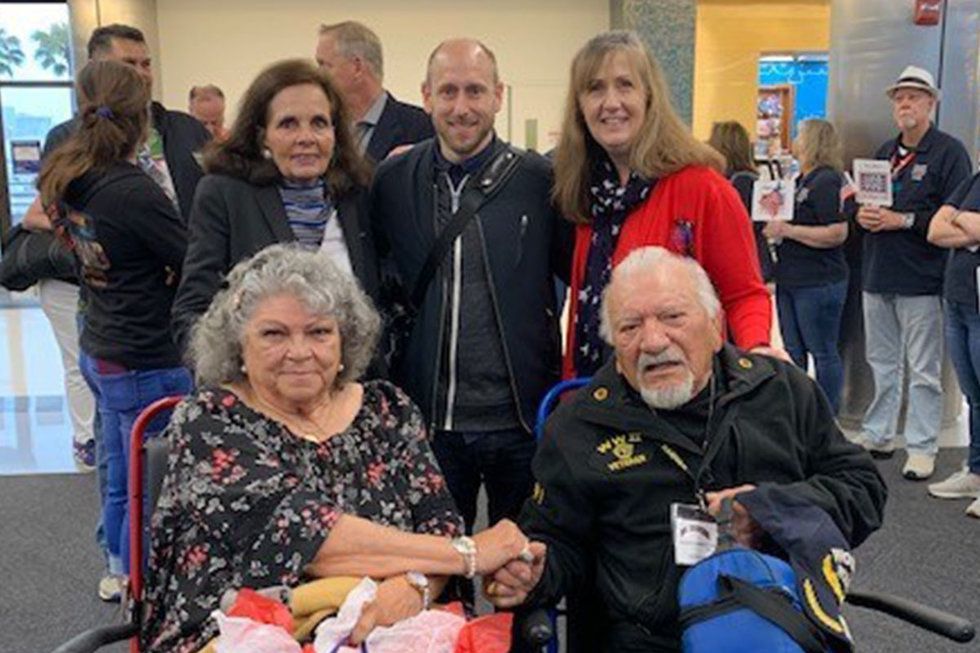 At Los Angeles International Airport, Customer Service Representative Cindy Good, whose uncle, Eric Meissner, took part in the invasion of Normandy, France that began on June 6, 1944 — D-Day — said a few words to the assembled crowd of onlookers who had gathered to see veteran Rudolfo Huereque off before he boarded his flight.

"My mom and family grew up in Austria under Hitler's rule, so if it were not for the Americans and Allied Forces that liberated countries across Europe, I know that I would not be here today," Cindy said. "Many World War II veterans will say 'they didn't do anything,' or 'they were only doing their job.' To those, I will say, 'You did everything… you saved the world.'"
Owing to that debt of gratitude she feels, Cindy works year-round with organizations that arrange for veterans to revisit the former battlefields where they served. Leading up to the 75th anniversary of D-Day, she contacted the airports from which a number of veterans would depart for remembrance trips, working with local employees who ensured the veterans received the hero's welcome they deserve when arriving at the airport.
In a particularly powerful scene at Washington D.C.'s Dulles Airport, a group of the veterans spoke with area high school students before leaving for Europe. As the veterans recounted their experiences, the students listened in intense silence, seeing the war for the first time through the eyes of the men who lived it.
"What was amazing to see is how they expressed no regret, and that they knew it was their duty and honor," said Dulles Airport Managing Director Omar Idris, who led the proceedings alongside members of our United for Veterans business resource group.
Among was 100-year-old Sidney Walton, who served in the China-India-Burma theater of World War II and is one of the oldest surviving veterans of the war. He's been on a mission to visit all 50 states, in addition to battle sites overseas, so that he can tell his story as a living link to a past that is quickly fading as more and more World War II veterans pass away.
At Denver's International Airport, employees and customers paid their respects to Ronald Scharfe, an Iwo Jima veteran, and Leila Morrison, who served on the front lines as a U.S. Army nurse and 2nd lieutenant during the war. We threw them a catered reception at the gate, where they were met with a round of applause, and arranged a water cannon salute as they taxied before takeoff.
"We owe so much to them that this is the least we can do for our 'Greatest Generation' American heroes," said Denver Airport's Customer Service Supervisor Cheryl Searle. "It felt like a Fourth of July parade in small town USA with American flags waving throughout the concourse."
Elsewhere, we had veterans depart from Birmingham, Alabama), San Diego, Las Vegas, Rochester, New York, Little Rock, Arkansas, Chattanooga, Tennessee, Akron/Canton, Ohio, Dallas/Ft. Worth, Minneapolis/St. Paul, San Antonio, Greensboro, North Carolina, Savannah, Georgia, Charlotte, North Carolina and Missoula, Montana.
United captain retraces historic D-Day flight
They came through the clouds from across the English Channel, dozens of Douglas C-47s in tight formation, just as they had 75 years earlier, when the low hum of their propellers signaled the coming liberation of Europe.
As the squadron soared over the beaches of Normandy in France, a swarm of dark specks suddenly appeared beneath them, silhouetted against the bright sky. Hundreds of men and women wearing period-correct parachutes and World War II uniforms drifted down from the planes toward the original drop zones the Allies used on D-Day in 1944.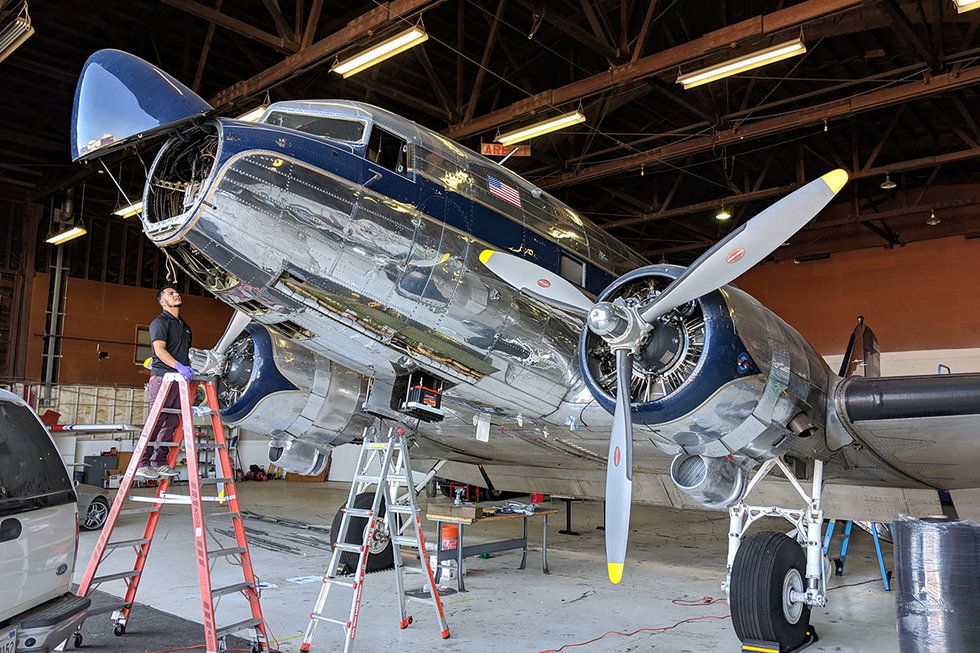 With the last parachutist clear, the aircraft proceeded eastward to Caen, France. San Francisco-based 787 Captain Steve Craig, who piloted one of the C-47s, looked down upon the rolling green meadows below, where the Battle of Normandy had raged following D-Day, and tried to imagine it as it was all those years ago.
This flight was a dream come true for Steve, an aviation history buff with a keen interest in old warbirds. He earned his chops flying Douglas DC-3s, the civilian version of the C-47, back in the 1980s, transporting crates of fish between Seattle and Anchorage, Alaska, and to hear him tell it, that plane was his first love. Even after joining United as a pilot in 1990, he sat for check rides on the DC-3, and today he is one of perhaps 100 pilots in the United States still qualified to fly the aircraft.
That put him in a unique position when, several months ago, private DC-3 and C-47 owners were finalizing plans for a Normandy flyover commemorating the 75th anniversary of D-Day. Hundreds of C-47s had transported thousands of paratroopers from England to Normandy during the invasion, making it the plane most synonymous with D-Day. Now, they needed pilots like Steve so they could fly once more.
The mission was known as Daks Over Normandy, "Dak" being short for "Dakota," which is what the British called the C-47 (in the U.S. it was known as the "Skytrain"). Starting late last month, roughly 30 Daks from around the world converged upon the Duxford Aerodrome, an airfield in Cambridgeshire, England, for a military aircraft show. On the night of June 5, they departed for France, following the same flight path and schedule Allied airmen used on D-Day, arriving over Normandy early on the morning of June 6.
The aircraft Steve flew, tail number N341A, was actually designated as a C-41 during World War II, which was a version of the C-47 modified for VIP travel. It was one of two identical aircraft that U.S. General Henry "Hap" Arnold used as aerial command posts in the theater.
Polished silver aluminum, with a red-and-white tail rudder, it was delivered to U.S. Army Air Command in 1939 and subsequently based at Bolling Army Airfield in Washington, D.C., before serving overseas. Knowing his reputation and experience with this kind of aircraft, the C-41's owner contacted Steve this past February and arranged for him to fly the plane in the Daks Over Normandy event.
Steve's journey started in Oakland, California, where N341A resides, on May 26. It took him seven days, with all the fuel stops, to make the trip to Duxford, where he arrived on June 1. Once there, he had a few days to take care of general maintenance while the aircraft was on display before departing for the historic flight over the channel, the largest single gathering of Dakotas since the war.
ABC News correspondent David Kerley covered the Daks Over Normandy flyover, highlighting the efforts that made it possible. Click here for the video. You can also relive Steve's trip through his blog here.
The ultimate guide to San Francisco's top neighborhoods
Seeing the sights of San Francisco is fun, but once you've been to Fisherman's Wharf, Pier 39, Union Square, the waterfront and the major museums — what's next? Try venturing out to San Francisco's colorful, eclectic neighborhoods for a more authentic experience.
Each major neighborhood is filled with pleasant people-watching, rave-worthy restaurants and a major upcoming festival. And each is within 20 minutes of downtown hotels on foot or by light-rail, streetcar, bus, taxi or ride-share.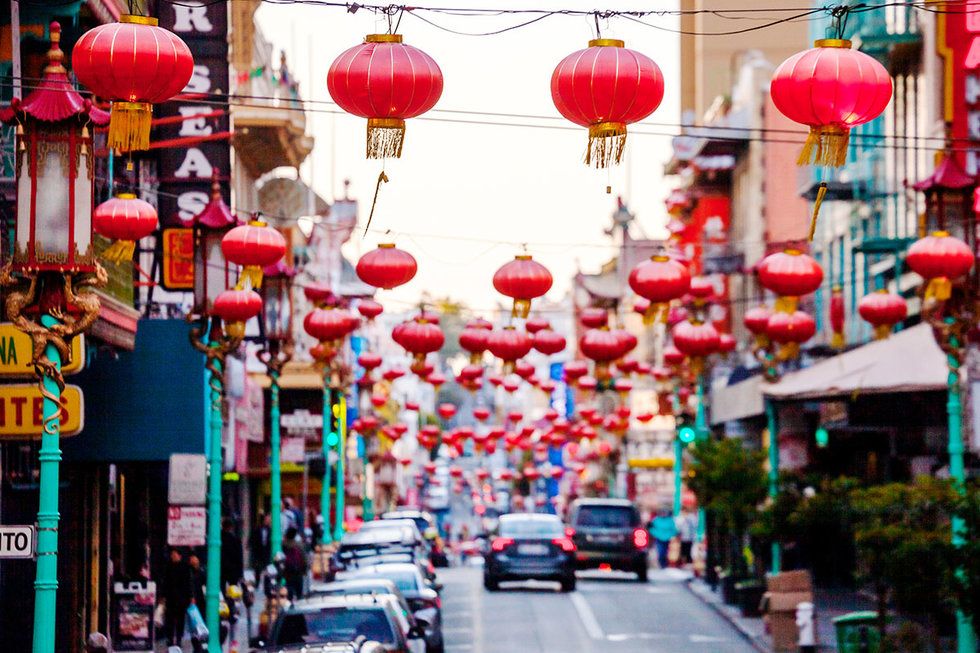 Chinatown
Chinatown
First generation Chinese-Americans have crowded into America's oldest
Chinatown
for more than a century, so it feels like a slice of China with its hundreds of shops, produce markets, teahouses and restaurants (check out
China Live
). Visitors should explore Stockton Street and the alleys where locals shop — not just tourist-oriented Grant Avenue.
North Beach
Italian-Americans rebuilt San Francisco after the 1906 earthquake and fire and settled in North Beach, where you can still enjoy pasta and Italian espresso. (Try crazy-fun Stinking Rose, the iconic Caffe Trieste or America's oldest Italian restaurant, Fior d'Italia.) And if you're in town in June, check out the North Beach Festival (June 15-16) and in October, the 151st Italian Heritage Parade (October 13).

The Marina
Marina residents enjoy the city's best Golden Gate Bridge views, and it's the best place by far to watch the Blue Angels perform over the bay during the San Francisco Fleet Week Air Show, presented by none other than United (October 11-13). It's also a bonanza for the upscale shopping and dining — try Pacific Catch or Kaiyo — on two parallel commercial streets: Union Street attracts a well-heeled older crowd and Chestnut Street attracts a livelier and younger crowd.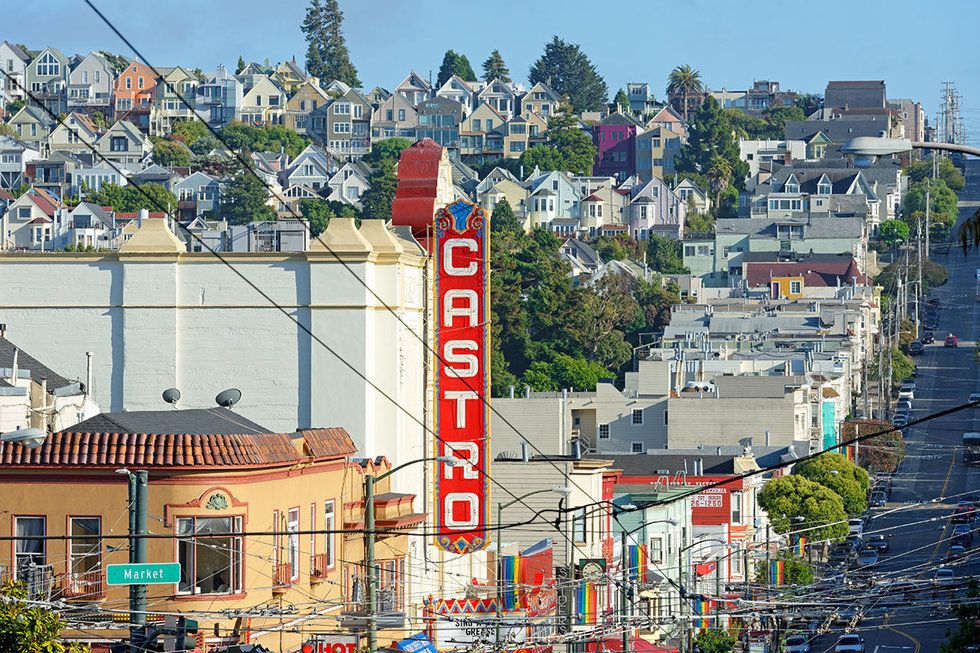 Castro neighborhood
The Castro
The Castro has been at the heart of LGBTQ culture in the U.S. for 50 years, and the neighborhood is as vibrant as ever. Visitors should stop by the GLBT Museum, enjoy lunch and a chamtini (champagne/martini) at Harvey's — named after "Mayor of Castro Street" Harvey Milk, and catch a classic movie at the Castro Theatre, a 1,400-seat art-deco gem. The Castro is at its liveliest during San Francisco's Pride Parade & Celebration (June 29-30).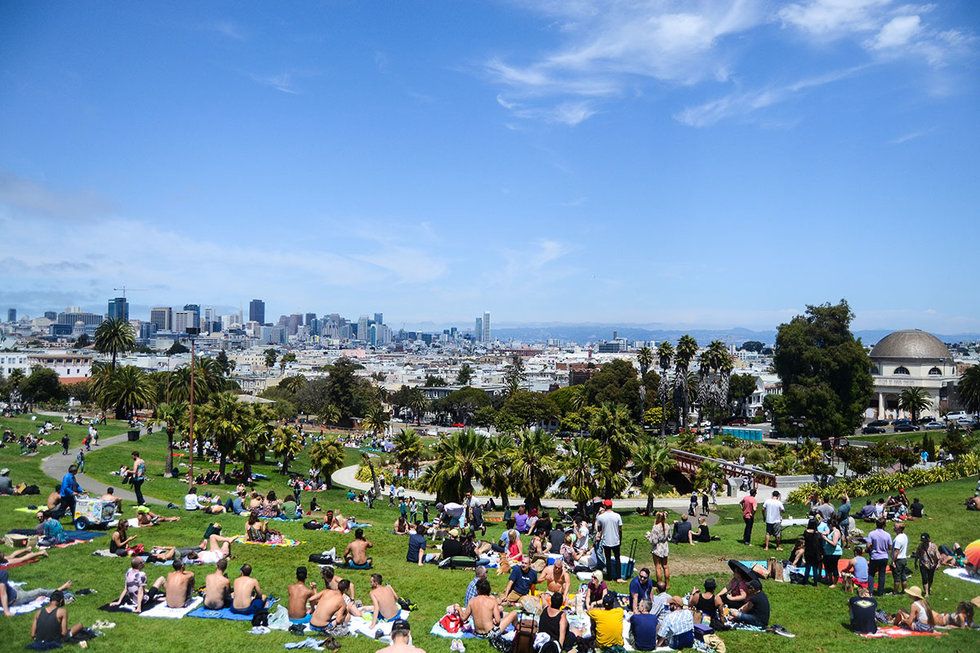 Summer at Dolores Park
The Mission
In the heavily Hispanic Mission District, rapidly gentrifying Valencia Street is just edgy enough to be a favorite of millennials. Taco joints stand alongside fine dining, but affordable, restaurants like Locanda and Al's Place — the least-expensive Michelin-star restaurant in America. Between meals, check out Mission Dolores, the oldest building in the city (1791), and Dolores Park, millennial central on sunny days. Valencia Street teems with 10,000 bookworms during Lit Crawl (October 19), a three-hour circus of 108 readings by authors and poets.
The Haight
Fifty-two years after the Summer of Love, there's still a lot to love about the Haight besides taking a selfie at the famed intersection of Haight and Ashbury. The hippie vibe still lives on even as once-radical concepts like socialism and marijuana use are now more accepted. On the street once prowled by Janis Joplin, Jimi Hendrix and the Grateful Dead are Hippie Thai, the world's largest independent music store, a dazzling Buddhist-merchandise shop and a unique tie-dye shop, Love on Haight.
Fillmore/Japantown
Japantown is the Bay Area's cultural hub for Japanese-Americans and the Fillmore District is a hub of African-American culture. They are side-by-side on Fillmore Street, with the Japan Center Mall the focal point of Japantown and the Fillmore District stretching north along Fillmore. Enjoy Waraku's ramen for lunch or nightly jazz and Italian fare at Zingari. The Fillmore's rich jazz history is celebrated during the Fillmore Jazz Festival (July 6-7) and Japantown's big festival is the Nihonmachi Street Fair (August 4-5).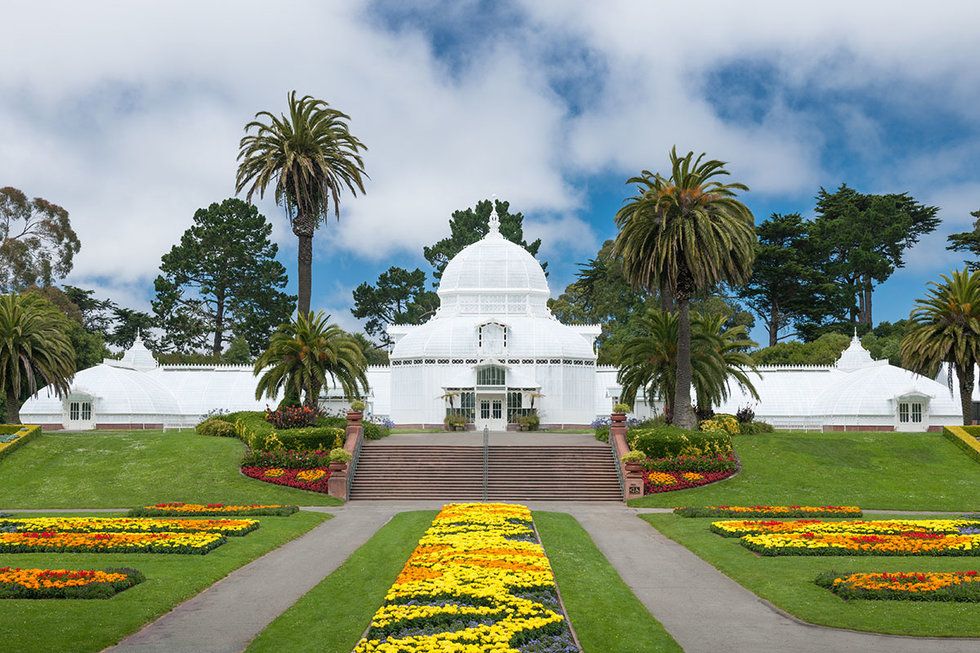 Conservatory of Flowers in Golden Gate Park
Inner Richmond
The predominantly Asian-American Inner Richmond District is the thickest concentration of Asian restaurants in the city outside Chinatown. The 12-block-long buffet line of eateries on Clement Street includes memorable spots like Chili House, where you can enjoy a dim sum lunch between visits to the Conservatory of Flowers and the California Academy of Sciences and De Young museums in nearby Golden Gate Park. Also in the park on October 4-6 is Hardly Strictly Bluegrass, a free, six-stage outdoor concert that draws more than a half-million people.
If you go
A San Francisco visit is a great escape from summer heat or for a fall getaway when the weather is the most pleasant. United offers numerous flights to San Francisco from cities throughout the U.S. and worldwide. MileagePlus® Rewards can help pay for your hotel room. Go to united.com or use the United app to plan your San Francisco vacation.
We're listening
Check out our newest destinations
United Airlines
united
We've issued a travel waiver for Newark due to runway operational disruptions. If you're traveling 6/15 or 6/16, you can change your flight at no cost on our mobile app, by direct messaging us here or calling Reservations at 1-800-864-8331. Waiver:
uafly.co/Z04CmP
United Airlines
united
As many as 150,000 customers make connections on United flights every day. Our new ConnectionSaver tool is making the experience better than ever. Here's how:
uafly.co/A6kQz9
We Are United
weareunited
As part of our longstanding relationship with
@SpecialOlympics
, Team LAX volunteered at this year's
@SOSoCal
Summer Games last weekend at Cal State Long Beach, helping more than 1,100 athletes with intellectual disabilities compete in the sports they love!
We Are United
weareunited
EWR-based FA Alberto G. is making a name for himself around the bases! His newest artwork of a 777 flying over the 7 continents with Willis Tower in the background, was unveiled at ORD this week!
#BeingUnited
We Are United
weareunited
These cards are signed, sealed and on their way to being delivered in time for Father's Day! Thanks to uIMPACT for organizing card-writing opportunities at their chapters around the system. 🙌🙌🙌
#BeingUnited
We Are United
weareunited
All 7 hubs welcomed 188 college students into this year's United Summer Associates program! Be sure to welcome the associates to the
#BeingUnited
family as you see them in our airports assisting customers and learning behind-the-scenes.
We Are United
weareunited
Recently, two of our stations in Mexico have achieved status recognition as a part of our Safety Excellence Program. Congratulations to Team MTY for their Silver status and Team GDL for their Gold status!
We Are United
weareunited
This week, Oscar stopped by each
#BeingUnited
station in Hawaii to talk about our growth and meet with those who run service on the islands day-in and day-out! 🌴✈️
Watch our most popular videos
Watch the new Big Metal Bird: Veterans
Neighbors, coworkers, parents, protectors, heroes. All of these labels and more encompass the men and women whose devotion to our country serves as the truest embodiment of the American spirit. We're talking about Veterans. Join host Phil Torres as he heads to our nation's capital to learn more about these heroes and to explore just how many United employees are veterans on this Big Metal Bird.
Watch the new Big Metal Bird: Charters
From players and personnel to thousands of pounds of equipment, it takes not only a game plan, but a team to get the San Francisco 49ers to their next game and back all within 24 hours. This process is a little thing in the airline business we call chartering. Learn more about how our Charter team gets professional sports teams to their away games and back on the newest episode of Big Metal Bird.
Copyright © 2019 United Airlines, Inc.
All rights reserved.
Indicates an external site that may or may not meet accessibility guidelines.
Scroll to top
Scroll to top