Holiday travel tips for four-legged family members
For many of us, bringing family together is a highlight of the holiday season. This frequently means traveling near or far, and travelers often include four-legged, furry family members. Some families also bring new pets into their homes during the holidays. Since pets are cherished family members, we asked the experts on United's PetSafe Advisory Board for some important tips to make sure pets traveling during the busy winter holiday period enjoy a safe and comfortable journey.
1. Know your pet
While pets are transported in pressurized, ventilated and climate-controlled compartments on our planes, and our staff is trained to handle animals with the utmost care, travel can still be stressful. Your pet will be seeing new people, experiencing different environments and may be confined in a crate for a longer time than ever before. Individual pets react differently to the stress of travel based on their personality, age, breed and behavior patterns. Before you make plans to fly your pet, please evaluate these characteristics and talk with your vet about whether there is any reason your pet may not be fit to fly.
Also, if you are acquiring a new pet that is being sent to you, be sure to ask the breeder or rescue organization about their travel preparations and confirm your new pet is healthy and ready to fly.
2. Plan ahead
Begin to plan your pet's trip at least two to three weeks prior to travel. Planning starts with obtaining the correct type and size of crate approved for airline travel. All crates must comply with IATA and USDA regulations and your pet must be able to freely stand, turn around and lie down without being cramped by the roof or walls. Much more information about selecting the right crate can be found on United.com's Kennel Requirements page.
If your pet isn't used to being in the type of crate needed for airline travel, it is extremely important to get them familiar with their travel environment and accustomed to spending time in it. A pet that feels secure and comfortable in their crate feels much less stress during travel. Ask your vet or trainer for additional tips on how to effectively acclimate your pet.
3. Prepare the paperwork
Now is the time to visit the vet to ensure all your pet's vaccinations are up to date and your pet is in good health for air travel. A health certificate issued by a veterinarian and dated within 10 days of travel is required for both the outbound and return trips. You will need to bring this certificate when you check your pet in for their journey.
Please note that puppies younger than 16 weeks may be more susceptible to illnesses transmitted by pathogens in their environment. These illnesses may not be detected by a brief pre-travel health checkup, so ask your breeder or rescue organization to obtain a more comprehensive veterinary exam to ensure a healthy travel experience.
If your pet is traveling outside the United States, you may need additional paperwork to comply with the requirements of your destination country. The USDA pet travel website provides guidelines for pet travel to and from the U.S. and most countries.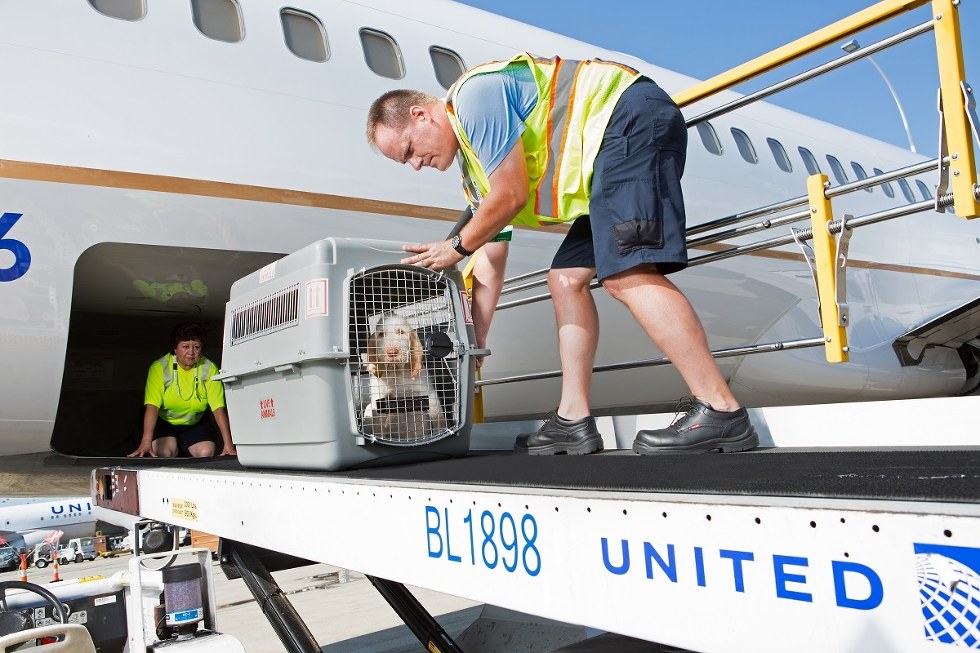 4. Get ready to fly
There are two key things to do before you bring your pet to the airport for their trip: get their crate ready and get your pet ready. Getting the crate ready involves following the rules for what should and shouldn't be included in your pet's crate. To get your pet ready and help them relax on their flight, take them for a long walk before their travel. A "tired" pet does much better on a flight than a "wired" one. To avoid discomfort, do not feed your pet in the two hours prior to its flight – instead give them small amounts of water. Healthy, large breed adult dogs should be fed a smaller meal than usual no later than four hours before their flight. Small breed puppies younger than 16 weeks and less than 10 pounds may be fed a small meal two to three hours before flight.
5. Check in for the journey
Airports are very busy places during the holiday season, so give yourself plenty of time to arrive at the designated airport drop-off area at least two to three hours before the scheduled departure of your pet's flight. The Transportation Security Administration (TSA) requires screening of all pets and crates, so please allow time to complete this process and remember to bring a leash in case you need to remove your pet from the crate during screening.
6. Picking up your pet
When your pet arrives at its destination, you will need to come to the designated airport pick-up area to reunite with your pet. We recommend you bring along some wet wipes to clean the crate, along with your pet's paws and face, at journey's end. Once they are out of their crate, take them for a little walk, treat them to a good meal and enjoy the happy reunion!
7. Learn more about pet travel
Visit United's PetSafe page for more information about flying your pet, including handy checklists to ensure your pet will be ready their trip and details on breeds with country-specific embargoes and requirements. United's PetSafe team of pet travel experts are available 24/7 at 1-800-575-3335 (from the U.S. & Canada), +1-832-235-1541 (from other locations) or by email at petsafe@united.com.