Paco Sulmers joins Bill Norwood in OBAP Hall of Fame
When Captains Bill Norwood and Georges "Paco" Sulmers were starting out as pilots in the 1950s and 60s, they were acutely aware of the fact that doors weren't always open to them as African-Americans. "I was always told 'You have to work twice as hard to get half as far,'" said Bill. Paco echoed that sentiment, describing his search for role models in aviation during that era. "As a youngster, when I watched TV, I would look for pilots with black faces, but there were none."
Bill and Paco hold the designation of being two of the pioneers of the Organization of Black Aerospace Professionals (OBAP), which marks its 40th anniversary this year. To celebrate that milestone, six early contributors to OBAP, including Paco, were inducted into the OBAP hall of fame at this year's annual convention.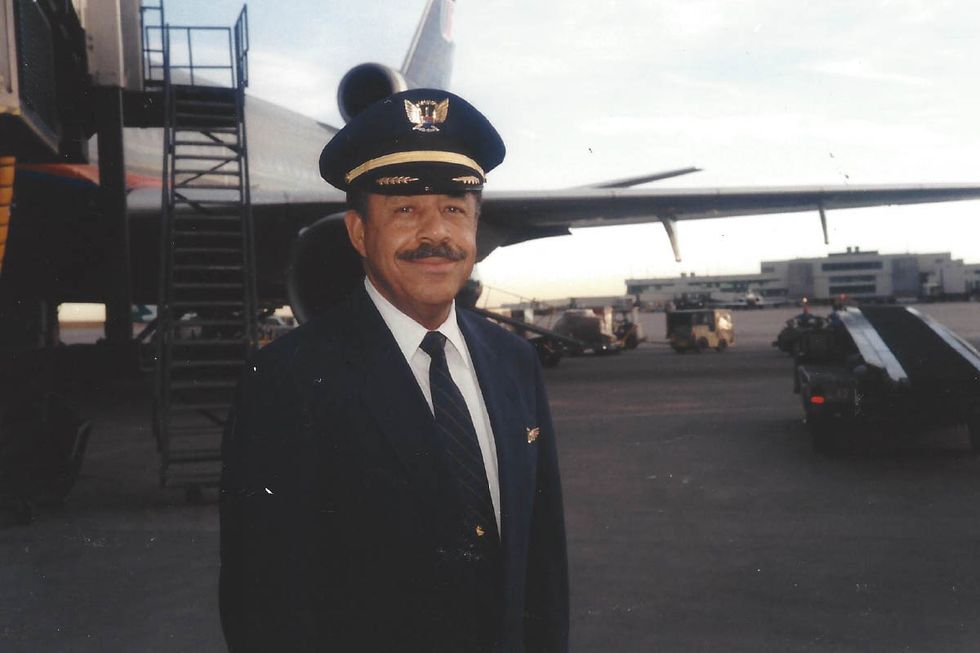 Captain Bill Norwood
Bill said he owes his interest in aviation to his elementary school principal in Centralia, Illinois, William Harold Walker, who had been a member of the Tuskegee Airmen during World War II. Paco, who emigrated with his family from Haiti in 1957, grew up in Brooklyn and Queens, New York, watching planes coming and going in and out of nearby LaGuardia and Kennedy airports, treasuring the 115 model airplanes he kept at home.

After high school, Bill went on to attend Southern Illinois University in Carbondale, where he got his first opportunity to fly as part of an Air Force reserve officer training program. Upon graduating in 1959, he spent six years in the Air Force and flew B-52 bombers. Paco attended Brooklyn's vocational Aviation High School, earning his pilot's license in 1965. When Bill left the service, flying opportunities for African-Americans were limited, but, in May 1965, Bill joined United. By the time Paco earned his commercial license in 1968, he found a job with Northeast Airlines, and that's when he first began thinking about creating a group to help further the cause of black aviators.
"At that time, there were maybe 25 black airline pilots in the country," Paco said. "We knew that we needed to find a way to help our cause." In the early-1970s Paco joined Eastern Airlines and met fellow pilot Benjamin Thomas. He and Ben soon began talking about the idea of what would soon be known as OBAP.
In 1976 Ben Thomas approached Bill and asked for his help. Sitting in Bill and his wife Molly's kitchen in suburban Chicago, the three wrote the constitution and by-laws for what would become the Organization of Black Airline Pilots (the name was changed to include aerospace professionals in the early 2000s). "The original goal of OBAP was to mentor young African-Americans and get them into the cockpits," said Bill. "We wanted to help them get in the door of the big airlines." Bill, Paco, Ben and their colleagues vetted young pilots, making sure that each whom they recommended for hire to a major airline was going to represent what OBAP stood for. Paco said, "We wanted to attract the best and be the best."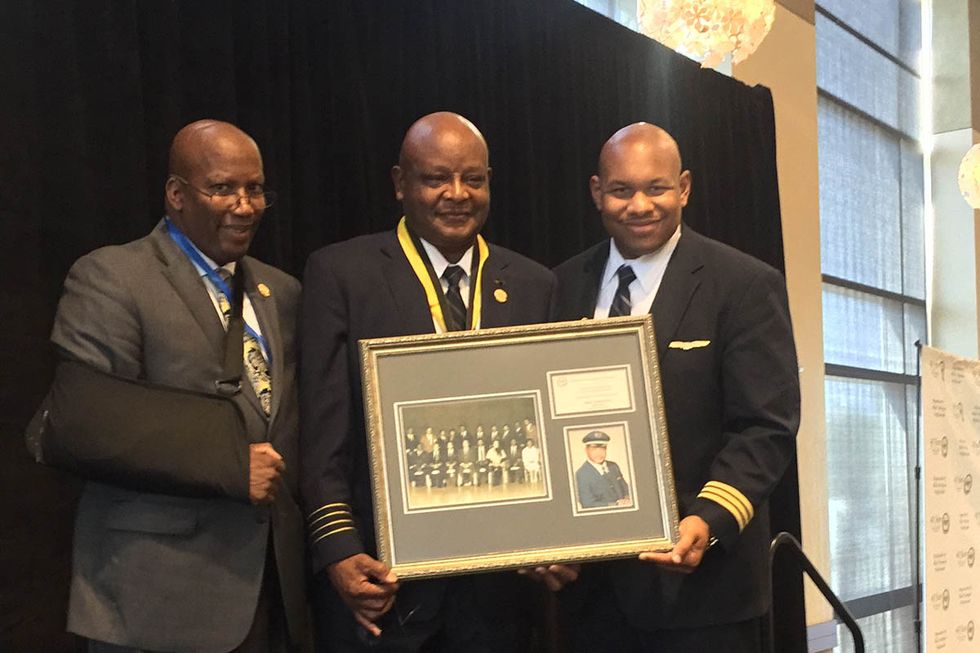 Captain Georges "Paco" Sulmers induction into the OBAP Hall of Fame
The first OBAP convention was held at Chicago's O'Hare Airport in 1976. "In those early years, Tuskegee Airmen veterans wrote letters to all the airlines on our behalf, imploring them to come to the conventions," Paco said. Senior airline management started showing up to recruit talent, and United was one of the first to sponsor an OBAP scholarship for pilots interested in pursuing new type ratings for commercial flying.

After all these years, both Bill and Paco can look back and see progress. Paco said, "We've conquered the cockpit; now we're encouraging people to move on to other horizons, show them that they can become chief pilots, things like that."
Bill is still active when it comes to opening doors for African-American youngsters who are interested in flying, volunteering at ACE Academies around the country, an organization started by OBAP to give teens the opportunity to experience aviation careers. He published his memoir, Cleared for Takeoff: A Story of Challenges and Triumph, to share his story of inspiration. Paco is still involved with OBAP mentorship and attended this year's convention, which had a record number of attendees. "When I go to these conventions, I just think, 'This is great — it used to be just a few of us, the same guys from the beginning. Now, I don't recognize everyone because there are so many new faces.'"
Calling all AvGeeks and travelers! Here's a fun way to take your next video call….from a United Polaris seat, the cockpit or cruising altitude. We're introducing United-themed backgrounds for use on Zoom, a video conferencing tool that many people are using to stay connected.
So for your next meeting or catch up with friends and family, download the app to either your computer or mobile device to get started. If you've already downloaded Zoom you can skip ahead to updating your background image (see instructions below).
Start here by downloading your favorite United image to your computer or mobile device. Just click "download" in the bottom left corner of the image.
Next go to your Zoom app (you'll need to download the app to access backgrounds) and click on the arrow to the right of your video camera icon in the bottom of the screen.
From here select, "choose virtual background" to upload your uniquely United photo.
When and where possible, we are working to repatriate travelers who are stranded abroad in the wake of the COVID-19 crisis. Our teams are working closely with government officials here in the U.S. as well as in other countries where flying has been restricted to gain the necessary approvals to operate service. In regions where government actions have barred international flying, we have coordinated with the the U.S. State Department and local government officials to re-instate some flights. Additionally, we have been operating several extra flights to countries in Central America and South America as we continue to play a role in connecting people and uniting the world.
We have operated more than 56 repatriation flights from Panama City, Guatemala City, Quito, Lima, San Pedro Sula, Tegucigalpa and Roatan, bringing nearly 8,000 people home. We will continue working with government officials to operate extra flights to Houston from Quito, San Pedro Sula, Tegucigalpa and from Lima to Washington Dulles and beginning April 5, we will begin operating multiple charter flights between Delhi and San Francisco. We continue to review more opportunities for flights between the United States and other countries to bring citizens home.
Video provided by the U.S. Embassy Ecuador of Americans returning home on United.

Additionally, our Customer Solutions and Recovery team is working with customers in the following markets to rebook them on flights back to the United States as capacity allows, either on our aircraft or on one of our airline partners' planes:

Quito, Ecuador
Managua, Nicaragua
Roatan, Honduras
San Pedro Sula, Honduras
Amsterdam
Brussels
Munich
Singapore
Tokyo-Haneda
Seoul, South Korea
Melbourne, Australia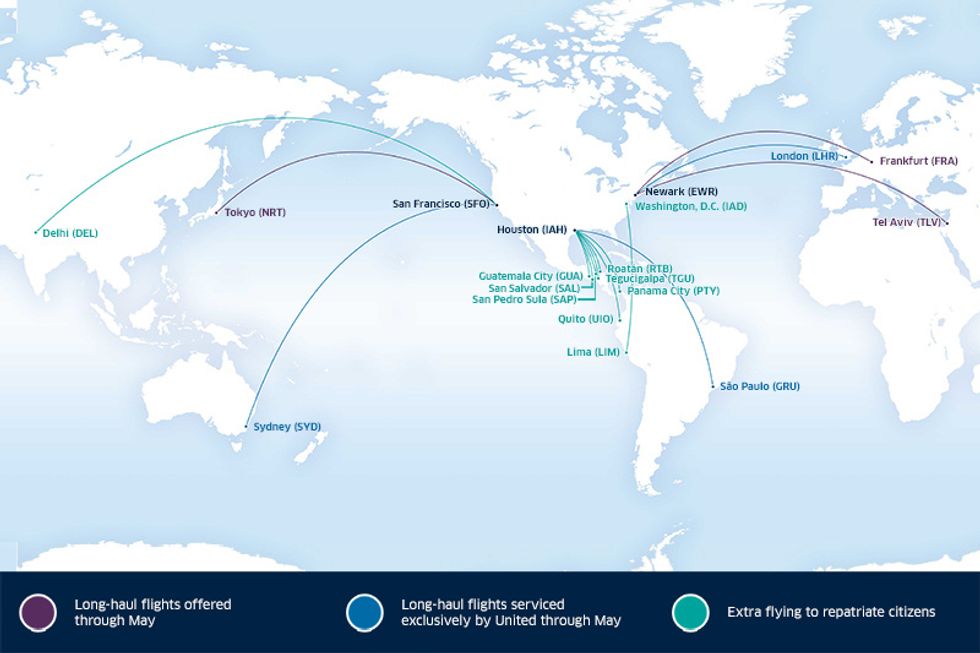 We also recently reinstated several international flights back into our schedule to support customers and essential businesses which depend on these routes. As a result, we will be the only airline to offer service between Newark/New York and London, San Francisco and Sydney, as well as Houston and São Paulo, Brazil.

In the midst of mobilizing our cargo operations, our teams at New York/Newark (EWR) and Jacksonville (JAX) stepped in to assist Roche Diagnostics with transporting a vital component for an instrument being used for COVID-19 testing.
The component was stuck at EWR en route to the Mayo Clinic in Florida after another airline's flights were cancelled. A Roche employee contacted us asking for help and, within a few hours, our teams had the piece loaded onto a Jacksonville-bound aircraft, with arrangements in place to deliver it to the Mayo Clinic.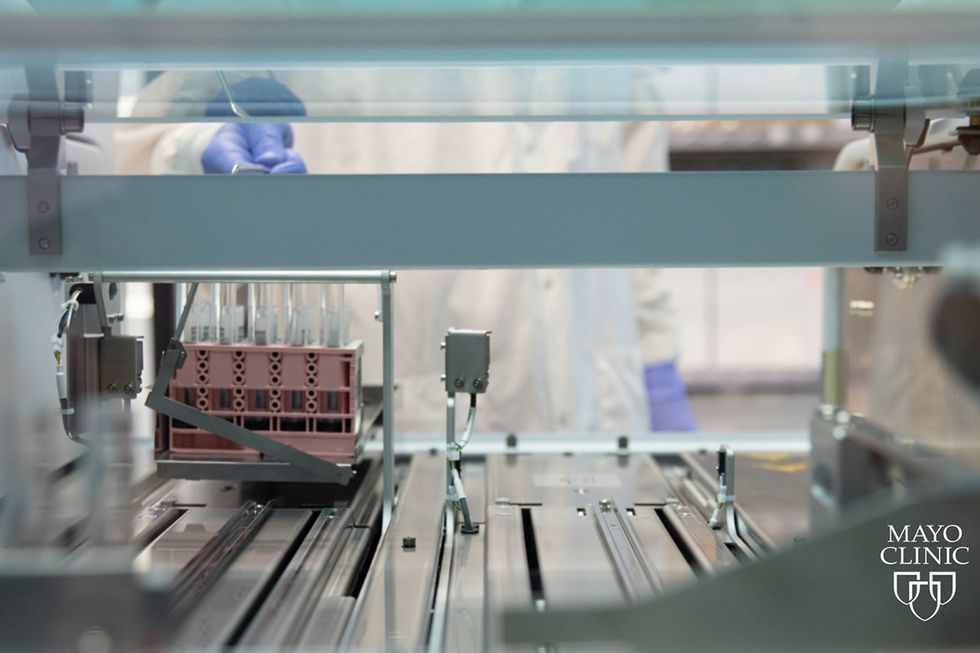 The item we shipped will allow the Mayo Clinic in Florida to process hundreds of COVID-19 tests per day. Mayo Clinic Laboratories has been on the front lines of increasing testing capacity to expedite caring for patients at this critical time and working to ease the burden being felt at test processing laboratories in a growing number of areas.

Together, we are facing an unprecedented challenge. United Together, we rise to meet that challenge.
Check out our newest destinations
United Airlines
united
We continue to work with government officials to bring Americans home. In addition to flights from Central & South America, we have charter flights planned from India. Learn more about our repatriation efforts in the wake of COVID-19 here:
uafly.co/3aExaOL
#UnitedTogether
United Airlines
united
When
@RocheDia
needed to ship a vital component of a COVID-19 testing unit from New Jersey to Florida, United Cargo jumped in to help. Read about how this part will allow
@MayoClinic
to process hundreds of tests per day for cases in the Southeastern U.S.
uafly.co/2UzOAGW
United Airlines
united
International schedule update: We know some people around the globe are displaced and still need to get home. We are reinstating some international flights over the next few days and will continue to fly six daily international flights through May.
uafly.co/3a5Dj6p
United Airlines
united
We have extended our change fee waiver to cover travel through May 31, 2020: - You can change or cancel your flight on
united.com
or through the app – a phone call is not required - For the latest on our commitment to your safety, visit
united.com/coronavirus
We Are United
weareunited
Shoutout to our operations team, who are working to properly park, maintain and store many aircraft in the
#BeingUnited
fleet. These aircraft are being housed across our seven hubs, maintenance facilities in CLE and MCO as well as at offsite facilities in New Mexico and Arizona.
We Are United
weareunited
Tomorrow, Oscar and Scott will host a companywide town hall to discuss the latest developments in managing the effects of the coronavirus (COVID-19). You can join the livestream event at 1:20 p.m. CT here:
uafly.co/39AV25m
We Are United
weareunited
Tomorrow, Oscar and Scott will host a companywide town hall to discuss the latest developments in managing the effects of the coronavirus (COVID-19). You can join the livestream event at 1:20 p.m. CT here:
uafly.co/39AV25m
.
Watch our most popular videos
Copyright © 2020 United Airlines, Inc.
All rights reserved.
Indicates an external site that may or may not meet accessibility guidelines.
Scroll to top
Scroll to top