United Polaris Now Arriving at Saks Fifth Avenue's Iconic New York City Windows
January 11, 2017
NEW YORK, Jan. 11, 2017 /PRNewswire/ -- Today United Airlines and Saks Fifth Avenue unveiled a United Polaris-themed takeover of the windows in the luxury retailer's flagship store on Fifth Avenue in New York City. Entitled "Now Arriving," the 14 storefront windows display a replica of a United Airlines plane. The center six windows feature a re-creation of the United Polaris experience, including actual United Polaris seats, which will debut on flights in February, and the cabin's custom Saks Fifth Avenue bedding suite.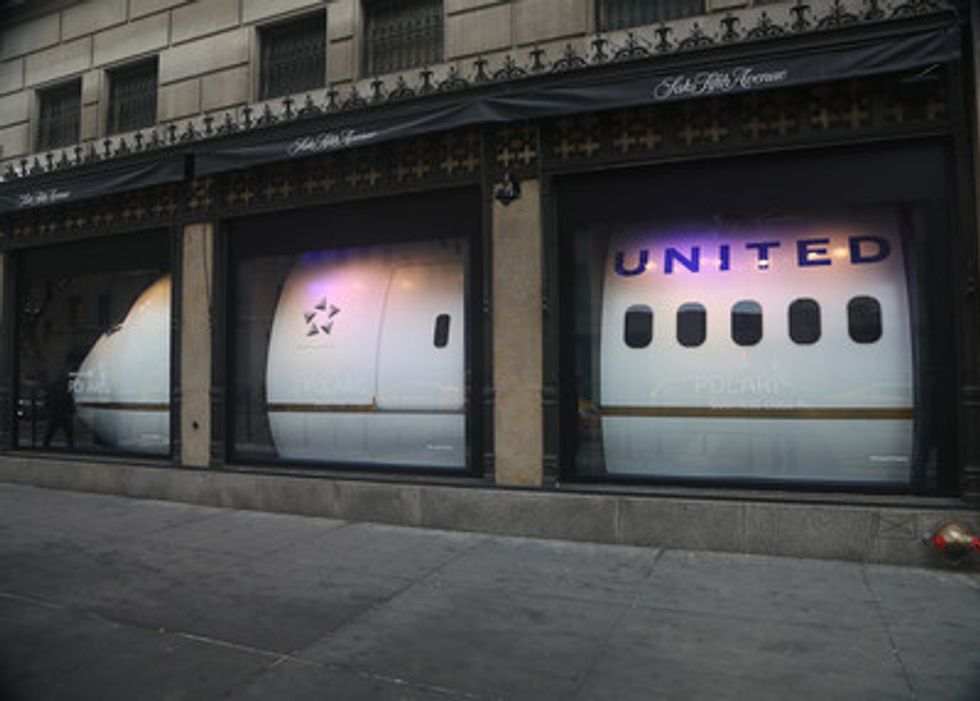 "We designed these windows to give passersby the feeling that they are actually walking through the luxurious United Polaris cabin," said Mark Briggs, executive vice president, creative, Saks Fifth Avenue. "The attention to detail throughout the installation is impressive, from the real United Polaris seats and Saks bedding to the United flight attendant uniforms and Saks' signature fashion represented by the season's top ready-to-wear resort looks."
United Polaris business class, the airline's most significant product transformation in more than a decade, features a reimagined, sleep-enhancing experience for intercontinental travelers. In rethinking the international business class experience, United conducted more than 12,000 hours of research, and sleep emerged as the single most important priority for international business class travelers. United Polaris' path-breaking design and sleep-enhancing focus were inspired and informed by insights from hundreds of customers and employees, inflight product simulations and more than 100 product evaluations.
In a first-of-its-kind relationship, United worked with Saks Fifth Avenue for custom bedding for both United Polaris lounges and on board. Designed to provide the best sleep in the sky, the new bedding collection features plush duvets, lightweight day-blankets and a large and small pillow for each United Polaris customer. In addition, mattress cushions are available upon request.
"High-quality pillows and bedding are crucial to a good night's sleep, which is why we turned to luxury department store Saks Fifth Avenue. Through our relationship with Saks, our passengers now have access to luxury, custom linens, pillows and blankets to help them relax and get the rest they need," said Mark Krolick, vice president, marketing at United.
The United Polaris themed windows will be on display until Jan. 22, 2017.
United will begin rolling out the United Polaris seat on its Boeing 777-300ER fleet this quarter and subsequently on Boeing 787-10 and Airbus A350-1000 aircraft, as well as on Boeing 767-300 and 777-200 retrofits. The first of nine United Polaris lounges is now open at Chicago O'Hare International Airport, with the remaining opening this year and next. More information on United Polaris can be found at united.com/Polaris.
About Saks
Saks Fifth Avenue, one of the world's pre-eminent specialty retailers, is renowned for its superlative American and international designer collections, its expertly edited assortment of handbags, shoes, jewelry, cosmetics and gifts, and the first-rate fashion expertise and exemplary client service of its Associates. As part of the Hudson's Bay Company brand portfolio, Saks operates 41 full-line stores in 22 states and Canada, five international licensed stores and saks.com, the company's online store. For more information, kindly visit saks.com, Instagram.com/saks, Facebook.com/saks, Snapchat.com/saks_official, and Twitter.com/saks.
About United
United Airlines and United Express operate more than 4,500 flights a day to 339 airports across five continents. In 2016, United and United Express operated more than 1.6 million flights carrying more than 143 million customers. United is proud to have the world's most comprehensive route network, including U.S. mainland hubs in Chicago, Denver, Houston, Los Angeles, New York/Newark, San Francisco and Washington, D.C. The airline is a founding member of Star Alliance, which provides service to 192 countries via 28 member airlines. For more information, visit united.com, follow @United on Twitter or connect on Facebook. The common stock of United's parent, United Continental Holdings, Inc., is traded on the NYSE under the symbol UAL.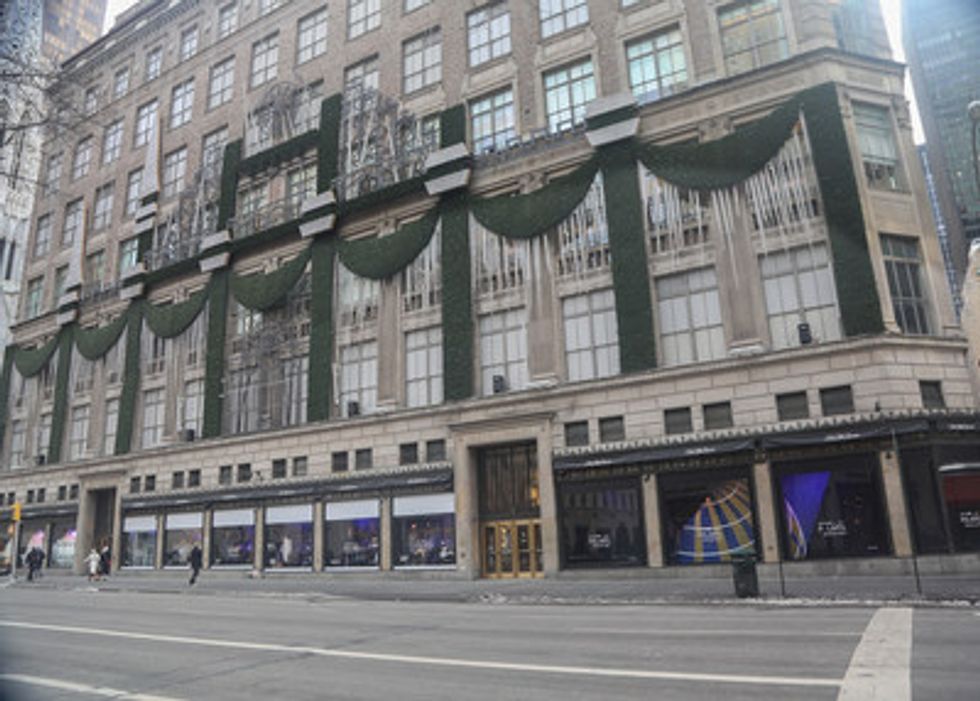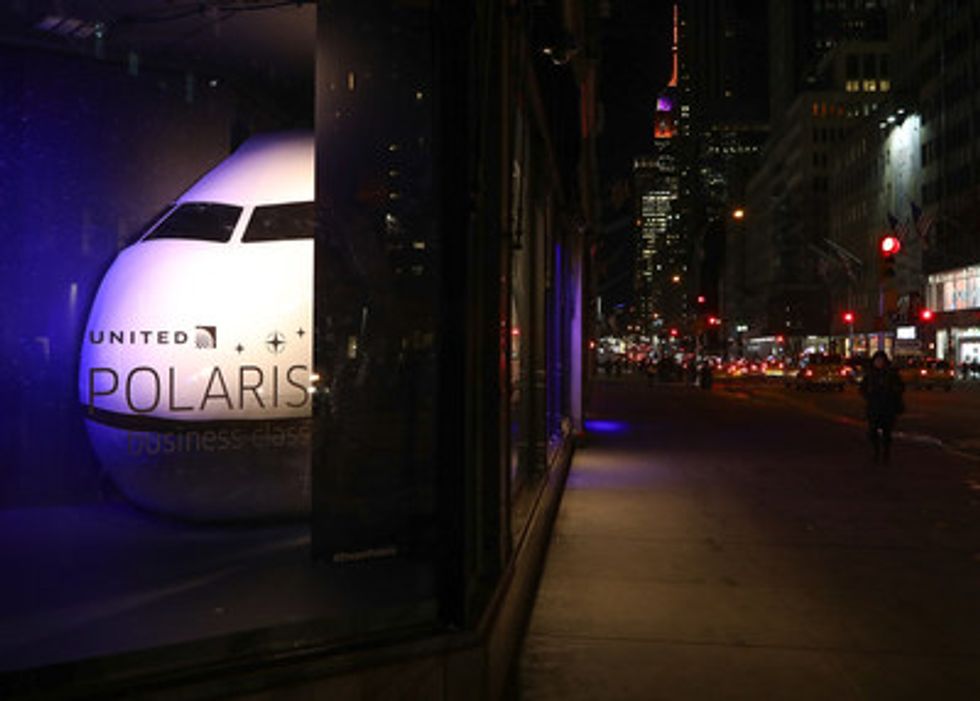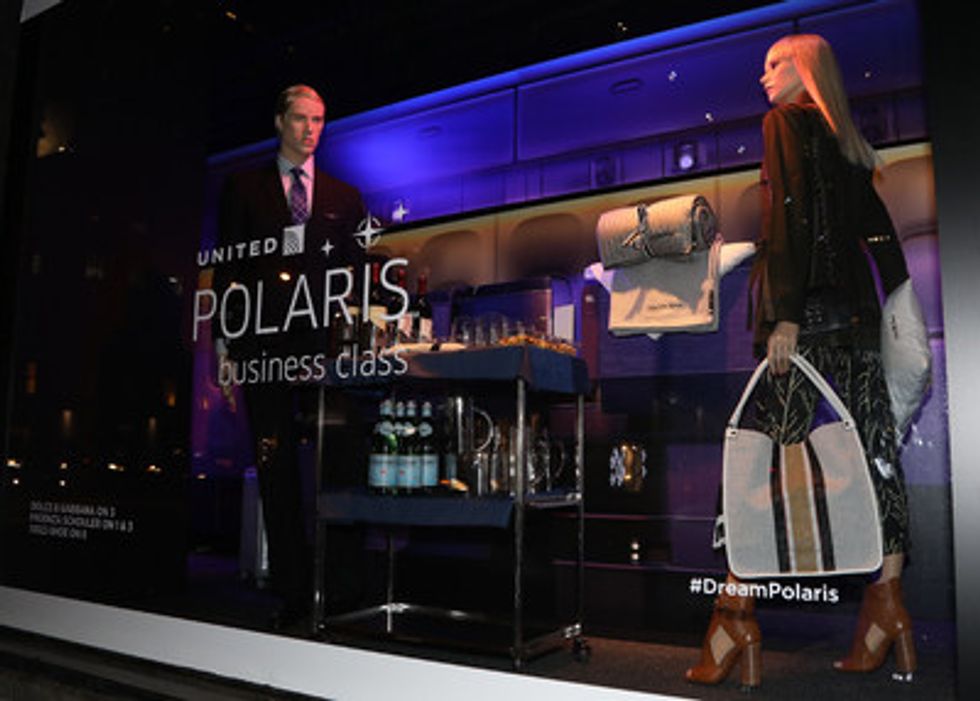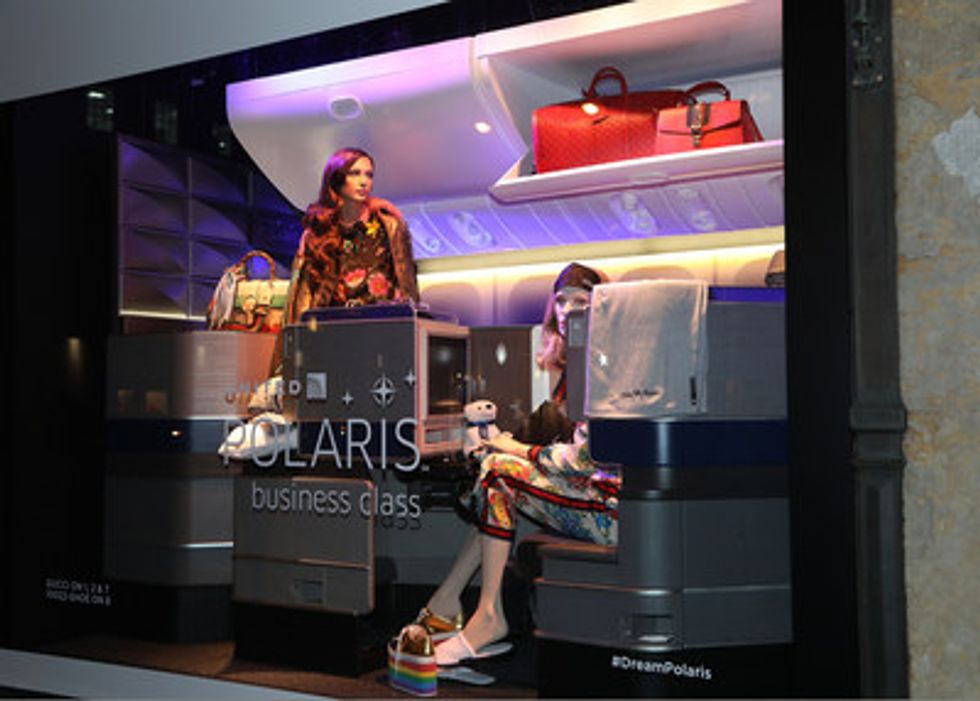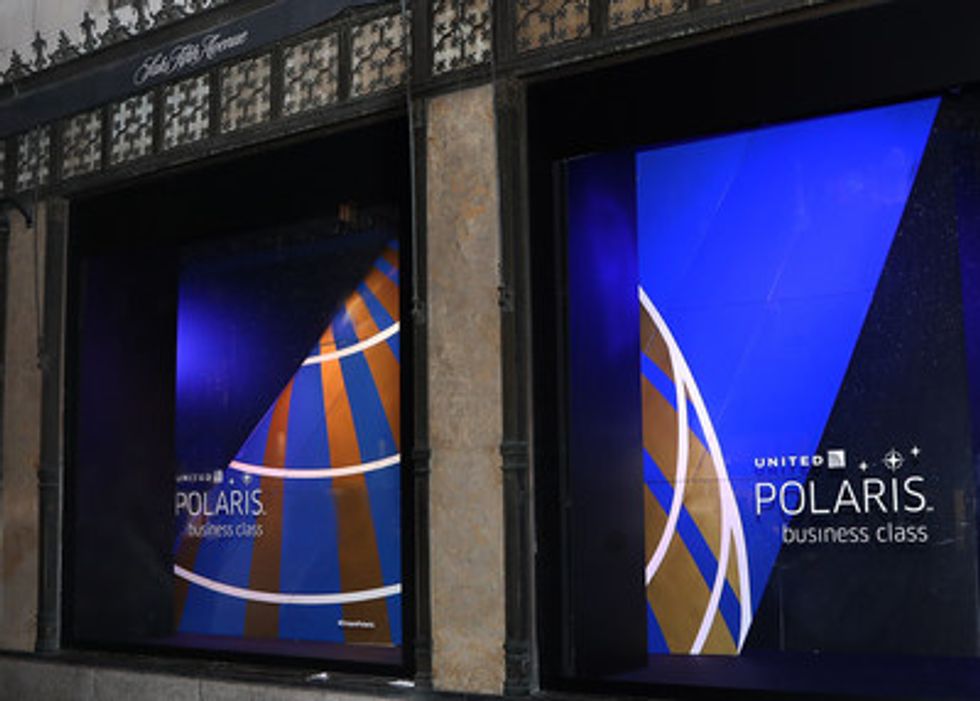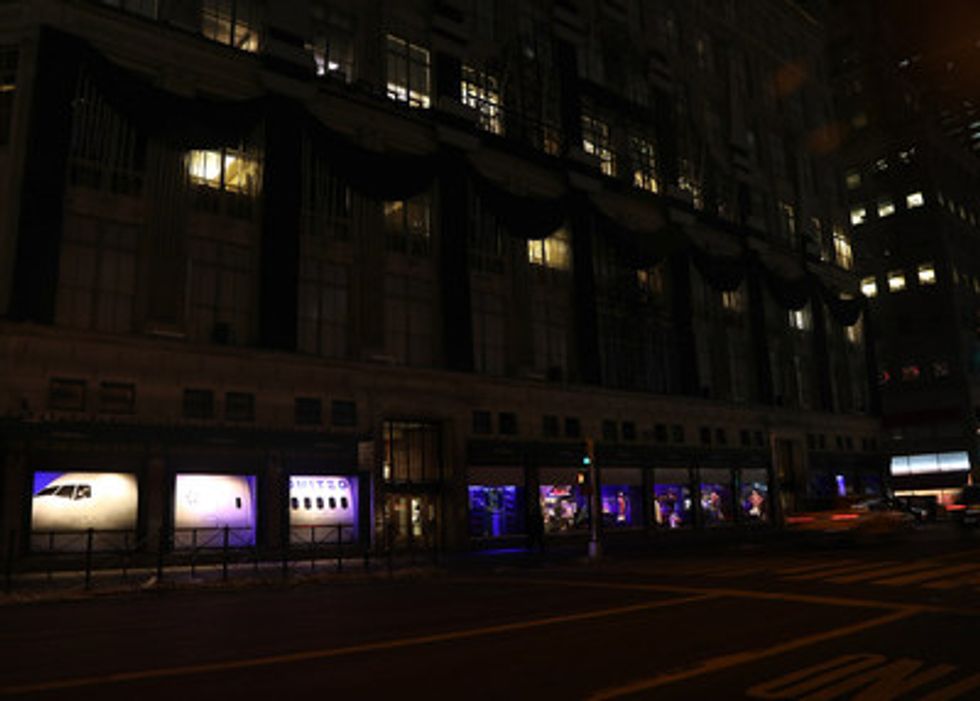 SOURCE United Airlines
For further information: United Airlines Worldwide Media Relations, 872.825.8640, media.relations@united.com
April 07, 2020
CHICAGO, April 7, 2020 /PRNewswire/ -- United announced today that customers can make changes to, or cancel, any travel they have booked through the end of the year without fees if they act between now and April 30.
Many customers' previous plans for travel, including summer vacations, conferences and events have changed or are uncertain due to the COVID-19 outbreak. To help with the uncertainty around their future travel, customers who wish to change their dates of travel can do so without paying a change fee. Customers who wish to cancel their travel can request an Electronic Travel Certificate (ETC) for the full value of their ticket. United recently extended the expiration dates for all ETCs to 24 months from their date of issue.
This new level of flexibility is in addition to United's existing policy allowing anyone booking travel between March 3 – April 30 for future dates to change their tickets at no cost over the next 12 months.
With United's shared purpose of connecting people and uniting the world we will be ready to welcome back travelers when they feel comfortable returning to the friendly skies.
For further information: United Airlines Worldwide Media Relations, +1-872-825-8640, media.relations@united.com
April 06, 2020
CHICAGO, April 6, 2020 /PRNewswire/ -- United Airlines is announcing a series of key changes to assist customers and MileagePlus members, including extending members' current MileagePlus Premier status through January 2022. At a minimum, all MileagePlus Premier members will retain the status they earned for 2020, through January 2022*. In addition, for the 2021 status year, United is reducing thresholds for Premier qualification by 50 percent for each status level, to make reaching an even higher status tier easier.
"From the onset of this crisis, we committed to doing what is right and fair for all of our members," said Luc Bondar, vice president of loyalty at United. "Over the years, our members have placed their trust and loyalty in United, and through the various initiatives we're laying out today, we are reiterating our mutual commitment and loyalty to them. When they are ready to travel with us again, we will be there for them. And in these unprecedented times where it seems like every day brings new challenges, it's an honor to share positive news that will – I hope – put a smile on the faces of our loyal customers."
In addition to extending premier status for members into 2022 and lowering thresholds for each Premier tier, for the first time ever, United is increasing the maximum number of premier qualifying points (PQPs) United Explorer and United Club credit card holders can earn through card spend toward status in 2021. From May 1 through December 31, 2020, United will be offering a promotion that doubles the maximum PQPs for United Explorer credit cardmembers and quadruples the maximum PQPs for United Club cardmembers to help customers achieve a higher level of status. More details on this promotion will be available in the future.
Additionally, United is increasing the ability for Premier members to use their upgrade benefits. First, the airline is offering a six-month extension for all PlusPoints, the currency used for systemwide upgrades, that are set to expire on or before January 31, 2021. United is also expanding the availability of Skip Waitlist– an upgrade option that allows Premier 1K members to confirm upgrades at the time of booking – to significantly more international long-haul flights.
For customers who purchased annual membership and subscription benefits directly from United, the expiration will be extended by six months, ensuring that they receive the full value of their benefits when they are ready to start flying again. This includes United Club℠ memberships purchased directly from United and purchased subscriptions for Economy Plus®, United Wi-Fi℠ and checked bags.
To provide customers with more flexibility, United is extending electronic travel certificates (ETCs) and waiving redeposit fees for members who booked travel using award miles. ETCs will now be valid for two years from the time of booking. The airline is also waiving all redeposit fees for members who have flights booked through May 31, 2020 and will be waiving fees for all members who cancel their flights at least 30 days before departure for the remainder of 2020.
All of the changes mentioned above will be updated automatically and reflected in customers' accounts in the coming weeks. In recognition that the long-term impacts from COVID-19 remain uncertain, United has committed to making earning status in 2022 easier during 2021 and will be sharing additional details on this commitment later this year. For more information on these changes, visit https://hub.united.com/united-mileageplus-premier-status-extension-2645643749.html.
* Status extension to January 31, 2022, applies to all members that met the published criteria of the MileagePlus program in 2019, status associated with the United/Marriott RewardsPlus program and status offered as part of a Sales nomination. Status granted from other programs and policies may not apply.
For further information: United Airlines Worldwide Media Relations, +1-872-825-8640, media.relations@united.com
April 03, 2020
NEW YORK, April 3, 2020 /PRNewswire/ -- United Airlines is partnering with New York City to provide free round-trip flights for medical volunteers who want to help in the frontline fight against the COVID-19 crisis. The airline is working closely with the Mayor's Fund to Advance New York City and a network of medical volunteer organizations, including The Society of Critical Care Medicine, to coordinate travel for doctors, nurses and other medical professionals from across the country to help treat patients, in this time of unprecedented need.
"Our healthcare workers are heroes, and they need reinforcements," said New York City Mayor Bill de Blasio. "This generous partnership with United Airlines will ensure medical professionals from across the country can come to New York City to help us in our hour of need."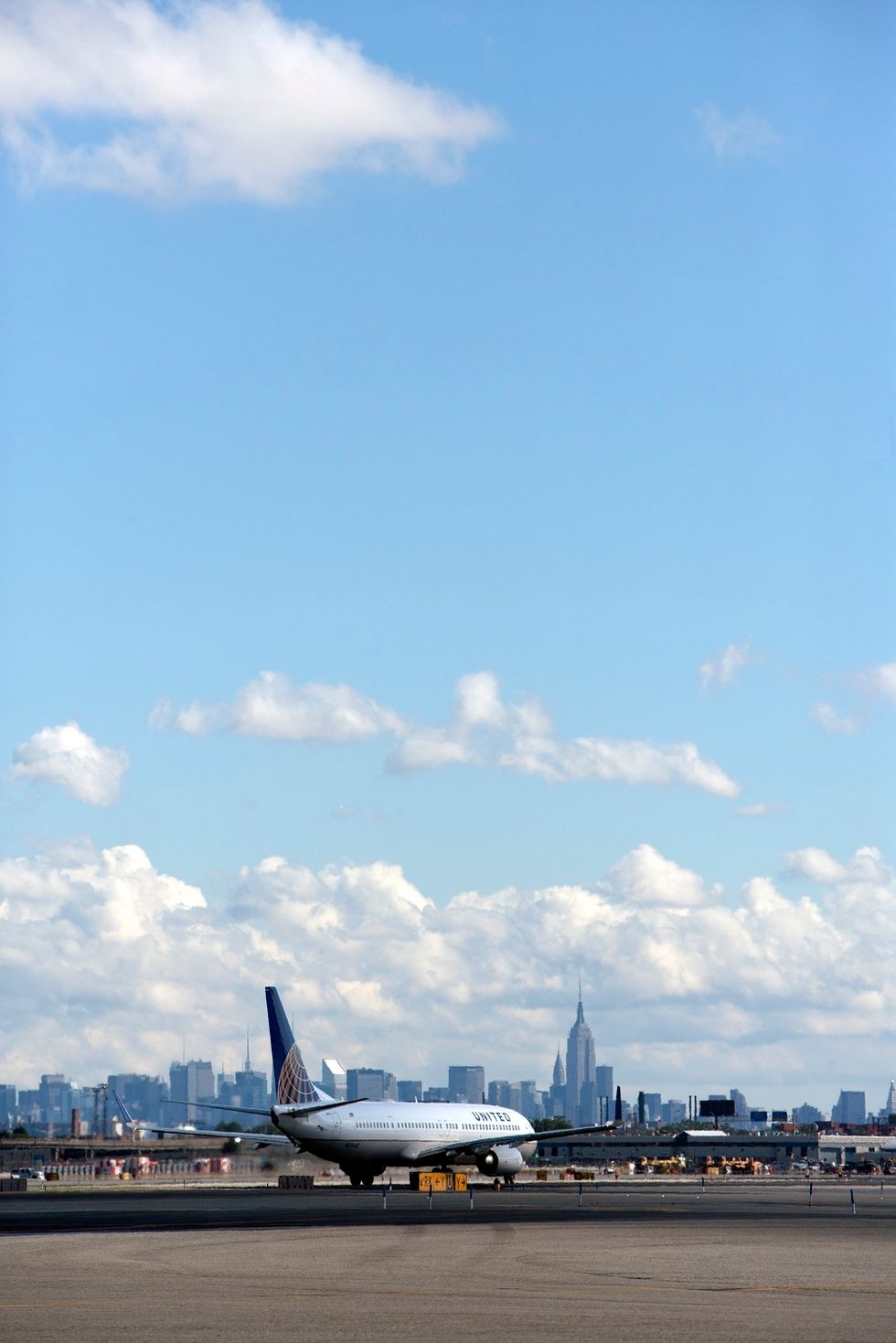 "The New Yorkers working on the frontlines of COVID-19 have been and continue to be incredibly brave and tireless in their efforts," said Toya Williford, Executive Director of the Mayor's Fund to Advance New York City. "To know there are health care heroes across the country who are willing to step in and lend their support, and that United stands ready to fly them here, is wonderfully heartening. The Mayor's Fund is deeply grateful for our trusted partners in the business community during these trying times."
The need for medical volunteers has never been more important in New York City, which as of today has more than 50,000 confirmed cases of COVID-19, the most of any U.S. city.
"We are profoundly grateful for the extraordinarily talented and selfless individuals who are working around the clock and have an unwavering commitment to support our communities and medical providers at this time of exceptional need," said Jill Kaplan, President, New York / New Jersey for United Airlines. "It is our hope that providing air travel at no cost will allow additional dedicated volunteers and first responders the ability to reach the Tri-State area, that has been hit hardest by COVID-19."
United is working with local government agencies and their non-profit partners to ensure qualified medical professionals are staffed in hospitals best suited to their areas of expertise and have the proper housing and transportation to enable them to effectively offer their services. The airline is also closely collaborating with a network of professional medical volunteer organizations to help further enlist volunteers who have offered their support in this time of great need.
"The COVID-19 pandemic is one of those extraordinary times that demonstrates how we come together as a profession to provide desperately needed assistance and care," said Society of Critical Care Medicine President, Lewis J Kaplan, M.D., FCCM. "We are so proud that, despite the risk, critical care professionals are among those who have volunteered to drop everything and help their New York colleagues during this crisis. We are especially thankful that United Airlines is providing complimentary airfare so that volunteers can get to New York quickly and hit the ground running."
United plans to expand this program to additional areas in the Tri-State region and beyond to allow more volunteers to offer their vitally important services in the places that need them most.
For more information on the Mayor's Fund to Advance New York City, please visit the organization's website here. Those interested in volunteering or learning more about the program can visit the New York City Health's website here.
For further information: United Airlines Worldwide Media Relations, +1-872-825-8640, media.relations@united.com
March 27, 2020
CHICAGO, March 27, 2020 /PRNewswire/ -- Oscar Munoz, Chief Executive Officer, and J. Scott Kirby, President, today issued the following message to nearly 100,000 United Airlines (NASDAQ: UAL) employees:
To our United Family:
Today, Congress passed an emergency COVID-19 response bill that includes significant financial backing for the airline industry. This decisive, bipartisan action by our elected leaders in Washington, D.C. is good news for our country, our economy, our health care system, our industry, and importantly our family here at United Airlines.
The impact of COVID-19 on demand for air travel has been dramatic and unprecedented – far worse than even the aftermath of 9/11. This federal assistance buys us time to adapt to this new environment and assess how long it will take for our economy to begin to recover. But, what this means for you right now is that *United will not conduct involuntary furloughs or pay cuts in the U.S. before September 30th*.
Everyone had a role in this effort and, as you always do, you came through for us. While Oscar, Scott, our union leaders and our government affairs and regulatory teams worked around-the-clock, on behalf of all of you, to educate leaders in the federal government about the unique and dramatic impact the COVID-19 outbreak has had on United Airlines, our United Airlines family sprang into action.
Your participation in the last few days was critical. More than 30,000 of you sent more than 100,000 messages to your representatives in Congress and another 5,000 signed a petition for international employees and retirees. Our union leaders also activated their organizations to amplify the message for the good of our company. The speed at which everyone stepped up and acted was remarkable and shows that when we come together, we can accomplish incredible things for our company. Thank you for what you did to help in getting this legislation passed.
We also wanted to pause and thank you for performing at your best to take care of our customers and each other through all of this uncertainty. Our operations teams have literally been on the front lines of this crisis, working directly with our customers and helping them navigate the ever-changing series of schedule adjustments, government mandates and restrictions on places prohibiting travel.
Specifically, our pilots, flight attendants, airport agents, ramp service, technicians and catering teams are showing up at airports all across the country, every day, helping customers and one another, and looking for opportunities to do the right thing. But they're not the only ones who continue to go the extra mile in these trying times – it should be no surprise that our contact center employees have been particularly tested, handling nearly one million calls in the last two weeks alone. Through it all, they are doing what they do best: being there for our customers and remaining upbeat and positive.
Across the board, we've never been prouder of this team and what we stand for but unfortunately our work is just beginning. As we look forward, the lessons of past disruptions like 9/11 tell us that we can't pretend that we are out of the woods. Things are very different today than they were just four weeks ago.
The global economy has taken a big hit, and we don't expect travel demand to snap back for some time. Our April schedule is already cut by more than 60% and we expect our load factors to fall into the teens or single digits even with 60% less capacity. We are currently planning to make even deeper cuts in May and June.
And, based on how doctors expect the virus to spread and how economists expect the global economy to react, we expect demand to remain suppressed for months after that, possibly into next year. We will continue to plan for the worst and hope for a faster recovery but no matter what happens, taking care of each of our people will remain our number one priority. That means being honest, fair and upfront with you: if the recovery is as slow as we fear, it means our airline and our workforce will have to be smaller than it is today.
Amid these questions about United's future and this disruption to our daily routines, we feel it's more important than ever to connect with you. Social distancing makes that challenging, of course, but our team has found a way for us to use technology to host a "virtual town hall" next Thursday, April 2nd, where we can talk more about these challenges and answer your questions. We'll soon have more details on timing and how you can participate. We hope you will.
We remain in the business of serving people even when there are fewer people traveling. And even in this time of uncertainty, some things are constant: we still have the best airline professionals in the world; we still put our customers at the center of everything we do; we still operate in the best hubs; and we still have a deep-seated culture of caring for one another.
So when travel demand returns - and it will return - we will bounce back and be ready to accelerate towards our goal of becoming the best airline in the history of aviation.
Thank you for all you do.
Oscar and Scott
About United
United's shared purpose is "Connecting People. Uniting the World." We are more focused than ever on our commitment to customers through a series of innovations and improvements designed to help build a great experience: Every customer. Every flight. Every day. Together, United and United Express operate approximately 4,900 flights a day to 362 airports across six continents. In 2019, United and United Express operated more than 1.7 million flights carrying more than 162 million customers. United is proud to have the world's most comprehensive route network, including U.S. mainland hubs in Chicago, Denver, Houston, Los Angeles, New York/Newark, San Francisco and Washington, D.C. United operates 791 mainline aircraft and the airline's United Express partners operate 581 regional aircraft. United is a founding member of Star Alliance, which provides service to 195 countries via 26 member airlines. For more information, visit united.com, follow @United on Twitter and Instagram or connect on Facebook. The common stock of United's parent, United Airlines Holdings, Inc., is traded on the Nasdaq under the symbol "UAL".
Safe Harbor Statement under the Private Securities Litigation Reform Act of 1995: Certain statements in this release are forward-looking and thus reflect the Company's current expectations and beliefs with respect to certain current and future events and anticipated financial and operating performance. Such forward-looking statements are and will be subject to many risks and uncertainties relating to the Company's operations and business environment that may cause actual results to differ materially from any future results expressed or implied in such forward-looking statements. Words such as "expects," "will," "plans," "anticipates," "indicates," "remains," "believes," "estimates," "forecast," "guidance," "outlook," "goals," "targets" and similar expressions are intended to identify forward-looking statements. Additionally, forward-looking statements include statements that do not relate solely to historical facts, such as statements which identify uncertainties or trends, discuss the possible future effects of current known trends or uncertainties, or which indicate that the future effects of known trends or uncertainties cannot be predicted, guaranteed or assured. All forward-looking statements in this release are based upon information available to the Company on the date of this release. The Company undertakes no obligation to publicly update or revise any forward-looking statement, whether as a result of new information, future events, changed circumstances or otherwise, except as required by applicable law.
The Company's actual results could differ materially from these forward-looking statements due to numerous factors including, without limitation, the following: the Company's ability to execute its strategic operating plan, including its growth, revenue-generating and cost-control initiatives; general economic conditions (including interest rates, foreign currency exchange rates, investment or credit market conditions, crude oil prices, costs of aircraft fuel and energy refining capacity in relevant markets); risks of doing business globally, including instability and political developments that may impact its operations in certain countries; demand for travel and the impact that global economic and political conditions have on customer travel patterns; the Company's capacity decisions and the capacity decisions of its competitors; competitive pressures on pricing and on demand; changes in aircraft fuel prices; disruptions in the Company's supply of aircraft fuel; the Company's ability to cost-effectively hedge against increases in the price of aircraft fuel, if it decides to do so; the effects of any technology failures, cybersecurity or significant data breaches; disruptions to services provided by third-party service providers; potential reputational or other impact from adverse events involving the Company's aircraft or operations, the aircraft or operations of its regional carriers or its code share partners or the aircraft or operations of another airline; the Company's ability to attract and retain customers; the effects of any terrorist attacks, international hostilities or other security events, or the fear of such events; the mandatory grounding of aircraft in the Company's fleet; disruptions to the Company's regional network; the impact of regulatory, investigative and legal proceedings and legal compliance risks; the success of the Company's investments in other airlines, including in other parts of the world; industry consolidation or changes in airline alliances; the ability of other air carriers with whom the Company has alliances or partnerships to provide the services contemplated by the respective arrangements with such carriers; costs associated with any modification or termination of the Company's aircraft orders; disruptions in the availability of aircraft, parts or support from its suppliers; the Company's ability to maintain satisfactory labor relations and the results of any collective bargaining agreement process with its union groups; any disruptions to operations due to any potential actions by the Company's labor groups; labor costs; the existing outbreak of coronavirus and the outbreak of any other disease or similar public health threat that affects travel demand or travel behavior; the impact of any management changes; extended interruptions or disruptions in service at major airports where the Company operates; U.S. or foreign governmental legislation, regulation and other actions (including Open Skies agreements, environmental regulations and the United Kingdom's withdrawal from the European Union); the seasonality of the airline industry; weather conditions; the costs and availability of aviation and other insurance; the costs and availability of financing; the Company's ability to maintain adequate liquidity; the Company's ability to comply with the terms of its various financing arrangements; the Company's ability to realize the full value of its intangible assets and long-lived assets; any impact to the Company's reputation or brand image and other risks and uncertainties set forth under Part I, Item 1A., "Risk Factors," of the Company's Annual Report on Form 10-K for the fiscal year ended December 31, 2019 as well as other risks and uncertainties set forth from time to time in the reports it files with the SEC.

SOURCE United Airlines
For further information: United Airlines Worldwide Media Relations, 872-825-8640, media.relations@united.com
March 21, 2020
CHICAGO, March 21, 2020 /PRNewswire/ -- While travel demand continues to drop and United continues to adjust its schedules accordingly, the airline knows some people around the globe are displaced and still need to get home. While United's international schedule will still be reduced by about 90% in April, the airline will continue flying six daily operations to and from the following destinations – covering Asia, Australia, Latin America, the Middle East and Europe – in an effort to get customers where they need to be. This remains a fluid situation, but United continues to play a role in connecting people and uniting the world, especially in these challenging times.
Flights continuing from now through May schedule
Newark/New York – Frankfurt (Flights 960/961)
Newark/New York – London (Flights 16/17)
Newark/New York – Tel Aviv (Flights 90/91)
Houston – Sao Paulo (Flights 62/63)
San Francisco – Tokyo-Narita (Flights 837/838)
San Francisco – Sydney (Flights 863/870)
In addition to the above, United has reinstated the following flights to help displaced customers who still need to get home.
Flights through 3/27 outbound
Newark/New York – Amsterdam (Flights 70/71)
Newark/New York – Munich (Flights 30/31)
Newark/New York – Brussels (Flights 999/998)
Washington-Dulles – London (Flights 918/919)
San Francisco – Frankfurt (Flights 58/59)
Newark/New York – Sao Paulo (Flights 149/148)
Flights through 3/29 outbound
San Francisco – Seoul (Flights 893/892)
In destinations where government actions have barred us from flying, we are actively looking for ways to bring customers who have been impacted by travel restrictions back to the United States. This includes working with the U.S. State Department and the local governments to gain permission to operate service.

SOURCE United Airlines
For further information: United Airlines Worldwide Media Relations, +1-872-825-8640, media.relations@united.com