Recipe for success
Story by Ellen Carpenter | Photography by Kyle RM Johnson | Rhapsody, December 2016
Los Cabos has long reigned as Mexico's top luxury beach destination, pampering guests with over-the-top spa treatments, butler service, and infinity pools galore. But over the past year, it has started to earn a new reputation as the country's fine dining capital.
When Hurricane Odile swept across Cabo San Lucas and San Jose del Cabo two years ago, it destroyed resorts, littered pristine beaches with debris, and ripped the roof right off the airport. Within a year, most of the resorts and restaurants had reopened, more glorious than ever, but they didn't just rebuild; they reimagined. And food took center stage in this process. "There's Cabo before the hurricane," says Alex Branch, the chef de cuisine at Manta, which opened at The Cape in June 2015, "and Cabo after the hurricane." He couldn't be more right. Gone is the Cabo Wabo reputation of tequila shots and enchiladas. Gone is the interest in celebrity chefs without any ties to the country. Gone is the trend toward all-inclusives. Suddenly, contemporary and creative Mexican restaurants are popping up everywhere, with Mexican chefs at the helm. Here are five eateries that are helping to define post-Odile Cabo.
Manta
When asked what kind of food they make at Manta, chef de cuisine Alex Branch instead says what they don't make: "We don't do Mexican food for Americans," he says as he presents me a plate of two chocolate clam shells served atop a bed of ice and filled with a mix of clams, cucumber, habanero, and onion in a yuzu sauce, crowned with a sliver of avocado and a perfectly sized sprig of cilantro. No, this is not stereotypical Mexican fare, but it is the kind of creative, fresh food you'd expect from chef-owner Enrique Olvera, who also runs Mexico City's Pujol, No. 5 on the Latin America's 50 Best Restaurants list, and Cosme, one of the hardest reservations to get in New York City. He opened Manta in 2015, after a decade of vacationing in Los Cabos with his family. "I've always wanted a restaurant like this in Los Cabos," Olvera says. "I always felt there needed to be a lighter, more contemporary Mexican approach."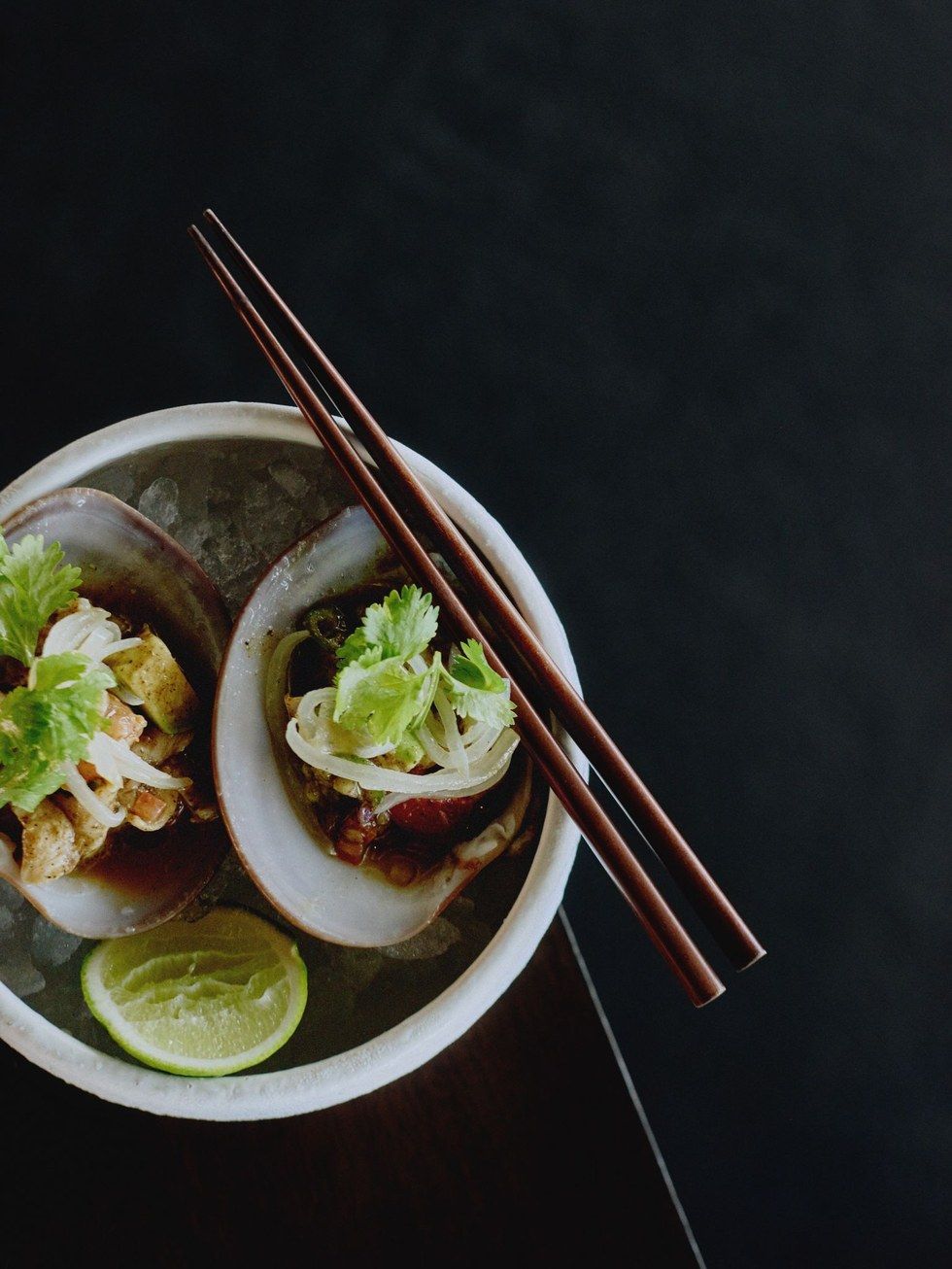 Chocolate clams at Manta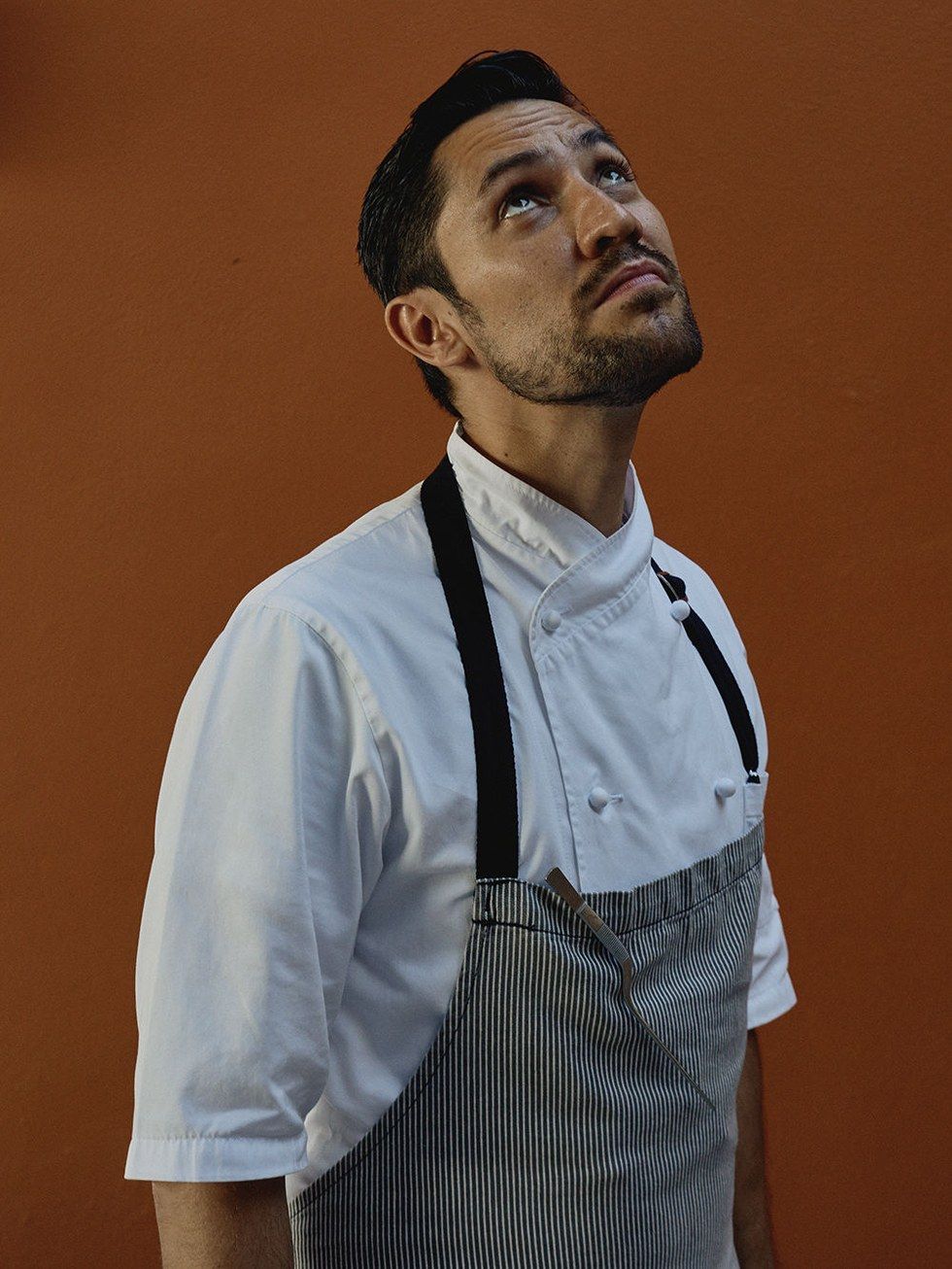 Chef de cuisine Alex Branch
Situated in The Cape, an equally contemporary (and very sexy) hotel overlooking El Arco, Manta offers a menu that beautifully reflects the light and airy magic of Los Cabos. There are more than 20 plates to mix and match to make your own tasting menu, and because I'm the indecisive type, I let chef Branch, a gregarious Mexico City native, choose for me: meltingly tender octopus anticucho served with a rich chorizo and dark-beer mayo; a jewel-like salad of tomato, watermelon, and raspberry with a hibiscus chamoy dressing; black miso lingcod tacos served in handmade flour tortillas with just the right amount of chew. "We want you to try a whole bunch of different stuff on the menu, but we don't want you leaving feeling like you need to take a nap," says Branch, who runs the kitchen (Olvera visits regularly and changes the menu every time he comes).

Though every table in the restaurant offers a prime view of the ocean through floor-to-ceiling windows, the best seat is at the kitchen bar, with your back to the glorious sunset behind you. There, sip a glass of chardonnay from the Parras Valley, and watch the meticulous prep cooks carefully slice avocados to top sashimi and plate seafood tostadas so enticing you'll end up ordering one for yourself. You won't regret it.
Flora's Field Kitchen
You may think you're lost as you drive slowly along the pothole-filled dirt road to Flora Farm. How, you think, could there possibly be a farm out here in the desert? But then, after one more turn, you see it: an oasis of green … and an abundance of cool young vacationers in Illesteva sunglasses angling for a seat at one of the picnic tables in the bustling outdoor dining area, where they can have an epic brunch of wood-fired pizzas and lemon ricotta pancakes and drink a pelo de perro—hair of the dog—Bloody Mary made with fresh tomato juice and topped with a kale leaf, pickles, carrots, and a slice of beet.
Patrick and Gloria Greene have owned this 10-acre farm since 1996, but it didn't become the Los Cabos dining hot spot until a few years ago, when they added the restaurant, Flora's Field Kitchen. Last year, Guillermo Tellez, a veteran of Charlie Trotter's, took over the kitchen along with his wife, Leslie, the pastry chef. The majority of the produce comes from the farm, and the meats come from the Greenes' 150-acre ranch, just 20 miles away, which humanely raises cows, pigs, chickens, and rabbits.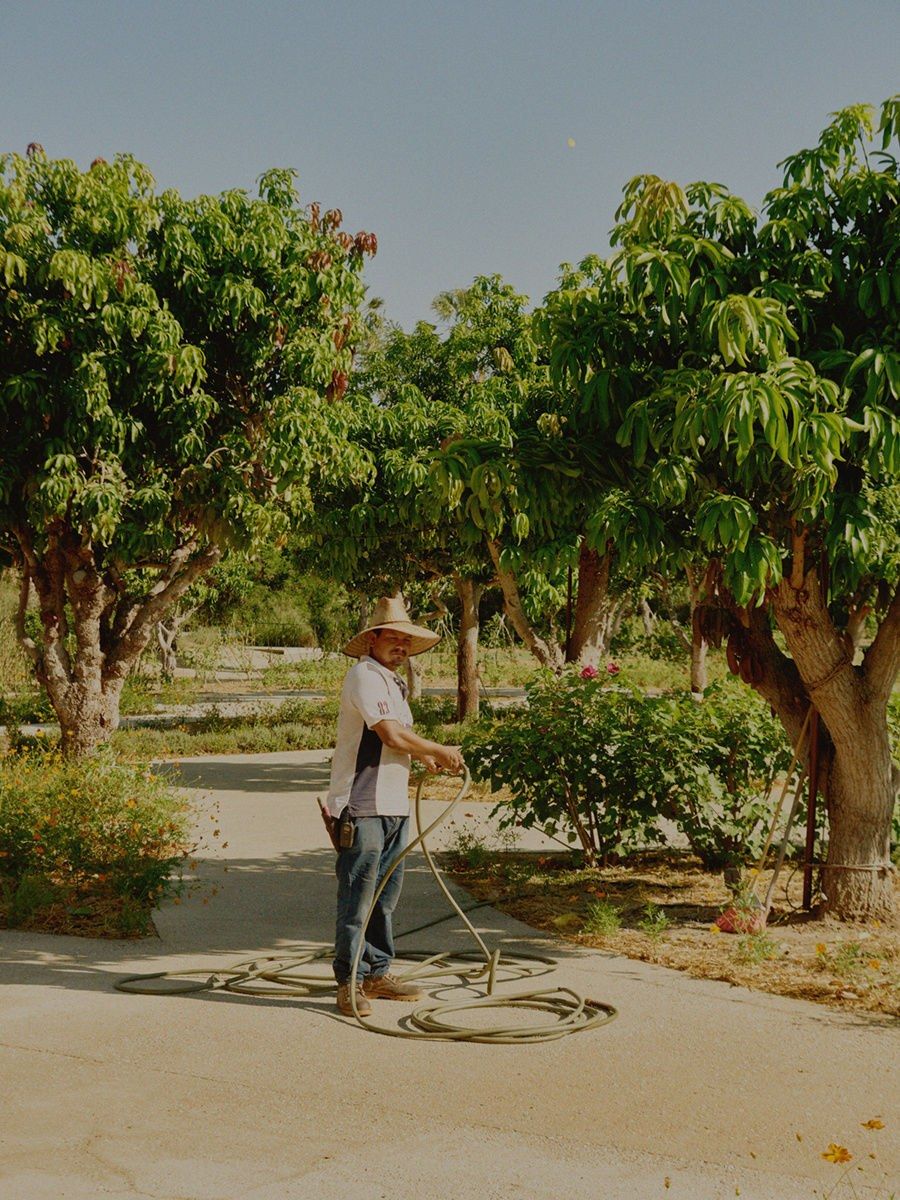 A farmhand at work "Mango trees bow heavily with ripe fruit, purple eggplants beg to be plucked from their vines, and bees circle papayas ready to fall."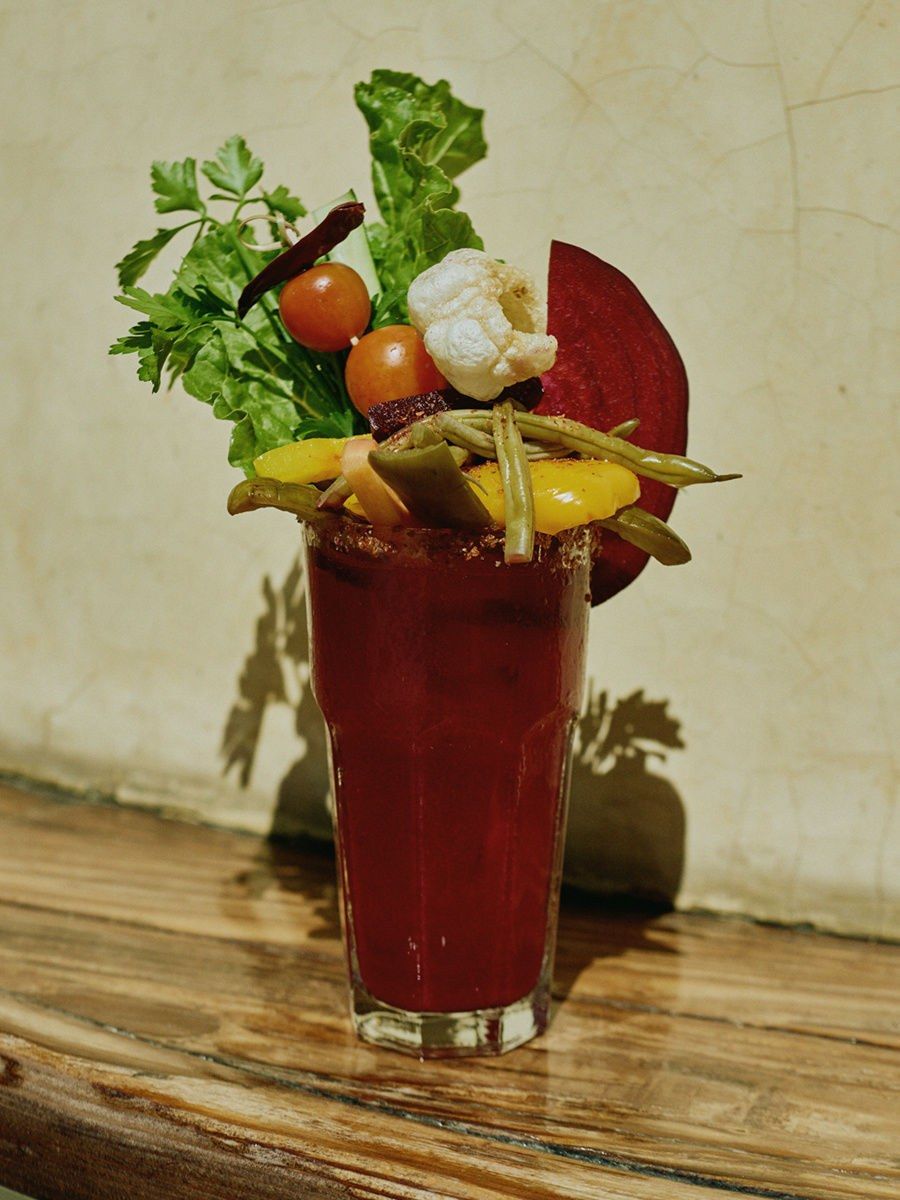 The pelo de perro Bloody Mary
After polishing off my huevos rancheros and half of my son's cinnamon roll, I head off on a farm tour with Dulce Perea, a manager at the restaurant. Mango trees bow heavily with ripe fruit, purple eggplants beg to be plucked from their vines, and bees circle papayas ready to fall. At Flora's Field Kitchen, Perea explains, there's no pressure to make typical Mexican cuisine—the chefs just want to do the produce justice. "People don't come here and say, 'Ooh I love the Cabo food!' because we don't have a certain cuisine," she says. "So that's what makes it easier to combine this and that and take advantage of all the things that we have."

Perea gives my 3-year-old son, Calder, some food to feed the turtles that are doing laps around a pond, while I watch other kids run around a small playground, as their parents drink margaritas and talk in the shade. The scene is like something out of a blissful vacation guide—and I'm grateful I get to experience it for myself.
El Farallon
It's difficult to imagine a more romantic setting than El Farallon, which is precariously perched on a cliff over the Pacific, with waves crashing dramatically on the rocks right below the candlelit tables (or on them, if it's a particularly windy night). The Resort at Pedregal has been a Los Cabos standby since 2009, but after the hurricane, the hotel rethought this dining space and made it even more irresistible by adding a Champagne terrace. This is not just a gimmick to entice men with diamond rings hidden in their pockets (though, admittedly, this is a great place to propose); Champagne is a serious subject here, and there are 30 available by the bottle and 17 by the glass. For a unique twist, the wines are paired with salts, which naturalize the minerals in the bubbly. On one particularly windy night, I meet executive chef Gustavo Pinet on the terrace, and he implores me to put a few crystals of black lava salt on my tongue and then take a sip of a Ruinart Blanc de Blancs. Suddenly, it's sweeter and smoother, even better than before—which I know is hard to believe.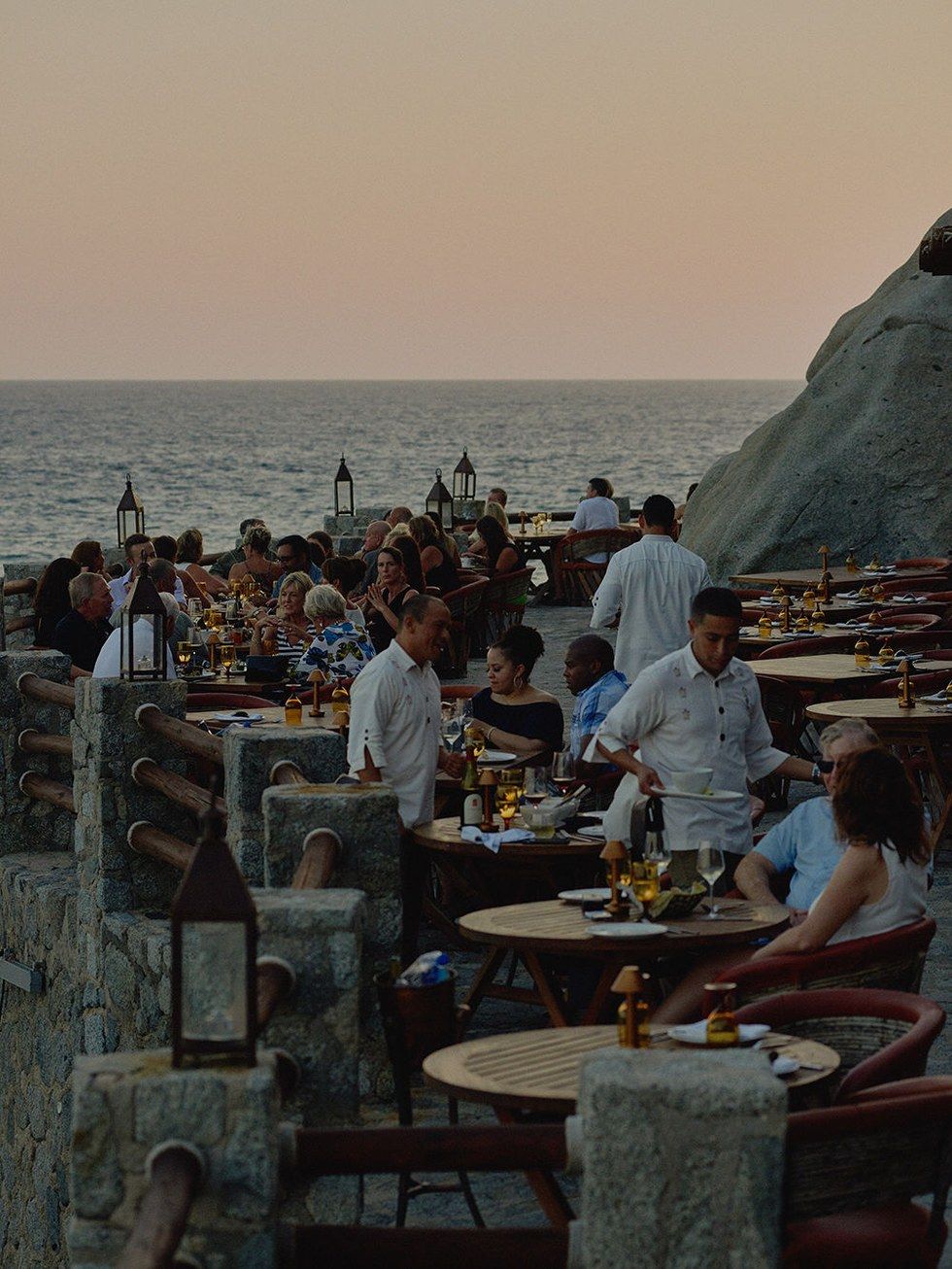 The cliffside dining terrace
The food at El Farallon is just as impressive. The focus is seafood caught that day, and seeing an abundance of it on ice at the front of the restaurant makes you realize how blessed Los Cabos is in its location. "The fish, the clams, the mussels, it's all coming from Baja California," Pinet tells me. "We're very lucky."

As are diners. A set ocean-to-table menu means you don't have to worry about choosing from all those fish you spied up front and can instead sit back and listen to a guitarist play Spanish-inflected acoustic covers of Madonna songs while you watch the hypnotic waves. I start with a creamy yet surprisingly light crab chowder, followed by a trio of appetizers: a tuna ceviche with caviar lime, cucumber, red onion, and an aji amarillo sauce; a beet and spinach salad with an orange and papantla vinaigrette; and crispy calamari with a fresh tomato sauce. Then comes the main attraction: a beautiful and bountiful medley of grilled totoaba, lobster, shrimp, red snapper, sea bass, and scallops served with family-style sides like marinated mushrooms, grilled asparagus, and corn with epazote mayonnaise. It's so simple, yet perfectly executed. Each bite of seafood tastes pure, just lightly kissed by fire and smoke. This is the kind of meal to linger over, to savor each bite. And if a wave does crash over your table, not to worry: The waiter will bring you a plush towel to dry off—and you'll have a story to tell.
Toro
One bite into a grilled avocado at Toro will have you regretting all the years you spent not eating grilled avocados. This one, at Richard Sandoval's oceanfront restaurant, comes filled with a tomato-corn salsa, the black grill marks on the avocado lending just the right amount of smoke to the whole appetizer. It's a marker of all the dishes served at Toro (and there are a lot; this menu is extensive): They're utterly addictive.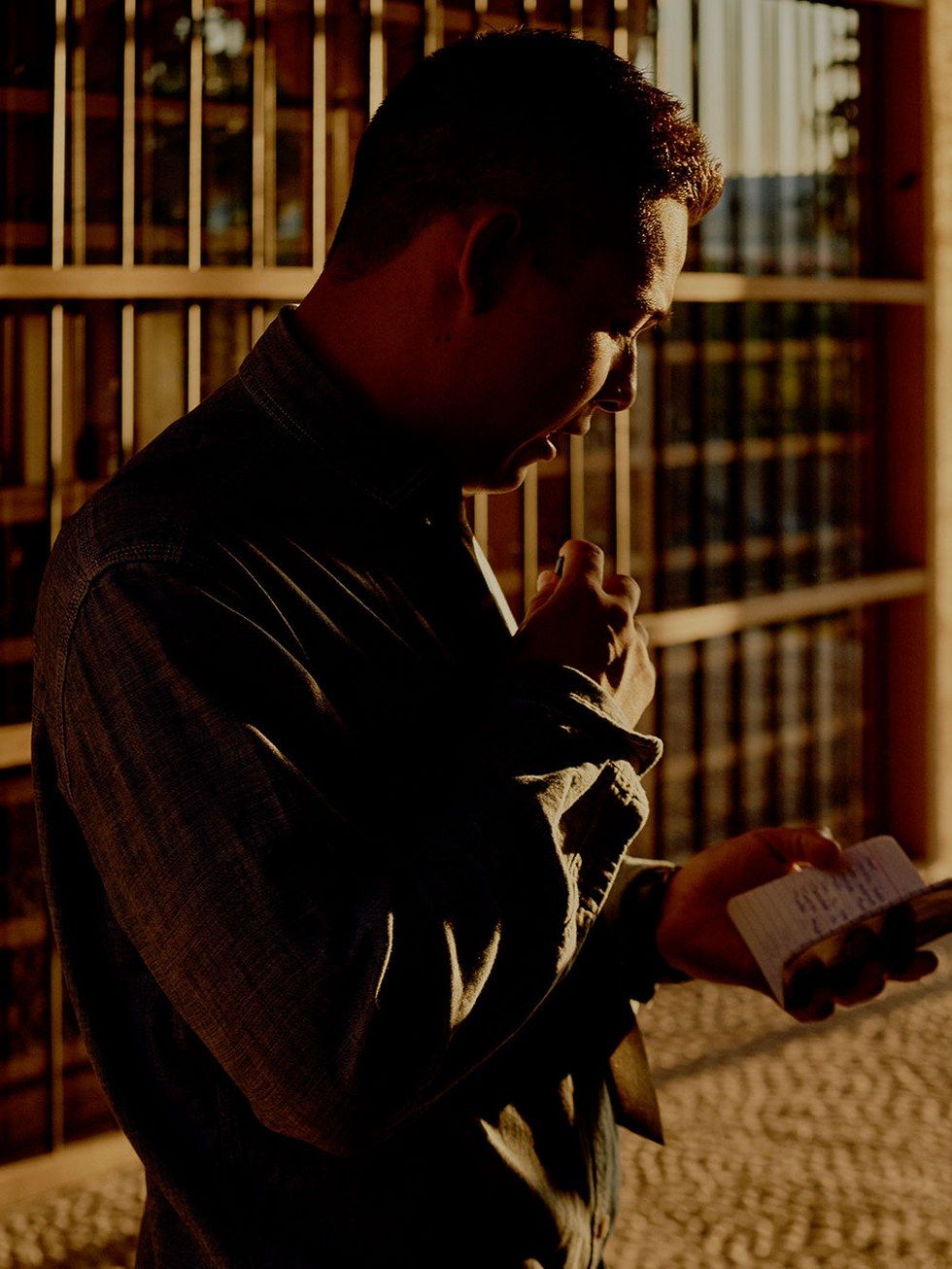 A Toro server checks his notes
Richard Sandoval is known as the father of modern Mexican cuisine. He has more than 40 restaurants, stretching from Denver to Dubai (I've eaten at three of them in New York City alone), but Cabo San Lucas's Toro, which opened in August 2015, feels unique—partly because, unlike at Sandoval's place in, say, Scottsdale, you know all the seafood you're eating is as local as it gets, and because the space is so striking and thoughtfully designed. Studio Arthur Casas, a São Paulo–based architecture firm, aimed to blend a typical Mexican courtyard with this seaside setting, and the results are beyond Instagram–worthy. A massive square wraparound ceviche bar is the perfect place to have a pisco-based prickly pear chilcano cocktail and watch the chefs prepare your hamachi tiradito with aguachile sauce and sour apple. Locally crafted ceramic vases are illuminated on the shelving that lines the perimeter, giving the space an equally rustic and modern vibe. The front dining room, with its matching wood-planked ceiling and floors, looks out onto the palm trees dotting the sand and the ocean just beyond.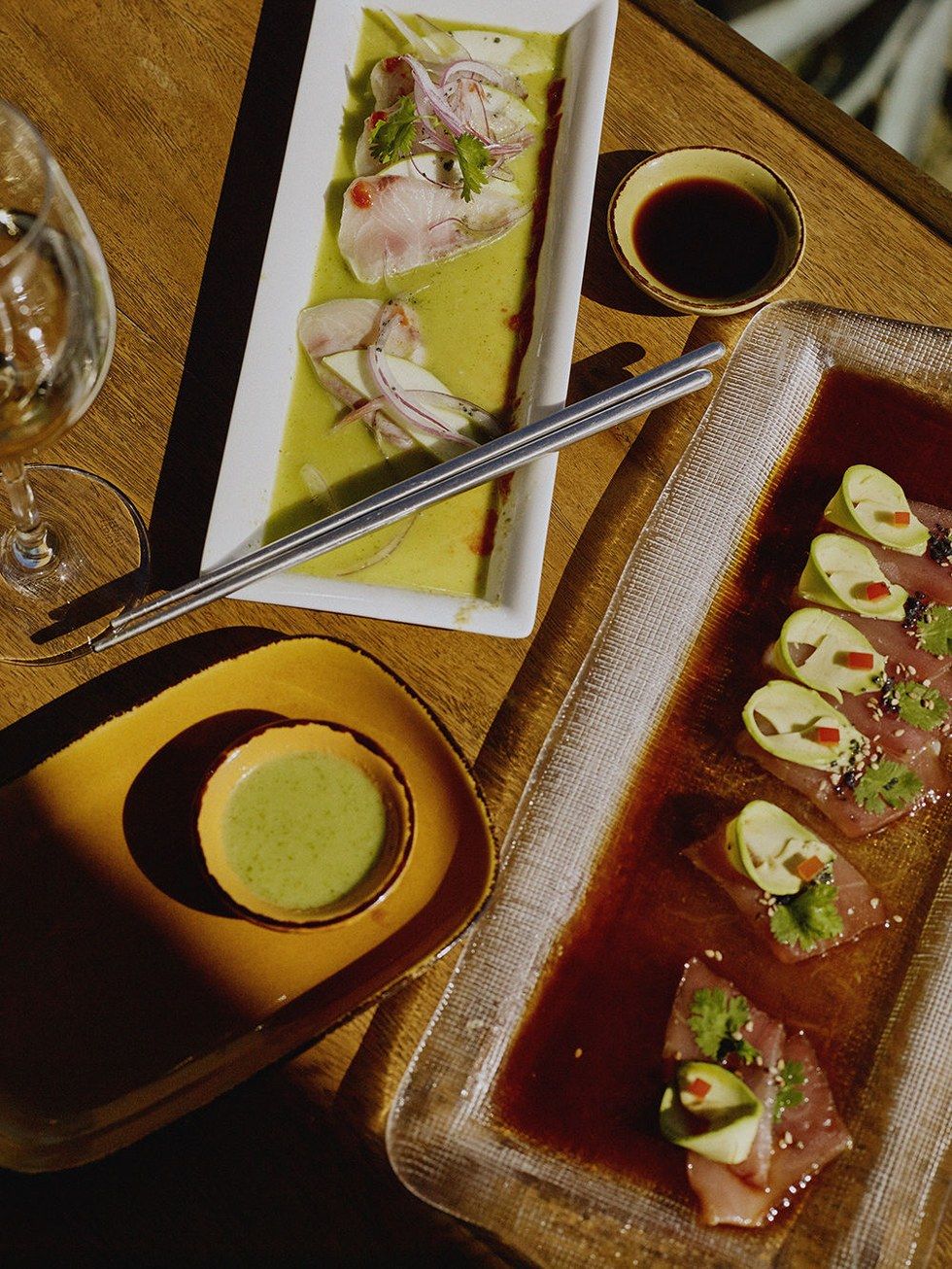 Tuna and hamachi sashimi at Toro
The setting is all the better when paired with dishes like smoked swordfish and guacamole with plantain chips, tuna tacos in purple corn tortillas with a tangy carrot-ginger salsa, crab and shrimp enchiladas in a subtly sweet tomato sauce, and—my favorite—a miso barbecue escolar fish served with pickled onions and an aioli made using the peppery Japanese spice blend togarashi. Executive chef César Cervantes has led the kitchen since the restaurant opened in 2015, and he takes great pride in his work. "Cabo is a small city, but step by step the kitchens are getting better and better," he tells me while I dig into an astoundingly delicious sweet-corn pudding topped with praline and caramel and surrounded by a decadent moat of eggnog. "And I think right now this is one of the best restaurants in Cabo." Cheers to that.

Café des Artistes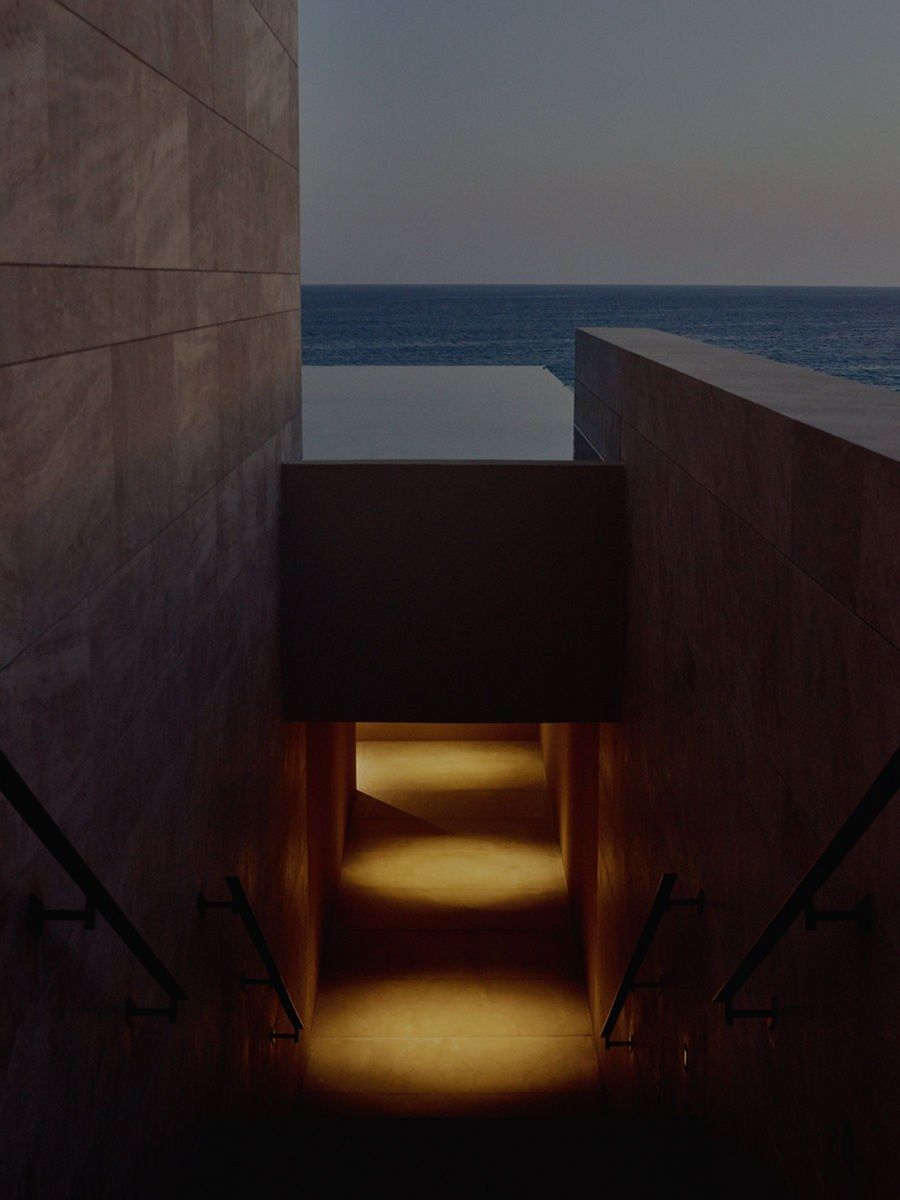 A dramatic stairwell leading to the restaurant
The chefs at the elegant Café des Artistes, in the new JW Marriott Los Cabos Beach Resort & Spa, all wear bright white toques that stretch nearly two feet high. This kind of stately dress is perfectly emblematic of the food they cook: Every dish is a true work of art, in appearance and taste. My appetizer of soft-shell crab more resembles a refined Jackson Pollock than something edible. Frenzied rings of honey vinaigrette and balsamic vinegar encircle the crab, which is topped with a delicate salad of shaved orange and watercress; a shower of pecans, sunflower seeds, and tiny magenta edible flowers adds color and texture. I take a photo and then a bite, feeling guilty for ruining such a masterpiece. But only briefly: I clean the plate, greedily swiping the crisp, salty crab and sweet orange through the honey and vinegar.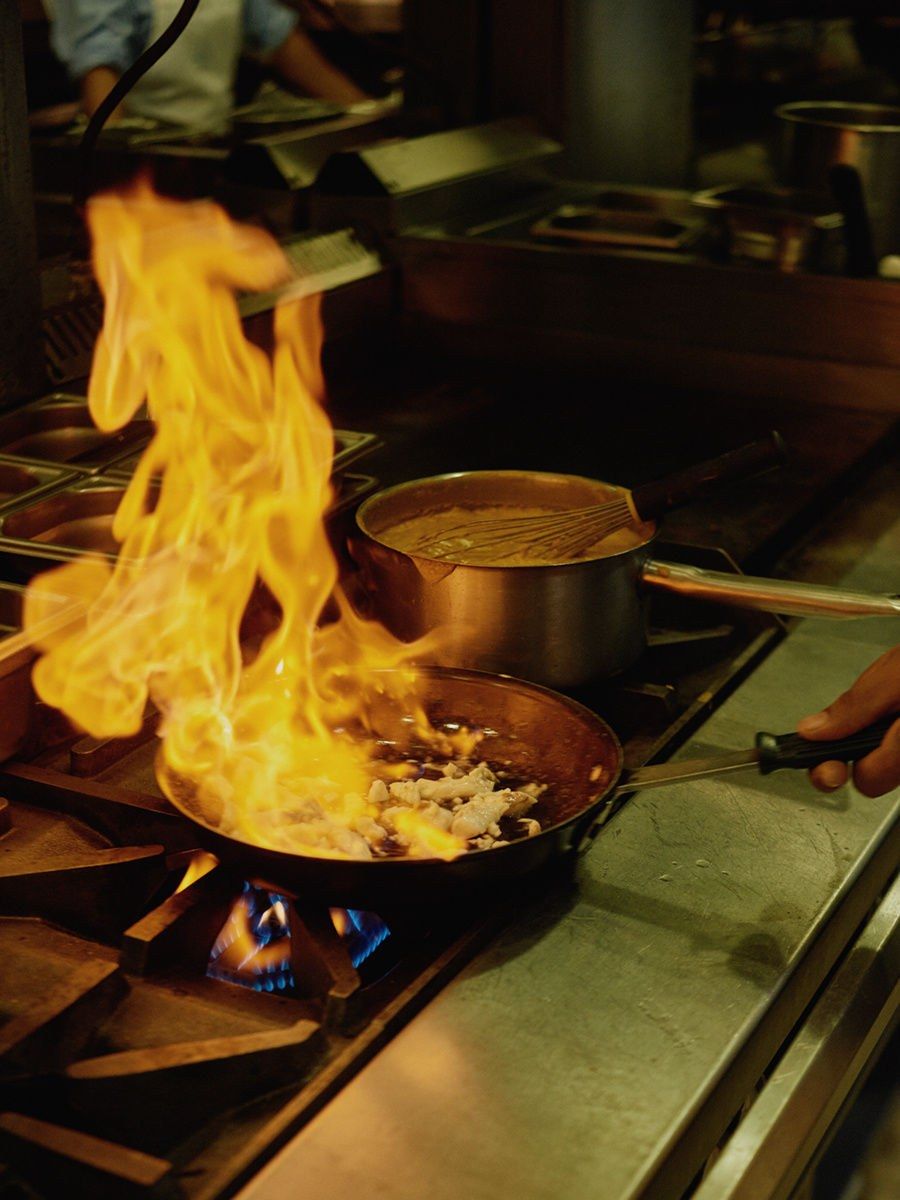 A fiery sauté
This Café des Artistes, chef-owner Thierry Blouet's second location, opened last November. Blouet, who was born in Puerto Rico and studied in Mexico and France, has run the original restaurant in Puerto Vallarta for 25 years, and the new iteration features a menu combining some of his all-time best dishes with new items created to reflect the cuisine of Los Cabos. It looks like white-tablecloth French fare, but it tastes utterly Mexican. "It's not really fusion," says Mario Rodriguez, the executive chef, fine dining. "We're taking Mexican flavors and preparing the food with French techniques." He and the rest of the team—including Pablo Vivanco, the executive sous chef, and Iván Tapia, the head sommelier—sit with me in the restaurant's lounge before dinner service begins and tell me about their experience in Mexican kitchens and their take on the food scene in Los Cabos. "This is not fast cuisine," Tapia says. "I think that's the new concept of Cabo and San José: to make elaborate dishes for people to enjoy and bring another kind of customer here. We want to take away that idea that Mexico is only beer and nachos."

I do have a few tortilla chips this evening, but they're handmade and accompany a gorgeous grilled lobster tail bathed in a garlic-caper sauce. My husband, Chris, and Calder join me for dinner, just as the sun is starting to dip into the Pacific. Chris devours the zarandeado fish of the day, a firm totoaba served enchilada-style with a spicy tomato sauce and pineapple foam, while Calder surprises us by happily eating the tuna tiradito and stealing half of my lobster. The couple at the table next to us are celebrating their anniversary, and the waiters toast them with a sparkler-topped dessert that has Calder gawking in envy. Five minutes later, our immensely friendly server, Omar, comes bearing our own sparkler-topped cheesecake, and my son's face lights up, literally and figuratively. "We're celebrating your first time here," Omar says. And definitely not our last.

In the midst of mobilizing our cargo operations, our teams at New York/Newark (EWR) and Jacksonville (JAX) stepped in to assist Roche Diagnostics with transporting a vital component for an instrument being used for COVID-19 testing.
The component was stuck at EWR en route to the Mayo Clinic in Florida after another airline's flights were cancelled. A Roche employee contacted us asking for help and, within a few hours, our teams had the piece loaded onto a Jacksonville-bound aircraft, with arrangements in place to deliver it to the Mayo Clinic.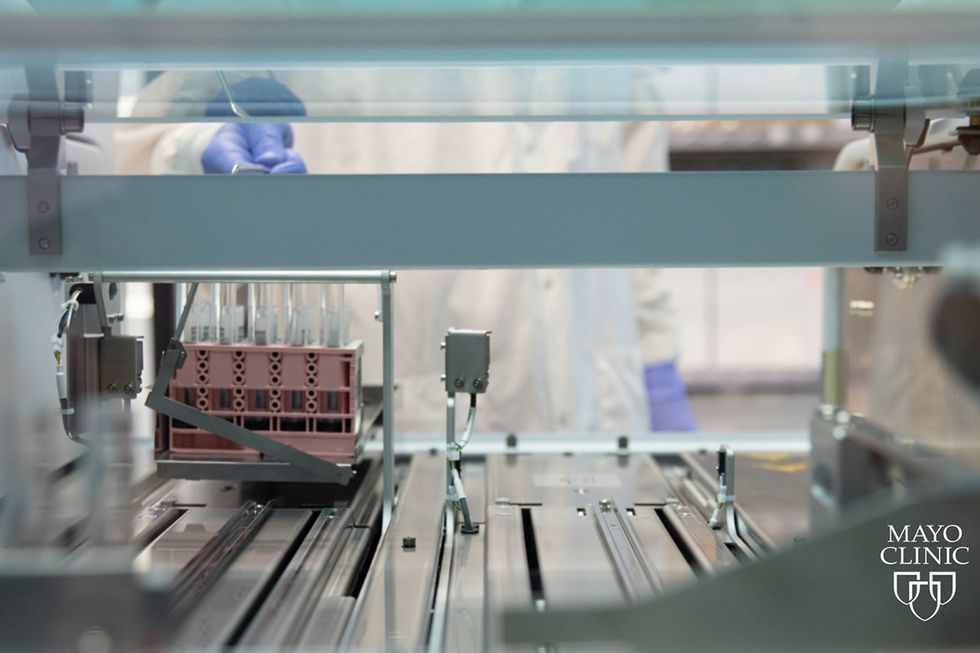 The item we shipped will allow the Mayo Clinic in Florida to process hundreds of COVID-19 tests per day. Mayo Clinic Laboratories has been on the front lines of increasing testing capacity to expedite caring for patients at this critical time and working to ease the burden being felt at test processing laboratories in a growing number of areas.

Cargo-only flights support U.S. military and their families
March 30, 2020
We are helping to keep military families connected by increasing the frequency of cargo-only flights between the United States and military bases in various parts of the world — including Guam, Kwajalein, and several countries in Europe. Last week we began operating a minimum of 40 cargo-only flights weekly — using Boeing 777 and 787 aircraft to fly freight and mail to and from U.S. hubs and key international business and military locations.
We are going above and beyond to find creative ways to transport fresh food and produce, as well as basic essentials from the U.S. mainland to military and their families in Guam/Micronesia. On Saturday, March 28, we operated an exclusive cargo-only B777-300 charter to transport nearly 100,000 pounds of food essentials to Guam to support our troops.
In addition, we move mail year-round all over the world. In response to COVID-19, and in support of the military members and their families overseas, we implemented a charter network, transporting military mail to Frankfurt, which is then transported all over Europe and the Middle East. Since March 20, we have flown 30,000+ pounds of military mail every day between Chicago O'Hare (ORD) and Frankfurt (FRA). On the return flight from Frankfurt to Chicago, we have carried an average of 35,000 pounds of mail to help families stay connected.

"Keeping our military families connected with the goods they need, and keeping them connected with loved ones to feel a sense of home, is of critical importance. As a company that has long supported our military families and veterans, our teams are proud to mobilize to lend a hand." — United Cargo President Jan Krems.
Our cargo-only flights support customers, keep planes moving

March 22, 2020
We have begun flying a portion of our Boeing 777 and 787 fleet as dedicated cargo charter aircraft to transfer freight to and from U.S. hubs and key international business locations. The first of these freight-only flights departed on March 19 from Chicago O'Hare International Airport (ORD) to Frankfurt International Airport (FRA) with the cargo hold completely full, with more than 29,000 lbs. of goods.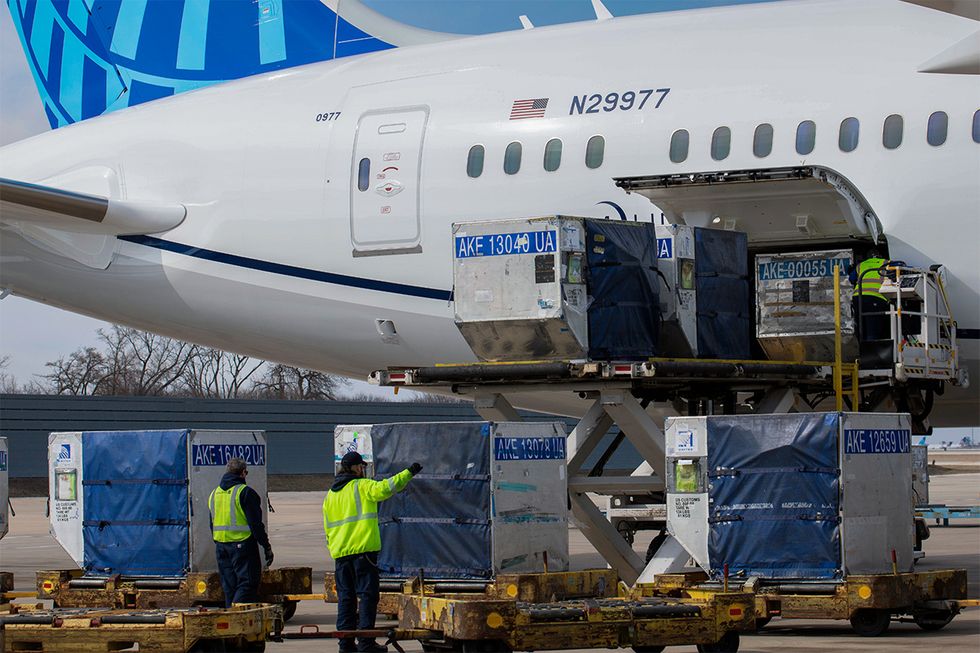 Getting critical goods into the hands of the businesses and people who need them most is extremely important right now. To support customers, employees and the global economy, we will initially operate a schedule of 40 cargo charters each week targeting international destinations and will continue to seek additional opportunities.

With coronavirus (COVID-19) creating an increased need to keep the global supply chain moving, we are utilizing our network capabilities and personnel to get vital shipments, such as medical supplies, to areas that need them most.
"Connecting products to people around the world is the United Cargo mission," said United Cargo President Jan Krems. "That role has never been more crucial than during the current crisis. Our team is working around the clock to provide innovative solutions for our customers and support the global community."
On average, we ship more than 1 billion pounds of cargo every year on behalf of domestic and international customers. For more information, visit unitedcargo.com.
To our customers,
I hope this note finds you and your loved ones healthy and well.
It is safe to say these past weeks have been among some of the most tumultuous and emotional that any of us can remember in our lifetimes. The impact of the coronavirus outbreak has been felt by individuals and families, companies and communities, across the United States and around the world.
The response to this crisis has been extraordinary; as much for what it has required from our society as for what it has revealed of us as a people.
Far from causing division and discord, this crisis and the social distancing it has required, has allowed us to witness something profound and moving about ourselves: our fond and deeply felt wish to be connected with one another.
The role of connector is one we're privileged to play in the moments that matter most in your life – weddings and graduations, birthdays and business trips, events large and small – and it's that responsibility that motivates us most to get back to our regular service, as soon as possible.
That is why it is so important our government acted on a comprehensive relief act to ensure our airline – and our industry – are ready and able to serve you again when this crisis abates.
I want to relay to you, in as deeply personal a way I can, the heartfelt appreciation of my 100,000 United team members and their families for this vital public assistance to keep America and United flying for you.
This support will save jobs in our business and many others. And it allows us time to make decisions about the future of our airline to ensure that we can offer you the service you deserve and have come to expect as our customers.
While consumer demand has fallen, we have seen the need for our service and capabilities shifted. And, we've adapted to help meet those needs.
Right now, aircraft flying the United livery and insignia, flown by our aviation professionals, have been repurposed to deliver vital medical supplies and goods to some of the places that need it most. We're also using several of our idle widebody aircraft to use as dedicated charter cargo flights, at least 40 times per week, to transfer freight to and from U.S. locations as well as to key international business locations. At the same time, we are working in concert with the U.S. State Department to bring stranded Americans who are trying to return home back to their loved ones.
While much remains uncertain right now, one thing is for sure: this crisis will pass. Our nation and communities will recover and United will return to service you, our customers. When that happens, we want you to fly United with even greater pride because of the actions we took on behalf of our customers, our employees and everyone we serve.
Stay safe and be well,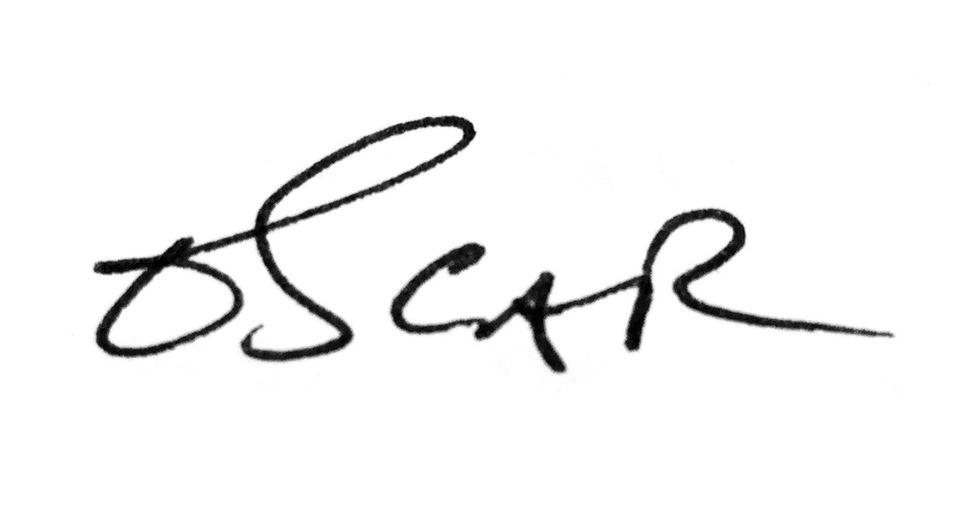 Oscar Munoz
CEO
Together, we are facing an unprecedented challenge. United Together, we rise to meet that challenge.
Check out our newest destinations
United Airlines
united
When
@RocheDia
needed to ship a vital component of a COVID-19 testing unit from New Jersey to Florida, United Cargo jumped in to help. Read about how this part will allow
@MayoClinic
to process hundreds of tests per day for cases in the Southeastern U.S.
uafly.co/2UzOAGW
United Airlines
united
International schedule update: We know some people around the globe are displaced and still need to get home. We are reinstating some international flights over the next few days and will continue to fly six daily international flights through May.
uafly.co/3a5Dj6p
United Airlines
united
We have extended our change fee waiver to cover travel through May 31, 2020: - You can change or cancel your flight on
united.com
or through the app – a phone call is not required - For the latest on our commitment to your safety, visit
united.com/coronavirus
United Airlines
united
Our site,
united.com/coronavirus
, is regularly updated with the latest on travel restrictions, rebooking instructions and health and safety information. Today's updates: - An expanded, more flexible international rebooking policy - Schedule changes for U.K. & Ireland
We Are United
weareunited
Shoutout to our operations team, who are working to properly park, maintain and store many aircraft in the
#BeingUnited
fleet. These aircraft are being housed across our seven hubs, maintenance facilities in CLE and MCO as well as at offsite facilities in New Mexico and Arizona.
We Are United
weareunited
Tomorrow, Oscar and Scott will host a companywide town hall to discuss the latest developments in managing the effects of the coronavirus (COVID-19). You can join the livestream event at 1:20 p.m. CT here:
uafly.co/39AV25m
We Are United
weareunited
Tomorrow, Oscar and Scott will host a companywide town hall to discuss the latest developments in managing the effects of the coronavirus (COVID-19). You can join the livestream event at 1:20 p.m. CT here:
uafly.co/39AV25m
.
Watch our most popular videos
Copyright © 2020 United Airlines, Inc.
All rights reserved.
Indicates an external site that may or may not meet accessibility guidelines.
Scroll to top
Scroll to top