We team up to send volunteers and supplies to hard-hit Puerto Rico
Today, a very special flight took off from Newark/New York — Flight 2709 — bound for San Juan, Puerto Rico. Filled with more than 300 first responders and skilled workers, the flight carried more than 35,000 pounds of essential supplies. We teamed up with AFL-CIO, the Association of Flight Attendants (AFA), Air Line Pilots Association (ALPA), and International Association of Machinists and Aerospace Workers (IAMAW), to fly the humanitarian team to help with relief efforts and the rebuilding of Puerto Rico.

"God bless you all for doing what you're doing, giving up your time and energy to help your fellow Americans," said George Miranda, International Brotherhood of Teamsters international vice president-at-large and airline division chairperson. "They are counting on us for support; the island is absolutely devastated and, without the hard work of the people who are boarding that plane, it could not be done."
The highly skilled volunteers, assembled by AFL-CIO, represent 20 different unions from 17 states and include nurses, doctors, engineers, carpenters, electricians, truck drivers and firefighters. They will help with various efforts including clean-up, servicing hospital patients, delivering emergency supplies and restoring power and communications to the island.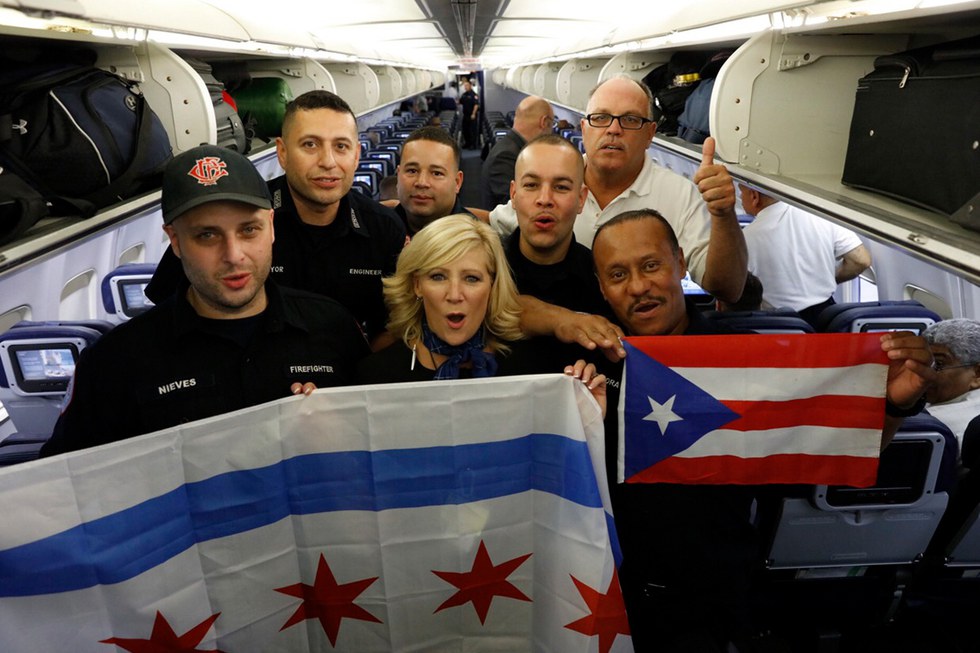 For Dan Maldonado, a member of Teamsters Local 445 in Rock Tavern, New York, this volunteering trip is more personal than others he's been a part of. Dan's family is from San Lorenzo, a small town south of San Juan, and he still has many family members there.
"The most beautiful part of this mission so far was that no one even hesitated when they were asked to volunteer," said Dan. "Everyone responded within seconds saying 'we're in.' Nobody was concerned about what the job would be or the conditions. No questions asked, we were all just ready to go help."
The aircraft, a Boeing 777-300ER, will also deliver donated food, water and essential supplies to be distributed to those in need. It will return to Newark/New York on Wednesday evening with evacuees from Puerto Rico, who are being provided complimentary seats as part of our ongoing humanitarian relief efforts.
Thank you to the wonderful flight crew volunteers who made the trip, today, possible:
Newark/New York-based 777 Captains Jose Pascual and Alan Moses
Chicago-based 777 First Officers Mike Hamilton and Jose Raices
Boston-based Flight Attendants Sara (Nelson) Borer, Steve Ekerberg, Andrew Fahy, Danny Herbert and Maki Herbert
London-based Flight Attendant Jeffrey Heisey
Washington DC-based Flight Attendants Jennifer Grega and Bobbie Mas
Houston-based Flight Attendant Franko Ocasio
Los Angeles-based Flight Attendants Dante Harris and Kimberly Burckhalter
Newark/New York Flight Attendants Jennifer Ritter and Anne Fusaro
Additional thanks go to the ramp employees who supported the flight on the ground in Newark/New York and San Juan, our Tech Operations teams who keep the aircraft running, and all employees who had a hand in accomplishing these relief flights.
More from
United Eco-Skies®