Roaming around Roma
Each week we profile one of our employee's adventures across the globe, featuring a new location for every employee's story. Follow along every week to learn more about their travel experiences.
By Los Angeles Flight Attendant Kimberly Atkins
As a flight attendant, I have mastered the art of visiting a city in 24 hours. However, there are some cities where it would take a lifetime of exploration to truly see it all. Rome, the Eternal City, is definitely one of those. Here are my Rome essentials, 24-hour tips, and the best way to conquer the Roman Empire in the shortest amount of time.
My husband Marco was born and raised in Rome, and we met on the Roma-Firenze Eurostar train when I was living in Italy right after college. I then became a flight attendant and worked as an onboard Italian language speaker from 2008-2014. In that time, I commuted to Rome from my base in Washington, D.C. I've spent countless hours wandering the streets of this magical city, exploring hidden alleyways and major tourist attractions and hunting down special works of art tucked in the corners of old churches. Rome, to me, is enchanting. And, while we will probably never get to see it all, here is my favorite game plan to explore La Cittá Eterna.
Safety
First things first, leave the expensive jewelry at home, and watch your pockets. Violent crime isn't prevalent in Rome, but pickpocketing is huge, so watch your purse, backpack and pockets, especially in crowded areas and on public transit. That being said, I feel very safe walking around the historic center of the city at most times of day and night, but when I'm alone I try to stick to well-lit, populated areas. Avoid walking around the Termini train station area at night, and, if you have to, watch yourself, and maybe opt for a cab.
How to get there
When we go to Rome, we fly directly into Rome from Chicago, Newark or Washington D.C.'s Dulles Airport. If you aren't familiar with driving in the madness of Bella Roma, and you don't absolutely need a car, then avoid renting one and go with public transit. The public transit is incredible in Italy, and everything is fairly well connected. Also, taxis and Uber are reasonably priced and available at all hours of the day and night.
Hotel Romanico Palace and Spa
On this trip we had the pleasure of staying at the Hotel Romanico Palace and Spa. The hotel is in the city center, about a 40 to 60-minute drive from the airport. If you have a car, the staff at Hotel Romanico were extremely helpful and informative with parking options. The lobby and lobby bar are beautiful with a great selection of fairly priced drinks and a glass window in the floor that showcases some ancient Roman ruins. Just below the lobby level, the hotel is equipped with a small gym with all the essentials (free to use during your stay) and a beautiful spa — a little oasis in the center of a bustling city. They've recreated the atmosphere of ancient Roman thermal baths, and you can't help but relax and feel like royalty in this spa. After a few days running around the city seeing all the sites, this spa is the perfect way to spend a relaxing afternoon.
The rooms at the Hotel Romanico Palace are the stuff of dreams — decorated in palatial Italian decor, some more classic, some more modern. Ours was an end room with classic Roman Palace decor and a huge bathroom equipped with a jacuzzi tub, WC and bidet, and a three-way shower that felt like a luxurious, ancient Roman bath. Not only did the shower have a traditional shower head and rain shower but a travertine waterfall that cascaded out of the ceiling and onto a marble throne (bonus waterfall shoulder massage). It was pure magic. If you're interested, they also have themed rooms and suites.
Recommended walking tour
There are an infinite number of ways to explore this city… so, by all means, plan the route that works best for you. This route just happens to be my favorite, and Hotel Romanico is the perfect starting point.
For our first stop, set your sights on the Spanish Steps. Piazza di Spagna is a 15-min stroll from the Hotel Romanico. Turn right out of the hotel to start your walk and hang a left on Via Vittorio Veneto. You'll pass by the American Embassy and Piazza Barberini on your way. If you're ready for a snack, my favorite forno is along your route. A forno or oven in Italian, is basically just an old-school bakery that sells simple but incredibly delicious breads, pizzas, focaccia, baked goods and occasionally other snacks like arancini (a breaded and stuffed risotto ball of yumminess). A traditional forno is affordable, quick and very popular with the locals.
Piazza di Spagna, The Spanish Steps
When you get to the Spanish Steps (named for the Embassy of Spain located in the Piazza), be sure to check out the church at the top of the steps, the famed Trinità dei Monti. Walk down the iconic steps to the boat-shaped Fountain of the Barcaccia, and snap some epic pictures of the fountain built by the famous Baroque sculptor Gian Lorenzo Bernini and his father Pietro Bernini. The water in the fountain is supplied by an ancient Roman aqueduct from 19 BC. Legend has it that the Tiber river had an epic overflow in 1598 and carried an adrift boat to the center of this Piazza. That boat inspired Bernini's design. The Shelly/Keats house is also in the Piazza on the east side of the steps.
Head down Via Dei Condotti where you can window shop the best of high fashion and luxury stores like Dior, Bulgari and Ferragamo. If you need an espresso, check out Antica Cafe Greco, a favorite of expat poets and writers like Keats and Byron. Start heading to the east (your left), and follow the signs for your next stop, the Fontana di Trevi.
Fontana di Trevi, The Trevi Fountain
This breathtaking and world-famous fountain is the largest Baroque fountain in Rome. Built in 1762 and designed by Roman sculptor Nicola Salvi, it has been featured in numerous films, including Fellini's "La Dolce Vita" where Silvia and Marcello go for a jaunt in the fountain. WARNING: Don't follow Silvia's lead…it is strictly forbidden to dangle your feet or hands in the sparkling, crystal-clear water.
The travertine used to construct the fountain comes from nearby Tivoli, an incredible place to go for a day trip if time allows. Be sure to throw coins into the fountain. The proper way is to hold the coin in your right hand and throw it over the left shoulder. Legend says you should always throw three coins… the first to return to Rome, the second to bring you love, and the third to ensure marriage. An estimated €1.4 million is thrown into the fountain every year. The money from the fountain is donated to subsidize a supermarket for the city's needy. Good job, Roma.
Once you've thrown your coins, follow the signs toward your next stop: Il Pantheon.
The Pantheon
Enjoy the winding cobblestone streets lined with charming shops, gelaterias and street performers. When you come into the Piazza della Rotonda, you can't miss the impressive church built in circa 113 AD. It was built on the site of an earlier pagan temple originally commissioned by Emperor Augustus in 27 BC. The Pantheon is most famous for its large hole at the center of the dome, and it is still to this day the largest unreinforced concrete dome in the world. This building is even more special, because it is one of the only ancient buildings in Rome that has been in continuous use throughout history, so it is perfectly preserved. It is absolutely breathtaking and free to enter, so go in and enjoy. When you're done, head on over to Piazza Navona.
Piazza Navona
Just 5 minutes from the Pantheon, you'll find one of the most famous piazzas in Rome. Used by the ancient Romans as a stadium, and flooded to recreate "show" naval battles, Piazza Navona is now home to street artists and musicians.
During the Christmas season, it's a must see for its specialty Christmas Market. The focal point of this long, oval piazza is the central Fountain of the Four rivers, representing four of the largest rivers of the four major continents; the Nile (Africa), the Danube (Europe), the Ganges (Asia) and the Plata (America). It was built in 1651 by none other than the famous Roman sculptor Gian Lorenzo Bernini, who won the commission of the fountain in a design competition. Enjoy the live music and art as you walk around the piazza. Don't miss the smaller fountains on either end of the piazza, the Museo di Roma, and the church of Saint Agnes.
Campo de Fiori
Campo de Fiori, literally meaning "field of flowers," is exactly what this piazza was in the Middle Ages. Today it is a bustling piazza with a daily farmers market that has everything you could need from fresh fruits and veggies to specialty pastas and spice mixes, fresh pressed juices, souvenirs and even gourmet Italian truffle products. At night this is one of the more popular and rowdy piazzas for aperitivi (happy hour) and nightcaps.
If you head out the back end of the piazza down Via dei Giubbonari, you can enjoy the numerous Italian shoe shops and clothing stores on this quaint street. And don't forget to hang a right on Via dell'Arco del Monte to head toward Ponte Sisto and Trastevere.
Trastevere
Trastevere literally means "across the Tiber," and while crossing the Tiber River, or Il Tevere, you'll be walking across Ponte Sisto. This famous walking bridge was built in the 1470s and is a favorite spot for more alternative musicians. The views from the bridge are gorgeous, and you can even catch a glimpse of the glowing Vatican dome to your right as you cross the bridge.
You'll be entering Trastevere through Piazza Trilussa, a popular evening hangout. You'll find young Italians and international students meeting up here and occasionally enjoying a drink on the steps of the popular piazza. Head into Trastevere, and just get lost. This Bohemian wonderland has maintained so much of the character and soul of Rome. Ancient homes and apartments line the tiny, winding cobblestones streets that are packed with amazing cafes, bars, restaurants and pizzerias at every turn. Piazza Santa Maria in Trastevere holds the namesake church that dates back to the year 340. This is definitely the part of town to put away your map and wander, and just enjoy the dolce vita.
We've come to the end of today's roaming. Trastevere is where I leave you. If I'm in town, you can probably find me sipping on a Campari Spritz at Caffè della Scala or having a traditional Roman Tonarelli al Cacio e Pepe (handmade egg pasta with a simple but decadent dressing of Pecorino Romano and black pepper) at Osteria da Otello. From here, you're a 20-minute cab ride or a 25-minute bus ride back to the Hotel Romanico. If you're up for an after-dinner stroll, head up the river and check out the Vatican illuminated at night.
When you're ready to keep exploring the city, I've got a few more tips, recommended restaurants and day trips on my blog, Kimmie Flies.
Thanks for joining me on this adventure, and have a great time roaming around Roma.
We know people are taking a second look at their travel plans right now. If you're scheduled to travel March 10 – May 31, 2020 and would like to change your plans, there is no fee to do so, regardless of when you purchased your ticket or where you're traveling. This is in addition to our previous waiver, which waives all change fees – domestic and international – for tickets purchased March 3 – April 30, 2020. This is available for any of United's published nonrefundable fares. If you decide to cancel your flight, you can retain the value of your ticket to be applied to a new ticket without a fee. These electronic travel certificates are now valid for 24 months from the date they were issued. This includes all currently valid electronic certificates and all new ones issued on or after April 1, 2020. You might not see this policy change reflected everywhere right away – we appreciate your patience as we work to make that happen.
Eligible travelers on domestic flights and international tickets can request a refund on united.com or may call our contact centers if their flights have been severely adjusted or service to their destination suspended either due to government mandates or United schedule reductions related to COVID-19.
Certain tickets cannot be changed on united.com or the mobile app, including tickets booked through another airline (if the ticket receipt does not begin with 016). Please contact the original ticketing airline for changes.
Follow the steps below to stay up to date, change or cancel your flight.

Change your current flight:
On the united.com homepage, select "My Trips" and enter your flight information to retrieve your flight.
Select "Change flight" and then "Edit" to make the following changes:

Date of travel or destination
Add a flight
Remove a flight

Select "Continue" and choose a new flight option
Continue through booking to confirm your new flight
Note: The change fee will display as waived, but any difference in fare may apply.
Cancel your flight and rebook later:
On the united.com homepage, select "My Trips" and enter your reservation information to retrieve your flight
Select "Cancel flight"
Confirm flight cancellation
If you have future flight credit, when you return to the reservation, select "Use Future Flight Credit" to shop for new flights and apply the credit towards a new flight.
Canceling or changing an award flight:
When you select "Cancel flight," you will have the option to cancel your award reservation and redeposit the miles or to cancel your award reservation and use those miles for another trip in the future.
*We're currently experiencing heavy traffic to united.com. If you experience an error while trying to change or cancel your flight, please try again later.
Click through the slideshow below for more detailed instructions:
​Start on the United homepage: ​
User can select 'My Trips' on the homepage widget to find and retrieve their reservation.
When and where possible, we are working to repatriate travelers who are stranded abroad in the wake of the COVID-19 crisis. Our teams are working closely with government officials here in the U.S. as well as in other countries where flying has been restricted to gain the necessary approvals to operate service. In regions where government actions have barred international flying, we have coordinated with the the U.S. State Department and local government officials to re-instate some flights. Additionally, we have been operating several extra flights to countries in Central America and South America as we continue to play a role in connecting people and uniting the world.
We have operated more than 68 repatriation flights from Panama City, Guatemala City, Quito, Lima, San Pedro Sula, Tegucigalpa and Roatan, bringing nearly 9,200 people home. We will continue working with government officials to operate extra flights to Houston from Quito, San Pedro Sula, Tegucigalpa and from Lima to Washington Dulles and beginning April 5, we will begin operating multiple charter flights between Delhi and San Francisco. We continue to review more opportunities for flights between the United States and other countries to bring citizens home.
Video provided by the U.S. Embassy Ecuador of Americans returning home on United.

Additionally, our Customer Solutions and Recovery team is working with customers in the following markets to rebook them on flights back to the United States as capacity allows, either on our aircraft or on one of our airline partners' planes:

Quito, Ecuador
Managua, Nicaragua
Roatan, Honduras
San Pedro Sula, Honduras
Amsterdam
Brussels
Munich
Singapore
Tokyo-Haneda
Seoul, South Korea
Melbourne, Australia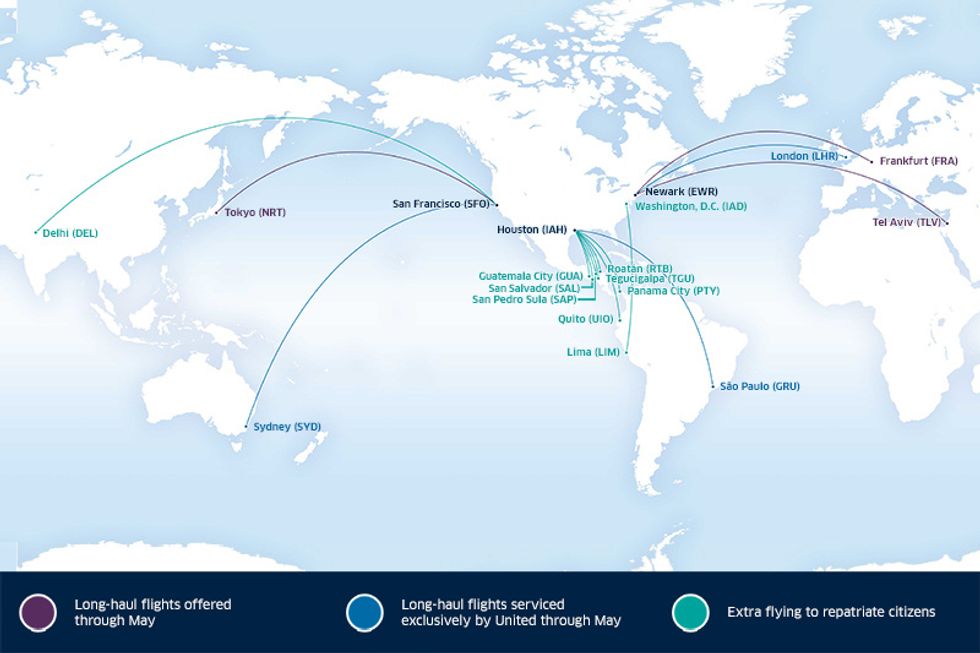 We also recently reinstated several international flights back into our schedule to support customers and essential businesses which depend on these routes. As a result, we will be the only airline to offer service between Newark/New York and London, San Francisco and Sydney, as well as Houston and São Paulo, Brazil.

Calling all AvGeeks and travelers! Here's a fun way to take your next video call….from a United Polaris® seat, the cockpit or cruising altitude. We're introducing United-themed backgrounds for use on Zoom, a video conferencing tool that many people are using to stay connected.
So for your next meeting or catch up with friends and family, download the app to either your computer or mobile device to get started. If you've already downloaded Zoom you can skip ahead to updating your background image (see instructions below).
Start here by downloading your favorite United image to your computer or mobile device. Just click "download" in the bottom left corner of the image.
Next go to your Zoom app (you'll need to download the app to access backgrounds) and click on the arrow to the right of your video camera icon in the bottom of the screen.
From here select, "choose virtual background" to upload your uniquely United photo.
Together, we are facing an unprecedented challenge. United Together, we rise to meet that challenge.
Check out our newest destinations
United Airlines
united
We continue to work with government officials to bring Americans home. In addition to flights from Central & South America, we have charter flights planned from India. Learn more about our repatriation efforts in the wake of COVID-19 here:
uafly.co/3aExaOL
#UnitedTogether
United Airlines
united
When
@RocheDia
needed to ship a vital component of a COVID-19 testing unit from New Jersey to Florida, United Cargo jumped in to help. Read about how this part will allow
@MayoClinic
to process hundreds of tests per day for cases in the Southeastern U.S.
uafly.co/2UzOAGW
United Airlines
united
International schedule update: We know some people around the globe are displaced and still need to get home. We are reinstating some international flights over the next few days and will continue to fly six daily international flights through May.
uafly.co/3a5Dj6p
United Airlines
united
We have extended our change fee waiver to cover travel through May 31, 2020: - You can change or cancel your flight on
united.com
or through the app – a phone call is not required - For the latest on our commitment to your safety, visit
united.com/coronavirus
We Are United
weareunited
Shoutout to our operations team, who are working to properly park, maintain and store many aircraft in the
#BeingUnited
fleet. These aircraft are being housed across our seven hubs, maintenance facilities in CLE and MCO as well as at offsite facilities in New Mexico and Arizona.
We Are United
weareunited
Tomorrow, Oscar and Scott will host a companywide town hall to discuss the latest developments in managing the effects of the coronavirus (COVID-19). You can join the livestream event at 1:20 p.m. CT here:
uafly.co/39AV25m
We Are United
weareunited
Tomorrow, Oscar and Scott will host a companywide town hall to discuss the latest developments in managing the effects of the coronavirus (COVID-19). You can join the livestream event at 1:20 p.m. CT here:
uafly.co/39AV25m
.
Watch our most popular videos
Copyright © 2020 United Airlines, Inc.
All rights reserved.
Indicates an external site that may or may not meet accessibility guidelines.
Scroll to top
Scroll to top