The Pantheon and the Colosseum. St Peter's Basilica and the Vatican City. The Trevi Fountain and Roman Forum… And on and on and on. Rome's landmarks are celebrated around the world, and with good reason. As a result, they also need no introduction to anyone considering a vacation in the Eternal City.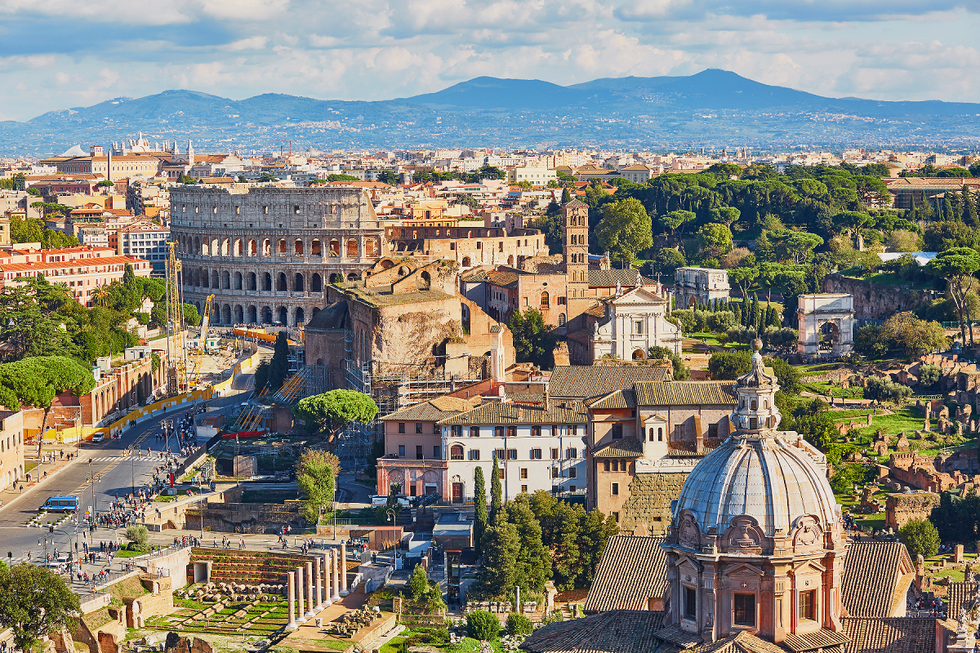 What are more useful to the first-time visitor are the hidden gems; the places to go and the experiences to be had that often go unnoticed. To give you a better understanding of the city and its people, factor in these seven essential experiences during your next visit to Rome.

Climb high for the best view
Get your bearings in the city by seeking out its most impressive aerial view. It's not to be found on one of the city's historic seven hills, but on the Janiculum Terrace, west of the Tiber and just outside of the ancient city. Still within easy reach, perched high above the Trastevere neighborhood, the views looking down are as spectacular as they are peaceful, except at noon when a single canon shot breaks the silence and carries on a tradition dating back to the 19th century. But even if you get the terrace to yourself, you'll never be completely alone: a giant statue of the Italian general Giuseppe Garibaldi on horseback stands proud on the Janiculum Terrace.
Drink coffee like an Italian
Rome takes its coffee consumption very seriously, and no amount of knowledge picked up at Starbucks will prepare you for the Eternal City. Here are some very basic rules:
Romans drink a lot of espresso, but espresso is not the term used—ask instead for "un caffè"—or a shot of espresso with a steamed milk—"un caffè macchiato". Ask for a "latte" and you'll get just the steamed milk and a side order of contempt. Order a double espresso—"un caffè doppio"—and you'll impress no-one: Italians drink plenty of coffee but in single shots.
To fit in with the locals in Rome (and Italy), remember the milk in the morning rule. Cappuccino, caffé latte, latte macchiato or any other milky coffee is reserved strictly for the mornings and should never be drunk after a meal and on a full stomach. After breakfast, your coffee should be kept simple — asking for a hazelnut top with chocolate swirls will be frowned upon.

Expect to stand not sit: coffee is to be drunk fast, downed in one by the bar—but coffee to-go is unusual outside of train stations. And if it's hot, ask for" un caffè freddo" or "cappuccino freddo", an iced espresso or cappuccino, both of which usually come pre-sugared.
Now you know what to drink, but you still need to know where to drink it. Caffè Sant'Eustachio and Tazza d'Oro are Roman institutions and should be at the top your 'To Do' list.
Get some glorious gelato
When not drinking coffee, you probably should be thinking about sampling the city's glorious gelato. Where to find the finest example depends on who you ask, but Gelateria del Teatro, Il Gelato di Claudio Torcè and Giolitti are three of the very best. Expect unique flavors such as champagne, garden sage and raspberry, and blueberries and cream.
It's still easy to discover bad gelato in Rome, however, so here are some quick guidelines. Avoid luridly colored ice creams: they've achieved the color through chemicals. Avoid the displays of fluffed-up gelato in high mounds: they've created the effect using thickeners. And always look for long line of customers: they're standing in line for a reason.
Eat your way round Testaccio Market
Rome is a gastronome's paradise with food markets taking pride of place in many central districts and reflecting the emphasis the city puts on fresh produce. The storied Campo de' Fiori Market dates back to 1869 and operates every Sunday in Centro Storico in the square of the same name—making it very popular with hungry tourists.
Another excellent option, as popular with Romans as with visitors, is Testaccio Market—or Nuovo Mercato di Testaccio, reflecting its move into a bright new building in San Giovanni & Testaccio. Head here and peruse some of Rome's finest fruits, vegetables, meats and cheeses. While you're there, grab an espresso and cannolo from one of the many street food kiosks. Keep your energy levels high; you could be there for quite some time.
Cook up a roman feast
While it's great to return home from Rome with a phone full of photographs, wouldn't it be more impressive to have picked up some new life skills along the way? Join one of many Italian cooking schools and you can do just that, mastering the art of cooking pasta, pizza and all points in-between. Lessons can range from intimate (Les Chefs Blancs) to the more raucous (Eataly). Opt for one that runs in the evening and you'll not only have the day for sightseeing, you'll also be cooking up your own dinner.
Head into Trastevere
Rome's most characterful neighborhood lies just across the Tiber river accessed via the beautiful stone footbridge, Ponte Sisto. Head for Trastevere—translation from the Latin phrase "trans tiberim": "beyond the Tiber"—and you'll notice the difference. Well away from the tourist filled crowds, you're surrounded by ancient, ivy-draped buildings, narrow cobbled streets and charming, tiny piazzas. Once a medieval working-class district, it's now a gentrified neighborhood filled with excellent trattorias and bars. Head in for an afternoon and stay deep into the night.
Explore Villa Borghese
To escape the crowds and noise of the city, head for Villa Borghese—up the Spanish Steps and a short walk on. The largest public park in the city stretches out over 226 acres and is literally a breath of fresh air to all who stop by. An Italian version of Central Park, it's home to museums, galleries, theaters, lakes, zoological gardens and a recreation of Shakespeare's Globe Theatre, not to mention fountains, monuments and so, so much more. Hiring a bike is your best way of seeing it, but even then you won't be able to experience it all in a single visit. You will need to return—and you won't be sorry.
If you go
United flies from 11 US cities direct to Rome's Fiumicino airport (FCO), a short cab or bus ride from the city center. For full details and to book, visit united.com or use the United app .