Rome's 9 most underrated experiences
The Pantheon and the Colosseum. St Peter's Basilica and the Vatican City. The Trevi Fountain and Roman Forum… And on and on and on. Rome's landmarks are celebrated around the world, and with good reason. As a result, they also need no introduction to anyone considering a vacation in the Eternal City.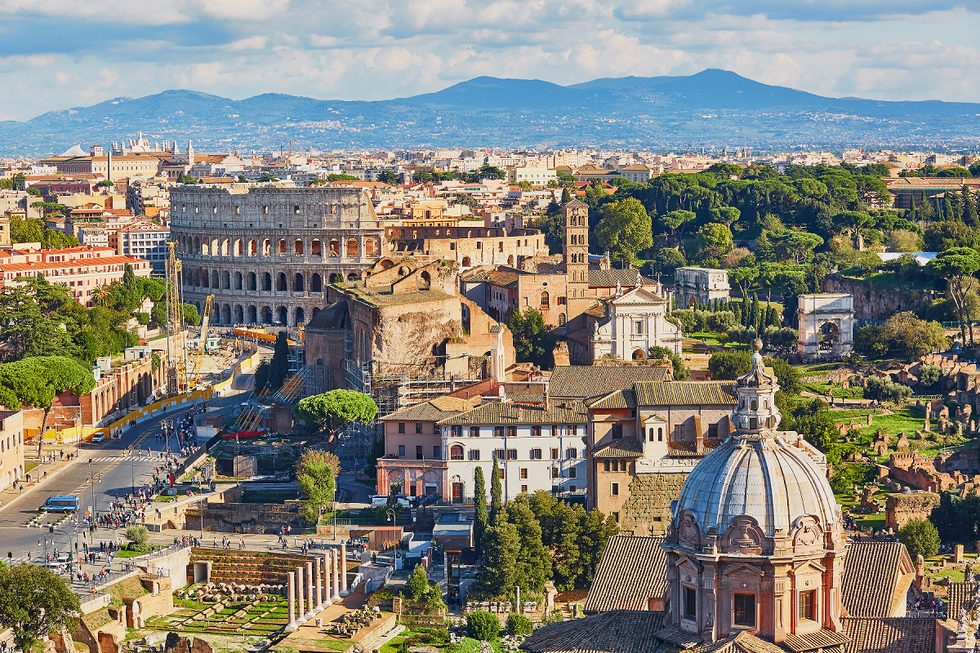 What are more useful to the first-time visitor are the hidden gems; the places to go and the experiences to be had that often go unnoticed. To give you a better understanding of the city and its people, factor in these seven essential experiences during your next visit to Rome.

Climb high for the best view
Get your bearings in the city by seeking out its most impressive aerial view. It's not to be found on one of the city's historic seven hills, but on the Janiculum Terrace, west of the Tiber and just outside of the ancient city. Still within easy reach, perched high above the Trastevere neighborhood, the views looking down are as spectacular as they are peaceful, except at noon when a single canon shot breaks the silence and carries on a tradition dating back to the 19th century. But even if you get the terrace to yourself, you'll never be completely alone: a giant statue of the Italian general Giuseppe Garibaldi on horseback stands proud on the Janiculum Terrace.
Drink coffee like an Italian
Rome takes its coffee consumption very seriously, and no amount of knowledge picked up at Starbucks will prepare you for the Eternal City. Here are some very basic rules:
Romans drink a lot of espresso, but espresso is not the term used—ask instead for "un caffè"—or a shot of espresso with a steamed milk—"un caffè macchiato". Ask for a "latte" and you'll get just the steamed milk and a side order of contempt. Order a double espresso—"un caffè doppio"—and you'll impress no-one: Italians drink plenty of coffee but in single shots.
To fit in with the locals in Rome (and Italy), remember the milk in the morning rule. Cappuccino, caffé latte, latte macchiato or any other milky coffee is reserved strictly for the mornings and should never be drunk after a meal and on a full stomach. After breakfast, your coffee should be kept simple — asking for a hazelnut top with chocolate swirls will be frowned upon.

Expect to stand not sit: coffee is to be drunk fast, downed in one by the bar—but coffee to-go is unusual outside of train stations. And if it's hot, ask for" un caffè freddo" or "cappuccino freddo", an iced espresso or cappuccino, both of which usually come pre-sugared.
Now you know what to drink, but you still need to know where to drink it. Caffè Sant'Eustachio and Tazza d'Oro are Roman institutions and should be at the top your 'To Do' list.
Get some glorious gelato
When not drinking coffee, you probably should be thinking about sampling the city's glorious gelato. Where to find the finest example depends on who you ask, but Gelateria del Teatro, Il Gelato di Claudio Torcè and Giolitti are three of the very best. Expect unique flavors such as champagne, garden sage and raspberry, and blueberries and cream.
It's still easy to discover bad gelato in Rome, however, so here are some quick guidelines. Avoid luridly colored ice creams: they've achieved the color through chemicals. Avoid the displays of fluffed-up gelato in high mounds: they've created the effect using thickeners. And always look for long line of customers: they're standing in line for a reason.
Eat your way round Testaccio Market
Rome is a gastronome's paradise with food markets taking pride of place in many central districts and reflecting the emphasis the city puts on fresh produce. The storied Campo de' Fiori Market dates back to 1869 and operates every Sunday in Centro Storico in the square of the same name—making it very popular with hungry tourists.
Another excellent option, as popular with Romans as with visitors, is Testaccio Market—or Nuovo Mercato di Testaccio, reflecting its move into a bright new building in San Giovanni & Testaccio. Head here and peruse some of Rome's finest fruits, vegetables, meats and cheeses. While you're there, grab an espresso and cannolo from one of the many street food kiosks. Keep your energy levels high; you could be there for quite some time.
Cook up a roman feast
While it's great to return home from Rome with a phone full of photographs, wouldn't it be more impressive to have picked up some new life skills along the way? Join one of many Italian cooking schools and you can do just that, mastering the art of cooking pasta, pizza and all points in-between. Lessons can range from intimate (Les Chefs Blancs) to the more raucous (Eataly). Opt for one that runs in the evening and you'll not only have the day for sightseeing, you'll also be cooking up your own dinner.
Head into Trastevere
Rome's most characterful neighborhood lies just across the Tiber river accessed via the beautiful stone footbridge, Ponte Sisto. Head for Trastevere—translation from the Latin phrase "trans tiberim": "beyond the Tiber"—and you'll notice the difference. Well away from the tourist filled crowds, you're surrounded by ancient, ivy-draped buildings, narrow cobbled streets and charming, tiny piazzas. Once a medieval working-class district, it's now a gentrified neighborhood filled with excellent trattorias and bars. Head in for an afternoon and stay deep into the night.
Explore Villa Borghese
To escape the crowds and noise of the city, head for Villa Borghese—up the Spanish Steps and a short walk on. The largest public park in the city stretches out over 226 acres and is literally a breath of fresh air to all who stop by. An Italian version of Central Park, it's home to museums, galleries, theaters, lakes, zoological gardens and a recreation of Shakespeare's Globe Theatre, not to mention fountains, monuments and so, so much more. Hiring a bike is your best way of seeing it, but even then you won't be able to experience it all in a single visit. You will need to return—and you won't be sorry.
If you go
United flies from 11 US cities direct to Rome's Fiumicino airport (FCO), a short cab or bus ride from the city center. For full details and to book, visit united.com or use the United app .


We're proud to launch a redesigned version of our United app to make it easier for customers with visual disabilities to manage all aspects of day-of travel, including check-in, viewing reservation details and flight status, bag tracking and more.
This latest version of our app is now available to both Android and iOS users, and it offers increased color contrast and more space between graphics. Furthermore, we have reorganized how information is displayed and announced to better integrate with screen reader technologies like VoiceOver and TalkBack, which are built into most handheld devices. By restructuring the way the information is organized on the app, screen readers are better able to convert text to audio in the proper, logical sequence, allowing customers to better understand and navigate the app.
"The parts of the travel experience that we all take for granted like checking luggage, getting your flight status and accessing a boarding pass can still be a challenge for someone with a visual disability," said EVP of Technology and Chief Digital Officer Linda Jojo. "These new accessibility enhancements are part of our continuing commitment to level the playing field, unlock all the customer benefits of our app and give people with disabilities more independence while traveling."
Senior Accessibility Analyst Ray Campbell is a member of United's digital team who's visually impaired and sits on the board of the American Council of the Blind. He played a key role in helping us redesign the app. He even put the app to the test as seen in this video.
"Optimizing mobile apps for tools such as VoiceOver and TalkBack has been a game changer, allowing people with visual disabilities to fully utilize smartphone technology in their daily lives," said Ray. "It's just as important for someone with a visual disability to easily access day-of-travel information and features as for any other customer. Improving the accessibility of the United app, helps us truly live out United's mission of caring for all customers."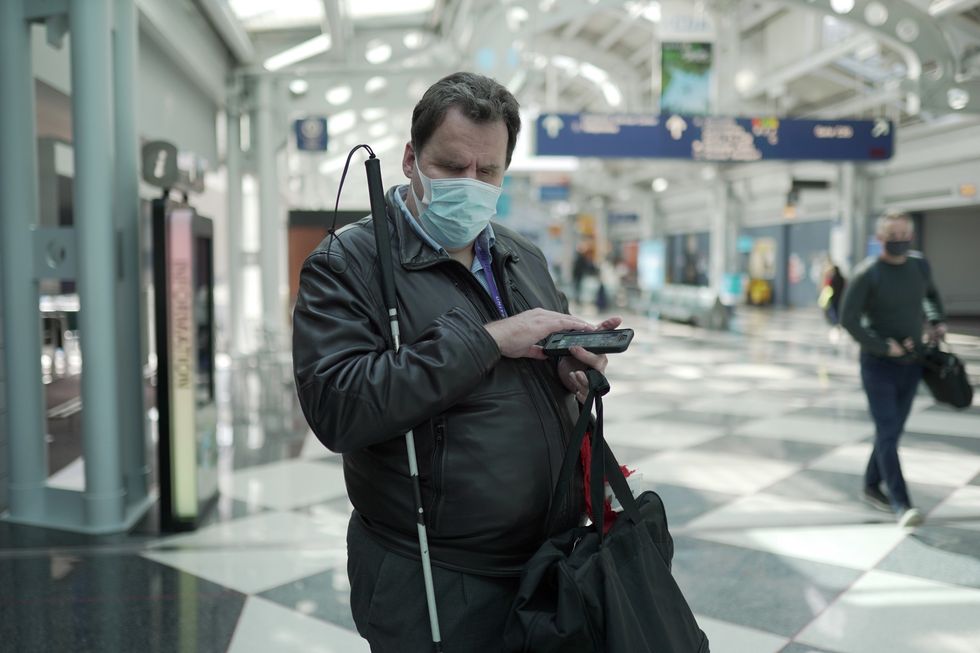 United's Senior Accessibility Analyst Ray Campbell using the mobile app at Chicago O'Hare International Airport.
Beyond the accessibility changes, our digital team enhanced the current offering while keeping the features that helped the app win a Webby People's Voice award in 2019.
For our MileagePlus® program members, the app now features a refreshed account experience for members to easily check balances, track Premier® progress, explore MileagePlus benefits, access past activity and more, all in one place.
The airline is also expanding a popular feature previously only accessible to MileagePlus members. Now, all 37 million customers who have the United app will see a contextualized home screen starting 48 hours before their flight which provides dynamic updates based on where a customer is in their travel journey. For example, customers can see the boarding status of their flight on their homescreen, access personal device entertainment onboard with one click, find a link to a map with gate-to-gate directions for connecting flights and click a quick access button to track any checked bags upon arrival.
We made slight tweaks to navigation based on customer feedback to make the app more intuitive, including making the bottom navigation persistent throughout the app. Another example is the "More" menu, which was reorganized and now contains the "Inbox" feature, which includes timely messages about boarding announcements, gate changes and other travel updates.
Customers will notice a new color palette that's consistent with the refreshed branding the airline debuted in 2019. United's digital team also made subtle design adjustments to make things more consistent and easier to find, like always using a purple bar to highlight the main call-to-action on a page and ensuring alerts and flight status icons appear the same way in every page on the app.
All of these changes are underpinned by a new back-end platform, which will ultimately make the app faster and more responsive.
The redesigned app is now available to download for iPhone®, iPad® and iPod touch® devices (as an iPhone app) and for Android devices.
Calling all AvGeeks and travelers! Take your next video call from a United Polaris® seat, the cockpit or cruising altitude with United-themed backgrounds for use on Zoom and Microsoft Teams.
Newly added to our collection is a background encouraging our employees and customers to vote. Our mission is to connect people and unite the world — and one of the most important ways to do that is to engage in the democratic process. No matter which party you support, we know our democracy will be stronger if you make your voice heard and vote.
So for your next meeting or catch up with friends and family, download the app to either your computer or mobile device to get started.
To use on Zoom:
Start here by downloading your favorite United image to your computer or mobile device. Just click "download" in the bottom left corner of the image.
Next go to your Zoom app (you'll need to download the app to access backgrounds) and click on the arrow to the right of your video camera icon in the bottom of the screen.
From here select, "choose virtual background" to upload your uniquely United photo.
To use on Microsoft Teams:
Start by downloading your favorite United image to your computer. Just click "download" in the bottom left corner of the image.

If you're using a PC, copy the image you want to use into this folder:

C:\[insert your device user name here]\AppData\Microsoft\Teams\Backgrounds\Uploads

If you're using a Mac copy the images to this folder on your computer:

/users/<username>/Library/Application Support/Microsoft/Teams/Backgrounds/Uploads

Once you start a Teams meeting, click the "…" in the menu bar and select "Show background effects" and your image should be there
Earlier this summer, we shone a light on our flagship partnership with Special Olympics and our commitment to the Inclusion Revolution. In that same story, we introduced you to our four Special Olympics Service Ambassadors, Daniel, Kyle, Lauren and Zinyra (Z), who, this month, celebrate one year working at Chicago O'Hare International Airport as part of the United family.
This groundbreaking, inclusive employment program took off as a part of our ongoing partnership with Special Olympics, a community relationship that employees across the company hold close to heart. The original 'UA4' (as they call themselves) have become an integral part of the United team serving customers at O'Hare Airport. Even from behind their masks, their wide smiles and effervescent spirit exude and bring life to the service culture of excellence we strive towards every day.
"The UA4 are more than just customer service ambassadors. They are shining examples of how inclusion, accessibility and equity can have monumental impacts on the culture and service of a business and community," said Customer Service Managing Director Jonna McGrath. "They have forever changed who we are as a company. While they often talk about how United and this opportunity has changed their lives, they have changed ours in more ways than we can count."
In the two years of partnership with Special Olympics, United employees have volunteered over 10,500 hours of service at events around the world and donated over $1.2 million worth of travel to the organization.
"This inclusive employment program is what community partnerships, like ours with Special Olympics, are all about: collaborating to identify areas where the needs of the community intersect with the cultural and business opportunity, then creating the infrastructure and programming to bring the two together," said Global Community Engagement Managing Director Suzi Cabo. "Through this program, our goal is to show other companies that when you put a committed effort and focus towards inclusion and breaking down barriers, you transform lives. I challenge other business around the world to follow our lead in joining the Inclusion Revolution."
Check out the video below to hear from our Special Olympics Service Ambassadors firsthand.
Scroll to top