Rome's 9 most underrated experiences
The Pantheon and the Colosseum. St Peter's Basilica and the Vatican City. The Trevi Fountain and Roman Forum… And on and on and on. Rome's landmarks are celebrated around the world, and with good reason. As a result, they also need no introduction to anyone considering a vacation in the Eternal City.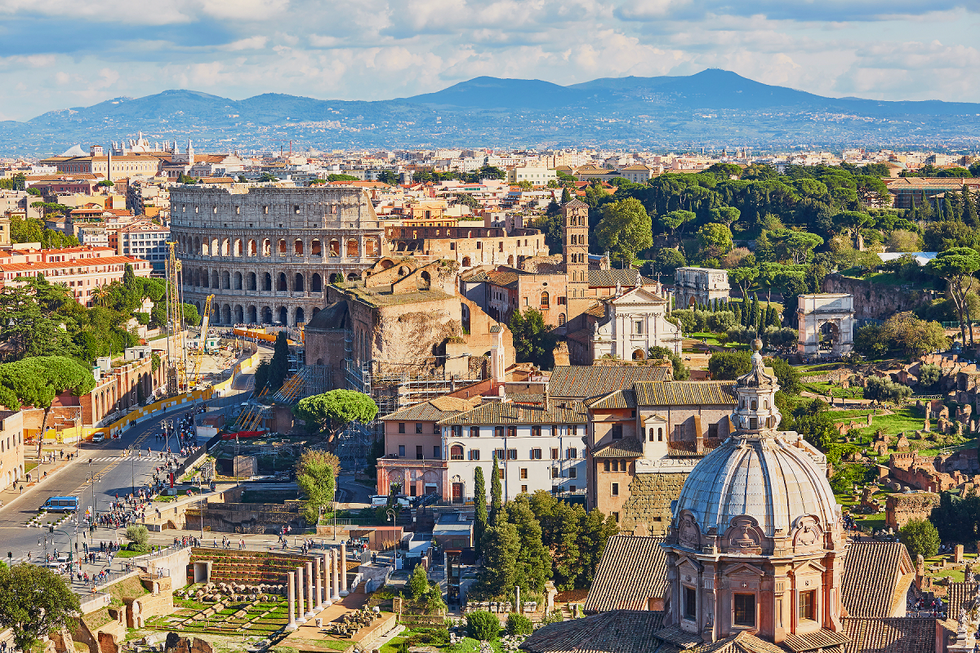 What are more useful to the first-time visitor are the hidden gems; the places to go and the experiences to be had that often go unnoticed. To give you a better understanding of the city and its people, factor in these seven essential experiences during your next visit to Rome.

Climb high for the best view
Get your bearings in the city by seeking out its most impressive aerial view. It's not to be found on one of the city's historic seven hills, but on the Janiculum Terrace, west of the Tiber and just outside of the ancient city. Still within easy reach, perched high above the Trastevere neighborhood, the views looking down are as spectacular as they are peaceful, except at noon when a single canon shot breaks the silence and carries on a tradition dating back to the 19th century. But even if you get the terrace to yourself, you'll never be completely alone: a giant statue of the Italian general Giuseppe Garibaldi on horseback stands proud on the Janiculum Terrace.
Drink coffee like an Italian
Rome takes its coffee consumption very seriously, and no amount of knowledge picked up at Starbucks will prepare you for the Eternal City. Here are some very basic rules:
Romans drink a lot of espresso, but espresso is not the term used—ask instead for "un caffè"—or a shot of espresso with a steamed milk—"un caffè macchiato". Ask for a "latte" and you'll get just the steamed milk and a side order of contempt. Order a double espresso—"un caffè doppio"—and you'll impress no-one: Italians drink plenty of coffee but in single shots.
To fit in with the locals in Rome (and Italy), remember the milk in the morning rule. Cappuccino, caffé latte, latte macchiato or any other milky coffee is reserved strictly for the mornings and should never be drunk after a meal and on a full stomach. After breakfast, your coffee should be kept simple — asking for a hazelnut top with chocolate swirls will be frowned upon.

Expect to stand not sit: coffee is to be drunk fast, downed in one by the bar—but coffee to-go is unusual outside of train stations. And if it's hot, ask for" un caffè freddo" or "cappuccino freddo", an iced espresso or cappuccino, both of which usually come pre-sugared.
Now you know what to drink, but you still need to know where to drink it. Caffè Sant'Eustachio and Tazza d'Oro are Roman institutions and should be at the top your 'To Do' list.
Get some glorious gelato
When not drinking coffee, you probably should be thinking about sampling the city's glorious gelato. Where to find the finest example depends on who you ask, but Gelateria del Teatro, Il Gelato di Claudio Torcè and Giolitti are three of the very best. Expect unique flavors such as champagne, garden sage and raspberry, and blueberries and cream.
It's still easy to discover bad gelato in Rome, however, so here are some quick guidelines. Avoid luridly colored ice creams: they've achieved the color through chemicals. Avoid the displays of fluffed-up gelato in high mounds: they've created the effect using thickeners. And always look for long line of customers: they're standing in line for a reason.
Eat your way round Testaccio Market
Rome is a gastronome's paradise with food markets taking pride of place in many central districts and reflecting the emphasis the city puts on fresh produce. The storied Campo de' Fiori Market dates back to 1869 and operates every Sunday in Centro Storico in the square of the same name—making it very popular with hungry tourists.
Another excellent option, as popular with Romans as with visitors, is Testaccio Market—or Nuovo Mercato di Testaccio, reflecting its move into a bright new building in San Giovanni & Testaccio. Head here and peruse some of Rome's finest fruits, vegetables, meats and cheeses. While you're there, grab an espresso and cannolo from one of the many street food kiosks. Keep your energy levels high; you could be there for quite some time.
Cook up a roman feast
While it's great to return home from Rome with a phone full of photographs, wouldn't it be more impressive to have picked up some new life skills along the way? Join one of many Italian cooking schools and you can do just that, mastering the art of cooking pasta, pizza and all points in-between. Lessons can range from intimate (Les Chefs Blancs) to the more raucous (Eataly). Opt for one that runs in the evening and you'll not only have the day for sightseeing, you'll also be cooking up your own dinner.
Head into Trastevere
Rome's most characterful neighborhood lies just across the Tiber river accessed via the beautiful stone footbridge, Ponte Sisto. Head for Trastevere—translation from the Latin phrase "trans tiberim": "beyond the Tiber"—and you'll notice the difference. Well away from the tourist filled crowds, you're surrounded by ancient, ivy-draped buildings, narrow cobbled streets and charming, tiny piazzas. Once a medieval working-class district, it's now a gentrified neighborhood filled with excellent trattorias and bars. Head in for an afternoon and stay deep into the night.
Explore Villa Borghese
To escape the crowds and noise of the city, head for Villa Borghese—up the Spanish Steps and a short walk on. The largest public park in the city stretches out over 226 acres and is literally a breath of fresh air to all who stop by. An Italian version of Central Park, it's home to museums, galleries, theaters, lakes, zoological gardens and a recreation of Shakespeare's Globe Theatre, not to mention fountains, monuments and so, so much more. Hiring a bike is your best way of seeing it, but even then you won't be able to experience it all in a single visit. You will need to return—and you won't be sorry.
If you go
United flies from 11 US cities direct to Rome's Fiumicino airport (FCO), a short cab or bus ride from the city center. For full details and to book, visit united.com or use the United app .


On March 19, 2020, United operated its first flight carrying cargo without passengers on board. While the passenger cabin was empty, its cargo hold was completely full, carrying more than 29,000 pounds of commodities from Chicago O'Hare International Airport (ORD) to Frankfurt Airport (FRA).
A year later, United Cargo has operated more than 11,000 cargo-only flights carrying more than 570 million pounds of freight. To support the COVID-19 pandemic recovery efforts, United Cargo has also transported more than 113 million pounds of medical and pharmaceutical products on both cargo-only and passenger flights as well as approximately 10 million COVID-19 vaccines, providing global communities access to the items they have needed most.
"At the beginning of the pandemic, we knew we were uniquely positioned to utilize our widebody aircraft and our network to keep commodities moving, so we quickly mobilized various departments throughout the airline to launch a cargo-only network of flights that would keep commodities moving," said United Cargo President Jan Krems. "Thanks to those efforts, United Cargo has delivered millions of items to countries all around the world. We would not have been successful without the steadfast support of our employees, industry partners and our customers."
Since last March, United Cargo has transported almost 850 million pounds of freight on cargo-only and passenger flights. The airline will continue to monitor market trends adjust its cargo-only flight schedules to help ensure we are meeting our customer's evolving shipping needs.
Whether you haven't flown with us for a while or just need a quick refresher before your spring trip, read this list of tips to know before your flight and arrive at the airport travel-ready:
1. Download the United app for contactless bag check, travel assistance and more
Before your flight, download the United app to view your flight status, check in, sign up for flight notifications, locate departure gates, access our free personal device entertainment when available and more. We've also updated our app with new features that can make your trip a little safer, including contactless bag check.
Don't forget to use Agent on Demand for help with any and all questions you may have before your flight. This new capability is available at all our U.S. hub airports and allows you to use your own mobile device to contact a customer service agent via phone, video or chat to help with day-of-travel questions while you're at the airport. Learn more about Agent on Demand here.
2. Check out the Travel-Ready Center
Our Travel-Ready Center makes it easy to get a personalized overview of everything you need to do in preparation for your flight. Just enter your confirmation number or MileagePlus® number and you'll find detailed information on all the documents, tests and more that you'll need for your trip.
3. Read and sign the Ready-to-Fly checklist
Before completing check-in, all United travelers will need to read our Ready-to-Fly checklist and confirm that they understand and agree to our policies. These include:
Acknowledging that you haven't had any symptoms of COVID-19 in the last 14 days
Agreeing that you will not fly if you have tested positive for COVID-19 within the last 21 days
Confirming that you will follow all policies regarding face masks, social distancing and other health and safety measures we've adopted
4. Arrive early; avoid the stress
Airports can be busy, especially during peak travel periods like spring break season. The TSA advises arriving at the airport two hours before your flight for domestic travel and three hours for international travel in anticipation of long security lines. This can help ease the stress when navigating busy check-in areas, security lines and crowded boarding gates.
5. Get familiar with CleanPlus
United CleanPlus℠ is our commitment to delivering industry-leading cleanliness as we put health and safety at the forefront of your experience. We've teamed up with Clorox to redefine our cleaning and disinfection procedures and Cleveland Clinic to advise us on enhancing our cleaning and disinfection protocols, like:
Disinfecting high-touch areas on board and in the terminal
Using electrostatic spraying, Ultraviolet C lighting wands and more advanced measures to clean aircraft cabins before boarding
Redesigning our mobile app to allow for touchless check-in and contactless payment, along with enhanced travel assistance features
Implementing high-efficiency (HEPA) filters on our aircraft that completely recirculate cabin air every 2-3 minutes and remove 99.97% of airborne particles, including viruses and bacteria
Studies show COVID-19 exposure risk is minimal when air filtration systems and masks are in use, so you can rest assured that the steps we've taken to keep you safe truly make a difference.
6. Wear your mask
Federal law requires all travelers to wear a face mask in the airport, including customer service counters, airport lounges, gates and baggage claim, and on board during their entire flight. Make sure you review the requirements for face masks, including what an acceptable face mask looks like.
7. Get ready for a safer boarding process
To make boarding even safer, we now have travelers board their aircraft from back to front. At the gate, just listen for your row number to be called – we'll ask a few rows at a time to board, starting with the last row of the plane. This helps everyone maintain a safe distance from each other during boarding without slowing things down. As you step onto the plane, flight attendants will hand each passenger a sanitizing towelette, which you can use to wipe down your seat to ensure it's extra clean.
8. Pack smart
Before packing your bags, check to see what exactly you can carry on and what you should plan to check. You can also copy your confirmation number into our Baggage Calculator tool to learn about the bag allowance included with your reservation, as well as the cost of checking any additional bags.
9. Check your flight status, important notices and weather
Check the United app regularly for the latest updates on weather conditions, flight status, gate numbers and seat assignments. You can also visit our Important Notices page to find essential information and updates about travel waivers, international travel, TSA and security, airports and United Club locations.
10. Relax and enjoy your flight
Once you're on board, it's time to sit back and enjoy your flight. Our flight attendants will be happy to help you with anything else you need.
This week, we were honored to become the first U.S. airline to join the UNICEF Humanitarian Airfreight Initiative to combat the COVID-19 pandemic by transporting the vaccine and other critically needed supplies to underserved areas of the globe.
"We are committed to helping the global community in any way we can, and we all must work together to do our part to bring this health and humanitarian crisis to an end," said Director of Cargo Specialty Products Manu Jacobs.
We will leverage our expertise to transport these critical pharmaceutical and healthcare shipments around the world safely, efficiently and expediently. We are proud to partner with the United Nations to support this global effort and provide equitable access to COVID-19 vaccines.
Scroll to top