'Round the world with Star Alliance
Celebrating 20 years of Star Alliance connecting the globe
It happened 20 years ago, but David Lipsey remembers it like it was yesterday. August 9, 1997. His wife Dianne's birthday party. He had a surprise for her, one that was sure to make any gift that came before it, or any that would come after it, pale in comparison.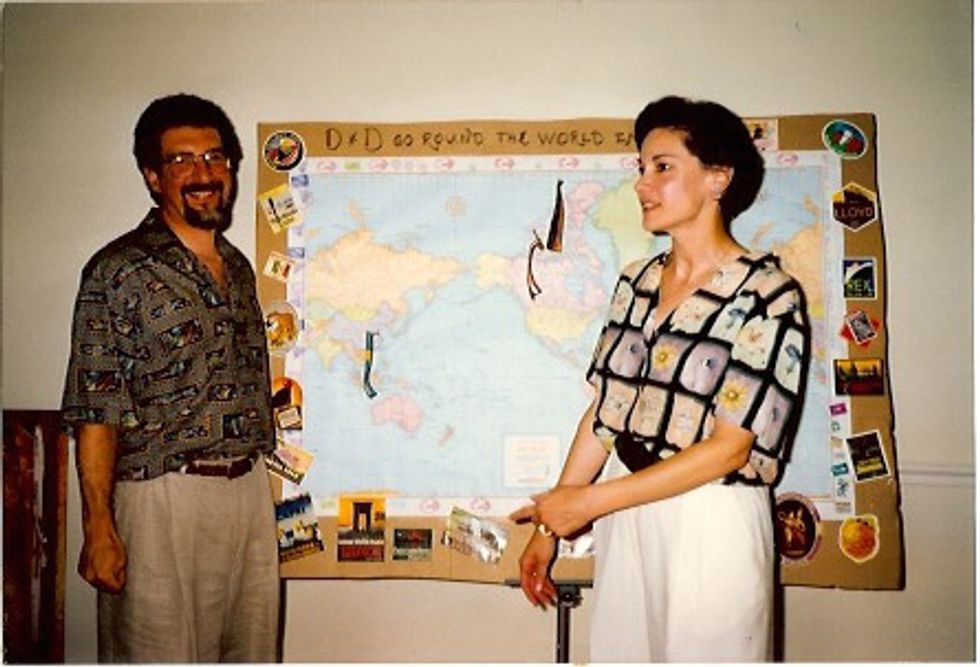 That evening, David led a blindfolded Dianne into the living room of their home in McLean, Virginia, and placed a set of flags attached to a pin into her hand. He helped her spin around a few times for effect, took her gently by the arm and aimed her toward a framed map of the world that had been placed on an easel. Dianne made her way gingerly toward it, the sharp end of the pin feeling around the empty space in front of her, unaware of the wonders that awaited.
Several days prior, David had received a phone call from the senior vice president of marketing at United Airlines with an incredible offer: Two tickets for him and a companion for a round-the-world voyage anywhere that a Star Alliance partner airline flew.
It was the grand prize in a drawing that David had entered as part of the first-ever promotion for the newly established Star Alliance – celebrating its 20th anniversary this year – of which United is a founding member. While he remembered registering his name, in the face of such a reality as winning, he found the news hard to believe.
"At first I was more than a bit skeptical," he recalled, "but after politely hanging up twice and getting two calls back, it finally dawned on me that it actually had happened. It was like being given a magic carpet ride."
Like Charlie Bucket unwrapping the golden ticket, suddenly the Lipseys' wildest dreams were within reach. A poker-faced David managed to keep his excitement a secret until Dianne's birthday, when he sprang it on her in the form of the aforementioned symbolic pin-the-tail-on-the-donkey game.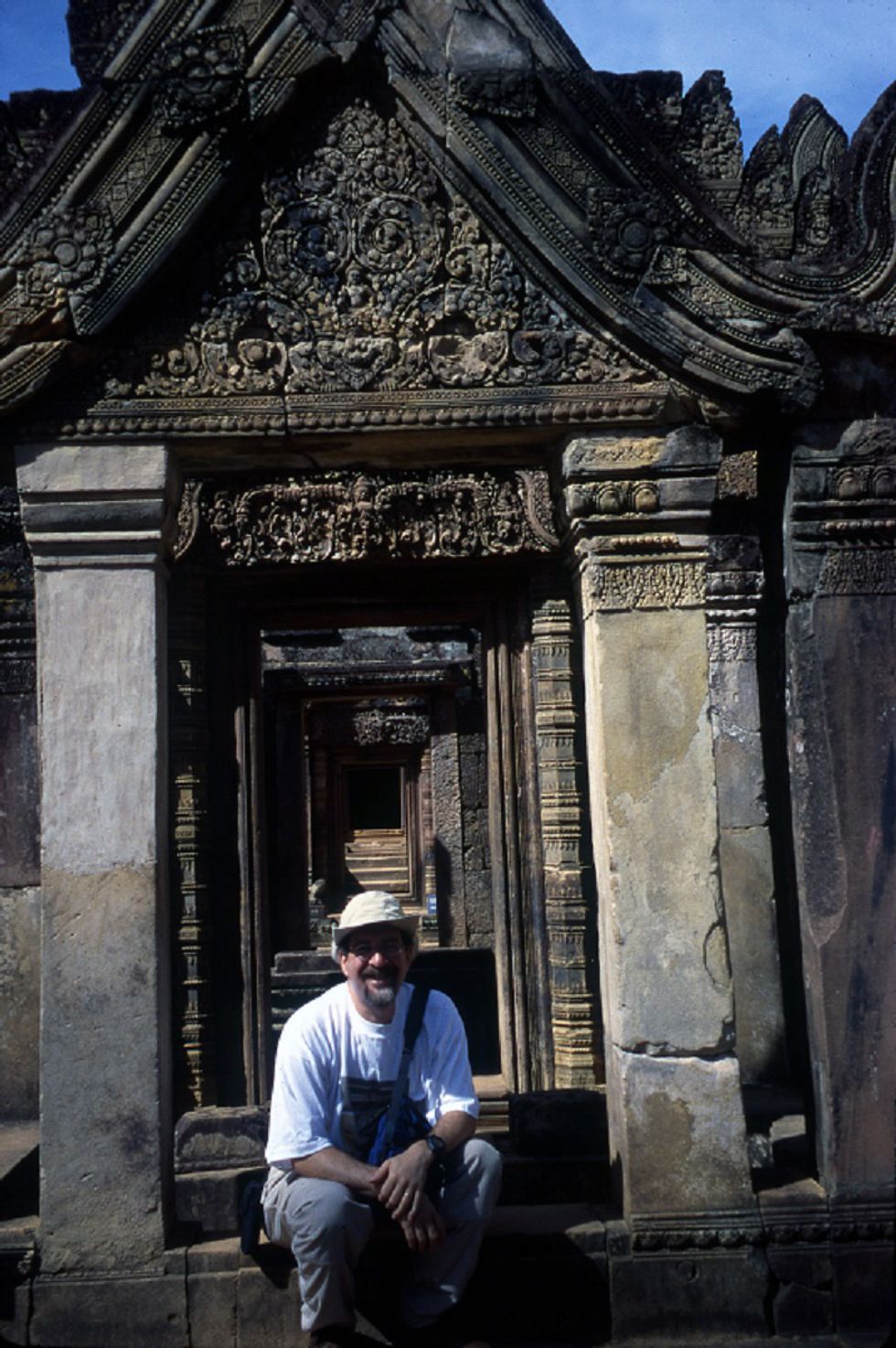 "We decided that we would go nowhere easy," David said. "We each took a piece of paper and wrote down a place we wanted to see. Dianne picked Nepal, and I had always wanted to visit Cambodia. We had close friends living in Egypt, so that was an easy addition. In the end, we built the trip around those three stops."
The two seasoned travelers wanted to use the once-in-a-lifetime opportunity to connect with other cultures on deep level. For the next year, David and Dianne immersed themselves in the art, culture and history of their selected destinations. They studied with the curator of Southeast Asian art at Washington, D.C.'s Sackler Museum in preparation for their Asian stops and located guides, fixers and professional itinerary planners to help them navigate the other out-of-the-way locales where they would soon find themselves.
They also commissioned a series of small, glass globes from artist Josh Simpson, each one inscribed with the words "D and D go around the world, XI/XII 1998," with the plan to leave them in the distant places that called to them, hidden away for future discovery by other seekers.
In November 1998, they departed Washington-Dulles International Airport on a United 747 for the first leg, destined for Cairo, Egypt. Over the next two months, they would go from Cairo (with a side trek into Syria) to Hong Kong to Phuket, Thailand, to Siem Reap, Cambodia, back to Bangkok, Thailand, to Katmandu, Nepal, ending in Auckland, New Zealand, before returning to McLean.
"So – what was the best part?" It's the question David and Dianne have fielded more than any other over the past two decades. David answered me philosophically, reflecting on the virtues of each place and looking at the entire trip as a series of revelations.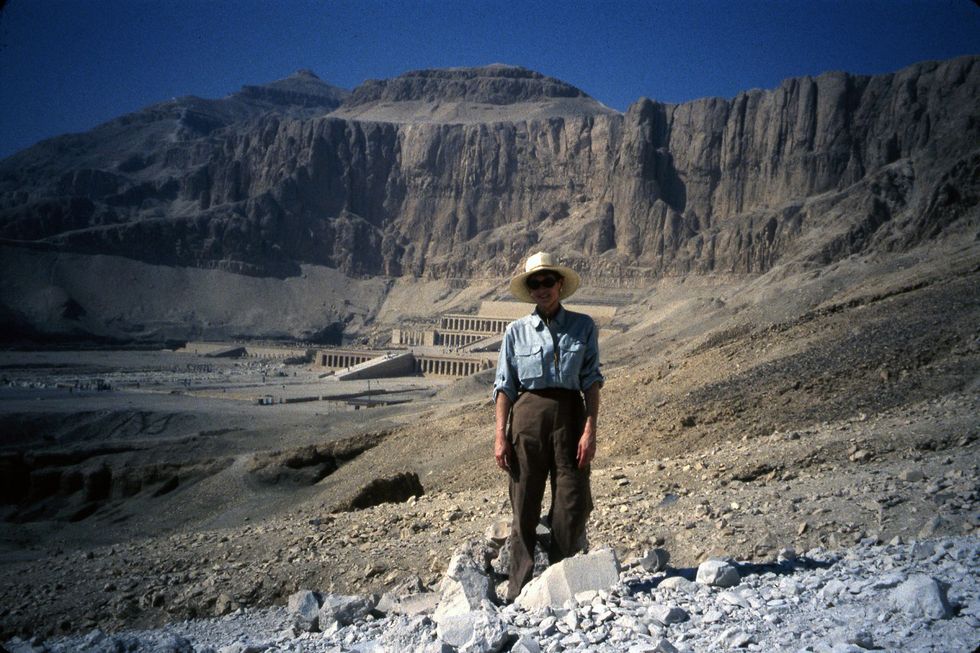 He described touring the Egyptian desert with a Bedouin guide, stopping at St. Anthony's, a Coptic monastery, where an English-speaking monk talked with them about the spiritual illumination that travel begets. Similarly, at a Buddhist temple in northern Thailand, a priest took David and Dianne aside and, without knowing who they were or why they were there, spoke of the blessings that accompany wanderlust.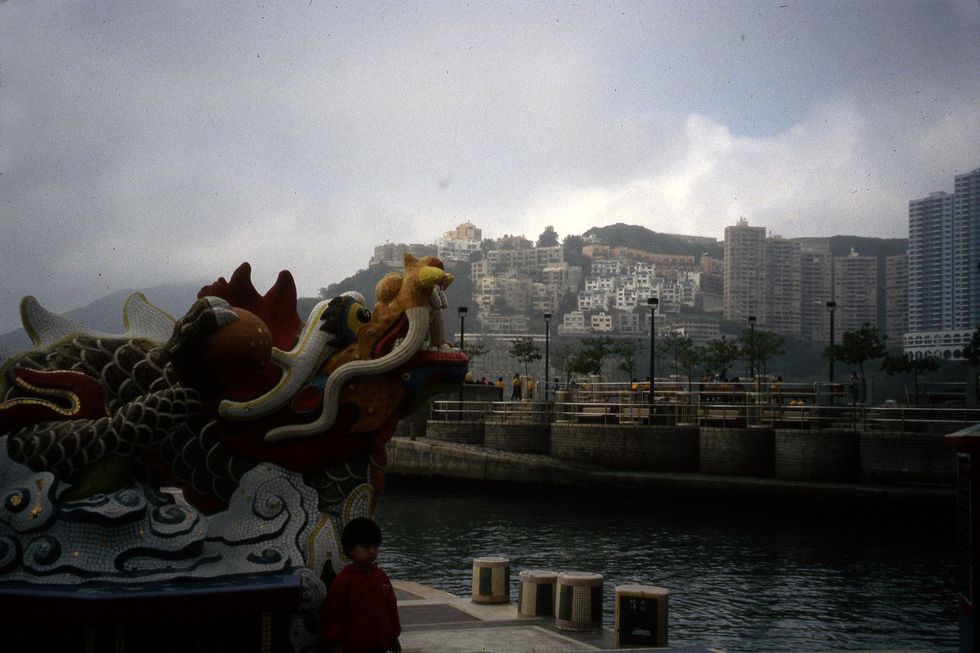 In Nepal, they trekked the Himalayas in search of a place where all roads end. In Hong Kong, they searched out fortune-tellers and traditional healers at a centuries old Chinese healing complex. Finally, David and Dianne spent the last few days of December 1998 at a hillside resort near Auckland. "The last week was a week of recovery and reflection," he said, "and of being in awe of what we had seen and done over the past two months. We landed back in Washington, D.C., on New Year's Eve; what a way to end one year and start a new one."
To this day, David credits United for giving him and Dianne the gift of stories that still draw a crowd at any cocktail party, and he's happy to tip his hat to the airline's employees whenever he gets the chance.
"I never get on airplane without saying thank you to the staff taking care of me. I think this trip helped me understand the complexities of travel, and I never underestimate that."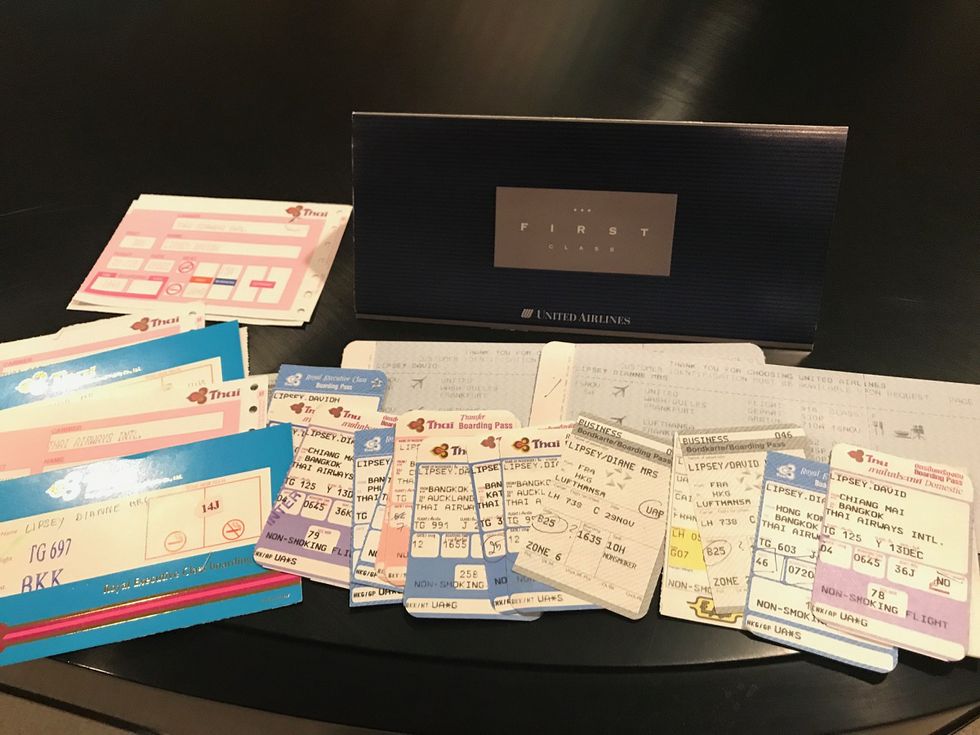 In the years since their landmark trip, David and Dianne have continued to travel extensively, exceeding 100,000 miles annually and remaining loyal to United and its Star Alliance partners. And the wisdom earned on their around-the-world adventure still guides them.
"That trip was something that you reflect upon for the rest of your life," David said. "It reinforced in me the desire to always keep looking and to try to create an ongoing conversation with the world around me."
Maybe, like David and Dianne, your wandering spirit is in search of something more than the average getaway. If so, Star Alliance offers its "Round the World Fare," with access to 1,300 destinations in 191 countries. Visit the site and begin building your own adventure.
Calling all AvGeeks and travelers! Here's a fun way to take your next video call….from a United Polaris seat, the cockpit or cruising altitude. We're introducing United-themed backgrounds for use on Zoom, a video conferencing tool that many people are using to stay connected.
So for your next meeting or catch up with friends and family, download the app to either your computer or mobile device to get started. If you've already downloaded Zoom you can skip ahead to updating your background image (see instructions below).
Start here by downloading your favorite United image to your computer or mobile device. Just click "download" in the bottom left corner of the image.
Next go to your Zoom app (you'll need to download the app to access backgrounds) and click on the arrow to the right of your video camera icon in the bottom of the screen.
From here select, "choose virtual background" to upload your uniquely United photo.
When and where possible, we are working to repatriate travelers who are stranded abroad in the wake of the COVID-19 crisis. Our teams are working closely with government officials here in the U.S. as well as in other countries where flying has been restricted to gain the necessary approvals to operate service. In regions where government actions have barred international flying, we have coordinated with the the U.S. State Department and local government officials to re-instate some flights. Additionally, we have been operating several extra flights to countries in Central America and South America as we continue to play a role in connecting people and uniting the world.
We have operated more than 56 repatriation flights from Panama City, Guatemala City, Quito, Lima, San Pedro Sula, Tegucigalpa and Roatan, bringing nearly 8,000 people home. We will continue working with government officials to operate extra flights to Houston from Quito, San Pedro Sula, Tegucigalpa and from Lima to Washington Dulles and beginning April 5, we will begin operating multiple charter flights between Delhi and San Francisco. We continue to review more opportunities for flights between the United States and other countries to bring citizens home.
Video provided by the U.S. Embassy Ecuador of Americans returning home on United.

Additionally, our Customer Solutions and Recovery team is working with customers in the following markets to rebook them on flights back to the United States as capacity allows, either on our aircraft or on one of our airline partners' planes:

Quito, Ecuador
Managua, Nicaragua
Roatan, Honduras
San Pedro Sula, Honduras
Amsterdam
Brussels
Munich
Singapore
Tokyo-Haneda
Seoul, South Korea
Melbourne, Australia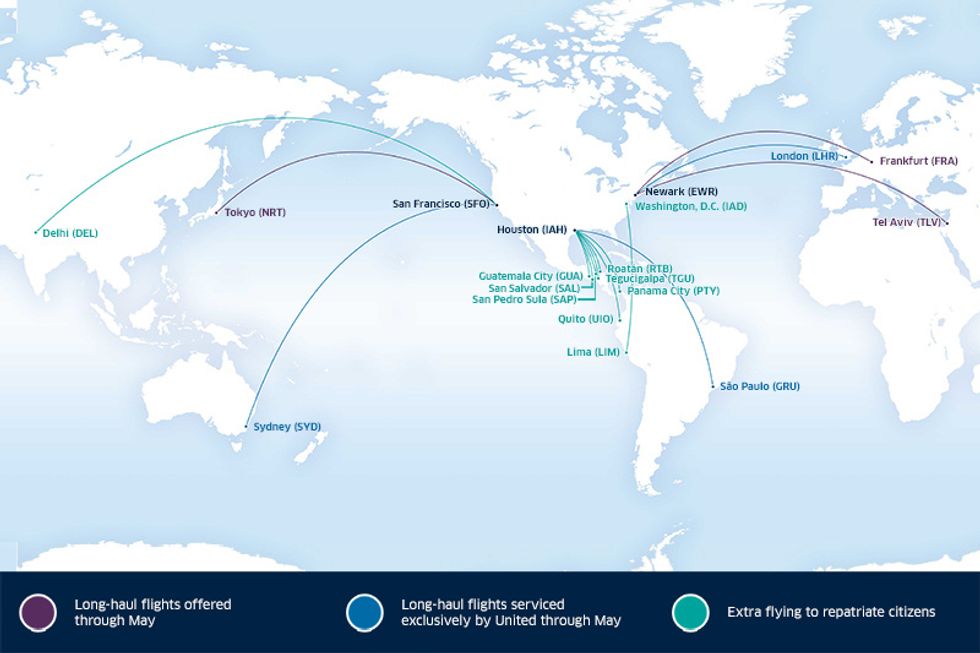 We also recently reinstated several international flights back into our schedule to support customers and essential businesses which depend on these routes. As a result, we will be the only airline to offer service between Newark/New York and London, San Francisco and Sydney, as well as Houston and São Paulo, Brazil.

In the midst of mobilizing our cargo operations, our teams at New York/Newark (EWR) and Jacksonville (JAX) stepped in to assist Roche Diagnostics with transporting a vital component for an instrument being used for COVID-19 testing.
The component was stuck at EWR en route to the Mayo Clinic in Florida after another airline's flights were cancelled. A Roche employee contacted us asking for help and, within a few hours, our teams had the piece loaded onto a Jacksonville-bound aircraft, with arrangements in place to deliver it to the Mayo Clinic.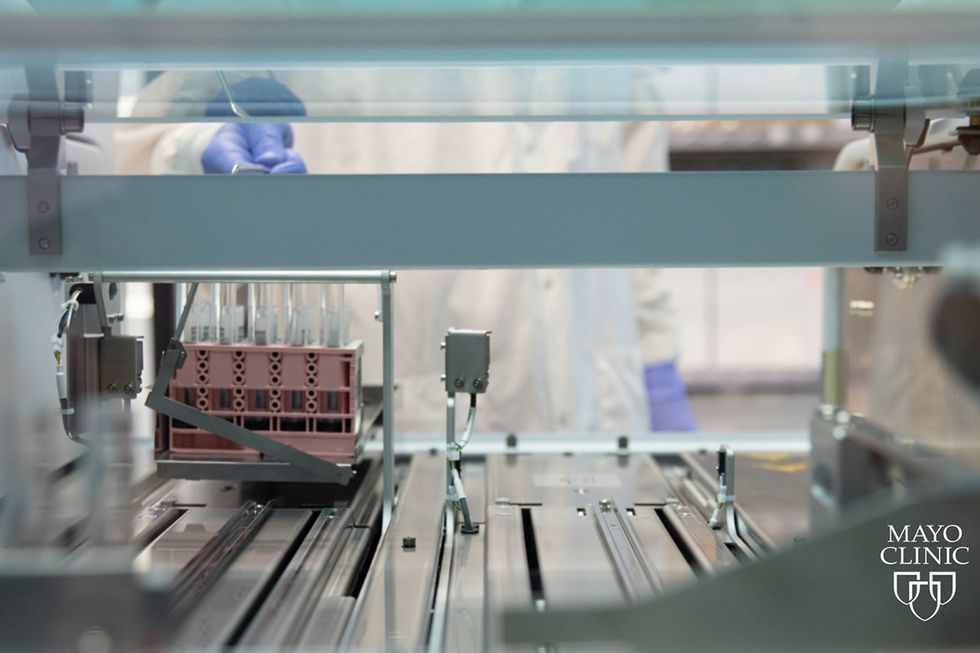 The item we shipped will allow the Mayo Clinic in Florida to process hundreds of COVID-19 tests per day. Mayo Clinic Laboratories has been on the front lines of increasing testing capacity to expedite caring for patients at this critical time and working to ease the burden being felt at test processing laboratories in a growing number of areas.

Together, we are facing an unprecedented challenge. United Together, we rise to meet that challenge.
Check out our newest destinations
United Airlines
united
We continue to work with government officials to bring Americans home. In addition to flights from Central & South America, we have charter flights planned from India. Learn more about our repatriation efforts in the wake of COVID-19 here:
uafly.co/3aExaOL
#UnitedTogether
United Airlines
united
When
@RocheDia
needed to ship a vital component of a COVID-19 testing unit from New Jersey to Florida, United Cargo jumped in to help. Read about how this part will allow
@MayoClinic
to process hundreds of tests per day for cases in the Southeastern U.S.
uafly.co/2UzOAGW
United Airlines
united
International schedule update: We know some people around the globe are displaced and still need to get home. We are reinstating some international flights over the next few days and will continue to fly six daily international flights through May.
uafly.co/3a5Dj6p
United Airlines
united
We have extended our change fee waiver to cover travel through May 31, 2020: - You can change or cancel your flight on
united.com
or through the app – a phone call is not required - For the latest on our commitment to your safety, visit
united.com/coronavirus
We Are United
weareunited
Shoutout to our operations team, who are working to properly park, maintain and store many aircraft in the
#BeingUnited
fleet. These aircraft are being housed across our seven hubs, maintenance facilities in CLE and MCO as well as at offsite facilities in New Mexico and Arizona.
We Are United
weareunited
Tomorrow, Oscar and Scott will host a companywide town hall to discuss the latest developments in managing the effects of the coronavirus (COVID-19). You can join the livestream event at 1:20 p.m. CT here:
uafly.co/39AV25m
We Are United
weareunited
Tomorrow, Oscar and Scott will host a companywide town hall to discuss the latest developments in managing the effects of the coronavirus (COVID-19). You can join the livestream event at 1:20 p.m. CT here:
uafly.co/39AV25m
.
Watch our most popular videos
Copyright © 2020 United Airlines, Inc.
All rights reserved.
Indicates an external site that may or may not meet accessibility guidelines.
Scroll to top
Scroll to top