San Antonio's Fantasy Flight fairy
Thirty years ago, San Antonio-based Lead Customer Service Representative Beth Reininger was asked by a colleague to help with San Antonio Airport's Fantasy Flight. Thirty years later, Beth has 30 Fantasy Flights under her belt, and a whole lot of love for all the kids she's met throughout the years.
"I come back every year for the kids. It's always been about the kiddos and making sure we give them memories that they will cherish forever," said Beth.
During her first few years as a volunteer, Beth couldn't make it through the event without getting sad, but with time, she learned to remember there's something to celebrate. "Their being here means they got another day, and that calls for a celebration of their lives."
All the kids hold a special place in Beth's heart, but there's one in particular whom she looks forward to seeing every year.
Sixteen-year-old Samantha has been attending San Antonio's Fantasy Flight for the past 12 years. After being diagnosed with stage IV brain cancer at the age of three, Samantha's family didn't imagine they'd be coming back to the event over the next 12 years.
"It's truly a miracle. I don't know what God's plan is for Samantha but he would never have let me keep her this long if he didn't have a plan," said Samantha's mom, Dulce Muckleroy. "I want United to understand what an amazing gift they're providing these kids, some of whom will never get a chance to leave their hometowns, let alone get on a plane, by putting on such a wonderful event for them."
Although, remarkably, now in remission, Samantha has never been able to grow hair. Despite what some would find embarrassing, she proudly embraces her bare scalp.
"She refuses to wear a wig because she says her bald head is a sign of courage," said Beth. "She's such an incredible young girl and an inspiration to me. Every single year, I look through the list to see if she's coming, because she gives us all hope that you can be a fighter and a survivor."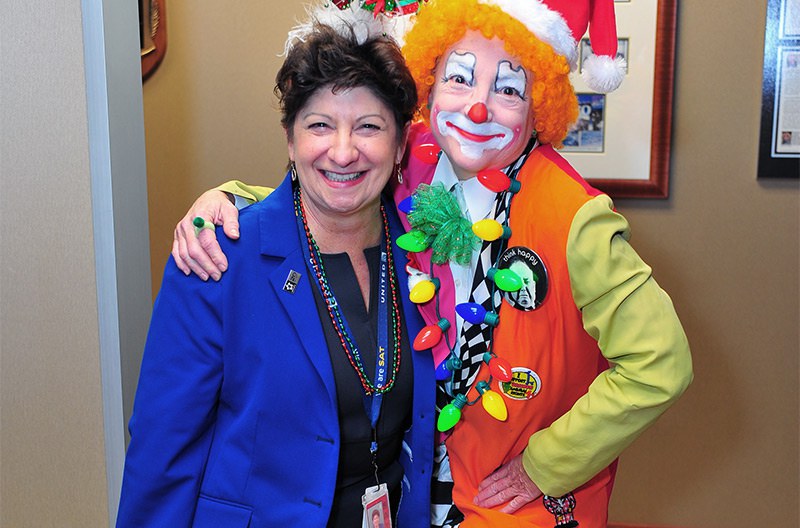 Although Beth has taken the role of coordinating the event each year, it takes many helping hands to create this unique and memorable experience for the kids – between decorating, purchasing presents, arranging food, gathering volunteers and much more, it's quite the team effort.
Thankfully for Beth, she has rock star volunteers in Houston-based Flight Attendants Janet Sweeney and Heather Graham and Houston-based 737 Captain Vern Robinson, who each volunteer to be part of the crew on San Antonio's Fantasy Flight, in addition to putting in time well before the event as preparations unfold.
"It really does take a village to pull this off, and there's no way I could do any of this without the help of all of the volunteers who put so much time and effort into this. Everyone's dedication is admirable," said Beth.
Despite the countless hours of hard work, the day of the Fantasy Flight is always Beth's favorite day of the year.
"For just a few hours, the kids, along with their parents and siblings, get to experience the magic of our winter wonderland," said Beth. "We give them an escape, and if their pain and worries go away for just those few precious hours, it makes it all worthwhile."
More from
Fantasy Flights