United says 'salud' to new dining and beverages on board
Expansion of complimentary meals and beverages
Modern, flavorful new entrées and snacks are rolling out today on many Latin America and Caribbean flights. Look forward to complementary meals such as fresh fruit, a muffin and a hot ham, egg and cheese sandwich for breakfast on flights between the U.S. and Bogota, Colombia, and the U.S. and Quito, Ecuador.
For lunch and dinner, enjoy entrees like pan-roasted chicken breast with herbs and porcini cream sauce, paired with Carolina grits and spinach. Free wine and beer will also now be available on those flights, as well as in other Latin America markets and on service within Asia.
New premium cabin meals and snacks
All-new meals and snack are coming to the Premium-cabin on flights departing for the United States from more than a dozen cities in Colombia, Costa Rica, the Dominican Republic, Ecuador, El Salvador, Guatemala, Honduras, Nicaragua, Panama, Trinidad and Tobago and Venezuela.
Indulge in breakfast entrees like banana pancakes with chorizo sausage and caramelized pineapple or a chive omelet with Lyonnaise potatoes and for lunch and dinner, savor a selection of new entrees like braised-beef short ribs in dark beer demi-glace sauce with sautéed mushrooms, paired with celery, oven-roasted potatoes and cherry tomatoes and served with a fresh seasonal green salad.
If you're flying overnight you can now munch on hearty chilled snacks, such as fresh-fruit served with grilled chicken and a roasted corn and black-bean salad.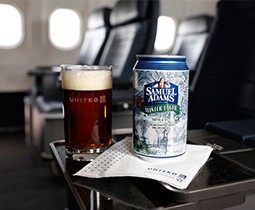 Seasonal beer
This month look forward to a tasty, new seasonal craft beer on board worldwide and in more than a dozen United Clubs. Samuel Adams Winter Lager is a dark wheat winter lager brewed with fresh ground cinnamon, along with ginger and orange peel, for a deep smooth flavor. Cheers to that!
"We're listening to our customers and taking action to make their journeys more memorable," said Jimmy Samartzis, United's vice president of food services and United Clubs. "By delivering more restaurant-quality meals, prepared with the best ingredients, and more chances to enjoy complimentary drinks, like seasonal beer, we're getting to the heart of what customers tell us they want from their travel experience."
More from
Customer Experience