Seeing the world one race at a time
By: Jennifer Canale, United MileagePlus® Premier® 1K® member
I grew up in the Midwest with horrible asthma due to pollen allergies. In school, I was always the last one picked for teams in gym class because I couldn't run without wheezing. I was in the hospital weekly between Memorial Day and Labor Day because my asthma would get so bad.
Thus, I never knew the joys of running.
Twenty years later, I'm living in San Francisco, working trade shows and events, including booths for various sponsors at the San Francisco and San Jose Rock 'n' Roll Marathon expos. One year at the United Airlines Rock 'n' Roll Half Marathon San Francisco expo, I heard one of the staff members ask a woman, "What races are you doing this year?" Her answer: "All of them."
That woman was Sherry Ricker.
I thought to myself, "How cool is that? People travel around the country running races! I wish I could. But I have asthma, and I can't run."
A year later, I was managing another race event when my staff said, "You walk at least 15 miles a day managing this expo. You can do 13!"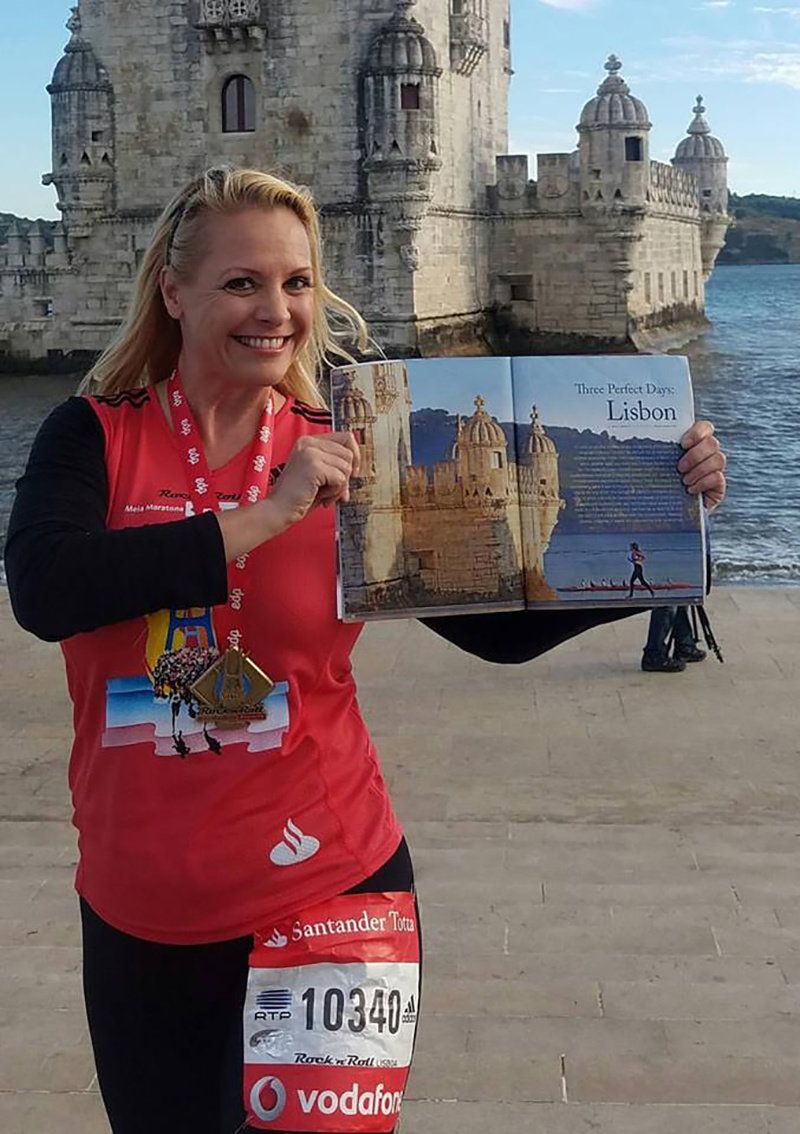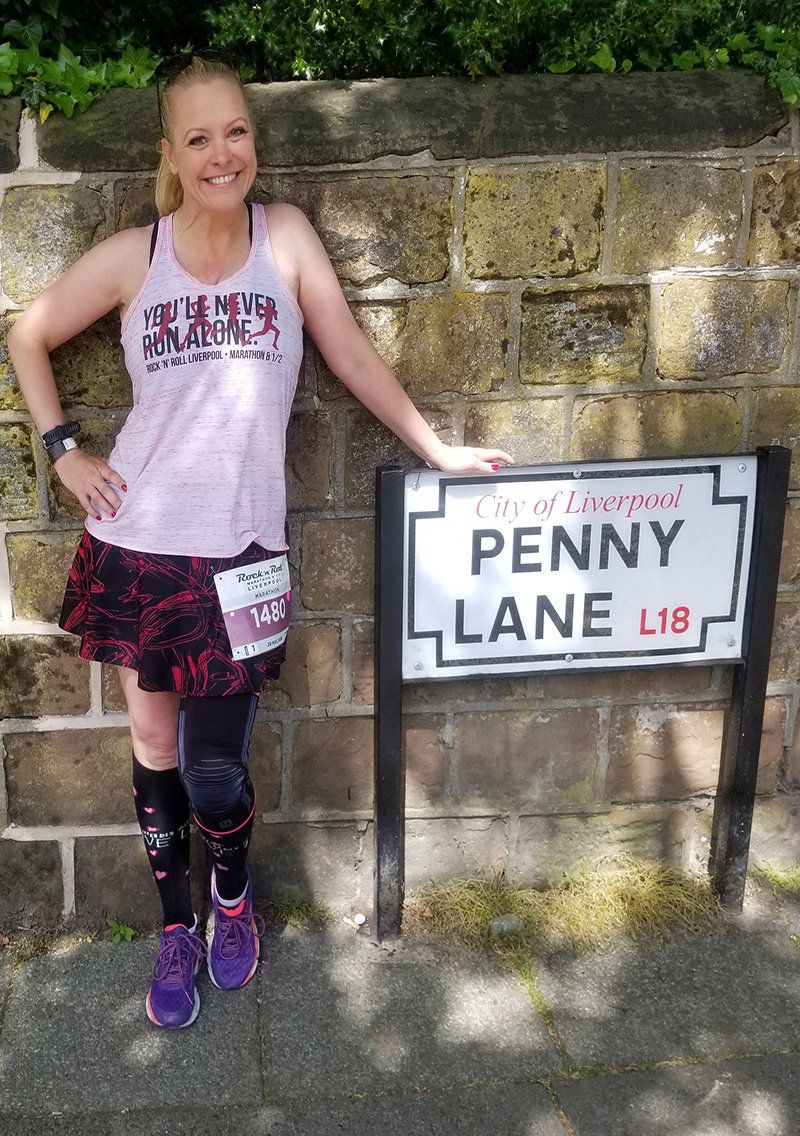 Six months later, in October 2014, I finished my first half marathon.
I travel for work, flying about 100,000 miles a year, mostly across the country. United was the airline I chose for my commute, as they have a hub in San Francisco. I quickly discovered the benefits of being a United MileagePlus Premier 1K member, and for the past few years have enjoyed the perks they offer.
I was working in Washington, D.C. in 2016 and noticed that the Rock 'n' Roll Washington D.C. race was a few days after my show ended. I called United, changed my flight and signed up for the race. People at the expo told me that if I bought a "Tour Pass," I could sign up for any races I wanted all over the country and Europe. Well, why not combine travel for work with races? A bond was created between Rock 'n' Roll and me.
I completed the Rock 'n' Roll Washington D.C Half Marathon, and through a twist of fate, met a group of runners who jump on planes to run races all over the world nearly every weekend. Oh, those are my kind of people! I thought to myself, "Runners are fast, they are young, they are skinny and healthy. I won't fit in."
Nothing could be further from the truth with this group. Every demographic was represented here, from young to old, fast to slow and all body types. Most of them were running at least 15 races with Rock 'n' Roll, going after this "Hall of Fame" medal that was introduced the year before. I thought to myself, "I can do this, too."
I should have known Sherry was a member of this group.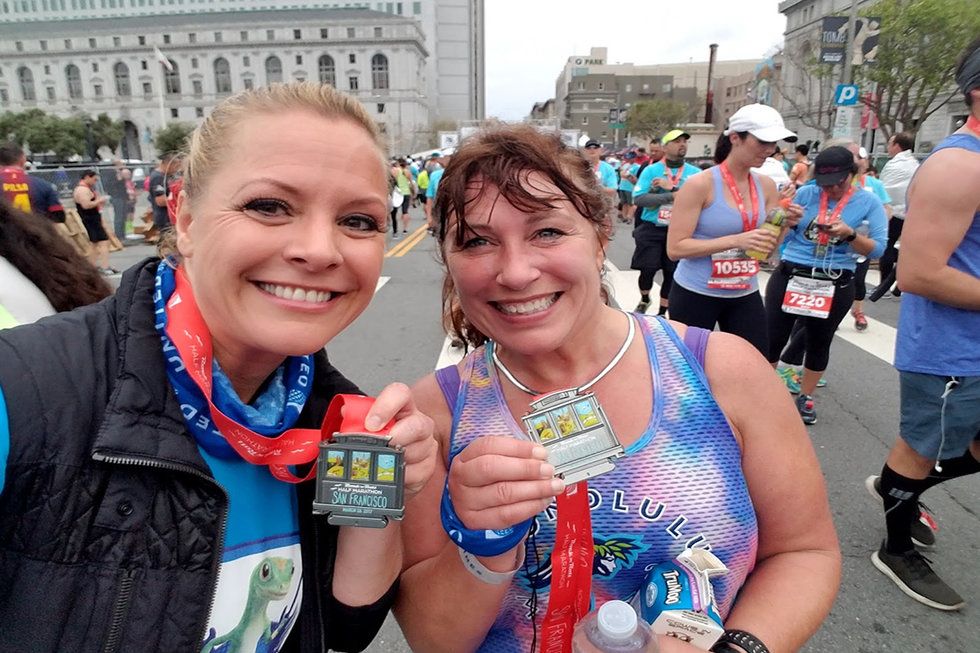 Jennifer and Sherry
The rest, I guess, is history. I just completed my 50th half marathon at the United Airlines Rock 'n' Roll Half Marathon San Francisco and have finished an additional eight full marathons, including a few in Europe. Not bad for an asthmatic, right? I don't run fast, many times I walk, and I always carry my inhaler. But I've finished EVERY race I've started.
This is what I love about the Rock 'n' Roll Marathon Series. They embrace every type of participant. It doesn't matter how fast you are, it just matters that you get off the couch and try. There is just as much support for the "back of the pack" runners as the people who finish first. It's common to be on the course and come across a person in their 70s, cruising along, listening to music and enjoying the race — and then get a high five from a Boston Marathon winner when crossing the finish line. It's a party, and everyone is invited.
Rock 'n' Roll loves to release specialty medals, encouraging participants to travel and complete various challenges. This year, they have released a limited-edition medal in combination with United Airlines to "run the world" by running at least two of United's five hub city races.
I was looking at my work and running schedule, and when the five hub cities came up, a friend asked me, "Which United hub city races are you going to do this year?" My answer: "All of them."
And Sherry and I are going to do them together.
If you can't get to Mars, what's the next best thing? Apparently Iceland. A team of renowned explorers and researchers recently journeyed to Iceland to test a Mars analog suit in a Martian-like environment.
The United sponsored expedition, led by The Explorers Club — an internationally recognized organization that promotes the scientific exploration of land, sea, air and space — and in partnership with Iceland Space Agency, involved the team venturing inside the Grímsvötn volcano and across the Vatnajökull ice cap. The group traveled to the remote location and lived for six days in the Grímsvötn Mountain Huts and endured harsh weather conditions and unstable terrain.
Helga Kristin Torfadöttir, Geologist and glacier guide, using the LiDAR system to map the ground and test the suit's capabilities on the glacier.
The objective of the mission was to explore the potential of concept operations at the Grímsvötn location while testing the suit in an arctic environment similar to what would be found on the surface of Mars. "This mission was an important test of the design of the MS1 suit, but it was also incredibly helpful to understand the how to conduct these sorts of studies in Iceland," said Michael Lye, MS1 designer and NASA consultant and RISD professor. "No matter how thoroughly something is tested in a controlled environment like a lab, studying it in a setting that accurately represents the environment where it will be used is absolutely essential to fully understand the design."
The suit was designed and constructed by faculty and students at the Rhode Island School of Design (RISD) with input and guidance from members of the HI-SEAS IV crew and NASA's Johnson Space Center Space Suit Engineering team. At 50-60 lbs, the suit is similar to what a planetary exploration suit would weigh in Martian gravity. The suit was originally designed to be used in the warm climate of Hawaii, however the martian climate is much closer to what would be found on top of the glaciers in Iceland. The data collected will inform the future of habitat and spacesuit design that can be used to train astronauts on Earth.
Today, we remember the colleagues, customers and every single victim of the terrorist attacks of Sept. 11, 2001.
I know each of us in the United family marks this difficult moment in our own way. Still, we all share a common commitment to honor how our brothers and sisters left us and also celebrate what they gave to us during their lives. We remember their professionalism and heroism. We cherish their camaraderie and friendship. We carry with us the examples they set forth, especially in the heroism and bravery displayed by so many on that terrible day. Above all, we understand a simple truth: While thousands of our fellow human beings lost their lives in New York City, Arlington and Shanksville, the attacks of September 11th were aimed at all people of peace and good will, everywhere. They were attacks on the values that make life worth living, as well as the shared purpose that make us proud of what we do as members of the United family: connecting people and uniting the world.
We may live in times scarred by discord and disagreement, and we know there are those around the world who seek to divide us against one another. But, on this day – above all – we come together, as one. We affirm our core belief that far, far more unites us as citizens and fellow human beings than can ever divide us.
Let us embody that belief as we go about serving our customers and one another – on this day and every day – as we continue to help building a world that's more united. Let that be our memorial to the sisters and brothers we lost, eighteen Septembers ago.
Humbly,
Oscar
A team of search and rescue experts from Empact Northwest departed Newark International Airport (EWR) this morning for Nassau (NSA), the capital of the Bahamas to help meet the pressing need for search and rescue services identified by Bahamian Prime Minister Hubert Minnis in the aftermath of Hurricane Dorian. The Empact Northwest team worked with Airlink, a rapid-response humanitarian relief organization that connects airlines with non-governmental organizations (NGOs), that respond quickly and efficiently in the wake of major disasters.
"We can't thank United enough for allowing us to jump out of the gate right away to aid people devastated by this storm," said Airlink Strategic Advisor Emily Sperling. "Search and rescue, medical care, temporary shelter, food and access to potable water are among the most immediate and pressing needs identified in the region. United's assistance is critical in ensuring that groups like Empact Northwest join others, including Mercy Corps, ADRA, and Heart to Heart International in fulfilling those most basic needs."
Airlink notes that our assistance enables two types of first responders to arrive quickly: those with specialized response capabilities like search and rescue, as well as assessment teams, who identify the most pressing needs and establish partnerships quickly to distribute supplies more efficiently once they are on the ground in country. Our partnership is felt long after the initial outreach after a disaster, too, according to Ms. Sperling. "After Irma and Maria hit the Caribbean in 2017, we received requests to transport relief workers a year or two later, to provide training and rebuilding assistance to help these communities develop future resilience," she said. The partnership also helps move responders into place to assist U.S. East Coast communities in the path of this tremendous storm.
You can join us in our disaster relief efforts by donating to our Crowdrise fundraising page here.

Scroll to top