A 17-day South American expedition
Each week we profile one of our employee's adventures across the globe, featuring a new location. Follow along every week to learn more about their travel experiences.
By SFO Customer Service Representative Leonida Esquieres
In pursuit of an inspiring, unforgettable adventure, our latest travel experience brought us to the Inca Trail of Peru and high elevations of Bolivia. Joining an organized tour is the most convenient way to enjoy an adventure fully. Since a dozen of us joined together and brought our families and friends, we were able to do a private group tour suited to our interest. Months of research and negotiations with our tour operator fine-tuned our adventure.
We started our journey on our flight through IAH to LIM (Lima, Peru), the capital of Peru. With its colonial center preserved, it is one of South America's most ancient and largest cities. We continued our journey to Cusco, where our tour started. It is a beautiful city in the Peruvian Andes and former capital of the Inca Empire. It is known for its archaeological remains and Spanish colonial architecture. Cusco is bustling with tourists and hikers as it is the gateway to magnificent Machu Picchu. It was really a delight to be in this city, but we did experience altitude sickness. With the help of an oxygen canister we carried around, coca tea, prescription medications, all sorts of mint essence we could sniff and a lot of rest, we were able to deal with it to enjoy our tour.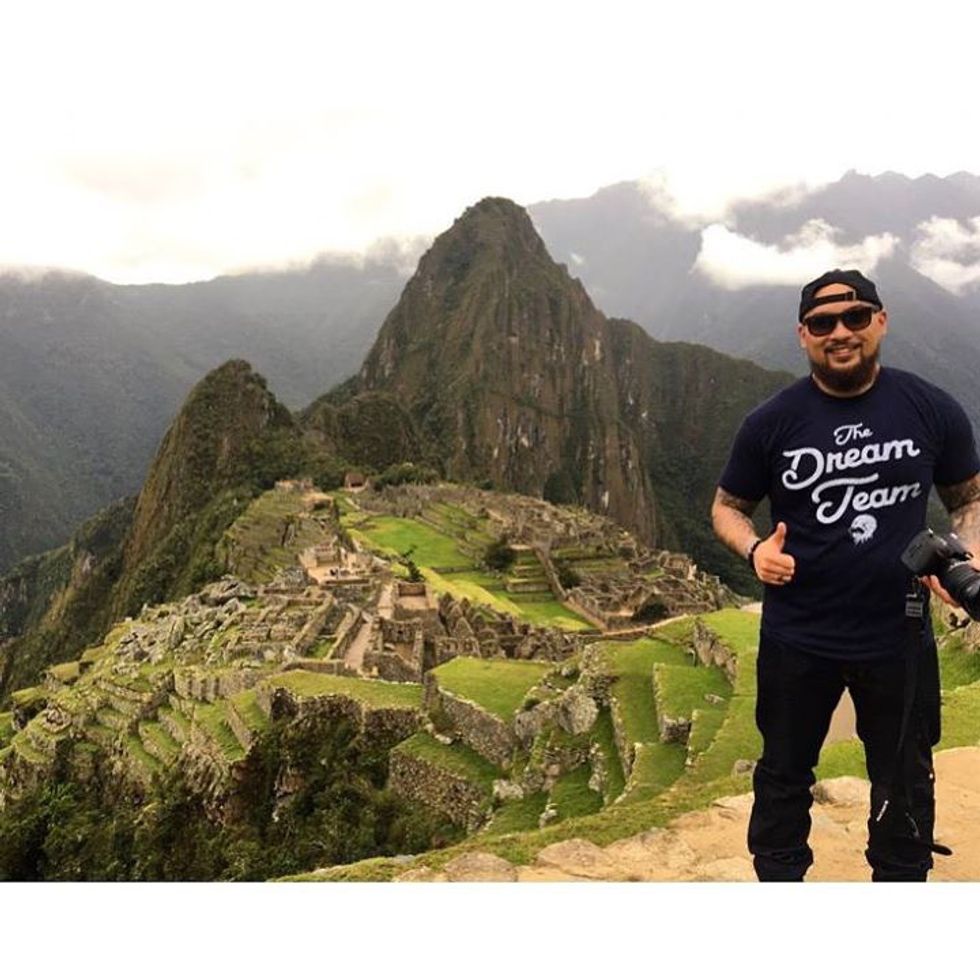 One of the highlights of our tour was exploring Sacred Valley, which encompasses the picturesque town of Maras, with its famous salt mines that have been used since Incan times for trade and nourishments, and Moray, an ancient site of incredible agricultural advancement for the Incan culture. It is known for its sunken concentric rings, which served as a greenhouse prototype. Ollantaytambo, the ancient Inca fortress, has an unforgettable view of the surrounding area. Next, we took an exciting explorer train ride to a 15th century Inca citadel seated on a mountain range, a Unesco World Heritage site and one of the Seven Wonders of the World, the magnificent Machu Picchu. It is an enigma beyond words!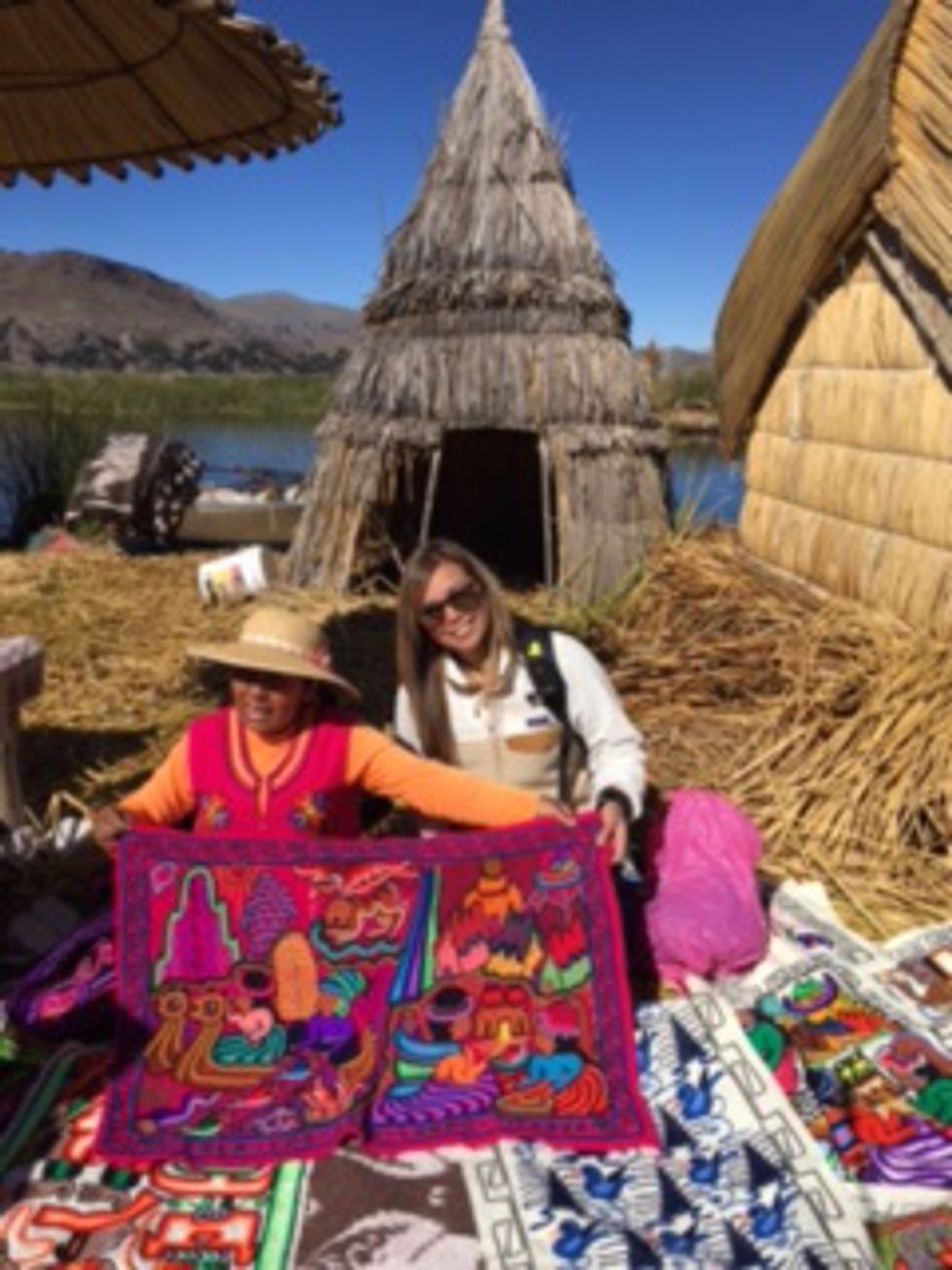 What's a trip without shopping? Pisac is a small town also located in the Sacred Valley, and it is the perfect place to purchase authentic Andean souvenirs. We continued on to visit Awanacancha, a weaving center with the goal of keeping the traditional textile arts alive. It was very interesting to see how craftspeople make use of natural elements from their surroundings for their textiles, one of which is a bug that gives red color to their materials -- it produces the equivalent of 100 kisses when used as lipstick! It was an exciting place as we met four members of the Camelidae family -- llamas, alpacas, vicunas and guanacos. They are a wonderful group of animals.
From Cusco, we flew on Star Peru to Puerto Maldonado to reach the Amazon rainforest, a trip across one of the most incredible landscapes on the planet. From the airport, it is about an hour drive to the river bank, another hour and a half boat ride to the shore closest to our lodge and half an hour trek through the jungle to reach our lodge, the Posada Amazonas, tucked into the heart of the jungle. The rooms are open to the rainforest with only three thin walls in the rooms and beds covered with mosquito nets. The lights were turned off between 10 p.m. and 3 a.m., and all you could hear were the sounds of the rainforest, which could be intimidating to some but exquisite to others.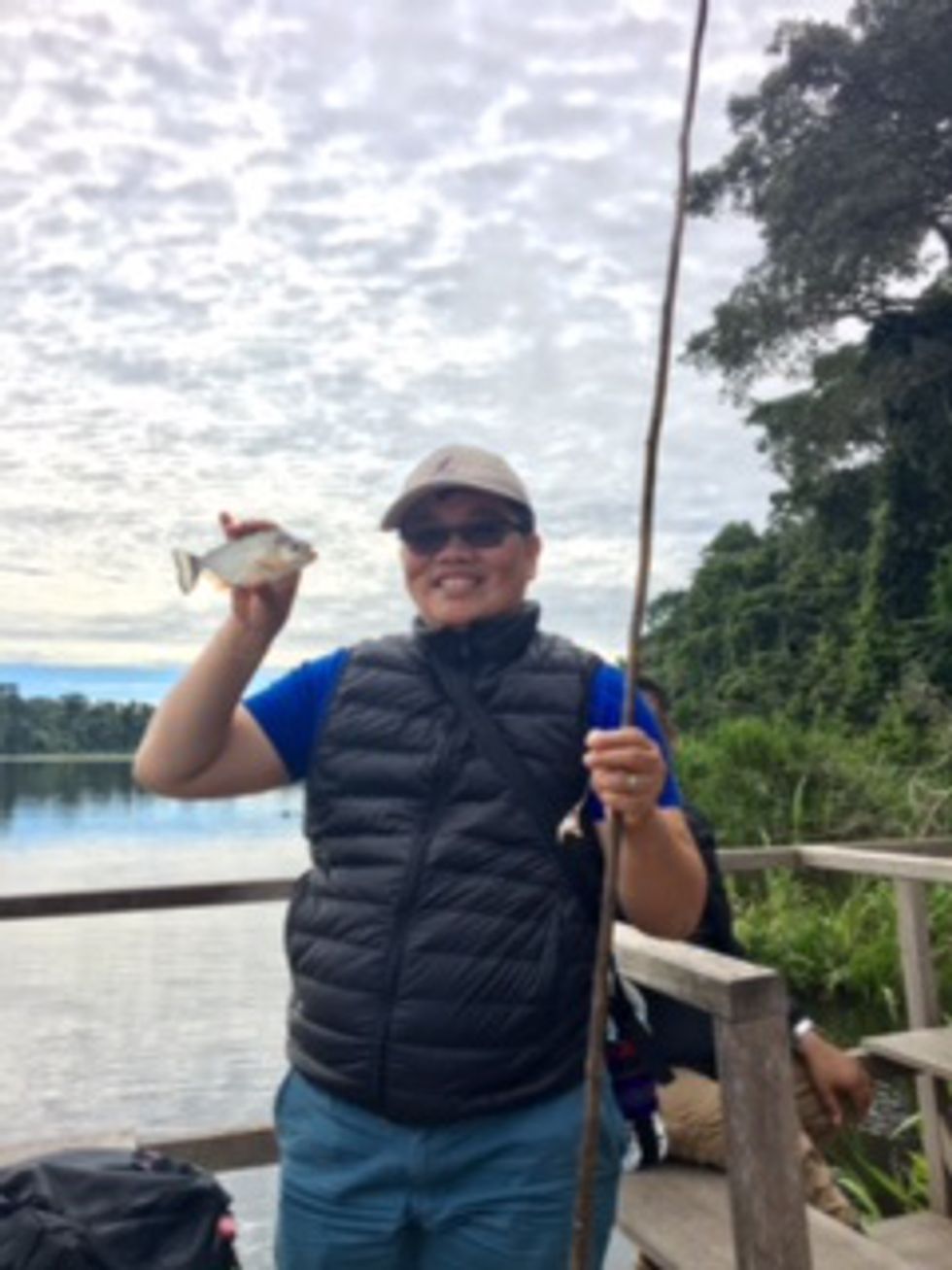 During the day, there were plenty of activities to occupy us. We hiked about half an hour through the jungle and jumped in a boat for an unforgettable journey down the Tambopata River. We fished and caught piranhas for lunch and saw amazing birds and animals. Our boat excursions were wonderful and relaxing. Particularly enjoyable were trips to an oxbow lake on a catamaran and night treks through the rainforest to discover some amazing and bizarre insects. A half an hour trek from the lodge took us to a manmade canopy tower that was built high atop a ridge on the trail. From the top we saw exhilarating 360-degree views of the Amazon rainforest. An ethno-botanical tour of the rainforest brought us to a trail where we found a variety of plants and trees used by the local population for medicinal purposes.
After a three-day adventure in the Amazon rainforest, we flew back to Cusco to celebrate my son Jeff's 27th birthday with a traditional dinner show. The next morning, we continued our expedition through the Sun Route in Puno with a visit to Temple of Wiracocha, an Incan archaeological site; La Raya, situated on a highland plateau between Cusco and Puno; and Pukara, noted for its pyramid built by the first developed civilization in the region. Our last day in Peru was highlighted by a boat excursion on Lake Titicaca, the highest navigable lake in the world. We got to see the floating islands of the Uros, indigenous people who live on self-constructed floating reed islands off the coast of the lake. Blessed by glorious weather, the dazzling lake and a unique boat ride, we had an experience that was beyond fantastic!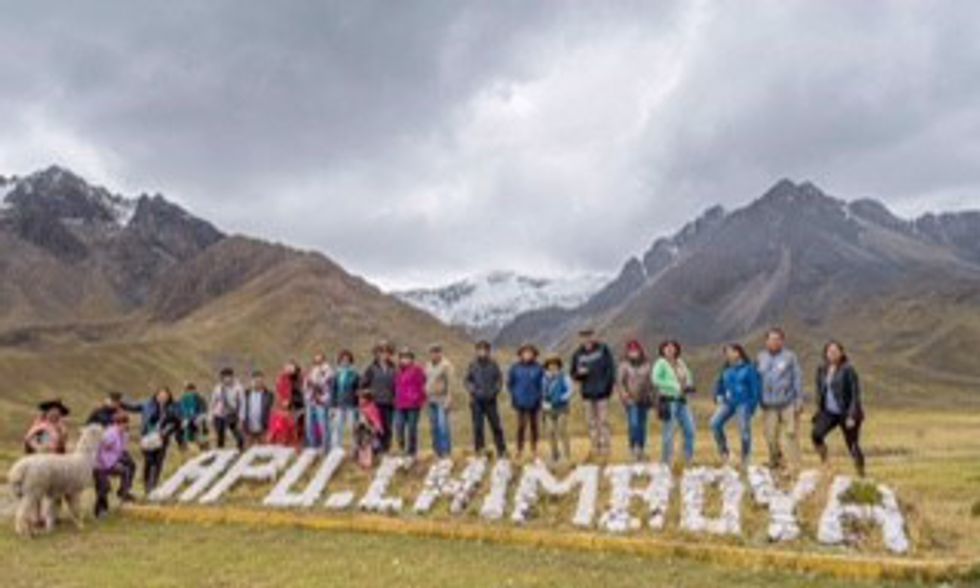 On our last day in Peru, it took us almost half a day to drive through the stretch along Lake Titicaca to the border of Bolivia, continuing on to La Paz for a day. We visited Moon Valley via the most modern and unique transportation in South America, the Teleferico, a cable car network providing fast and reliable transportation between La Paz and its surrounding attractions. It operates at 13,000 feet above sea level, making it the highest cable car in the world. We felt the extreme effects of altitude, and some of our group members were even forced by sickness to stay in the hotel room.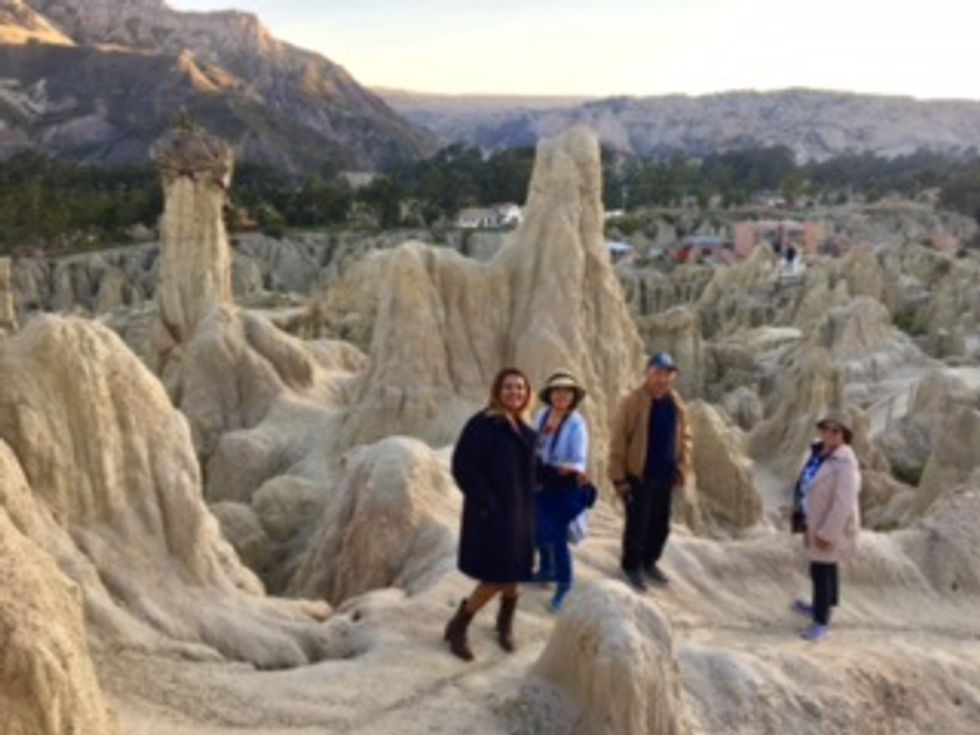 Our final highlight of this 17-day South American expedition was a flight on Amaszonas Airlines from La Paz to Uyuni in Bolivia. Salar de Uyuni is the world's largest salt flat. It is the legacy of a prehistoric lake that went dry, leaving behind a desert-like 11,000-square-kilometer landscape of bright white salt, rock formations and cacti-studded islands. During dry season -- April to November -- the salt flat's surface gives the opportunity to play with photography and perspective. It is a paradise to photography lovers. On the outskirts of the Andean plain, steel giants of locomotives have been destroyed by salt winds and moved here to chug their last chug in what is known as the "Train Cemetery." A special lunch setting in the middle of the gorgeous salt flat served with wine and local cuisine was a nice surprise from our local tour agency.
It felt like a never-ending trip to paradise and, at the end of our day in Salar de Uyuni, we headed to the Palacio De Sal, the first salt hotel in the world, for our overnight stay. Located on the banks of Salar de Uyuni, the hotel is unique, as it is built almost entirely with salt. The exotic and wonderful hotel created an unforgettable and pleasant end to our adventure.
On March 19, 2020, United operated its first flight carrying cargo without passengers on board. While the passenger cabin was empty, its cargo hold was completely full, carrying more than 29,000 pounds of commodities from Chicago O'Hare International Airport (ORD) to Frankfurt Airport (FRA).
A year later, United Cargo has operated more than 11,000 cargo-only flights carrying more than 570 million pounds of freight. To support the COVID-19 pandemic recovery efforts, United Cargo has also transported more than 113 million pounds of medical and pharmaceutical products on both cargo-only and passenger flights as well as approximately 10 million COVID-19 vaccines, providing global communities access to the items they have needed most.
"At the beginning of the pandemic, we knew we were uniquely positioned to utilize our widebody aircraft and our network to keep commodities moving, so we quickly mobilized various departments throughout the airline to launch a cargo-only network of flights that would keep commodities moving," said United Cargo President Jan Krems. "Thanks to those efforts, United Cargo has delivered millions of items to countries all around the world. We would not have been successful without the steadfast support of our employees, industry partners and our customers."
Since last March, United Cargo has transported almost 850 million pounds of freight on cargo-only and passenger flights. The airline will continue to monitor market trends adjust its cargo-only flight schedules to help ensure we are meeting our customer's evolving shipping needs.
Whether you haven't flown with us for a while or just need a quick refresher before your spring trip, read this list of tips to know before your flight and arrive at the airport travel-ready:
1. Download the United app for contactless bag check, travel assistance and more
Before your flight, download the United app to view your flight status, check in, sign up for flight notifications, locate departure gates, access our free personal device entertainment when available and more. We've also updated our app with new features that can make your trip a little safer, including contactless bag check.
Don't forget to use Agent on Demand for help with any and all questions you may have before your flight. This new capability is available at all our U.S. hub airports and allows you to use your own mobile device to contact a customer service agent via phone, video or chat to help with day-of-travel questions while you're at the airport. Learn more about Agent on Demand here.
2. Check out the Travel-Ready Center
Our Travel-Ready Center makes it easy to get a personalized overview of everything you need to do in preparation for your flight. Just enter your confirmation number or MileagePlus® number and you'll find detailed information on all the documents, tests and more that you'll need for your trip.
3. Read and sign the Ready-to-Fly checklist
Before completing check-in, all United travelers will need to read our Ready-to-Fly checklist and confirm that they understand and agree to our policies. These include:
Acknowledging that you haven't had any symptoms of COVID-19 in the last 14 days
Agreeing that you will not fly if you have tested positive for COVID-19 within the last 21 days
Confirming that you will follow all policies regarding face masks, social distancing and other health and safety measures we've adopted
4. Arrive early; avoid the stress
Airports can be busy, especially during peak travel periods like spring break season. The TSA advises arriving at the airport two hours before your flight for domestic travel and three hours for international travel in anticipation of long security lines. This can help ease the stress when navigating busy check-in areas, security lines and crowded boarding gates.
5. Get familiar with CleanPlus
United CleanPlus℠ is our commitment to delivering industry-leading cleanliness as we put health and safety at the forefront of your experience. We've teamed up with Clorox to redefine our cleaning and disinfection procedures and Cleveland Clinic to advise us on enhancing our cleaning and disinfection protocols, like:
Disinfecting high-touch areas on board and in the terminal
Using electrostatic spraying, Ultraviolet C lighting wands and more advanced measures to clean aircraft cabins before boarding
Redesigning our mobile app to allow for touchless check-in and contactless payment, along with enhanced travel assistance features
Implementing high-efficiency (HEPA) filters on our aircraft that completely recirculate cabin air every 2-3 minutes and remove 99.97% of airborne particles, including viruses and bacteria
Studies show COVID-19 exposure risk is minimal when air filtration systems and masks are in use, so you can rest assured that the steps we've taken to keep you safe truly make a difference.
6. Wear your mask
Federal law requires all travelers to wear a face mask in the airport, including customer service counters, airport lounges, gates and baggage claim, and on board during their entire flight. Make sure you review the requirements for face masks, including what an acceptable face mask looks like.
7. Get ready for a safer boarding process
To make boarding even safer, we now have travelers board their aircraft from back to front. At the gate, just listen for your row number to be called – we'll ask a few rows at a time to board, starting with the last row of the plane. This helps everyone maintain a safe distance from each other during boarding without slowing things down. As you step onto the plane, flight attendants will hand each passenger a sanitizing towelette, which you can use to wipe down your seat to ensure it's extra clean.
8. Pack smart
Before packing your bags, check to see what exactly you can carry on and what you should plan to check. You can also copy your confirmation number into our Baggage Calculator tool to learn about the bag allowance included with your reservation, as well as the cost of checking any additional bags.
9. Check your flight status, important notices and weather
Check the United app regularly for the latest updates on weather conditions, flight status, gate numbers and seat assignments. You can also visit our Important Notices page to find essential information and updates about travel waivers, international travel, TSA and security, airports and United Club locations.
10. Relax and enjoy your flight
Once you're on board, it's time to sit back and enjoy your flight. Our flight attendants will be happy to help you with anything else you need.
This week, we were honored to become the first U.S. airline to join the UNICEF Humanitarian Airfreight Initiative to combat the COVID-19 pandemic by transporting the vaccine and other critically needed supplies to underserved areas of the globe.
"We are committed to helping the global community in any way we can, and we all must work together to do our part to bring this health and humanitarian crisis to an end," said Director of Cargo Specialty Products Manu Jacobs.
We will leverage our expertise to transport these critical pharmaceutical and healthcare shipments around the world safely, efficiently and expediently. We are proud to partner with the United Nations to support this global effort and provide equitable access to COVID-19 vaccines.
Scroll to top