A 17-day South American expedition
Each week we profile one of our employee's adventures across the globe, featuring a new location. Follow along every week to learn more about their travel experiences.
By SFO Customer Service Representative Leonida Esquieres
In pursuit of an inspiring, unforgettable adventure, our latest travel experience brought us to the Inca Trail of Peru and high elevations of Bolivia. Joining an organized tour is the most convenient way to enjoy an adventure fully. Since a dozen of us joined together and brought our families and friends, we were able to do a private group tour suited to our interest. Months of research and negotiations with our tour operator fine-tuned our adventure.
We started our journey on our flight through IAH to LIM (Lima, Peru), the capital of Peru. With its colonial center preserved, it is one of South America's most ancient and largest cities. We continued our journey to Cusco, where our tour started. It is a beautiful city in the Peruvian Andes and former capital of the Inca Empire. It is known for its archaeological remains and Spanish colonial architecture. Cusco is bustling with tourists and hikers as it is the gateway to magnificent Machu Picchu. It was really a delight to be in this city, but we did experience altitude sickness. With the help of an oxygen canister we carried around, coca tea, prescription medications, all sorts of mint essence we could sniff and a lot of rest, we were able to deal with it to enjoy our tour.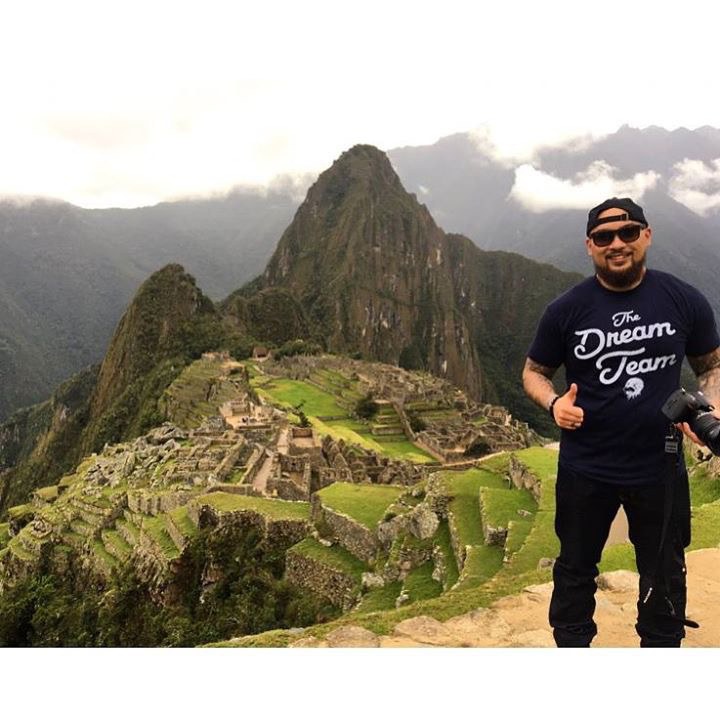 One of the highlights of our tour was exploring Sacred Valley, which encompasses the picturesque town of Maras, with its famous salt mines that have been used since Incan times for trade and nourishments, and Moray, an ancient site of incredible agricultural advancement for the Incan culture. It is known for its sunken concentric rings, which served as a greenhouse prototype. Ollantaytambo, the ancient Inca fortress, has an unforgettable view of the surrounding area. Next, we took an exciting explorer train ride to a 15th century Inca citadel seated on a mountain range, a Unesco World Heritage site and one of the Seven Wonders of the World, the magnificent Machu Picchu. It is an enigma beyond words!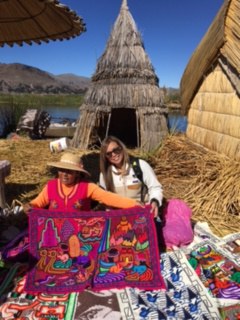 What's a trip without shopping? Pisac is a small town also located in the Sacred Valley, and it is the perfect place to purchase authentic Andean souvenirs. We continued on to visit Awanacancha, a weaving center with the goal of keeping the traditional textile arts alive. It was very interesting to see how craftspeople make use of natural elements from their surroundings for their textiles, one of which is a bug that gives red color to their materials -- it produces the equivalent of 100 kisses when used as lipstick! It was an exciting place as we met four members of the Camelidae family -- llamas, alpacas, vicunas and guanacos. They are a wonderful group of animals.
From Cusco, we flew on Star Peru to Puerto Maldonado to reach the Amazon rainforest, a trip across one of the most incredible landscapes on the planet. From the airport, it is about an hour drive to the river bank, another hour and a half boat ride to the shore closest to our lodge and half an hour trek through the jungle to reach our lodge, the Posada Amazonas, tucked into the heart of the jungle. The rooms are open to the rainforest with only three thin walls in the rooms and beds covered with mosquito nets. The lights were turned off between 10 p.m. and 3 a.m., and all you could hear were the sounds of the rainforest, which could be intimidating to some but exquisite to others.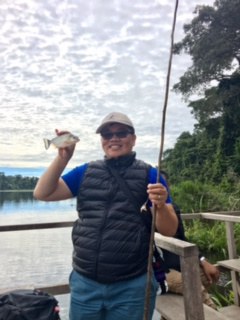 During the day, there were plenty of activities to occupy us. We hiked about half an hour through the jungle and jumped in a boat for an unforgettable journey down the Tambopata River. We fished and caught piranhas for lunch and saw amazing birds and animals. Our boat excursions were wonderful and relaxing. Particularly enjoyable were trips to an oxbow lake on a catamaran and night treks through the rainforest to discover some amazing and bizarre insects. A half an hour trek from the lodge took us to a manmade canopy tower that was built high atop a ridge on the trail. From the top we saw exhilarating 360-degree views of the Amazon rainforest. An ethno-botanical tour of the rainforest brought us to a trail where we found a variety of plants and trees used by the local population for medicinal purposes.
After a three-day adventure in the Amazon rainforest, we flew back to Cusco to celebrate my son Jeff's 27th birthday with a traditional dinner show. The next morning, we continued our expedition through the Sun Route in Puno with a visit to Temple of Wiracocha, an Incan archaeological site; La Raya, situated on a highland plateau between Cusco and Puno; and Pukara, noted for its pyramid built by the first developed civilization in the region. Our last day in Peru was highlighted by a boat excursion on Lake Titicaca, the highest navigable lake in the world. We got to see the floating islands of the Uros, indigenous people who live on self-constructed floating reed islands off the coast of the lake. Blessed by glorious weather, the dazzling lake and a unique boat ride, we had an experience that was beyond fantastic!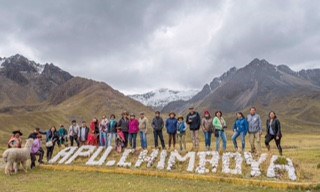 On our last day in Peru, it took us almost half a day to drive through the stretch along Lake Titicaca to the border of Bolivia, continuing on to La Paz for a day. We visited Moon Valley via the most modern and unique transportation in South America, the Teleferico, a cable car network providing fast and reliable transportation between La Paz and its surrounding attractions. It operates at 13,000 feet above sea level, making it the highest cable car in the world. We felt the extreme effects of altitude, and some of our group members were even forced by sickness to stay in the hotel room.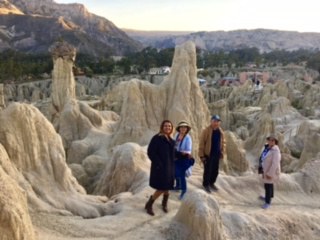 Our final highlight of this 17-day South American expedition was a flight on Amaszonas Airlines from La Paz to Uyuni in Bolivia. Salar de Uyuni is the world's largest salt flat. It is the legacy of a prehistoric lake that went dry, leaving behind a desert-like 11,000-square-kilometer landscape of bright white salt, rock formations and cacti-studded islands. During dry season -- April to November -- the salt flat's surface gives the opportunity to play with photography and perspective. It is a paradise to photography lovers. On the outskirts of the Andean plain, steel giants of locomotives have been destroyed by salt winds and moved here to chug their last chug in what is known as the "Train Cemetery." A special lunch setting in the middle of the gorgeous salt flat served with wine and local cuisine was a nice surprise from our local tour agency.
It felt like a never-ending trip to paradise and, at the end of our day in Salar de Uyuni, we headed to the Palacio De Sal, the first salt hotel in the world, for our overnight stay. Located on the banks of Salar de Uyuni, the hotel is unique, as it is built almost entirely with salt. The exotic and wonderful hotel created an unforgettable and pleasant end to our adventure.
More from
United Eco-Skies®