Spending a week in Singapore
Singapore brings to mind images of modernity and stunning architecture — the unmistakable profile of the towering Marina Bay Sands Hotel, the luminescent trunks of Supertree Grove, the dramatic roof of the Esplanade Concert Hall. But beneath that opulent exterior lies a city bustling with energy and a vibrant mix of cultures and traditions. During our recent trip with United Airlines, we traveled along the new route from San Francisco to Singapore and visited some of the Lion City's most popular attractions. If you have the opportunity to visit, check out some of our favorite spots in this metropolis.
Have a bite… or four
One thing's for sure… you'll never go hungry in Singapore. From hawker stalls and wet (food) markets to Michelin-starred fine dining establishments, the city offers food that caters to every visitor's mood. Those with a refined palate should head to Baba Chews in Katong Square or New Ubin Seafood in Hillview. The former offers an all-day selection of modern and traditional cuisine from the Straits of Malacca, while the latter specializes in sumptuous seafood and Singaporean cze char fare. If you prefer something a little more contemporary, head over to Mount Emily and make a reservation at Wild Rocket. There, head chef Willin Low has brought modern Singaporean cuisine to life by creating a fresh twist on the dishes he grew up eating. For a truly unbeatable dining experience, hop in the elevator at the Marina Bay Sands and ride it all the way to the rooftop, where you can enjoy a delicious take on Italian-American cooking at Lavo Kitchen while looking out over the spectacular city unfurled below.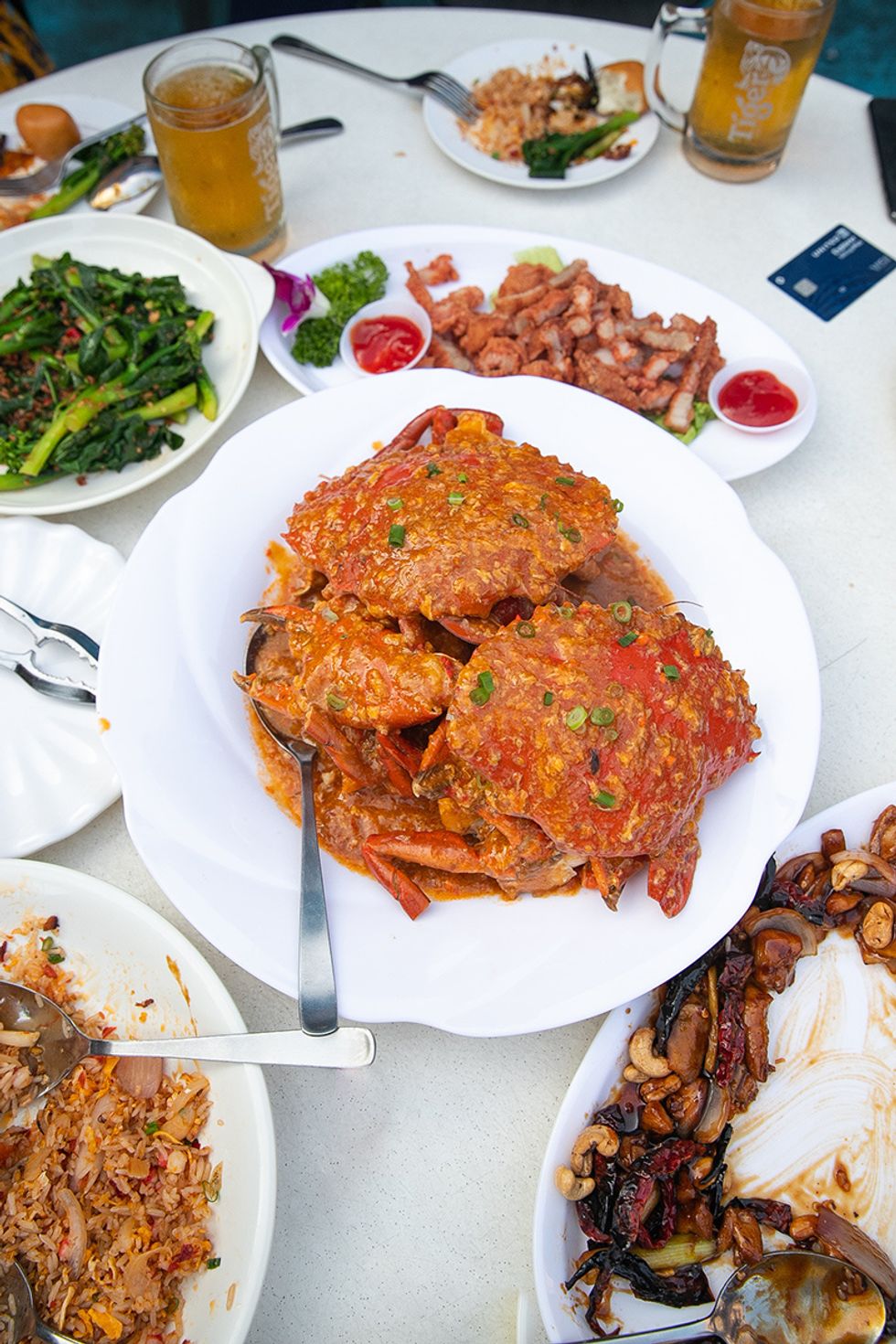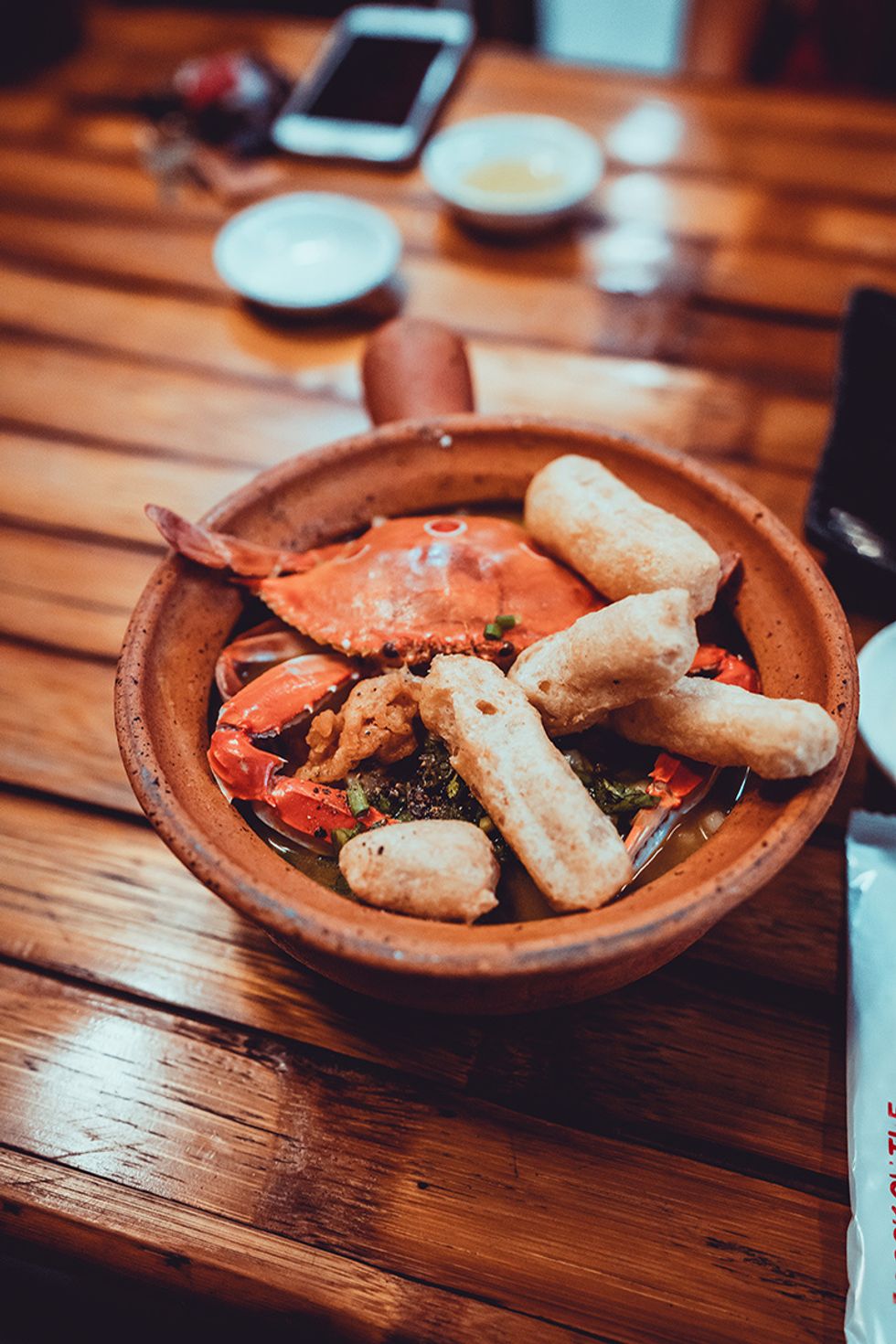 The most exciting dining experiences in the city, however, aren't enjoyed at a restaurant table. You've likely heard of the Maxwell Road Food Center, where you can try world-famous Tian Tian Hainanese Chicken Rice, but the meal doesn't stop there. Singapore offers a vast array of food markets and hawker stalls where curious diners can sample sizzling dishes cooked right in front of them. Also at Maxwell Road, you should indulge in a crispy snack at Fuzhou Oyster Cake or grab a bowl of hot-and-sour soup at Special Shanghai Tim-Sum, otherwise known as the "dumpling stall from Queenstown." And be sure to make your way over to the Chinatown Wet Market, which charms and enchants each and every traveler. There, the sights, sounds, and smells are just as delicious as the edible offerings, which include Chinese herbs and vegetables, live shellfish, and exotic meats such as eels, frogs, and turtles.
Relax and soak up the view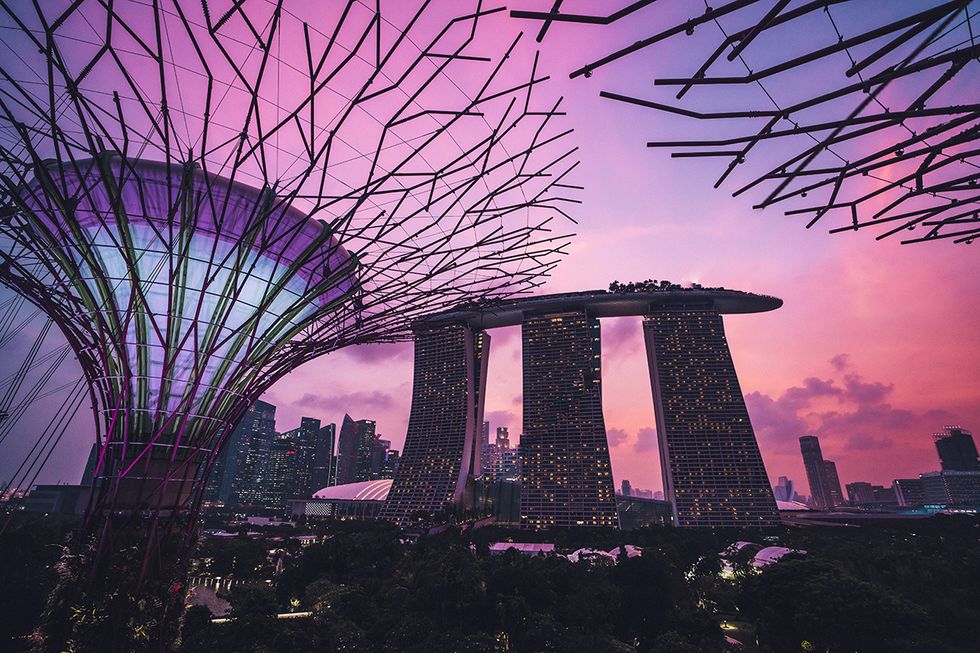 Few cities interweave modernity, architecture, and greenery quite like Singapore. Look, for example, at the stunning Gardens by the Bay, a 250-acre nature park featuring intricately designed, flora-infused structures such as the Cloud Mountain and the Flower Dome. When the giant trunks of the Supertree Grove light up come nightfall, you'll feel overwhelmed by the natural enchantment that pulses through this magical city.
Of course, the superb views don't stop there. Anywhere you go, you'll be treated to spectacular urban vistas that seem to blend into their ecological foundation. For early risers, consider a sunrise excursion and venture to the Marina Barrage, a dam covered in a lush-green lawn, where you can gaze across the water to the majestic figure of the Marina Bay Sands. Throughout the day, duck into Singapore Botanic Gardens. The only tropical botanic garden on the UNESCO World Heritage List, this tranquil paradise offers 180 acres of green space perfect for walking, picnicking, or simply relaxing — all in the heart of the city. Alternately, you can take a stroll along the Henderson Waves, an aptly-named pedestrian bridge that cascades through the forest between Mount Faber Park and Telok Blangah Hill Park.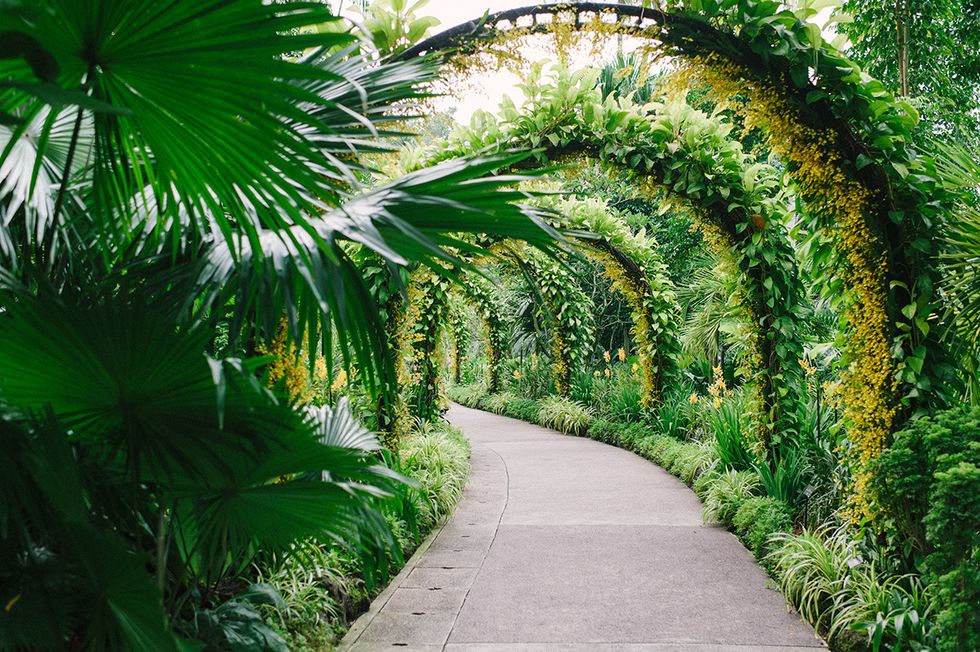 When night falls, be sure to make your way to the Event Plaza of the Marina Bay Sands for Spectra, a 15-minute dance of water fountains and laser-driven special effects all set to a gorgeous orchestral soundtrack. The performances start at 8 p.m. and 9 p.m., with an additional 10 p.m. showing on the weekends.
Spend an afternoon on the water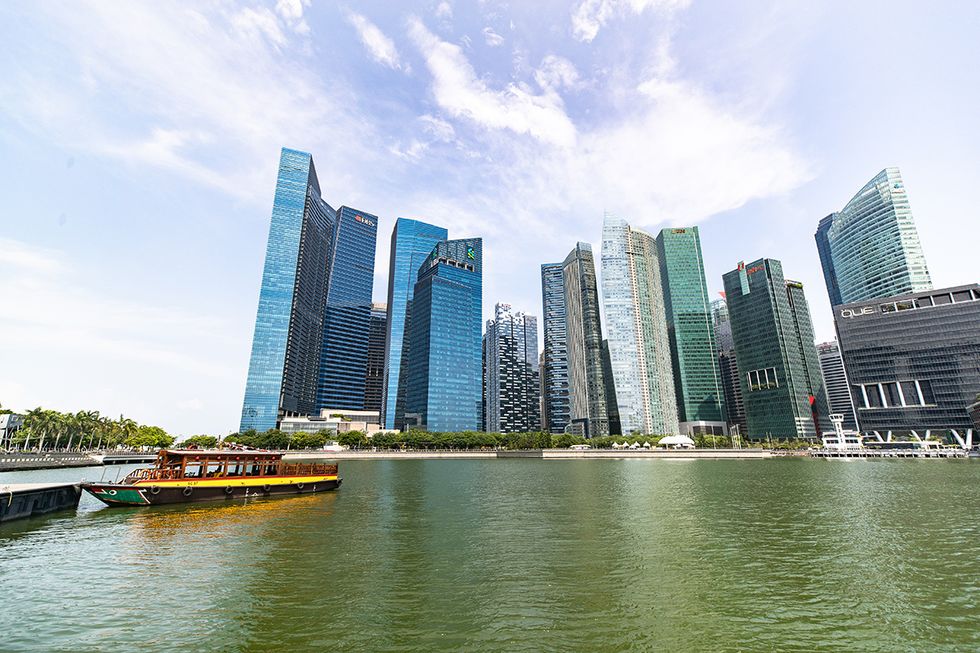 As Singapore is an island city, any exploration of it would be incomplete without spending some time on the river. Luckily, you can do just that on Singapore River Cruises. This line maintains a fleet of modern bumboats — electric, eco-friendly iterations of the rustic vessels once used to ferry supplies to ships anchored off-shore — that will guide you on a tour of the spectacular waterway that cuts through the Lion City. Along the way, you'll marvel at the buzzing markets and unique eateries that line the Boat, Clarke, and Robertson quays. You'll duck under architecturally aesthetic bridges like the Alkaff and the Helix, and you'll spot eye-catching landmarks like the Merlion and the Esplanade. It's an aquatic adventure that you shouldn't miss!
Be still in the city's temples
Though Singapore is a spectacularly modern city, it also houses a rich history. And one of the best ways to immerse yourself is to visit the island's various temples. One of our favorites is the city's oldest Hindu temple, Sri Mariamman. Built in the mid-19th century, the temple remains an ornate monument to the area's Indian influences. It features six colorful tiers decorated with gods, mythological beasts, and soldiers. Nearby, in the heart of Chinatown, you'll also find the Buddha Tooth Relic Temple, a four-story pagoda that includes a bell tower, a sacred stupa made of solid gold, a museum featuring over 300 Buddhist artifacts, and even a tea room on the second floor where you can enjoy a mid-day respite.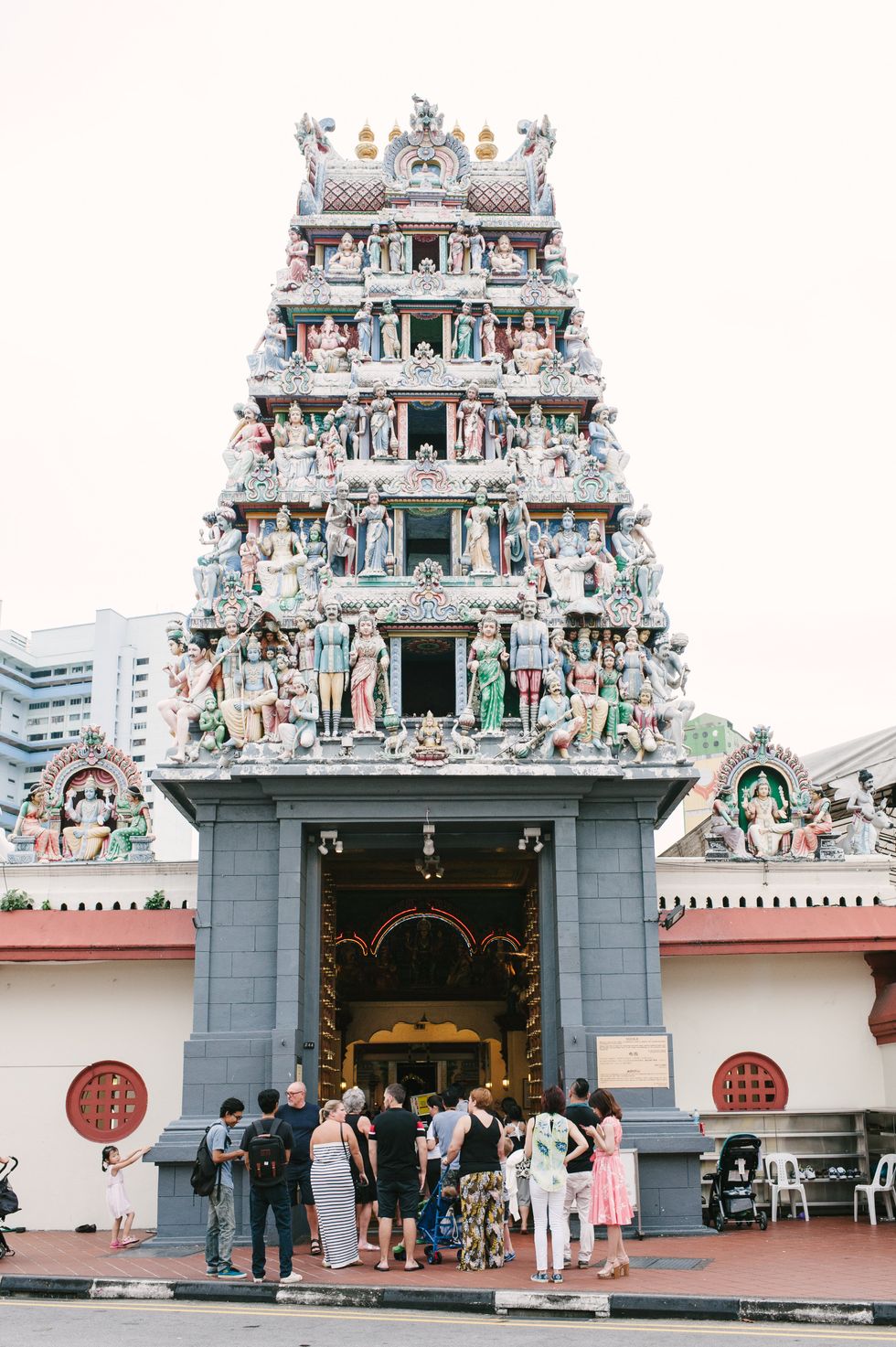 If you find yourself in need of someplace quiet to escape the bustle of the city, make your way toward the Thian Hock Keng Temple, Chinatown's oldest Hokkien Temple. Originally a landing point for Chinese soldiers in the 19th century, the grounds act as a haven of quietude in the center of a hectic metropolis. In addition, check out the outside rear wall, where a 145-foot (44-meter) mural traces the stories of the Hokkien immigrants who left China and landed in Singapore. The mural was painted by local artist Yip Yew Chong and covers the hardships, tragedies, and elation faced by those early immigrants.
Additionally, Singapore is a great launching pad to the rest of Southeast Asia — if you're interested in exploring Thailand, Vietnam, and beyond, you can check out United's Excursions Perk.
We know people are taking a second look at their travel plans right now. If you're scheduled to travel March 10 – May 31, 2020 and would like to change your plans, there is no fee to do so, regardless of when you purchased your ticket or where you're traveling. This is in addition to our previous waiver, which waives all change fees – domestic and international – for tickets purchased March 3 – April 30, 2020. This is available for any of United's published nonrefundable fares. If you decide to cancel your flight, you can retain the value of your ticket to be applied to a new ticket without a fee. These electronic travel certificates are now valid for 24 months from the date they were issued. This includes all currently valid electronic certificates and all new ones issued on or after April 1, 2020. You might not see this policy change reflected everywhere right away – we appreciate your patience as we work to make that happen.
Eligible travelers on domestic flights and international tickets can request a refund on united.com or may call our contact centers if their flights have been severely adjusted or service to their destination suspended either due to government mandates or United schedule reductions related to COVID-19.
Certain tickets cannot be changed on united.com or the mobile app, including tickets booked through another airline (if the ticket receipt does not begin with 016). Please contact the original ticketing airline for changes.
Follow the steps below to stay up to date, change or cancel your flight.

Change your current flight:
On the united.com homepage, select "My Trips" and enter your flight information to retrieve your flight.
Select "Change flight" and then "Edit" to make the following changes:

Date of travel or destination
Add a flight
Remove a flight

Select "Continue" and choose a new flight option
Continue through booking to confirm your new flight
Note: The change fee will display as waived, but any difference in fare may apply.
Cancel your flight and rebook later:
On the united.com homepage, select "My Trips" and enter your reservation information to retrieve your flight
Select "Cancel flight"
Confirm flight cancellation
If you have future flight credit, when you return to the reservation, select "Use Future Flight Credit" to shop for new flights and apply the credit towards a new flight.
Canceling or changing an award flight:
When you select "Cancel flight," you will have the option to cancel your award reservation and redeposit the miles or to cancel your award reservation and use those miles for another trip in the future.
*We're currently experiencing heavy traffic to united.com. If you experience an error while trying to change or cancel your flight, please try again later.
Click through the slideshow below for more detailed instructions:
​Start on the United homepage: ​
User can select 'My Trips' on the homepage widget to find and retrieve their reservation.
When and where possible, we are working to repatriate travelers who are stranded abroad in the wake of the COVID-19 crisis. Our teams are working closely with government officials here in the U.S. as well as in other countries where flying has been restricted to gain the necessary approvals to operate service. In regions where government actions have barred international flying, we have coordinated with the the U.S. State Department and local government officials to re-instate some flights. Additionally, we have been operating several extra flights to countries in Central America and South America as we continue to play a role in connecting people and uniting the world.
We have operated more than 68 repatriation flights from Panama City, Guatemala City, Quito, Lima, San Pedro Sula, Tegucigalpa and Roatan, bringing nearly 9,200 people home. We will continue working with government officials to operate extra flights to Houston from Quito, San Pedro Sula, Tegucigalpa and from Lima to Washington Dulles and beginning April 5, we will begin operating multiple charter flights between Delhi and San Francisco. We continue to review more opportunities for flights between the United States and other countries to bring citizens home.
Video provided by the U.S. Embassy Ecuador of Americans returning home on United.

Additionally, our Customer Solutions and Recovery team is working with customers in the following markets to rebook them on flights back to the United States as capacity allows, either on our aircraft or on one of our airline partners' planes:

Quito, Ecuador
Managua, Nicaragua
Roatan, Honduras
San Pedro Sula, Honduras
Amsterdam
Brussels
Munich
Singapore
Tokyo-Haneda
Seoul, South Korea
Melbourne, Australia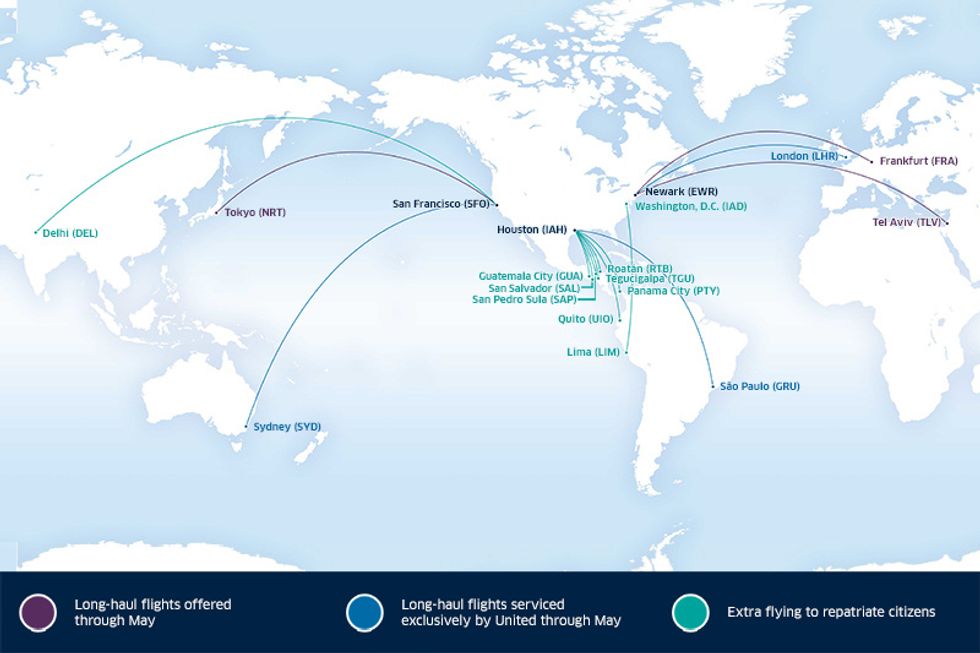 We also recently reinstated several international flights back into our schedule to support customers and essential businesses which depend on these routes. As a result, we will be the only airline to offer service between Newark/New York and London, San Francisco and Sydney, as well as Houston and São Paulo, Brazil.

Calling all AvGeeks and travelers! Here's a fun way to take your next video call….from a United Polaris® seat, the cockpit or cruising altitude. We're introducing United-themed backgrounds for use on Zoom, a video conferencing tool that many people are using to stay connected.
So for your next meeting or catch up with friends and family, download the app to either your computer or mobile device to get started. If you've already downloaded Zoom you can skip ahead to updating your background image (see instructions below).
Start here by downloading your favorite United image to your computer or mobile device. Just click "download" in the bottom left corner of the image.
Next go to your Zoom app (you'll need to download the app to access backgrounds) and click on the arrow to the right of your video camera icon in the bottom of the screen.
From here select, "choose virtual background" to upload your uniquely United photo.
Together, we are facing an unprecedented challenge. United Together, we rise to meet that challenge.
Check out our newest destinations
United Airlines
united
We continue to work with government officials to bring Americans home. In addition to flights from Central & South America, we have charter flights planned from India. Learn more about our repatriation efforts in the wake of COVID-19 here:
uafly.co/3aExaOL
#UnitedTogether
United Airlines
united
When
@RocheDia
needed to ship a vital component of a COVID-19 testing unit from New Jersey to Florida, United Cargo jumped in to help. Read about how this part will allow
@MayoClinic
to process hundreds of tests per day for cases in the Southeastern U.S.
uafly.co/2UzOAGW
United Airlines
united
International schedule update: We know some people around the globe are displaced and still need to get home. We are reinstating some international flights over the next few days and will continue to fly six daily international flights through May.
uafly.co/3a5Dj6p
United Airlines
united
We have extended our change fee waiver to cover travel through May 31, 2020: - You can change or cancel your flight on
united.com
or through the app – a phone call is not required - For the latest on our commitment to your safety, visit
united.com/coronavirus
We Are United
weareunited
Shoutout to our operations team, who are working to properly park, maintain and store many aircraft in the
#BeingUnited
fleet. These aircraft are being housed across our seven hubs, maintenance facilities in CLE and MCO as well as at offsite facilities in New Mexico and Arizona.
We Are United
weareunited
Tomorrow, Oscar and Scott will host a companywide town hall to discuss the latest developments in managing the effects of the coronavirus (COVID-19). You can join the livestream event at 1:20 p.m. CT here:
uafly.co/39AV25m
We Are United
weareunited
Tomorrow, Oscar and Scott will host a companywide town hall to discuss the latest developments in managing the effects of the coronavirus (COVID-19). You can join the livestream event at 1:20 p.m. CT here:
uafly.co/39AV25m
.
Watch our most popular videos
Copyright © 2020 United Airlines, Inc.
All rights reserved.
Indicates an external site that may or may not meet accessibility guidelines.
Scroll to top
Scroll to top