Spending a week in Singapore
Singapore brings to mind images of modernity and stunning architecture — the unmistakable profile of the towering Marina Bay Sands Hotel, the luminescent trunks of Supertree Grove, the dramatic roof of the Esplanade Concert Hall. But beneath that opulent exterior lies a city bustling with energy and a vibrant mix of cultures and traditions. During our recent trip with United Airlines, we traveled along the new route from San Francisco to Singapore and visited some of the Lion City's most popular attractions. If you have the opportunity to visit, check out some of our favorite spots in this metropolis.
Have a bite… or four
One thing's for sure… you'll never go hungry in Singapore. From hawker stalls and wet (food) markets to Michelin-starred fine dining establishments, the city offers food that caters to every visitor's mood. Those with a refined palate should head to Baba Chews in Katong Square or New Ubin Seafood in Hillview. The former offers an all-day selection of modern and traditional cuisine from the Straits of Malacca, while the latter specializes in sumptuous seafood and Singaporean cze char fare. If you prefer something a little more contemporary, head over to Mount Emily and make a reservation at Wild Rocket. There, head chef Willin Low has brought modern Singaporean cuisine to life by creating a fresh twist on the dishes he grew up eating. For a truly unbeatable dining experience, hop in the elevator at the Marina Bay Sands and ride it all the way to the rooftop, where you can enjoy a delicious take on Italian-American cooking at Lavo Kitchen while looking out over the spectacular city unfurled below.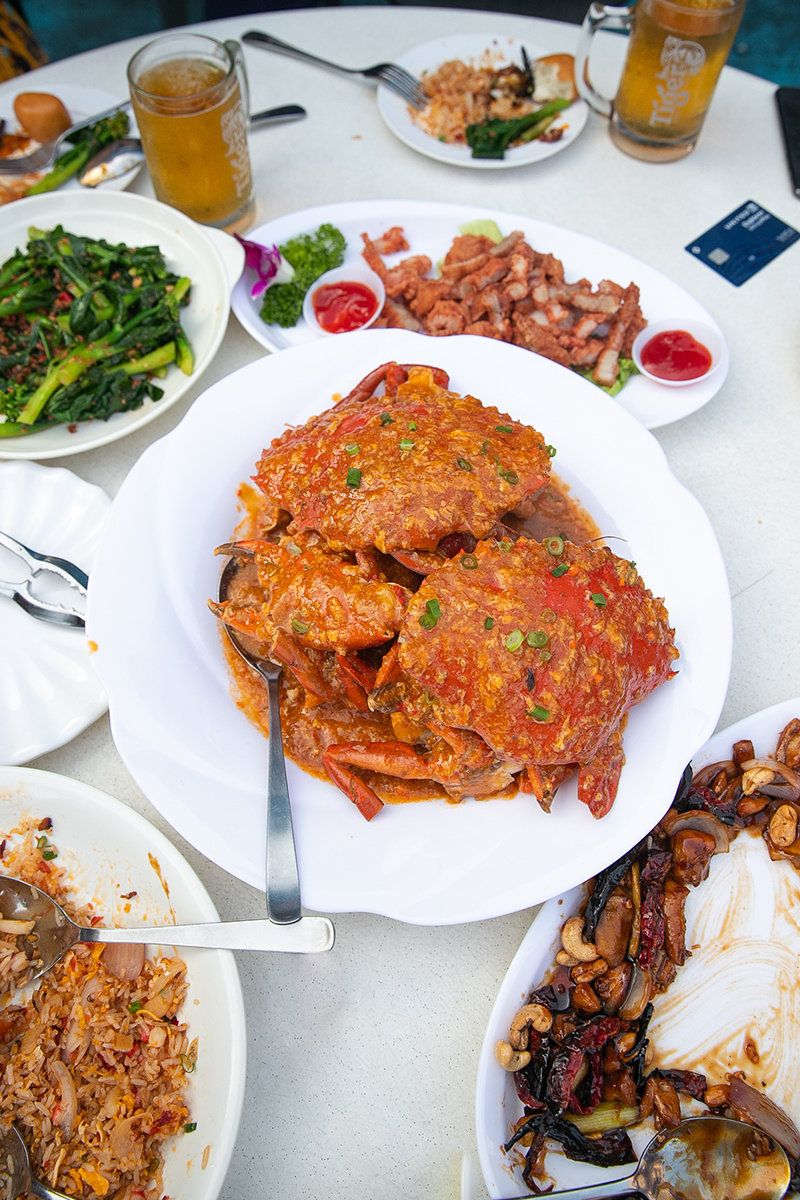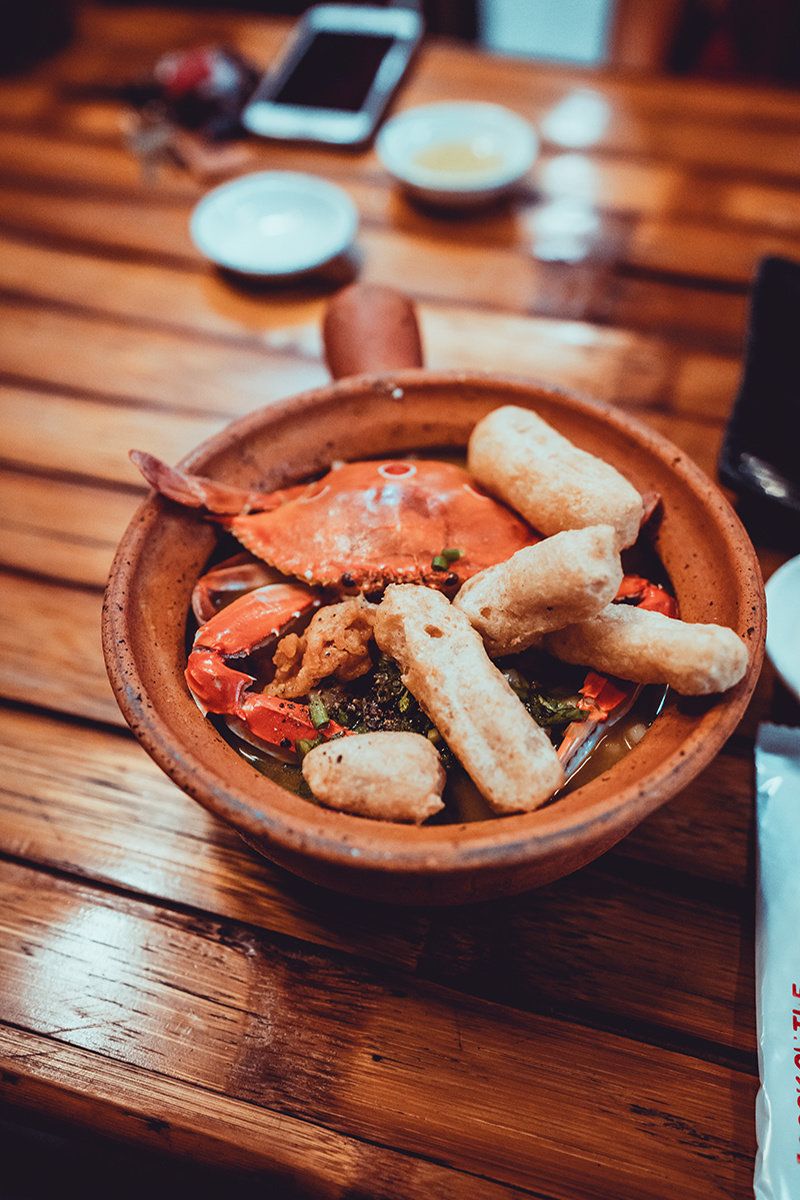 The most exciting dining experiences in the city, however, aren't enjoyed at a restaurant table. You've likely heard of the Maxwell Road Food Center, where you can try world-famous Tian Tian Hainanese Chicken Rice, but the meal doesn't stop there. Singapore offers a vast array of food markets and hawker stalls where curious diners can sample sizzling dishes cooked right in front of them. Also at Maxwell Road, you should indulge in a crispy snack at Fuzhou Oyster Cake or grab a bowl of hot-and-sour soup at Special Shanghai Tim-Sum, otherwise known as the "dumpling stall from Queenstown." And be sure to make your way over to the Chinatown Wet Market, which charms and enchants each and every traveler. There, the sights, sounds, and smells are just as delicious as the edible offerings, which include Chinese herbs and vegetables, live shellfish, and exotic meats such as eels, frogs, and turtles.
Relax and soak up the view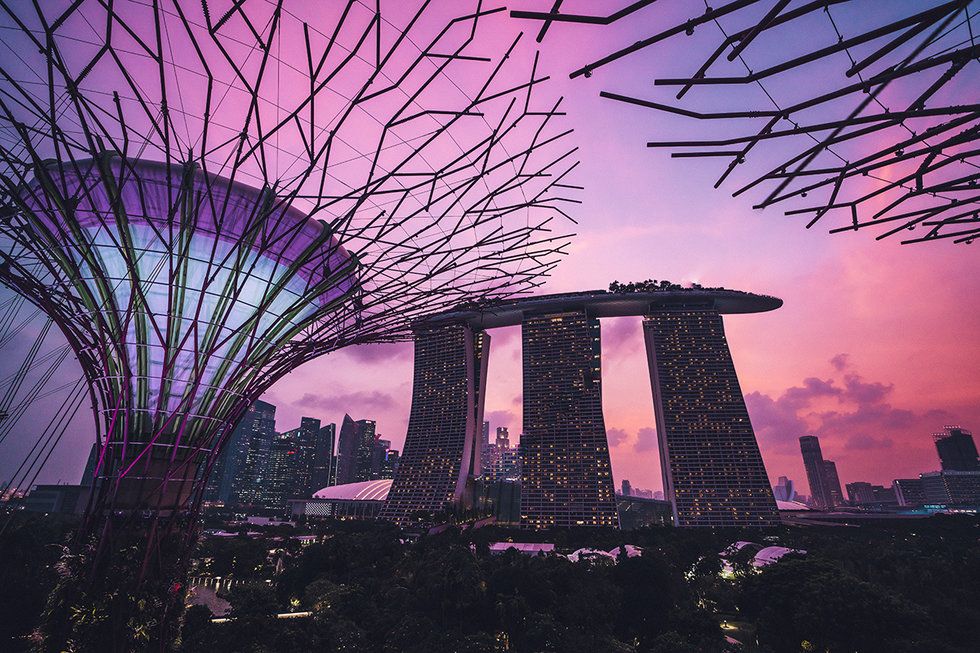 Few cities interweave modernity, architecture, and greenery quite like Singapore. Look, for example, at the stunning Gardens by the Bay, a 250-acre nature park featuring intricately designed, flora-infused structures such as the Cloud Mountain and the Flower Dome. When the giant trunks of the Supertree Grove light up come nightfall, you'll feel overwhelmed by the natural enchantment that pulses through this magical city.
Of course, the superb views don't stop there. Anywhere you go, you'll be treated to spectacular urban vistas that seem to blend into their ecological foundation. For early risers, consider a sunrise excursion and venture to the Marina Barrage, a dam covered in a lush-green lawn, where you can gaze across the water to the majestic figure of the Marina Bay Sands. Throughout the day, duck into Singapore Botanic Gardens. The only tropical botanic garden on the UNESCO World Heritage List, this tranquil paradise offers 180 acres of green space perfect for walking, picnicking, or simply relaxing — all in the heart of the city. Alternately, you can take a stroll along the Henderson Waves, an aptly-named pedestrian bridge that cascades through the forest between Mount Faber Park and Telok Blangah Hill Park.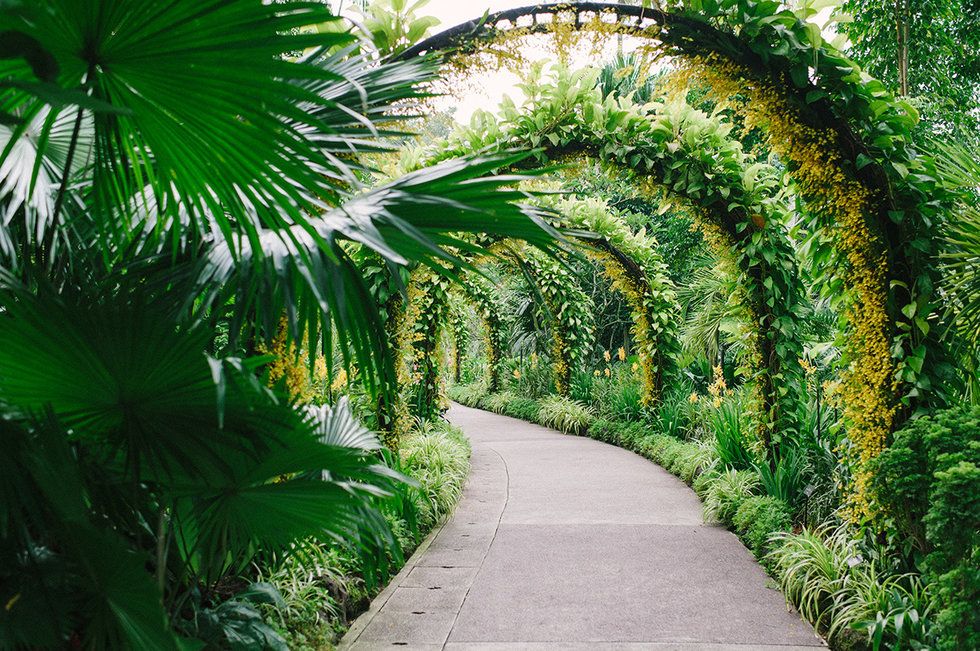 When night falls, be sure to make your way to the Event Plaza of the Marina Bay Sands for Spectra, a 15-minute dance of water fountains and laser-driven special effects all set to a gorgeous orchestral soundtrack. The performances start at 8 p.m. and 9 p.m., with an additional 10 p.m. showing on the weekends.
Spend an afternoon on the water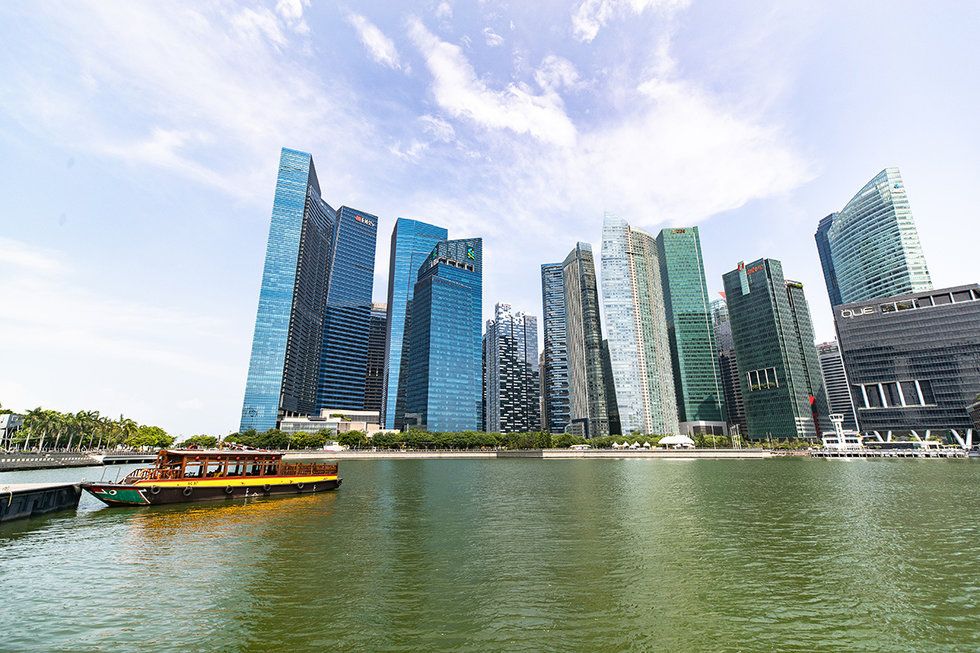 As Singapore is an island city, any exploration of it would be incomplete without spending some time on the river. Luckily, you can do just that on Singapore River Cruises. This line maintains a fleet of modern bumboats — electric, eco-friendly iterations of the rustic vessels once used to ferry supplies to ships anchored off-shore — that will guide you on a tour of the spectacular waterway that cuts through the Lion City. Along the way, you'll marvel at the buzzing markets and unique eateries that line the Boat, Clarke, and Robertson quays. You'll duck under architecturally aesthetic bridges like the Alkaff and the Helix, and you'll spot eye-catching landmarks like the Merlion and the Esplanade. It's an aquatic adventure that you shouldn't miss!
Be still in the city's temples
Though Singapore is a spectacularly modern city, it also houses a rich history. And one of the best ways to immerse yourself is to visit the island's various temples. One of our favorites is the city's oldest Hindu temple, Sri Mariamman. Built in the mid-19th century, the temple remains an ornate monument to the area's Indian influences. It features six colorful tiers decorated with gods, mythological beasts, and soldiers. Nearby, in the heart of Chinatown, you'll also find the Buddha Tooth Relic Temple, a four-story pagoda that includes a bell tower, a sacred stupa made of solid gold, a museum featuring over 300 Buddhist artifacts, and even a tea room on the second floor where you can enjoy a mid-day respite.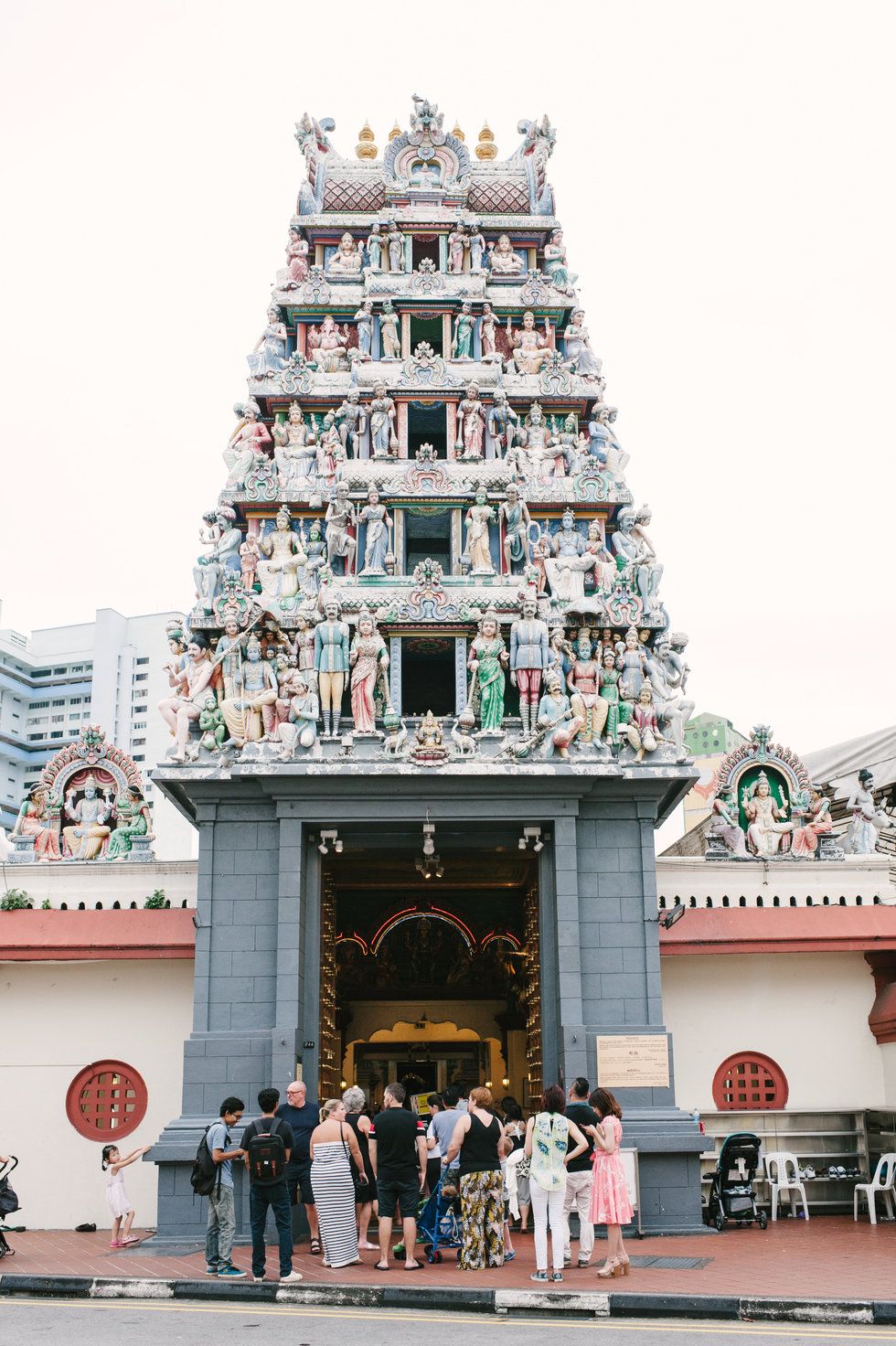 If you find yourself in need of someplace quiet to escape the bustle of the city, make your way toward the Thian Hock Keng Temple, Chinatown's oldest Hokkien Temple. Originally a landing point for Chinese soldiers in the 19th century, the grounds act as a haven of quietude in the center of a hectic metropolis. In addition, check out the outside rear wall, where a 145-foot (44-meter) mural traces the stories of the Hokkien immigrants who left China and landed in Singapore. The mural was painted by local artist Yip Yew Chong and covers the hardships, tragedies, and elation faced by those early immigrants.
Additionally, Singapore is a great launching pad to the rest of Southeast Asia — if you're interested in exploring Thailand, Vietnam, and beyond, you can check out United's Excursions Perk.
If you can't get to Mars, what's the next best thing? Apparently Iceland. A team of renowned explorers and researchers recently journeyed to Iceland to test a Mars analog suit in a Martian-like environment.
The United sponsored expedition, led by The Explorers Club — an internationally recognized organization that promotes the scientific exploration of land, sea, air and space — and in partnership with Iceland Space Agency, involved the team venturing inside the Grímsvötn volcano and across the Vatnajökull ice cap. The group traveled to the remote location and lived for six days in the Grímsvötn Mountain Huts and endured harsh weather conditions and unstable terrain.
Helga Kristin Torfadöttir, Geologist and glacier guide, using the LiDAR system to map the ground and test the suit's capabilities on the glacier.
The objective of the mission was to explore the potential of concept operations at the Grímsvötn location while testing the suit in an arctic environment similar to what would be found on the surface of Mars. "This mission was an important test of the design of the MS1 suit, but it was also incredibly helpful to understand the how to conduct these sorts of studies in Iceland," said Michael Lye, MS1 designer and NASA consultant and RISD professor. "No matter how thoroughly something is tested in a controlled environment like a lab, studying it in a setting that accurately represents the environment where it will be used is absolutely essential to fully understand the design."
The suit was designed and constructed by faculty and students at the Rhode Island School of Design (RISD) with input and guidance from members of the HI-SEAS IV crew and NASA's Johnson Space Center Space Suit Engineering team. At 50-60 lbs, the suit is similar to what a planetary exploration suit would weigh in Martian gravity. The suit was originally designed to be used in the warm climate of Hawaii, however the martian climate is much closer to what would be found on top of the glaciers in Iceland. The data collected will inform the future of habitat and spacesuit design that can be used to train astronauts on Earth.
Today, we remember the colleagues, customers and every single victim of the terrorist attacks of Sept. 11, 2001.
I know each of us in the United family marks this difficult moment in our own way. Still, we all share a common commitment to honor how our brothers and sisters left us and also celebrate what they gave to us during their lives. We remember their professionalism and heroism. We cherish their camaraderie and friendship. We carry with us the examples they set forth, especially in the heroism and bravery displayed by so many on that terrible day. Above all, we understand a simple truth: While thousands of our fellow human beings lost their lives in New York City, Arlington and Shanksville, the attacks of September 11th were aimed at all people of peace and good will, everywhere. They were attacks on the values that make life worth living, as well as the shared purpose that make us proud of what we do as members of the United family: connecting people and uniting the world.
We may live in times scarred by discord and disagreement, and we know there are those around the world who seek to divide us against one another. But, on this day – above all – we come together, as one. We affirm our core belief that far, far more unites us as citizens and fellow human beings than can ever divide us.
Let us embody that belief as we go about serving our customers and one another – on this day and every day – as we continue to help building a world that's more united. Let that be our memorial to the sisters and brothers we lost, eighteen Septembers ago.
Humbly,
Oscar
A team of search and rescue experts from Empact Northwest departed Newark International Airport (EWR) this morning for Nassau (NSA), the capital of the Bahamas to help meet the pressing need for search and rescue services identified by Bahamian Prime Minister Hubert Minnis in the aftermath of Hurricane Dorian. The Empact Northwest team worked with Airlink, a rapid-response humanitarian relief organization that connects airlines with non-governmental organizations (NGOs), that respond quickly and efficiently in the wake of major disasters.
"We can't thank United enough for allowing us to jump out of the gate right away to aid people devastated by this storm," said Airlink Strategic Advisor Emily Sperling. "Search and rescue, medical care, temporary shelter, food and access to potable water are among the most immediate and pressing needs identified in the region. United's assistance is critical in ensuring that groups like Empact Northwest join others, including Mercy Corps, ADRA, and Heart to Heart International in fulfilling those most basic needs."
Airlink notes that our assistance enables two types of first responders to arrive quickly: those with specialized response capabilities like search and rescue, as well as assessment teams, who identify the most pressing needs and establish partnerships quickly to distribute supplies more efficiently once they are on the ground in country. Our partnership is felt long after the initial outreach after a disaster, too, according to Ms. Sperling. "After Irma and Maria hit the Caribbean in 2017, we received requests to transport relief workers a year or two later, to provide training and rebuilding assistance to help these communities develop future resilience," she said. The partnership also helps move responders into place to assist U.S. East Coast communities in the path of this tremendous storm.
You can join us in our disaster relief efforts by donating to our Crowdrise fundraising page here.

Scroll to top