St. Patrick's Day falls on a Saturday this year so the annual tribute to all things Irish will be celebrated in cities worldwide on the day of the March 17 holiday, with a few events taking place the weekend prior. These seven parades and celebrations are among the world's largest and heartiest — don't forget to wear green.
New York City
The Big Apple turns green each year for its St. Patrick's Day Parade. Since 1762, it's grown into the world's most populous parade, with about two million annual spectators. The March 17 parade (11 a.m. – 5 p.m.) follows Fifth Avenue from 44th to 79th Street, with the final 20 blocks alongside Central Park on the Upper East Side. This is a people's parade, with no floats or vehicles but with 200,000 people choosing to march or dance in the parade rather than watch.
Dublin
St. Patrick's Day is a legal holiday in Ireland, the island where it all began centuries ago. But the Irish spread the St. Patrick's Festival over five days (March 15 – 19), with 34 events ranging from street music and theater to Irish dancing and storytelling — and of course, a huge parade. Green lights illuminate the city's most iconic buildings and monuments, and yes, the Guinness flows fast and furious at Dublin's pubs.
Chicago
Chicagoans start celebrating in the early hours of the morning on March 17 — followed by the massive Columbus Drive parade (12 – 3 p.m.) through Grant Park that draws a million spectators. Before the parade, a tradition for 174 years, is the more recent tradition of the river dyeing, when eco-friendly green dye is poured into the Chicago River at 9 a.m.
Buenos Aires
Argentina may seem like an odd place for a big celebration of Irish heritage, but a half-million Argentines have Irish blood, and Buenos Aires has the world's fifth-largest Irish population. Like the Irish, South Americans know how to celebrate, and they do it in the Argentine capital with a parade and street party on March 17 that literally spills over into March 18. Ten city blocks are shut down for the music and dancing that last for hours after the short parade.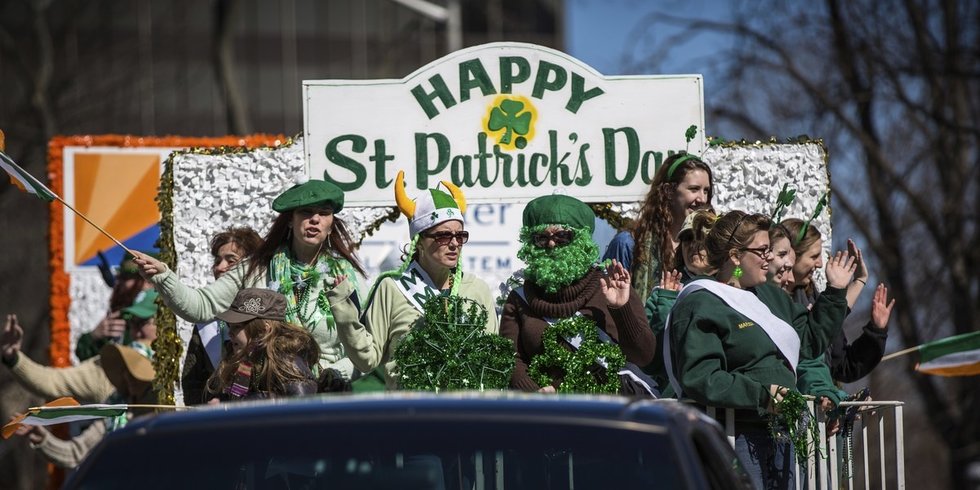 Boston

America's oldest city parade debuted in 1737, when George Washington was a 5 year old. It is not on downtown streets, like most parades, but through South Boston where so many of the city's large population of Irish-Americans live. These "Southies" are among the throngs of more than a half-million who will watch the 40-block-long parade beginning at 1 p.m. on Sunday, March 18, one day after Bostonians celebrate the holiday at Irish bars.
Savannah
Savannah — population 145,000 — will swell to several times that size during its St. Patrick's Day Parade (March 17 at 10:15 a.m.). You can credit typically mild weather and a 193-year tradition for its popularity, but there's more. On March 10 there's another parade on nearby Tybee Island, plus the Tara Feis Irish Celebration in downtown Savannah's Emmet Park. And on March 16 – 17, Savannah's River Street and City Market host a music-filled St. Patrick's Day Festival that rocks till midnight nightly.
San Francisco
Three years after the 1849 gold rush that brought thousands to San Francisco, the Irish-Americans among them organized the first St. Patrick's Day Parade. The parade has marched on ever since as the largest Irish celebration in the American West. About 100,000 will watch 5,000-plus parade participants march up Market Street on March 17 at 11:30 a.m., followed by an Irish cultural festival at the parade's end point at Civic Center Plaza.
If you go
Visit united.com or use the United app to plan your St. Patrick's Day getaway.