The United States of adventure
Story by Peter Koch | Hemispheres, June 2017
America has no shortage of natural wonders— or thrill-seekers coming up with the creative ways to conquer them. From waves that ought to come with living wills to trails that hikers literally hang off of, Hemispheres takes a look at 10 of the most extreme adventures the U.S. has to offer.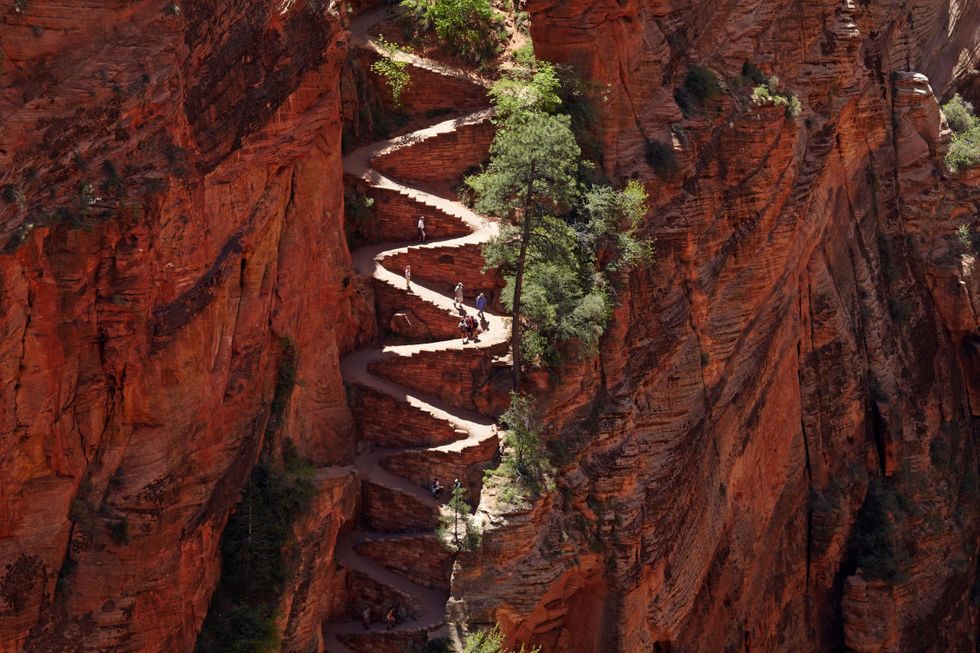 Most Terrifying Hiking Trail
Angels Landing
Zion National Park, Utah
Towering 1,488 feet above the Virgin River in the heart of Utah's Zion Canyon, Angels Landing, a sheer rock formation so named because "only angels might land upon it," is one of the National Park Service's most popular hikes—and also one of its deadliest. Starting at the river, the 2.5-mile trail winds its way up through Walter's Wiggles—a series of 21 pinball switchbacks—enters the cool confines of Refrigerator Canyon, and then ascends to Scout Outlook, a stunning overlook and the last turnaround point before things get, well, airy. The last half mile climbs more than 400 feet on a narrow, vertigo-inducing spine of (aptly named) slickrock. At points, the trail is only a few feet wide—just enough for one person to tiptoe along at a time—with cliffs dropping nearly 1,000 feet on either side. Those who are brave enough to take hold of the support chains that are bolted to the rock and pull themselves to the top are treated to panoramic, top-of-the-world views of Zion's Martian landscape of soaring red-rock cliffs and sculpted sandstone.
Wildest Sea Kayaking
Channel Islands National Park
Ventura, California
Despite lying just 14 miles off the Central California coast, the five wind-scoured islands that make up Channel Islands National Park have a wild, end-of-the-world feeling that's hard to find anywhere short of the Galápagos. Surrounded as they are by a National Marine Sanctuary, the islands provide a rich habitat for a huge variety of species, including at least seven types of whale, dolphins, sharks, and tens of thousands of seals and sea lions that breed and pup on San Miguel Island each year. Several outfitters offer multiday kayak-camping trips to 96-square-mile Santa Cruz, the largest and most accessible island. There, you can explore kelp forests, paddle into some of the world's largest sea caves, scour pristine tide pools, inspect 10,000-year-old shell mounds left by the ancient Chumash, or hike up to 316-foot-high Cavern Point to spot whales before bedding down for the night to the sound of crashing waves.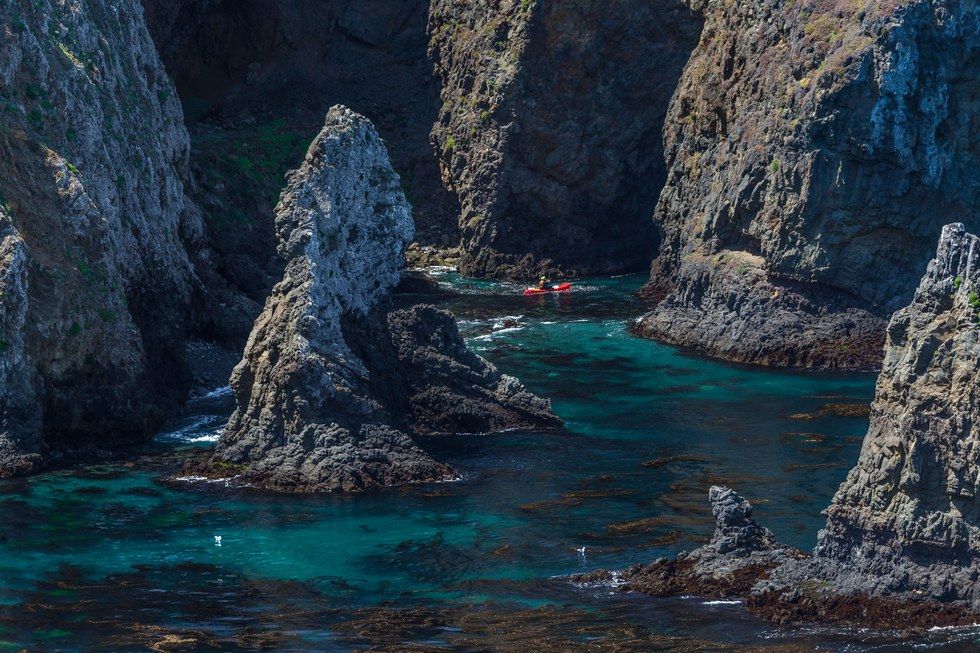 Channel Islands
Most Sadistic Obstacle Course
World's Toughest Mudder
Las Vegas
This is the biggest and baddest of the Tough Mudder endurance races. Runners strive to complete as many circuits of the five-mile loop course as possible in 24 hours, with each lap containing 20-plus exhausting obstacles—everything from monkey bars to a challenge that's similar to the board game Operation, complete with electric zaps—plus more than 800 feet of climb-ing and a jump from a 35-foot cliff into hypothermia-inducing Lake Las Vegas (hint: wear a wetsuit), all with night temps that drop below 40 degrees. Just finishing takes grit, but win-ning the $100,000 prize and claiming the title of World's Toughest Mudder requires a commitment bordering on masochism. Each of the top three male finishers last year completed more than 100 miles, and the top female put in 85. Maybe their mudders were mudders…
Most Suicidal Ski Run
Corbet's Couloir
Jackson Hole Mountain Resort, Wyoming
Set at the top of 10,450-foot Rendezvous Mountain and named after famed local ski instructor and mountaineer Barry Corbet, this vertiginous double-black-diamond run is the most challenging of Jackson Hole Mountain Resort's legendarily tough trails. Corbet's Couloir is a bucket-list run for countless skiers who, upon peering over its edge and considering their own mortality, very carefully back away. (Hello, performance anxiety!) The crux of the line is the dizzying entrance, which drops anywhere between 10 and 30 feet off a cornice into a tight chute, only to land on a 53-degree slope between steep rock walls. If you manage to stick the landing—and pray that you do, or you're in for a long, embarrassing "yard sale" of a fall—you'll need to execute multiple powerful, technical turns at high speed to make it out safely. Once you're free, though, you can arc big, graceful turns onto the apron of Tensleep Bowl below and add your name to the list of legends.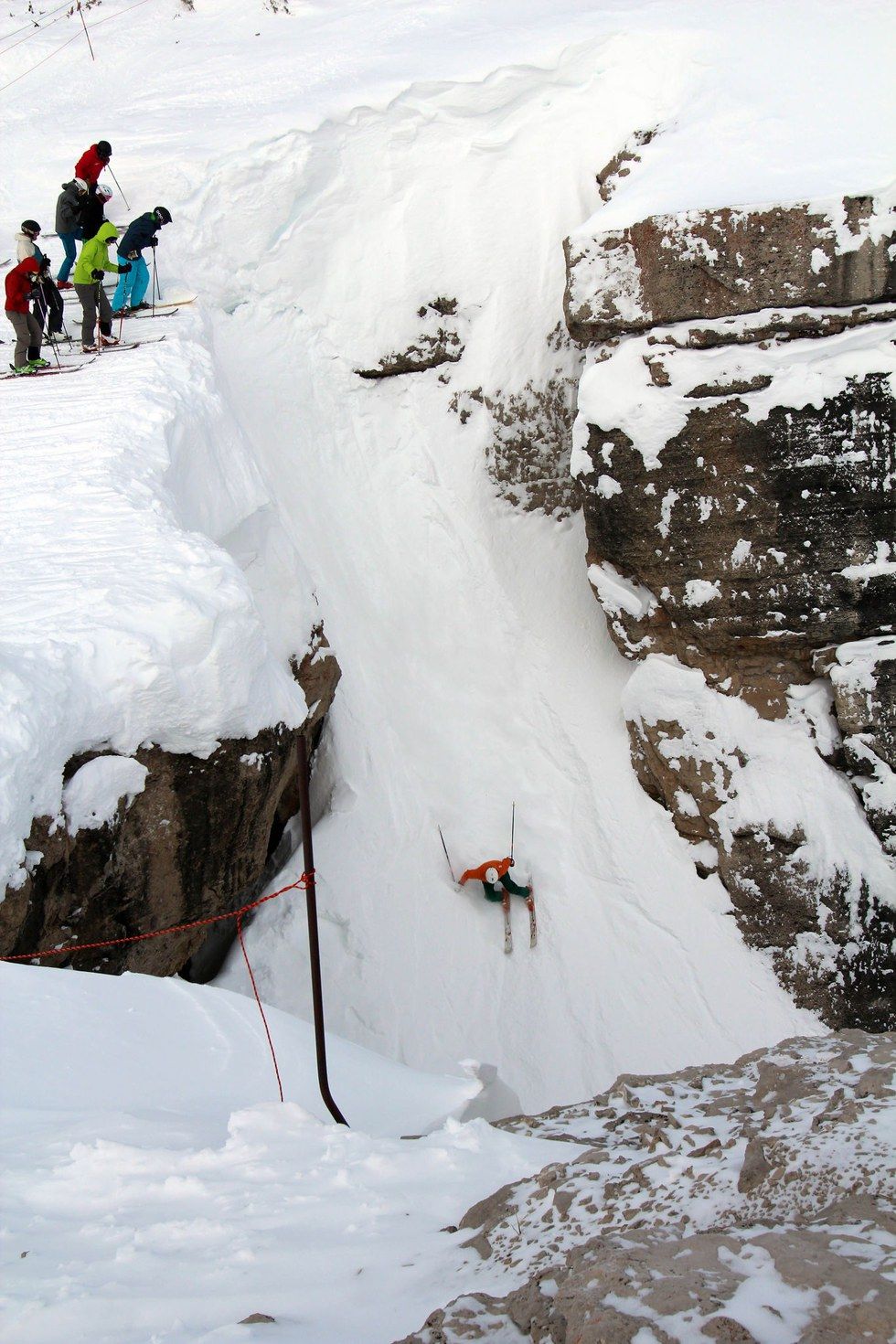 Rendezvous Mountain
Deepest Canyon Descent
Hells Canyon
Lewiston, Idaho
Hells Canyon isn't America's most famous gorge, but at 7,993 feet, it is the deepest (the Grand Canyon descends 6,093 feet at its lowest point), and a five-day rafting trip down the Snake River offers perhaps the country's best waterborne mix of adventure, natural beauty, and history. The Snake's clear, relatively warm waters yield some of the best whitewater rapids in the Northwest, and its calmer stretches teem with prize rainbow and steelhead trout. From the boat, you'll also get an intimate, ant's-eye view of an impossibly rugged landscape populated by bald eagles, bears, and mountain goats, and short hikes from the banks lead to abandoned century-old homesteader cabins, as well as dozens of Native American pictographs and petroglyphs. All of that merges into a classic Western adventure that's greater than the sum of its parts (and, yes, a river runs through it).
Most Bodacious Bodysurfing Wave
The Wedge
Newport Beach, California
At the Wedge, a powerful shore break off the east end of Newport Beach's Balboa Peninsula, a long jetty relays south swells that form monstrous, wedge-shaped waves, often topping 30 feet during South Pacific storm cycles. They're too steep and unpredictable for surfers at these times—usually summer and fall—but just right for the grizzled local bodysurfers who venture into the frothing chaos in the hope of catching one of these freight-train waves and gliding torpedo-fast down its face. If you're feeling brave, don your fins and dive right into Mother Nature's spin cycle.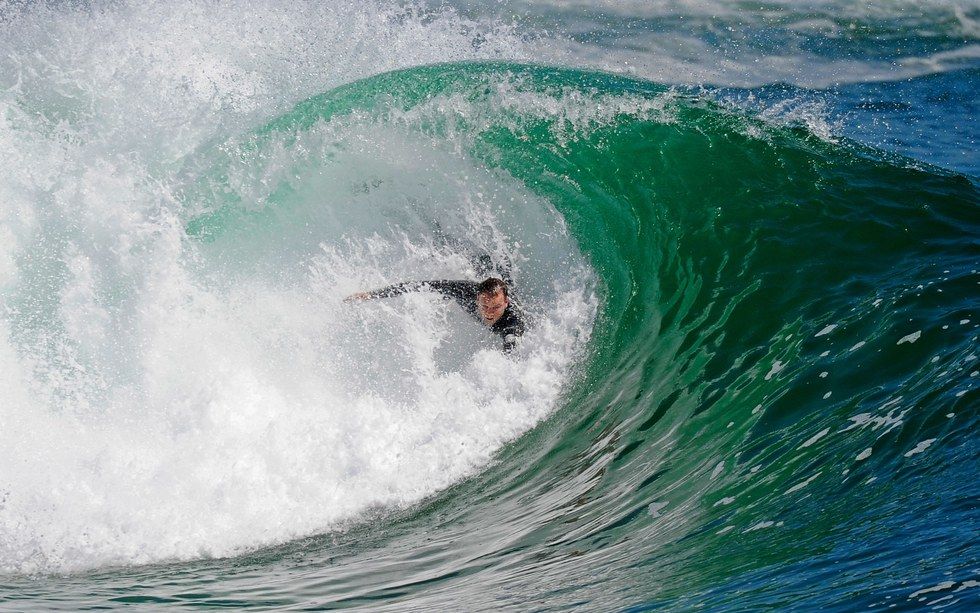 The Wedge
Highest Place to Hang Out
Telluride Via Ferrata
Telluride, Colorado
Seen from downtown Telluride, the soaring cliffs on the southwest face of 12,785-foot Ajax Peak appear impassable for anyone other than a stunt double from Cliffhanger. But the via ferrata, Italian for "iron road," a trail of cables and iron rungs that cuts across the sheer face, allows anyone the opportunity to traverse the mountain. Well, anyone who's brave enough to clip into a steel cable and shimmy out onto the rungs. To tackle the via ferrata—locals call this one "The Krogerata" after Chuck Kroger, the climber and ironworker who built it—hire a guide service to get you outfitted (with helmet, climbing harness, and clips) and show you the route, which follows old mining trails to a ledge that disappears where the iron starts. From there, it's just you, the iron, and jaw-dropping views of the box canyon below.
Most Crippling Cycling Race

Dirty Kanza 200
Emporia, Kansas
A 200-mile bike race that rattles over the unpaved roads of Kansas's rugged Flint Hills, the Dirty Kanza is as scenic as it is treacherous. The tallgrass-prairie views will take your breath away—if you have any left after pedaling through the heat and wind and over tire-shredding, frame-busting, fist-size chunks of gravel. And god help you if it rains and the roads are churned into a chunky peanut-butter mud that chokes up drivetrains and snaps derailleurs. The full Kanza (there's also a 100-mile "Half Pint" version) is a relentless race against mechanical failure, dehydration, the setting sun, and, in the end, yourself. Anyone who crosses the finish line—only 59 percent of participants did so last year—is a winner.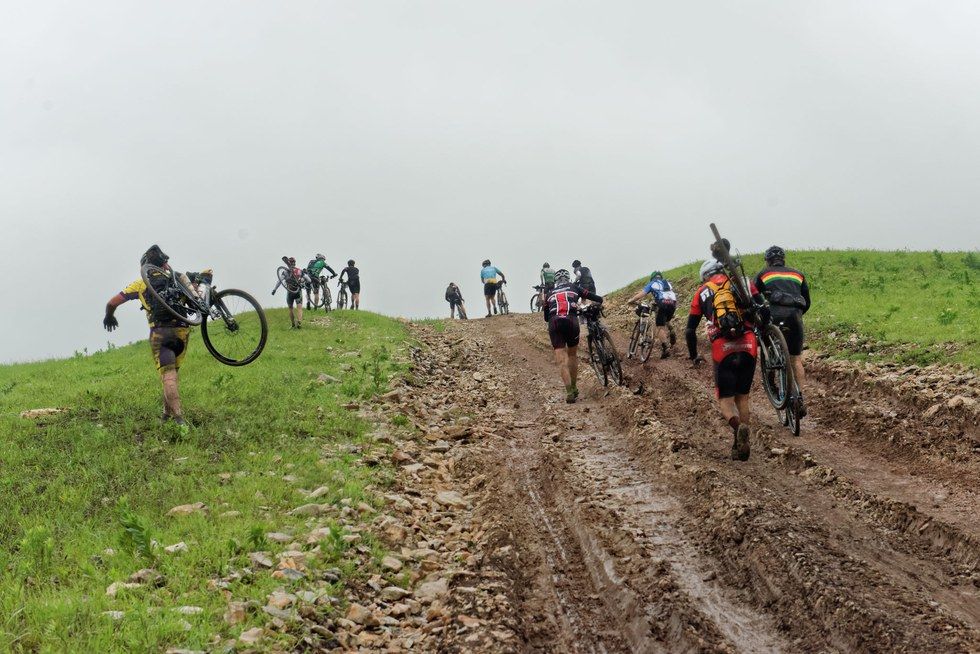 The unpaved roads of Kansas's rugged Flint Hills
Most Surprising Ski Slope
Star Dune
Great Sand Dunes National Park & Preserve, Colorado
Not all of Colorado's best runs are located among the snowy peaks of Vail and Aspen. In fact, the wide-open slopes of Great Sand Dunes National Park have untracked knee-deep powder that's ripe for the picking—that is, if you trade your snowboard for a sandboard. Yes, sandboarding is a real thing, and this park, with its 170 billion cubic feet of sand, is its unofficial capital. Rent a board—they have extra-slick bases and special wax—at Kristi Mountain Sports in Alamosa, and hike 2.5 miles across a veritable moonscape to 750-foot-tall Star Dune, North America's tallest sandpile. Trudge up to the summit and strap in for a rip-roaring ride in a remote—and unforgettable—setting.
Hardest Day Hike
Cactus to Clouds Trail, San Jacinto Peak
Palm Springs, California
It's not simply the height of 10,834-foot San Jacinto Peak that makes it America's toughest day hike (Mount Whitney, after all, is almost 4,000 feet taller). What's really killer about the Cactus to Clouds Trail is that it climbs nearly all of its 10,300 feet from the floor of the Coachella Valley in just 14 miles. It doesn't help that the trail starts in the searing desert—with no water available for the first 10 hours or so—and ends at an elevation where it can snow year-round. Hikers often set out in the predawn darkness to beat the heat, which makes route-finding a challenge on the mountain's lower flanks. Is it worth the trouble? Just ask John Muir, who wrote, "The view from San Jacinto is the most sublime spectacle to be found anywhere on this earth!" Reach the top and you'll have earned that view—and a ride home on the Palm Springs Aerial Tramway.
On March 19, 2020, United operated its first flight carrying cargo without passengers on board. While the passenger cabin was empty, its cargo hold was completely full, carrying more than 29,000 pounds of commodities from Chicago O'Hare International Airport (ORD) to Frankfurt Airport (FRA).
A year later, United Cargo has operated more than 11,000 cargo-only flights carrying more than 570 million pounds of freight. To support the COVID-19 pandemic recovery efforts, United Cargo has also transported more than 113 million pounds of medical and pharmaceutical products on both cargo-only and passenger flights as well as approximately 10 million COVID-19 vaccines, providing global communities access to the items they have needed most.
"At the beginning of the pandemic, we knew we were uniquely positioned to utilize our widebody aircraft and our network to keep commodities moving, so we quickly mobilized various departments throughout the airline to launch a cargo-only network of flights that would keep commodities moving," said United Cargo President Jan Krems. "Thanks to those efforts, United Cargo has delivered millions of items to countries all around the world. We would not have been successful without the steadfast support of our employees, industry partners and our customers."
Since last March, United Cargo has transported almost 850 million pounds of freight on cargo-only and passenger flights. The airline will continue to monitor market trends adjust its cargo-only flight schedules to help ensure we are meeting our customer's evolving shipping needs.
Whether you haven't flown with us for a while or just need a quick refresher before your spring trip, read this list of tips to know before your flight and arrive at the airport travel-ready:
1. Download the United app for contactless bag check, travel assistance and more
Before your flight, download the United app to view your flight status, check in, sign up for flight notifications, locate departure gates, access our free personal device entertainment when available and more. We've also updated our app with new features that can make your trip a little safer, including contactless bag check.
Don't forget to use Agent on Demand for help with any and all questions you may have before your flight. This new capability is available at all our U.S. hub airports and allows you to use your own mobile device to contact a customer service agent via phone, video or chat to help with day-of-travel questions while you're at the airport. Learn more about Agent on Demand here.
2. Check out the Travel-Ready Center
Our Travel-Ready Center makes it easy to get a personalized overview of everything you need to do in preparation for your flight. Just enter your confirmation number or MileagePlus® number and you'll find detailed information on all the documents, tests and more that you'll need for your trip.
3. Read and sign the Ready-to-Fly checklist
Before completing check-in, all United travelers will need to read our Ready-to-Fly checklist and confirm that they understand and agree to our policies. These include:
Acknowledging that you haven't had any symptoms of COVID-19 in the last 14 days
Agreeing that you will not fly if you have tested positive for COVID-19 within the last 21 days
Confirming that you will follow all policies regarding face masks, social distancing and other health and safety measures we've adopted
4. Arrive early; avoid the stress
Airports can be busy, especially during peak travel periods like spring break season. The TSA advises arriving at the airport two hours before your flight for domestic travel and three hours for international travel in anticipation of long security lines. This can help ease the stress when navigating busy check-in areas, security lines and crowded boarding gates.
5. Get familiar with CleanPlus
United CleanPlus℠ is our commitment to delivering industry-leading cleanliness as we put health and safety at the forefront of your experience. We've teamed up with Clorox to redefine our cleaning and disinfection procedures and Cleveland Clinic to advise us on enhancing our cleaning and disinfection protocols, like:
Disinfecting high-touch areas on board and in the terminal
Using electrostatic spraying, Ultraviolet C lighting wands and more advanced measures to clean aircraft cabins before boarding
Redesigning our mobile app to allow for touchless check-in and contactless payment, along with enhanced travel assistance features
Implementing high-efficiency (HEPA) filters on our aircraft that completely recirculate cabin air every 2-3 minutes and remove 99.97% of airborne particles, including viruses and bacteria
Studies show COVID-19 exposure risk is minimal when air filtration systems and masks are in use, so you can rest assured that the steps we've taken to keep you safe truly make a difference.
6. Wear your mask
Federal law requires all travelers to wear a face mask in the airport, including customer service counters, airport lounges, gates and baggage claim, and on board during their entire flight. Make sure you review the requirements for face masks, including what an acceptable face mask looks like.
7. Get ready for a safer boarding process
To make boarding even safer, we now have travelers board their aircraft from back to front. At the gate, just listen for your row number to be called – we'll ask a few rows at a time to board, starting with the last row of the plane. This helps everyone maintain a safe distance from each other during boarding without slowing things down. As you step onto the plane, flight attendants will hand each passenger a sanitizing towelette, which you can use to wipe down your seat to ensure it's extra clean.
8. Pack smart
Before packing your bags, check to see what exactly you can carry on and what you should plan to check. You can also copy your confirmation number into our Baggage Calculator tool to learn about the bag allowance included with your reservation, as well as the cost of checking any additional bags.
9. Check your flight status, important notices and weather
Check the United app regularly for the latest updates on weather conditions, flight status, gate numbers and seat assignments. You can also visit our Important Notices page to find essential information and updates about travel waivers, international travel, TSA and security, airports and United Club locations.
10. Relax and enjoy your flight
Once you're on board, it's time to sit back and enjoy your flight. Our flight attendants will be happy to help you with anything else you need.
This week, we were honored to become the first U.S. airline to join the UNICEF Humanitarian Airfreight Initiative to combat the COVID-19 pandemic by transporting the vaccine and other critically needed supplies to underserved areas of the globe.
"We are committed to helping the global community in any way we can, and we all must work together to do our part to bring this health and humanitarian crisis to an end," said Director of Cargo Specialty Products Manu Jacobs.
We will leverage our expertise to transport these critical pharmaceutical and healthcare shipments around the world safely, efficiently and expediently. We are proud to partner with the United Nations to support this global effort and provide equitable access to COVID-19 vaccines.
Scroll to top