The United States of adventure
Story by Peter Koch | Hemispheres, June 2017
America has no shortage of natural wonders— or thrill-seekers coming up with the creative ways to conquer them. From waves that ought to come with living wills to trails that hikers literally hang off of, Hemispheres takes a look at 10 of the most extreme adventures the U.S. has to offer.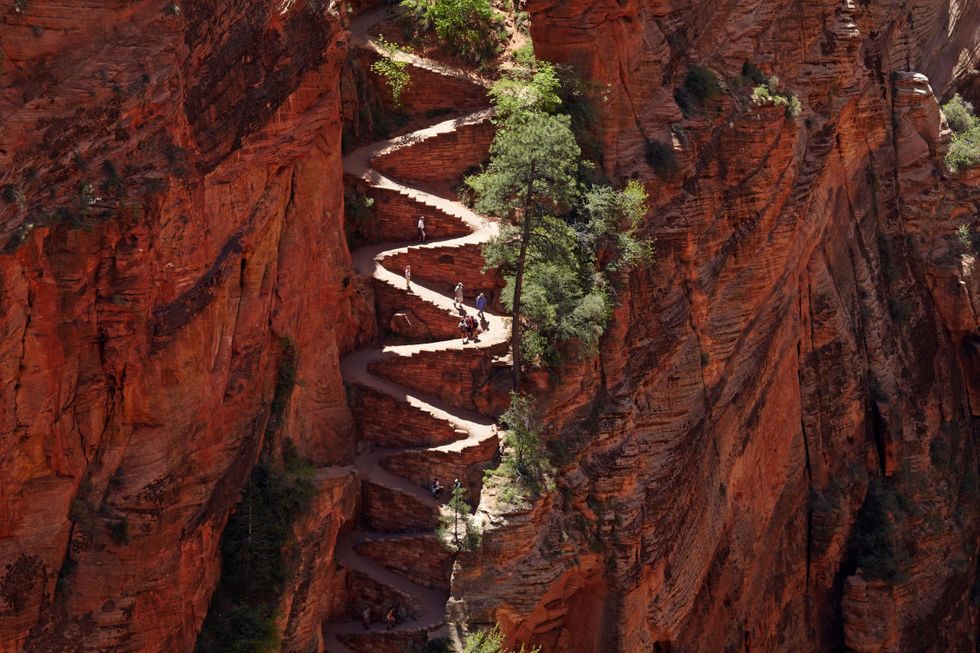 Most Terrifying Hiking Trail
Angels Landing
Zion National Park, Utah
Towering 1,488 feet above the Virgin River in the heart of Utah's Zion Canyon, Angels Landing, a sheer rock formation so named because "only angels might land upon it," is one of the National Park Service's most popular hikes—and also one of its deadliest. Starting at the river, the 2.5-mile trail winds its way up through Walter's Wiggles—a series of 21 pinball switchbacks—enters the cool confines of Refrigerator Canyon, and then ascends to Scout Outlook, a stunning overlook and the last turnaround point before things get, well, airy. The last half mile climbs more than 400 feet on a narrow, vertigo-inducing spine of (aptly named) slickrock. At points, the trail is only a few feet wide—just enough for one person to tiptoe along at a time—with cliffs dropping nearly 1,000 feet on either side. Those who are brave enough to take hold of the support chains that are bolted to the rock and pull themselves to the top are treated to panoramic, top-of-the-world views of Zion's Martian landscape of soaring red-rock cliffs and sculpted sandstone.
Wildest Sea Kayaking
Channel Islands National Park
Ventura, California
Despite lying just 14 miles off the Central California coast, the five wind-scoured islands that make up Channel Islands National Park have a wild, end-of-the-world feeling that's hard to find anywhere short of the Galápagos. Surrounded as they are by a National Marine Sanctuary, the islands provide a rich habitat for a huge variety of species, including at least seven types of whale, dolphins, sharks, and tens of thousands of seals and sea lions that breed and pup on San Miguel Island each year. Several outfitters offer multiday kayak-camping trips to 96-square-mile Santa Cruz, the largest and most accessible island. There, you can explore kelp forests, paddle into some of the world's largest sea caves, scour pristine tide pools, inspect 10,000-year-old shell mounds left by the ancient Chumash, or hike up to 316-foot-high Cavern Point to spot whales before bedding down for the night to the sound of crashing waves.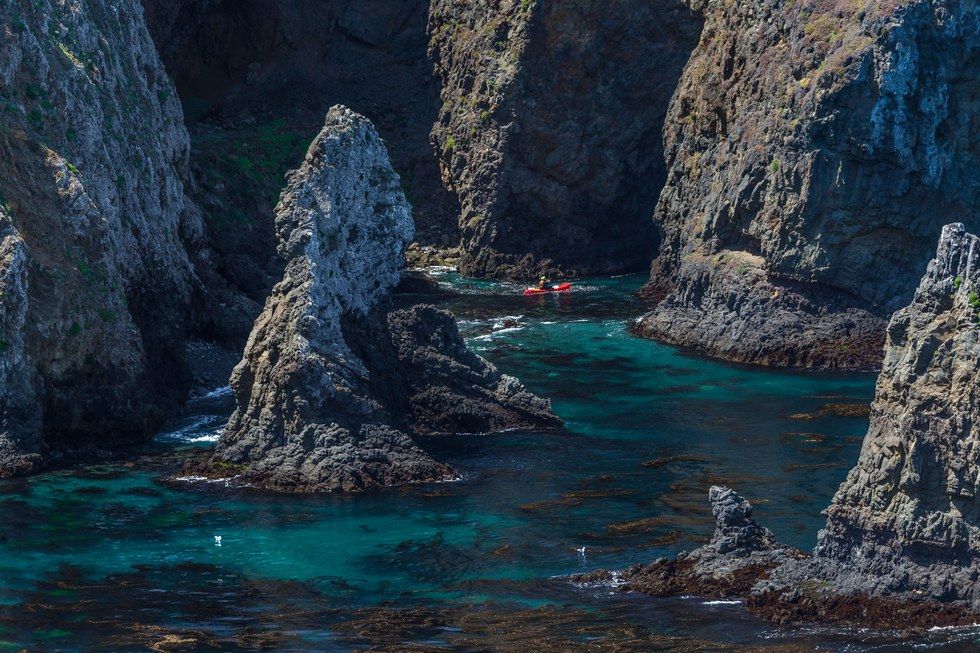 Channel Islands
Most Sadistic Obstacle Course
World's Toughest Mudder
Las Vegas
This is the biggest and baddest of the Tough Mudder endurance races. Runners strive to complete as many circuits of the five-mile loop course as possible in 24 hours, with each lap containing 20-plus exhausting obstacles—everything from monkey bars to a challenge that's similar to the board game Operation, complete with electric zaps—plus more than 800 feet of climb-ing and a jump from a 35-foot cliff into hypothermia-inducing Lake Las Vegas (hint: wear a wetsuit), all with night temps that drop below 40 degrees. Just finishing takes grit, but win-ning the $100,000 prize and claiming the title of World's Toughest Mudder requires a commitment bordering on masochism. Each of the top three male finishers last year completed more than 100 miles, and the top female put in 85. Maybe their mudders were mudders…
Most Suicidal Ski Run
Corbet's Couloir
Jackson Hole Mountain Resort, Wyoming
Set at the top of 10,450-foot Rendezvous Mountain and named after famed local ski instructor and mountaineer Barry Corbet, this vertiginous double-black-diamond run is the most challenging of Jackson Hole Mountain Resort's legendarily tough trails. Corbet's Couloir is a bucket-list run for countless skiers who, upon peering over its edge and considering their own mortality, very carefully back away. (Hello, performance anxiety!) The crux of the line is the dizzying entrance, which drops anywhere between 10 and 30 feet off a cornice into a tight chute, only to land on a 53-degree slope between steep rock walls. If you manage to stick the landing—and pray that you do, or you're in for a long, embarrassing "yard sale" of a fall—you'll need to execute multiple powerful, technical turns at high speed to make it out safely. Once you're free, though, you can arc big, graceful turns onto the apron of Tensleep Bowl below and add your name to the list of legends.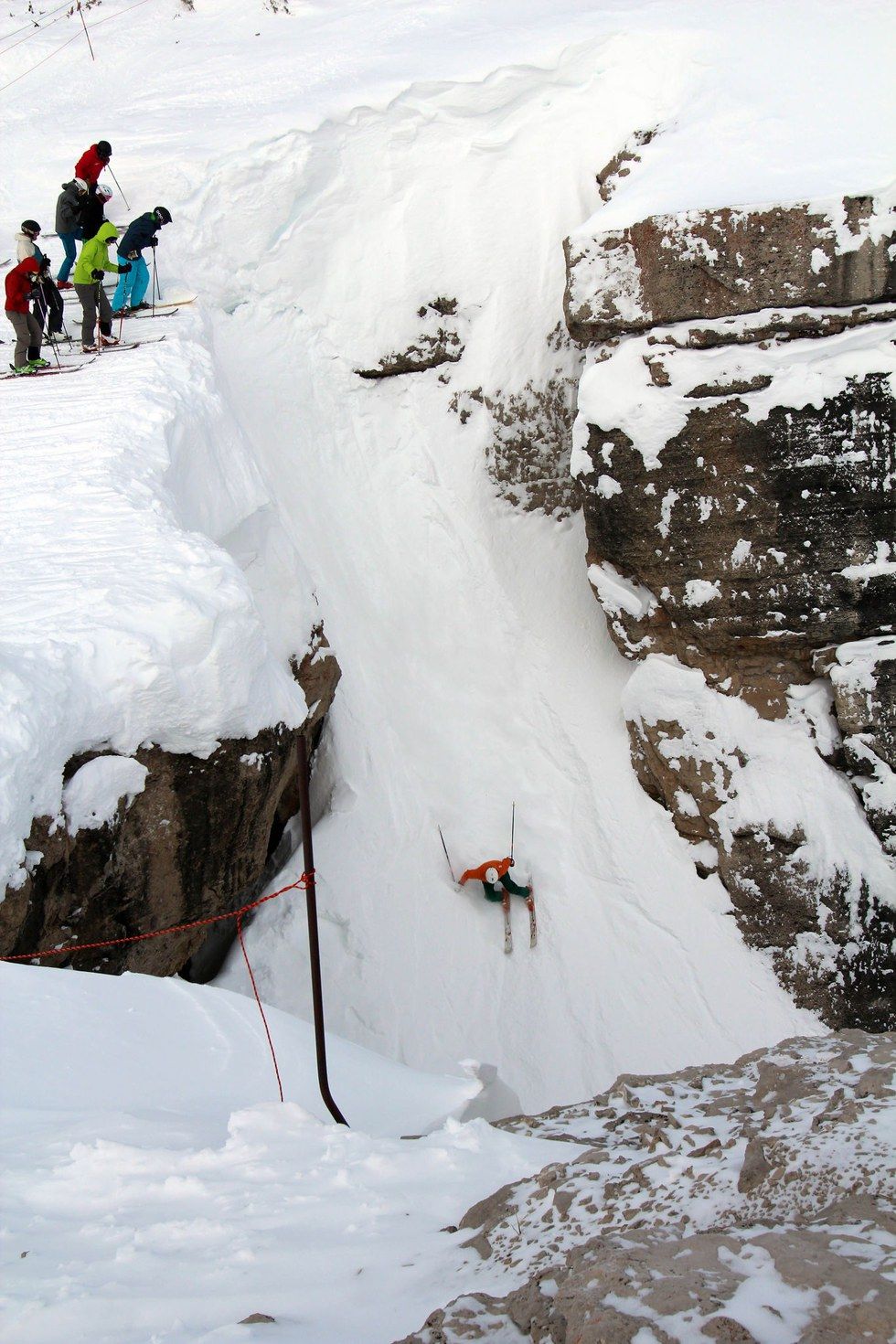 Rendezvous Mountain
Deepest Canyon Descent
Hells Canyon
Lewiston, Idaho
Hells Canyon isn't America's most famous gorge, but at 7,993 feet, it is the deepest (the Grand Canyon descends 6,093 feet at its lowest point), and a five-day rafting trip down the Snake River offers perhaps the country's best waterborne mix of adventure, natural beauty, and history. The Snake's clear, relatively warm waters yield some of the best whitewater rapids in the Northwest, and its calmer stretches teem with prize rainbow and steelhead trout. From the boat, you'll also get an intimate, ant's-eye view of an impossibly rugged landscape populated by bald eagles, bears, and mountain goats, and short hikes from the banks lead to abandoned century-old homesteader cabins, as well as dozens of Native American pictographs and petroglyphs. All of that merges into a classic Western adventure that's greater than the sum of its parts (and, yes, a river runs through it).
Most Bodacious Bodysurfing Wave
The Wedge
Newport Beach, California
At the Wedge, a powerful shore break off the east end of Newport Beach's Balboa Peninsula, a long jetty relays south swells that form monstrous, wedge-shaped waves, often topping 30 feet during South Pacific storm cycles. They're too steep and unpredictable for surfers at these times—usually summer and fall—but just right for the grizzled local bodysurfers who venture into the frothing chaos in the hope of catching one of these freight-train waves and gliding torpedo-fast down its face. If you're feeling brave, don your fins and dive right into Mother Nature's spin cycle.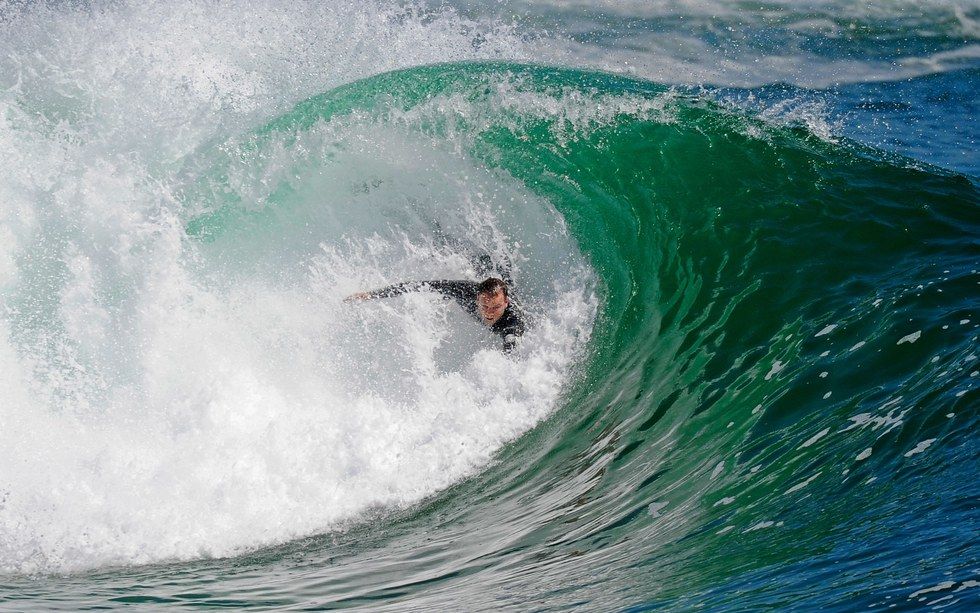 The Wedge
Highest Place to Hang Out
Telluride Via Ferrata
Telluride, Colorado
Seen from downtown Telluride, the soaring cliffs on the southwest face of 12,785-foot Ajax Peak appear impassable for anyone other than a stunt double from Cliffhanger. But the via ferrata, Italian for "iron road," a trail of cables and iron rungs that cuts across the sheer face, allows anyone the opportunity to traverse the mountain. Well, anyone who's brave enough to clip into a steel cable and shimmy out onto the rungs. To tackle the via ferrata—locals call this one "The Krogerata" after Chuck Kroger, the climber and ironworker who built it—hire a guide service to get you outfitted (with helmet, climbing harness, and clips) and show you the route, which follows old mining trails to a ledge that disappears where the iron starts. From there, it's just you, the iron, and jaw-dropping views of the box canyon below.
Most Crippling Cycling Race

Dirty Kanza 200
Emporia, Kansas
A 200-mile bike race that rattles over the unpaved roads of Kansas's rugged Flint Hills, the Dirty Kanza is as scenic as it is treacherous. The tallgrass-prairie views will take your breath away—if you have any left after pedaling through the heat and wind and over tire-shredding, frame-busting, fist-size chunks of gravel. And god help you if it rains and the roads are churned into a chunky peanut-butter mud that chokes up drivetrains and snaps derailleurs. The full Kanza (there's also a 100-mile "Half Pint" version) is a relentless race against mechanical failure, dehydration, the setting sun, and, in the end, yourself. Anyone who crosses the finish line—only 59 percent of participants did so last year—is a winner.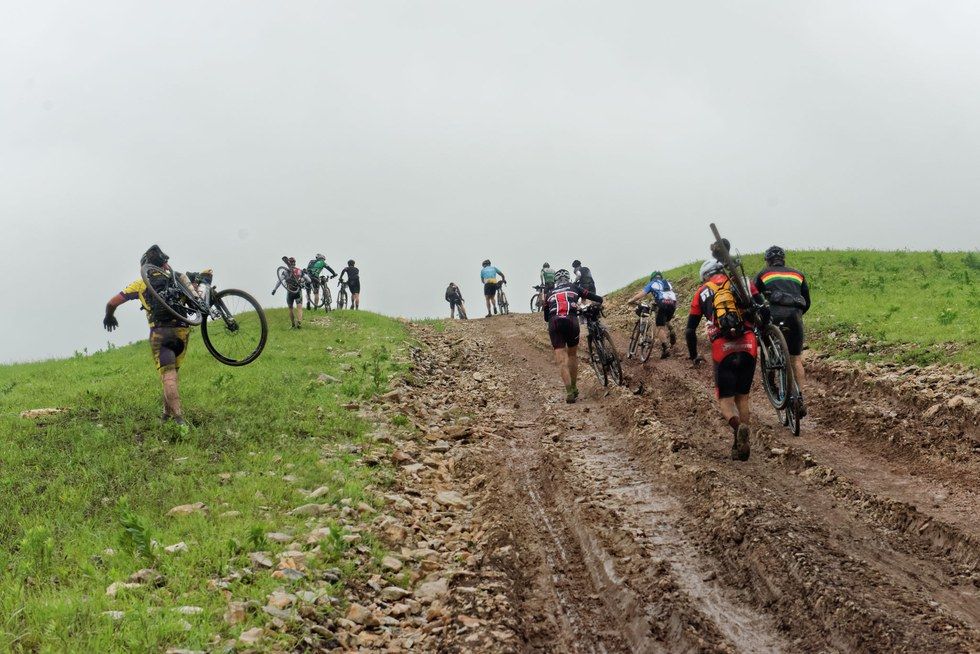 The unpaved roads of Kansas's rugged Flint Hills
Most Surprising Ski Slope
Star Dune
Great Sand Dunes National Park & Preserve, Colorado
Not all of Colorado's best runs are located among the snowy peaks of Vail and Aspen. In fact, the wide-open slopes of Great Sand Dunes National Park have untracked knee-deep powder that's ripe for the picking—that is, if you trade your snowboard for a sandboard. Yes, sandboarding is a real thing, and this park, with its 170 billion cubic feet of sand, is its unofficial capital. Rent a board—they have extra-slick bases and special wax—at Kristi Mountain Sports in Alamosa, and hike 2.5 miles across a veritable moonscape to 750-foot-tall Star Dune, North America's tallest sandpile. Trudge up to the summit and strap in for a rip-roaring ride in a remote—and unforgettable—setting.
Hardest Day Hike
Cactus to Clouds Trail, San Jacinto Peak
Palm Springs, California
It's not simply the height of 10,834-foot San Jacinto Peak that makes it America's toughest day hike (Mount Whitney, after all, is almost 4,000 feet taller). What's really killer about the Cactus to Clouds Trail is that it climbs nearly all of its 10,300 feet from the floor of the Coachella Valley in just 14 miles. It doesn't help that the trail starts in the searing desert—with no water available for the first 10 hours or so—and ends at an elevation where it can snow year-round. Hikers often set out in the predawn darkness to beat the heat, which makes route-finding a challenge on the mountain's lower flanks. Is it worth the trouble? Just ask John Muir, who wrote, "The view from San Jacinto is the most sublime spectacle to be found anywhere on this earth!" Reach the top and you'll have earned that view—and a ride home on the Palm Springs Aerial Tramway.
Our Marketing Inflight Entertainment and Connectivity team and Bridge, our Business Resource Group (BRG) for people with all abilities, partnered together to test and provide feedback on our award-winning seatback inflight entertainment (IFE) system.
Aptly named "Entertainment for all," our new seatback IFE system offers the an extensive suite of accessibility features, allowing for unassisted use by people of all visual, hearing, mobility and language abilities.
"It's nice to know that I can get on a plane and pick my favorite entertainment to enjoy, just like every customer," said Accessibility Senior Analyst and Developer and Bridge Chief of Staff Ray C., who is blind.
"As a deaf employee, the closed captioning availability on board our aircraft is something I value greatly," added Information Technology Analyst Greg O. "The new IFE further cements United's visibility within the deaf community and elsewhere. It makes me proud to be an employee."
Accessibility features of the new IFE include a text-to-speech option, explore by touch, customizable text size, screen magnification, color correction and inversion modes, and alternative navigation options for those unable to swipe or use a handset. For hearing-impaired and non-English-speaking passengers, customization options provide the ability for customers to be served content and receive inflight notifications based on their preferences and settings —with closed captions, with subtitles or in the language of their choice from the 15 languages supported. Our "Entertainment for all" system won the Crystal Cabin Award in 2019, and recently, the Dr. Margaret Pfanstiehl Research and Development Award for Audio Description by the American Council of the Blind.
"This really showed the benefits of partnering with BRGs in helping us improve products and services for our customers and employees," said Inflight Entertainment and Connectivity Senior Manager Corinne S. "Even though we have been recognized with awards for our IFE accessibility features, we are not resting on our laurels but continuing to work towards improving the inflight entertainment experience for all of our customers to ensure entertainment is available for all."
If your travels have taken you through Chicago O'Hare International Airport anytime since October 2019, you may have had a friendly, caring and jovial exchange with Daniel Smrokowski. Daniel is one of four Service Ambassadors thanks to our ongoing partnership with Special Olympics. This inaugural ambassador program aims to provide Special Olympic athletes employment opportunities within our operation, affording them a unique and meaningful career.
Since 2018, our partnership with Special Olympics has become one of United's most cherished relationships, going beyond the events we take part in and volunteer with. While the plane pull competitions, polar plunges, duck derbies and Special Olympics World Games and other events around the world are a big part of our involvement, the heart of this partnership lies with the athletes and individuals supported by Special Olympics. To advocate for their inclusion in every setting is one of our biggest honors, and we take great pride in the role we play in the organization's inclusion revolution.
Aiding in the success of Special Olympics' mission to create continuing opportunities for individuals with intellectual disabilities, throughout the two-year partnership, United has volunteered over 10,500 hours and donated over $1.2 million in travel to the organization. The impact of this partnership is felt at every level, both at Special Olympics and within our own ranks.
"The Inclusion Revolution campaign, led by our athletes, aims to end discrimination against people with intellectual disabilities. United Airlines has joined in our fight for inclusion, empowering our athletes with the skills needed to succeed and opportunities to contribute their abilities as leaders," said Special Olympics International Chairman Tim Shriver. "United Airlines believes that people with intellectual disabilities should be perceived as they really are: independent, world-class athletes, students, employees, neighbors, travelers, and leaders who contribute to make this world a better place."
Our Service Ambassador program is just one of the many ways Special Olympics has impacted not only our employees, but also our customers. "I see every day how our Service Ambassadors connect with our customers the moment they walk into the airport lobby," said Senior Customer Service Supervisor Steve Suchorabski. "They provide a warm, welcoming smile ad assist in any way they can. To see these young adults hold positions that a society once told them they couldn't is truly the most heartwarming part of my job," Steve continued.
"The opportunity to be a part of the United family means everything to me," Daniel said. "I feel so much pride showing up to work in a Special Olympics/United co-branded uniform, working among such a loving and supportive community. The relationship between these two organizations is truly helping to shape my future while letting me use my gifts of communicating and helping others. Hopefully, I can spend my entire career at United," Daniel added.
In honor of Special Olympics' Global Week of Inclusion in July, we're asking our employees, customers and partners to sign a pledge to #ChooseToInclude at jointherevolution.org/pledge.
And be sure to check out Daniel's podcast The Special Chronicles.

In collaboration with food-logistics company Commodity Forwarders Inc. (CFI), United moved nearly 190,000 pounds of fresh produce to Guam for the U.S. Department of Agriculture's Coronavirus Farm Assistance Program. This new program was created to provide critical support to consumers impacted by the COVID-19 global pandemic.
A variety of fresh fruits were transported from Los Angeles (LAX) to Guam (GUM) on United's newly introduced, non-stop cargo-only flight – a route added to meet cargo demand during the COVID-19 crisis. The fresh food was repacked in 10-pound cases in Los Angeles, prepared for departure at CFI's LAX location, and flown to GUM by the United team. Through this beneficial partnership between United and CFI, the perishable goods were kept cool during every step of the process and distributed as part of the food bank program in Guam.
"Everyone on our team has worked relentlessly during the pandemic to get critical goods to where they are needed most. Establishing a comprehensive network of cargo-only flights have allowed us to keep the supply chain moving even while passenger flight capacity has been reduced," said Regional Senior Manager of Cargo Sales, Marco Vezjak. "Knowing that we are able to help during these difficult times – in this case the Guam community – is our biggest reward and greatest motivation to keep moving forward."
United is proud to play a role in maintaining the global food supply chain and helping people access the supplies they need. Since March 19, United has operated over 4,000 cargo-only flights, moving over 130 million pounds of cargo.

Together, we are facing an unprecedented challenge. United Together, we rise to meet that challenge.
Learn more
United Airlines
united
While electrostatic sprayers are used to disinfect aircraft cabins, the switches & touch screen displays in our flight decks use a different approach. See how ultraviolet C (UVC) lighting is being used to kill viruses that may reside on these sensitive components.
United Airlines
united
A travel waiver is in effect for the East Coast due to Tropical Storm Isaias. If you're traveling 8/4 - 8/5, you can change your flight at no cost on our mobile app, by direct messaging us here or calling 1-800-864-8331. Waiver:
uafly.co/Z04CmP
United Airlines
united
We've issued a travel waiver for Charleston, Wilmington and Norfolk due to Hurricane Isaias. If you're traveling 8/3 - 8/4, you can change your flight at no cost on our mobile app, by direct messaging us or calling 1-800-864-8331. Waiver:
uafly.co/Z04CmP
United Airlines
united
Flights booked now through August 31 can be changed for free over the next 12 months to allow for additional flexibility. All existing travel can be changed without fees as well. See waiver for details:
uafly.co/2M9vgLC
We Are United
weareunited
We've rolled out "Easy Chat" as the Flight Info app on Link devices at DCA, IAD, LAX, ORD and DEN with EWR, IAH and SFO coming this summer. This program offers increased connectivity and transparency between the
#BeingUnited
frontline to keep flights moving and on-time.
We Are United
weareunited
Our digital servicing team has developed an automated assistant to make it easier for our customers to learn about what to expect the next time they fly. Text "Clean" to FLYUA (35982) to give it a try!
We Are United
weareunited
Three-year-old Luna Mei was all smiles on her flight home after 212 days in a San Francisco hospital, thanks to her SFO-based FAs (and undercover angels 👼) Pamela R., Sharon S., Sonja B. and Stacey G. The quartet kept spirits high by singing songs, clapping and playing games.
We Are United
weareunited
So long paper boarding passes, standby and upgrade travel are going touchless! If you've signed up for day-of-travel notifications, you'll now receive a text or email when your seat is assigned.
We Are United
weareunited
Our inaugural flight to Chicago from Toyko Haneda coincided with the annual Japanese celebration known as "Tanabata" or "Star Festival." The
#BeingUnited
team at HND placed their wishes on bamboo trees before the flight departed for ORD.
Watch our most popular videos
Flying UCSF Medical Workers to New York
This is why we fly.
20 UCSF Health workers, who voluntarily set aside their own lives to help save lives, are on their way to New York City.
We are humbled by your selfless sacrifice.
Thank you.
#UnitedTogether #UCSFHeroes
A happy, Hollywood ending
This is the story of Jason and Shantel. You see, Jason and Shantel love each other very much. They also love traveling and they love the classic Adam Sandler film, The Wedding Singer.
It all began when Jason reached out to United's social media team, hoping for assistance with his upcoming plan to propose. Some phone calls and one borrowed guitar later, the stage was set for Jason. Put all that together, mix in some helpful United employees and, voila, you have a truly memorable marriage proposal. Congratulations to this fun-loving and happy couple, and here's to many more years of making beautiful music together.
A big thank you to Chicago-based flight attendants Donna W., Marie M., Karen J. and Mark K. for making this proposal come to life.
Copyright © 2020 United Airlines, Inc.
All rights reserved.
Indicates an external site that may or may not meet accessibility guidelines.
Scroll to top
Scroll to top