The United States of adventure
Story by Peter Koch | Hemispheres, June 2017
America has no shortage of natural wonders— or thrill-seekers coming up with the creative ways to conquer them. From waves that ought to come with living wills to trails that hikers literally hang off of, Hemispheres takes a look at 10 of the most extreme adventures the U.S. has to offer.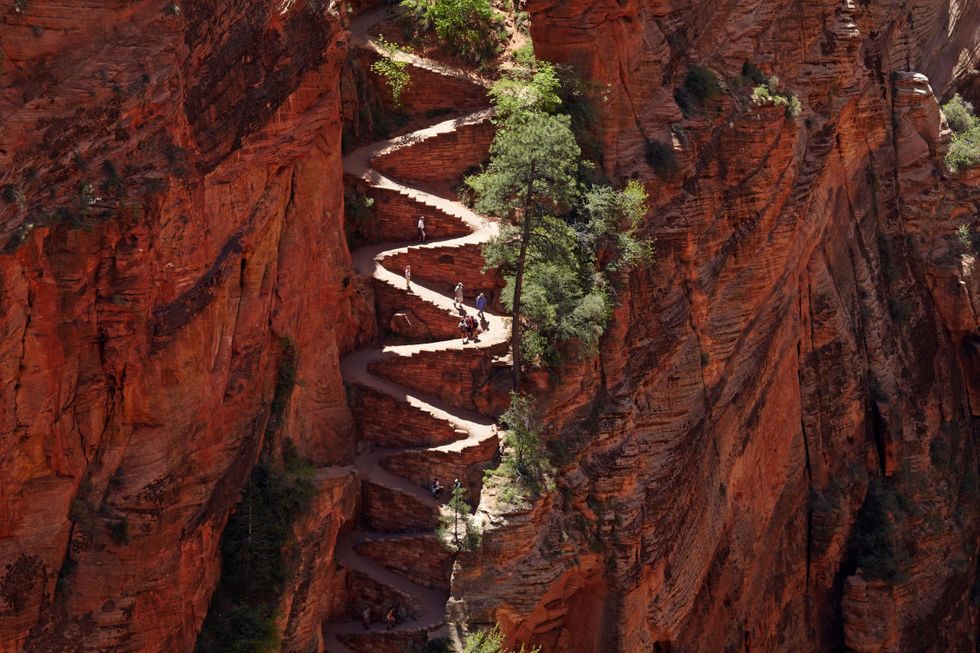 Most Terrifying Hiking Trail
Angels Landing
Zion National Park, Utah
Towering 1,488 feet above the Virgin River in the heart of Utah's Zion Canyon, Angels Landing, a sheer rock formation so named because "only angels might land upon it," is one of the National Park Service's most popular hikes—and also one of its deadliest. Starting at the river, the 2.5-mile trail winds its way up through Walter's Wiggles—a series of 21 pinball switchbacks—enters the cool confines of Refrigerator Canyon, and then ascends to Scout Outlook, a stunning overlook and the last turnaround point before things get, well, airy. The last half mile climbs more than 400 feet on a narrow, vertigo-inducing spine of (aptly named) slickrock. At points, the trail is only a few feet wide—just enough for one person to tiptoe along at a time—with cliffs dropping nearly 1,000 feet on either side. Those who are brave enough to take hold of the support chains that are bolted to the rock and pull themselves to the top are treated to panoramic, top-of-the-world views of Zion's Martian landscape of soaring red-rock cliffs and sculpted sandstone.
Wildest Sea Kayaking
Channel Islands National Park
Ventura, California
Despite lying just 14 miles off the Central California coast, the five wind-scoured islands that make up Channel Islands National Park have a wild, end-of-the-world feeling that's hard to find anywhere short of the Galápagos. Surrounded as they are by a National Marine Sanctuary, the islands provide a rich habitat for a huge variety of species, including at least seven types of whale, dolphins, sharks, and tens of thousands of seals and sea lions that breed and pup on San Miguel Island each year. Several outfitters offer multiday kayak-camping trips to 96-square-mile Santa Cruz, the largest and most accessible island. There, you can explore kelp forests, paddle into some of the world's largest sea caves, scour pristine tide pools, inspect 10,000-year-old shell mounds left by the ancient Chumash, or hike up to 316-foot-high Cavern Point to spot whales before bedding down for the night to the sound of crashing waves.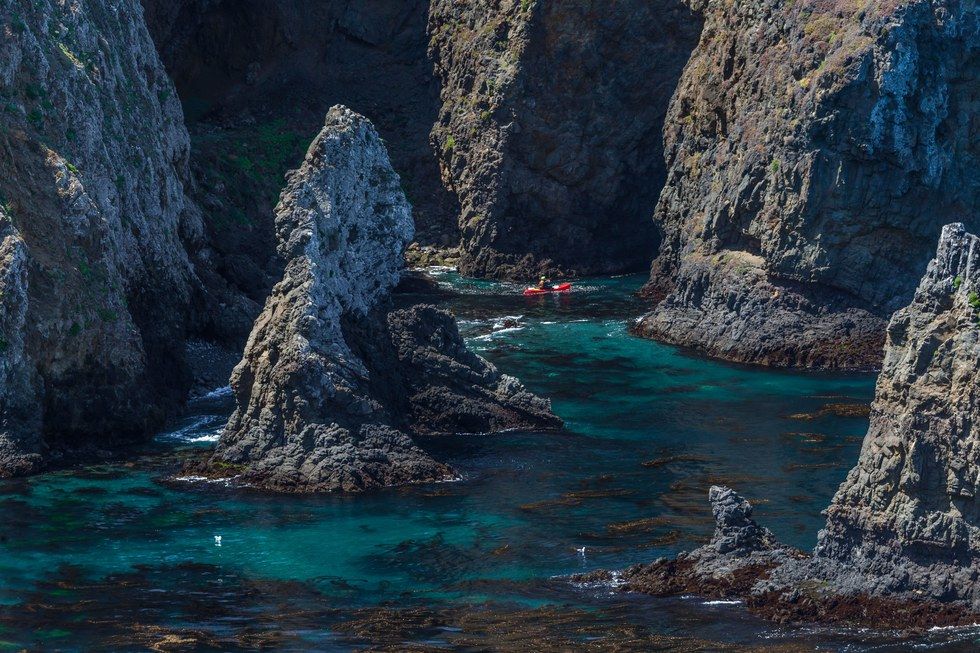 Channel Islands
Most Sadistic Obstacle Course
World's Toughest Mudder
Las Vegas
This is the biggest and baddest of the Tough Mudder endurance races. Runners strive to complete as many circuits of the five-mile loop course as possible in 24 hours, with each lap containing 20-plus exhausting obstacles—everything from monkey bars to a challenge that's similar to the board game Operation, complete with electric zaps—plus more than 800 feet of climb-ing and a jump from a 35-foot cliff into hypothermia-inducing Lake Las Vegas (hint: wear a wetsuit), all with night temps that drop below 40 degrees. Just finishing takes grit, but win-ning the $100,000 prize and claiming the title of World's Toughest Mudder requires a commitment bordering on masochism. Each of the top three male finishers last year completed more than 100 miles, and the top female put in 85. Maybe their mudders were mudders…
Most Suicidal Ski Run
Corbet's Couloir
Jackson Hole Mountain Resort, Wyoming
Set at the top of 10,450-foot Rendezvous Mountain and named after famed local ski instructor and mountaineer Barry Corbet, this vertiginous double-black-diamond run is the most challenging of Jackson Hole Mountain Resort's legendarily tough trails. Corbet's Couloir is a bucket-list run for countless skiers who, upon peering over its edge and considering their own mortality, very carefully back away. (Hello, performance anxiety!) The crux of the line is the dizzying entrance, which drops anywhere between 10 and 30 feet off a cornice into a tight chute, only to land on a 53-degree slope between steep rock walls. If you manage to stick the landing—and pray that you do, or you're in for a long, embarrassing "yard sale" of a fall—you'll need to execute multiple powerful, technical turns at high speed to make it out safely. Once you're free, though, you can arc big, graceful turns onto the apron of Tensleep Bowl below and add your name to the list of legends.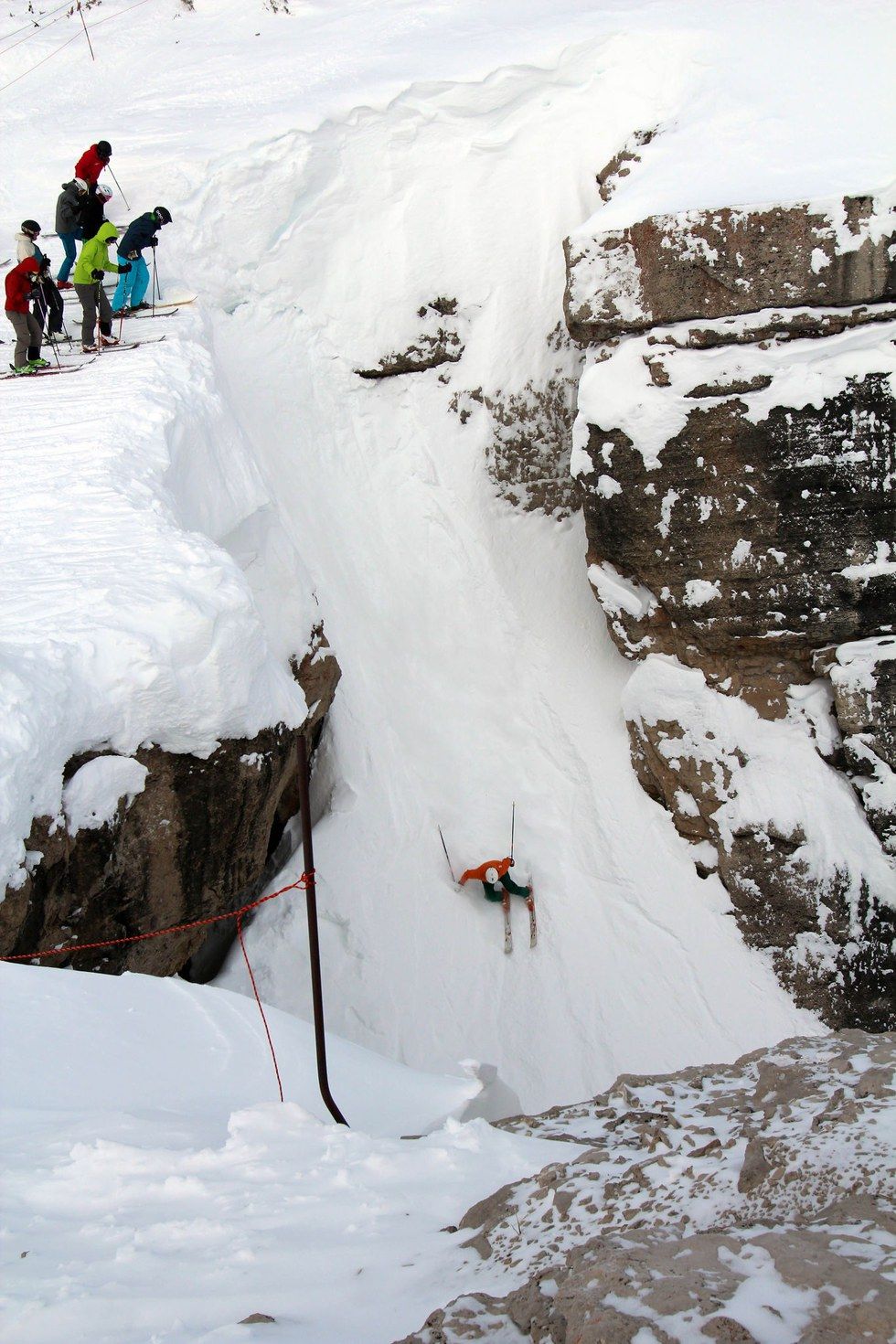 Rendezvous Mountain
Deepest Canyon Descent
Hells Canyon
Lewiston, Idaho
Hells Canyon isn't America's most famous gorge, but at 7,993 feet, it is the deepest (the Grand Canyon descends 6,093 feet at its lowest point), and a five-day rafting trip down the Snake River offers perhaps the country's best waterborne mix of adventure, natural beauty, and history. The Snake's clear, relatively warm waters yield some of the best whitewater rapids in the Northwest, and its calmer stretches teem with prize rainbow and steelhead trout. From the boat, you'll also get an intimate, ant's-eye view of an impossibly rugged landscape populated by bald eagles, bears, and mountain goats, and short hikes from the banks lead to abandoned century-old homesteader cabins, as well as dozens of Native American pictographs and petroglyphs. All of that merges into a classic Western adventure that's greater than the sum of its parts (and, yes, a river runs through it).
Most Bodacious Bodysurfing Wave
The Wedge
Newport Beach, California
At the Wedge, a powerful shore break off the east end of Newport Beach's Balboa Peninsula, a long jetty relays south swells that form monstrous, wedge-shaped waves, often topping 30 feet during South Pacific storm cycles. They're too steep and unpredictable for surfers at these times—usually summer and fall—but just right for the grizzled local bodysurfers who venture into the frothing chaos in the hope of catching one of these freight-train waves and gliding torpedo-fast down its face. If you're feeling brave, don your fins and dive right into Mother Nature's spin cycle.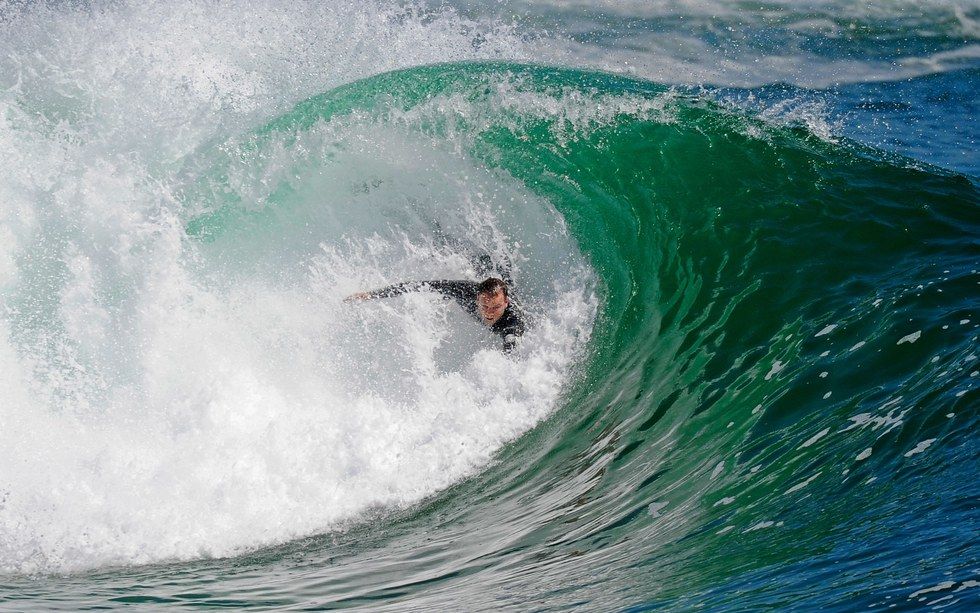 The Wedge
Highest Place to Hang Out
Telluride Via Ferrata
Telluride, Colorado
Seen from downtown Telluride, the soaring cliffs on the southwest face of 12,785-foot Ajax Peak appear impassable for anyone other than a stunt double from Cliffhanger. But the via ferrata, Italian for "iron road," a trail of cables and iron rungs that cuts across the sheer face, allows anyone the opportunity to traverse the mountain. Well, anyone who's brave enough to clip into a steel cable and shimmy out onto the rungs. To tackle the via ferrata—locals call this one "The Krogerata" after Chuck Kroger, the climber and ironworker who built it—hire a guide service to get you outfitted (with helmet, climbing harness, and clips) and show you the route, which follows old mining trails to a ledge that disappears where the iron starts. From there, it's just you, the iron, and jaw-dropping views of the box canyon below.
Most Crippling Cycling Race

Dirty Kanza 200
Emporia, Kansas
A 200-mile bike race that rattles over the unpaved roads of Kansas's rugged Flint Hills, the Dirty Kanza is as scenic as it is treacherous. The tallgrass-prairie views will take your breath away—if you have any left after pedaling through the heat and wind and over tire-shredding, frame-busting, fist-size chunks of gravel. And god help you if it rains and the roads are churned into a chunky peanut-butter mud that chokes up drivetrains and snaps derailleurs. The full Kanza (there's also a 100-mile "Half Pint" version) is a relentless race against mechanical failure, dehydration, the setting sun, and, in the end, yourself. Anyone who crosses the finish line—only 59 percent of participants did so last year—is a winner.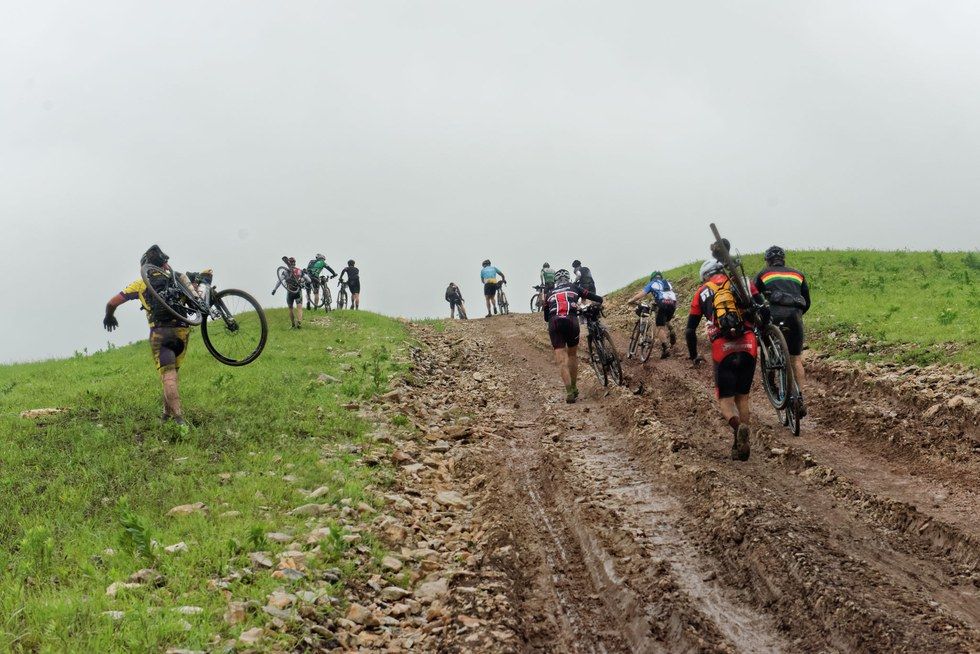 The unpaved roads of Kansas's rugged Flint Hills
Most Surprising Ski Slope
Star Dune
Great Sand Dunes National Park & Preserve, Colorado
Not all of Colorado's best runs are located among the snowy peaks of Vail and Aspen. In fact, the wide-open slopes of Great Sand Dunes National Park have untracked knee-deep powder that's ripe for the picking—that is, if you trade your snowboard for a sandboard. Yes, sandboarding is a real thing, and this park, with its 170 billion cubic feet of sand, is its unofficial capital. Rent a board—they have extra-slick bases and special wax—at Kristi Mountain Sports in Alamosa, and hike 2.5 miles across a veritable moonscape to 750-foot-tall Star Dune, North America's tallest sandpile. Trudge up to the summit and strap in for a rip-roaring ride in a remote—and unforgettable—setting.
Hardest Day Hike
Cactus to Clouds Trail, San Jacinto Peak
Palm Springs, California
It's not simply the height of 10,834-foot San Jacinto Peak that makes it America's toughest day hike (Mount Whitney, after all, is almost 4,000 feet taller). What's really killer about the Cactus to Clouds Trail is that it climbs nearly all of its 10,300 feet from the floor of the Coachella Valley in just 14 miles. It doesn't help that the trail starts in the searing desert—with no water available for the first 10 hours or so—and ends at an elevation where it can snow year-round. Hikers often set out in the predawn darkness to beat the heat, which makes route-finding a challenge on the mountain's lower flanks. Is it worth the trouble? Just ask John Muir, who wrote, "The view from San Jacinto is the most sublime spectacle to be found anywhere on this earth!" Reach the top and you'll have earned that view—and a ride home on the Palm Springs Aerial Tramway.
We know people are taking a second look at their travel plans right now. If you're scheduled to travel March 10 – May 31, 2020 and would like to change your plans, there is no fee to do so, regardless of when you purchased your ticket or where you're traveling. This is in addition to our previous waiver, which waives all change fees – domestic and international – for tickets purchased March 3 – April 30, 2020. This is available for any of United's published nonrefundable fares. If you decide to cancel your flight, you can retain the value of your ticket to be applied to a new ticket without a fee. These electronic travel certificates are now valid for 24 months from the date they were issued. This includes all currently valid electronic certificates and all new ones issued on or after April 1, 2020. You might not see this policy change reflected everywhere right away – we appreciate your patience as we work to make that happen.
Eligible travelers on domestic flights and international tickets can request a refund on united.com or may call our contact centers if their flights have been severely adjusted or service to their destination suspended either due to government mandates or United schedule reductions related to COVID-19.
Certain tickets cannot be changed on united.com or the mobile app, including tickets booked through another airline (if the ticket receipt does not begin with 016). Please contact the original ticketing airline for changes.
Follow the steps below to stay up to date, change or cancel your flight.

Change your current flight:
On the united.com homepage, select "My Trips" and enter your flight information to retrieve your flight.
Select "Change flight" and then "Edit" to make the following changes:

Date of travel or destination
Add a flight
Remove a flight

Select "Continue" and choose a new flight option
Continue through booking to confirm your new flight
Note: The change fee will display as waived, but any difference in fare may apply.
Cancel your flight and rebook later:
On the united.com homepage, select "My Trips" and enter your reservation information to retrieve your flight
Select "Cancel flight"
Confirm flight cancellation
If you have future flight credit, when you return to the reservation, select "Use Future Flight Credit" to shop for new flights and apply the credit towards a new flight.
Canceling or changing an award flight:
When you select "Cancel flight," you will have the option to cancel your award reservation and redeposit the miles or to cancel your award reservation and use those miles for another trip in the future.
*We're currently experiencing heavy traffic to united.com. If you experience an error while trying to change or cancel your flight, please try again later.
Click through the slideshow below for more detailed instructions:
​Start on the United homepage: ​
User can select 'My Trips' on the homepage widget to find and retrieve their reservation.
When and where possible, we are working to repatriate travelers who are stranded abroad in the wake of the COVID-19 crisis. Our teams are working closely with government officials here in the U.S. as well as in other countries where flying has been restricted to gain the necessary approvals to operate service. In regions where government actions have barred international flying, we have coordinated with the the U.S. State Department and local government officials to re-instate some flights. Additionally, we have been operating several extra flights to countries in Central America and South America as we continue to play a role in connecting people and uniting the world.
We have operated more than 68 repatriation flights from Panama City, Guatemala City, Quito, Lima, San Pedro Sula, Tegucigalpa and Roatan, bringing nearly 9,200 people home. We will continue working with government officials to operate extra flights to Houston from Quito, San Pedro Sula, Tegucigalpa and from Lima to Washington Dulles and beginning April 5, we will begin operating multiple charter flights between Delhi and San Francisco. We continue to review more opportunities for flights between the United States and other countries to bring citizens home.
Video provided by the U.S. Embassy Ecuador of Americans returning home on United.

Additionally, our Customer Solutions and Recovery team is working with customers in the following markets to rebook them on flights back to the United States as capacity allows, either on our aircraft or on one of our airline partners' planes:

Quito, Ecuador
Managua, Nicaragua
Roatan, Honduras
San Pedro Sula, Honduras
Amsterdam
Brussels
Munich
Singapore
Tokyo-Haneda
Seoul, South Korea
Melbourne, Australia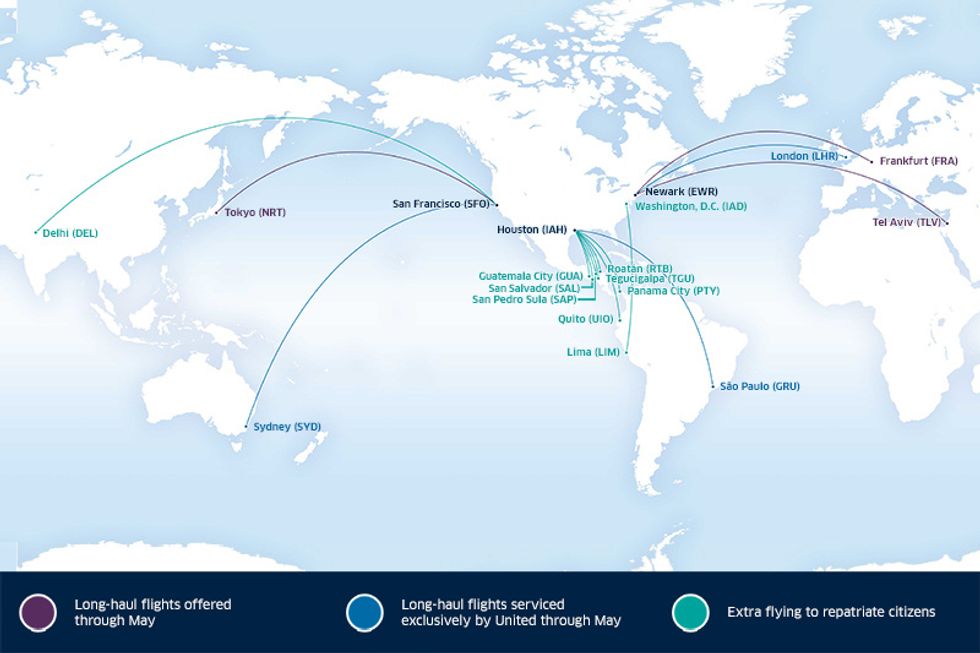 We also recently reinstated several international flights back into our schedule to support customers and essential businesses which depend on these routes. As a result, we will be the only airline to offer service between Newark/New York and London, San Francisco and Sydney, as well as Houston and São Paulo, Brazil.

Calling all AvGeeks and travelers! Here's a fun way to take your next video call….from a United Polaris® seat, the cockpit or cruising altitude. We're introducing United-themed backgrounds for use on Zoom, a video conferencing tool that many people are using to stay connected.
So for your next meeting or catch up with friends and family, download the app to either your computer or mobile device to get started. If you've already downloaded Zoom you can skip ahead to updating your background image (see instructions below).
Start here by downloading your favorite United image to your computer or mobile device. Just click "download" in the bottom left corner of the image.
Next go to your Zoom app (you'll need to download the app to access backgrounds) and click on the arrow to the right of your video camera icon in the bottom of the screen.
From here select, "choose virtual background" to upload your uniquely United photo.
Together, we are facing an unprecedented challenge. United Together, we rise to meet that challenge.
Check out our newest destinations
United Airlines
united
We continue to work with government officials to bring Americans home. In addition to flights from Central & South America, we have charter flights planned from India. Learn more about our repatriation efforts in the wake of COVID-19 here:
uafly.co/3aExaOL
#UnitedTogether
United Airlines
united
When
@RocheDia
needed to ship a vital component of a COVID-19 testing unit from New Jersey to Florida, United Cargo jumped in to help. Read about how this part will allow
@MayoClinic
to process hundreds of tests per day for cases in the Southeastern U.S.
uafly.co/2UzOAGW
United Airlines
united
International schedule update: We know some people around the globe are displaced and still need to get home. We are reinstating some international flights over the next few days and will continue to fly six daily international flights through May.
uafly.co/3a5Dj6p
United Airlines
united
We have extended our change fee waiver to cover travel through May 31, 2020: - You can change or cancel your flight on
united.com
or through the app – a phone call is not required - For the latest on our commitment to your safety, visit
united.com/coronavirus
We Are United
weareunited
Shoutout to our operations team, who are working to properly park, maintain and store many aircraft in the
#BeingUnited
fleet. These aircraft are being housed across our seven hubs, maintenance facilities in CLE and MCO as well as at offsite facilities in New Mexico and Arizona.
We Are United
weareunited
Tomorrow, Oscar and Scott will host a companywide town hall to discuss the latest developments in managing the effects of the coronavirus (COVID-19). You can join the livestream event at 1:20 p.m. CT here:
uafly.co/39AV25m
We Are United
weareunited
Tomorrow, Oscar and Scott will host a companywide town hall to discuss the latest developments in managing the effects of the coronavirus (COVID-19). You can join the livestream event at 1:20 p.m. CT here:
uafly.co/39AV25m
.
Watch our most popular videos
Copyright © 2020 United Airlines, Inc.
All rights reserved.
Indicates an external site that may or may not meet accessibility guidelines.
Scroll to top
Scroll to top