The Swedish Arctic
Story by Ben Ehrenreich | Photography by Joachim Lundgren | Rhapsody, November 2016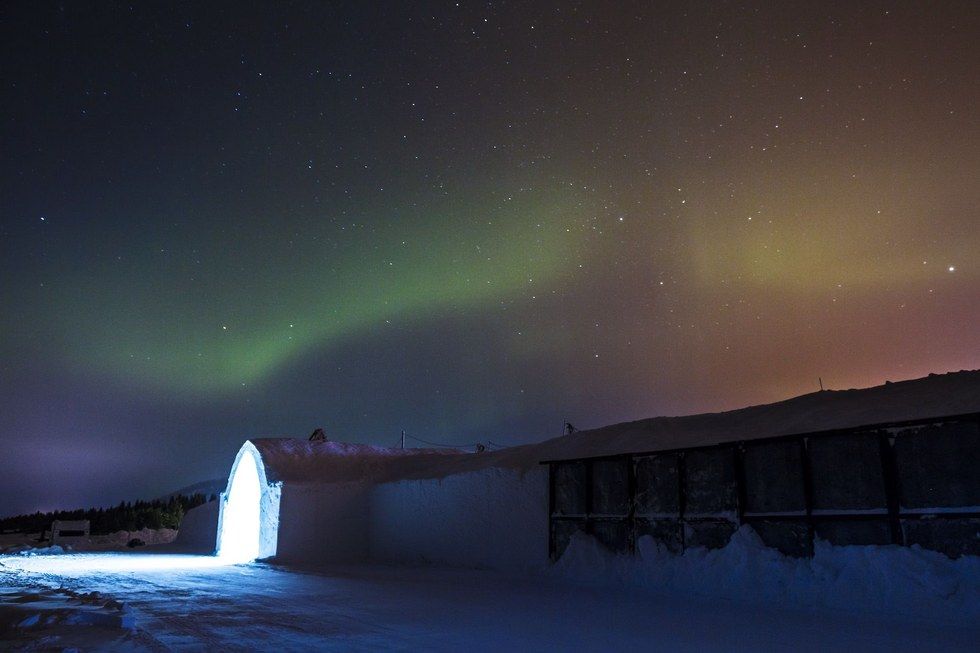 In search of the northern lights from a base camp at the world famous Icehotel
I had always wanted to see the northern lights.
I grew up in the New York City suburbs, where the only lights in the northern sky traced the flight path to LaGuardia, JFK, or Newark International. The notion of a vast, shimmering curtain of glowing green and violet falling over the sky like the entryway to some otherwise invisible reality sounded too whimsically beautiful to exist. But it did exist. You just had to climb the globe far enough north and hope for clear skies and distant storms on the surface of the sun.So in early January, as the rest of the hemisphere longed to travel south, I flew to Stockholm, and then to Kiruna, the largest town in the Swedish arctic, a quick ride from tiny Jukkasjärvi, home of the famous Icehotel, and one of the better spots on the planet from which to view the northern lights. The thermometer read seven degrees Fahrenheit when I boarded the hotel shuttle. "Perfect weather," the driver said with a grin—the day before the low had been 40 below. It wasn't yet two in the afternoon, but the sun was already setting, a thin orange light in what the compass on my phone suggested was not the west but the southern sky. I was nearly on the top of the world, and it felt like it, the landscape a study in monochrome, snow-frosted earth and snow-heavy trees, like the top of a wedding cake.Fortunately, the Icehotel's reception area, restaurant, and half of its rooms are permanent structures, well-heated and insulated against the elements. I checked into a "warm room," furnished in sleek Scandinavian style, its walls crafted of more conventional materials than ice. The hotel's bar, chapel, and 55 of its 65 total rooms are constructed of ice and compressed snow—"snice," they call it—and built from scratch each year when the cold descends. A team of artists and builders carve blocks of ice and spray snice like stucco onto prefabricated metal forms, which are then removed, leaving behind clean, silent, cavernous halls and rooms. The whole thing is destined to melt in the spring and flow back into the river Torne, which will soon freeze again, providing ice for the hotel's future incarnations. (This month, the property is adding a new solar-powered building, Icehotel 365, which will be made of ice and snow and kept at 23 degrees year-round.)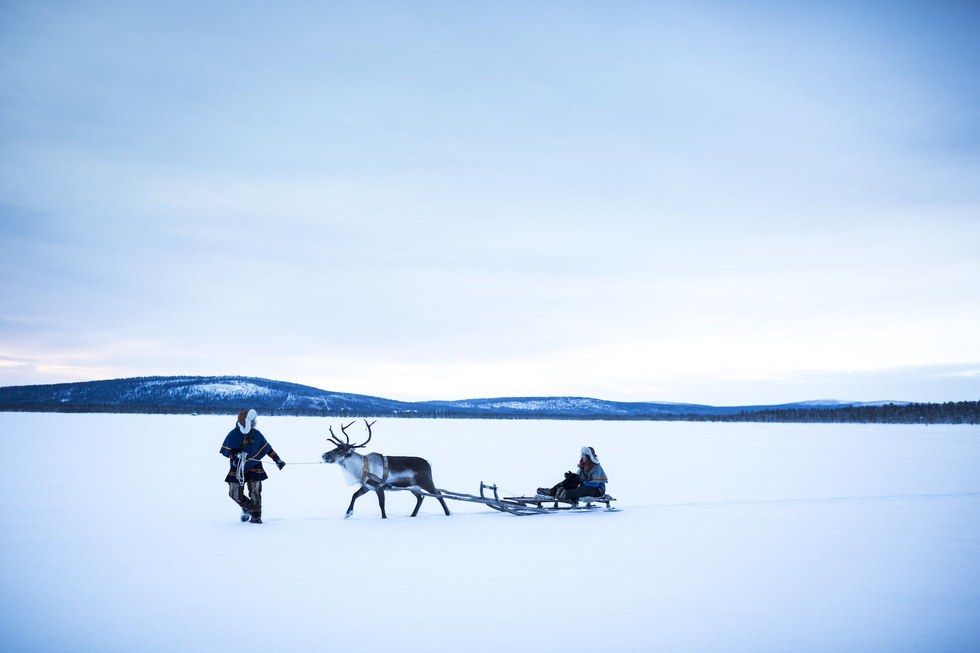 The author drives a reindeer sleigh on the frozen tundra of Jukkasjärvi. This buck proved an obstinate travel companion.
I took a quick walk through the ice rooms. The simplest were unadorned chambers of snow, like the inside of an igloo but equipped with a platform bed, blue-tinted lighting, and a government-required smoke detector. Individually titled "art suites" were more elaborate, and often extraordinary, designed by jury-selected artists flown in to sculpt in snow. Some were abstract. AnnaKatrin Kraus and Hans Aescht's
The Flying Buttress
, in which I would sleep two nights later, felt like the apse of a polar cathedral: Overlapping arches surrounded the bed, a square, ice-rimmed altar topped with two pillows and a reindeer hide. Some suites were whimsical, others surreal. In AnnaSofia Mååg's
Elephant in the Room
, a glassy, larger-than-life pachyderm stared dolefully down at the bed. Another guest room was lined with busts of dozens of blank-faced men in hats and a bas-relief turtle looking on from above. I peeked in at the chapel and caught a wedding in progress. The bride and groom wore snowsuits. They had to take off their ski gloves to exchange rings."I was staring at electrically charged winds that had been cast out by the sun and traveled through 93 million miles of void. Or at the wandering souls of someone's ancestors. It didn't matter."That evening, I pulled on not one but two ski masks, or balaclavas—"the balaclava is your best friend," the guide assured me—and joined an expedition to seek out the northern lights by snowmobile. We set off in a long caravan, skirting the hotel compound and the few houses of Jukkasjärvi until the lights of the town disappeared. We sped along what looked like wide, flat plains—in fact it was the surface of the frozen Torne—onto a curving track through the forest. Spruce and pines rose frosted on all sides, clumps of snow staring down from their upper branches like an audience of silent ghosts. We sped across a lake, then back through the woods and over frozen marshes. It began to snow, dashing my hopes of seeing the lights, but the snow eventually stopped, as did we, at a camp of wooden cabins where our guides lit fires and heated meals of reindeer stew.The Sami people, who inhabited the Scandinavian arctic long before it was divided into nations, regarded the northern lights with appropriate awe, as visitations from the spirits of the dead. The contemporary scientific explanation is no less mystical: Charged particles are carried to Earth by solar winds and pushed by the planet's magnetic field to the poles, where they collide with atmospheric gases, producing colored lights, just as neon bulbs do when electricity passes through them. In other words, the northern lights really are a window onto an invisible reality, the unseen currents that connect us to the sun. Very rarely, they appear far to the south: Galileo saw the lights over Venice and in 1619 dubbed them aurora borealis, combining the names for the Roman goddess of the dawn and the Greek god of the north wind. But the closer you get to the pole (and the farther from the artificial light of human settlements), the more likely you are to see them. After that, it's up to luck and the weather on the Earth and on the sun.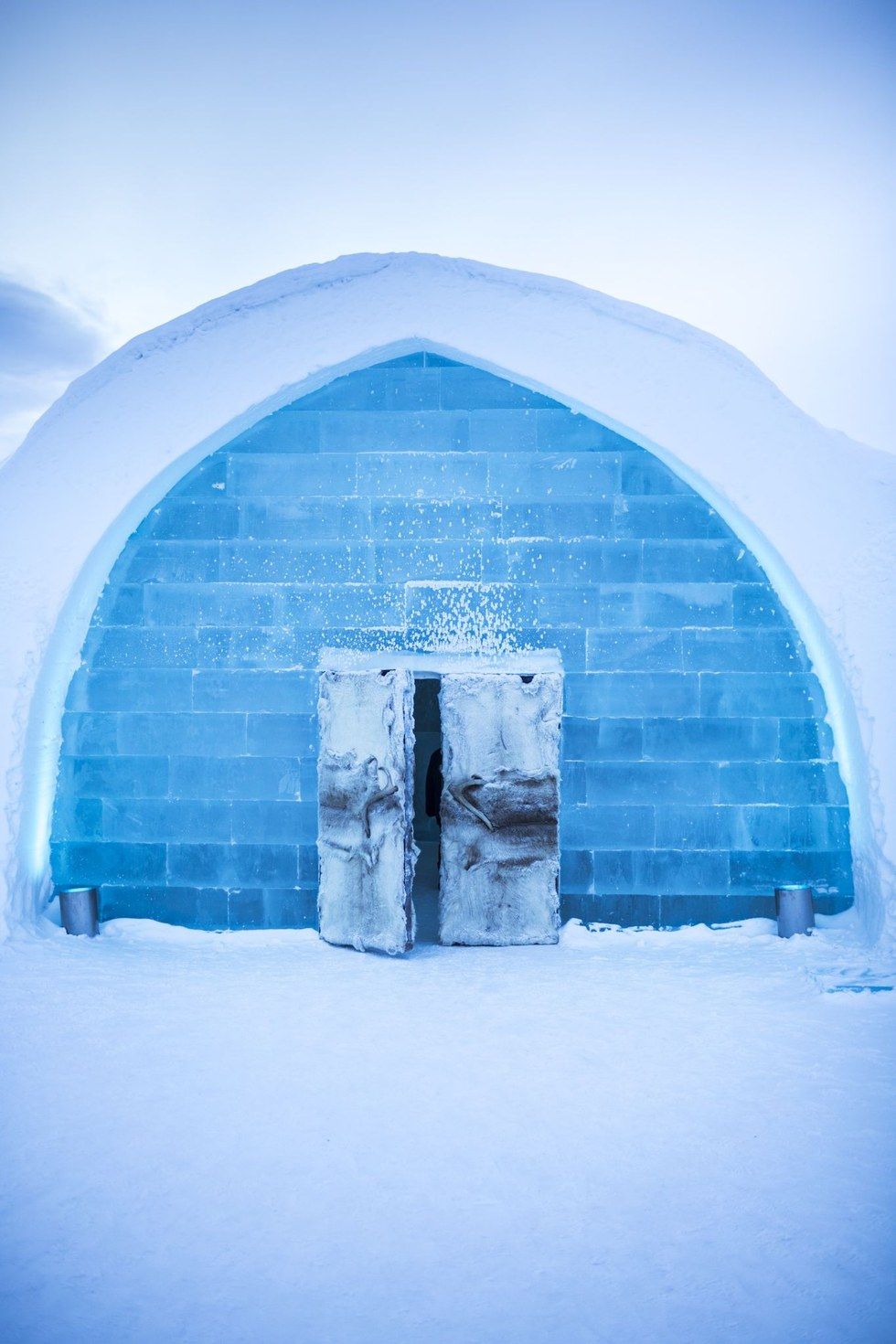 The entrance to the IcehotelBy the time I'd climbed back onto the snowmobile, the sky was clear, starless, and dark, a richer and more variable black than I was used to seeing. If I stared long enough, I could imagine it was tinted red in some places and green in others, but as hard as I looked, even with my imagination on overdrive, I couldn't fool myself. There was no aurora that night.I'm not sure how it happened, but the next day I ended up driving a reindeer sleigh. The Sami, who still populate much of northern Scandinavia, run tours in Jukkasjärvi to supplement their income from herding reindeer. They roped a buck for me, harnessed it to a one-man wooden sleigh, and handed me the bridle. The reindeer was a reluctant partner in the adventure, stopping whenever it could to glare at me with dull rheumy eyes before burying its nose in the snow and snarfing whatever greens it could find frozen there. We trotted out through the woods to the river. Even absent the aurora, in the middle of the short, arctic day, the sky was magnificent, pink and gold where the sun, just risen, was already setting, the air a crisp, unearthly blue.Late that evening, I bundled up and wandered out onto the icy river. It was almost entirely overcast. Again, I imagined I saw colors in the sky, but I knew it was wishful thinking. I wanted to see "the silver dance of the mystic Northern Lights," as the British-Canadian balladeer Robert W. Service put it, "wild and weird and wan … a sight for the eyes of God." Suddenly, a sharp white light illuminated the horizon and swept the sky in a long arc, but it was only a faraway car with its high beams on. The silence was so deep that it had texture—there were whole rooms in it and long hallways connecting room to room. I wandered through them for a while. It was bitterly cold and after midnight. I went inside. I had one more night.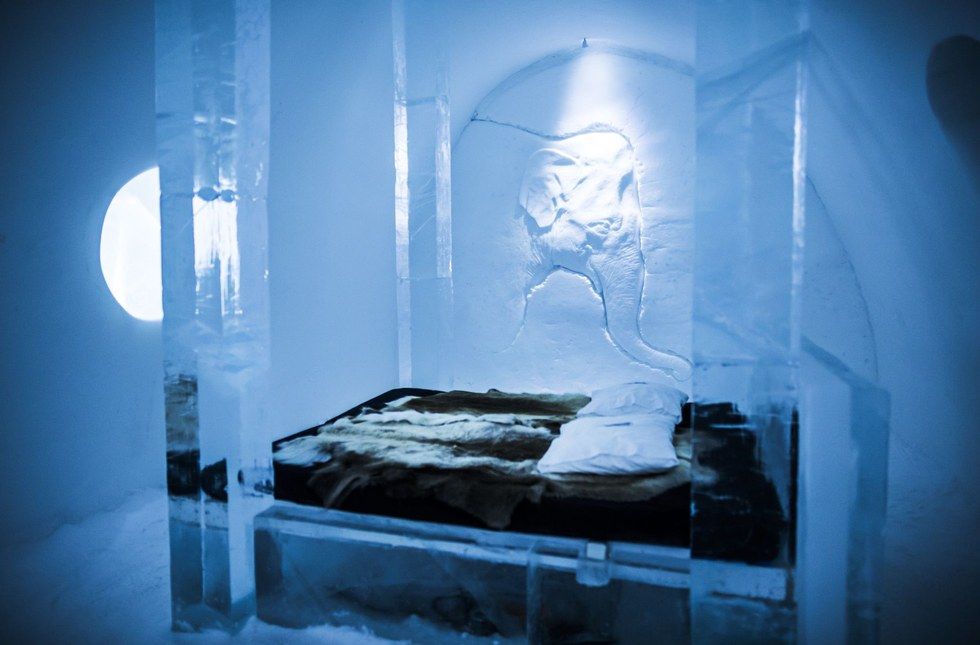 The Elephant in the Room suiteOn my last day in Jukkasjärvi, it snowed all morning and all afternoon. I trekked down to the old church at the end of the road. It had been there for 400 years, built when the town was just a seasonal gathering place for the still-nomadic Sami. The murals behind the altar were magnificent, the colors so bright they seemed stolen from some more temperate climate. Later, I let myself be convinced to try the local sauna ritual, which involved plunging into the frigid waters of the Torne through a hole carved in the ice. I whimpered, I confess, in a most unmanly way. After an excellent dinner, warm again, I prepared myself for the night I was to spend in the cold room by heading back out to the river. (It wouldn't be necessary: The sleeping bag the hotel provided was more than warm enough.)When I reached the bank, I lay down in the snow. The sky was overcast. I stared up at the shifting clouds until a space cleared just above the horizon to the north. Suddenly, without introduction, a shimmering green light appeared in the gap beneath the cloud, growing in intensity and fading and brightening but unmistakably there, unmistakably an aurora. The silence deepened. The lights seemed to dance. I was staring at electrically charged winds that had been cast out by the sun and traveled through 93 million miles of void. Or at the wandering souls of someone's ancestors. It didn't matter. I forgot that it was cold. I forgot I had a body even. And then, as quickly as they had appeared and with as little fanfare, the lights dimmed and went away. I stood, slapped the snow from my snowsuit, and retreated to my bedroom, blue and cozy, a balmy 23 degrees.
If your travels have taken you through Chicago O'Hare International Airport anytime since October 2019, you may have had a friendly, caring and jovial exchange with Daniel Smrokowski. Daniel is one of four Service Ambassadors thanks to our ongoing partnership with Special Olympics. This inaugural ambassador program aims to provide Special Olympic athletes employment opportunities within our operation, affording them a unique and meaningful career.
Since 2018, our partnership with Special Olympics has become one of United's most cherished relationships, going beyond the events we take part in and volunteer with. While the plane pull competitions, polar plunges, duck derbies and Special Olympics World Games and other events around the world are a big part of our involvement, the heart of this partnership lies with the athletes and individuals supported by Special Olympics. To advocate for their inclusion in every setting is one of our biggest honors, and we take great pride in the role we play in the organization's inclusion revolution.
Aiding in the success of Special Olympics' mission to create continuing opportunities for individuals with intellectual disabilities, throughout the two-year partnership, United has volunteered over 10,500 hours and donated over $1.2 million in travel to the organization. The impact of this partnership is felt at every level, both at Special Olympics and within our own ranks.
"The Inclusion Revolution campaign, led by our athletes, aims to end discrimination against people with intellectual disabilities. United Airlines has joined in our fight for inclusion, empowering our athletes with the skills needed to succeed and opportunities to contribute their abilities as leaders," said Special Olympics International Chairman Tim Shriver. "United Airlines believes that people with intellectual disabilities should be perceived as they really are: independent, world-class athletes, students, employees, neighbors, travelers, and leaders who contribute to make this world a better place."
Our Service Ambassador program is just one of the many ways Special Olympics has impacted not only our employees, but also our customers. "I see every day how our Service Ambassadors connect with our customers the moment they walk into the airport lobby," said Senior Customer Service Supervisor Steve Suchorabski. "They provide a warm, welcoming smile ad assist in any way they can. To see these young adults hold positions that a society once told them they couldn't is truly the most heartwarming part of my job," Steve continued.
"The opportunity to be a part of the United family means everything to me," Daniel said. "I feel so much pride showing up to work in a Special Olympics/United co-branded uniform, working among such a loving and supportive community. The relationship between these two organizations is truly helping to shape my future while letting me use my gifts of communicating and helping others. Hopefully, I can spend my entire career at United," Daniel added.
In honor of Special Olympics' Global Week of Inclusion in July, we're asking our employees, customers and partners to sign a pledge to #ChooseToInclude at jointherevolution.org/pledge.
And be sure to check out Daniel's podcast The Special Chronicles.

In collaboration with food-logistics company Commodity Forwarders Inc. (CFI), United moved nearly 190,000 pounds of fresh produce to Guam for the U.S. Department of Agriculture's Coronavirus Farm Assistance Program. This new program was created to provide critical support to consumers impacted by the COVID-19 global pandemic.
A variety of fresh fruits were transported from Los Angeles (LAX) to Guam (GUM) on United's newly introduced, non-stop cargo-only flight – a route added to meet cargo demand during the COVID-19 crisis. The fresh food was repacked in 10-pound cases in Los Angeles, prepared for departure at CFI's LAX location, and flown to GUM by the United team. Through this beneficial partnership between United and CFI, the perishable goods were kept cool during every step of the process and distributed as part of the food bank program in Guam.
"Everyone on our team has worked relentlessly during the pandemic to get critical goods to where they are needed most. Establishing a comprehensive network of cargo-only flights have allowed us to keep the supply chain moving even while passenger flight capacity has been reduced," said Regional Senior Manager of Cargo Sales, Marco Vezjak. "Knowing that we are able to help during these difficult times – in this case the Guam community – is our biggest reward and greatest motivation to keep moving forward."
United is proud to play a role in maintaining the global food supply chain and helping people access the supplies they need. Since March 19, United has operated over 4,000 cargo-only flights, moving over 130 million pounds of cargo.

Jessica Kimbrough, currently Labor Relations and Legal Strategy Managing Director, will take on the new role of Chief Diversity, Equity and Inclusion Officer Managing Director.
Jessica assumes this new and expanded position to focus on global inclusion and equity as part of our enhanced commitment to ensure best practices across the business to strengthen our culture.
In this role, Jessica will be responsible for helping United redefine our efforts on diversity, equity and inclusion – ensuring that our programs and approach are strategic, integrated and outcome-oriented, while we continue to build a culture that reflects our core values. She will report to Human Resources and Labor Relations EVP Kate Gebo.
"Jessica's appointment to this role is another critical step our executive team is taking to ensure diversity, equity and inclusion remains a top priority at United," said CEO Scott Kirby. "Given her drive, experience and commitment to champion collaboration and allyship among our employee business resource groups, she is uniquely qualified to take on this position and I look forward to working closely with her."
As Labor Relations and Legal Strategy Managing Director, Jessica worked closely with senior management to create and maintain positive labor relations among our unionized workforce, providing counsel on labor litigation, negotiations, contract administration, organizing issues and managing attorneys who represent United in labor relations. Previously, she served as Labor and Employment Counsel in our legal department.
Jessica has a passion for creating a pipeline of diverse lawyers and leaders, and was honored as one of Chicago Defender's "Women of Excellence" for excellence in her career and civic engagement in 2017. She currently serves as President of uIMPACT, our women's employee business resource group.
Jessica's new role is effective immediately.

Together, we are facing an unprecedented challenge. United Together, we rise to meet that challenge.
Learn more
United Airlines
united
We've issued a travel waiver for Charleston, Wilmington and Norfolk due to Hurricane Isaias. If you're traveling 8/3 - 8/4, you can change your flight at no cost on our mobile app, by direct messaging us or calling 1-800-864-8331. Waiver:
uafly.co/Z04CmP
United Airlines
united
Flights booked now through August 31 can be changed for free over the next 12 months to allow for additional flexibility. All existing travel can be changed without fees as well. See waiver for details:
uafly.co/2M9vgLC
United Airlines
united
Flights booked now through August 31 can be changed for free over the next 12 months to allow for additional flexibility. All existing travel can be changed without fees as well. See waiver for details:
uafly.co/2M9vgLC
United Airlines
united
Questions about what to expect next time you fly? Text "Clean" to FLYUA (35982) to learn how we're making every step of the travel journey safer for you.
United Airlines
united
Our High Efficiency Particulate Air (HEPA) filters recirculate the cabin air every 2-3 minutes helping make an aircraft a cleaner environment than restaurants, grocery stores and even some hospitals. Learn more ➡️
uafly.co/ReadyToFly
United Airlines
united
Today we honor the 30th anniversary of the Americans with Disabilities Act by reinforcing our commitment to continue to build a company and create customer experiences that advocate for people of all abilities.
#ADA30
We Are United
weareunited
Our digital servicing team has developed an automated assistant to make it easier for our customers to learn about what to expect the next time they fly. Text "Clean" to FLYUA (35982) to give it a try!
We Are United
weareunited
Three-year-old Luna Mei was all smiles on her flight home after 212 days in a San Francisco hospital, thanks to her SFO-based FAs (and undercover angels 👼) Pamela R., Sharon S., Sonja B. and Stacey G. The quartet kept spirits high by singing songs, clapping and playing games.
We Are United
weareunited
So long paper boarding passes, standby and upgrade travel are going touchless! If you've signed up for day-of-travel notifications, you'll now receive a text or email when your seat is assigned.
We Are United
weareunited
Our inaugural flight to Chicago from Toyko Haneda coincided with the annual Japanese celebration known as "Tanabata" or "Star Festival." The
#BeingUnited
team at HND placed their wishes on bamboo trees before the flight departed for ORD.
Watch our most popular videos
Flying UCSF Medical Workers to New York
This is why we fly.
20 UCSF Health workers, who voluntarily set aside their own lives to help save lives, are on their way to New York City.
We are humbled by your selfless sacrifice.
Thank you.
#UnitedTogether #UCSFHeroes
A happy, Hollywood ending
This is the story of Jason and Shantel. You see, Jason and Shantel love each other very much. They also love traveling and they love the classic Adam Sandler film, The Wedding Singer.
It all began when Jason reached out to United's social media team, hoping for assistance with his upcoming plan to propose. Some phone calls and one borrowed guitar later, the stage was set for Jason. Put all that together, mix in some helpful United employees and, voila, you have a truly memorable marriage proposal. Congratulations to this fun-loving and happy couple, and here's to many more years of making beautiful music together.
A big thank you to Chicago-based flight attendants Donna W., Marie M., Karen J. and Mark K. for making this proposal come to life.
Copyright © 2020 United Airlines, Inc.
All rights reserved.
Indicates an external site that may or may not meet accessibility guidelines.
Scroll to top
Scroll to top