The Swedish Arctic
Story by Ben Ehrenreich | Photography by Joachim Lundgren | Rhapsody, November 2016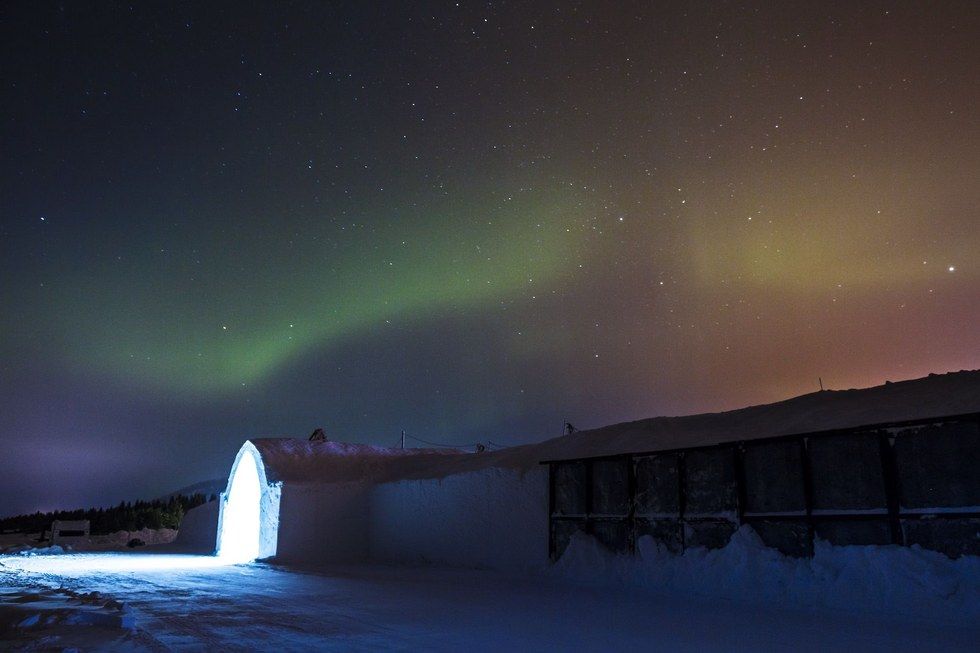 In search of the northern lights from a base camp at the world famous Icehotel
I had always wanted to see the northern lights.
I grew up in the New York City suburbs, where the only lights in the northern sky traced the flight path to LaGuardia, JFK, or Newark International. The notion of a vast, shimmering curtain of glowing green and violet falling over the sky like the entryway to some otherwise invisible reality sounded too whimsically beautiful to exist. But it did exist. You just had to climb the globe far enough north and hope for clear skies and distant storms on the surface of the sun.So in early January, as the rest of the hemisphere longed to travel south, I flew to Stockholm, and then to Kiruna, the largest town in the Swedish arctic, a quick ride from tiny Jukkasjärvi, home of the famous Icehotel, and one of the better spots on the planet from which to view the northern lights. The thermometer read seven degrees Fahrenheit when I boarded the hotel shuttle. "Perfect weather," the driver said with a grin—the day before the low had been 40 below. It wasn't yet two in the afternoon, but the sun was already setting, a thin orange light in what the compass on my phone suggested was not the west but the southern sky. I was nearly on the top of the world, and it felt like it, the landscape a study in monochrome, snow-frosted earth and snow-heavy trees, like the top of a wedding cake.Fortunately, the Icehotel's reception area, restaurant, and half of its rooms are permanent structures, well-heated and insulated against the elements. I checked into a "warm room," furnished in sleek Scandinavian style, its walls crafted of more conventional materials than ice. The hotel's bar, chapel, and 55 of its 65 total rooms are constructed of ice and compressed snow—"snice," they call it—and built from scratch each year when the cold descends. A team of artists and builders carve blocks of ice and spray snice like stucco onto prefabricated metal forms, which are then removed, leaving behind clean, silent, cavernous halls and rooms. The whole thing is destined to melt in the spring and flow back into the river Torne, which will soon freeze again, providing ice for the hotel's future incarnations. (This month, the property is adding a new solar-powered building, Icehotel 365, which will be made of ice and snow and kept at 23 degrees year-round.)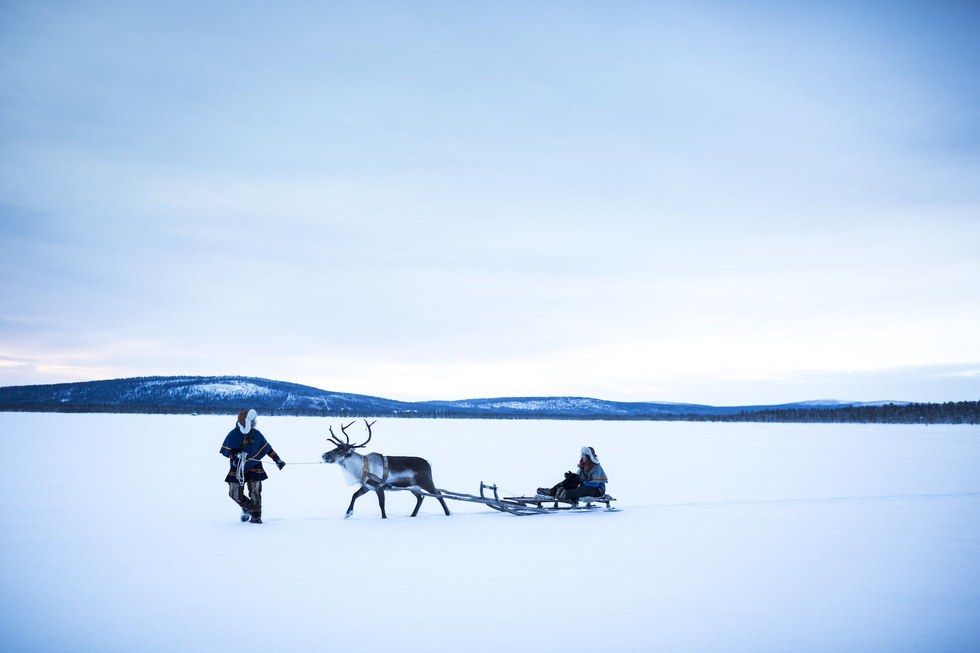 The author drives a reindeer sleigh on the frozen tundra of Jukkasjärvi. This buck proved an obstinate travel companion.
I took a quick walk through the ice rooms. The simplest were unadorned chambers of snow, like the inside of an igloo but equipped with a platform bed, blue-tinted lighting, and a government-required smoke detector. Individually titled "art suites" were more elaborate, and often extraordinary, designed by jury-selected artists flown in to sculpt in snow. Some were abstract. AnnaKatrin Kraus and Hans Aescht's
The Flying Buttress
, in which I would sleep two nights later, felt like the apse of a polar cathedral: Overlapping arches surrounded the bed, a square, ice-rimmed altar topped with two pillows and a reindeer hide. Some suites were whimsical, others surreal. In AnnaSofia Mååg's
Elephant in the Room
, a glassy, larger-than-life pachyderm stared dolefully down at the bed. Another guest room was lined with busts of dozens of blank-faced men in hats and a bas-relief turtle looking on from above. I peeked in at the chapel and caught a wedding in progress. The bride and groom wore snowsuits. They had to take off their ski gloves to exchange rings."I was staring at electrically charged winds that had been cast out by the sun and traveled through 93 million miles of void. Or at the wandering souls of someone's ancestors. It didn't matter."That evening, I pulled on not one but two ski masks, or balaclavas—"the balaclava is your best friend," the guide assured me—and joined an expedition to seek out the northern lights by snowmobile. We set off in a long caravan, skirting the hotel compound and the few houses of Jukkasjärvi until the lights of the town disappeared. We sped along what looked like wide, flat plains—in fact it was the surface of the frozen Torne—onto a curving track through the forest. Spruce and pines rose frosted on all sides, clumps of snow staring down from their upper branches like an audience of silent ghosts. We sped across a lake, then back through the woods and over frozen marshes. It began to snow, dashing my hopes of seeing the lights, but the snow eventually stopped, as did we, at a camp of wooden cabins where our guides lit fires and heated meals of reindeer stew.The Sami people, who inhabited the Scandinavian arctic long before it was divided into nations, regarded the northern lights with appropriate awe, as visitations from the spirits of the dead. The contemporary scientific explanation is no less mystical: Charged particles are carried to Earth by solar winds and pushed by the planet's magnetic field to the poles, where they collide with atmospheric gases, producing colored lights, just as neon bulbs do when electricity passes through them. In other words, the northern lights really are a window onto an invisible reality, the unseen currents that connect us to the sun. Very rarely, they appear far to the south: Galileo saw the lights over Venice and in 1619 dubbed them aurora borealis, combining the names for the Roman goddess of the dawn and the Greek god of the north wind. But the closer you get to the pole (and the farther from the artificial light of human settlements), the more likely you are to see them. After that, it's up to luck and the weather on the Earth and on the sun.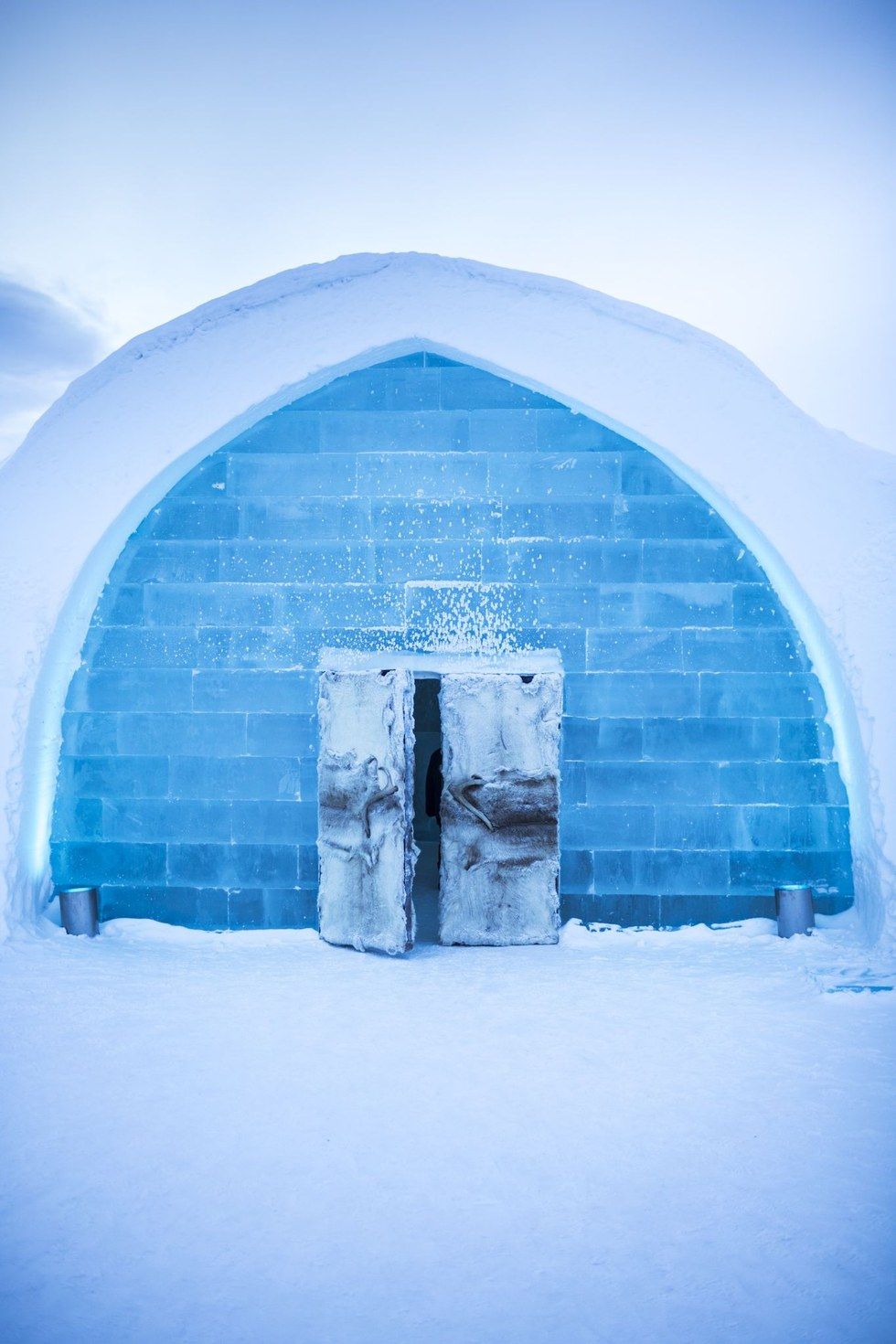 The entrance to the IcehotelBy the time I'd climbed back onto the snowmobile, the sky was clear, starless, and dark, a richer and more variable black than I was used to seeing. If I stared long enough, I could imagine it was tinted red in some places and green in others, but as hard as I looked, even with my imagination on overdrive, I couldn't fool myself. There was no aurora that night.I'm not sure how it happened, but the next day I ended up driving a reindeer sleigh. The Sami, who still populate much of northern Scandinavia, run tours in Jukkasjärvi to supplement their income from herding reindeer. They roped a buck for me, harnessed it to a one-man wooden sleigh, and handed me the bridle. The reindeer was a reluctant partner in the adventure, stopping whenever it could to glare at me with dull rheumy eyes before burying its nose in the snow and snarfing whatever greens it could find frozen there. We trotted out through the woods to the river. Even absent the aurora, in the middle of the short, arctic day, the sky was magnificent, pink and gold where the sun, just risen, was already setting, the air a crisp, unearthly blue.Late that evening, I bundled up and wandered out onto the icy river. It was almost entirely overcast. Again, I imagined I saw colors in the sky, but I knew it was wishful thinking. I wanted to see "the silver dance of the mystic Northern Lights," as the British-Canadian balladeer Robert W. Service put it, "wild and weird and wan … a sight for the eyes of God." Suddenly, a sharp white light illuminated the horizon and swept the sky in a long arc, but it was only a faraway car with its high beams on. The silence was so deep that it had texture—there were whole rooms in it and long hallways connecting room to room. I wandered through them for a while. It was bitterly cold and after midnight. I went inside. I had one more night.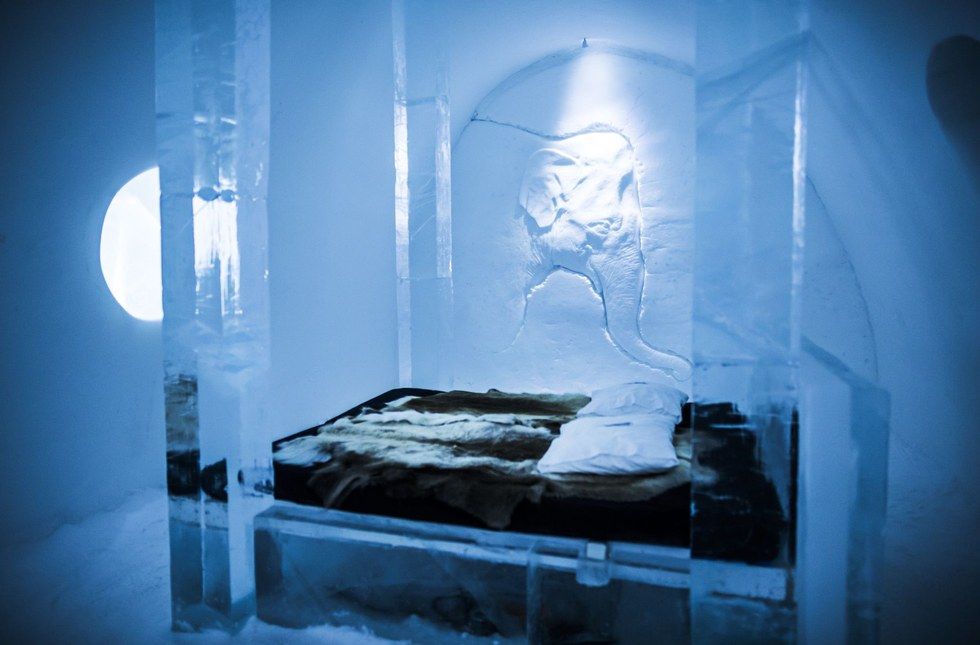 The Elephant in the Room suiteOn my last day in Jukkasjärvi, it snowed all morning and all afternoon. I trekked down to the old church at the end of the road. It had been there for 400 years, built when the town was just a seasonal gathering place for the still-nomadic Sami. The murals behind the altar were magnificent, the colors so bright they seemed stolen from some more temperate climate. Later, I let myself be convinced to try the local sauna ritual, which involved plunging into the frigid waters of the Torne through a hole carved in the ice. I whimpered, I confess, in a most unmanly way. After an excellent dinner, warm again, I prepared myself for the night I was to spend in the cold room by heading back out to the river. (It wouldn't be necessary: The sleeping bag the hotel provided was more than warm enough.)When I reached the bank, I lay down in the snow. The sky was overcast. I stared up at the shifting clouds until a space cleared just above the horizon to the north. Suddenly, without introduction, a shimmering green light appeared in the gap beneath the cloud, growing in intensity and fading and brightening but unmistakably there, unmistakably an aurora. The silence deepened. The lights seemed to dance. I was staring at electrically charged winds that had been cast out by the sun and traveled through 93 million miles of void. Or at the wandering souls of someone's ancestors. It didn't matter. I forgot that it was cold. I forgot I had a body even. And then, as quickly as they had appeared and with as little fanfare, the lights dimmed and went away. I stood, slapped the snow from my snowsuit, and retreated to my bedroom, blue and cozy, a balmy 23 degrees.
As a member in the tourism, travel and transportation industries, United offers a unique perspective into the economic and operational effects rippling across the U.S. To advocate United's efforts, and in anticipation of a bright future, New York/New Jersey President Jill Kaplan and California President Janet Lamkin have both been named to their states' respective governor's COVID-19 response task force committees.
Appointed by New Jersey Governor Phil Murphy, Jill joins the New Jersey Restart and Recovery Advisory Council ­— a group of business and municipal leaders tasked with planning to restart the state's economy.
"Serving on Governor Murphy's Restart & Advisory Council uniquely positions us in the epicenter of helping to restart state's economy by providing innovative ideas, sharing best practices and creative thinking to help ensure the rebuilding of New Jersey's economic vitality alongside notable business leaders," said Jill. "I'm honored to represent United Airlines and the transportation industry as a core building block to expediting the state's recovery."
United is the sixth largest company in the state and one of the largest essential businesses continuing to operate through this crisis, and as or advocate, Jill will share some of our best practices and lessons we're learning with the nine different committees through the customer and employee lens.
On the opposite coast, California Governor Gavin Newsom last month appointed Janet to his Task Force on Business and Jobs Recovery. Joining Janet at the table are former California governors, legislative leaders and CEOs and executives from numerous businesses with large stakes in the state, such as Apple and Disney. In addition to Janet's position on the task force, Janet is also serving on the Long-Term Jobs Recovery sub-committee and will advocate for industries suffering long-term ramifications of COVID-19 such as tourism, travel and entertainment.
"Being appointed to Governor Newsom's Task Force on Business and Jobs Recovery ensures that United is part of the important conversation and part of the plan to help California pave the way toward a fast, safe recovery of jobs," said Janet. "It is an honor to represent the only transportation business on the task force, and I look forward to working alongside a group of very distinguished leaders and focusing on innovative ways to rebuild the economy for our 40 million residents. This work will build on our partnership with the Governor to provide free flights for medical volunteers and having our employees call to check in on isolated older adults as part of the Social Bridging Project."
Pre-COVID, we transported 38 million passengers to, from and within California each year, and directly and indirectly supported tens of thousands of jobs, so the health and well-being of the industry is vital to the prosperity of the state.
As the only airline represented among each of these groups, Jill and Janet are working hard to ensure that our voices, as a company and industry, are heard, valued and utilized as a new chapter dawns on the horizon.
Hello. I'm Scott Kirby, the new CEO of United Airlines. I'm a proud Air Force Academy graduate and have spent my entire career in and around aviation, including the last four years as President of United.
While I had planned for my first communication with you to be about the meaningful investments we were making to the travel experience and our continued growth across the U.S. and expansion to exciting new destinations around the world, today, the situation rendered to us by the COVID-19 pandemic leads me to a different type of message.
First, I graciously and humbly thank you for your business. Now, more than ever, our customers' loyalty is so deeply appreciated by every member of the United family.
As essential workers, the men and women of our airline have been hard at work over the past two months to transport vital medical supplies and critical goods to places that need them most, to provide free travel to healthcare professionals and to help thousands of individuals repatriate to their home countries.
Safety has always been our top priority, and right now in the midst of an unprecedented crisis, it's our singular customer focus. We recognize that COVID-19 has brought cleanliness and hygiene standards to the front of your mind when making travel decisions. We're not leaving a single stone unturned in our pursuit to protect our customers and employees.
We are installing plexiglass in lobby and gate areas, we're using the same equipment used to clean hospitals to disinfect the interiors of our aircraft, all crew and customers on board are required to wear face mask coverings and we're taking the temperature of our employees before they start work.
But at United, we're not stopping there. We're teaming up with experts from Clorox and the Cleveland Clinic to set a new standard for cleanliness and healthy flying that we are calling United CleanPlus℠.
Clorox is working closely with us to improve how we disinfect common surfaces and provide our customers with amenities that support a healthy and safe environment.
Physicians and scientists at the Cleveland Clinic, will advise us on new technologies and approaches, assist in training development and create a rigorous quality assurance program. And, as scientists learn more about how to fight COVID-19, Cleveland Clinic experts will help us use those discoveries to quickly implement new ways to keep our customers safe.
While we may not know when this pandemic will subside, what we do know is that travel is so deeply woven into the fabric of our global culture. We all desire to visit family, dance at a friend's wedding, hug parents…and see the wonders of this beautiful world. No matter how sharp the picture quality – or how strong the WiFi signal – there's simply no substitute for being there – in person – to collaborate, celebrate, explore. We are confident that travel will return. And when it does, United Airlines will be ready to serve you again in the friendly skies.
Thank you. Be well. And I look forward to seeing you on board.

We remain passionate about connecting the world safely
United CleanPlus SM is our commitment to putting health and safety at the forefront of your journey, with the goal of delivering an industry-leading standard of cleanliness. We're teaming up with Clorox to redefine our cleaning and disinfection procedures, and over the coming months, we'll roll out Clorox products across our U.S. airports, starting in select locations, to help support a healthy and safe environment throughout your travel experience.
At the airport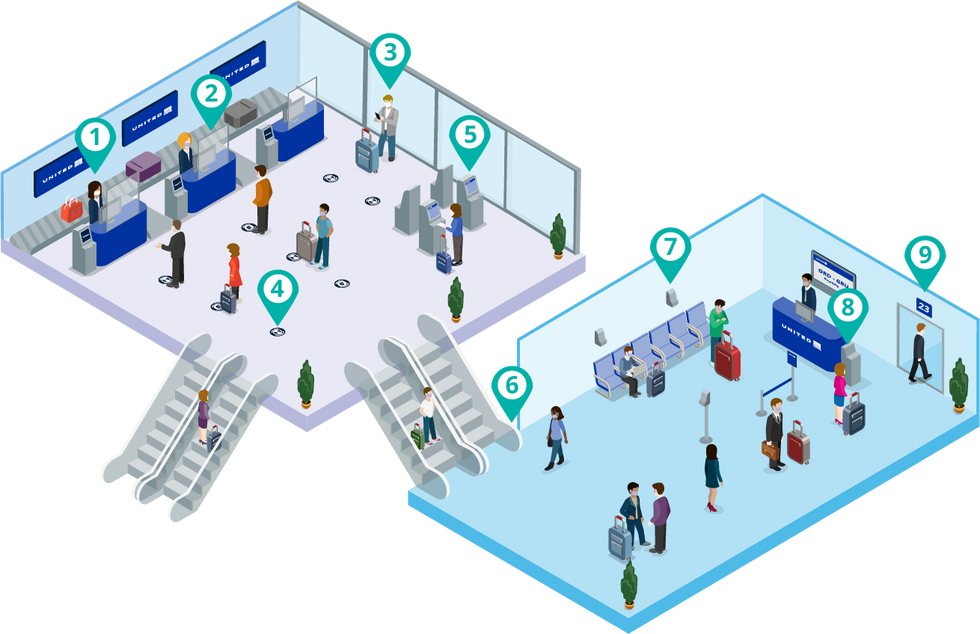 At check-in:

Implementing temperature checks for employees and flight attendants working at hub airports
Installing sneeze guards at check-in and

gate podiums

Encouraging use of the United app for contactless travel assistance and more
Promoting social distancing with floor decals to help customers stand 6 feet apart
Introducing touchless check-in for customers with bags

At the gate:
Disinfecting high-touch areas such as door handles, handrails, elevator buttons, telephones and computers
Providing hand sanitizer and
disinfectant wipes
Allowing customers to self-scan

boarding passes

Boarding fewer customers at a time and, after

pre-boarding

, boarding from the back of the plane to the front to promote social distancing
On our aircraft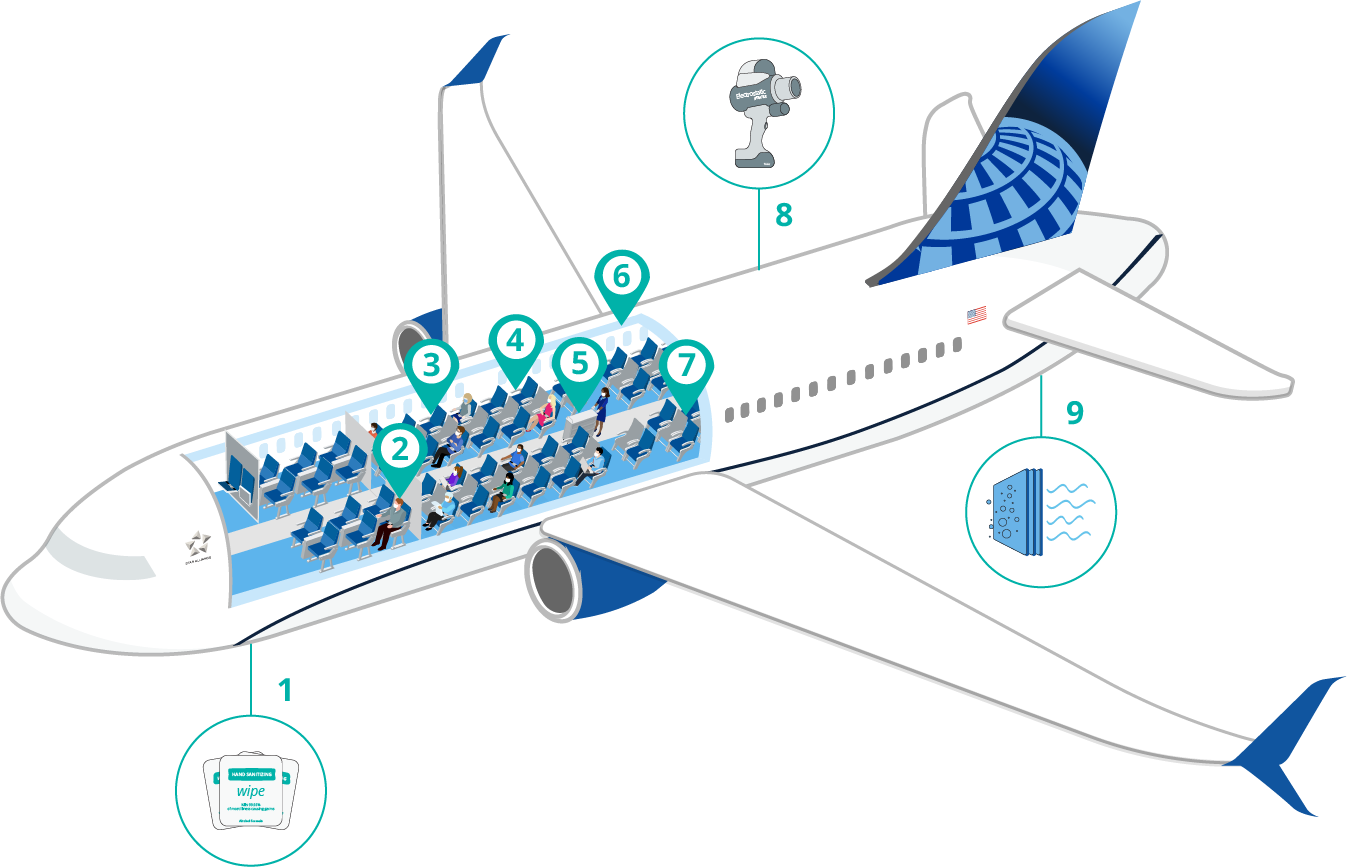 Providing individual hand sanitizer wipes

for customers

Requiring all customers and employees to wear a face covering and providing disposable face coverings for customers who need them
Temporarily removing onboard items like pillows, blankets and inflight magazines
Disinfecting high-touch areas, like tray tables and armrests, before boarding
Reducing contact between flight attendants and customers during snack and beverage service
Ensuring aircraft cleaning standards meet or exceed CDC guidelines
Applying social distancing to seating procedures when possible, including:

Limiting middle seat selection
Moving customers seated closely together
De-planing in groups of five rows at a time to reduce crowding

Using electrostatic spraying to disinfect aircraft, to be completed on all flights by mid-June
Using state-of-the-art, hospital-grade, high-efficiency (HEPA) filters to circulate air and remove up to 99.7% of airborne particles

We're working closely with the experts at Cleveland Clinic to advise us on enhancing our cleaning and disinfection protocols for the safety of our employees and customers. Visit Cleveland Clinic's website to learn more about COVID-19.
Together, we are facing an unprecedented challenge. United Together, we rise to meet that challenge.
Learn more
United Airlines
united
To allow for additional flexibility, flights booked now through June 30 can be changed for free over the next 12 months. All existing travel can be changed without fees as well. See waiver for details:
uafly.co/2M9vgLC
We Are United
weareunited
#AMTDay
is in honor of Charles Taylor, Wright Brothers' mechanic. The highest honor an aviation maintenance technician can receive is his namesake award. Congratulations, Garrick C. (HNL), Phil D., Bud G. and Benny G. (all SFO) who've received it in the past year.
#BeingUnited
We Are United
weareunited
United regional presidents Jill Kaplan and Janet Lamkin will join their states' respective governor's committees tasked with planning to restart the state's economy. Learn more about how they plan to help pave the way toward a fast, safe recovery of jobs.
uafly.co/2zjPrDI
We Are United
weareunited
Oscar, thank you for listening and learning as you traveled the system the past five years. We will carry the New Spirit of United with us as we respond and recover from this historic challenge --
#UnitedTogether
as we care for each other and serve our customers. 💙
#BeingUnited
Watch our most popular videos
Flying UCSF Medical Workers to New York
This is why we fly.
20 UCSF Health workers, who voluntarily set aside their own lives to help save lives, are on their way to New York City.
We are humbled by your selfless sacrifice.
Thank you.
#UnitedTogether #UCSFHeroes
A happy, Hollywood ending
This is the story of Jason and Shantel. You see, Jason and Shantel love each other very much. They also love traveling and they love the classic Adam Sandler film, The Wedding Singer.
It all began when Jason reached out to United's social media team, hoping for assistance with his upcoming plan to propose. Some phone calls and one borrowed guitar later, the stage was set for Jason. Put all that together, mix in some helpful United employees and, voila, you have a truly memorable marriage proposal. Congratulations to this fun-loving and happy couple, and here's to many more years of making beautiful music together.
A big thank you to Chicago-based flight attendants Donna W., Marie M., Karen J. and Mark K. for making this proposal come to life.
Copyright © 2020 United Airlines, Inc.
All rights reserved.
Indicates an external site that may or may not meet accessibility guidelines.
Scroll to top
Scroll to top