The Swedish Arctic
Story by Ben Ehrenreich | Photography by Joachim Lundgren | Rhapsody, November 2016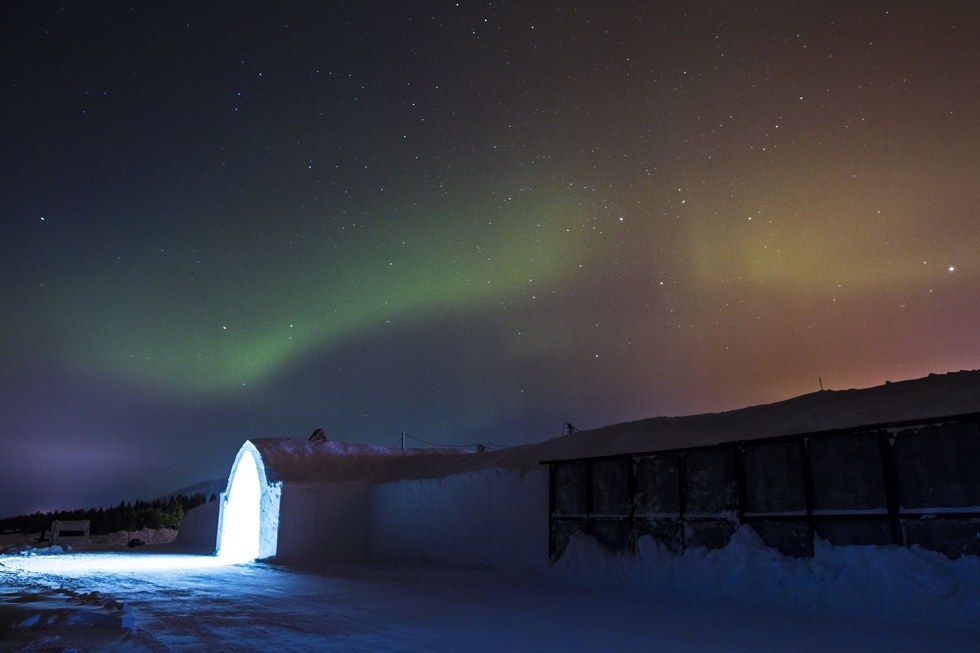 In search of the northern lights from a base camp at the world famous Icehotel
I had always wanted to see the northern lights.
I grew up in the New York City suburbs, where the only lights in the northern sky traced the flight path to LaGuardia, JFK, or Newark International. The notion of a vast, shimmering curtain of glowing green and violet falling over the sky like the entryway to some otherwise invisible reality sounded too whimsically beautiful to exist. But it did exist. You just had to climb the globe far enough north and hope for clear skies and distant storms on the surface of the sun.So in early January, as the rest of the hemisphere longed to travel south, I flew to Stockholm, and then to Kiruna, the largest town in the Swedish arctic, a quick ride from tiny Jukkasjärvi, home of the famous Icehotel, and one of the better spots on the planet from which to view the northern lights. The thermometer read seven degrees Fahrenheit when I boarded the hotel shuttle. "Perfect weather," the driver said with a grin—the day before the low had been 40 below. It wasn't yet two in the afternoon, but the sun was already setting, a thin orange light in what the compass on my phone suggested was not the west but the southern sky. I was nearly on the top of the world, and it felt like it, the landscape a study in monochrome, snow-frosted earth and snow-heavy trees, like the top of a wedding cake.Fortunately, the Icehotel's reception area, restaurant, and half of its rooms are permanent structures, well-heated and insulated against the elements. I checked into a "warm room," furnished in sleek Scandinavian style, its walls crafted of more conventional materials than ice. The hotel's bar, chapel, and 55 of its 65 total rooms are constructed of ice and compressed snow—"snice," they call it—and built from scratch each year when the cold descends. A team of artists and builders carve blocks of ice and spray snice like stucco onto prefabricated metal forms, which are then removed, leaving behind clean, silent, cavernous halls and rooms. The whole thing is destined to melt in the spring and flow back into the river Torne, which will soon freeze again, providing ice for the hotel's future incarnations. (This month, the property is adding a new solar-powered building, Icehotel 365, which will be made of ice and snow and kept at 23 degrees year-round.)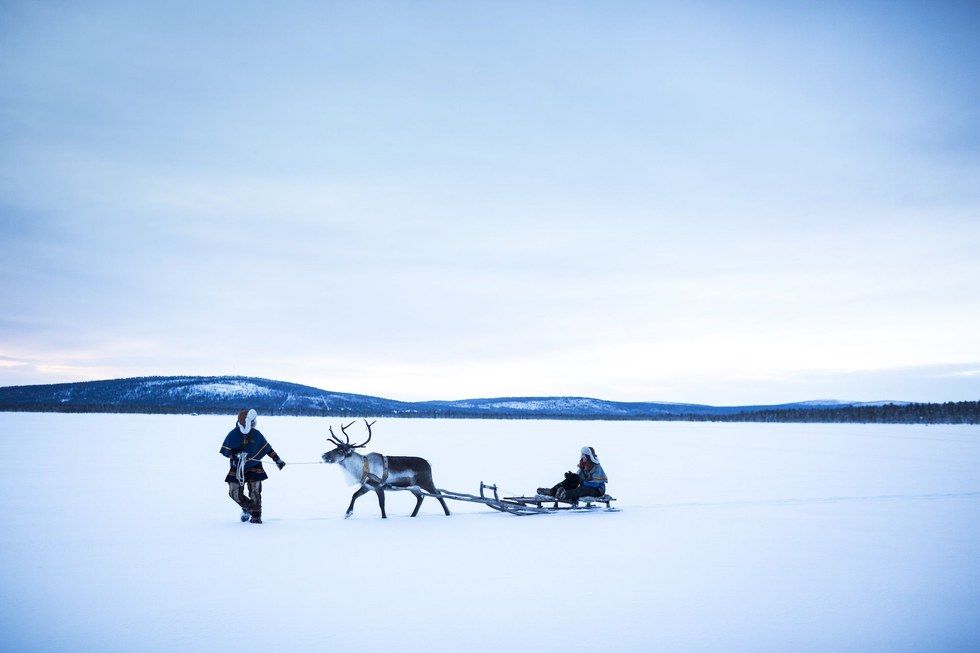 The author drives a reindeer sleigh on the frozen tundra of Jukkasjärvi. This buck proved an obstinate travel companion.
I took a quick walk through the ice rooms. The simplest were unadorned chambers of snow, like the inside of an igloo but equipped with a platform bed, blue-tinted lighting, and a government-required smoke detector. Individually titled "art suites" were more elaborate, and often extraordinary, designed by jury-selected artists flown in to sculpt in snow. Some were abstract. AnnaKatrin Kraus and Hans Aescht's
The Flying Buttress
, in which I would sleep two nights later, felt like the apse of a polar cathedral: Overlapping arches surrounded the bed, a square, ice-rimmed altar topped with two pillows and a reindeer hide. Some suites were whimsical, others surreal. In AnnaSofia Mååg's
Elephant in the Room
, a glassy, larger-than-life pachyderm stared dolefully down at the bed. Another guest room was lined with busts of dozens of blank-faced men in hats and a bas-relief turtle looking on from above. I peeked in at the chapel and caught a wedding in progress. The bride and groom wore snowsuits. They had to take off their ski gloves to exchange rings."I was staring at electrically charged winds that had been cast out by the sun and traveled through 93 million miles of void. Or at the wandering souls of someone's ancestors. It didn't matter."That evening, I pulled on not one but two ski masks, or balaclavas—"the balaclava is your best friend," the guide assured me—and joined an expedition to seek out the northern lights by snowmobile. We set off in a long caravan, skirting the hotel compound and the few houses of Jukkasjärvi until the lights of the town disappeared. We sped along what looked like wide, flat plains—in fact it was the surface of the frozen Torne—onto a curving track through the forest. Spruce and pines rose frosted on all sides, clumps of snow staring down from their upper branches like an audience of silent ghosts. We sped across a lake, then back through the woods and over frozen marshes. It began to snow, dashing my hopes of seeing the lights, but the snow eventually stopped, as did we, at a camp of wooden cabins where our guides lit fires and heated meals of reindeer stew.The Sami people, who inhabited the Scandinavian arctic long before it was divided into nations, regarded the northern lights with appropriate awe, as visitations from the spirits of the dead. The contemporary scientific explanation is no less mystical: Charged particles are carried to Earth by solar winds and pushed by the planet's magnetic field to the poles, where they collide with atmospheric gases, producing colored lights, just as neon bulbs do when electricity passes through them. In other words, the northern lights really are a window onto an invisible reality, the unseen currents that connect us to the sun. Very rarely, they appear far to the south: Galileo saw the lights over Venice and in 1619 dubbed them aurora borealis, combining the names for the Roman goddess of the dawn and the Greek god of the north wind. But the closer you get to the pole (and the farther from the artificial light of human settlements), the more likely you are to see them. After that, it's up to luck and the weather on the Earth and on the sun.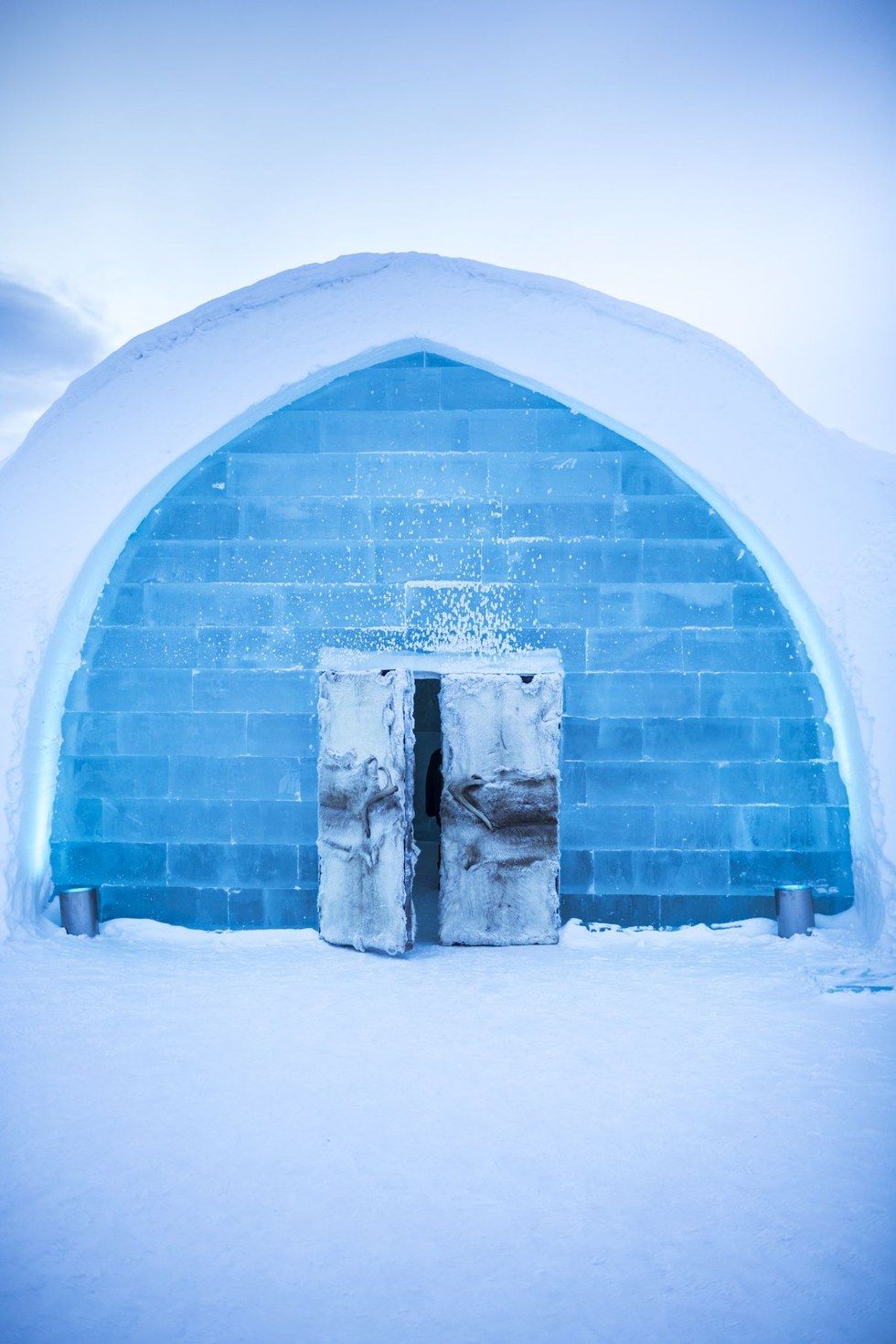 The entrance to the IcehotelBy the time I'd climbed back onto the snowmobile, the sky was clear, starless, and dark, a richer and more variable black than I was used to seeing. If I stared long enough, I could imagine it was tinted red in some places and green in others, but as hard as I looked, even with my imagination on overdrive, I couldn't fool myself. There was no aurora that night.I'm not sure how it happened, but the next day I ended up driving a reindeer sleigh. The Sami, who still populate much of northern Scandinavia, run tours in Jukkasjärvi to supplement their income from herding reindeer. They roped a buck for me, harnessed it to a one-man wooden sleigh, and handed me the bridle. The reindeer was a reluctant partner in the adventure, stopping whenever it could to glare at me with dull rheumy eyes before burying its nose in the snow and snarfing whatever greens it could find frozen there. We trotted out through the woods to the river. Even absent the aurora, in the middle of the short, arctic day, the sky was magnificent, pink and gold where the sun, just risen, was already setting, the air a crisp, unearthly blue.Late that evening, I bundled up and wandered out onto the icy river. It was almost entirely overcast. Again, I imagined I saw colors in the sky, but I knew it was wishful thinking. I wanted to see "the silver dance of the mystic Northern Lights," as the British-Canadian balladeer Robert W. Service put it, "wild and weird and wan … a sight for the eyes of God." Suddenly, a sharp white light illuminated the horizon and swept the sky in a long arc, but it was only a faraway car with its high beams on. The silence was so deep that it had texture—there were whole rooms in it and long hallways connecting room to room. I wandered through them for a while. It was bitterly cold and after midnight. I went inside. I had one more night.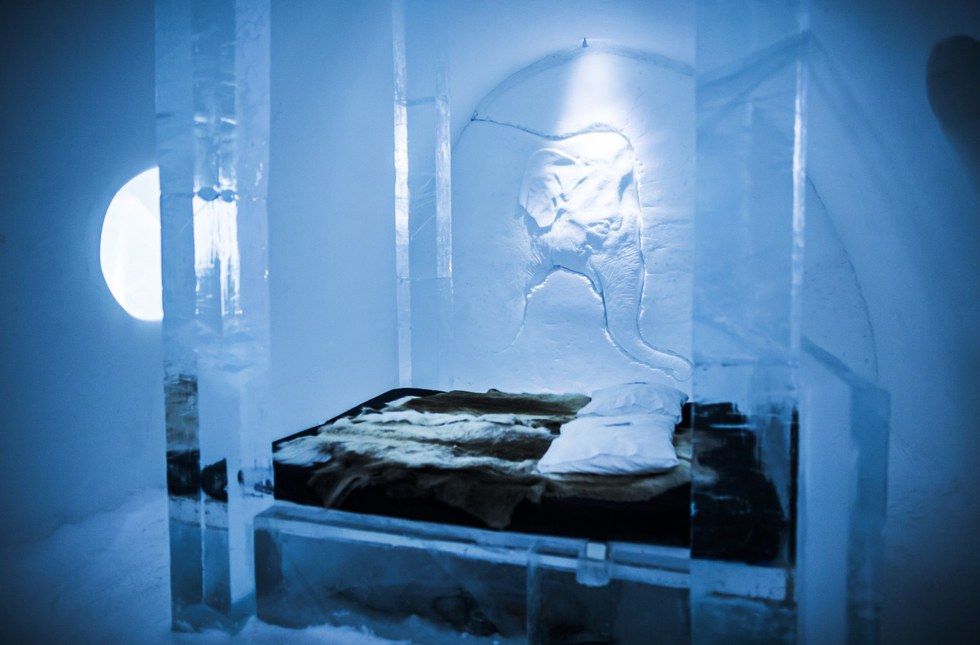 The Elephant in the Room suiteOn my last day in Jukkasjärvi, it snowed all morning and all afternoon. I trekked down to the old church at the end of the road. It had been there for 400 years, built when the town was just a seasonal gathering place for the still-nomadic Sami. The murals behind the altar were magnificent, the colors so bright they seemed stolen from some more temperate climate. Later, I let myself be convinced to try the local sauna ritual, which involved plunging into the frigid waters of the Torne through a hole carved in the ice. I whimpered, I confess, in a most unmanly way. After an excellent dinner, warm again, I prepared myself for the night I was to spend in the cold room by heading back out to the river. (It wouldn't be necessary: The sleeping bag the hotel provided was more than warm enough.)When I reached the bank, I lay down in the snow. The sky was overcast. I stared up at the shifting clouds until a space cleared just above the horizon to the north. Suddenly, without introduction, a shimmering green light appeared in the gap beneath the cloud, growing in intensity and fading and brightening but unmistakably there, unmistakably an aurora. The silence deepened. The lights seemed to dance. I was staring at electrically charged winds that had been cast out by the sun and traveled through 93 million miles of void. Or at the wandering souls of someone's ancestors. It didn't matter. I forgot that it was cold. I forgot I had a body even. And then, as quickly as they had appeared and with as little fanfare, the lights dimmed and went away. I stood, slapped the snow from my snowsuit, and retreated to my bedroom, blue and cozy, a balmy 23 degrees.
Right now, around the world, brave members of America's armed forces are on duty, defending our freedom and upholding our values.
When not laser-focused on the mission at hand, they're looking forward to the day when their service to our nation is fulfilled and they can reunite with their families.
They are also imagining how they can use their hard-earned skills to build an exciting, rewarding and important career when they return home.
I want them to look no further than United Airlines.
That's why we are focused on recruiting, developing and championing veterans across our company, demonstrating to our returning women and men in uniform that United is the best possible place for them to put their training, knowledge, discipline and character to the noblest use.
They've developed their knowledge and skills in some of the worst of times. We hope they will use those skills to keep United performing at our best, all of the time.
That's why we are accelerating our efforts to onboard the best and the brightest, and substantially increasing our overall recruitment numbers each year.
We recently launched a new sponsorship program to support onboarding veterans into United and a new care package program to support deployed employees. It's one more reason why United continues to rank high - and rise higher - as a top workplace for veterans. In fact, we jumped 21 spots this year on Indeed.com's list of the top U.S workplaces for veterans. This is a testament to our increased recruiting efforts, as well as our efforts to create a culture where veterans feel valued and supported.
We use the special reach and resources of our global operations to partner with outstanding organizations. This is our way of stepping up and going the extra mile for all those who've stepped forward to answer our nation's call.
We do this year-round, and the month of November is no exception; however, it is exceptional, especially as we mark Veterans Day.
As we pay tribute to all Americans who have served in uniform and carried our flag into battle throughout our history, let's also keep our thoughts with the women and men who are serving around the world, now. They belong to a generation of post-9/11 veterans who've taken part in the longest sustained period of conflict in our history.

Never has so much been asked by so many of so few.... for so long. These heroes represent every color and creed. They are drawn from across the country and many immigrated to our shores.

They then freely choose to serve in the most distant and dangerous regions of the world, to protect democracy in its moments of maximum danger.
Wherever they serve - however they serve - whether they put on a uniform each day, or serve in ways which may never be fully known, these Americans wake up each morning willing to offer the "last full measure of devotion" on our behalf.
Every time they do so, they provide a stunning rebuke to the kinds of voices around the world who doubt freedom and democracy's ability to defend itself.
Unfortunately, we know there are those who seem to not understand – or say they do not - what it is that inspires a free people to step forward, willing to lay down their lives so that their country and fellow citizens might live.
But, we – who are both the wards and stewards of the democracy which has been preserved and handed down to us by veterans throughout our history – do understand.
We know that inciting fear and hatred of others is a source of weakness, not strength. And such divisive rhetoric can never inspire solidarity or sacrifice like love for others and love of country can.
It is this quality of devotion that we most honor in our veterans - those who have served, do serve and will serve.
On behalf of a grateful family of 96,000, thank you for your service.
Humbly,
Oscar
Each year around Veterans Day, Indeed, one of the world's largest job search engines, rates companies based on actual employee reviews to identify which ones offer the best opportunities and benefits for current and former U.S. military members. Our dramatic improvement in the rankings this year reflects a stronger commitment than ever before to actively recruiting, developing and nurturing veteran talent.
"We've spent a lot of time over the past 12 months looking for ways to better connect with our employees who served and attract new employees from the military ranks," said Global Catering Operations and Logistics Managing Director Ryan Melby, a U.S. Army veteran and the president of our United for Veterans business resource group.
"Our group is launching a mentorship program, for instance, where we'll assign existing employee-veterans to work with new hires who come to us from the armed forces. Having a friend and an ally like that, someone who can help you translate the skills you picked up in the military to what we do as a civilian company, is invaluable. That initiative is still in its infancy, but I'm really optimistic about what it can do for United and for our veteran population here."
Impressively, we were the only one of our industry peers to move up on the list, further evidence that we're on a good track as a company.
The question of where David Ferrari was had haunted retired U.S. Army Sergeant Major Vincent Salceto for the better part of 66 years.
Rarely did a week go by that Salceto didn't think about his old friend. Often, he relived their last moments together in a recurring nightmare. In it, it's once again 1953 and Salceto and Ferrari are patrolling a valley in what is now North Korea. Suddenly, explosions shatter the silence and flares light up the night sky.
Crouching under a barrage of bullets, Salceto, the squad's leader, drags two of his men to safety, then he sees Ferrari lying face down on the ground. He runs out to help him, but he's too late. And that's when he always wakes up.
Italian Americans from opposite coasts – Salceto from Philadelphia, Ferrari from San Francisco – the two became close, almost like brothers, after being assigned to the same unit during the Korean War. When Ferrari died, it hit Salceto hard.
"After that, I never let anyone get close to me like I did with Dave," he says. "I couldn't; I didn't want to go through that again."
When the war ended, Salceto wanted to tell Ferrari's family how brave their son and brother had been in battle. Most of all, he wanted to salute his friend at his gravesite and give him a proper farewell.
For decades, though, Salceto had no luck finding his final resting place or locating any of his relatives. Then, in June of this year, he uncovered a clue that led him to the Italian Cemetary in Colma, California, where Ferrari is buried.
Within days, Salceto, who lives in Franklinville, New Jersey, was packed and sitting aboard United Flight 731 from Philadelphia to San Francisco with his wife, Amy, and daughter, Donna Decker, on his way to Colma. For such a meaningful trip, he even wore his Army dress uniform.
That's how San Francisco-based flight attendant Noreen Baldwin spotted him as he walked down the jet bridge to get on the plane.
"I saw him and said to the other crew members, 'Oh my goodness, look at this guy,'" she says. "I knew there had to be a story."
The two struck up a conversation and Salceto told Baldwin why he was traveling. She got emotional listening to him talk and made a point of fussing over him, making sure he and his family had everything they needed.
About halfway through the flight, Baldwin had an idea. She and her fellow crew members would write messages of encouragement to Salceto and invite his fellow passengers to do the same.
"We did it discreetly," says Baldwin. "I asked the customers if they saw the man in uniform, which most had, and asked them if they wanted to write a few words for him on a cocktail napkin. A lot of people did; families did it together, parents got their kids to write something. After the first few rows, I was so choked up that I could barely talk."
When Baldwin surprised Salceto with dozens of hand-written notes, he, too, was speechless. He laid the stack on his lap and read each one. At the same time, the pilots made an announcement about the veteran over the loud speaker, after which the customers on board burst into applause.
"It seems contrived, and I hate using the word organic, but that's what it was; it just happened," Baldwin says. "Mr. Salceto was so loveable and humble, and what he was doing was so incredible, it felt like the right thing to do. And you could tell he was touched."
On June 27, Salceto finally stood before Ferrari's grave and said that long-awaited goodbye. As a trumpeter played "Taps," he unpinned a medal from his jacket and laid it reverently on the headstone.
"I had gotten a Bronze Star for my actions [the night Ferrari died] with a 'V' for valor, and that was the medal I put on Dave's grave," says Salceto, pausing to fight back tears. "I thought he was more deserving of it than I was."
For the first time in years, Salceto felt at peace. His mission was accomplished.
Scroll to top