Travelers eager to expand their island horizons should give the exotic Tahitian islands a try. The South Pacific island of Tahiti and the neighboring French Polynesian islands of Moorea, Bora Bora and Huahine are more accessible than ever, with United nonstop flights from San Francisco to Tahiti launching October 30. The snorkeling, diving, hiking and beaches are memorable, whether it's on a romantic getaway or a trip with family or friends.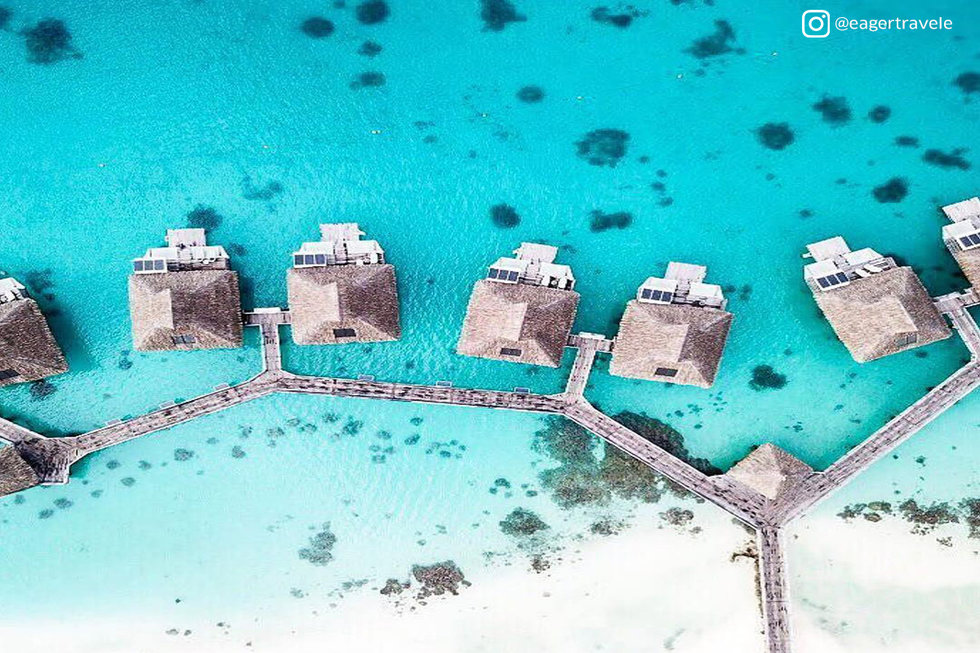 Tahiti
There's plenty for visitors to do on the island of Tahiti from the moment they arrive at Faa'a International Airport near the capital of Papeete. The biggest island in French Polynesia, Tahiti is split into two sections — the bigger northwestern side of Tahiti Nui and Tahiti Iti, the southeastern side. Tahiti is the cultural, economic and political capital of the French Polynesian islands with nearly 69 percent of the islands' inhabitants living there.
Waterfalls of all sizes, created by the combination of steep slopes and bounteous rainfall in the high volcanic mountains, can be seen on hiking trails in fern-filled "waterfall valleys." Head to Teahupo'o Beach, where monster waves have made the beach legendary among big-wave surfers. In fact, the beach is the site of the annual Billabong surf competition where some of the world's best surfers compete, making it a great place to watch the action from the sand. Like all Polynesian islands, the snorkeling and diving — with about two-dozen lagoons, ocean reefs, caves and shipwrecks accessible from land or on boat excursions — are amazing.
Depending on your budget, stay at one of the more luxurious resorts with overwater bungalows or opt for a lower cost and more traditional experience by staying at guesthouses and pensions (homestays).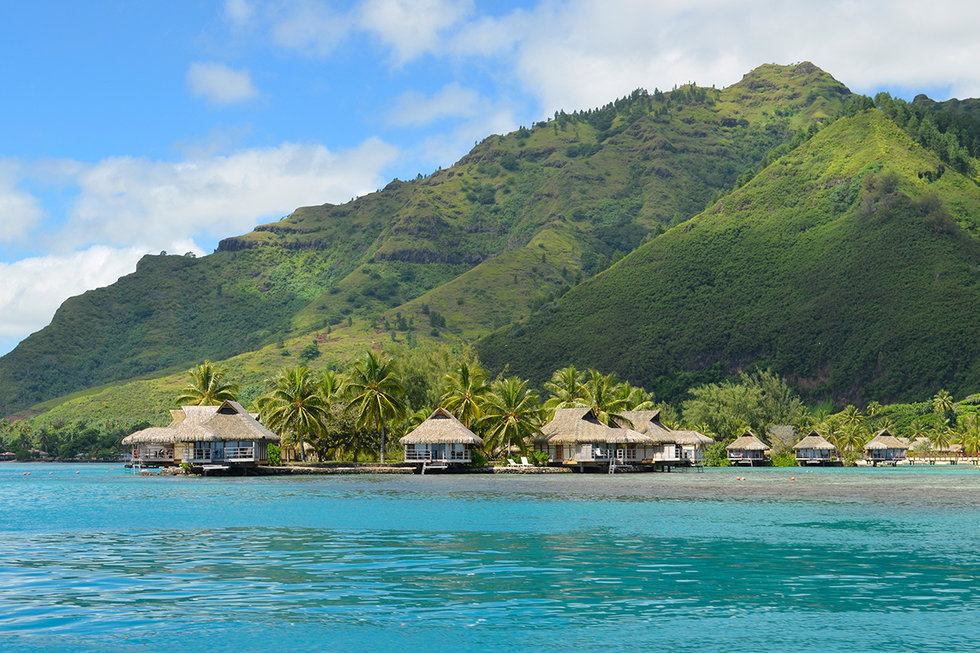 Moorea
A ferry ride lasting about 45 minutes brings you from the island of Tahiti to Moorea, 15 miles across the Sea of the Moon. Similar to Tahiti, saw-toothed volcanic mountains overlook white-sand beaches. Endless activity options include mountain hiking, snorkeling and diving. Moorea is a little quieter than its bigger neighbor, with smaller lodgings mixed in with big beach resorts. Surrounding the San Francisco-sized island are deep coral reefs visitors can explore in snorkeling or diving gear and ocean surf filled with dolphins. On the land are trails you can follow on horseback or a rented bike; surfing and kitesurfing beaches where relaxation rules; and restaurants that incorporate coconut in seemingly every dish.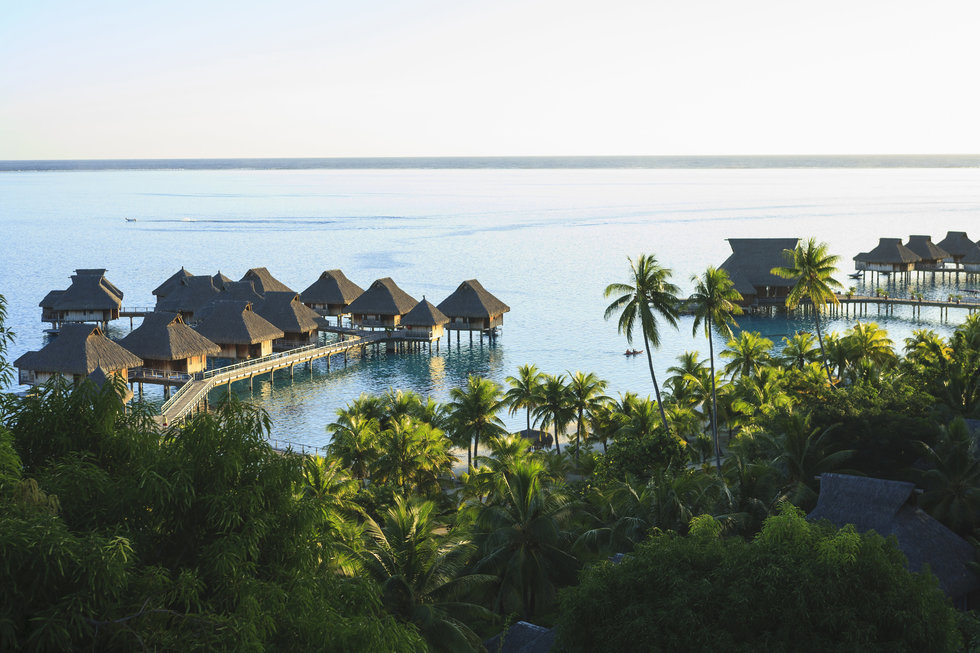 Bora Bora

It's hard to argue the claim by Tales of the South Pacific author James Michener that Bora Bora is the world's most beautiful island. A ring of islets almost completely surrounds Bora Bora, protecting it from the big waves of the Pacific Ocean. This results in a huge, donut-shaped, sandy-bottomed playground of calm aquamarine waters in which to snorkel, dive, kayak and paddleboard all day. There's only one beach, but it's a beauty with powdery white sand. You can also hike up 2,159-foot Mt. Pahia. Dining ranges from elegant Polynesian restaurants to food trucks serving grilled fish. Most accommodations are on the pricier side — the island is famous for its overwater bungalows — but this favorite island of honeymooners is worth it. It's only a 50-minute plane hop from neighboring Tahiti.
Huahine
Nicknamed the Garden of Eden, Huahine is even more low-key than its neighbors. There are no colossal beach resorts, but an ample number of boutique resorts, inns and bungalows. There are also abundant activity choices, including hiking, visiting the ancient village of Maeva (where a number of centuries-old royal temples have been restored by archaeologists), snorkeling through coral gardens and diving at unique dive sites. More than its famous neighbors, it's a place to tune out the world on some of the South Pacific's finest beaches. A 40-minute plane ride delivers you from Tahiti to this serene refuge.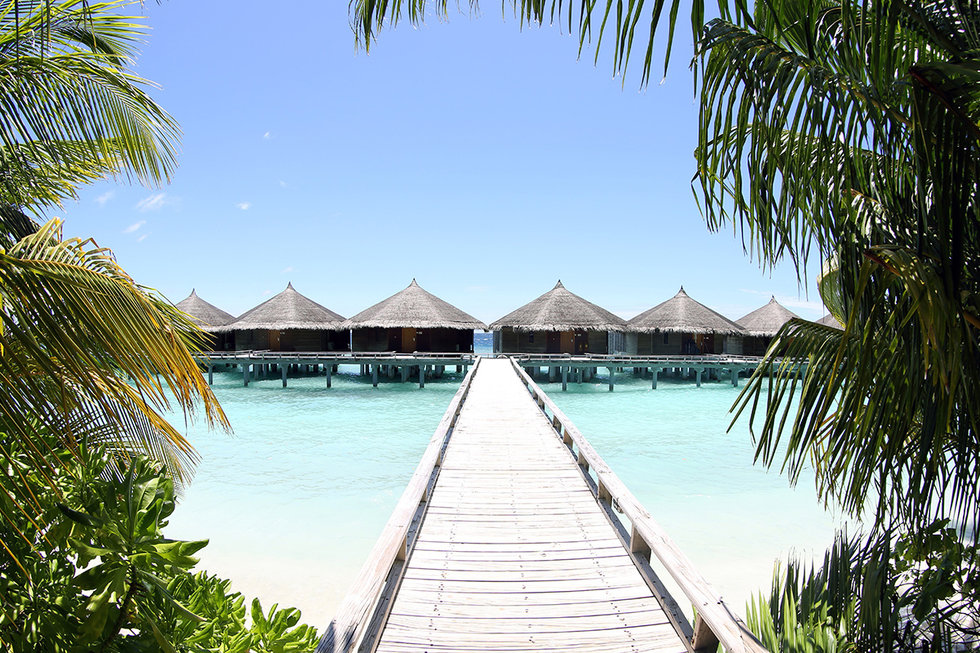 What to know before you go
When to go The climate of the Tahitian islands is tropical as the temperature gauge seldom leaves the 70s and 80s day or night. That's also the water temperature range, which peaks in November through April (Tahiti's "summer") in the low 80s — perfect for snorkeling without a wetsuit.
Getting there United Airlines flights to Tahiti begin October 30, with three weekly nonstop flights between San Francisco and Papeete, departing each city on Tuesdays, Thursdays and Sundays. Visas aren't required for North Americans or Europeans.
Culture While French is the official language, Tahitian is widely spoken by the natives. However, most Tahitians in the tourism sector speak English. The currency is the CFP Franc, which you may want to use to purchase pearl jewelry — pearl farms are widespread on the islands. Tattoo art is also well-known on the islands as the form has been perfected for centuries in the South Seas.
Visit united.com or use the United app to plan your Tahitian adventure.