Three Perfect Days: Beijing
Story by Benjamin Carlson | Photography by Aurēlien Foucalt | Hemispheres, August 2018
Beijing is a bit like the Ptolemaic model of the world: ancient, encircled by rings, and once regarded as the center of the universe. China's political heart since Mongol conquerors made it their capital in the 13th century, the city has gone through countless transformations—from dusty outpost to glitzy megalopolis—while remaining the country's gravitational core. It's a place where politics reign but punk rock thrives in the cracks, a hub of high- tech innovation whose people still abide by ancient mores. In short, Beijing is the most vivid embodiment of the old truism about China: that it is an immense place of immense contradictions—not so much the center of the universe but a universe in itself.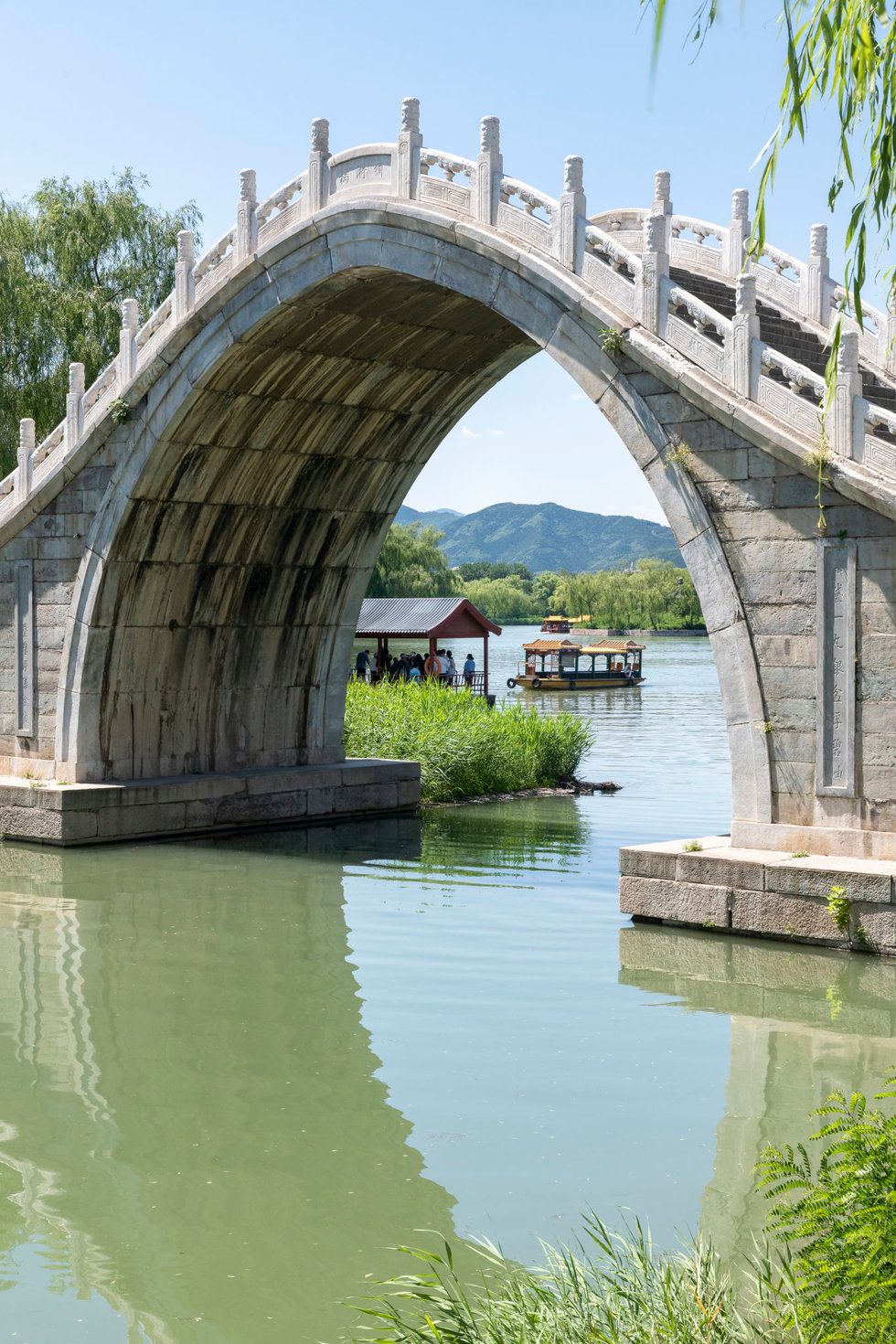 The Jade Belt Bridge at the Summer Palace
Day 1
If Beijing has a magnetic core, it's here: a mile east of the Forbidden City, where emperors once rode in palanquins and where the new elite buzz about in Maseratis and McLarens. I, however, opt for two wheels—a bicycle courtesy of the friendly concierge at The Peninsula, where I'm staying. A Chinese guest in a bow tie and rhinestone-studded sneakers waiting in the lobby seems puzzled by the sight of a bike being wheeled out and offers to share a cab.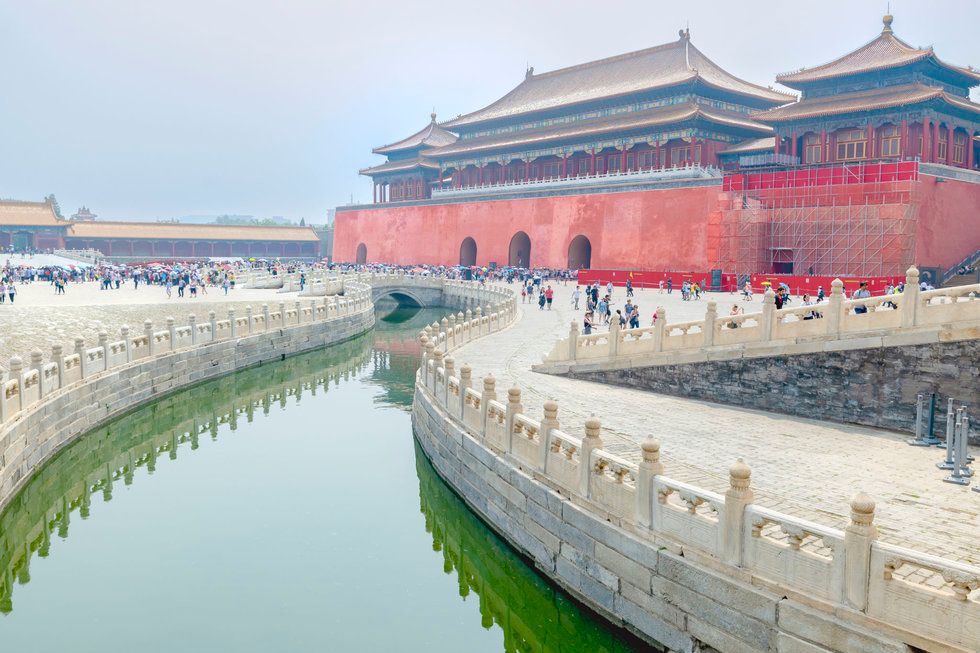 A moat at the Forbidden City
Undeterred, I cycle to a street lined with poplar trees and rose bushes, where I soon find myself surrounded by people pedaling in the same direction, including a fleet of six beefy men on identical blue bikes. I take a right-hand turn and the road widens. This is Chang'an Avenue (aka Eternal Peace Street), a 10-lane stretch running between Tiananmen Square and the Forbidden City. I pull over beside a huge portrait of Mao Zedong, intrigued by the scale of the image and by Mao's orange-ish skin tone, like a bad spray-tan. "No stop- ping," a nearby guard suggests in Mandarin. "Keep moving!"
"The Forbidden City, with its majestic golden- capped pavilions, was designed to shock and awe."
Once I make it through the block-long line for security at the Forbidden City I head into a waiting area, where a vendor stands over a pile of gold hats with built-in pigtails. I ask if they are for eunuchs, and he frowns. "Only emperors wear those. We don't sell hats for eunuchs!"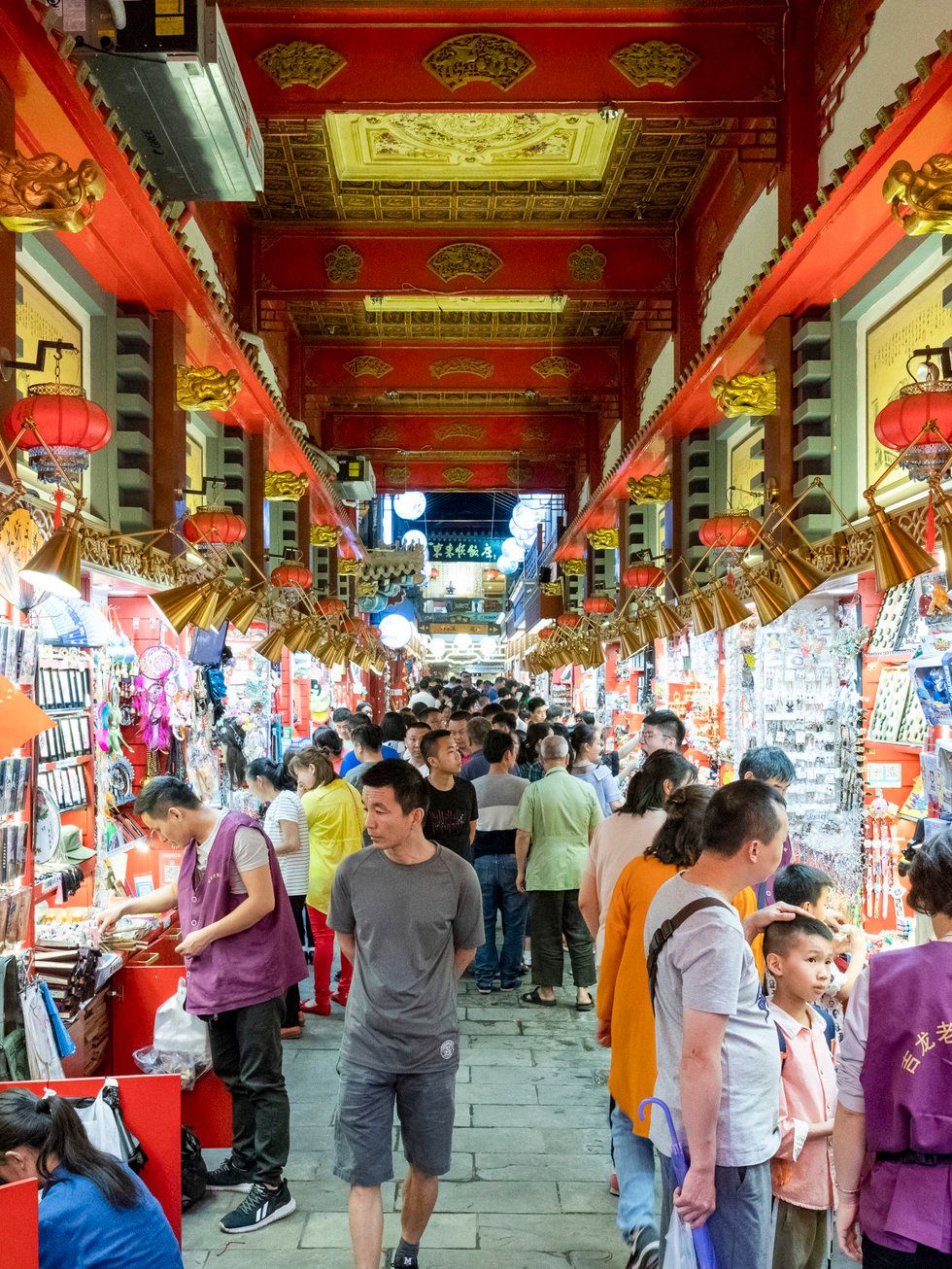 Vendors on Qianmen commercial street
The Forbidden City— with its gargantuan Hall of Supreme Harmony and 180 acres of courtyards, palaces, and majestic golden-capped pavilions—was designed to shock and awe. Even today, in a city bristling with extravagant skyscrapers, it does the job. I pass into the inner sanctum, a courtyard that used to be off limits to every- one but the emperor. After a minute alone in this vast and strangely discomfiting space, I edge toward a provincial tour group, just for the company.
By the time I leave—the Forbidden City is like Ikea; you have to walk through the whole thing to get out—I'm not only humbled but famished. For lunch, I've arranged to meet American expat Patrick Rhine, the director of research at the Ullens Center for Contemporary Art, at the small Hunanese restaurant Blessed Events. The air inside is sour and pun- gent. I ask Rhine about the smell, and he replies, "What smell?" When my order of rice noodles and pork arrives, I understand: The bowl is full of fermented pickles. They are, I find, much more pleasant in the mouth than the nose. The pork chunks are sweet and fatty, the rice noodles slippery, the soup hot and sour.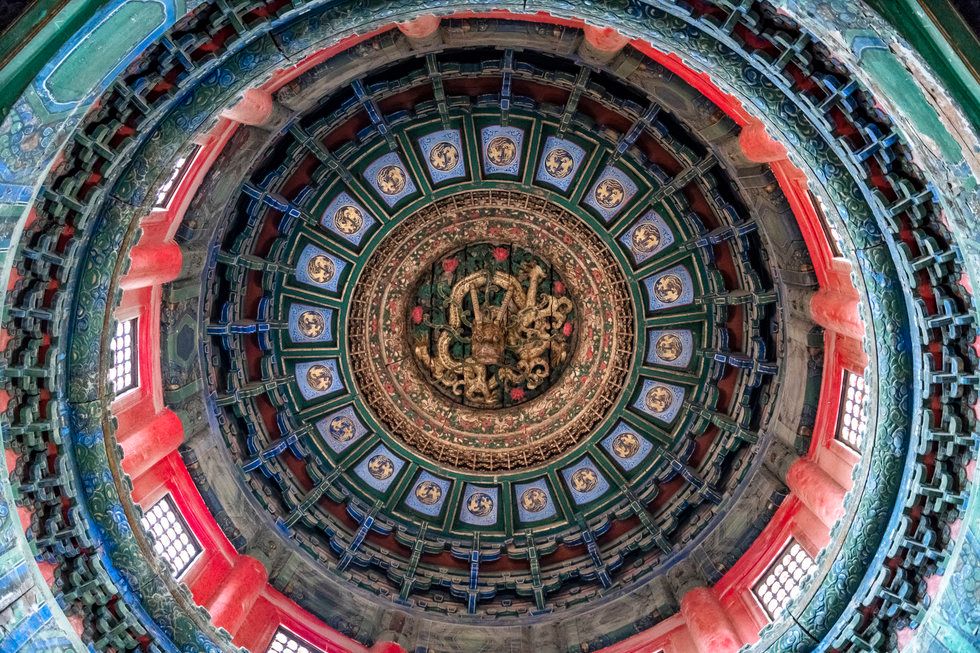 A carved dragon at the Forbidden City
Afterward, we wander over to Art District 798, a block of Bauhaus-style factories that's been refurbished into a hub of quirky shops, high-minded galleries, and bizarre installations. "This place used to be a lot cheesier—lots of over- priced, tacky chinoiserie," Rhine says as we walk through the complex. "There are at least three ocarina shops within 100 meters of us now, and I don't know why."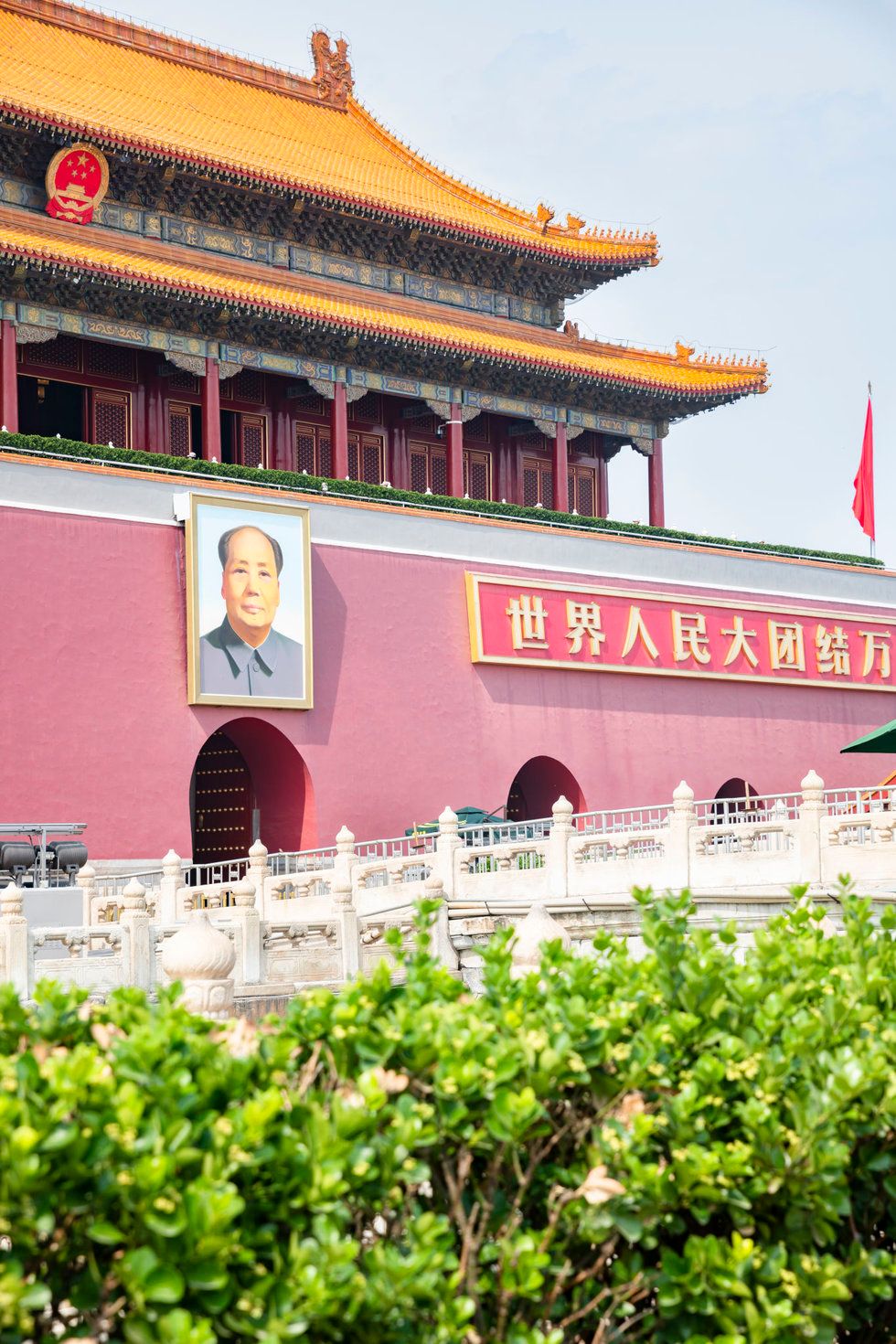 A portrait of Mao Zedong at the Forbidden City
We pass a stack of dinosaur statues in cages, and a space where an artist has jabbed a potato with a bent fork and placed it in a bowl. "It's a commentary on the failure of Western culture, I think," explains a nice young lady in octagonal spectacles. She points to a dish filled with dark liquid and two clay beads. "This one's called Bubba and Forrest Go Home."
It can be tough to tell what's tongue-in-cheek at 798, but there are no such ambiguities across the street at China Cow Parade Park, which sells weird cow statues and displays a wall-size, military-style map showing the shop's 10-year plan for carpeting China in stores. "There's weird random stuff constantly going on," Rhine says. He points to a blocked-off side street. "The North Korean government has a sculpture house there. And over there," he points again, "the other week they had pig wrestling."
I bid Rhine goodbye and head off to another section of 798, where the M Woods museum is showing an exhibit of videos by the Los Angeles artist Paul McCarthy. At the door, an attendant demands proof that I'm 18. It quickly becomes clear why. In one video clip, a man in an Alfred E. Neuman mask is assaulting a five-gallon ketchup bottle— and it gets a lot more transgressive than this. Time to call it a day.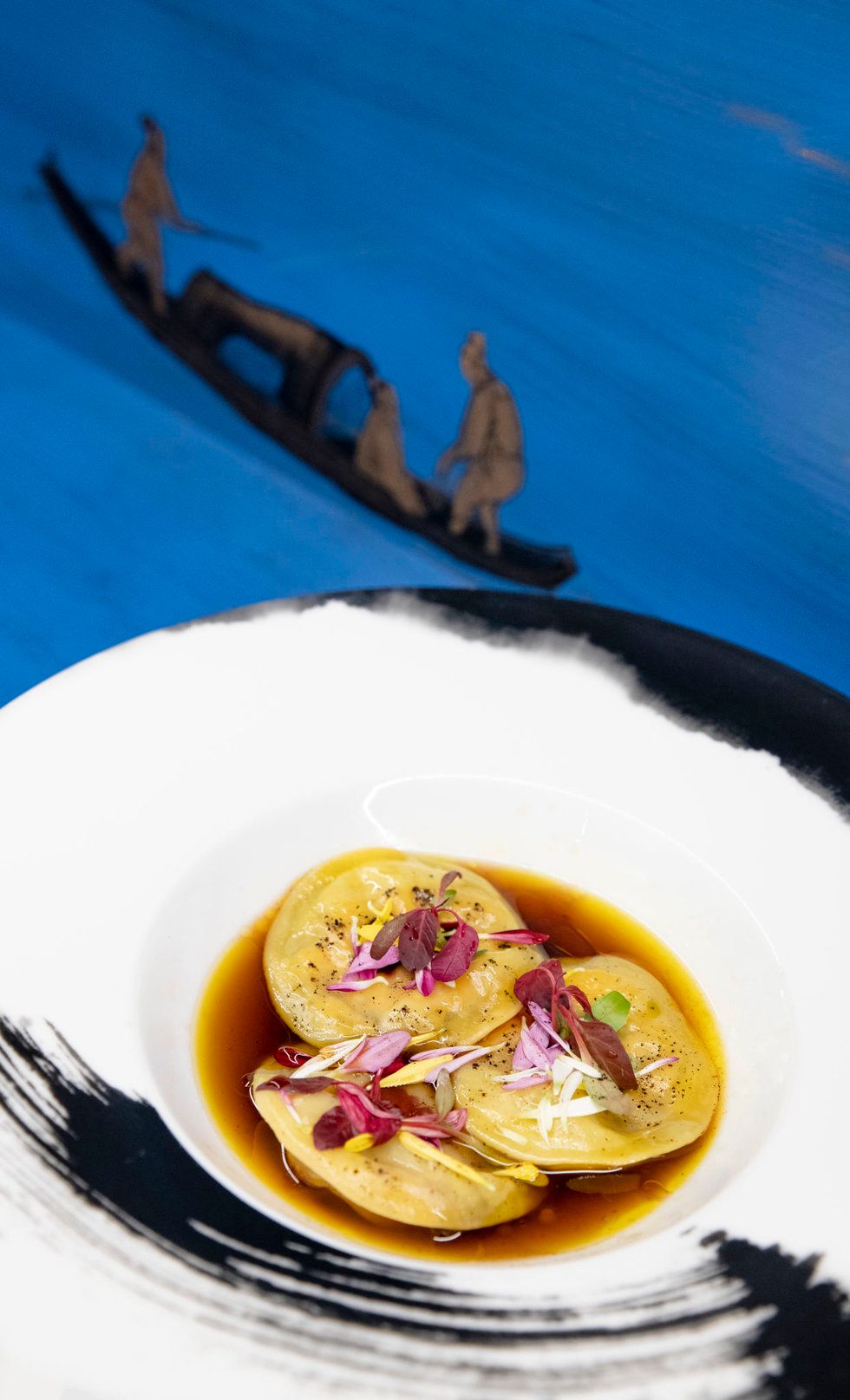 Duck foie gras ravioli at Jing
Fortunately, there are no five-gallon ketchup jugs at Jing, the Peninsula hotel's elegantly subdued French restaurant. The brainchild of chef Julien Cadiou, brought to Beijing by way of Hong Kong, it offers exquisite renditions of dishes tailored to the comfort food–oriented palate of China. I order wildly: wasabi big eye tuna and wagyu beef tartare with quail egg yolk; duck foie gras ravioli in vegetal consommé; a succulent lobster cavatelli; chicken thigh with a mushroom-foam garnish and a hazelnut red wine reduction.
In need of a nightcap, I order a cocktail at The Lobby lounge. A waiter brings a Manhattan as a jazz band takes the stage. "I wish you bluebirds in the spring," the alto sings, looking me in the eye. "I set you free-e-e-e."
I take that as my cue to go to bed.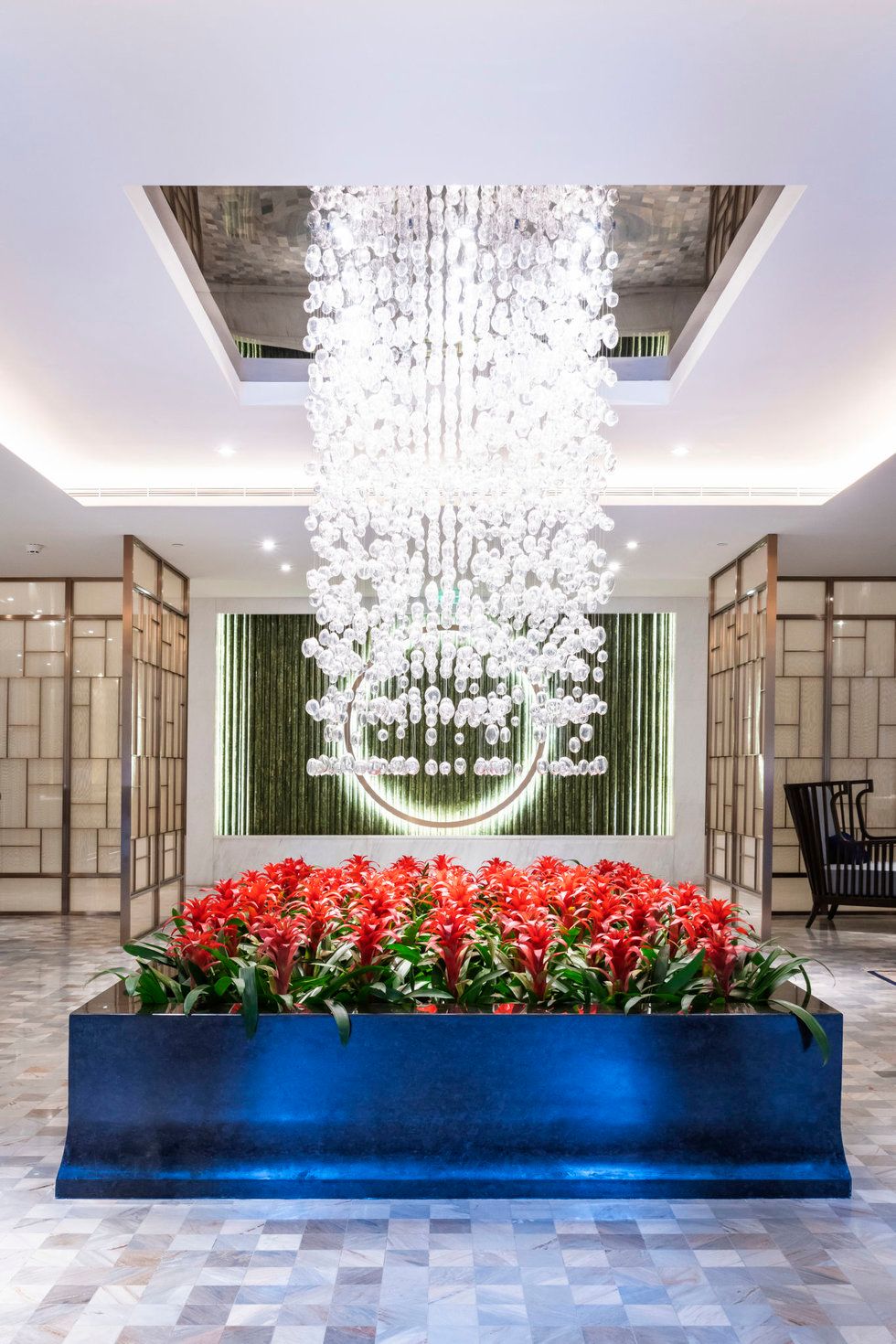 The restaurant's lavish entrance
Day 2
It's morning, and I'm walking through Baochao hutong, a leafy alleyway that feels like a time capsule. I watch a woman pulling laundry along a line while another empties a bucket with a soft splash. The cry of a knife-sharpener echoes through the alley. I stop at a roadside cart for a Shandong-style jianbing, a fresh-made crepe with a filling of spicy egg, pickled vegetables, and spring onions.
Centuries ago, camel trains used to end their journey from central Asia in these dusty streets. Now, scooters zip by on the pavement, but the ambience is otherwise unchanged. The Drum Tower (or Gulou, pronounced "goo-low") still stands at the center of the city's biggest unbroken hutong block, a labyrinth of picturesque alleyways that date to the 13th-century Yuan dynasty and are dotted with traditional courtyard homes. Passing piled bicycles and half-open doors, I encounter four elderly aunties and an uncle in a Panama hat who are seated on stools, watching the hutong as if it were TV. I wave hello, and they watch impassively, much as you would if a TV character waved.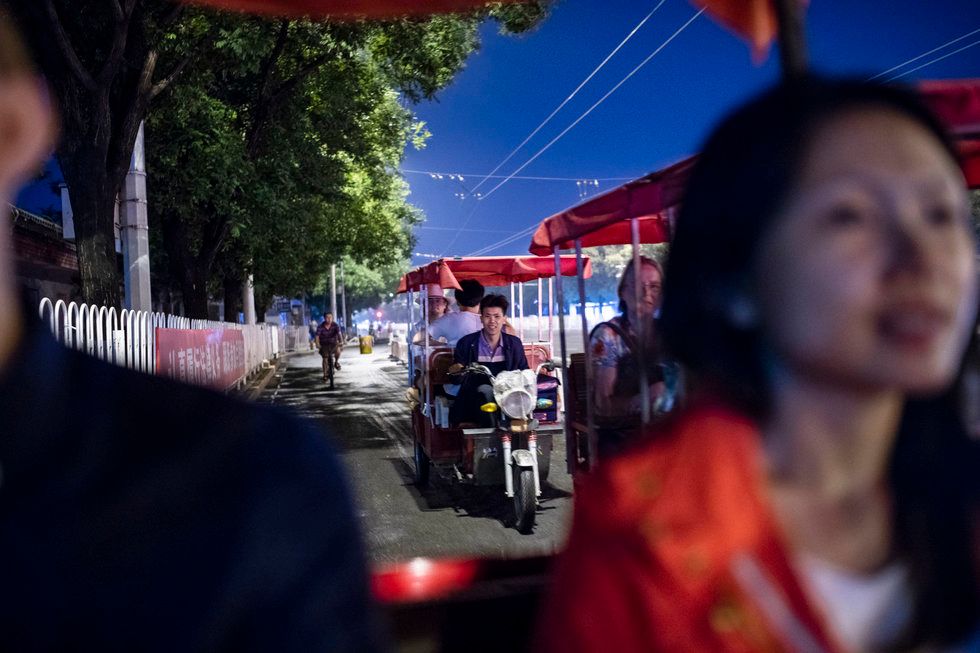 Sampling Beijing's culinary delights by tuk-tuk on a Lost Plate tour
I soon understand why they spend their days watching the street. An old man walks by swinging two cages with shrieking parakeets; a girl in a watermelon crinoline dress poses for a cameraman while her friend in a lemon crinoline dress adjusts her bangs. Nearby, a little boy in split-bottom pants draws a chalk spaceship on the ground; his mother asks, "Do you love to eat?" He thinks a moment and replies, "I love to eat meat buns!" A man, dusted shoulder-to-knuckles in flour, makes pancakes with split hot dogs on a round griddle.
"Camel trains used to end their journey from central Asia
in these dusty streets. Now, scooters zip by on the pavement."
I wind my way to the Drum Tower, the imposing 15th-century structure where servants used to beat the hours. (Now, 10- minute demonstrations happen throughout the day.) A sunny flagstone plaza stretches between the lantern-shaped building and its humbler mate, the Bell Tower.
On Gulou street, which skirts the south side of the tower, the atmosphere changes; the alleys give way to a strip of fashionable cafés and bars. A pink-haired girl in gothic schoolgirl attire marches into a shop specializing in vampire paraphernalia. A tattooed man rushes by clutching a mandolin. Outside a guitar store a group of overheated guys roll their shirts up to expose their bellies—the Beijing bikini— causing a young hipster couple to hop off the sidewalk to avoid them.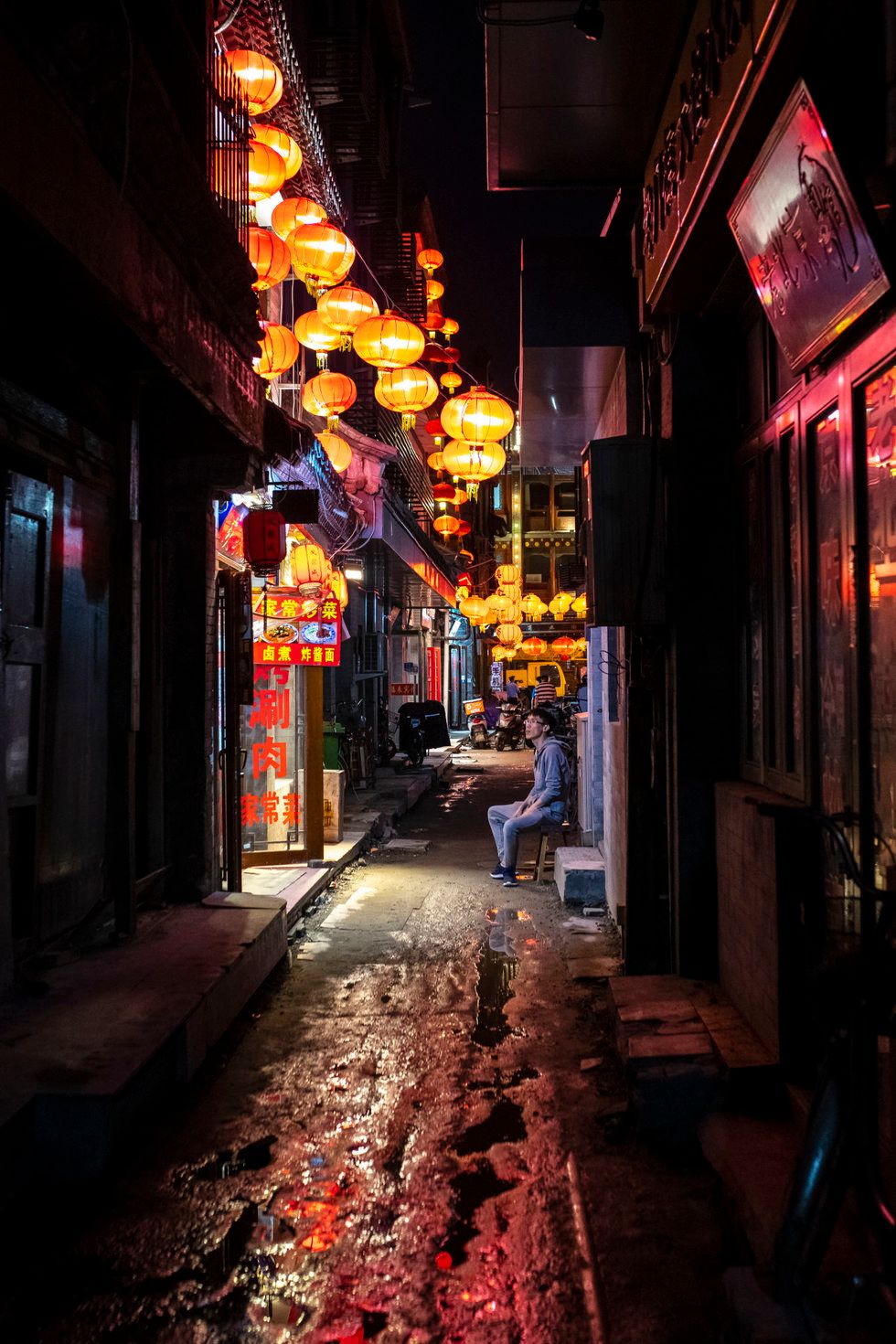 A lantern-filled back alley
From here, I catch a cab to the diplomatic district, Sanlitun. Less punk-rock than Gulou, this once-seedy bar district is where the smart set now goes to eat American barbecue and shop at the Apple store. I get a table at Moka Bros, a health-food eatery in a multistory plaster edifice that feels like a slice of Barcelona. While sipping a flaxseed and beet smoothie and nibbling a radish-salmon poke bowl with lime-ponzu sauce, I eavesdrop on a Westerner in wraparound shades speaking Mandarin to his girlfriend: "That's how you earn money. It's not bad or good—it's just how it works."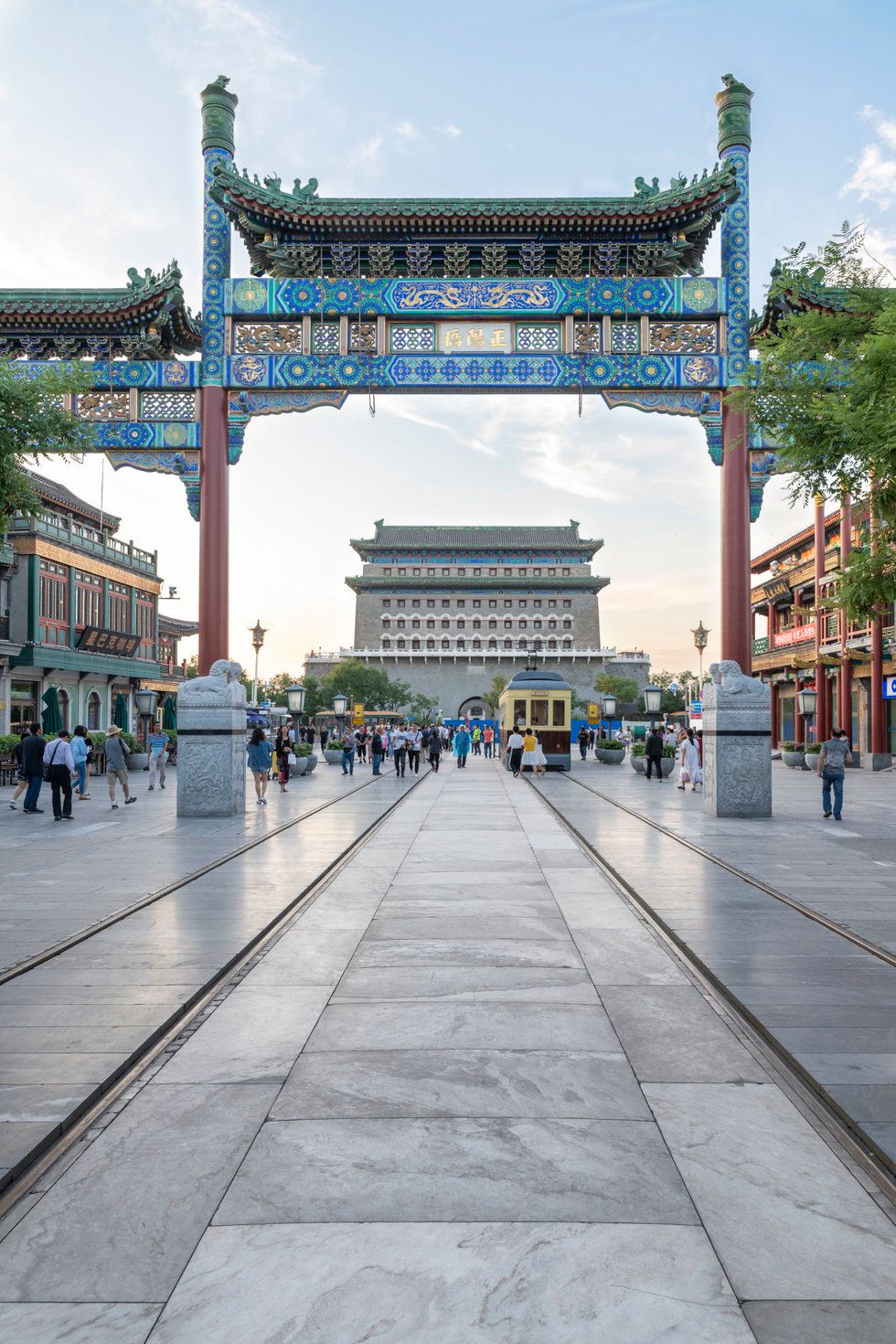 A gate in the city's historic wall
After lunch, I stroll a quiet street lined with neon pink and lavender flower boxes, then head into LLJ Jiaji Zhan, a storefront with more than 50 claw machines filled with dolls and stuffed animals. One has a zombie boy named "My Immortal Buddy." Another offers "Gon's Marmot." The machines don't accept cash, only payments through scanned QR codes, so I settle for watching a slew of kids vie for prizes.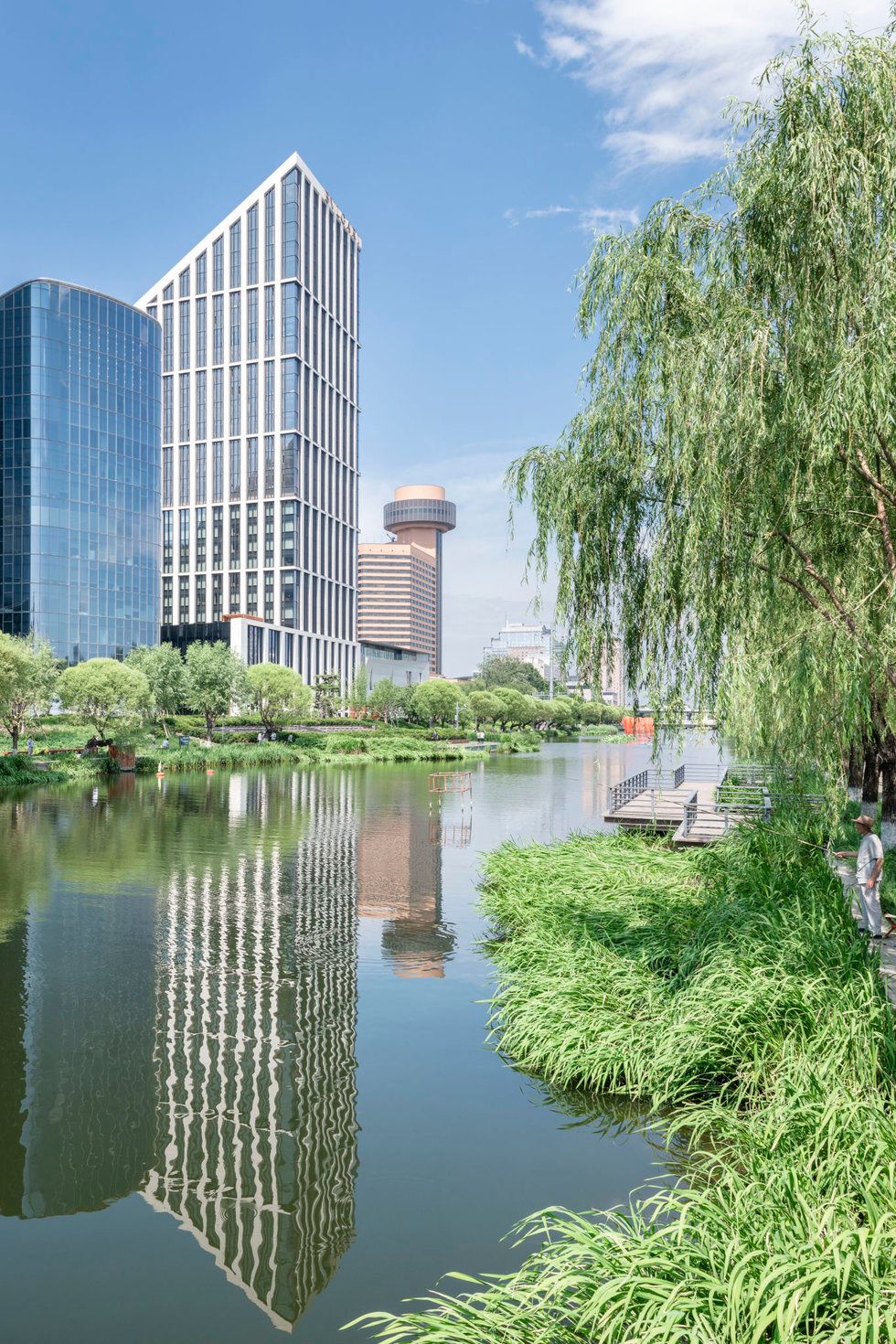 Modern towers along the Landmark River
For more fun, I head off to Wujin—or "Hardware Store"—a tiny, 10-person space that's part indie book- store, part restaurant, and is hosting a zine launch. As I sip a spicy ginger carrot juice, I strike up a conversation with a platinum-haired expat named Kendra Schaefer. Over a decade ago, she accepted a bet with her father to go to a monastery in rural China to study Shaolin kung fu (despite speaking no Mandarin), and she now works here as a web designer. She tells me she loves this city for its "surrealism": "In Beijing, you walk out your door and trip over a guy with a three wheeled Jetsons-like vehicle he made in his yard to transport a ton of Pomeranians."
I'm all kitsched-out, and it's time for dinner. I've signed up for a local food tour, Lost Plate, which meets by the Lama Temple, the city's most spectacular Buddhist sanctuary. Dating to the 18th century, it's the largest Tibetan holy site outside of Tibet. The roof tiles blaze gold in the setting sun. Pilgrims in crimson robes shuffle out, debating where to eat.
Luckily, I don't have to worry about that. Outside the temple I spot the Lost Plate guide, an energetic young woman from Hubei named Icy, and a group of tourists from around the world. Leading us toward a trio of waiting tuk-tuks, Icy opens a cooler filled with cans of beer: "Who's thirsty?"
"In Beijing, you'll see a three wheeled Jetsons- like vehicle made to transport a ton of Pomeranians."
I ride in a tuk-tuk with a Danish couple, who rave about the food scene in their country. "Sometimes it's too trendy, though," the woman says. "One day I was eating a cake, and inside it had ants."
The evening is a swirl of splendid hole-in-the-wall eateries. We eat hot Hubei noodles with pickled veggies in a teddy-bear themed restaurant, Mongolian hotpot in an unmarked shop, and a deep- fried hamburger nicknamed "the doornail," due to its resemblance to the Forbidden City's huge brass door studs.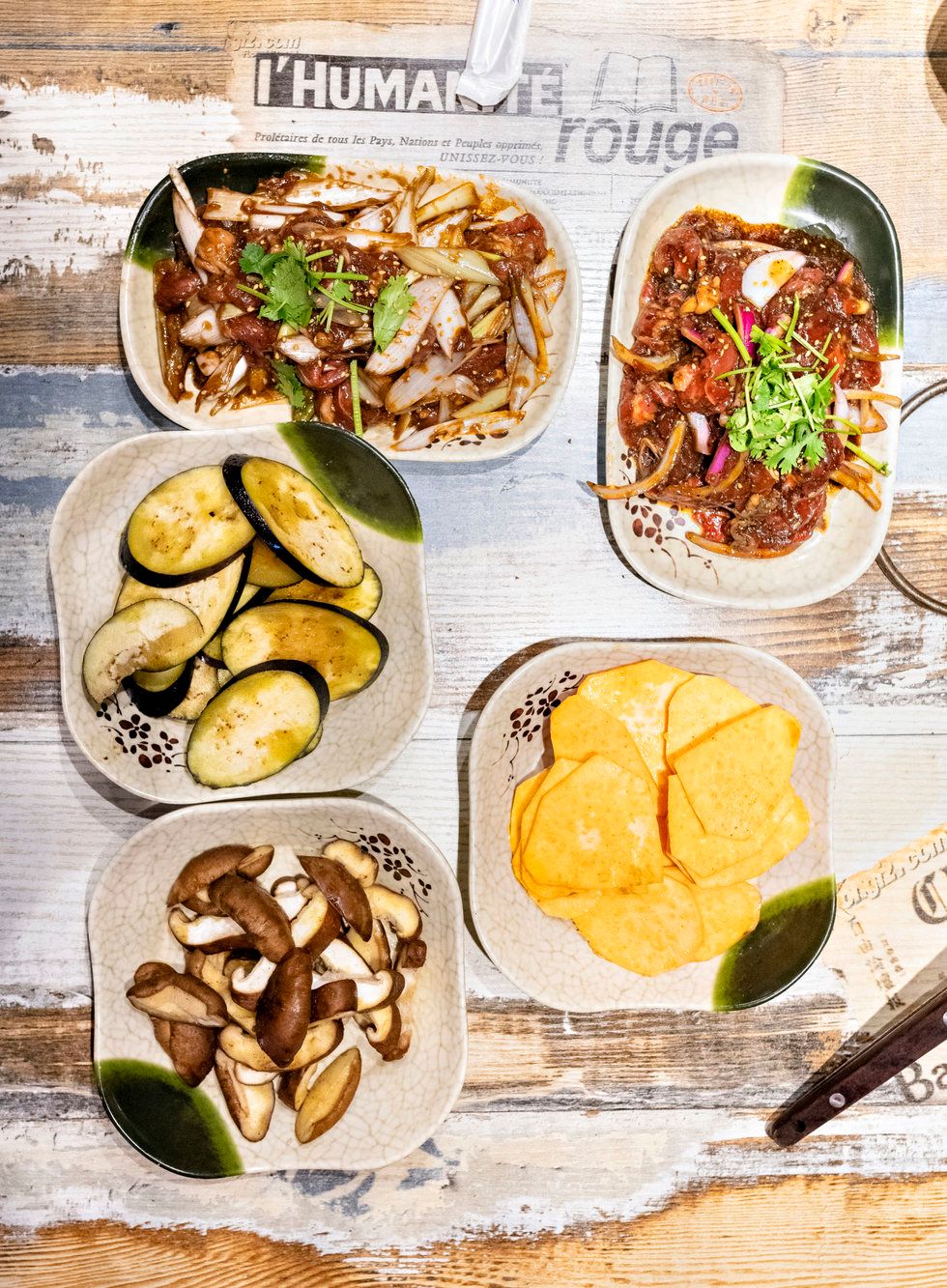 A few of the many traditional dishes enjoyed during a Lost Plate tour
Belly full, I bid farewell to Icy and the Danish gourmands and go to Temple Bar, a dive known for its cheap drinks and loud shows. A staple of Beijing's heavy metal scene, it has a dungeony feel with steel floors and black walls. Two chalkboards list dozens of $4 cocktails: Super Mario, Brain Teaser, Red Lobster. A band breaks into a set of prog-rock jams. Three locals in paisley shirts, one on a crutch, approach the stage and attempt to dance to the angular rhythms. A girl in what appears to be a pink clown outfit begins to sway. I think about something Schaefer said to me earlier: "In Beijing, you never have to make your own fun."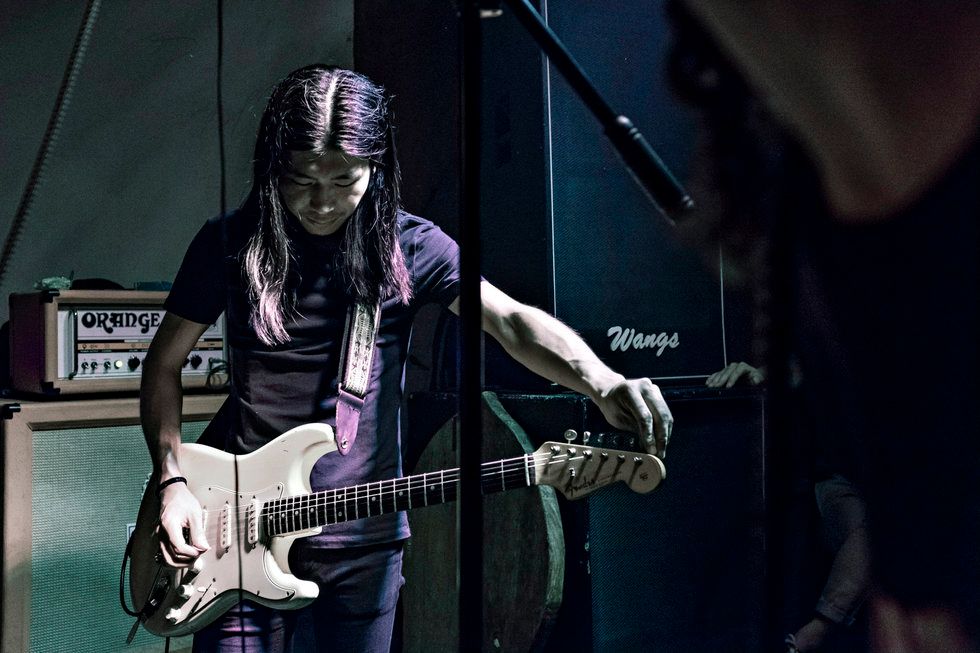 A rock musician tunes up at Temple Bar
Very true, but now it's time for me to head to the Brickyard, a boutique hotel an hour north of the city center. I have a big day planned and could use a full night's sleep.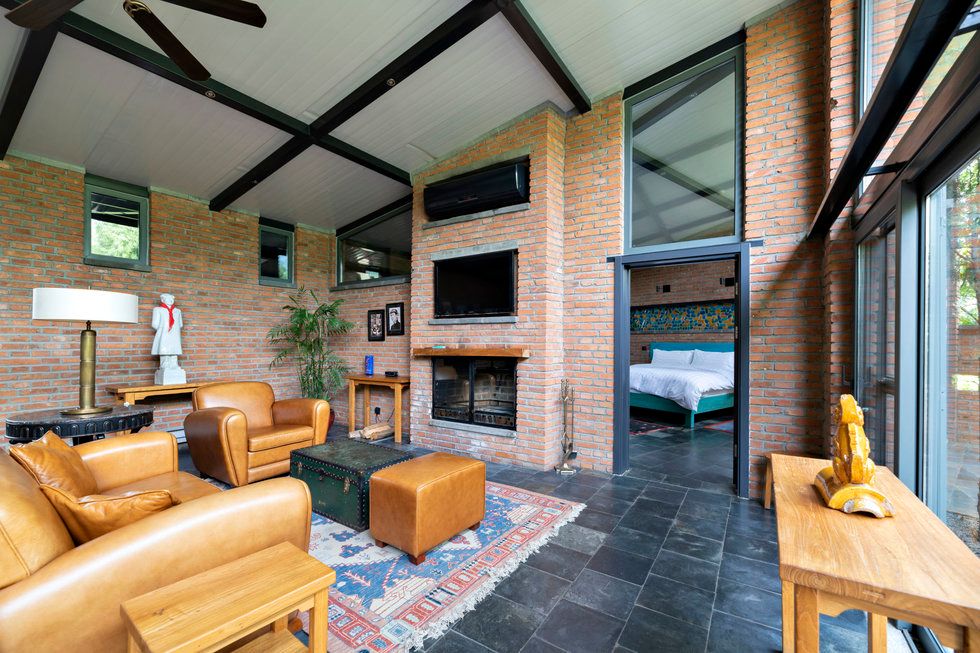 The boutique Brickyard hotel
Day 3
I'm woken at dawn by sunlight blazing through the floor-to-ceiling windows. Fortunately, the view is stunning: green-carpeted mountains, rolled out in layers of translucent color, like a Renaissance painting. Scrolling across the top is an undulating gray wall. Yes, that wall.
The Great Wall was the ultima Thule of the ancient Chinese world. Beyond this barrier, emperors believed, the world descended into chaos and barbarism. Construction started in 220 BC and continued intermittently over 13 dynasties. Today, the structure winds some 5,500 miles, from the east of China to the lands of the Silk Road in the west. This section, near Beigou village, dates back more than 400 years, when it was constructed at phenomenal expense to keep Manchu invaders at bay. (It failed, of course: The Manchus swept through gaps in the wall and conquered Beijing in 1644, making the Wall the most magnificent monument to failed intentions in human history.)
Pocketing a banana for breakfast, I set off to get a closer look. The route to the wall winds through Beigou, a picturesque village shaded with chestnut trees. After a short walk through Beigou's manicured courtyard homes, I begin the ascent. It's a straight shot up from the town square to Mutianyu, a pretty, well-kept portion of the Great Wall. After climbing for an hour, exhausted and sticky, I pause under a tree and silently fume at a couple as they climb into an air-conditioned car they hired to ferry them up. I briefly consider a Lord of the Flies–style attack; barbarism and chaos already feel close at hand.
On the last stretch, the path grows steep and rocky. Then, just as I'm contemplating sitting down and refusing to move ever again, the trees part, and I am at the base of the wall. I try to enter a watchtower on the wall via the doorway, only to find that it is welded shut. A burly police officer leads me to another part of the wall, where for a small fee he hauls me over the six-foot-high battlements.
"Green-carpeted mountains roll out in layers. Scrolling across the top is an undulating gray wall. Yes, that wall."
The view from up here is breathtaking. Mountains lie on all sides like coiled serpents, and the wall rises and falls in defiance of gravity, with one section soaring like an M.C. Escher staircase to a gatehouse 150 feet above us. Gazing up, I see two terrified tourists descending it on their bottoms. One good look at the mountains surrounding us, and it's clear why the wall failed: Any barbarians who got this high would not be stopped by an extra 10 feet of brick. Still, it's a spectacular piece of superfluous engineering.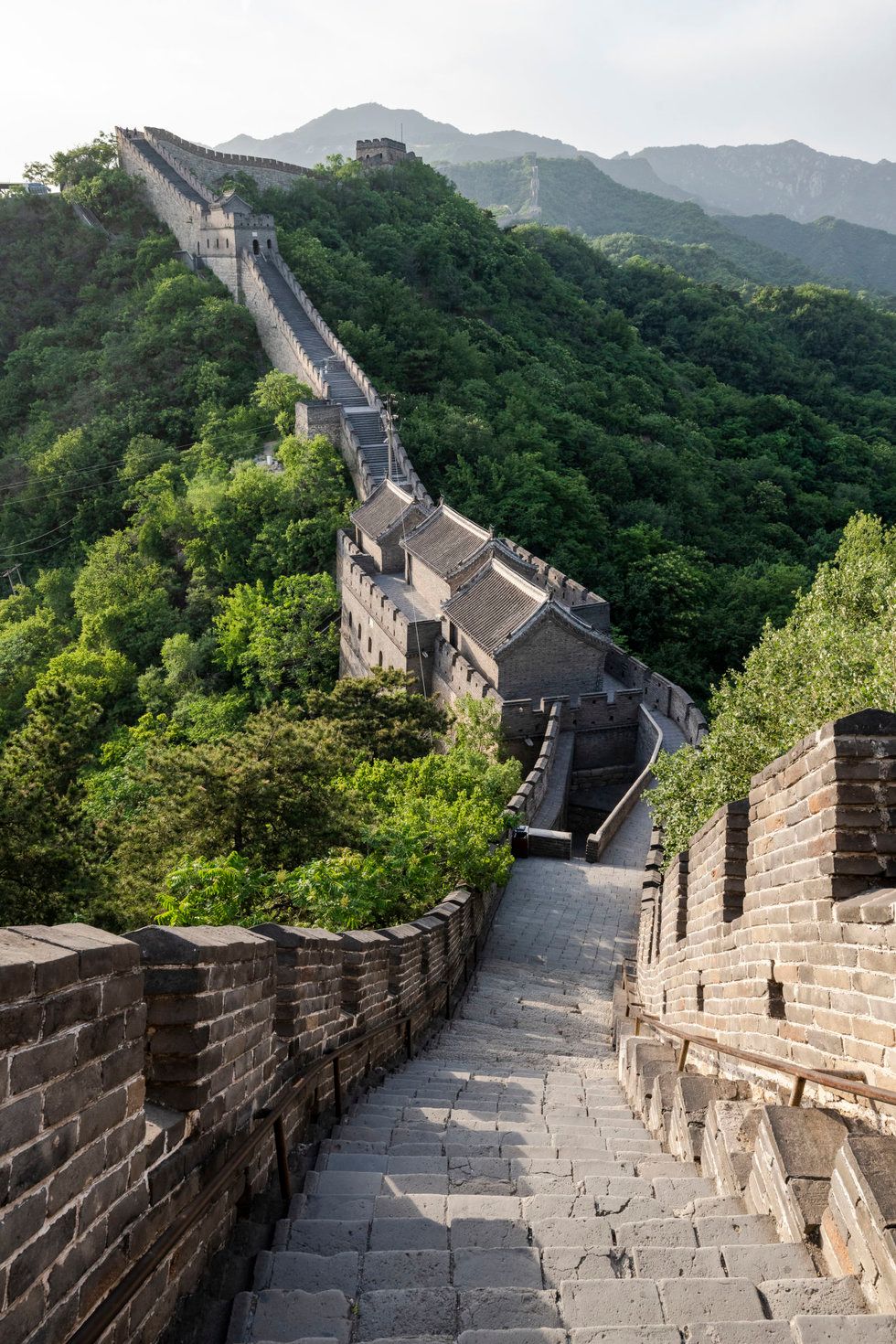 A section of the Great Wall, built more than 400 years ago to keep out Manchu invaders
Tourists gasp in five languages around me; a little Chinese boy, fearless, does a dance routine by the crenellated edge while his mother films him. A man works the controller for a drone that whines above us. A scholarly fellow gazes at the landscape and, with an air of profundity, spits into the abyss. On the way down, men from the village carefully sweep the "forbidden" path with grass brooms.
Lunch is back at the Brickyard. Raj, the hotel manager, seats me in the courtyard, where I can admire the mountain I've just climbed. Out comes a bowl of cabbage and black chestnuts with roasted pork, then a brie salad garnished with green raisins from Xinjiang. At last comes rainbow trout, succulent and bold, with fried garlic confit and pesto. When Raj offers homemade caramel ice cream, I do not refuse.
Next, it's time for some shopping, at Panjiayuan, Beijing's most boisterous bazaar. Located on the city's south side, about an hour and a half from the Great Wall by car, the market is a magnet for antiques collectors—and even more so for those who want cheap replicas. It spreads over several acres and is divided into aisles by specialty: jade bangles, calligraphy, scroll paintings, coins, chests, fans, rocks that look like meat, paintings of Tibetan mastiffs, Communist statuettes, agate beads, dried walnuts shaped like little brains to roll around one's palms for circulation. "Old Marx, Old Mao, Old Xi, they're three great men!" hollers a vendor selling political paintings. She points at a yellow fan. "Take it to your office—inspire the people around you!"
I decline the offer, but decide that all this walking has put me in the mood for an aperitif. A taxi and a tuk-tuk ride later, I'm at Great Leap Brewing, nestled in the buzzing hutong courtyard of Beijing's original craft beer maker, sipping a Sichuan peppercorn–infused ale. A table of expats nearby raises a toast to a couple departing the city, and I feel a pang of secondhand nostalgia.
For dinner, I have decided to go west, opting for the cuisine of the Uighur people, the Turkic minority of China who once manned the Silk Road trade routes. The restaurant, Xinjiang Bayi Laoye, is massive, garish, and packed. The decor calls to mind a sort of Central Asian Turkish Caesars Palace: a glitzy front desk, amber-crystal chandeliers, faux stained glass windows. The ceiling is painted with the Milky Way.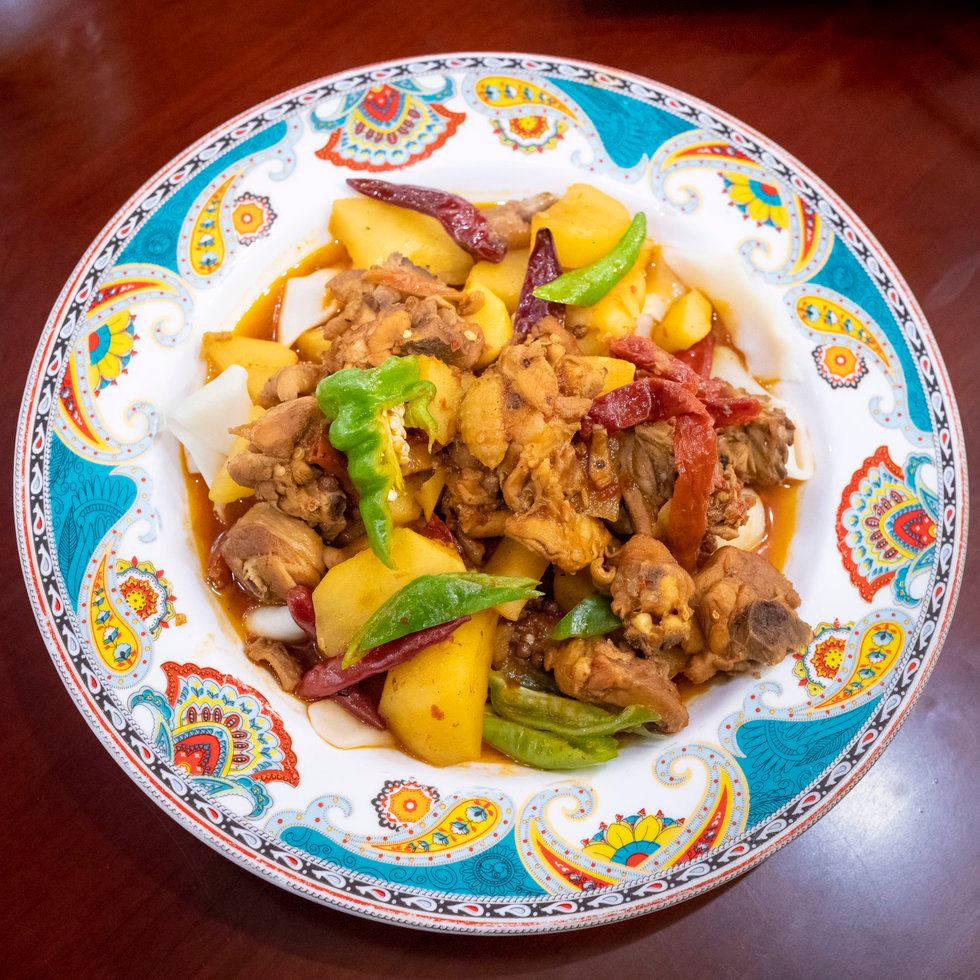 Uighur food at Xinjiang Bayi Laoye
I befriend an American factory manager who is traveling to Shandong to negotiate the sale of boiler fittings. We order a series of dishes: big-plate chicken; noodle squares; lamb on rose wood skewers; and heaps of WuSu beer. Even the teapot, filled with subtle cardamom-flavored tea, has a sort of Atlantic City extravagance: It resembles a big brass turtle shell.
I briefly join a group of boisterous young men shouting "Bottoms up!" over shots of baijiu, the potent liquor of choice in north China. (It's actually the best-selling liquor in the world). I down a glass, and the burn in my throat spells instant regret.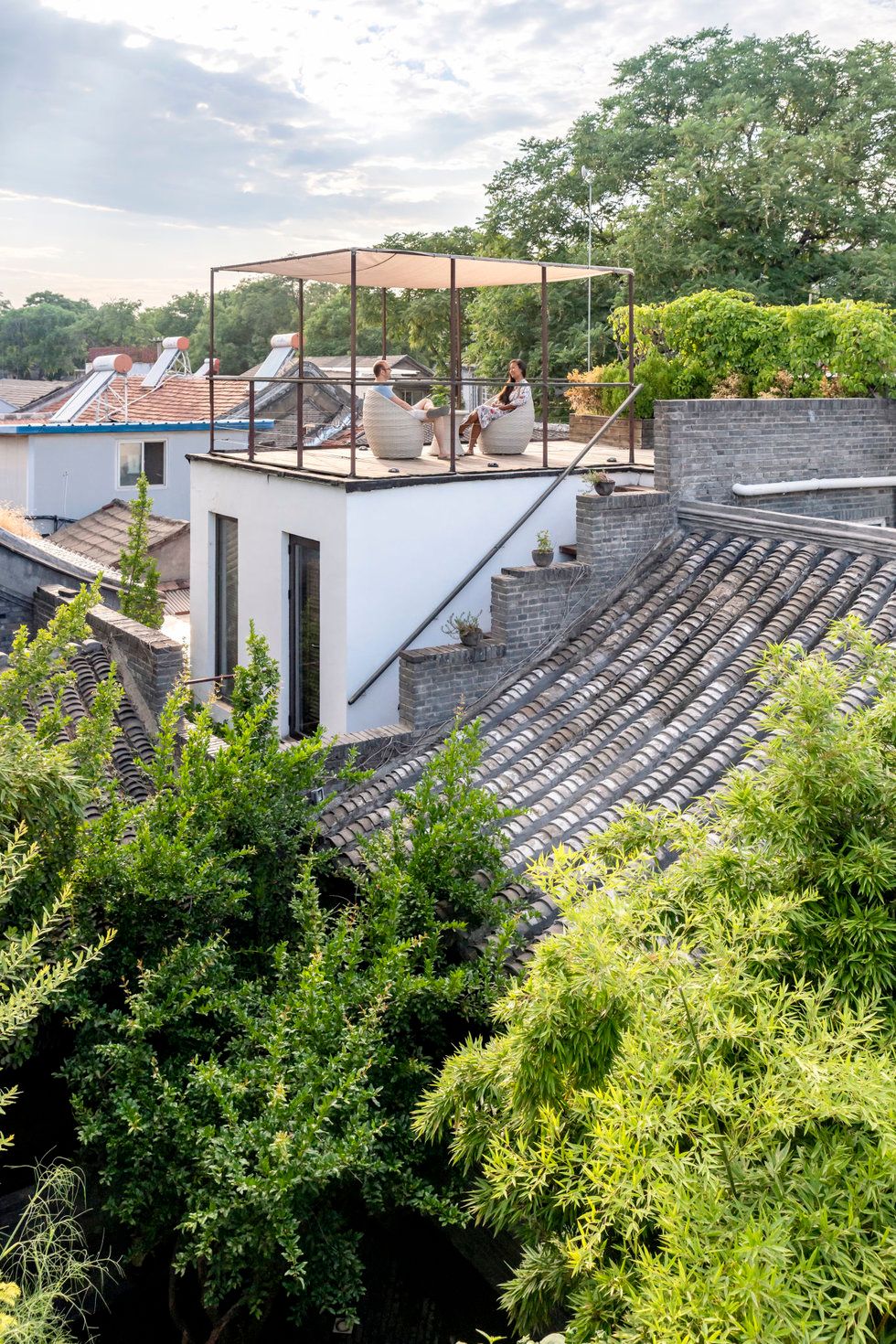 The roof of the Orchid, a boutique hotel hidden in a hutong
The evening spirals out to the Blue Stream Bar, a short bike ride away. It's a cozy joint by the Drum Tower, a low-beamed single room with wood pillars and an intimate stage. I walk inside looking like I've had one too many baijiu (which is one baijiu), get an ice cream, and watch a cross-cultural band take the stage. Someone explains that the band's name, Eluvium, is supposed to represent a cycle of exhaustion and replenishment.
Before long, a petite woman begins hammering out a gnarly pentatonic melody on the yangqin dulcimer, while a singer in denim pulls out a keytar and the drum enters with a pounding 7/4 beat. I eat my ice cream thinking about replenishment, as the music sweeps upward, out past the seventh ring road of Beijing, into the mountains.
Right now, around the world, brave members of America's armed forces are on duty, defending our freedom and upholding our values.
When not laser-focused on the mission at hand, they're looking forward to the day when their service to our nation is fulfilled and they can reunite with their families.
They are also imagining how they can use their hard-earned skills to build an exciting, rewarding and important career when they return home.
I want them to look no further than United Airlines.
That's why we are focused on recruiting, developing and championing veterans across our company, demonstrating to our returning women and men in uniform that United is the best possible place for them to put their training, knowledge, discipline and character to the noblest use.
They've developed their knowledge and skills in some of the worst of times. We hope they will use those skills to keep United performing at our best, all of the time.
That's why we are accelerating our efforts to onboard the best and the brightest, and substantially increasing our overall recruitment numbers each year.
We recently launched a new sponsorship program to support onboarding veterans into United and a new care package program to support deployed employees. It's one more reason why United continues to rank high - and rise higher - as a top workplace for veterans. In fact, we jumped 21 spots this year on Indeed.com's list of the top U.S workplaces for veterans. This is a testament to our increased recruiting efforts, as well as our efforts to create a culture where veterans feel valued and supported.
We use the special reach and resources of our global operations to partner with outstanding organizations. This is our way of stepping up and going the extra mile for all those who've stepped forward to answer our nation's call.
We do this year-round, and the month of November is no exception; however, it is exceptional, especially as we mark Veterans Day.
As we pay tribute to all Americans who have served in uniform and carried our flag into battle throughout our history, let's also keep our thoughts with the women and men who are serving around the world, now. They belong to a generation of post-9/11 veterans who've taken part in the longest sustained period of conflict in our history.

Never has so much been asked by so many of so few.... for so long. These heroes represent every color and creed. They are drawn from across the country and many immigrated to our shores.

They then freely choose to serve in the most distant and dangerous regions of the world, to protect democracy in its moments of maximum danger.
Wherever they serve - however they serve - whether they put on a uniform each day, or serve in ways which may never be fully known, these Americans wake up each morning willing to offer the "last full measure of devotion" on our behalf.
Every time they do so, they provide a stunning rebuke to the kinds of voices around the world who doubt freedom and democracy's ability to defend itself.
Unfortunately, we know there are those who seem to not understand – or say they do not - what it is that inspires a free people to step forward, willing to lay down their lives so that their country and fellow citizens might live.
But, we – who are both the wards and stewards of the democracy which has been preserved and handed down to us by veterans throughout our history – do understand.
We know that inciting fear and hatred of others is a source of weakness, not strength. And such divisive rhetoric can never inspire solidarity or sacrifice like love for others and love of country can.
It is this quality of devotion that we most honor in our veterans - those who have served, do serve and will serve.
On behalf of a grateful family of 96,000, thank you for your service.
Humbly,
Oscar


Each year around Veterans Day, Indeed, one of the world's largest job search engines, rates companies based on actual employee reviews to identify which ones offer the best opportunities and benefits for current and former U.S. military members. Our dramatic improvement in the rankings this year reflects a stronger commitment than ever before to actively recruiting, developing and nurturing veteran talent.
"We've spent a lot of time over the past 12 months looking for ways to better connect with our employees who served and attract new employees from the military ranks," said Global Catering Operations and Logistics Managing Director Ryan Melby, a U.S. Army veteran and the president of our United for Veterans business resource group.
"Our group is launching a mentorship program, for instance, where we'll assign existing employee-veterans to work with new hires who come to us from the armed forces. Having a friend and an ally like that, someone who can help you translate the skills you picked up in the military to what we do as a civilian company, is invaluable. That initiative is still in its infancy, but I'm really optimistic about what it can do for United and for our veteran population here."
Impressively, we were the only one of our industry peers to move up on the list, further evidence that we're on a good track as a company.
The question of where David Ferrari was had haunted retired U.S. Army Sergeant Major Vincent Salceto for the better part of 66 years.
Rarely did a week go by that Salceto didn't think about his old friend. Often, he relived their last moments together in a recurring nightmare. In it, it's once again 1953 and Salceto and Ferrari are patrolling a valley in what is now North Korea. Suddenly, explosions shatter the silence and flares light up the night sky.
Crouching under a barrage of bullets, Salceto, the squad's leader, drags two of his men to safety, then he sees Ferrari lying face down on the ground. He runs out to help him, but he's too late. And that's when he always wakes up.
Italian Americans from opposite coasts – Salceto from Philadelphia, Ferrari from San Francisco – the two became close, almost like brothers, after being assigned to the same unit during the Korean War. When Ferrari died, it hit Salceto hard.
"After that, I never let anyone get close to me like I did with Dave," he says. "I couldn't; I didn't want to go through that again."
When the war ended, Salceto wanted to tell Ferrari's family how brave their son and brother had been in battle. Most of all, he wanted to salute his friend at his gravesite and give him a proper farewell.
For decades, though, Salceto had no luck finding his final resting place or locating any of his relatives. Then, in June of this year, he uncovered a clue that led him to the Italian Cemetary in Colma, California, where Ferrari is buried.
Within days, Salceto, who lives in Franklinville, New Jersey, was packed and sitting aboard United Flight 731 from Philadelphia to San Francisco with his wife, Amy, and daughter, Donna Decker, on his way to Colma. For such a meaningful trip, he even wore his Army dress uniform.
That's how San Francisco-based flight attendant Noreen Baldwin spotted him as he walked down the jet bridge to get on the plane.
"I saw him and said to the other crew members, 'Oh my goodness, look at this guy,'" she says. "I knew there had to be a story."
The two struck up a conversation and Salceto told Baldwin why he was traveling. She got emotional listening to him talk and made a point of fussing over him, making sure he and his family had everything they needed.
About halfway through the flight, Baldwin had an idea. She and her fellow crew members would write messages of encouragement to Salceto and invite his fellow passengers to do the same.
"We did it discreetly," says Baldwin. "I asked the customers if they saw the man in uniform, which most had, and asked them if they wanted to write a few words for him on a cocktail napkin. A lot of people did; families did it together, parents got their kids to write something. After the first few rows, I was so choked up that I could barely talk."
When Baldwin surprised Salceto with dozens of hand-written notes, he, too, was speechless. He laid the stack on his lap and read each one. At the same time, the pilots made an announcement about the veteran over the loud speaker, after which the customers on board burst into applause.
"It seems contrived, and I hate using the word organic, but that's what it was; it just happened," Baldwin says. "Mr. Salceto was so loveable and humble, and what he was doing was so incredible, it felt like the right thing to do. And you could tell he was touched."
On June 27, Salceto finally stood before Ferrari's grave and said that long-awaited goodbye. As a trumpeter played "Taps," he unpinned a medal from his jacket and laid it reverently on the headstone.
"I had gotten a Bronze Star for my actions [the night Ferrari died] with a 'V' for valor, and that was the medal I put on Dave's grave," says Salceto, pausing to fight back tears. "I thought he was more deserving of it than I was."
For the first time in years, Salceto felt at peace. His mission was accomplished.
Scroll to top