Three Perfect Days: Beijing
Story by Benjamin Carlson | Photography by Aurēlien Foucalt | Hemispheres, August 2018
Beijing is a bit like the Ptolemaic model of the world: ancient, encircled by rings, and once regarded as the center of the universe. China's political heart since Mongol conquerors made it their capital in the 13th century, the city has gone through countless transformations—from dusty outpost to glitzy megalopolis—while remaining the country's gravitational core. It's a place where politics reign but punk rock thrives in the cracks, a hub of high- tech innovation whose people still abide by ancient mores. In short, Beijing is the most vivid embodiment of the old truism about China: that it is an immense place of immense contradictions—not so much the center of the universe but a universe in itself.
The Jade Belt Bridge at the Summer Palace
Day 1
If Beijing has a magnetic core, it's here: a mile east of the Forbidden City, where emperors once rode in palanquins and where the new elite buzz about in Maseratis and McLarens. I, however, opt for two wheels—a bicycle courtesy of the friendly concierge at The Peninsula, where I'm staying. A Chinese guest in a bow tie and rhinestone-studded sneakers waiting in the lobby seems puzzled by the sight of a bike being wheeled out and offers to share a cab.
A moat at the Forbidden City
Undeterred, I cycle to a street lined with poplar trees and rose bushes, where I soon find myself surrounded by people pedaling in the same direction, including a fleet of six beefy men on identical blue bikes. I take a right-hand turn and the road widens. This is Chang'an Avenue (aka Eternal Peace Street), a 10-lane stretch running between Tiananmen Square and the Forbidden City. I pull over beside a huge portrait of Mao Zedong, intrigued by the scale of the image and by Mao's orange-ish skin tone, like a bad spray-tan. "No stop- ping," a nearby guard suggests in Mandarin. "Keep moving!"
"The Forbidden City, with its majestic golden- capped pavilions, was designed to shock and awe."
Once I make it through the block-long line for security at the Forbidden City I head into a waiting area, where a vendor stands over a pile of gold hats with built-in pigtails. I ask if they are for eunuchs, and he frowns. "Only emperors wear those. We don't sell hats for eunuchs!"
Vendors on Qianmen commercial street
The Forbidden City— with its gargantuan Hall of Supreme Harmony and 180 acres of courtyards, palaces, and majestic golden-capped pavilions—was designed to shock and awe. Even today, in a city bristling with extravagant skyscrapers, it does the job. I pass into the inner sanctum, a courtyard that used to be off limits to every- one but the emperor. After a minute alone in this vast and strangely discomfiting space, I edge toward a provincial tour group, just for the company.
By the time I leave—the Forbidden City is like Ikea; you have to walk through the whole thing to get out—I'm not only humbled but famished. For lunch, I've arranged to meet American expat Patrick Rhine, the director of research at the Ullens Center for Contemporary Art, at the small Hunanese restaurant Blessed Events. The air inside is sour and pun- gent. I ask Rhine about the smell, and he replies, "What smell?" When my order of rice noodles and pork arrives, I understand: The bowl is full of fermented pickles. They are, I find, much more pleasant in the mouth than the nose. The pork chunks are sweet and fatty, the rice noodles slippery, the soup hot and sour.
A carved dragon at the Forbidden City
Afterward, we wander over to Art District 798, a block of Bauhaus-style factories that's been refurbished into a hub of quirky shops, high-minded galleries, and bizarre installations. "This place used to be a lot cheesier—lots of over- priced, tacky chinoiserie," Rhine says as we walk through the complex. "There are at least three ocarina shops within 100 meters of us now, and I don't know why."

A portrait of Mao Zedong at the Forbidden City
We pass a stack of dinosaur statues in cages, and a space where an artist has jabbed a potato with a bent fork and placed it in a bowl. "It's a commentary on the failure of Western culture, I think," explains a nice young lady in octagonal spectacles. She points to a dish filled with dark liquid and two clay beads. "This one's called Bubba and Forrest Go Home."
It can be tough to tell what's tongue-in-cheek at 798, but there are no such ambiguities across the street at China Cow Parade Park, which sells weird cow statues and displays a wall-size, military-style map showing the shop's 10-year plan for carpeting China in stores. "There's weird random stuff constantly going on," Rhine says. He points to a blocked-off side street. "The North Korean government has a sculpture house there. And over there," he points again, "the other week they had pig wrestling."
I bid Rhine goodbye and head off to another section of 798, where the M Woods museum is showing an exhibit of videos by the Los Angeles artist Paul McCarthy. At the door, an attendant demands proof that I'm 18. It quickly becomes clear why. In one video clip, a man in an Alfred E. Neuman mask is assaulting a five-gallon ketchup bottle— and it gets a lot more transgressive than this. Time to call it a day.
Duck foie gras ravioli at Jing
Fortunately, there are no five-gallon ketchup jugs at Jing, the Peninsula hotel's elegantly subdued French restaurant. The brainchild of chef Julien Cadiou, brought to Beijing by way of Hong Kong, it offers exquisite renditions of dishes tailored to the comfort food–oriented palate of China. I order wildly: wasabi big eye tuna and wagyu beef tartare with quail egg yolk; duck foie gras ravioli in vegetal consommé; a succulent lobster cavatelli; chicken thigh with a mushroom-foam garnish and a hazelnut red wine reduction.
In need of a nightcap, I order a cocktail at The Lobby lounge. A waiter brings a Manhattan as a jazz band takes the stage. "I wish you bluebirds in the spring," the alto sings, looking me in the eye. "I set you free-e-e-e."
I take that as my cue to go to bed.
The restaurant's lavish entrance
Day 2
It's morning, and I'm walking through Baochao hutong, a leafy alleyway that feels like a time capsule. I watch a woman pulling laundry along a line while another empties a bucket with a soft splash. The cry of a knife-sharpener echoes through the alley. I stop at a roadside cart for a Shandong-style jianbing, a fresh-made crepe with a filling of spicy egg, pickled vegetables, and spring onions.
Centuries ago, camel trains used to end their journey from central Asia in these dusty streets. Now, scooters zip by on the pavement, but the ambience is otherwise unchanged. The Drum Tower (or Gulou, pronounced "goo-low") still stands at the center of the city's biggest unbroken hutong block, a labyrinth of picturesque alleyways that date to the 13th-century Yuan dynasty and are dotted with traditional courtyard homes. Passing piled bicycles and half-open doors, I encounter four elderly aunties and an uncle in a Panama hat who are seated on stools, watching the hutong as if it were TV. I wave hello, and they watch impassively, much as you would if a TV character waved.
Sampling Beijing's culinary delights by tuk-tuk on a Lost Plate tour
I soon understand why they spend their days watching the street. An old man walks by swinging two cages with shrieking parakeets; a girl in a watermelon crinoline dress poses for a cameraman while her friend in a lemon crinoline dress adjusts her bangs. Nearby, a little boy in split-bottom pants draws a chalk spaceship on the ground; his mother asks, "Do you love to eat?" He thinks a moment and replies, "I love to eat meat buns!" A man, dusted shoulder-to-knuckles in flour, makes pancakes with split hot dogs on a round griddle.
"Camel trains used to end their journey from central Asia
in these dusty streets. Now, scooters zip by on the pavement."
I wind my way to the Drum Tower, the imposing 15th-century structure where servants used to beat the hours. (Now, 10- minute demonstrations happen throughout the day.) A sunny flagstone plaza stretches between the lantern-shaped building and its humbler mate, the Bell Tower.
On Gulou street, which skirts the south side of the tower, the atmosphere changes; the alleys give way to a strip of fashionable cafés and bars. A pink-haired girl in gothic schoolgirl attire marches into a shop specializing in vampire paraphernalia. A tattooed man rushes by clutching a mandolin. Outside a guitar store a group of overheated guys roll their shirts up to expose their bellies—the Beijing bikini— causing a young hipster couple to hop off the sidewalk to avoid them.
A lantern-filled back alley
From here, I catch a cab to the diplomatic district, Sanlitun. Less punk-rock than Gulou, this once-seedy bar district is where the smart set now goes to eat American barbecue and shop at the Apple store. I get a table at Moka Bros, a health-food eatery in a multistory plaster edifice that feels like a slice of Barcelona. While sipping a flaxseed and beet smoothie and nibbling a radish-salmon poke bowl with lime-ponzu sauce, I eavesdrop on a Westerner in wraparound shades speaking Mandarin to his girlfriend: "That's how you earn money. It's not bad or good—it's just how it works."
A gate in the city's historic wall
After lunch, I stroll a quiet street lined with neon pink and lavender flower boxes, then head into LLJ Jiaji Zhan, a storefront with more than 50 claw machines filled with dolls and stuffed animals. One has a zombie boy named "My Immortal Buddy." Another offers "Gon's Marmot." The machines don't accept cash, only payments through scanned QR codes, so I settle for watching a slew of kids vie for prizes.
Modern towers along the Landmark River
For more fun, I head off to Wujin—or "Hardware Store"—a tiny, 10-person space that's part indie book- store, part restaurant, and is hosting a zine launch. As I sip a spicy ginger carrot juice, I strike up a conversation with a platinum-haired expat named Kendra Schaefer. Over a decade ago, she accepted a bet with her father to go to a monastery in rural China to study Shaolin kung fu (despite speaking no Mandarin), and she now works here as a web designer. She tells me she loves this city for its "surrealism": "In Beijing, you walk out your door and trip over a guy with a three wheeled Jetsons-like vehicle he made in his yard to transport a ton of Pomeranians."
I'm all kitsched-out, and it's time for dinner. I've signed up for a local food tour, Lost Plate, which meets by the Lama Temple, the city's most spectacular Buddhist sanctuary. Dating to the 18th century, it's the largest Tibetan holy site outside of Tibet. The roof tiles blaze gold in the setting sun. Pilgrims in crimson robes shuffle out, debating where to eat.
Luckily, I don't have to worry about that. Outside the temple I spot the Lost Plate guide, an energetic young woman from Hubei named Icy, and a group of tourists from around the world. Leading us toward a trio of waiting tuk-tuks, Icy opens a cooler filled with cans of beer: "Who's thirsty?"
"In Beijing, you'll see a three wheeled Jetsons- like vehicle made to transport a ton of Pomeranians."
I ride in a tuk-tuk with a Danish couple, who rave about the food scene in their country. "Sometimes it's too trendy, though," the woman says. "One day I was eating a cake, and inside it had ants."
The evening is a swirl of splendid hole-in-the-wall eateries. We eat hot Hubei noodles with pickled veggies in a teddy-bear themed restaurant, Mongolian hotpot in an unmarked shop, and a deep- fried hamburger nicknamed "the doornail," due to its resemblance to the Forbidden City's huge brass door studs.
A few of the many traditional dishes enjoyed during a Lost Plate tour
Belly full, I bid farewell to Icy and the Danish gourmands and go to Temple Bar, a dive known for its cheap drinks and loud shows. A staple of Beijing's heavy metal scene, it has a dungeony feel with steel floors and black walls. Two chalkboards list dozens of $4 cocktails: Super Mario, Brain Teaser, Red Lobster. A band breaks into a set of prog-rock jams. Three locals in paisley shirts, one on a crutch, approach the stage and attempt to dance to the angular rhythms. A girl in what appears to be a pink clown outfit begins to sway. I think about something Schaefer said to me earlier: "In Beijing, you never have to make your own fun."
A rock musician tunes up at Temple Bar
Very true, but now it's time for me to head to the Brickyard, a boutique hotel an hour north of the city center. I have a big day planned and could use a full night's sleep.
The boutique Brickyard hotel
Day 3
I'm woken at dawn by sunlight blazing through the floor-to-ceiling windows. Fortunately, the view is stunning: green-carpeted mountains, rolled out in layers of translucent color, like a Renaissance painting. Scrolling across the top is an undulating gray wall. Yes, that wall.
The Great Wall was the ultima Thule of the ancient Chinese world. Beyond this barrier, emperors believed, the world descended into chaos and barbarism. Construction started in 220 BC and continued intermittently over 13 dynasties. Today, the structure winds some 5,500 miles, from the east of China to the lands of the Silk Road in the west. This section, near Beigou village, dates back more than 400 years, when it was constructed at phenomenal expense to keep Manchu invaders at bay. (It failed, of course: The Manchus swept through gaps in the wall and conquered Beijing in 1644, making the Wall the most magnificent monument to failed intentions in human history.)
Pocketing a banana for breakfast, I set off to get a closer look. The route to the wall winds through Beigou, a picturesque village shaded with chestnut trees. After a short walk through Beigou's manicured courtyard homes, I begin the ascent. It's a straight shot up from the town square to Mutianyu, a pretty, well-kept portion of the Great Wall. After climbing for an hour, exhausted and sticky, I pause under a tree and silently fume at a couple as they climb into an air-conditioned car they hired to ferry them up. I briefly consider a Lord of the Flies–style attack; barbarism and chaos already feel close at hand.
On the last stretch, the path grows steep and rocky. Then, just as I'm contemplating sitting down and refusing to move ever again, the trees part, and I am at the base of the wall. I try to enter a watchtower on the wall via the doorway, only to find that it is welded shut. A burly police officer leads me to another part of the wall, where for a small fee he hauls me over the six-foot-high battlements.
"Green-carpeted mountains roll out in layers. Scrolling across the top is an undulating gray wall. Yes, that wall."
The view from up here is breathtaking. Mountains lie on all sides like coiled serpents, and the wall rises and falls in defiance of gravity, with one section soaring like an M.C. Escher staircase to a gatehouse 150 feet above us. Gazing up, I see two terrified tourists descending it on their bottoms. One good look at the mountains surrounding us, and it's clear why the wall failed: Any barbarians who got this high would not be stopped by an extra 10 feet of brick. Still, it's a spectacular piece of superfluous engineering.
A section of the Great Wall, built more than 400 years ago to keep out Manchu invaders
Tourists gasp in five languages around me; a little Chinese boy, fearless, does a dance routine by the crenellated edge while his mother films him. A man works the controller for a drone that whines above us. A scholarly fellow gazes at the landscape and, with an air of profundity, spits into the abyss. On the way down, men from the village carefully sweep the "forbidden" path with grass brooms.
Lunch is back at the Brickyard. Raj, the hotel manager, seats me in the courtyard, where I can admire the mountain I've just climbed. Out comes a bowl of cabbage and black chestnuts with roasted pork, then a brie salad garnished with green raisins from Xinjiang. At last comes rainbow trout, succulent and bold, with fried garlic confit and pesto. When Raj offers homemade caramel ice cream, I do not refuse.
Next, it's time for some shopping, at Panjiayuan, Beijing's most boisterous bazaar. Located on the city's south side, about an hour and a half from the Great Wall by car, the market is a magnet for antiques collectors—and even more so for those who want cheap replicas. It spreads over several acres and is divided into aisles by specialty: jade bangles, calligraphy, scroll paintings, coins, chests, fans, rocks that look like meat, paintings of Tibetan mastiffs, Communist statuettes, agate beads, dried walnuts shaped like little brains to roll around one's palms for circulation. "Old Marx, Old Mao, Old Xi, they're three great men!" hollers a vendor selling political paintings. She points at a yellow fan. "Take it to your office—inspire the people around you!"
I decline the offer, but decide that all this walking has put me in the mood for an aperitif. A taxi and a tuk-tuk ride later, I'm at Great Leap Brewing, nestled in the buzzing hutong courtyard of Beijing's original craft beer maker, sipping a Sichuan peppercorn–infused ale. A table of expats nearby raises a toast to a couple departing the city, and I feel a pang of secondhand nostalgia.
For dinner, I have decided to go west, opting for the cuisine of the Uighur people, the Turkic minority of China who once manned the Silk Road trade routes. The restaurant, Xinjiang Bayi Laoye, is massive, garish, and packed. The decor calls to mind a sort of Central Asian Turkish Caesars Palace: a glitzy front desk, amber-crystal chandeliers, faux stained glass windows. The ceiling is painted with the Milky Way.
Uighur food at Xinjiang Bayi Laoye
I befriend an American factory manager who is traveling to Shandong to negotiate the sale of boiler fittings. We order a series of dishes: big-plate chicken; noodle squares; lamb on rose wood skewers; and heaps of WuSu beer. Even the teapot, filled with subtle cardamom-flavored tea, has a sort of Atlantic City extravagance: It resembles a big brass turtle shell.
I briefly join a group of boisterous young men shouting "Bottoms up!" over shots of baijiu, the potent liquor of choice in north China. (It's actually the best-selling liquor in the world). I down a glass, and the burn in my throat spells instant regret.
The roof of the Orchid, a boutique hotel hidden in a hutong
The evening spirals out to the Blue Stream Bar, a short bike ride away. It's a cozy joint by the Drum Tower, a low-beamed single room with wood pillars and an intimate stage. I walk inside looking like I've had one too many baijiu (which is one baijiu), get an ice cream, and watch a cross-cultural band take the stage. Someone explains that the band's name, Eluvium, is supposed to represent a cycle of exhaustion and replenishment.
Before long, a petite woman begins hammering out a gnarly pentatonic melody on the yangqin dulcimer, while a singer in denim pulls out a keytar and the drum enters with a pounding 7/4 beat. I eat my ice cream thinking about replenishment, as the music sweeps upward, out past the seventh ring road of Beijing, into the mountains.
From near paralyzation to 7-minute miles
Twelve years ago, Dylan Batz couldn't walk or talk. A seizure when he was in the eighth grade robbed him of those motor skills and hospitalized him for two months.
His mom, Denver-based United 737 Captain Suzanne Batz, didn't know if he'd ever walk again.
No one could've predicted what happened next.
Dylan got out of the hospital, eventually re-learning how to walk and talk. Through Special Olympics, he became an avid runner. He hasn't stopped since, having run three marathons and, this past weekend, completing the United Airlines NYC Half Marathon in 1:40. Watch his inspirational story above.
Discover Hilton Head Island
Voted America's favorite island for a reason, Hilton Head has everything you need for the ultimate escape from the real world. Enjoy easy days on one of the many beaches, at one of the world-class golf courses and tennis courts, learning about the rich history or simply adapting to the leisure-paced lifestyle of the locals. The Lowcountry region in South Carolina has something for everyone.
Welcome to Hilton Head.
The basics
The best time to visit and getting around the city
Thanks to its location, it's hard to choose a bad time to visit Hilton Head. Though if you visit in April-May or September-October, you'll notice fewer crowds and temperatures averaging in the mid-70s and 80s. In the spring, the water sport rentals will have just opened for the season, from parasailing to kayaking. If you visit in April, you may be able to catch the RBC Heritage PGA golf tournament. Hilton Head doesn't have your typical fall weather, making it a great time to visit. Summer weather lingers so you can still swim. Because the leaf colors don't change, you can enjoy instead an array of fall colors in the sunset each night.
The only drawback of visiting during the late summer and fall months is hurricane season. Hurricanes and tropical storms rarely hit the island, but they tend to be close enough that the island experiences some rain. If you're visiting around this time, be sure to pack a raincoat.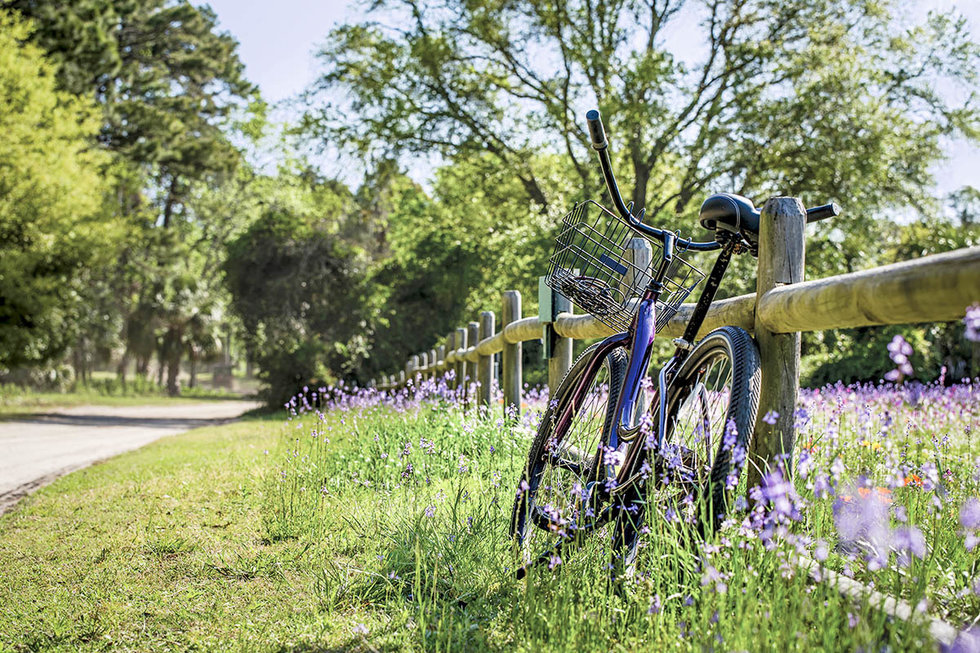 Getting around the city:
The island may be small, but it's still scattered enough that you'll want to bike or drive while exploring the town. There's little to no public transportation. Thanks to its renewed emphasis on environmental tourism, you're sure to notice plenty of bikers and the new bike paths that trace the island. You can rent a bike for around $30 a week. Another option is renting a car. Most attractions are spread out, so having your own car will offer you the most convenience.
Experiences
The town's main attractions are the pristine beaches, golf, with 24 world-class golf courses, and the vibrant history — with the environment at the center of everything.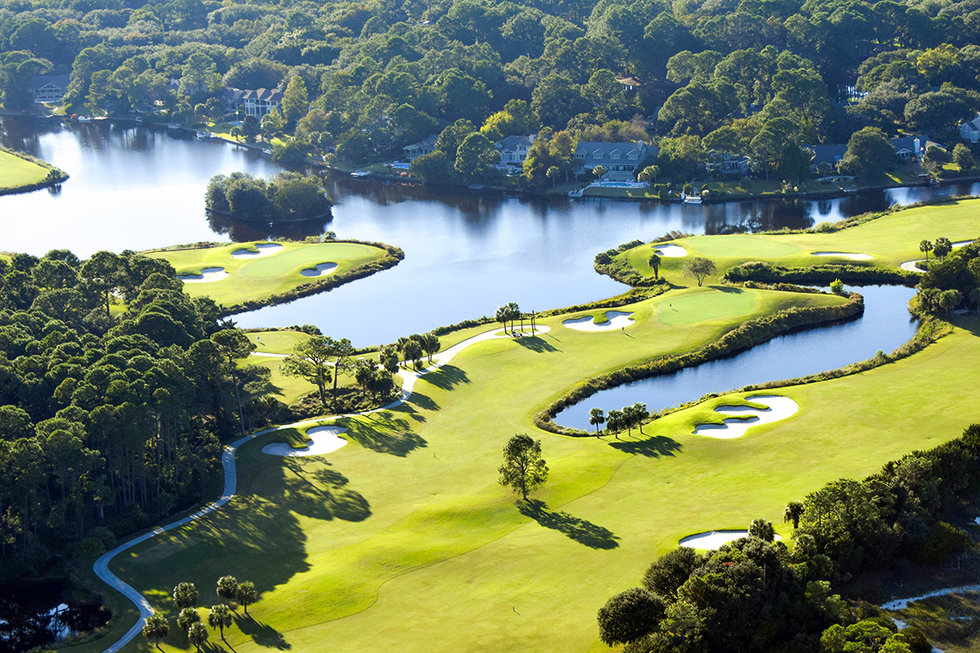 Twelve miles of beaches makes Hilton Head an ideal destination for anyone looking to relax in the sand. One of the most popular beaches is Coligny Beach Park, due to its location and the multiple beach bars that line the water. If you're looking for beaches that are a little less touristy and more secluded, make your way over to Adler Lane or Burkes Beach.
This island is a golfer's paradise, which is why many flock to here to tee off and test out their skills on one of the many championship courses. If golf isn't your sport, perfect your backhand at one of the 350 tennis courts on the island instead.
If you're looking to do a little more than relax on the beach or play a round of golf, spend the day in the charming Harbour Town. Visit the 90-foot red-and-white striped lighthouse that offers incredible views of the water and town from the top. And if you have the time, head over to the marina and embark on a dolphin viewing tour.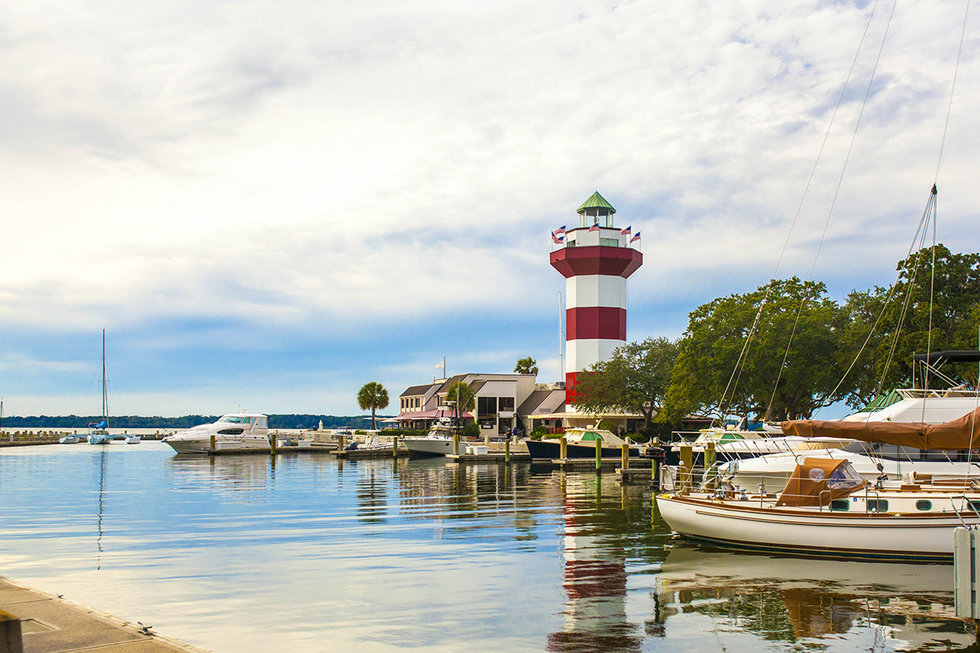 Learn more about the South Carolina's Lowcountry at the Coastal Discovery Museum. Here you'll gain an understanding of the region's history and interesting ecology. Wander through the butterfly enclosure, take a tour to learn about the marine life or visit the wild horses of the island left by Spaniards many centuries ago. Those who also love to explore and experience wildlife first hand should visit Pinckney Island National Wildlife Refuge, about a half mile from Hilton Head.
Food & drinks
Being on the water, it makes sense that seafood is a staple item for restaurants in this town. From high end dining to local favorites, you'll have plenty of restaurants to choose from. If you're looking to enjoy a nice dinner on the water at sunset, check out Old Oyster Factory, Hudson's Seafood House on the Docks and ELA's. With a contemporary feel, live music and a chic bar, this award-winning restaurant in Shelter Cove Harbour is perfect for a casual dinner or a romantic evening out. No table disappoints at Hudson's because they all offer incredible views of Port Royal Sound. By employing one of the only two remaining fishing fleets on Hilton Head, you're guaranteed fresh seafood truly brought from sea to table. Many of these restaurants on the water can book up quickly so be sure to make reservations in advance.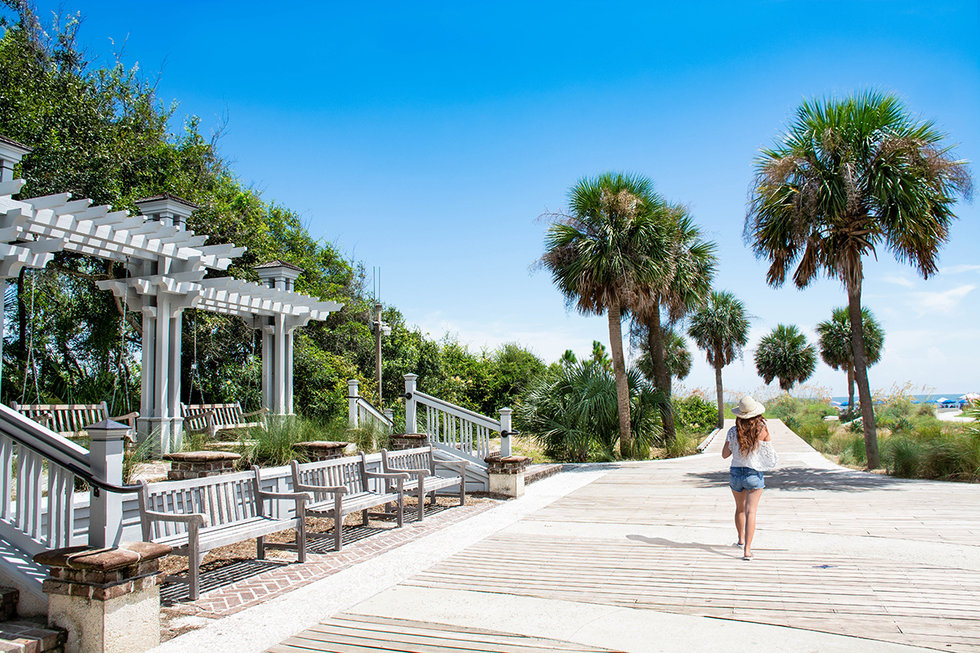 Don't forget to try some of the local favorite dining spots either. If you're looking for Lowcountry-inspired cuisine and incredible seafood, head over to Skull Creek Boathouse, an open air restaurant with an extensive wine and cocktail menu – perfect for a long, relaxing dinner. You'll enjoy an exquisite view and an even better dining experience. The Salty Dog Café is a must when it comes to the Hilton Head food scene. Here you'll have an authentic dining experience with fresh seafood and a family-friendly atmosphere.
Getting there
Book a flight from multiple U.S. cities to Hilton Head Island Airport (HHH), which is right on the island and only approximately 5 miles from all of the Island resorts. To book your trip visit united.com or download the United app.
The latest updates for New York/New Jersey
Hard to believe spring is around the corner, and if you're like me that means starting to think about our family travel plans. Highlighted below are a few ways we are working hard to help make your journeys faster, easier and better in the months ahead.
Improving your experience at our airports
We're excited to move into the new Terminal B at LaGuardia later this year. This is a world-class state-of-the-art facility with fabulous local dining and shopping options such as District Market, Kingside, Shake Shack and FAO Schwarz. Our United Club℠ location will also now be located after security to help you comfortably settle in before your flight.

At Newark Airport, United and our partner, the Port Authority, are working together to improve your experience by adding more pods for nursing mothers; new, larger restrooms; and this summer, an expanded TSA checkpoint that shows expected wait times.
Growing our network and fleet

This summer, we are introducing new seasonal nonstop flights to Naples and Prague and offering the return of great destinations such as Nantucket, Massachusetts, and Rapid City, South Dakota, for an easy trip to the Badlands and Mt. Rushmore.

Additionally, through April, we'll continue to fly nonstop from Newark to Palm Springs. And on March 30, we'll begin flying our brand-new Boeing 787-10 Dreamliner to Dublin, Frankfurt and Tel Aviv, with Barcelona, Brussels and Paris routes to follow this summer.
Investing in our community
United has been serving the New York/New Jersey area for almost 100 years and giving back to our community continues to be a steadfast commitment from the United family. We are proud to announce new partnerships including the Intrepid Sea, Air & Space Museum in Manhattan, the Trevor Project, and the Aviation High School in Queens. This year we'll also continue cheer on runners as the official sponsor of the New York Half Marathon on Sunday, March 17, and are proud to have representatives from Special Olympics running alongside of United employees.
Newark is also featured as the Three Perfect Days destination in the latest issue of Hemispheres, so you can learn about great restaurants and cultural institutions that don't even require a flight to visit.
Thank you for choosing United

In Greater New York, we know you have many choices of carriers to fly, so from our family to yours — thank you. We appreciate your loyalty and welcome your feedback. Hearing from you is important to us, so please continue to send your thoughts and ideas to me at JillKaplan@united.com.

Arizona's outdoors in the spring
This may be the best time of year to visit Arizona — and not just for relaxing by the pool. Smart travelers flock to the state in May, June and July for hotel rates that are often lower than the peak-season rates paid by winter "snowbirds" from northern states. But resort bargains and swimming-pool temperatures aren't the only reasons to visit Arizona at this time. There are also plenty of outdoor opportunities to enjoy, as long as you choose the right activities, locations and time of day to get out.
Desert Dawn peak climbs
Residents of Phoenix and Tucson who like to get outdoors in late spring and early summer know they can best enjoy short hikes by rising early. The busiest time on the trails is before 8 a.m. The most popular hiking paths in Phoenix and Scottsdale climb iconic mid-city peaks, which span from the desert floor up to panoramic views at the top. The hikes up Camelback, Piestewa and Pinnacle Peaks are all wonderful, well-marked and popular — each taking less than two hours roundtrip. In Tucson, the best short hikes are in Sabino Canyon and Saguaro National Park on the outer rim of the city.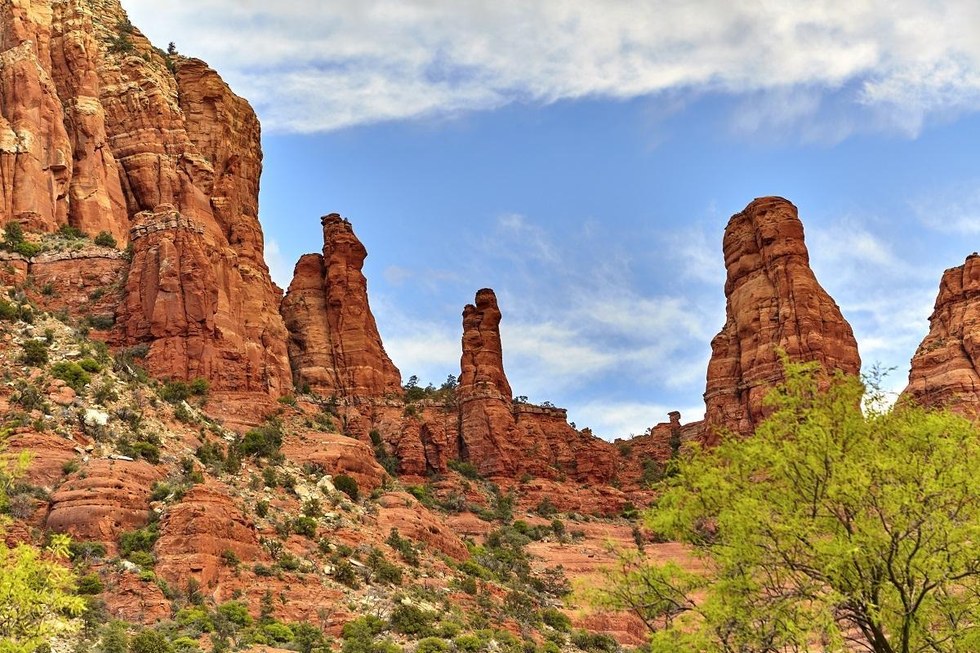 Hikes in the mountains

Phoenix and Tucson visitors who aren't early risers or who don't want to settle for short hikes can drive to spots where the temperatures and mountain vistas are similar to those in Colorado. Only a two-hour drive from Phoenix, you can head to Sedona, with an altitude of about 4,300 feet, or Flagstaff, with an altitude of about 6,900 feet, where the higher elevations mean much lower temperatures. Sedona has some of the world's most dramatic day hikes among its stunning red-rock formations, while Flagstaff offers mountain hikes that soar up to 12,600 feet, such as Humphries Peak Summit Trail. From Tucson, the usual triple-digit temps drop to the 60s during the twisting, 90-minute drive up 9,157-foot Mt. Lemmon. Trails through the sub-alpine forest await hikers at the summit.
Paddle the Verde River
Another good way to beat the Arizona heat is to get splashed by cool water — but not just in your resort pool. You can also take a dip in the Verde River in an inflatable kayak. Verde Adventures hosts guided trips down the river through the end of summer. You'll paddle through narrow limestone canyons and float past hardwood forests on the shallow river, which has plenty of tame rapids that are just adventurous enough to please both the thrill-seekers and the mild-adventurers. You can choose between a kid-friendly two-hour tubing trip or half-day inflatable kayak trip, or enjoy the Water to Wine Tour with an adult companion, which ends with a tasting at Alcantara Vineyards. You'll be driven the short distance to the river from Cottonwood or Clarkdale, both less than a two-hour drive from Phoenix.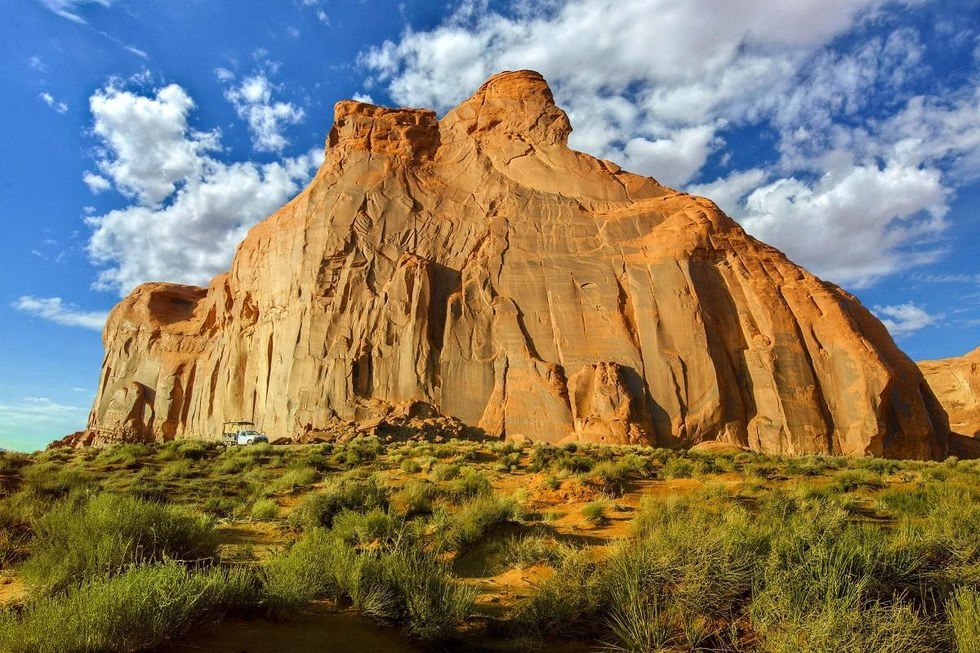 Jump in a Jeep

Following along the dusty dirt roads that rim the edges of Phoenix, Scottsdale, Tucson and Sedona, the Jeep tour is a classic option for visitors to Arizona. The 4x4 Jeep probably won't be air-conditioned, but the wind and Arizona's rich red earth will be in your hair. Less adventurous options include tours in enclosed Hummers or vans. After bumping along scenic back roads for miles, many Jeep tours offer a "cowboy cookout" at a pretty spot in the desert or mountains before you return to civilization. From Phoenix, Scottsdale or Tucson, most Jeep tours venture into the Sonoran Desert, while Sedona Jeep tours bring you up close to its renowned red-rock formations.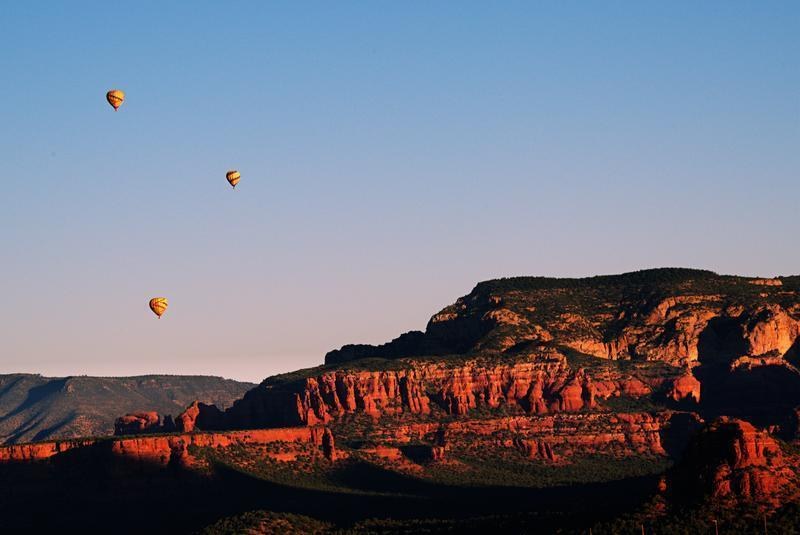 Up, up & away

Arizona's dry air makes it one of America's prime locations for hot air balloon rides. Colorful balloons lift off in the cool temperatures and low winds of sunrise from all over greater Phoenix, Scottsdale, Tucson and Sedona, often providing a champagne breakfast afterward. Some also offer sunset flights; one Phoenix company serves hors d'oeuvres from a gourmet restaurant after evening landings. Prevailing winds dictate whether you'll fly up to a mile high or close enough to the ground to spot desert wildlife, but regardless, it's a memorable bucket-list thrill.
If you go
United Airlines offers many daily flights to Phoenix and Tucson. Visit united.com or use the United app to plan your Arizona outdoor adventure getaway.
We follow the FAA's order to ground all Boeing 737 Max aircraft
Nothing is more important to us than the safety of our customers and employees. As we have said since Sunday, we have been in close contact with investigators as well as Boeing to share data and fully cooperate with regulatory authorities. We will comply with the FAA's order and will ground our 14 Boeing 737 MAX aircraft. We will remain in close contact with authorities as their investigation continues.
Since Sunday, we have been working diligently on contingency plans to prepare our fleet to minimize the impact to customers. Our Boeing 737 MAX aircraft account for roughly 40 flights a day and through a combination of spare aircraft and rebooking customers, we do not anticipate a significant operational impact as a result of this order. We will continue to work with our customers to help minimize any disruption to their travel plans.

We extend lease agreement at iconic Willis Tower in Chicago
Today, we announced that we will keep our current headquarters at the iconic Willis Tower in our hometown of Chicago while making investments to transform our current workspace and experience. Our new agreement extends our existing lease by five additional years to March 31, 2033.

Remaining at Willis Tower will allow us to completely reimagine the workspace from the bottom up. Over the coming months and years, we will redesign our workspace to allow employees to better collaborate, use the latest technology and interact with each other — all with the end goal of providing unmatched service to our front-line employees and customers. And today's announcement is part of our overall effort to improve workspaces and facilities across the system.As we begin the work to reimagine Willis Tower for our employees, a majority of the funding to transform the building is being made by the building's owner, The Blackstone Group. In addition, they are investing more than $500 million in the building for all tenants, which will transform it from the inside out that will deliver exciting new dining, fitness and retail options.
"As one of the city's largest private employers and its hometown airline, we are excited to deepen our roots here in Chicago while making the investments needed to reimagine the headquarters for our employees," said United Chief Executive Officer Oscar Munoz. "The investments we are making will help our employees provide unparalleled service to their front-line colleagues and to our customers as we continue to improve and realize our airline's full potential."
And as one of the most ideally situated buildings in the city, with easy access to all Chicago Transit Authority train lines and Union and Ogilvie Stations, as well as nearby bus stops, Willis Tower already provides distinct advantages and will remain attractive to future job seekers throughout the metropolitan region.
Weekend inspiration: Palm Springs
After a combined 60-plus years of living in cities with snowstorms and cold weather, this winter we decided it was time to pack away the parkas in exchange for a month of sun in Palm Springs.
And it was heaven. 70-degree days filled with morning swims, long walks without a jacket and joyful dogs running around the backyard. Working on murals throughout the valley in perfect drawing conditions was paradise for us, considering we were typically working in freezing weather with pale skin, chapped lips and cracking knuckles. We found our new January normal.
Our month in paradise consisted of many highlights, so if you're in town for a few days, here are some of our favorite spots.
Friday night
If you're looking to rent a place in Palm Springs, we recommend Relax Palm Spring on Airbnb. They have more than 60 rentals in the Coachella Valley area, and we loved the house we stayed in. Every single thing we needed was available on-site or just a phone call away with this professional vacation rental group.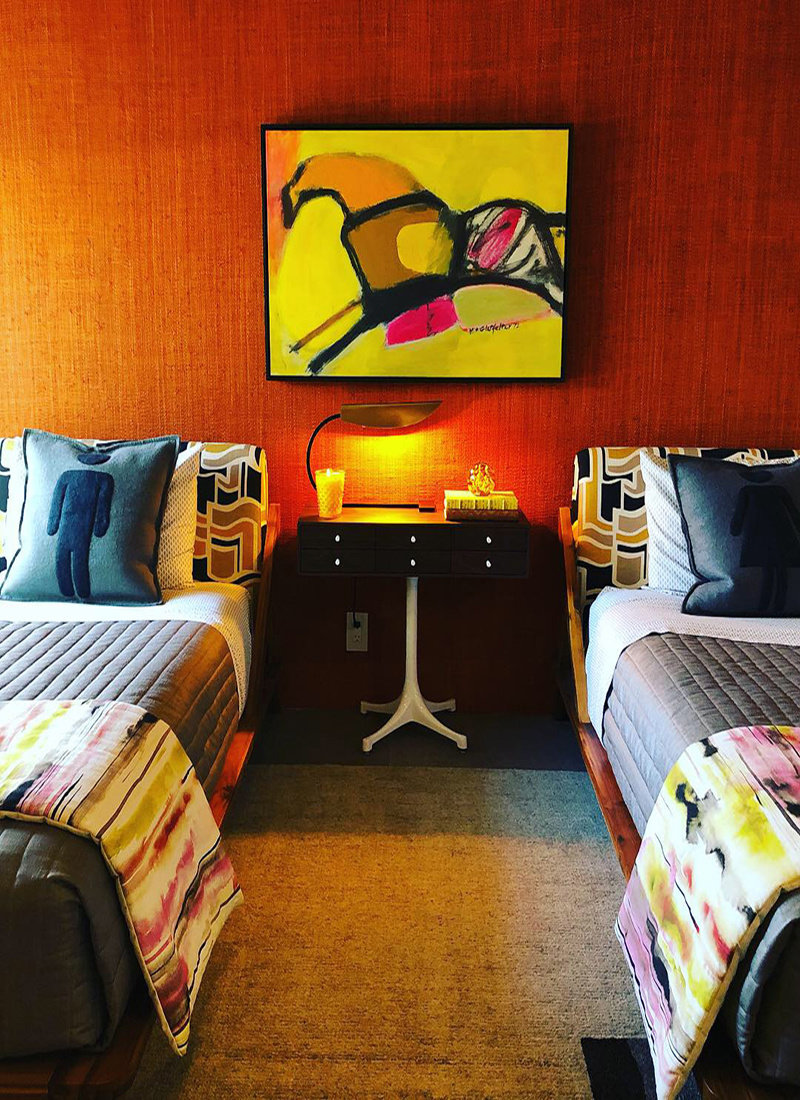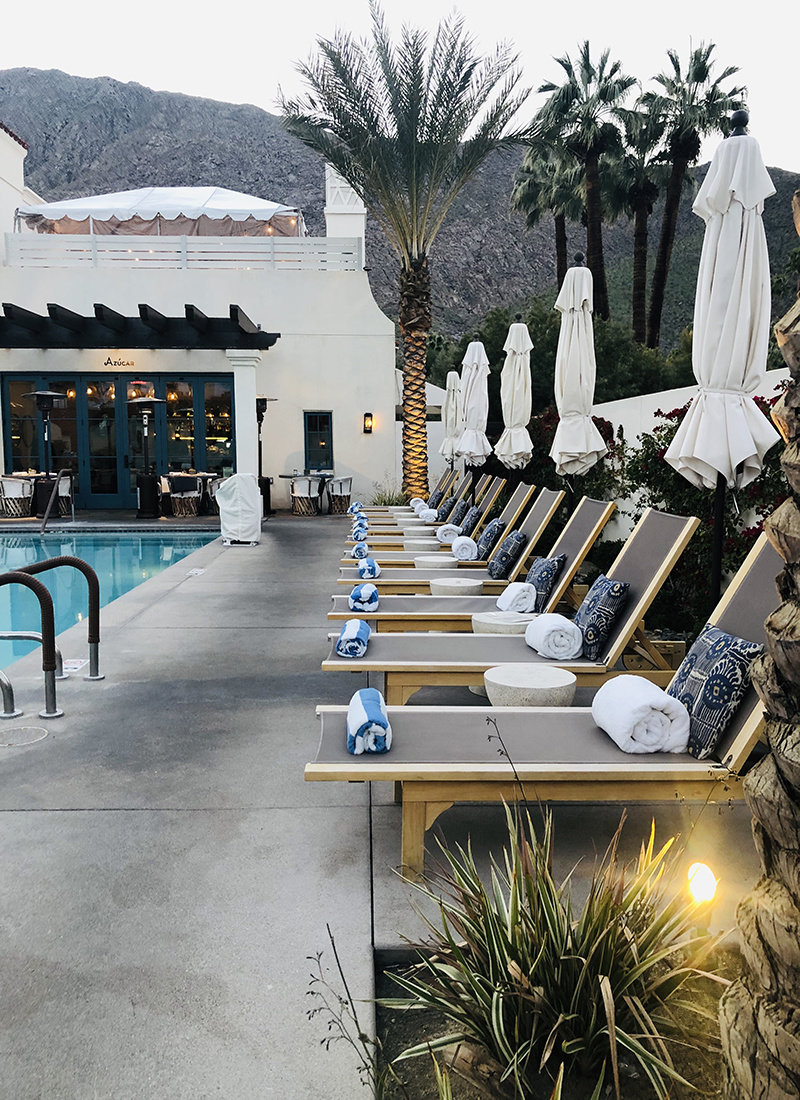 If you're looking to go the hotel route, we highly recommend The Colony Palms Hotel. This Spanish Colonial-style hotel features high-end casitas and a sweet hotel pool with stunning mountain views. La Serena Villas has a similar small-town feel with a wonderful restaurant attached. Further outside of the downtown area, Parker Palm Springs is a stylish and creatively fulfilling place to stay and play.
No matter where you stay, we recommend Azúcar for dinner (at La Serena Hotel). Make sure you get the watermelon appetizer, refreshing with bursts of sweet balsamic beads trickled over the top. You'll feel like a kid at the pool in summer all over again.
Saturday
Get up early and head to Palm Desert. Make your way over to Wilma & Frieda at The Gardens on El Paseo for one of the best breakfasts you'll find in the valley. The pastries are all excellent and homemade. The dishes are creative with items like "churro waffles" and "banana caramel French toast."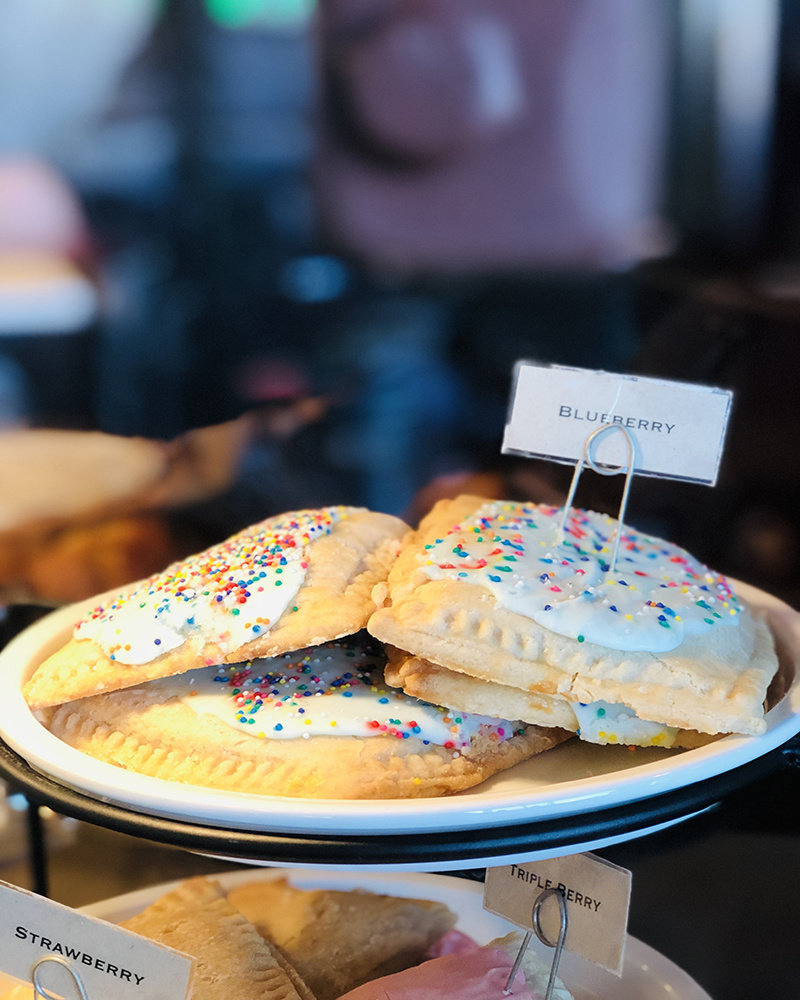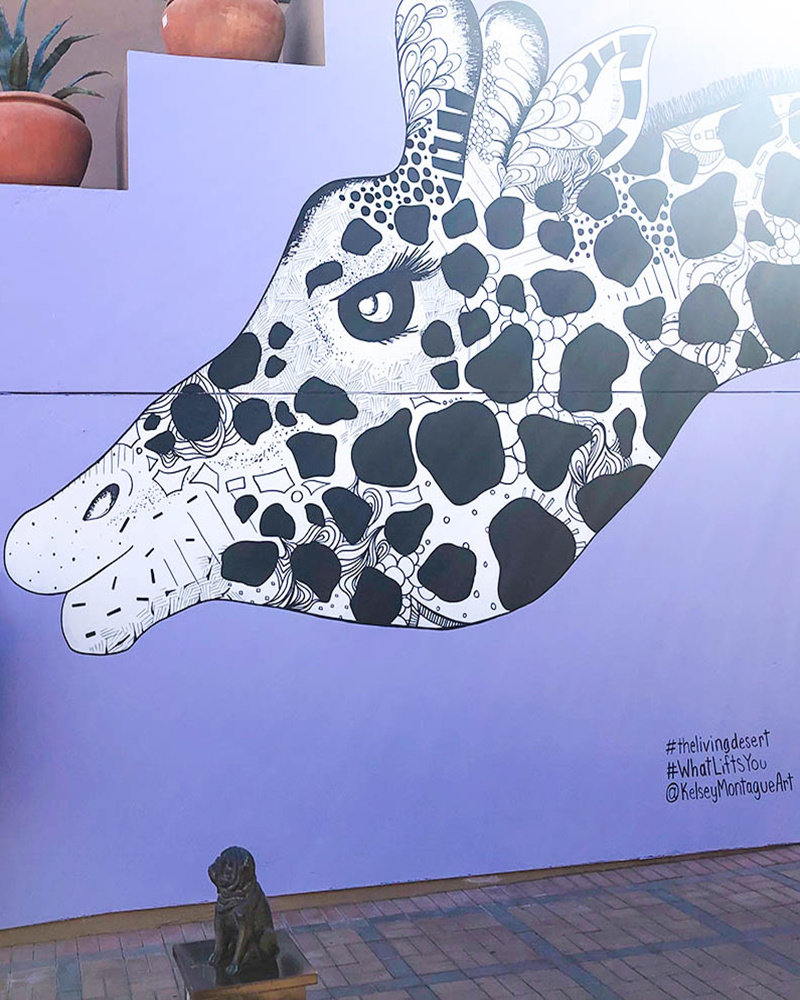 After breakfast, stop by Kelsey's giraffe mural at the Gardens on El Paseo (directions found here) to give her giraffe a kiss. Then drive up the highway to The Living Desert.
The Living Desert Zoo & Gardens is an incredibly well-designed zoo that takes advantage of the stunning desert scenery with every animal exhibit.
On your way back, stop for a sweet treat at the café at Shields Date Gardens for one of their legendary date shakes. Wander through the 1950's feeling diner and gift shop and into the 17-acre date garden. These shakes are a Palm Springs staple and worth every delicious calorie.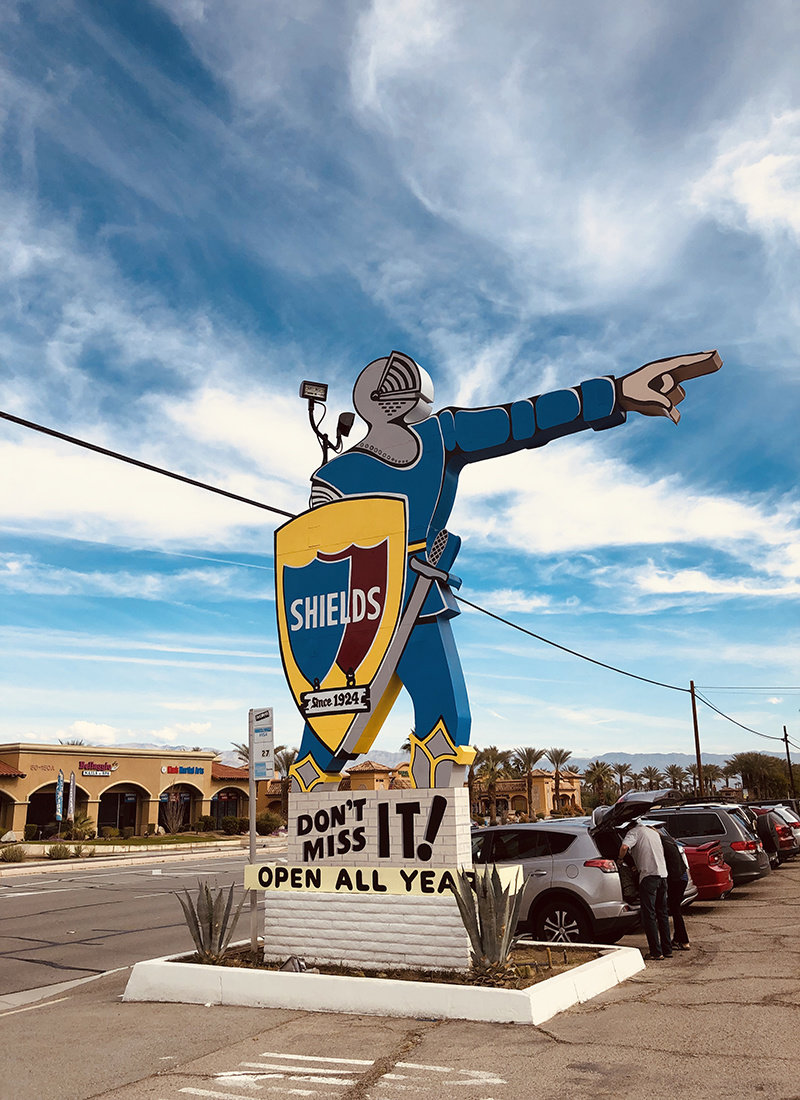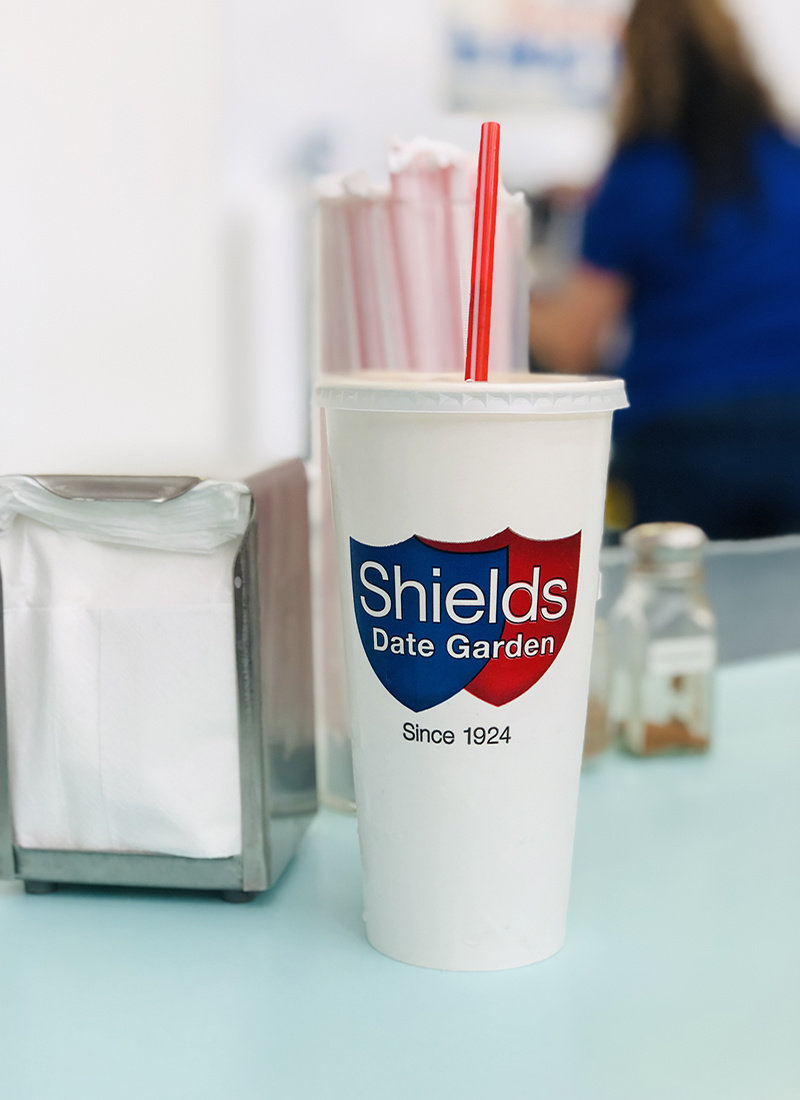 For lunch, wander around the hotel lobby at Parker Palm Springs to admire their excellent interior design decisions before heading into Norma's restaurant for an al fresco lunch.
If you have time, spend the afternoon at Joshua Tree National Park. The blend of Mojave and Colorado deserts results in a unique and stunning landscape. Begin your tour/hike at one of the visitor centers. From here, you can go on a relaxed half-day tour with a guide or head out on one of the 12 self-guiding nature trails.
Spend sunset here or head back downtown to enjoy the sunset at The Colony Palms Hotel's Restaurant, The Purple Palm, with a quality craft cocktail. After sunset, make your way to the popular Italian restaurant Birba for dinner. Birba boasts excellent pizzas with a wide variety of interesting toppings. Be sure to make reservations beforehand.
Sunday
Spend the day exploring Palm Springs. Go to Cheeky's for breakfast, but make sure to get there early, as a line forms before the doors even open. Their world-famous bacon flight is a must – it's unique and so tasty.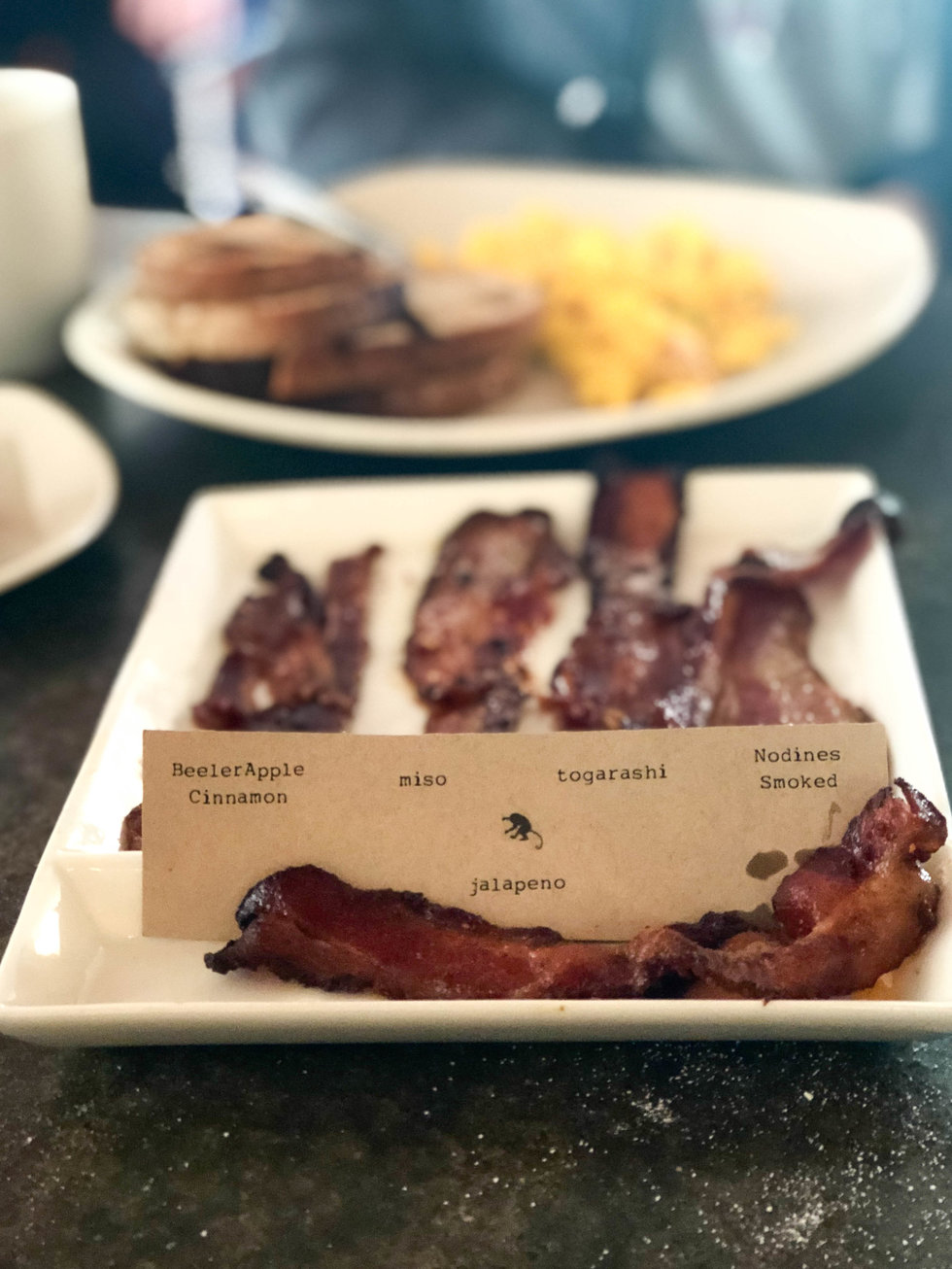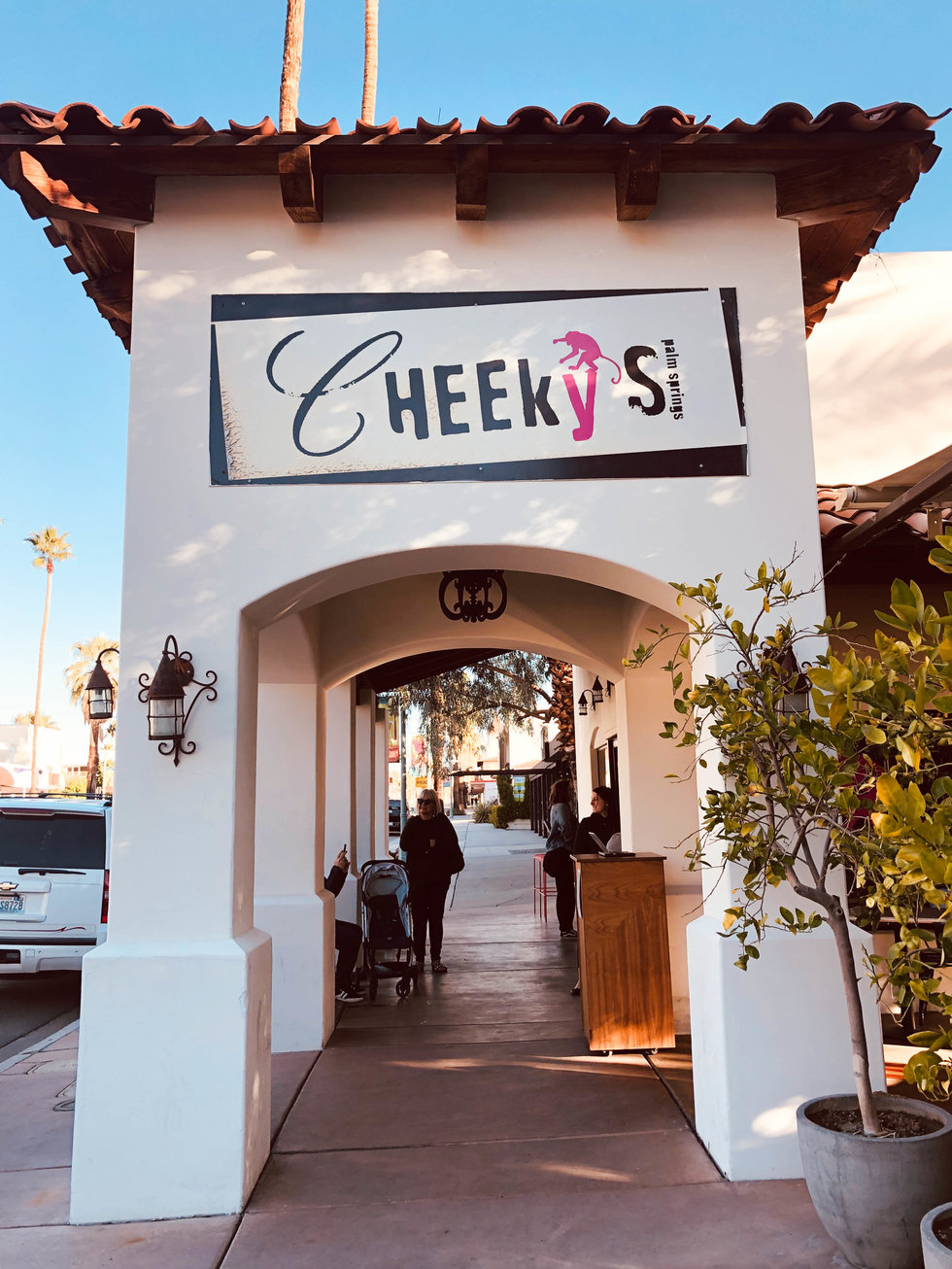 Palm Springs boasts an unbelievable amount of art experiences. Experiential art, art museums and mid-century Modern Design galore. If you can, try to visit Palm Springs during their Modernism week in February. Be sure to get tickets to their house events and tour some of the most breathtakingly beautifully designed houses. And if you're lucky, Desert X might be around during the same time and hunting for art installations throughout the valley, which would be quite the sight.
If a large art fair isn't happening while you're in Palm Springs, we highly recommend heading to the City of Coachella. Their downtown boasts some incredible murals and Kelsey was honored to join the ranks recently. Kelsey completed a pair of "What Lifts You" wings that are colorful and an ode to the Hispanic roots of the community on the side of City Hall.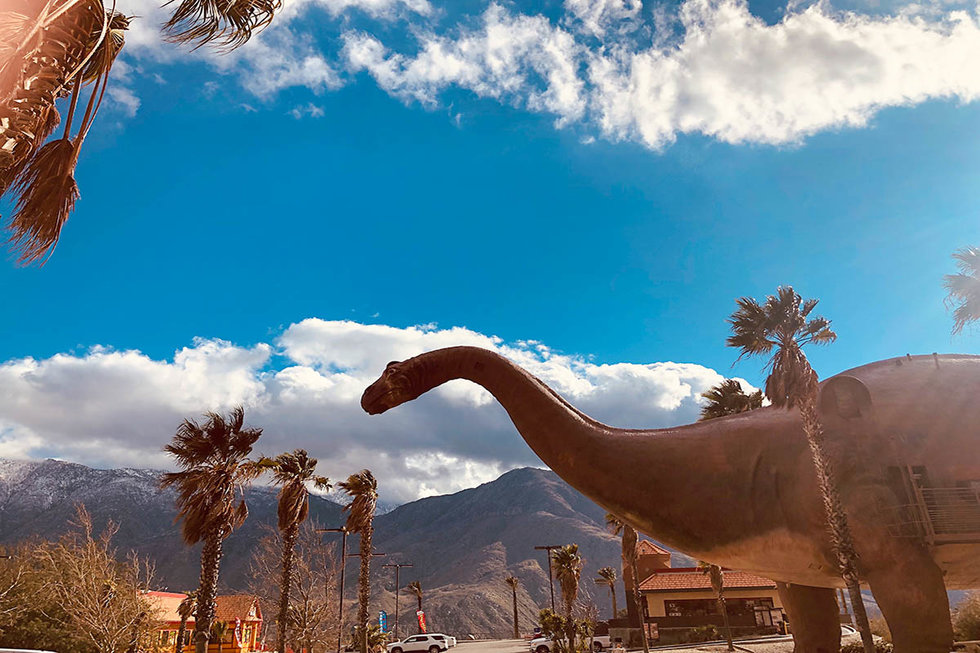 A trip to Palm Springs isn't complete without a picture with the Cabazon Dinosaurs. Made famous through their feature in movies like National Lampoon's Vacation and The Wizard – it's an Instagram-worthy stop.
For lunch, head back to downtown Palm Springs and enjoy a healthy meal at the charming restaurant Farm. Tucked into an interior courtyard, this restaurant feels like you've stepped into the French countryside. It's healthy, clean food even tastes like the South of France with their traditionally French dishes.
Walk off your lunch by exploring the boutiques in Downtown Palm Springs. These mid-century modern shops are not to be missed: A La Mod, Modernway, Vintage Oasis and The Frippery.
Complete your weekend with dinner at the chic Workshop Kitchen + Bar. Their wine cellar is massive and their waiters expertly trained. Trust them to find a new and different flavor for you – something you'll remember long after your weekend in Palm Springs.
Ode to a flight pioneer
With all she's seen and done over a century on this earth, some of Betty Stockard's fondest memories are of the years she spent slipping its surly bonds.
Seventy-seven birthdays have passed since she took to the skies for United as one of the first non-nurse flight attendants in our history, but you wouldn't know it talking with her today as she prepares to celebrate her 100th birthday. Betty's recollections of that time, when she was a 23-year-old searching for excitement and a life to call her own, are crystal clear, her stories conjuring a vivid, gorgeous image of the golden era of aviation.
Born near Kalispell, Montana, on May 16, 1919 as Elizabeth Jean Riley, becoming an aviation pioneer was the furthest thing from Betty's mind growing up. As she recalled, her only brushes with flight back then occurred when the occasional small airplane would appear in the sky above the family homestead. But following the attack on Pearl Harbor in December 1941, Betty, like most Americans, wanted to contribute to the war effort. She packed her bags, moved to Seattle and took an administrative job at the Boeing plant where thousands of bombers would soon roll off the assembly lines.
She had been there for about two months when she saw an item in the Seattle Times announcing United was looking for a new crop of flight attendants. For years, airlines had only hired nurses into those roles, but with more and more of them now needed in combat zones, that was no longer the case. Despite having never stepped foot on an airplane, Betty applied.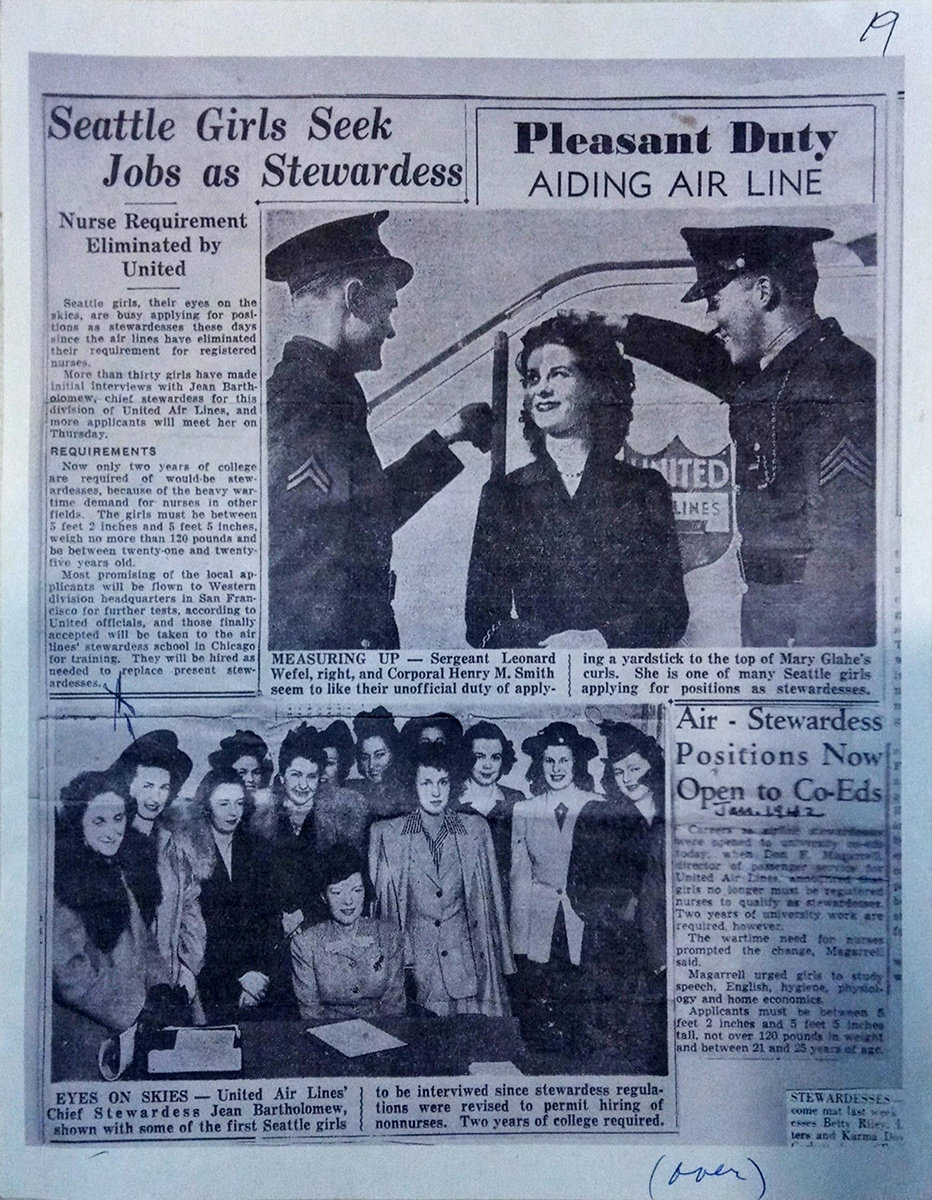 What followed was a whirlwind. After meeting with United personnel managers in Seattle, she took her first-ever flight for a second round of interviews in San Francisco. Two weeks later she received a telegram instructing her to report to Chicago, where she joined 24 other women from across the country for six weeks of intense training, heavy on first aid and safety.
"The instructors told us not to smile much because it was a serious job," remembered Betty. "They wanted us to maintain a professional attitude.
"But the stuff about not smiling didn't last long once I was on an airplane myself."
As Betty put it, being a stewardess in those days was nearly on par with being a movie star, and she often rubbed shoulders with celebrities and dignitaries, like First Lady Eleanor Roosevelt and silver screen idol Clark Gable, on her trips up and down the West Coast. But it wasn't all glitz and glamour and grins.
Flight attendants in the mid-1940s were just as busy serving their country as they were serving their customers. United flew many military men during World War II, and flight crews were responsible for looking after them. And, at least in Betty's case, those wartime duties included a little intrigue as well.
In the summer of 1945, after checking in for a flight from San Francisco to Seattle, her dispatcher told her that two men from the U.S. Army were waiting for her in the next room. They handed Betty a small, brown package and instructed her to pin it inside her jacket until she arrived in Seattle, where another Army representative would meet her. In the meantime, they warned, she was not to open the parcel or tell anyone she had it.
The aircraft landed in Seattle just after 2 a.m. and taxied to a dark corner of the airfield. There, a military man came on board, took the package, and promptly departed, leaving Betty to wonder what she had just been part of.
Secret missions aside, Betty was smitten with life in the air. She'll still tell you it was the best job in the world. Soon, though, she found herself equally smitten with a handsome former fighter pilot by the name of Ray Stockard, whom she met during a flight in 1946.
Ray was traversing the country interviewing for jobs with commercial airlines, and the two hit it off immediately, beginning a courtship shortly after. Betty adored Ray, but it was a bittersweet romance, for she knew if she got married she'd be trading one love for another since, at that time, stewardesses had to be single.
Alas, the heart wants what it wants, and Betty and Ray, who by that time was flying for Pan American, set a wedding date. Originally, they were to wed in May of 1947, but that spring, United announced it would begin service to Honolulu that summer. Betty talked Ray into briefly postponing the nuptials so that she could enjoy her last months as a flight attendant on the Hawaiian route.
"I hated giving up flying, but I knew I was making the right move," she said. "I was looking forward to the next chapter."
Fortunately, marrying a pilot meant she didn't have to walk away from the industry altogether. In the years that followed, she, Ray and their four children – Joe, Denise, Ed and Dick – traveled the world together. And while they did most of that flying on Pan Am, Betty never lost her soft spot for United, the airline where it all started. She still flies United, in fact, and still enjoys meeting flight attendants on her journeys, though she rarely, if ever, tells them about her past, preferring instead to ask them questions about themselves.
When you are lucky enough to get her talking about herself, though, she doesn't disappoint. Betty's stories are riveting, and she's been known to dispense a kernel of wisdom or two if pressed. So, what's the best advice she gives after 100 years of a rich, full life? Value education and relationships above all else, travel as much as possible, and be fearless in your pursuits.
"It's been such a good life," she said. "I couldn't have asked for a more interesting career. I still carry with me the memories of the people I met on airplanes and the places I went. If there's a lesson there, it's that you should get out and do things and not be afraid to try. By doing that, I've had one of the best lives ever."
We want to put women's art in the sky
Enter the #HerArtHere contest for a chance to design and paint a United plane.
Learn more
We're listening
Check out our newest destinations
United Airlines
united
A decade ago, Captain Suzanne B.'s son Dylan couldn't walk or talk after a seizure robbed him of his motor skills.
@SpecialOlympics
got Dylan back on his feet and he hasn't stopped since, having run three marathons and recently completing the
#UnitedNYCHalf
in 1:40.
United Airlines
united
If you're traveling through San Francisco on 3/20, we've issued a travel waiver in advance of inclement weather. You can change your flight at no cost on our mobile app, by direct messaging us here or calling Reservations at 1-800-864-8331. Waiver:
uafly.co/Z04CmP
United Airlines
united
3.14159 x 21.96 = about the number of days until we fly you direct to this pizza pie on our new New York/Newark - Naples route. 🍕🤤
#Math
#PiDay
United Airlines
united
We've issued a travel waiver for Chicago in advance of inclement weather. Our Reservations team is currently experiencing high volume. If you're traveling 3/14, you can change your flight at no cost on our mobile app or
united.com
. Waiver:
uafly.co/Z04CmP
We Are United
weareunited
Members from SFO's uIMPACT chapter spent yesterday with middle school girls from Oakland at the Warriors practice facility participating in "Girls Take Flight." At the event, the girls did everything from speed networking with female leaders to perfecting a cross-over dribble!
We Are United
weareunited
United was a major sponsor of the 30th Annual International Women in Aviation Conference that took place last week. Our team hosted initiatives for young women interested in the flight and technical operations fields and presented six scholarships to deserving female students.
We Are United
weareunited
We're not the only ones who love our new seatback IFE! After all of their hard work developing the new system, the Inflight Entertainment and Connectivity team has been recognized as a finalist for both the Crystal Cabin and Onboard Hospitality Awards in Hamburg.
Watch our most popular videos
Watch the new Big Metal Bird: Veterans
Neighbors, coworkers, parents, protectors, heroes. All of these labels and more encompass the men and women whose devotion to our country serves as the truest embodiment of the American spirit. We're talking about Veterans. Join host Phil Torres as he heads to our nation's capital to learn more about these heroes and to explore just how many United employees are veterans on this Big Metal Bird.
Copyright © 2019 United Airlines, Inc.
All rights reserved.
Indicates an external site that may or may not meet accessibility guidelines.
Scroll to top
Scroll to top