Three Perfect Days: Bogotá
Story by Justin Goldman | Photography by Chris Sorenson | Hemispheres, January 2019
Five hundred years ago, when the Spanish conquistadors arrived in the gold-rich, mountainous area that's now Bogotá, they thought they'd found El Dorado. Today, Colombia is still defined by its natural bounty—albeit neither the kind that lured the Spaniards nor the kind that attracted American law enforcement in the 1980s. Instead, what strikes visitors is the kaleidoscopic population of nearly 50 million people, all united by a welcoming spirit. What's more, the landscape is among the world's most biodiverse—diving from the roof of the Andes through grassland, swamp, and jungle to the Pacific and Caribbean coasts—yielding perhaps the best cuisine in Latin America. The locus of all this is the 8,660-foot-high capital, whose 10 million residents infuse modern energy and inventiveness into a centuries-old colonial setting. El Dorado? Maybe not, but after a few days here you'll surely agree Bogotá has entered its golden age.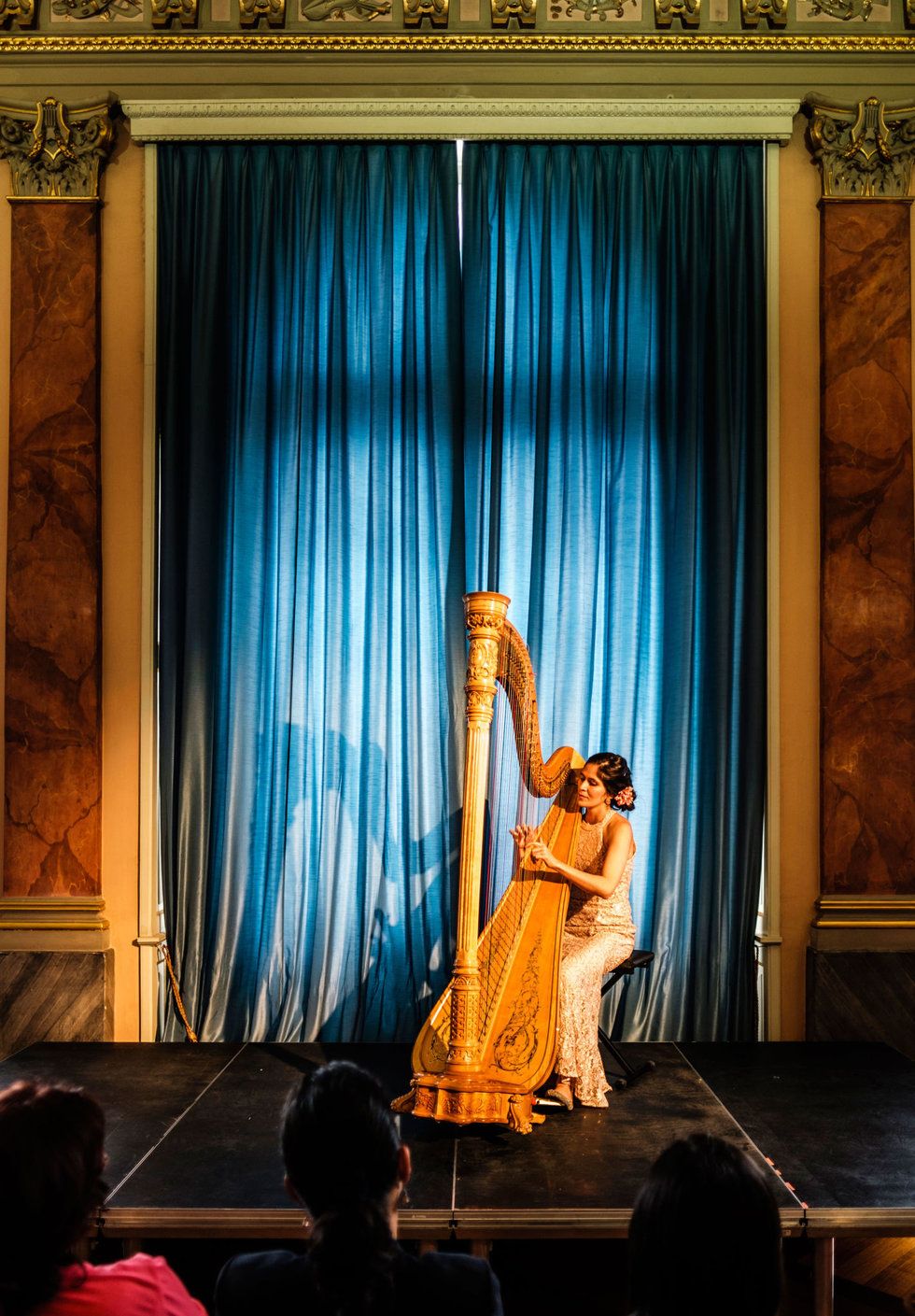 A harpist performs at the Teatro Nacional Cristóbal Colón
Day 1:
Sampling Bogotá's culinary and architectural delights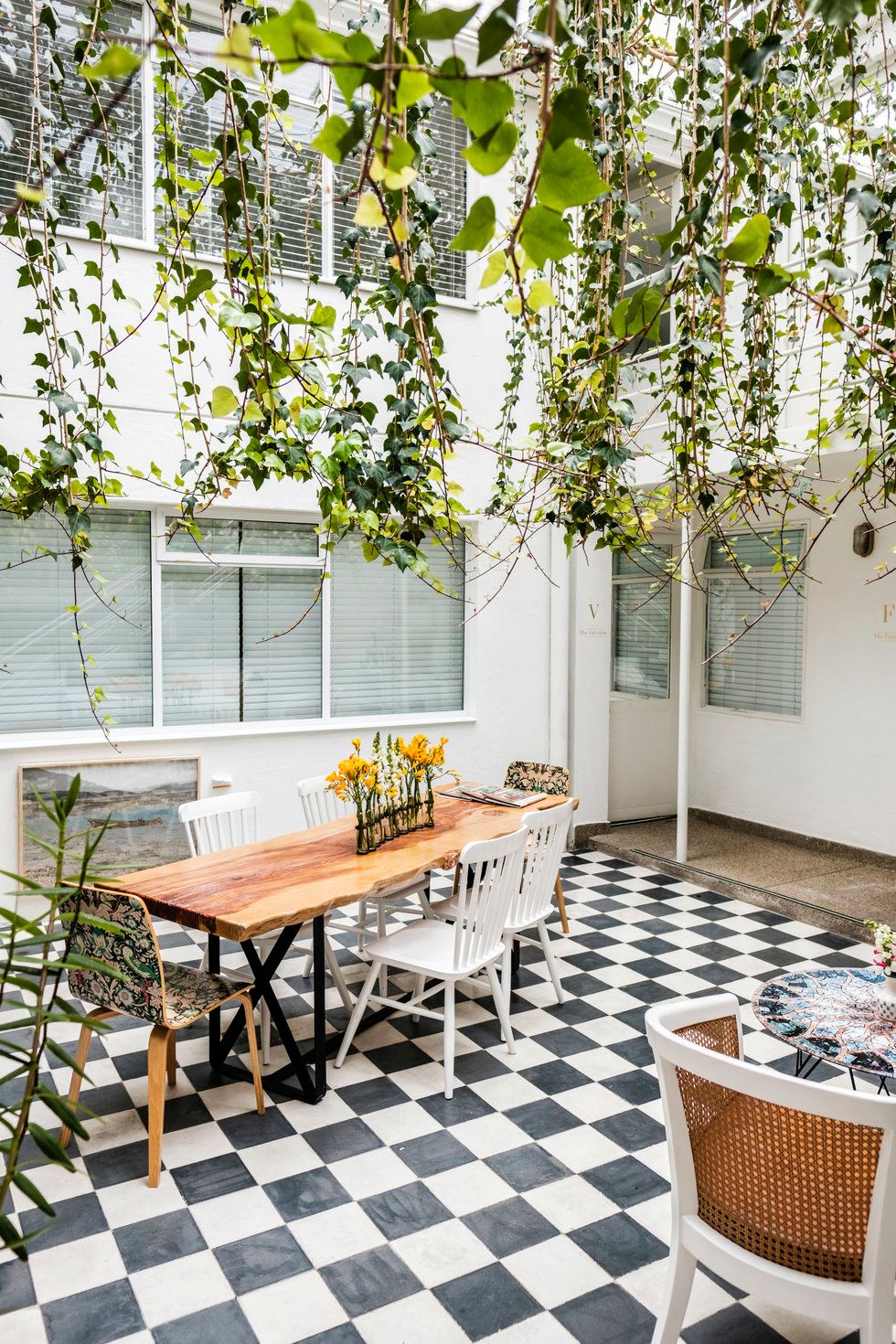 The courtyard at Casa Legado
It's gray and damp on my first morning in Bogotá. As a former longtime San Francisco resident, I'm accustomed to these conditions, but even if I were to get gloomy, I'd know exactly where to find a cure: among the flower vendors at the Mercado de Paloquemao. All shades of carnation, orchid, and rose—Colombia grows the second-most roses in the world—burst from the makeshift tables set up in the market's parking lot. It's impossible not to feel cheery in the face of all the bright blooms, but I don't have time to stop and smell the, well, you know. I'm here for the food.
I cross the lot to meet Juliana Salazar, a local restaurant consultant and guide for the tour company Foodies who's showing me around. "We're gonna start by eating," she says, "because you never want to go to the market on an empty stomach." Conveniently, a stall at the entrance sells breads called amasijos. I try three: pan de queso, pan de yuca, and a fried, corn-based buñuelo.
Now that I've eaten, it's time to start eating. We begin with the fruits. "The Paloquemao is the only market in Bogotá where you're going to see the variety from the entire country," Salazar says, and she's not kidding: I taste tart, aromatic fruits such as kiwi-like lulo (which is used in a popular juice), gulupa (a variety of passion fruit), and granadilla ("the first fruit we give to a baby," Salazar notes). I'm dazzled, even more so when my guide tells me, "This is not the specialized fruit section—this is just common fruits."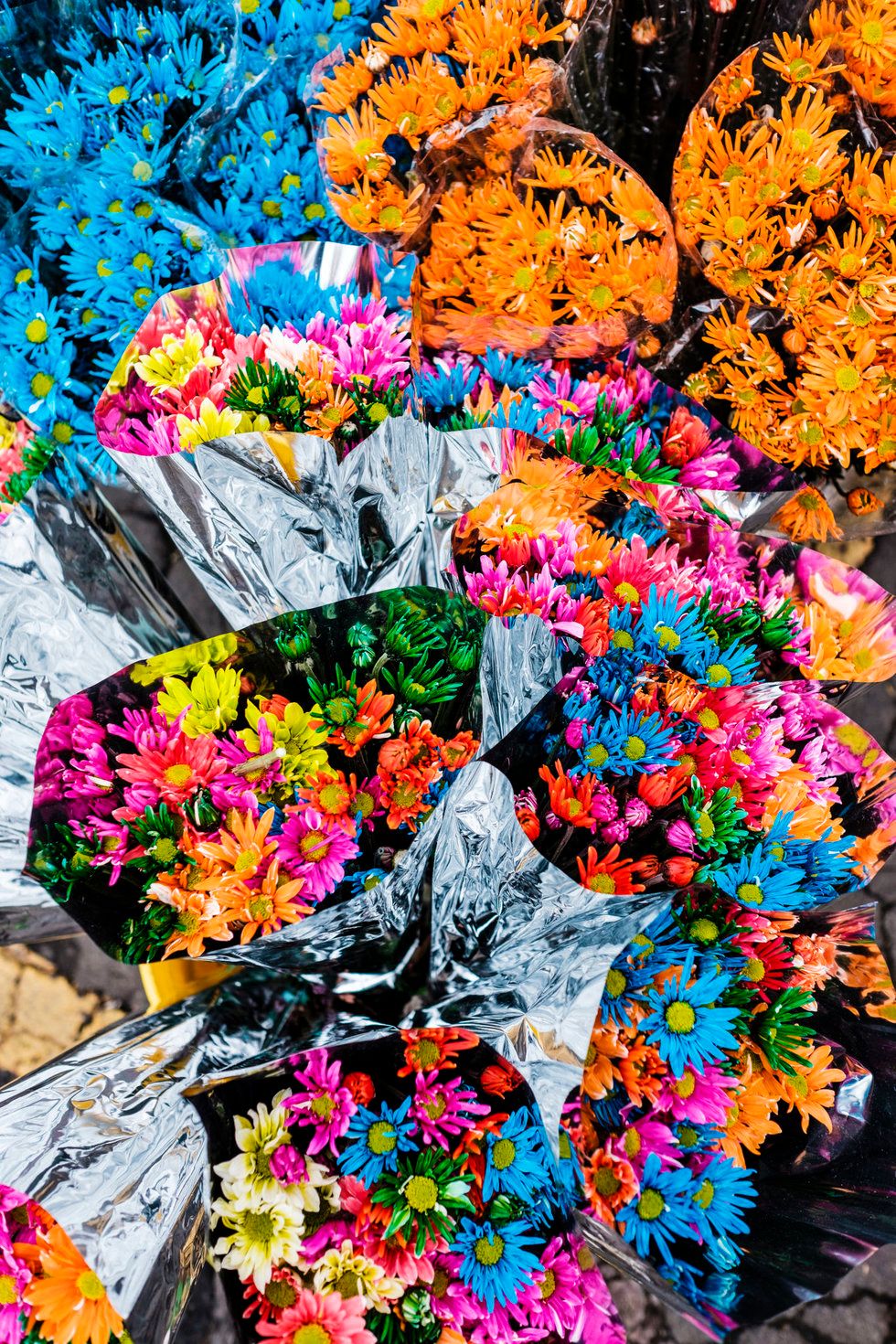 Flowers at the Mercado de Paloquemao
"All shades of carnation, orchid, and rose burst from the makeshift tables set up in the parking lot of the Mercado de Paloquemao."
We continue on, past vendors selling herbs, chocolate, chilies, meat, and the more exotic fruits (cherimoya, mangosteen), to the back of the market, where a counter makes rice-and-pork-filled tamales and lechona, roast pig stuffed with rice. "For a hangover situation, I think it's perfect," Salazar says. I file this away for later, although I'm probably never going to eat again.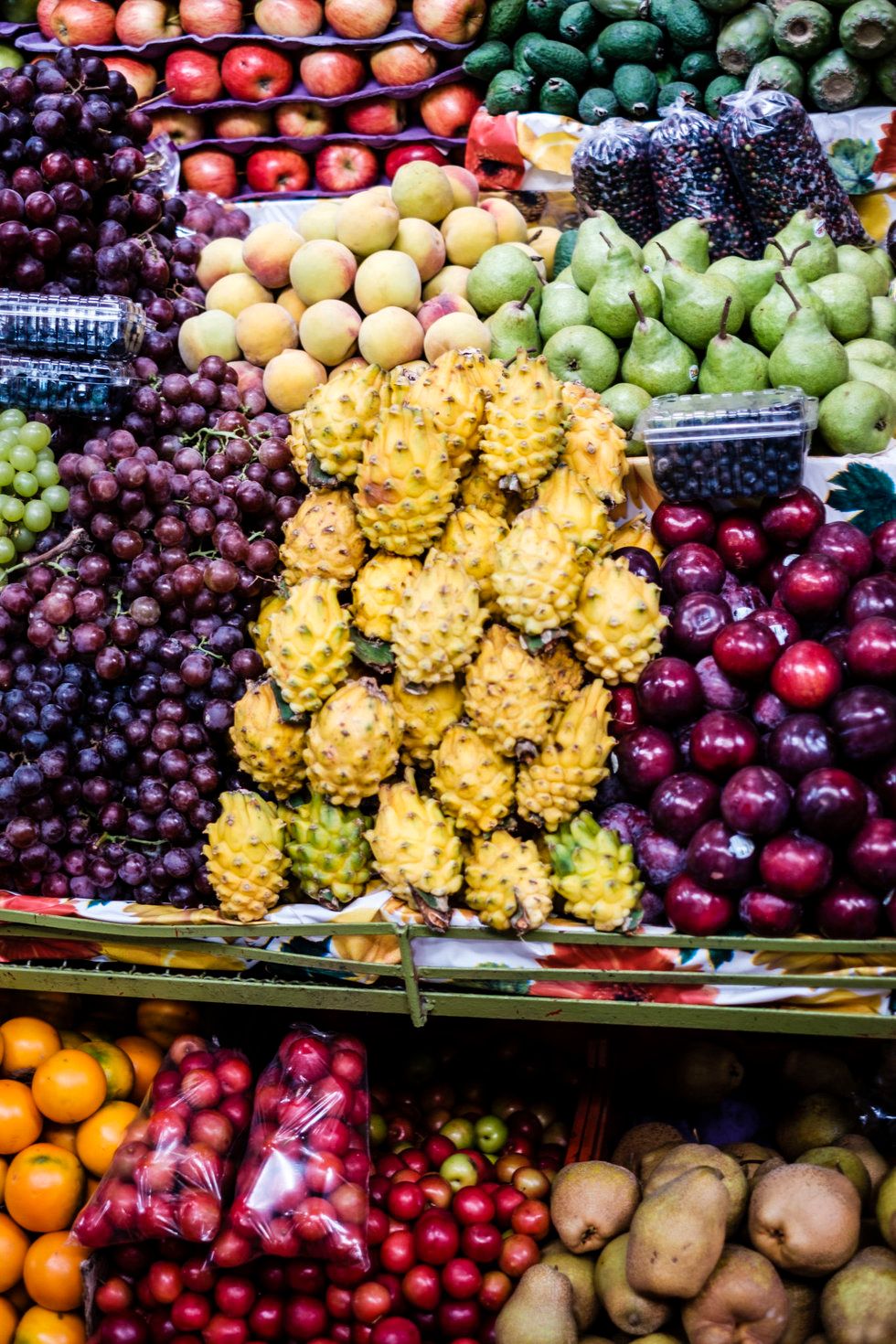 After thanking Salazar for helping me stuff my face, I head from Bogotá's culinary center to its political one. A quick drive through downtown delivers me to the Plaza de Bolívar. I walk past a Hells Angels–looking guy who's pulling the strings of a skeleton marionette to the tune of Guns N' Roses's "Patience" and then around a family being swarmed by pigeons (the kids seem entirely too happy about this) to the center of the plaza. The square is fronted by the French Renaissance Palacio Liévano (now city hall) and the Neo-classical Capitol and Palace of Justice, as well as the 200-year-old Catedral Primada. Between the cathedral's towers I can see another church, a distant white ornament at the peak of the towering 10,341-foot Cerro de Monserrate.
"It looks as though Dr. Seuss and Antoni Gaudí combined forces on a cathedral and then dropped it into Yosemite Valley."
I continue around the Capitol building, skirting the Colegio Mayor de San Bartolomé, an imposing Jesuit school that dates to 1604, and then the grounds of the Casa de Nariño, the president's palace. A soldier shoos me off the sidewalk in front of the building—apparently I don't appear very presidential—and as I turn to go I glance up an alley and catch a glimpse of the Santuario Nuestra Señora del Carmen rising before the misty cordillera. It looks as though Dr. Seuss and Antoni Gaudí combined forces on a candy-striped Gothic cathedral and then dropped it into Yosemite Valley.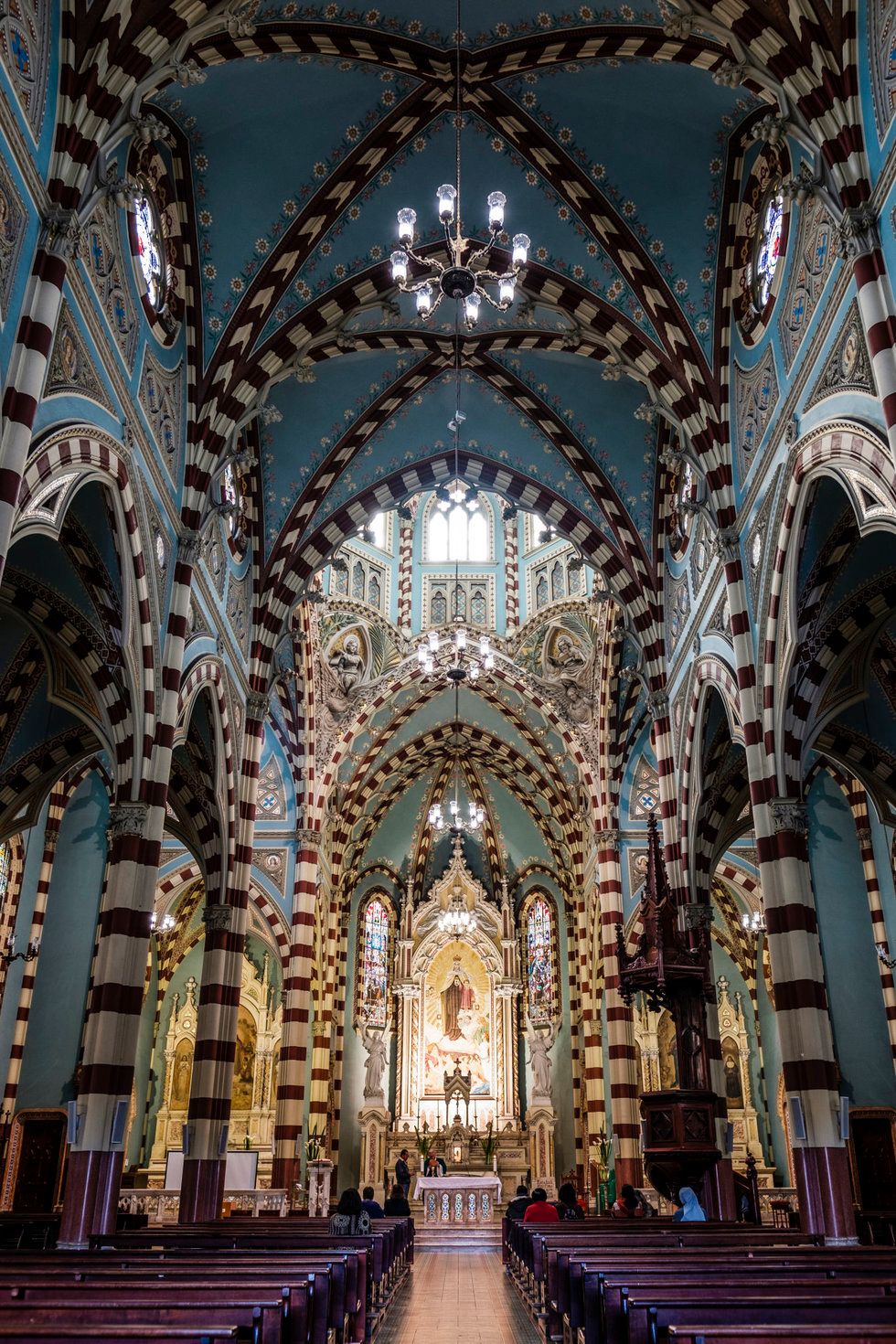 The interior of the Santuario Nuestra Señora del Carmen
I begin to hike up the hill and into the heart of La Candelaria, Bogotá's old town, passing below the dormers and enclosed balconies of the multicolored colonial houses. A light rain begins to fall just as I reach one of the city's most exciting new restaurants, Prudencia. The space, designed by renowned Colombian architect Simón Vélez, is a stunner, boasting a vaulted glass ceiling and walls adorned with line drawings of flowers and fruits and vegetables. The food is tasty too. I dig into house-baked levain bread, followed by lomo de res (beef tenderloin) with roasted sweet potatoes and an oyster-mushroom aioli, and then finish with a slice of fig cheesecake.
Refueled, I proceed to spend a couple of hours ping-ponging up and down the hills of La Candelaria. The neighborhood—its name comes from a Catholic festival that honors Mary and Joseph's presentation of the baby Jesus to God—overflows with historic sites. Here's a golden-balconied house where Simón Bolívar worked during the fight for independence from Spain. There's the house where Bolívar's mistress, Manuela Sáenz, helped El Libertador escape assassination. Farther down the hill is the 19th-century Neoclassical Teatro Nacional Cristóbal Colón opera house. Then there are the lively crowds: people dancing to the rhythms of busking rumba bands, leading alpacas down the street, and selling jewelry and grilled corn and hormigas culonas ("big-a** ants").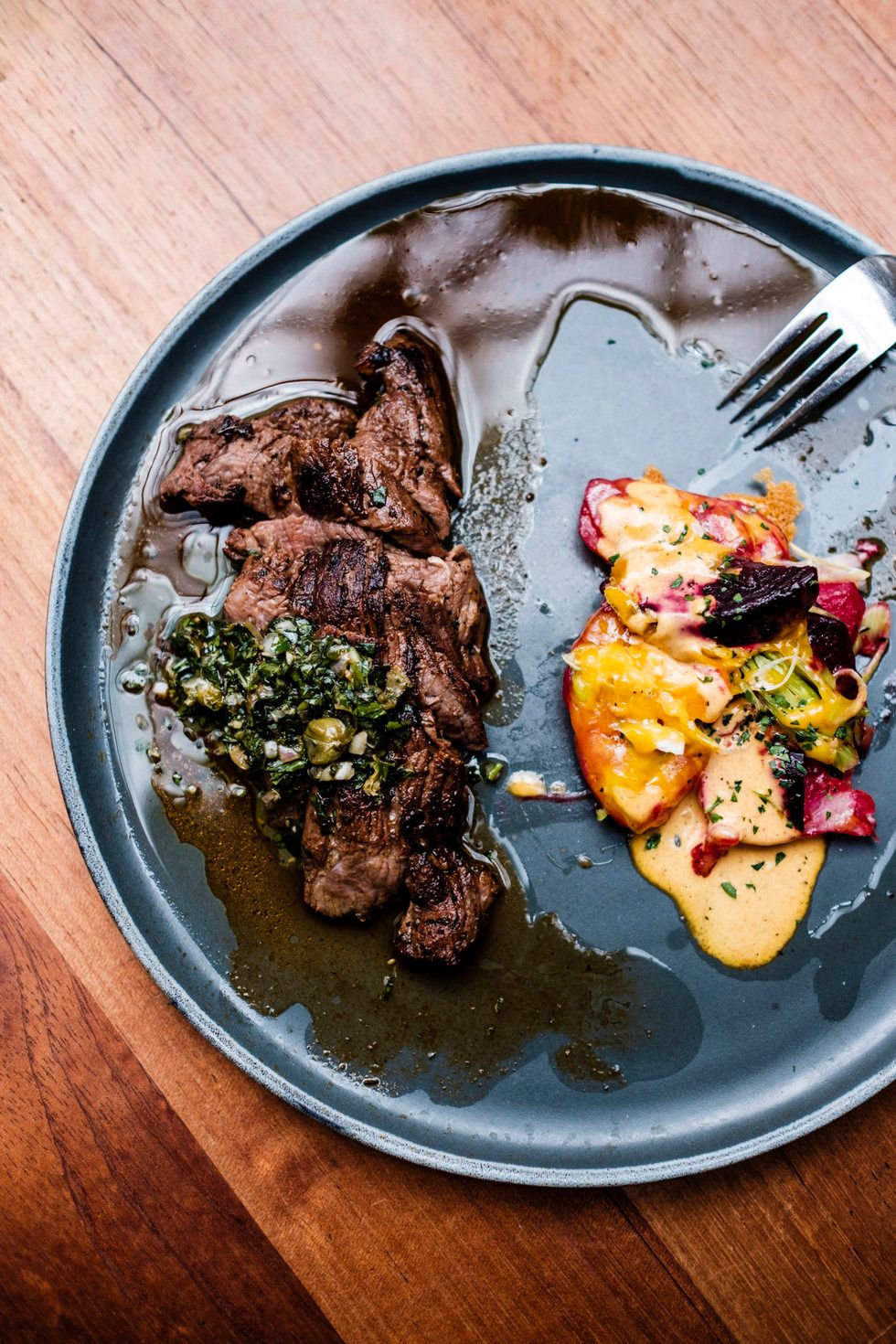 Lomo de res at Prudencia
I'm not quite ready to tackle the ants, but it is about time for dinner, so I call a cab to take me north, to the nightlife district of Zona T. I'm unlucky enough to have caught Bogotá's brutal rush hour—it takes nearly an hour of crawling along the hillside on Carrera 1 to travel six miles—but the instant I reach Segundo, any complaints I have melt away. The dining room, around the corner from Segundo's renowned sister restaurant Central Cevichería, is hung with colorful abstract art and looks down through a two-story glass wall onto bustling Calle 85, and the food somehow manages to outshine the space: crudo de res (beef carpaccio) stuffed with mango and chimichurri, squid-ink asparagus tempura, trout in leche de tigre pepper sauce, and a couple of Santísma Trinidads—coffee syrup–spiked Manhattans served in tobacco-smoked glasses. ¡Dios mío!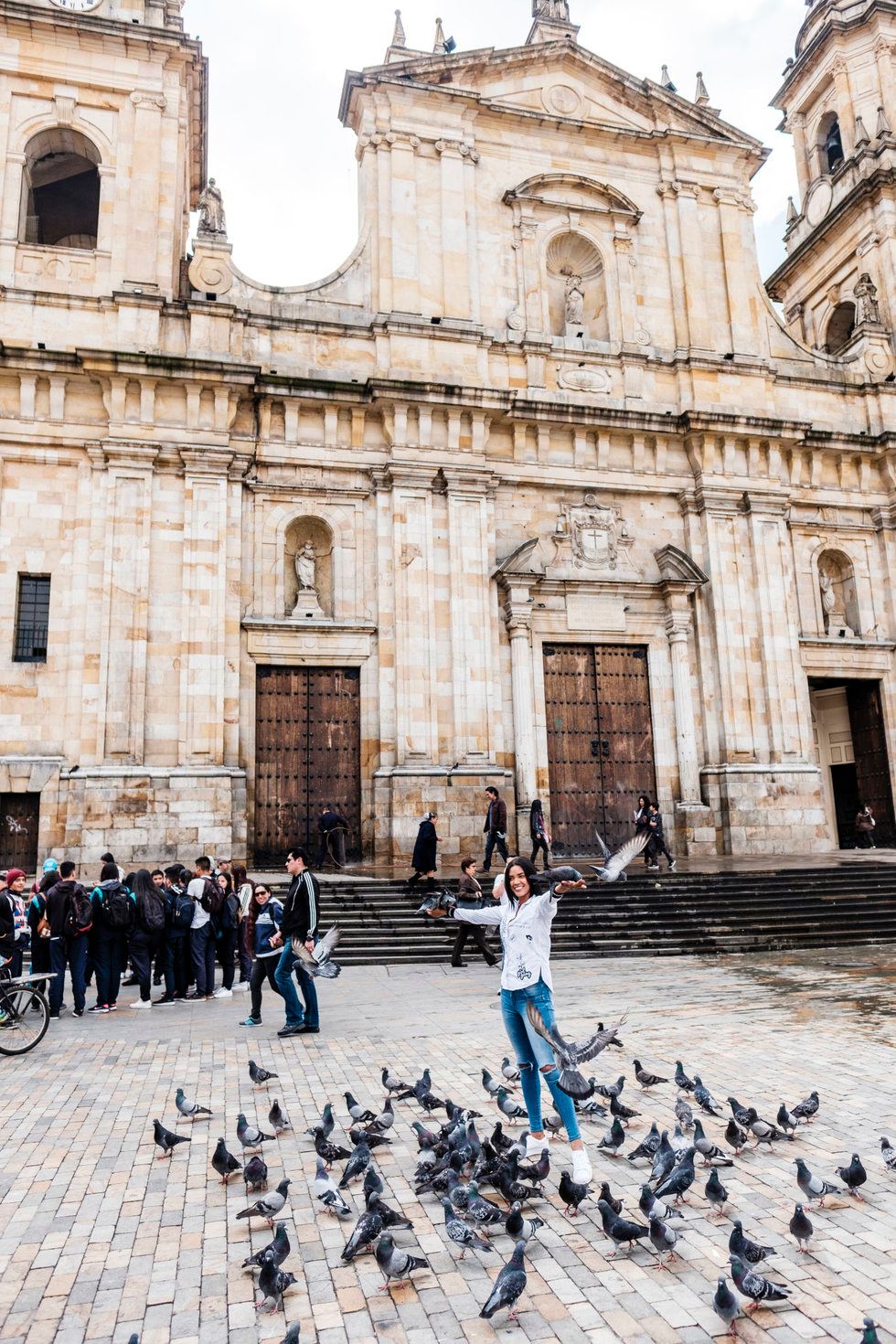 Getting a little too close to the pigeons in Plaza de Bolívar
I'm feeling a bit woozy after my meal—surely it's from the altitude and has nothing to do with those Latin Manhattans—so I take a car to Casa Legado, a stylish seven-room boutique hotel in a 1950s house on a quiet street in the upscale neighborhood of Quinta Camacho. I cross the Alice in Wonderland black-and-white-tiled floor of the foyer, brushing aside the vines hanging from the ceiling, to find the only rabbit hole I need: the space between my sheets.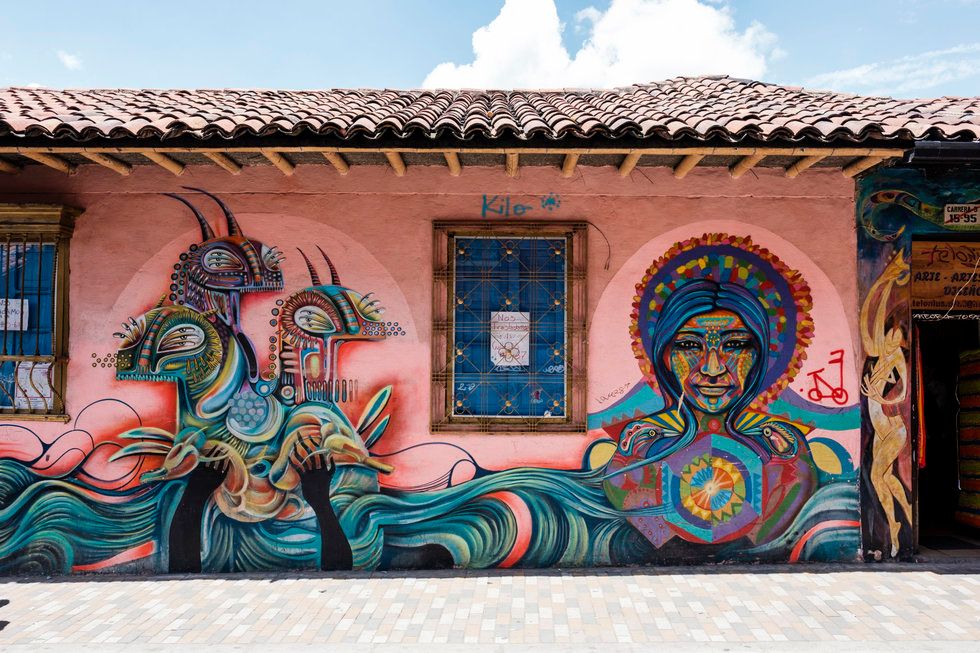 Street art in La Candelaria
Day 2:
Running with the dogs and stopping for contemporary art
You haven't had a hangover until you've been un poco crudo at 8,660 feet. My tropically wallpapered room at Casa Legado is charming, but I still wake up feeling compressed, like I spent the night in a coffin with Andre the Giant. To snap out of it, I strap on my sneakers and jog north on Carrera 9, past the chichi Zona Rosa, until I hit Parque El Virrey, where I follow a trail along a canal, dodging scores of dog walkers and their enthusiastic hounds.
The only place that might be more dog-friendly than El Virrey is the parkside Canasto Picnic Bistró. The sunlit patio is hung with wicker picnic baskets, and the tables are taken up by neighborhood residents with, yes, their pups lying underneath. I'm a little sweaty but also in need of food, pronto, so I take a seat, sans four-legged friend, and order an arepa with roast beef, fried egg, and hogao (Colombian creole sauce). As I'm cutting into the arepa, the restaurant's owner, Alejandro Cuéllar, a brash raconteur-chef in the mold of Anthony Bourdain (RIP), stops by. When I tell him I'm enjoying my meal, he offers to take me on a tour of a few of the city's culinary standouts. "Is everyone in Colombia this welcoming?" I ask.
"I ask for a recommendation of something '...not by García Márquez,' the clerk finished my sentence."
"We're very good hosts," Cuéllar replies. "Very serviciales. When people get here, we're really excited to show them that this is an amazing city and an amazing country."
We make a date for tomorrow, because I've got a different kind of hot spot on the menu for the rest of this morning. A few blocks north, in the posh Parque 93 neighborhood, I visit Galería La Cometa (The Kite Gallery), where I see a show of midcentury Colombian photography, including the busted camera Carlos Caicedo used in 1965 to snap a shot of then-President Guillermo León Valencia when the politician got drunk and fell down in a restaurant. (You can probably guess how the camera got broken.) I then continue the art hop with a quick car ride to the charming Chapinero neighborhood and Casas Riegner, perhaps Bogotá's best-known gallery. Here, I catch a show of 27 textile artists, including five Colombians. My favorite works are Olga de Amaral's gold-leaf wall hangings and Conversation Piece, an ongoing knitwork by María Angélica Medina.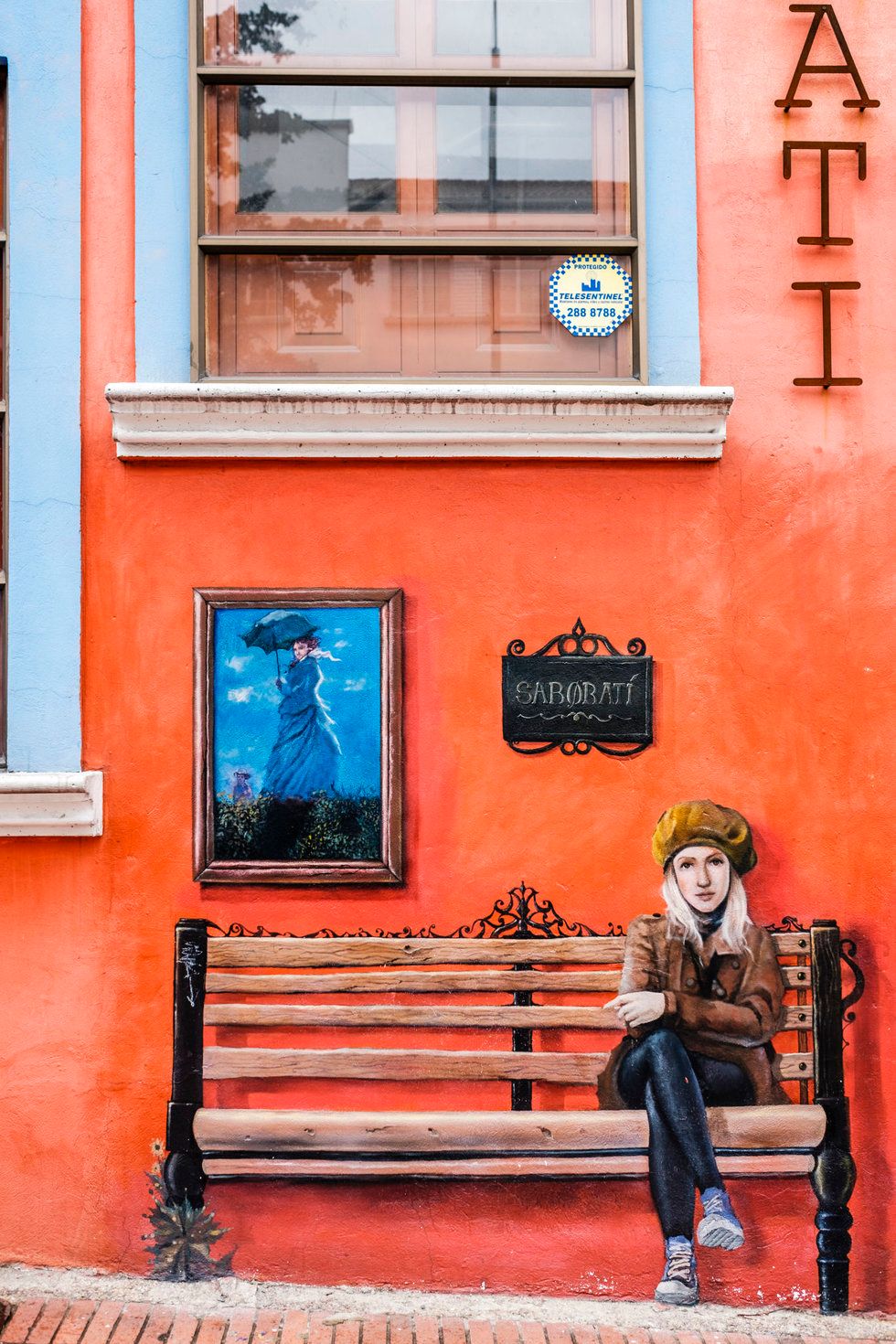 Lifelike street art in La Macarena
The artistic stimulation has me starting to feel peckish, so I take a 10-minute walk through Zona G (for Gourmet) to El Chato, where Alvaro Clavijo, an alum of Noma and Per Se, serves refined cuisine focusing on Colombian ingredients. I take a mini tour of the menu, scarfing down grilled chicken hearts, delicate ceviche, and arracacha bread with bone marrow, all of it exquisite.
Looking for a little more local color, I take a 10-minute car ride to the up-and-coming neighborhood of La Macarena, where I stroll up and down hilly streets, past graffitied walls and coffee shops, and stop at Luvina, a bookshop and salon space. The friendly clerk who greets me explains that the store is named after a town in a short story by Juan Rulfo, the Mexican author who pioneered magical realism, the style favored by Colombia's greatest writer, Gabriel García Márquez. I ask for a recommendation of something "... not by García Márquez," the clerk finishes my sentence. He clearly gets that question a lot, and he's ready with a book of travel narratives by Santiago Gamboa, Ciudades al final de la noche. My Spanish is gonna have to get better in a hurry.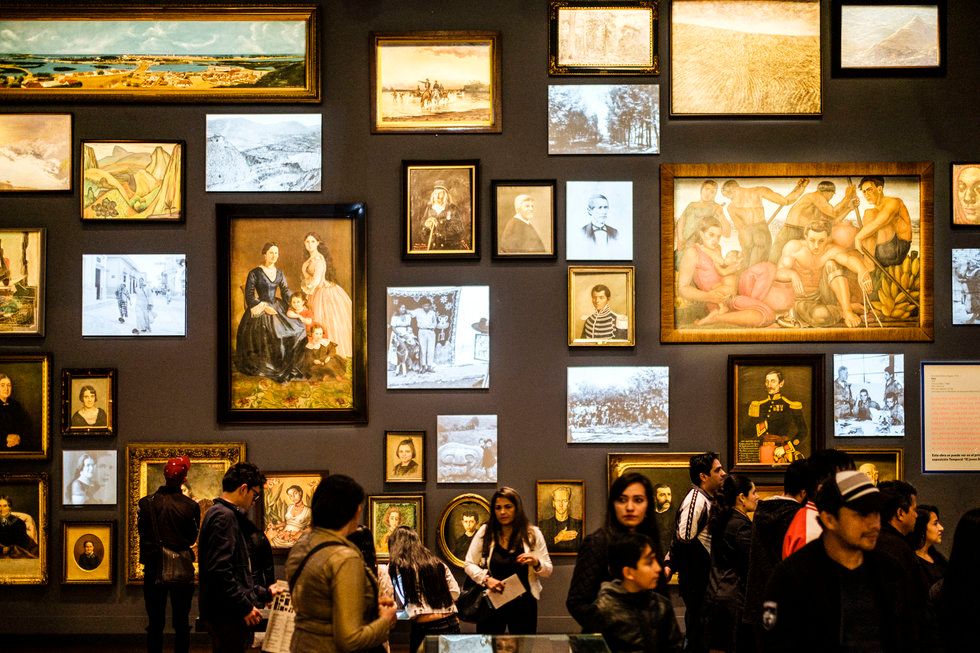 The Wall of Diversity at the Museo Nacional
From the bookshop, I wander downhill, along brick-paved Calle 30, lined on either side with brightly colored houses and restaurants, to the Museo Nacional. The museum's highlights include a replica of an excavated 13th-century tomb; the "Wall of Diversity," with works by artists such as Guillermo Wiedemann and Enrique Grau that portray Colombia's ethnic and cultural heterogeneity; and a room that documents the 1948 assassination of presidential candidate Jorge Eliécer Gaitán, which plunged the country into years of chaos.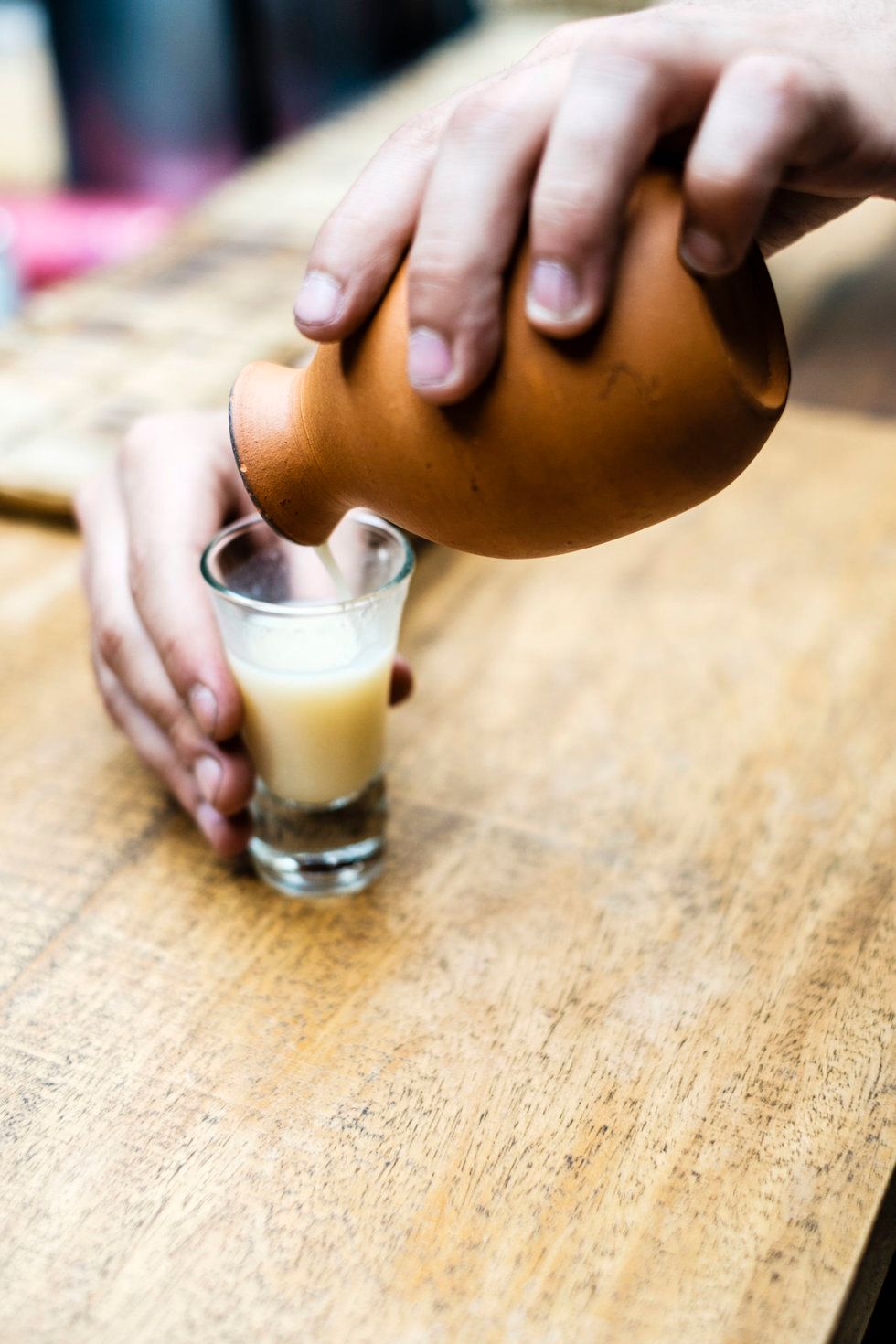 Pouring a shot of chicha at Chichería Demente
From a dark moment in the nation's past, I go to one of the bright stars of its present. All it takes is a knock on an almost entirely unmarked door (and, OK, a reservation made well in advance) for me to enter Leo, which is run by Leonor Espinosa, who was named Best Female Chef on the Latin America's 50 Best Restaurants list in 2017. Though the space feels a bit like a restaurant in New York—jazz music, a sculpture of what looks like the Empire State Building—the ciclo-bioma menu is fully engaged with Colombia and its many biomes: Pacific tuna crusted with Santander ants; flan made from tucupí (wild manioc sauce); the giant Amazonian fish pirarucú, served with fermented yuca; local duck on an arepa-flour tortilla. This is where I start to lose track of the courses—did I mention that each one comes with a drink pairing?
To follow up such an insane meal, I need a lunatic nightcap, so I take a car to a quiet street on the edge of Chapinero, where I find Chichería Demente, a cavernous bar and restaurant that specializes in the traditional fermented-corn drink chicha. I've had chicha once before, poured chunkily out of a gasoline jug on a dirt farm in the hills of Panama. This stuff is much better—smooth, funkily sweet, and, most important, served in a clean clay jar. A large mural on the wall depicts a politician crying out "¡Que viva la chicha!" and I raise my drink to him in solidarity.
Day 3:
Going from a golden gallery to a blood-red bar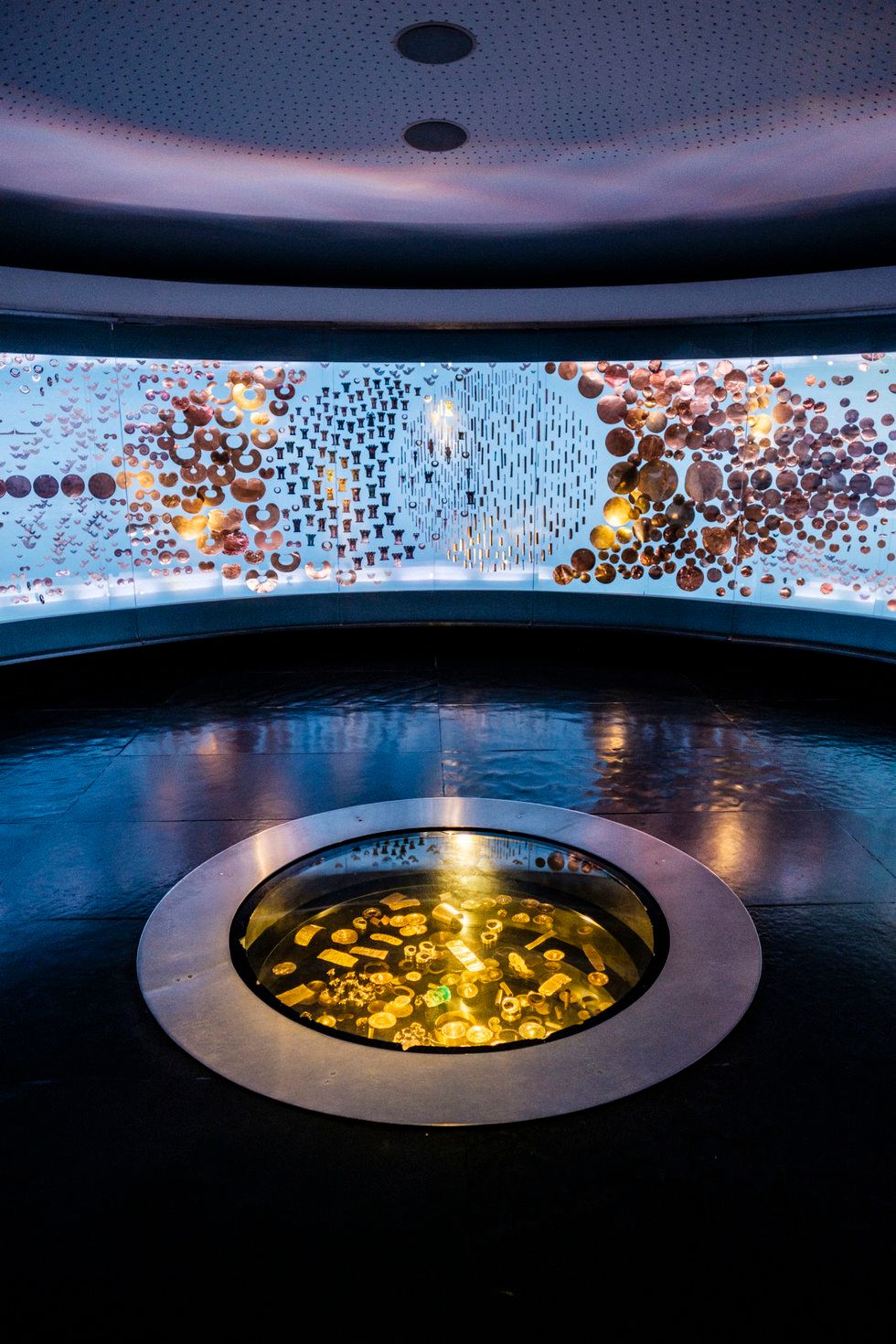 The stunning gold room at the Museo del Oro
With all the running around on day one, I missed the city's two most famous museums, both right near the Plaza de Bolívar. I start at the Museo del Oro—or, more accurately, the café in the museum's basement, where I knock back a cup of Chemex-brewed black coffee from San Alberto, one of Colombia's best-known growers. It's very strong and bitter—a bit potent for a guy who usually likes a little coffee with my cream, but also exactly what I need to combat the aftereffects of the chicha.
Fully caffeinated, I proceed upstairs and into the galleries. The 55,000-plus-piece collection focuses largely on works the country's pre-Hispanic peoples made with gold and copper alloys. Most impressive is the pitch-black "gold room," where, as a ritual chant of the Muisca people plays, the lights slowly come up to reveal, in wall and floor displays, 3,000 brilliant gold artifacts. El Dorado indeed.
"As a ritual chant plays, the lights slowly come up to reveal 3,000 brilliant gold artifacts."
It's just a five-block walk to another cultural landmark, the Museo Botero. Medellín-born artist Fernando Botero is famous for depicting rounded, voluminous subjects, using their exaggerated bulkiness to question our sense of proportion (and sometimes to poke fun at historical works or political figures). I love them all, but especially the painting of a bloated Mona Lisa and the bulbous bronze sculpture of Leda and the Swan.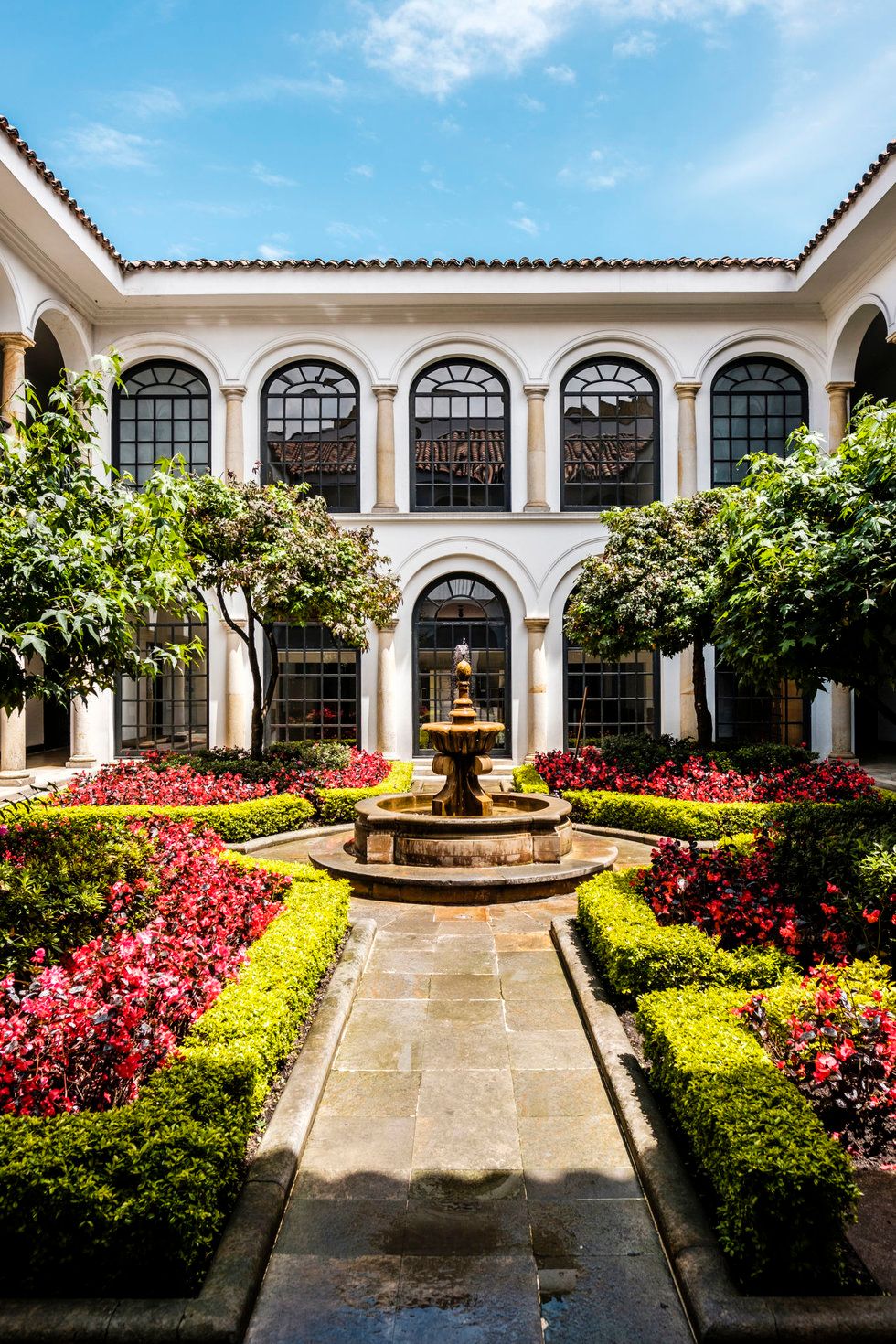 The courtyard at the Museo Botero
That powerful cup of coffee is the only thing I've put in my body so far today, and there's a reason: I've been saving space for the lunchtime odyssey Alejandro Cuéllar promised me. I meet him back in Quinta Camacho, at El Pantera, a hole-in-the-wall that he and a couple of partners just opened that makes Mexico City–style street tacos using Colombian ingredients. As we chow down on chicharrón and cochinita pibil tacos, he explains the effect Colombia's incredible biodiversity has on its cuisine.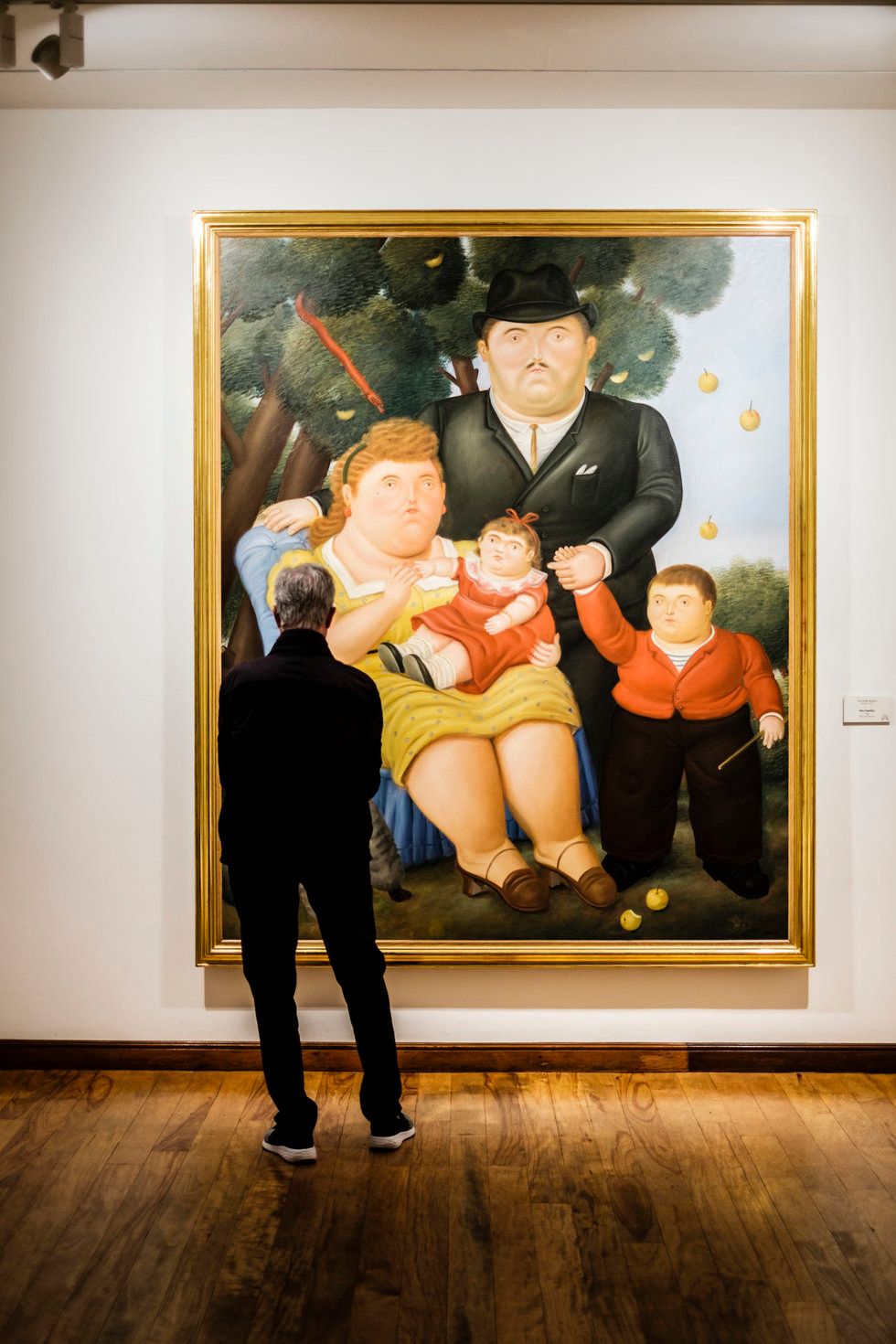 A patron viewing Fernando Botero's Una Familia
"When I travel, people ask, 'What do you cook in Colombia?'" he tells me. "We do everything. We have all the climates in the world. You can drive an hour and go from cold to completely tropical, so you can have all the ingredients there are, within an hour."
We finish our tacos, and Cuéllar smiles conspiratorially. "What do you say we go and eat a proper meal?" Ten minutes later, we pull up to Mesa Franca, a restaurant that chef Iván Cadena—the former sous chef at Lima's legendary Central—opened two years ago in a 1930s house. We sit in the lovely, sunlit, garden-style dining room and have calamari and veal sweetbreads, red snapper ceviche, yuca fritters with smoked trout, and pork belly in peanut sauce.
I don't think I can eat any more, but Cuéllar insists on one more stop. We walk three blocks uphill and through the blue-tiled entrance of Salvo Patria, where we order a decadent milhoja (mille-feuille) with buffalo-milk ice cream and dulce de leche and another cup of bold Colombian joe. "This is a typical dessert, but it's not usually made this detailed," Cuéllar says. I tell him that I wouldn't use the word typical to describe anything I've consumed today.
"Peering over the railing, I cast my eyes across the glass skyscrapers of the city center and the orange roofs of La Candelaria."
After rolling me out of the restaurant, Cuéllar offers me a ride to my new hotel, the Four Seasons Casa Medina, back in Zona G. Skirting the open-air brick courtyard makes me feel as if I'm walking the passageways of a Spanish castle—but the only royalty I'm interested in right now is my king-size bed. Hasta luego.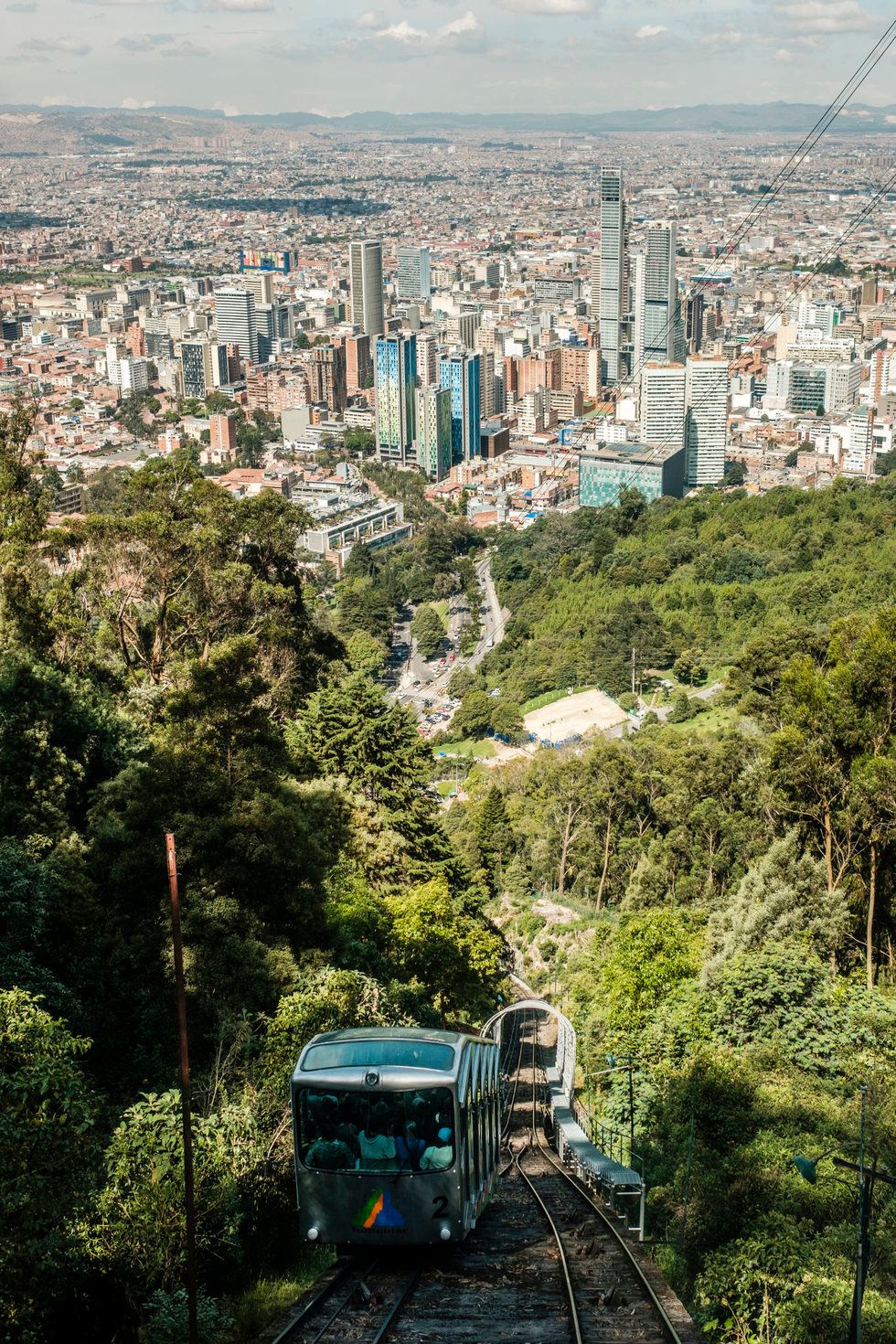 The funicular railway and the city below, seen from Cerro de Monserrate
Rejuvenated by the nap, I dial up an Uber. Fifteen minutes later, I'm at the foot of Cerro de Monserrate, the mountain that stands sentinel over the 600-plus-square-mile Bogotá metro area. I take the teleférico up, the cable car climbing through evergreen forest and into the clouds. At the top, it takes only a few steps for me to feel short of breath, but that doesn't stop me from trudging up the stone walkway to the white stucco church at the peak. Peering over the railing, I cast my eyes across the glass skyscrapers of the city center, the orange roofs of La Candelaria, and the shantytowns that sprawl across the hillsides to the east. Right below me, a couple of pilgrims are climbing the footpath from the base of the mountain. I wish I believed in anything enough to do that.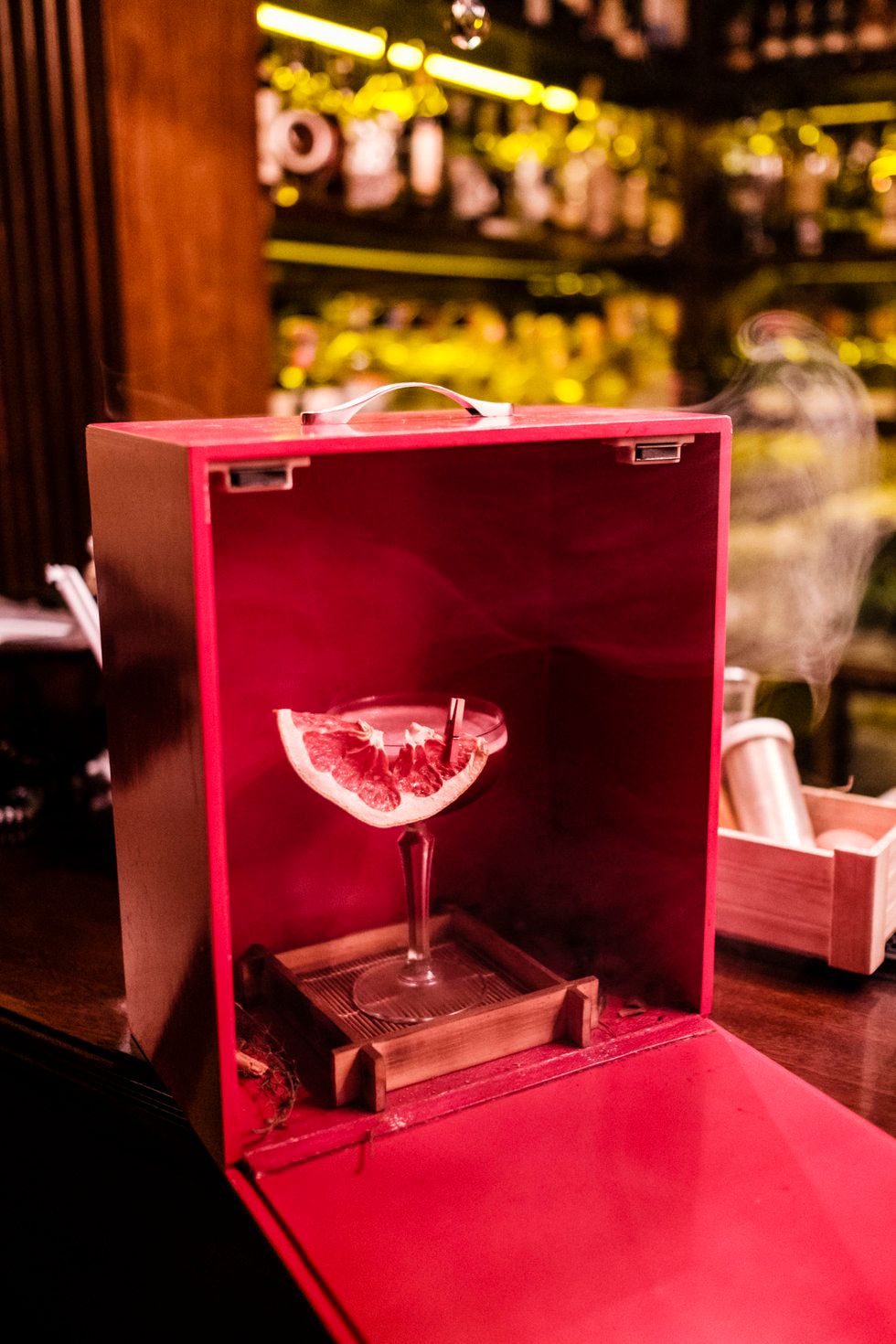 The Red Room's namesake cocktail
Sufficiently humbled, I descend on the teleférico and get a car back to Chapinero. By the time we've fought through the traffic, I'm due for dinner at Villanos en Bermudas. Here, chefs Sergio Meza and Nicolás López work an open kitchen in a room that has the vibe of an expensively catered party at Banksy's house. I recognize Meza, a Mexican with a red afro who looks a bit like a buff, tattooed Sideshow Bob; it turns out he was lunching at El Chato at the same time I was yesterday. "The man can cook," he says of Alvaro Clavijo. "We just f*** around."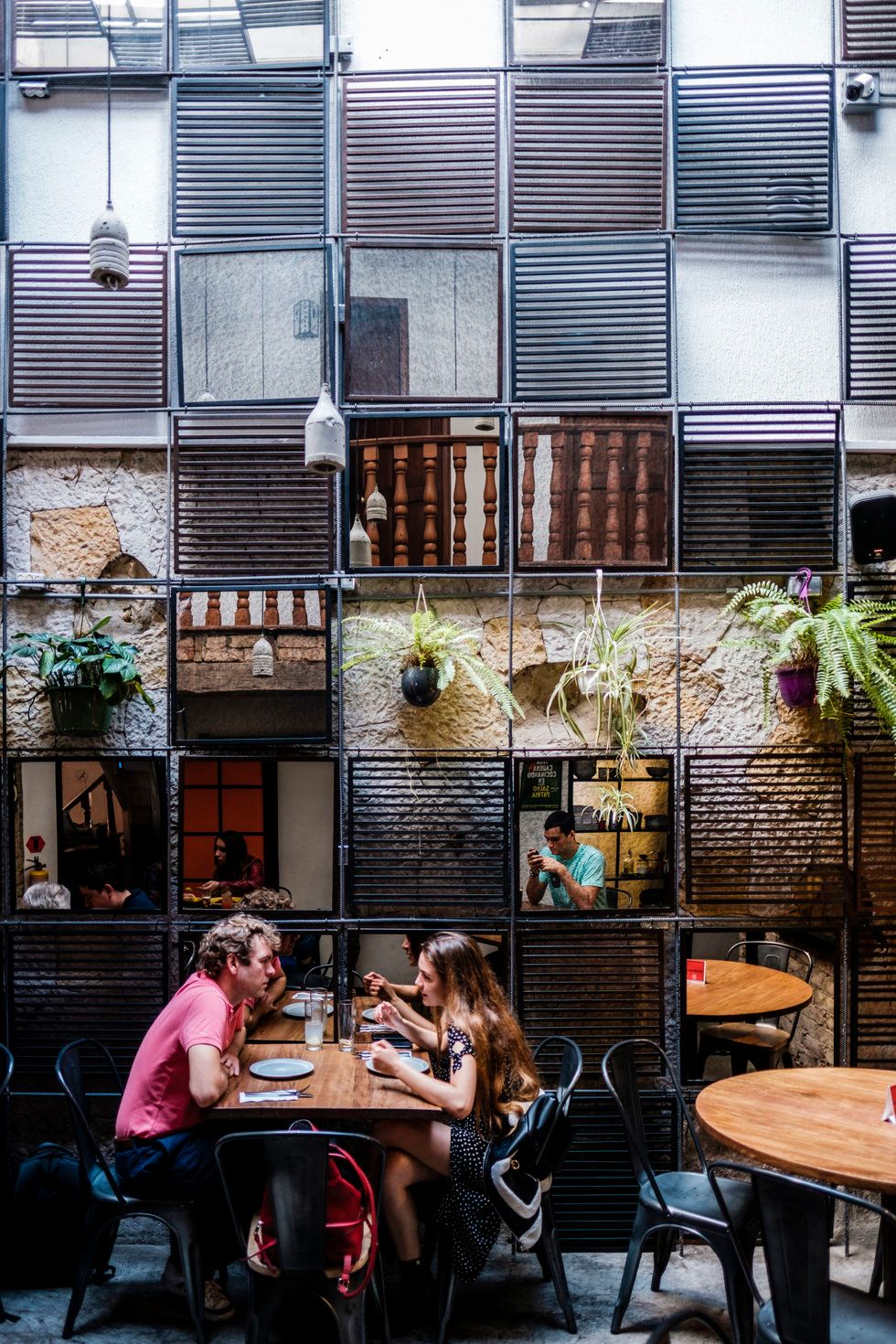 The stylish interior at Mesa Franca
Their, um, messing around earned Villanos en Bermudas a No. 40 ranking on the most recent Latin America's 50 Best list. My "salad" is a breakfasty goat's milk yogurt with black beans, strawberries, and savory granola. The house-baked sourdough comes with butter that's been whipped with black garlic. Kimchi and Iberian ham accompany a butternut squash soup. Even my funky pinot noir, from New Zealand's Valli Vineyards, sticks to the elegant-yet-offbeat theme. "That guy's weird," Meza says of the winemaker. "Sometimes he'll just trade the wine for stuff, not even sell it."
I thank the chef and head for a nightcap at another quirkily snazzy spot nearby. The decor at the Red Room adheres to the bar's name aggressively: The carpets and walls and stairs and seat cushions are all the same titular color. I order the eponymous house cocktail, a Scotch and bourbon concoction brought to the table in a red box full of smoke. The whole experience makes me feel like I'm in a jazz bar in a David Lynch movie (Red Velvet?). More than that, though, I feel as if I've stumbled onto a mysterious treasure. It's a sentiment that has suffused my entire journey. I've found gold in these hills—cultural gold—and I'll soon be back for more.
Canada's largest city spreads out along the northwestern shore of Lake Ontario, and it's a dynamic, multicultural and inclusive experience like almost no other place on earth. Not only is Toronto a thriving living city,it's also become one of the world's truly must-visit destinations. Regularly ranked as one of the greatest places to live, Toronto is the cultural center of the country and home to the biggest events, the most pro sports and the greatest concentration of theaters and restaurants.
Recent decades have seen regular multi-million-dollar upgrades to the city's public spaces, with a slew of great museums, iconic architecture and the redevelopment of the now glittering lakefront adding to the city's appeal.

Add in an ever-growing number of world-class hotels, upbeat nightlife that runs from dusk until dawn and a vibrant and diverse culinary scene influenced by the eclectic makeup of the city's people. Bright and bustling, cosmopolitan and cultured, unpredictable and energetic, Toronto has become one of the greatest cities on earth.
What you see and where you go will depend on the length of your stay. A week is good, longer is better. But even a long weekend will give you a taste of 'The Six' — one of the city's many nicknames, reworked recently as 'The 6ix' by one of its most famous sons, Drake.

However long you stay, you can't hope to see it all. So, consider what follows a starting point for your first visit…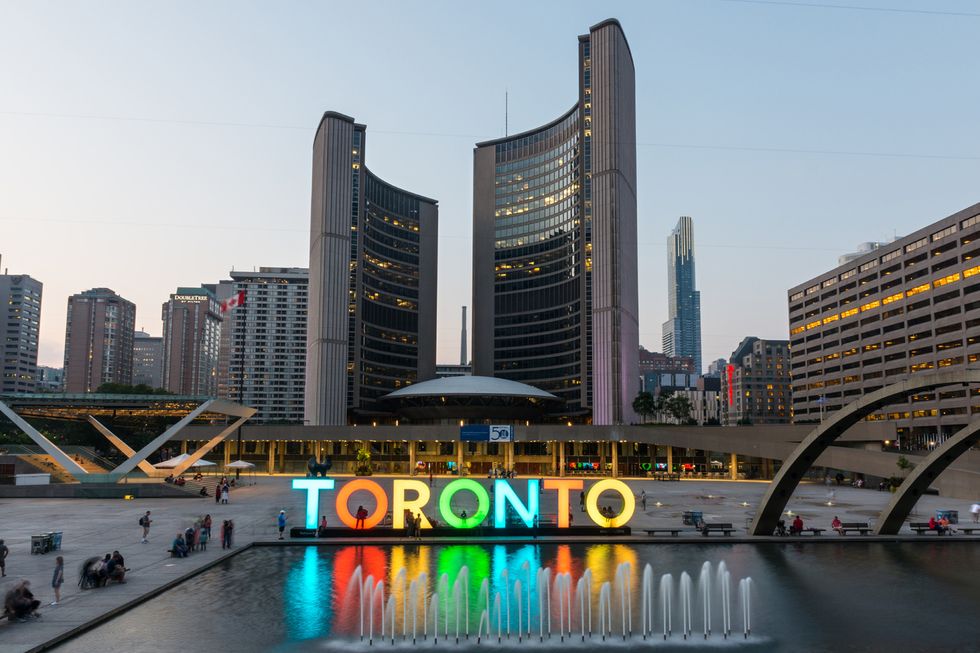 City Hall, Toronto
The checklist sites

No visit to The Six can be considered complete without ticking off several of Toronto's true heavyweight sights. All of the following are in or within easy reach of the city's compact, walk-able and very vibrant center.
The CN Tower is unmissable in every sense, a vast freestanding spire that looks down upon the city and takes its place as one of the 'Seven Wonders of the Modern World'. Head up for the city's best 360-degree views, or get your heart racing on the EdgeWalk — a journey around the circumference of the tower's main pod, 116 stories high and tethered by a harness.

Back on solid ground, Ripley's Aquarium is almost right next door to the CN Tower and is home to 16,000 aquatic animals and the Dangerous Lagoon. A moving sidewalk that whisks you through a long tunnel surrounded by sharks and stingrays is guaranteed to make your heart race all over again.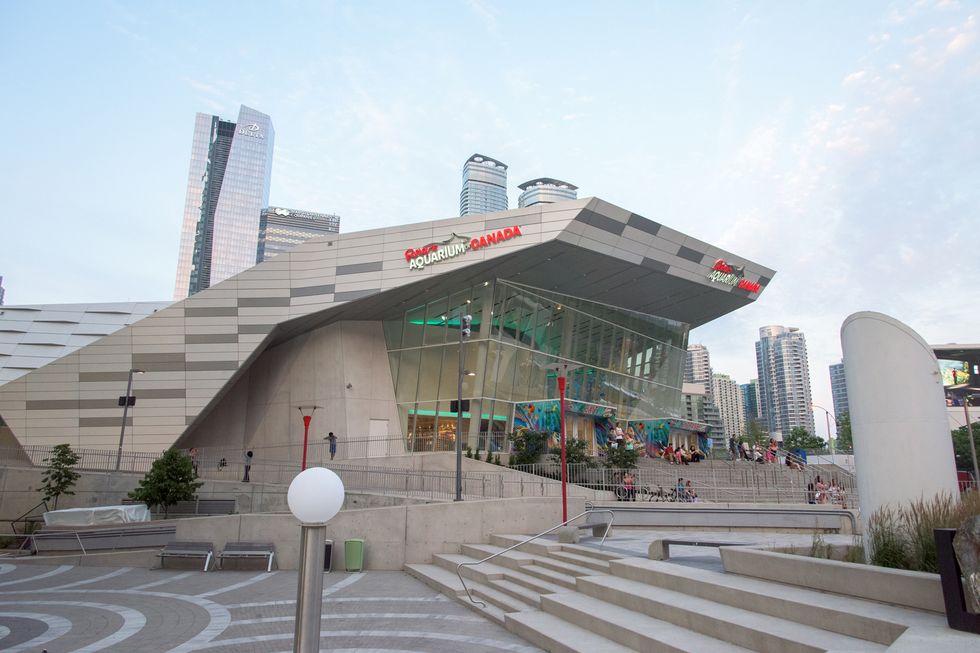 Ripleys Aquarium
Also close to the CN Tower is the Rogers Center, home to Canada's only baseball team, the Toronto Blue Jays. Visit on game day for the full experience, or take the stadium tour to go behind the scenes and through closed doors.

In a city of so many museums and galleries, the Royal Ontario Museum stands out. Not just because it's home to a world-class collection of 13 million artworks, cultural objects and natural history specimens, but as much because it hosts exciting Friday night events that include dance, drink and top DJs.

Two other must ticks include the Art Gallery of Ontario, which houses 95,000 works of art and is free for visitors under 25, and the Hockey Hall of Fame, which taps into Canada's national obsession in stunning depth.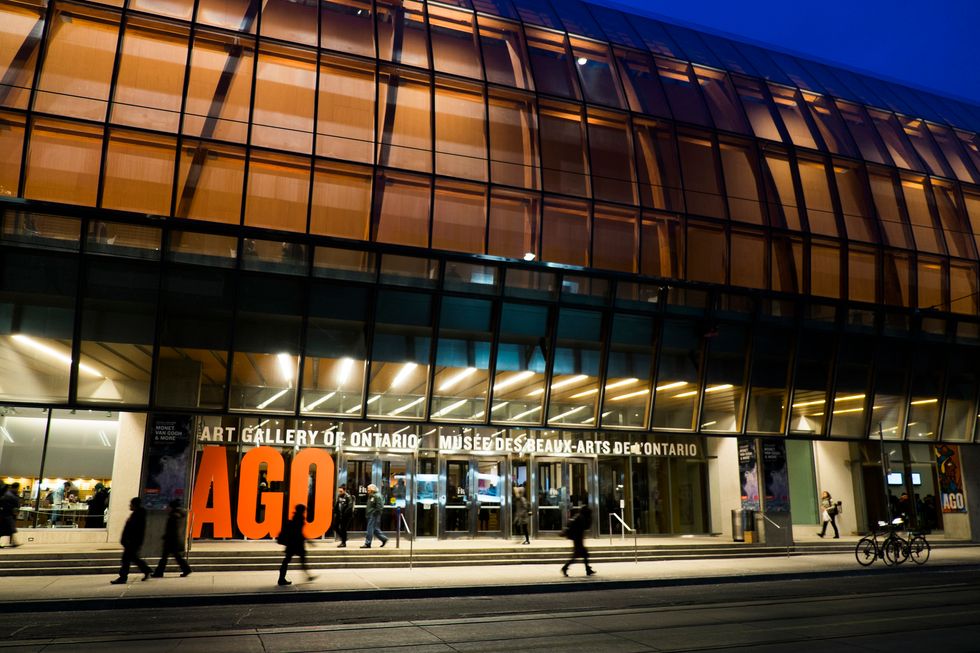 Art Gallery of Ontario
Casa Loma is a must-visit Gothic castle in the heart of the city. North America's only castle is filled with artworks and treasures from Canada and beyond, but its big pull is the network of hidden tunnels to explore as they stretch out beneath the city.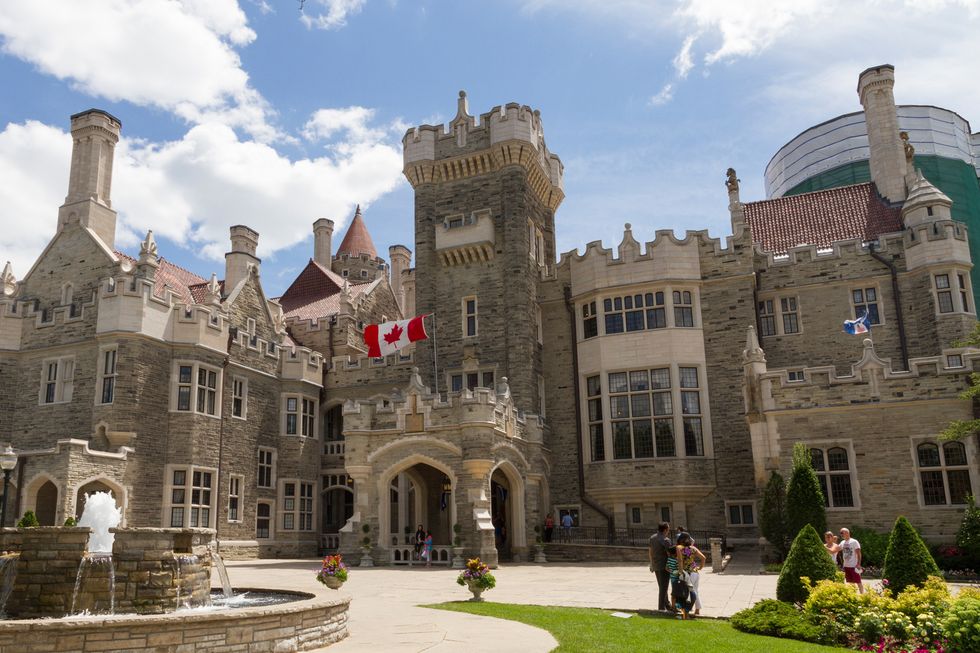 Casa Loma
Toronto's multi-cultural makeup is visible all across the city but reflected best in its remarkable culinary scene (see Where to eat and drink). The city's 'fresh and local' mantra is perfectly showcased at St. Lawrence Market, one of the world's greatest food experiences. Pay it a visit and grab a peameal bacon sandwich — a Canadian staple invented in Toronto and now considered the city's signature dish.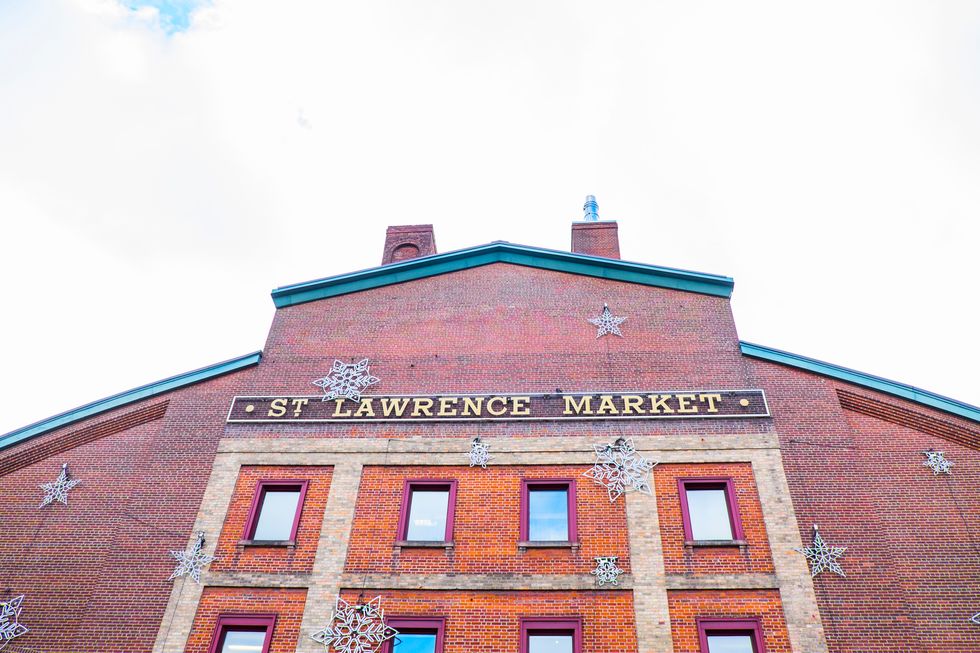 St. Lawrence Market
Afterwards, walk off the calories by wandering the historic cobblestone and car-free Distillery District. Once a vast whiskey distillery and an important spot during prohibition, historians mention that even Al Capone would visit the Distillery to load alcohol destined for the States[9] . This iconic landmark now distils creativity within the 19th century buildings now home to hip restaurants, bars, independent boutique stores, galleries and theaters. Visit in December for the Toronto Christmas Market.

Finally, don't even think about returning home without having had a picture taken with your head poking through an 'O' of the multicolored, 3D Toronto sign at City Hall — the most Insta-worthy location in a city of so many. You'll need to head there early in the morning to avoid the crowds.

If you stay long enough, take a ferry and hop across to Toronto Islands, a chain of 15 small islands in Lake Ontario just south of the mainland. They're home to beaches, a theme park and a breathtaking view of the city's skyline and will very happily fill a full day of your stay.
The bucket list
You absolutely cannot leave Toronto without having witnessed the power of the Niagara Falls and its hypnotic mist up close. Trying to visit the Falls from the States is a trip on its own, but it's almost non-optional when you're less than two hours away in Toronto. Take the trip, buy the T-shirt and tick off one of the world's must-see sights.
Explore like a local
Away from the sleek, gleaming towers of downtown lie many of Toronto's less obvious but no less essential attractions. West Queen West is Toronto's hippest neighborhood and artistic heart, a one-mile strip of very chic galleries, stores, restaurants and boutique hotels. Kensington Market is a fantastically chaotic neighborhood and perhaps the best example of the city's famous multiculturalism. It's not a market as the name implies, but a collection of independent shops, vintage boutiques, art spaces, cafés, bars and restaurants from every corner of the globe.
The Bata Shoe Museum is one of the city's quirkiest collections, an unexpectedly fascinating exhibit that retraces the 4,500-year history of footwear. And as you wander the city, you can't fail to notice that Toronto's walls are alive with graffiti. Take a free 90-minute walking tour through the back alleys of Queen Street West and down Graffiti Alley to gain a better understanding of the city's street art scene. If you visit during the sunnier months, escape the hustle by heading just east of the center to High Park, the green heart of the city where forests, walking trails, picnic spots and even a zoo await you. Ideal to unwind after a long day of urban adventures.
The essentials
When to go With the sun shining, May through October is a great time to visit, but the city is alive through all four seasons. The Spring and Autumn months are ideal as the humidity and visitor numbers are lighter, while Toronto comes alive through the colder months through a wide array of winter celebrations. One of the most spectacular is the Aurora Winter Festival, a six-week celebration that sees the Ontario Place, West Island transformed into four mystical worlds. Whichever season you choose, plan to stay for at least five nights to get a true flavor of the city.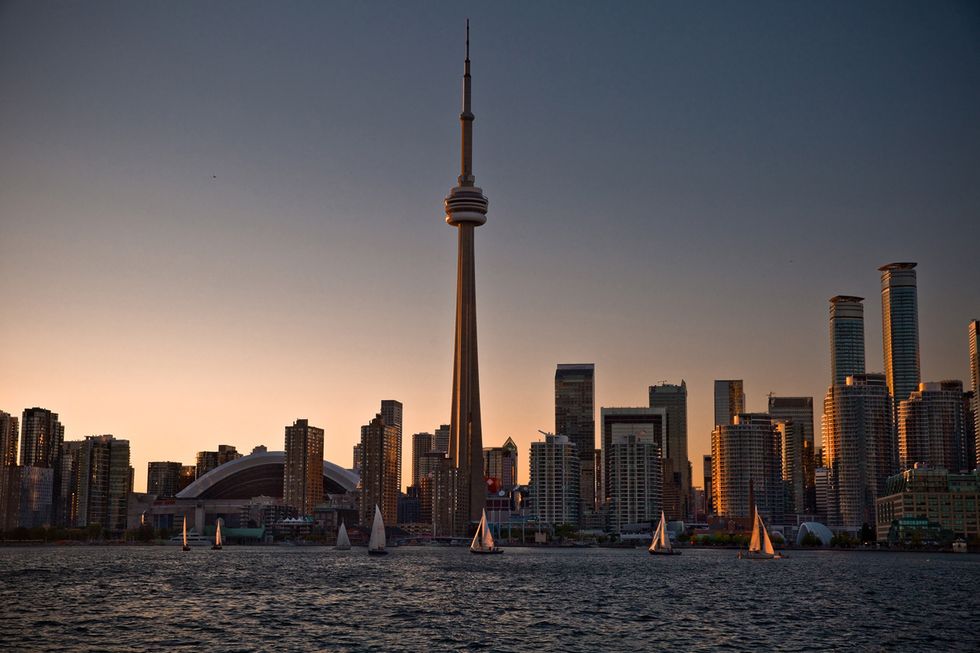 Toronto skyline view
Where to stay To be at the heart of most of the attractions you'll want to see, aim for downtown. One of the best options is the Marriott City Center, not only because it's located right next to the CN Tower but also because it's attached to the iconic Rogers Center where the Toronto Blue Jays play and countless concerts and popular events are held.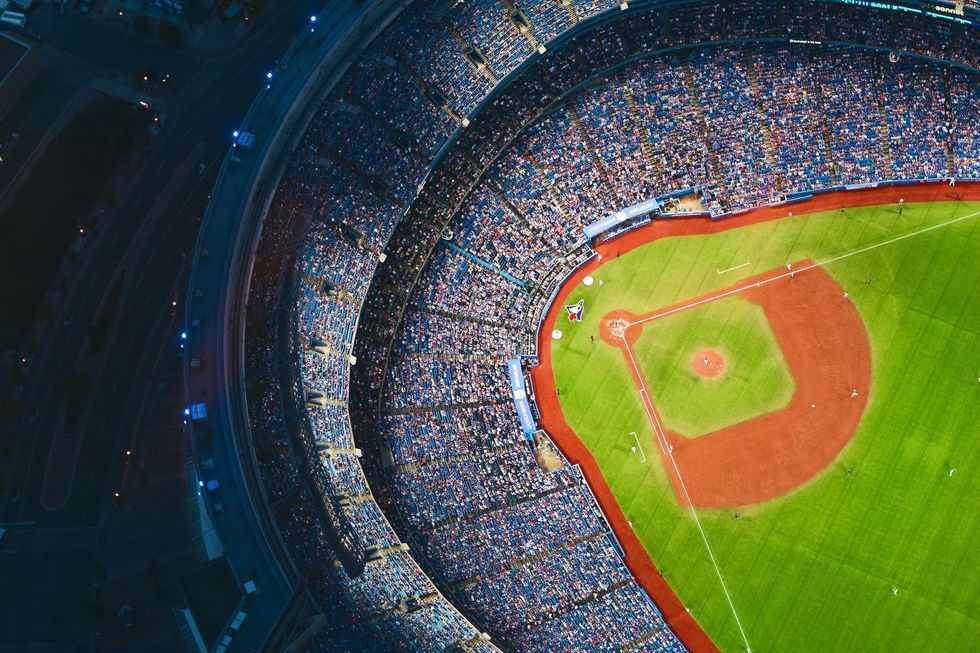 Toronto Blue Jay stadium
Opt for a Stadium room and you'll look out onto the field. If you want to experience Toronto's non-stop nightlife, the Entertainment District is the place to be. If you're looking for a luxury experience, discover Canada's first St. Regis hotel in the heart of downtown.

Where to eat and drink Nowhere is Toronto's incredible diversity more evident than in its food scene — taste Toronto and you're tasting the world. The city is brimming with restaurants and cafés serving everything from high-end fine dining to comfort food from an informal neighborhood joint — plus every option imaginable in between.

For fine dining, consider Alo, Canis and Edulis. Book a table at Canoe, Lavelle, The One Eighty or 360 at the CN Tower and you're guaranteeing a view as spectacular as the food. Or experience the city's remarkable fusion food at DaiLo (French-Cantonese), El Catrin (Mexican-French) and the unexpected mashup of Rasta Pasta (Jamaican-Italian).
The above suggestions don't even scratch the surface of a food scene to rival any city on earth, with options to suit every taste and any budget.
How to get around Toronto is perfect to explore on foot or via a growing network of cycle routes. For a quicker journey, buy a Presto card to use the TTC, Toronto's subway, streetcar and bus system.

How to get there Fly into Toronto Pearson International Airport (YYZ) with United and you're around 15 miles west of the city center. The most comfortable route in is via the Union Pearson Express, which runs every 15 minutes and gets you downtown in 25 minutes ($13).The TTC is a cheaper option at under $5, but it can take an hour and a half and involves a number of transfers, while a taxi will take around 30 minutes and cost $45.
United flies to Toronto from numerous U.S. cities including our Hub city locations. Book your trip via united.com or by downloading the United app.



Following the devastating wildfires in Australia and powerful earthquakes that shook Puerto Rico last week, we're taking action to make a global impact through our international partnerships as well as nonprofit organizations Afya Foundation and ADRA (Adventist Development and Relief Agency).
Helping Puerto Rico recover from earthquakes
Last week, Puerto Rico was hit with a 5.2 magnitude earthquake, following a 6.4 magnitude earthquake it experienced just days before. The island has been experiencing hundreds of smaller quakes during the past few weeks.
These earthquakes destroyed crucial infrastructure and left 4,000 people sleeping outside or in shelters after losing their homes. We've donated $50,000 to our partner charity organization Airlink and through them, we've helped transport disaster relief experts and medical supplies for residents, as well as tents and blankets for those who have lost their homes. Funding will go towards organizations within Airlink's partner network, which includes Habitat for Humanity, Mercy Corps and Americares, to help with relief efforts and long-term recovery.
Australian wildfire relief efforts

Our efforts to help Australia have inspired others to make their own positive impact. In addition to teaming up with Ellen DeGeneres to donate $250,000 and launching a fundraising campaign with GlobalGiving to benefit those impacted by the devastating wildfires in the country known for its open spaces and wildlife, our cargo team is helping to send more than 600 pounds of medical supplies to treat injured animals in the region.
Helping us send these supplies is the Afya Foundation, a New York-based nonprofit that seeks to improve global health by collecting surplus medical supplies and delivering them to parts of the world where they are most needed. Through Airlink, the Afya Foundation will send more than $18,000 worth of materials that will be used to treat animals injured in the Australian fires.
These medical supplies will fly to Melbourne (MEL) and delivered to The Rescue Collective. This Australian organization is currently focused on treating the massive population of wildlife, such as koalas, kangaroos, and birds, that have had their habitats destroyed by the recent wildfires. The supplies being sent include wound dressings, gloves, catheters, syringes and other items that are unused but would otherwise be disposed of.
By working together, we can continue to make a global impact and help those affected by natural disasters to rebuild and restore their lives
Australia needs our help as wildfires continue to devastate the continent that's beloved by locals and travelers alike. In times like these, the world gets a little smaller and we all have a responsibility to do what we can.
On Monday, The Ellen DeGeneres Show announced a campaign to raise $5 million to aid in relief efforts. When we heard about Ellen's effort, we immediately reached out to see how we could help.
Today, we're committing $250,000 toward Ellen's campaign so we can offer support now and help with rebuilding. For more on The Ellen DeGeneres Show efforts and to donate yourself, you can visit www.gofundme.com/f/ellenaustraliafund
We're also matching donations made to the Australian Wildfire Relief Fund, created by GlobalGiving's Disaster Recovery Network. This fund will support immediate relief efforts for people impacted by the fires in the form of emergency supplies like food, water and medicine. Funds will also go toward long-term recovery assistance, helping residents recover and rebuild. United will match up to $50,000 USD in donations, and MileagePlus® members who donate $50 or more will receive up to 1,000 award miles from United. Donate to GlobalGiving.
Please note: Donations made toward GlobalGiving's fund are only eligible for the MileagePlus miles match.
In addition to helping with fundraising, we're staying in touch with our employees and customers in Australia. Together, we'll help keep Australia a beautiful place to live and visit in the years to come.
Scroll to top