Three Perfect Days: Bogotá
Story by Justin Goldman | Photography by Chris Sorenson | Hemispheres, January 2019
Five hundred years ago, when the Spanish conquistadors arrived in the gold-rich, mountainous area that's now Bogotá, they thought they'd found El Dorado. Today, Colombia is still defined by its natural bounty—albeit neither the kind that lured the Spaniards nor the kind that attracted American law enforcement in the 1980s. Instead, what strikes visitors is the kaleidoscopic population of nearly 50 million people, all united by a welcoming spirit. What's more, the landscape is among the world's most biodiverse—diving from the roof of the Andes through grassland, swamp, and jungle to the Pacific and Caribbean coasts—yielding perhaps the best cuisine in Latin America. The locus of all this is the 8,660-foot-high capital, whose 10 million residents infuse modern energy and inventiveness into a centuries-old colonial setting. El Dorado? Maybe not, but after a few days here you'll surely agree Bogotá has entered its golden age.
A harpist performs at the Teatro Nacional Cristóbal Colón
Day 1:
Sampling Bogotá's culinary and architectural delights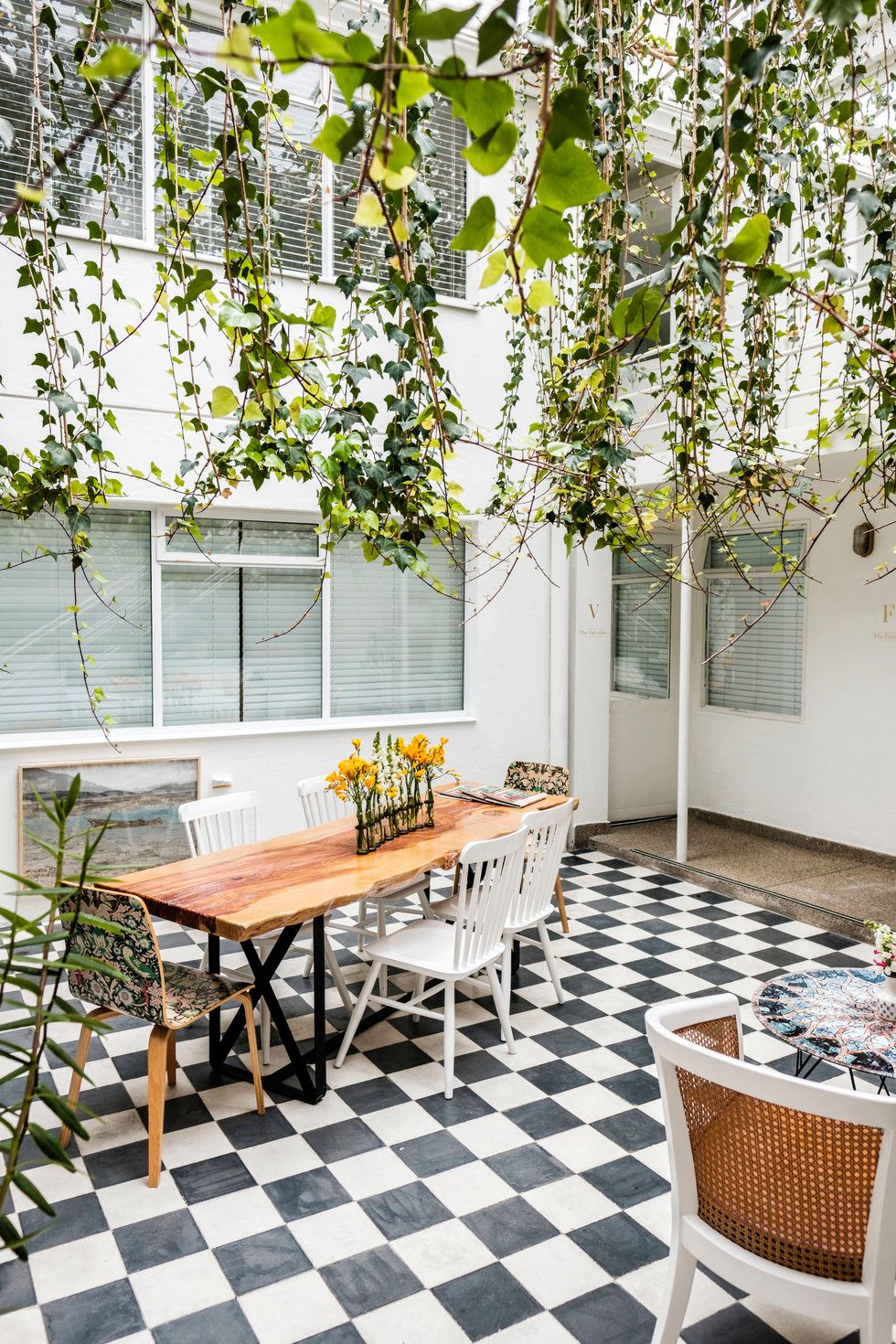 The courtyard at Casa Legado
It's gray and damp on my first morning in Bogotá. As a former longtime San Francisco resident, I'm accustomed to these conditions, but even if I were to get gloomy, I'd know exactly where to find a cure: among the flower vendors at the Mercado de Paloquemao. All shades of carnation, orchid, and rose—Colombia grows the second-most roses in the world—burst from the makeshift tables set up in the market's parking lot. It's impossible not to feel cheery in the face of all the bright blooms, but I don't have time to stop and smell the, well, you know. I'm here for the food.
I cross the lot to meet Juliana Salazar, a local restaurant consultant and guide for the tour company Foodies who's showing me around. "We're gonna start by eating," she says, "because you never want to go to the market on an empty stomach." Conveniently, a stall at the entrance sells breads called amasijos. I try three: pan de queso, pan de yuca, and a fried, corn-based buñuelo.
Now that I've eaten, it's time to start eating. We begin with the fruits. "The Paloquemao is the only market in Bogotá where you're going to see the variety from the entire country," Salazar says, and she's not kidding: I taste tart, aromatic fruits such as kiwi-like lulo (which is used in a popular juice), gulupa (a variety of passion fruit), and granadilla ("the first fruit we give to a baby," Salazar notes). I'm dazzled, even more so when my guide tells me, "This is not the specialized fruit section—this is just common fruits."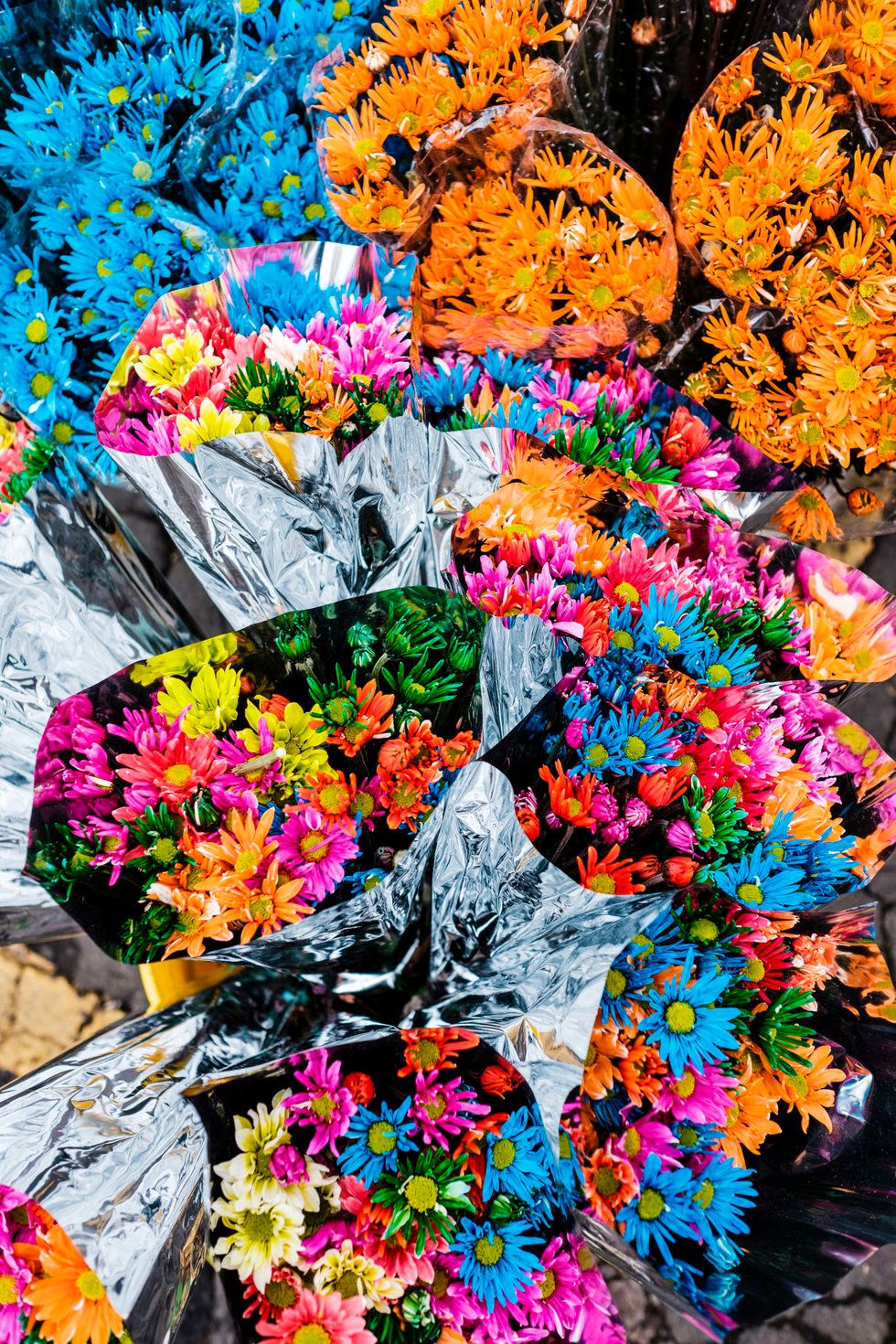 Flowers at the Mercado de Paloquemao
"All shades of carnation, orchid, and rose burst from the makeshift tables set up in the parking lot of the Mercado de Paloquemao."
We continue on, past vendors selling herbs, chocolate, chilies, meat, and the more exotic fruits (cherimoya, mangosteen), to the back of the market, where a counter makes rice-and-pork-filled tamales and lechona, roast pig stuffed with rice. "For a hangover situation, I think it's perfect," Salazar says. I file this away for later, although I'm probably never going to eat again.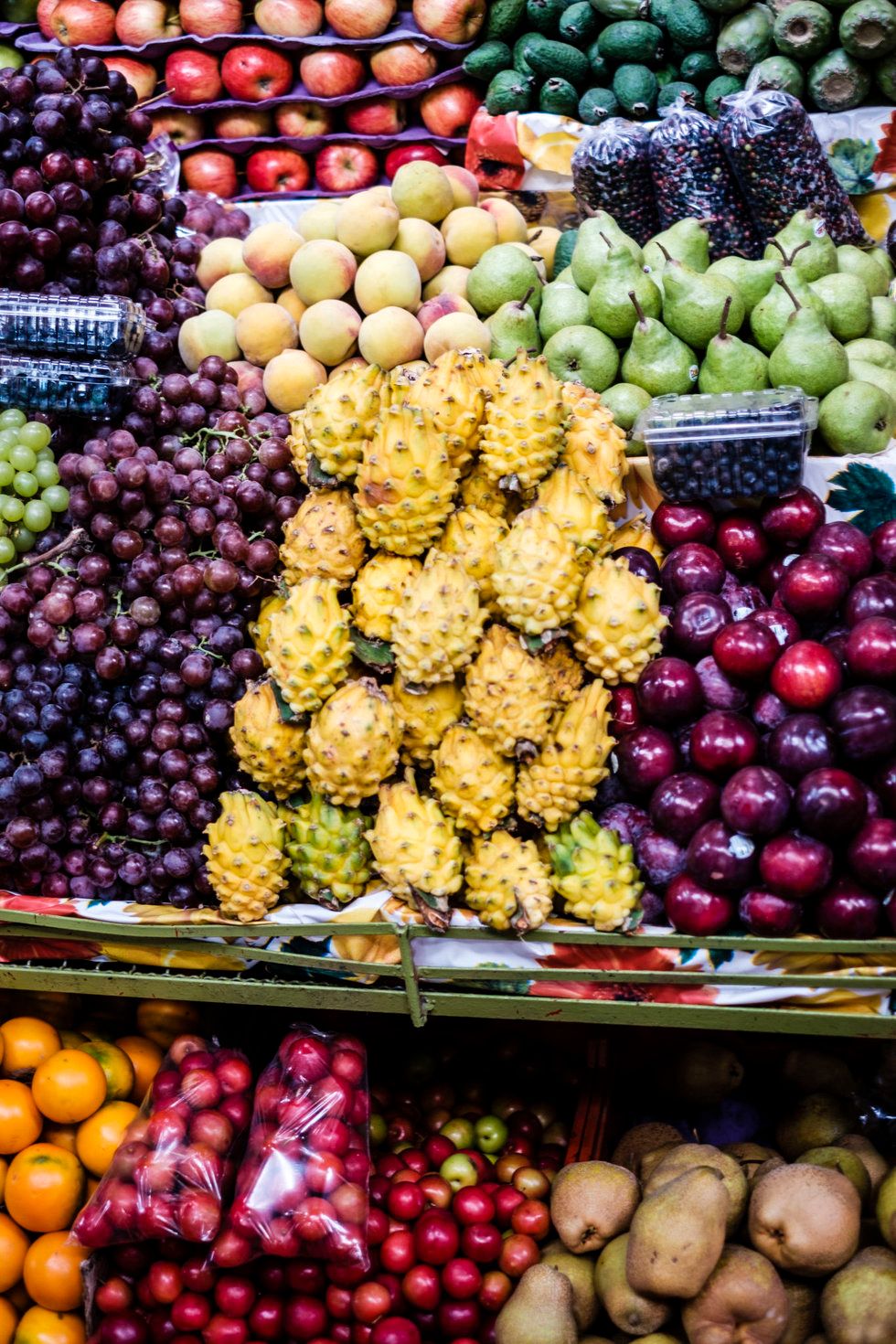 After thanking Salazar for helping me stuff my face, I head from Bogotá's culinary center to its political one. A quick drive through downtown delivers me to the Plaza de Bolívar. I walk past a Hells Angels–looking guy who's pulling the strings of a skeleton marionette to the tune of Guns N' Roses's "Patience" and then around a family being swarmed by pigeons (the kids seem entirely too happy about this) to the center of the plaza. The square is fronted by the French Renaissance Palacio Liévano (now city hall) and the Neo-classical Capitol and Palace of Justice, as well as the 200-year-old Catedral Primada. Between the cathedral's towers I can see another church, a distant white ornament at the peak of the towering 10,341-foot Cerro de Monserrate.
"It looks as though Dr. Seuss and Antoni Gaudí combined forces on a cathedral and then dropped it into Yosemite Valley."
I continue around the Capitol building, skirting the Colegio Mayor de San Bartolomé, an imposing Jesuit school that dates to 1604, and then the grounds of the Casa de Nariño, the president's palace. A soldier shoos me off the sidewalk in front of the building—apparently I don't appear very presidential—and as I turn to go I glance up an alley and catch a glimpse of the Santuario Nuestra Señora del Carmen rising before the misty cordillera. It looks as though Dr. Seuss and Antoni Gaudí combined forces on a candy-striped Gothic cathedral and then dropped it into Yosemite Valley.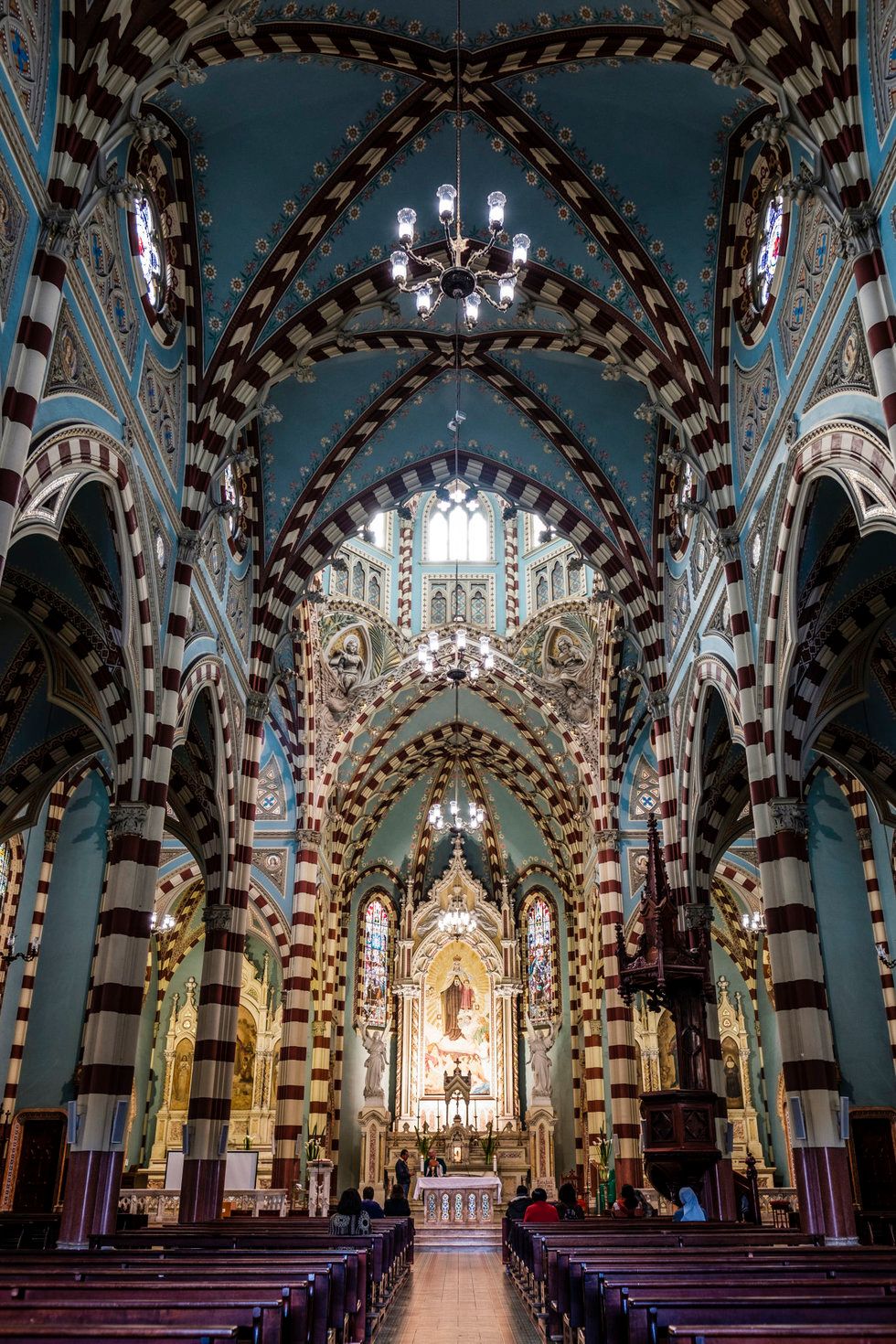 The interior of the Santuario Nuestra Señora del Carmen
I begin to hike up the hill and into the heart of La Candelaria, Bogotá's old town, passing below the dormers and enclosed balconies of the multicolored colonial houses. A light rain begins to fall just as I reach one of the city's most exciting new restaurants, Prudencia. The space, designed by renowned Colombian architect Simón Vélez, is a stunner, boasting a vaulted glass ceiling and walls adorned with line drawings of flowers and fruits and vegetables. The food is tasty too. I dig into house-baked levain bread, followed by lomo de res (beef tenderloin) with roasted sweet potatoes and an oyster-mushroom aioli, and then finish with a slice of fig cheesecake.
Refueled, I proceed to spend a couple of hours ping-ponging up and down the hills of La Candelaria. The neighborhood—its name comes from a Catholic festival that honors Mary and Joseph's presentation of the baby Jesus to God—overflows with historic sites. Here's a golden-balconied house where Simón Bolívar worked during the fight for independence from Spain. There's the house where Bolívar's mistress, Manuela Sáenz, helped El Libertador escape assassination. Farther down the hill is the 19th-century Neoclassical Teatro Nacional Cristóbal Colón opera house. Then there are the lively crowds: people dancing to the rhythms of busking rumba bands, leading alpacas down the street, and selling jewelry and grilled corn and hormigas culonas ("big-a** ants").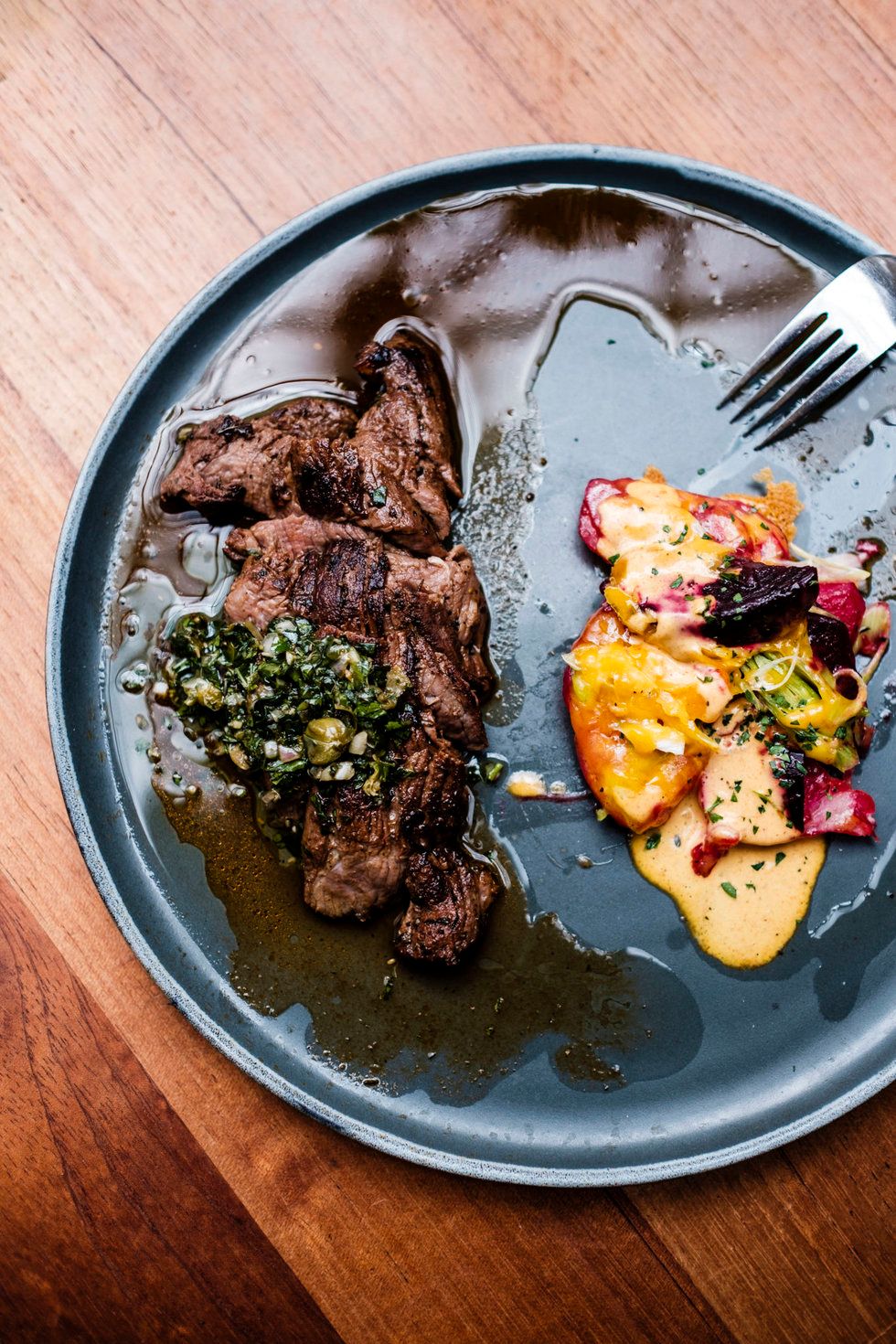 Lomo de res at Prudencia
I'm not quite ready to tackle the ants, but it is about time for dinner, so I call a cab to take me north, to the nightlife district of Zona T. I'm unlucky enough to have caught Bogotá's brutal rush hour—it takes nearly an hour of crawling along the hillside on Carrera 1 to travel six miles—but the instant I reach Segundo, any complaints I have melt away. The dining room, around the corner from Segundo's renowned sister restaurant Central Cevichería, is hung with colorful abstract art and looks down through a two-story glass wall onto bustling Calle 85, and the food somehow manages to outshine the space: crudo de res (beef carpaccio) stuffed with mango and chimichurri, squid-ink asparagus tempura, trout in leche de tigre pepper sauce, and a couple of Santísma Trinidads—coffee syrup–spiked Manhattans served in tobacco-smoked glasses. ¡Dios mío!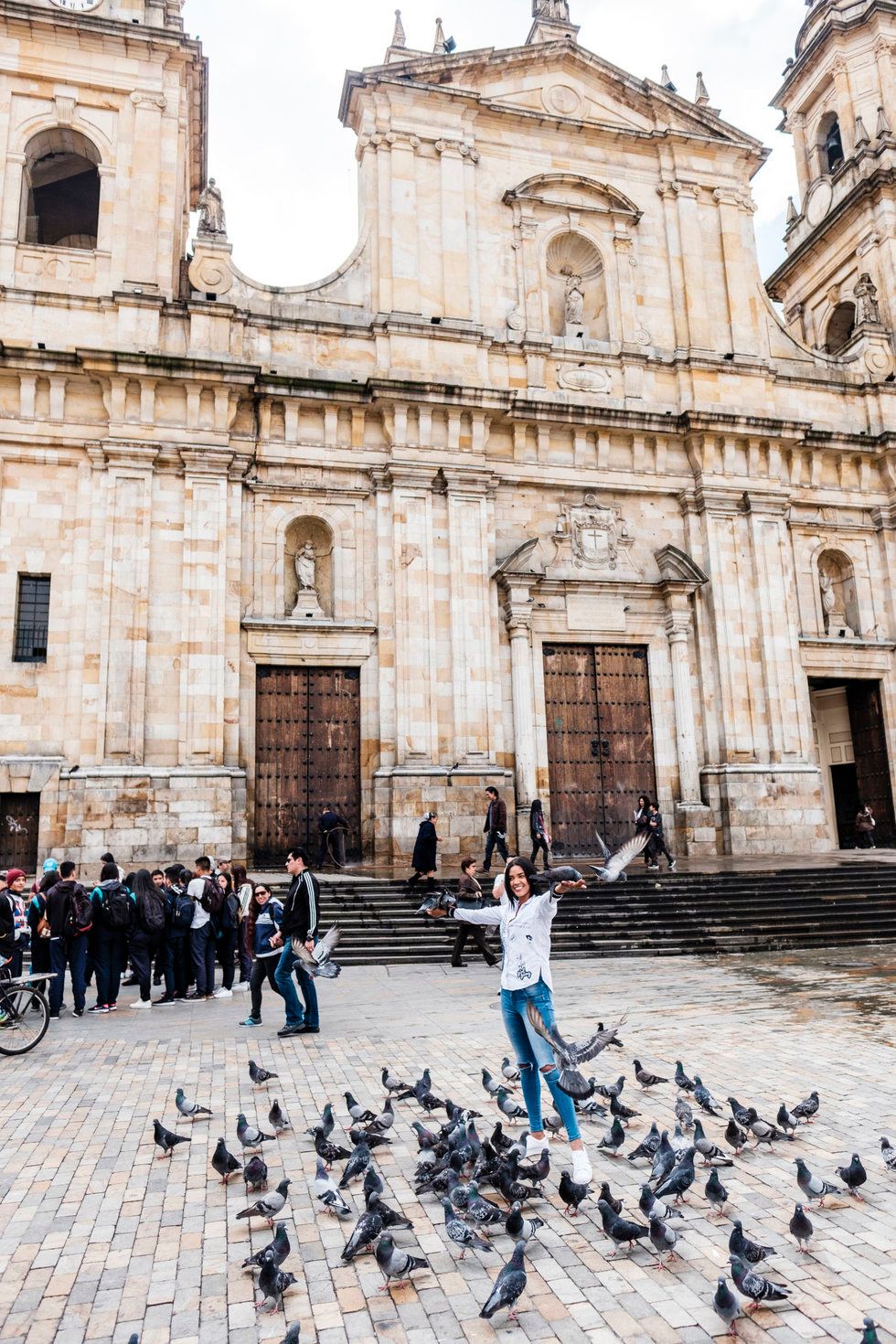 Getting a little too close to the pigeons in Plaza de Bolívar
I'm feeling a bit woozy after my meal—surely it's from the altitude and has nothing to do with those Latin Manhattans—so I take a car to Casa Legado, a stylish seven-room boutique hotel in a 1950s house on a quiet street in the upscale neighborhood of Quinta Camacho. I cross the Alice in Wonderland black-and-white-tiled floor of the foyer, brushing aside the vines hanging from the ceiling, to find the only rabbit hole I need: the space between my sheets.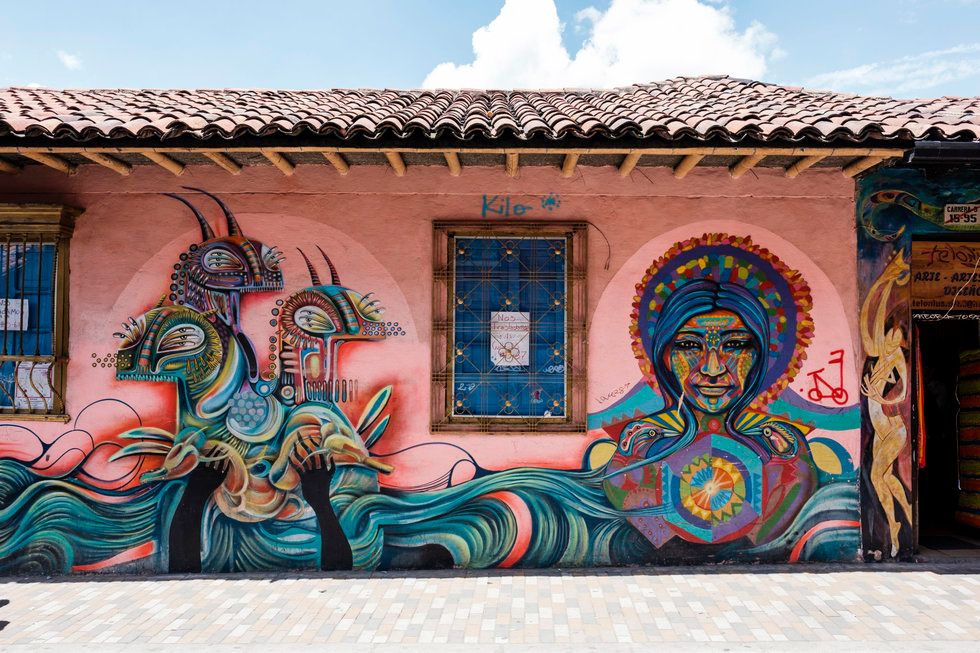 Street art in La Candelaria
Day 2:
Running with the dogs and stopping for contemporary art
You haven't had a hangover until you've been un poco crudo at 8,660 feet. My tropically wallpapered room at Casa Legado is charming, but I still wake up feeling compressed, like I spent the night in a coffin with Andre the Giant. To snap out of it, I strap on my sneakers and jog north on Carrera 9, past the chichi Zona Rosa, until I hit Parque El Virrey, where I follow a trail along a canal, dodging scores of dog walkers and their enthusiastic hounds.
The only place that might be more dog-friendly than El Virrey is the parkside Canasto Picnic Bistró. The sunlit patio is hung with wicker picnic baskets, and the tables are taken up by neighborhood residents with, yes, their pups lying underneath. I'm a little sweaty but also in need of food, pronto, so I take a seat, sans four-legged friend, and order an arepa with roast beef, fried egg, and hogao (Colombian creole sauce). As I'm cutting into the arepa, the restaurant's owner, Alejandro Cuéllar, a brash raconteur-chef in the mold of Anthony Bourdain (RIP), stops by. When I tell him I'm enjoying my meal, he offers to take me on a tour of a few of the city's culinary standouts. "Is everyone in Colombia this welcoming?" I ask.
"I ask for a recommendation of something '...not by García Márquez,' the clerk finished my sentence."
"We're very good hosts," Cuéllar replies. "Very serviciales. When people get here, we're really excited to show them that this is an amazing city and an amazing country."
We make a date for tomorrow, because I've got a different kind of hot spot on the menu for the rest of this morning. A few blocks north, in the posh Parque 93 neighborhood, I visit Galería La Cometa (The Kite Gallery), where I see a show of midcentury Colombian photography, including the busted camera Carlos Caicedo used in 1965 to snap a shot of then-President Guillermo León Valencia when the politician got drunk and fell down in a restaurant. (You can probably guess how the camera got broken.) I then continue the art hop with a quick car ride to the charming Chapinero neighborhood and Casas Riegner, perhaps Bogotá's best-known gallery. Here, I catch a show of 27 textile artists, including five Colombians. My favorite works are Olga de Amaral's gold-leaf wall hangings and Conversation Piece, an ongoing knitwork by María Angélica Medina.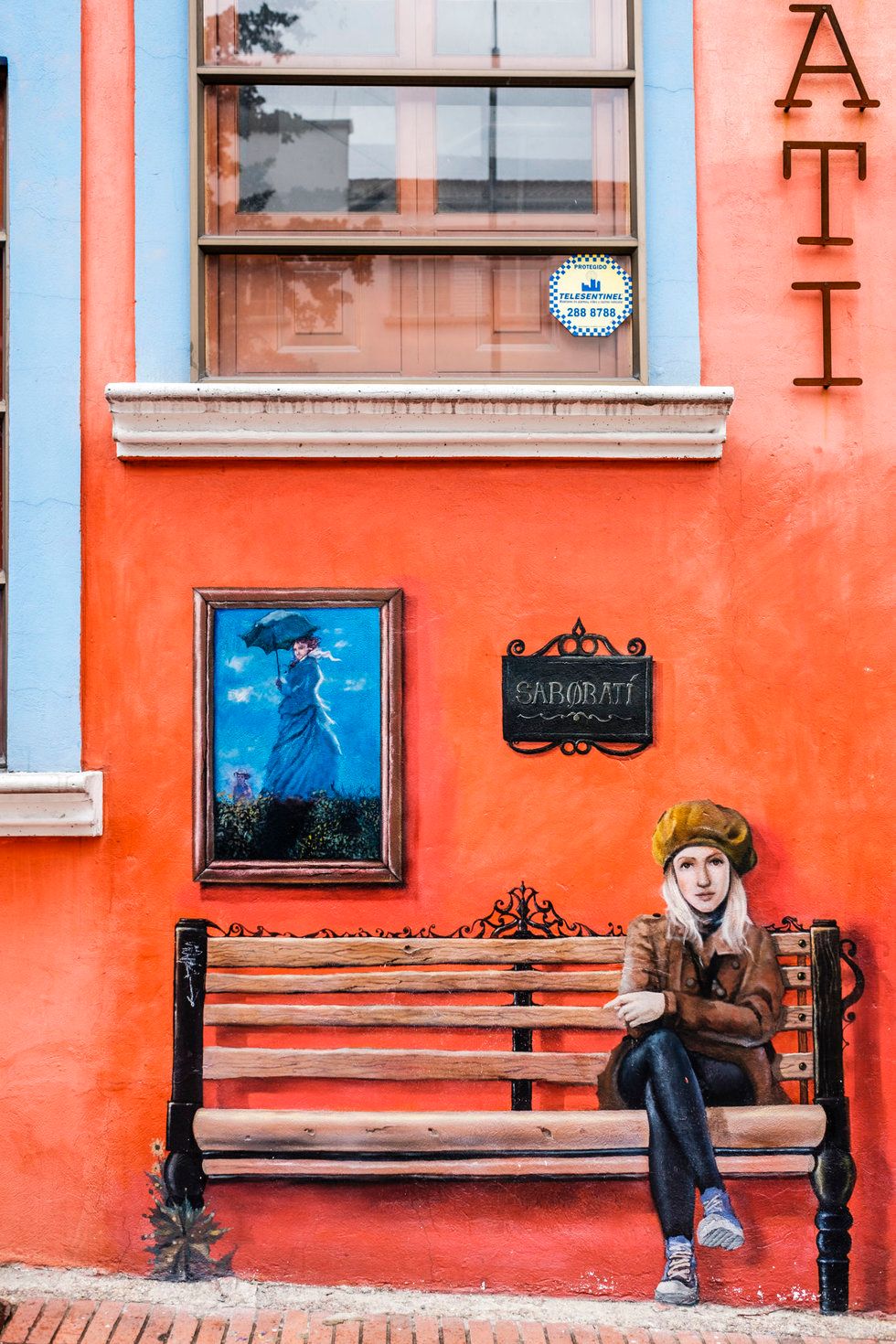 Lifelike street art in La Macarena
The artistic stimulation has me starting to feel peckish, so I take a 10-minute walk through Zona G (for Gourmet) to El Chato, where Alvaro Clavijo, an alum of Noma and Per Se, serves refined cuisine focusing on Colombian ingredients. I take a mini tour of the menu, scarfing down grilled chicken hearts, delicate ceviche, and arracacha bread with bone marrow, all of it exquisite.
Looking for a little more local color, I take a 10-minute car ride to the up-and-coming neighborhood of La Macarena, where I stroll up and down hilly streets, past graffitied walls and coffee shops, and stop at Luvina, a bookshop and salon space. The friendly clerk who greets me explains that the store is named after a town in a short story by Juan Rulfo, the Mexican author who pioneered magical realism, the style favored by Colombia's greatest writer, Gabriel García Márquez. I ask for a recommendation of something "... not by García Márquez," the clerk finishes my sentence. He clearly gets that question a lot, and he's ready with a book of travel narratives by Santiago Gamboa, Ciudades al final de la noche. My Spanish is gonna have to get better in a hurry.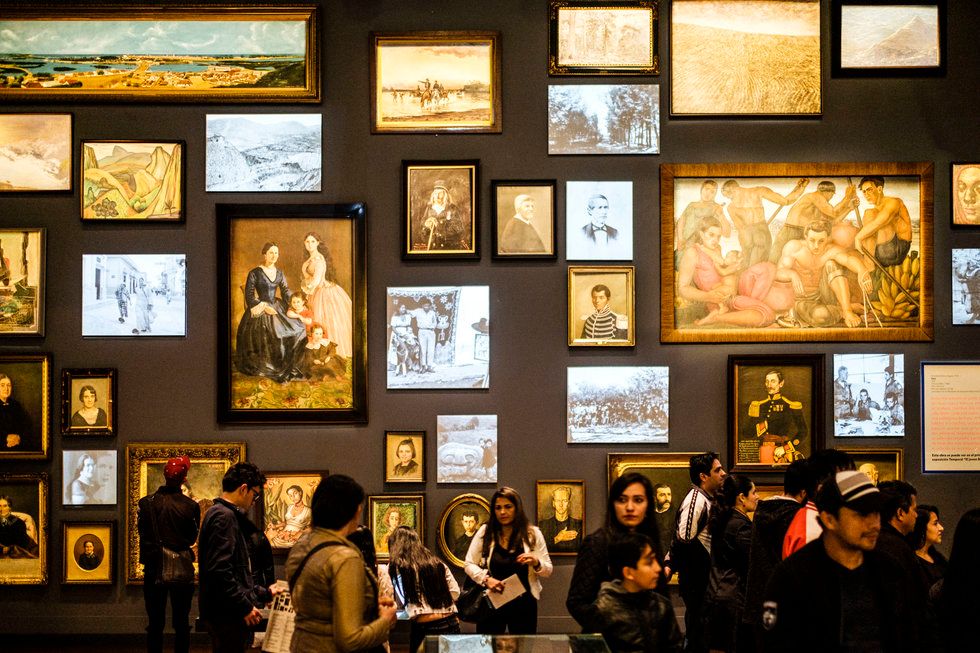 The Wall of Diversity at the Museo Nacional
From the bookshop, I wander downhill, along brick-paved Calle 30, lined on either side with brightly colored houses and restaurants, to the Museo Nacional. The museum's highlights include a replica of an excavated 13th-century tomb; the "Wall of Diversity," with works by artists such as Guillermo Wiedemann and Enrique Grau that portray Colombia's ethnic and cultural heterogeneity; and a room that documents the 1948 assassination of presidential candidate Jorge Eliécer Gaitán, which plunged the country into years of chaos.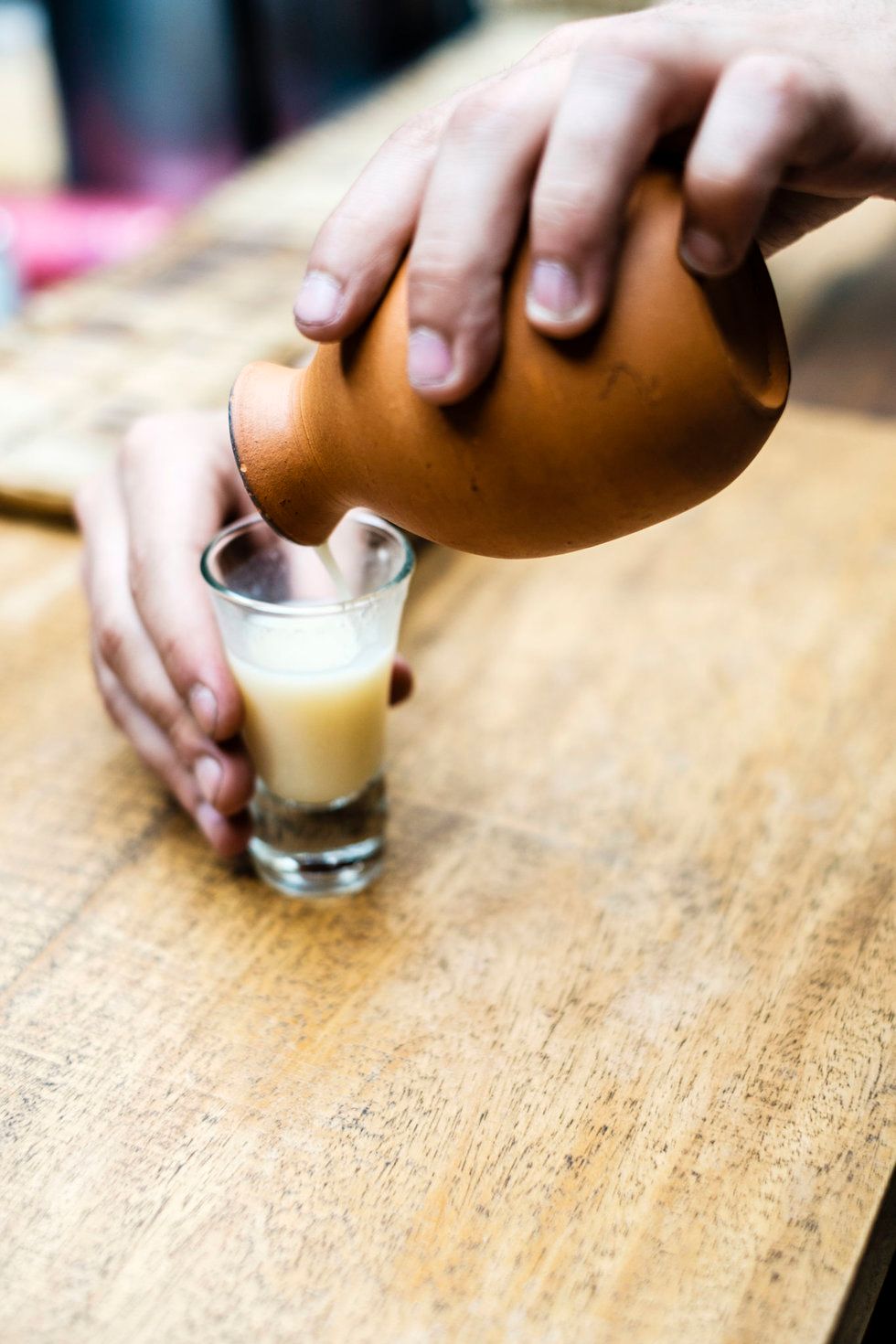 Pouring a shot of chicha at Chichería Demente
From a dark moment in the nation's past, I go to one of the bright stars of its present. All it takes is a knock on an almost entirely unmarked door (and, OK, a reservation made well in advance) for me to enter Leo, which is run by Leonor Espinosa, who was named Best Female Chef on the Latin America's 50 Best Restaurants list in 2017. Though the space feels a bit like a restaurant in New York—jazz music, a sculpture of what looks like the Empire State Building—the ciclo-bioma menu is fully engaged with Colombia and its many biomes: Pacific tuna crusted with Santander ants; flan made from tucupí (wild manioc sauce); the giant Amazonian fish pirarucú, served with fermented yuca; local duck on an arepa-flour tortilla. This is where I start to lose track of the courses—did I mention that each one comes with a drink pairing?
To follow up such an insane meal, I need a lunatic nightcap, so I take a car to a quiet street on the edge of Chapinero, where I find Chichería Demente, a cavernous bar and restaurant that specializes in the traditional fermented-corn drink chicha. I've had chicha once before, poured chunkily out of a gasoline jug on a dirt farm in the hills of Panama. This stuff is much better—smooth, funkily sweet, and, most important, served in a clean clay jar. A large mural on the wall depicts a politician crying out "¡Que viva la chicha!" and I raise my drink to him in solidarity.
Day 3:
Going from a golden gallery to a blood-red bar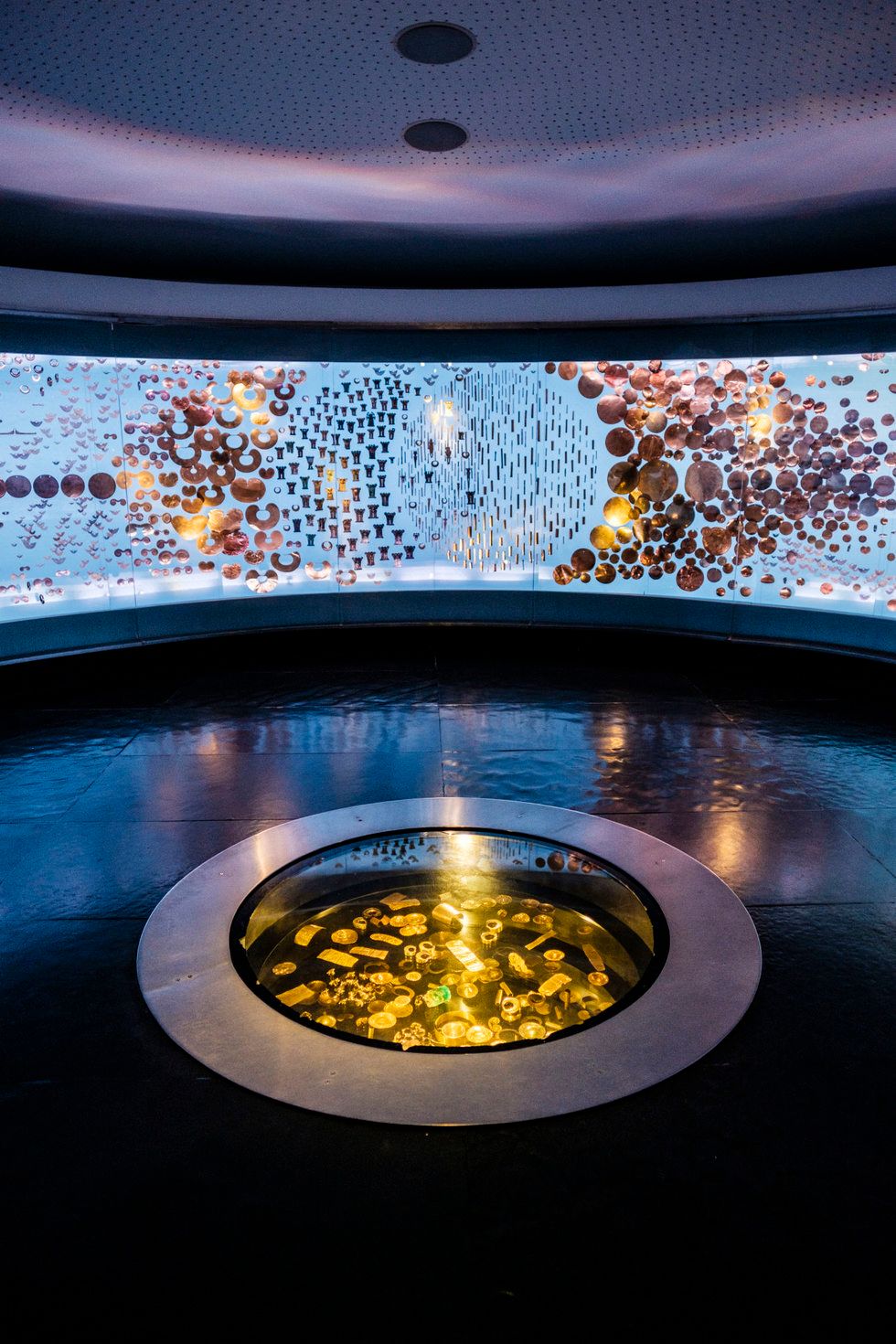 The stunning gold room at the Museo del Oro
With all the running around on day one, I missed the city's two most famous museums, both right near the Plaza de Bolívar. I start at the Museo del Oro—or, more accurately, the café in the museum's basement, where I knock back a cup of Chemex-brewed black coffee from San Alberto, one of Colombia's best-known growers. It's very strong and bitter—a bit potent for a guy who usually likes a little coffee with my cream, but also exactly what I need to combat the aftereffects of the chicha.
Fully caffeinated, I proceed upstairs and into the galleries. The 55,000-plus-piece collection focuses largely on works the country's pre-Hispanic peoples made with gold and copper alloys. Most impressive is the pitch-black "gold room," where, as a ritual chant of the Muisca people plays, the lights slowly come up to reveal, in wall and floor displays, 3,000 brilliant gold artifacts. El Dorado indeed.
"As a ritual chant plays, the lights slowly come up to reveal 3,000 brilliant gold artifacts."
It's just a five-block walk to another cultural landmark, the Museo Botero. Medellín-born artist Fernando Botero is famous for depicting rounded, voluminous subjects, using their exaggerated bulkiness to question our sense of proportion (and sometimes to poke fun at historical works or political figures). I love them all, but especially the painting of a bloated Mona Lisa and the bulbous bronze sculpture of Leda and the Swan.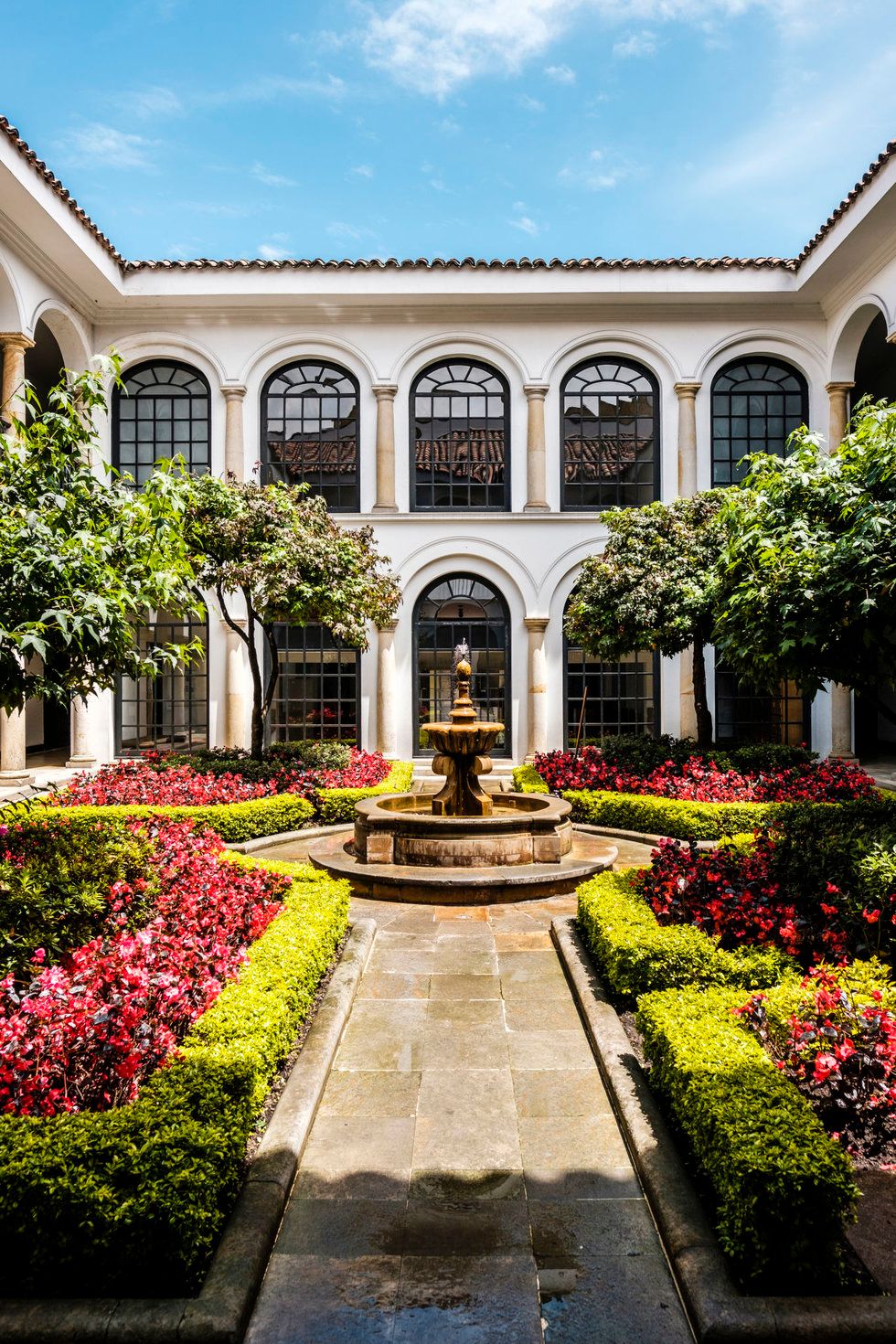 The courtyard at the Museo Botero
That powerful cup of coffee is the only thing I've put in my body so far today, and there's a reason: I've been saving space for the lunchtime odyssey Alejandro Cuéllar promised me. I meet him back in Quinta Camacho, at El Pantera, a hole-in-the-wall that he and a couple of partners just opened that makes Mexico City–style street tacos using Colombian ingredients. As we chow down on chicharrón and cochinita pibil tacos, he explains the effect Colombia's incredible biodiversity has on its cuisine.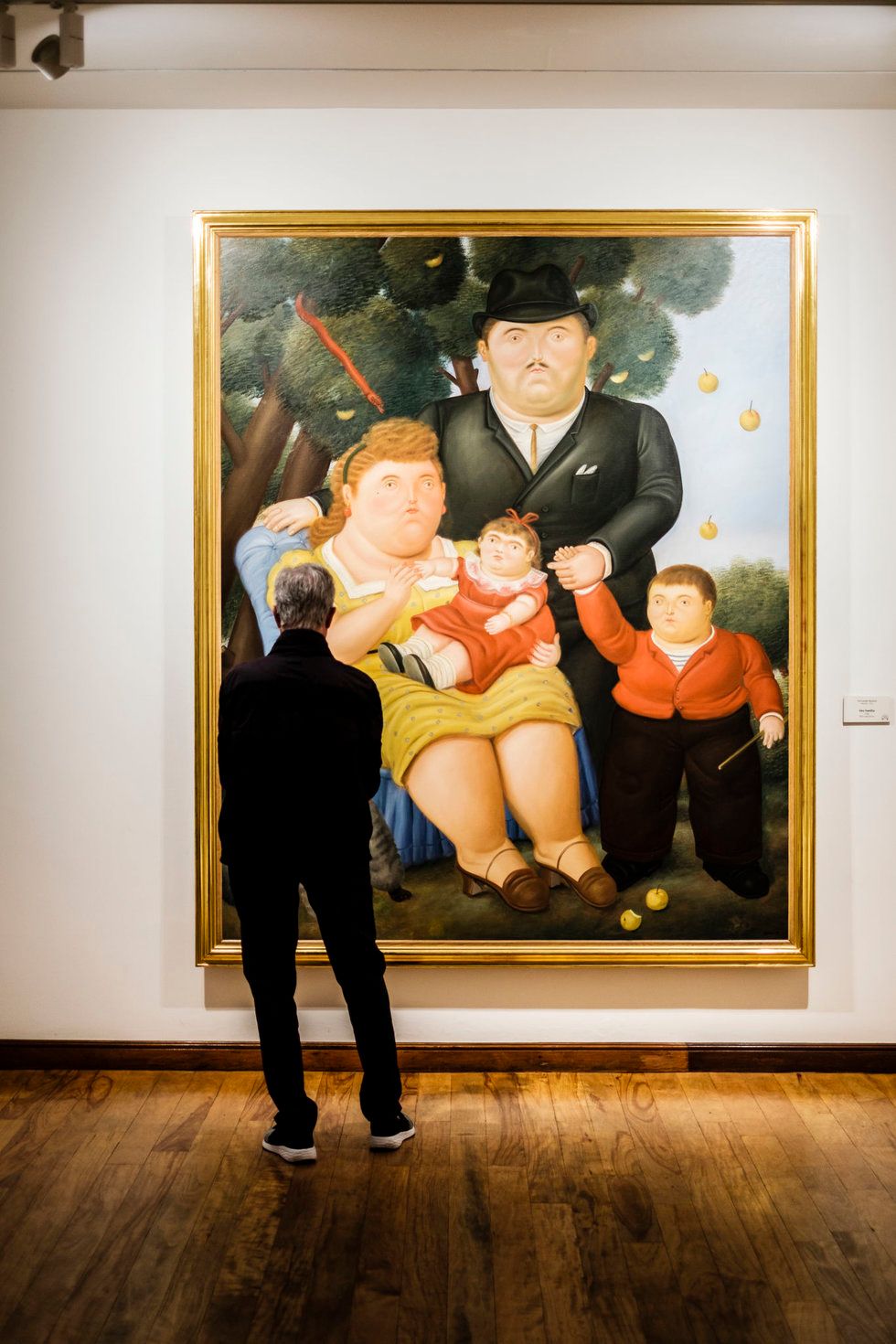 A patron viewing Fernando Botero's Una Familia
"When I travel, people ask, 'What do you cook in Colombia?'" he tells me. "We do everything. We have all the climates in the world. You can drive an hour and go from cold to completely tropical, so you can have all the ingredients there are, within an hour."
We finish our tacos, and Cuéllar smiles conspiratorially. "What do you say we go and eat a proper meal?" Ten minutes later, we pull up to Mesa Franca, a restaurant that chef Iván Cadena—the former sous chef at Lima's legendary Central—opened two years ago in a 1930s house. We sit in the lovely, sunlit, garden-style dining room and have calamari and veal sweetbreads, red snapper ceviche, yuca fritters with smoked trout, and pork belly in peanut sauce.
I don't think I can eat any more, but Cuéllar insists on one more stop. We walk three blocks uphill and through the blue-tiled entrance of Salvo Patria, where we order a decadent milhoja (mille-feuille) with buffalo-milk ice cream and dulce de leche and another cup of bold Colombian joe. "This is a typical dessert, but it's not usually made this detailed," Cuéllar says. I tell him that I wouldn't use the word typical to describe anything I've consumed today.
"Peering over the railing, I cast my eyes across the glass skyscrapers of the city center and the orange roofs of La Candelaria."
After rolling me out of the restaurant, Cuéllar offers me a ride to my new hotel, the Four Seasons Casa Medina, back in Zona G. Skirting the open-air brick courtyard makes me feel as if I'm walking the passageways of a Spanish castle—but the only royalty I'm interested in right now is my king-size bed. Hasta luego.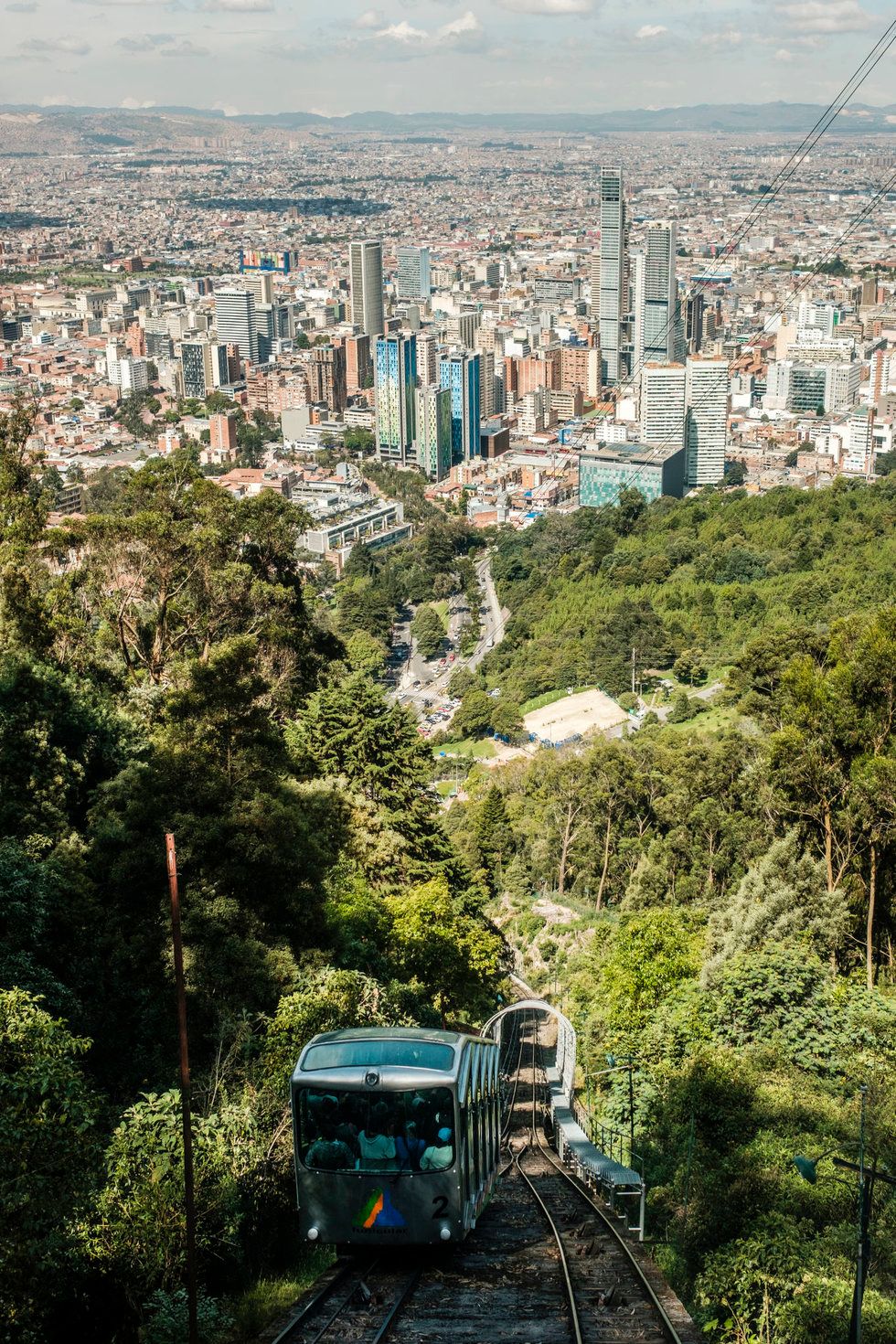 The funicular railway and the city below, seen from Cerro de Monserrate
Rejuvenated by the nap, I dial up an Uber. Fifteen minutes later, I'm at the foot of Cerro de Monserrate, the mountain that stands sentinel over the 600-plus-square-mile Bogotá metro area. I take the teleférico up, the cable car climbing through evergreen forest and into the clouds. At the top, it takes only a few steps for me to feel short of breath, but that doesn't stop me from trudging up the stone walkway to the white stucco church at the peak. Peering over the railing, I cast my eyes across the glass skyscrapers of the city center, the orange roofs of La Candelaria, and the shantytowns that sprawl across the hillsides to the east. Right below me, a couple of pilgrims are climbing the footpath from the base of the mountain. I wish I believed in anything enough to do that.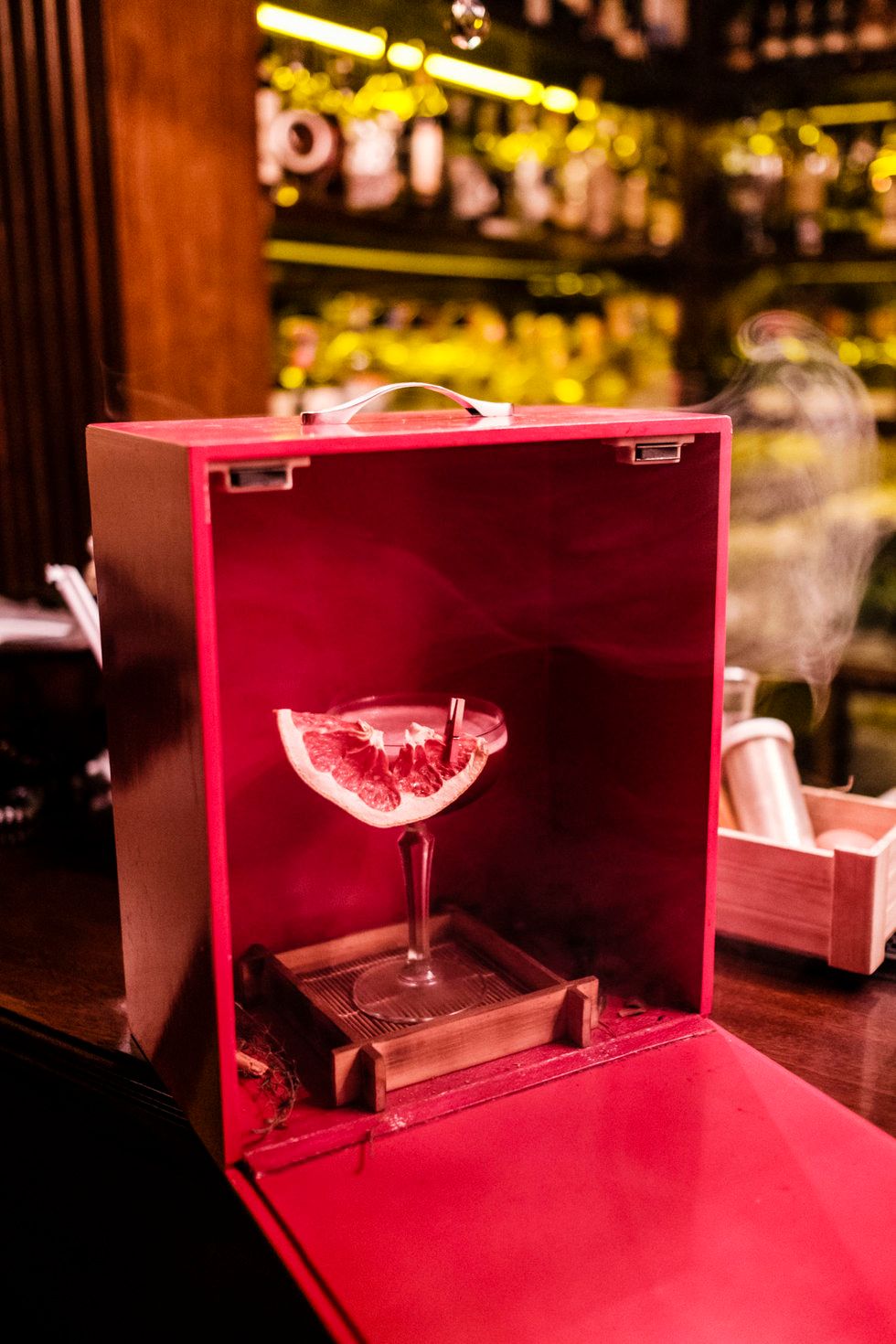 The Red Room's namesake cocktail
Sufficiently humbled, I descend on the teleférico and get a car back to Chapinero. By the time we've fought through the traffic, I'm due for dinner at Villanos en Bermudas. Here, chefs Sergio Meza and Nicolás López work an open kitchen in a room that has the vibe of an expensively catered party at Banksy's house. I recognize Meza, a Mexican with a red afro who looks a bit like a buff, tattooed Sideshow Bob; it turns out he was lunching at El Chato at the same time I was yesterday. "The man can cook," he says of Alvaro Clavijo. "We just f*** around."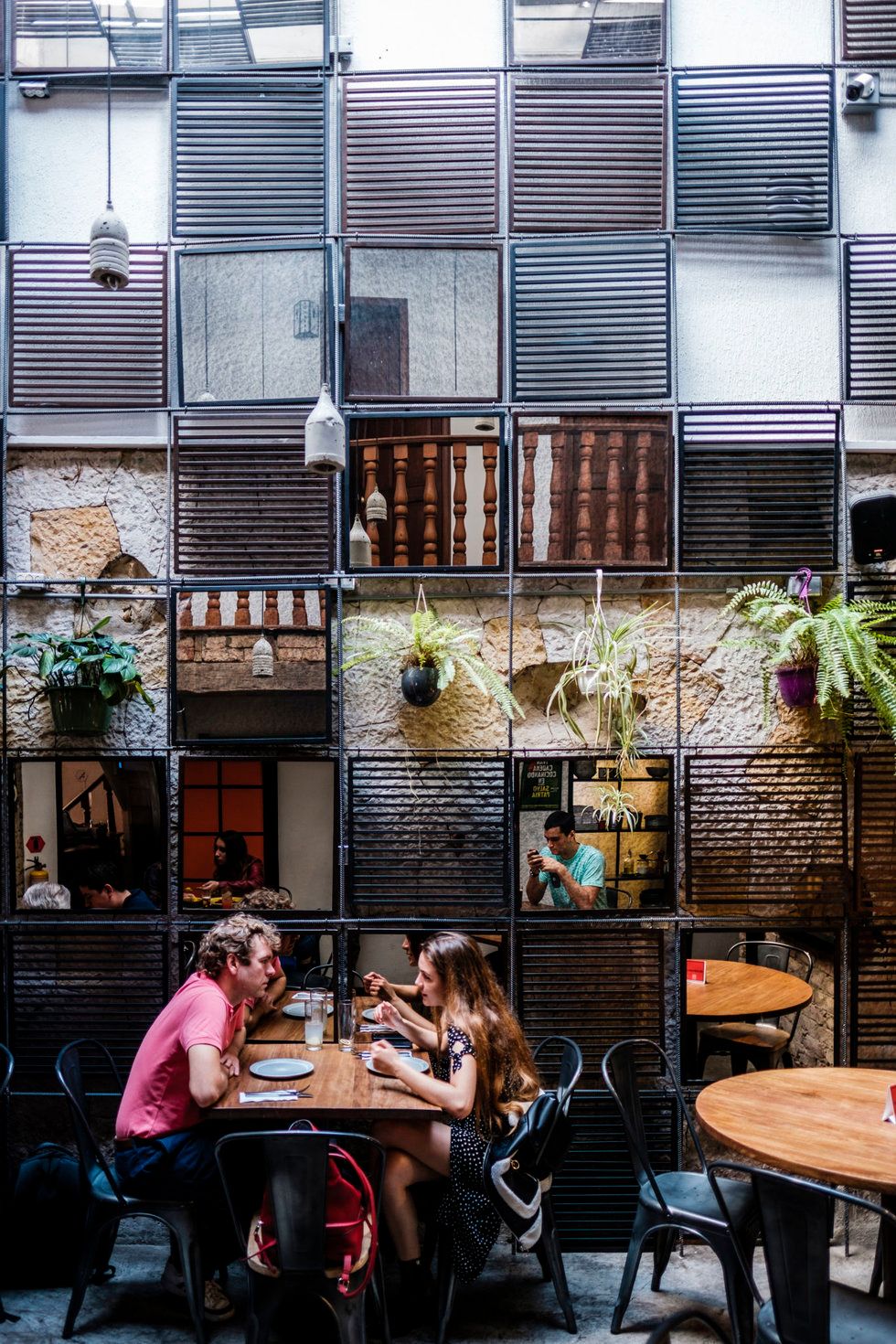 The stylish interior at Mesa Franca
Their, um, messing around earned Villanos en Bermudas a No. 40 ranking on the most recent Latin America's 50 Best list. My "salad" is a breakfasty goat's milk yogurt with black beans, strawberries, and savory granola. The house-baked sourdough comes with butter that's been whipped with black garlic. Kimchi and Iberian ham accompany a butternut squash soup. Even my funky pinot noir, from New Zealand's Valli Vineyards, sticks to the elegant-yet-offbeat theme. "That guy's weird," Meza says of the winemaker. "Sometimes he'll just trade the wine for stuff, not even sell it."
I thank the chef and head for a nightcap at another quirkily snazzy spot nearby. The decor at the Red Room adheres to the bar's name aggressively: The carpets and walls and stairs and seat cushions are all the same titular color. I order the eponymous house cocktail, a Scotch and bourbon concoction brought to the table in a red box full of smoke. The whole experience makes me feel like I'm in a jazz bar in a David Lynch movie (Red Velvet?). More than that, though, I feel as if I've stumbled onto a mysterious treasure. It's a sentiment that has suffused my entire journey. I've found gold in these hills—cultural gold—and I'll soon be back for more.
We will continue building out our already expansive route network next year, adding flights to some attractive leisure destinations in the United States and the Caribbean.
Our hometown hub, Chicago O'Hare International Airport, will be the beneficiary of three of those new routes, which include Santa Barbara, California; Pasco, Washington; and Vail, Colorado. Rounding it out, United will add service from Denver to Nassau, Bahamas, and from Houston to Spokane, Washington. Tickets for all of these destinations are on sale now.
The Denver-Nassau route will begin on March 7, 2020, followed by Chicago-Santa Barbara, Chicago-Pasco, Chicago-Vail and Houston-Spokane on June 4. When that time comes, United will be the only airline offering nonstop service between Denver and Nassau and Chicago and Pasco.
All of these routes will open up a world of connection possibilities for customers living in each market. They'll also be scheduled to give flyers optimal arrival and departure time options. For instance, a passenger going from Chicago to Santa Barbara will have a flight option that departs O'Hare at 7:45 p.m. local time, arriving at Santa Barbara Airport at 10:30 p.m. That's ideal for business travelers.
"We want to offer customers the very best schedule, the best network and the most flight options in the industry," said Ankit Gupta, United's vice president of Domestic Network Planning.
The Boeing 737-800 aircraft will serve the Denver-Nassau route. Passengers going from Chicago to Santa Barbara and from Chicago to Vail will fly on the 737-700. United's 76-seat Embraer 175 aircraft, equipped with United First, Economy Plus and United Economy class seats, will operate on the Chicago-Pasco and Houston-Spokane routes.
You'll find flight times and additional details in the grid below. For more information and to book your tickets, visit
united.com
or download the United mobile app.
Depart

Arrive

Frequency

Duration

Chicago (ORD)

7:45 p.m.

Santa Barbara (SBA)

10:30 p.m.

Daily

Year-round

SBA

11:20 p.m.

ORD

5:20 a.m.

Daily

Year-round

ORD

8:00 p.m.

Pasco (PSC)

10:24 p.m.

Daily

Year-round

PSC

11:38 p.m.

ORD

5:20 a.m.

Daily

Year-round

ORD

4:00 p.m.

Vail/Eagle (EGE)

5:54 p.m.

Daily

Summer seasonal

(June 4 through September 6, 2020)

EGE

9:00 a.m.




ORD

12:45 p.m.

Daily

Summer seasonal

(June 4 through September 7, 2020)

Denver (DEN)

9:56 a.m.

Nassau (NAS)

4:00 p.m.

Once a week on Saturdays

Year-round

(with a break from mid-August through late-October)

NAS

11:37 a.m.

DEN

2:43 p.m.

Once a week on Saturdays

Year-round

(with a break from mid-August through late-October)

Houston (IAH)

9:32 p.m.

Spokane (GEG)

11:32 p.m.

Daily

Summer seasonal

(June 4 through August 17, 2020)

GEG

11:55 p.m.

IAH

6:17 a.m.

Daily

Summer seasonal

(June 4 through August 17, 2020)
Right now, around the world, brave members of America's armed forces are on duty, defending our freedom and upholding our values.
When not laser-focused on the mission at hand, they're looking forward to the day when their service to our nation is fulfilled and they can reunite with their families.
They are also imagining how they can use their hard-earned skills to build an exciting, rewarding and important career when they return home.
I want them to look no further than United Airlines.
That's why we are focused on recruiting, developing and championing veterans across our company, demonstrating to our returning women and men in uniform that United is the best possible place for them to put their training, knowledge, discipline and character to the noblest use.
They've developed their knowledge and skills in some of the worst of times. We hope they will use those skills to keep United performing at our best, all of the time.
That's why we are accelerating our efforts to onboard the best and the brightest, and substantially increasing our overall recruitment numbers each year.
We recently launched a new sponsorship program to support onboarding veterans into United and a new care package program to support deployed employees. It's one more reason why United continues to rank high - and rise higher - as a top workplace for veterans. In fact, we jumped 21 spots this year on Indeed.com's list of the top U.S workplaces for veterans. This is a testament to our increased recruiting efforts, as well as our efforts to create a culture where veterans feel valued and supported.
We use the special reach and resources of our global operations to partner with outstanding organizations. This is our way of stepping up and going the extra mile for all those who've stepped forward to answer our nation's call.
We do this year-round, and the month of November is no exception; however, it is exceptional, especially as we mark Veterans Day.
As we pay tribute to all Americans who have served in uniform and carried our flag into battle throughout our history, let's also keep our thoughts with the women and men who are serving around the world, now. They belong to a generation of post-9/11 veterans who've taken part in the longest sustained period of conflict in our history.

Never has so much been asked by so many of so few.... for so long. These heroes represent every color and creed. They are drawn from across the country and many immigrated to our shores.

They then freely choose to serve in the most distant and dangerous regions of the world, to protect democracy in its moments of maximum danger.
Wherever they serve - however they serve - whether they put on a uniform each day, or serve in ways which may never be fully known, these Americans wake up each morning willing to offer the "last full measure of devotion" on our behalf.
Every time they do so, they provide a stunning rebuke to the kinds of voices around the world who doubt freedom and democracy's ability to defend itself.
Unfortunately, we know there are those who seem to not understand – or say they do not - what it is that inspires a free people to step forward, willing to lay down their lives so that their country and fellow citizens might live.
But, we – who are both the wards and stewards of the democracy which has been preserved and handed down to us by veterans throughout our history – do understand.
We know that inciting fear and hatred of others is a source of weakness, not strength. And such divisive rhetoric can never inspire solidarity or sacrifice like love for others and love of country can.
It is this quality of devotion that we most honor in our veterans - those who have served, do serve and will serve.
On behalf of a grateful family of 96,000, thank you for your service.
Humbly,
Oscar
Each year around Veterans Day, Indeed, one of the world's largest job search engines, rates companies based on actual employee reviews to identify which ones offer the best opportunities and benefits for current and former U.S. military members. Our dramatic improvement in the rankings this year reflects a stronger commitment than ever before to actively recruiting, developing and nurturing veteran talent.
"We've spent a lot of time over the past 12 months looking for ways to better connect with our employees who served and attract new employees from the military ranks," said Global Catering Operations and Logistics Managing Director Ryan Melby, a U.S. Army veteran and the president of our United for Veterans business resource group.
"Our group is launching a mentorship program, for instance, where we'll assign existing employee-veterans to work with new hires who come to us from the armed forces. Having a friend and an ally like that, someone who can help you translate the skills you picked up in the military to what we do as a civilian company, is invaluable. That initiative is still in its infancy, but I'm really optimistic about what it can do for United and for our veteran population here."
Impressively, we were the only one of our industry peers to move up on the list, further evidence that we're on a good track as a company.
Scroll to top