Three Perfect Days: The California Coast
Story by Rachel Levin | Photography by Marianna Jamadi | Hemispheres, February 2016
From whale watching to wine tasting, a road trip down Highway 1 offers the best of California

California's famously picturesque Highway 1 doesn't disappoint. The route is a grand procession of soaring cliffs, ragged promontories, and vast sloping hills, the road bending beside an ocean of brilliant blue, passing lovely little towns along the way. Inland, you have the wild beauty of wine country, cultivated by some of the best vintners in the state. Continue south and you hit Santa Barbara, home to upscale restaurants and magnificent taco shacks. There is so much to see and do on this journey, you feel you could make it time and again—and make it new. In any event, it would be fun to try.

Monterey to Big Sur: In which Rachel encounters a grandstanding whale, a grumpy albatross, and a perfectly grilled octopus.
"What are we thinking?!" blurts my husband, Josh, as we cruise south on Highway 1, windows down, the sparkling Pacific on our right, golden-green hillsides on our left. As native East Coasters turned longtime San Franciscans contemplating a move back to Boston during blizzard season, a California road trip might be just what we need.
Before starting our rambling, 250-mile journey from Monterey to Santa Barbara, we pull into Moss Landing, an old fishing village about 20 minutes north of Monterey's downtown. We have just enough time for eggs over easy and boilerplate coffee at the Moss Landing Cafe, a wooden shack where cops knock back pancakes and white-haired men discuss local affairs. We scarf down our eggs, watch an old-timer pour himself a Negra Modelo (before 9 a.m.), then clop down the bird poop–covered dock.
Waiting for us by the water's edge is Kate Spencer, of Fast Raft Ocean Safaris. She ushers Josh and me—along with just three other would-be whale watchers—onto a military-style boat: a 33-foot, rigid-hull inflatable. According to Spencer, the humpback whales have been going off in Monterey Bay lately, as warmer waters have pushed anchovies closer to shore.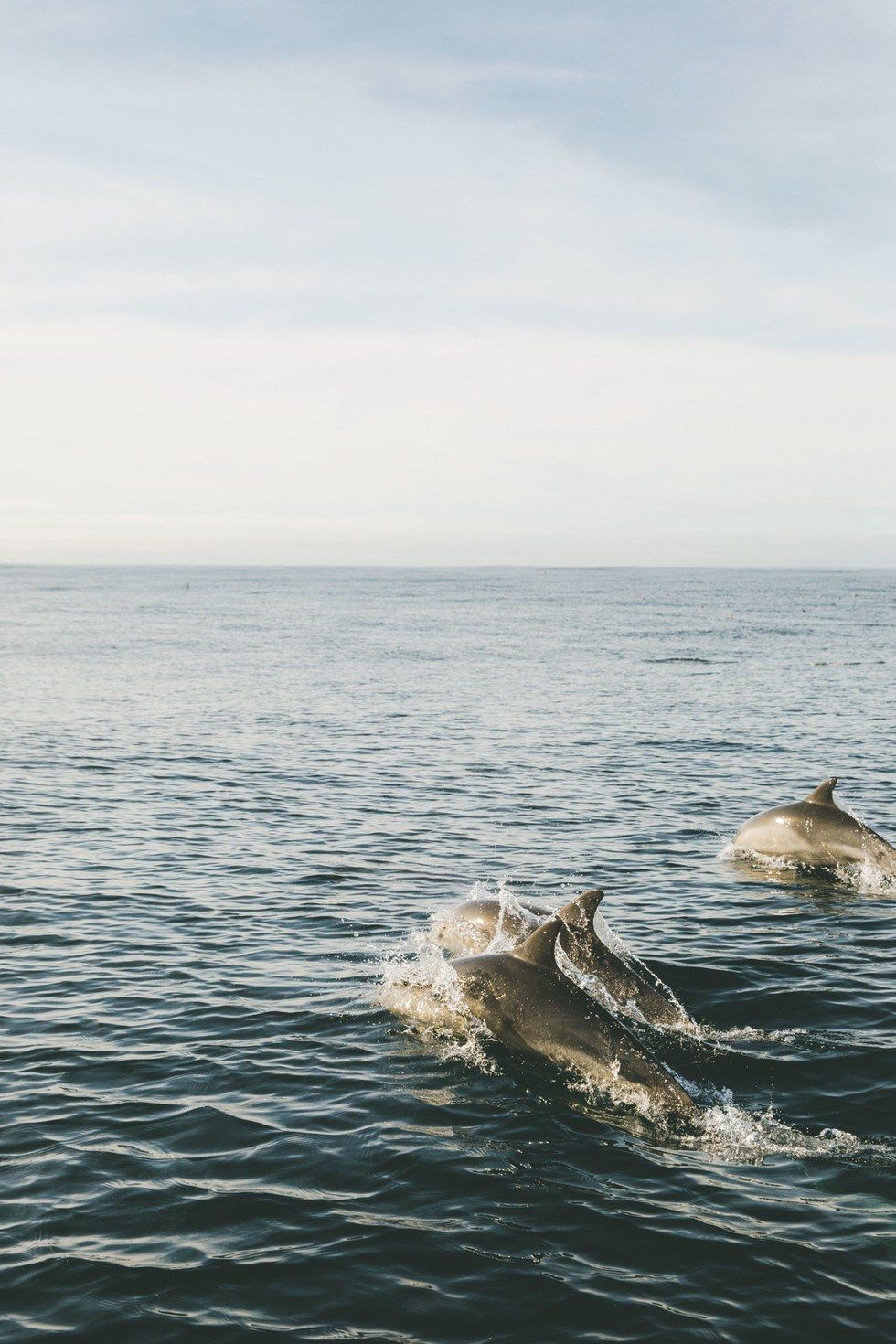 Frisky dolphins in Monterey Bay
The November air is warm and still. We zip across the water, eye-level with the lolling sea lions and pelicans skimming the surface. "Look, one o'clock!" yells Spencer, as excited as if it's her first-ever humpback sighting (it is mine). About 100 yards away, a spurt of water. As the whale performs its slow-motion pirouettes, we're close enough to see the nicks on its underside.

Over and over, the 40-ton mammal throws its tail in the air, showing off like a kid doing handstands in the pool. There's something especially magical about seeing the spectacle from such a small boat, with so few people—though there are limits to this approach. A lone kayaker gets a little too close, watching warily as the whale breaches circles around him for half an hour. Eventually we tear away and head back to shore, with scores of leaping long-beaked dolphins leading the way.
Invigorated, we go for lunch at Monterey's new Wharf Marketplace: Cuban paninis and a grilled Castroville artichoke, which we eat on the deck, raving about our morning adventure. On Cannery Row, where rubber-booted workers would clean, cut, and can the sardines that once drove Monterey's economy, we wander past penny candy stores and marine-themed shops, then pop into the Monterey Bay Aquarium, where we gawk at trippy jelly-fish and cuddly sea otters feasting on clams, as kids clutching stuffed dolphins listen to a docent describe the dangers of plastic bags to albatrosses—like the one standing next to her, which looks on with a stern expression.
We say goodbye to the grumpy albatross and make our way south, past Carmel, to Point Lobos State Reserve. It's the kind of idyllic coastal spot that people come from all over to see (and that we have in our backyard, I remind Josh, just in case he's still considering that Boston job). We hike the trails and coves and watch the sea otters bask. Two tourists in white floppy hats bust out their binoculars and offer them to me. I take a quick peek, only because I don't want to make them feel bad. I mean, only a couple of hours ago I was chilling next to a whole pod of otters in the Fast Raft.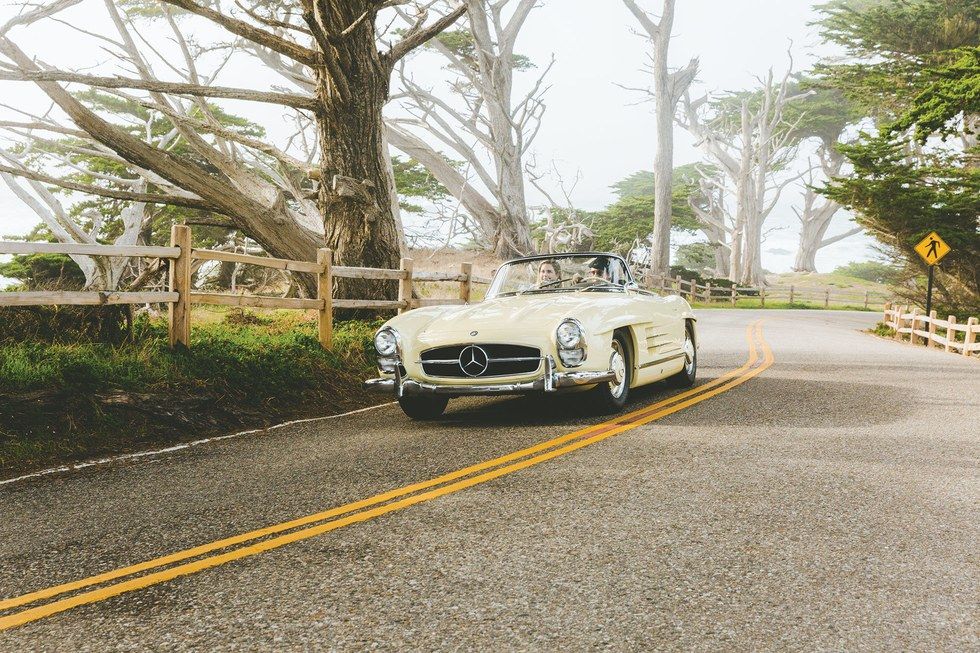 Traveling in style on 17-Mile Drive, in a 1957 Mercedes-Benz 300 SL Roadster
Two birders have set up in Whalers Cove. "I just saw a heron eating an eel!" says Chuck Bancroft, who, it turns out, was a Point Lobos ranger for 31 years. "One of the coolest things I've ever seen," he says, flipping the screen of his camera to show us footage of the kill. We hike out of the park and keep driving, observing more animal life along the way: cows, horses, zebras. (Descendants of animals from William Randolph Hearst's now-shuttered private zoo, perhaps?) About an hour later we arrive: Big Sur. The edge of the world, as they say—and hands down one of the most beautiful places in it.

Soon I'm swaddled in a fluffy white robe, sipping a glass of local Sauvignon Blanc beside a fire pit. It's wine hour at the Ventana Inn, where we'll be spending the night, and folks mill about assembling cheese plates as the sun starts its descent. Beside me is local artist Chelsea Belle Davey, whose grandmother moved to Big Sur in the '60s to work as a tai chi teacher at Esalen, the hippie utopia revered for its hot springs and spiritual scene. "I carry this place with me wherever I go," says Davey, who now lives in Monterey but as artist-in-residence paints here. "Everyone has their Big Sur heroes: Jack Kerouac, Henry Miller. But, for me, it's the amazing local women artists I grew up watching paint. They're my inspiration."
After I get kneaded with an aromatic poultice, it's dinnertime. The inn's rustic-luxe restaurant is located maybe a half-mile down a gravel path. The concierge offers us a ride, but we decline. It's not every day you get to hike through the dark to a multicourse seafood supper: yellowfin tuna, grilled Spanish octopus with fava beans, smoked sturgeon in red cabbage puree. You couldn't hope for a more fitting meal for the time and place—except possibly that eel, if the heron hadn't gotten to it first.
Primed by local Pinot and a little brandy, we finish our meal and toddle off along the dark trail back to our room, stopping for a dip in the Japanese soaking tubs. After all, when in Big Sur…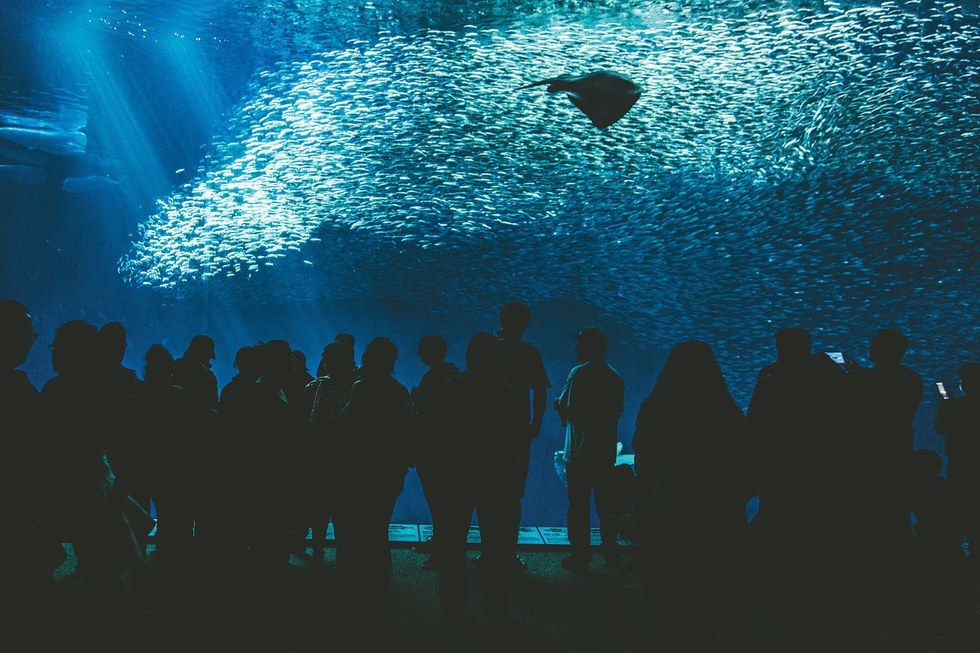 At the Monterey Bay Aquarium

Big Sur to Paso Robles: In which Rachel begins her Tale of Two Bobcats, plays Frisbee golf, and has a glass of wine—or five.
Who needs coffee? I start the day with a morning run, joined by Michelle Rizzolo, chef and co-owner of Big Sur Bakery, who is training for the "crazy hard" Big Sur Marathon in April and wants to show me one of her favorite spots—Bluff Trail, overlooking Andrew Molera beach. After splashing through a shallow stream and swooning over the ocean view, I notice a kittycat blocking the way. Or, actually, a bobcat. Or, um, is that a mountain lion? Help?
Rizzolo keeps her cool, and, to my surprise, we make it past the predator in one piece. Five or six miles later, we are back at her bakery, a popular little spot with an applesauce spice muffin that alone is worth the winding drive. "You have to be a certain type of person to live in Big Sur," she says. "Fearless. This place makes you realize how insignificant we are, how vulnerable we are to nature every day."
Rizzolo encourages me to join her sometime on one of her 12-mile midnight runs to Esalen, which end with a starry soak in a cliffside mineral spring. I'd love to, provided we won't encounter a rhinoceros or Bengal tiger along the way.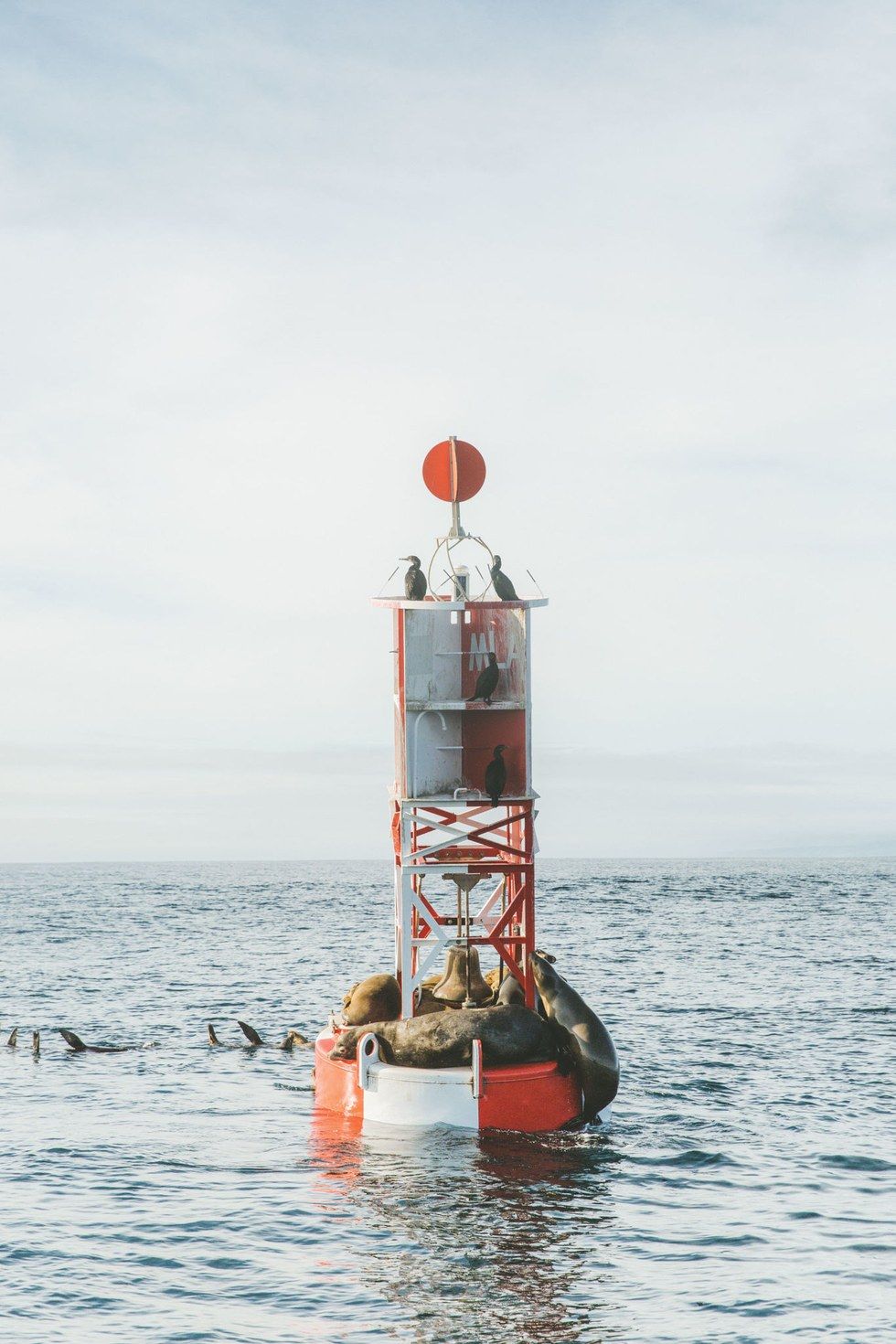 Sea lions take a buoy break in Monterey
I say goodbye to Rizzolo and grab a few pastries for the road. They don't make it out of the lot. Josh and I are heading three hours southeast to Paso Robles, a wine country that offers a refreshing alternative to Napa: top wines without the pretension.

Exhibit A: a Frisbee golf course that runs through the vineyards at Castoro Cellars. The nice lady presiding over the tasting counter pours us some crisp Pinot Grigio and tells us with a wink that we can borrow their discs (since we failed to bring our own) to play the course, which features baskets set up between oak barrels. Eye-hand coordination and wine aren't an obvious match, and whatever competitive spirit we had at the start of the round devolves into slapstick by its end.
We order a couple of basil, avocado, lettuce, and tomato sandwiches from the nearby Red Scooter Deli, then poke around Paso Robles' tiny downtown, stopping for a quick park picnic followed by a tipple at Fish Gaucho. "Do you guys like tequila?" asks the maître d', who with his gleaming braces doesn't look old enough to talk about tequila, let alone drink it. I try a few sips of the bar's "private stash" tasting flight (Josh has gallantly volunteered to be our designated driver), then we hit Adelaida Road, a winding (and traffic-free) counterpoint to Napa's Silverado Trail.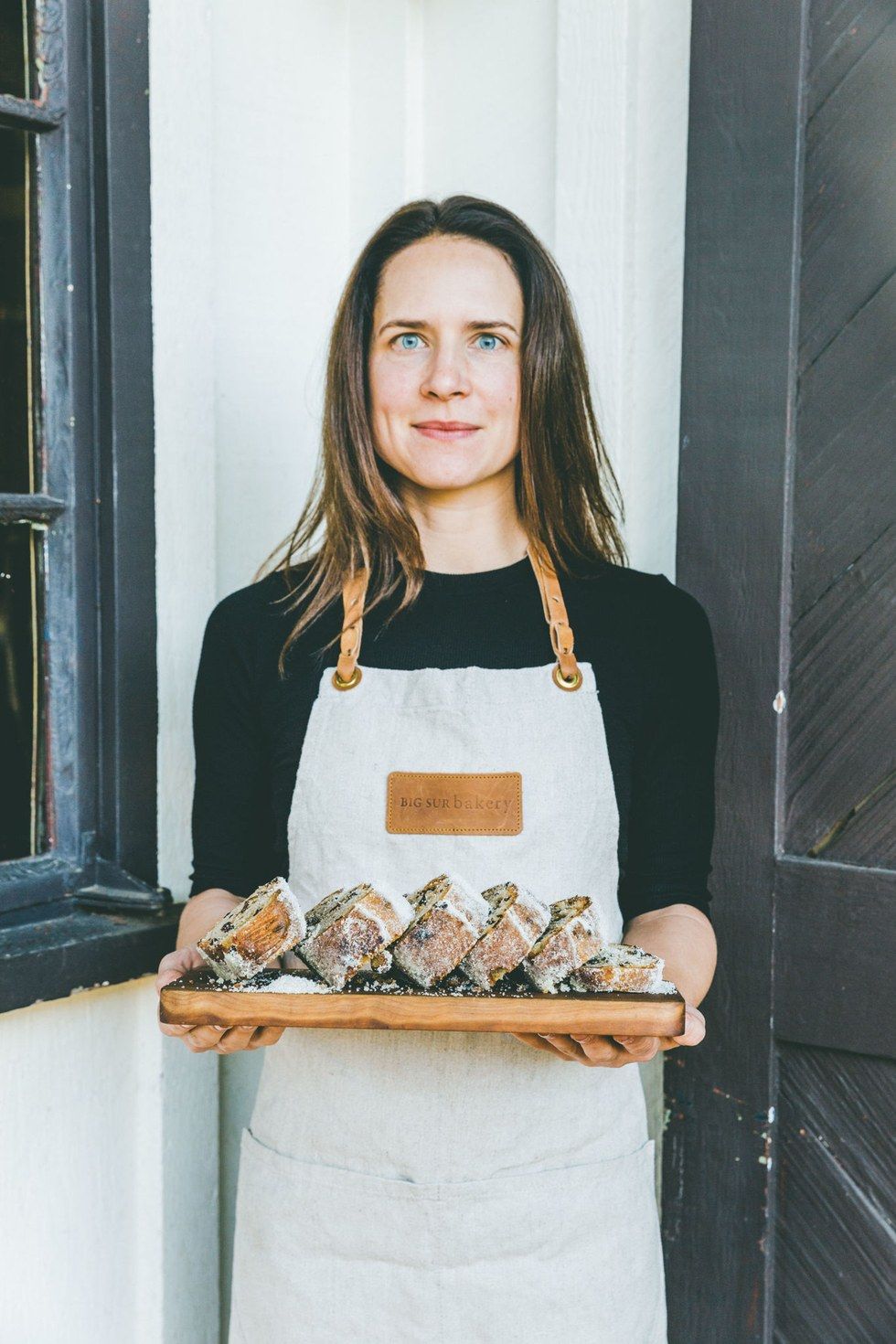 Michelle Rizzolo, chef and co-owner, Big Sur Bakery
Paso Robles is known for its Rhône varietals, but lately it's been getting into spirits, too: handcrafted vodka and gin from prefermented grape juice, plus bourbon distilled from barley and wheat obtained from local breweries. "Juice we'd otherwise have to toss is now going into making our spirits," says the staffer pouring at Re:Find Distillery, the county's first since Prohibition. I try a vodka infused with cucumber. Kumquat is coming next, I'm told.

At nearby Halter Ranch, Josh and I pile into a dusty Land Rover with rising star winemaker Kevin Sass. This is the vehicle the vineyard uses to take guests on the "Excursion Tour," a fun, affordable way to explore the area's abundance of natural beauty. Sass oversees Halter's new gravity-flow winery and 280 acres of Cabernet, Syrah, and Grenache grapes, as well as walnuts and olives, on the rolling 2,100-acre property.
We bounce along below a covered bridge, past a 19th-century barn, to a catfish-stocked swimmable pond. Not far from here is Ancestor, a coast live oak that has stood on a hilltop for maybe half a millennium. We pause for a while beneath the tree's broad canopy, taking in views that stretch all the way to the Santa Lucia Highlands. "Paso Robles is like Santa Barbara 20 years ago," says Sass. "We've got Avila Beach, wineries, great food. What's not to love?
"No one owns Big Sur. Whether you run Twitter or are a tourist from Texas—or a 24-year-old from New Jersey, like I was when I first moved here—everyone comes to Big Sur for similar reasons." —Michelle Rizzolo
We end our tour with a tasting in the Halter Ranch members lounge, sinking into cowskin-covered chairs. Kicking back with Halter's spicy Syrah, I'm forever ruined for the typical crowded tasting room.
Josh gets to navigate the winding road back to Paso Robles, while I get to gaze out the window at the beautiful blur of vineyards passing by. About 20 minutes later, we're at our second hotel, Inn Paradiso, a quirky four-suite property (they'll also soon offer a newly renovated home for rent down the road) whose Great Room has a wood fire, John Robshaw decor, and flea-market finds from around the world—including a stuffed bobcat depicted mid-leap. (Why are they following me?) The owner is a former movie poster designer with a flipbook on the coffee table of his work, including American Beauty and Almost Famous.
After a dip in the Paradiso pool, it's time for a pre-dinner drink. We sit beneath another giant oak at Hotel Cheval's Pony Club wine bar, where retirees, glad to have found an affordable slice of paradise, gather for Friday evening happy hour. From here, we go to Studios on the Park, a local artist collective that lures us in with paintings of cute puppies in the window. Rosey Rosenthal, in a knit tie and denim apron, is eating his supper while overseeing sales of his etchings. "There was one winery here when I moved here in 1981 from New York," he says. Today: 200.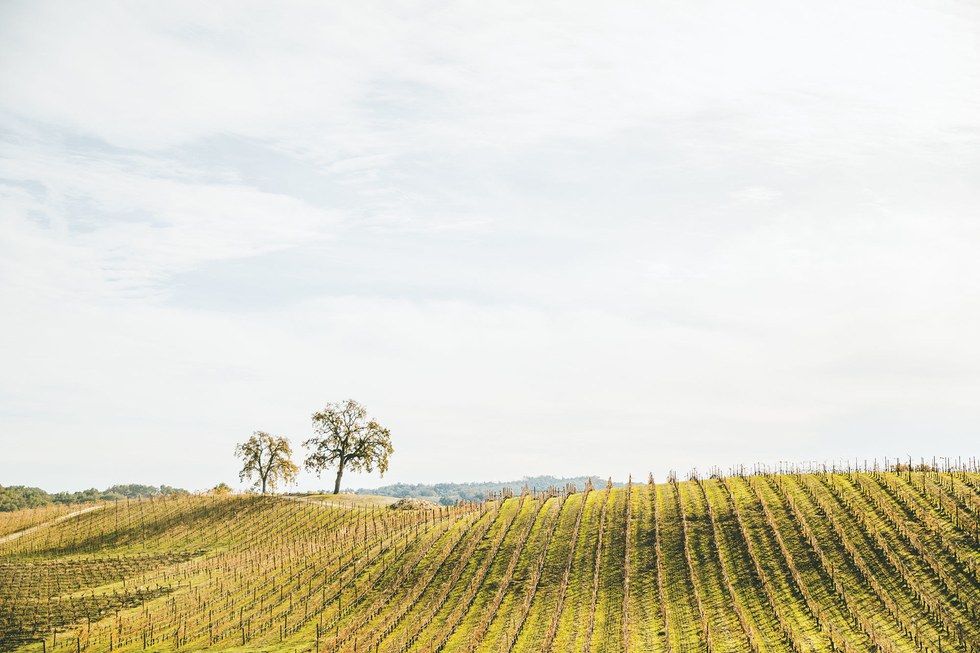 The vineyard at Halter Ranch
We had asked a few people where to eat tonight, and they'd mostly pointed us to the same place: Artisan, a town square mainstay with deep booths, goat cheese fondue, a "must try" mushroom brioche, and a rich wild boar risotto.

A block away, the Pine Street Saloon is a real-deal cowboy bar where a motley crew gathers on karaoke nights to sing their hearts out. We sip beer beside a small wooden stage as a white-haired Tony Bennett wannabe belts out the Billy Paul classic "Me and Mrs Jones":
"We got a thiiiiiing going ooooon!" Maybe it's the fatigue, or the effects of wine country, but it's an oddly romantic way to end the day.

Paso Roles to Santa Barbara: In which Rachel paddles the Pacific, skims surf shops, and tastes some terrific tacos.
We wake to the sound of roosters crowing outside. After a glass of fresh grapefruit juice, we drive a few miles south to Kitchenette, chef Chris Kobayashi's new upscale diner in Templeton. Beer-braised corned beef hash to start the day? Sure. Kitchenette stands out in these parts, where cattle country is becoming condoland. Just up the road there used to be a big livestock auction house, manager Rick tells us, but now it's being developed for housing, along with the now-shuttered Beef Palace, "where cowboys used to go for pancakes the size of manholes."
A couple of hours later, we're skirting the coast again, heading for Goleta, a laid-back beach town just north of Santa Barbara. Sparkling, sunny, and virtually empty, Haskell's Beach is irresistible. The ocean is calm, perfect for paddleboarding. A freckly, shirtless kid greets us on the sand with rental boards. We skim the surface, rolling over gentle waves, until I realize I'd rather swim. And Josh realizes he has lost his sunglasses.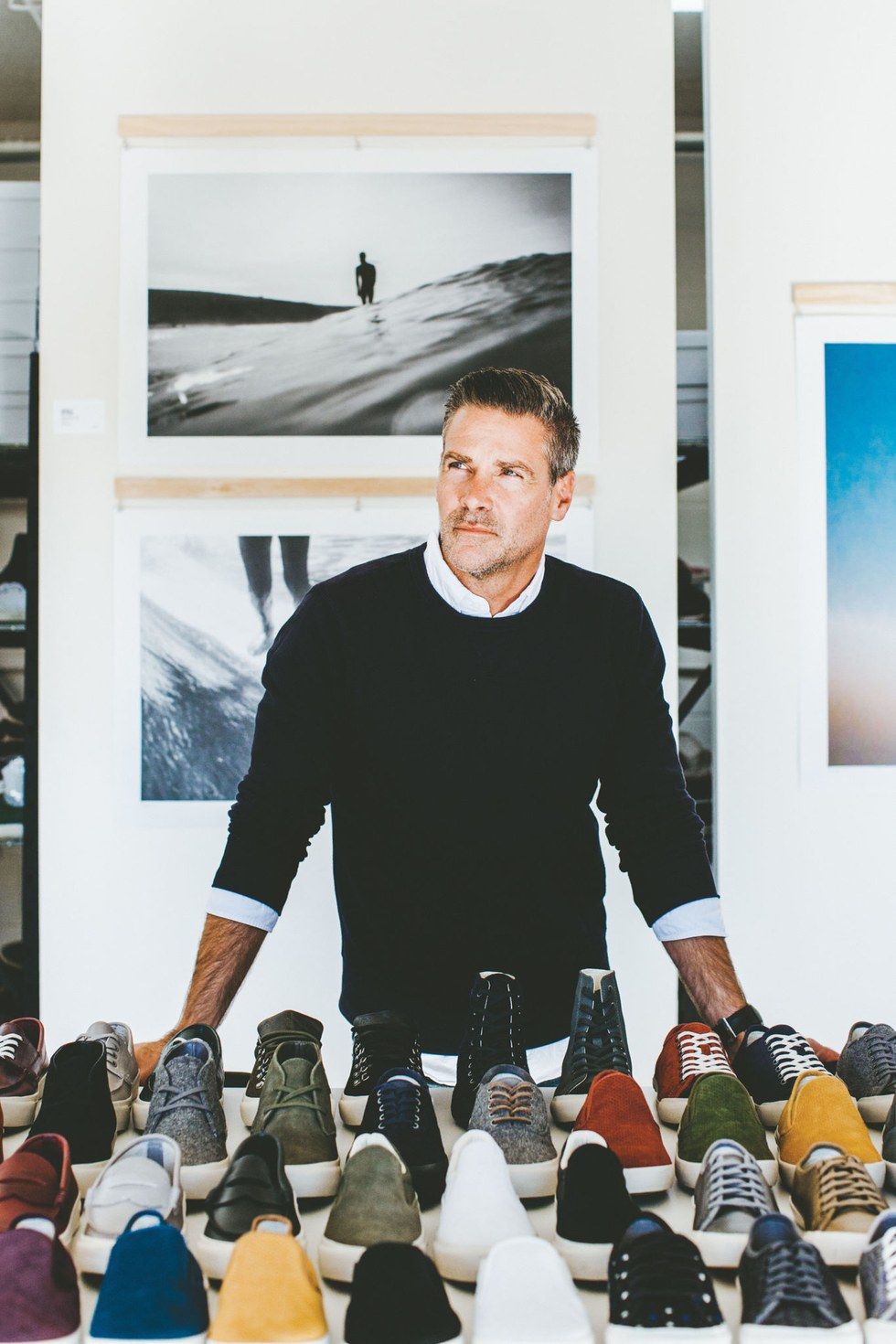 Steven Tiller, CEO, Seavees
Sticky with saltwater, we head up a path to Bacara Resort & Spa, a grand beachfront inn. To offset the morning's beery corned beef, we opt for the resort's Spa Café, a terrace restaurant run by French chef Vincent Lesage. The meal is fresh and healthy and delicious: edamame dumplings, quinoa spicy yogurt rolls, ahi tuna lettuce wraps with kimchi aioli. Even the addition of a Santa Ynez Sauvignon Blanc can't dampen our healthier-than-thou post-prandial glow.

Seven miles east, we pull into the year-old Goodland hotel, a 1969 Holiday Inn renovated and revived for the hipster crowd: beaded doorways; black-and-white shots of Cheryl Tiegs; surfboards hanging on the ceiling of one of its two bars, which are popular with locals and Santa Barbara's less wealthy (that is, younger) tourists; a silver bullet Airstream parked outside, just because. A pool party is underway when we arrive, with a local DJ spinning covers of Fleetwood Mac.
It would be easy to sit by the pool sipping build-your-own gimlets, but we have a date with a local man who has sparked a revival of his own: Steven Tiller, CEO and chief designer of Santa Barbara–based SeaVees, the quintessential "casual sneaker" from the '60s, which is on the rise again under Tiller's watch. We meet up with him at SeaVees' indoor-outdoor studio, then hop on Linus cruiser bikes to pedal around town.
"Santa Barbara isn't LA. It's not always on people's radar. You've got to work a little harder to make your mark. But, in its own uniquely understated way, it still captures the Golden State in its golden era." —Steven Tiller
"There are only a handful of days here that are not perfect," Tiller says, gesturing at the flawless sky. "This place has a lot of seventh homeowners, but also people like me, who have tried to find a way here, and now that we have, we just want to hold on to it."
Tiller grew up in Oklahoma, skateboarding and dreaming of the Left Coast. Now, sockless and tanned, pants rolled above the ankle, you'd mistake him for a native. We grab a cappuccino at French Press and pop into Warbler Records, an old-school shop owned by a couple of Oregon transplants and crammed floor-to-ceiling with what used to be their private album collection. "Back East, I was always the creative guy in the group," Tiller says, laughing. "Out here, I'm the conservative."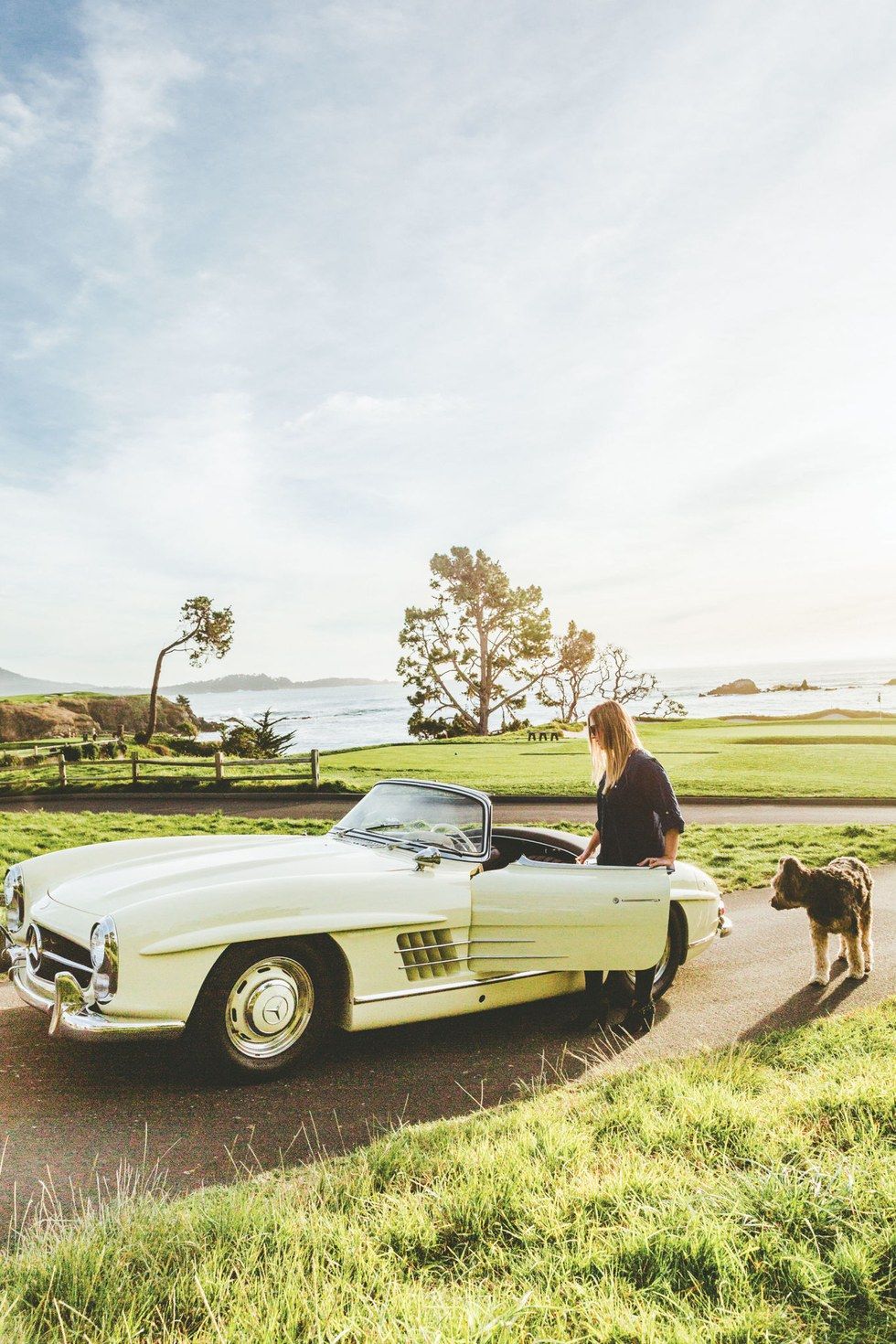 A pit stop at Pebble Beach
Later, Josh and I wander along State Street, ducking into well-curated shops like Diani Living, where for some reason we're moved to buy an antique ice-cream scoop. Toward the end of State, we turn down a side street and are drawn into a new surf shop called Trim, where Ryan Lovelace, a dirty-blond dude in board shorts, is reclining on a couch with his dog. All around are colorful handmade boards and old surf DVDs. "I just wanted to open a shop with all my favorite things," he says.

We'll be dining later at The Lark—the town's hottest restaurant—but we're ready for a snack. We spot a line of locals at Lilly's Taqueria. The line moves far more quickly than the one I saw snaking outside La Super Rica (the taco joint Julia Child once famously raved about), so we decide to join this one, thereby discovering my favorite Santa Barbara taco: a superb tortilla topped with carne asada, onions, and cilantro that sells for a whopping $1.70.
From here, we head for the Santa Barbara Wine Collective, in the hopping Funk Zone, to buy a bottle of Babcock Pinot, and pull into Butterfly Beach to partake in the locals' nightly ritual: watching the sun dip behind the ocean. Then it's on to The Lark, where we bypass the extralong communal table for a quieter spot outside. The menu ranges from pancetta-stuffed deviled eggs to a black garlic–glazed, Flintstones-size lamb shank. It's all quite good, but I want to bottle the crispy Brussels sprouts and take them home.
We end the evening, reluctantly, with drinks on the wide terrace at Belmond El Encanto, a renovated 1920s resort overlooking the lights of the American Riviera. Back at our hotel room, we rummage through the Goodland's album collection and pull out California Nights, by indie rockers Best Coast, and fall asleep to the scratchy tunes on our vintage record player, vaguely recalling some silly idea we once had about moving back East.
Rachel Levin, a San Francisco–based writer, has one regret about her three-day coastal excursion: that she's not getting paid by the bobcat sighting.
Right now, around the world, brave members of America's armed forces are on duty, defending our freedom and upholding our values.
When not laser-focused on the mission at hand, they're looking forward to the day when their service to our nation is fulfilled and they can reunite with their families.
They are also imagining how they can use their hard-earned skills to build an exciting, rewarding and important career when they return home.
I want them to look no further than United Airlines.
That's why we are focused on recruiting, developing and championing veterans across our company, demonstrating to our returning women and men in uniform that United is the best possible place for them to put their training, knowledge, discipline and character to the noblest use.
They've developed their knowledge and skills in some of the worst of times. We hope they will use those skills to keep United performing at our best, all of the time.
That's why we are accelerating our efforts to onboard the best and the brightest, and substantially increasing our overall recruitment numbers each year.
We recently launched a new sponsorship program to support onboarding veterans into United and a new care package program to support deployed employees. It's one more reason why United continues to rank high - and rise higher - as a top workplace for veterans. In fact, we jumped 21 spots this year on Indeed.com's list of the top U.S workplaces for veterans. This is a testament to our increased recruiting efforts, as well as our efforts to create a culture where veterans feel valued and supported.
We use the special reach and resources of our global operations to partner with outstanding organizations. This is our way of stepping up and going the extra mile for all those who've stepped forward to answer our nation's call.
We do this year-round, and the month of November is no exception; however, it is exceptional, especially as we mark Veterans Day.
As we pay tribute to all Americans who have served in uniform and carried our flag into battle throughout our history, let's also keep our thoughts with the women and men who are serving around the world, now. They belong to a generation of post-9/11 veterans who've taken part in the longest sustained period of conflict in our history.

Never has so much been asked by so many of so few.... for so long. These heroes represent every color and creed. They are drawn from across the country and many immigrated to our shores.

They then freely choose to serve in the most distant and dangerous regions of the world, to protect democracy in its moments of maximum danger.
Wherever they serve - however they serve - whether they put on a uniform each day, or serve in ways which may never be fully known, these Americans wake up each morning willing to offer the "last full measure of devotion" on our behalf.
Every time they do so, they provide a stunning rebuke to the kinds of voices around the world who doubt freedom and democracy's ability to defend itself.
Unfortunately, we know there are those who seem to not understand – or say they do not - what it is that inspires a free people to step forward, willing to lay down their lives so that their country and fellow citizens might live.
But, we – who are both the wards and stewards of the democracy which has been preserved and handed down to us by veterans throughout our history – do understand.
We know that inciting fear and hatred of others is a source of weakness, not strength. And such divisive rhetoric can never inspire solidarity or sacrifice like love for others and love of country can.
It is this quality of devotion that we most honor in our veterans - those who have served, do serve and will serve.
On behalf of a grateful family of 96,000, thank you for your service.
Humbly,
Oscar
Each year around Veterans Day, Indeed, one of the world's largest job search engines, rates companies based on actual employee reviews to identify which ones offer the best opportunities and benefits for current and former U.S. military members. Our dramatic improvement in the rankings this year reflects a stronger commitment than ever before to actively recruiting, developing and nurturing veteran talent.
"We've spent a lot of time over the past 12 months looking for ways to better connect with our employees who served and attract new employees from the military ranks," said Global Catering Operations and Logistics Managing Director Ryan Melby, a U.S. Army veteran and the president of our United for Veterans business resource group.
"Our group is launching a mentorship program, for instance, where we'll assign existing employee-veterans to work with new hires who come to us from the armed forces. Having a friend and an ally like that, someone who can help you translate the skills you picked up in the military to what we do as a civilian company, is invaluable. That initiative is still in its infancy, but I'm really optimistic about what it can do for United and for our veteran population here."
Impressively, we were the only one of our industry peers to move up on the list, further evidence that we're on a good track as a company.
The question of where David Ferrari was had haunted retired U.S. Army Sergeant Major Vincent Salceto for the better part of 66 years.
Rarely did a week go by that Salceto didn't think about his old friend. Often, he relived their last moments together in a recurring nightmare. In it, it's once again 1953 and Salceto and Ferrari are patrolling a valley in what is now North Korea. Suddenly, explosions shatter the silence and flares light up the night sky.
Crouching under a barrage of bullets, Salceto, the squad's leader, drags two of his men to safety, then he sees Ferrari lying face down on the ground. He runs out to help him, but he's too late. And that's when he always wakes up.
Italian Americans from opposite coasts – Salceto from Philadelphia, Ferrari from San Francisco – the two became close, almost like brothers, after being assigned to the same unit during the Korean War. When Ferrari died, it hit Salceto hard.
"After that, I never let anyone get close to me like I did with Dave," he says. "I couldn't; I didn't want to go through that again."
When the war ended, Salceto wanted to tell Ferrari's family how brave their son and brother had been in battle. Most of all, he wanted to salute his friend at his gravesite and give him a proper farewell.
For decades, though, Salceto had no luck finding his final resting place or locating any of his relatives. Then, in June of this year, he uncovered a clue that led him to the Italian Cemetary in Colma, California, where Ferrari is buried.
Within days, Salceto, who lives in Franklinville, New Jersey, was packed and sitting aboard United Flight 731 from Philadelphia to San Francisco with his wife, Amy, and daughter, Donna Decker, on his way to Colma. For such a meaningful trip, he even wore his Army dress uniform.
That's how San Francisco-based flight attendant Noreen Baldwin spotted him as he walked down the jet bridge to get on the plane.
"I saw him and said to the other crew members, 'Oh my goodness, look at this guy,'" she says. "I knew there had to be a story."
The two struck up a conversation and Salceto told Baldwin why he was traveling. She got emotional listening to him talk and made a point of fussing over him, making sure he and his family had everything they needed.
About halfway through the flight, Baldwin had an idea. She and her fellow crew members would write messages of encouragement to Salceto and invite his fellow passengers to do the same.
"We did it discreetly," says Baldwin. "I asked the customers if they saw the man in uniform, which most had, and asked them if they wanted to write a few words for him on a cocktail napkin. A lot of people did; families did it together, parents got their kids to write something. After the first few rows, I was so choked up that I could barely talk."
When Baldwin surprised Salceto with dozens of hand-written notes, he, too, was speechless. He laid the stack on his lap and read each one. At the same time, the pilots made an announcement about the veteran over the loud speaker, after which the customers on board burst into applause.
"It seems contrived, and I hate using the word organic, but that's what it was; it just happened," Baldwin says. "Mr. Salceto was so loveable and humble, and what he was doing was so incredible, it felt like the right thing to do. And you could tell he was touched."
On June 27, Salceto finally stood before Ferrari's grave and said that long-awaited goodbye. As a trumpeter played "Taps," he unpinned a medal from his jacket and laid it reverently on the headstone.
"I had gotten a Bronze Star for my actions [the night Ferrari died] with a 'V' for valor, and that was the medal I put on Dave's grave," says Salceto, pausing to fight back tears. "I thought he was more deserving of it than I was."
For the first time in years, Salceto felt at peace. His mission was accomplished.
Scroll to top