Three Perfect Days: The California Coast
Story by Rachel Levin | Photography by Marianna Jamadi | Hemispheres, February 2016
From whale watching to wine tasting, a road trip down Highway 1 offers the best of California

California's famously picturesque Highway 1 doesn't disappoint. The route is a grand procession of soaring cliffs, ragged promontories, and vast sloping hills, the road bending beside an ocean of brilliant blue, passing lovely little towns along the way. Inland, you have the wild beauty of wine country, cultivated by some of the best vintners in the state. Continue south and you hit Santa Barbara, home to upscale restaurants and magnificent taco shacks. There is so much to see and do on this journey, you feel you could make it time and again—and make it new. In any event, it would be fun to try.
Monterey to Big Sur: In which Rachel encounters a grandstanding whale, a grumpy albatross, and a perfectly grilled octopus.
"What are we thinking?!" blurts my husband, Josh, as we cruise south on Highway 1, windows down, the sparkling Pacific on our right, golden-green hillsides on our left. As native East Coasters turned longtime San Franciscans contemplating a move back to Boston during blizzard season, a California road trip might be just what we need.
Before starting our rambling, 250-mile journey from Monterey to Santa Barbara, we pull into Moss Landing, an old fishing village about 20 minutes north of Monterey's downtown. We have just enough time for eggs over easy and boilerplate coffee at the Moss Landing Cafe, a wooden shack where cops knock back pancakes and white-haired men discuss local affairs. We scarf down our eggs, watch an old-timer pour himself a Negra Modelo (before 9 a.m.), then clop down the bird poop–covered dock.
Waiting for us by the water's edge is Kate Spencer, of Fast Raft Ocean Safaris. She ushers Josh and me—along with just three other would-be whale watchers—onto a military-style boat: a 33-foot, rigid-hull inflatable. According to Spencer, the humpback whales have been going off in Monterey Bay lately, as warmer waters have pushed anchovies closer to shore.
Frisky dolphins in Monterey Bay
The November air is warm and still. We zip across the water, eye-level with the lolling sea lions and pelicans skimming the surface. "Look, one o'clock!" yells Spencer, as excited as if it's her first-ever humpback sighting (it is mine). About 100 yards away, a spurt of water. As the whale performs its slow-motion pirouettes, we're close enough to see the nicks on its underside.

Over and over, the 40-ton mammal throws its tail in the air, showing off like a kid doing handstands in the pool. There's something especially magical about seeing the spectacle from such a small boat, with so few people—though there are limits to this approach. A lone kayaker gets a little too close, watching warily as the whale breaches circles around him for half an hour. Eventually we tear away and head back to shore, with scores of leaping long-beaked dolphins leading the way.
Invigorated, we go for lunch at Monterey's new Wharf Marketplace: Cuban paninis and a grilled Castroville artichoke, which we eat on the deck, raving about our morning adventure. On Cannery Row, where rubber-booted workers would clean, cut, and can the sardines that once drove Monterey's economy, we wander past penny candy stores and marine-themed shops, then pop into the Monterey Bay Aquarium, where we gawk at trippy jelly-fish and cuddly sea otters feasting on clams, as kids clutching stuffed dolphins listen to a docent describe the dangers of plastic bags to albatrosses—like the one standing next to her, which looks on with a stern expression.
We say goodbye to the grumpy albatross and make our way south, past Carmel, to Point Lobos State Reserve. It's the kind of idyllic coastal spot that people come from all over to see (and that we have in our backyard, I remind Josh, just in case he's still considering that Boston job). We hike the trails and coves and watch the sea otters bask. Two tourists in white floppy hats bust out their binoculars and offer them to me. I take a quick peek, only because I don't want to make them feel bad. I mean, only a couple of hours ago I was chilling next to a whole pod of otters in the Fast Raft.
Traveling in style on 17-Mile Drive, in a 1957 Mercedes-Benz 300 SL Roadster
Two birders have set up in Whalers Cove. "I just saw a heron eating an eel!" says Chuck Bancroft, who, it turns out, was a Point Lobos ranger for 31 years. "One of the coolest things I've ever seen," he says, flipping the screen of his camera to show us footage of the kill. We hike out of the park and keep driving, observing more animal life along the way: cows, horses, zebras. (Descendants of animals from William Randolph Hearst's now-shuttered private zoo, perhaps?) About an hour later we arrive: Big Sur. The edge of the world, as they say—and hands down one of the most beautiful places in it.

Soon I'm swaddled in a fluffy white robe, sipping a glass of local Sauvignon Blanc beside a fire pit. It's wine hour at the Ventana Inn, where we'll be spending the night, and folks mill about assembling cheese plates as the sun starts its descent. Beside me is local artist Chelsea Belle Davey, whose grandmother moved to Big Sur in the '60s to work as a tai chi teacher at Esalen, the hippie utopia revered for its hot springs and spiritual scene. "I carry this place with me wherever I go," says Davey, who now lives in Monterey but as artist-in-residence paints here. "Everyone has their Big Sur heroes: Jack Kerouac, Henry Miller. But, for me, it's the amazing local women artists I grew up watching paint. They're my inspiration."
After I get kneaded with an aromatic poultice, it's dinnertime. The inn's rustic-luxe restaurant is located maybe a half-mile down a gravel path. The concierge offers us a ride, but we decline. It's not every day you get to hike through the dark to a multicourse seafood supper: yellowfin tuna, grilled Spanish octopus with fava beans, smoked sturgeon in red cabbage puree. You couldn't hope for a more fitting meal for the time and place—except possibly that eel, if the heron hadn't gotten to it first.
Primed by local Pinot and a little brandy, we finish our meal and toddle off along the dark trail back to our room, stopping for a dip in the Japanese soaking tubs. After all, when in Big Sur…
At the Monterey Bay Aquarium
Big Sur to Paso Robles: In which Rachel begins her Tale of Two Bobcats, plays Frisbee golf, and has a glass of wine—or five.
Who needs coffee? I start the day with a morning run, joined by Michelle Rizzolo, chef and co-owner of Big Sur Bakery, who is training for the "crazy hard" Big Sur Marathon in April and wants to show me one of her favorite spots—Bluff Trail, overlooking Andrew Molera beach. After splashing through a shallow stream and swooning over the ocean view, I notice a kittycat blocking the way. Or, actually, a bobcat. Or, um, is that a mountain lion? Help?
Rizzolo keeps her cool, and, to my surprise, we make it past the predator in one piece. Five or six miles later, we are back at her bakery, a popular little spot with an applesauce spice muffin that alone is worth the winding drive. "You have to be a certain type of person to live in Big Sur," she says. "Fearless. This place makes you realize how insignificant we are, how vulnerable we are to nature every day."
Rizzolo encourages me to join her sometime on one of her 12-mile midnight runs to Esalen, which end with a starry soak in a cliffside mineral spring. I'd love to, provided we won't encounter a rhinoceros or Bengal tiger along the way.
Sea lions take a buoy break in Monterey
I say goodbye to Rizzolo and grab a few pastries for the road. They don't make it out of the lot. Josh and I are heading three hours southeast to Paso Robles, a wine country that offers a refreshing alternative to Napa: top wines without the pretension.

Exhibit A: a Frisbee golf course that runs through the vineyards at Castoro Cellars. The nice lady presiding over the tasting counter pours us some crisp Pinot Grigio and tells us with a wink that we can borrow their discs (since we failed to bring our own) to play the course, which features baskets set up between oak barrels. Eye-hand coordination and wine aren't an obvious match, and whatever competitive spirit we had at the start of the round devolves into slapstick by its end.
We order a couple of basil, avocado, lettuce, and tomato sandwiches from the nearby Red Scooter Deli, then poke around Paso Robles' tiny downtown, stopping for a quick park picnic followed by a tipple at Fish Gaucho. "Do you guys like tequila?" asks the maître d', who with his gleaming braces doesn't look old enough to talk about tequila, let alone drink it. I try a few sips of the bar's "private stash" tasting flight (Josh has gallantly volunteered to be our designated driver), then we hit Adelaida Road, a winding (and traffic-free) counterpoint to Napa's Silverado Trail.
Michelle Rizzolo, chef and co-owner, Big Sur Bakery
Paso Robles is known for its Rhône varietals, but lately it's been getting into spirits, too: handcrafted vodka and gin from prefermented grape juice, plus bourbon distilled from barley and wheat obtained from local breweries. "Juice we'd otherwise have to toss is now going into making our spirits," says the staffer pouring at Re:Find Distillery, the county's first since Prohibition. I try a vodka infused with cucumber. Kumquat is coming next, I'm told.

At nearby Halter Ranch, Josh and I pile into a dusty Land Rover with rising star winemaker Kevin Sass. This is the vehicle the vineyard uses to take guests on the "Excursion Tour," a fun, affordable way to explore the area's abundance of natural beauty. Sass oversees Halter's new gravity-flow winery and 280 acres of Cabernet, Syrah, and Grenache grapes, as well as walnuts and olives, on the rolling 2,100-acre property.
We bounce along below a covered bridge, past a 19th-century barn, to a catfish-stocked swimmable pond. Not far from here is Ancestor, a coast live oak that has stood on a hilltop for maybe half a millennium. We pause for a while beneath the tree's broad canopy, taking in views that stretch all the way to the Santa Lucia Highlands. "Paso Robles is like Santa Barbara 20 years ago," says Sass. "We've got Avila Beach, wineries, great food. What's not to love?
"No one owns Big Sur. Whether you run Twitter or are a tourist from Texas—or a 24-year-old from New Jersey, like I was when I first moved here—everyone comes to Big Sur for similar reasons." —Michelle Rizzolo
We end our tour with a tasting in the Halter Ranch members lounge, sinking into cowskin-covered chairs. Kicking back with Halter's spicy Syrah, I'm forever ruined for the typical crowded tasting room.
Josh gets to navigate the winding road back to Paso Robles, while I get to gaze out the window at the beautiful blur of vineyards passing by. About 20 minutes later, we're at our second hotel, Inn Paradiso, a quirky four-suite property (they'll also soon offer a newly renovated home for rent down the road) whose Great Room has a wood fire, John Robshaw decor, and flea-market finds from around the world—including a stuffed bobcat depicted mid-leap. (Why are they following me?) The owner is a former movie poster designer with a flipbook on the coffee table of his work, including American Beauty and Almost Famous.
After a dip in the Paradiso pool, it's time for a pre-dinner drink. We sit beneath another giant oak at Hotel Cheval's Pony Club wine bar, where retirees, glad to have found an affordable slice of paradise, gather for Friday evening happy hour. From here, we go to Studios on the Park, a local artist collective that lures us in with paintings of cute puppies in the window. Rosey Rosenthal, in a knit tie and denim apron, is eating his supper while overseeing sales of his etchings. "There was one winery here when I moved here in 1981 from New York," he says. Today: 200.
The vineyard at Halter Ranch
We had asked a few people where to eat tonight, and they'd mostly pointed us to the same place: Artisan, a town square mainstay with deep booths, goat cheese fondue, a "must try" mushroom brioche, and a rich wild boar risotto.

A block away, the Pine Street Saloon is a real-deal cowboy bar where a motley crew gathers on karaoke nights to sing their hearts out. We sip beer beside a small wooden stage as a white-haired Tony Bennett wannabe belts out the Billy Paul classic "Me and Mrs Jones":
"We got a thiiiiiing going ooooon!" Maybe it's the fatigue, or the effects of wine country, but it's an oddly romantic way to end the day.
Paso Roles to Santa Barbara: In which Rachel paddles the Pacific, skims surf shops, and tastes some terrific tacos.
We wake to the sound of roosters crowing outside. After a glass of fresh grapefruit juice, we drive a few miles south to Kitchenette, chef Chris Kobayashi's new upscale diner in Templeton. Beer-braised corned beef hash to start the day? Sure. Kitchenette stands out in these parts, where cattle country is becoming condoland. Just up the road there used to be a big livestock auction house, manager Rick tells us, but now it's being developed for housing, along with the now-shuttered Beef Palace, "where cowboys used to go for pancakes the size of manholes."
A couple of hours later, we're skirting the coast again, heading for Goleta, a laid-back beach town just north of Santa Barbara. Sparkling, sunny, and virtually empty, Haskell's Beach is irresistible. The ocean is calm, perfect for paddleboarding. A freckly, shirtless kid greets us on the sand with rental boards. We skim the surface, rolling over gentle waves, until I realize I'd rather swim. And Josh realizes he has lost his sunglasses.
Steven Tiller, CEO, Seavees
Sticky with saltwater, we head up a path to Bacara Resort & Spa, a grand beachfront inn. To offset the morning's beery corned beef, we opt for the resort's Spa Café, a terrace restaurant run by French chef Vincent Lesage. The meal is fresh and healthy and delicious: edamame dumplings, quinoa spicy yogurt rolls, ahi tuna lettuce wraps with kimchi aioli. Even the addition of a Santa Ynez Sauvignon Blanc can't dampen our healthier-than-thou post-prandial glow.

Seven miles east, we pull into the year-old Goodland hotel, a 1969 Holiday Inn renovated and revived for the hipster crowd: beaded doorways; black-and-white shots of Cheryl Tiegs; surfboards hanging on the ceiling of one of its two bars, which are popular with locals and Santa Barbara's less wealthy (that is, younger) tourists; a silver bullet Airstream parked outside, just because. A pool party is underway when we arrive, with a local DJ spinning covers of Fleetwood Mac.
It would be easy to sit by the pool sipping build-your-own gimlets, but we have a date with a local man who has sparked a revival of his own: Steven Tiller, CEO and chief designer of Santa Barbara–based SeaVees, the quintessential "casual sneaker" from the '60s, which is on the rise again under Tiller's watch. We meet up with him at SeaVees' indoor-outdoor studio, then hop on Linus cruiser bikes to pedal around town.
"Santa Barbara isn't LA. It's not always on people's radar. You've got to work a little harder to make your mark. But, in its own uniquely understated way, it still captures the Golden State in its golden era." —Steven Tiller
"There are only a handful of days here that are not perfect," Tiller says, gesturing at the flawless sky. "This place has a lot of seventh homeowners, but also people like me, who have tried to find a way here, and now that we have, we just want to hold on to it."
Tiller grew up in Oklahoma, skateboarding and dreaming of the Left Coast. Now, sockless and tanned, pants rolled above the ankle, you'd mistake him for a native. We grab a cappuccino at French Press and pop into Warbler Records, an old-school shop owned by a couple of Oregon transplants and crammed floor-to-ceiling with what used to be their private album collection. "Back East, I was always the creative guy in the group," Tiller says, laughing. "Out here, I'm the conservative."
A pit stop at Pebble Beach
Later, Josh and I wander along State Street, ducking into well-curated shops like Diani Living, where for some reason we're moved to buy an antique ice-cream scoop. Toward the end of State, we turn down a side street and are drawn into a new surf shop called Trim, where Ryan Lovelace, a dirty-blond dude in board shorts, is reclining on a couch with his dog. All around are colorful handmade boards and old surf DVDs. "I just wanted to open a shop with all my favorite things," he says.

We'll be dining later at The Lark—the town's hottest restaurant—but we're ready for a snack. We spot a line of locals at Lilly's Taqueria. The line moves far more quickly than the one I saw snaking outside La Super Rica (the taco joint Julia Child once famously raved about), so we decide to join this one, thereby discovering my favorite Santa Barbara taco: a superb tortilla topped with carne asada, onions, and cilantro that sells for a whopping $1.70.
From here, we head for the Santa Barbara Wine Collective, in the hopping Funk Zone, to buy a bottle of Babcock Pinot, and pull into Butterfly Beach to partake in the locals' nightly ritual: watching the sun dip behind the ocean. Then it's on to The Lark, where we bypass the extralong communal table for a quieter spot outside. The menu ranges from pancetta-stuffed deviled eggs to a black garlic–glazed, Flintstones-size lamb shank. It's all quite good, but I want to bottle the crispy Brussels sprouts and take them home.
We end the evening, reluctantly, with drinks on the wide terrace at Belmond El Encanto, a renovated 1920s resort overlooking the lights of the American Riviera. Back at our hotel room, we rummage through the Goodland's album collection and pull out California Nights, by indie rockers Best Coast, and fall asleep to the scratchy tunes on our vintage record player, vaguely recalling some silly idea we once had about moving back East.
Rachel Levin, a San Francisco–based writer, has one regret about her three-day coastal excursion: that she's not getting paid by the bobcat sighting.
Porto: Portugal's surprising second city
"Second cities" or those that rank #2 in population often surprise world travelers. And second doesn't mean second-rate. Porto is Portugal's second city — so off-the-radar that many world travelers haven't even heard of it. Yet, Porto and nearby spots in northern Portugal can be delightful destinations even if you don't visit the more well-known city of Lisbon.
Old city by day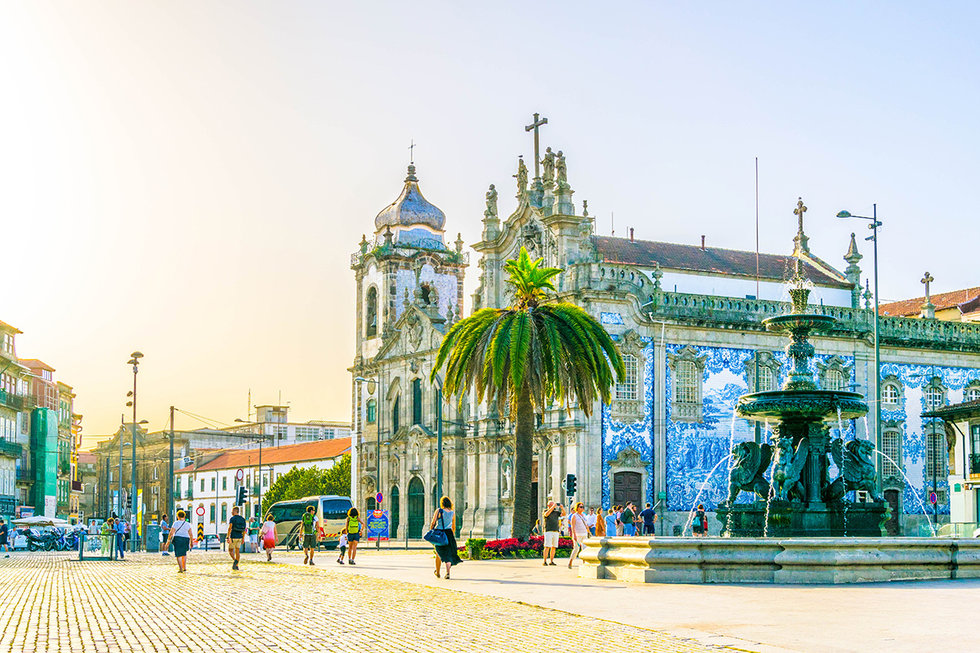 The best place to get oriented, as in most European cities, is in the old city center. Porto's Old City is so well-preserved that it's a UNESCO World Heritage Site. A 12th-century cathedral and the 15th-century Church of St. Francis, notable for interior wood carvings gilded by hundreds of pounds of gold, are mixed in with a rich collection of imposing granite, red-roofed Baroque buildings. Add 225 stairs and a stirring view to your walking tour by ascending the 250-foot-high Clérigos Church bell tower, built in 1754, which dominates the Porto skyline. Historic bridges over the Douro River and Soares dos Reis National Museum, an art museum housed in a palace, are also excellent sites to see.

Food and music by night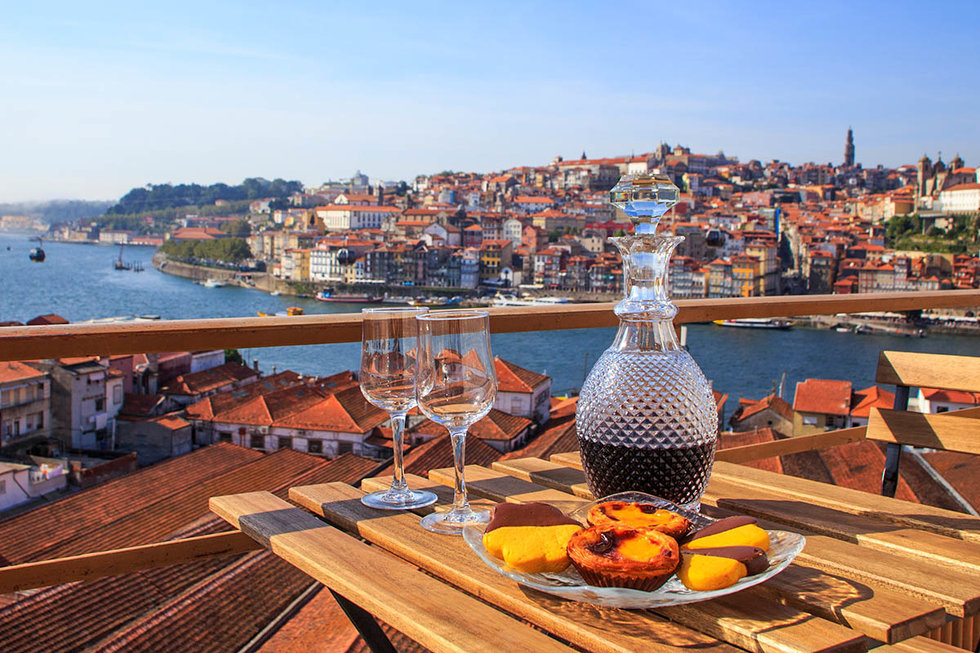 Porto's youthful population has turned it into a lively city after dark. You might start off the evening in the Old City at Abadia do Porto, a 1939 restaurant that serves traditional Portuguese dishes like roasted lamb and grilled octopus, or at Astoria, with its modern Portuguese fare served inside a former palace. Whether you choose a Portuguese, French or fusion restaurant, seafood is likely to be highlighted, drawing on Porto's proximity to the Atlantic and the Douro. Then, you can head to the large collection of bars and nightclubs in the nearby Galerias district, which includes Radio Bar, inside a former court building, and Gare, a disco in a tunnel that stays open until 6 a.m.
Head west to the beaches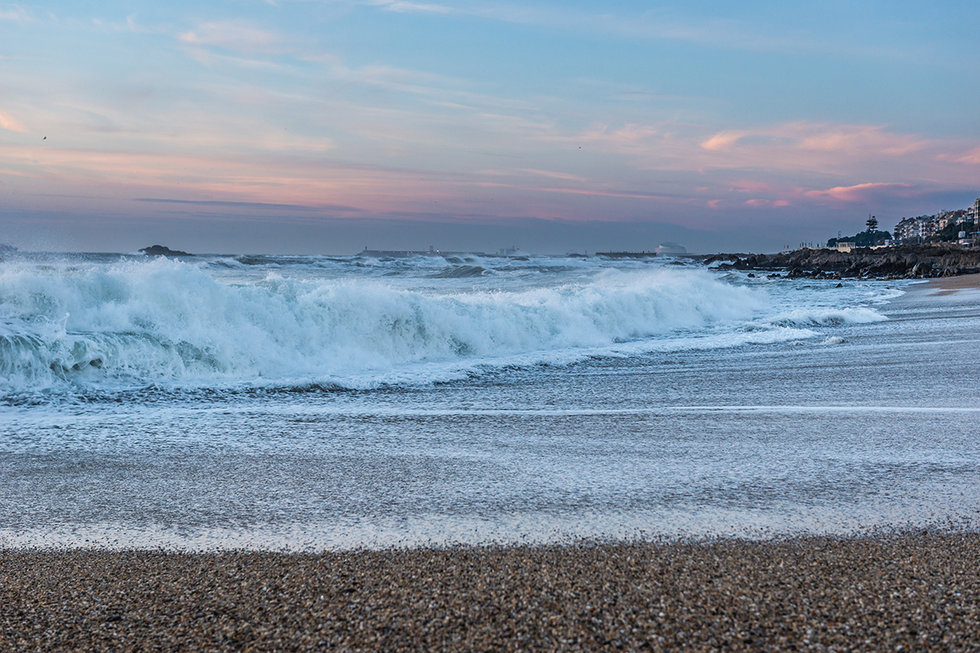 The closest Atlantic beaches to central Porto are at Foz do Douro (mouth of the Douro), just 20 minutes away by city bus. But why settle? In a rental car you can explore Atlantic beaches and beach towns that extend for hundreds of miles along Portugal's coastline. Two of the best are Foz do Minho, the nation's northernmost oceanic beach that's just across the Minho River from Spain, and Quiaios, a dune-fringed paradise of sand south of Porto. Many beaches in northern Portugal are cradled in coves protected by rocky promontories, similar to northern California and Oregon beaches.

Or east to the wine country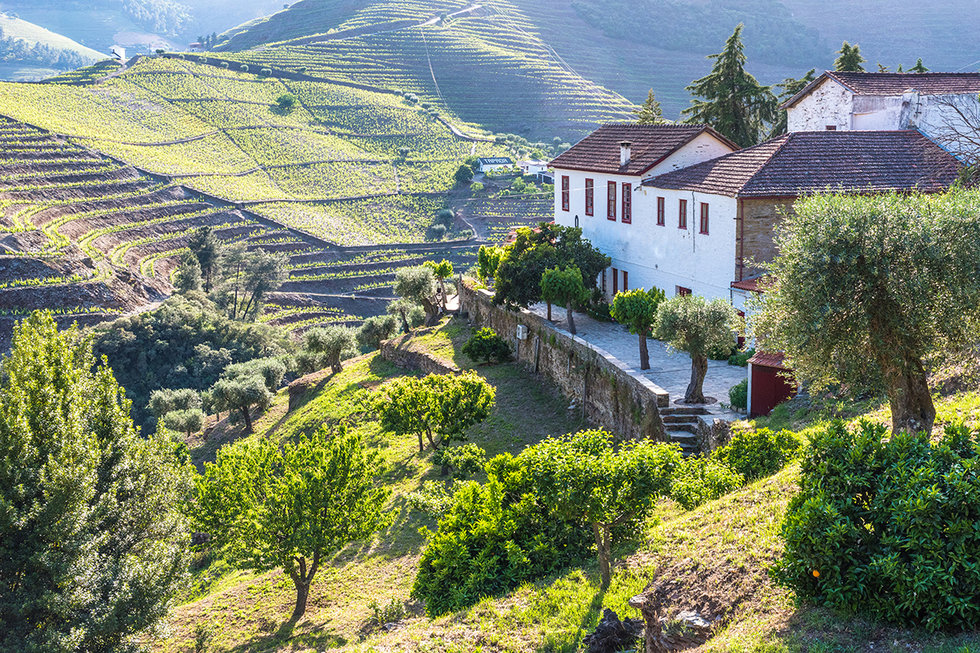 The Douro Valley wine region is another World Heritage Site and one of the world's best and most scenic wine regions. It's up the Douro River from Porto by boat or 90 minutes by road. Namesake port wines and other fortified wines are the region's signature beverages, which can be sampled at tasting rooms on the Douro along N-222, a wine road that's been called the world's most scenic drive. While you're in the area, check out the wine and anthropology museums in the wine towns and yet another World Heritage Site — Coa Valley Archaeological Park — known for its prehistoric rock carvings.
The basics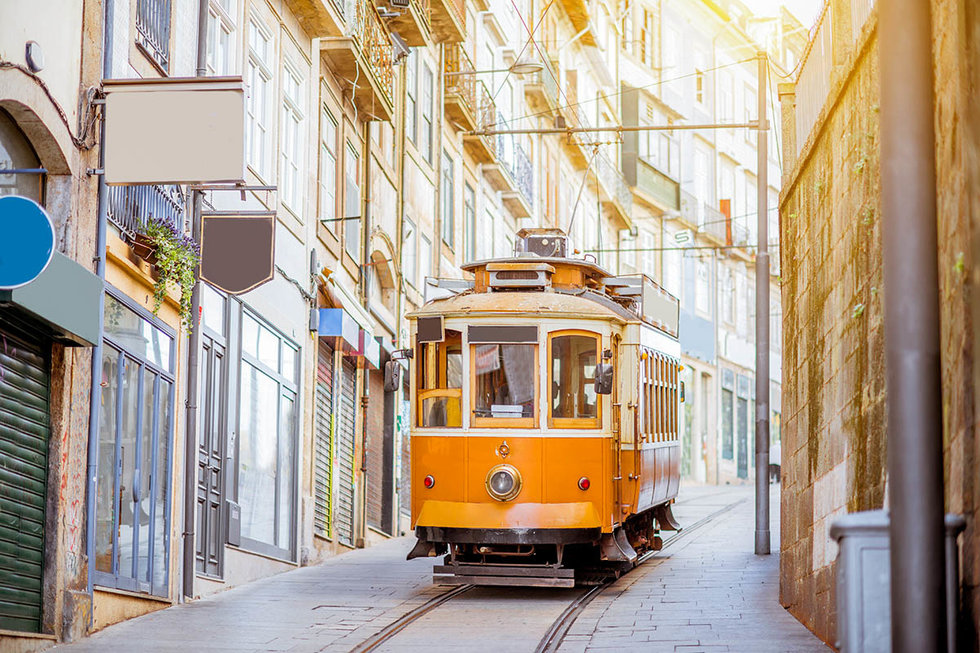 Portugal's Mediterranean climate and coastal breezes bless it with mild weather year round, as the average temperature ranges from 57 degrees (and rain) in January to 78 degrees (and a little rain) in August. Whenever you come, there's no need to learn Portuguese as English is spoken even more widely than elsewhere in Western Europe. Once you arrive, rent a car only if you don't mind ridiculous drivers. The trains are more relaxing — light-rail and subway trains crisscross the Porto area and funicular cable cars climb its steepest hills. There's even a scenic train that follows the Douro nearly to Spain, with a roundtrip fare of only about $30.
Getting there
Portugal requires that visitor passports don't expire until at least three months after the arrival date, so check that. Next, buy some Euros (for a great exchange rate) and reserve a flight. United Airlines flies nonstop from New York/Newark to Porto and MileagePlus® award miles can be redeemed to cover accommodations and Hertz rentals. Go to united.com or use the United app to plan your trip.

United 787-10 Dreamliner launch
Story was contributed by: Jennifer Lake | Photography: Alicia of Aesthetica
It was a typical Monday morning. I'm sitting at my desk at work, drinking coffee, reviewing my to-do list for the week. All around me, heels are clacking through the office and phones ring intermittently. However, this particular Monday morning was different. Ultimately, I would receive an offer from my favorite airline for a collaboration to participate in the United 787-10 Dreamliner launch from Los Angeles LAX to New York/Newark EWR. Read the full story here featured on Style Charade.
Fit for the runway: We begin testing new uniforms
Last year we announced new partnerships with Tracy Reese, Brooks Brothers and Carhartt — best-in-class fashion and apparel designers — to help reimagine uniforms for more than 70,000 of our employees. Focusing on high quality fabrics, improved breathability and overall enhanced fit, our goal is to design and develop a more cohesive collection that looks good, feels good and enables employees to perform at their best on behalf of our customers.
United employees can learn more on the uniform designs by visiting Flying Together.
An insider's guide to Boston
Boston is a pack-it-all-in kind of place. Founded in 1630, one of America's oldest cities does many things well. Boston's many claims to fame include many of America's oldest historic landmarks and one of its oldest ballparks. It's a destination for history buffs, culture vultures, foodies, sports fans, families and more. No matter who your travel companions are or what they're interested in, everyone will find something to pique their interest in Beantown.

Getting there & around town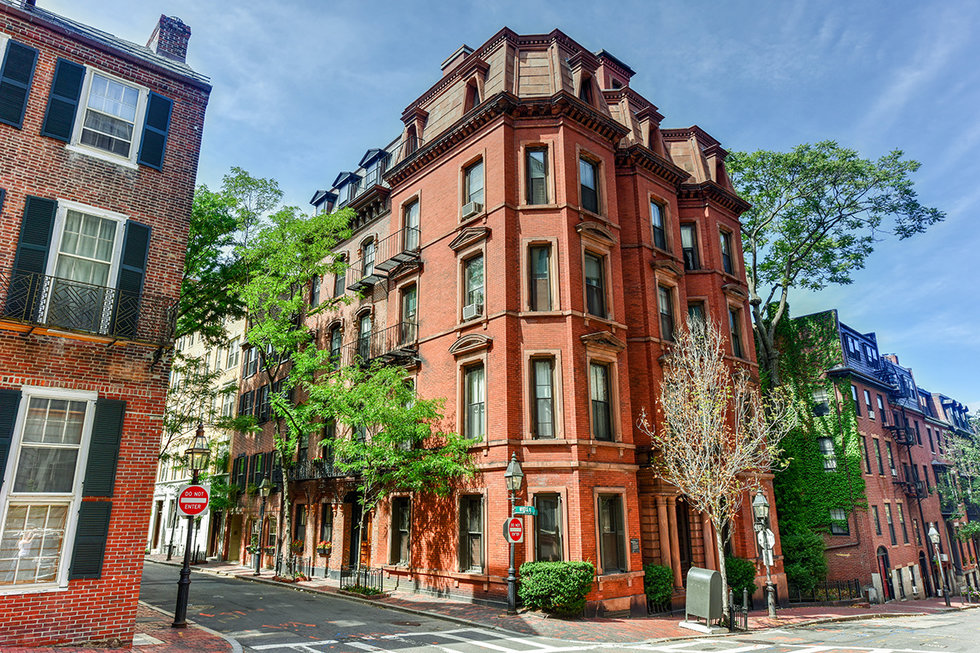 Fly direct to Boston's Logan International Airport (BOS) from many U.S. cities — visit united.com or use the United app to book your flight. Flights are 90 minutes from New York, two hours from Cleveland and five to six hours from California. From Logan International Airport, it's easy to hail a taxi, use ridesharing apps or take public transportation. If you want to take the scenic route, take a water taxi across Boston Harbor directly into downtown.
Downtown Boston is easy to navigate. It's walkable and taxis are plentiful. The MBTA, Boston's public transportation system, offers affordable access to Cambridge, many attractions and the suburbs. Keep in mind it's one of the oldest transportation systems in the country, so expect a few bumps. Because the city is dense, parking can be expensive or hard to find, so avoid driving if you can.
When to visit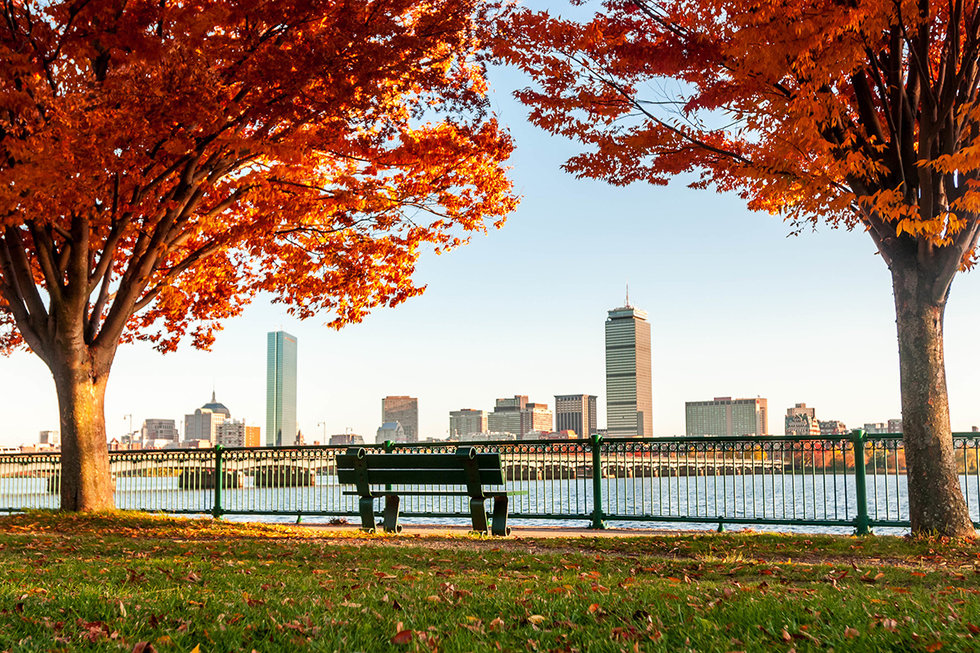 Summer and fall are the most popular seasons to visit. Summer is prime time to enjoy Boston's many parks, outdoor eateries, open-air concerts and baseball games at Fenway Park. Mild fall weather, beautiful autumn foliage and Halloween festivities in nearby Salem, Massachusetts make October one of Boston's busiest months. The city also sees an influx of visitors for the Boston Marathon in April. You'll find smaller crowds and more affordable prices in winter, but brace yourself for the cold.
What to do
There's so much to take in just by walking through Boston's cobblestoned streets. Downtown is quaint, compact and easy to explore by foot. The small city is packed with historic sites, New England's finest food, proud sports fans and friendly locals.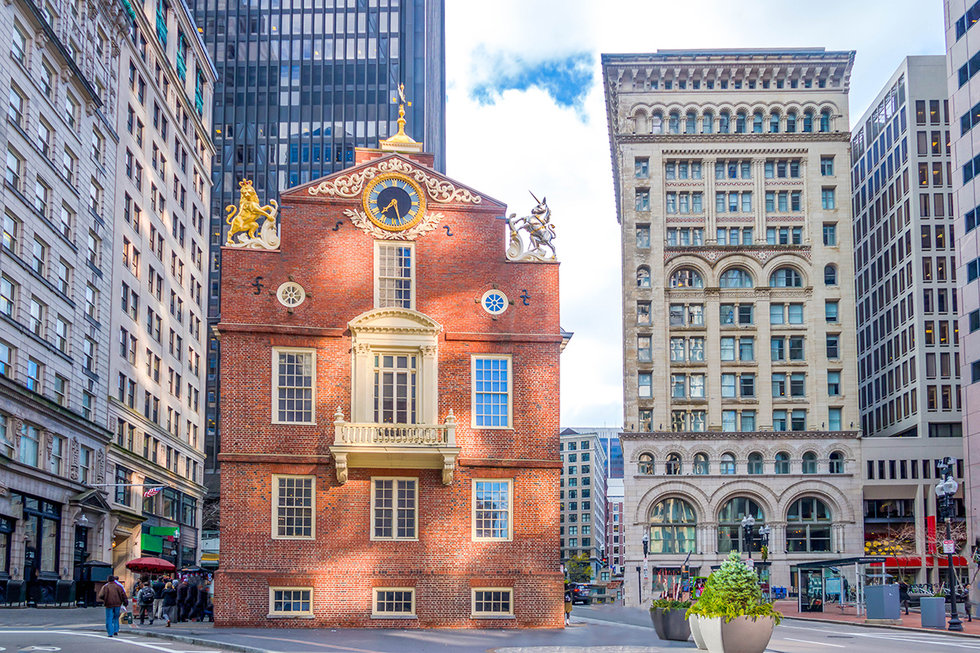 As the birthplace of the American Revolution, Boston's historic sites are an attraction in themselves. Walk the 2.5-mile Freedom Trail to visit 16 of them around the city, including Revolutionary-era museums, churches, buildings and an impressive warship. Faneuil Hall Marketplace is on the trail, too, and is one of Boston's top attractions, with plentiful shopping, dining and live music. Not much of a walker? Boston Duck Tours operate land-and-water historic tours on World War II-inspired vehicles, which transform from truck to boat mid-tour.
Many museums and sites are tucked along Boston Harbor. The waterfront is always bustling with activity year-round. The harborwalk is the perfect place to meander and explore without a strict agenda. Plan to visit a major attraction or two, but leave time to enjoy the scenery or to pop into a café for a coffee and sweet treat (award-winning Flour Bakery + Cafe is a local favorite).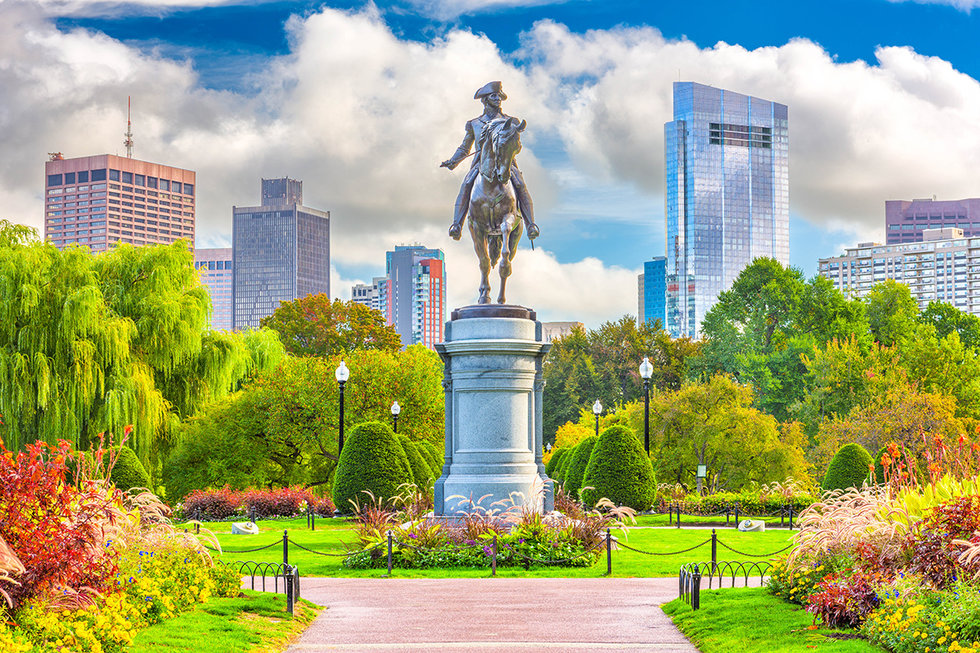 Deemed the "Athens of America," Boston boasts not only some of the country's oldest and most architecturally significant buildings, but also a thriving arts and culture scene. You could spend your entire trip touring its dozens of world-class museums. Take in classical music at the famous Boston Symphony Orchestra, or take a leisurely stroll through Boston Public Garden and Boston Common, the city's most well-known public parks. Riding the giant Swan Boats through the Public Garden lagoon is a kitschy, yet delightful experience, especially for kids.
What to eat
What must you absolutely eat in Boston? In short, everything. Long ago the city was nicknamed Beantown, allegedly after slow-cooked molasses baked beans served to sailors and traders. Today, Boston continues its reputation as a great eating city. From clam chowder to cannoli, the most popular dishes here are often hearty and decadent. Boston is also known for fresh lobster rolls, roast beef sandwiches and, of course, Boston cream pie.
Ask any Bostonian where to find "the best" of anything, and everyone will recommend a different spot. Cannoli from Mike's Pastry, Boston cream pie from Omni Parker House (where it was invented) and the roast beef 1000 sandwich from Cutty's frequently top the must-try lists. If you make it to a ball game at Fenway Park, Fenway Franks are a Boston staple.
Our role in 'Spider-Man™: Far From Home'
In Columbia Pictures upcoming release in association with Marvel Studios, "Spider-Man™: Far From Home," our web-slinging hero finds himself – yep, you guessed it – far from his home in New York City. And since flying is one of the few superpowers Spider-Man doesn't possess, we gave him a little help, meaning United is featured in the film.
The scenes of Peter Parker and his pals traveling to Europe take place on one of our Boeing 777s with the all-new United Polaris® business class, and several of our employees – including members of our Tech Ops, Inflight, Flight Operations and Airport Operations teams – served as actors and production support during shoots at New York/Newark (EWR) and London-Stansted (STN).
London-Heathrow (LHR) Customer Service Representative Manjit Heer and LHR Cargo Warehouse Operations Manager Richard Miller were background extras on board, and multiple flight attendants had a role, including San Francisco (SFO) Flight Attendant Tammy Harris.
"It was extremely surreal," said Tammy. "I was in my element because I was on the plane in uniform, but not really, because I'm not an actor."
Tammy said she hit her mark and delivered her line with gusto, and she's excited to see if she made the final cut when "Spider-Man™: Far From Home" hits worldwide theaters this summer.
"Hopefully, I'll have my two seconds of fame and all will be well," she joked.
Los Angeles (LAX) Aircraft Maintenance Supervisor Fernando Melendez is a veteran of several film shoots but said this one was his favorite. When the production went to London, he was one of five members of LAX Tech Ops who went over to look after our airplane and make adjustments to its interior based on the filmmaker's needs.
"When we parked the plane at Stanstead, there were lights and cameras surrounding us. It was like the plane was the star of the movie," he said. "Each day, we would work with the assistant director; he would go through and say, 'Okay, for this shoot we need these seats, or these panels removed,' so they could get the camera angles. Pretty much, the airplane was our responsibility; we opened it in the morning and closed it at night. We were the first ones there and the last ones to leave every day."
Fernando said the actors were all very gracious and engaging, and said the whole experience was fantastic from start to finish. It also earned him a little cooler cred with his 18-year-old son, who is a massive Marvel fan.
Leading up to the film's premiere this year, there will be plenty of ways for employees and customers to get into the Spidey spirit in anticipation of our cameo. Stay tuned for more details.
---
Peter Parker returns in "Spider-Man™: Far From Home," the next chapter of the Spider-Man™: Homecoming series! Our friendly neighborhood Super Hero decides to join his best friends Ned, MJ, and the rest of the gang on a European vacation. However, Peter's plan to leave super heroics behind for a few weeks are quickly scrapped when he begrudgingly agrees to help Nick Fury uncover the mystery of several elemental creature attacks, creating havoc across the continent!
Directed by Jon Watts, the film is written by Chris McKenna and Erik Sommers based on the Marvel Comic Book by Stan Lee and Steve Ditko. The film is produced by Kevin Feige and Amy Pascal. Louis D'Esposito, Victoria Alonso, Thomas M. Hammel, Eric Hauserman Carroll, Stan Lee, Avi Arad and Matt Tolmach serve as executive producers. The film stars Tom Holland, Samuel L. Jackson, Zendaya, Cobie Smulders, Jon Favreau, JB Smoove, Jacob Batalon, Martin Starr, with Marisa Tomei and Jake Gyllenhaal.
"Spider-Man™: Far From Home" makes its way to North American theaters on July 5, 2019.
What to expect from our improved app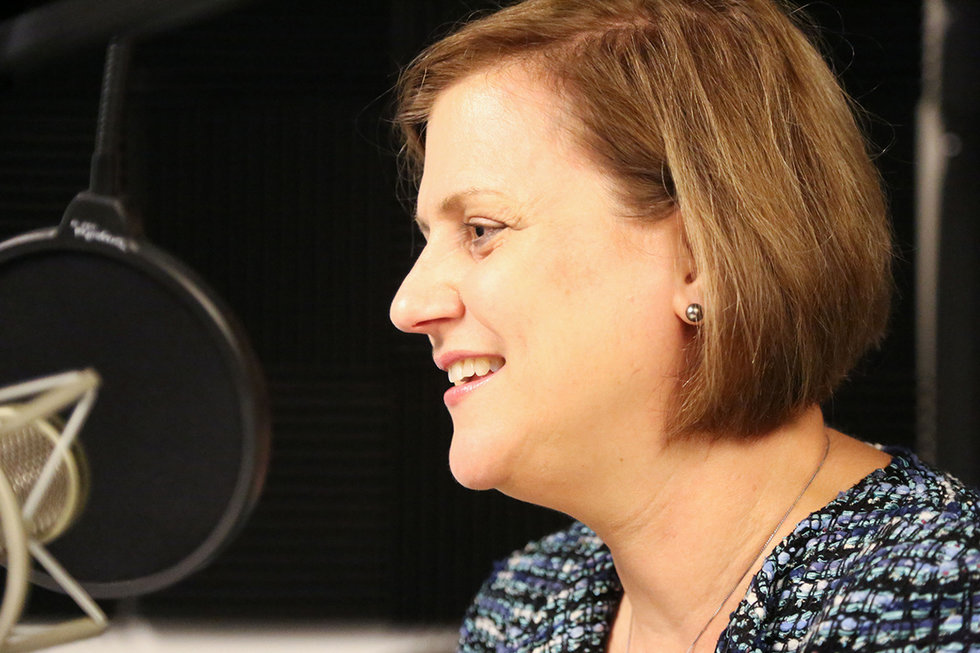 "Talking Points," host Brian Kelly, aka The Points Guy, is joined by Linda Jojo, Executive Vice President for Technology and Chief Digital Officer at United Airlines to discuss what passengers can expect from our improved app.
Read more about the improvements to the United app here.

20 million miles and counting...
On November 7, while flying from Newark Liberty International Airport to Los Angeles International Airport, United customer Tom Stuker made history when he reached 20 million miles flown on a single airline. We were fortunate enough to capture the milestone he reached with us.
To mark the special occasion, we hosted a celebration in Mr. Stuker's honor at the United Polaris lounge at O'Hare International Airport on Saturday. The celebration was delayed a couple of months, so Mr. Stuker could celebrate the event with his family.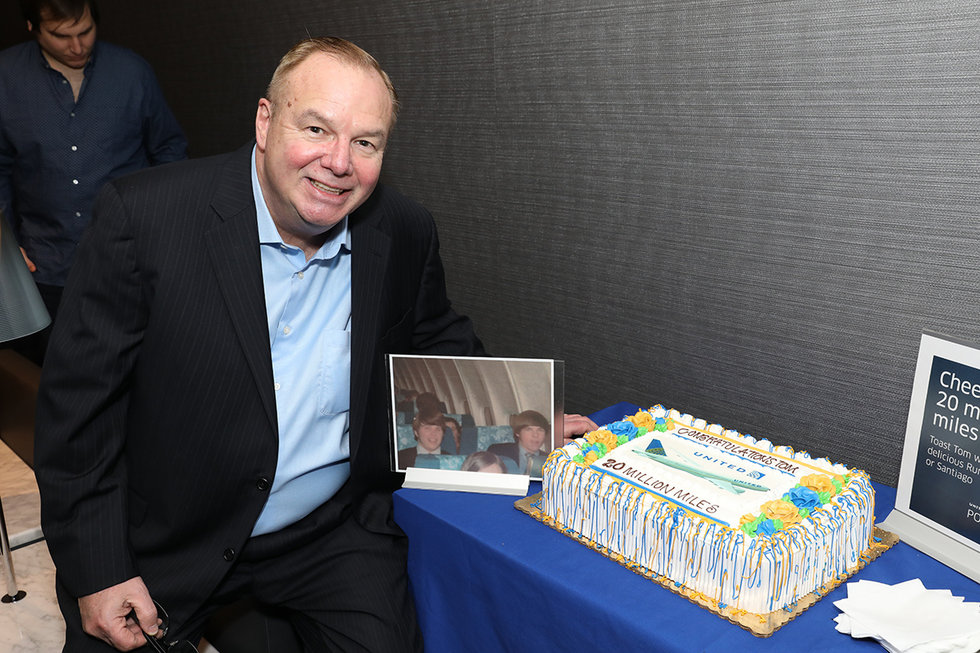 The party included a room full of employees, media members and Mr. Stuker's friends and family enjoying food, cocktails, stories and laughs. To thank him for his long-standing loyalty to United, we also presented Mr. Stuker with gifts made specially for him.
"United makes my dreams come true," Mr. Stuker said to the room full of people.
He also praised United's MileagePlus program, the United Polaris lounges across our system and Oscar's leadership of the airline but, most of all, he praised the service he receives from our employees.
"My favorite part of United is the people. United is such a big part of my life…you are a family to me," he said addressing the United employees. "It would take me days and days and days to say thank you in the right way to the right people. They all know me by now and know how much I care about them as people, how much I care about this airline and its success, and how much I care about the greatest leader this airline has ever had, Oscar."
Bora Bora: The most beautiful island in the world
Each week we will profile one of our employee's adventures across the globe, featuring a new location for every employee's story. Follow along every week to learn more about their travel experiences.
By Chicago-based United Club Customer Service Representative Amile Ribeiro.
They say beauty is in the eye of the beholder. I know it can be very subjective but, once you set your eyes on it, I'm sure you'll agree with me: Bora Bora is the most beautiful island in the world.
There are very few things that can get me out of bed early in the morning, and airplanes are one of those things. We were already in Tahiti and woke up at the crack of dawn to catch our quick flight to Bora Bora. After checking in at the airport and getting a quick breakfast, we headed over to the gate to line up for our flight. Air Tahiti has an open seating arrangement, and we wanted to make sure we got the best possible seats. We were able to secure two windows seats. Travel tip: Sit on the left side of the plane when landing in Bora Bora. We took off from Papeete and within minutes we were flying over Mo'orea. Then we flew around Ra'i ātea and Taha'a, and finally arrived in Bora Bora, the island that Polynesians call "First Born." Pora Pora is the actual local pronunciation, but the first explorers misunderstood it and 'Bora Bora' stuck. Though after setting foot on the island, I've come to call it "Paradise on Earth."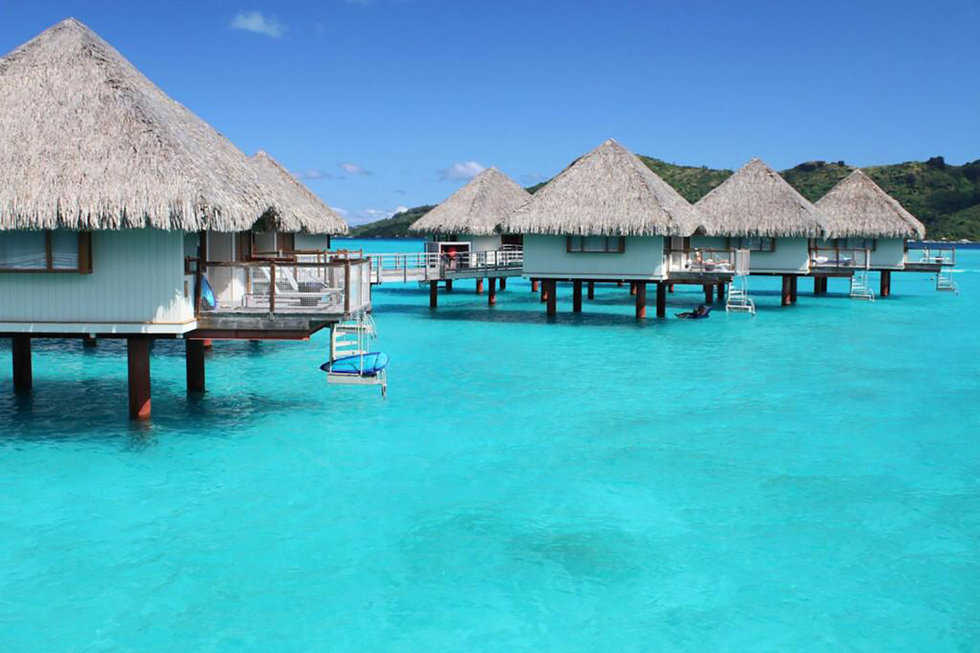 At the airport we were met by a representative of our resort, given flower leis and directed to our high-speed boat. I couldn't believe the color of the water; it was as if Paul Gauguin himself had painted it. After a thrilling ride, we reached our hotel's dock, where a local playing the ukulele welcomed us. We were then given a tour of the astonishing property and were taken by golf cart to our overwater bungalow. We have stayed in many beautiful properties around the world, but when we opened the door of our bungalow our jaws dropped. It is truly a one-of-a-kind experience that all should have at least once in their lifetimes. And worth every penny. The view of majestic Mount Otemanu is something right out of a fairy tale. After the sun set, the nighttime dance show was equally enchanting.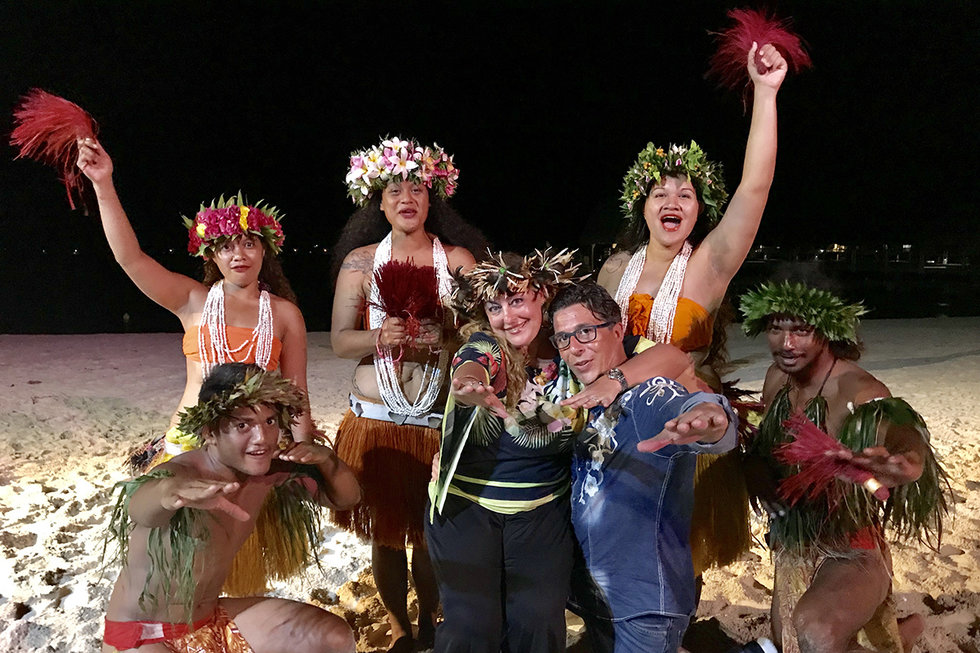 We had planned to be in Bora Bora during the final leg of the famous Hawaiki Nui Va'a canoe competition, which happens to be a major event in the cultural life of French Polynesia and has the reputation for being the toughest canoe race in the world. The center stage was at the island's most beautiful beach, Matira. We stood in awe as the winners reached the finish line after several hours (and days before that) of frantic paddling from island to island, showcasing the power of human strength and endurance. Besides being an incredible sporting challenge, it is also a colorful spectacle that filled the beach with flower-clad women and the air with the pulsating beat of drums. We were also able to celebrate and dance with them later that night at the local ball in Vaitape (Bora Bora's largest city). It was a marvelous way to get a deeper understanding of another culture!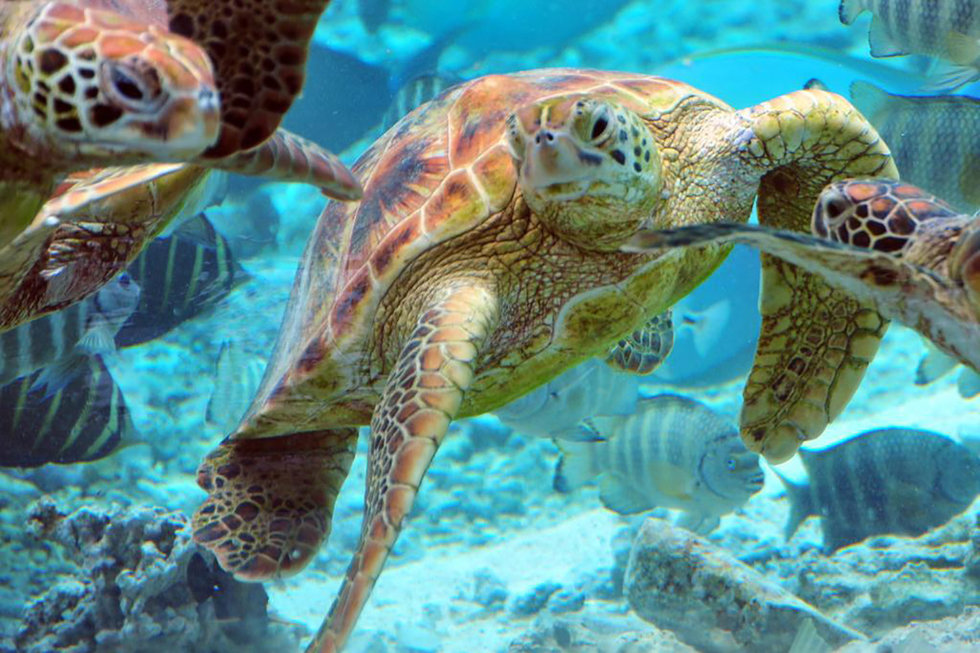 Besides having the time of our lives at the resort's infinity pools, inner lagoons and beach, we also went to the Turtle Center and had a chance to feed these amazing creatures while they're being rehabilitated to go back into open waters. From there, we took a boat tour of the main lagoon and went swimming with stingrays and sharks. Few things scare me in life, and sharks are on the very top of that short list, but I mustered the courage and what a thrill it was! To commemorate my bravery on the last day of our trip, I got my very first tattoo: a hammerhead shark. Polynesians believe that such sharks act as guardian angels to humans and protect us from the Great White. My husband got a Polynesian design that was custom made just for him, and it represents travel, freedom and courage. We also got a set of matching Polynesian wedding bands. Since the art of tattoo originated in Polynesia, this is the most enduring souvenir one can get from such an amazing culture, but I'm sure the memories of our trip will also stay with us forever!

Scroll to top